11 is a transitional age, so much so that developmental psychologists can't decide whether it fits into middle childhood or early adolescence. My memory of being 11 is of many firsts: my first sleepover, my first crush, my first pimple and my first trip to the movies with friends and no adults present.
However, these memories are interspersed with more familiar ones of playing games, romping outdoors on camping trips and generally goofing around.
This in-betweenness of age 11 (one foot in childhood, the other in adolescence) can make buying gifts for 11-year-olds challenging. Some 11-year-olds already buy makeup and handbags, while others still play with toys. That's the reason for the length of this list of gift ideas — we know that 11-year-olds are a diverse bunch, so our options are varied enough to match.
As long as you know something about the tween you're buying for, you should be able to find them the perfect gift here.
We trawled through hundreds of reviews online, sorting the genuine from the fake to assemble our list. All the products presented here are the results of this careful sifting, and as such, they all make lovely gifts.
So finding the best one for your kiddo is just a matter of selection, whether they are mini master chefs, aspiring artists or even young YouTubers.
Gifts for LEGO Builders
This magnificent buildable Hedwig will captivate any Potterhead. Majestically displayed on a pedestal; the snowy owl is shown mid-flight with a letter in her claws.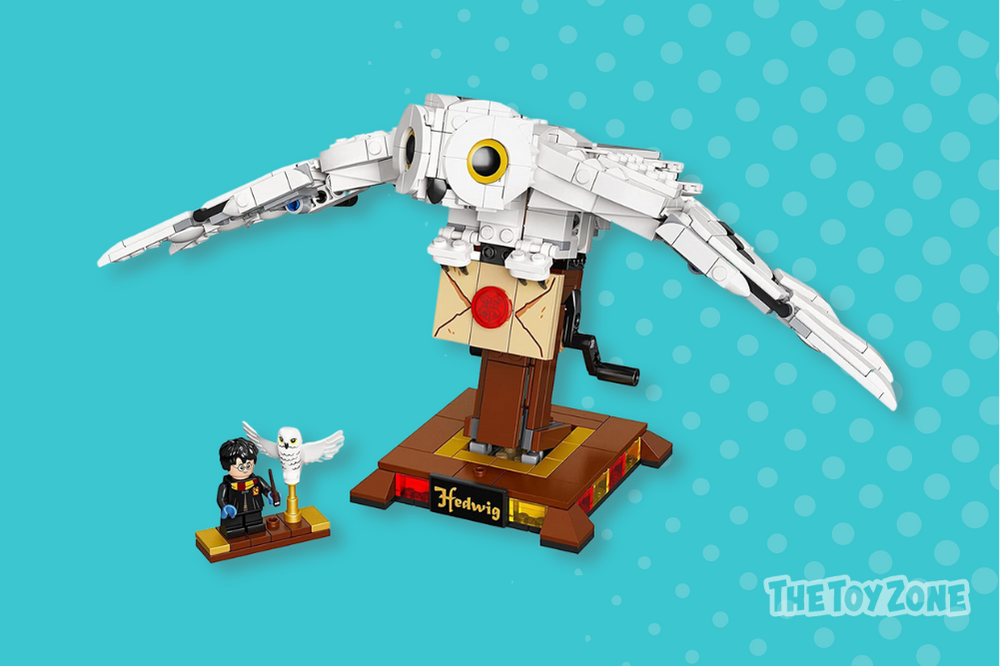 The piece-de-resistance of this LEGO set is a handle that makes the jointed wings flap when turned. Kids will find building this detailed model a fun challenge and she'll undoubtedly be placed proudly on display when completed.
What Marvel fan doesn't love Groot, the endearing tree character from the Guardians of the Galaxy movies? This LEGO set depicts Groot in his most adorable form – as a baby dancing to the Awesome Mix cassette.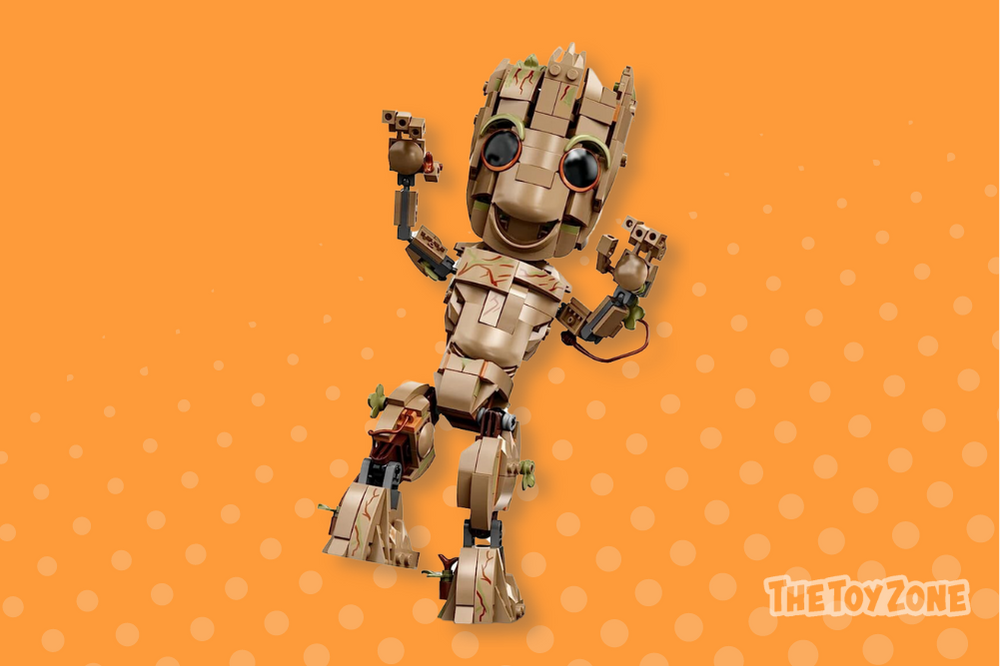 Featuring movable joints even in his fingers, Groot can be positioned into any groovy dance pose you like. He's also exquisitely detailed and comes with an information plaque for display.
If you want to splurge on a gift for an 11-year-old who loves Star Wars and robots, this is the perfect option. With this fantastic STEM toy, kids can build three Star Wars droids that are real functional robots.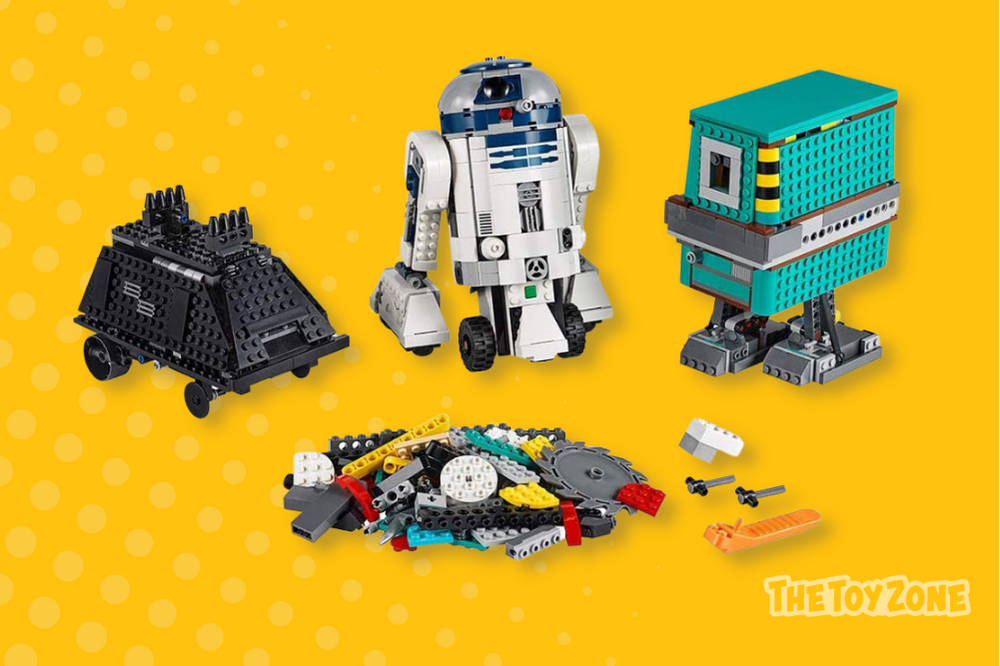 There's R2-D2, Gonk Droid and Mouse Droid, and each has its own sensors, motor and Bluetooth Move Hub to be programmed to carry out all kinds of missions.
---
Gifts for Gamers
Any kid who loves gaming wants to be able to do it on the go and that's exactly what the Nintendo Switch offers – along with access to some of the industry's best games.
The OLED Switch is the latest model, offering crisp 4K graphics and vibrant colors. This option pays homage to The Legend of Zelda: Tears of the Kingdom, one of the most beloved Nintendo games.
If your kiddo prefers to game at home on the PC, PlayStation or Xbox, they need a good gaming headset. This isn't only to make it more immersive for the gamer but also so that other family members can get some peace and quiet.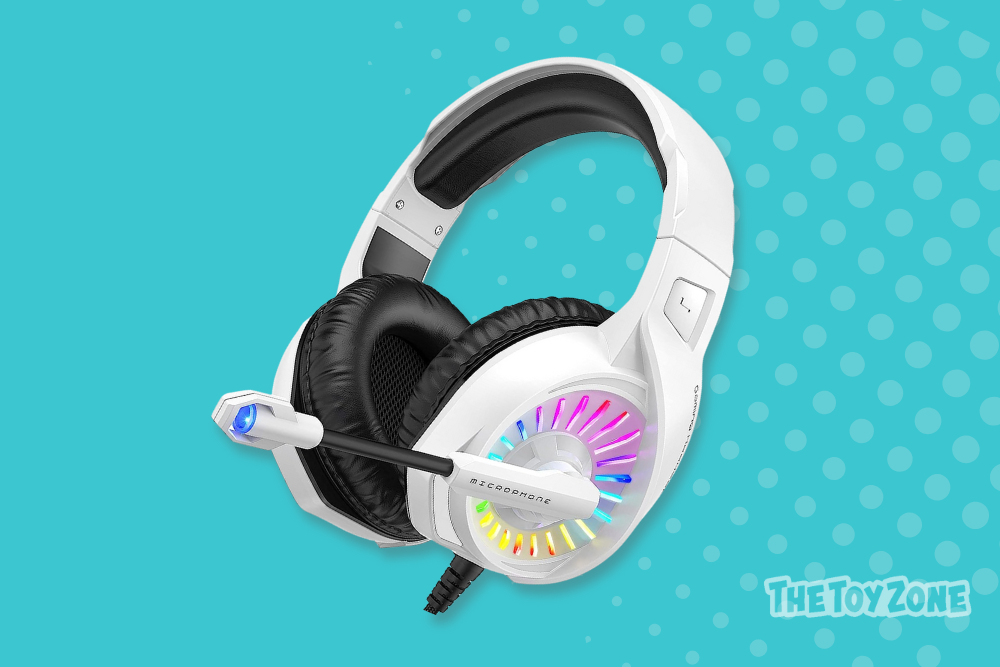 This option offers virtual surround sound, an excellent microphone and a comfortable design, so players feel like they've been transported right into the action.
Phone games have come a long way since I played Snake on my Nokia in middle school. Their graphics and complexity now rival PC and video games and this Mobile Game Controller brings them even closer.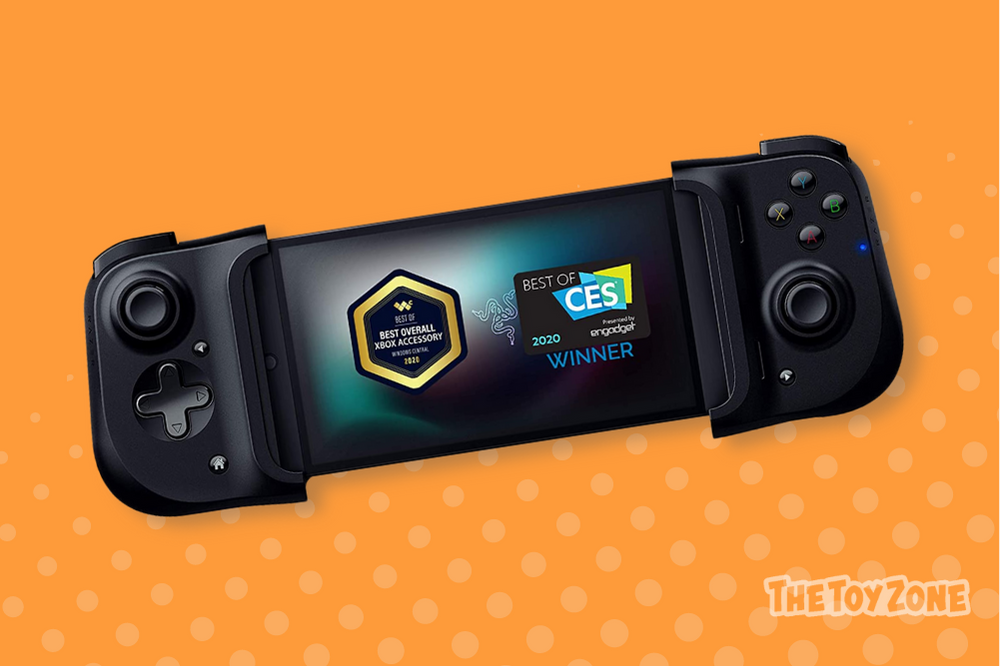 Its clickable thumbsticks and performance buttons provide precise input and tactile feedback. And as it's compatible with all leading cloud services, it turns your phone into a gaming console.
---
Gifts for Music Lovers
Is your 11-year-old a mini rocker who's been begging for a bass guitar? If so, we recommend checking out this option from Glarry. This guitar is perfect for beginners thanks to its easily adjustable strings and ergonomic design. But it doesn't skimp on quality.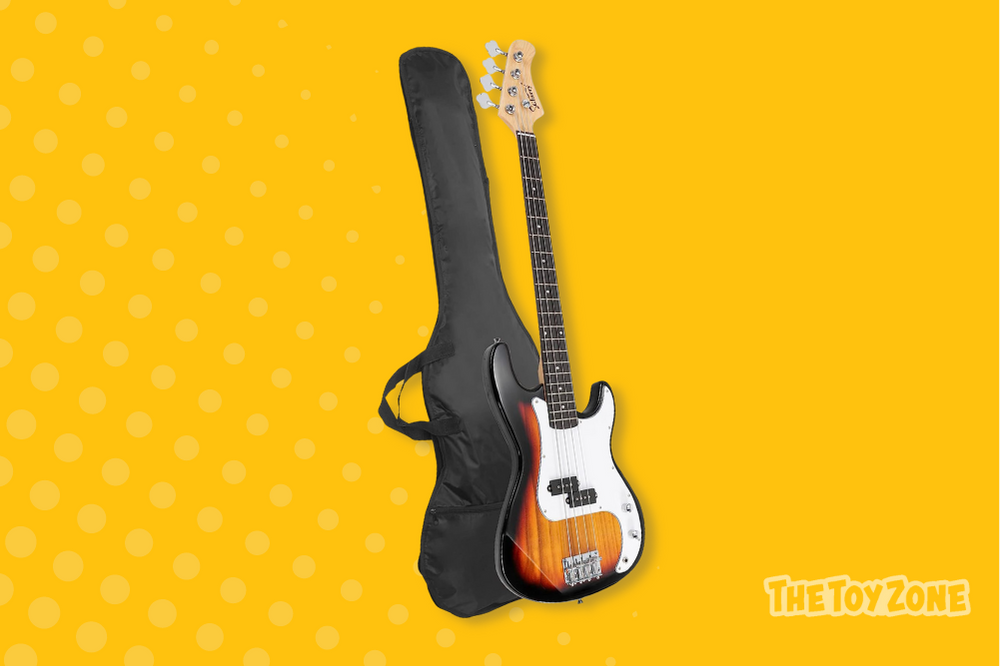 With its basswood construction, excellent tone display and 20W amp, this guitar delivers all the sounds from jazz to metal with clarity and body.
Every music lover knows that a good speaker takes the enjoyment to the next level – but what if it could give you a show too?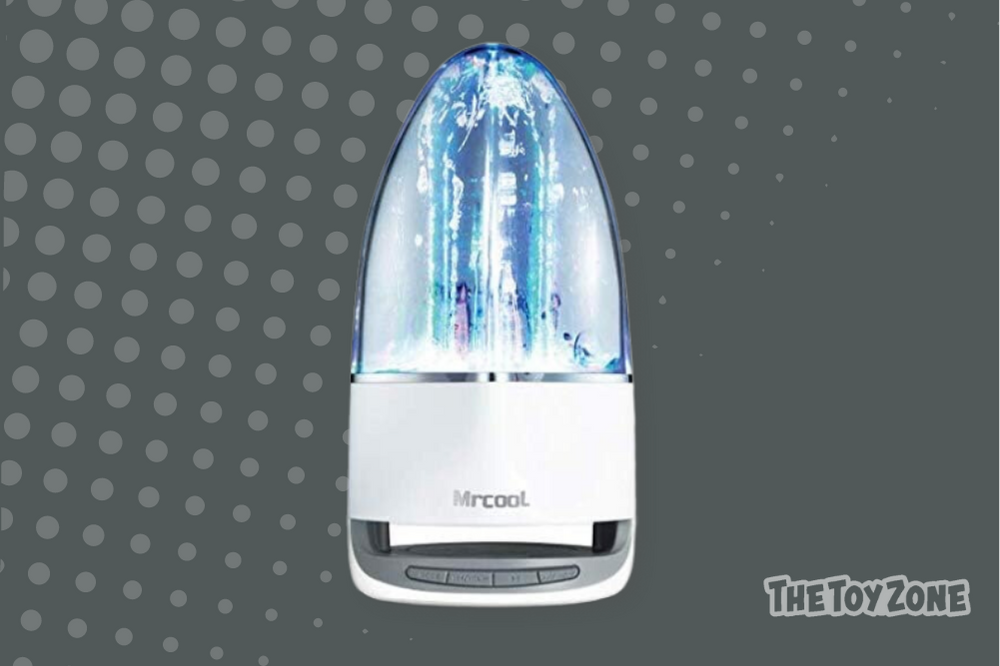 This Water Dance Speaker provides powerful bass, strong treble and Bluetooth connectivity and a fountain that dances to the music. This cool visual effect will surely appeal to 11-year-olds, who'll soon be showing it to all their friends.
For a more private music experience, these wireless earbuds from JBL are fantastic. They are waterproof enough to withstand submersion in water up to 1m, so kids can use them everywhere, from the beach to outside in the rain.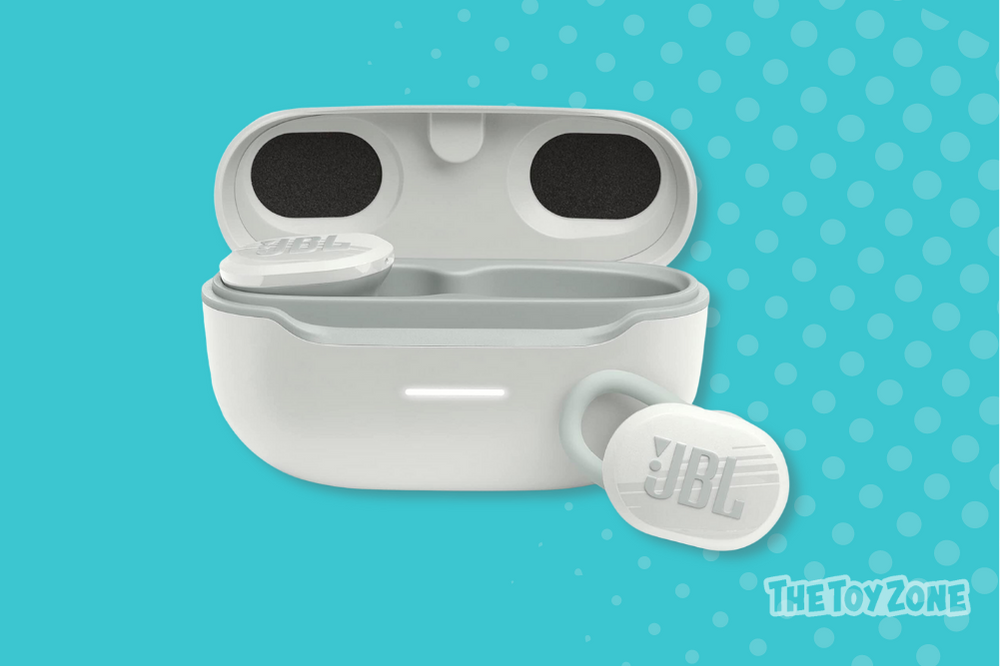 The Twistlock design means they'll always stay in comfortably and the Ambient Aware system means kids will be aware of their surroundings even as they're immersed in the music.
---
Gifts for Kids Who Love Tech & Gadgets
The ultimate gift for a techy kid is a virtual reality headset, as there's nothing more awesome than stepping inside your favorite games, movies and events.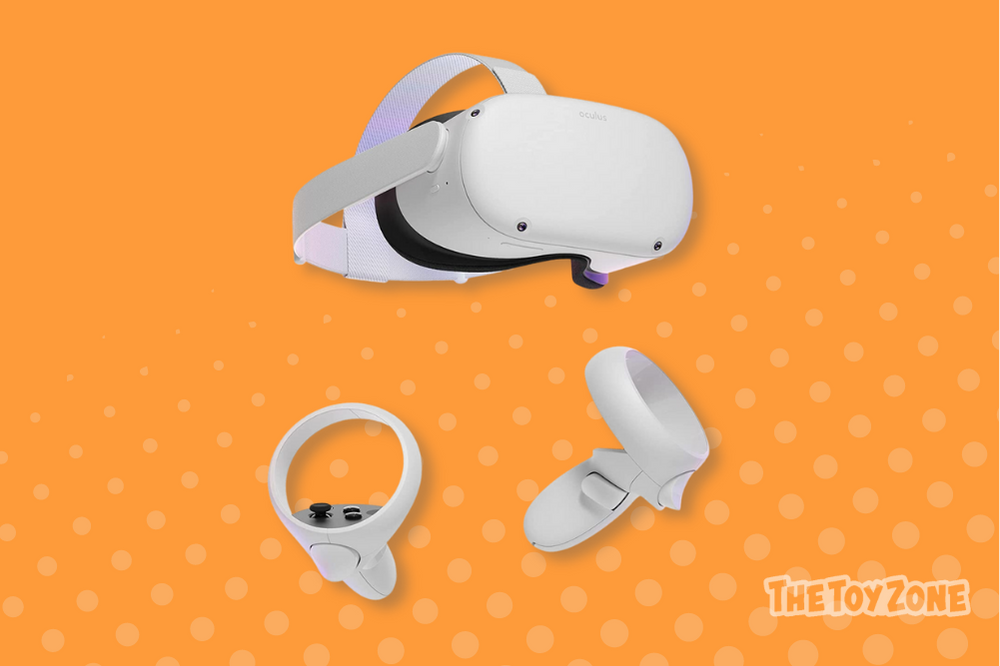 This option from Meta Quest features a blazing-fast processor and ultra-high-resolution display for enhanced realism and immersiveness. Moreover, you only need a smartphone app, so kids can have fun with their headset minutes after unboxing it.
Another winning gift for gadget-loving kids, is a drone. This foldable option is perfect for vacation and its one-key landing and altitude hover feature makes it easy to maneuver. It can also reach high speeds and do a 360-degree circle.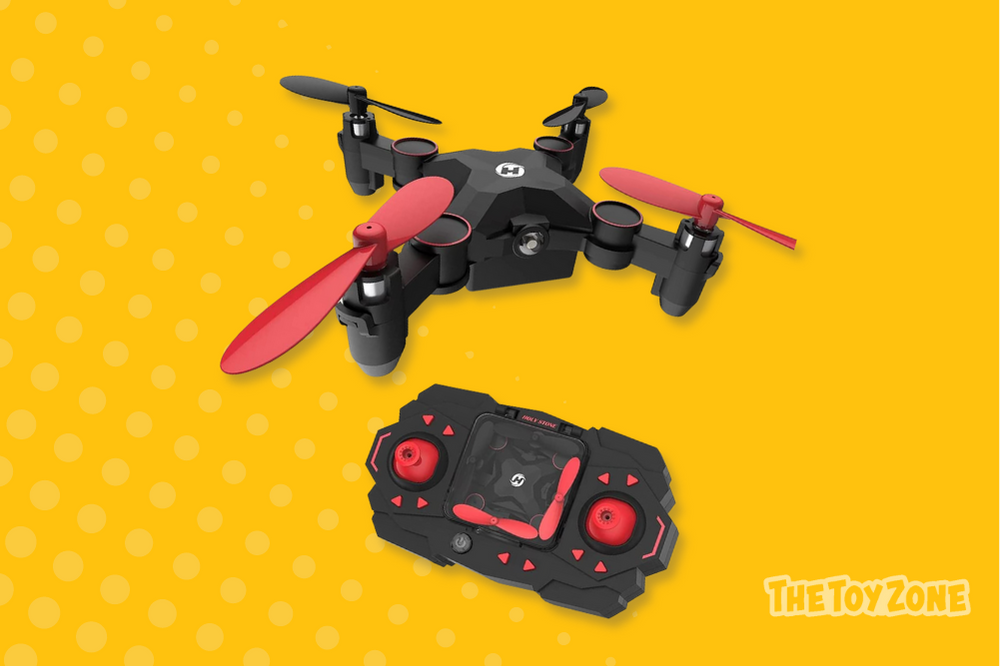 It's rated as 14+, but if you supervise the first few sessions, a tech-savvy kid should get the hang of it with no problem.
This adorable little gadget is the perfect addition to any 11-year-old's bedroom, especially if they are creative and love everything digital. Designed to look like a tiny retro computer, the Divoom Ditoo features a pixelated display where kids can create pixel art designs or play pixel-based games.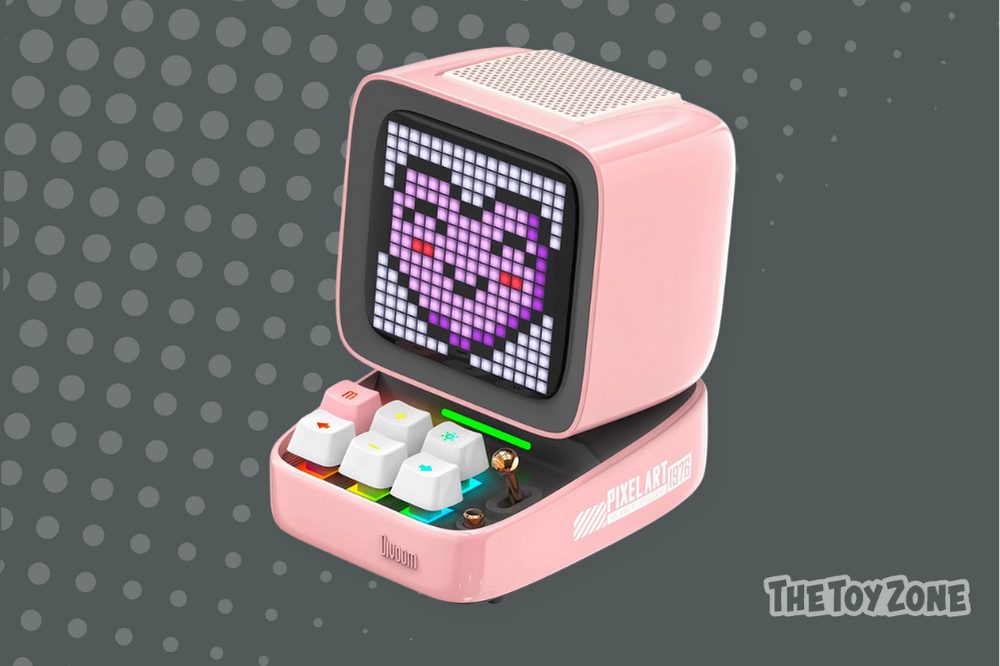 The Divoom Ditoo makes for a fun, creative activity and doubles as a Bluetooth speaker functional alarm clock too.
---
Gifts for RC Drivers
True RC enthusiasts never grow out of their passion and this rugged option is perfect for 11-year-olds. Featuring an RC 380 motor and 4WD, this little truck is powerful but easy to maneuver.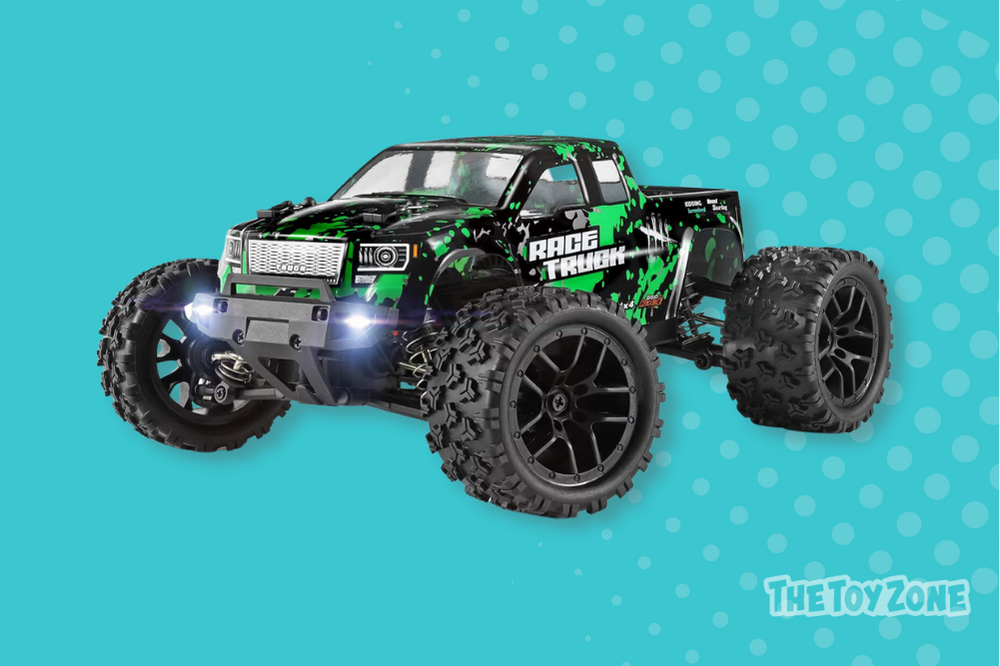 It can zoom over any terrain at 36 km/h speeds and survive both crashes and splashes. Kids can customize it as a hobby car if they like, but it also works as is.
For kids who have mastered remote-controlled cars, taking to the skies with an RC helicopter is the perfect next step. With its sleek design and dual rotors, this little copter looks stunningly authentic.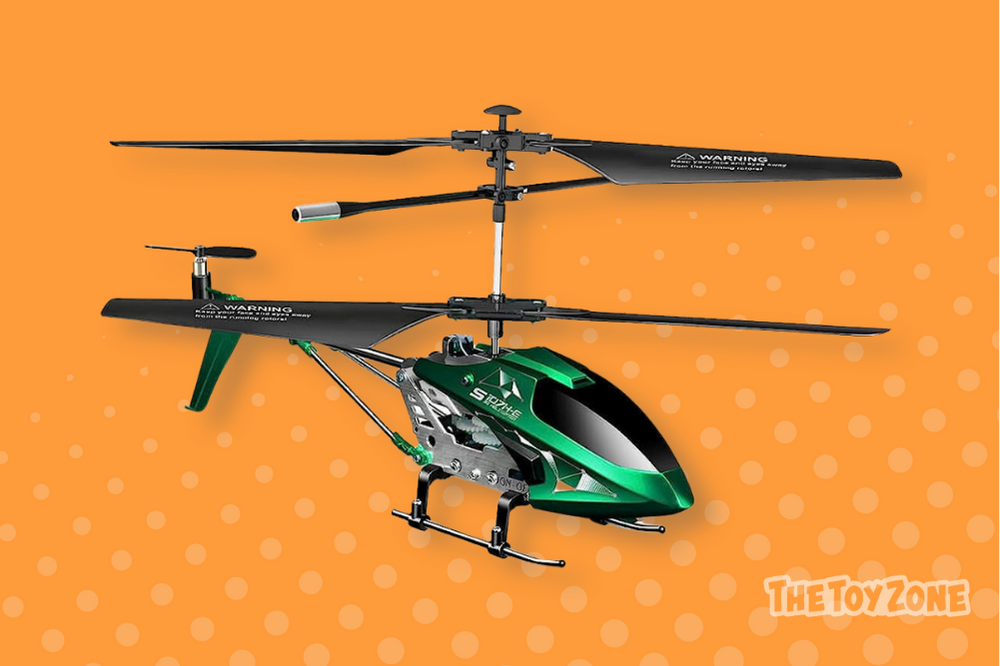 This RC helicopter is beginner-friendly thanks to its one critical takeoff and landing and the ability to be locked at a certain height, while its speed and stability make it a blast to fly.
This paper airplane kit is a quirkier option that will appeal to origami enthusiasts. The kit includes paper airplane templates, a motor and propeller set and everything else you need to get your smartphone-controlled plane into the sky.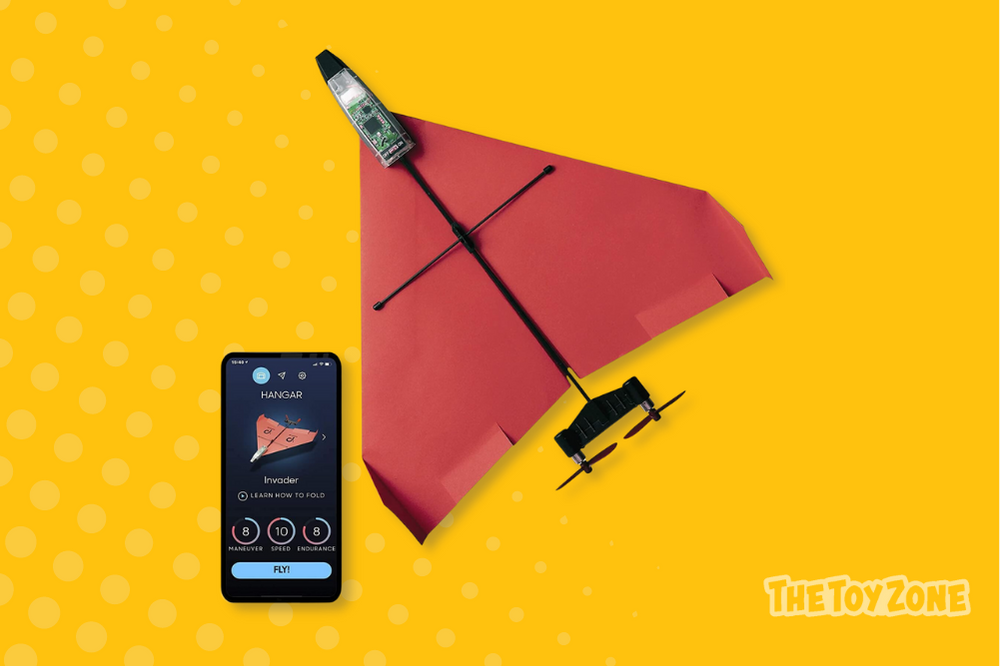 Worried about bad weather? No need as the onboard computer is constantly calibrating and stabilizing the plane. And if anything happens to it, you can always fold another.
---
Got an aspiring skater boy or girl on your hands? This full-size kids' longboard can hold up to 220 lbs, so it's ideal for 11-year-olds who want to learn some tricks. The concave design provides better control and the non-slip surface provides a stable grip.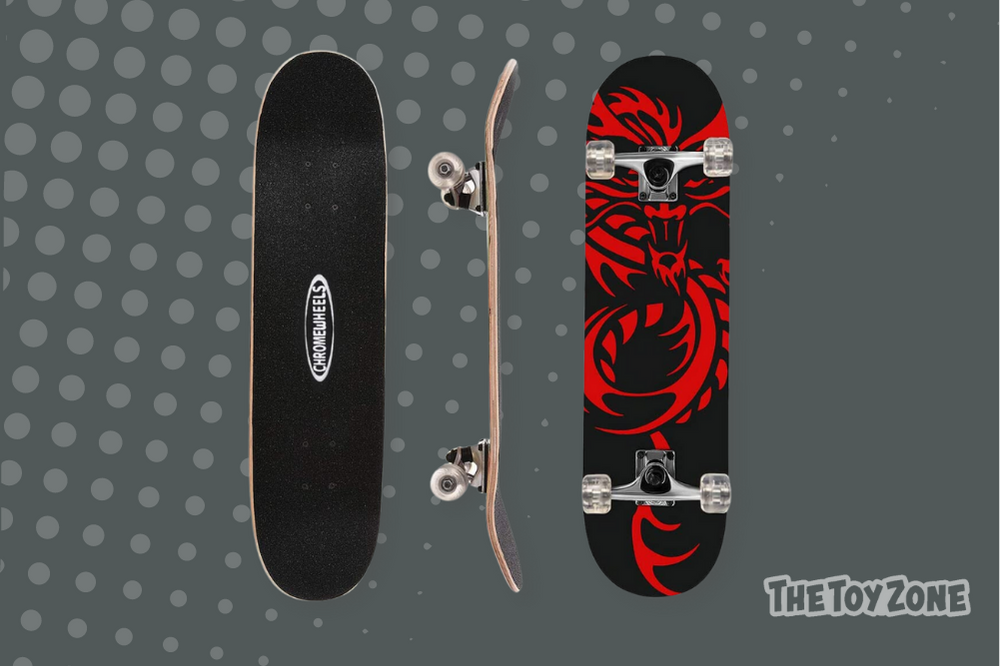 Kids will love that they can learn basic stunts, and parents will love that every attention has been paid to safety.
Let your tween join in the Fitbit fun with the Ace 3, designed specifically for kids. With animated clock faces that grow as kids move more throughout the day, this Fitbit provides the perfect encouragement to get active.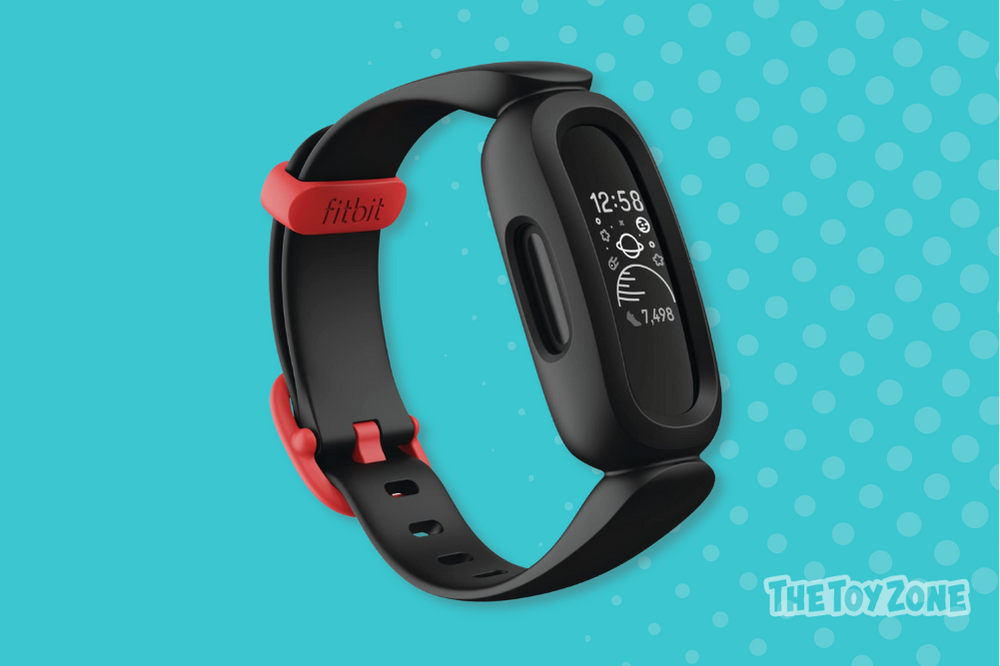 The Fitbit Ace 3 also delivers activity tracking, sleep tracking, bedtime reminders and fun animations when kids reach their goals. It's water resistant, so there's no need to worry about unforeseen dips and spills.
Golf may seem like a grown-up sport, but it's great for kids as it is pretty safe and excellent for improving coordination and mental focus. This junior golf set includes everything kids need to get started on the green, including the essential golf clubs and a high-quality bag.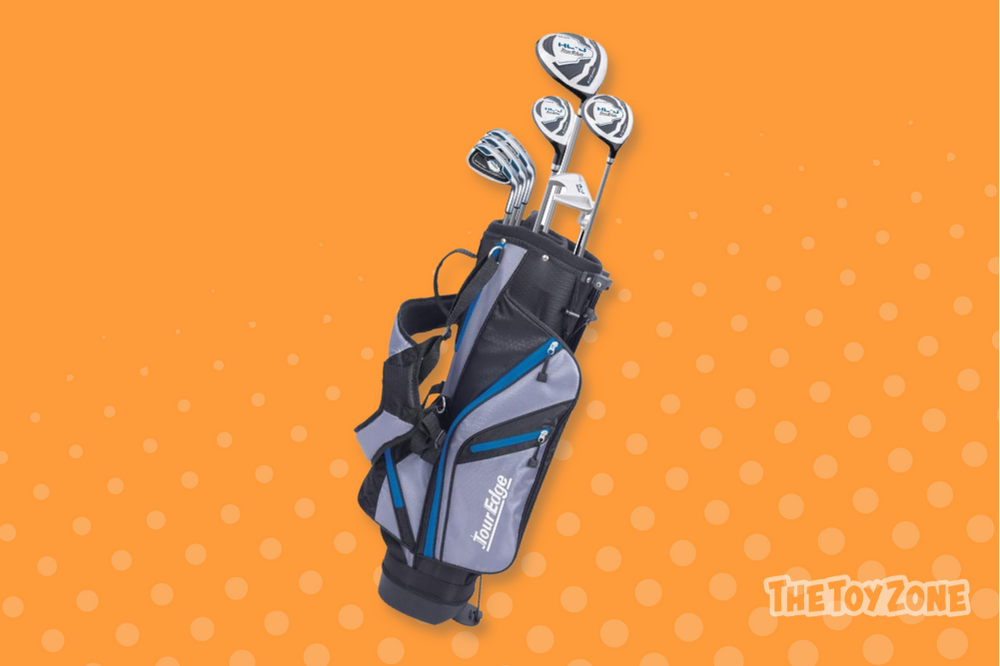 All the clubs feature advanced hybrid technology providing a low center of gravity and easy-to-hit shots.
---
Gifts for STEM Students
For a kid fascinated by biology, there's nothing more exciting than delving below the level of the naked eye and seeing all the invisible components of the world around us. With magnification settings of 40X up to 1000X, kids will be amazed by what they discover.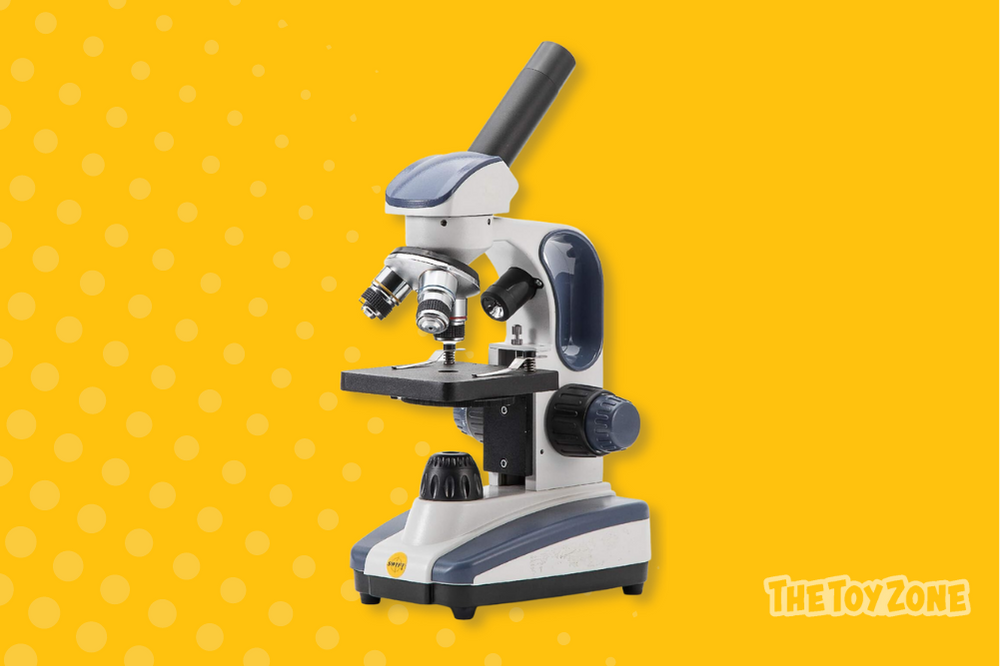 From weekend experiments to sharing with friends to school science projects, the Swift Compound Monocular Microscope SW200DL will provide endless hours of fun and learning.
Kids more into the techy side of science will be obsessed with this solar robot kit. Kids can build no less than 12 different robots from scratch, starting with the same core electronics.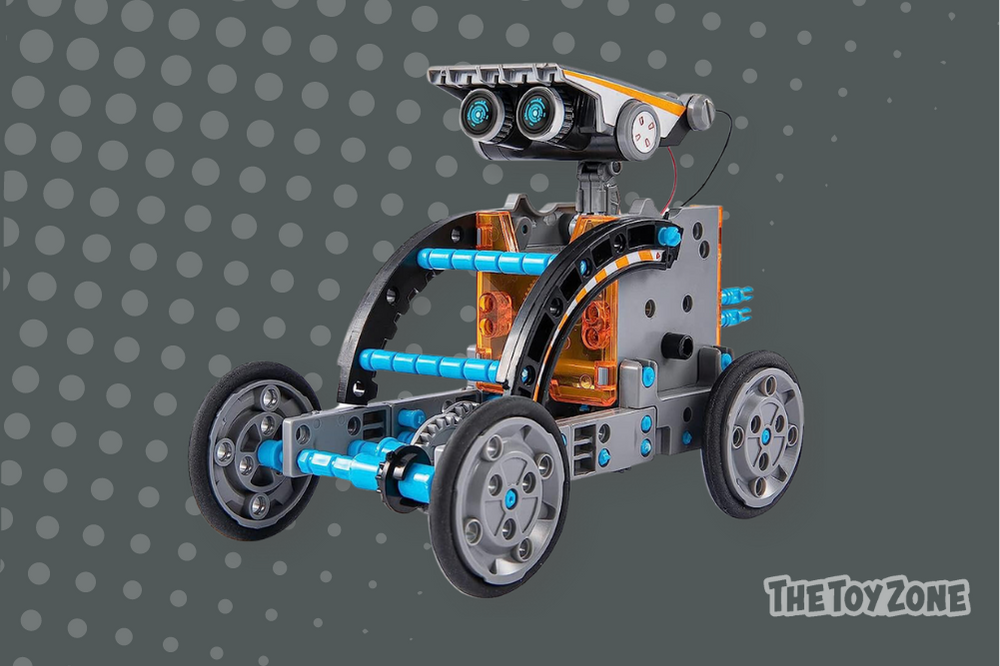 Some of the solar robot designs can walk, some can roll, some can move in water, and some have exciting characters like zombie or beetle. Best of all, they get power from the sun, so no batteries are necessary.
This option is a little more advanced, perfect for highly precocious budding engineers or for a team project working with an adult. With this kit, kids can build a working robot arm that can move, rotate and grab and is controlled by levers and powered by hydraulics.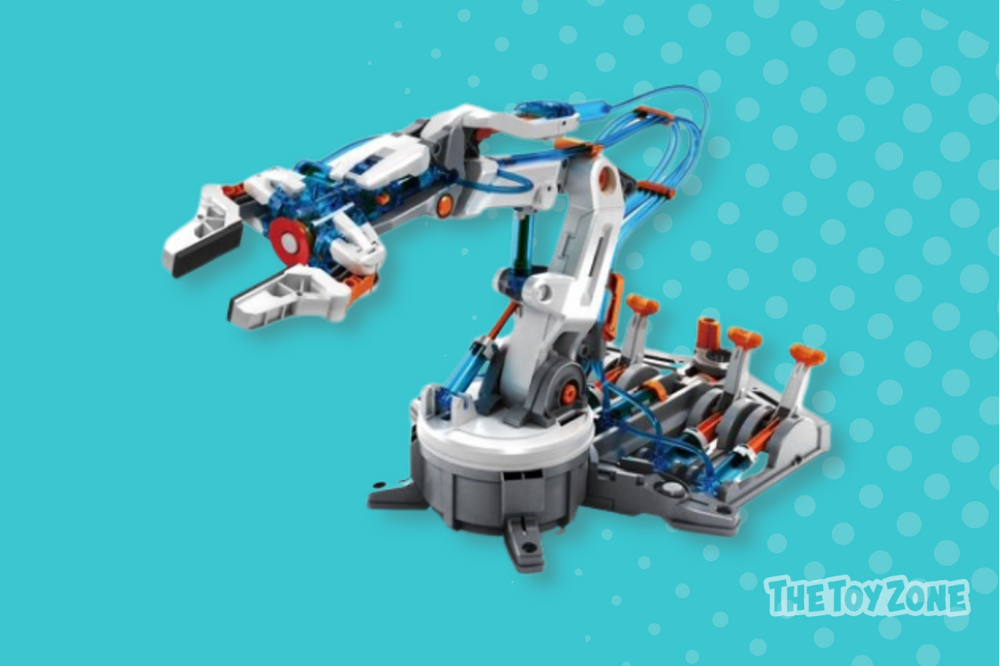 The Teach Tech Hydrobot Arm Kit is an excellent choice for kids interested in the practical application side of robotics.
---
Gifts for Young Artists
The perfect gift for kids interested in both the techy and arty sides of life, the 3Doodler allows you to doodle in 3D. This 3D printing pen is child safe and will enable kids to make everything from jewelry to toys simply by creating plastic layers.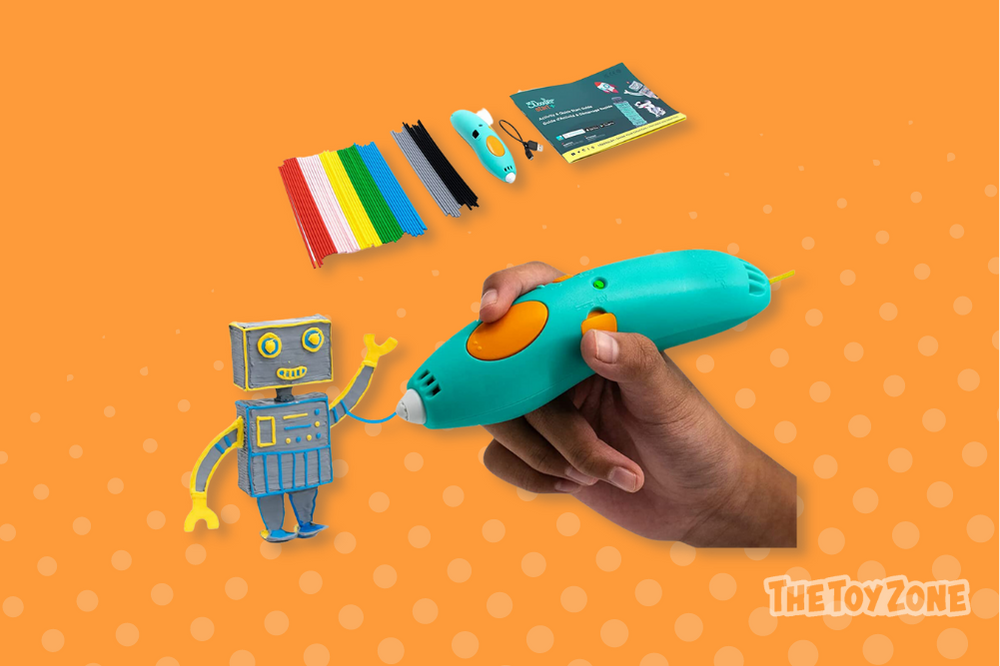 The 3Doodler Start+ Essentials kit includes a mixed pack of colors and an activity guide with loads of patterns (though free experimentation is also highly encouraged).
For creative kids more into traditional mediums such as painting, this tabletop easel set will surely hit the mark. This comprehensive kit includes a beechwood easel box with a handy drawer, six different-shaped brushes, 12 acrylic tubes, three canvas panels and two palettes.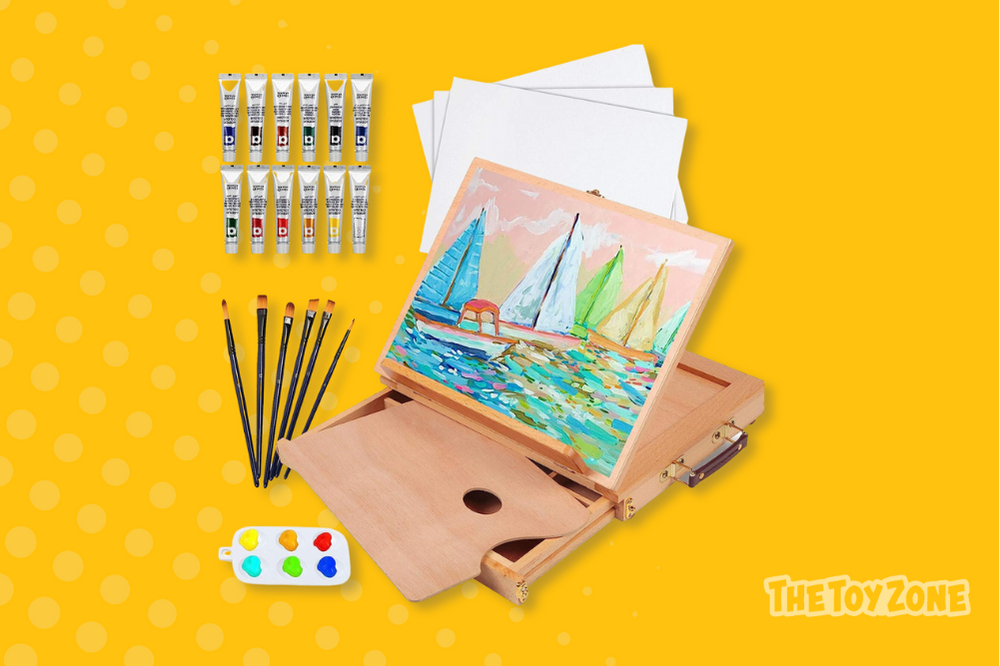 Thanks to the compact foldable design and carry handle of this tabletop easel set, kids can bring their in-progress art with them wherever they go.
Whether kids like to draw realistic portraits, their favorite cartoon characters or their own imaginative designs, this drawing tablet is a surefire win. While it's not a substitute for analog drawing, tablets allow a different kind of creative freedom as kids can incorporate any colors and line types they like.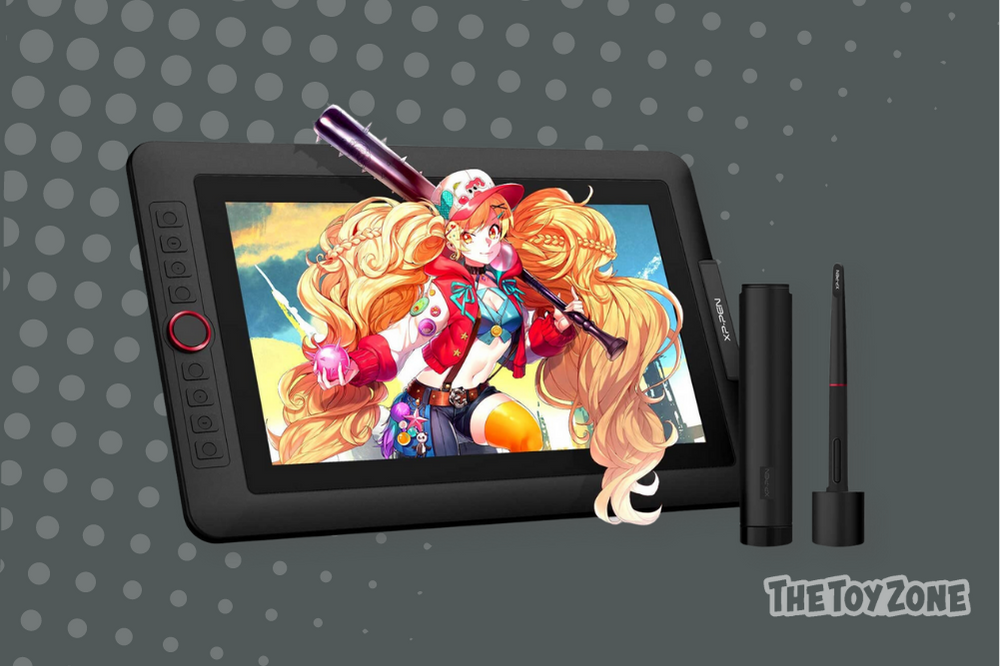 The XPPen Artist13.3 Pro Drawing Tablet comes with some excellent features, including an anti-glare screen, a tilt function for easier shading and vivid colors.
---
Gifts for Book Lovers
Books make great affordable gifts and if the 11-year-old in your life always has their nose in one, another is always welcome. This action-packed fantasy non Calejo is perfect for kids who enjoy Percy Jackson books or other mythology-inspired stories.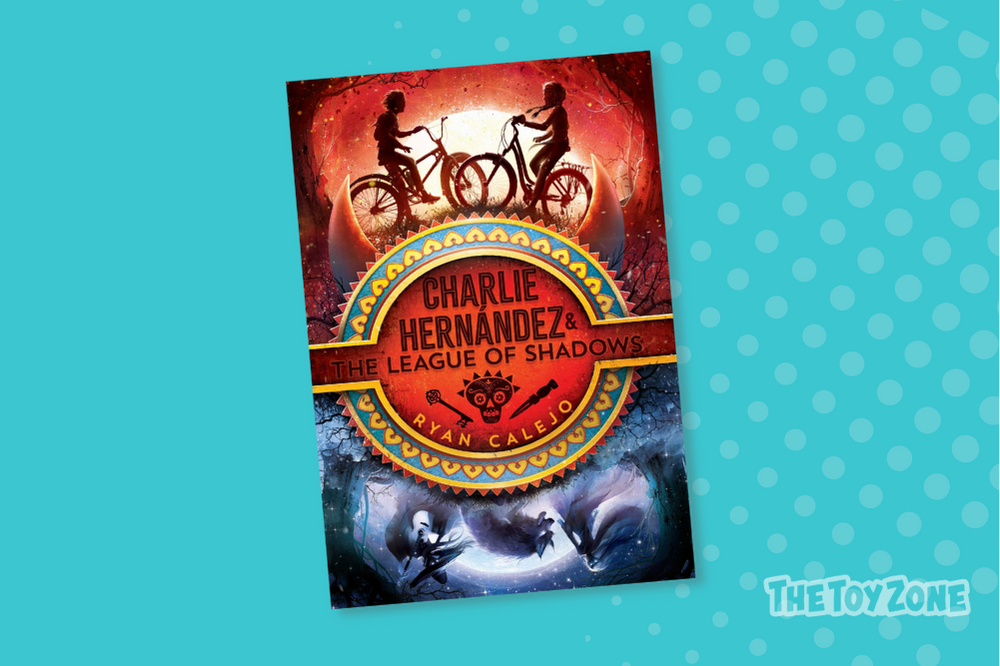 Charlie Hernandez & the League of Shadows draws on Latin American folklore to tell a gripping tale of monsters, mythical beings and family ties.
It's common for adults to underestimate kids and believe that they can't enjoy books about serious topics. Nowhere Boy busts that myth wide open with a beautiful and suspenseful book touching on themes of refugees, immigration, cross-cultural friendship, Islamophobia and the Syrian War.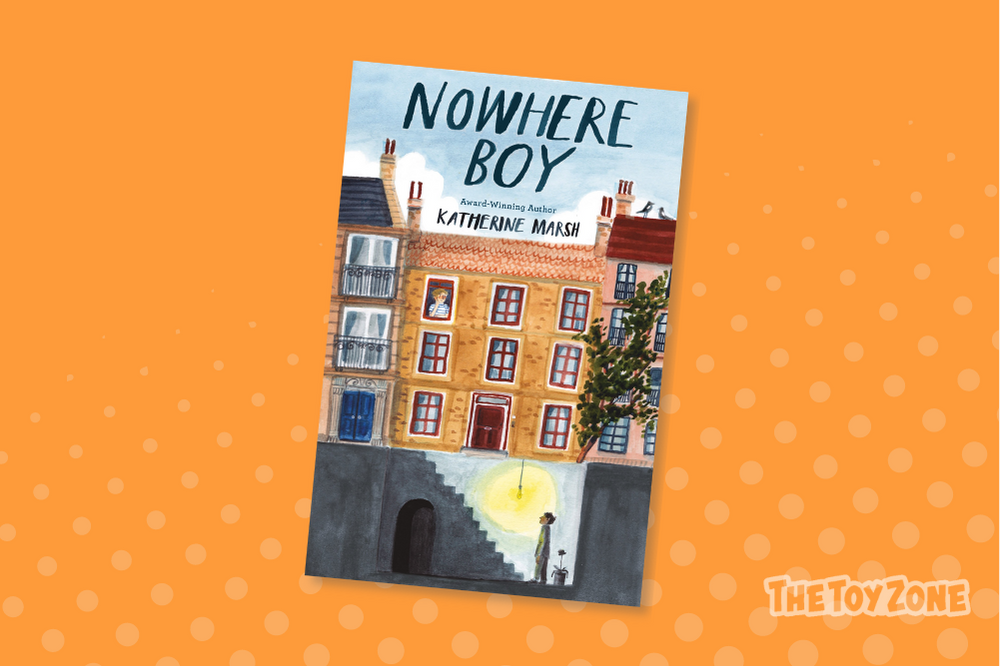 The story of Nowhere Boy is gripping, heartwarming and told in a way that is accessible to kids without talking down to them.
11-year-old bookworms can go through an astonishing number of books, so keeping them supplied is sometimes a strain on your time and wallet. The Kindle Kids stores hundreds of books in one compact device and comes with a year's subscription to Amazon Kids+, providing unlimited access to thousands of books.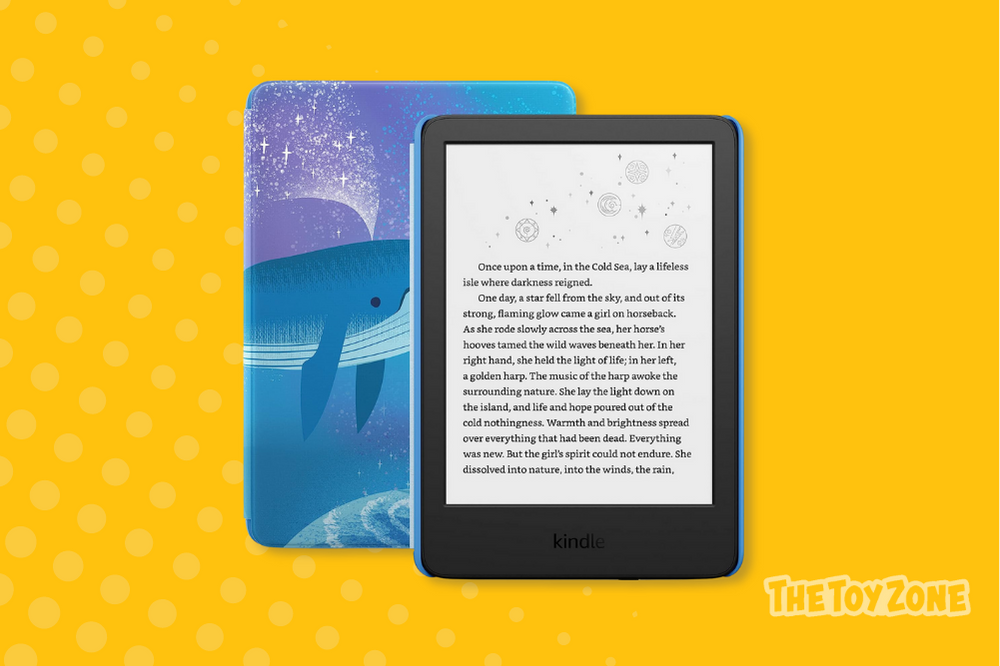 Two more things you should know about the Kindle Kids table is that it comes with a cute protective cover and is free from distractions like apps and games.
---
Gifts for Board Game Players
As Jumanji was a movie based around a board game; it's no surprise that it has spawned several actual Jumanji games. However, this one is the most immersive, thanks to its glowing green dome that makes realistic sounds and riddles as players race through the jungle.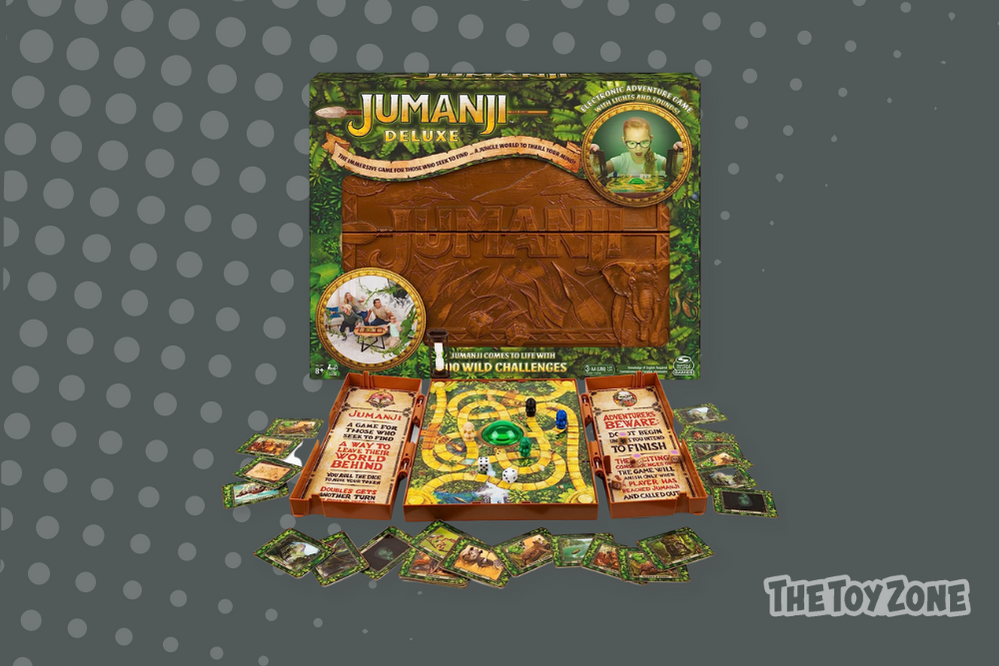 The varied challenges and suspenseful atmosphere of the Jumanji Deluxe will appeal to most 11-year-olds.
Monopoly is an iconic game, but we all know it so well that it could do something to spice it up. Of course, themed versions of Monopoly are not new, but this Stranger Things edition adds excitement to the gameplay like few others do.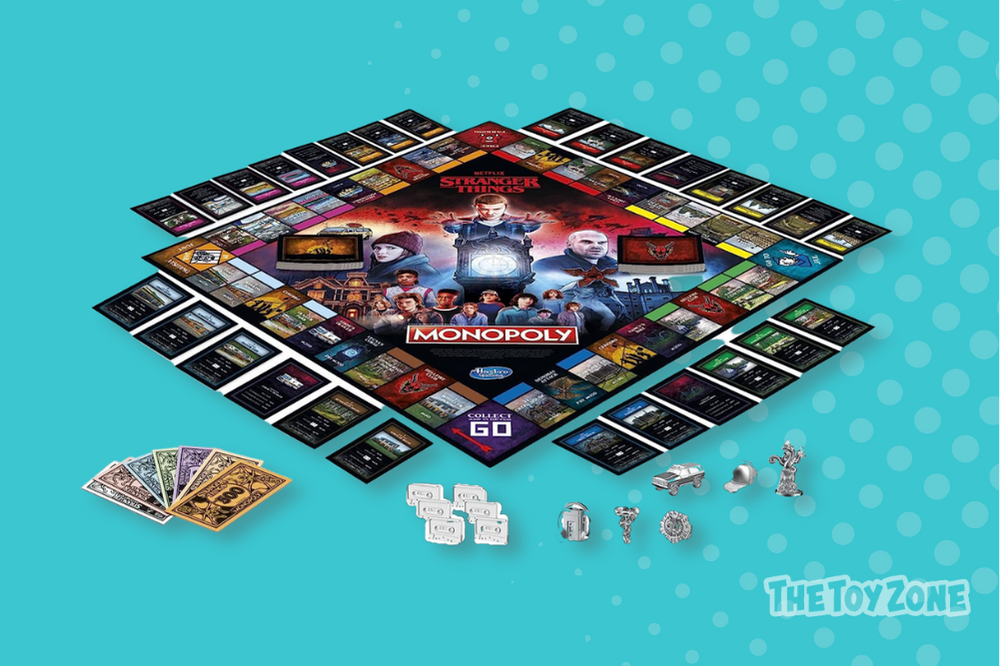 Featuring locations and events based on season 4 of the show, the MONOPOLY: Netflix Stranger Things Edition is full of surprises fans will love.
Is your kiddo a strategic thinker eager to try more complex board games? If so, they may be ready for Catan. Possibly the most famous tabletop game out there, Catan involves settling an uninhabited island, developing it and (hopefully) leading your settlement to success via trade, exploration and more.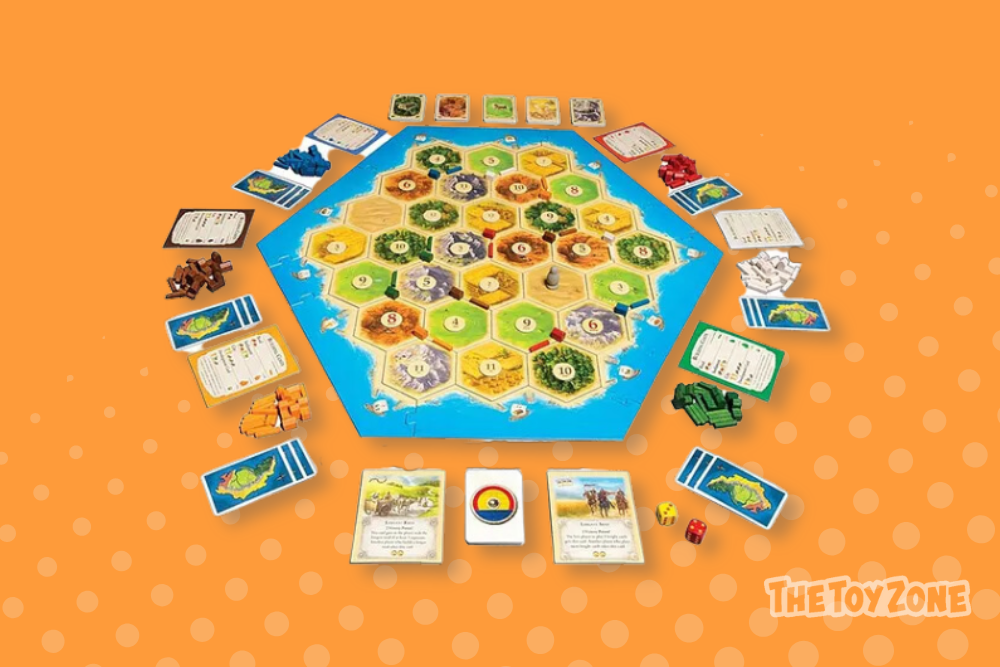 Catan is easy to learn but full of depth and endlessly replayable, so it's the perfect introduction to strategy games.
---
Gifts for Movie Lovers
Make movie night a thousand times better with this nifty little portable projector. Compatible with every major smartphone and computer operating system, this projector is the size of a smartphone, meaning kids can bring it along to every sleepover.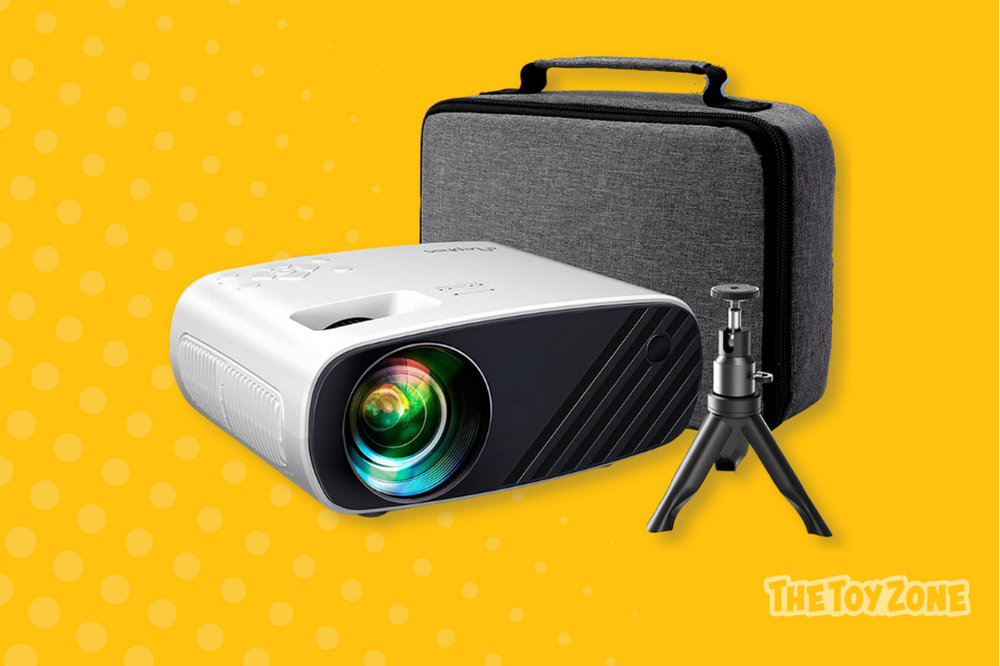 The 8000L Portable Projector with Tripod is equipped with the latest projection technology, its image quality is astonishingly good, even on 200-inch screens or outdoors.
Is it really movie night without popcorn? Well, with this patented Micro-Pop popcorn popper, you never have to miss out again. The genius of this popper is that it works perfectly without oil or butter – but if you want to add some, that's also easy via the dual-function lid.
One last pro: the glass construction in the Ecolution Patented Micro-Pop is durable, non-toxic and easy to clean, so it's convenient and safe.
This Jekeno blanket is exactly what it sounds like – a cozy blanket that looks just like a movie clapboard. This quirky design is sure to appeal to movie-loving tweens.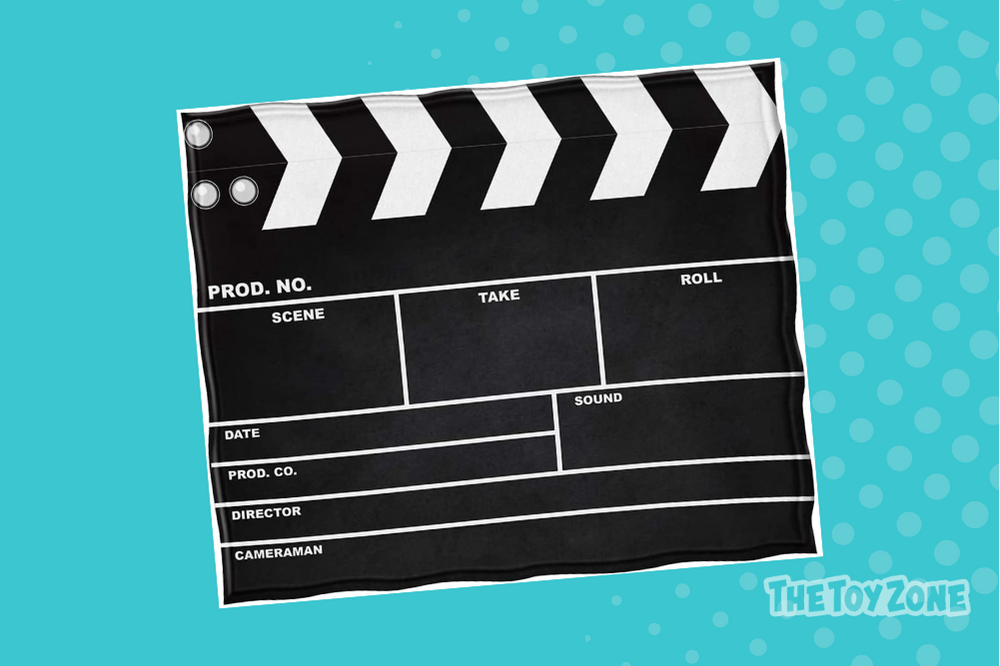 This blanket is also wonderfully soft and warm yet lightweight, so it works perfectly as an extra bed blanket or to cuddle up under in front of a movie. Plus, the parents will be pleased to know it's machine washable.
---
Gifts for Kids Who Love the Outdoors
Whether your tween is a scout or not, if they're always thinking about how to survive in the wild, they'll love this orienteering compass that does much more than just point north.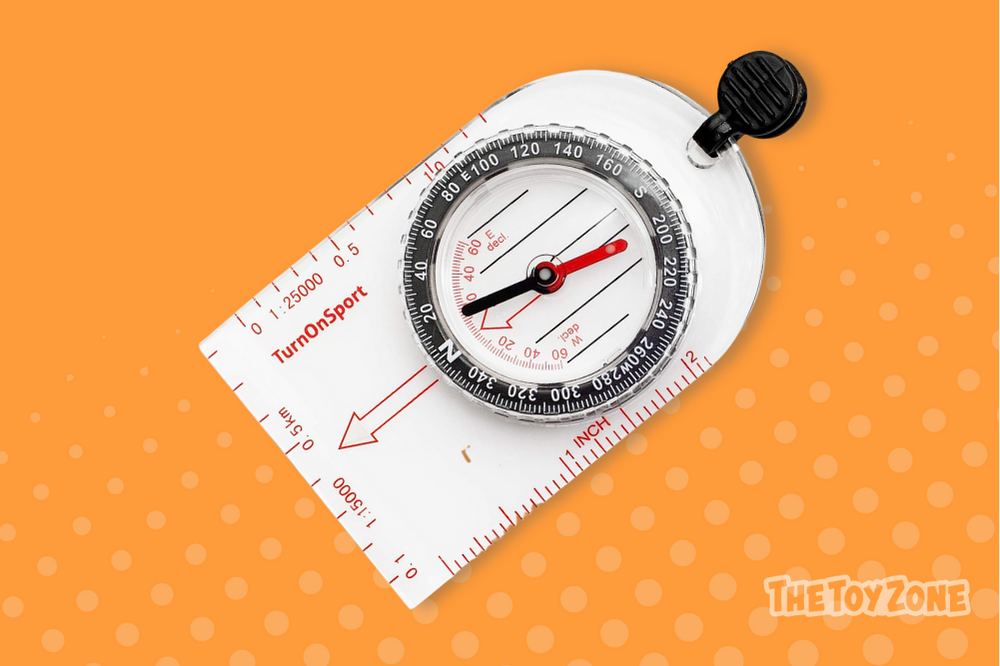 Learning to navigate is a valuable skill, making long hikes and sailing or fishing trips much more fun. This compact compass is lightweight, durable and easy to use, regardless of weather.
Rock climbing is the ultimate activity for adrenaline junkies, but it's hard to perfect your skills if you don't live close to a rock climbing gym. Enter this DIY rock climbing holds set, which you can use to make your own climbing wall home.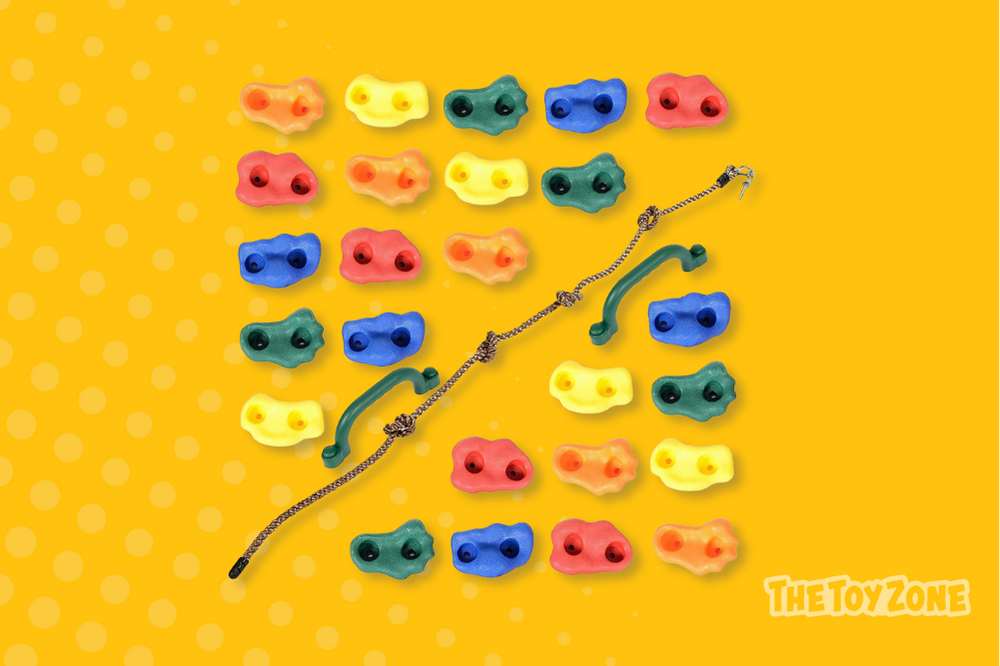 Attach the climbing holds to a tree, jungle gym or even an indoor wall and let the whole family enjoy these super durable holds.
Family camping trips are the ultimate bonding activity and the highlight of every outdoorsy kid's year. And by age 11, it's high time they had their own tent.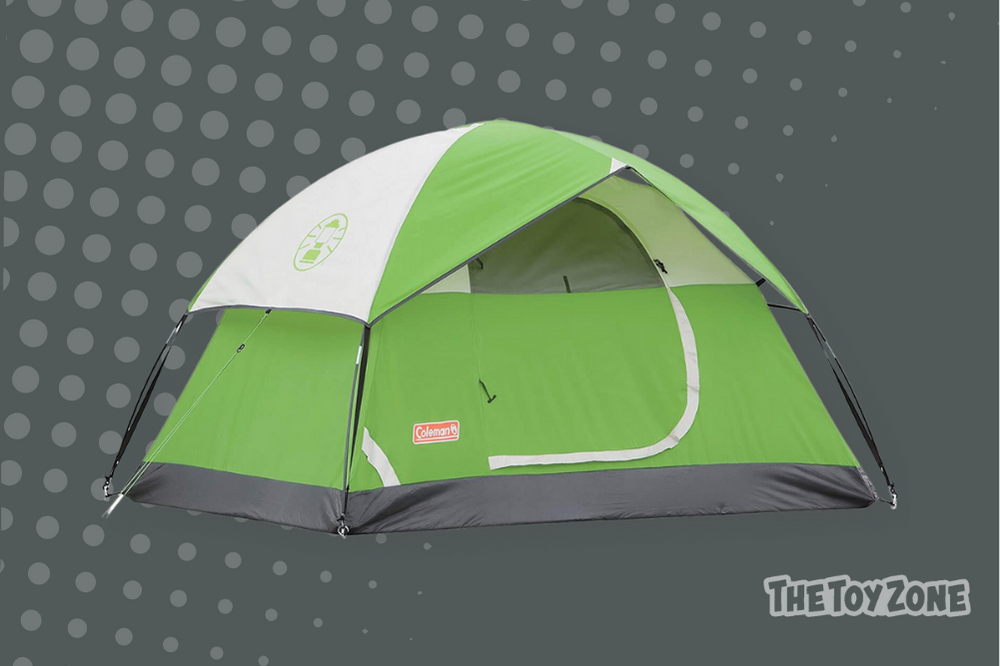 This two-person tent from Coleman is designed to withstand winds of over 35 mph and rain. It's perfect for camping, backpacking, or simply setting up in the backyard for an outdoor sleepover.
---
Gifts for Wannabe YouTubers
In 2023, YouTube is not just an amateur video-sharing platform but a possible career. But whether or not your tween ends up as a YouTuber or TikToker, this ring light helps them make videos that look sleek and professional.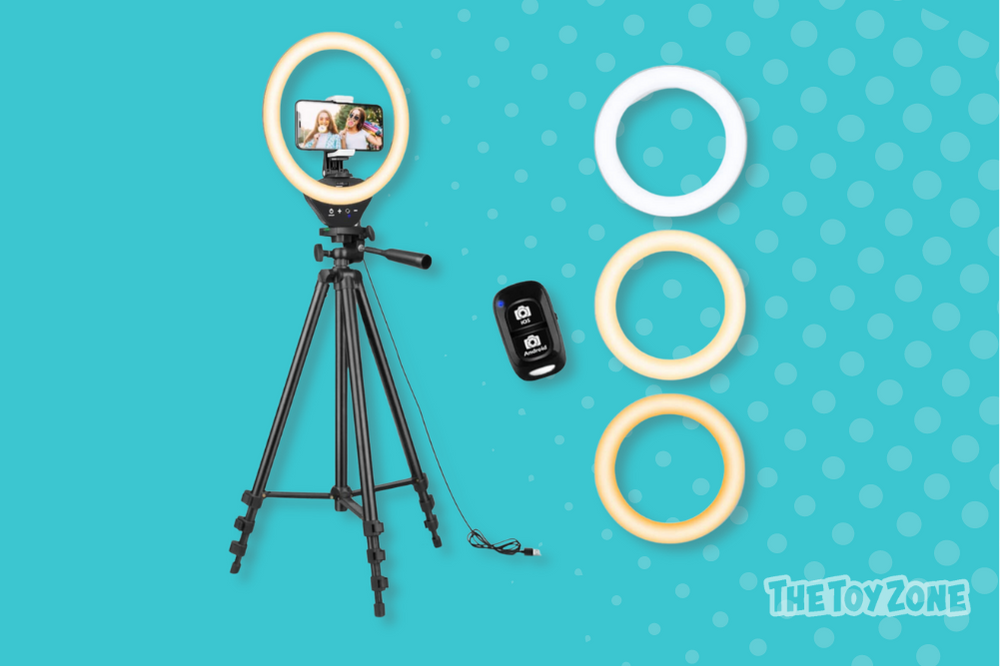 With three color modes, 10 brightness settings and many useful accessories, the Sensyne 10" Ring Light is a fantastic tool for any photographer or videographer to have in their wheelhouse.
To make professional videos, a good microphone is also essential. This one is a fantastic option as despite being super affordable, it provides an unmistakable, interference-free sound.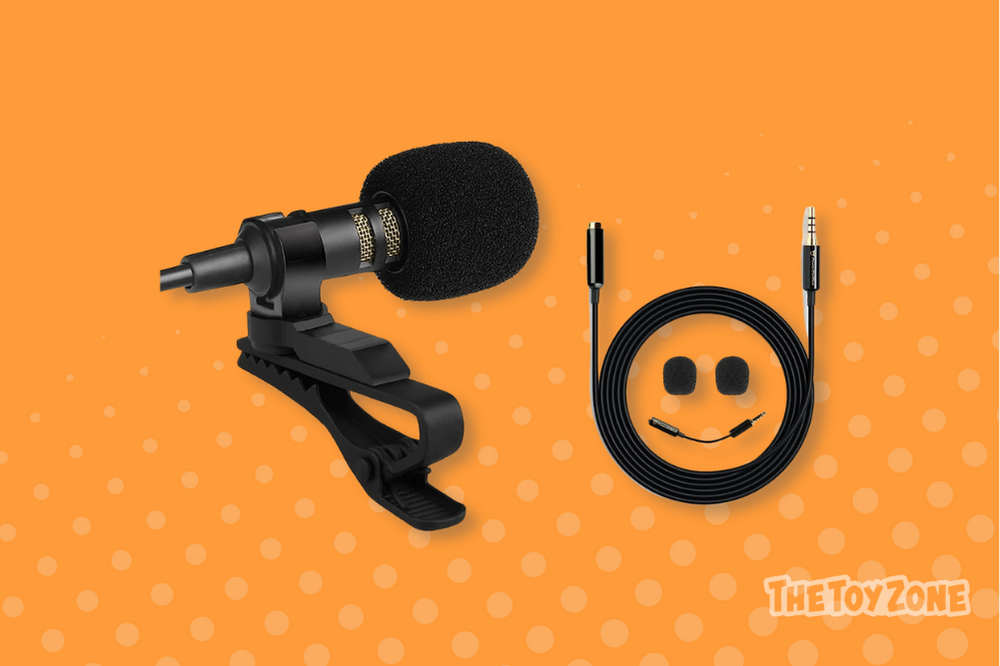 The PowerDeWise Clip On Microphone is compatible with almost every device and requires no charging or battery — simply plug it in and get recording. And as it clips onto your clothing, it's easy to use anywhere without interfering with the video.
Once those video clips are recorded, the next step is editing them into compelling and entertaining videos. With Pinnacle video editing software, kids will have all the tools they need to do just that.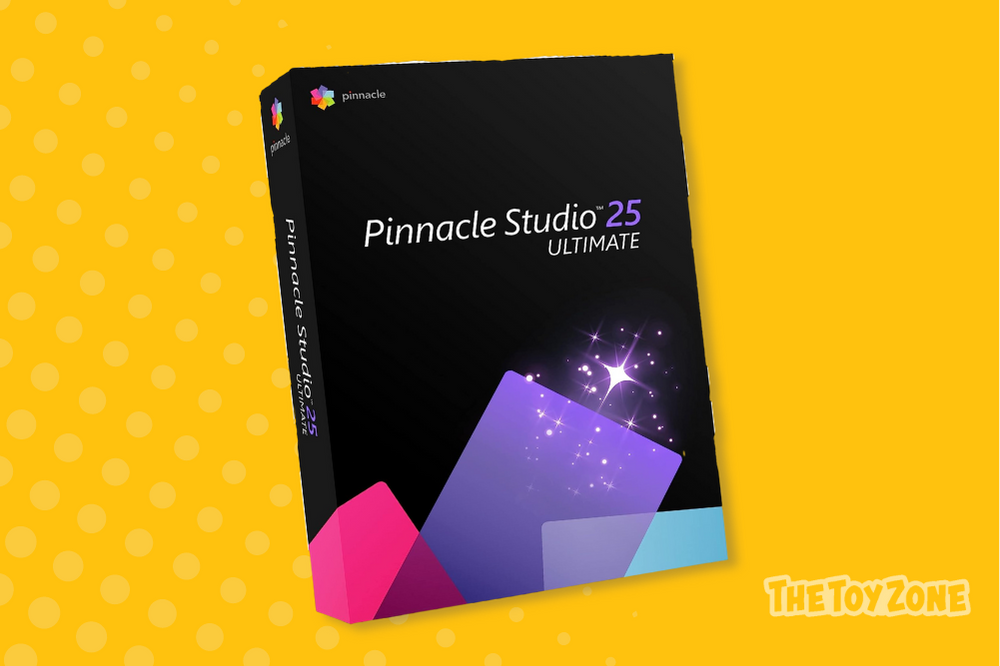 With Pinnacle Studio 25 Ultimate, your 11-year-old will be able to cut and sort clips and add creative titles, transitions, filters, effects and more to create pro-level videos. And despite the software offering advanced tools, learning how to use it is easy.
---
Gifts for Kids Who Like to Write
At 11, pouring out your innermost thoughts into a diary is almost a rite of passage. But whether your tween wants to write a diary, poems or exciting ideas, this lined notebook fits the bill.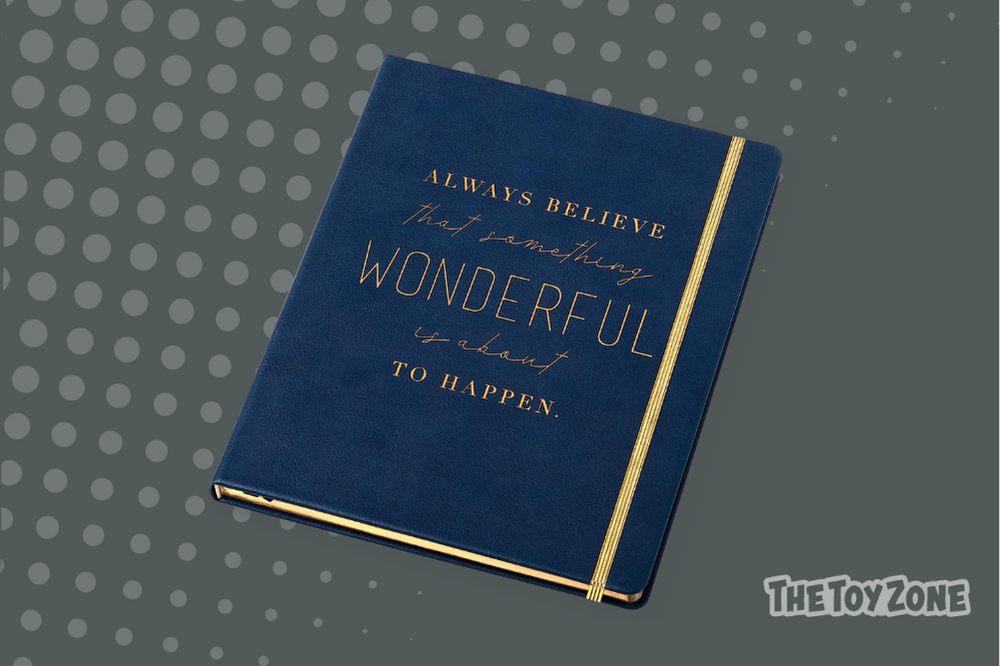 With its faux leather cover and luxe pages, this journal will make their writing feel special. And as there are over 30 different cover designs, you can pick the perfect one for them.
In today's world of instant messaging, slowing down to write a letter feels very special. This airmail stationery set is the perfect gift for tweens who like to express themselves in writing.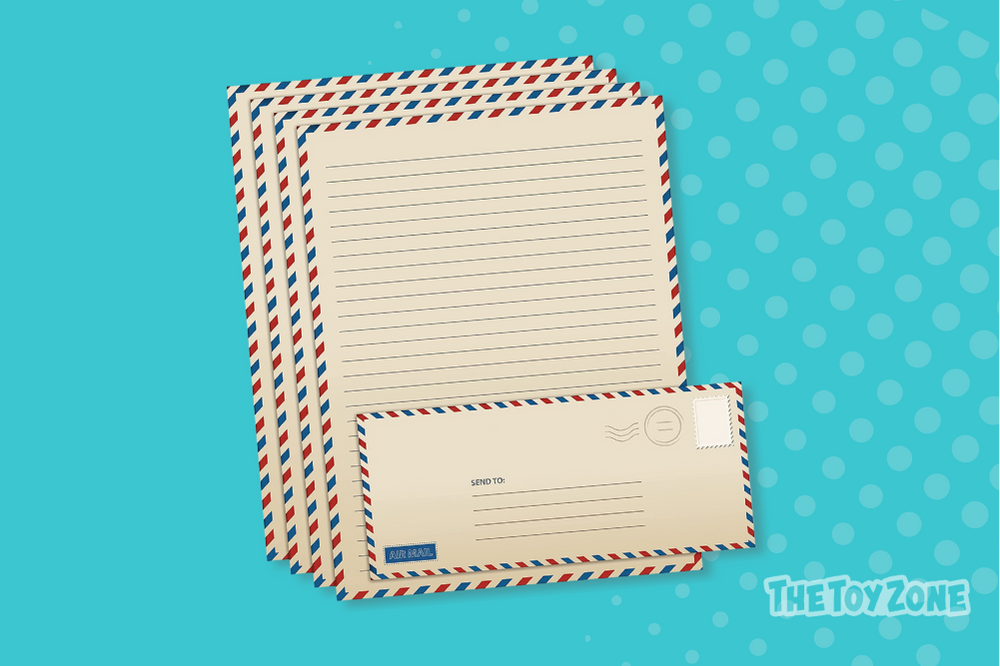 Whether they write to a pen pal, a family member overseas or simply their friends at school, this set will make letter writing fun. The quality paper and vintage design also adds a special touch.
The perfect gift for aspiring authors, Write Your Own Book is a kid-friendly guide packed with creative writing prompts and activities. Armed with this book, kids will hone their writing skills, develop their creative confidence and even learn how to write an entire book.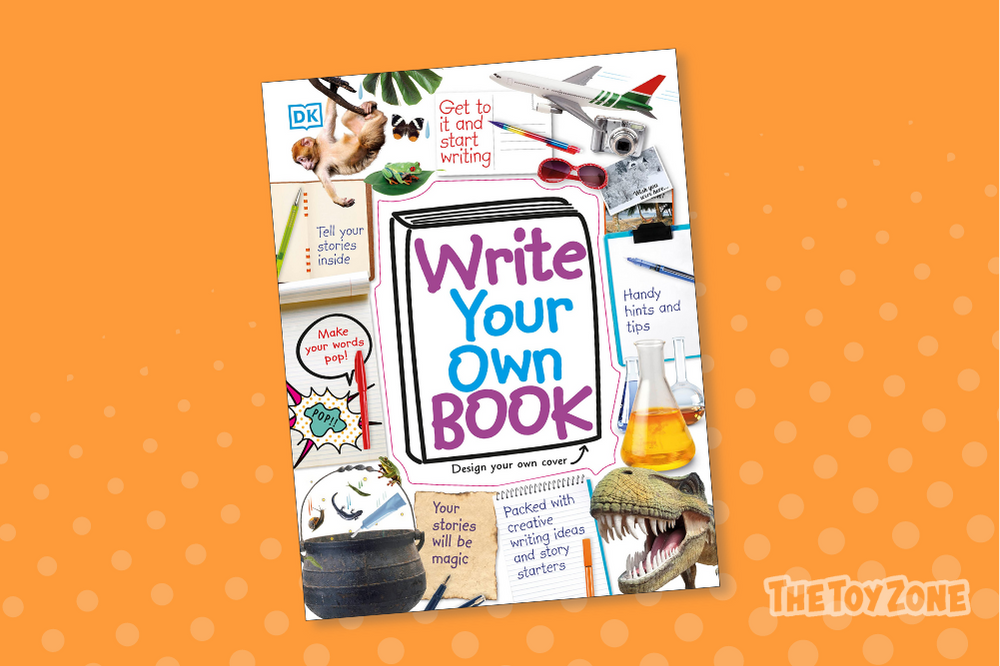 There's no age restriction on being a writer, and this book proves that with its fun format that still takes your 11-year-old's writing seriously.
---
Gifts for Young Photographers
Polaroid cameras will never stop being fun as they allow you to capture memories and see them take physical form in an instant. This option retains the classic polaroid design while offering greatly enhanced focus and vibrancy.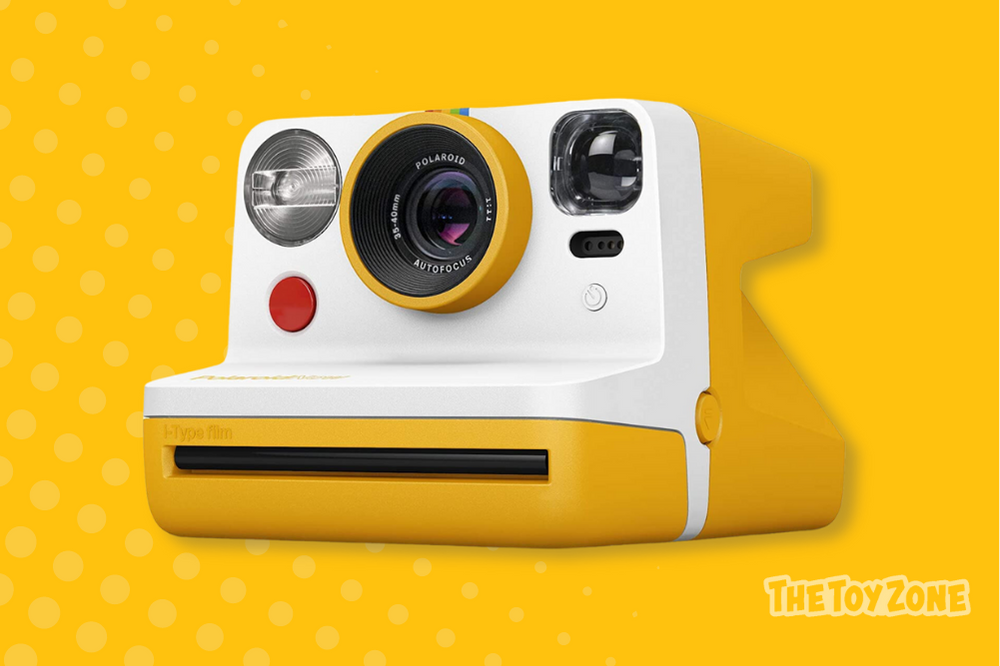 The Polaroid Now I-Type Instant Camera is available in various colors with a stylish vintage design. It's the perfect gift as it provides both fun in the moment and future nostalgia.
What do you do if your aspiring photographer already has their camera of choice? You get them this waterproof camera bag. This stylish and comfy bag will keep their precious camera safe from rain, splashes, dust and falls, and it will also hold a tripod and all the other necessary accessories.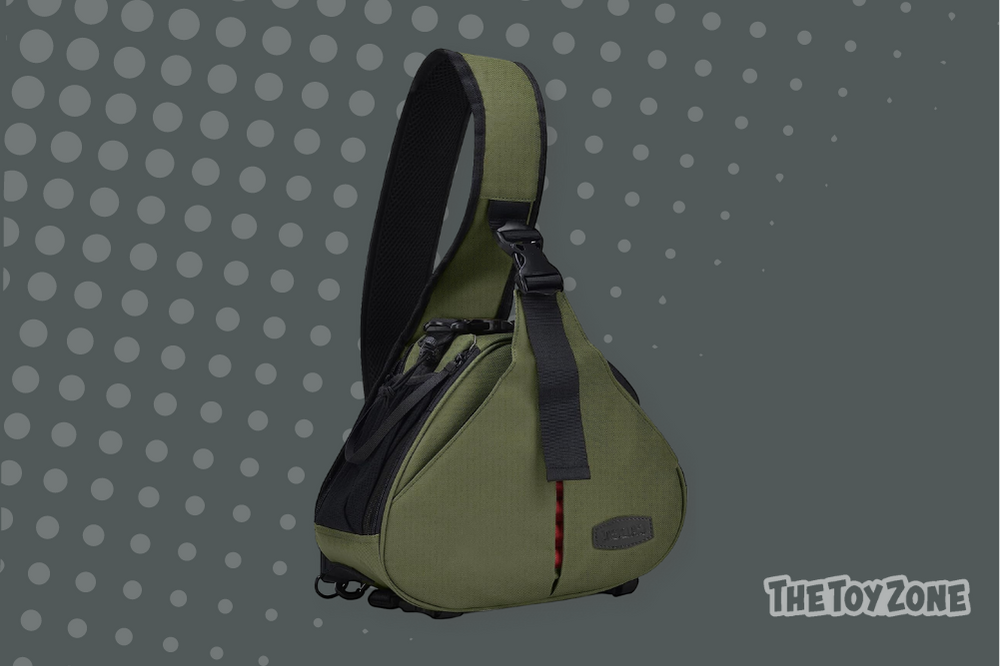 With this camera backpack, your 11-year-old can head off to find the best shots and know their equipment is protected.
Kids who are really passionate about photography are probably already starting to experiment with photo editing, possibly in Lightroom. Lightroom is the number one photographer's tool after the photo is taken, but it can be tricky to use without guidance.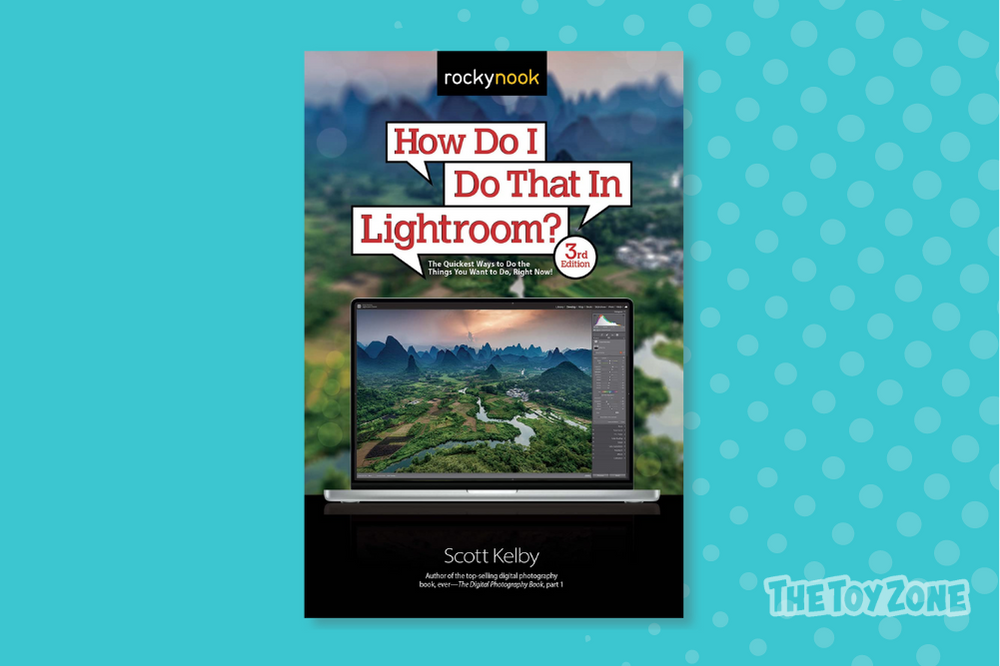 This best-selling book provides that advice in a no-nonsense way. Although it's not explicitly aimed at kids, it is very accessibly written.
---
Gifts for Anime Lovers
If your kiddo loves anime and drawing, this book is a must-buy. The first in a best-selling series, this one is all about drawing original characters from simple templates.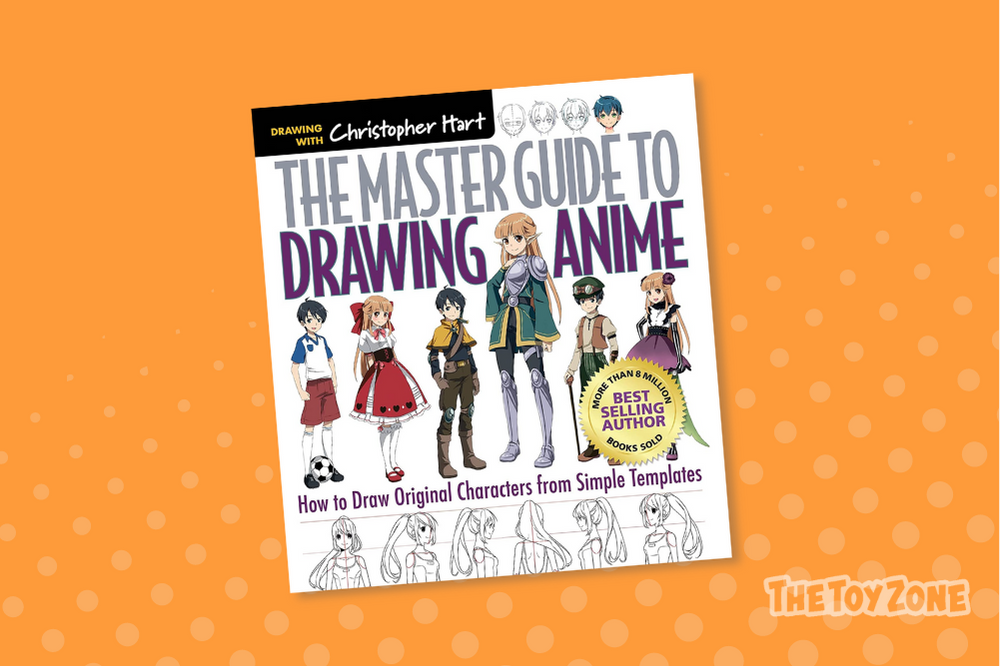 Now, not only will your 11-year-old be able to draw their favorite anime characters, but they'll have the tools to create their own as well. It's the first step in becoming a master anime artist and is suitable for all skill levels.
For anime fans, a quality figurine of one of their favorite characters is always a winning gift. This humorous Son Goku figure is perfect for Dragon Ball Z fans.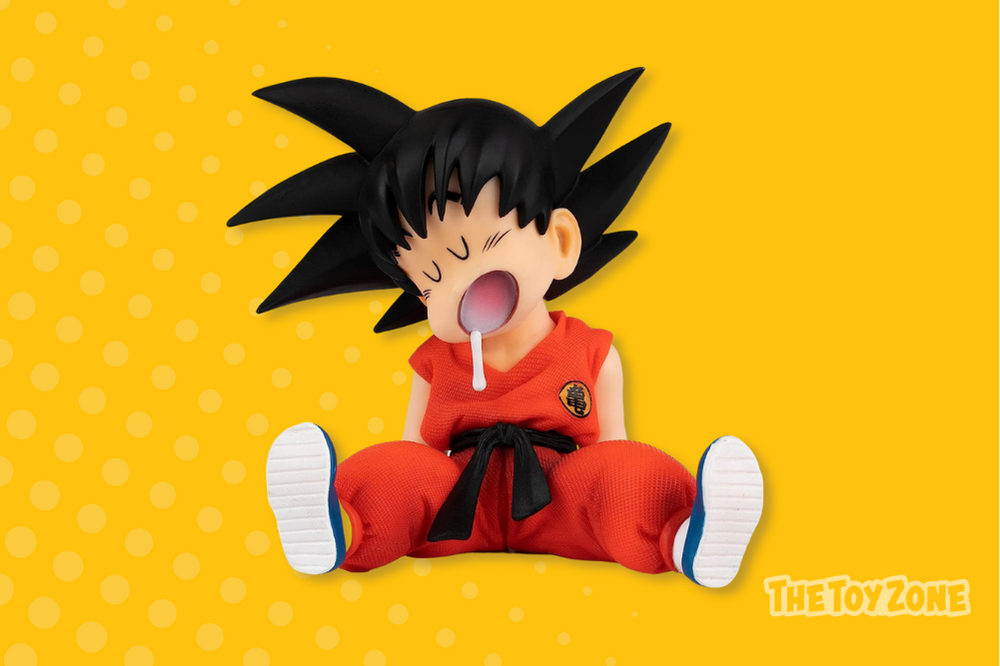 This Son Goku figure is made from durable PVC and features perfect detailing, including real fabric clothes. And with Goku's hilarious sleeping pose, it will look fantastic adorning any DBZ fan's bedroom.
If Studio Ghibli movies are more their thing, this My Neighbor Totoro crystal puzzle will surely hit the spot. As charming and adorable as Totoro himself, this figure is an excellent addition to any Ghibli fan's bedroom.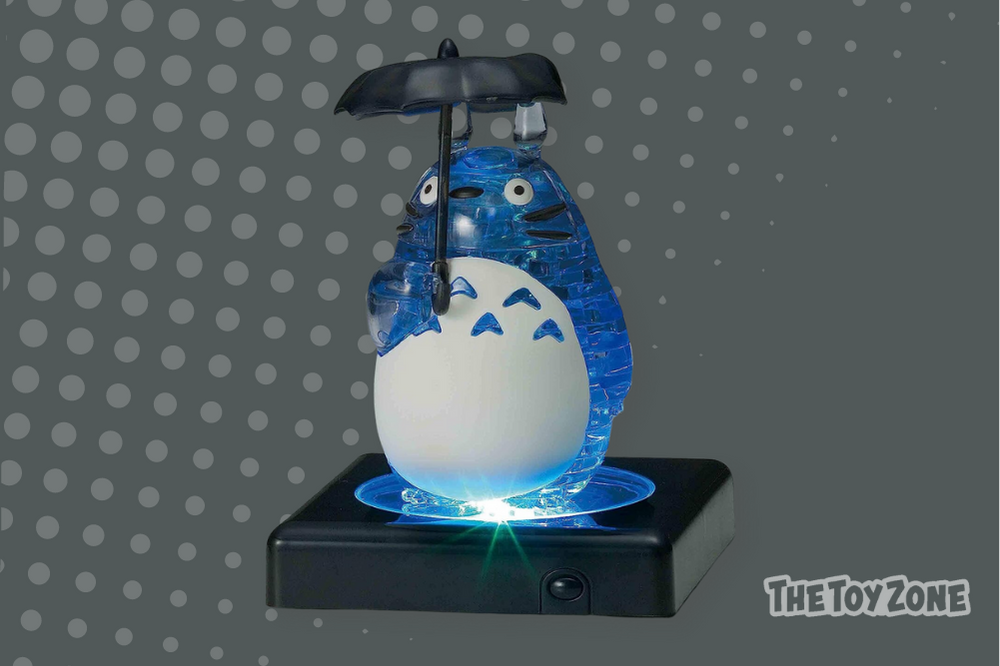 Plus, though it's simple to do, putting together the 3D puzzle is a fun. Once he's complete, try positioning him next to a light to make him glow.
---
Gifts for the Environmentally Conscious
These indoor planters are the perfect way to bring nature into your tween's life in small but meaningful ways. They can try their green thumb by growing succulents, indoor plants or edibles like herbs and microgreens.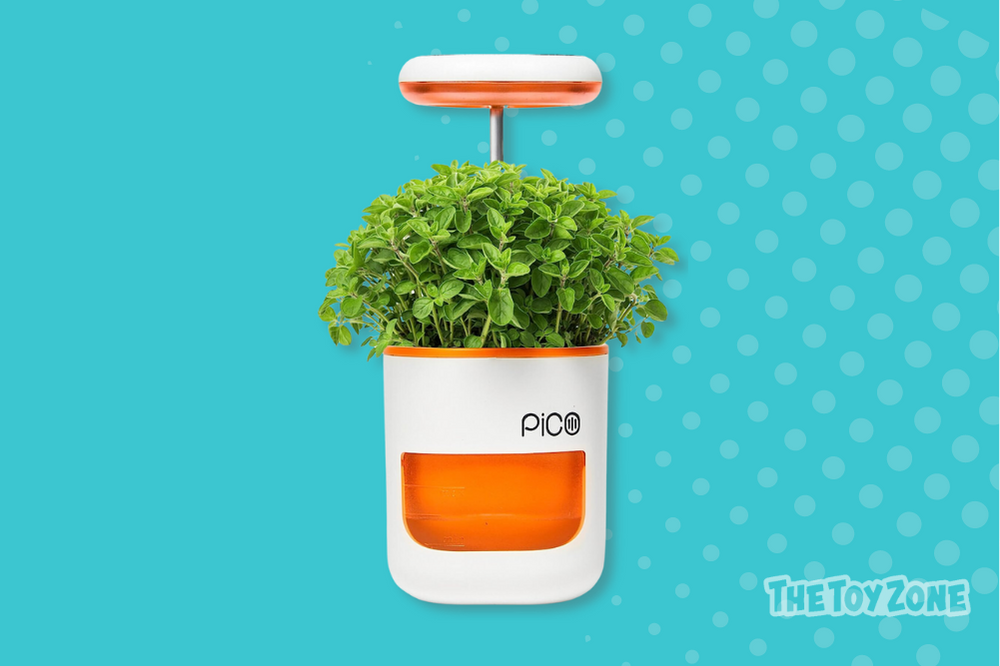 Plus, the hydroponics growing system, complete with a telescoping light and self-watering function, makes gardening exponentially more fun. This set also comes with a timer so you know when it's watering time.
As we grapple with climate change, finding sustainable ways to produce the things we need is essential. This reusable paper lunch bag is much better than traditional paper because it is made from sustainably managed forests and is completely reusable.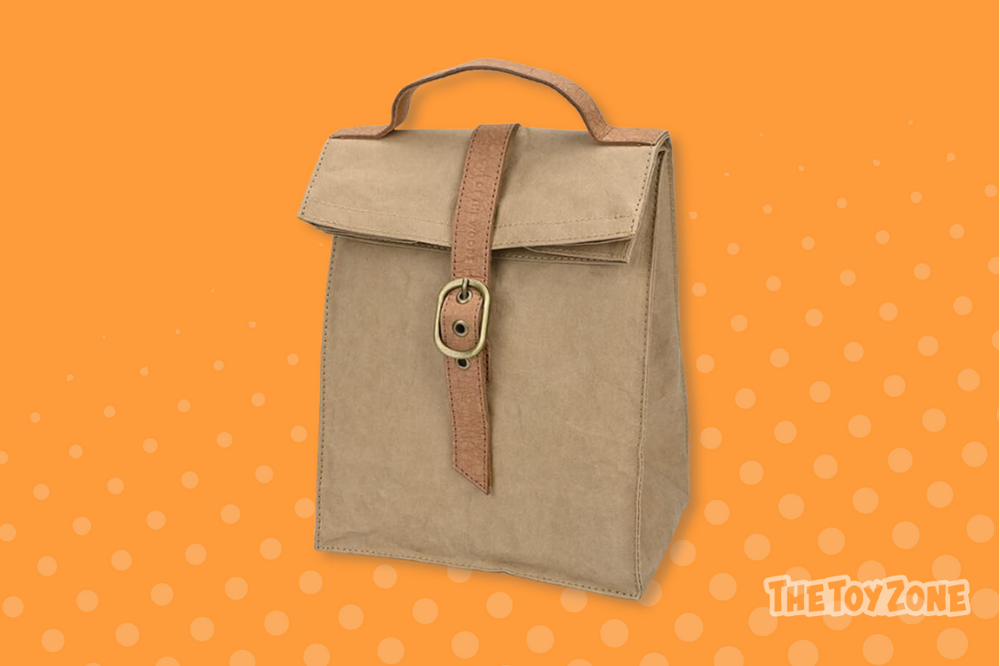 Environmentally conscious 11-year-olds will love their eco-friendly lunch bag and it's made from real paper and looks like a fun twist.
This one's for all those eco-conscious music lovers. The Positive Vibration, two headphones from House of Marley, are expertly crafted from FSC-certified wood and recyclable aluminum and delivered in 100% recyclable packaging.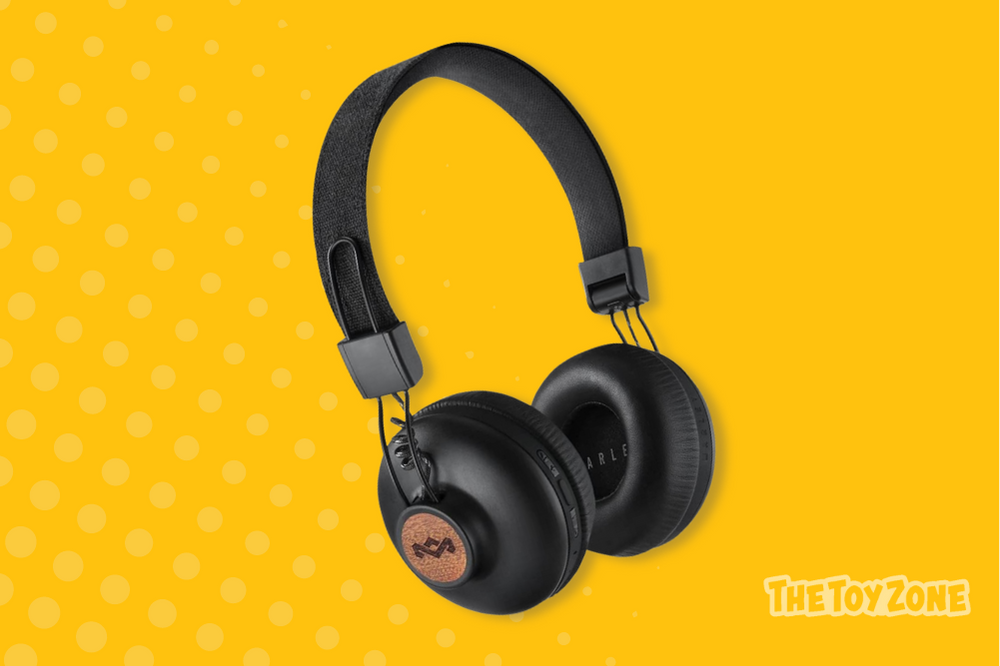 The House of Marley Positive Vibration 2 are also excellent headphones, featuring crisp yet rich audio, a powerful battery, ultra-comfy ear cushions and a wireless design.
---
Gifts for Young Chefs
Loads of young chefs can't get enough of the MasterChef Junior television competition, so what better way to stoke their passion than a cookbook inspired by the show's contestants? This cookbook has 100 mouthwatering recipes and helpful tips to help 11-year-old kids hone their cooking skills.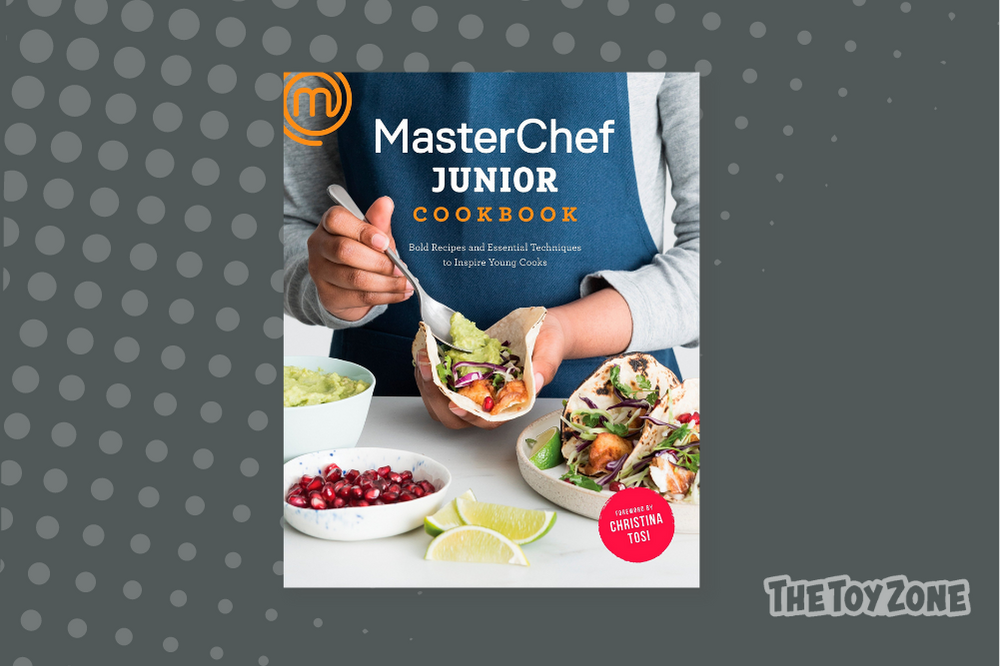 While the recipes are clearly written and easy to follow, they deliver dishes that look anything but amateur.
Is your mini master chef inspired by everything Japanese? If so, this musubi maker kit is a great way to bring Japanese food into their everyday lives and give them a base for experimenting with flavors.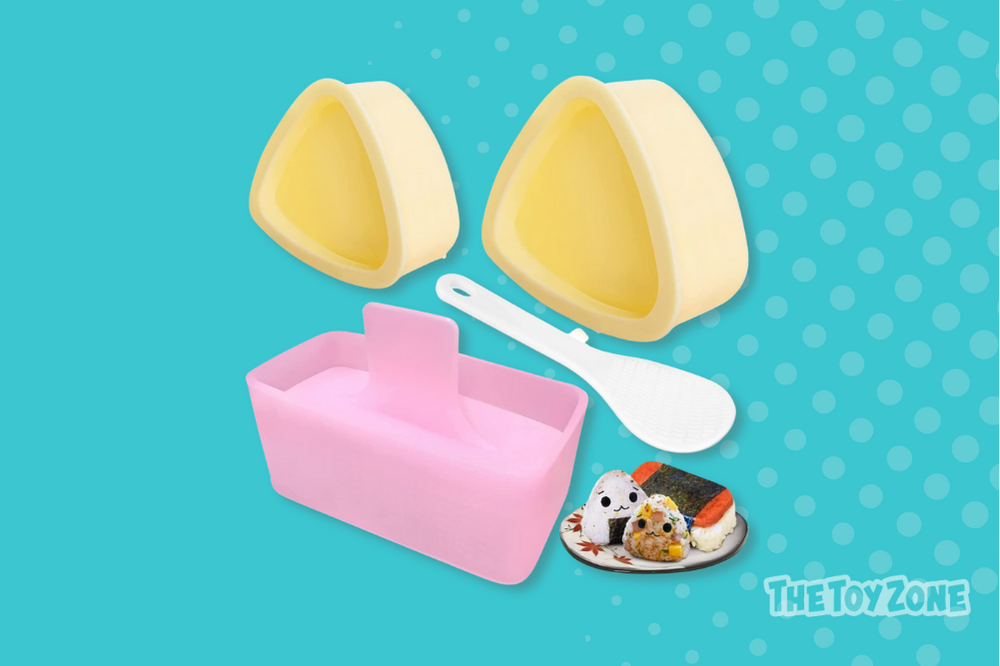 All you have to do is add Japanese rice and any toppings you like, press down and voila, you'll have one of the classic triangle-shaped onigiri or a rectangular musubi.
Pasta is another great starting point for experimenting with flavors and let's face it – who doesn't love a good bowl of spaghetti? Now, kids can up their pasta game by making their own noodles from scratch.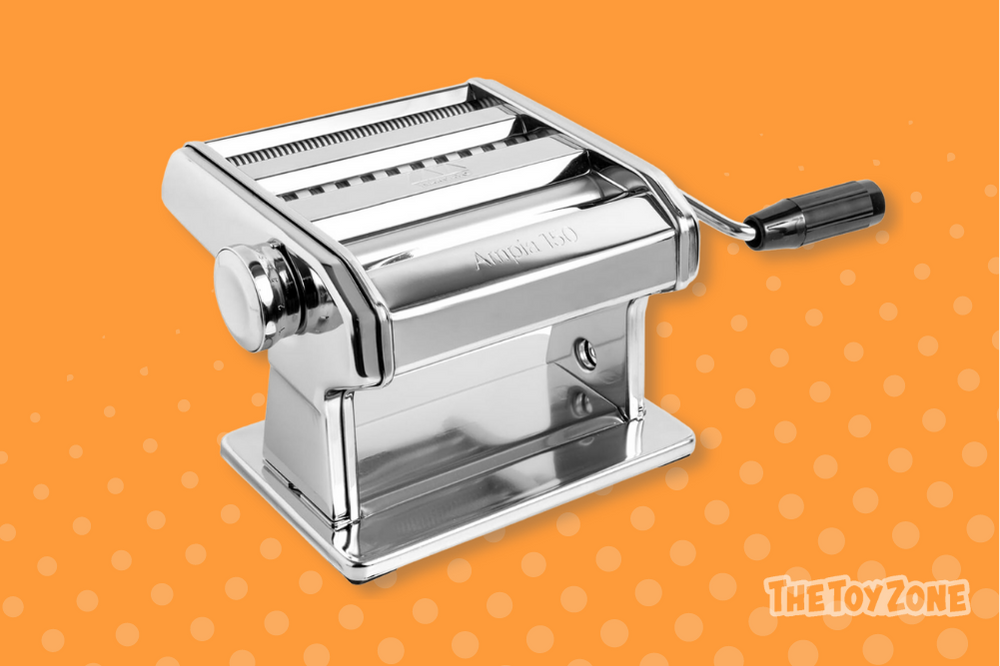 This pasta machine makes it simple — just feed the dough through and turn the handle to roll it, then choose one of three pasta shapes and turn again to cut the noodles.
---
Gifts They Can Use in School
Aesthetics inspired by oak-paneled libraries, old stone buildings, and lots of leather and houndstooth are in fashion right now in a style known as dark academia. They'll love this vegan leather briefcase if that sounds appealing to your tween.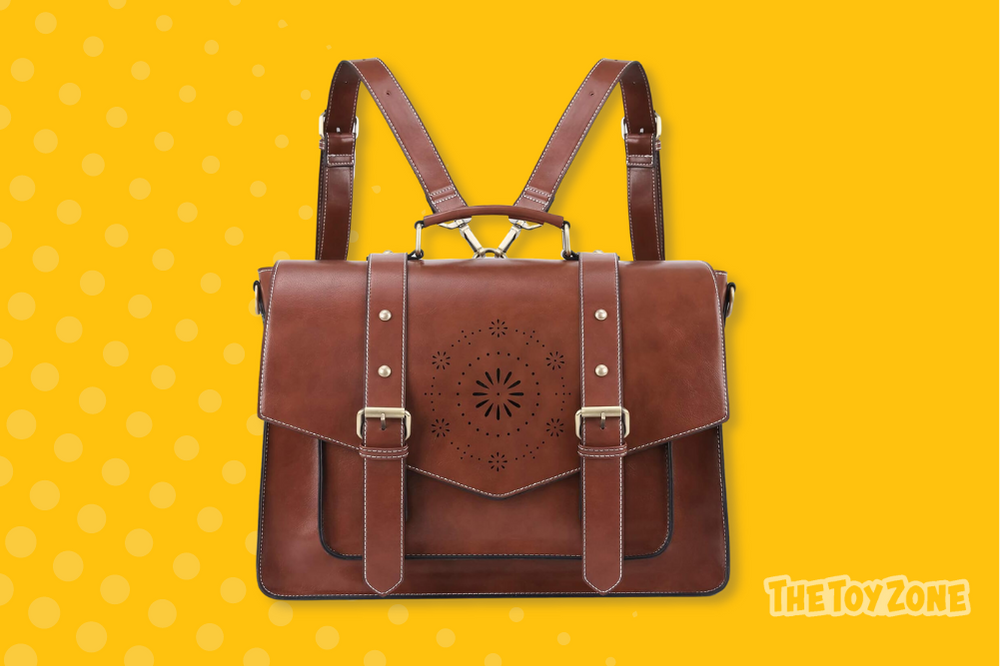 The gorgeous ECOSUSI briefcase can be worn as a shoulder bag or backpack and is big enough to fit all their school books and even a laptop.
It seems like boba is everywhere these days and this standing pencil case is an adorable reflection of that. This is the sweetest pencil case you'll ever see, made to look just like a cup of boba with an unbelievably kawaii face.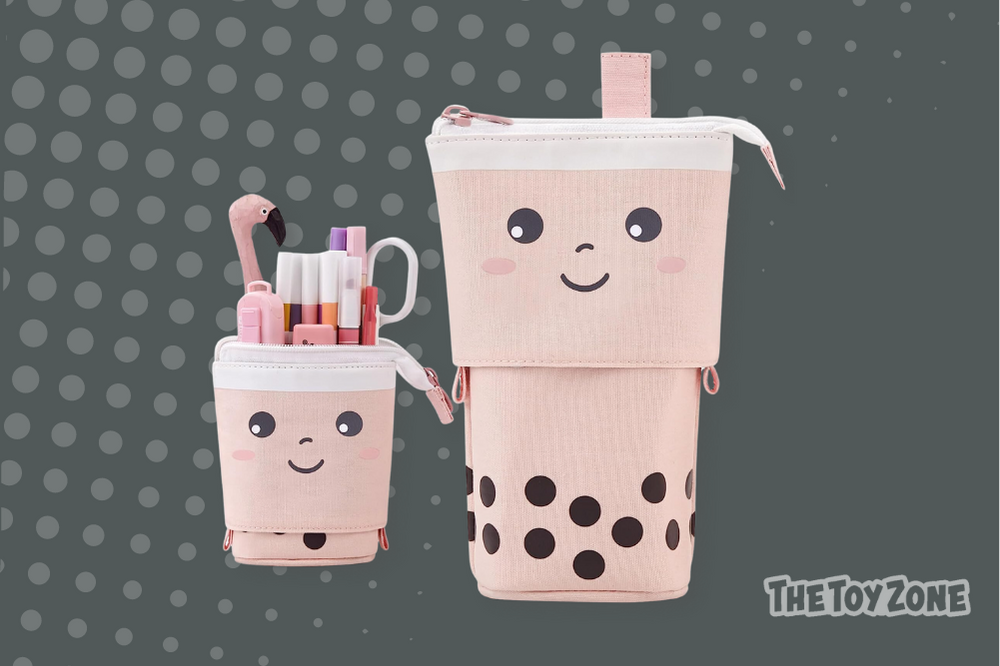 The ANGOOBABY Standing Pencil Case is also super practical thanks to its telescoping design that enables it to stand on your desk like a pencil holder.
When you're 11, your life is often so packed with activity that it's hard to remember to stay hydrated. Luckily, this water bottle is marked with the times of the day so kids always know how much they should drink.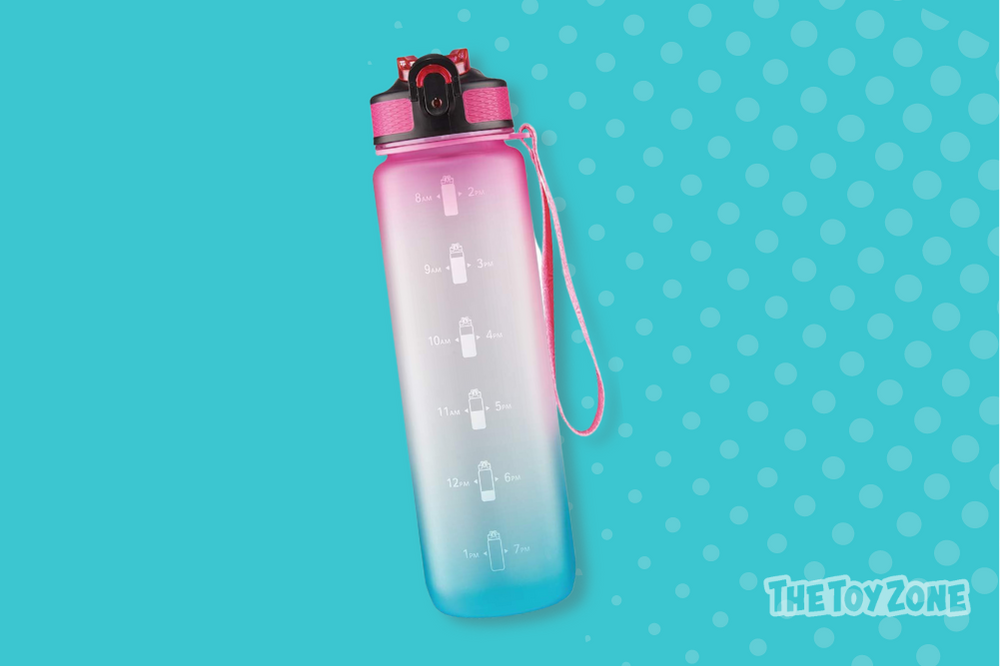 The EYQ 32 oz Water Bottle features a leak-proof nozzle and ergonomic straw for easy drinking and is made from non-toxic, long-lasting materials. Plus, its pastel ombre design is super cute.
---
Gifts for Their Room
A neon sign is a great way to add a cute touch and a little soft lighting to a room. This heart option is cute but classy and fits into most tween girls' bedrooms, especially with the option of pink or red.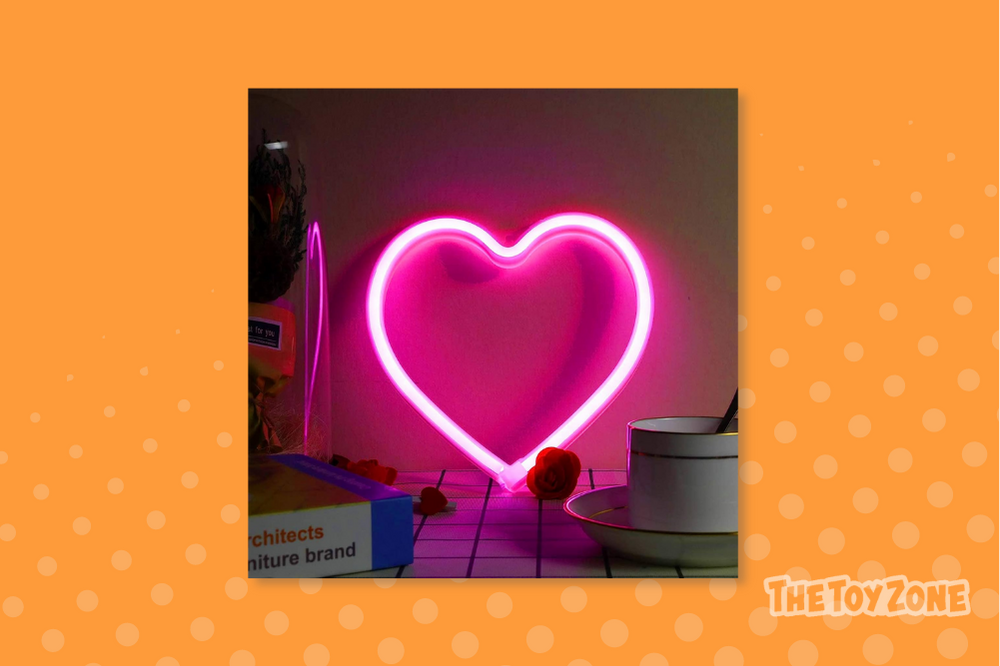 The light of the EXF Pink Heart Neon Sign gives off is warm and soft and super easy to set up. Plus, as it's made of soft plastic, there's no risk of shattering.
If you're not well versed in their passions and interests, this makes a stellar gift for any kid whose bedroom is tight on space. The handy BedShelfie clips right onto the edge of your bed and holds everything you need for sleeping or simply relaxing.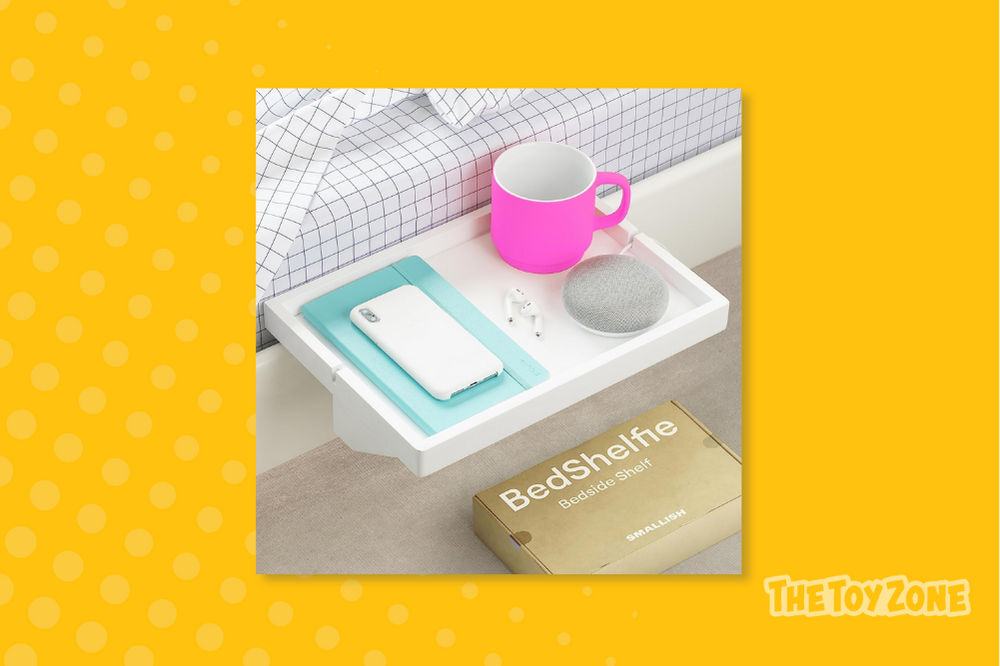 The BedShelfie can hold up to 35 lbs and clips onto any type of bed, including a top bunk.
It's hard to find someone who doesn't like fairy lights and that's even more true if they're an 11-year-old girl. This copper string option is gorgeously atmospheric, with lights that emit a soft golden glow and turn your bedroom into a fairy bower.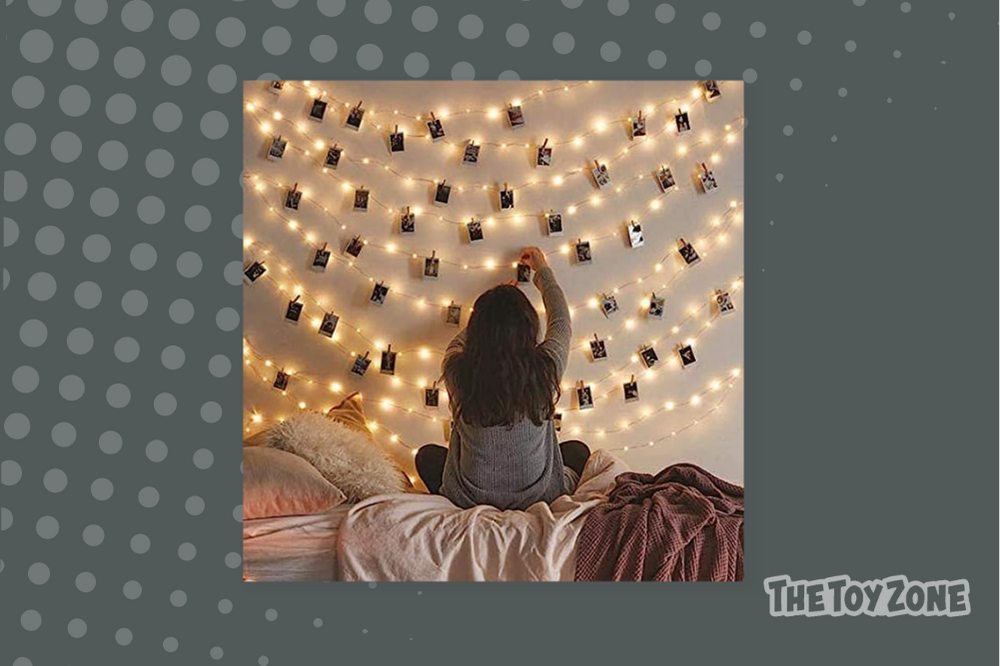 This fairy lights are also dimmable, suitable for outdoor use and 66 feet long, so kids can get creative and use them versatilely.
---
Gifts They Can Wear
If you know their tastes, wearable gifts are a great choice for 11-year-olds as they're constantly outgrowing their clothes. This MTV logo T-shirt is perfect for cool kids who enjoy retro '80s and '90s styles. It also offers a wide range of sizes in a comfy cotton blend.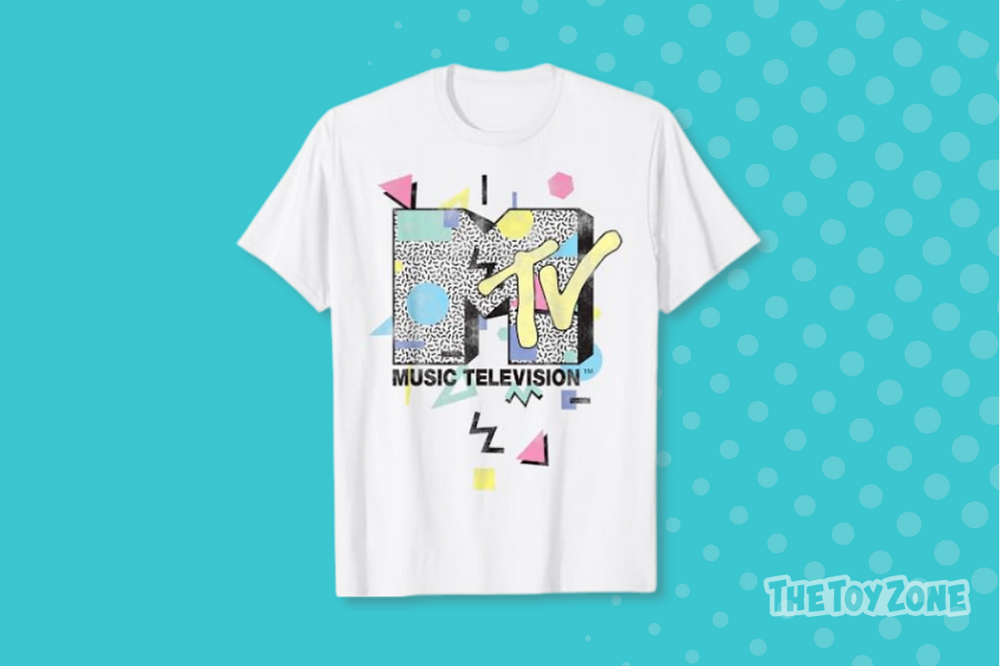 Sure, your 11-year-old may be too young to have watched MTV, but they will likely still appreciate its iconic status.
Bucket hats are all the rage right now, so if your kiddo appreciates funky fashion, get them one of these. With nearly 40 styles to choose from, there's sure to be one they'll love.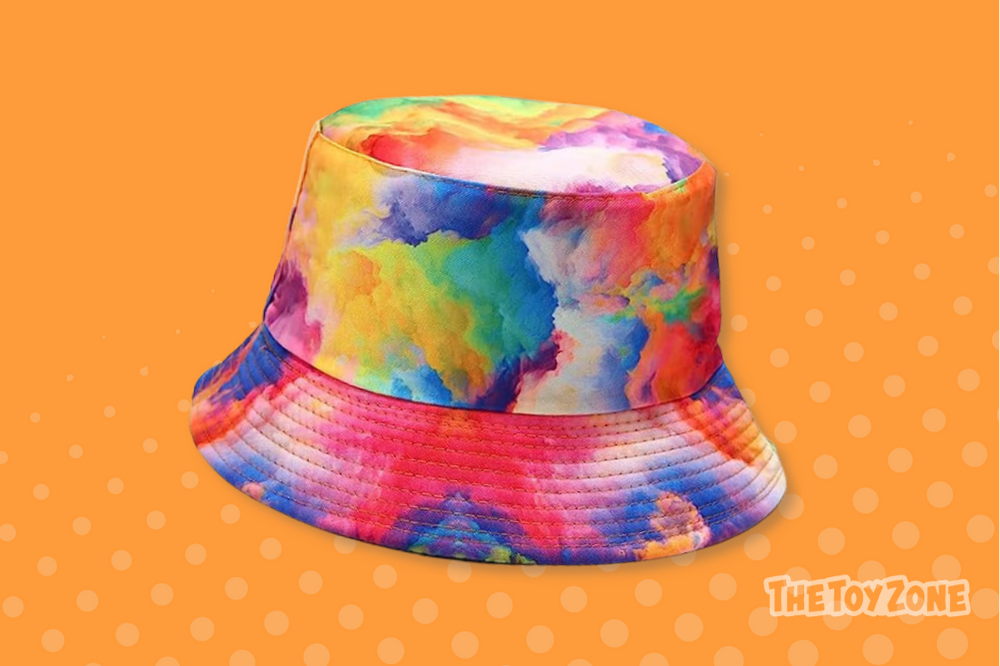 Some are goofy, some are groovy, some are cute, and some are more understated, but they're all super fly. Moreover, they're reversible, so you can pick two prints in one.
It feels like we've traveled back in time, but it's true, Uggs are back in style. However, these are slippers, not boots, so they're a little different to the noughties trend. But with their plush wool interior, they're just as warm and cozy.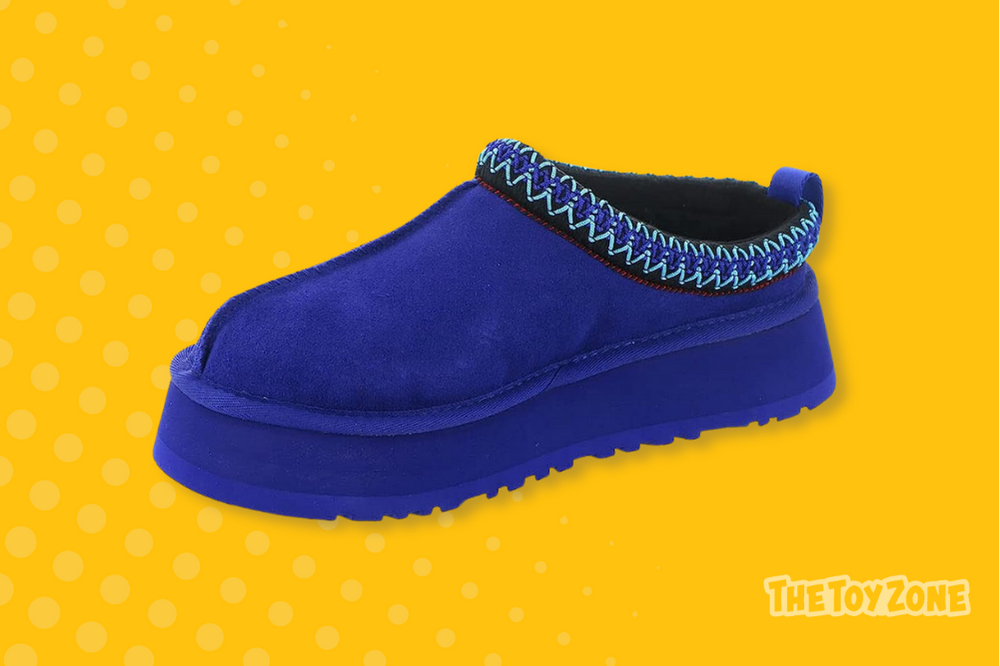 The UGG Tazz slippers boast a 100% suede construction with thick, durable soles and come in several different color options, from bright fuschia to classic black.
---
Frequently Asked Questions About Gifts for 11-Year-Olds
🙋 Is an 11-year-old a tween?
Tweens are generally considered to be between 9 and 12 years of age, so 11-year-olds are most certainly tweens. Kids of this age are also known as pre-teens and are in the stage of life when they leave childhood and enter adolescence. This sense of being "in-between" led to the term being coined in the late 1980s.
Most kids also begin to go through puberty in their tween years. As such, 11 is an age often characterized by changes of all kinds, including physical, emotional, mental and social changes.
🙋 What developmental stage is 11?
While the colloquial term for kids aged 11 is tween or pre-teen, in developmental psychology, this is broken into two stages: ages 9-11 is known as middle childhood, while 11-14 is early adolescence. As such, 11-year-olds are right on the cusp of early adolescence and are leaving childhood.
As mentioned above, many 11-year-olds are beginning puberty and all the physical changes this entails. Cognitively, they are beginning to understand that their actions can have long-term effects and that questions do not always have black-and-white answers. 11-year-olds also usually desire more independence from their parents, often coupled with a deeper relationship with friends.
🙋 What do 11-year-old kids like to do?
11-year-old kids like to do all kinds of things. By age 11, kids need to differentiate themselves from their families, so spending time with friends is all-important. But 11-year-olds are still kids who like to have fun, so chances are they still enjoy playing games, watching movies and getting active outdoors.
However, the type of movies or games they like will vary from kid to kid. And other activities they enjoy doing will depend entirely on their interests – science enthusiasts may love building robots, and little artists may enjoy painting or making crafts. In contrast, other kids may just want to listen to music or read all day long.
---
So… What Gift Should You Get?
That completely depends on the 11-year-old in question and your budget. If you're looking to splurge on a gift for a tween gamer, consider a Nintendo Switch. If they're more outdoorsy, these rock climbing holds are a great choice. LEGO sets also make great gifts for 11-year-olds – just make sure you get one that aligns with their interests.
Did you end up choosing a gift that wasn't on our list? Let us know why you love it, and we might include it when we update the article.