In my humble (Star Wars nerd) opinion, the best thing to come out of the Disney-Lucas Film takeover is easily the Mandalorian series. We've been introduced to brand new characters and transported to the Outer Rim for all new adventures that still maintain the essence of Star Wars.
Set five years after the defeat of the Empire in Return of The Jedi; our main character is Din Djarin, a Mandalorian soldier making ends meet as a formidable bounty hunter. But his next mission changes everything as his bounty is possibly the cutest creature in the galaxy — Grogu (known affectionately to the world as Baby Yoda).
As Mando and Grogu form a close bond, they set out to right the wrongs caused by a growing evil empire, beset on taking over the galaxy once more.
As with pretty much any popular TV series or movie, if you make it into LEGO, we will go wild for it! In this collection, LEGO has treated us to spaceships, buildable characters and scenes straight out of the series so we can experience the thrill of the Outer Rim all over again.
Plenty of sets exist, but we've chosen 14 of our absolute favorites for you. And because we know everyone is different, we've included sets for older kids and younger LEGO fans at various budgets, so you can get the best toy to suit the Mandalorian fan in your life!
The Top 3 LEGO Mandalorian Sets
Those three sets stood out for us particularly in terms of the detail for each set's size and striking appearance. Nevertheless, you may prefer something more complex or with even more interactive features, or you may have a specific character or set in mind.
In that case, read on to discover our complete list of carefully selected Mandalorian LEGO sets and find the perfect one for you!
Best Sets for Younger LEGO Builders
Including four unique Mandalorian warrior mini-figures, kids and collectors alike can build a fearsome Mandalorian army with this set. The key draw is the excellent minifigs, each boasting amazing graphic detail and fabric capes. They also all have their own real stud-shooting blasters for epic battle scenes!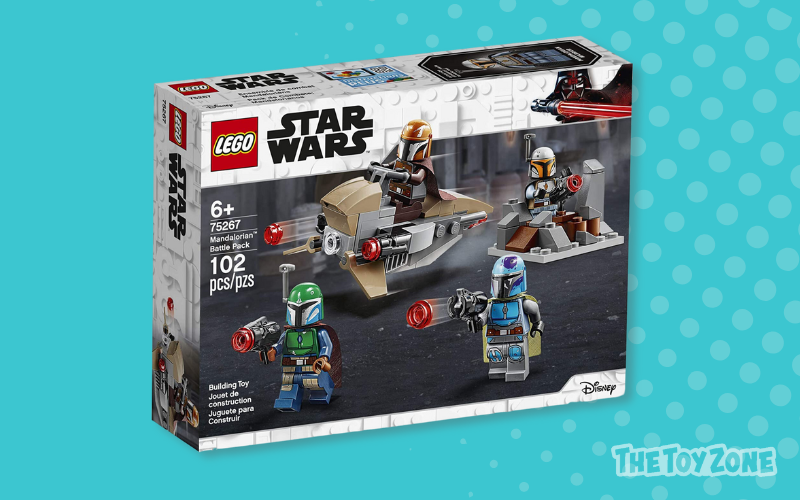 Recommended age: 6 years and above
While there isn't much to build, what there is provides lots of exciting play opportunities. With its missile shooters, the speeder bike will add much more thrill to kids' roleplay scenarios and the defense fort with a blaster mount allows for all kinds of battle tactics!
What We Love:
❤️ Comes with four super detailed shock trooper mini-figures
❤️ A play-focused set that provides excellent value for money
❤️ Includes lots of weapons to play with
What We Don't Love:
💔 There is not much to build
💔 The figures' helmets are not removable
For a 258-piece set, the Armorers Mandalorian Forge is packed with features to encourage creative play. The buildable elements include an elaborate entranceway complete with a Mudhorn logo, a forge and an area with a range of machinery, including a Holocron. The forge is incredibly cool, with its rotating exhaust hood, melting pot and blue flames!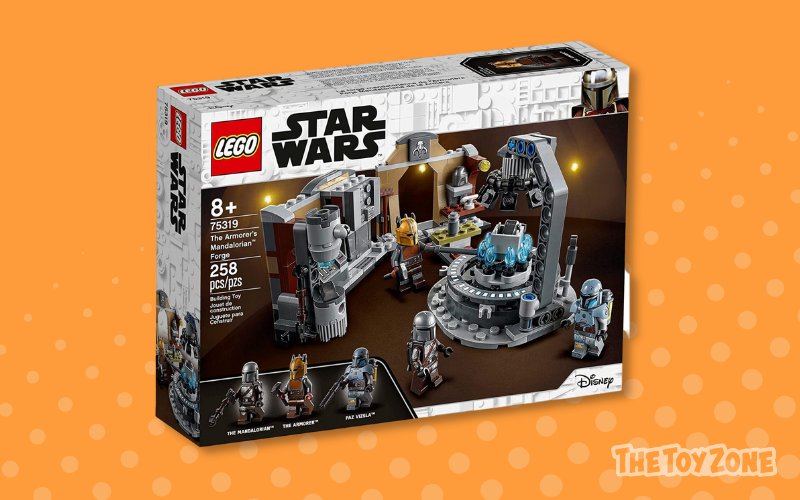 Recommended age: 8 years and above
This set comes with three awesome mini-figures, including Paz Vizsla, who collectors highly covet. But with all its fun accessories, hidden compartments and interactive features, it is really for children who want to enter a world of imaginative play!
What We Love:
❤️ Construction is simple but fun
❤️ Comes with rare mini-figures like The Armorer and Paz Vizsla
❤️ Loads of fun moving and mechanical parts
What We Don't Love:
💔 The price is high due to this being a retired set
💔 Not ideal for those who like to spend time building
What's excellent about LEGO is that it can go gigantically big or small and be fantastic either way. With 88 pieces, kids can build a surprisingly detailed Starfighter toy that fits the Mandalorian and Grogu. While it's a quick build, kids will love zooming around with it and it makes a great compact toy to slip in their backpacks wherever they're off to.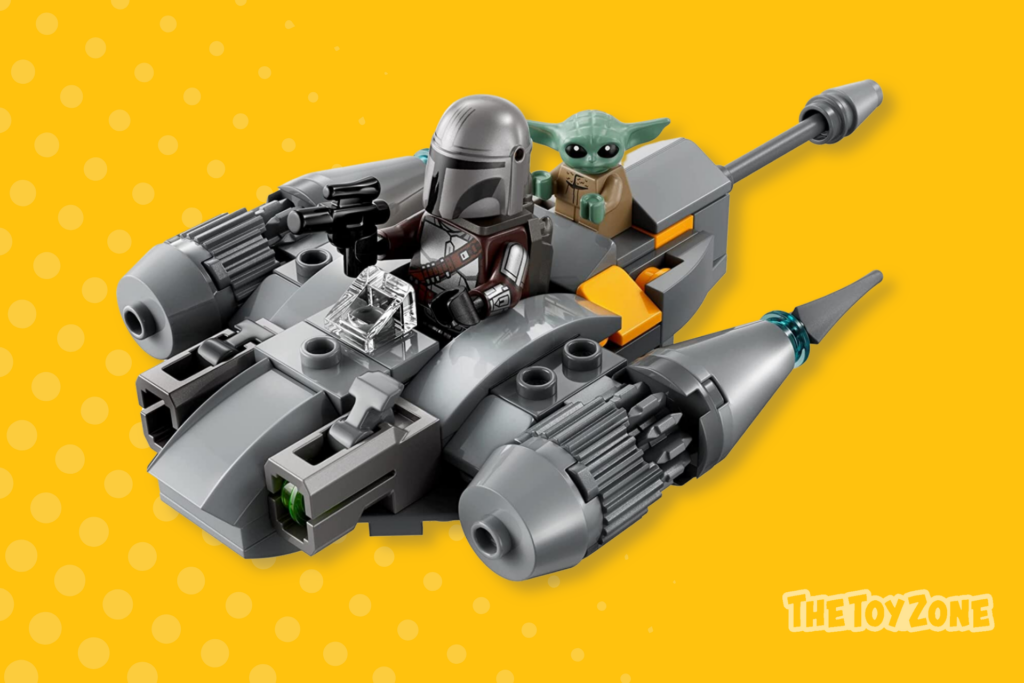 Recommended age: 6 years and above
The included figures are a definite highlight and Mandalorian fans will be thrilled to get the adorable Grogu micro-figure. Mando also comes with a pistol and jetpack accessory to help him keep his precious bounty safe!
What We Love:
❤️ Despite being a small set, there are a few interactive play elements
❤️ Comes with an adorable Grogu micro-figure
❤️ Perfect for on-the-go play and add to other sets
What We Don't Love:
💔 You can't get much detail in an 88-piece set
💔 This set takes very little time to build
Whether you are just after a stocking filler or you've lost your Din Djarin mini-figure and need a replacement, you can buy him without any buildable elements here. The Mandalorian minifigs are some of the most detailed and impressive ones LEGO has ever made, and this one is no different — he even has a fabric cape and shiny silver graphic armor!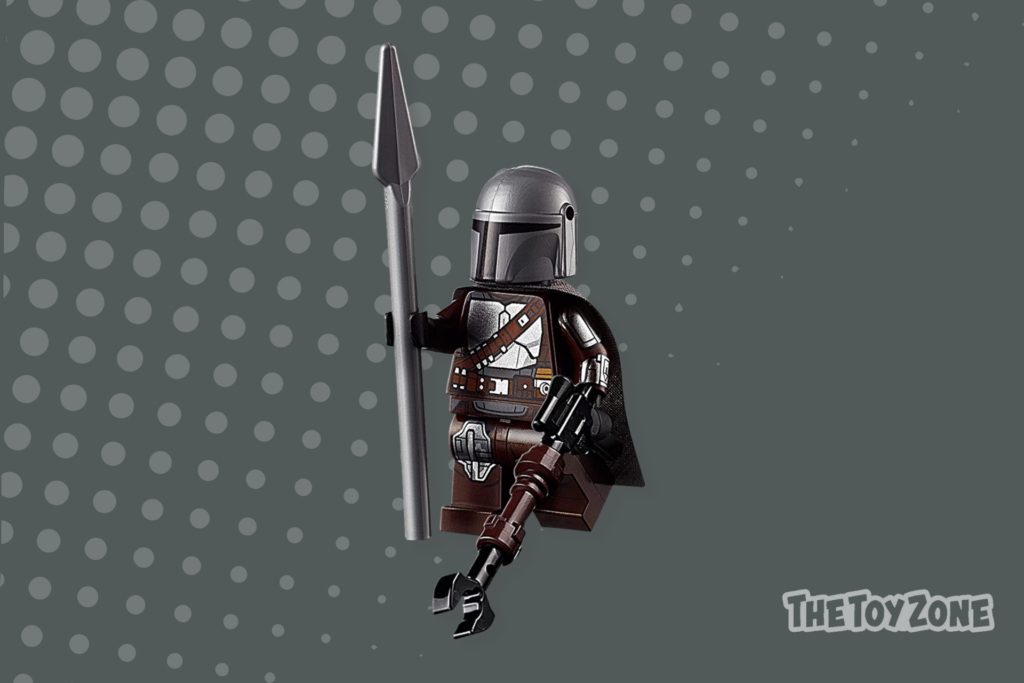 Recommended age: 5 years and above
Though there isn't anything to build, you do get some cool accessories – Mando comes with his signature spear as well as a Star Wars blaster. You'll also get a collectible mini-figure tile along with him.
What We Love:
❤️ Perfect for those who want a Mando figure without a set
❤️ Amazingly detailed mini-figure with a fabric cape
❤️ Includes a spear, blaster and a collectible mini-figure tile
What We Don't Love:
💔 A bit pricey considering it is just a mini-figure and accessories
💔 You can't take off Mando's helmet
💡 Missing a Baby Yoda figure? You can buy him along with his carrier here.
This Imperial Armored Marauder set is a more complex option for kids who love to build. This 478-piece set is extremely fun to construct and of course, to play with too. Kids will love enacting epic battles between Greef Garga and the Stormtroopers with the 4-stud shooters on the Marauder and the cool weapon accessories!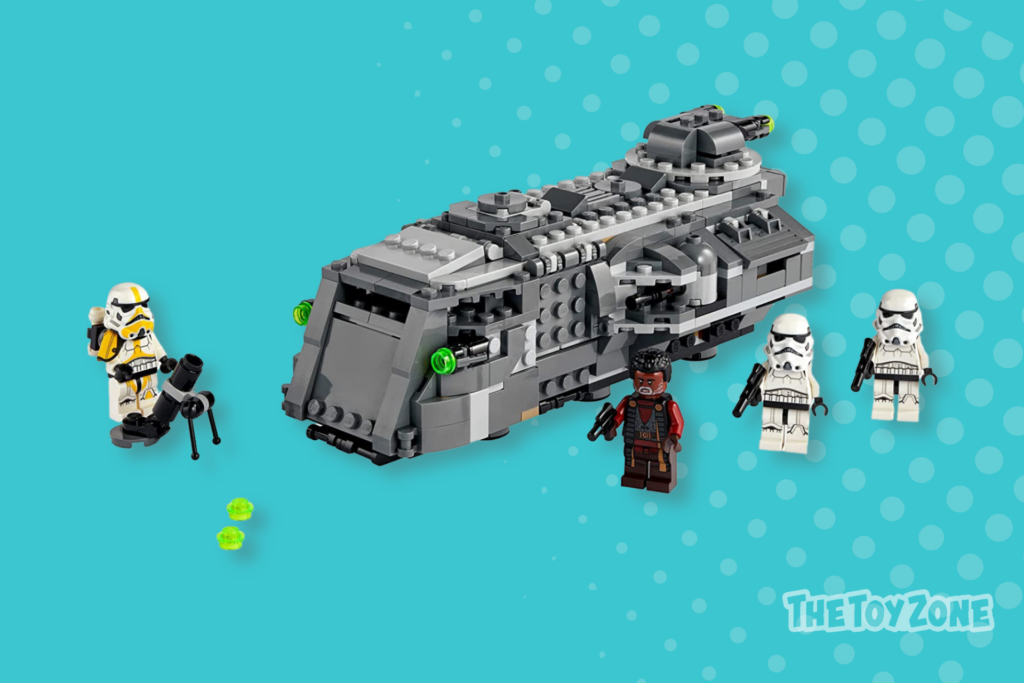 Recommended age: 8 years and above
The Armed Marauder also features a rotating rear turret, a lookout point with an opening hatch, opening ammo compartments, a minifig cockpit and a cabin accommodating two figures. Don't be surprised if it leads to hours of immersive play that your kids don't want to end!
What We Love:
❤️ Lots of moving components to have fun with
❤️ Nice selection of mini-figures including a couple of limited edition ones
❤️ The ship is sturdy and can hold several figures inside
What We Don't Love:
💔 Not a challenging build even for 8-year-olds
💔 It doesn't look super impressive on display
For versatile play possibilities at an affordable price, you can't do better than this Trouble on Tatooine LEGO set. With three different builds, including a speeder bike, Tusken hut and ballista, each with its own action features, there's so much potential for fun! Along with a Mandalorian figure, it also comes with the iconic Baby Yoda and a Tusken Raider to battle with.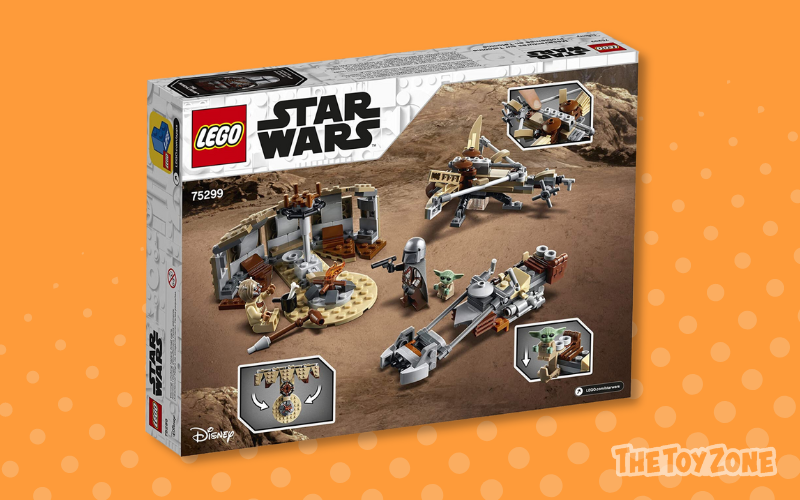 Recommended age: 7 years and above
From the spring-loaded shooters to the weapon accessories to the folding Tusken hut, this set will inspire countless imaginative scenarios. It's also impressively detailed for its size and even has a saddle bag for Grogu!
What We Love:
❤️ An impressive number of action features for a smaller set
❤️ three separate builds makes this a versatile set for roleplay
❤️ Great mini-figures including Grogu, the Tusken Raider and Mando in his new armor
What We Don't Love:
💔 The builds are a little fragile so won't hold up to rough play
💔 Might be tricky for some 7-year-olds as there are quite a few tiny pieces
Best Sets for Older LEGO Builders
The Razor Crest is an iconic starship and this set more than does it justice. A Toy of the Year winner, it looks stunning from afar and just as impressive up close. As you build, you will discover many fantastic details at every stage. From the engines to the detachable escape pod to the carbonite bounty elements, the detail will take your breath away!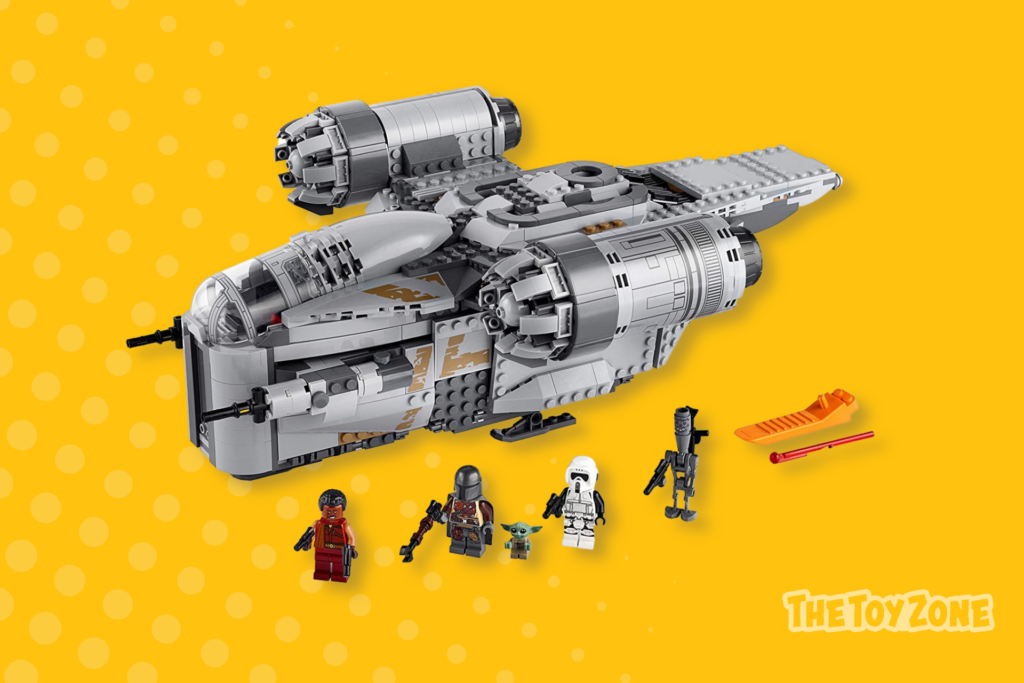 Recommended age: 10 years and above
This set comes with some excellent minifigs, including the coveted Grogu and a cool IG-11 droid. It also has spring-loaded shooters and several openable compartments, so it is great for active play too!
What We Love:
❤️ Fantastic detail in the cockpit and engine makes it feel real
❤️ Looks stunning on display and is sturdy enough to play with too
❤️ Packed with interactive features and compartments that open
What We Don't Love:
💔 It's a fairly pricey set for the build time
💔 There are one or two mix-ups in the instruction booklet
The Mandalorian Starfighter is an awesome all-around set that kids who enjoy building and playing with LEGO will love. Like most of the starship sets, it has several fun opening compartments and stud shooters, but what makes it stand out are the adjustable wings you can rotate into flight or landing mode! Plus, its cool shape and striking color combination look amazing on display.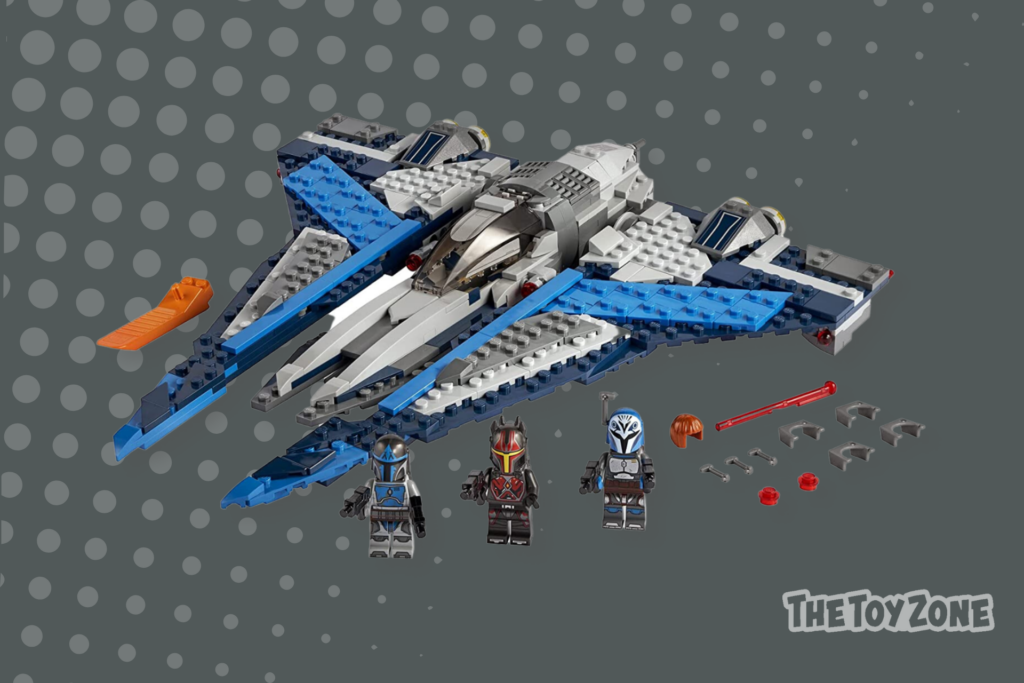 Recommended age: 9 years and above
This set comes with three all-new, highly detailed mini-figures, which all have their own blaster pistols and jetpacks. So whether it's solo play or with friends or family, let the action begin!
What We Love:
❤️ The build is fun and has a good level of challenge
❤️ Great colors in the ship and mini-figures make this set stand out
❤️ Loads of movable parts including adjustable wings for take-off and landing
What We Don't Love:
💔 The wings can occasionally fall off during play
💔 The cockpit design leaves something to be desired
Moving away from the action-oriented sets, Mandalorian fans of any age would be proud to put this exquisitely detailed brick-built figure of The Child on display. While it's not a play set, kids can have fun giving him a range of facial expressions by moving his head, eyes and little ears! Those who enjoy a moderate challenge will find this a super satisfying build.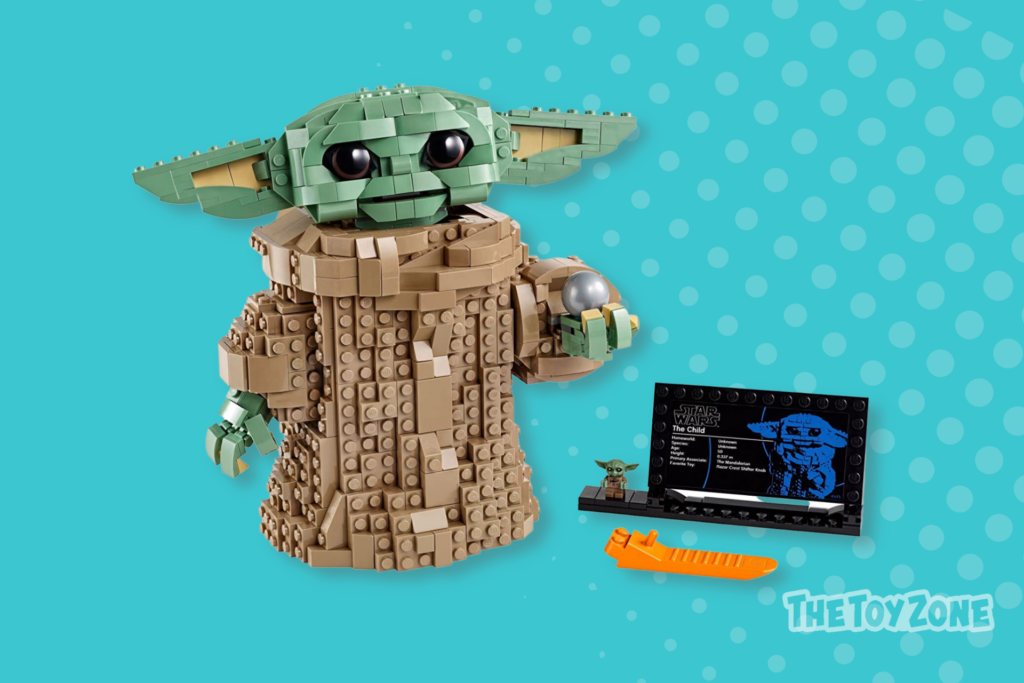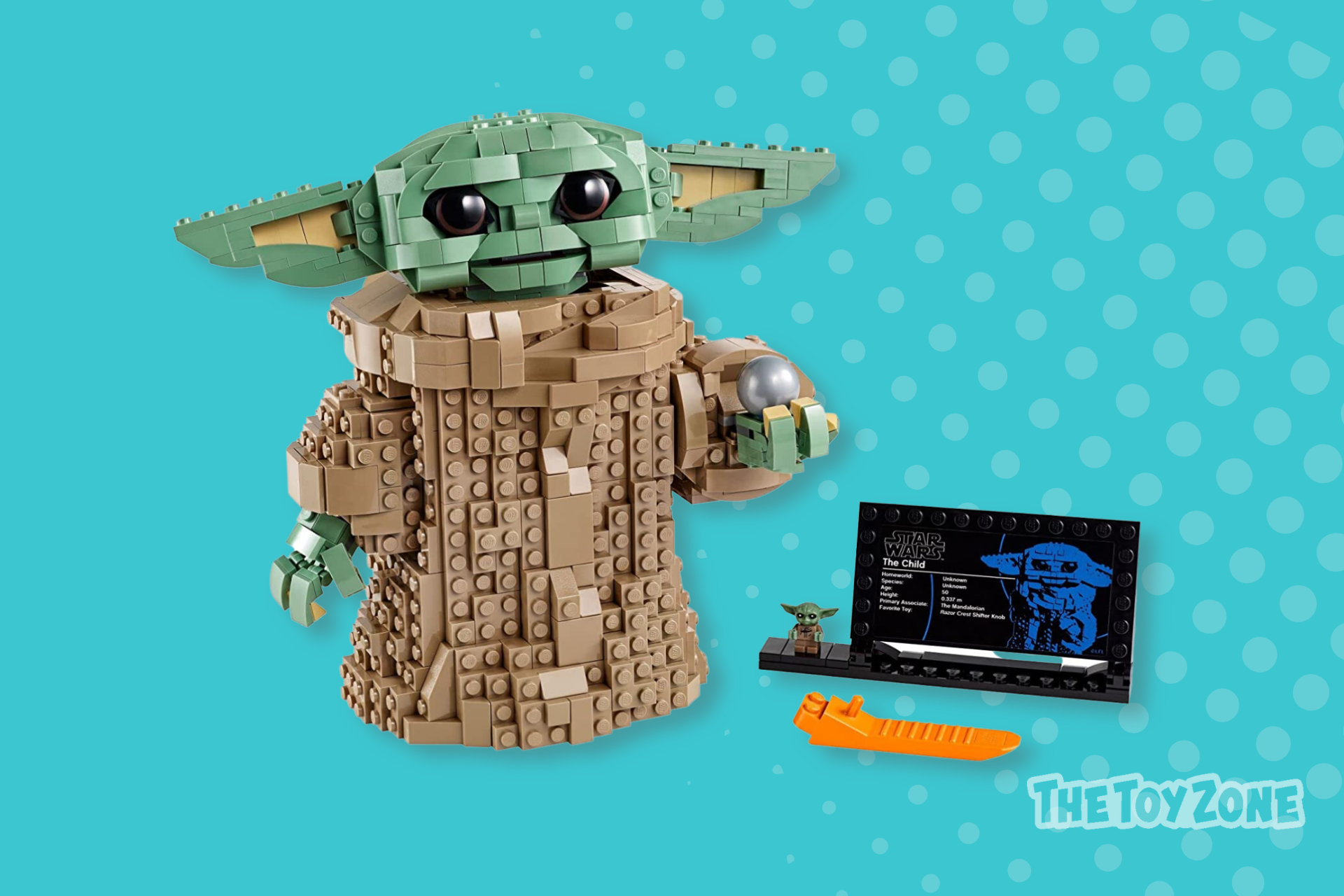 Recommended age: 10 years and above
This stunning set comes with an informative display plaque plus a Grogu micro-figure. Another cute touch is that he's holding his favorite toy – a gear shift knob from the Razor Crest spaceship!
What We Love:
❤️ Makes an adorably lifelike and amazingly detailed Grogu figure
❤️ A super fun build with just the right amount of challenge
❤️ You can change Grogu's facial expression by moving his head, eyes and ears
What We Don't Love:
💔 The LEGO app instructions could be better
💔 He doesn't have posable limbs
💡 For all the R2D2 superfans out there, this buildable figure is just as stunningly detailed, though it's a more challenging construction.
Where Grogu is cute, this Mandalorian Helmet is strikingly imposing, which is perhaps why it has an 18+ age rating. However, older kids should have no trouble building it thanks to the clear instructions and even if they need help now and then, that's what LEGO is all about! It truly is a spectacular setting for display, especially with the nameplate and display stand.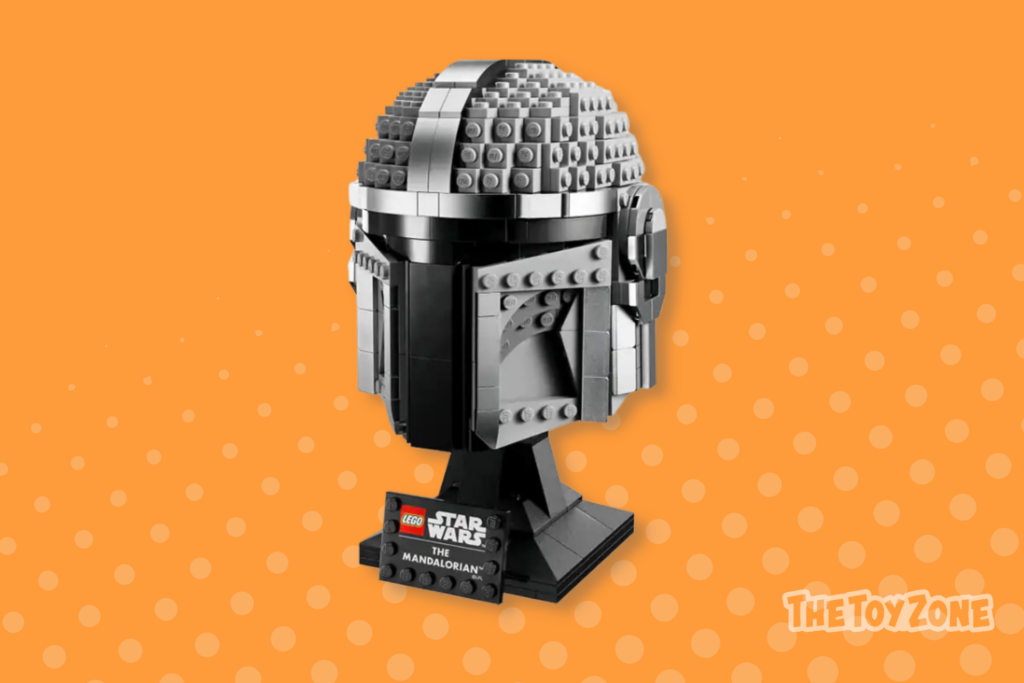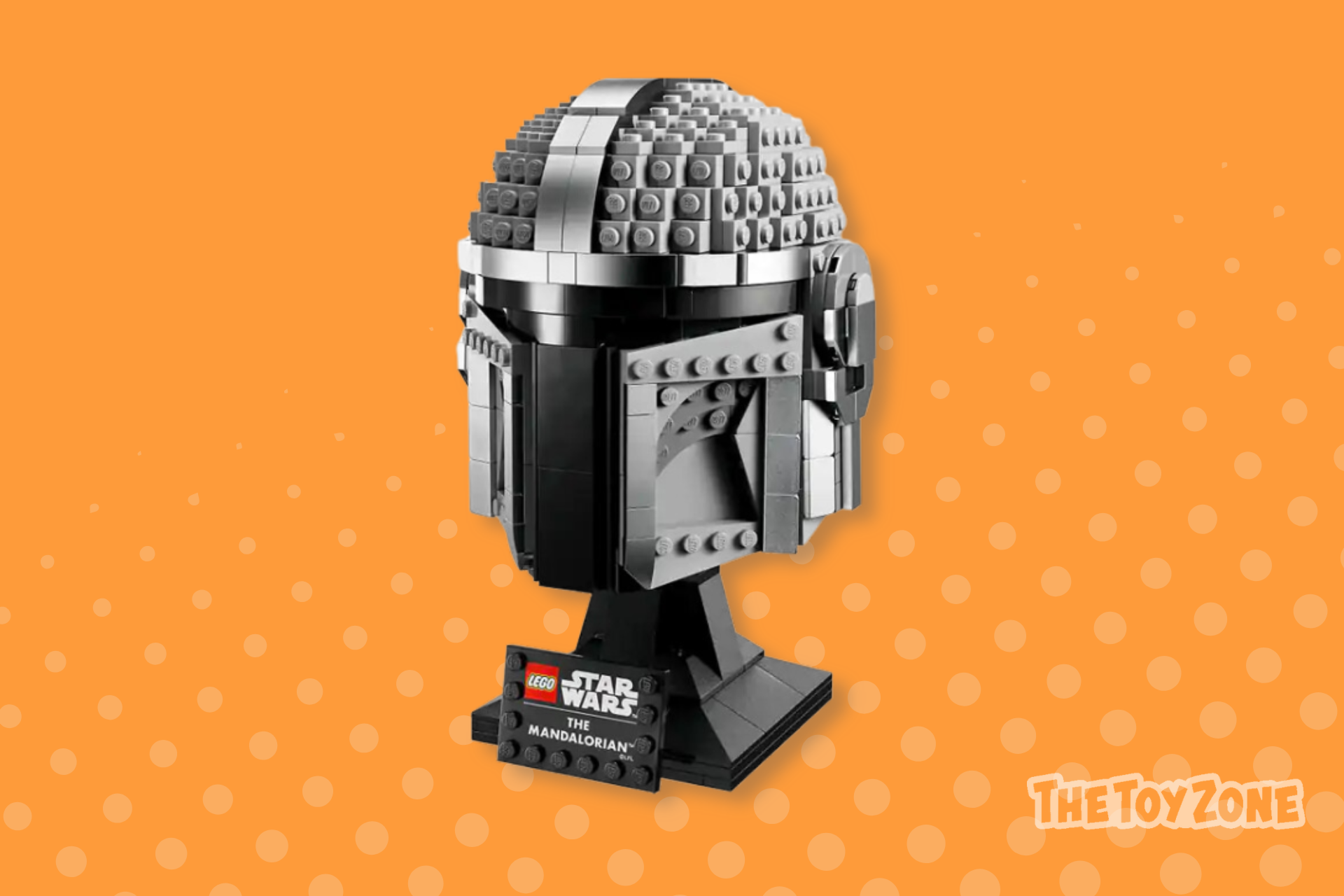 Recommended age: 18 years and above
The various shades of gray do an impressive job of creating a metallic look, and the helmet looks incredible both up close and from afar. It's the perfect way to start your Star Wars helmet collection!
What We Love:
❤️ Extremely striking set with a stand for display
❤️ It's a complex build but the instructions make it easy, so older kids should not have trouble
❤️ Looks amazing from afar and up close
What We Don't Love:
💔 Would be nice if more of the pieces had a shiny metallic look
💔 A couple of customers were disappointed in the size
💡 Expand your Star Wars helmet collection with this cool one belonging to Boba Fett.
While many LEGO sets aimed at older kids and adults are exceedingly elaborate, this is a compact set older kids will love that doesn't break the bank. With their signature BrickHeadz blocky aesthetic and oversized heads, these two buildable figures are adorable. The Child will naturally grab anyone's attention first, with its huge eyes and adjustable ears, but the Mandalorian figure is surprisingly adorable too!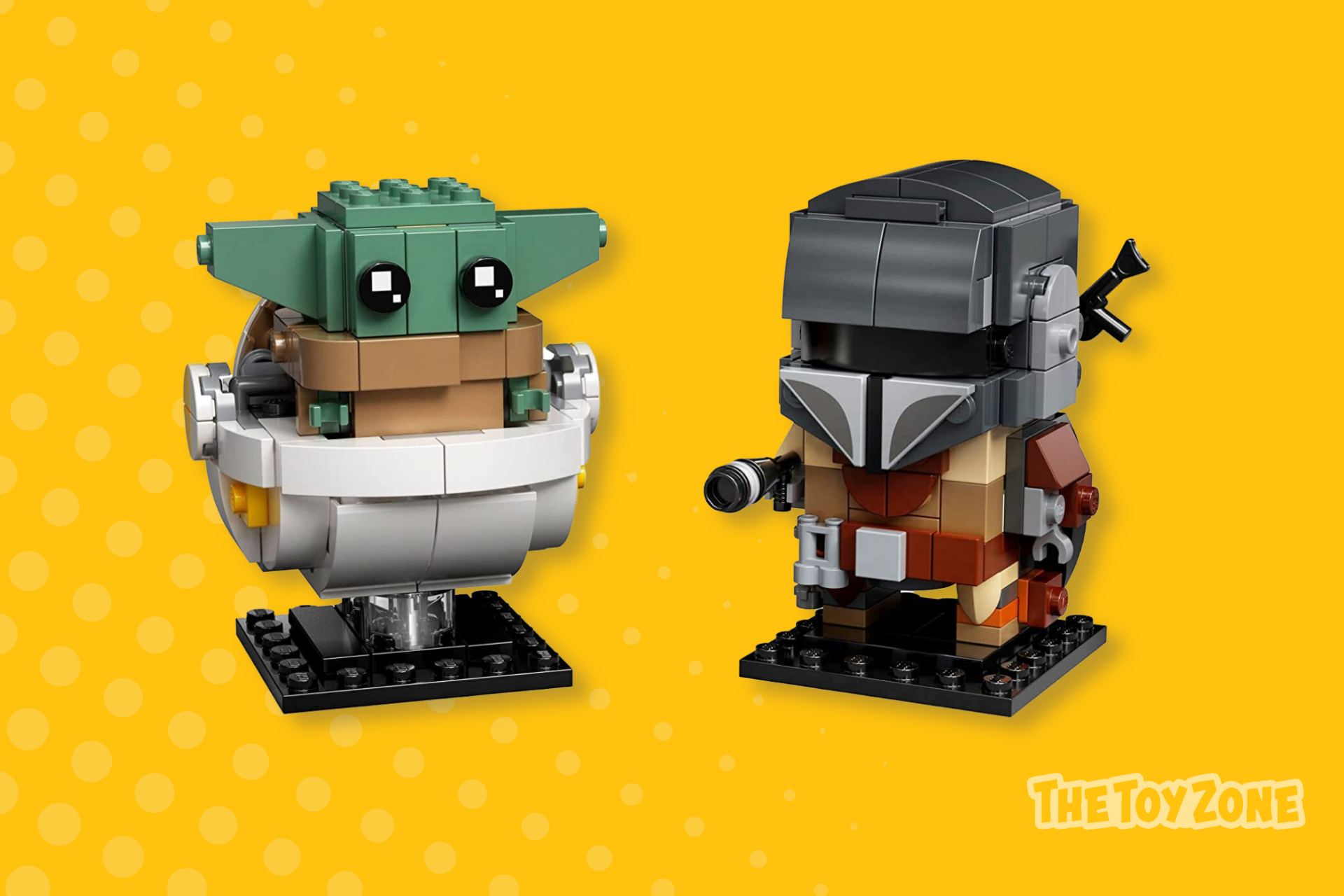 Recommended age: 10 years and above
The Mandalorian figure has his signature weapons, while Grogu can sit in his floating hoverpram. Both can be displayed on their base plates, making excellent desk or bookshelf ornaments!
What We Love:
❤️ Super cute and sturdy enough to play with too
❤️ Impressive attention to detail considering the number of pieces
❤️ Looks great on display with other BrickHeadz figures or bobbleheads
What We Don't Love:
💔 Some may be disappointed by how quick these are to build
💔 They are minimal. However, this makes them great desk ornaments
Let kids recreate The Book of Boba Fett stories with this stellar N-1 Starfighter set. Down to little details like damage to the ship, the Starfighter is amazingly accurate to the show. It's also perfect for playing out epic space battles thanks to the spring-loaded shooter and the cockpit for Mando and Grogu! Plus, the build includes some fun techniques LEGO connoisseurs will enjoy.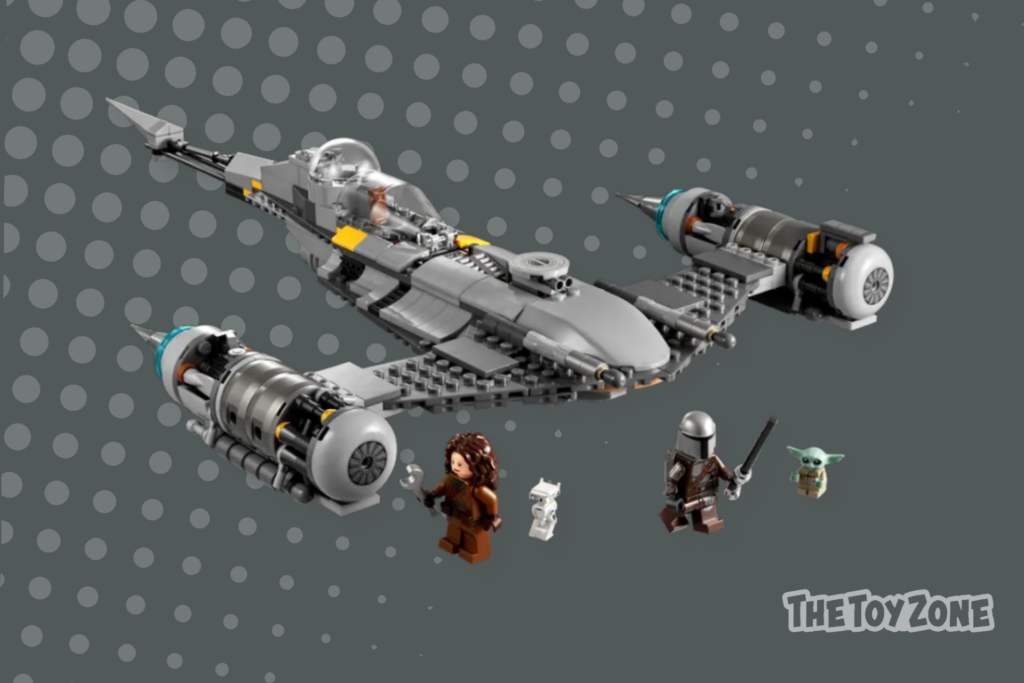 Recommended age: 9 years and above
Along with The Mandalorian and The Child, this set also comes with a Peli Motto minifig and an adorable BD droid. The two minifigs both have their own accessories to add to the imaginative play possibilities.
What We Love:
❤️ Looks very accurate to the showdown to the tiny details
❤️ Comes with great figures including a micro Grogu and BD droid
❤️ Fun build techniques and action features to play with
What We Don't Love:
💔 The tail and engine fall off pretty easily
💔 It's too big to fit in with other ships in the LEGO Star Wars universe
This is for those who have completed 3000+ piece sets and are ready for an even bigger challenge. At 6187 pieces, this Razor Crest model is a masterpiece in LEGO engineering. The finished construction measures over 28 inches and will take your breath away. Seeing the details up close, including the engines, weapons cabinet and carbon-freezing chamber, you will marvel at your creation again.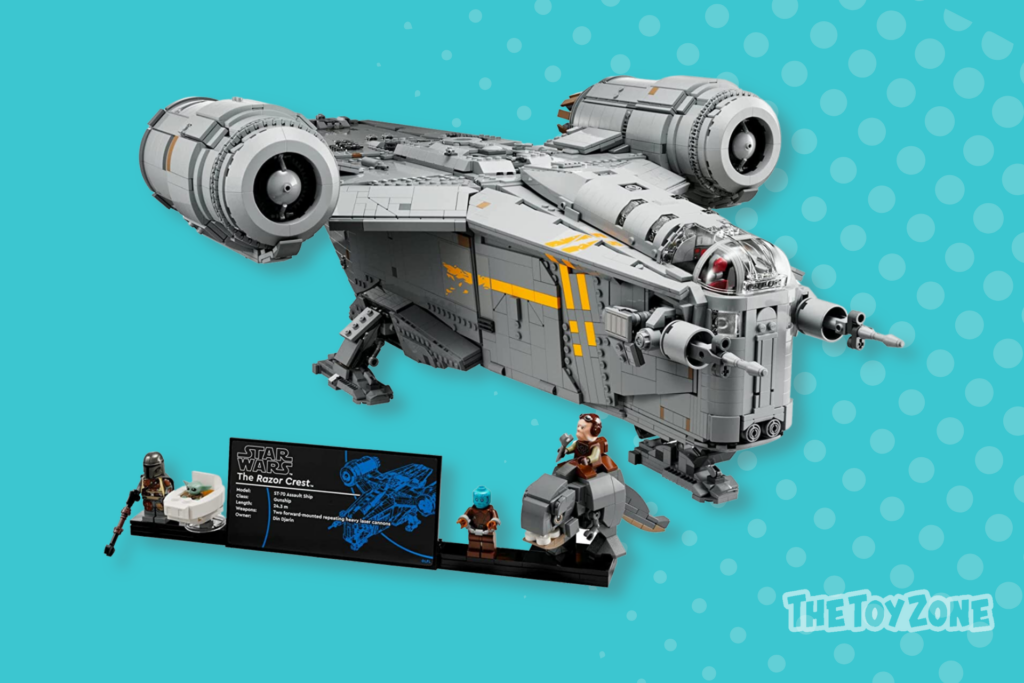 Recommended age: 18 years and above
This set also comes with three mini-figures plus a Grogu micro-figure and a cool buildable Blurrg. They all have display spots next to the information plaque you can place in front of your magnificent construction!
What We Love:
❤️ Huge and spectacular set for display complete with information plaque
❤️ The interior is incredibly detailed, and the Blurrg figure is awesome
❤️ Interesting engineering makes this a fun though time-consuming build
What We Don't Love:
💔 Some pieces could benefit from additional contact points to stay in place
💔 It's not a kid's set unless they are pro-LEGO builders with a lot of patience
💡 Want something even bigger with even more pieces and exceptional detail? Check out this model of the AT-AT Walker.
Boba Fett's starship is fun because its shape and colors set it apart from classic Star Wars ships and it looks incredible on display in its flight position. It's also clearly designed for play, featuring rotating wings, stud shooters and cannons and even a handle to simulate flying! Naturally, the cockpit can open for Boba or perhaps the Mandalorian to climb inside.
Recommended age: 9 years and above
This set includes a transporter vehicle to move the starship on the ground, plus several accessories, including a Carbonite brick. Kids will have a blast recreating scenes from the show and dreaming up all-new scenarios!
What We Love:
❤️ Plenty of detail on the ship and mini-figures
❤️ Comes with a display stand where you can display it in flight
❤️ Features rotating wings and lots of fun stud-shooting weapons
What We Don't Love:
💔 It is on the small side for the price
💔 The guns on the bottom are pretty fragile
---
Frequently Asked Questions About LEGO Mandalorian Sets
🙋 What is Mandalorian and who is it for?
The Mandalorian is a Disney+ series in the Star Wars universe. It is set five years after Return of the Jedi but follows entirely different characters from those in the films. Its titular character (played by Pedro Pascal) is a battle-worn bounty hunter who does what it takes to survive in an uncertain time. Things get complicated when the bounty he is tasked to retrieve is the adorable Grogu, a baby of the same species that created Yoda!
The series is aimed at older Star Wars fans and folks new to the franchise. It is suitably packed with references and lore that die-hard nerds will appreciate, but it's also an entirely new story with fresh characters. Hence, it's possible to enjoy without seeing the movies.
Age-wise, The Mandalorian has a rating of TV-14 due to explicit language and violence. But as you may expect, this hasn't stopped many younger fans from falling in love with it. Ultimately, it's up to you as a parent to decide what is appropriate for your kid. If you haven't seen the series, we recommend watching it first so you can assess — at the very least, you will get some thrilling Star Wars entertainment!
🙋 Is LEGO a good gift for kids?
LEGO is a perfect gift for kids. As it is all about putting together pieces to create an engineered construction, it's an excellent STEM toy. LEGO fosters problem-solving skills, planning, spatial reasoning skills and basic math concepts.
But it's not all left-brained stuff – LEGO also encourages creativity when building your own designs and engaging in creative roleplay! Plus, building and playing with others fosters social skills like teamwork and communication.
On top of LEGO's developmental benefits, it's always a good gift because it offers endless hours of fun!
So… What LEGO Mandalorian Set Should You Get?
That all depends on a few key factors, like your budget, the age of the Mandalorian fan you are buying for and what they already have in their collection. Older fans may be over the moon with a huge and spectacular display set or prefer something smaller and cuter like some BrickHeadz figures. Most younger kids love sets they can play with, like the Mandalorian Forge or the Armored Marauder, for action-packed space battles!
If you didn't find your favorite LEGO Mandalorian set on our list, let us know! Tell us why it should have made the cut, and we'll consider including it in later editions.