Swift's Compound Microscope S200DL is a perfect user-friendly introduction to quality microscopes for budding scientists.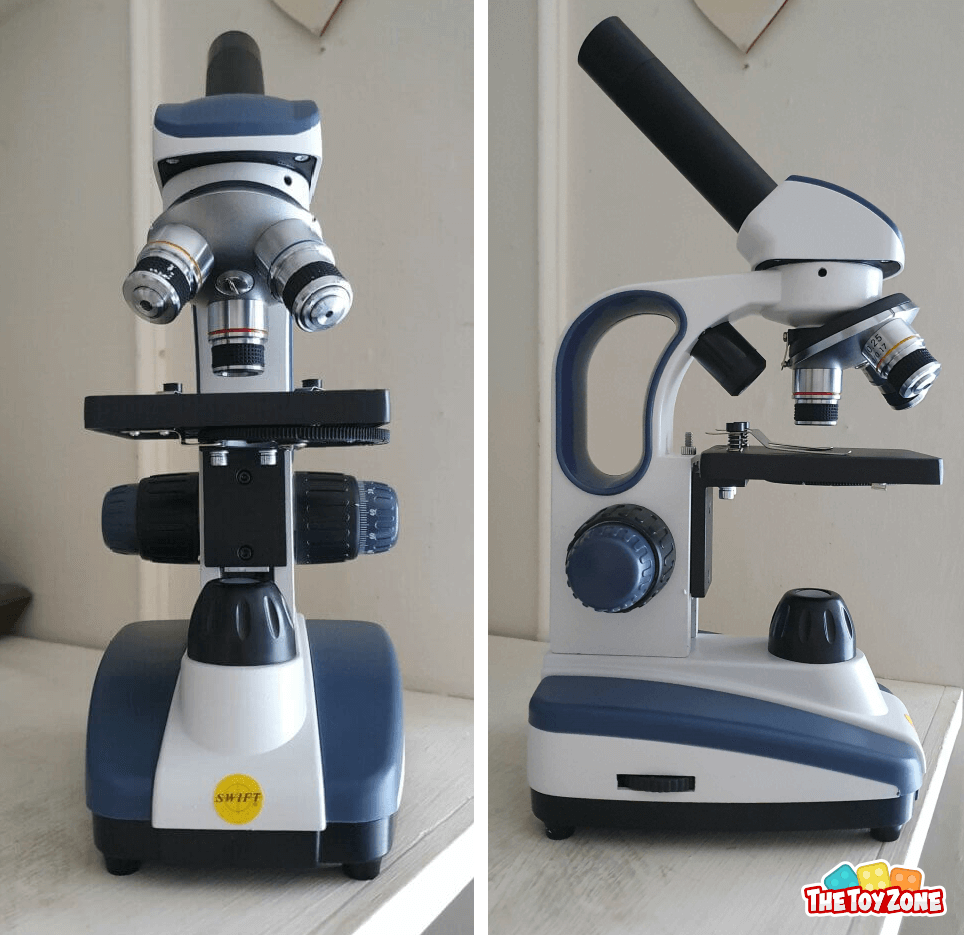 Microscopes are cool, but only if they work. My sons had been given toy microscopes in the past and they were generally pretty useless. Toy microscopes tend to be quite cheap, come with slides for the kids to look at, and get used once or twice before gathering dust on a desk for a few months before being stashed in a cupboard (or the trash).
Preview
Pros
You can take pictures of your findings with a cell phone
Illumination system uses either an outlet or AA batteries
Cons
Doesn't come with pre-made slides
Illumination could be brighter
Doesn't include carry case
Preview
Pros
You can take pictures of your findings with a cell phone
Cons
Doesn't come with pre-made slides
Preview
Cons
Illumination could be brighter
Preview
Pros
Illumination system uses either an outlet or AA batteries
Cons
Doesn't include carry case
This Swift SW200DL toy is not that kind of microscope. You can tell that even before you open the box as it's reassuringly heavy. When you take it out, it just feels like good quality and a serious bit of equipment. But one designed for kids.
That's an important difference, not least for people like me, who used to spend science lessons trying to work out who shot Mr. Burns in The Simpsons (with apologies to my science teachers). Give me two kids and a proper scientific microscope covered in knobs and buttons and I'll struggle to get it to focus on anything.
The Swift SW200DL is thankfully much more user-friendly and it doesn't take much trial and error to get a satisfying zoomed-in look at something. But one thing I should mention here is that this microscope, unlike the other toy ones I mentioned earlier, doesn't come with any slides to analyze.
This was a bit of a disappointment at first because we had our microscope ready but hadn't been given anything to actually use it with. Once this initial surprise wore off though, we had fun finding things around us that we could look at under the microscope and both the kids and I were soon hooked.
We still had some of the smaller gemstones that we'd created using the National Geographic Rock Tumbler and JUST LOOK HOW COOL THIS IS.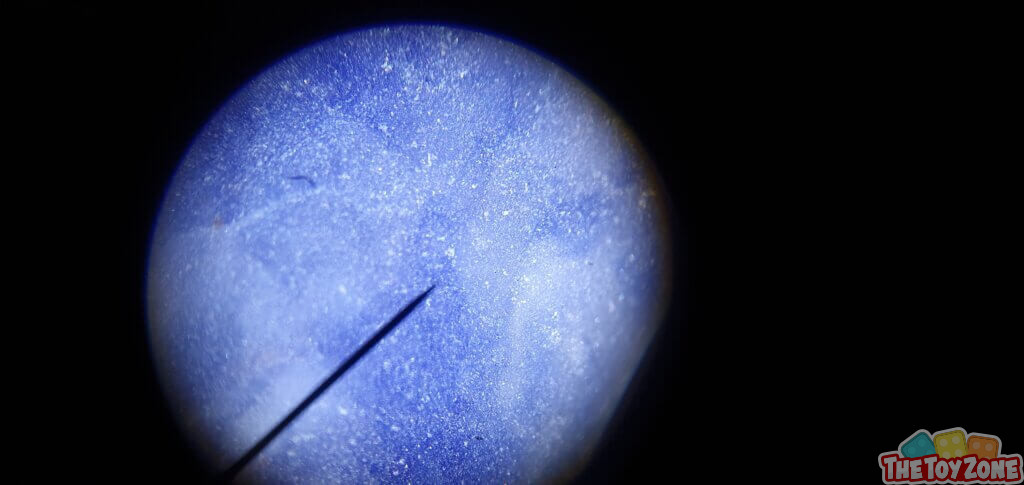 It looks like a planet. To take this photo we also bought the Swift Smartphone Adapter for Microscope, another very simple thing that you can use to take pictures of your findings by attaching your phone to it and then putting it on the end of the eyepiece.
Swift Microscope Lens Adapter,Smartphone Camera Adapter Mount, Microscope Accessory (Fits 28mm Eyepieces)
This smartphone adapter fits onto any microscope eyepiece with 28mm diameter,but it is not suitable for telescope.
Adjusts to hold nearly every smartphone on the market.
Easy to use -- no cords or computers needed, take pictures and video directly on your phone.
Blocks out ambient light leaks for beautifully clear photos of specimens.
Perfect for at-home hobbyists who wish to share their love of microscopy with family and friends!
It would be nice in this day and age if something like this just came with the microscope in the first place so kids can take and share the cool images they're finding, but it's a minor complaint and the adapter works well with a minimum of fuss.
Finding interesting things to analyze with the microscope was lots of fun, from leaves to pieces of paper to the grooves of a vinyl record. The possibilities are endless in any family home and especially with the ability to capture photos of the results, there's a lot of fun to be had here.
Controlling the magnification is easy to pick up and the option to use the illumination system (ie a light) also helps to get really clear images of whatever you're looking at. That's the kind of quality that sets this apart from your usual toy microscope. It really works.
As with all of our hands-on reviews, we bought this microscope with our own money so that you would know that it's an open and honest assessment without any bias or expectation of an overly positive review.
What I loved ❤️
You don't need any previous scientific knowledge
It's got all the quality you'd expect from a much more expensive microscope
Finding new things to look at under the microscope never gets old
Being able to share images thanks to the smartphone adapter
What I didn't like as much 💔
It would be nice if it came with some slides to get you started
The adapter could also be included as it's such an important addition for young people
Specifications:
Setting up the microscope is a bit daunting at first but the instructions are clear and it's actually surprisingly user-friendly and simple.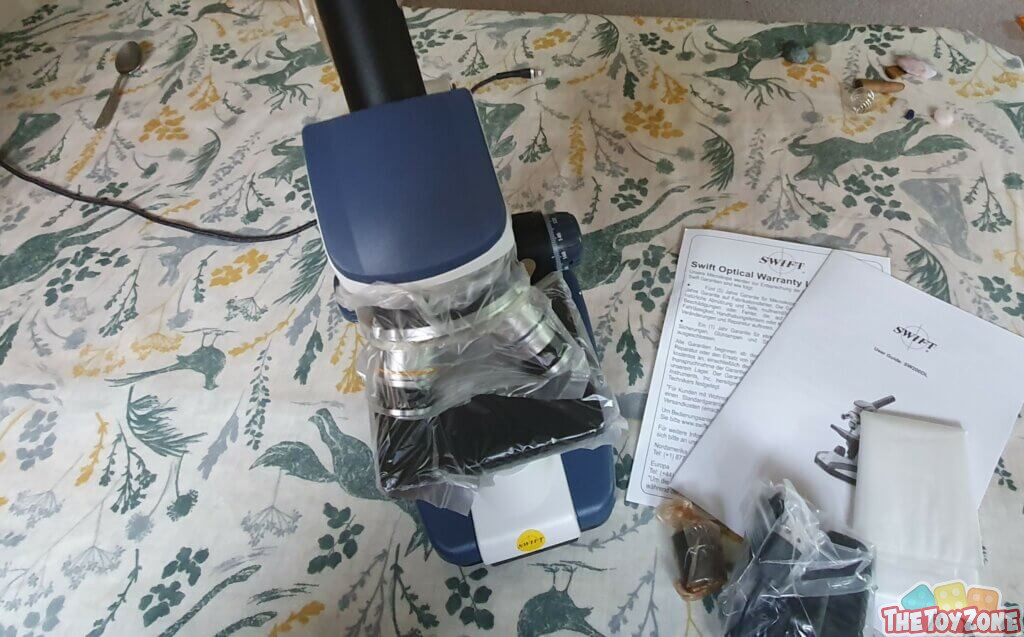 Once you've worked out how to work the magnification, it's a case of finding something to examine under there. We tried out this Disney Heroes card of Grogu AKA Baby Yoda, AKA isn't he adorable.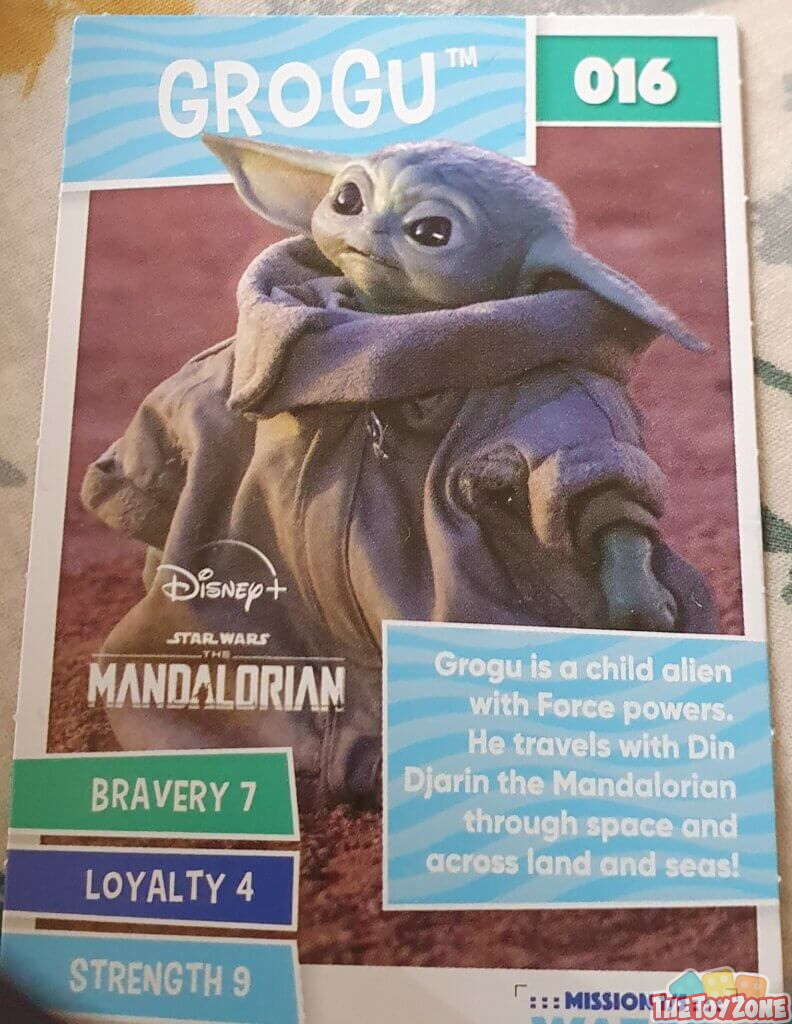 It takes a bit of practice positioning something correctly under the microscope and adjusting it while looking through the eyepiece is really counterintuitive and confusing, but I got the hang of it in the end. Here's Grogu's eye: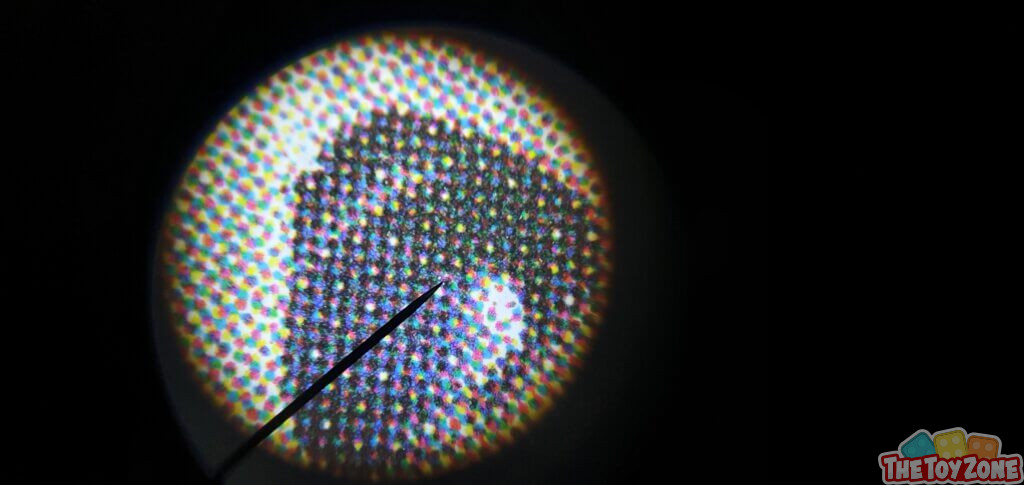 Told you it was cool!
As mentioned, we used the smartphone adapter and my Samsung Galaxy S10+ to capture these images. At first, I thought it wouldn't fit in the clamp, because I'm an idiot and didn't read the instructions. A quick glance and fiddling about and it's very easy to adjust it to fit any smartphone and position it so that it lines up with the camera lens, then it's a case of fitting it on top of the eyepiece. This takes a little bit of practice but it's simple enough to get a good photo.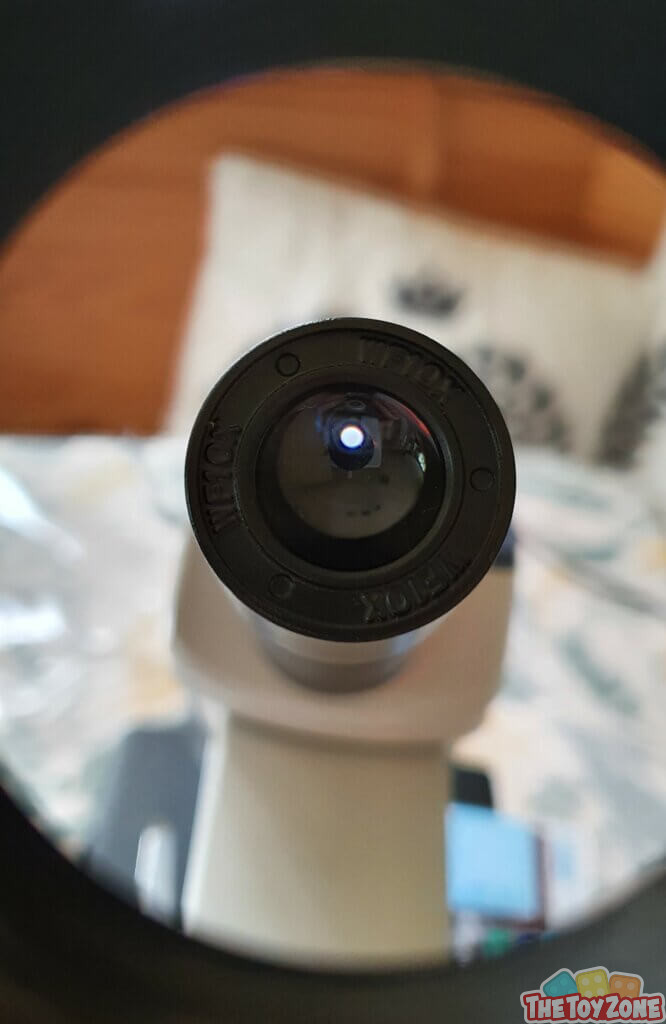 So, what did my sons think?
They loved playing with the microscope and found it easy enough to use, particularly my 9-year-old. Finding new things to look at and then marveling at the amazing images kept them entertained for hours and with so many more objects to explore, will have them using the microscope again and again.
Here's a leaf: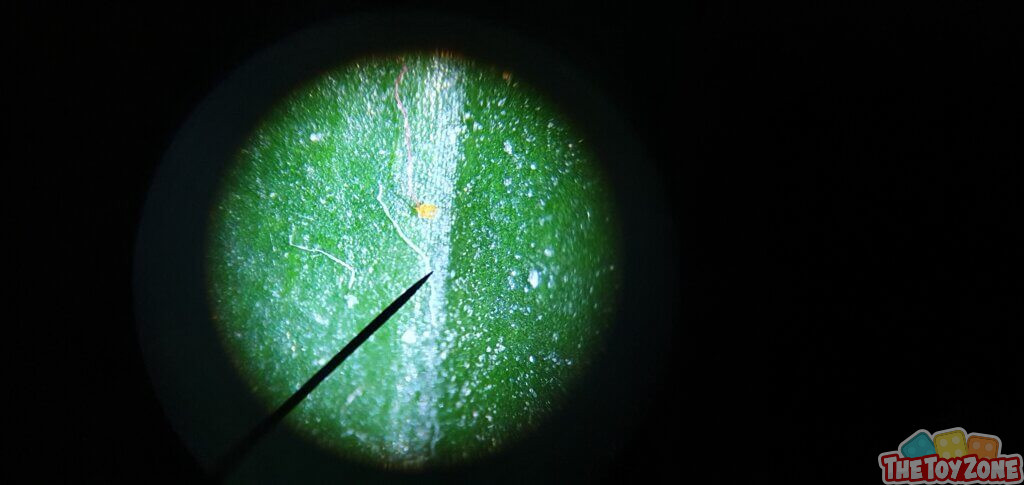 Whereas other toy microscopes are fun in theory and maybe hold their attention for about 15 minutes, this is something they'll come back to time and time again and will be especially useful when they're using microscopes in science lessons at school. As long as they actually pay attention, unlike their dad…
TL;DR
The line between a toy and a proper piece of scientific equipment is thin here and the SW200DL works so well because it manages to look and feel professional while being fun and simple to use so that younger audiences can make the most out of its powerful abilities.
Whereas many like it end up discarded after one use, this toy microscope is for life, not just for Christmas.
Sale
Swift Compound Monocular Microscope SW200DL with 40X-1000X Magnification, Dual Light, Precision Fine Focus, Wide-Field 25X Eyepiece and Cordless Capability for Student Beginner
【MAGNIFICATION SETTING】Available magnification settings of 40X, 100X, 250X, 400X, and 1000X through aberration-correcting 4X, 10X, and 40X glass objectives with wide-field 10X and 25X eyepieces
【Dual lllumination】Dual illumination system allows you to examine both transparent and solid specimens; cool LED lights protect eyesight and live specimens
【Excellent material】Rugged design with metal arm and base, carrying handle, and cordless capability make this compound microscope a practical pick for field experiments
【Suitable】Designed forDesigned for students/kids/adults/beginner/amateur scientist/hobbyists, perfect for science fairs, at home experiments, and school lab experiments!
【Features】Fully rotatable monocular head for easy shared use or one-on-one instruction in the classroom. Our customer service is ready at all the time, please contact us if you have any problems