The LEGO Super Mario Bowser's Castle Boss Battle Expansion Set is the largest set in the LEGO Super Mario range. Get ready to build complex structures before you bring Bowser and his Koopa Clan to life.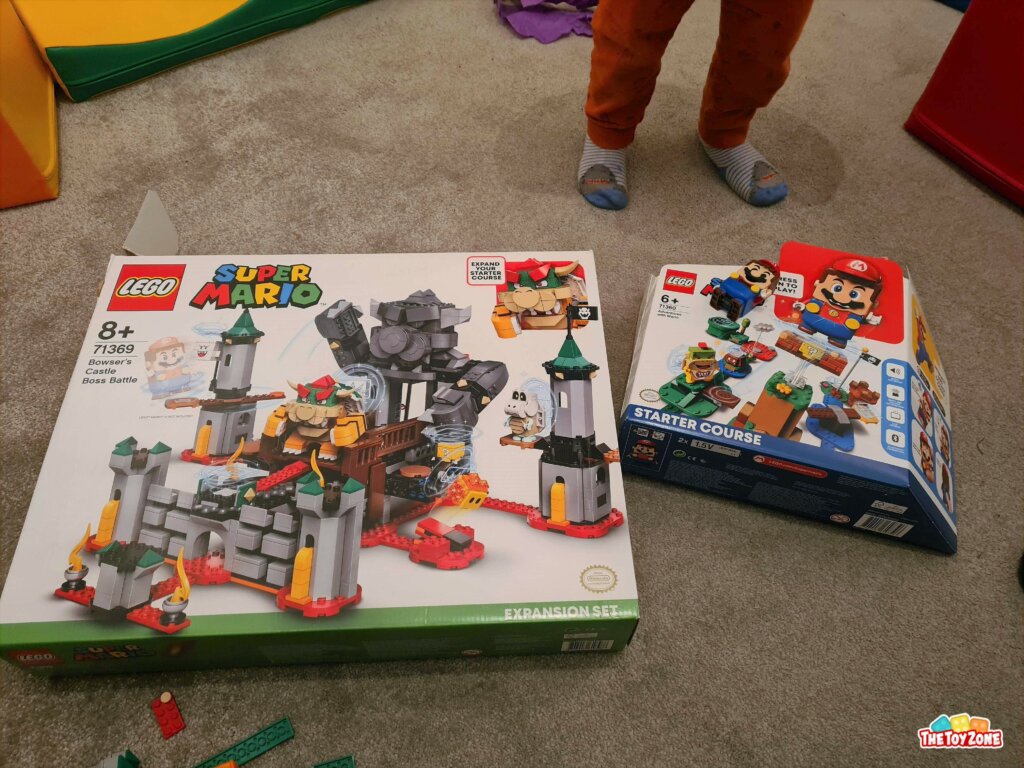 Our verdict: This is an excellent expansion set to go with the LEGO Super Mario Starter Set. If your kid is a die-hard Super Mario fan like mine, then this set is going to be the best gift you can get.
Preview
Preview
Preview
Preview
My son discovered Super Mario a year or so ago when he was just a toddler and has been obsessed with the characters ever since then. We got him a LEGO Super Mario Starter Course last Christmas and we found that he played a lot more with the Mario figurine than he did with the full set, so we weren't sure about getting any more sets from the LEGO Super Mario range. But after much deliberation we decided to give the Bowser's Castle Boss Battle Expansion Set a try, and I'm glad we did!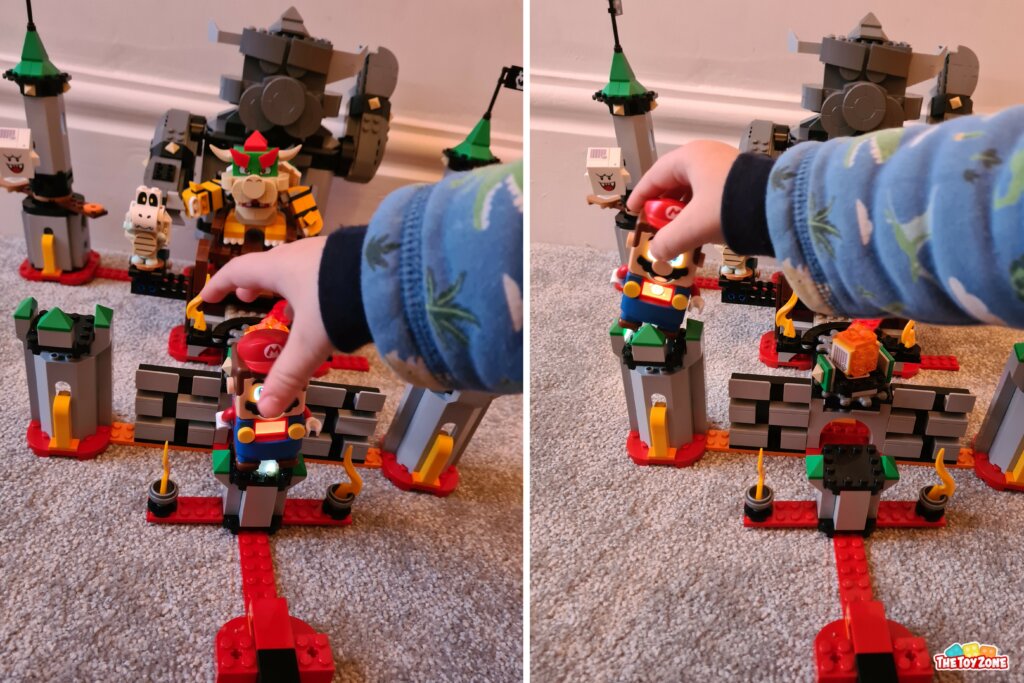 Before we get into the meat of the review, it's time for a little disclaimer:
As with every other hands-on toy review we publish at TheToyZone, we purchased the LEGO Super Mario Bowser's Castle Boss Battle Expansion Set with our own money to make sure our review is 100% unbiased. We never accept money in exchange for reviews because we truly believe in our mission to find (and recommend) toys that kids will actually love playing with for months and years to come.
A Quick Look Around Bowser's Castle
The castle is a showstopper, with the main section featuring a recreation of Bowser at the end of the classic Super Mario bridge. To each side of this huge King Koopa, there's a tower guarded by two members of the Koopa Troopa army: Dry Bones and Boo.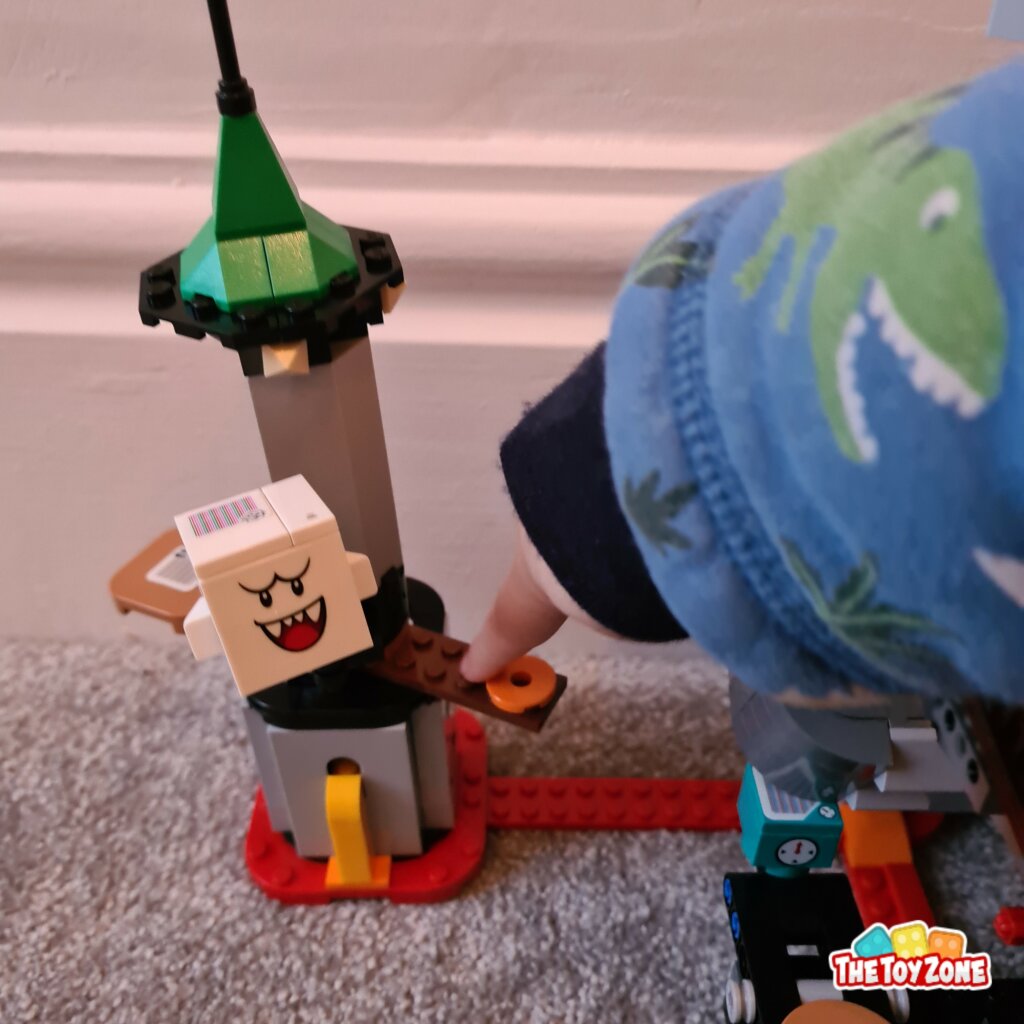 Both Dry Bones and Boo are action figurines that you can scan in the game, alongside a lava bubble, time bonus block, and a question mark block.
A clarification for those of you who are new to the LEGO Super Mario world: the Mario Brick interacts with the environment around him, through an optical sensor between his feet.
The scanner can read a selection of the LEGO color palette. For example, if the scanner scans the color red, Mario will detect it as lava and it will lose a life.
But the main action rates come from scanning barcodes (also known as 'Action Bricks'), leading to power ups, sounds, bonuses, coins, and other interactions built into the game play.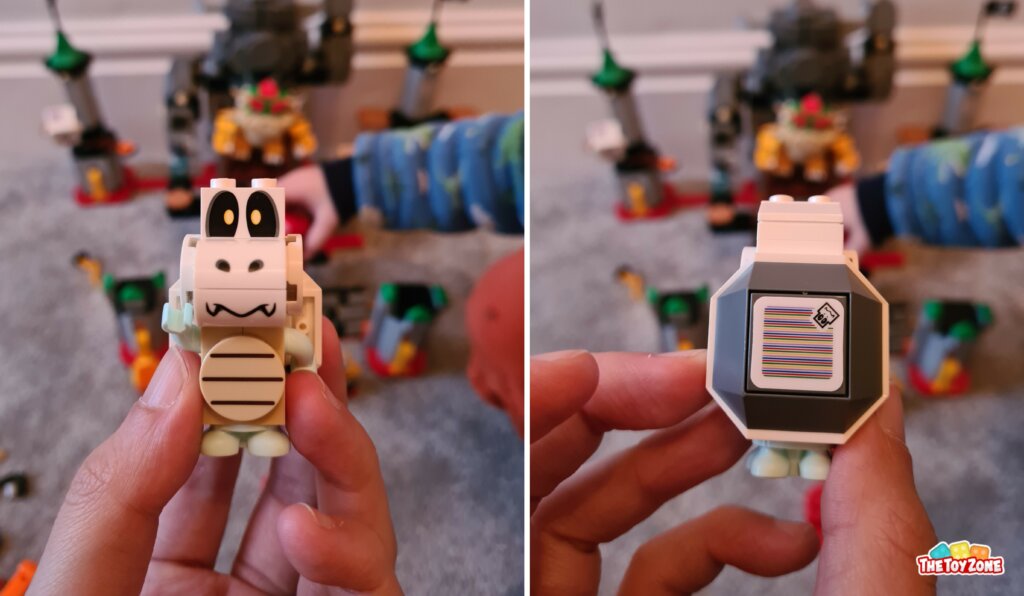 What I loved ❤️
The build is very robust: there's elements of the game that require heavy-handed flinging and jumping around, but not a single element came loose.
The game mechanics do a brilliant job replicating the experience of playing Super Mario on the console
With so many pieces, it was a relief to see that the full set was neatly sorted into bags, making it easier for you to build each of the sections and characters with minimal confusion.
What I didn't like as much 💔
As with All LEGO Super Mario sets, building instructions are accessed through the app. At the time of building the set, the app kept crashing on us, so it took us a few days to finish the course.
The Bowser feels more fragile than other pieces of the game.
I was surprised the set didn't come with more Action Bricks, considering it is the largest (over 1000 pieces!) and most expensive LEGO Super Mario set.
Specifications:
When you open the box, there are eleven plastic bags that contain the different parts that you will use to construct the set: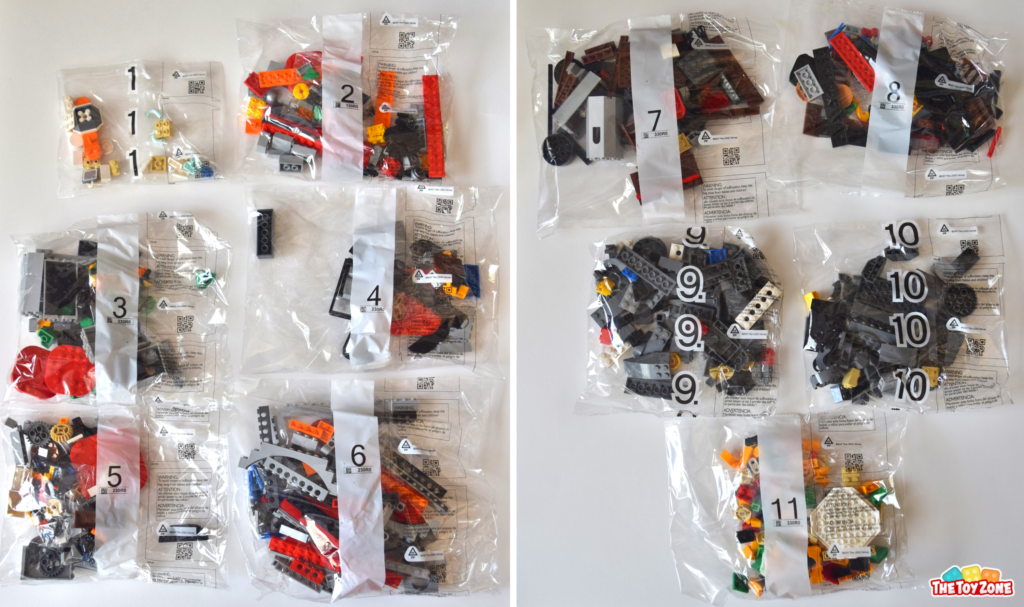 It's worth mentioning that the expansion set doesn't include the Mario figure. To avoid the disappointment of not having it, make sure to get the LEGO Super Mario Starter Course before the expansion.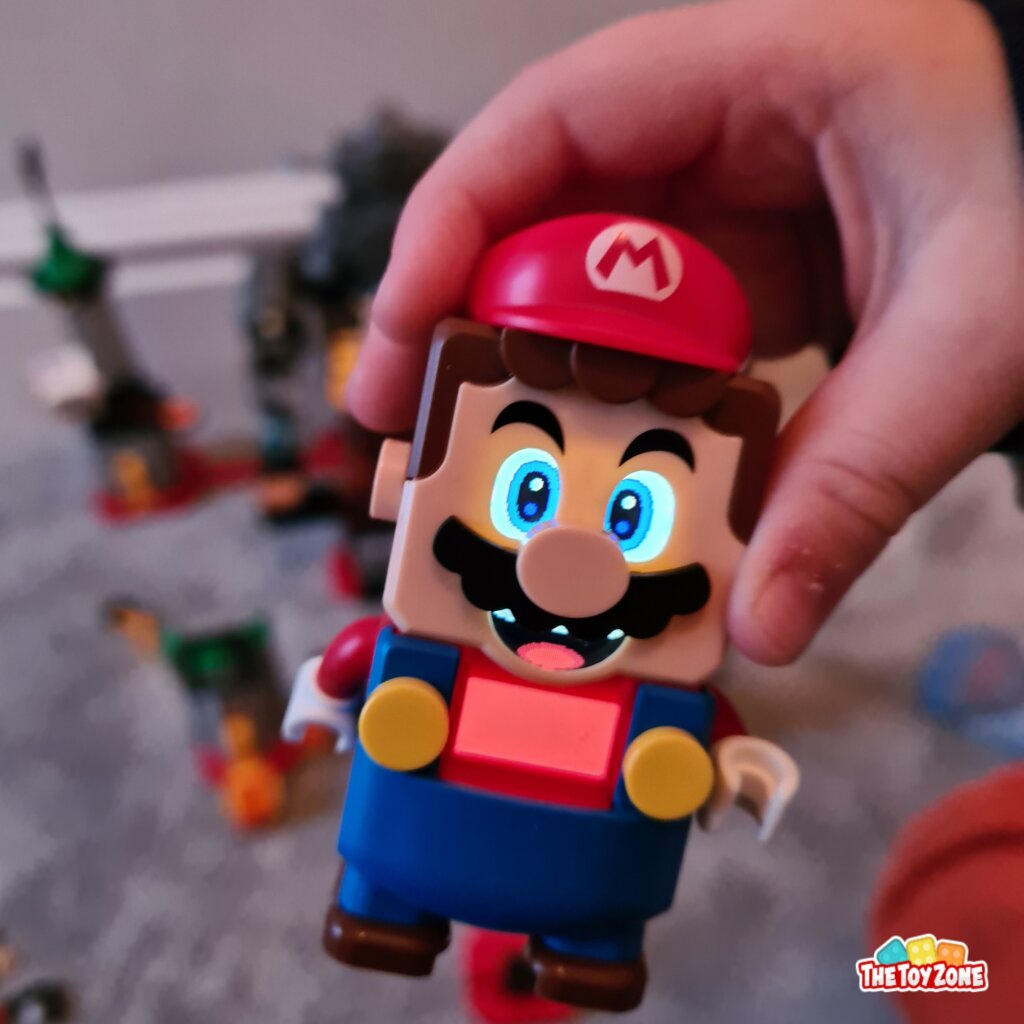 The Bowser figure looks a lot like him, but it is on the small side so the scale feels a bit odd. That being said, if LEGO were to have made it bigger, they would have needed to increase the size of the castle so they made the right decision there.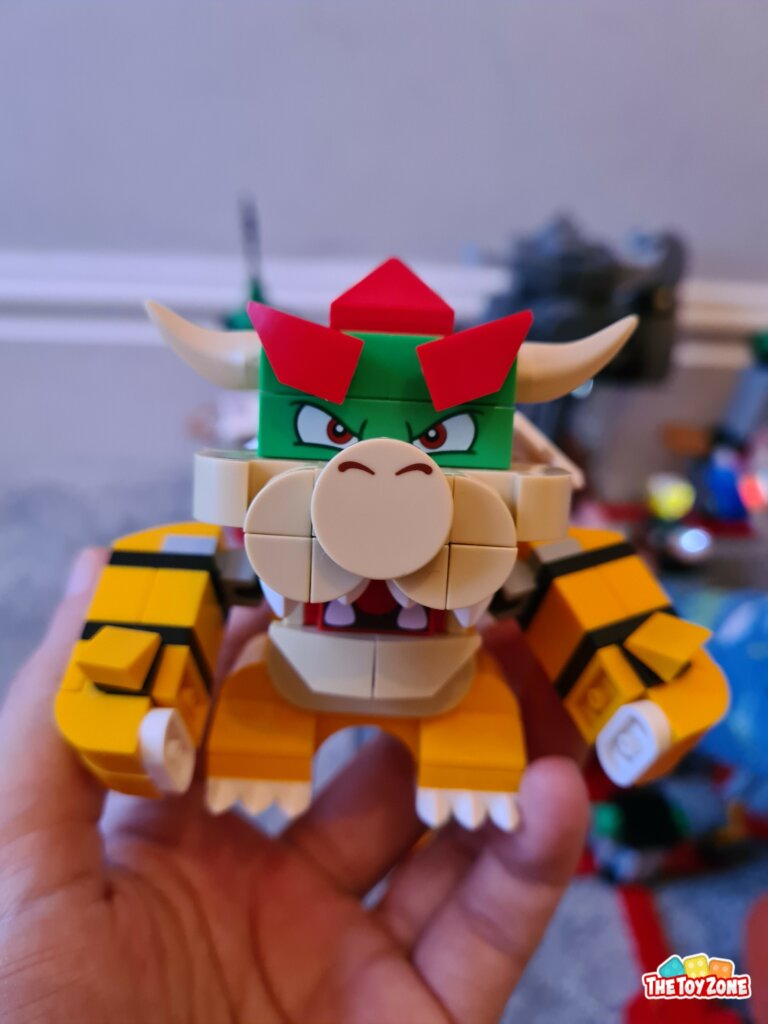 So what did my 4-year-old son think?
Before sharing my son's experience, let me say that we got this set too soon as he is just about four years old. He loved his LEGO Super Mario Starter Course, which is recommended for ages 6 and over so we thought it would be okay. But it turns out the LEGO Super Mario Bowser's Castle Boss Battle Expansion Set is recommended for ages 8 and older for a reason: it is a huge set that requires a few LEGO Technic building techniques.
My son loved exploring the course with Mario, using the sensor to find coins and scan the Question Mark block, which has different options selected randomly. And he also had fun knocking Dry Bones down and chasing after Boo. He didn't succeed beating Bowser by himself, so his dad had to help out there.
This brings me to the biggest lesson we learned through the process of reviewing this LEGO set: Make sure to build the set on top of a hard flat surface to ensure you can apply some force when you need to without risking paths coming apart – it will also make it easier to land some of the jumps more accurately.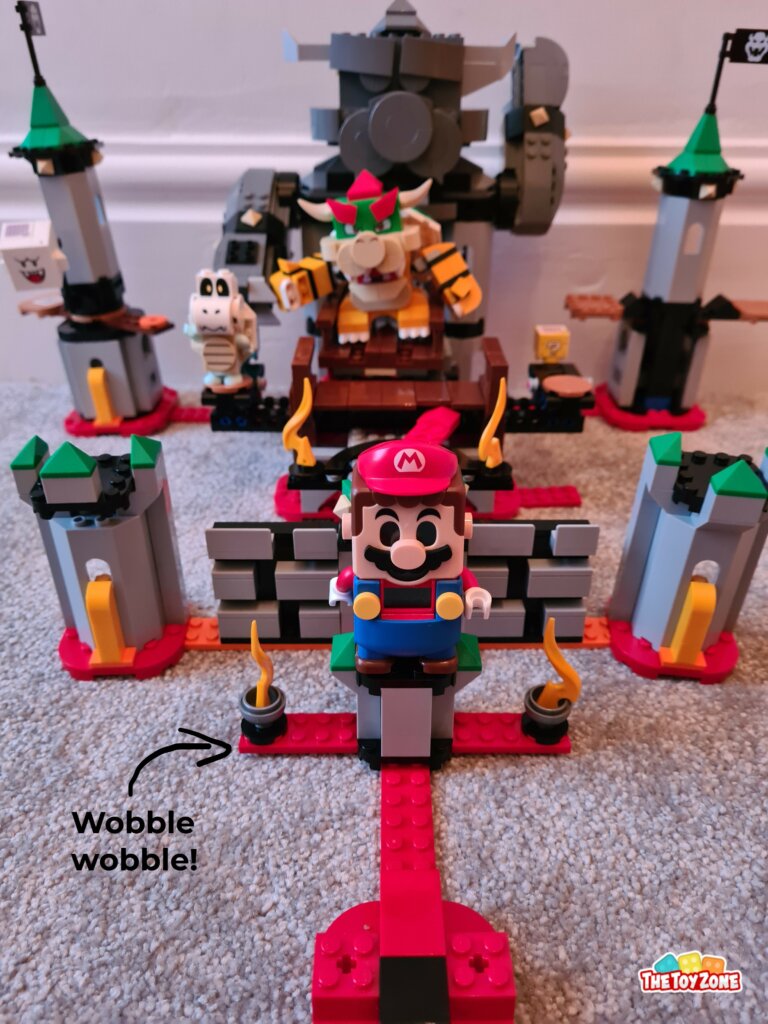 TL;DR
If you are looking for toys and games that will pull your kid away from the screen, then this is the one. This LEGO set is the perfect marriage of Nintendo's epic boss battles and LEGO's imaginative play times, making it a brilliant gift for a kid who loves playing video games.
The LEGO Super Mario Bowser's Castle Boss Battle Expansion Set perfectly mimics the actions of the Switch game my son loves playing, including interactive characters, small catapults, lava bubbles, and even the classic drawbridge at the end of the course. If your kid is anything like mine, then they will have a lot of fun playing solo and with their friends. If your kids are too young for LEGO Mario, you will be interested in checking out what we think are the best Mario Luigi toys.
If you are looking for some Mario fun without spending anything, be sure to look at our super Mario coloring pages that we have made available to all for free.