Is this the Hummer of the scooter world?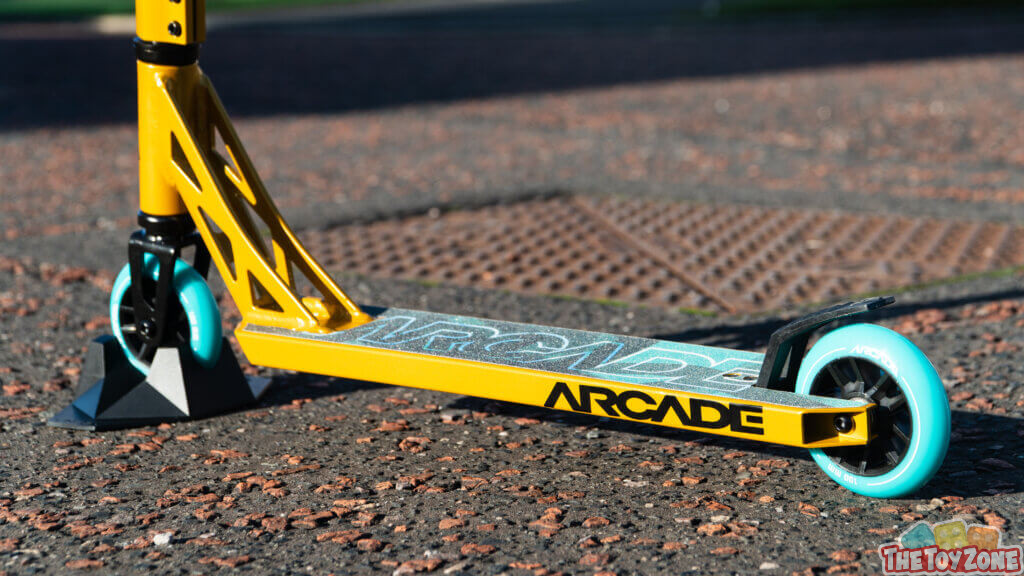 With scooters at their height of popularity, it can be hard knowing which one to buy. You've got big ones, little ones, electric ones, folding ones, flashing ones, three-wheeled ones, even ones with Bluetooth speakers.
Preview
Preview
Preview
Preview
It's a minefield knowing which will last the test of time against the toughest of critics…kids. So for this one, I've brought in some help. Amelia (aged 7) kindly offered to take the Arcade Pro for a test drive and let me know what she thought.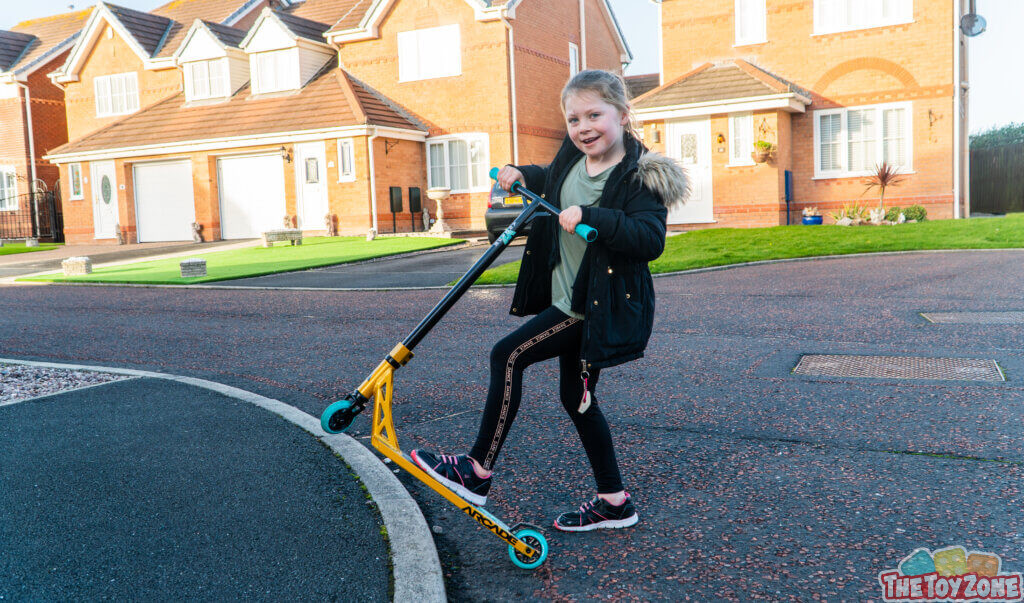 First, a little bit about the Arcade Pro.
Specifications:
– Customized Neck for Max Strength
– 100mm Wheels
– Solid Poly-carbonate Core Wheels with High Rebound 88a PU wheel skin
– Responsive, Rear Nylon/Steel Brakes
– Light 3D Stamped Steel Fork
– Ages 7 to 107+
– Max Weight – 220lbs
The headline for this model is 'Built Tough' and you can see why. This ain't no cheap plastic ride-on toy. Even before you open the box you can tell by the weight that this scooter is built to last. When unwrapped, the scooter comes in just two pieces, the deck, and the handlebars. Simply attach the two together using the supplied hex key and you're away. It also comes with a handy wheel stand which makes putting it together all the easier.
Just make sure you line up the handlebars to the wheel or you'll be traveling in circles.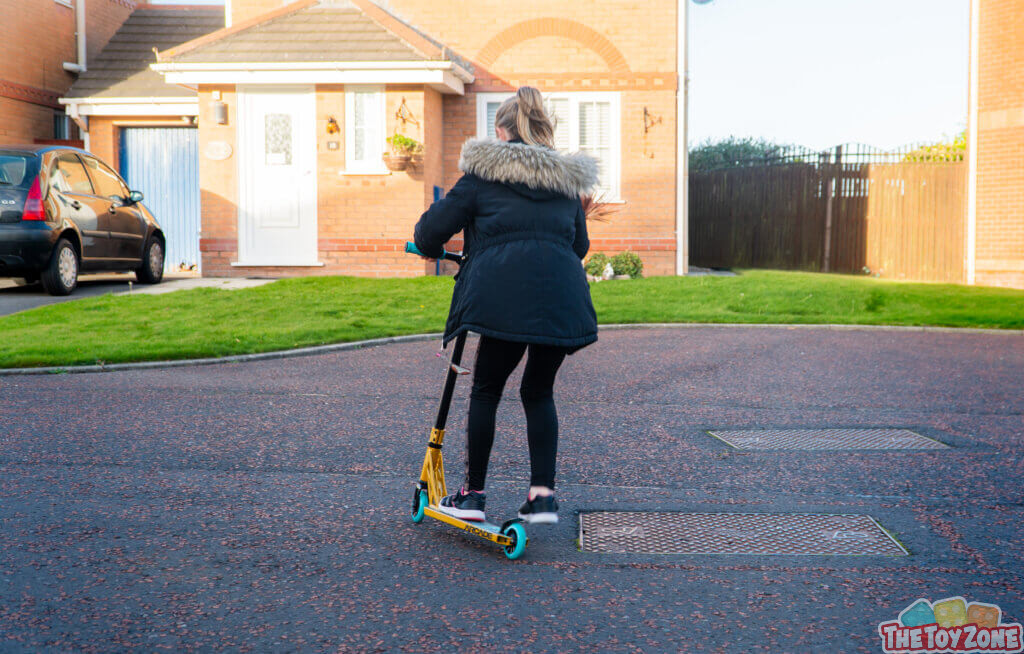 It comes in four different colors, we chose to go for gold/teal as it looked the coolest in my opinion. The other colors available are black/red, black/black, and blue/green. The gold/teal version is bright and vibrant. On closer inspection, you can tell this paint is not going to fade. Donned with decal stickers and grip tape, everything looks like it's there to stay and won't be peeling off after extensive use.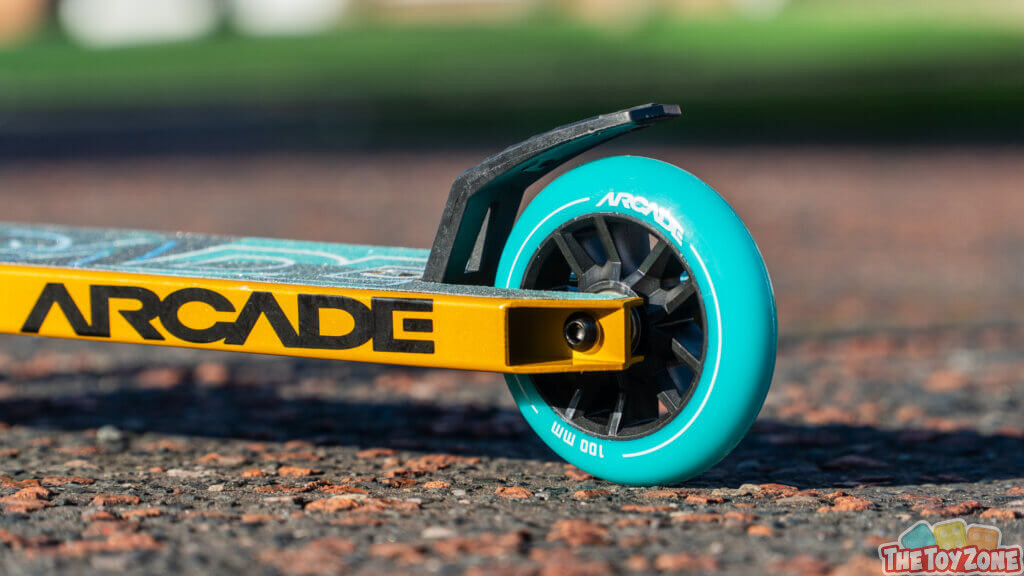 Our Verdict: Of course, I had to take it on a little ride myself (I am under the max weight of 220 lbs after all) and I had a great time. Even with an adult riding, the wheels glide along smoothly using those ABEC-7 bearings. The handlebars were a little low for me and you can't adjust them which could be annoying for any parents wanting matching scooters.
This is where Amelia stepped in to give the Arcade Pro a rigorous review, and as she arrived with an already sizable bump on her head, I knew she wouldn't be scared to put it through its paces.
After a few initial false starts (mainly due to setting off on gravel), she was off!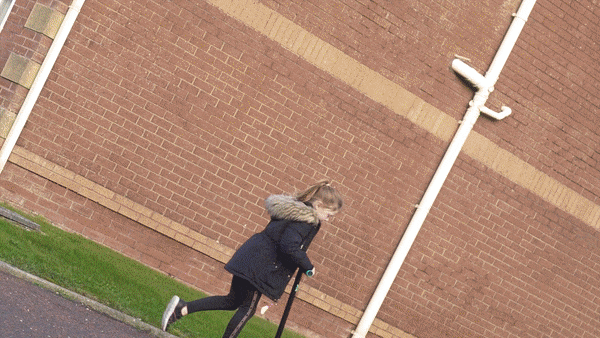 Now, this scooter can MOVE. In no time at all Amelia was flying up the street with no sign of slowing down. Even on uneven patches, the wheels make light work of keeping up the pace and retaining a smooth ride throughout.
The handlebars were responsive to turns and they didn't have any wobble which we all know some scooters can suffer from. Amelia pointed out how much she liked the handlebar grips and how comfortable they were to hold. The stylish grip tape keeps you firmly planted on the deck so even in wet conditions, you'll feel safe and confident that you won't be slipping off.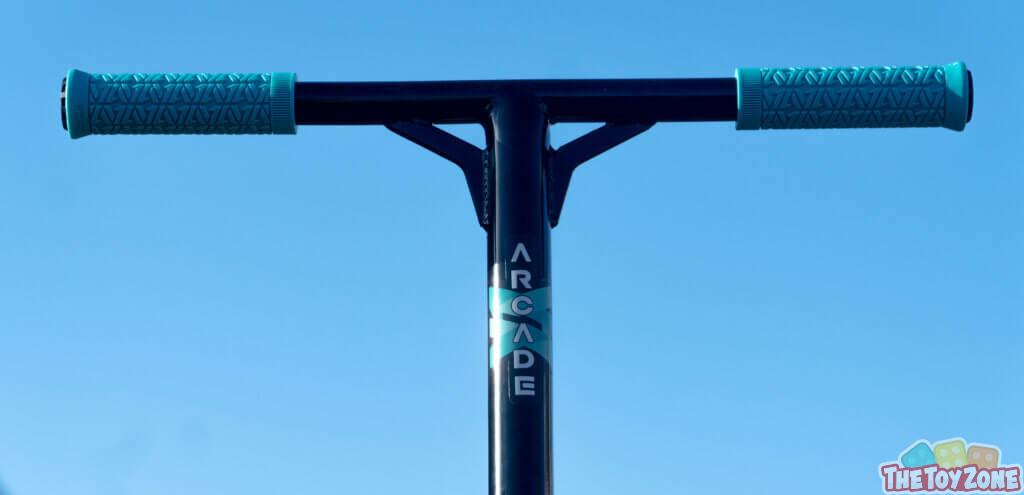 I was initially concerned that with the scooter being so robust and weighing 7.5 lbs, it might be too heavy for kids to perform tricks and jumps. Not the case. Amelia had it lifted up easily and jumping up curbs wasn't a concern. She didn't feel like performing any backflips (probably how she got the first bump) but I was assured she could if she wanted.
The brake is mounted on the back wheel and is designed to stop the scooter using foot pressure. Whilst the brake did work, it wasn't the best. This is a testament to how fast the bearings are more than the quality of the brake. "It does take a few seconds to stop" states our guest reviewer, but again, she was going at some speed!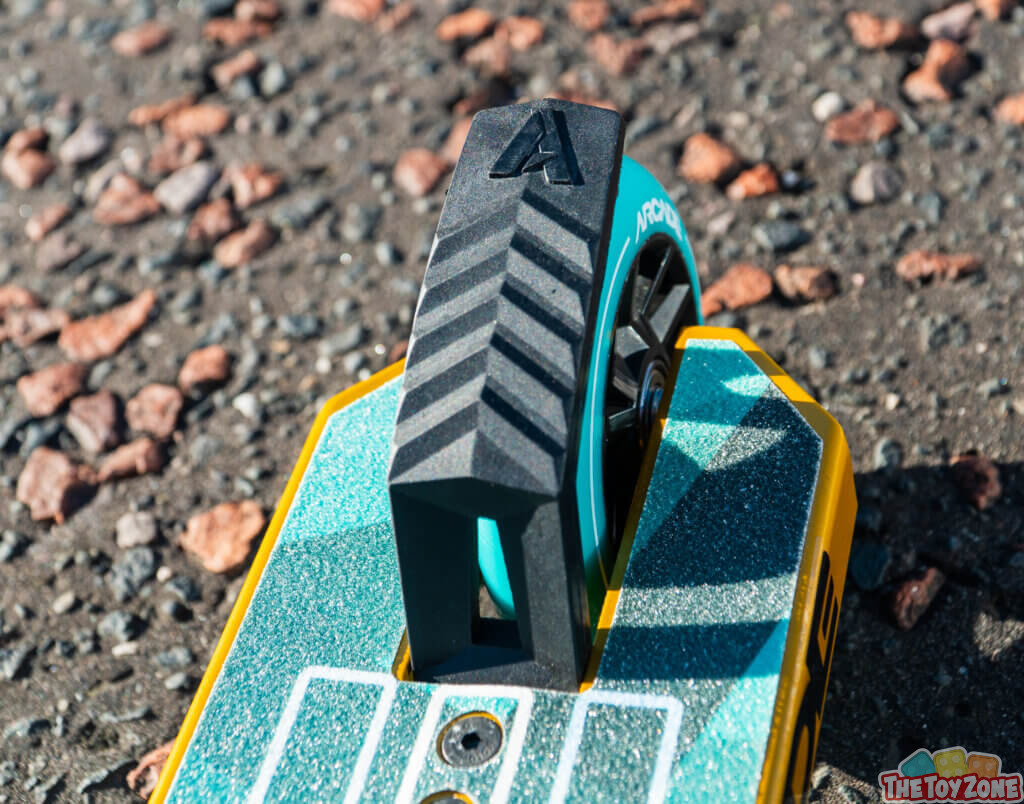 After a while zipping up and down, the inevitable happened. A fall. Amelia is as hard as nails and got straight back on, but the scooter did suffer some damage. As it's made of metal, and slamming onto concrete, you'll have to expect some dinks in the paintwork. It may not look good, but remember, this is built to take a slam. This scooter will also get straight back up and carry on riding. Built Tough.
What Amelia loved ❤️
Turns really nice
Top speed is like 1,000,000 mph
You can go up curbs
You can go down curbs
Could probably jump it over a car
What Amelia didn't like as much 💔
It doesn't fold down to fit in her school locker
If you turn too fast, you fall
ARCADE Pro Scooters - Stunt Scooter for Kids 8 Years and Up - Perfect for Beginners Boys and Girls - Best Trick Scooter for BMX Freestyle Tricks
BUILT TOUGH: What do kids love most about the Arcade Defender stunt scooter? They can ride it hard just like their heroes! And parents? It's one of the safest entry-level trick scooters around! And that's because this pro scooter is packed with custom parts everyone loves. Strong 3D-stamped forks, custom neck, smooth bearings, solid deck and dynamic design - the Arcade is built to take kids smoothly from beginner to pro.
A STABLE, QUIET GLIDE: You can't glide with sticky bearings. Most entry-level kick scooters feature lousy non-rated bearings, but the Arcade Defender is fitted with ABEC-7. We also wrapped our reinforced T-bars in customized 117mm TPR grips and lined up an 83-degree headtube for a stable ride as you glide! We customized the fork and brake, so you could switch our 100mm polycarbonate wheels for 110mm too!
THE COOLEST KID AT THE PARK: While everyone else rattles around on other scooters, your kids will be whizzing around on their Arcade scooter with its fresh graphics, smooth wheels and responsive brake. Because that's what a stunt scooter kid in training truly wants – to look like their heroes! Go ahead and choose your favorite color now: Teal/Gold, Black/Red, Black/ Black, Blue/Green, and Pink/Teal!
DIALED TO RIDE: We've heard the stories too, stunt scooters arriving damaged! So, the Arcade scooter comes securely packaged to avoid disappointment. When it arrives, the only thing you need to do is tighten two bolts because the Arcade scooter comes already dialed! Now, they may not be hitting big air right now, but we've given the Arcade a solid one-degree concave deck (17.5" x 4") and IHC compression for when they start.
PRO SERVICE: With over a decade in scooter design – we bring you, the Arcade Defender Pro Stunt Scooter! It's a lightweight 7.5lbs scooter equipped with 22.5" high T-bar, built for beginners and intermediate riders, kids aged 7+. It can take up to 220 lbs. Comes with a 30-day manufacturing warranty plus a 30-day money-back guarantee, and a USA-based customer service department. Order now risk free.
TLDR;
All in all, this is a sturdy, reliable, hardcore scooter for kids. You can use it for cruising the block, gnarly stunts, or racing your friends, the Arcade Pro can do it all. You don't need to be an engineer to assemble this scooter as most of the hard work is already done for you. This scooter is stylish and solid! It will withstand whatever kids can throw at it. The wheels are super smooth and pick up speed without using tons of energy.
To answer my first question, YES, this is the Hummer of the scooter world.
Don't forget, safety first, because we all know what kid + speed + concrete equals.
JeeFree Bike Helmet Set with Knee Pads Elbow Pads Wrist Guards,Adjustable Helmet for Toddler Kids&Youth,Bicycle Helmet Roller Skate
❤ What you get: New ABS Designed for youth kids bike Helmet Protective Gear for girls boys,comes with 7 pieces set including 1 x Helmet, 2 x Elbow Pad, 2 x Knee Pad, 2 x Wrist Pad, please check the items clearly when you received the package.
❤ Double Adjustment: Well-attached & long-lasting adjustment dial and skin-friendly adjustable chin strap maxmize the best fit and comfortable wearing.The flexibility of the strap make it a unisex product and would fit both well for both boys and girls. The flexibility of the strap make it a unisex product and would fit both well for both boys and girls.
❤ Ventilation : Use of multiple vents,special aerodynamic design and breathable foam to reduce sweating and keep staying cool.It also reduces the high body temperature caused by intense body movements.
❤ Impact Resistance: helmets are specially designed for Kids / Child Multi-sports Head protection.The material use is tough and durable PVC & PC, EPS foam which would help absorb the impact and protect the head during impact.
❤ Application: Designed for youth kids toddler, boys and girls, The helmet for kids 8-14 age (Head Circumference is 55-58 cm/ 21.6-22.8 inches for Medium size).helmet for kids 3-5 & 5-8 age (Head Circumference is 48-54 cm/18.9-21.3 inches for Small size).We offer 14 colors for choice in pink/blue/black/purple/red/orange/green/white/grey... It is a good choice as a gift for Children's Day, Christmas, Birthday and other festival.