Super Mario introduced video games to so many people that most of the world probably thinks of his red cap and mustache as soon as they hear the name 'Mario.'
His first arcade adventure in Donkey Kong ate more quarters than I can count. Still, it wasn't until he came to home consoles that his popularity exploded and made him the most recognizable character in gaming.
Mario's appeal isn't limited by age or gender, which is rare. The only other major brand that can also make that claim is LEGO, so when those two collide, we get some of the most fun toys on the market. Building our own Mario adventures used to be something we had to imagine, but it is now a reality.
Super Mario LEGO sets are unique among the rest. Not only do they need to be fun to build, but they also need to recreate the joy of Mario as a toy once completed. When done right, Mario LEGO sets are the ultimate Super Mario toy for fans of the heroic plumber.
The Top 3 LEGO Super Mario Sets
Preview
Best Budget Option
Preview
Best for Younger Kids
Preview
Best for Older Kids
Preview
We've gone down the warp-pipe and come back with only the best LEGO Super Mario sets across a range of categories. Whether you're looking to give one as a gift for a young or older fan, or even for yourself, we've got the perfect option for you.
Best Starter Packs
Where better to start a LEGO Mario collection than with the starter course? This starter pack provides everything needed to start a new Mario collection in a single package.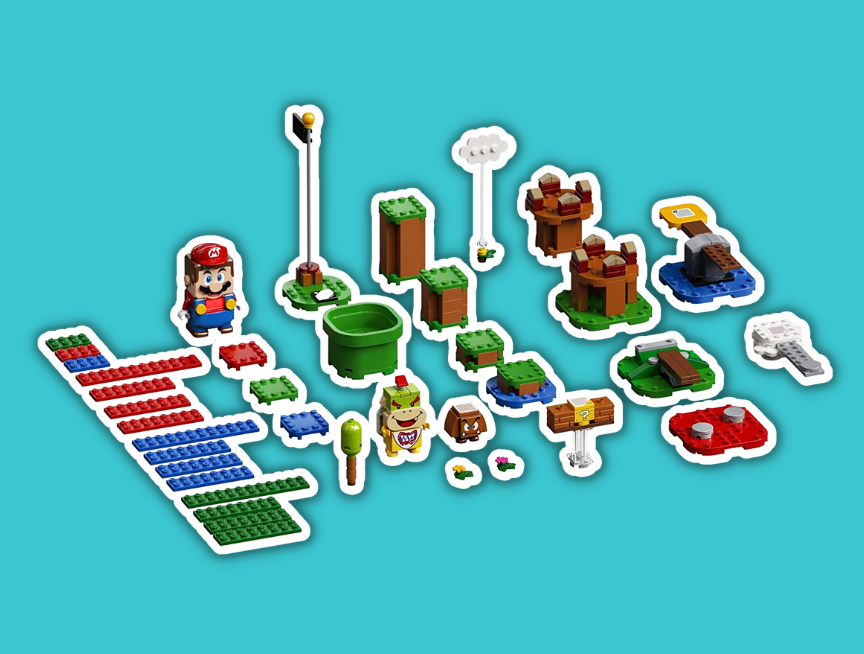 Recommended age: 6 years and above
This pack comes with the all-important Mario figure, plus seven action bricks that each create different reactions. Mario's LCD screen eyes, mouth and belly can display over 100 different reactions based on how he's played with, plus you'll hear familiar songs and sound effects from the game.
What We Love:
❤️ Perfect gift for new fans
❤️ Lets you build your own levels
❤️ Adorable and expressive toy
What We Don't Love:
💔 Directions aren't obvious
💔 Takes up a lot of space
The Princess of the Mushroom Kingdom is just as important as Mario. Therefore, it only makes sense that she gets a fantastic LEGO set just like him, which is exactly what this set delivers.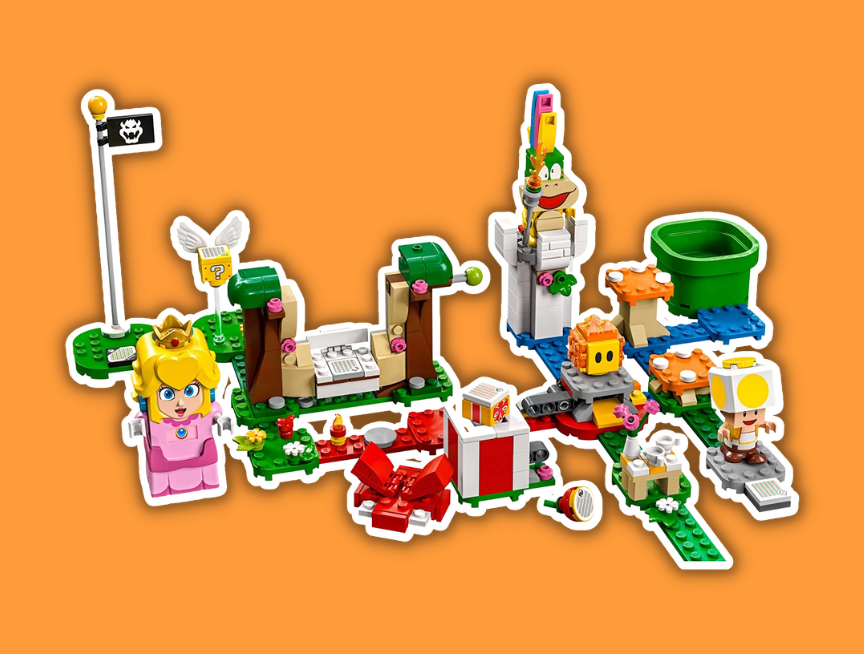 Recommended age: 6 years and above
Featuring a Peach figure just as detailed and responsive as the Mario one, this set includes an obstacle course with a coin-collecting mode, plus Toad and Lemmy figures. Feed Peach and her friends' fruit to see how they react and earn even more coins!
What We Love:
❤️ Great Peach figure
❤️ Appealing to girls and boys
❤️ Very customizable course.
What We Don't Love:
💔 Course is small
As a younger brother and fan of the color green, I always loved playing as Luigi in the Mario games. Until recently, that was a rare option, but this dedicated LEGO set is perfect for fans of Mario's friendly brother.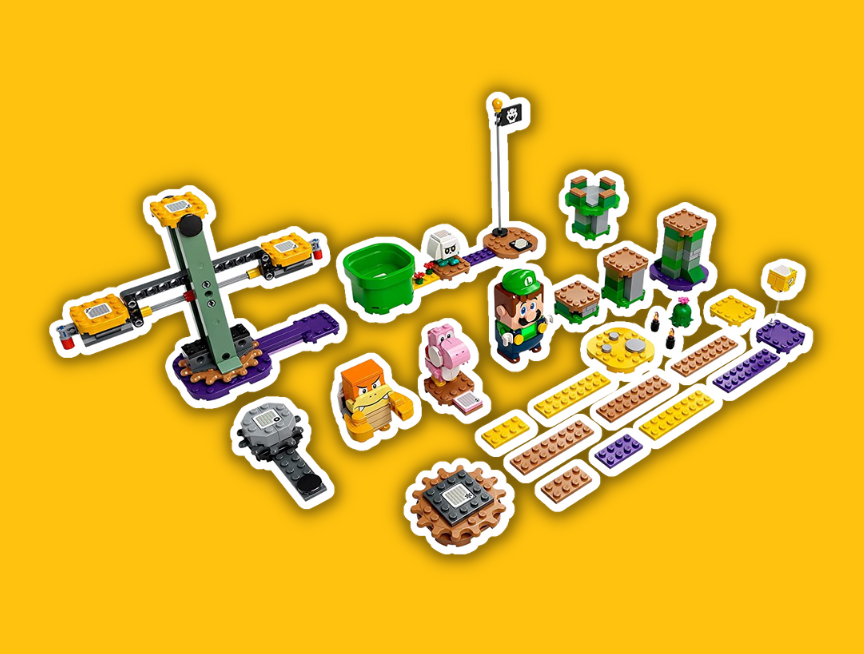 Recommended age: 6 years and above
Featuring a Luigi figure that pairs perfectly with Mario, this starter set allows for an entirely new way to play with the Super Mario figure. Using Bluetooth pairing, Luigi can start a real-life two-player mode where kids can play together to earn even more coins and rewards – the perfect set to add to a collection.
What We Love:
❤️ Pairs great with any other set
❤️ Allows for two-player mode
❤️ Encourages creativity
What We Don't Love:
💔 Not as fun by itself
💔 Small set
It's been a long time since we were first introduced to Mario and even then, he didn't have a proper name. In the years since, his cast of friends, family and enemies has grown to the vast roster of colorful characters we all love.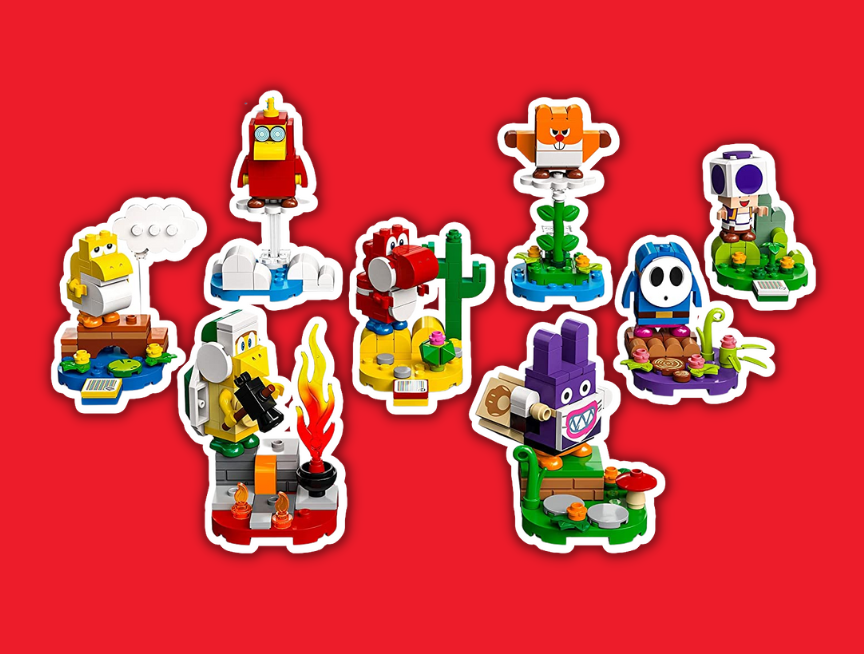 Recommended age: 6 years and above
After getting the heroes, there are tons of other Mario characters we want to fill out our version of the Mushroom Kingdom. The Super Mario Character Packs give us access to some of the less represented characters, like Nabbit, Purple Toad, Hammer Bros and different Yoshi colors. They can fit perfectly with any collection or even as stand-alone collectibles.
What We Love:
❤️ Features less familiar characters
❤️ Each one comes with a unique stand
❤️ Small and easy to build
What We Don't Love:
💔 Can't choose which characters you get
💔 Non-interactive without another set
---
Best Small Expansion Sets
The ghost house levels in Mario games were always my favorites as a kid. They played more like mazes, and despite being filled with ghosts, Boos were always more cute than scary. This expansion brings all that horror-themed, yet friendly, feel to your home.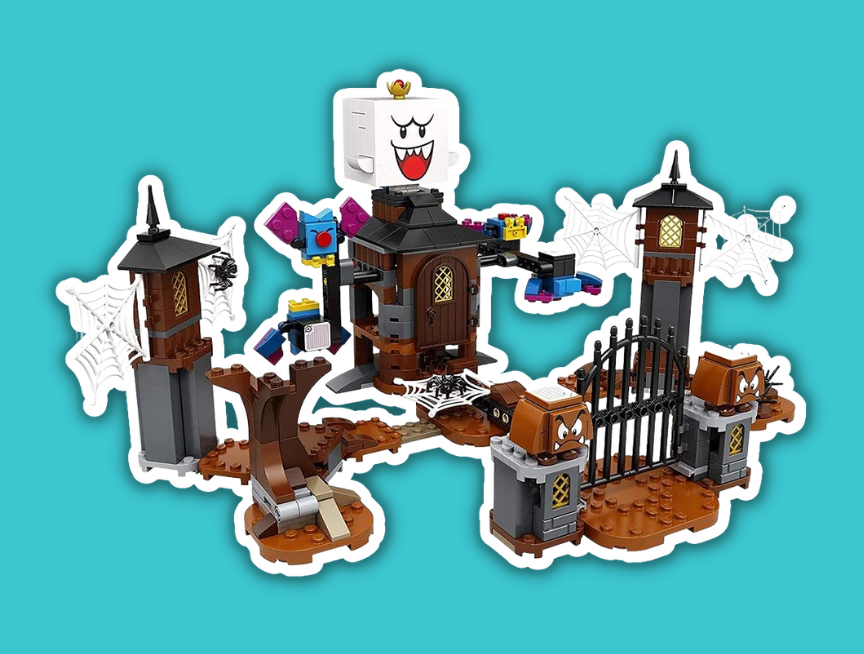 Recommended age: 8 years and above
This expansion set creates a new stage full of chilling challenges against King Boo. After building the set, kids can move Mario through a treacherous course filled with Goombas and Boos on their way to discover a secret Star to collect. This set allows the player to build it in various ways for endless adventures.
What We Love:
❤️ Unique Mario stage
❤️ Charming Boo figures
❤️ Can be built various ways
What We Don't Love:
💔 Set is delicate
💔 Many pieces look similar
First appearing in Super Mario World, the green dinosaur Yoshi has become much more than just a cute creature Mario rides around from time to time. Since its introduction, Yoshi has grown to become a key character who has starred in plenty of video games.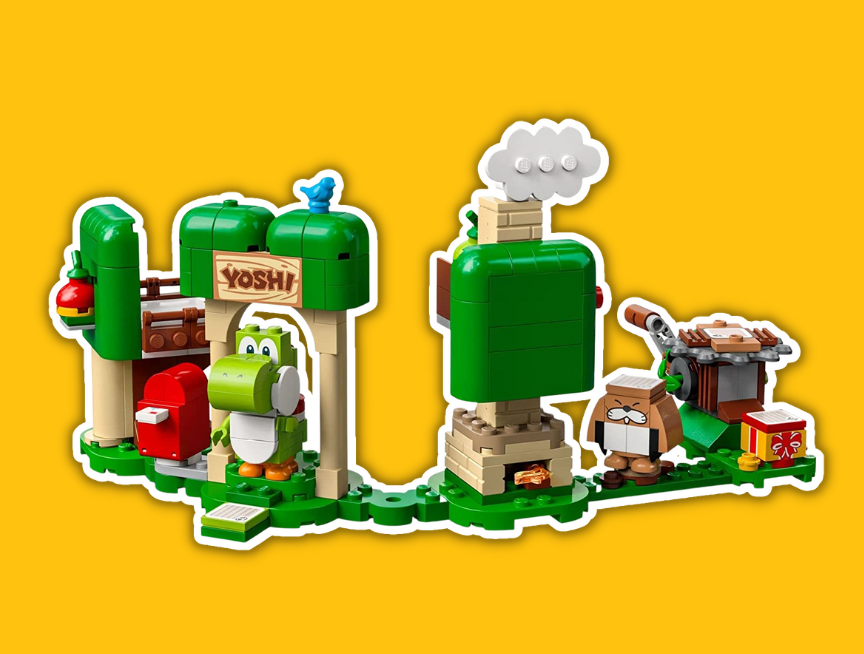 Recommended age: 6 years and above
Yoshi fans will be delighted to build Yoshi's house, complete with a doorway, bed and even a mailbox. The main attraction is the Treat Carousel, where Mario, Luigi, or Peach can spin and turn fruit into gold coins. This small expansion set is a must-have for any Yoshi fan.
What We Love:
❤️ Easy to build
❤️ New game for other figures
❤️ Adorable Yoshi figure
What We Don't Love:
💔 Very simple design
💔 Not a lot to interact with
Take Mario to new heights with the Lakitu Sky world set. This fun LEGO set brings the fun high into the clouds with the charming Lakitu, plus plenty of hazards and interactive elements.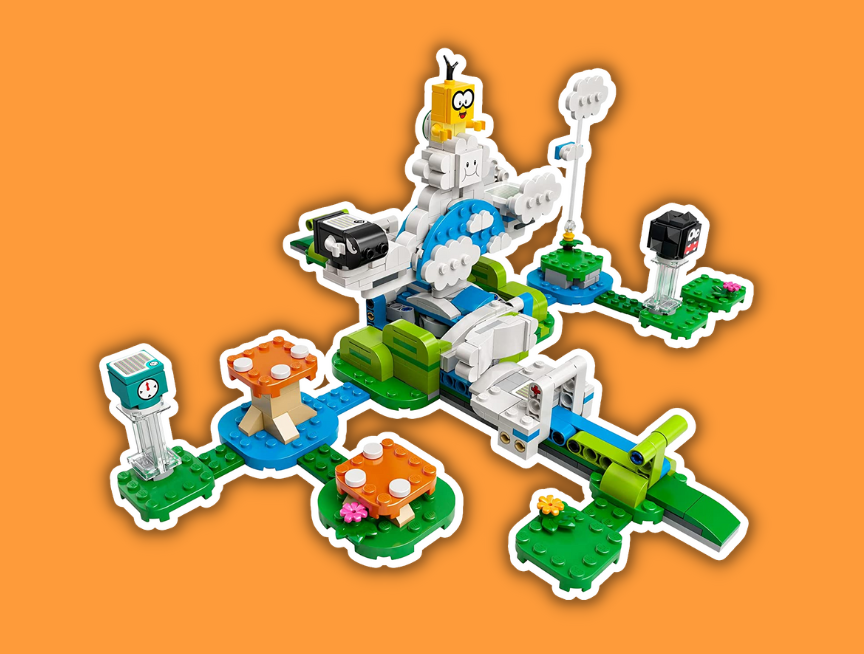 Recommended age: 7 years and above
This expansion set features three famous Mario enemies: the cloud-riding Lakitu, Bullet Bill and the charming Fuzzy. It also features a unique Time Block that, when hit, gives players extra time to complete the course. You'll need it too, because navigating these spinning cloud platforms can be tricky.
What We Love:
❤️ Lots of moving components
❤️ Bright and appealing
❤️ New blocks
What We Don't Love:
💔 Requires owning Mario to play
💔 Not a lot of customization
The ultimate test of most Mario games is to reach and conquer some castle or fortress. These highly guarded and tricky stages are often packed with danger, which this LEGO set recreates perfectly.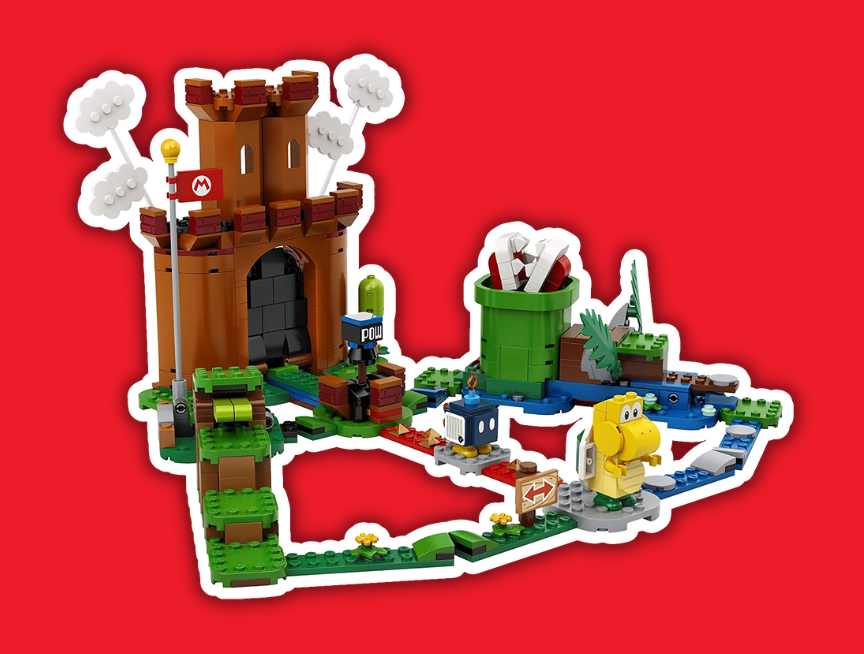 Recommended age: 8 years and above
This LEGO expansion set allows kids to tackle a fun and challenging stage. They can each choose their route, facing off against Bob-omb, Koopa Troopa, or a Piranha Plant. Once defeated, hit the POW Block to open the door and claim victory!
What We Love:
❤️ Multiple paths to take
❤️ Playable with two people
❤️ Three different bosses
What We Don't Love:
💔 Doesn't come with any hero characters
💔 No interior area
Mario and his friends have worn many costumes, but there's no arguing that the catsuit was the most adorable. Peach's version, which turned her into a cute pink kitty, is impossible not to love.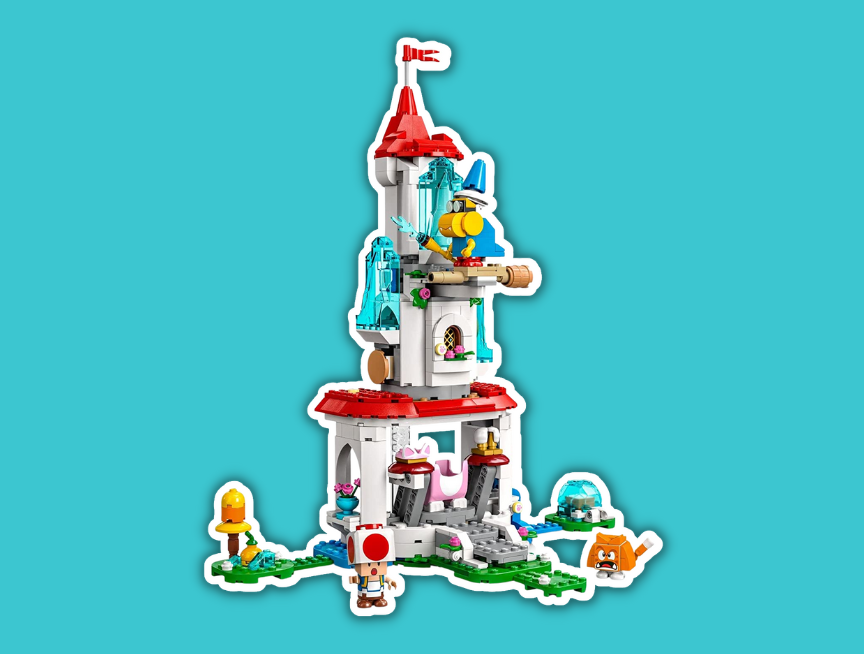 Recommended age: 7 years and above
This recreation of a massive frozen tower is the perfect playground for Peach to climb around in her catsuit. Not only can Peach get in on the feline fun, but a cat Goomba, Kamek and Toad all come included to join the fun.
What We Love:
❤️ Adorable catsuit
❤️ Fun level to play
❤️ Adds new interactions
What We Don't Love:
💔 Peach isn't included
Mario's boss fights are the cherry on top for a series of challenging platforming levels. LEGO understands our desire to take down great foes in unique ways and delivers that same fun feeling with this Topple Tower set.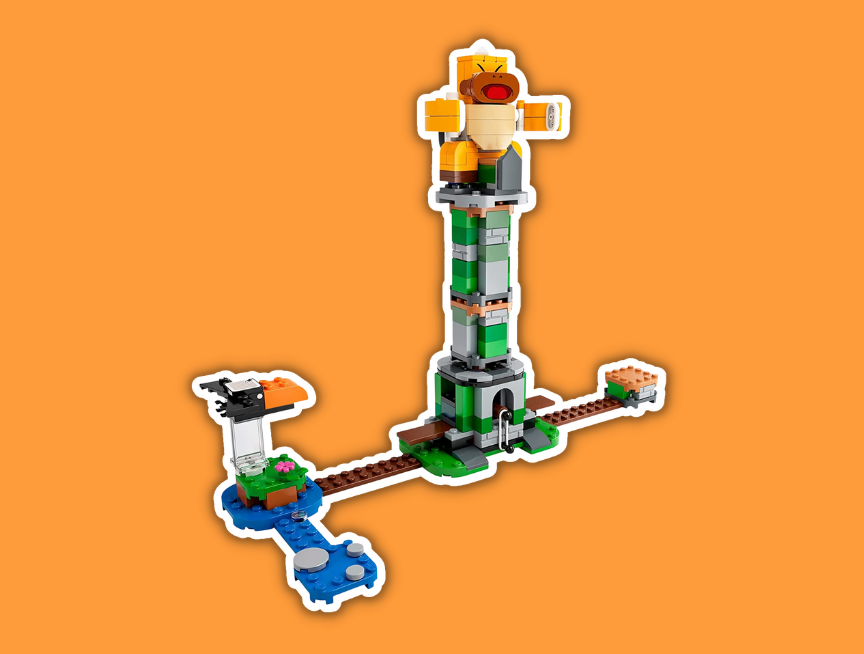 Recommended age: 6 years and above
This set features two longtime Mario foes, Boss Sumo Bro and Crowber. Mario can take the tower by himself or with the help of Luigi. The plumbers can rock the tower back and forth using the levers to take down the boss and reveal a Super Star Block.
What We Love:
❤️ Dynamic, moving set
❤️ Fun to build, break and rebuild
❤️ Feels like a real Mario game
What We Don't Love:
💔 Crowber doesn't add much
💔 Only one way to play
Want some Mario fun for free? Then check out the Mario coloring pages we designed and made available to print for free.
---
Best Large Expansion Sets
Bowser is Mario's longtime rival and one of the most iconic bosses in all video games. From the first interactions with him over pits of lava, we've been obsessed with thwarting this fire breathing turtle's plot to take over the Mushroom Kingdom.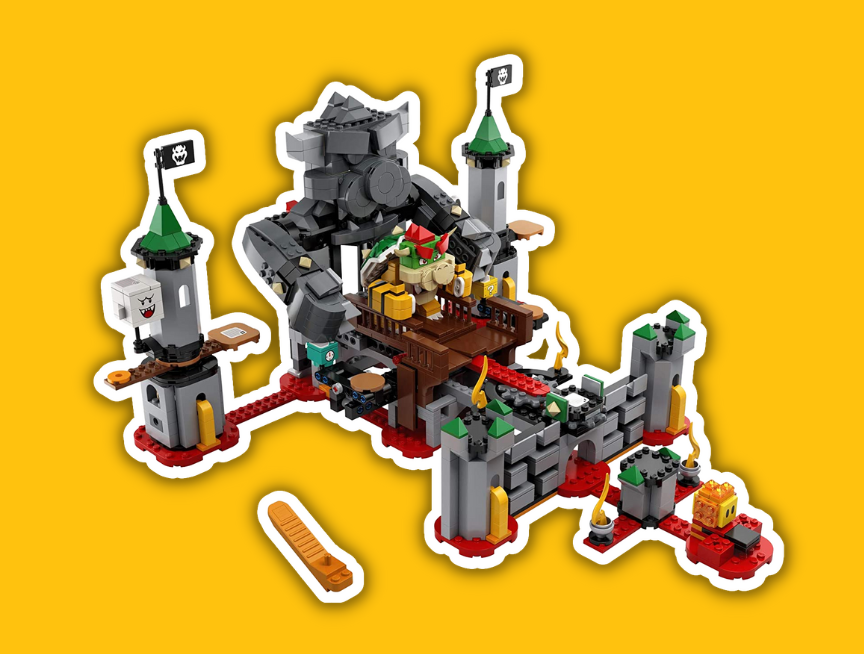 Recommended age: 8 years and above
For the first time, kids can experience what it feels to face Bowser by navigating challenges on the way to his castle. The set comes with Dry Bones, Boo and Laval to help defend him from players trying to rock his bridge and send him into the pit below.
What We Love:
❤️ Very interactive boss fight
❤️ Tons of ways to interact with the set
❤️ Great additional figures
What We Don't Love:
💔 Moving parts sometimes need to be fixed
💔 Somewhat expensive
Peach's castle is an essential landmark in Mario's history. While the design changes slightly each time we see it, there's no mistaking the white towers, red caps and image of peach at the very top.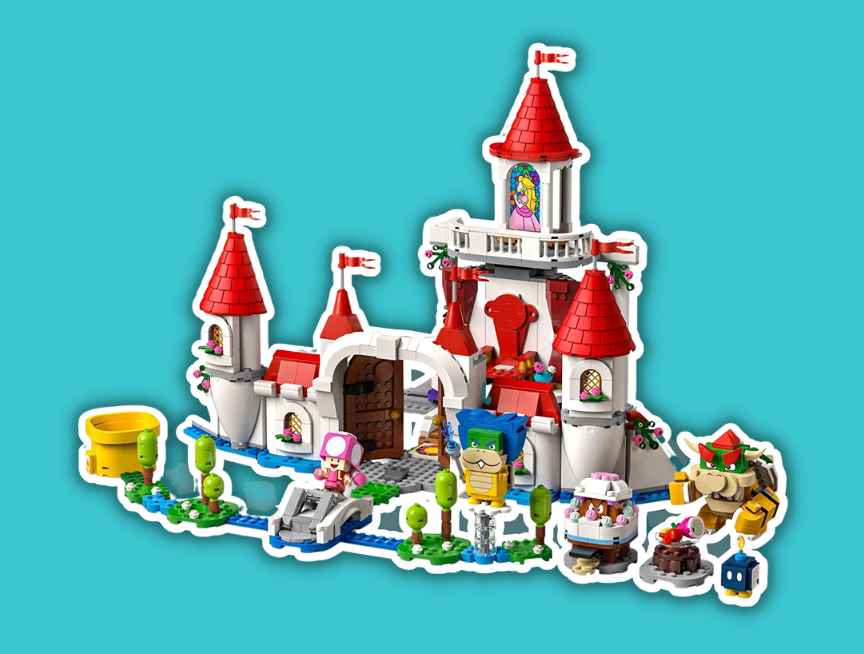 Recommended age: 8 years and above
The set lets kids create a definitive version of Peach's castle, including fun figures like Bowser, Ludwig, Toadette, Goomba and a Bob-omb. Just like in Mario 64, there's even a secret behind one of the castle's paintings and a cake with an unpleasant surprise!
What We Love:
❤️ Lots to interact with
❤️ Essential Mario location
❤️ Interior and exterior paths.
What We Don't Love:
💔 Figures look a little odd
💔 Outside row is thin
Don't ask me how a giant fire-breathing turtle monster got his hands on a flying pirate ship, but Bowser's Airship is his primary mode of transportation. While it may not make logical sense, it is perfect for a fun LEGO set.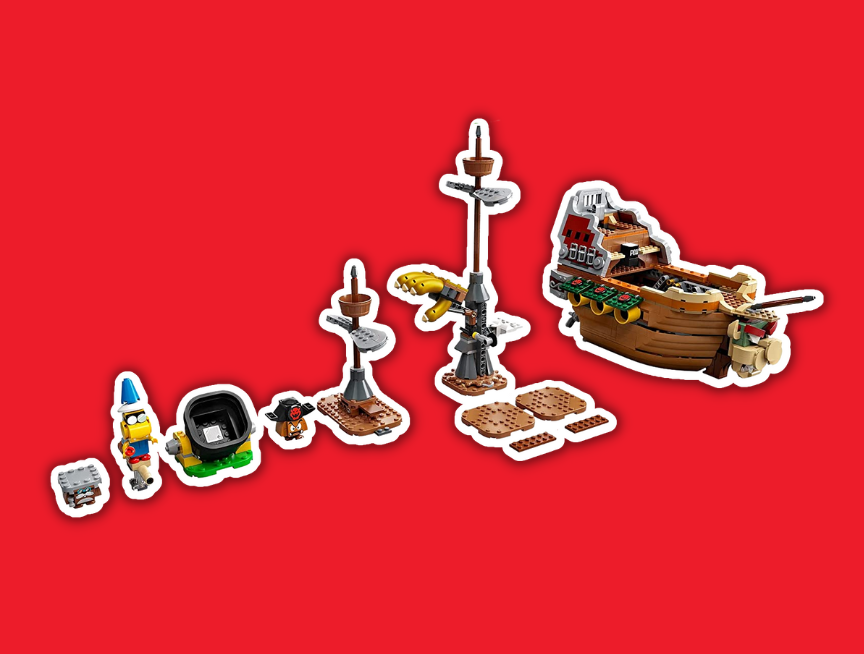 Recommended age: 8 years and above
This set makes a great addition to any collection, as well as a stand-alone toy or display model. Aside from being a cool-looking flying ship, the Airship set has a fully detailed interior with even more ways to play.
What We Love:
❤️ Very cool design
❤️ Opens up
❤️ Fun alone and with other sets
What We Don't Love:
💔 Comes with only three figures
Luigi's first real opportunity to shine as the hero was in the Luigi's Mansion series, where he braves various haunted locations to save his brother. I thought this was an odd direction for the series, but these ghost-hunting games were terrific fun.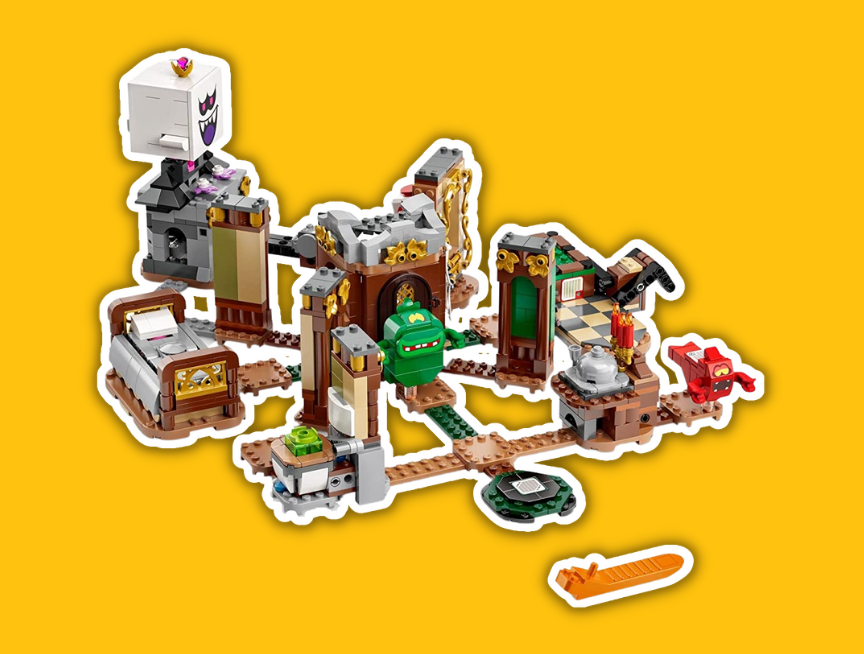 Recommended age: 8 years and above
The set is just as massive and secret-filled as you would expect. It has built-in music, Scared Toad, Garbage Can Ghost, Grabbing Ghost and, of course, King Boo himself. Using the rotating central hallway, kids can move through each room to discover secrets and eventually battle King Boo at the very top.
What We Love:
❤️ Packed with secrets
❤️ Lots of variety
❤️ Fun to replay over and over
What We Don't Love:
💔 Luigi isn't included
💔 Other figures only stay in one place
When I first saw this Super Mario LEGO expansion set, I must say that I didn't recognize what it would be just by the name. However, as soon as I saw those dinosaurs on the rotating platforms, I couldn't believe it hadn't been done before. This again proves that LEGO and Super Mario are a match made in heaven!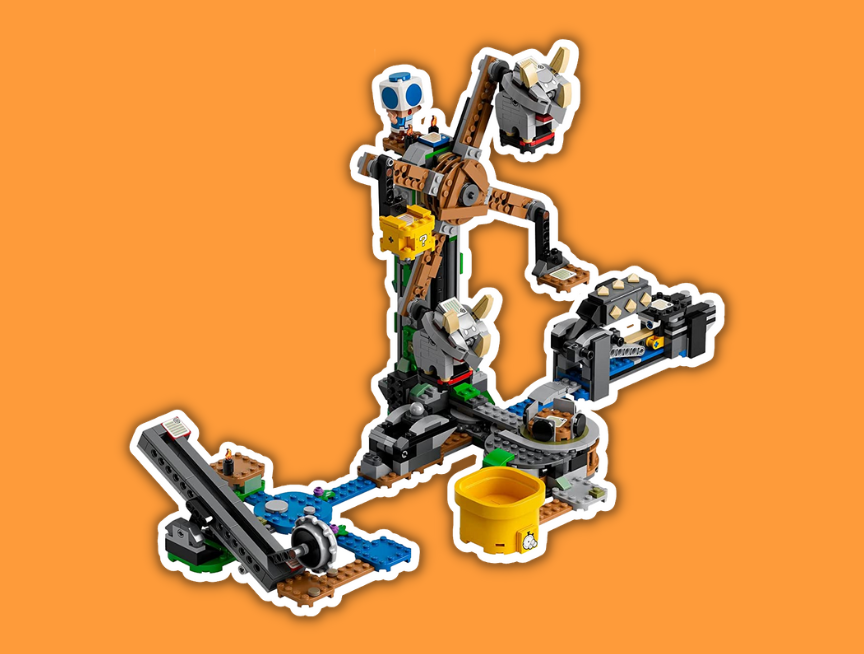 Recommended age: 8 years and above
Building this spinning, seesawing structure alone is fun enough. Just about every part can move and rotate and it will captivate them for hours. It comes with two Reznors, Grrrol and a blue toad to rescue. This set also has an excellent Speed Run to spice up the game!
What We Love:
❤️ Tons of moving parts
❤️ Very fun to build
❤️ Single or two-player
What We Don't Love:
💔 Somewhat complex build
💔 Delicate
Everyone loves sky levels in Mario games! The fun of running along and jumping between clouds is unlike anything else in gaming. While this may seem like an impossible feeling to replicate with real LEGOs, this set nails it.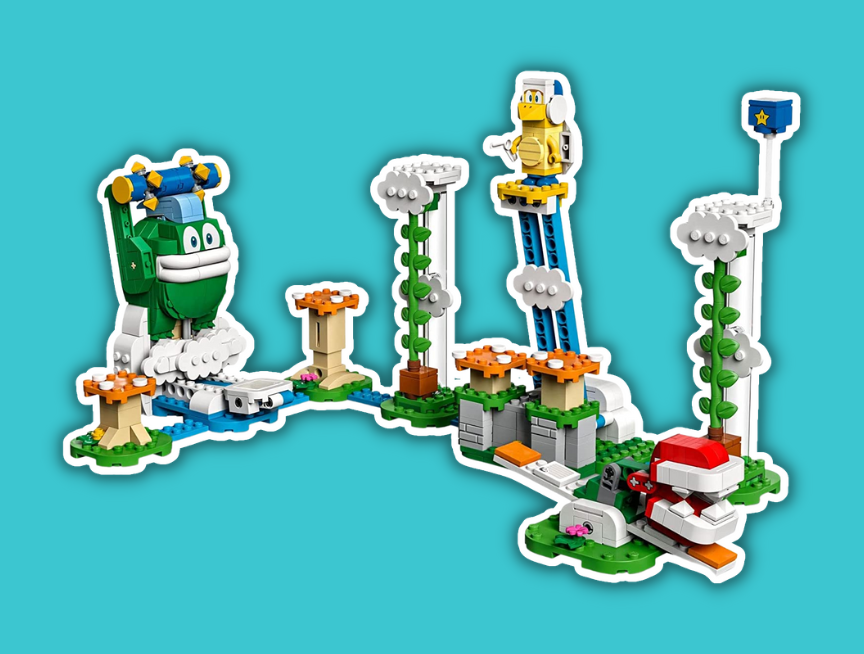 Recommended age: 7 years and above
Spike's Cloudtop Challenge looks like a cloud level should. The clouds are bright and puffy but with plenty of greens and blues to complement them. Along with Big Spike, Boomerang Bro and a Piranha Plant make up the enemy roster. Kids will love dodging the spiked roller, collecting the Super Star Block and using the seesaw to defeat the Piranha Plant.
What We Love:
❤️ Bright and colorful set
❤️ Feels like an actual Mario level
❤️ Fun challenges
What We Don't Love:
💔 Very linear and thin level
💔 Included figures are basic
I didn't have much access to beaches growing up in the mountains, but I lived vicariously through Mario. Whenever there was a beach-themed level, I would bask in the bright sun, admire the water and soak in the tropical sights and sounds.
Recommended age: 7 years and above
This set is perfect for kids who love the carefree nature of Mario. From the wooden boardwalk and palm tree, to rocks and dolphin rides, it has everything you'd want from a beach set. Fully equipped with a yellow Yoshi, Big Urchin, two Cheep Cheeps and even a rideable Dolphin for Mario to relax on, this is an entire beach getaway in your own home.
What We Love:
❤️ Amazing beach theme
❤️ Ridable dolphin
❤️ Leaping Cheep Cheeps
What We Don't Love:
💔 Track is delicate
💔 Not very customizable
---
Best Collectibles
Aside from Mario himself, one of the first things we ever saw playing the original Super Mario Bros. game was the iconic question mark block. To this day, the allure of hitting these mysterious cubes to see what's inside is irresistible.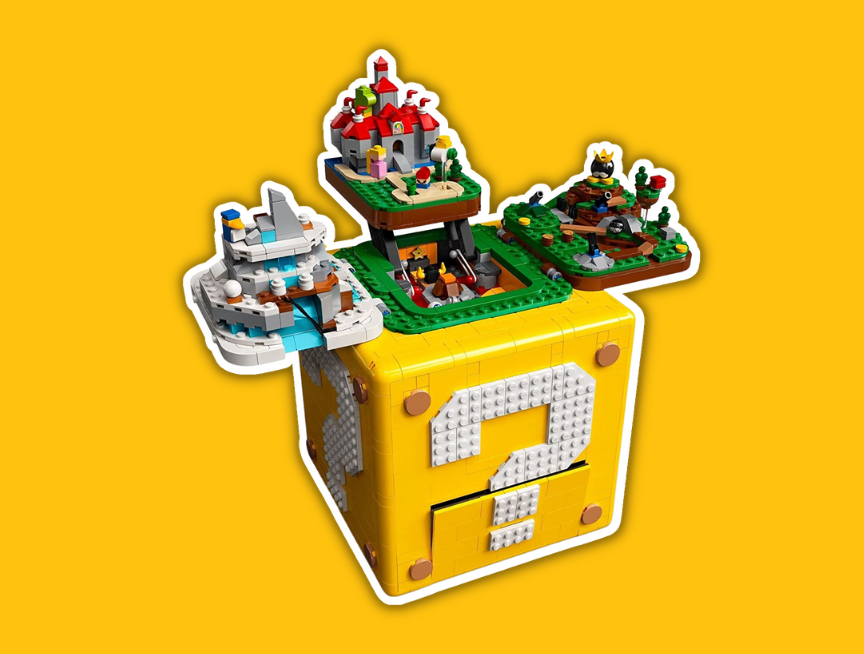 Recommended age: 17 years and above
What could be better than having a question mark block of your own? Well, one with 10 Mario figures and four miniature levels, of course. This set is a triple threat: a great display piece, enjoyable LEGO build AND fun to play with. Who wouldn't love it!
What We Love:
❤️ Looks exactly like the question mark block
❤️ Has ten figures
❤️ Four hidden levels inside
What We Don't Love:
💔 Figures aren't detailed at all
💔 Complicated to build
Mario usually gets all the glory, but Bowser should get his time to shine too. Sure, he might be the villain, but he's not such an evil guy. He's actually pretty cool when you look at his design.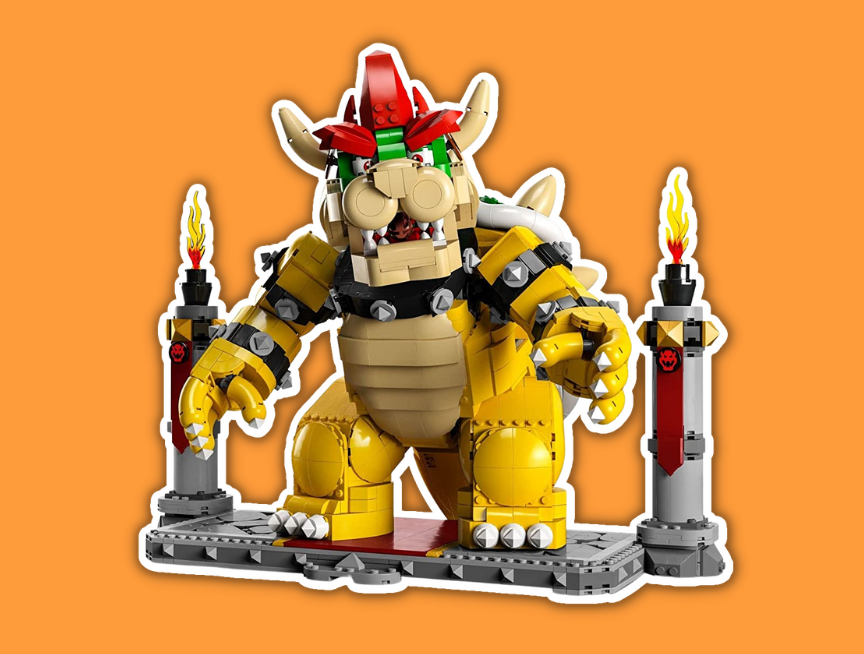 Recommended age: 17 years and above
If you know someone who wants to pay tribute to King Koopa himself, there's no alternative to this Mighty Bowser set. It's the most detailed model of Bowser out there, plus it has a button under his shell to control his mouth and activate a fireball launcher. Even the two towers beside him are designed for him to smash.
What We Love:
❤️ Very high-quality figure
❤️ Can be posed in many positions
❤️ Can be used with other sets
What We Don't Love:
💔 Building instructions are vague
It doesn't matter if you were born back when it was the king of console gaming or not; no one can deny that the NES is the most important video game system ever made. It introduced us to so many characters, including Link, Samus and, of course, Mario.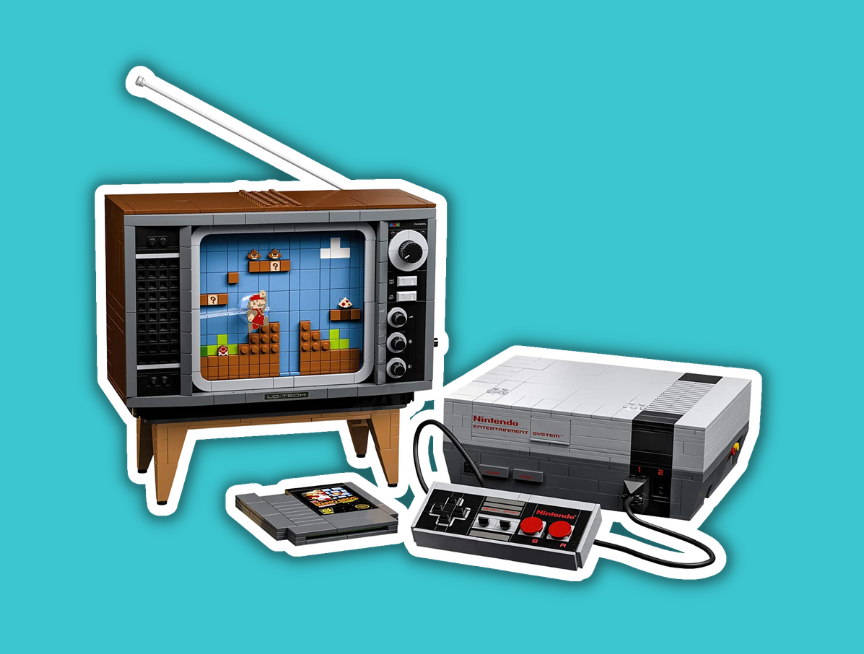 Recommended age: 17 years and above
This nostalgic set not only lets you build your own NES replica, which would be the dream of any retro gamer, but even has an interactive '80s style TV showing off the original Mario game. A static screen would be excellent, but this set takes it to the next level by letting you scroll and scan bricks into the screen.
What We Love:
❤️ Perfect NES replica
❤️ Interactive Mario screen
❤️ Very nostolgic
What We Don't Love:
💔 Screen can get stuck
---
Best Super Mario Power-Up Packs
Give Mario the power to unleash fireballs with this red and white outfit. Not only does it change his look, but adds a new way to attack enemies with unique sound effects and images on the Mario figure.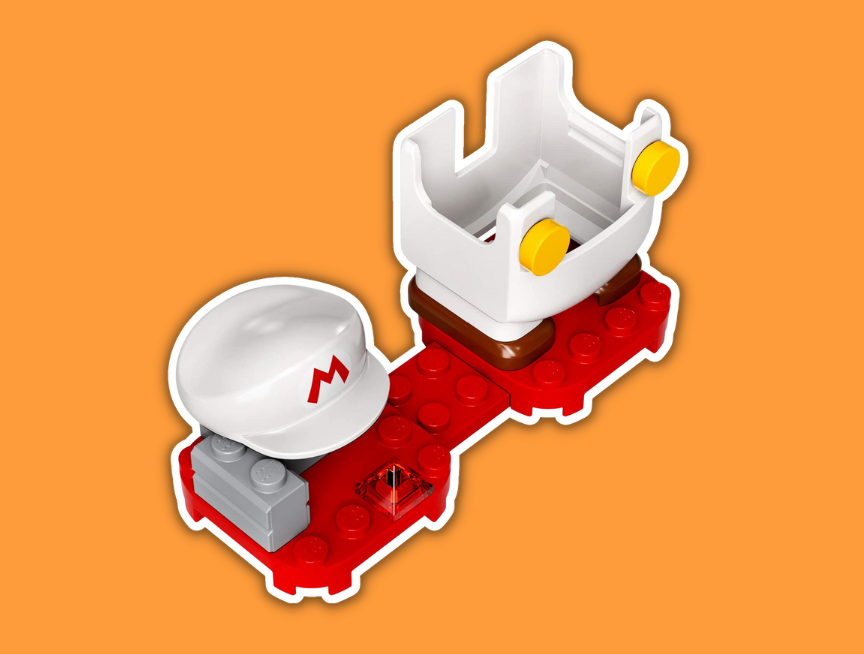 With this frog suit, Mario is ready to hop into action! Mario is already known for his jumping skills, but this suit makes him leap like a frog, complete with slashing sounds and bonus coins the more he jumps. The lilly pads and water stand complete the scene.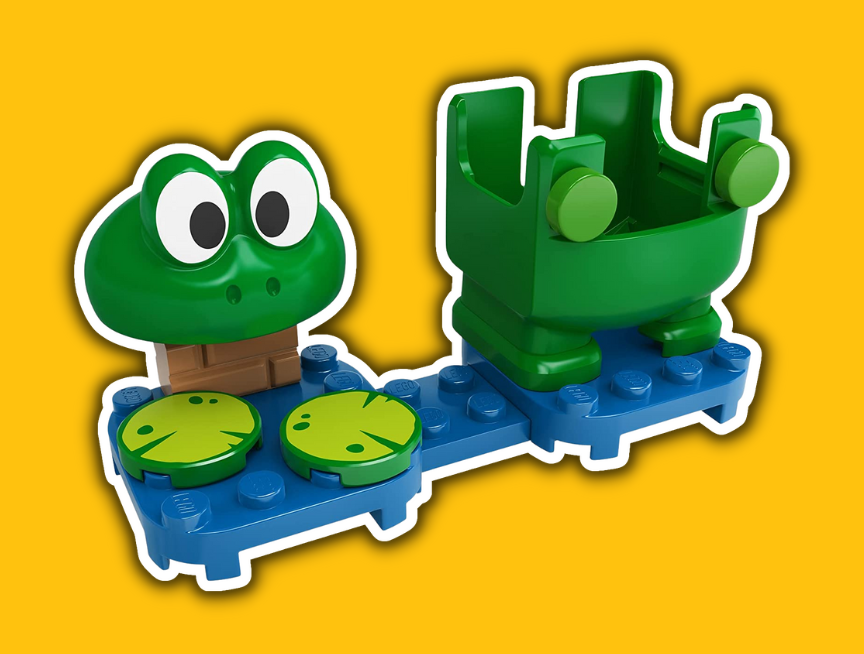 Who else but Mario would think to dress up like a bee to fly around? Unlike an actual bee, kids will love Mario buzzing around in this outfit, collecting coins and laying brand new sounds. This is one snazzy suit everyone can enjoy.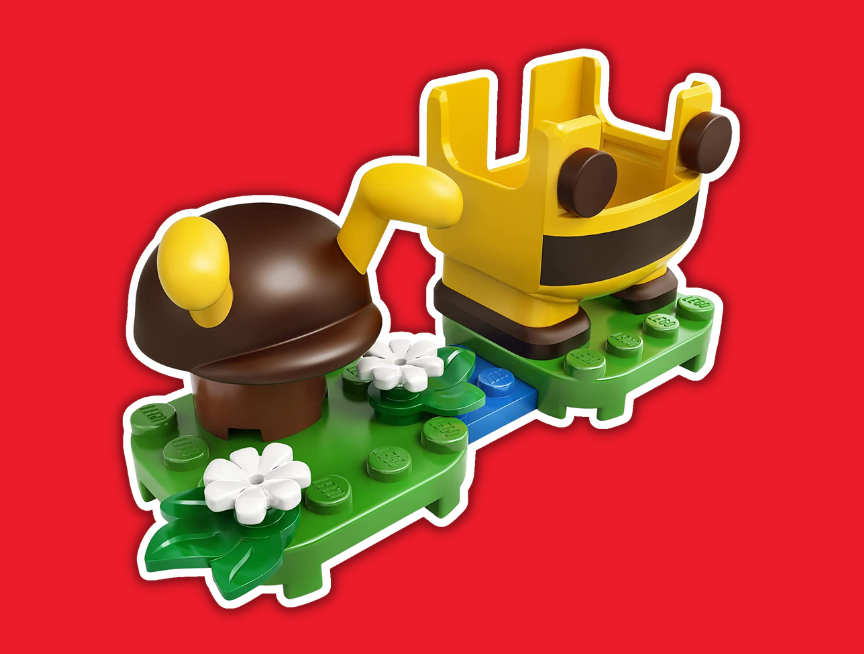 Everyone loves cats. Mario loves them too, and finally has a suit that turns him into a yellow feline, allowing him to climb up walls and look downright adorable. Plus, when he's resting, you can enjoy the sweet sounds of purrs and meowing he makes.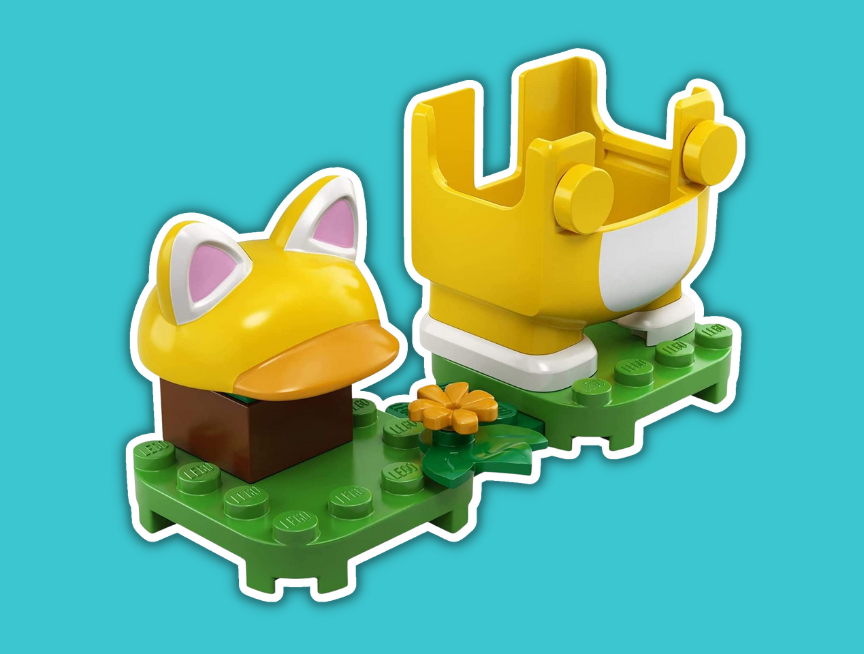 Mario is cool, but Mario dressed as a penguin is as cool as it gets. Kids are bound to fall in love with this bright blue and yellow suit that gives Mario long flat arms and a brand-new ability to slide along the snow on his belly.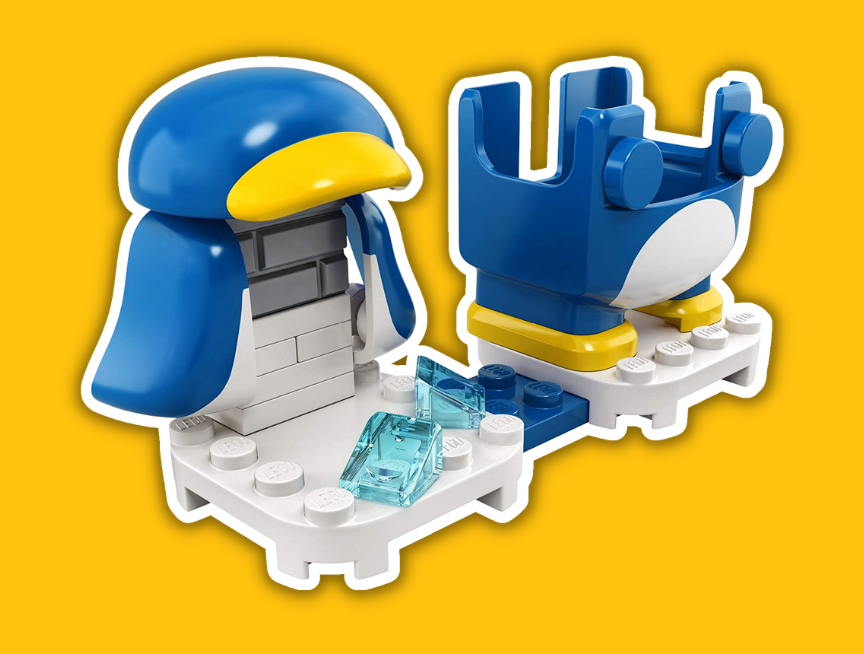 As a kid, I wanted a propeller hat so bad, thinking it would let me fly. While that doesn't work in real life, kids can at least live out that dream with Mario's propeller hat and suit. Mario can use this cap with built-in propeller sounds to overcome any enemy or obstacle.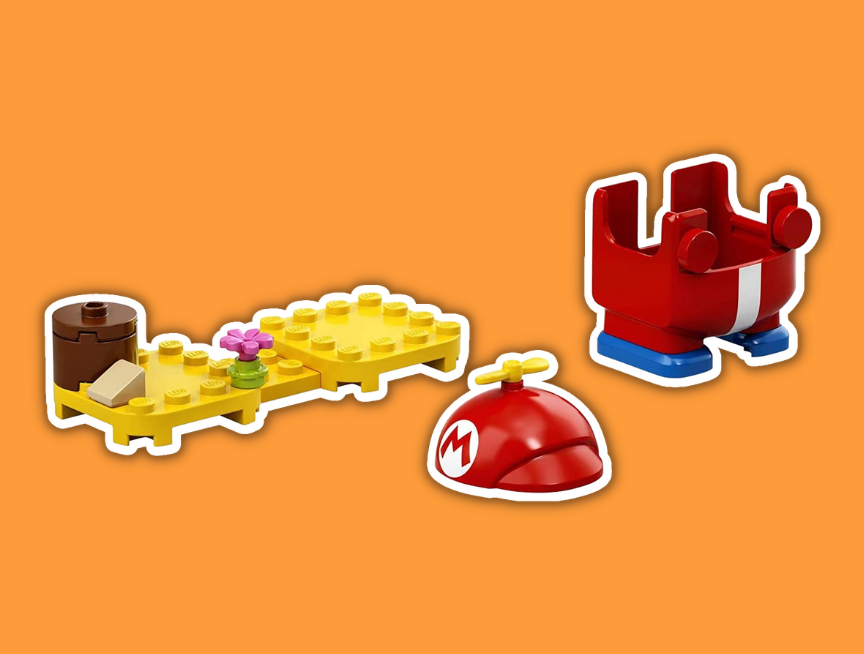 I didn't know what a Tanooki was for years, let alone that they were real, but it didn't matter. These cute creatures would make the perfect outfit for Mario. Animal fans will never want to take this one off.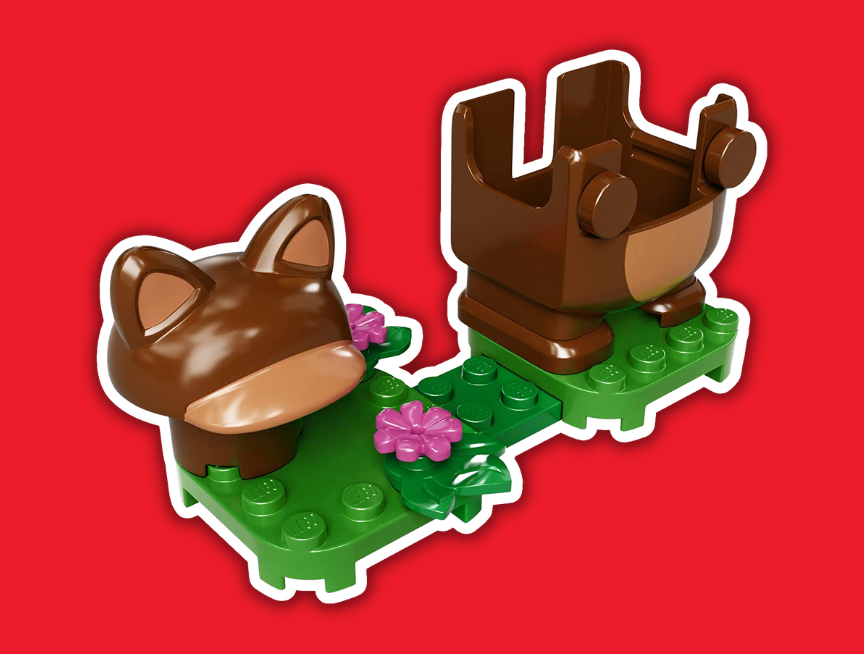 What better outfit for a LEGO set than making Mario a builder? This bright yellow outfit and hard hat ensure Mario is safe and prepared. It also gives him a more powerful stomp to earn more coins as he jumps across the levels.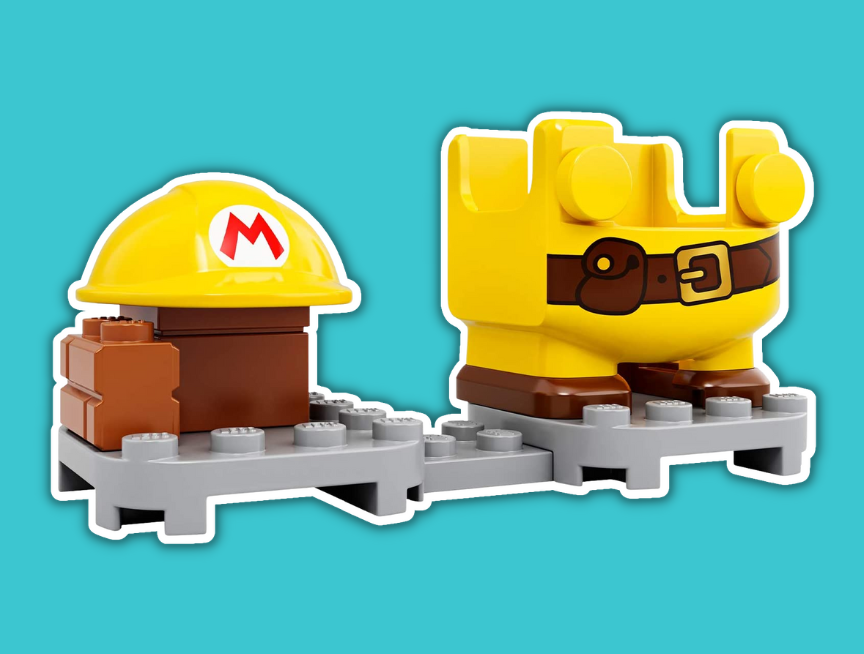 ---
Frequently Asked Questions About LEGO Mario Sets
🙋Why do kids love Super Mario LEGO sets?
There are almost too many reasons why Super Mario LEGO sets are a smash hit with kids. Mario is perhaps the most popular video game character of all time, so any toy with him will at least be interesting to kids. Second, LEGO lets kids get involved with creating levels to play through as Mario and friends is a dream come true. The app and interactive features just ensure they will want to keep returning to these sets repeatedly.
🙋What age groups love Super Mario LEGO?
Mario and LEGO are popular on their own with people of all ages. Therefore, it only makes sense that combining the two would be universally appealing. Sure, kids are the primary target for them since there is some drop-off in interest in the mid to late teens, but no one can say they dislike Mario. He's a perfect role model for young kids, and LEGO helps build all kinds of creative and logical skills along the way.
So… What LEGO Super Mario Set Should I Get?
We recommend that anyone starting with LEGO Mario Sets begin with the Starter Pack. Kids will want that Mario figure first, and every set you get after will require either that or the Luigi or Peach figures to play correctly.
With that, expansion sets keep the fun going by adding new stages and challenges for kids to build and experiment with. I also love the NES set as an older fan due to how nostalgic and marvelous it is as a display piece.