Swinging from building to building across the high New York skyline, your friendly neighborhood Spider-Man is here to save the day. His web-slinging superpowers have sparked kids' imaginations to act out his heroic endeavors for nearly 60 years.
Spider-Man has had toys of all types since he became one of the most popular and recognizable superheroes ever created. From action figures to video games and even robots, odds are there's a Spider-Man version of it if you can imagine it.
We scoured the net for the highest-rated products to help you pick the Spider-Man toy that will make your kid's day. We gathered a diverse selection, all with fantastic reviews, so you can be sure there's something perfect for the Spider-Man fan in your life.
The Top 3 Spider-Man Toys ​​
Preview
Pros
Comes with two activity books
Large text makes reading easy
Let's you play as a new Spider-Man
Cons
Will eventually be finished
Thin pages are easy to rip
Best Budget Option
Preview
Pros
Comes with two activity books
Cons
Will eventually be finished
Best for Younger Kids
Preview
Pros
Large text makes reading easy
Cons
Thin pages are easy to rip
Best for Older Kids
Preview
Pros
Let's you play as a new Spider-Man
Whether your web-slinging fan is young or older, the perfect gift is out there. With our list, you won't need special powers to look like a superhero when you give them something highlighted below.
Best Action Figures & Plush Toys
If you know a child who loves the Spider-Man animated show, this set of characters will instantly make their day. These figures are perfect for young kids to play with and make good display pieces.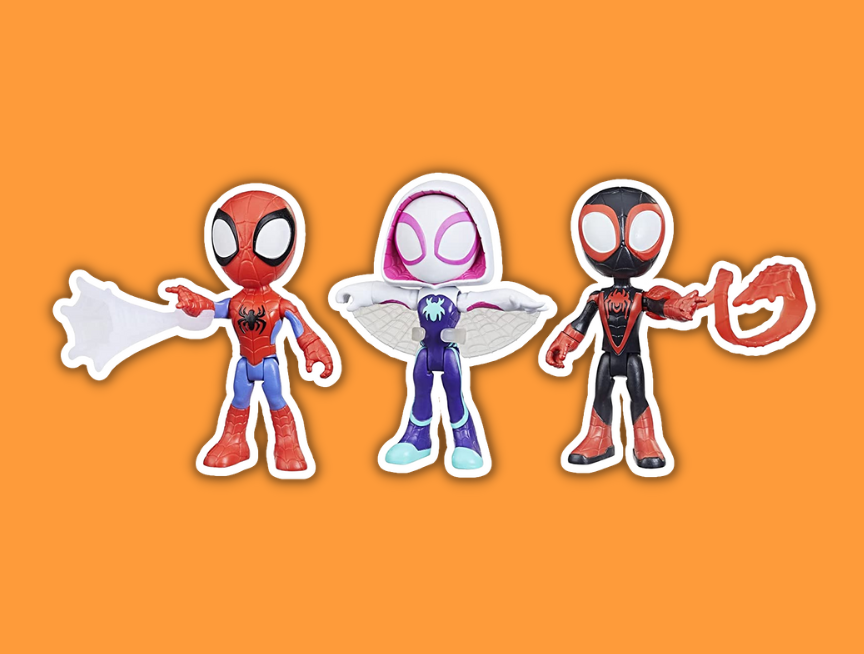 Recommended age: 3 years and above
Featuring Spider-Man, Miles Morales and Ghost-Spider, this set lets your child assemble the entire Spider Team. Each one includes an accessory, like Spider-Man's webs and can be posed in all kinds of awesome positions.
What We Love:
❤️ Very cute designs
❤️ Great size for smaller kids
❤️ Hold up to rough play
What We Don't Love:
💔 Accessories aren't very secure
Mr. Potato Head is one of the oldest toys out there and he's still going strong today. While they were basic in the early days, this spud has become a new hero to play with, known as Spider-Spud!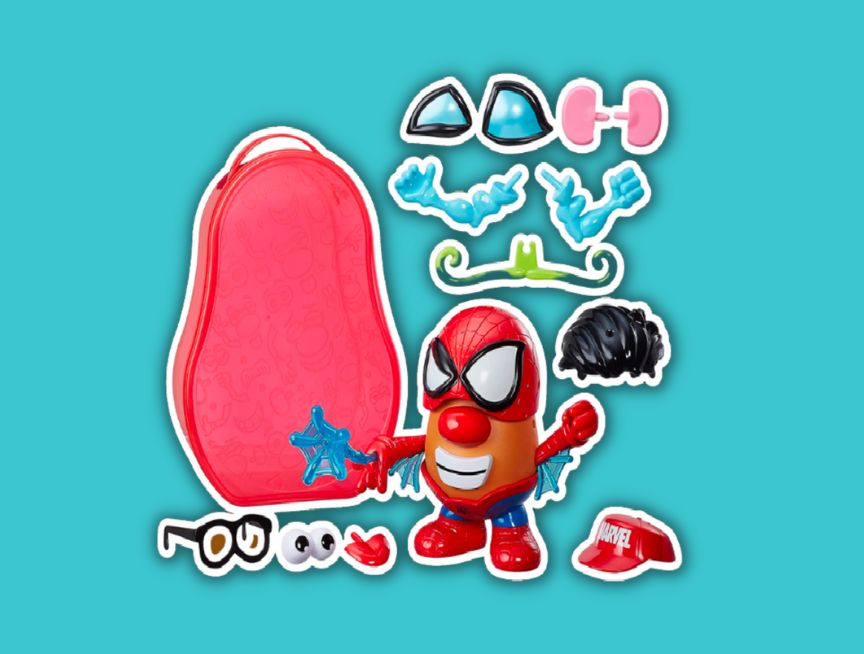 Recommended age: 2 years and above
This Spider-Spud is all the fun of the original toy but with accessories themed around the famous wall-crawler. It has 22 pieces to mix and match to fit many different situations, plus a base to display their creations. Kids can then pack everything up in a neat container when they're done playing.
What We Love:
❤️ Tons of parts to customize
❤️ High-quality parts
❤️ Fun for all ages
What We Don't Love:
💔 Mouth can't be swapped
💔 Some parts are hard to attach
With all his acrobatic skills, it only makes sense that Spider-Man would also be a great dancer. Younger kids who love dancing will be thrilled to bust a move with their favorite dancing robot toy fit for even toddlers.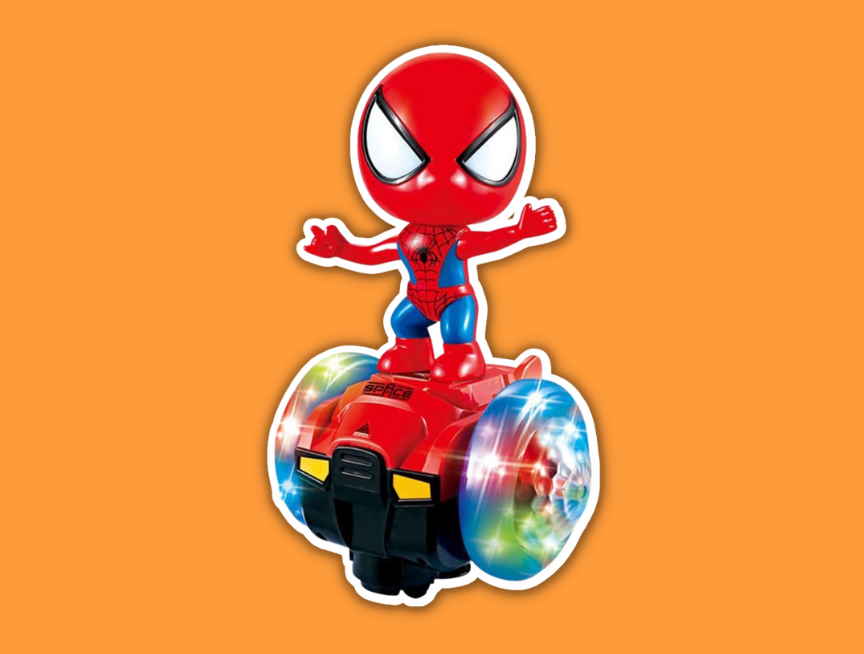 Recommended age: 3 years and above
This adorable robot features a cute Spider-Man standing on a rotating stand that spins, projects light and plays music to captivate all senses. It is small and the Spider-Man figure can even detach, making it easy to play with anywhere.
What We Love:
❤️ Captivating for toddlers
❤️ Friendly and safe design
❤️ Durable
What We Don't Love:
💔 No remote control
💔 Music can get repetitive
While Beanie Babies aren't quite as popular as they were in the '90s, they're still a fantastic gift with options that will appeal to kids of all ages and interests. For this list, obviously, I had to include the Spiderman plush as an adorable first edition to a young fan's collection.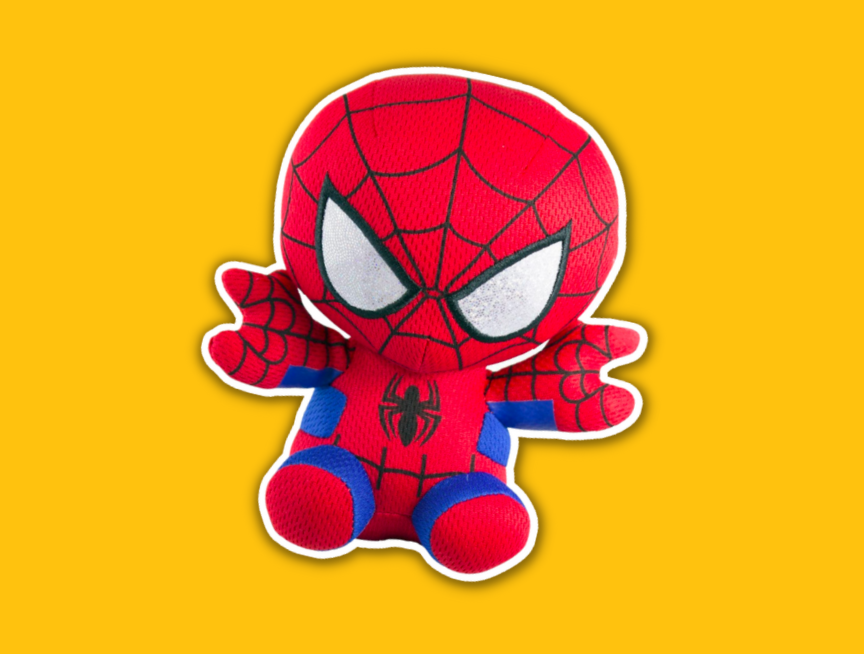 Recommended age: 1 year and above
This doll poses Spider-Man with his hands ready to fire out webs but also in the perfect position for snuggling. This is only one of their Spider-Man character plushies, too, so it could be just the start of a new collection.
What We Love:
❤️ Very cute
❤️ Great for boys and girls
❤️ Easy to bring on trips
What We Don't Love:
💔 Not as soft as other Beanie Babies
💔 Stitching isn't perfect
---
Best Vehicles
Sometimes, even Spider-Man needs to get around more traditionally. For those moments, he can turn to his new car featured in 'Spider-Man: Homecoming,' designed after the wall-crawler himself.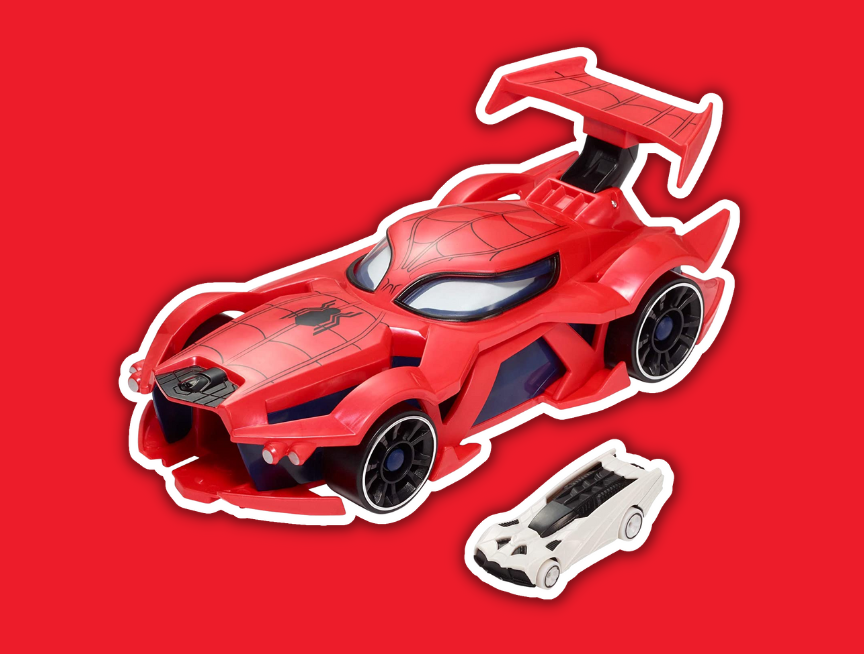 Recommended age: 4 years and above
This large car toy will take off with the push of the spoiler but can also shoot out the included web car or many other Hot Wheels cars your kid may already have in their collection. If your kid loves cars and Spider-Man, this gift will delight them.
What We Love:
❤️ Can launch smaller cars
❤️ High quality and sturdy
❤️ Not a common Spider-Man toy
What We Don't Love:
💔 Spring can wear out
💔 Small car can fall out without launching
RC cars are a blast but are usually too complex and expensive for younger kids. That's what makes this RC, which combines a cool car with Spider-Man, the perfect gift for younger fans.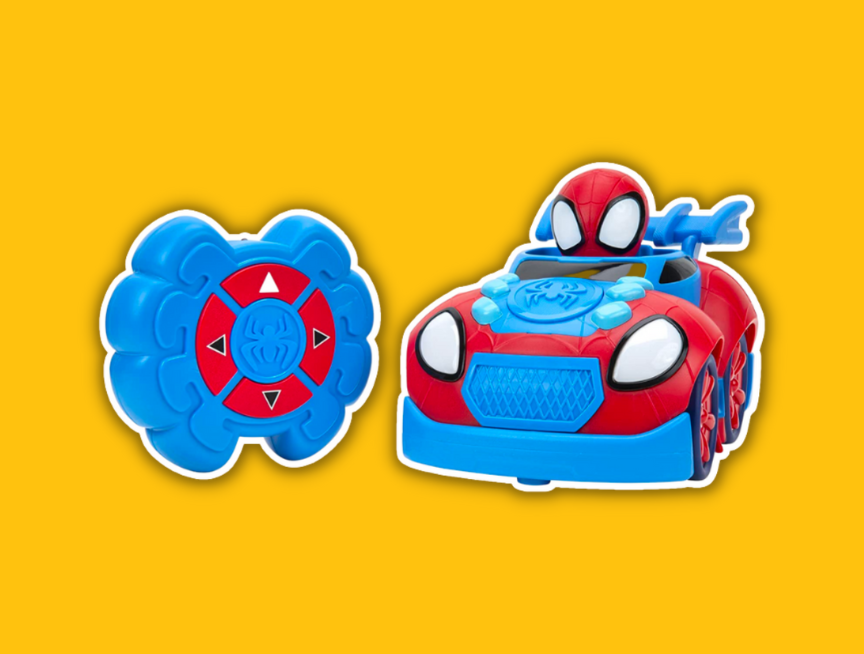 Recommended age: 3 years and above
This is a perfect RC for younger kids thanks to its simple controls and durable design. It is part of a series of superhero-themed RCs, so this Spider-Man-themed one could be a great introduction.
What We Love:
❤️ Simple controls for young kids
❤️ Bright, colorful design
❤️ Part of a set
What We Don't Love:
💔 Doesn't work well on carpet
💔 Doesn't go very fast
---
Best Gadgets
Walkie Talkies were and always will be cool. These simple two-way radio toys let kids communicate and play in a fun new way and now they can use them in their Spider-Man adventures.
Recommended age: 3 years and above
This pair of Walkie Talkies are themed after Spider-Man and Miles Morales, have extended range and light-up graphics and a very long battery life to keep the fun going. Kids will love running around and secretly communicating with these simple push-to-talk devices.
What We Love:
❤️ Great range
❤️ Simple to operate
❤️ Perfect for friends and siblings
What We Don't Love:
💔 Doesn't come with batteries
💔 Not waterproof
Getting some kids to read can be a chore, but there's no better way to make it fun than to read stories starring their favorite superheroes. This reader also keeps them engaged and attentive by having them interact with the device to keep the story going.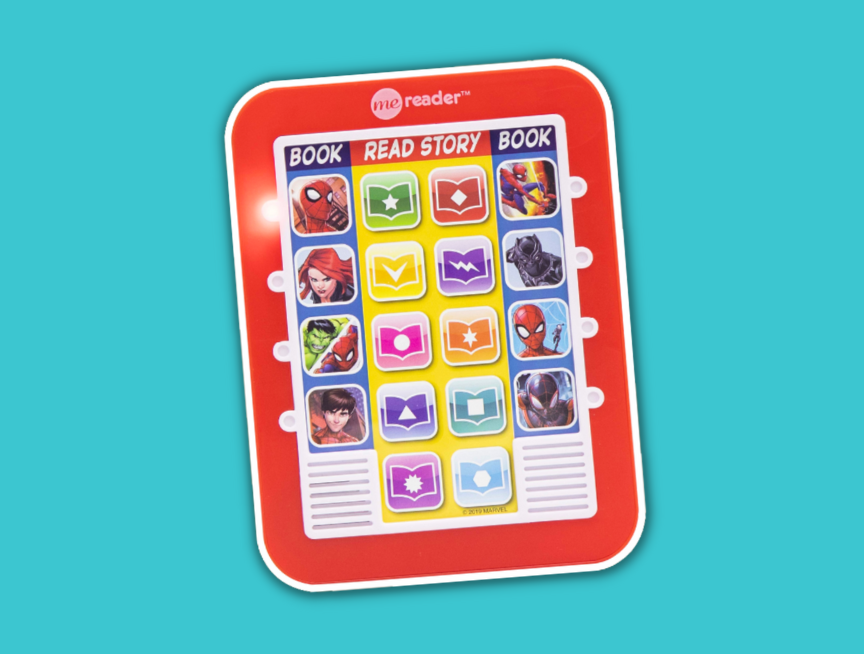 Recommended age: 3 years and above
This one reader will give your child eight illustrated books that they can listen to and follow along with that feature characters like Spider-Man, The Hulk and Black Panther. It is a fantastic way to learn words and build reading skills in young learners.
What We Love:
❤️ Comes with eight books in one
❤️ Narration and sound effects keep kids interested
❤️ Teaches great early learning concepts
What We Don't Love:
💔 No volume control
💔 Books are easy to rip
With all the technology out there, it can sometimes be a chore to get kids to stay active. However, this Spider-Man-themed fitness tracker uses that same technology to encourage kids to keep moving and have fun.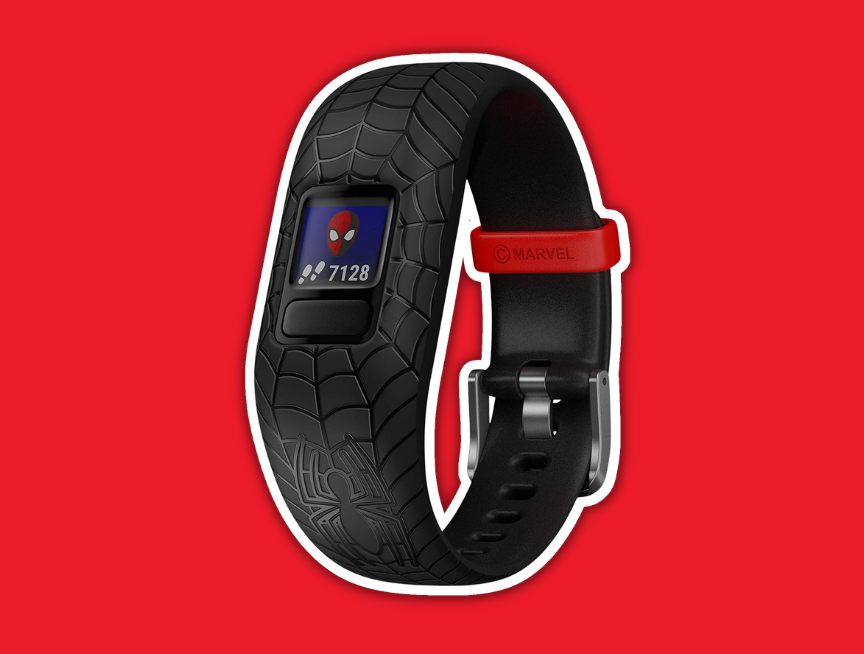 Recommended age: 6 months/years and above
This waterproof band features a fully customizable color screen and a battery that lasts for an entire year without replacing or recharging. To make it even more fun, parents can use the app to designate tasks that, once completed, will unlock new games and icons featuring Spider-Man.
What We Love:
❤️ Encourages being active
❤️ Rewards completing tasks with games
❤️ Waterproof
What We Don't Love:
💔 Small screen
💔Need to purchase extra themes and adventures
---
Best Board Games
Making learning fun is always a challenge, but by combining games and superheroes like Spider-Man, it can become a reality. While this game isn't going to teach math or reading, it is a great way to keep a kid's brain functioning and primed for retaining knowledge.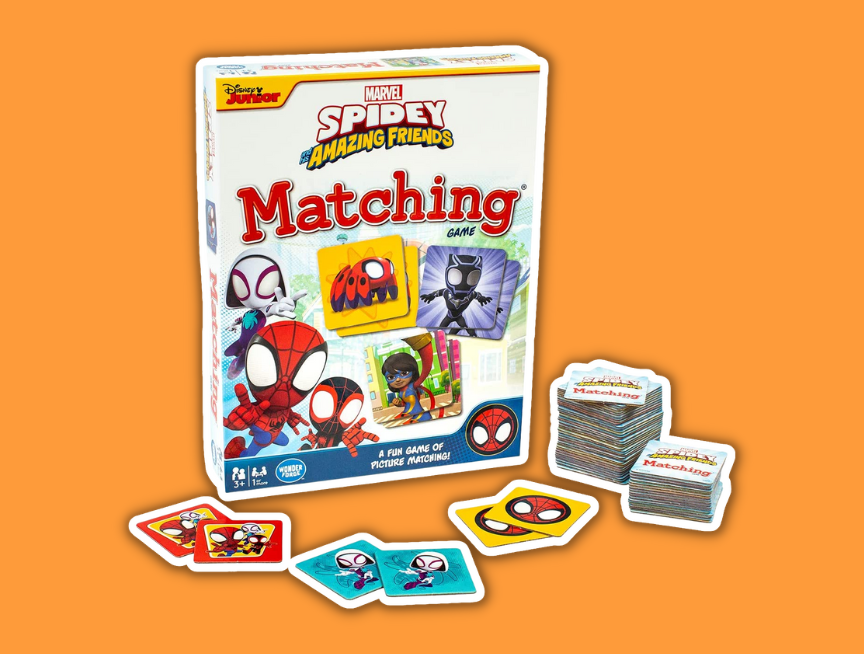 Recommended age: 3 years and above
This game comes with 72 tiles that feature pairs of famous superheroes such as Spider-Man, Captain America, Iron Man, Groot and many, many more. The game is simple and fun, so they won't even realize they're flexing their memory, concentration and focus.
What We Love:
❤️ Great for learning development
❤️ Easy to learn and quick to start playing
❤️ Can be played alone or with four others
What We Don't Love:
💔 Tiles are chewable
💔 Some cards look too similar
Actually being a superhero would be incredibly dangerous, but pretending to be one by completing safe, fun and unique challenges with friends and family is a blast. Unlike other board games, Wonder Forge Marvel I Can Do That! Will let kids stay active while playing.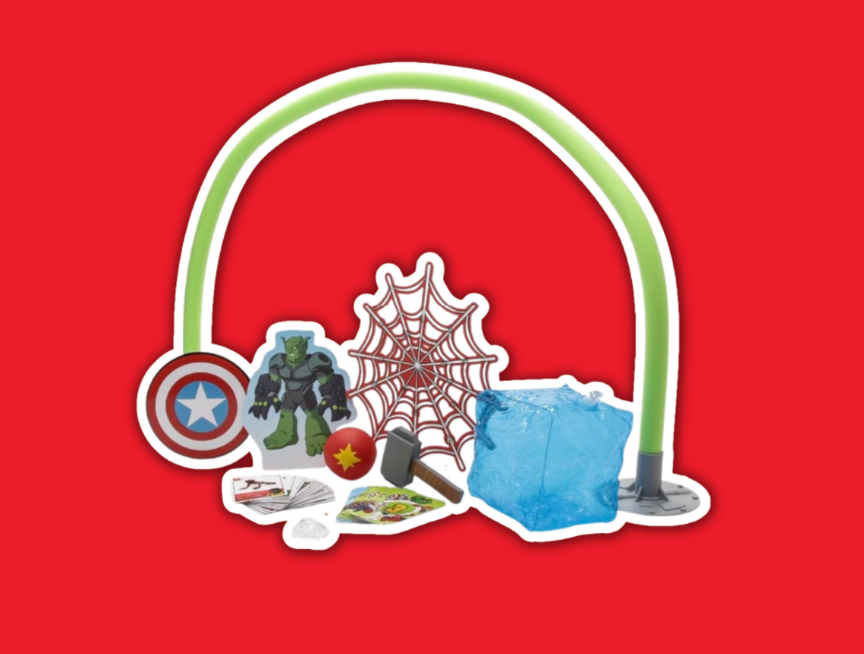 Recommended age: 3 Years and above
This game comes with 45 activity cards that incorporate challenges using a foam portal, cosmic cube, green Goblin, Spider-Man web and more Marvel items. Each game can be played with up to four people and only last about 15 minutes. It's simple to understand, easy to set up and perfect for parties or game nights.
What We Love:
❤️ Keeps kids active
❤️ Uses lots of props
❤️ Quick to start playing
What We Don't Love:
💔 Some pieces break easily
💔 Harder for adults to play
Board games are always great, but adding a superhero theme can turn a regular game of Connect 4 into a child's absolute favorite. There's no better way to introduce this enduring classic to a child than with Spider-Man.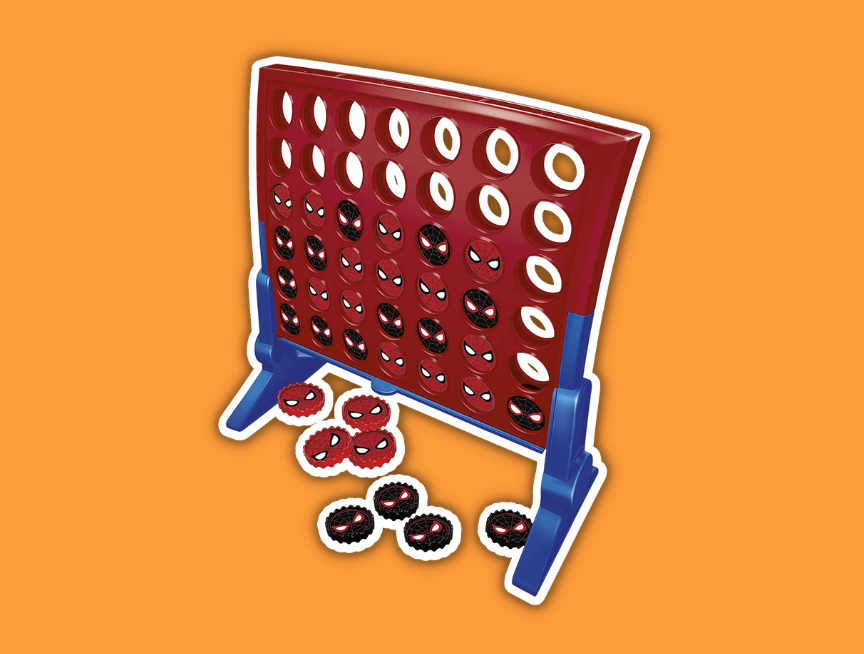 Recommended age: 6 years and above
This is the classic Connect 4 game we all know and love, only with Spider-Man and Miles Morales-themed discs. The red player takes on the role of Spider-Man, while the black is Miles in a friendly competition to line up four in a row in this short but sweet game of wits.
What We Love:
❤️ Features Spider-Man and Miles Morales
❤️ Made for two players
❤️ Fun for all ages
What We Don't Love:
💔 Games can be quick
💔 You need to put stickers on the discs yourself
---
Best LEGO Sets
The best part about giving, or getting, a LEGO set as a gift is that it is basically two gifts in one. First, there's the joy in building it; then, there's the fun in playing with the toy itself. Throw in the fact that this set features Miles Morales and it will be an instant favorite.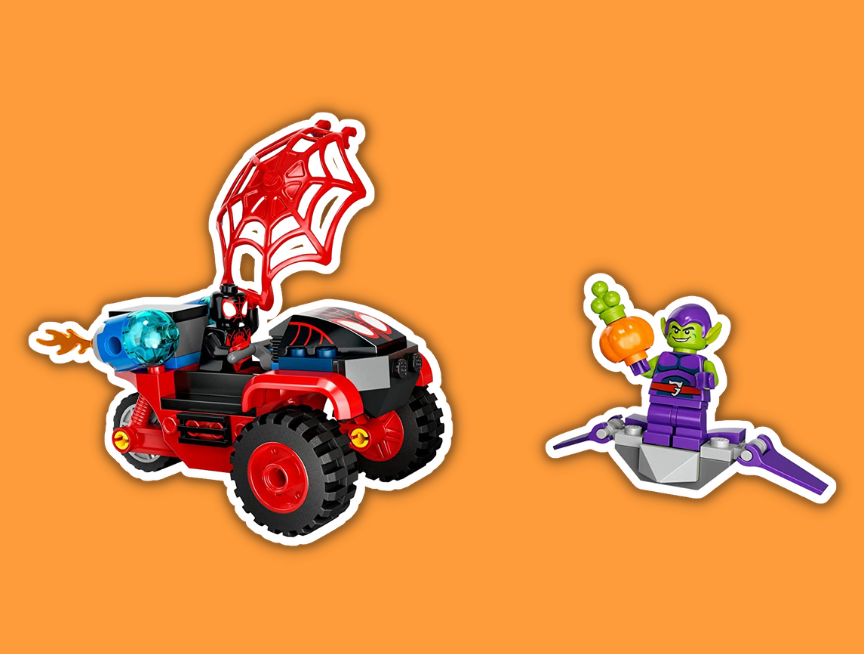 Recommended age: 4 years and above
This LEGO set features Miles on his awesome Techno Trike from the animated show, plus the Green Goblin on his glider to create fun crime-fighting adventures. The trike comes with a giant web to catch the villain in action.
What We Love:
❤️ Comes with two figures to play with
❤️ Easy to build for young kids
❤️ Detailed instructions
What We Don't Love:
💔 Has some very small pieces
Spider-Man doesn't have an iconic secret base like many others; however, he has recently spent a good deal of time in the Sanctum Workshop. This LEGO set recreates that space and packs it with many activities and secrets.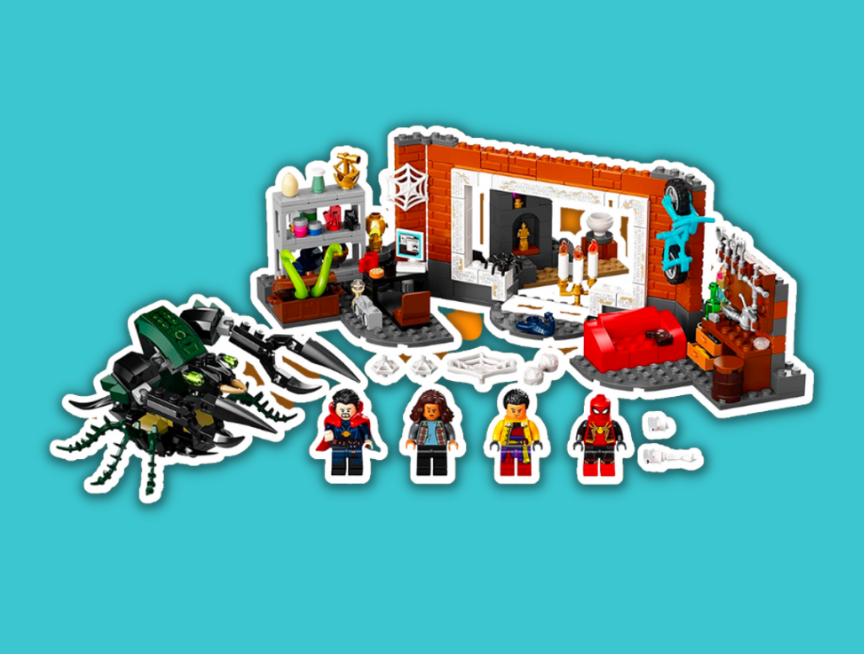 Recommended age: 7 years and above
This set lets kids build this mysterious base themselves, along with a giant bug monster for the heroes to battle. The set isn't too big, either, meaning they can play with it just about anywhere.
What We Love:
❤️ Comes with four mini-figures
❤️ Set works well with other Spider-Man sets
❤️ Tons of details to admire
What We Don't Love:
💔 Is too easy to build
💔 Easy to break
---
Best Books & Activity Sets
As a kid, I loved being read to. Whenever I could convince either of my parents to read to me, I always demanded they do each character's voice. While I appreciate their effort, their acting skills certainly didn't convince me.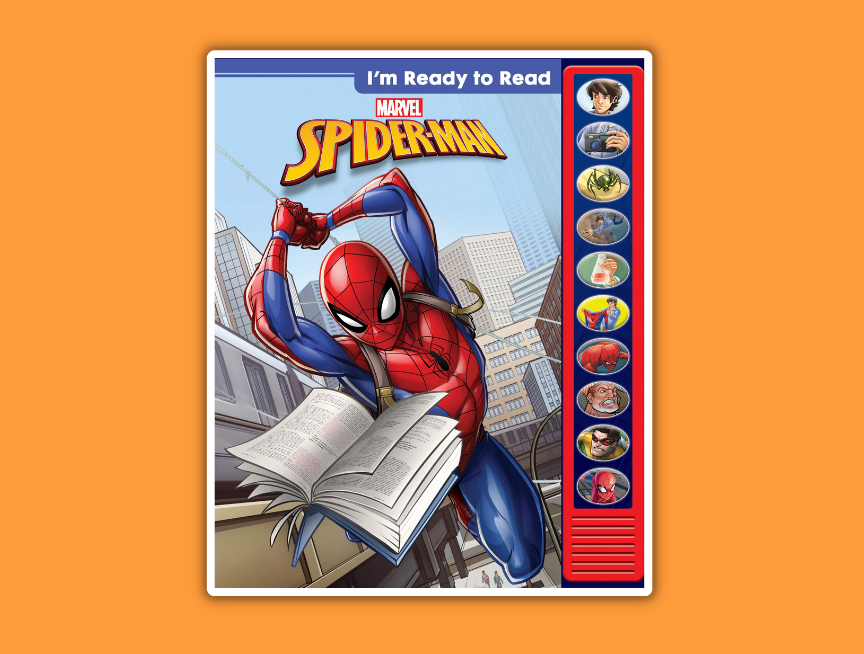 Recommended age: 4 years and above.
Now kids can enjoy the best parts of being read to, but with their favorite superhero acting out the entire story. Being read to engagingly is a critical and fun step in a child's reading journey, which makes this a perfect option.
What We Love:
❤️ Large font makes reading easy
❤️ Simple language helps learn words
❤️ Fun narration by Spider-Man
What We Don't Love:
💔 Thin pages can rip
💔 Sound buttons can stop working
No matter how hard I tried, I was never good at drawing. Because of that, coloring books were my favorite way to get creative with my favorite characters was through coloring books and these Spider-Man ones would've been a dream.
Recommended age: 4 years and above
This pack of two coloring books each have about 80 pages of not only fun scenes and characters to color in but also Spider-Man-themed activities like puzzles and mazes. They're perfect for artistic kids who get inspired to draw this comic icon and perfect to bring along on trips.
What We Love:
❤️ Two books with tons of pages
❤️ Perfect for trips
❤️ Puzzles and other activities included
What We Don't Love:
💔 Young kids may not be able to read some puzzle instructions
💔 Can only be done once
Keeping a kid entertained is typically easy enough, but I'd always prefer giving a child a toy that does more than entertain. Thanks to the inclusion of Spidey, this E-book can pass as a toy but secretly teach tons of essential skills.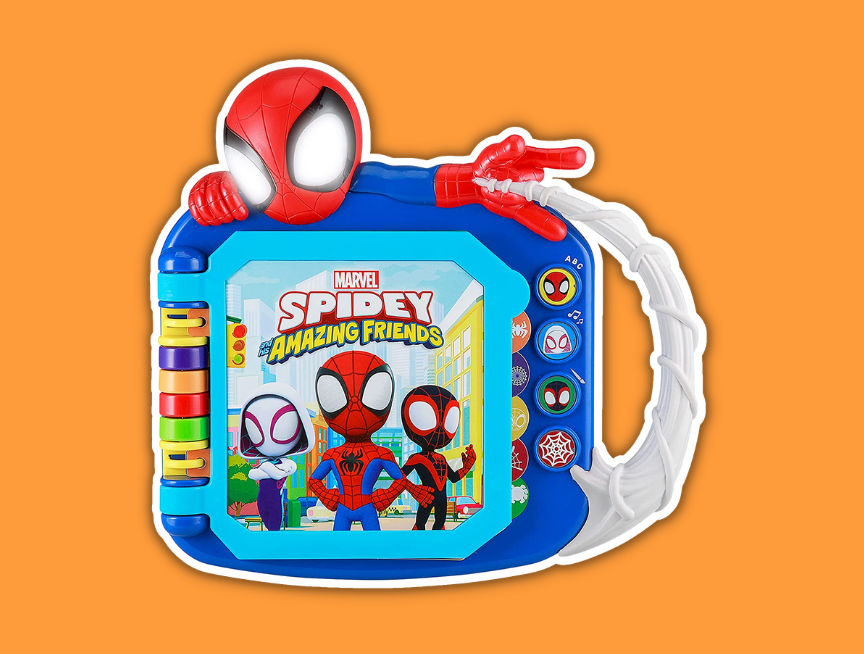 Recommended age: 3 years and above
This book is packed with activities perfect for toddlers to take on the go. It comes with an adventure mode, music and sounds, colors and shapes and games mode to learn all the basics in a light, portal and durable toy.
What We Love:
❤️ Lots of characters, colors and sounds
❤️ Great educational value
❤️ Easy to take on trips
What We Don't Love:
💔 Music can get repetitive
💡 If you're looking for a book for an older kid, this one would be amazing.
---
Best Outdoor Toys
As a kid, getting your first bike is your real first taste of freedom. The thrill of roaming around your neighborhood alone is magical, but doing so in style with a Spider-Man bike will make it hard to keep your kids inside.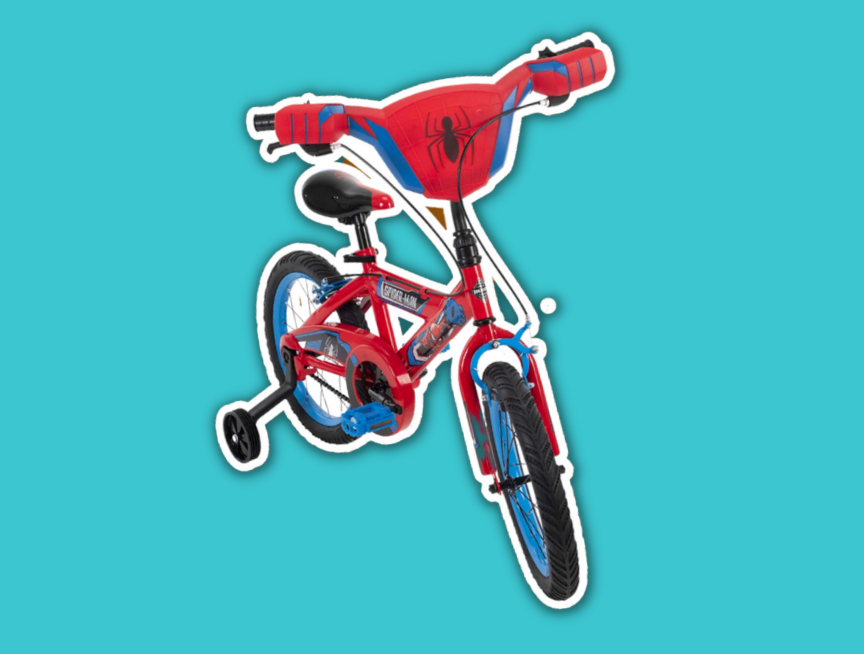 Recommended age: 3 years and above
This bike comes with training wheels for kids just learning to ride, but can then be taken off and adjusted to fit them as they learn and grow over the years. Equipped with both hand and coaster brakes, this is not only a bike they'll want to show off, but you can feel safe with them riding.
What We Love:
❤️ Cool Spider-Man decal
❤️ Adjustable as kids grow
❤️ Durable steel frame
What We Don't Love:
💔 Needs to be assembled yourself
💔 A little heavy
Why walk when you can bounce? Hopper balls are a classic toy that will never go out of style with kids. It's a simple, fun way for kids to expel some energy and show off their cool Spider-Man art.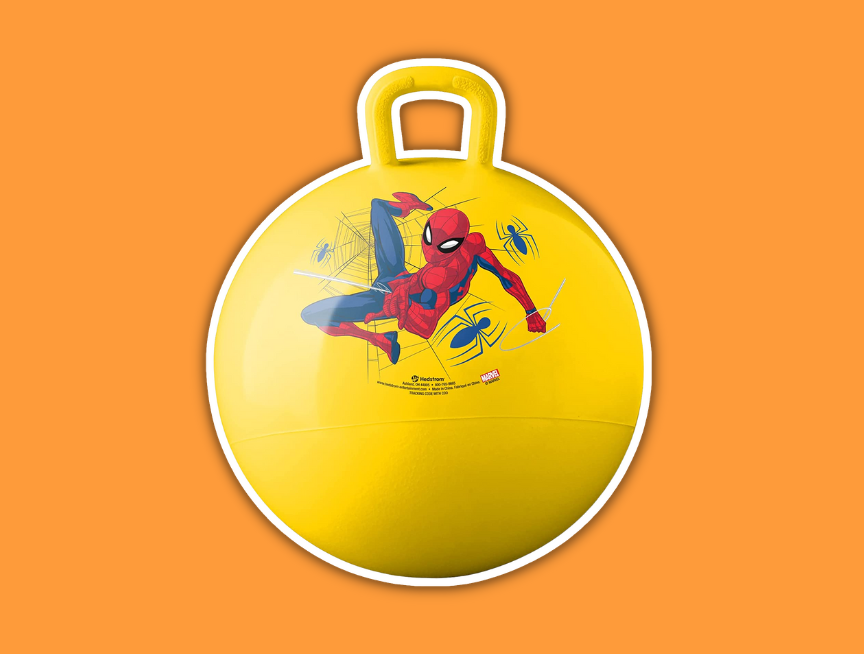 Recommended age: 4 years and above
This hopper features Spider-Man in a cool pose and is made of durable vinyl that stays inflated, whether used indoors or outside. Hopping around helps build mobility skills, plus it is a nice alternative to digital entertainment.
What We Love:
❤️ Very bouncy
❤️ Can be used inside or outdoors
❤️ Great form of fun exercise
What We Don't Love:
💔 Kids will outgrow them
💔 Smaller than advertised
---
Best Video Games
What could be a better combination for a young Spider-Man fan than a videogame featuring all their favorite heroes in LEGO form? Thankfully we don't have to wonder since this game lets kids of all ages go on a massive superhero adventure on their Nintendo Switch.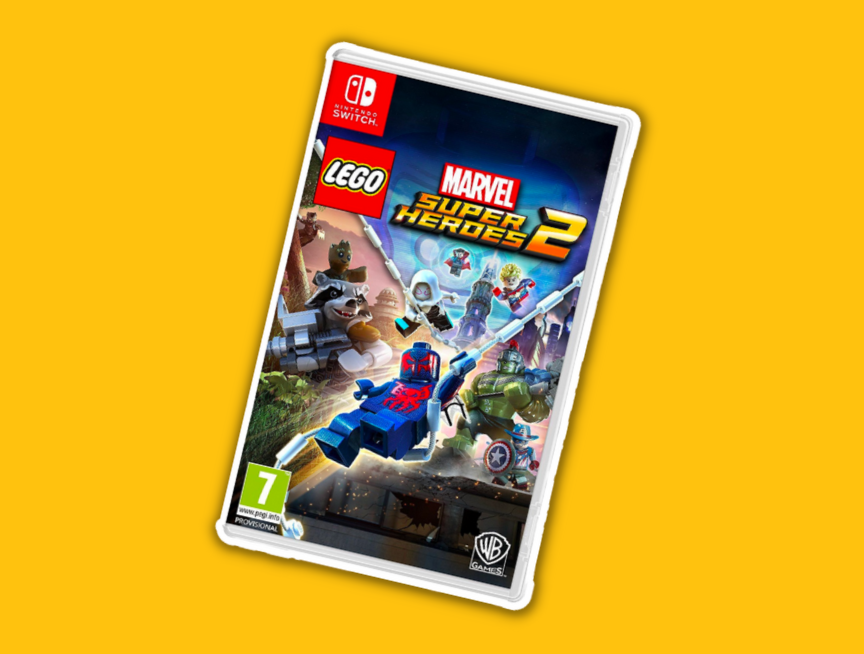 Recommended age: 7 years and above
Featuring an enormous cast of Superheroes and villains, such as Spider-Man, Guardians of the Galaxy, Doctor Strange, Captain America and more, this game will have kids take their hero of choice on a mission to stop Kang the Conqueror across time.
What We Love:
❤️ Can be played cooperatively with four people
❤️ Explore tons of Marvel locations
❤️ Non-violent action
What We Don't Love:
💔 Can get challenging
💔 Can be hard to see playing handheld
Spider-Man was one of the first superheroes to be featured in videogame form back on the old Atari. Since then, his games have only improved, with his latest outings coming out on the PS4 and PS5.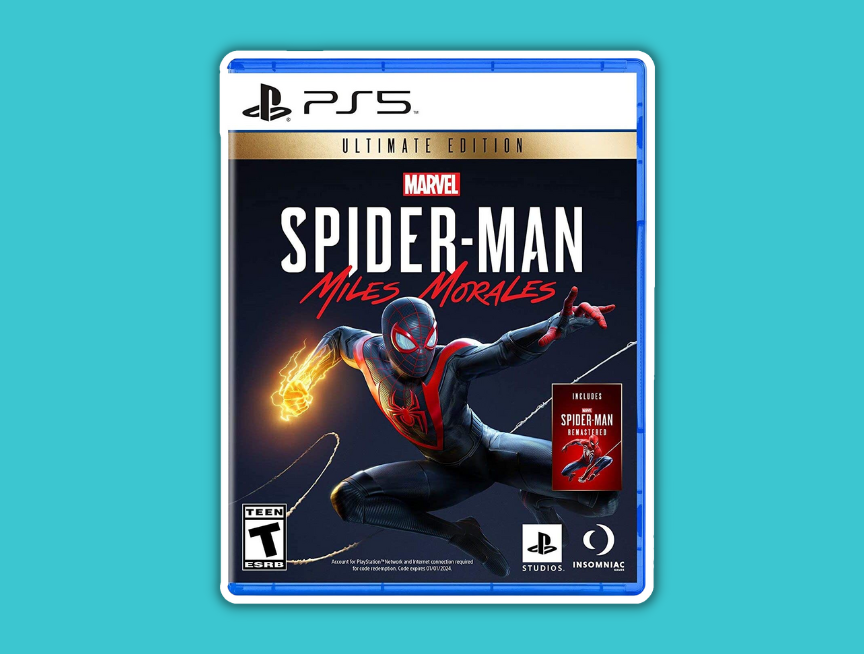 Recommended age: 13 years old and above
This bundle includes a remaster of the original Spider-Man, plus the shorter Miles Morales game, letting players experience two distinct Spider-Man adventures in a massive recreation of New York. Your teen will love fighting crime, getting new gadgets and gathering all the Spider-Man-related collectibles.
What We Love:
❤️ Amazing graphics
❤️ Great story
❤️ Tons to do
What We Don't Love:
💔 Need to have a PS5 to play
💔 Miles Morales is a bit short
---
Best Gifts They Can Wear
As a kid, it was the costumes I liked most about superheroes. Of all the costumes out there, Spider-Man's was the coolest and simplest design and the hardest to find that actually looked right. If you have a young hero-in-training in your life, this is the perfect gift.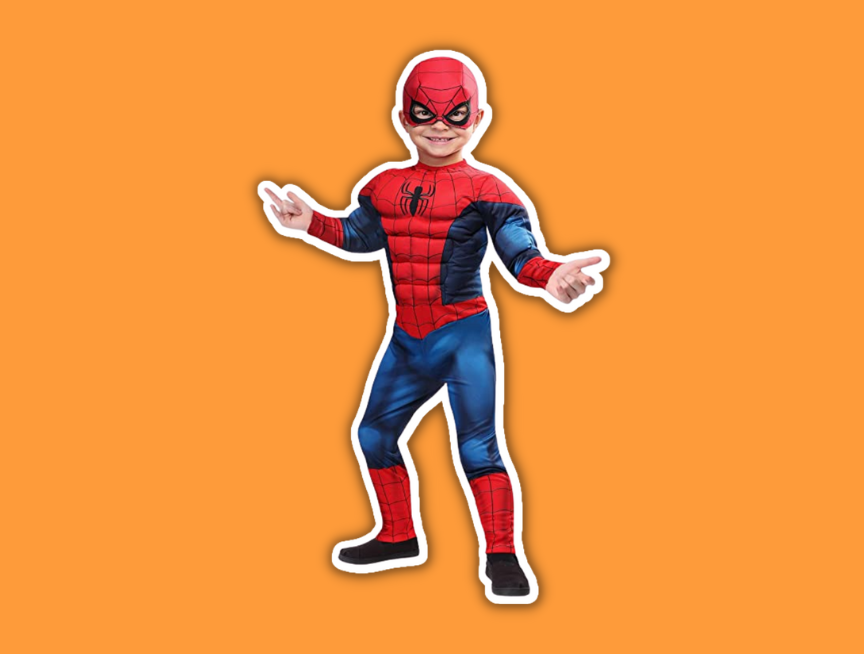 Recommended age: 1 year and above
This is a 100% Polyester suit and mask combo that turns any seemingly ordinary kid into a web-slinging crime fighter. Whether it be for Halloween, a costume party, or just a fun weekend afternoon, any kid will feel the power when they don this fantastic outfit.
What We Love:
❤️ Authentic design
❤️ Fake muscles look good
❤️ Mask doesn't fully cover face
What We Don't Love:
💔 Doesn't have gloves or boots
As great as our parents were about making handmade costumes back in the day, nothing can compare to a professional superhero outfit. Whether it's a costume party or just a weekend with friends, there's never a wrong time to have a Spider-Man costume ready.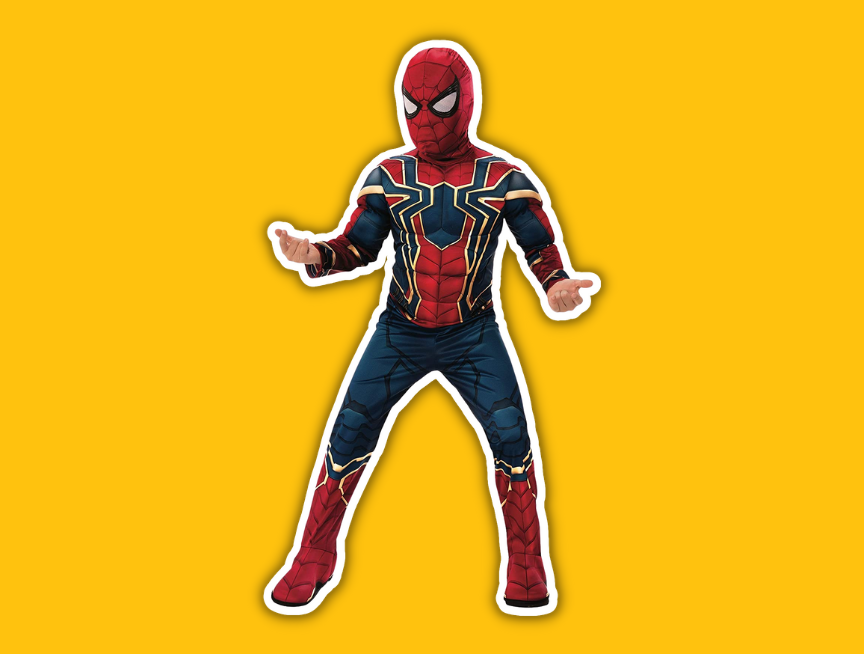 Recommended age: 8 years and above
This 100% Polyester costume is designed after the Iron Spider suit featured in the hit films. The entire thing is padded, with a removable mask for comfort. This makes it comfortable and easy to put on whenever the occasion calls for a hero.
What We Love:
❤️ Highly detailed design
❤️ Padded material
❤️ Useful for all occasions
What We Don't Love:
💔 Can't try before purchasing
---
Frequently Asked Questions About Spider-Man Toys
🙋‍♂️ Is Spiderman still popular?
Yes, Spider-Man is the most popular superhero on Earth! First appearing in comics in 1962 as a normal kid in New York just trying to get by, he's since appeared in countless cartoons, movies, games and tons of merchandise. Despite being named after a spider, he's a charming character with an iconic look, moral compass and fun personality.
🙋‍♂️ Do girls also like Spiderman toys?
Of course! Spider-Man is a hero for all ages and genders. Just because Spider-Man himself is a boy doesn't mean that girls won't enjoy his toys or look up to him as a hero just as much as the boys do. Toys don't need to be targeted toward girls for girls to enjoy them, either. Spider-Man is universally appealing and there's no need to limit what toys a girl gets just because superheroes are usually thought of as "boy" toys.
🙋‍♂️ What else do kids who like Spiderman like?
Kids who like Spider-Man may also be interested in superhero-related things like LEGO Marvel sets or these awesome Dinotrux Toys.
---
So… What Spider-Man Toy Should You Get?
With so many choices, it all comes down to age and interest. I personally suggest either of the Spider-Man video games, like the Miles Morales Ultimate Edition, for older kids who want a more interactive and long-lasting Spider-Man experience.
For younger kids, the Ty Spiderman Plush is sure to be a massive hit. If you think we've missed something, give us a shout, and we'll add it.
💡 Tip: Are you looking for a gift for a Spider-Man fan who can often be found drawing? Check out our set of free downloadable Spider-Man coloring pages.