Spider-Man is forever. Stan Lee and Steve Ditko created this signature Marvel superhero in 1962, and he's been flying high ever since.
As comic book fans and moviegoers everywhere know, a radioactive spider once bit shy teenager Peter Parker on a school field trip, giving him unique superpowers. And the rest is web-slinging history.
The 17 high-quality coloring pages below — all without logo — bring to life the magic and excitement of Spider-Man's life. Whether Spidey's soaring over the Big Apple or chilling at the beach, he's scaring evildoers wherever he goes. And he's looking sharp the whole time!
You can print these sheets out, give them to your children, and let their imaginations run wild. And, if you're a Spider-Man fan yourself, you might want to color a page, too – science has shown that even only 10 minutes a day is good for your mental health.
Also, please share your kids' colorful art pieces with us when they're done, and feel free to suggest new scenes for us to draw. It would definitely make Spider-Man proud!
1. Spider-Man's Daily Commute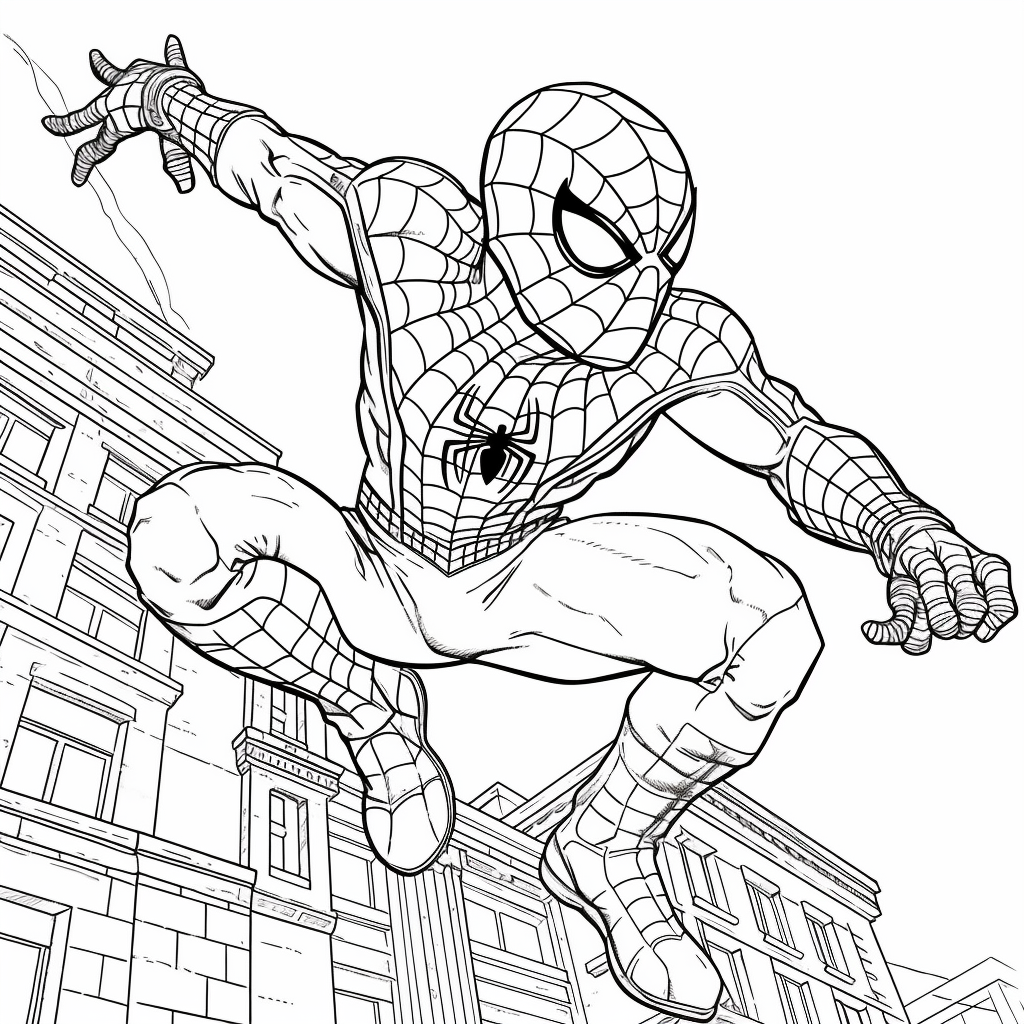 Here's an image of Spider-Man at his most iconic: soaring above New York City, his beloved hometown. Just add some color, and you'll have a picture-perfect scene straight from the comics.
2. Spider-Man Lost in Virtual Reality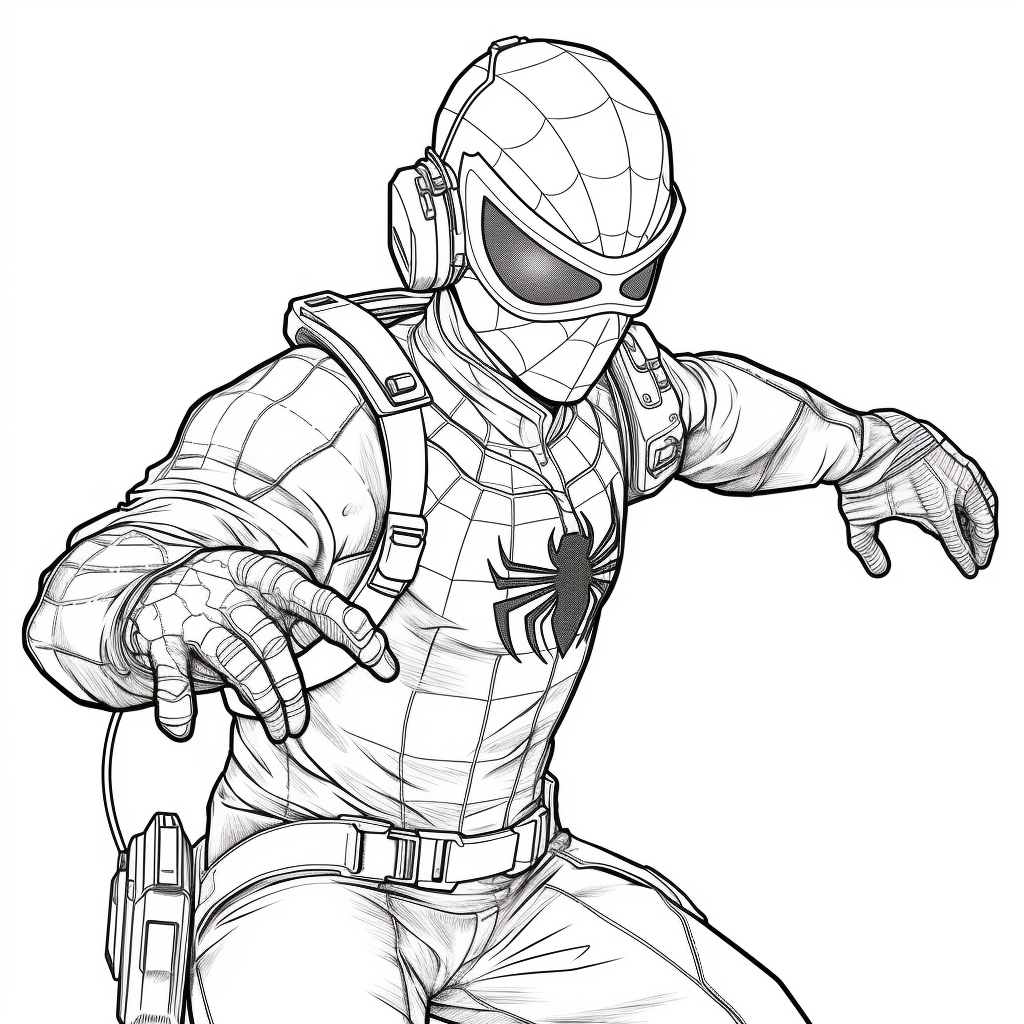 Is Spider-Man using a VR program to learn new moves and prepare to fight the Green Goblin? Or maybe he's just playing a few video games.
3. Attack of the Venoms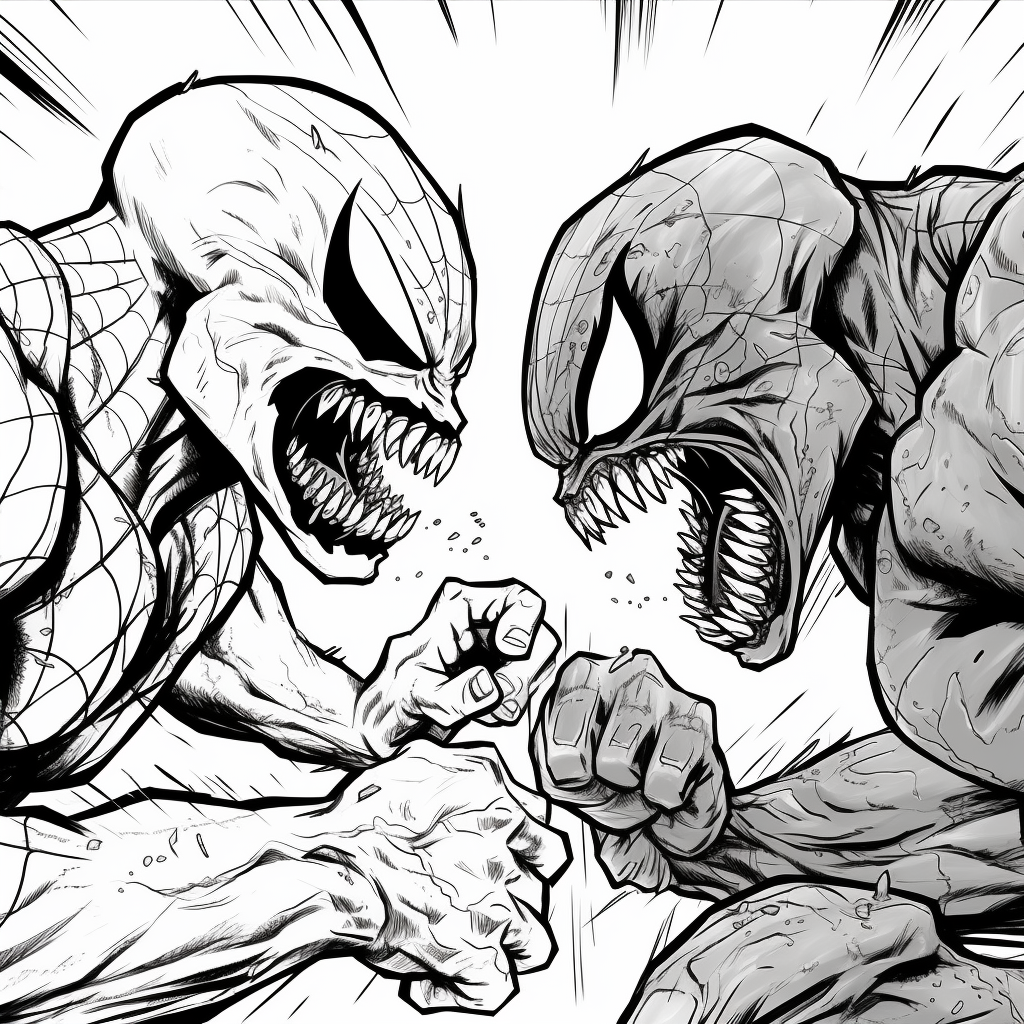 Part alien, part human, and all evil, Venom's been terrifying comic book readers since way back in 1984. And, as we can see here, two Venoms are scarier than one!
4. Spider-Man Goes for a Climb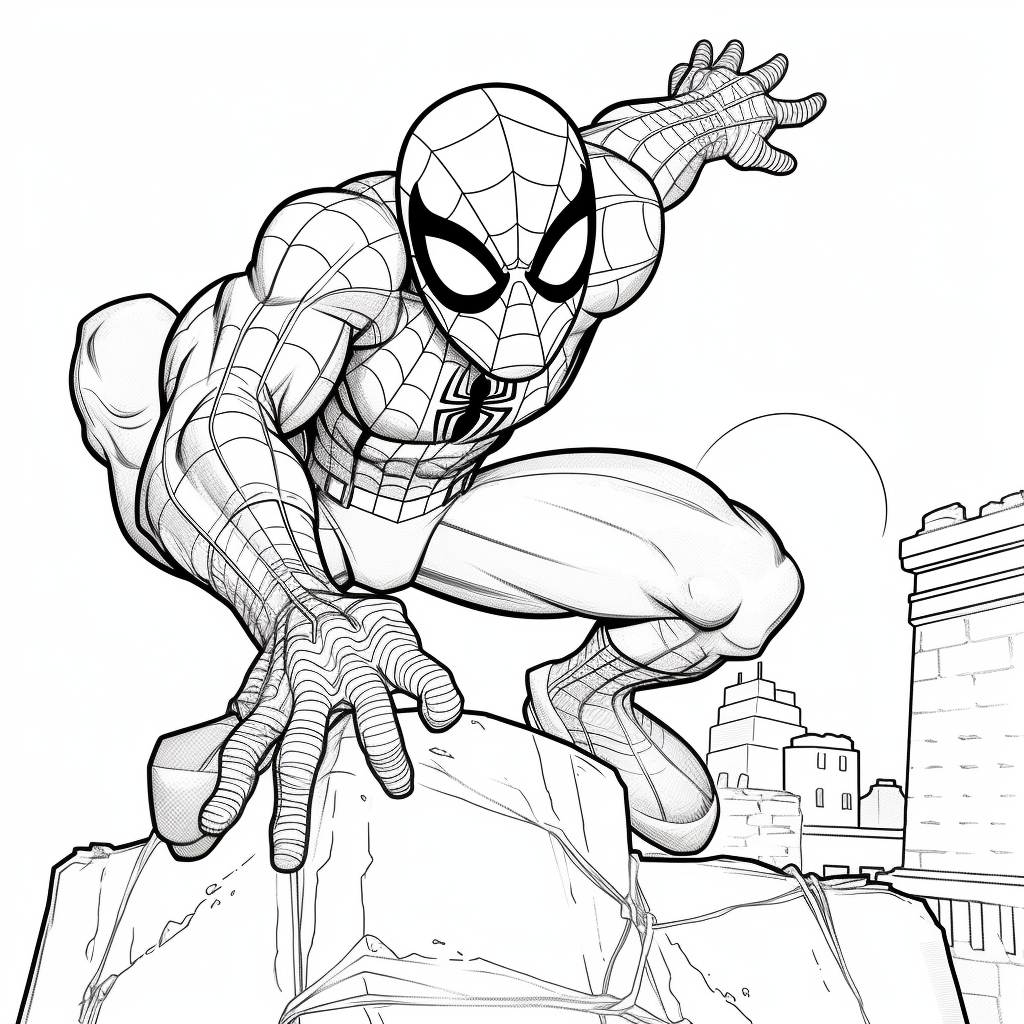 Careful now, Spider-Man: Perched high up on a cliff, Spidey has to rely on some of his famous fancy footwork. But what colors do you think his hiking clothes should be?
5. Young Spider-Man Skates to Glory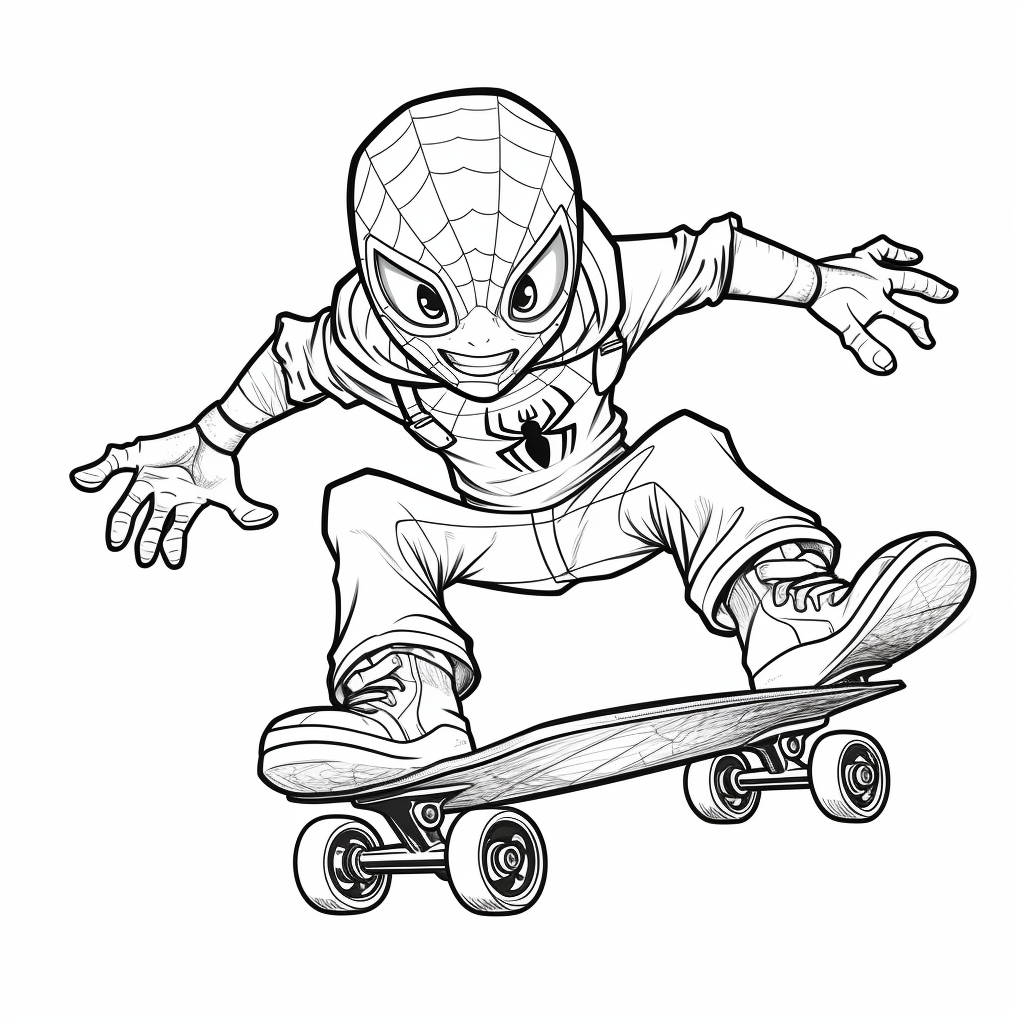 When we watch young Spider-Man on the Disney Junior show "Marvel's Spidey and His Amazing Friends," we see what Spider-Man might've been like as a child. And here, we can see that his skateboarding was awesome!
6. Spider-Man Chows Down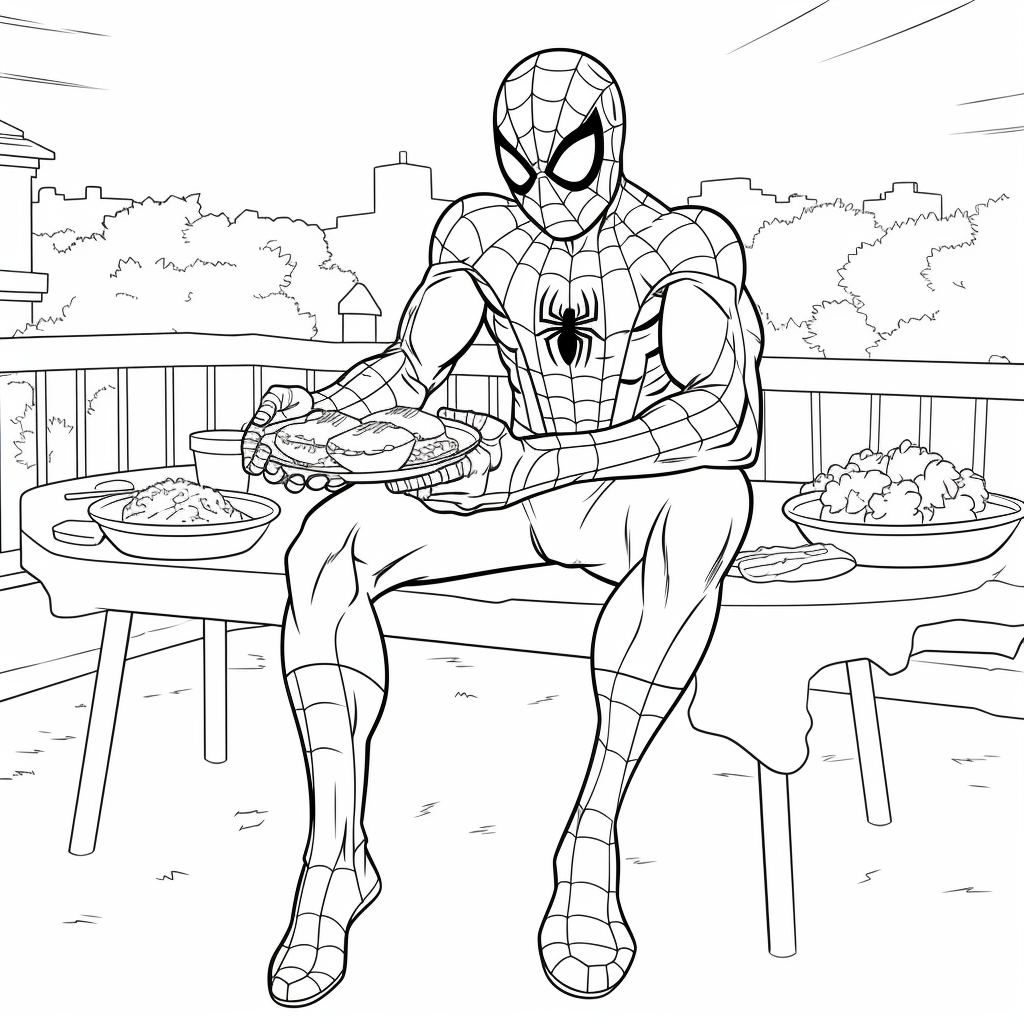 Superhuman speed and agility can be very helpful, but they work up an appetite. In this picture, Spider-Man gets a quiet moment to savor some home-cooked treats.
7. Spider-Man Fights a Fire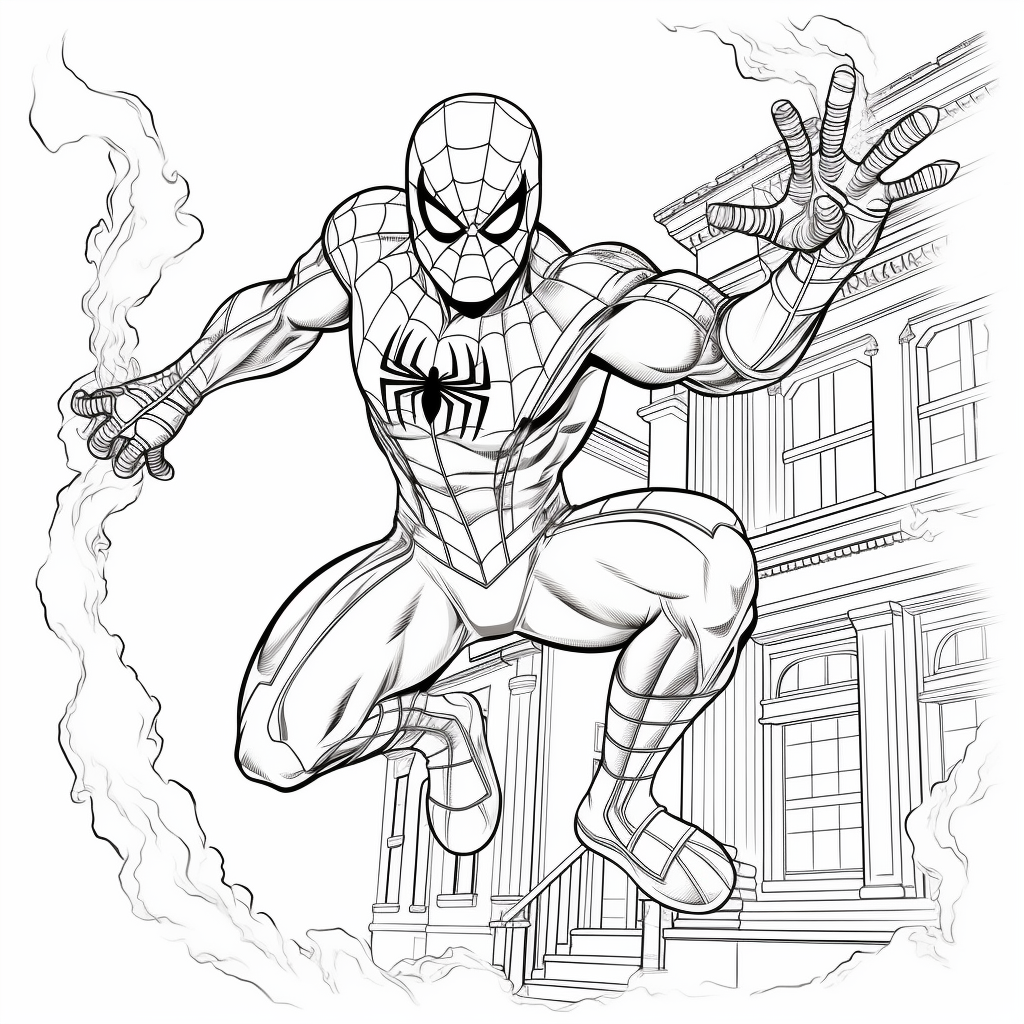 Spider-Man has been known to save people from burning buildings; for example, he rescues a baby from a massive fire in the 2002 movie "Spider-Man." So, naturally, he's showing no fear here as he faces yet another inferno.
8. Spider-Man Swoops Over the Skyline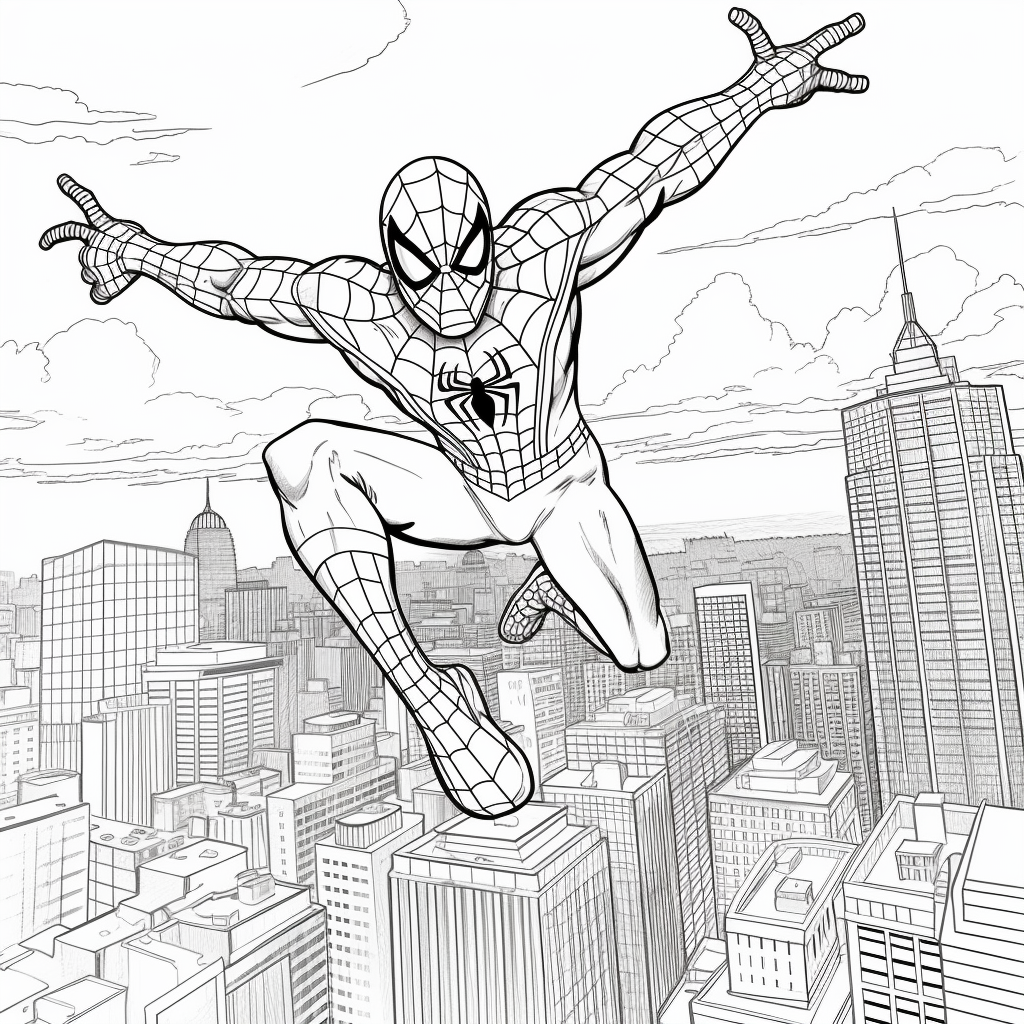 When you color in this thrilling picture, you can decide if it's daytime or nighttime. Either way, we can be sure that many people look up and admire Spider-Man as he glides above their streets.
9. A Little Spider on a Sweet Scooter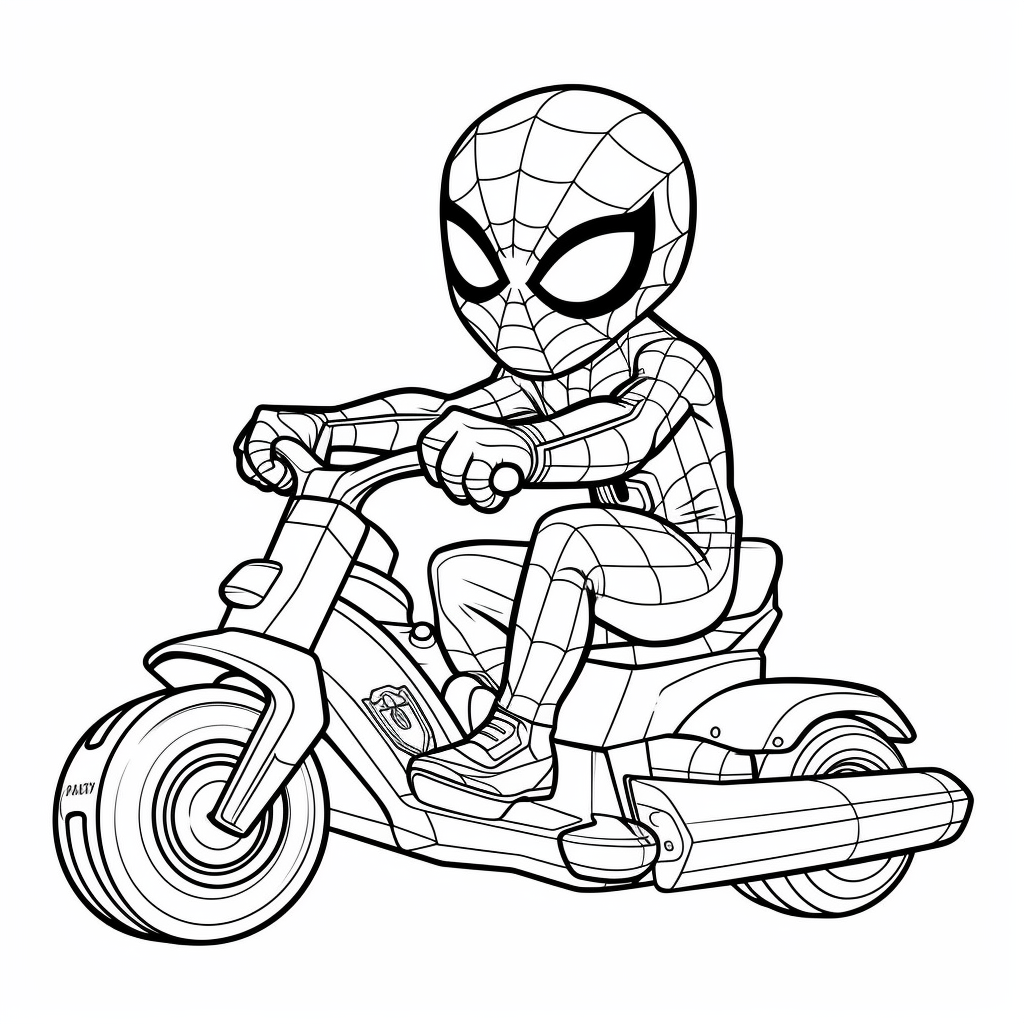 Here's young Spider-Man again, but he's traded in his trusty skateboard for a sleek scooter this time. Is he riding it to his friend Gwen Stacy's house?
10. Spider-Man Loves a Good Book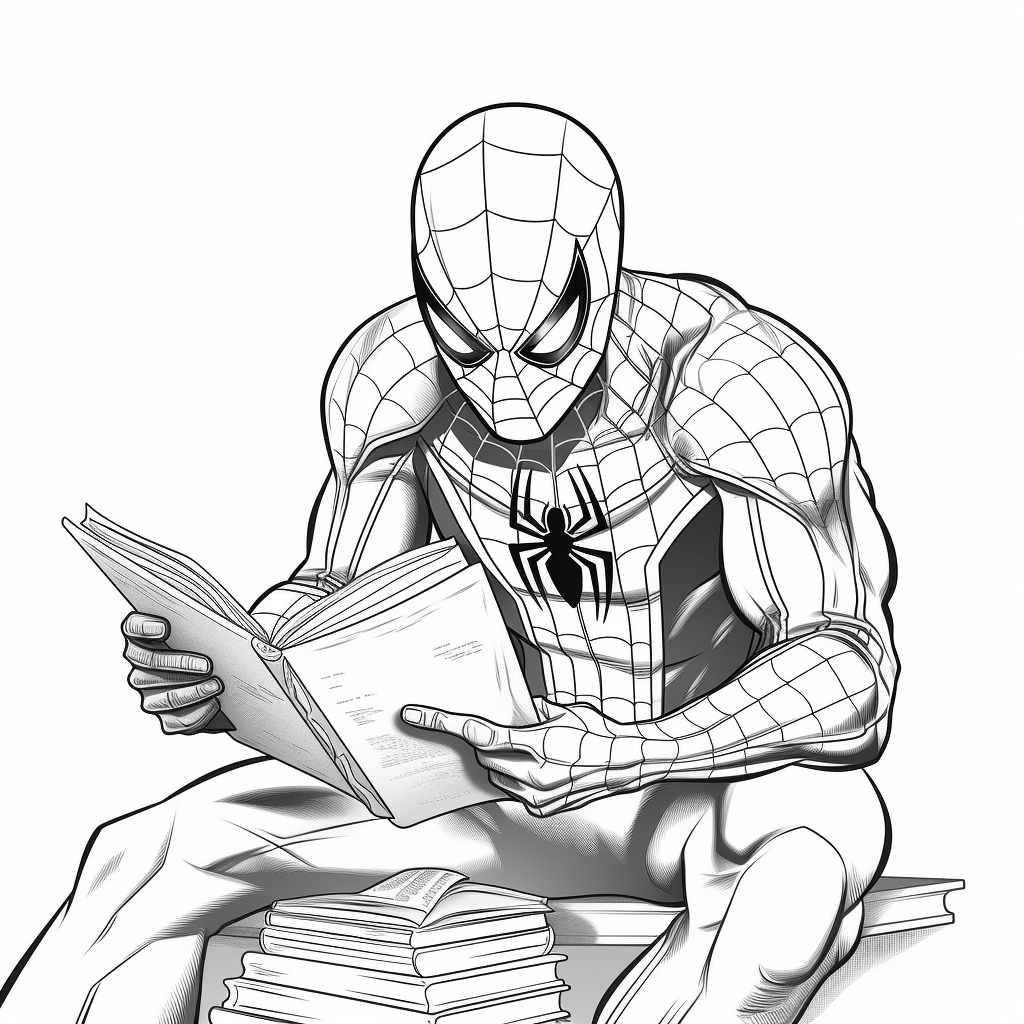 Peter Parker has always been a genius at science, so it makes sense that his alter ego Spider-Man hits the books whenever he can. What do you think he's reading in this picture — and what color should the book's cover be?
11. Young Spider-Man Goes Exploring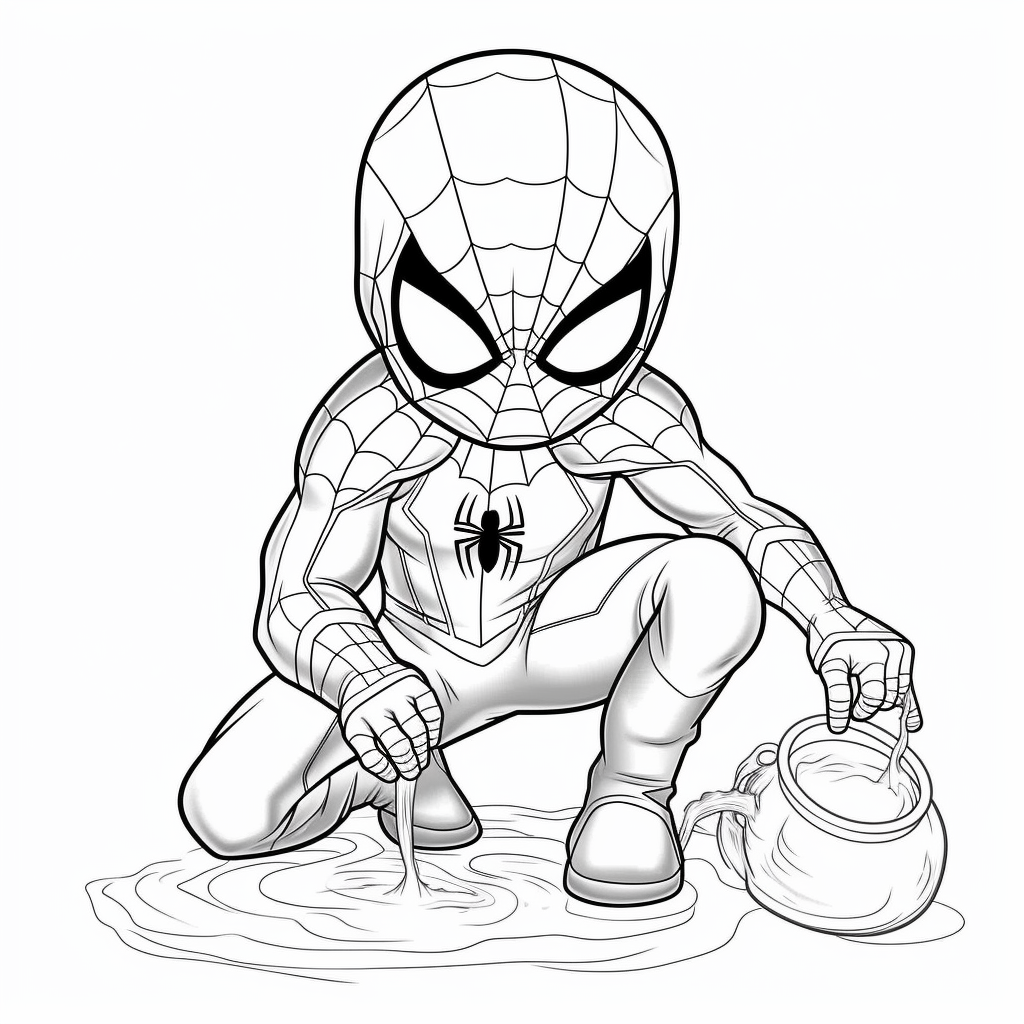 Young Spider-Man and his friends care about the environment. And it seems like our little hero wants to know more about the water he's encountered. Maybe he's coming up with a fascinating experiment right now!
12. DJ Spidey Spins the Hits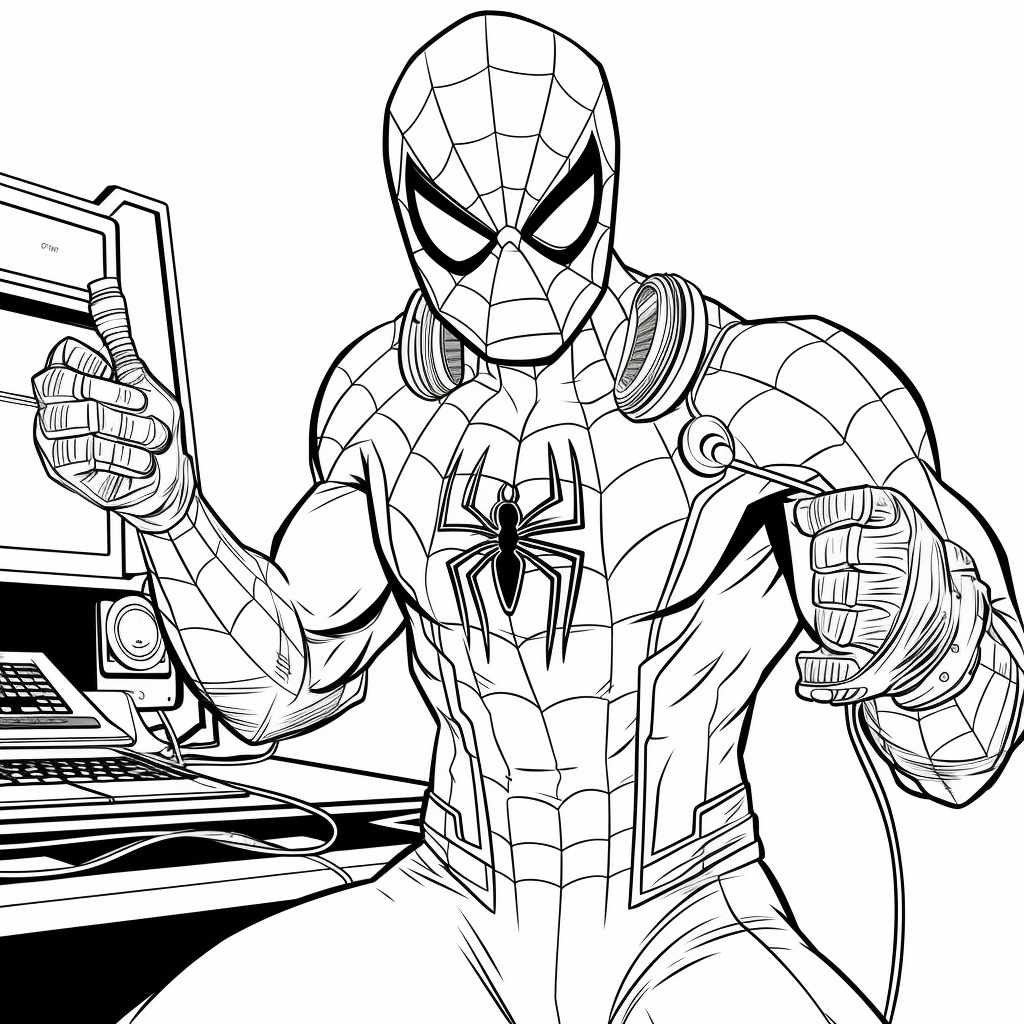 Spider-Man's friends love to party and dance. In a 1967 comic book, Gwen Stacy and Mary Jane Watson had an epic dance battle. And so, to keep up with them, Spider-Man must work on his DJ skills at home!
13. Spider-Man Takes It Easy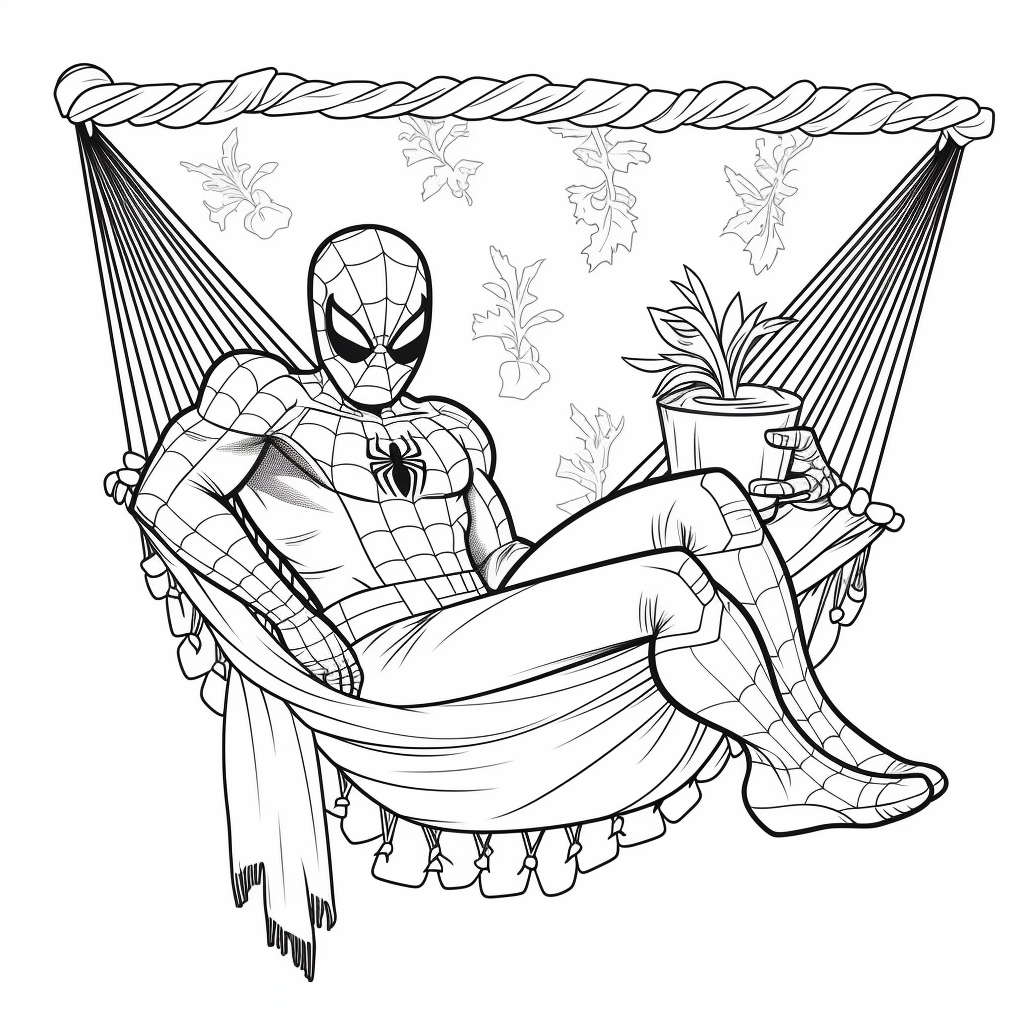 Going to Empire State University during the day and fighting crime at night can be exhausting, even for a Marvel hero. So it's good that Spider-Man enjoys relaxation occasionally.
14. Spider-Man and a Different Kind of Web: The World Wide Web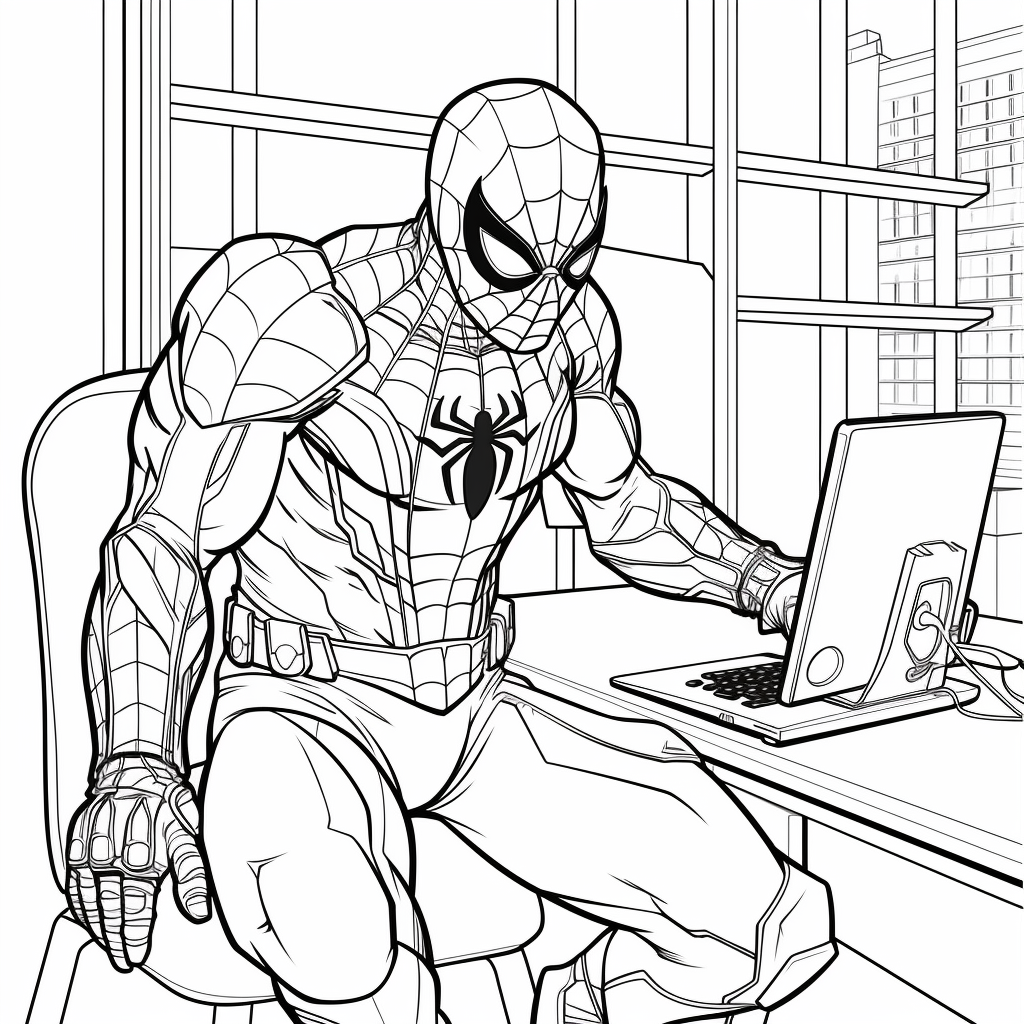 As Spider-Man surfs the internet, what do you think he's looking at? It might be the Daily Bugle's website featuring Peter Parker's beautiful photographs or a live video from Octavius Industries, the lab where Peter works.
15. Spider-Man Takes It to the Rim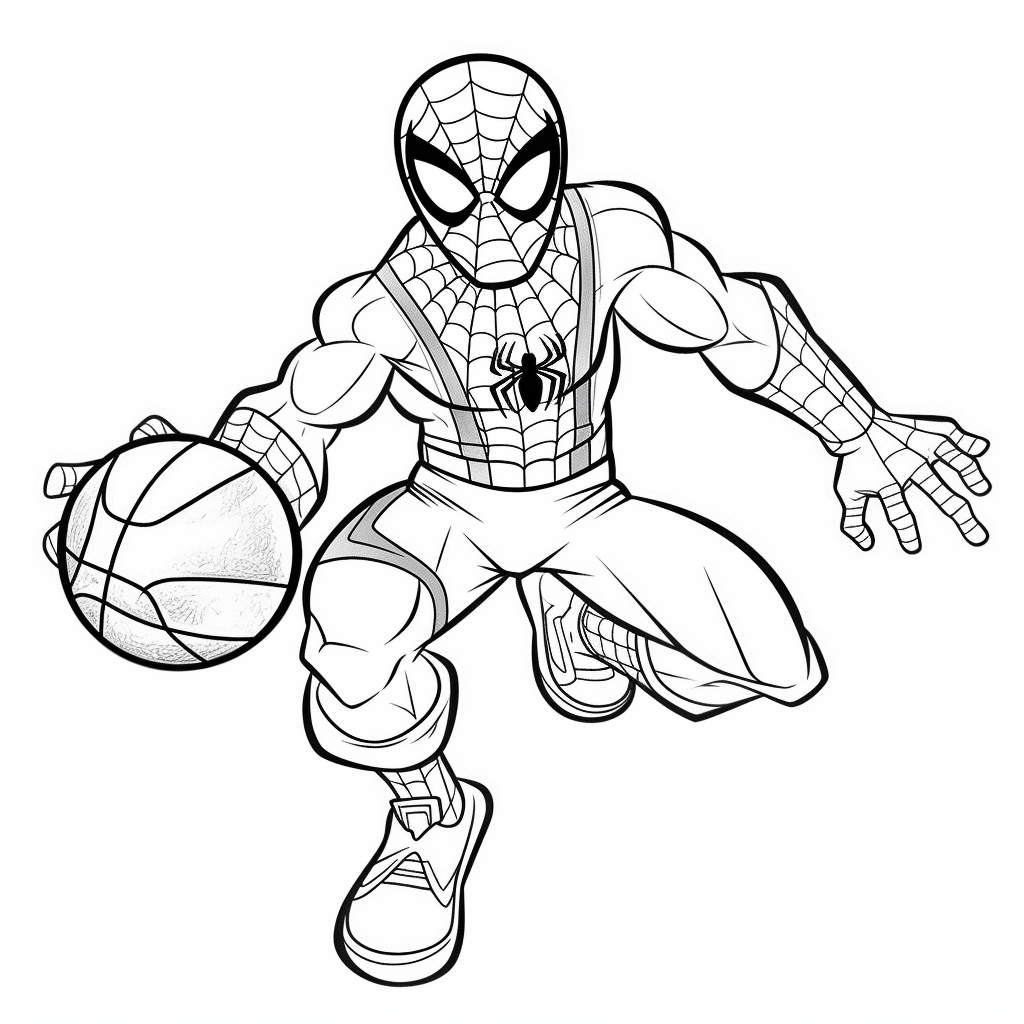 You can color in Spider-Man just as he's about to dunk his basketball. By the way, do you think Spider-Man would beat his movie mentor Iron Man if they played each other one-on-one?
16. Spider-Man Paints a Masterpiece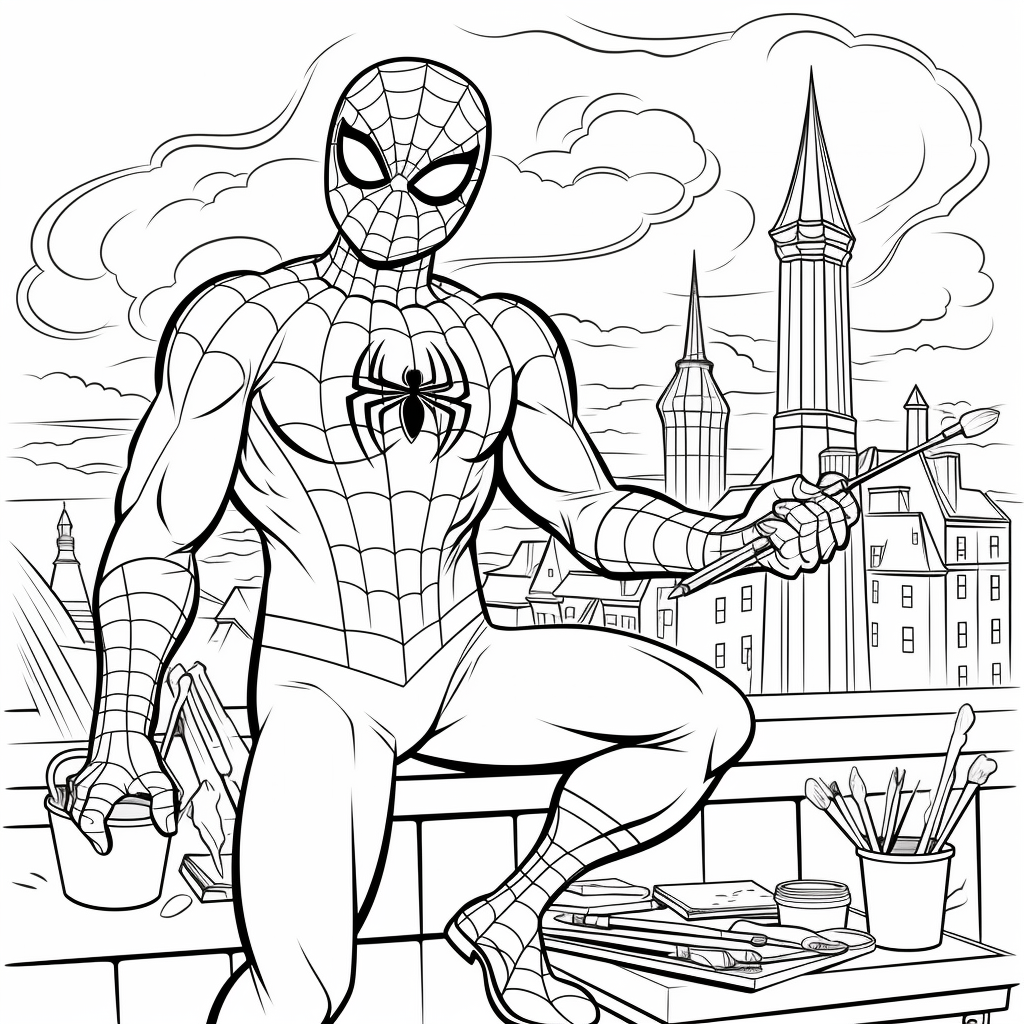 Aunt May's birthday is coming up, and Spider-Man knows what to give her this year: a stunning urban landscape he's painting himself. Those art classes at Midtown School of Science and Technology paid off.
17. Spider-Man Hits the Beach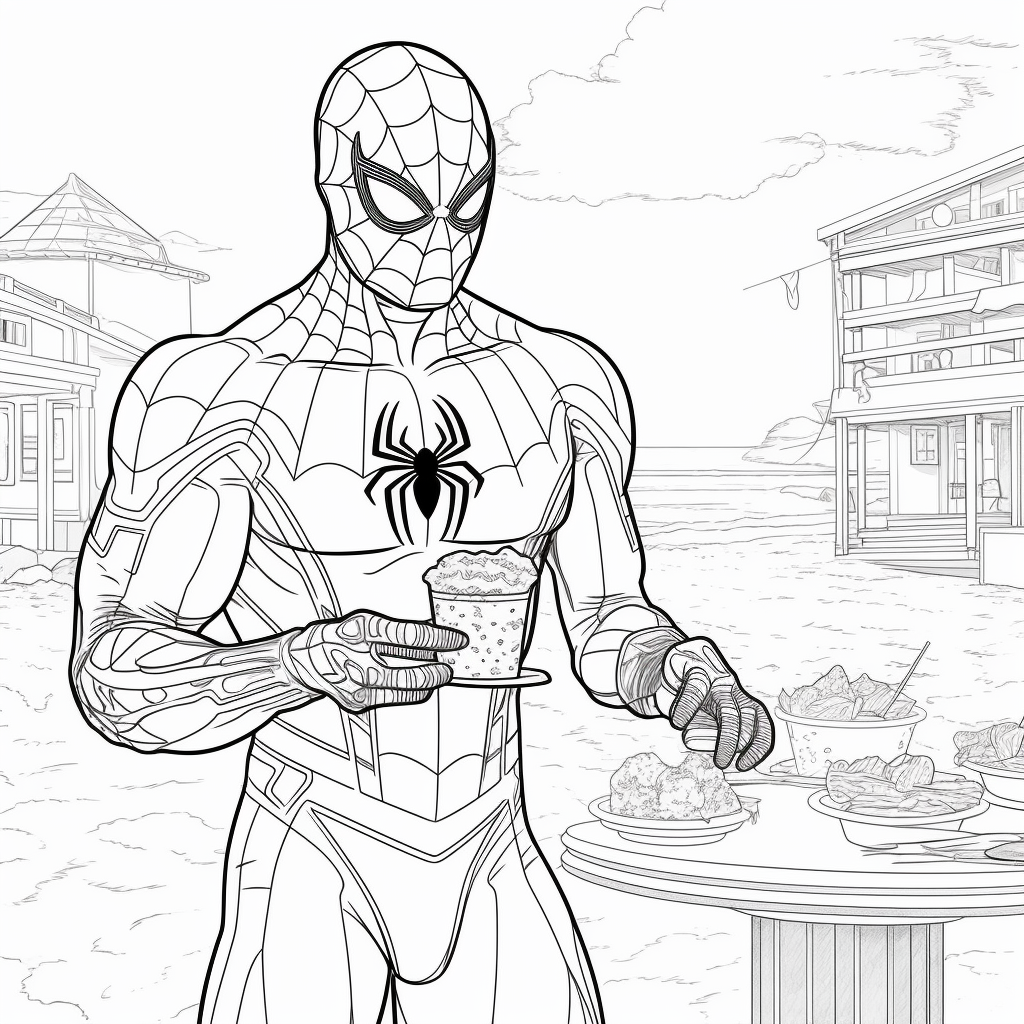 Maybe the only thing better than sand, sun, and surf is a table full of delicious snacks. And lucky for our friend Spider-Man, he can enjoy all those things on his day off at Jones Beach.
Did We Miss Any Iconic Spider-Man Scenes?
Hopefully, these 17 pages — all free to use — will give your family hours of entertainment. And, after some quality time coloring together, you and your kids might watch a Spider-Man movie or TV show, play a Spider-Man video game, or read a comic book. It could be a real Spidey bonding experience.
Please, let me know in the comments or via email if you can think of any other activities and hobbies Spider-Man would like, so we can create new coloring pages to update this page.
In closing, we'd like to remember the wise words of Spider-Man's beloved Uncle Ben: "With great power comes great responsibility." We agree with that idea, and we'd like to add that with great coloring comes great fun!