Pikachu is the one Pokémon that most people instantly recognize.
Pikachu is an electric-type Pokémon that live in the forest and communicates with other Pikachus using their tails. They can even use their electric power to share messages with other electric-type Pokémon.
In the first Pokémon anime series, it was Ash's first Pokémon that Professor Oak gave him. Pikachu was also a central character in all the Pokémon films and was the star of the 2019 movie Detective Pikachu, which grossed over $500 million.
According to our research, Pikachu is the most searched-for Pokémon around the world, so it only makes sense that we provide Pikachu-themed coloring pages for you to print out and color yourself.
From Pikachu reading a book to Pikachu riding a skateboard, each coloring page presents a unique and captivating scene that showcases Pikachu's diverse adventures. Let your creativity soar as you choose the colors that capture Pikachu's playful spirit, dynamic energy, and endearing expressions.
So, grab your favorite coloring pencils and crayons and get ready to add color to these 21 enchanting pages.
Let's dive in and discover the magic of Pikachu through the art of coloring!
1. Pikachu's Library Adventure
Join Pikachu as he delves into the pages of a captivating book.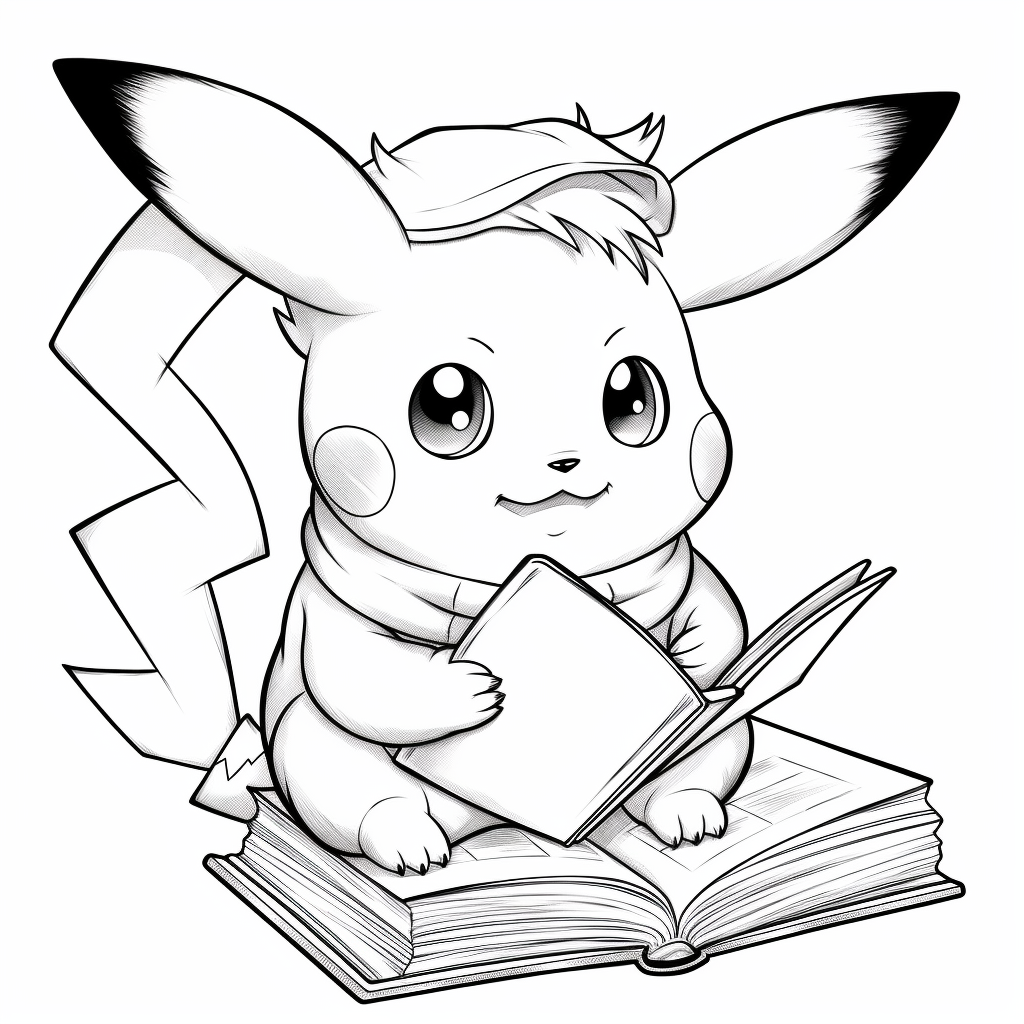 Color Pikachu's adorable expression and expressive eyes showcase its love for reading. Create a cozy setting with a comfy chair and shelves filled with books, inspiring the joy of storytelling.
2. Pikachu's Solo Journey
Embark on a coloring adventure with Pikachu as it explores the world alone.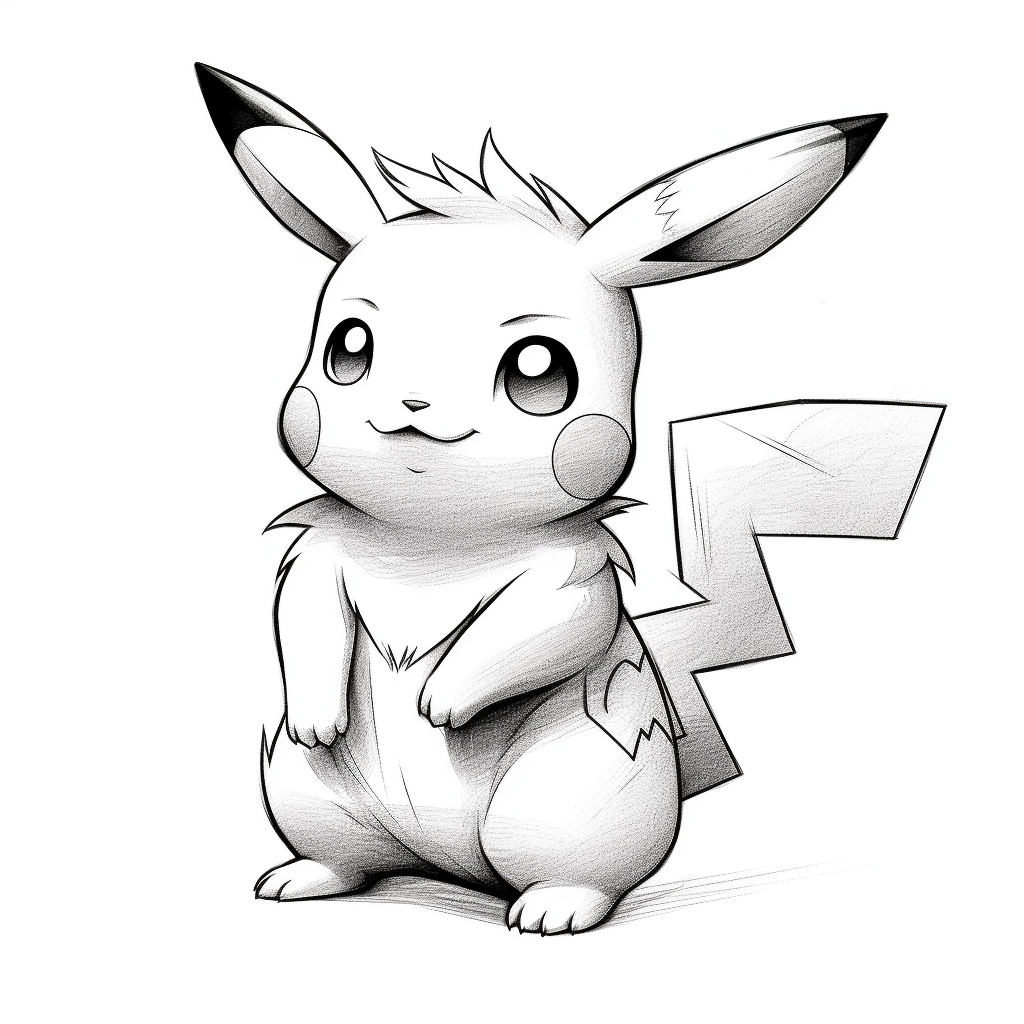 Color Pikachu's determined expression and dynamic pose capture its spirit of independence. Create a backdrop that you think Pikachu would enjoy.
3. Pikachu's Tree-Top Hideaway
Look at Pikachu as it climbs up the branches of a small tree.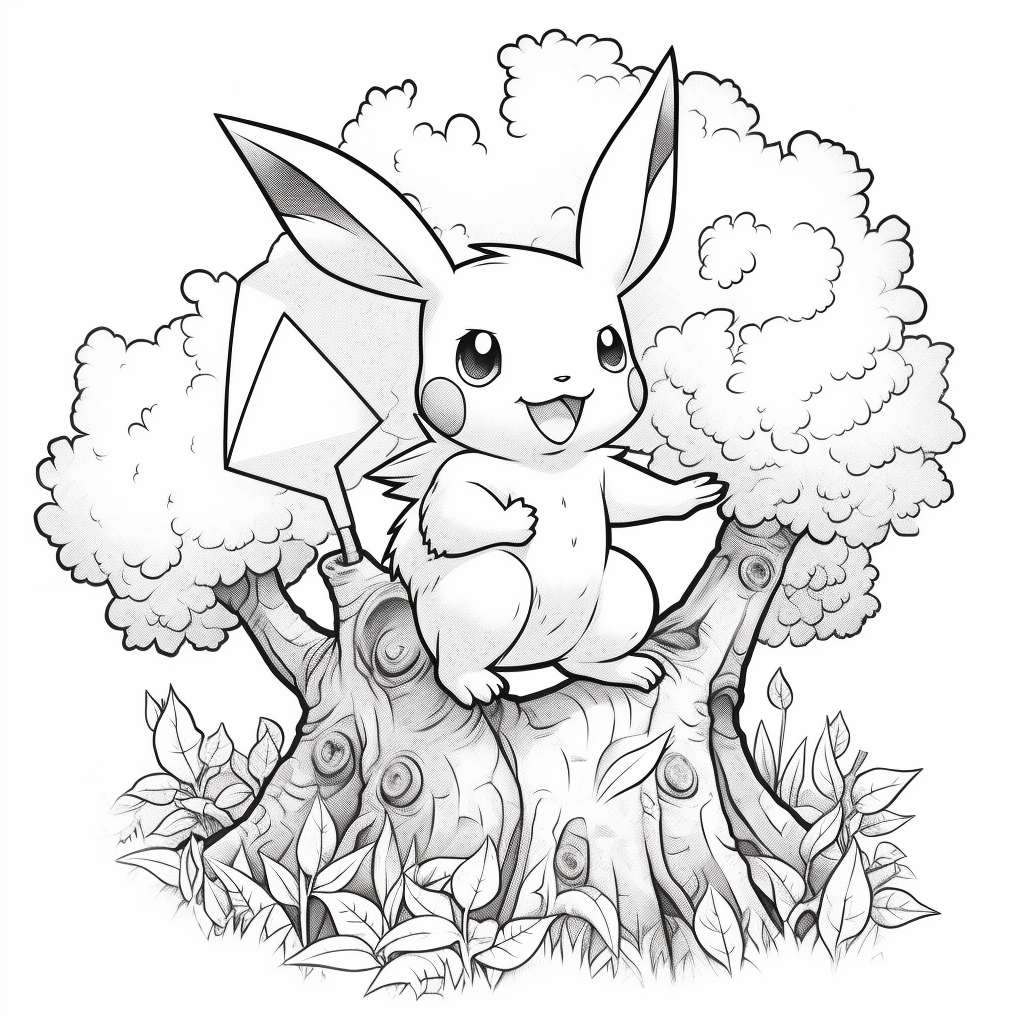 Color Pikachu's playful expression and energetic pose. Let the lush leaves and branches come alive with vibrant colors, depicting the beauty of nature.
4. Pikachu's Dance Party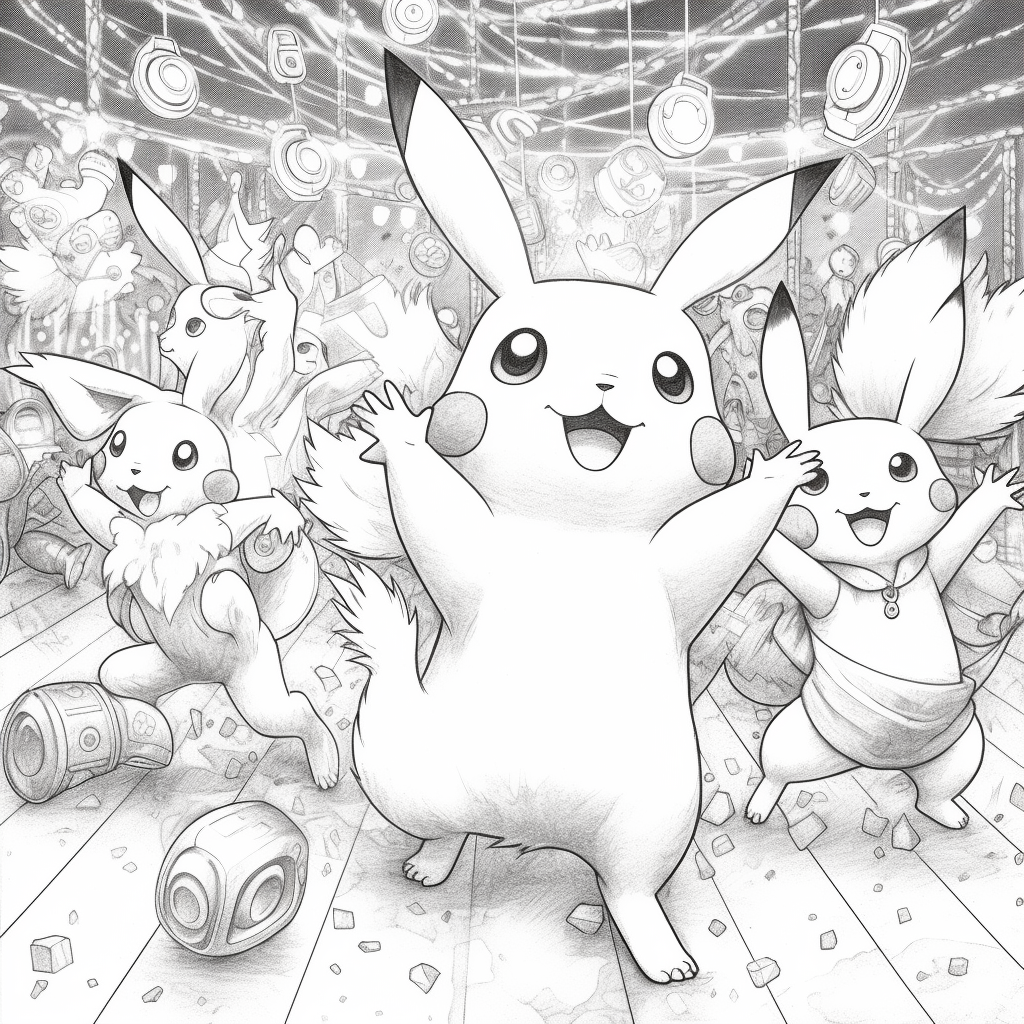 Accompany Pikachu and his friends at a lively dance party.
Color their dynamic poses and dance outfits to fill the page with vibrant energy. Create a backdrop that sets the stage for celebration, capturing the joy of friendship and the power of music.
5. Pikachu's Culinary Creations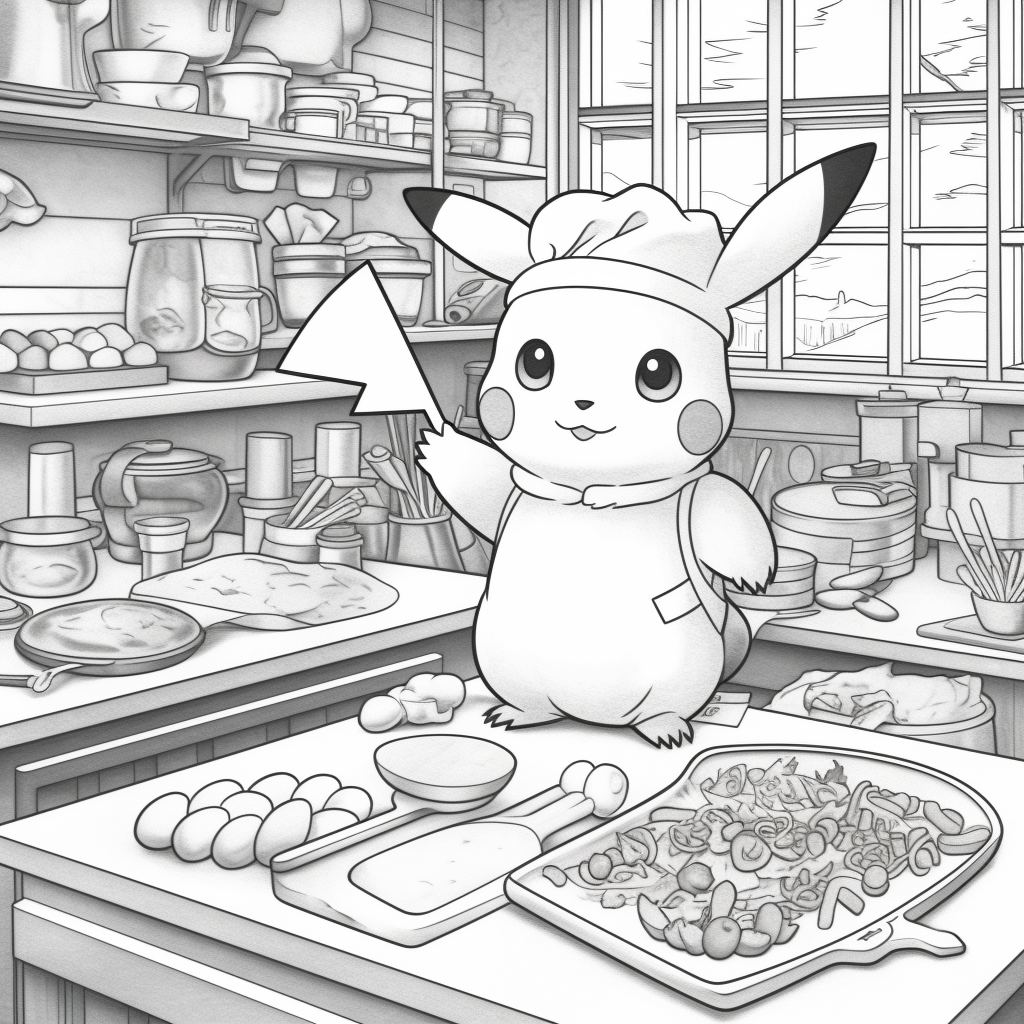 Color Pikachu as it dons a chef's hat and gets busy in the kitchen.
Bring its culinary tools and delicious food creations to life. Get lost as you color in the backdrop packed with ingredients and utensils, showcasing Pikachu's passion for cooking and the joy of preparing tasty treats.
6. Pikachu's Fishing Expedition
Join Pikachu by the tranquil lake as it tries its hand at fishing.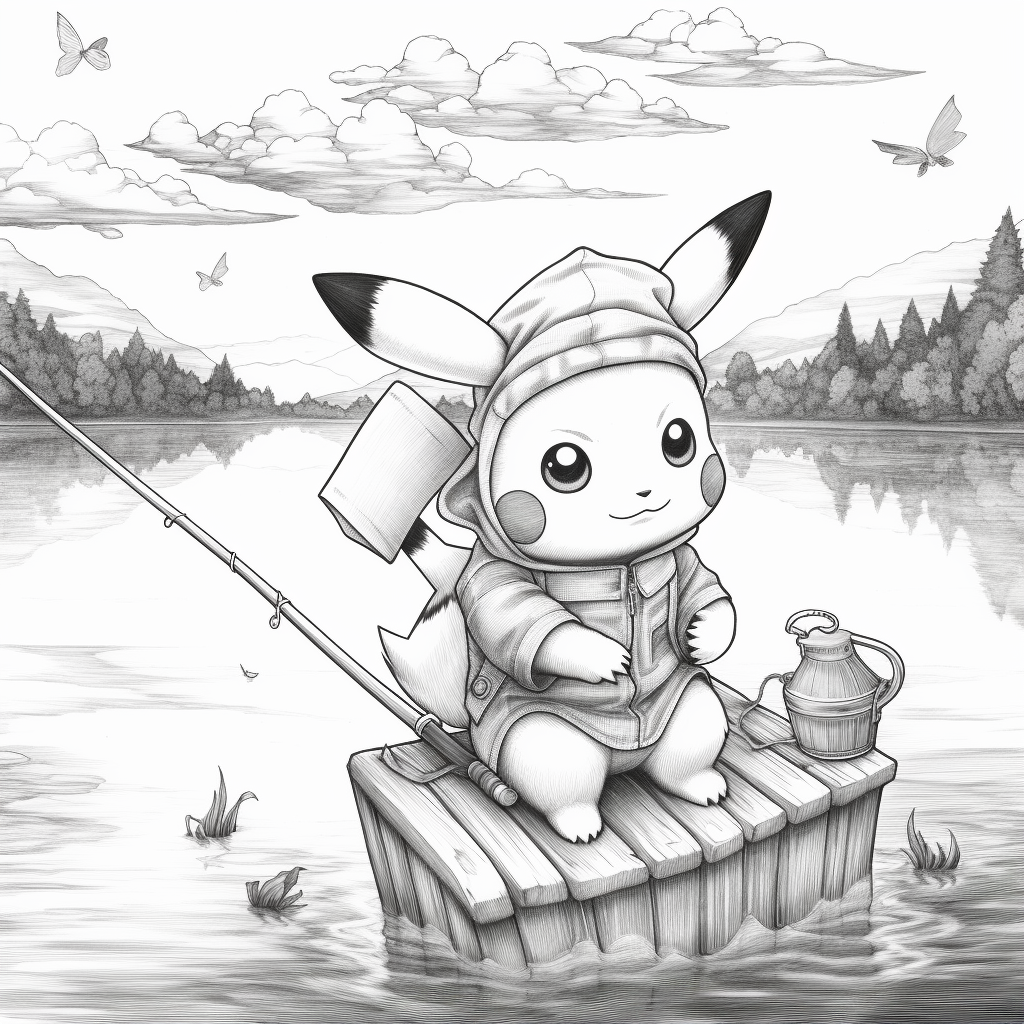 Color Pikachu's patient expression and fishing gear. Create a serene setting with sparkling water and lush surroundings, capturing the peacefulness of the moment and the anticipation of a great catch.
7. Pikachu's Green Thumb
Check out Pikachu as it tends to its vibrant garden.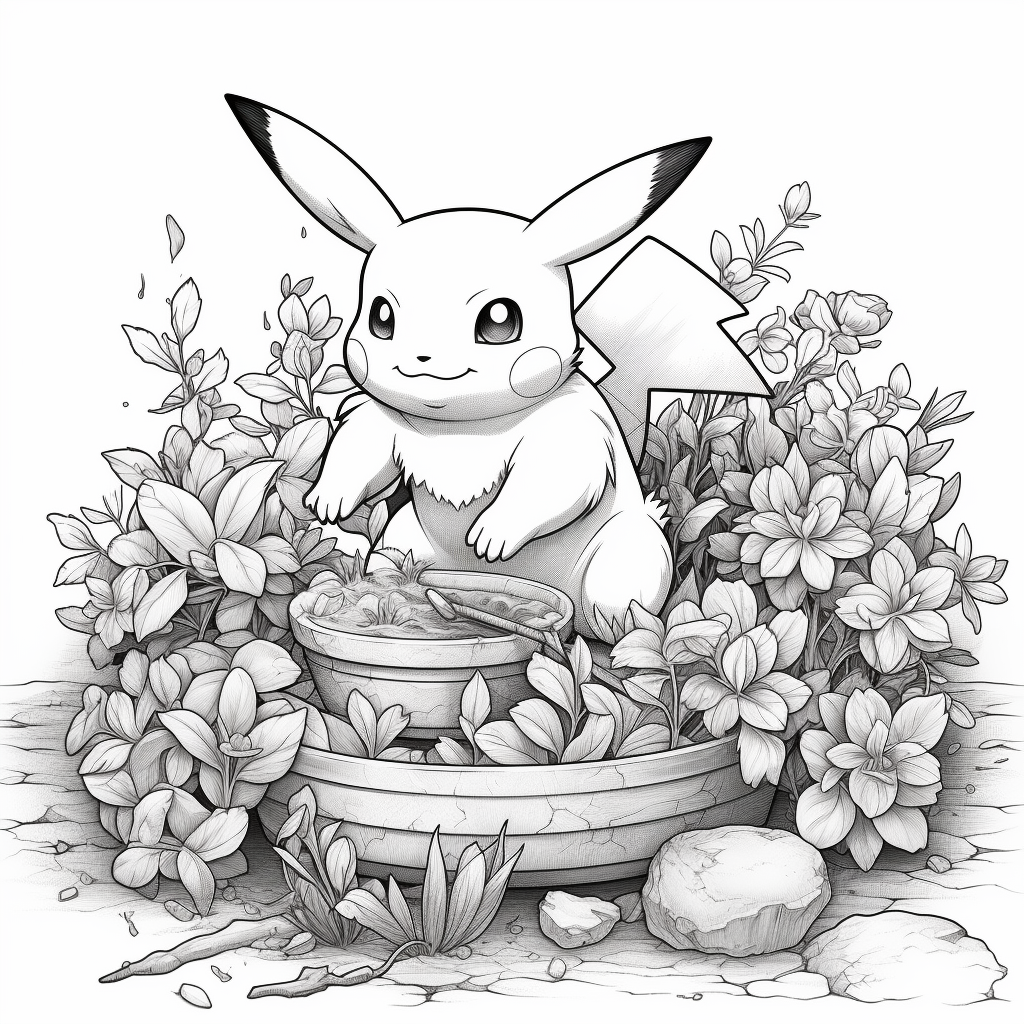 Bring out its gardening tools and luscious plants to life! Fill the page with blooming flowers, lush foliage, and the freshness of nature, showcasing Pikachu's love for plants and the joy of cultivating a thriving garden.
8. Pikachu's Pajama Party
Pikachu as it curls up in a cozy bed, ready for a good night's sleep.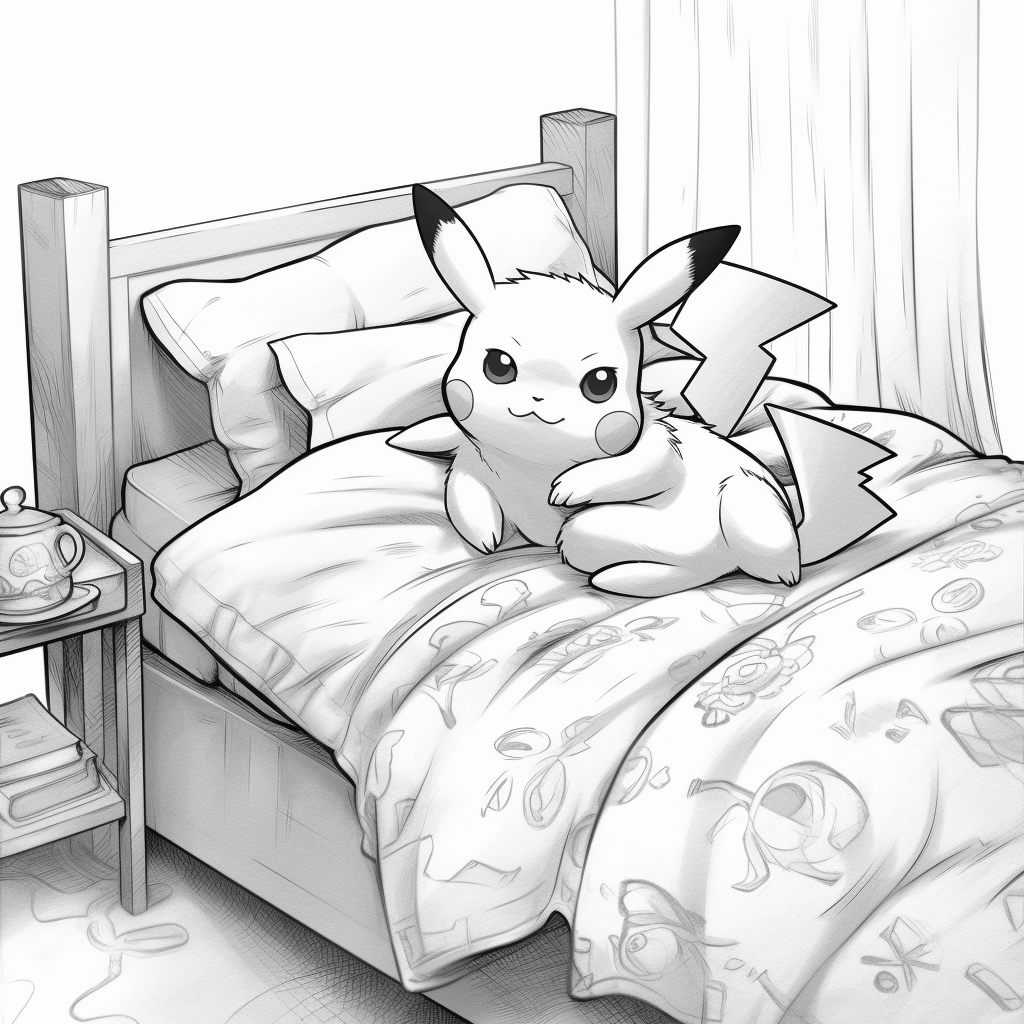 Use color to help Pikachu get ready for a good night's sleep. Create a dreamlike ambiance with soft colors and pillows, conveying a sense of tranquility and the joy of peaceful slumber.
9. Pikachu's Soccer Match
See Pikachu on the football field, ready for an exciting soccer match.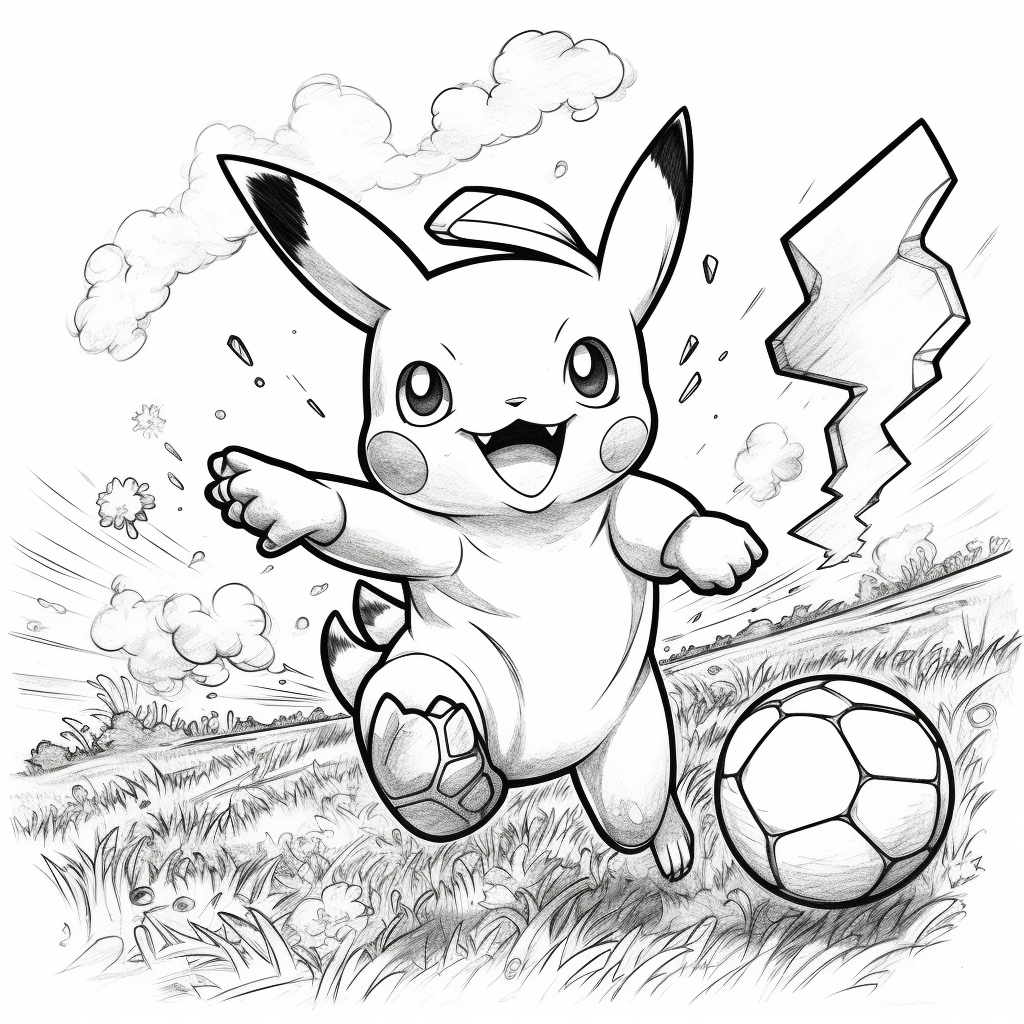 Create a vibrant backdrop with a cheering crowd, lush grass, and goalposts, capturing the exhilaration of the game and Pikachu's passion for sports.
10. Pikachu's Biking Adventure
Color in Pikachu as it rides a bike across a tranquil field on a sunny day.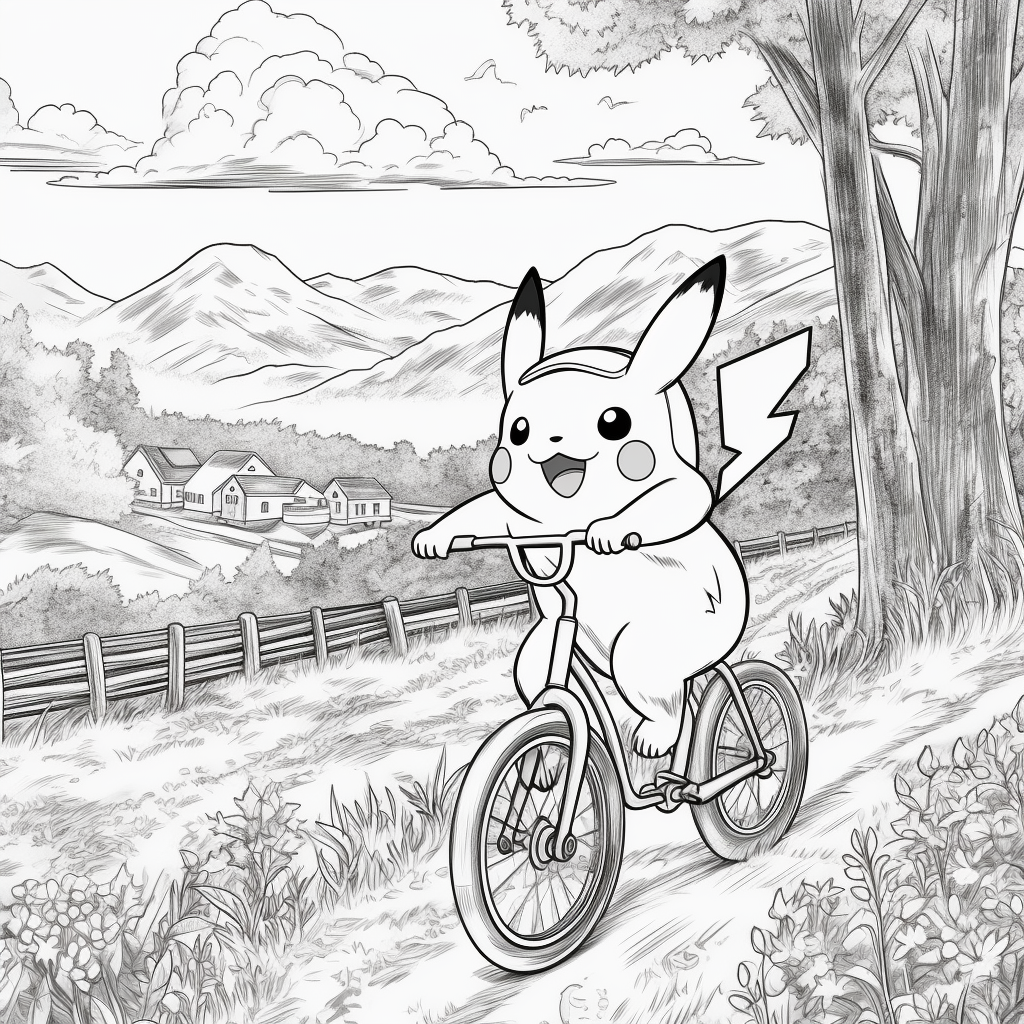 Color in the scenic backdrop with winding paths and nature's beauty to bring Pikachu's bike journey to life.
11. Pikachu's Skateboarding Break
Check out Pikachu as it shows off skateboarding skills in a bustling town.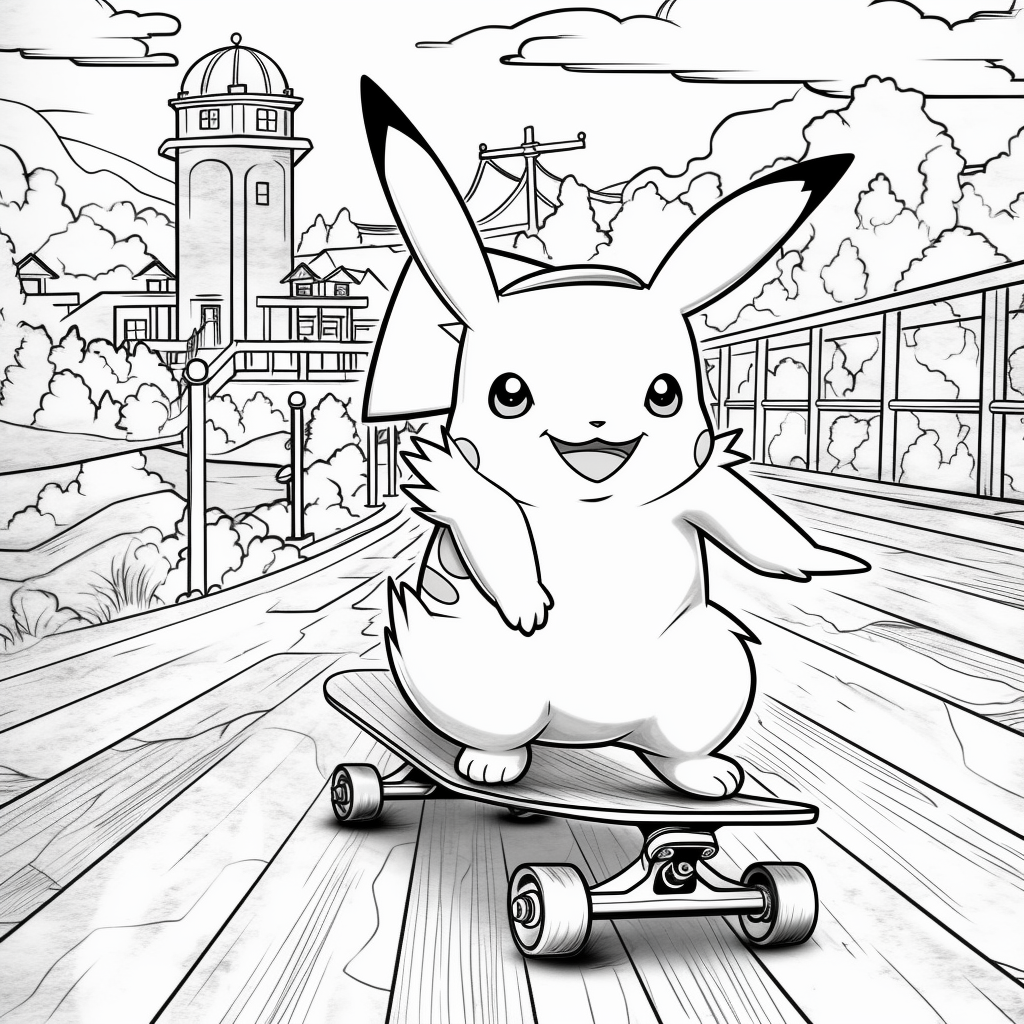 Use your colored pencils to create an urban backdrop with buildings, ramps, and an energetic atmosphere, capturing the thrill of skateboarding and Pikachu's street-smart attitude.
12. Detective Pikachu
See Pikachu as he channels his Sherlock Holmes detective prowess.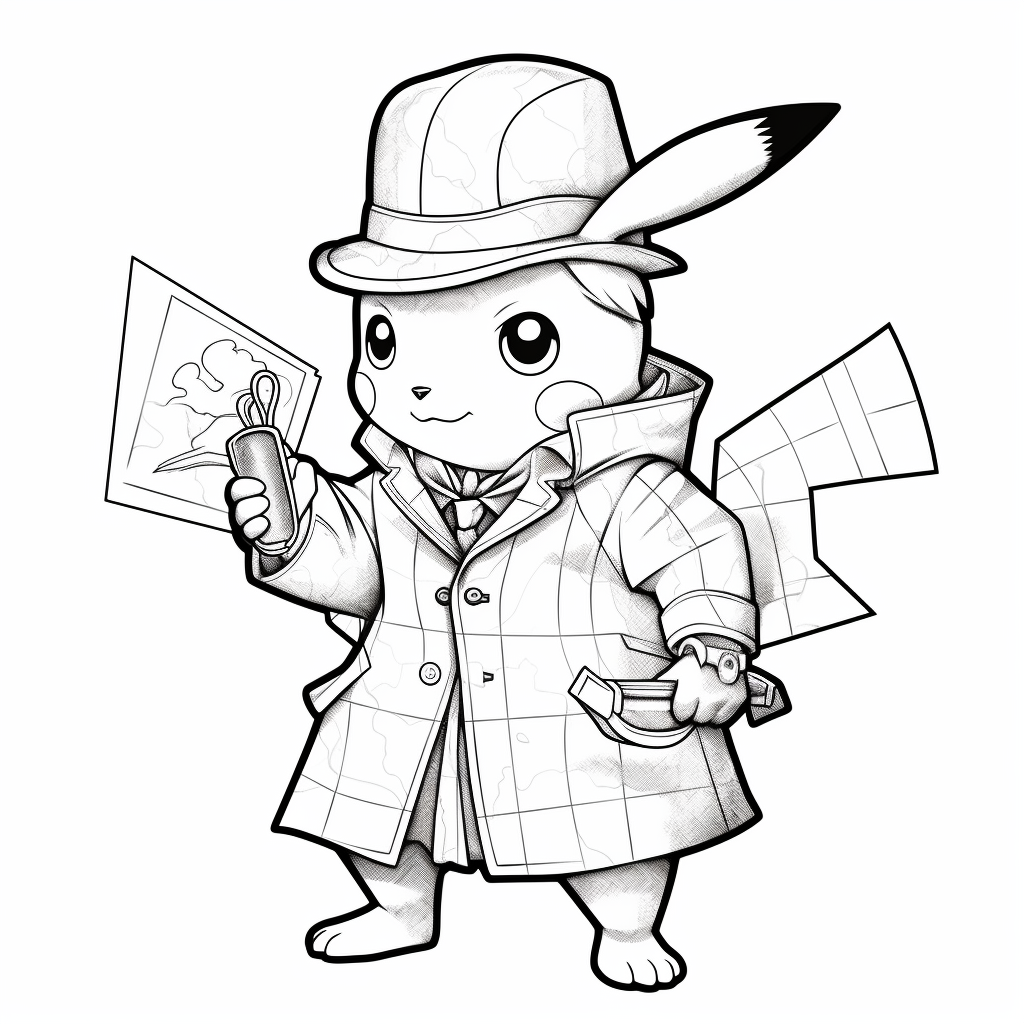 Use your colors to bring out Pikachu's keen expression and detective attire. Design a mysterious setting with magnifying glasses, clues, and a sense of intrigue…
13. Pikachu's Big Go-Kart Race
Pikachu on a thrilling go-kart race – maybe with Super Mario?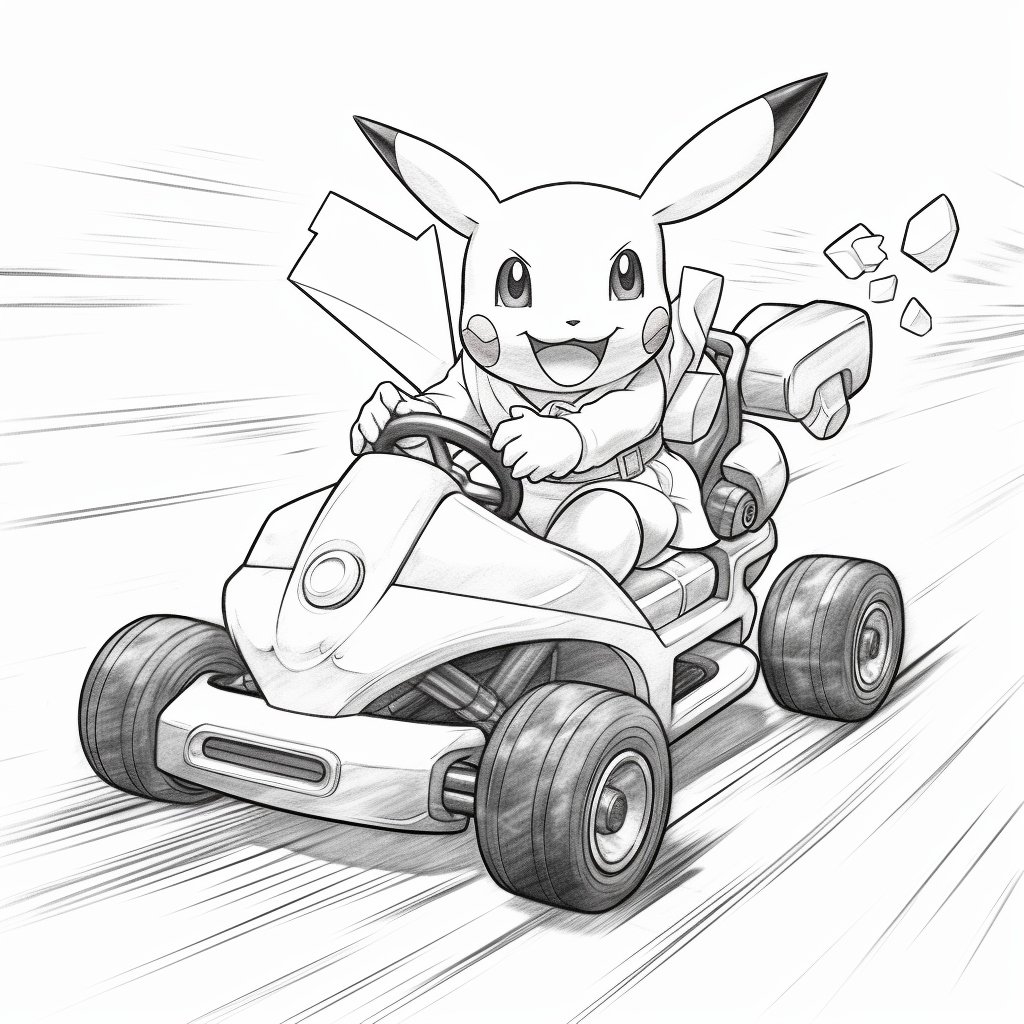 Create an exhilarating backdrop with a race track, cheering spectators, and a burst of speed, capturing the adrenaline rush of the race and Pikachu's competitive spirit.
14. Pikachu's Cave Expedition
Color in Pikachu as it bravely ventures into a mysterious cave.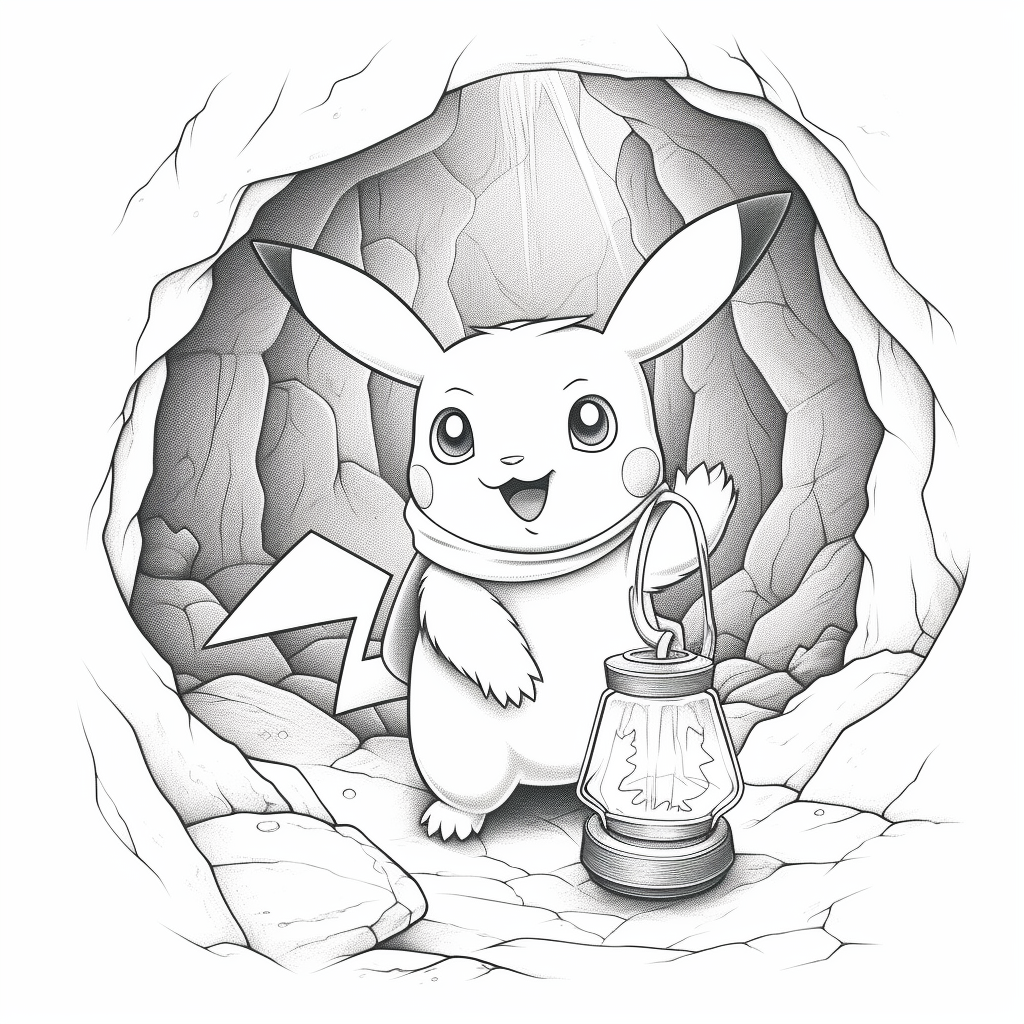 Design a dimly lit backdrop with stalactites, eerie shadows, and hidden treasures for Pikachu to hunt as he ventures through the cave.
15. Pikachu's Wild West Adventure
Check out Pikachu in the Wild West, embracing cowboy spirit: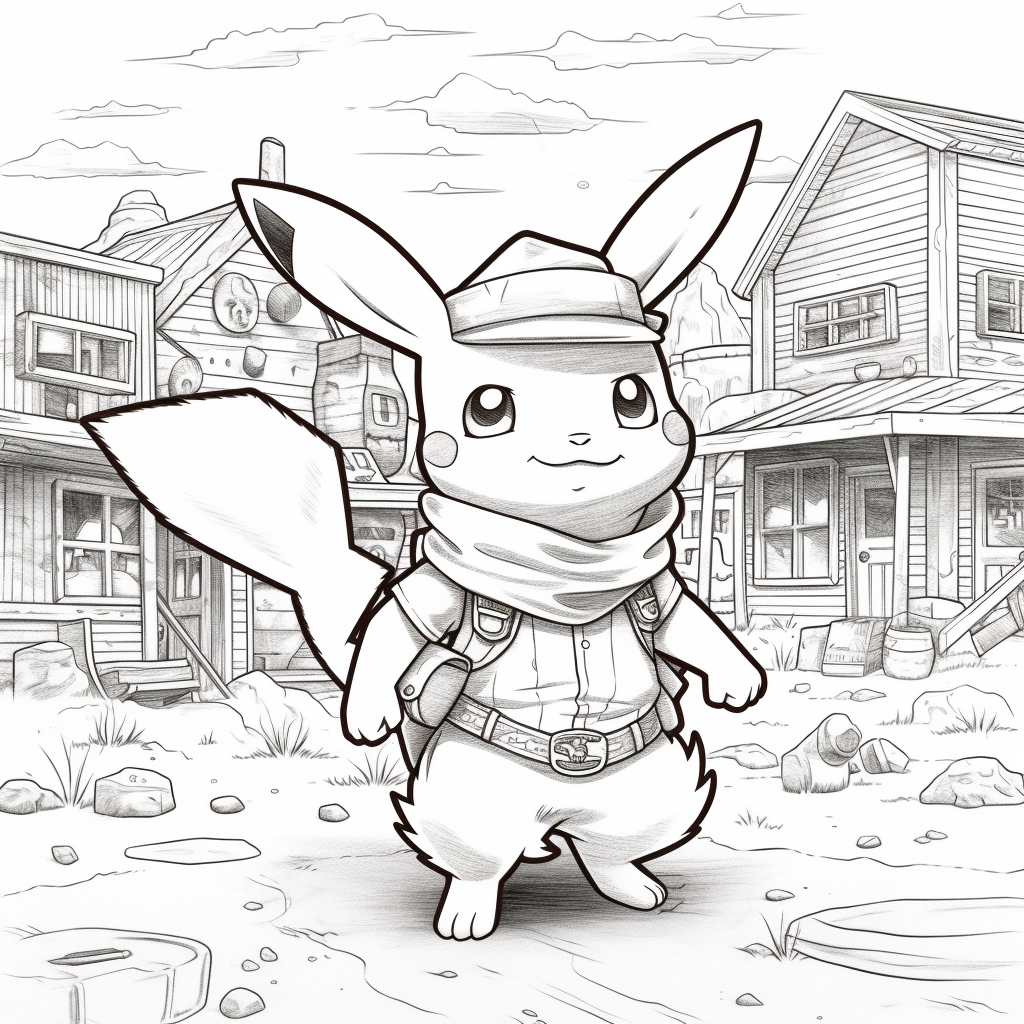 Use your pens to create a frontier backdrop with rolling plains, cacti, and a sense of rugged charm, capturing the excitement of the Old West.
16. Pikachu's Skateboarding Stunts
Color Pikachu as it performs impressive skateboard tricks.
Get creative as you fill in the urban backdrop with ramps and cool graffiti to create an exciting space for Pikachu to perform his skateboarding stunts..
17. Pikachu Unleashing the Volt Tackle
See Pikachu as he demonstrates the electrifying Volt Tackle attack: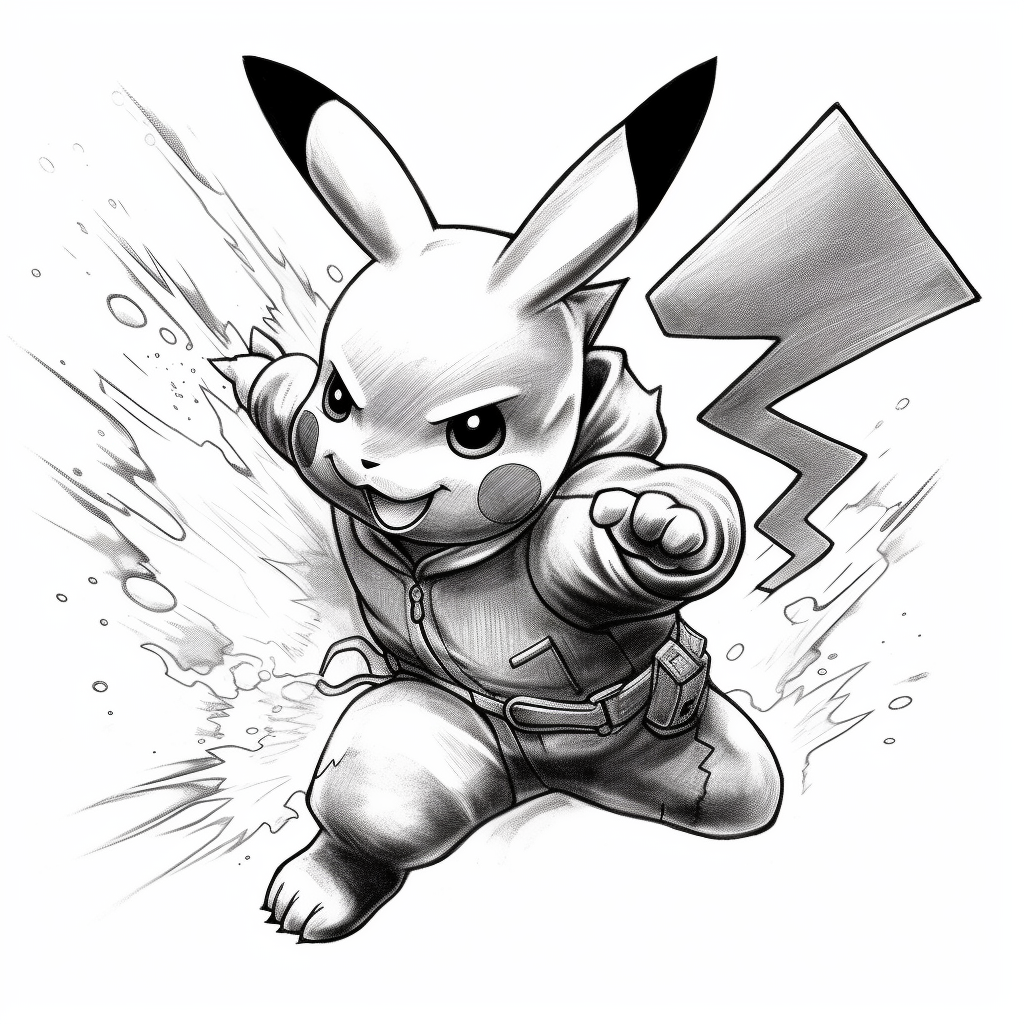 Color Pikachu's determined expression and charged-up energy. Use your colors to create an electrifying backdrop with lightning bolts and sparks.
18. Pikachu's Motorcycle
Color Pikachu as it rides a roaring motorcycle, showcasing its daring spirit.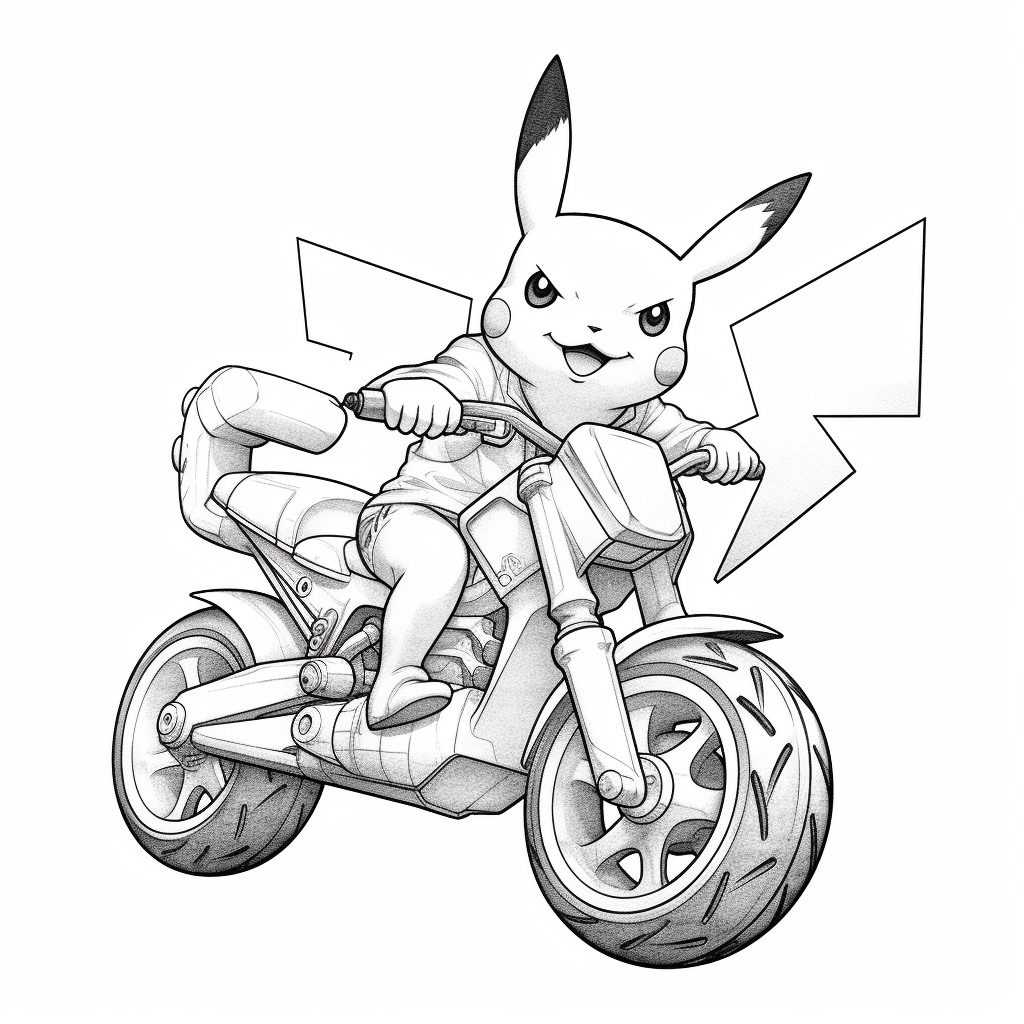 This is your chance to imagine where Pikachu is going. You could draw some winding roads and a scenic landscape. Or a big city with tall buildings and many cars on the road?
19. Pikachu's Snowboarding Trip
Check out Pikachu as he hits the slopes for an exciting snowboarding session: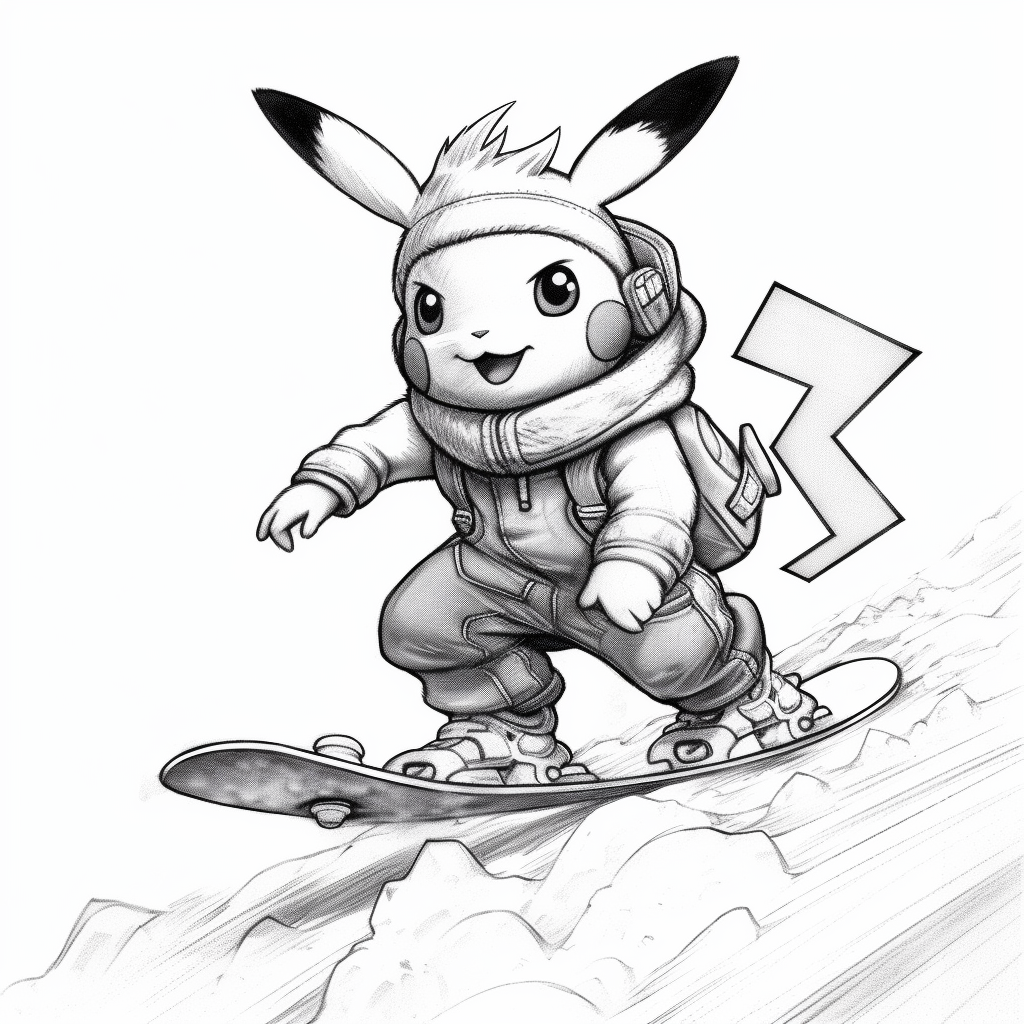 Create a snowy backdrop with snowy mountains and glistening snowflakes that will contrast with Pikachu's colorful snowboarding gear.
20. Pikachu's Time Travel Adventure
Color Pikachu as it embarks on an extraordinary time travel journey.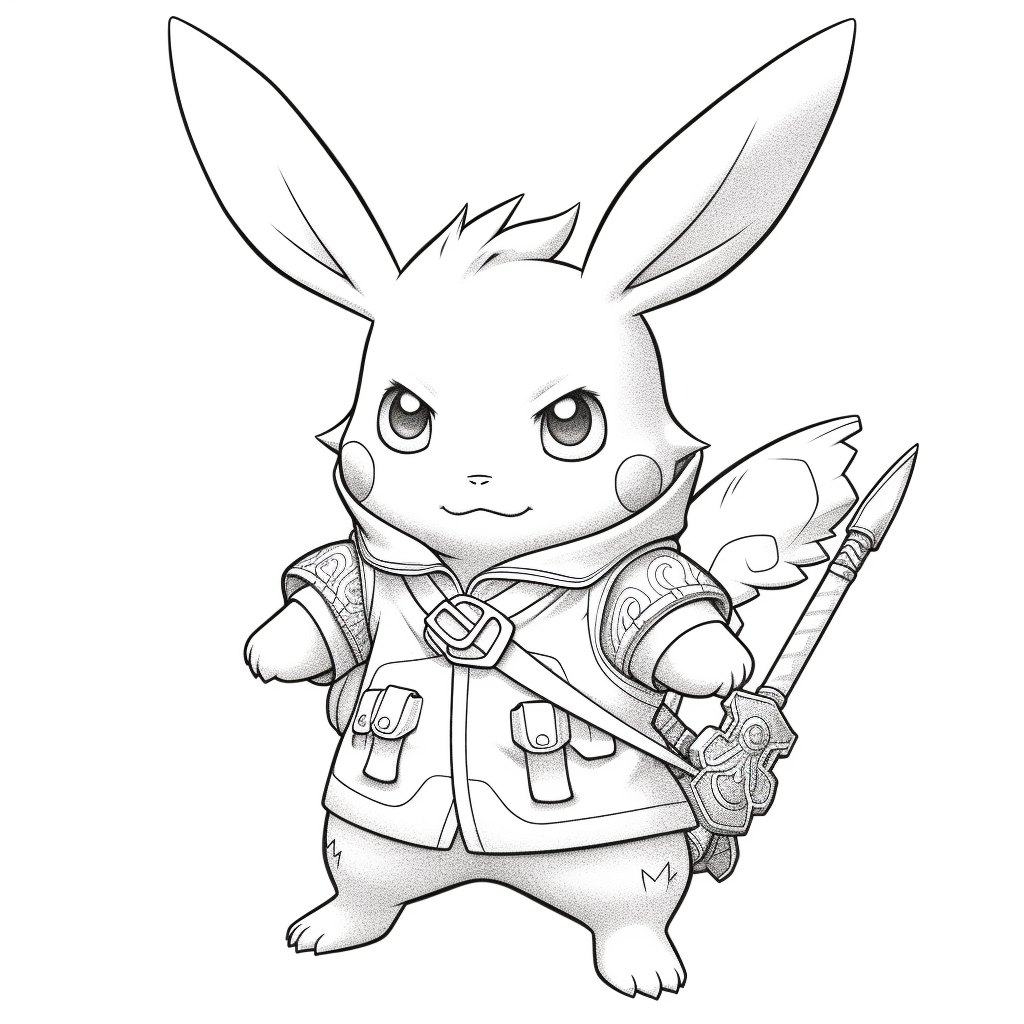 Design a backdrop with swirling time portals, ancient artifacts, and futuristic elements to bring Pikachu's time travel adventure to life.
21. Rock and Roll Pikachu
If Pikachu did play a musical instrument, it would have to be the Bass guitar!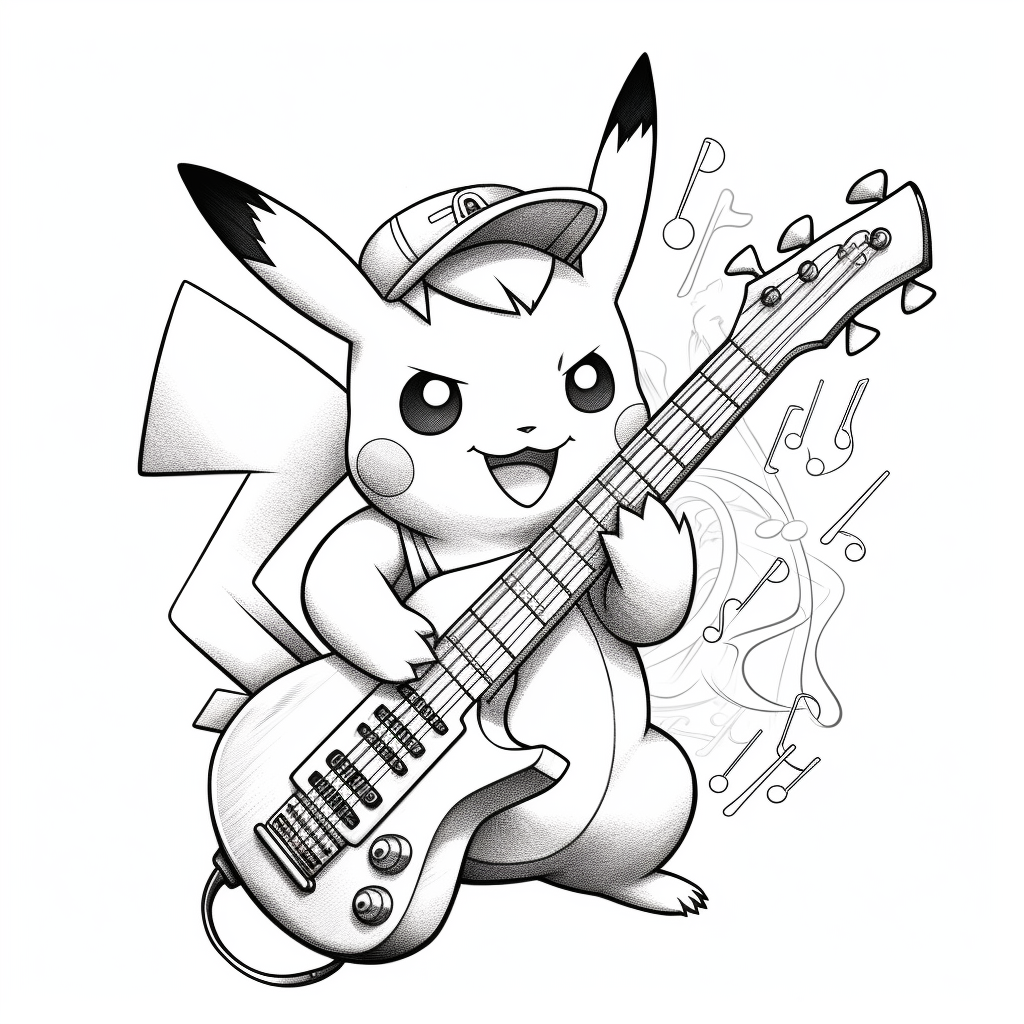 Have fun deciding the color of his guitar and imagining who else might be in the band. Squirtle anyone?
Did We Miss Any Iconic Pikachu Scenes?
I hope you have enjoyed this selection of Pikachu coloring pages, and that we have inspired you to bring Pikachu to life at home.

Do let me know in the comments below (or via email) if you have any ideas for other activities and hobbies we can bring to life with Pikachu when we update this page.
Want to try coloring other Pokémon characters? Check out our Pokémon coloring pages, including cool designs with Charizard, Squirtle, Bulbasaur, Mewtwo, Abra, and many others!