I wasn't a kid when Pokémon first reached the West. Back then, anime was considered content for children. Or at least it was in Argentina, where I grew up.
However, I wasn't new to anime. So, despite my age, I decided to go for it anyway. And I surely delved into the realms of those intriguing creatures, gyms and trainers with delight. I especially grew fond of how it portrayed friendship (human and Pokémon-human, naturally).
Pokémon was originally a Game Boy video game. Yet, it gained so much popularity with the anime that it quickly transcended the tiny Game Boy and TV screen to become movies, cards, collectibles of many sorts and games such as the world-renowned Pokemon Go.
As any Pokémon fan will know, there are tons of ways to catch'em all. Still, plushies have this charm about them. They can certainly be soft and cute, but they can also resemble real-life Pokémon to cuddle — that is, without worrying about Pikachu's electric discharge.
The thing is, there are countless alternatives out there. Much like Ash struggled to choose his Pokémon companion to start his journey as a trainer, deciding which plush can make great gifts is not an easy task. More so, given not all plush toys are crafted equal.
That's why I spent HOURS curating a list of the best Pokémon plushies available today.
The Top 3 Pokémon Plushies
| | 💰 FOR TIGHT BUDGETS | 🧒🏻 FOR YOUNGER KIDS | 🧒🏼 FOR OLDER KIDS |
| --- | --- | --- | --- |
| | Silver Pikachu 25th Anniversary Plush | Scorbunny Plush Toy | Pokemon Center Original Plush Koraidon |
| | | | |
| ✅ BEST AGE | 2 years and above | 2 years and above | 2 years and above |
| ❤️ PROS | An excellent option for kids who love collectibles | Perfect size and softness for little ones | Unlike other plushies, Koriadon's arms have joints; he's posable |
| 💔 CONS | It is more for decor and display than playtime | The joints are thinner than the rest of his body and a bit flimsy | It's not the cute and cuddly type (although it may be a plus for some) |
| 💵 PRICE | $51.33 | $22.99 | $22.99 |
Given there are over 1000 Pokémon and countless amazing plush toys, narrowing it down to a top three wasn't easy. So, if you didn't find what you were looking for in our top choices, I encourage you to keep on reading and discover our full list.
We even include a couple of alternatives for some of the most popular Pokémon to make sure you find the perfect plushie for the Poké-fan in your life.
---
Pikachu Plushies
There is little doubt Pikachu is one popular Pokémon. It was only fitting that his plushie headed our list. Plus, this gigantic Pikachu is seriously cute. Measuring no less than 24 inches, it conveys all of Pikachu's enthusiasm and charm. It is the perfect snuggling companion and, thanks to the generous amount of good-quality stuffing, it can also sit up straight on its own. Giant Pikachu makes the ideal showstopper both for play and display.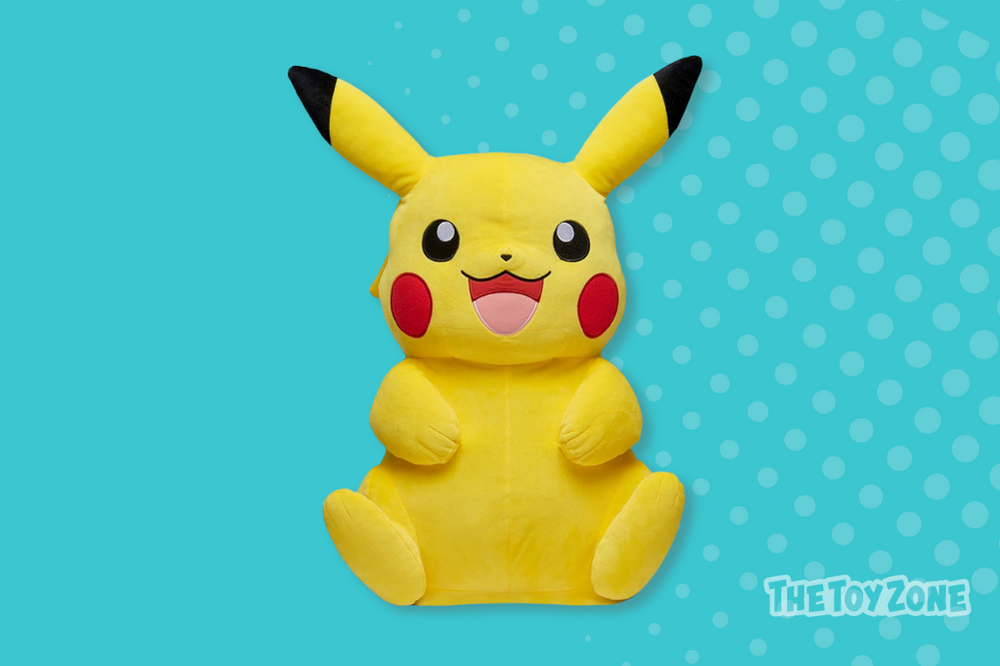 Recommended age: 2 years and above
What We Love:
❤️ It's well shaped
❤️ Made of high-quality, soft fabric and stitching
❤️ The details are embroidered
What We Don't Love:
💔 On the pricy side
💔 The top of the tail could be more securely stitched
💡TIP: If you or your Poké-fan would rather go for a smaller version of Pikachu, then these 8-inch options are as joyful and cute as the giant plush.
True, this isn't your typical plush toy. However, the Pikachu-shaped pillow does stand its ground when it comes to softness and cuddliness. The embroidered face ensures a soft and comfortable experience, while the pointy, long ears make it look like the real Pikachu. Besides, it's adaptable and a great buddy for multiple occasions; whether to cuddle during bedtime, lounge on the couch, or snuggle in the car during a road trip, this fairly sized and cozy pillow certainly won't disappoint.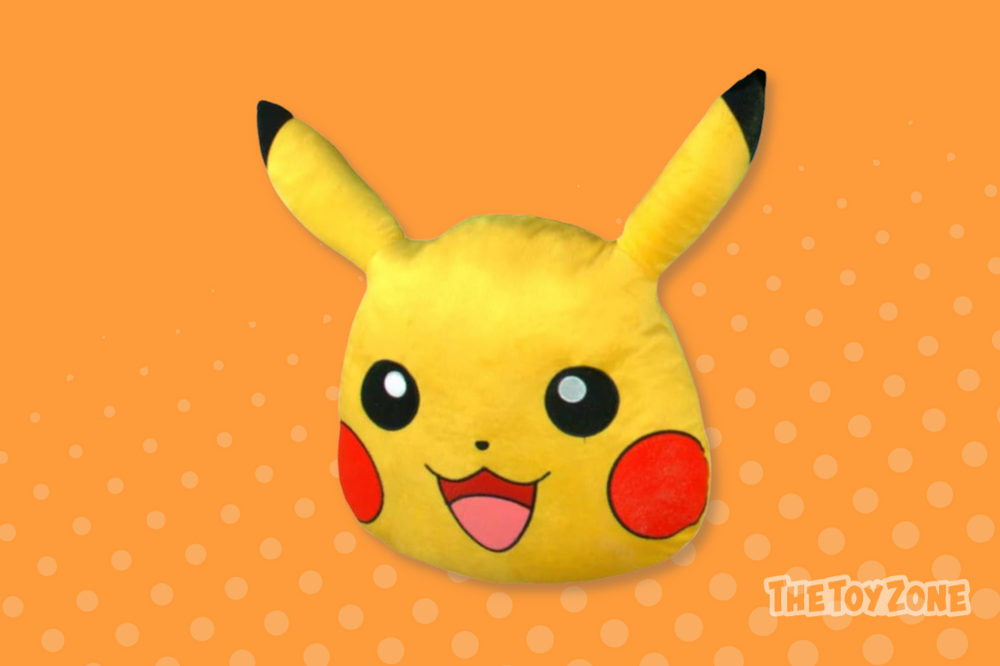 Recommended age: 3 years and above
What We Love:
❤️ Unlike other harder pillows, this one has the right amount of stuffing and squishiness
❤️ Great size for a pillow buddy
❤️ Exceptionally soft to the touch
What We Don't Love:
💔 It is more for decor/display than playtime
💔 It is hand-wash only
💡 Double up the fun with an Eevee plush pillow to match!
In order to celebrate the 25th anniversary, Pokémon released a line of silver limited edition plushies worthy of many-a-one stuffed collections. Crafted with a shimmering woven fabric, this stuffed Pikachu is not the usual soft Poké-plush but rather an item worthy of display. Its metallic appearance makes it an original collectible that will stand out from the crowd. Plus, despite being entirely silver, it is surprisingly detailed, with all of Pikachu's features neatly stitched.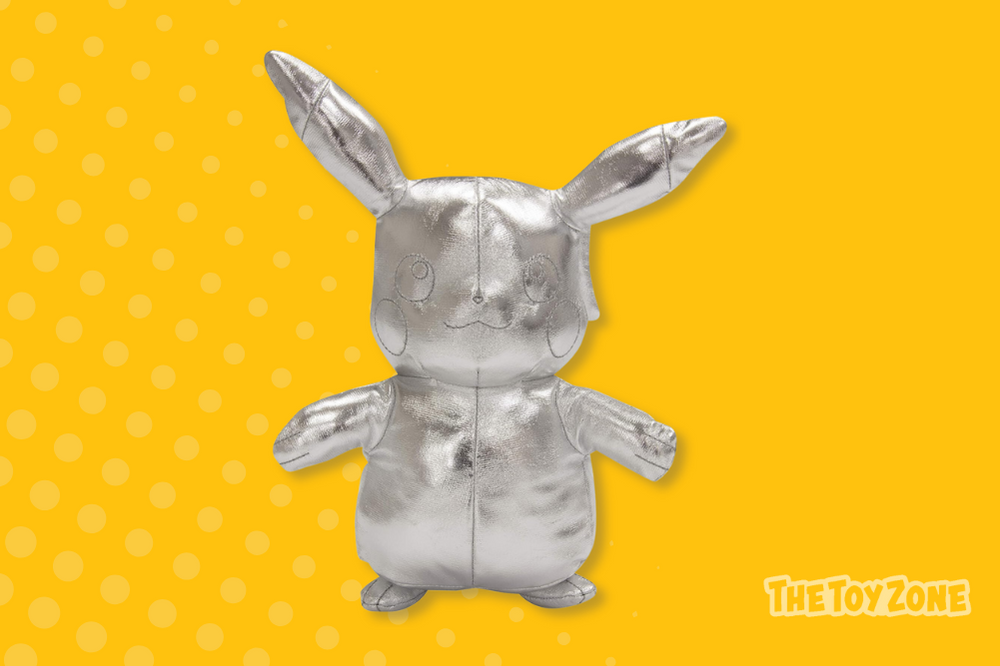 Recommended age: 2 years and above
What We Love:
❤️ An excellent option for kids who love collectibles
❤️ It has the perfect amount of stuffing
❤️ It doesn't collect dust
What We Don't Love:
💔 Good-quality build, although the material isn't exactly cuddly
💔 It is more for decor and display than playtime
💡If your kid is into collecting unique Pokémon plushes, then take a look at this Pikachu with adorable Spring vibes.
---
Charizard Plushies
Fierce and ferocious like a true Charizard, yet soft and well stuffed as a plush toy, this one makes a fantastic alternative to your everyday teddy. His fanned wings are flappy and velvety, so he's ready to fly with all of Charizard's momentum during imaginative play. He remains huggable in every way, though. Thanks to the long arms, he's even more perfect for holding on to. Don't mistake his gaze for an angry look; he's just cool and vigorous, like in the anime.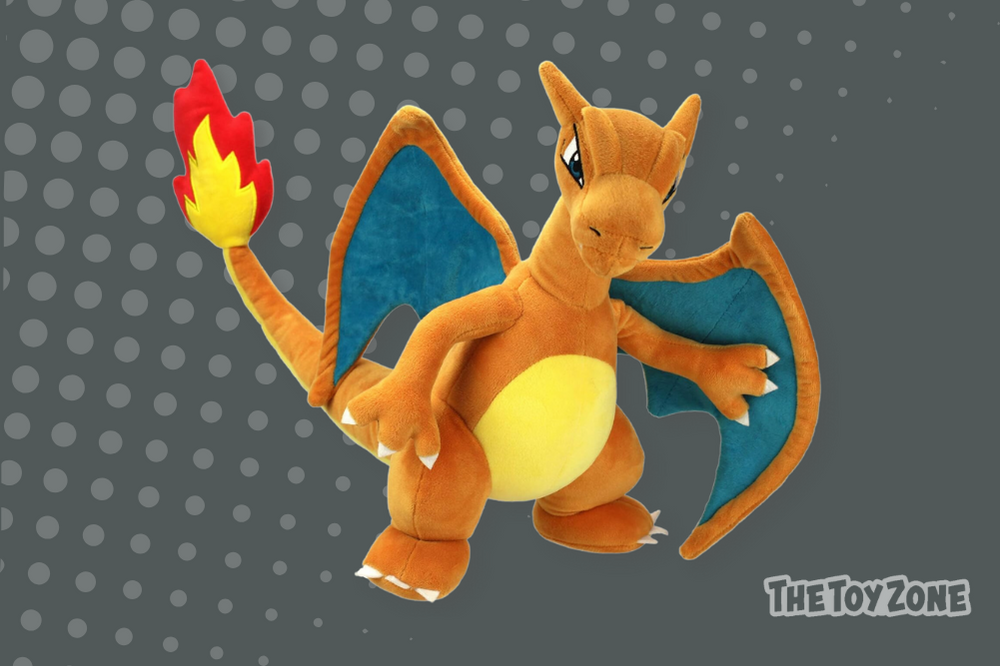 Recommended age: 2 years and above
What We Love:
❤️ Colors are bright and match those of the TV show
❤️ It's well crafted and can withstand rougher play and the passing of time
❤️ One of the best-looking Charizard plush toys out there
What We Don't Love:
💔 The long tail and neck can become flimsier over time
💔 To some, it was smaller than expected
---
Bulbasaur Plushies
A corduroy plush toy is a rare gem, a collector's dream. Yet despite the originality, corduroy Bulbasaur remains as soft and gentle to the touch as top-notch traditional plush toys. It's crafted with detail as well. The corduroy wales flow in the same direction in Bulbasaur's whole body, giving him a symmetrical and pleasant look. Plus, if you want to catch'em all, the corduroy limited edition features all three starter Pokémon from the core (Kanto) series, including Squirtle and Charmander, and all-time favorite Pikachu.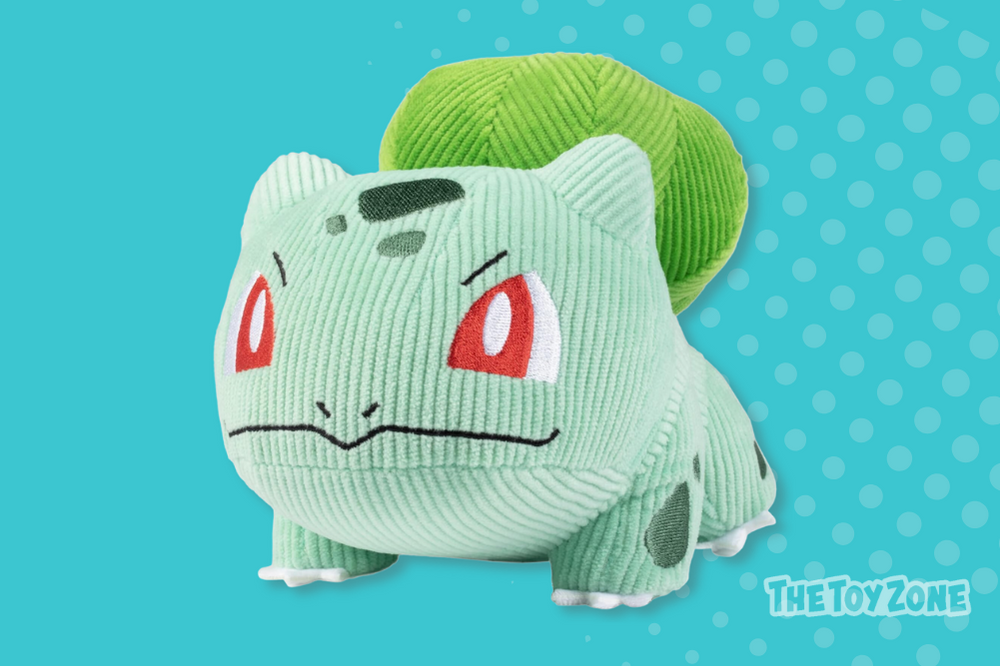 Recommended age: 2 years and above
What We Love:
❤️ The eyes, mouth and body scales are all embroidered
❤️ It's firm and well-stuffed to hold its form
❤️ Perfectly proportioned
What We Don't Love:
💔 As a special edition, it will only be available for a limited time
💡 Prefer the original Bulbasaur plush? Check out this alternative, with the same fine attention to details.
---
Charmander Plushies
With his adorable fiery tail and cheeky personality, Charmander is one beloved Pokémon among the Fire-type. That's why this Generation one starter Pokémon couldn't miss our list. We opted for this cute-looking Charmander with a heart-melting expression and a super soft plush. Plus, he's the perfect size to display, cuddle with and carry around.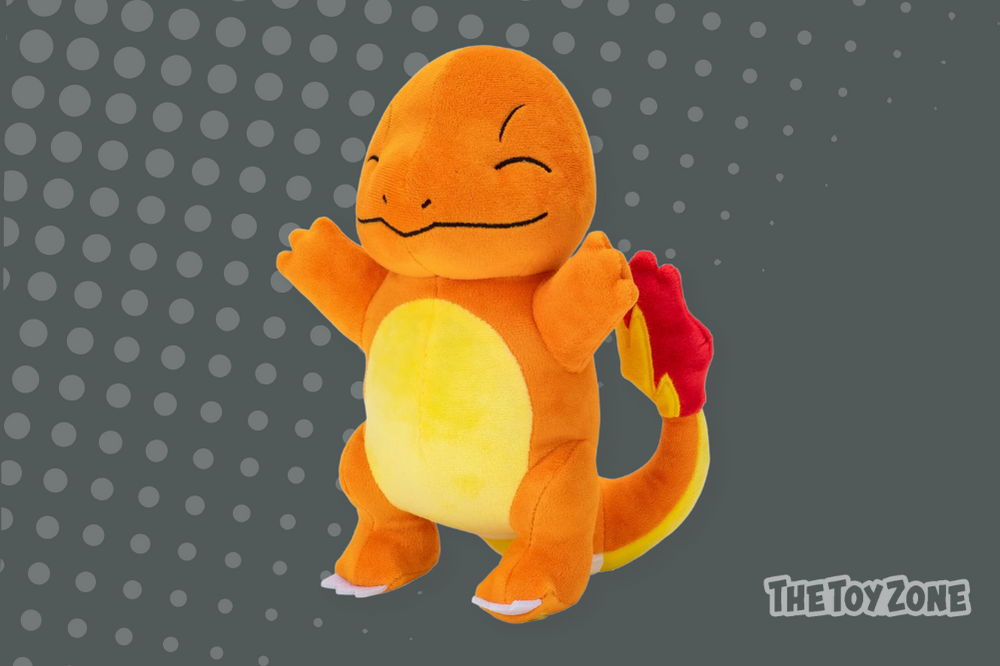 Recommended age: 2 years and above
What We Love:
❤️ He can stand on his own really well
❤️ The colors are nice and vibrant
❤️ There's a lot of attention to detail; he even has yellow pads with embroidered stitchings on his feet
What We Don't Love:
💔 Would be cool to see a larger option for Charmander
💔 He's a bit stubbier than his anime counterpart
---
Squirtle Plushies
Squirtle is one special Pokémon, as it was Ash's first choice to start his trainer journey. However, Professor Oak had already given Squirtle to someone else. Nevertheless, Squirtle remains a popular Pokémon — who could forget the Squirtle Squad. With this plush bundle, lovers of Water-type Pokémon get to double the fun with Squirtle and its evolved form, Blastoise. This plush set is perfect for playing out Pokémon evolution and seeing the smaller 8-inch Squirtle become the fully evolved 12-inch Blastoise. Both plushies are super soft and crafted with attention to detail, just as you'd expect of any worthy plush.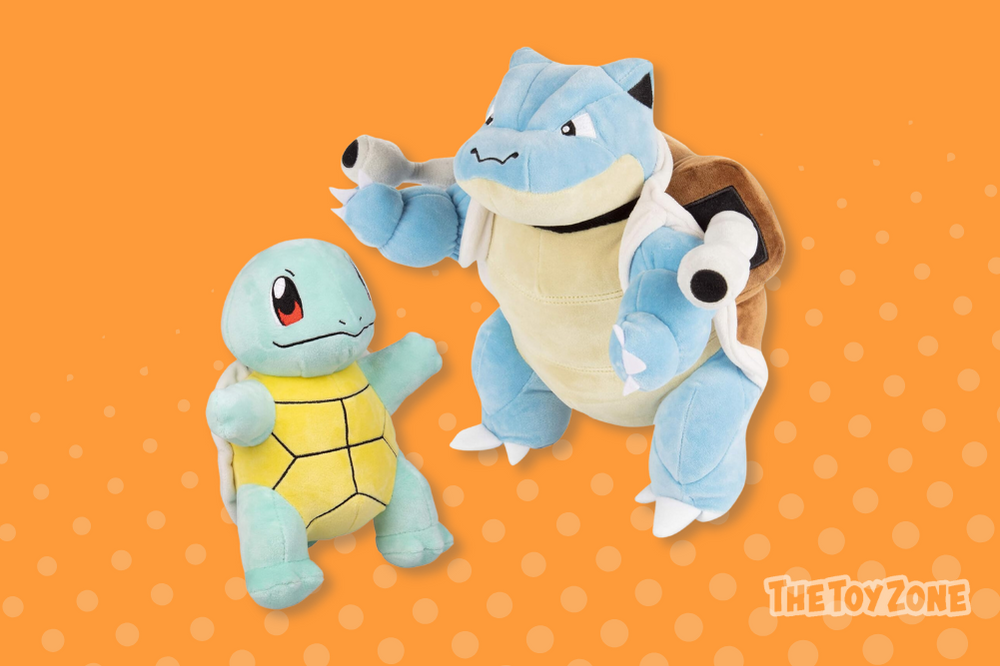 Recommended age: 2 years and above
What We Love:
❤️ They are well-scaled
❤️ Squirtle looks adorable next to Blastoise
❤️ Two plushies at a great price
What We Don't Love:
💔 Would have been nice to see Wartortle included for a complete evolution pack
💔 Squirtle colors could be a tad more vibrant
💡TIP: If you're into bundles or can't decide which iconic 1st Generation Pokemon to opt for, why not get all three
---
Squishmallows Plushies
Before I jump into our recommended Pokémon Squishmallows plushies, let me tell you a bit more about the manufacturers behind this line of plushies.
There are two types of Pokémon Squishmallows out there: Jazware (which has the Squishmallows license) and Pokémon Center (a trusted store by many Pokémon collectors).
Both ranges have things in common:

They are both made with high-quality materials. They are soft, have excellent embroidered features and come with resistant stitching.

They are both Pokémon officially licensed products. Jazware has the Squishmallows license, and Pokémon Center launched their own line of Squishmallows-looking plushies.
The biggest differences between the two are that:

☝️The Pokémon Center plushies are a bit bigger than the Jazware plushies
✌️The Pokémon Center plushies are the only ones that feature the Pokéball logo
And that's it. I have shortlisted Pokémon Squishmallows plushies from both manufacturers as they both have awesome designs.
The Pokémon-Squishmallows collab has recently taken the plush world by storm. And there's no doubt why. Squishmallows are extremely huggable and soft and have an unrivaled squishiness. That's why they are a great fit with chubby, peaceful Snorlax — the perfect Pokémon to cuddle at bedtime. Plus, measuring 10 inches in height, it will also make for a super-soft accent pillow to add style and personality to any room.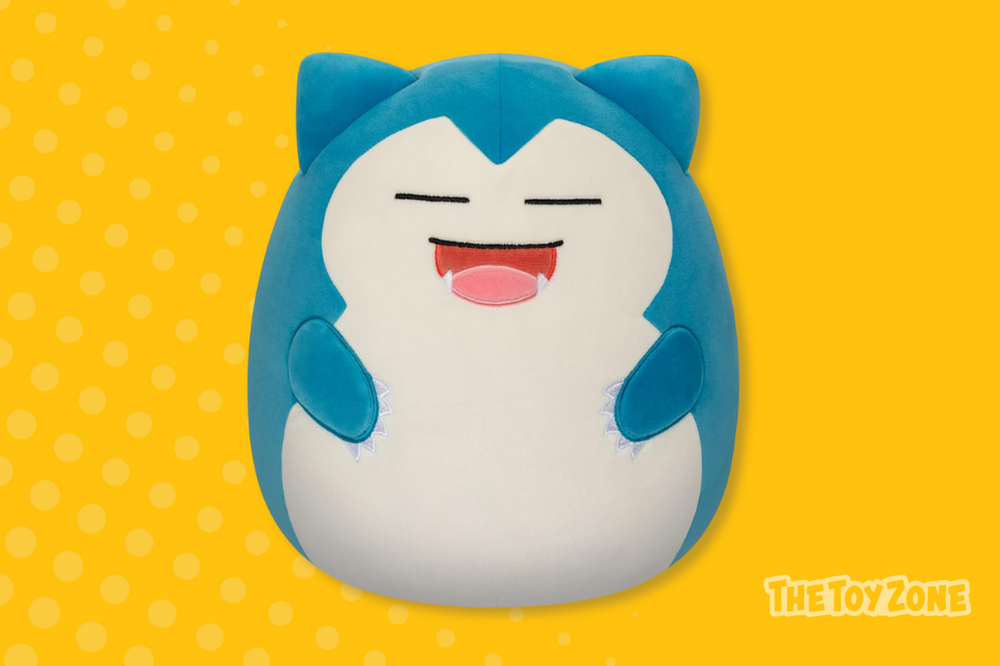 Recommended age: 2 years and above
What We Love:
❤️ His expression of contentment is incredibly adorable
❤️ It's a versatile plush
❤️ Worth of collection
What We Don't Love:
💔 Pokemon Squishmallows run out of stock very quickly
💔 It comes vacuum sealed so it can be a bit wrinkly right after removing it from the package
Misty and Togepi are another favorite Pokémon duo. And although this 20-inch Togepi is sized far from its anime counterpart when it comes to Squishmallows, the bigger, the better! Displaying all of Squishmallow quality, Togepi is perfect for snuggling up to, day or night. Plus, it will stand out in any Squishmallows collection.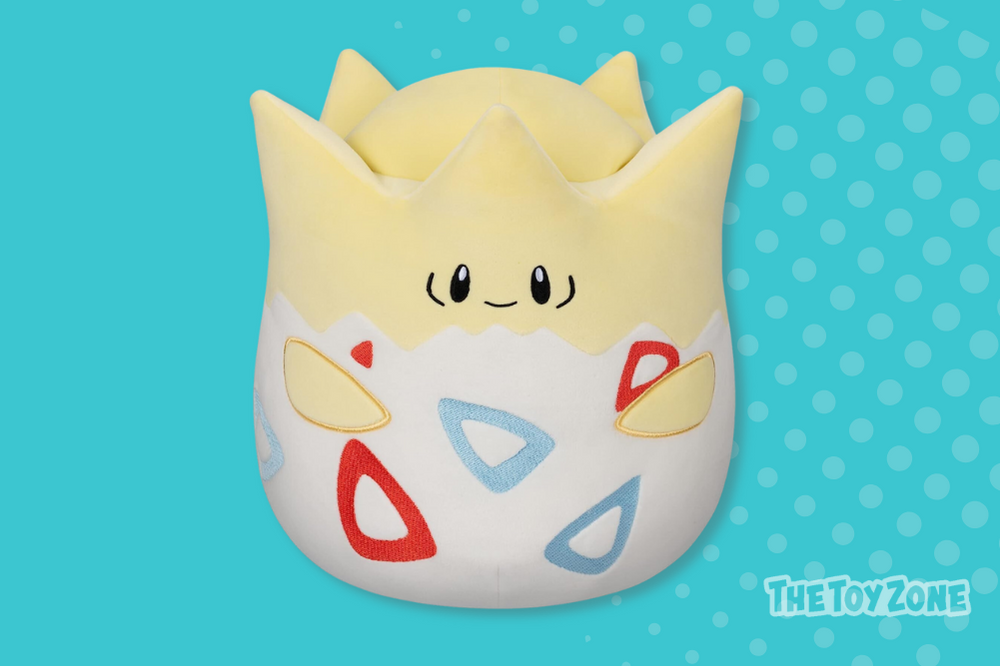 Recommended age: 3 years and above
What We Love:
❤️ All the details in his body are embroidered, adding different textures for a pleasant sensory experience
❤️ Has a more than fair amount of squishy stuffing
❤️ The colors are accurate
What We Don't Love:
💔 It's an expensive one
💔 It can be a heavier than expected
---
Dragonite Plushies
Dragonite's kindhearted personality is well captured by this 12-inch plush toy that looks like he's waving at you. However, this legendary flying dragon is actually one of the most powerful Pokémon, capable of flying faster than the speed of sound. This makes Dragonite an excellent option for those who love to role-play with their plushies. Plus, his wings are not stuffed like the rest of his body, so they can flap freely in the midst of a battle, adding to a more realistic feel.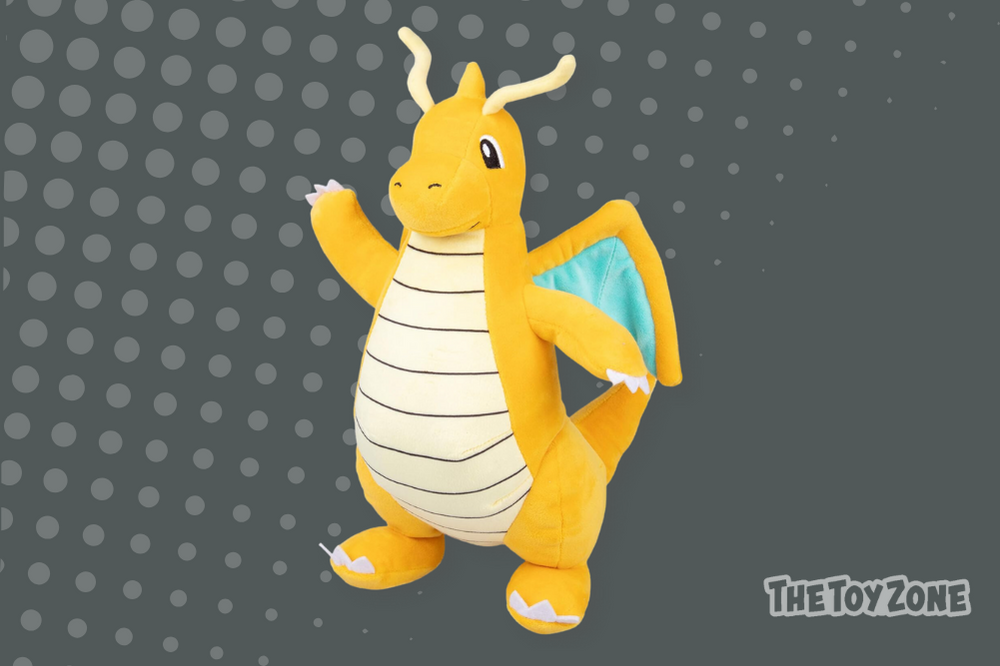 Recommended age: 2 years and above
What We Love:
❤️ Bigger than regular 8-inch Pokémon plush toys
❤️ It's machine washable
❤️ Even his antennae are made of soft, plushy material
What We Don't Love:
💔 Would be cool to see an even bigger version to match Dragonite's strength
💔 When standing, the wings can droop a bit
💡TIP: Looking for a smaller option to add to your collection? This seated Dragonite is super cute at 6.5 inches tall.
---
Lucario Plushies
One of the most popular 4th generation Pokémon, Lucario was first seen on the screen in the Pokémon: Lucario and the Mystery of Mew movie. He was one of the first to get his own movie despite not being a Legendary Pokémon, which made him a hit ever since. That's why Lucario had to be on our list with this plush that accurately captures his tough-sensitive personality and black-and-blue canine-like features. Thanks to the attention to detail, it is a fine plush to collect and display, although his huggability is beyond doubt.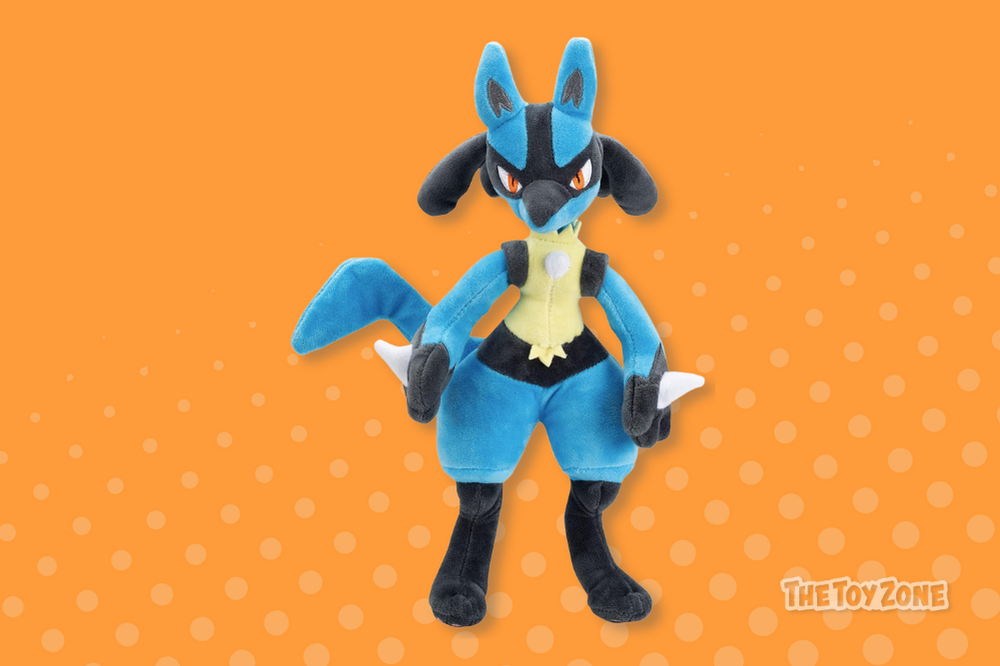 Recommended age: 2 years and above
What We Love:
❤️ Lucario looks like he just came out of the anime
❤️ Love the way the black appendages hang naturally from his head
❤️ The colors are accurate and vibrant
What We Don't Love:
💔 It would be nice to see him in a more posable version
💔 His tail could be improved with some more stuffing
---
Mimikyu Plushies
This is not an old, ragged Pikachu plush but one lonely Pokémon who wants to be liked above all things. Mimikyu (a phonetic identic match for "mimic you") disguises himself as Pikachu to hide his true form, which is said to be horrifying and a curse for those who see it. Despite his quirky looks, Mimikyu awakens empathy; a plushie is a means to hug, pamper and give love to this little guy. The heavy Pikachu-like head is rather heavy, making the Mimikyu plushie unable to stand right, which, in turn, adds to the awkward-looking cuteness.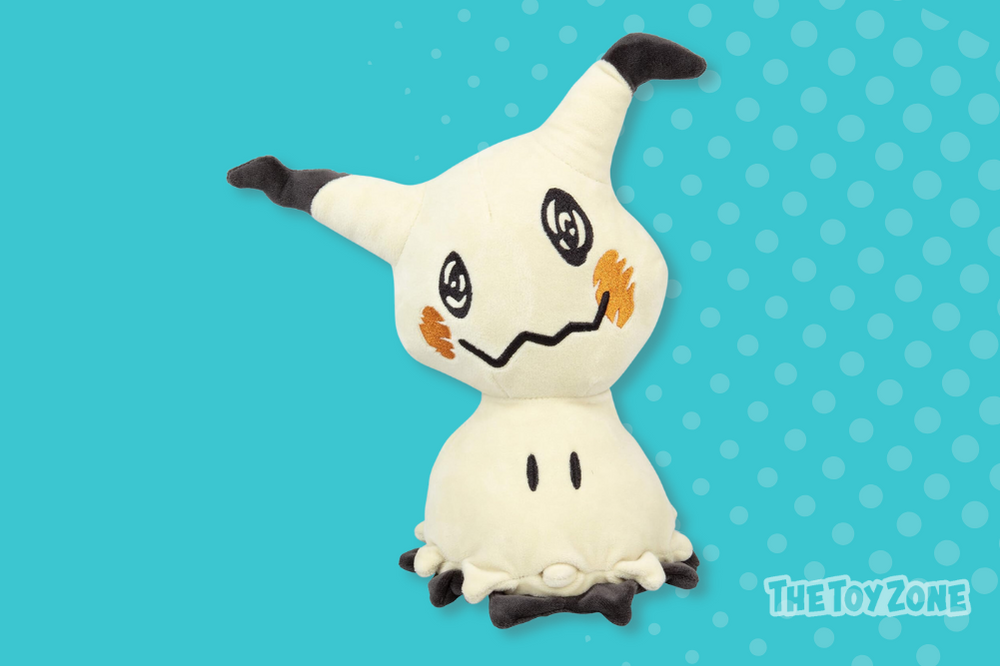 Recommended age: 2 years and above
What We Love:
❤️ There's a nice firmness to it
❤️ The muted color palette is true to his anime's counterpart
❤️ Expertly stitched and crafted
What We Don't Love:
💔 He can be a bit too much on the spooky side for younger kids
💔 For those who want Mimikyu for display, the fact that he cannot stand up straight may be a drawback
💡TIP: Fans of the Alola region or Pokémon Sun and Moon games will also appreciate an adorable Rowlett plushie, another nice addition to their collection.
---
Raichu Plushies
To delve a little further into Pikachu-related plush toys, it feels only fit to continue our list with this stuffy Raichu. Fans of Raichu will appreciate the slightly tilted, well-shaped ears that grant him an adorable look. His arms and tail are carefully stitched to the body, which is a nice touch as they stand naturally in place, making it perfect for display. Plus, the colors are a great match to the animated version.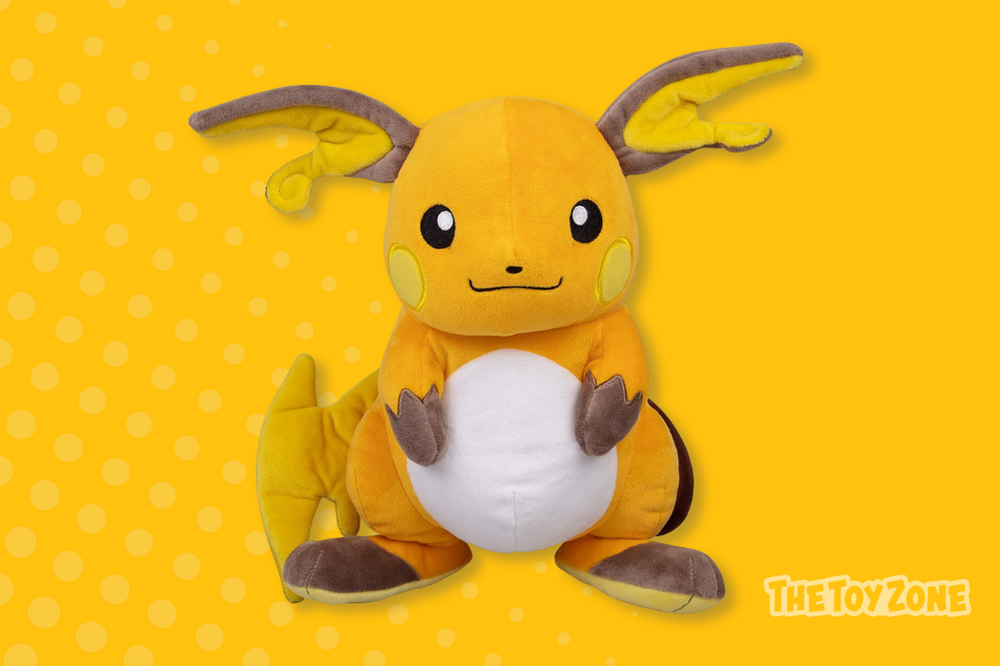 Recommended age: 2 years and above
What We Love:
❤️ His stand is perfectly cute
❤️ He's not at all heavy for the size
❤️ Big enough to snuggle with
What We Don't Love:
💔 It's worth noting that the 12-inch height is from his foot to the top end of the ear, not to his head
💔 For the debatable 12 inches, to some, it is on the pricy side
---
Paldea Plushies
Suppose you are shopping for a player about to embark on their Pokémon Scarlet and Violet journey but are yet unsure which Pokémon to choose as their starter. What could be better than a set of the three starter Pokémon plushies for the Paldea region? Measuring eight inches each, Fire-type Fuecoco, Water-type Quaxly and Grass-type Sprigatito have the most pleasant softness and all their features are carefully embroidered. Well-stuffed and super cute, this trio is a smart addition to any Paldea fan's collection.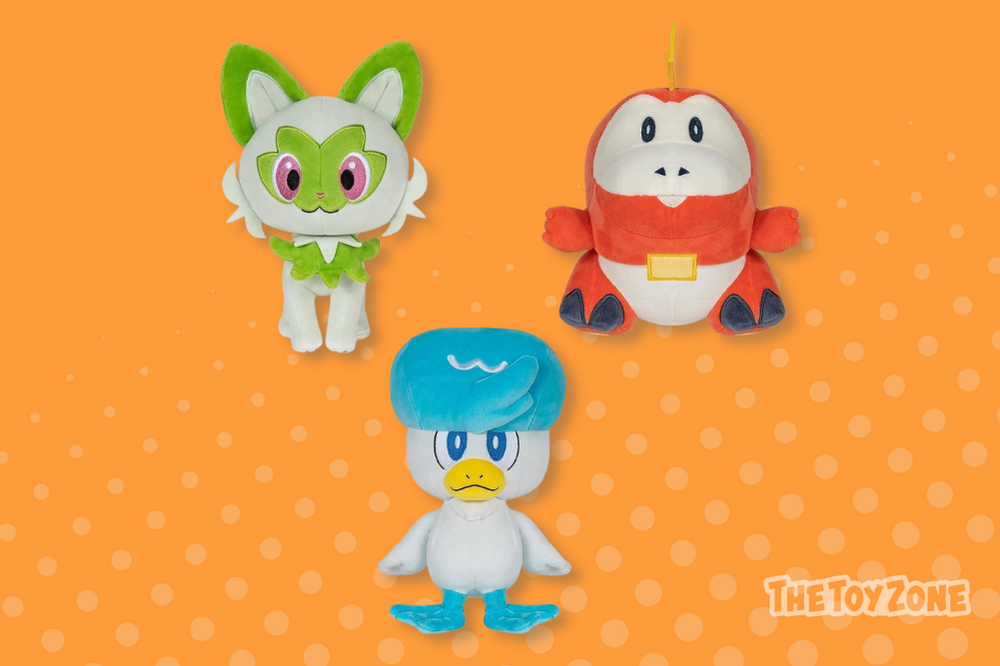 Recommended age: 2 years and above
What We Love:
❤️ Sprigatito's whiskers are not stuffed, but that makes them look more like the anime
❤️ It's nice to see Quaxly standing
❤️ Fuecoco and Sprigatito can stand on their own
What We Don't Love:
💔 Great value for three plushies, but we wish they were a tad bigger
💔 It would be nice to see Fuecococ with this mouth open
Paldea is inspired in the Iberian Peninsula, so it comes as no surprise that one of the legendary Pokémon of the region ostents bold-red bullfighter-like features. Koriadon (korai means ancient in Japanese) is a dragon-type known for its impressive strength and ferocious fighting style. This plush toy makes justice to all of his might and fierceness, standing tall in his full power at 17 inches and displaying great attention to detail in his intricate morphology. For a complex Pokémon like Koriaidon, this plush boasts a meticulous and solid build.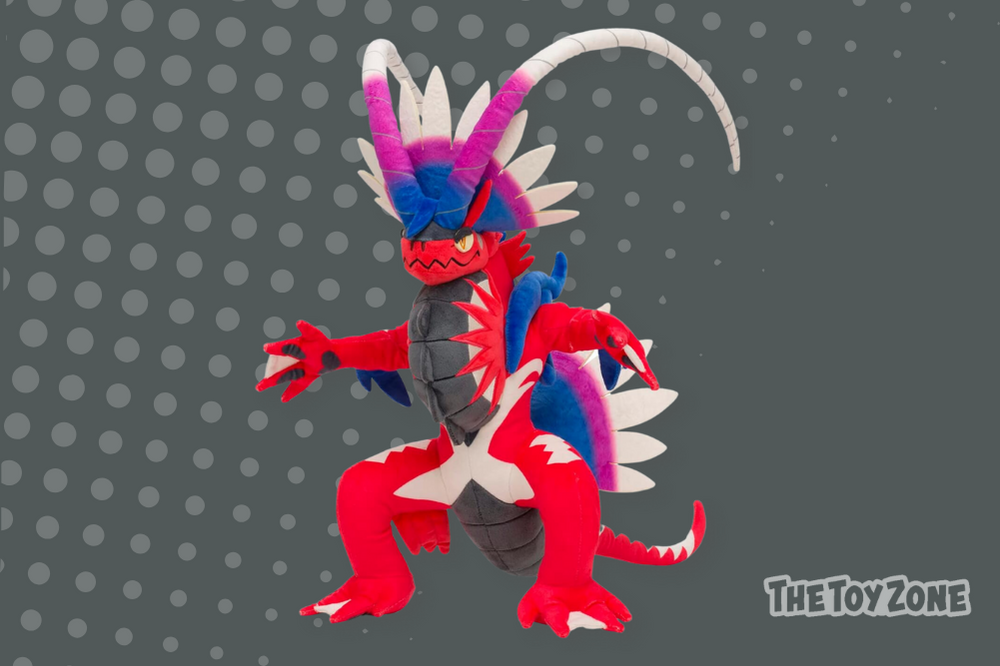 Recommended age: 2 years and above
What We Love:
❤️ Unlike other plushies, Koriadon's arms have joints; he's posable
❤️ Colors excel on this one
❤️ It has playability and yet it is an excellent display item
What We Don't Love:
💔 It's not the cute and cuddly type (although it may be a plus for some)
💔 The feathers look oddly stiff
Ok, Dratini is not a Pokemon original to Paldea (you got me!). In fact, this Gen I Pokémon made its first appearance in the Red and Blue games. But Pokémon games continue to be released and in the IX generation Scarlet and Violet, Dratini remains one valuable catch. In Japanese culture, dragons are mythical creatures who bring good luck. Dratini's cute plushie is ready to be your lucky charm.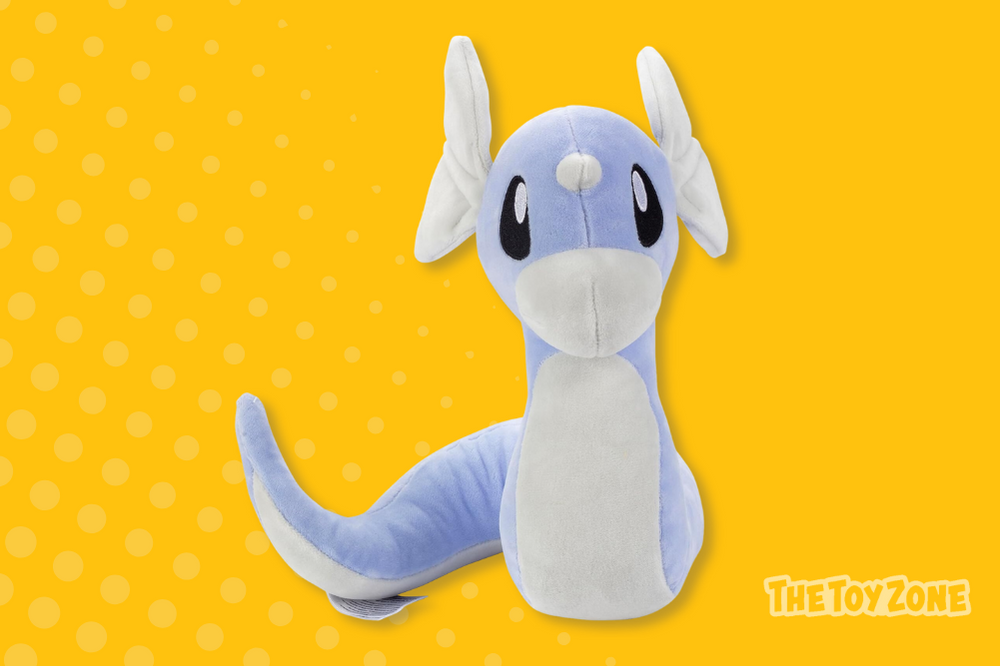 Recommended age: 2 years and above
What We Love:
❤️ It's nice to see the tail doesn't curl up too much to the body
❤️ It's the right size to carry around everywhere
❤️ Draniti's stuffed white fins are perfectly shaped
What We Don't Love:
💔 Wish the eyes had Dratini's purple shade
---
Greninja Plushies
From humble beginnings as Froakie, Greninja has evolved into the ultimate stealthy warrior, full of wisdom and grace –no wonder he was chosen the 2020 Pokémon of the Year. His plush toy form matches his flair, complete with webbed hands, a pink tongue scarf wrapped around his neck and a velvet-soft fabric. He's not rigid but has bendable arms and legs, which is a refreshing approach to Pokémon plushies.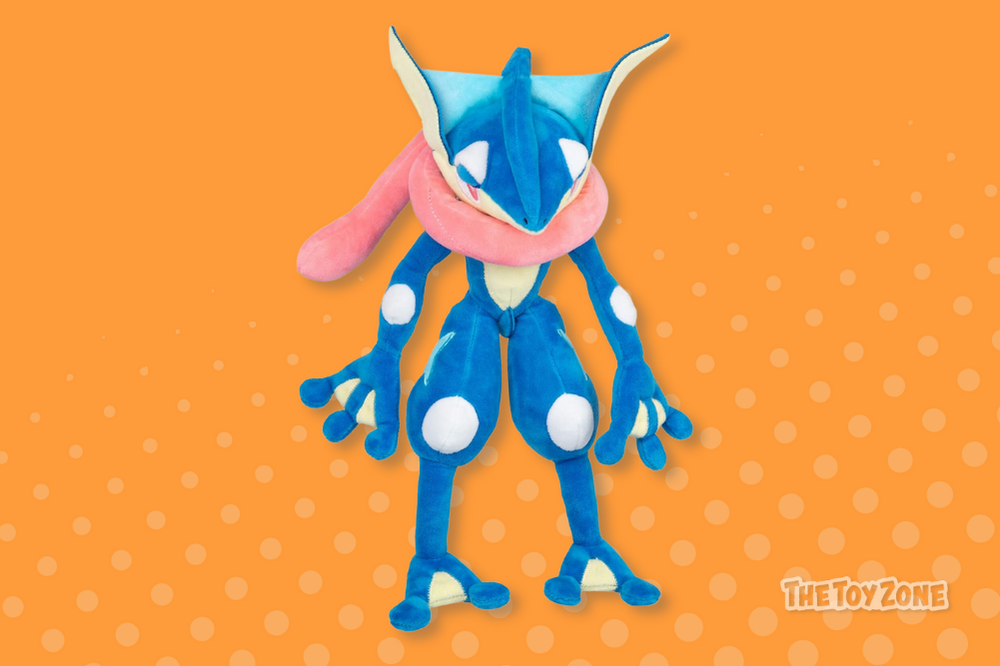 Recommended age: 2 years and above
What We Love:
❤️ Despite being bendable, he is one rugged plush toy
❤️ Has a nice size, standing 12 inches tall
❤️ He is particularly soft
What We Don't Love:
💔 His nose is a tad too pointy
💔 Structurally, he's a tad floppy
---
Scorbunny Plushies
Starter Pokémon usually have this cuteness about them. This lively bunny easily fits the bill with his adorable touch of mischievousness. The stand and smile on this plush convey his eagerness to be cuddled and readiness to join little ones on their adventures. His big ears are shaped to match Scorbunny's to the spot with the vibrant colors that characterize this fire-type Pokémon, while the pads on his foot are embroidered and ready to make some legendary fire kicks.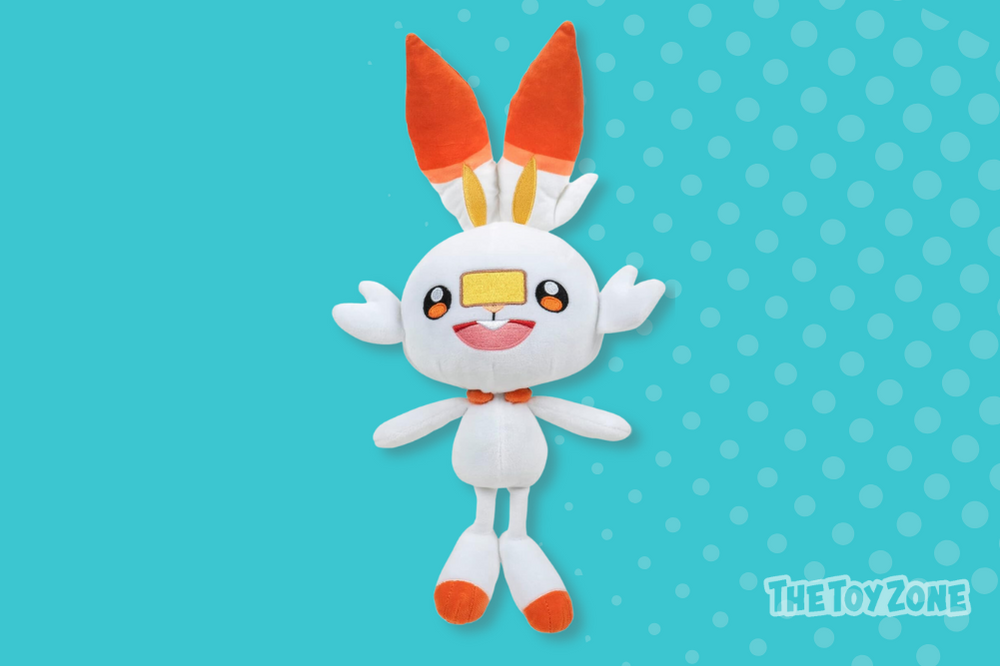 Recommended age: 2 years and above
What We Love:
❤️ It can be machine washed, which is quite convenient in a white plush
❤️ Perfect size and softness for little ones
❤️ He is one photogenic plush
What We Don't Love:
💔 The joints are thinner than the rest of his body and a bit flimsy
💔 His head is the heaviest part
💡TIP: Looking for more iconic Pokemon from the Galar region? Check out this Grookey, Sobble, & Scorbunny Plushie 3-Pack.
---
Plushie Multi-packs
These may not be the typical stuffed toy, but they can certainly add so much fun to any Poké-plushies collection. Kids can cast the super soft Pokéballs at their Pokémons and pretend to be real trainers. With a weight made of beans at the bottom, these plushies will land side up, just like a real Pokéball would in the midst of battle. Plus, featuring a regular Poké Ball, Ultra Ball, Master Ball, Quick Ball and a Luxury Ball, there is a variety to suit many preferences.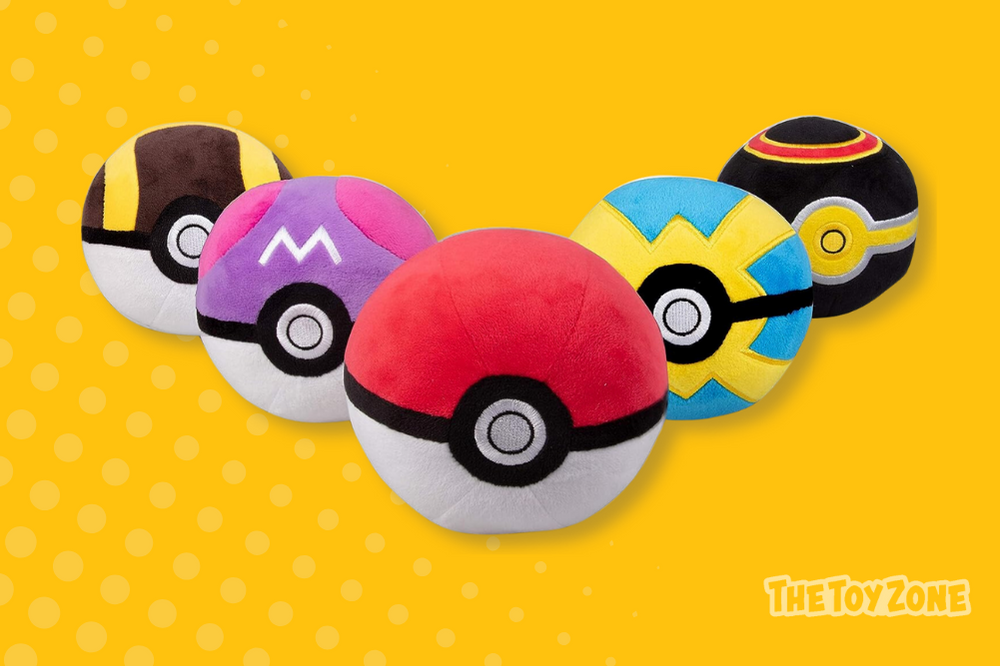 Recommended age: 3 years and above
What We Love:
❤️ Great pack to recreate Pokémon battles
❤️ Nice, realistic size also apt to throw around the house
❤️ An original approach to the Pokémon plush universe
What We Don't Love:
💔 The beans at the bottom can hurt a bit if the Pokéball is thrown with force
💔 It would be nice to see a six-pack, the amount of Pokéballs trainers usually carry
Fans of Eevee are in for a real treat with this set containing three of his possible evolved forms. Eevee has some remarkable genetics that allows him to evolve into eight different forms depending on his environment and surroundings. Sylveon, Espeon and Umbreon are perhaps three of the most iconic, spanning the 2nd and 6th generations of Pokémon. Each plush has a structured design and impeccable embroidered details. They are ideal for playtime, cuddle time or display.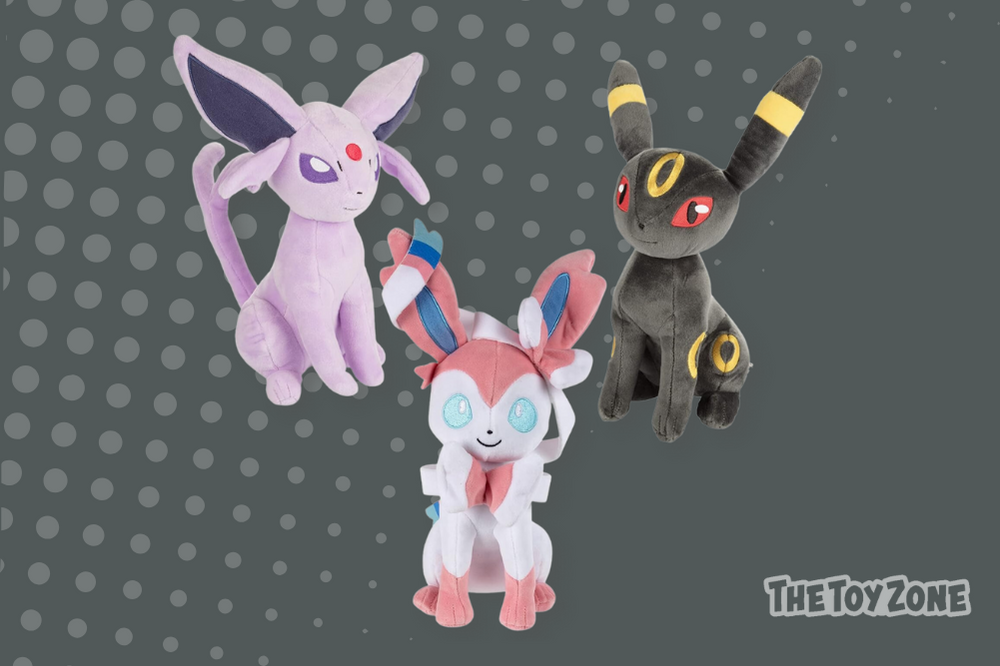 Recommended age: 2 years and above
What We Love:
❤️ Great value for three plushies and a smart choice to expand any Eeveelution collection
❤️ They can sit up on their own despite being heavier at the top
❤️ Extremely soft
What We Don't Love:
💔 Would be nice to see them standing on their four legs
💔 More of a niche set for those who are familiar with Eevee evolutions (or Eeveelutions)
These three little guys are a gem. Sleepy Pikachu, Riolu and Igglybuff are as small as 5 inches each, fitting in the palm of your hand and as soft as it get. Their cute looks depict how much they are enjoying their slumber, delving into the world of dreams. Perfect bedtime companions, they are also worthy of display as their peaceful expressions will make you feel at ease no matter what.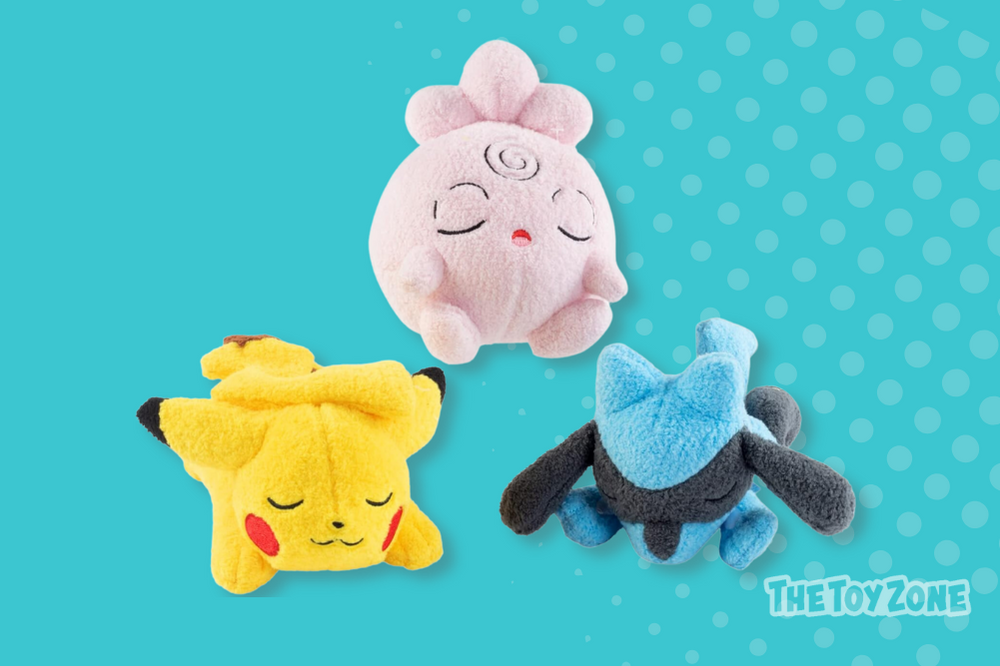 Recommended age: 2 years and above
What We Love:
❤️ As small as these are, these are also perfect to put in your pocket and carry with you
❤️ The fluffy texture fits them better than a regular plush fabric
❤️ It's nice the colors are a tad muted for these ones
What We Don't Love:
💔 It's an unusual assortment of Pokémon
💔 Would be nice to see a bigger version of these
---
Assorted Plushies
Eevee is up there with the cutest of Pokémon, loved by many and featured across numerous generations. His heartwarming personality is beautifully captured in the expression and softness of this plush. The floppy ears and squishy stuffing make it an ideal cuddling companion, although this Eevee can also stand on its own if you're more into a display approach.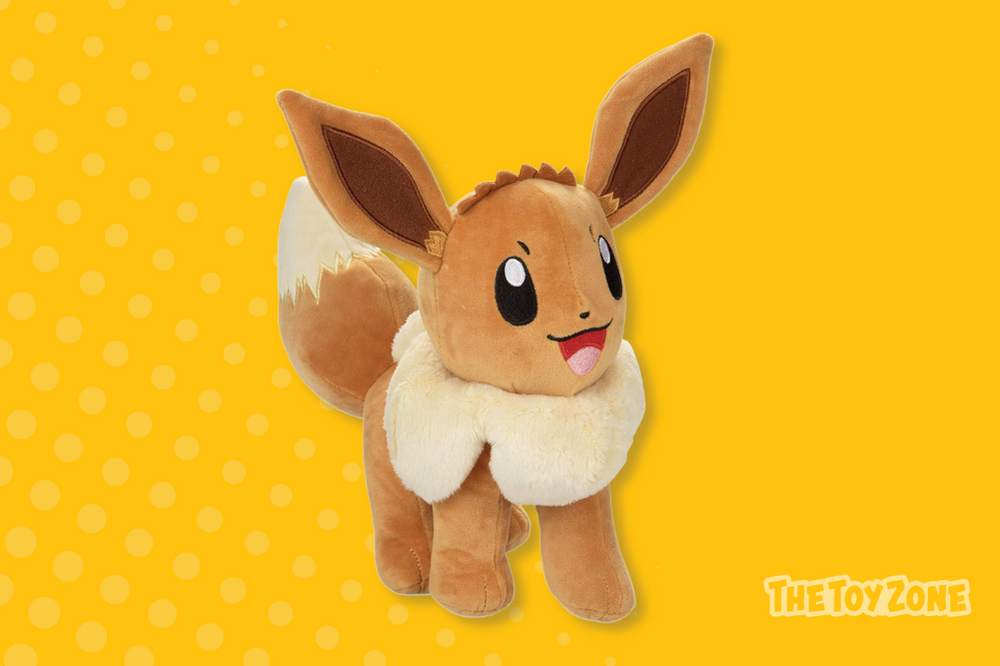 Recommended age: 2 years and above
What We Love:
❤️ The different textures are a nice touch
❤️ The colors are perfectly accurate
❤️ Has an adorable stand, as if waiting for you to approach him
What We Don't Love:
💔 Unlike the images posted by the seller, Eevee's ears don't stand straight on their own.
💔 The 12 inches are from tail to head, not the plushie's height
There's no Slakoth enjoys his sleep –in fact, he can sleep up to twenty hours a day. But what better than a sluggish Pokémon to turn into a soft plush to cuddle with at night? His lying position, droopy eyes and loose smile are ideal for getting into the bedtime mood. His arms, lying naturally beside the body, can be slightly bent to hug this little buddy to sleep.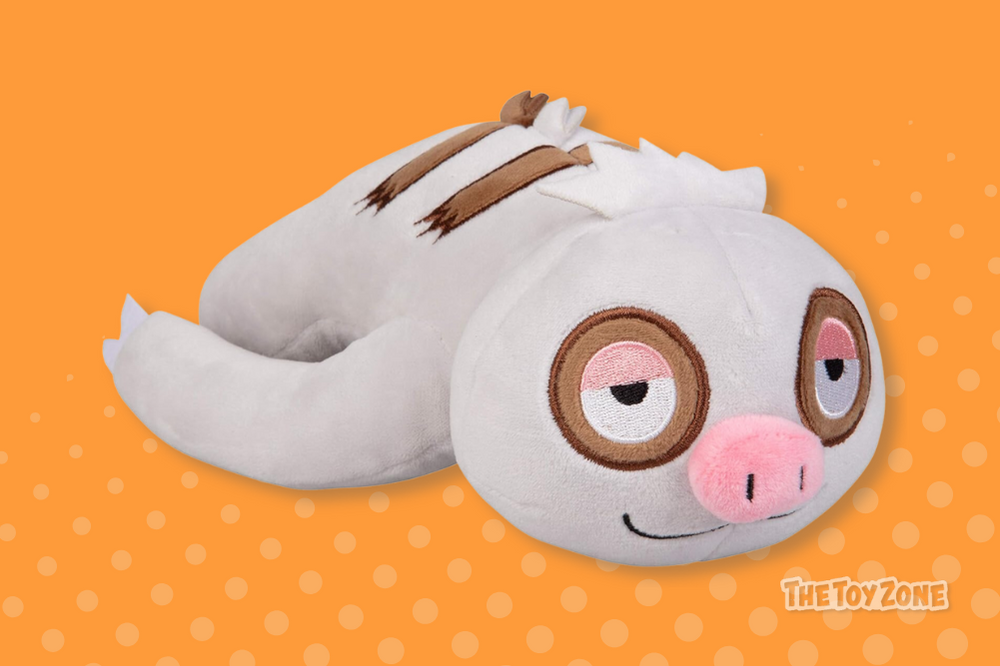 Recommended age: 2 years and above
What We Love:
❤️ He looks cool resting in random places, great for taking photos
❤️ Has his fair amount of details, even has a pink tummy
❤️ He's less expensive than your average 8-inch plush
What We Don't Love:
💔 Fairly niche characters may not be as recognizable to newer fans of the franchise
💔 To some, it was smaller than expected
Like many Ghost-type Pokémon, Gengar is devilish and mischievous, capable of going the extra mile for a little prank. His naughty personality and terrifying looks are so perfectly captured by this plush that it would be a fantastic choice only for the bold ones. Still, despite his glowing red eyes and iconic sinister grin, he remains soft and squishy as a top-notch quality plush should.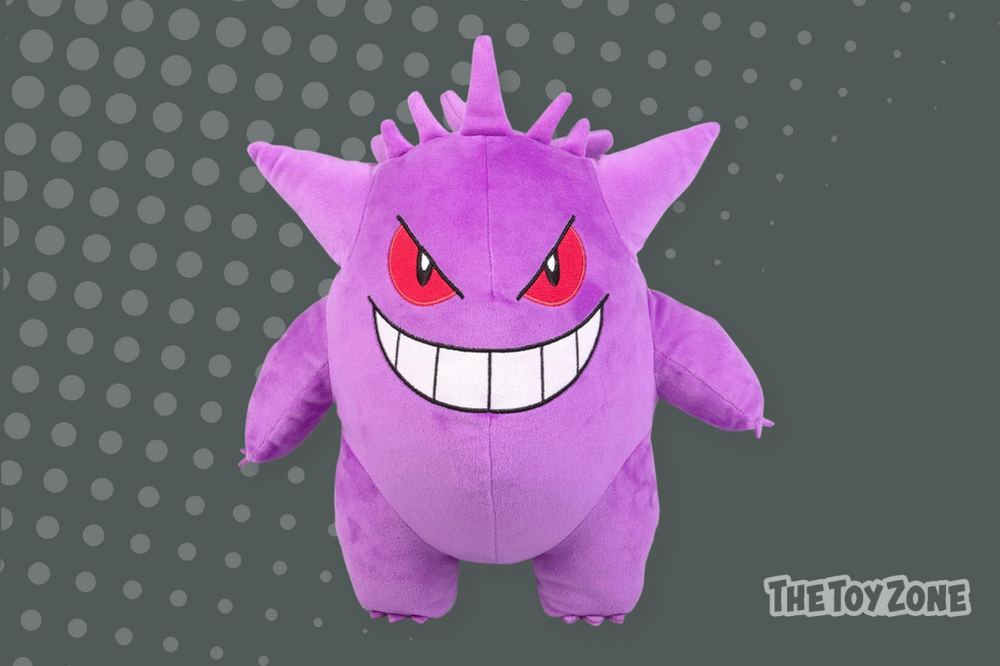 Recommended age: 2 years and above
What We Love:
❤️ He's very well proportioned
❤️ There is so much detail to his spikes
❤️ He can stand really well on its own, despite his round, chubby body
What We Don't Love:
💔 Can be genuinely terrifying
💔 The purple color looks a better match for Haunter than Gengar
💡TIP: Fans of the original Kanto region may also love this Mew's plush form, adorably sized at mere 5 inches.
To complete this list, a Pokémon that can be all Pokémon. Ditto's wobbly nature allows for a versatile, squishy plush. He has a nice size to cuddle, to replace regular-looking pillows and serve as a chair cushion. Crafted with the quality San-Ei has Pokémon plush collectors accustomed to, Ditto's 12-inch plush no doubt delivers a pleasant sensory experience.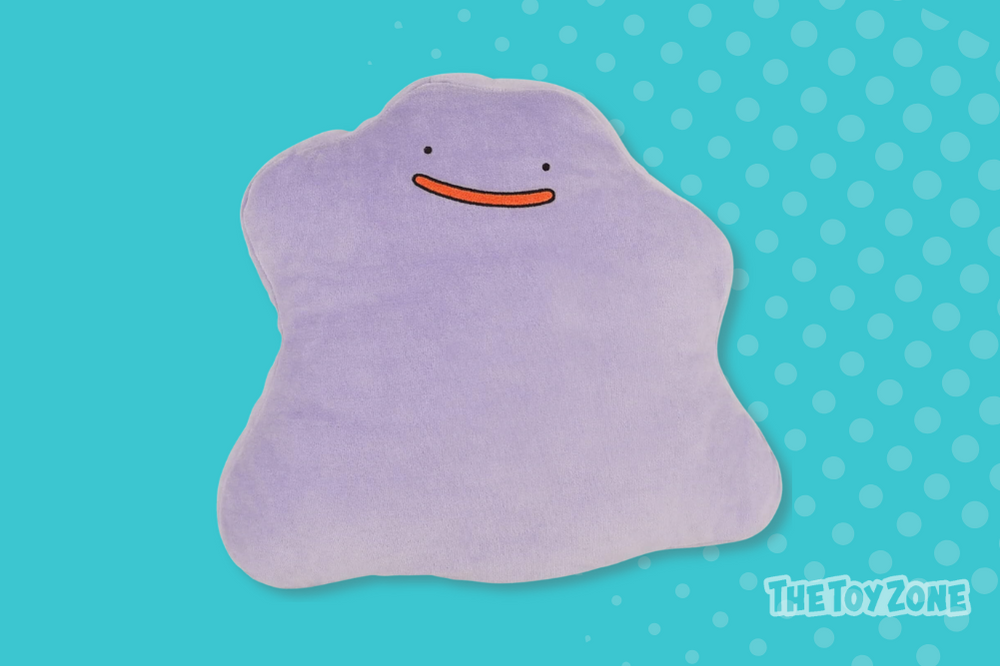 Recommended age: 13 years and above
What We Love:
❤️ He's extremely comfy
❤️ His embroidered face is adorable
❤️ Keeps his shape well, even though he is particularly mushy
What We Don't Love:
💔 It is not the easiest to find in stock
💡TIP: For more super cute, accurate-looking Pokemon plushes, check out San-Ei's All Star Collection, including the highly collectible Piplup, Magikarp, Diglett and Cosmog.
---
Frequently Asked Questions About Pokémon Toys
🙋 What are Pokémon?
The name Pokémon comes from the abbreviation of pocket-monster. The idea of Pokémon derived from franchise creator Satoshi Tajiri's two passions: insects and Ultraman. As a kid, Tajiri was into the hobby of insect collecting. He would spend hours in his hometown, Machida, looking for bugs and coming up with new ways to catch those fascinating creatures. Dubbed Dr. Bug in his childhood, Tajiri learned a lot from them and inspired many of the Pokémon we know today.
From Ultraman, a renowned show of the 60s and a pop-culture phenomenon in Japan, Tajiri took the idea of capsule monsters. In the show, Ultraman can capture monsters in little capsules called Kaiju Capsules and then get their help in battles (sounds familiar?).
Even geniuses have their unconventional sources of inspiration. Tajiri created a fascinating world appealing to many ages and filled with endearing creatures. The franchise is quite alive and ready to thrive for years to come.
🙋 Why are plush toys important?
Plush toys make wonderful companions for children. Considered transitional objects, they can provide a sense of comfort in challenging situations. Holding a soft, squishy plushie can help reduce anxiety and fear. They have a pleasing sensoriality, no doubt, but kids also tend to develop emotional bonds with their stuffies that work as a reassurance against distress.
Plush toys are also a great tool to create healthy sleep routines. If they feel scared or anxious at night, their favorite plushie will prove to be a one-of-a-kind companion. But that's not all; stuffed animals (or Pokémon) can encourage pretend play, fostering kids' imagination and helping them express their emotions.
🙋 Which company makes the best Pokémon plush toys?
If you come across a San-Ei Pokémon plush, don't hesitate —you cannot go wrong. The Japanese company makes some of the best plush toys for the franchise. The problem is these are rare finds and are not always available.
In the U.S., the two most popular high-quality brands are Pokémon Center and Jazwares. Jaswares also owns Wicked Cool Toys and Squishmallows, so they have the infrastructure to make a wide variety of great-looking, soft Poké-plush at an affordable price.
Pokémon Center is also known for creating soft plushes that resemble the real characters to the spot. These are quite popular among the finest collectors. Besides, they make great collabs with different artists; plushes like this Pikachu x Van Gogh have an undoubted collectability. The downside is these are also hard to find.
So… What Pokémon Plush Toy Should You Get?
There are over a thousand Pokémon out there and Poké-plusies are not usually cheap. However, fans of Pokémon are usually very vocal about their favorite characters. So that's a good starting point!
A starter Pokémon from the traditional Kanto region can be a fair start for new collectors. On the other hand, those who have them all can expand their collection with unique pieces like the silver Pikachu or corduroy Bulbasaur.
Fans who prefer their plushies for display will surely appreciate the complexity of the Koriadon plush, while those seeking a cuddling partner will find what they're looking for in a Squishmallow Snorlax.
The options are plenty. However, when looking for a giftable, lovable Poké-plush, make sure they are officially licensed (all of our choices are). Although a bit more expensive, you can rest assured that the quality will be good, the colors will be right and the softness unmatched.
I tried to make this list as comprehensive as possible, with different types of plushies to meet many young trainers' tastes. But the Pokémon universe is vast, and there are many incredible Poké-plushes out there. So, if there's any stuffy we totally need to add to this list, just send me an email!