Who would have guessed that a Japanese show about tiny battling monsters would become a world-dominating franchise spawning video games, action figures, live-action movies and a lot of merch.
When they said, "Gotta catch 'em' all," they meant it.
Since its conception in 1996 in Japan, the franchise has sold over 43 billion trading cards, 440 million video games and over one billion smartphone app downloads. The TV series is shown in 192 countries and has been dubbed into nearly 50 languages.
But Pokémon is more than just a TV show depicting cute characters. There is a whole universe to explore, study and collect. To win battles, whether on the Nintendo Switch or with Pokemon cards, you must know who each character is and their strengths and weaknesses. This requires a lot of learning and a good memory which are excellent skills to develop.
With so many distinctive characters, we wanted to know which Pokémon was the favorite in every corner of the planet. Check out our map of The Most Popular Pokémon Around The World to see if our study matches your top character.
So after 25 years of Charmander & Co., what are the best Pokemon toys on the market right now? Our carefully selected list is based on hours of research reading customer reviews and sorting the genuine from the fake. All the options come with a seal of approval from hundreds of parents of Pokémon-loving kids.
The Top 3 Pokémon Toys
With so many awesome Pokémon toys out there, it was hard to pick a top three. So make sure you check out the rest of the list for to find the best option for your little Pokemon trainer.
Best Pokémon Action Figures & Plushies
No doubt, this cute little yellow creature is the main star of the Pokémon series. Pikachu has its own movie and video game and is printed on almost every piece of merchandise imaginable, a true icon of the ages. So it made sense I included this 8-Inch Pikachu Plush in the list.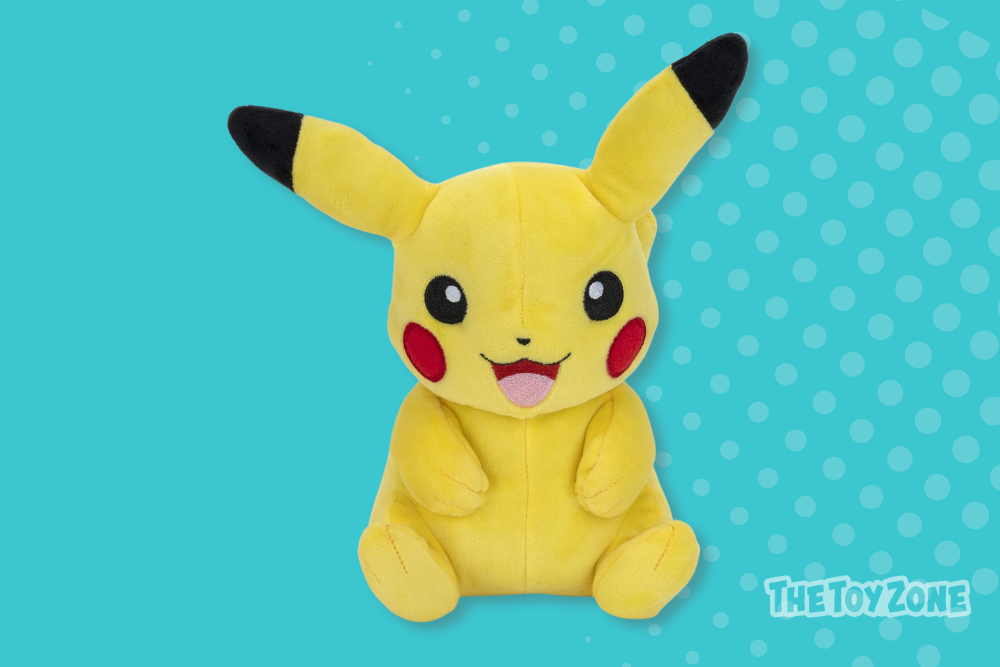 Recommended age: 2 years and above
The adorable plush makes an ideal gift for kids of any age. It's soft, cuddly and has ears that are perfect for chewing on (if you're the dog). Take Pikachu wherever you go, whether traveling across the country, going to a sleepover, or simply relaxing on the sofa watching your favorite show…Pokémon, of course.
What We Love:
❤️ It makes for a great sleeping partner 
❤️ The eyes, mouth and cheeks are embroidered for an extra sensory feel
What We Don't Love:
💔 It doesn't like going through the wash
💡 TIP: If Pikachu is too "mainstream" for you, try this adorable Squirtle Plush.
When you count how many Pokémon are out there…1, 2, 3, 4, I give up; there are thousands. Too many to buy at once, but you can make a great start with this Pokemon Battle Figure 8-Pack containing some of the most popular characters in the franchise.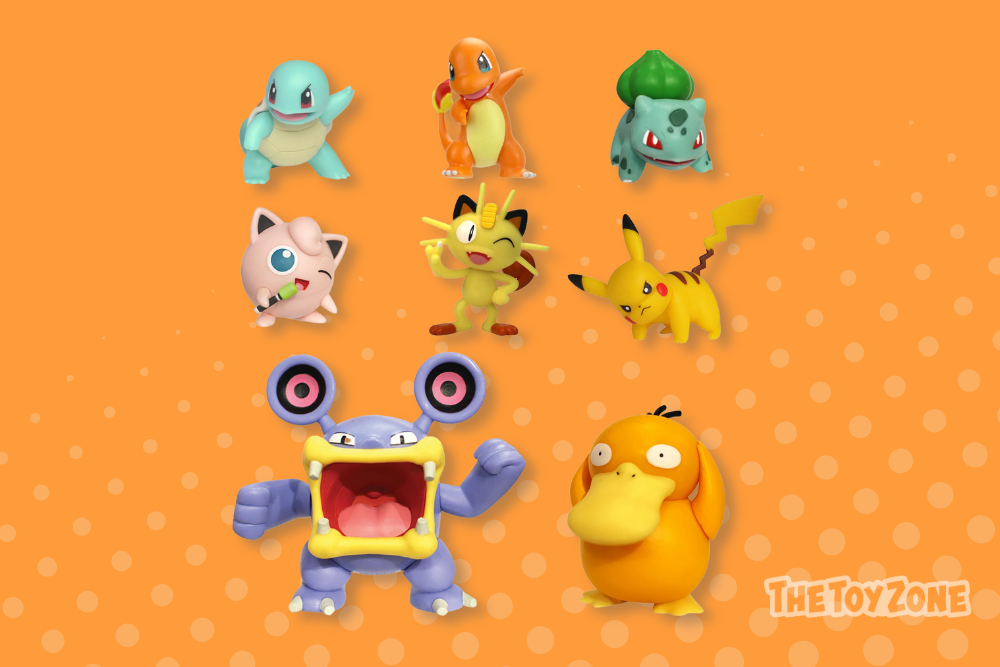 Recommended age: 4 years and above
These eight mini figures of different sizes are ideal for taking along with you to battle with your friends. Each multi-pack contains a highly detailed Pikachu, Bulbasaur, Squirtle, Charmander, Meowth, Jigglypuff, Loudred and Psyduck.
What We Love:
❤️ Some of the figures have opposable limbs
❤️ They're lightweight and perfect for travel 
What We Don't Love:
💔 The smaller figures are static
💡 TIP: If they already have these characters, there are a variety of different Battle Packs to choose from.
The most popular Pokemon in Italy, Sweden and the UK (among others), Charizard is a mighty fire-breathing dragon. He doesn't necessarily sound like the cuddliest Pokemon, but with this huggable plush, he is. This velvety Charizard is super soft but still as formidable as ever with his impressive claws, fiery tail and open wings.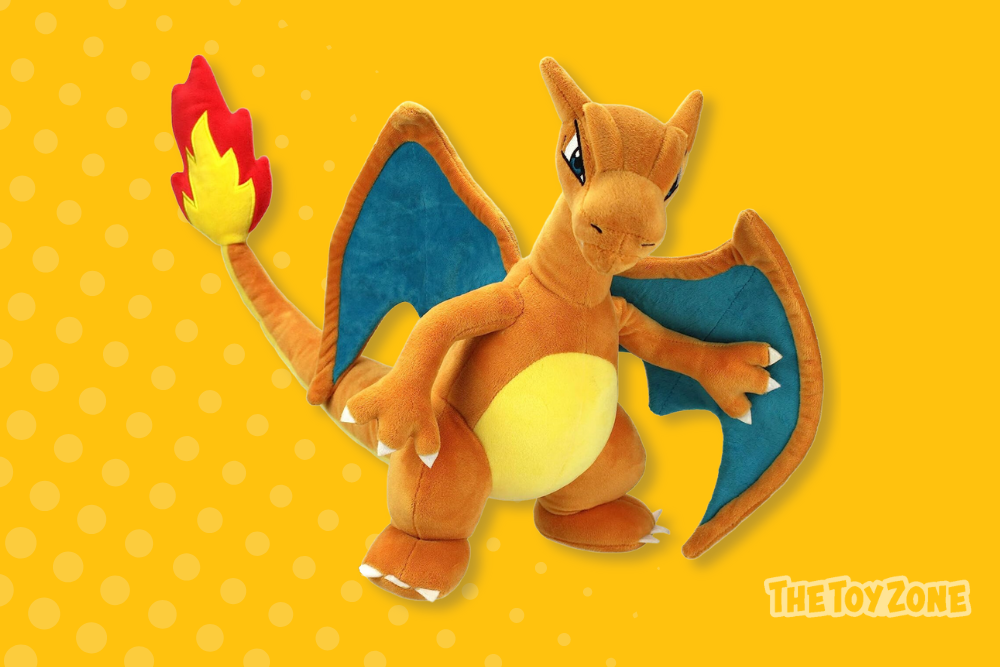 Recommended age: 2 years and above
You can give this Charizard plush to toddlers as young as two because there are no hard edges or small parts to swallow. Plus, this little guy is very well constructed, so he can survive any pulling, throwing and hugging to the death your kiddo might subject him to.
What We Love:
❤️ Very soft and huggable with wonderfully velvety wings
❤️ Well made plush that holds up to rough play
What We Don't Love:
💔 The described size is a little misleading as it is from nose to tail rather than the height of the plush
It's hard work training Pokemon. Each basic Pokemon must undergo many challenges before evolving to its Stage 1 and Stage 2 form. With this 3-pack action figure set, kids get to enact this whole saga, diligently training the adorable Bulbasaur until it evolves into Ivysaur and later the gargantuan Venusaur.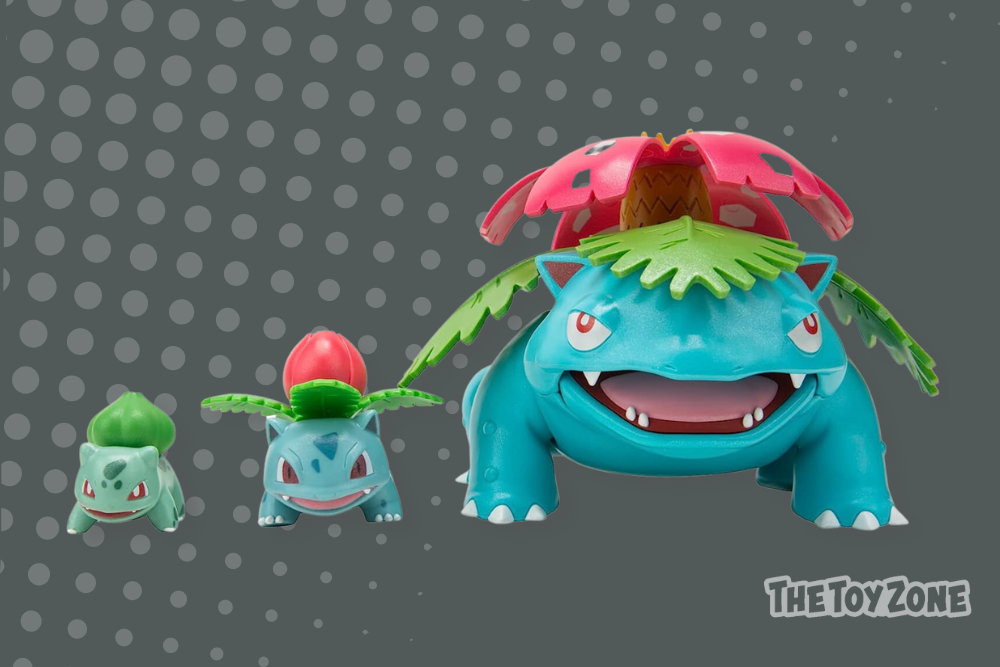 Recommended age: 6 years and above
These action figures are truly top-notch quality, featuring perfectly accurate proportions and colors and movable joints on Ivysaur and Venusaur. So they also make a wonderful gift for older kids and collectors who will display them in pride of place.
What We Love:
❤️ Top quality action figures that will please even the most discerning collectors
❤️ Very accurate looking and vibrantly colored
What We Don't Love:
💔 Some of the parts are sharp so they aren't suitable for young children
In the world of Pokémon, you gotta catch'em all and you can't do that without a Poké Ball. This spherical device allows trainers to collect Pokémon from the wild by throwing the Poké Ball at them, which opens up and traps them inside. It sounds crazy, but that's the show.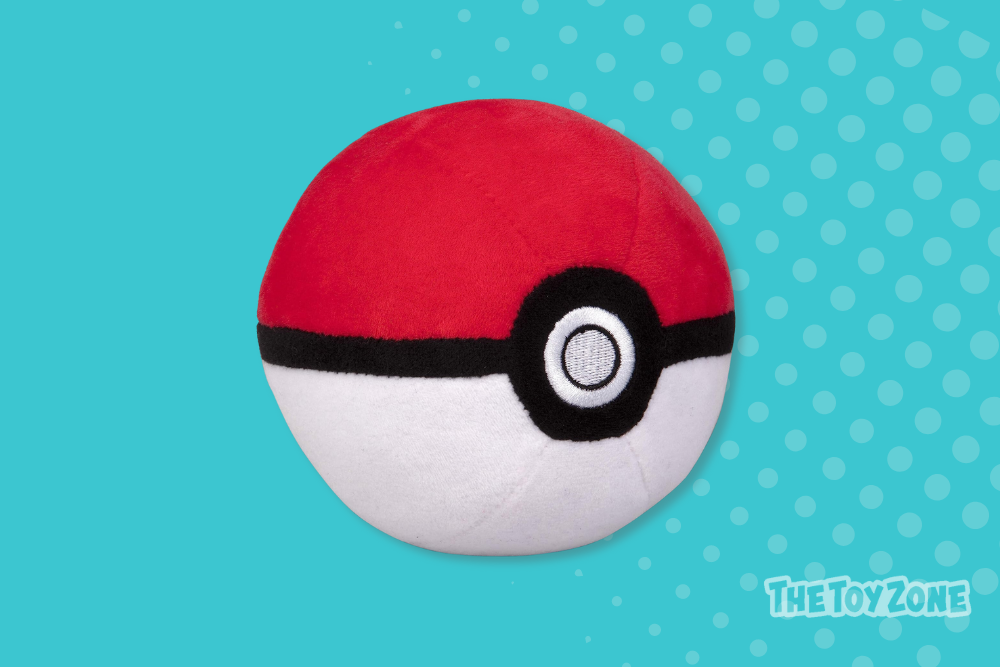 Recommended age: 3 years and above
As you can imagine, it could get pretty wild if kids throw plastic balls around the house to capture imaginary creatures; that's where this Poké Ball Plush comes in. Not only will this soft cuddly ball stop anyone from getting knocked out, but it also makes for a great sleeping companion.
What We Love:
❤️ It has a weighted bottom, so it always lands right side up
❤️ It's a great size for little hands
What We Don't Love:
💔 The weighted bottom kinda ruins the cuddly aesthetic 
💡 TIP: You're gonna need a Pokemon to catch in your Poke Ball. You can go with one of the above options or this cuddly Charmander.
---
Best Pokémon Cards, Board Games & Puzzles
It's fantastic to see these still going strong — I remember kids trading Pokémon Cards in school. They've been around since 1996. It shows how much fun they are to play, trade and collect for kids of all ages. And if you get a rare one, save it – in July 2021, the Pikachu Illustrator card sold for a reported $5.275 million.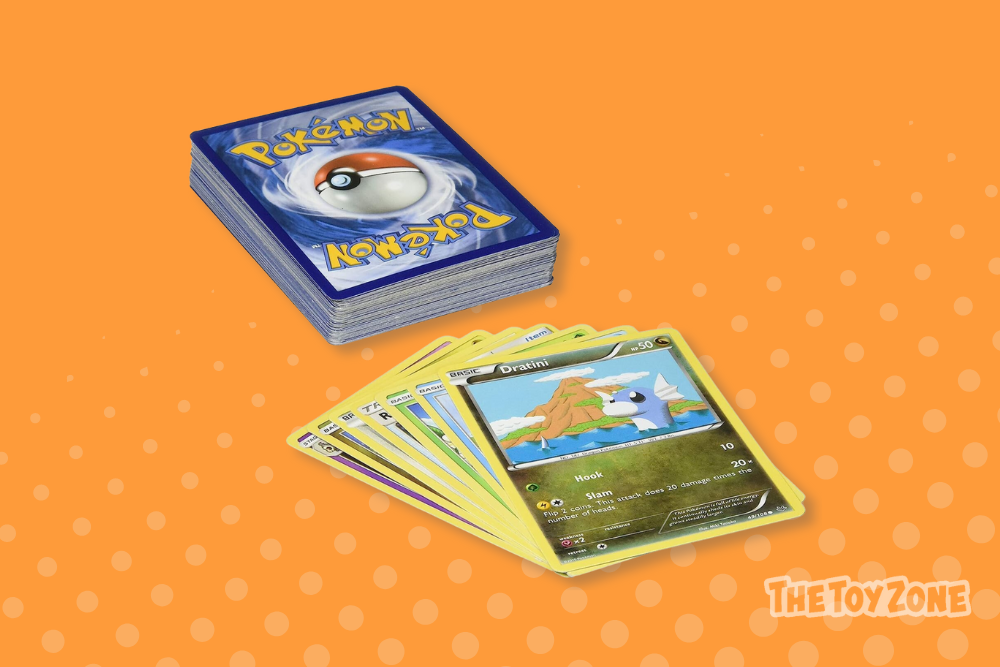 Recommended age: 7 years and above
This Pokémon pack contains 50 cards for kids to take to their trading circles; each pack contains common and uncommon characters from the Pokémon series. This is the best way for kids to collect many characters to get right into the action.
What We Love:
❤️ You get a variety of regular and energy cards
❤️ Excellent value for money 
What We Don't Love:
💔 There's no guarantee you won't receive duplicates
Love it or hate it, you have to respect Monopoly for remaining the most popular board game worldwide for many decades. This iconic game has spawned countless versions, so it's high time there was a Pokemon edition. While this one doesn't mess with the gameplay (if it ain't broke…), it features Pokemon gyms instead of streets, Poke Marts and Centers instead of houses and hotels.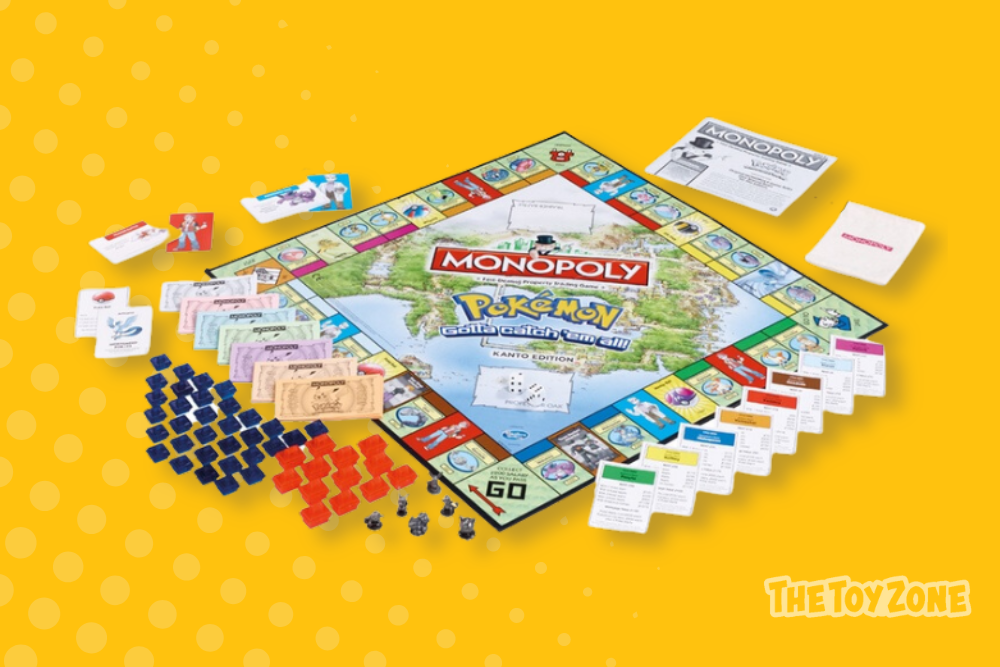 Recommended age: 8 years and above
With a beautifully designed game board and metal counters depicting 6 Pokemon, this will surely win over Pokemon lovers. It's also a great way to interest newcomers, as Monopoly is known and beloved by all.
What We Love:
❤️ Fun for kids and adults alike
❤️ All the pieces are beautifully designed and well made
What We Don't Love:
💔 They haven't added any major Pokemon-themed twists to the gameplay
20 questions is a staple on long car rides, but sometimes Mom and Dad are busy with directions and can't play along. But with Pokemon Trainer Guess, kids can play by themselves, and the novelty of the voice recognition and chatbot technology is exciting enough to engage them for hours.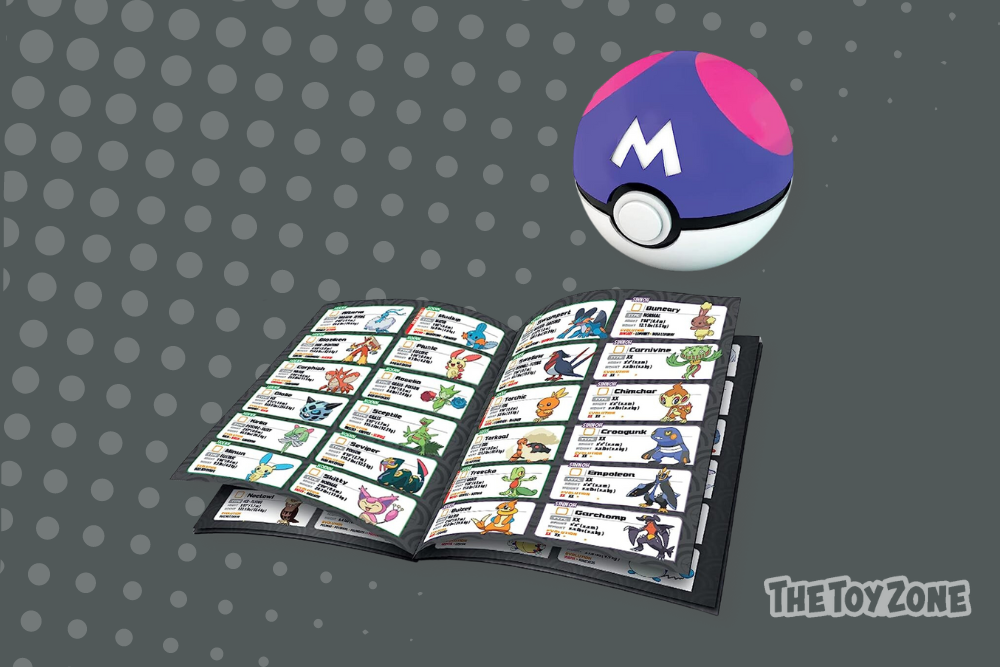 Recommended age: 6 years and above
This fantastic electronic Poke Ball is essentially a friend that can play Guess with your kiddo by asking yes or no questions and eventually guessing the Pokemon they're thinking of. It also has a comprehensive field guide for kids to choose their Pokemon and study to become Pokemon experts.
What We Love:
❤️ Perfect for long car rides as it can be played solo and is very absorbing
❤️ Includes a booklet with details about all the Pokémon 
What We Don't Love:
💔 The voice recognition isn't always the best
Puzzles are classic gifts that tend to go down well if you choose one with a theme kids love, and they're also great for developing spatial reasoning and fine motor skills. But why not up the ante by making the puzzle 3D?? This certainly cranks up the wow factor and engages kids' spatial reasoning skills even more – plus, it looks fantastic on display when you're done.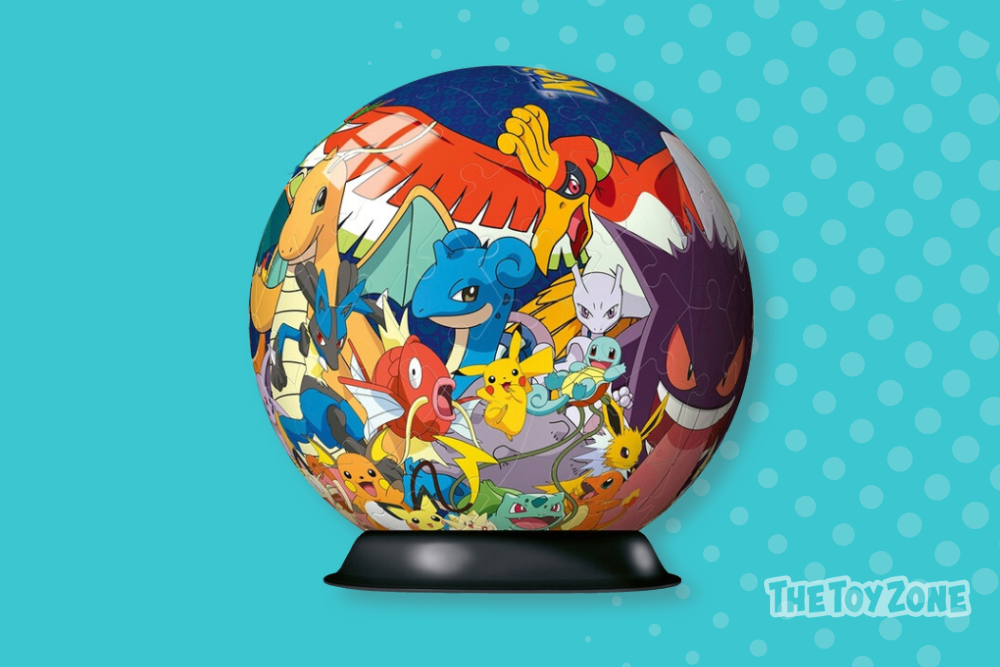 Recommended age: 6 years and above
This ingenious jigsaw puzzle ball from Ravensburger features plastic puzzle pieces that slot together easily, thanks to their easy-click technology. The finished model is sturdy and robust and shows off all your favorite Pokemon.
What We Love:
❤️ The pieces click together easily and hold together well 
❤️ Kids will enjoy the challenge and be wowed by the idea of a 3D puzzle.
What We Don't Love:
💔 It is on the small side
---
Best Pokémon Building Sets
What is one step better than playing with a toy? Being able to build it first. Building toys are integral in developing essential motor skills and driving creativity in kids, especially when the toy their building has moving parts. That's why the MEGA Pokémon Charizard Building Set is so popular.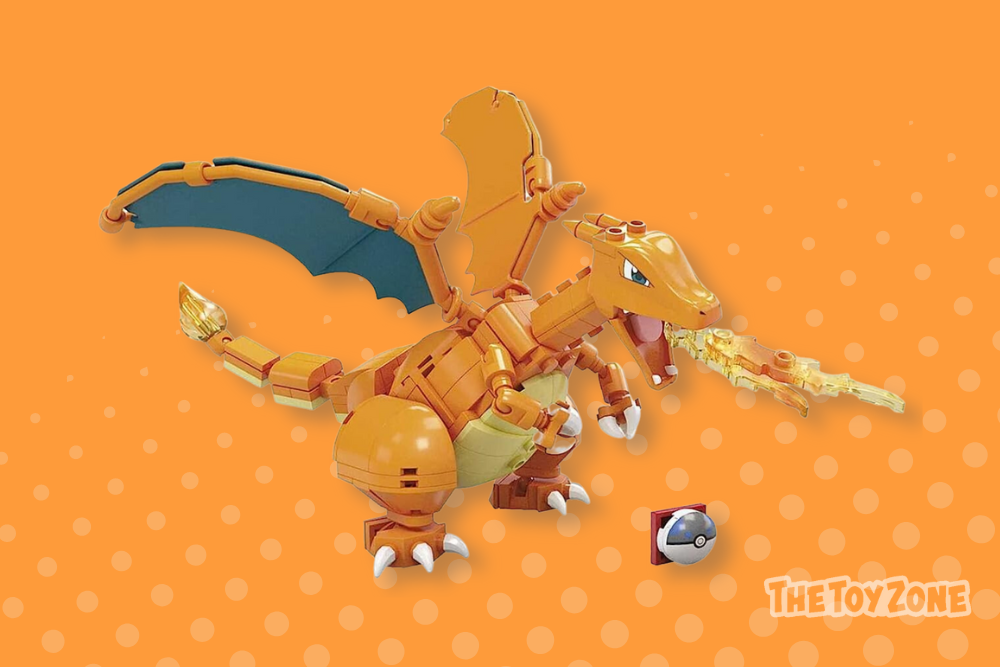 Recommended age: 8 years and above
With 222 bricks to work with, you can build your favorite character Charizard as they're meant to look or go rogue and make them the way you want. Standing over 4-inches tall, Charizard has many opposable limbs, including its wings and they breathe fire.
What We Love:
❤️ Doesn't take too long to construct
❤️ Develops problem-solving skills
What We Don't Love:
💔 Pieces may come off in mid-play
With the whole concept of a Pokemon in a Poke Ball, Pokemon lends itself to lucky-packet-style toys. Kids will love opening their gift only to find 5 mysterious Poke Balls, each promising something awesome inside. And they will not be disappointed, as each ball contains the pieces to build an adorable Pokemon toy, with iconic characters including Cubone, Zubat, Caterpie, Magikarp and Pikachu.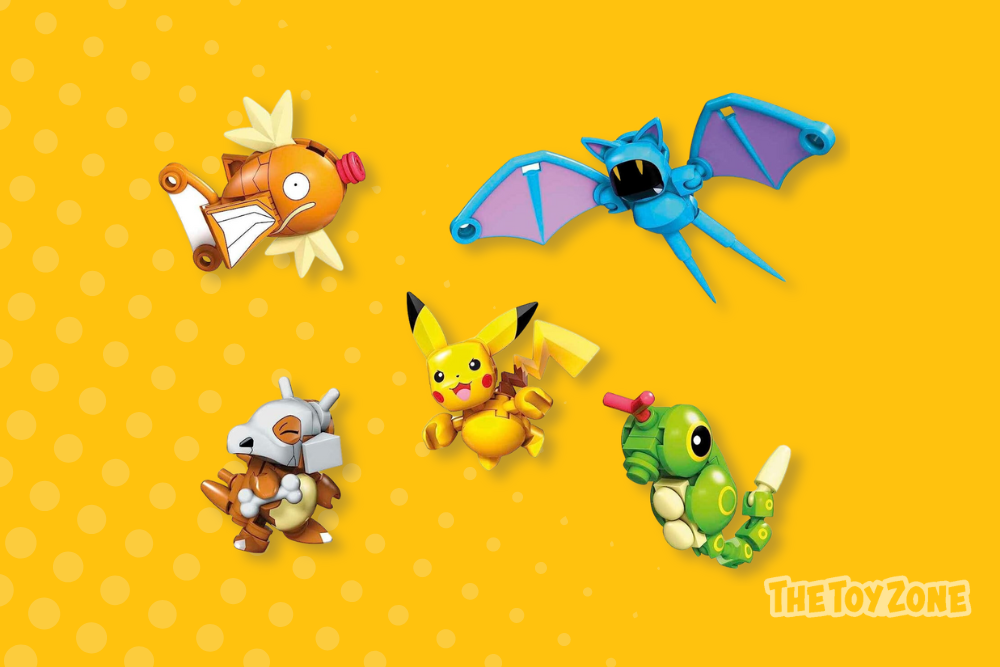 Recommended age: 6 years and above
This building set is truly the gift that keeps on giving, as there's fun at each stage – opening, building, then playing with the completed toys. The Poke Balls also add a fun dimension to Pokemon trainer roleplay.
What We Love:
❤️ Super fun to construct, and then you have several adorable Pokemon toys.
❤️ Each one comes with its own Poke Ball
What We Don't Love:
💔 They don't all stay together very well
Building toys greatly benefit a child's cognitive development. Not only do they promote gross motor skills, but they also advance creativity and, of course, they're really fun to play with. This MEGA Pokémon Building Set lets kids practice all these essential skills while immersed in their favorite franchise.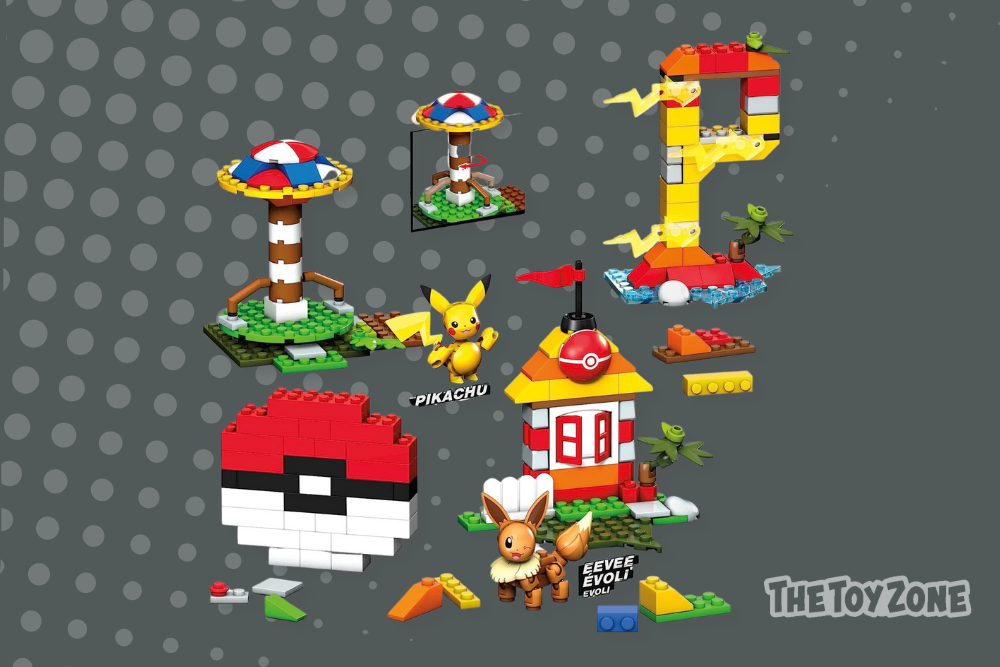 Recommended age: 6 years and above
With 450 multi-colored bricks, this set will keep kids occupied for hours constructing different objects for their Pokémon to live, play and train in. There are three ideas in the box and even more in the Mega Construx Beyonders app available on Apple or Android smartphones.
What We Love:
❤️ It comes with two popular characters, Pikachu and Eevee 
❤️ The bricks are compatible with all other Mega Construx building sets
What We Don't Love:
💔 It would be great if it came with a storage box
---
Best Pokémon Nintendo Switch Games
When it comes to Pokémon video games, Nintendo Switch is king. And with the new Oled screen Switch, graphics are crisper and audio is enhanced, making games more immersive. Pokémon Legends: Arceus is an adventure for all ages, making it ideal for both beginners and seasoned players.
Recommended age: Rated E for Everyone
In this action meets RPG adventure, you can't just run around throwing Poké balls at every Pokémon in sight – you have to study them first and find the best time to pounce. This expansive world is packed with puzzles, tasks and battles to win as you discover whole new Pokémon to train.
What We Love:
❤️ Wonderfully expansive open world to explore 
❤️ There are always new free updates to expand the game
What We Don't Love:
💔 You can spend a lot of time wandering around trying to find the action
💡 TIP: Kids will need a place to store their growing collection of Pokemon Switch games. Why not this awesome Pokedex-style games holder?
If your kiddo loved Pokemon Legends: Arceus, these games will surely be a hit. They'll have a blast exploring the legendary Paldea region and its beautiful lakes, towering peaks, wastelands and sprawling cities. It's an expansive open world with so much to discover, including the fact that the Pokemon here can Terastallize – use the power of gemstones to boost their moves.
Recommended age: Rated E for Everyone
With two games included, each brimming with challenges and discoveries, kids will have lots to keep them occupied. Which one will they try first and which partner Pokemon will they set off with at the start of their journey?
What We Love:
❤️ A refreshing take on the franchise that fans of all ages will enjoy
❤️ Includes 2 codes for 100 Poke Balls to use in the game
What We Don't Love:
💔 It can be a little glitchy at times
Another double pack is a remake of an absolute classic. Older fans will get hit with a dose of nostalgia as they return to the Sinnoh region and enjoy a familiar narrative plus a host of excellent new features. Younger fans will be introduced to a legendary Pokemon game that's been upgraded to appeal to modern expectations, with improved graphics and a faster pace.
Recommended age: Rated E for Everyone
Just like in Pokemon Scarlet and Violet, players must choose a partner Pokemon, then set off to become the champion of the Pokemon League. Along the way, they'll face many adventures, discover secrets, and meet legendary Pokemon.
What We Love:
❤️ Stays faithful to the original while adding some great updates
❤️ Customers love the fun new challenges and faster pace
What We Don't Love:
💔 There isn't a huge amount of new content compared to the originals
---
Best Pokémon Gadgets & Electronics
It's a fact of life that gadgets attract kids like magnets and if you have a smartwatch, chances are your little one longs for one of their own. This Pikachu Educational Smart Watch accomplishes that while keeping it kid-friendly. It offers a range of fun features and games without potentially dangerous features like the ability to text or connect to WiFi.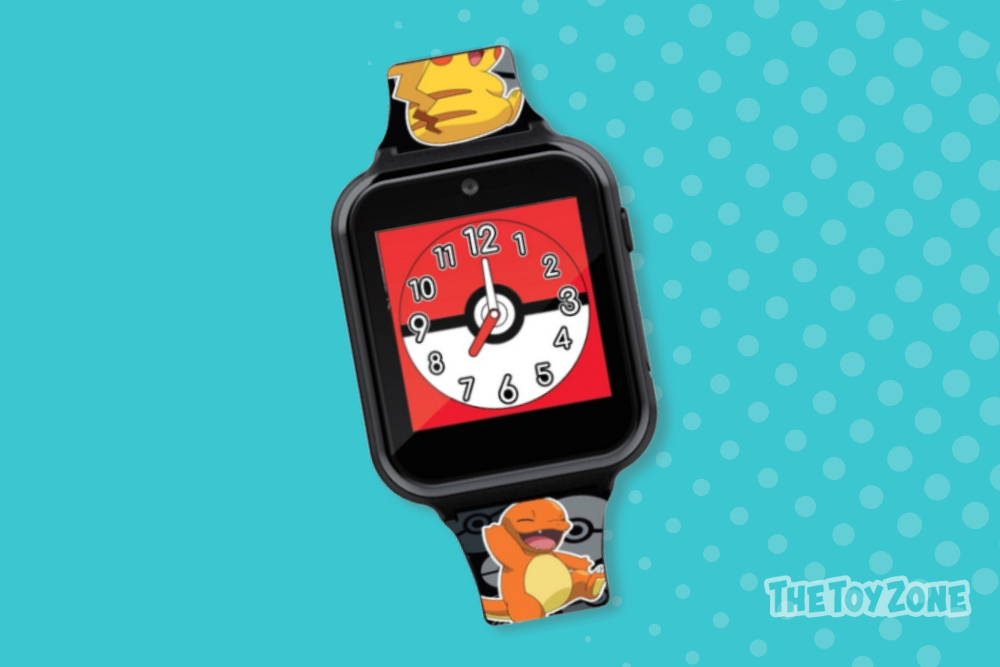 Recommended age: 6 years and above
With this excellent touch-screen watch, kids can take photos, play games, record audio and, of course, tell the time as well. It's fun, functional and stylish and allows kids to wear their passion (Pokemon) on their sleeves.
What We Love:
❤️ Lots of fun and kid-friendly features to have fun with
❤️ Looks awesome and is functional too
What We Don't Love:
💔 Doesn't have a pedometer feature
The game changed when the toys started interacting with you (we all remember the Furby, right?) Having a toy that you can hold in the palm of your hand that moves and makes sounds is one thing, but having a toy with an in-built microphone and touch sensor that reacts to you is beyond cool.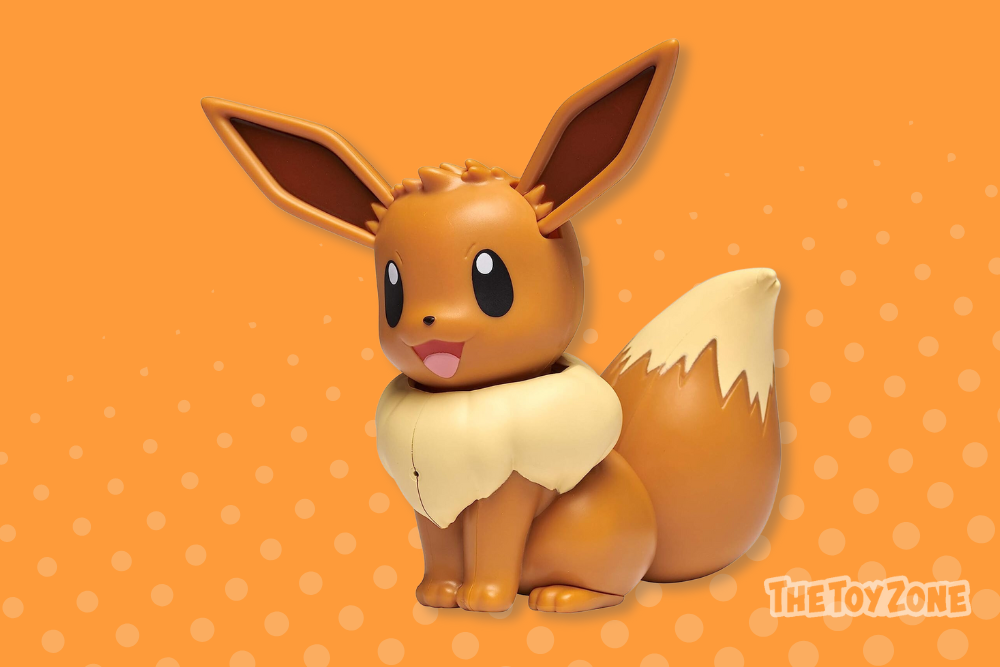 Recommended age: 4 years and above
This adorable palm-sized Electronic & Interactive My Partner Eevee brings a new dimension to Pokémon toys with over 50 different reactions to discover. Their head swivels round to look at you, their ears and tail wag to show excitement and they make multiple sounds. Kids will feel like they're bonding with their Pokémon friends.
What We Love:
❤️ Makes 20 different sounds to enjoy
❤️ The touch sensor reacts quickly
What We Don't Love:
💔 There's no volume control
💡 Tip: There are other interactive characters to collect including Pikachu and Charmander.
---
Frequently Asked Questions About Pokémon Toys
🙋 What IS Pokémon?
If you're unaware of Pokémon, where have you been all these years? Invented in 90's Japan, this expansive world of creatures has had kids enchanted with cartoons, movies, video games and a multi-million dollar trading card franchise.
The Pokémon universe is filled with lovable creatures who each possess special skills and powers. As a trainer, you must first capture Pokémon, then train them to battle each other. It may sound a little violent, but it is far from it.
Pokémon has secretly been teaching our kids key developmental skills. To be victorious, kids need strategic thinking and reading and math skills as they build a database of which creature does what to win battles. All while having fun with their family and friends interacting with adorable characters who are still loved to this day decades later.
🙋 What age groups love Pokémon?
The simple answer is all ages can love Pokémon. Pokémon are bright, colorful animals that make fun noises at early ages. They may not understand these animals battling each other; who cares, they're super cute.
As kids age and start to understand the concept, they will interact with each character differently, forming bonds with their favorite Pokémon. With the amount of merchandise out there, you can pretty much cover any interest by purchasing something with a Pokémon printed on it.
As we can see from the number of adults who still love the franchise, those bonds can last a lifetime. Some of these toys are now collector's items, and Pokémon trading cards are big business, some of which are worth thousands, even millions of dollars.
🙋 What is the most popular Pokémon in the world?
Pikachu is, obviously! How do we know? We celebrated Pokémon's 25th anniversary by analyzing Google search data to identify the most uniquely popular Pokémon in each country.
Unsurprisingly, Pikachu came top as the most popular worldwide, but local favorites also cropped up from different countries.The large dragon-like Charizard was the most popular Pokémon in Europe and North America, aswell as the second most popularor worldwide. Third place was the rock-made Onix.
Check out our poster below for the full list of the most searched for Pokémon: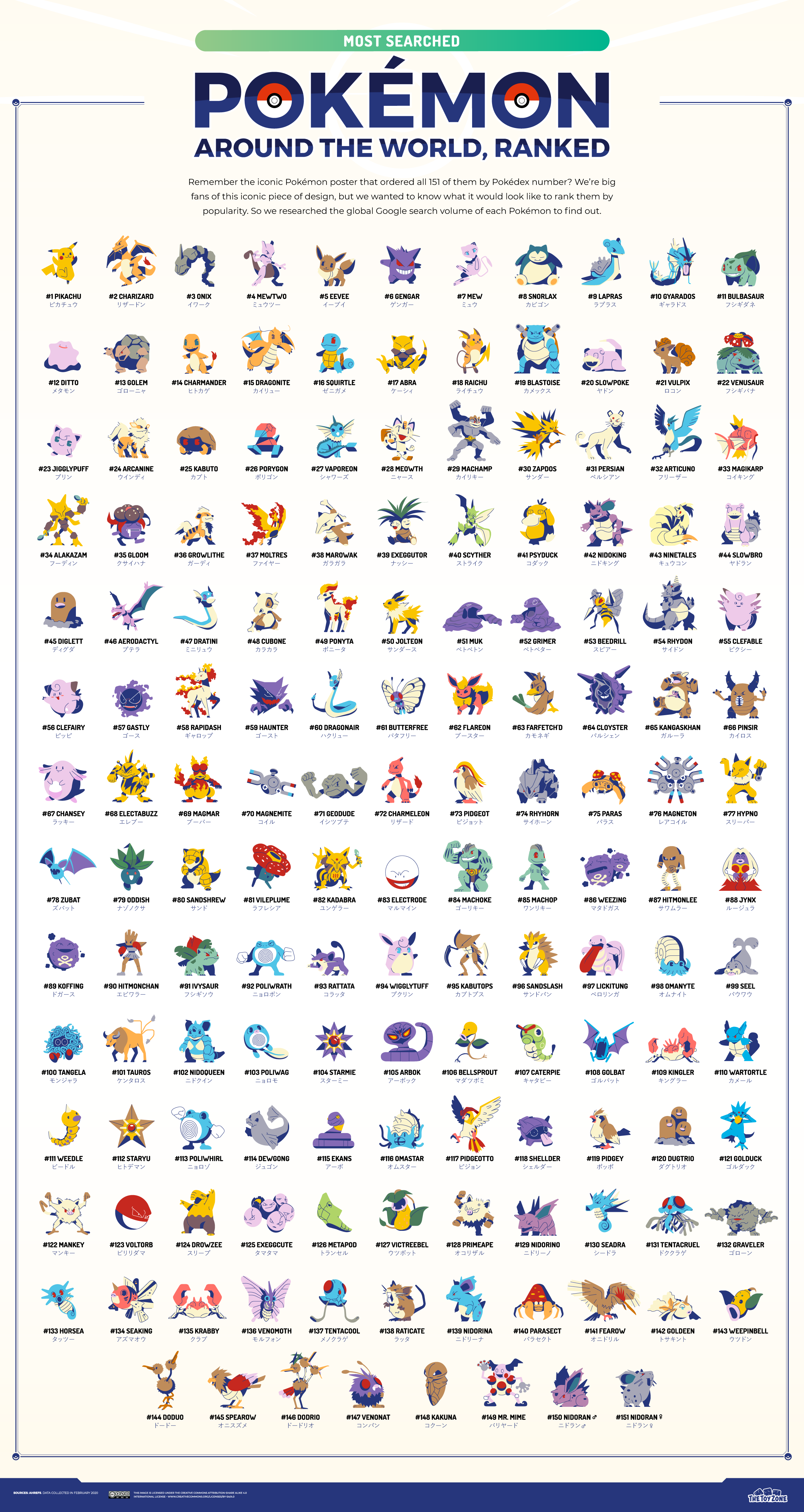 ---
So… What Pokémon Toy Should You Get?
When choosing a suitable Pokémon toy for your little trainer, you must do some research first. Who is their favorite character? What type of toys do they like?
If they love role-playing with action figures, they'll appreciate this Pokemon Battle Figure 8-Pack. If they spend their time playing video games, you can't go wrong with Pokémon Legends: Arceus for the Nintendo Switch. And if they can't have too many cuddly friends to keep them company at night, one of the Pokemon plushies will surely go down a treat.
I've tried to include toys and games for as many different interests as possible and made sure to cater to various budgets. But if there's another Pokemon toy you'd love to see on our list, leave a comment below, and we might include it in a future article.