No one can argue that Disney has won many hearts over the past 97 years, and now that Disney is also in charge of fan-favorites Marvel, Star Wars and Pixar, they have even more fantastic movies for us to enjoy.
We know sometimes critics and audiences just can't agree about certain films but what about movies that split fans' opinions? It turns out that audiences aren't always on the same page either.
Do Rotten Tomatoes users and IMDb users prefer different types of movies? That's what the team over at Budget Direct wanted to find out.
Budget Direct released a new study that reveals the Disney+ titles that IMDb and Rotten Tomatoes users can't agree on. To do this, their team gathered user ratings and reviews for every Disney movie from users on IMDb and users on Rotten Tomatoes. The result? The ultimate list of Disney+ content that IMDb and Rotten Tomatoes most disagree on.
Do you think these movies are over or under-rated?
Disney Movies that Divided Fans
The most controversial Disney movie came as recently as 2017. The 8th Star Wars film, Star Wars: The Last Jedi caused some arguments between fans and critics. It seems that Rotten Tomatoes users REALLY didn't like the film when compared to IMDb users.

The second most divisive Disney movie was the 2003 animation Atlantis: Milo's Return. The sequel to Atlantis: The Lost Empire (2001) ended up as three animated shorts rather than a feature length, and went straight to video on release.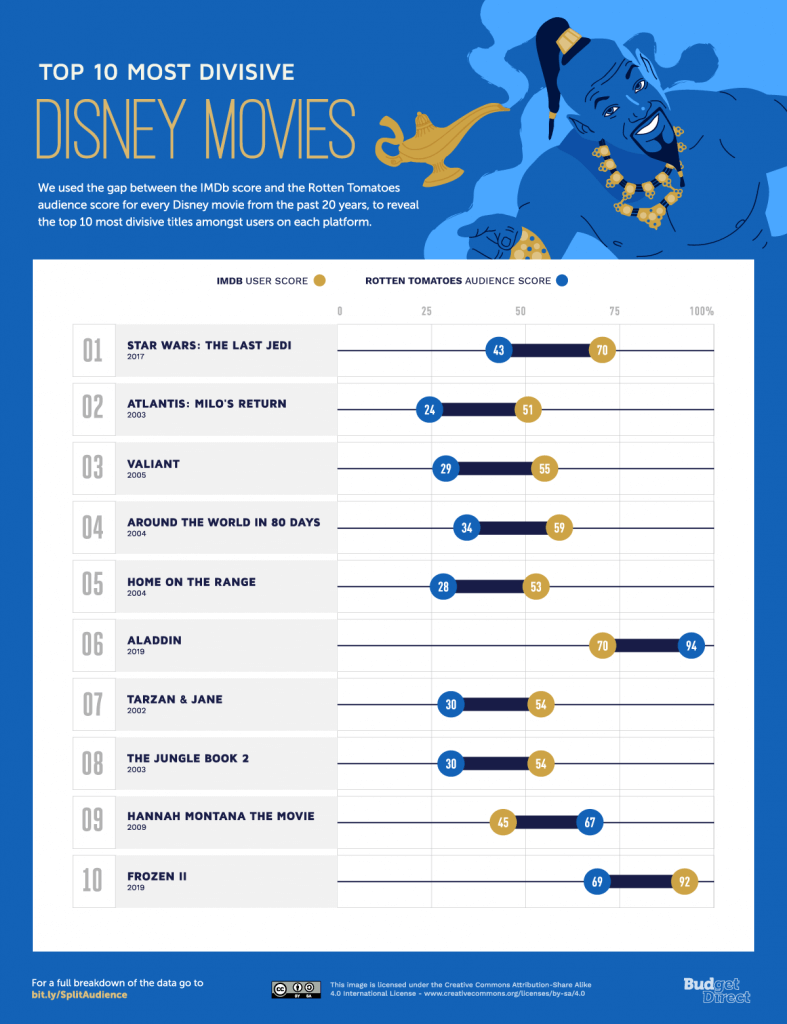 Mixed Reviews for Marvel
The hotly anticipated 2019 superhero adventure Captain Marvel got a decent review from Rotten Tomatoes (almost 80%), but was scored 6 points by fans on IMdb. Perhaps certain fans of the Marvel universe weren't ready for a strong woman superhero, even though the main character (aka Carol Danvers, played by Brie Larson), has actually been around since 1968!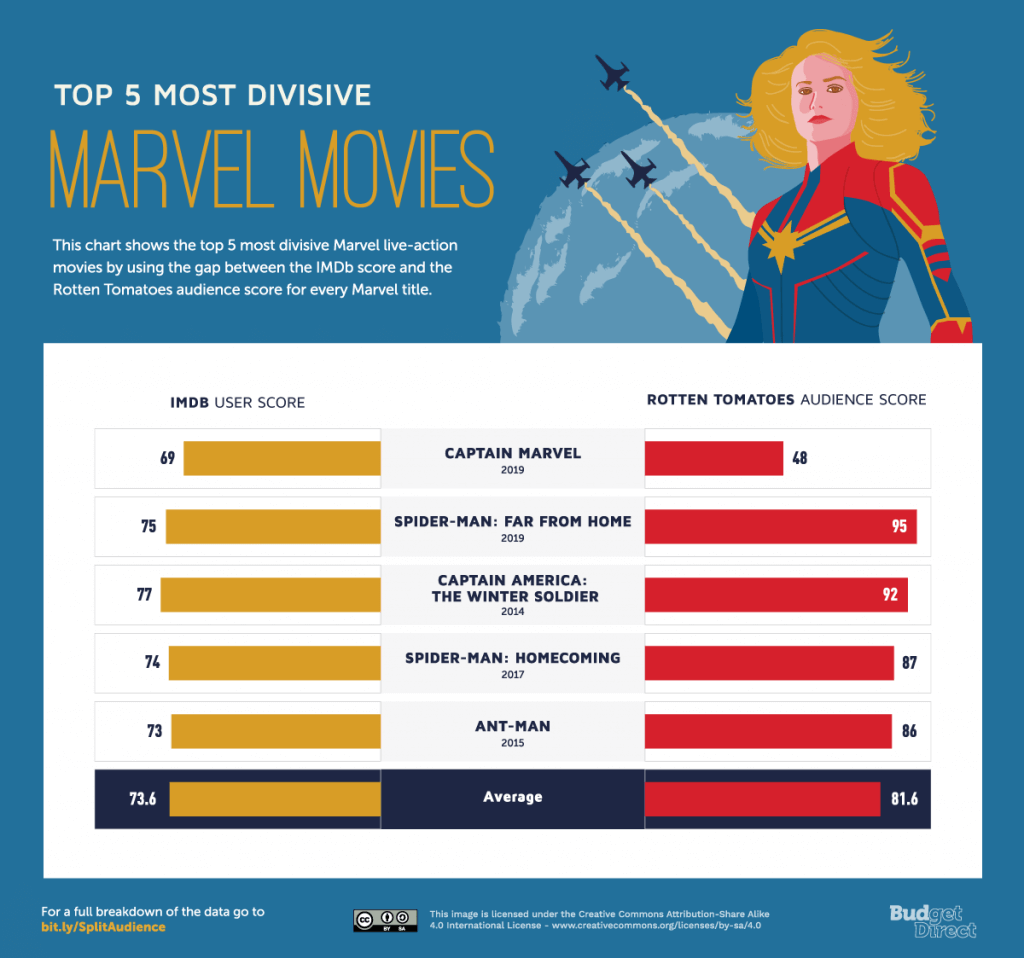 Pixar Films that Puzzled Audiences
The most-recent adventure of Woody, Buzz, and friends was generally received well by critics and audiences alike. However, Toy Story 4 (2019) got an extremely high fan rating on Rotten Tomatoes (97%) compared to average-to-good score on IMDb (7.8). Perhaps IMDb users were aware that the series was showing the signs that it was ready to end?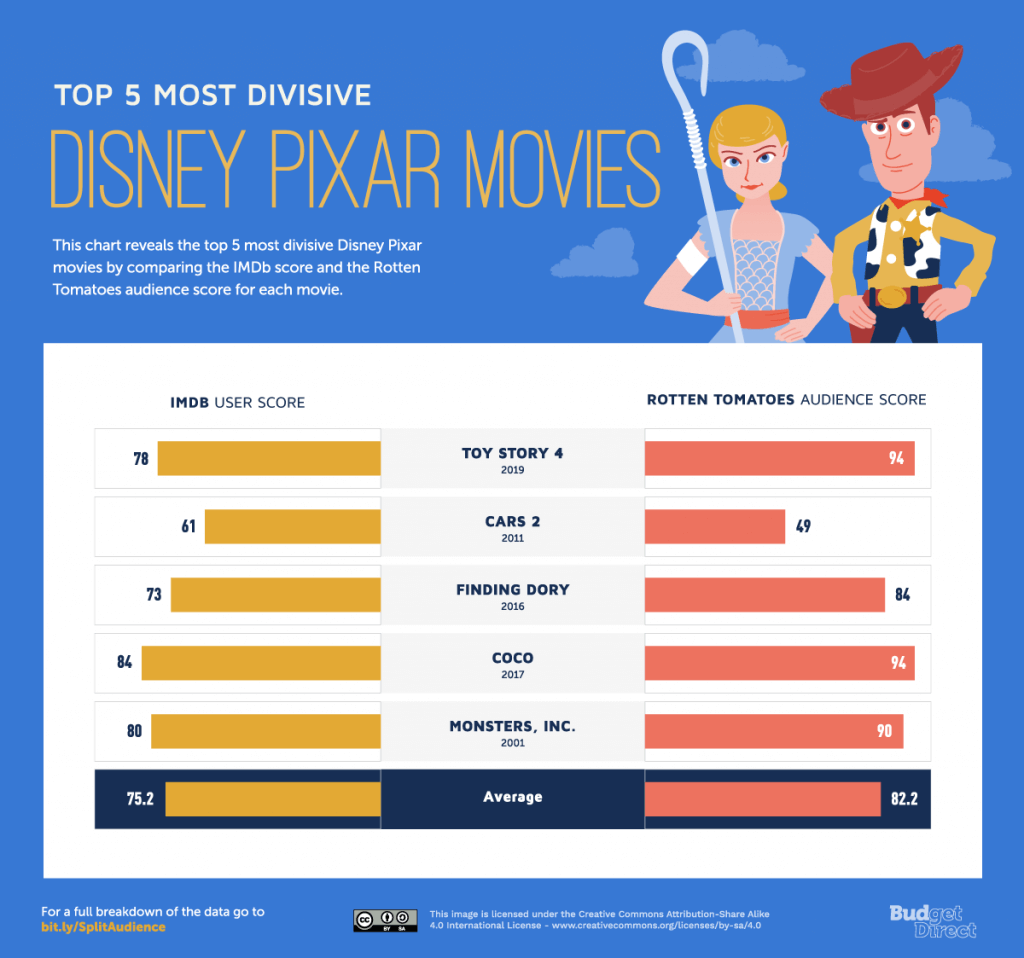 Star Wars: The Critical Disagreement
Although 2017's Star Wars: The Last Jedi was the Star Wars film that divided fans and critics the most, Star Wars: The Clone Wars wins the honor of being the Star Wars film that split the fans. The CGI animation failed to impress the critics, but fans were even less impressed by low-quality animation and narrative.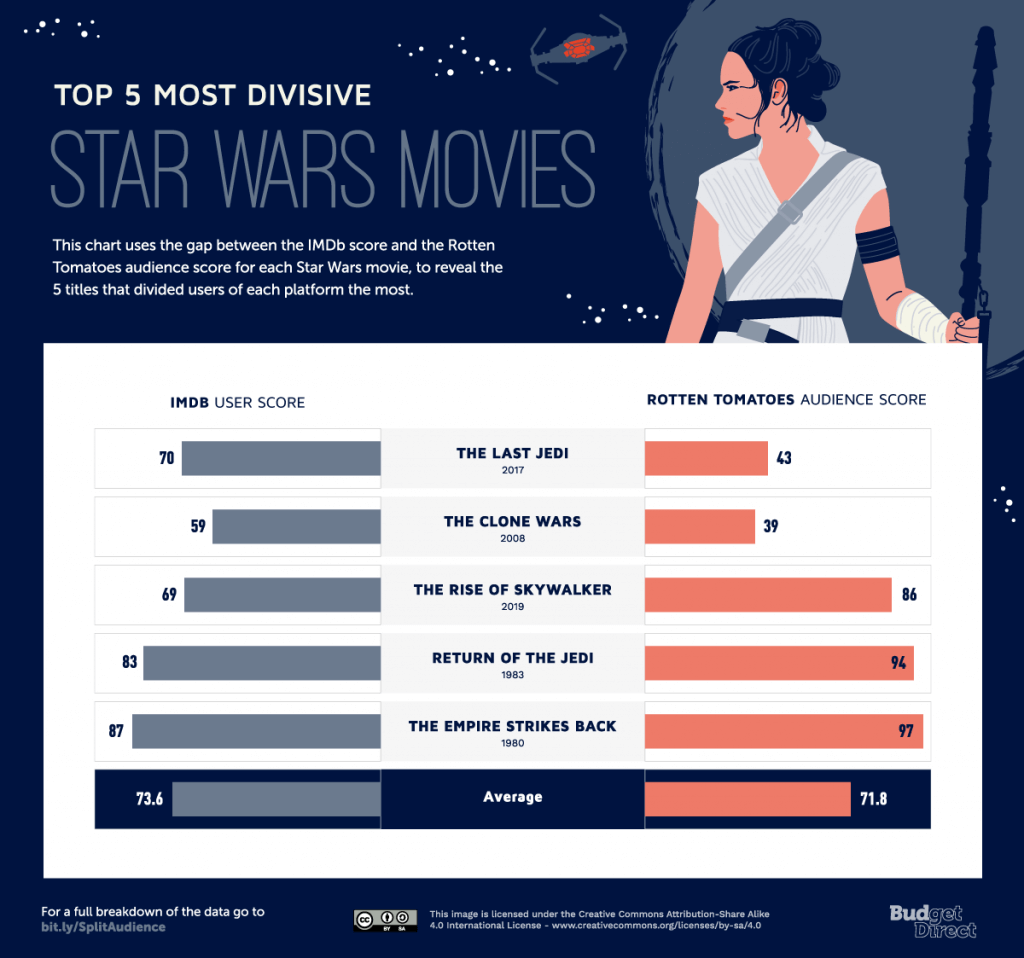 Different people look for different qualities in a movie. Rating and reviews can be a good guide, sometimes, but ultimately you can decide for yourself. Do you agree with the critics or audiences about these movies? Maybe you should watch them first, to find out!