The National Geographic Rock Tumbler Starter Kit is a great – if noisy – introduction for kids to the world of making cool shiny things out of rocks.
Our verdict: Before opening up this rock tumbler I could have told you two definite things about my sons. Firstly, they love rocks and stones. It doesn't matter where they go (park, school, shop, library…) they will return with at least one stone in their pockets. Why? Where do they come from? I have no answers to these questions.
Secondly, they are not patient. Just getting them to wait long enough for me to take a photo of the box was a struggle. So, is this National Geographic Rock Tumbler Starter Kit good for two boys who love rocks and hate waiting?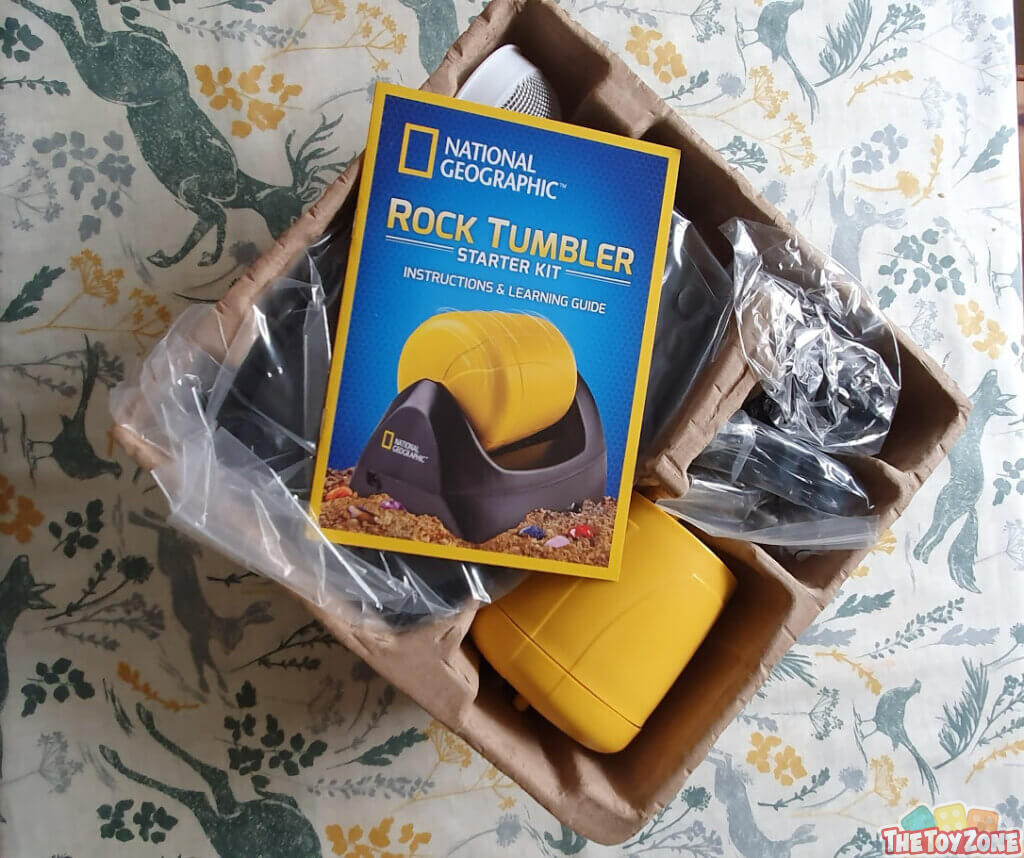 The answer is definitely yes, with a slight caveat. Because I'm not a scientist who understands how rocks turn into gems, I made the schoolboy error of not preparing the boys for how long this process would actually take.
Surely it'd be a few hours, right?
Wrong.
As it happens, it takes many, many days to turn rocks into gems. So if I have a comment to suggest to the good people at National Geographic, it would be that maybe this needs to be made a bit clearer on the packaging so that clueless parents can set realistic expectations?
If you're like me, i.e. not a rock scientist person, it's worth pointing out at this stage of the review that this rock tumbler requires about a month's worth of tumbling to create the finished gemstones. This is totally fine if you don't imply to your kids that they'll be making gem pendants by the end of the first day. Which I, erm, did.
But once we'd moved on from that confusion, they loved setting this up and getting it up and running, which was as simple and straightforward as you'd hope from a Starter Kit.
The instructions are clear and concise and it was genuinely exciting putting the rough and ready rocks into the tumbler with the first packet of grit and some water, wondering what they'd look like a week later.
A big decision you have to make at this stage is where to put the tumbler while it's working away polishing your rocks. This is a big decision because rock tumblers are LOUD, so it wouldn't be ideal to have them in a room where anyone might want to sleep or hold a conversation. But don't worry, you will get used to it!
The instruction book not only tells you what to do but is also full of fascinating information and photos about the different types of gemstones included in the set, giving kids the chance to learn more about them while they wait for them to be polished and shined.
As with all of our hands-on reviews, we bought this tumbler starter kit with our own money so that you would know that it's an open and honest assessment without any bias or expectation of an overly positive review. That's why I mentioned the noise and my misunderstanding about the timings because we want you to be aware before you buy and to make sure you can love this set as much as we did.
What I loved ❤️
For something scientific, this is a really easy-to-use piece of kit
The transformation from dull rocks to shiny gemstones is genuinely cool
As you'd expect from National Geographic, everything included looks and feels high quality.
What I didn't like as much 💔
The noise is disruptive
There aren't really any explanations for how to make the gemstone jewelry
After you've used it once you need to buy more stones and accessories
Specifications:
The tumbler comes with everything you need to create your gemstones apart from water.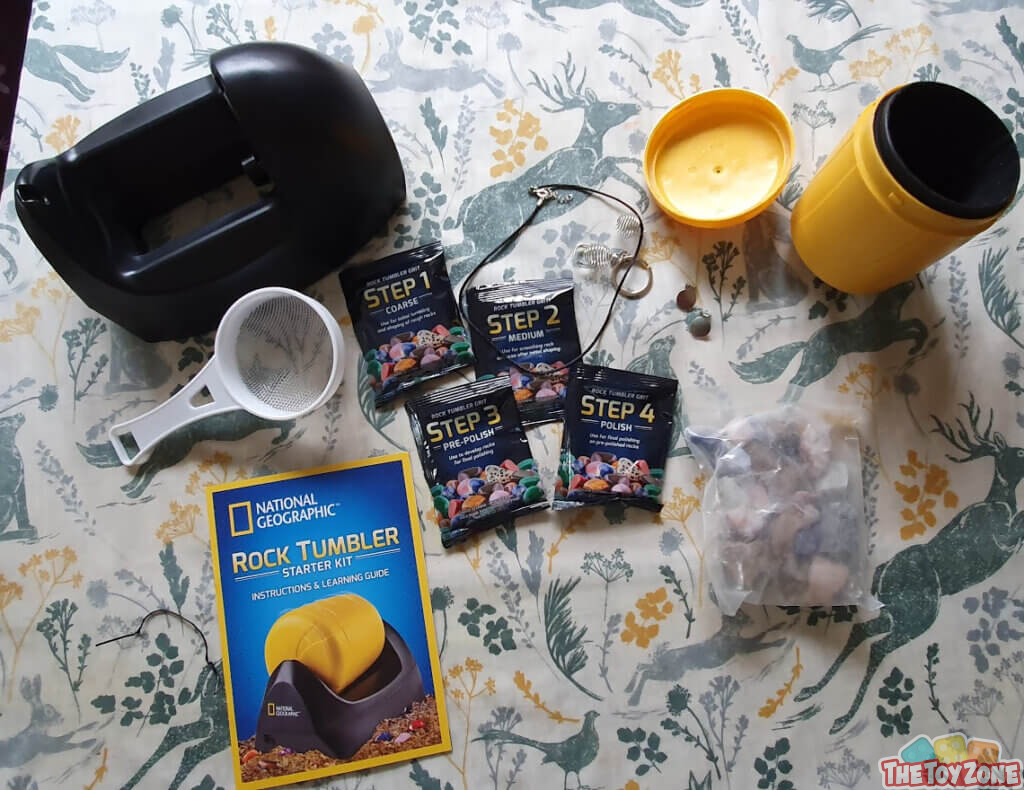 The instructions make it clear how to use the different packs of grit, and the only challenge can be actually closing the lid, which requires a bit of effort.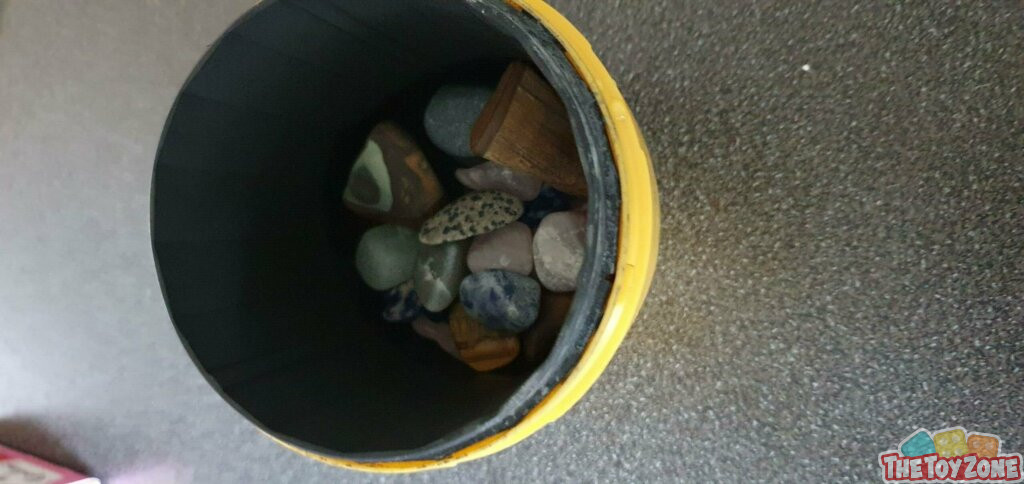 Once in place, it's simply a case of plugging the unit in, watching it tumble, and then remembering to follow the instructions for replacing the water and grit/polish at the right intervals.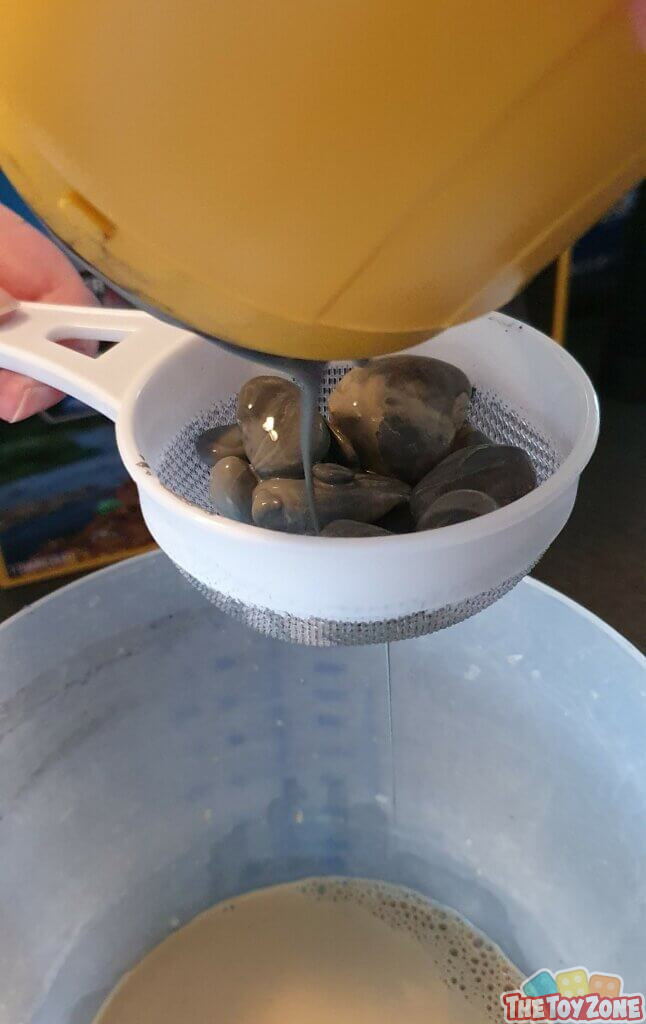 So what did my sons think?
After they got over the initial confusion over how long the process would take, they were very invested throughout, reminding me to switch the tumbler on again anytime I switched it off and eagerly checking the status of the stones each time we reached the end of a stage.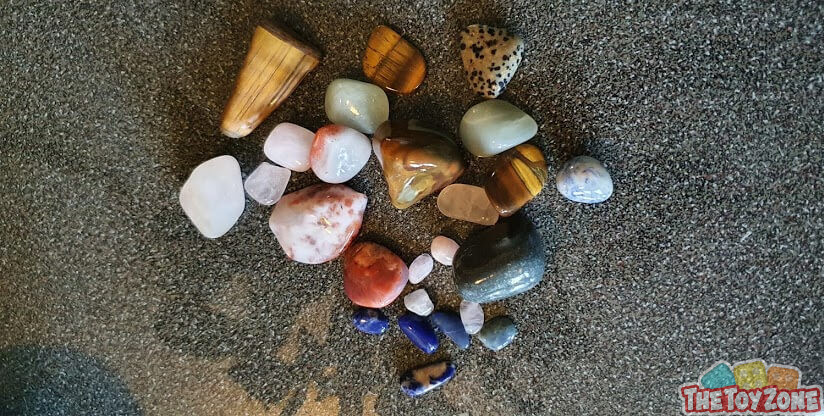 They loved seeing the progression in them as the colors burst through and and rocks got shinier and with softer edges. Once we'd reached the end, they enjoyed claiming 'their' gems, which received the ultimate kid accolade in being taken into school the next day to show off at show and tell.
Sale
NATIONAL GEOGRAPHIC Starter Rock Tumbling Kit - Durable Leak-Proof Polisher for Kids Complete Geology Hobby Science Kit, Rocks and Crystals Kids, A Great STEM Activity
CREATE YOUR OWN GEMSTONES - Rock tumbling is a hugely popular hobby for kids and adults! This starter rock tumbler makes it fun and easy to turn rough rocks into beautifully polished gemstones, thanks to its simple operation and durable design.
A TUMBLER THAT'S MADE TO LAST - The durable motor allows you to tumble multiple batches of rocks. An improved, leak-proof barrel is lined with rubber for quieter operation while tumbling on the sturdy tumbler base.
ALL-IN-ONE TUMBLING KIT - This kit has everything you need and then some! You get ½ a pound of rough rocks with nine different types of gemstones inside, five jewelry fastenings, and our four-stage rock polishing grit.
EASY TO USE AND EDUCATIONAL - Detailed tumbler instructions lead you step-by-step through the rock tumbling process, A full-color learning guide details how rocks are naturally polished and has fascinating facts about the gemstones in the kit.
HIGH-QUALITY EDUCATIONAL TOYS - We're proud to make the highest quality hands-on science toys, and all our products are backed by exceptional service. If your experience is less than stellar, let us know and we'll make things right!
TL;DR
Any toy that helped encourage kids to get into science and learn more about the world around them has to be applauded and this rock tumbler certainly taught my boys (and me) a lot about rocks and gems and all of the stages in between.
It may be a bit noisy and disruptive and it definitely took longer than I expected, but we all loved the whole process and adventure of creating our own gemstones, which looked fantastic at the end.
NATIONAL GEOGRAPHIC Starter Rock Tumbling Kit - Durable Leak-Proof Polisher for Kids Complete Geology Hobby Science Kit, Rocks and Crystals Kids, A Great STEM Activity
NATIONAL GEOGRAPHIC Rock Tumbler Kit – Hobby Edition Includes Rough Gemstones, and 4 Polishing Grits, Great STEM Science Kit for Geology Enthusiasts, Rock Polisher for Kids and Adults
NATIONAL GEOGRAPHIC Rock Tumbler Kit - 3 Lb. Extra Large Capacity Barrel with 3-Speed Motor & 9-Day Timer, Kit Includes Rocks for Tumbling and Rock Polisher Grit, Rock Tumbler for Adults and Kids
Perfect for introducing young geologists into the world of rock tumbling
Take them to the next level with the hobby edition
Ideal for those with the initial knowledge and a thirst for more
NATIONAL GEOGRAPHIC Starter Rock Tumbling Kit - Durable Leak-Proof Polisher for Kids Complete Geology Hobby Science Kit, Rocks and Crystals Kids, A Great STEM Activity
Perfect for introducing young geologists into the world of rock tumbling
NATIONAL GEOGRAPHIC Rock Tumbler Kit – Hobby Edition Includes Rough Gemstones, and 4 Polishing Grits, Great STEM Science Kit for Geology Enthusiasts, Rock Polisher for Kids and Adults
Take them to the next level with the hobby edition
NATIONAL GEOGRAPHIC Rock Tumbler Kit - 3 Lb. Extra Large Capacity Barrel with 3-Speed Motor & 9-Day Timer, Kit Includes Rocks for Tumbling and Rock Polisher Grit, Rock Tumbler for Adults and Kids
Ideal for those with the initial knowledge and a thirst for more