Grab Knuckles, Shadow, Tails and Amy Rose – it's time for a supersonic adventure. Sonic the Hedgehog, with his quick wit, adventurousness and carefree, fun attitude, is exactly the type of character to capture children's hearts (and adult kids-at-heart). So it's no wonder that whether they know him from one of his video games, TV shows or movies, he is a character that kids latch onto.
Why is he so fast? Why is he blue? Is he even a real hedgehog? Stop asking questions and simply accept this speedy blue daredevil and the joy he brings.
This list will help you find the best gift for the Sonic fan in your life, whether they are 4, 14 or anywhere in between. You can deck out your little one's wardrobe, bedroom or desk with awesome Sonic the Hedgehog regalia, or occupy them with a Sonic-themed board game, camera and much more.
We know Sonic lovers come in all shapes and sizes, so we've included options to suit a wide range of ages and interests, all of which have the seal of approval from hundreds of real parents and kids. So don't blink, or you might miss the perfect gift.
Make sure to explore my complete list of Sonic gifts for kids as it includes lots more great options, depending on the type of activities the kid you're buying for is into right now and what practical items they need.
Read on to find the most supersonic gift for your little racer.
Gifts for Their Desk
This LEGO set will be an enchanting walk down memory lane for fans of the original Sonic the Hedgehog video game. To bring the game to life, simply push the lever to launch the Sonic minifigure and help him collect the rings while evading Bug and Crabmeat. The set can also be reconfigured to make different levels, so it's fun even for kids who haven't played the '90s game.
Recommended age: 18 years and above (but we would give it to 12-year-olds and older)
What We Love:
❤️ The build is challenging but made easier by clear instructions and organized pieces
❤️ It looks exactly like the Green Hill Zone in the original game
What We Don't Love:
💔 It would be cool if it had electronic interactive elements like the Super Mario sets
Another excellent option for older kids and adult Sonic fans, this beautifully detailed painted PVC statue can't miss, especially if your giftee enjoys collecting merch. At 11 inches, this figure will look very striking as a desk ornament or on a display shelf, especially as you can almost hear Sonic revving up to run faster than the speed of sound in his dynamic pose.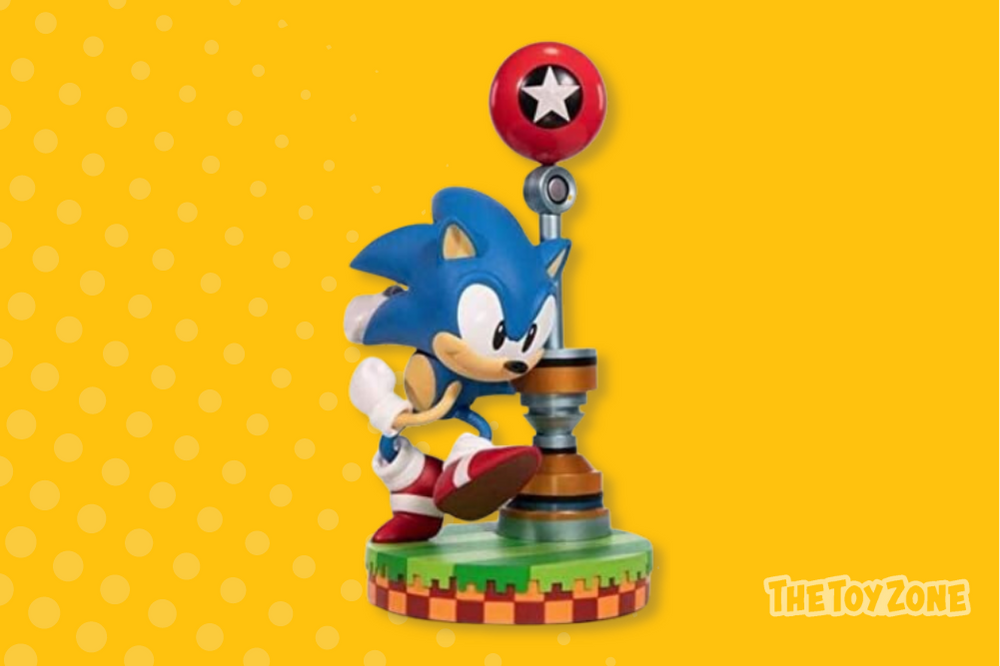 Recommended age: 10 years and above
What We Love:
❤️ The figure is impressively detailed and a nice large size
❤️ It looks fantastic on a desk or display shelf
What We Don't Love:
💔 A few of the attachments are a little flimsy
💡 Tip: Love Dr Eggman? This statue features him and Sonic in an action tableau and is a great alternative.
A more affordable option for Sonic fans who collect figures is this adorable Funko Pop of Sonic the Hedgehog. This special 30th-anniversary Sonic is shown mid-run, with the whirlwind of his feet represented by a bright red whoosh. He's the perfect compact desk ornament and since he is very durable, he can also survive rough kids' play.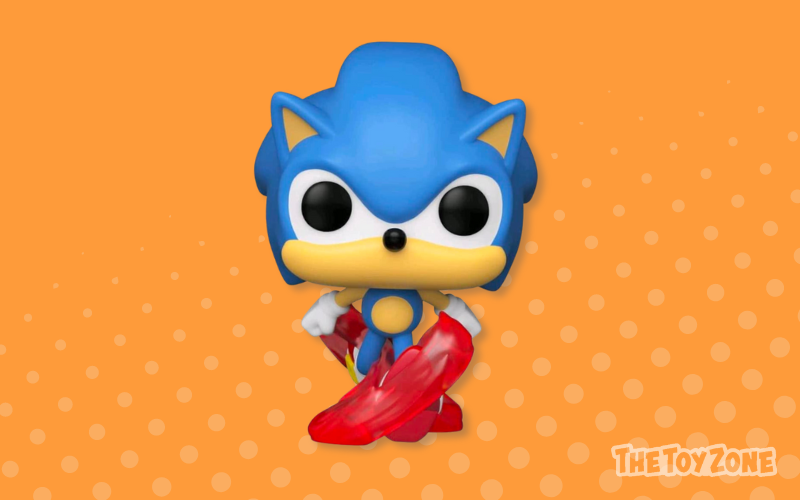 Recommended age: 6 years and up
What We Love:
❤️ Works great as a toy for kids or a desk ornament for older fans
❤️ It's a super cute version of Sonic and the colors are just right
What We Don't Love:
💔 His arms and legs are thin so they can break if they fall from a high height
What could go wrong with combining two icons such as Sonic the Hedgehog and Mr. Potato Head? Well, perhaps a few things, but they go wrong in the best way possible. This off-beat gift is perfect for mischievous Sonic fans of all ages. It's best enjoyed if you have a few Poptater characters to mix and match to create the ultimate Franken-tater.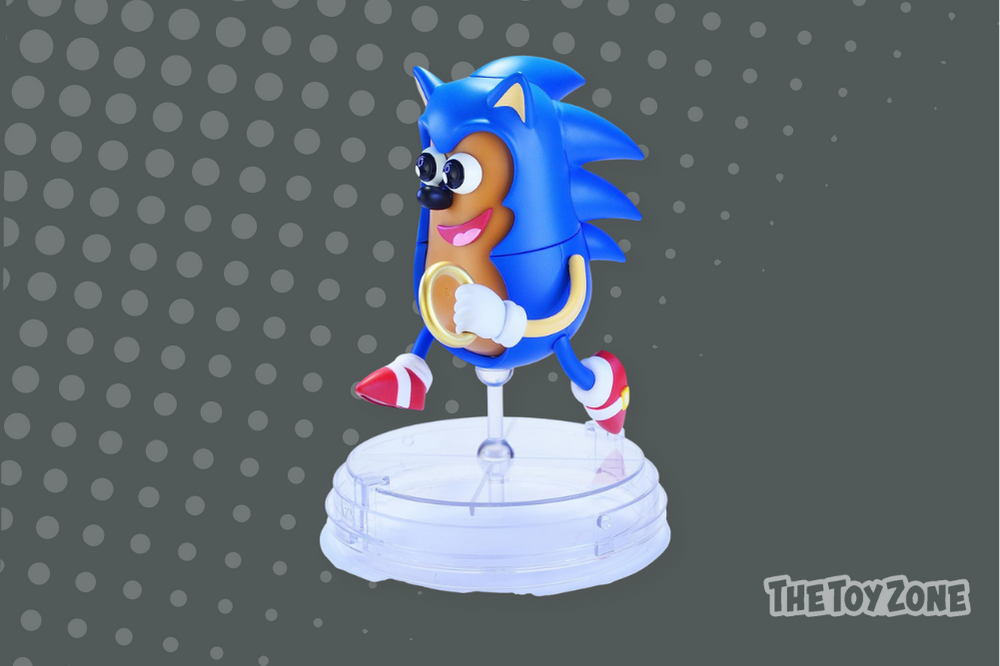 Recommended age: 8 years and above
What We Love:
❤️ It's great for playing and displaying whether inside or outside its box
❤️ If you have a few more characters, it's hilarious to mix and match their features 
What We Don't Love:
💔 It's a little on the small side for a Potato Head
---
Gifts They Can Play With
I had to include this toy for my own nostalgia as I owned it when I was young. Show kids what handheld consoles were like "back in the day," or keep it for yourself and recall your childhood skills. No online battles, no expansive levels, just a couple of simple controls, an LCD screen and some questionable graphics — but with a bit of imagination, all the fun in the world.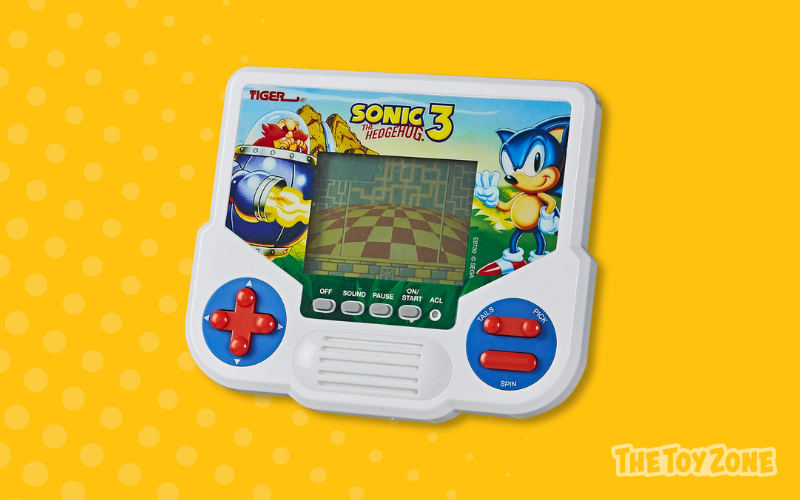 Recommended age: 8 years and above
What We Love:
❤️ It's the ultimate retro gaming experience
❤️ There are six challenging stages to complete
What We Don't Love:
💔 Kids might not love the graphics and the game's simplicity
I don't have to explain Monopoly for you – love it or hate it, it's still the world's most popular board game. But as a Sonic-themed edition, this one has implemented many fun twists. You still buy property, collect rings, fight bosses and try to win Chaos Emeralds. And in true speedy Sonic fashion, the game is a lot faster-paced than the original.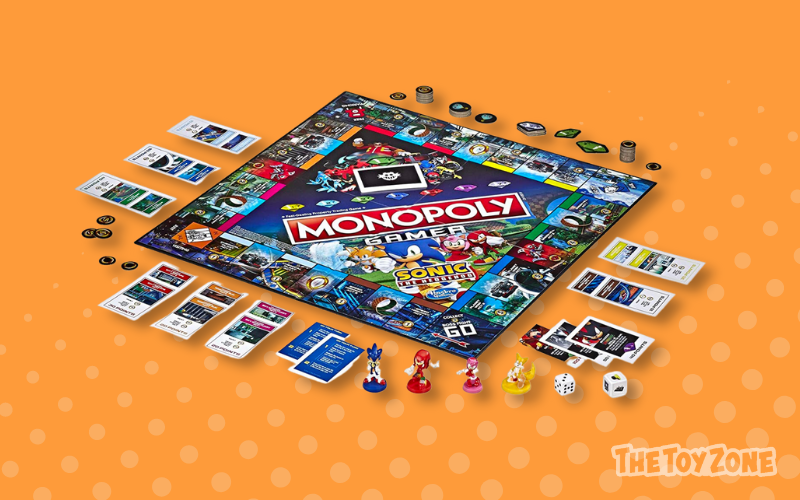 Recommended age: 8 years and above
What We Love:
❤️ It's packed with fun Sonic-themed twists to the classic game
❤️ The pace is faster than classic Monopoly and it has a clear end point
What We Don't Love:
💔 There are only four player tokens
Sonic has starred in many games over the years, but his latest outing, Frontiers, takes us into a new realm of graphics and gameplay. This expansive, high-octane game sees Sonic race across five massive islands, each containing exciting challenges and secrets to uncover. Discover side quests, solve puzzles, scale enormous structures and go fishing – but most importantly, do it fast.
Recommended age: 10 years and above 
What We Love:
❤️ Players get to navigate a breathtaking 3D world
❤️ There are lots of new battle skills to learn and use against enemies
❤️ It's packed with content, from battles to puzzles to side quests and more
What We Don't Love:
💔 It can be a bit too fast-paced at times
It's time to get your own legs ready for running and your arms ready for battle with this awesome Sonic foam dart blaster. With an astonishing 12-dart capacity and dual rotating barrels, this blaster will surely lead to some epic battles. It's covered in Sonic the Hedgehog graphics and imbued with Supersonic power to shoot further, faster and with perfect accuracy.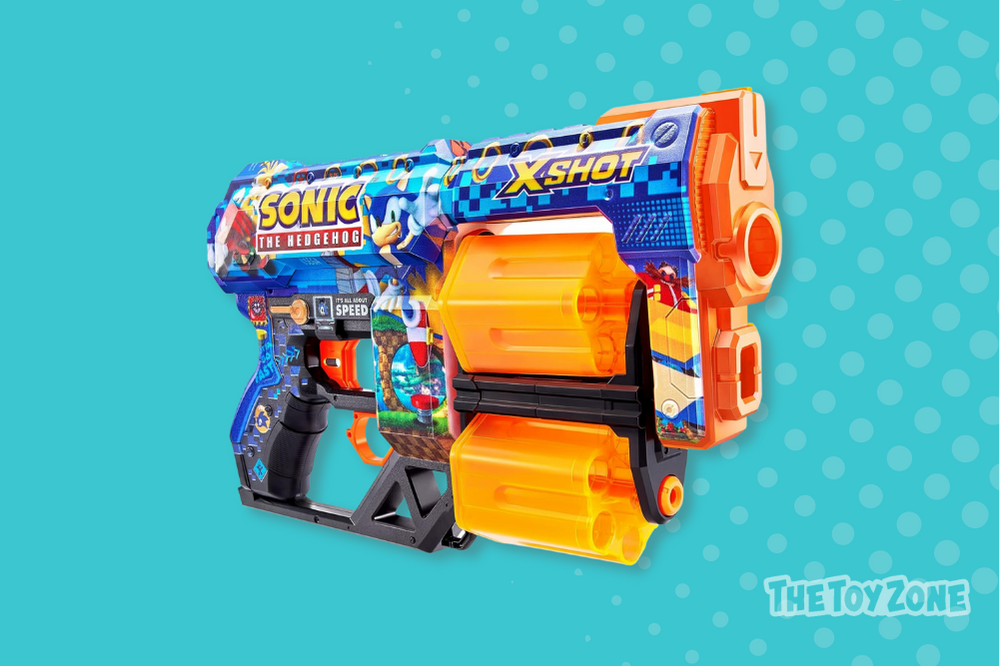 Recommended age: 8 years and above 
What We Love:
❤️ The Sonic graphics look awesome and very professionally done
❤️ It's easy to load and shoots very accurately
What We Don't Love:
💔 A few customers found that it jammed occasionally
As soon as kids learn about photos, they want to take some for themselves, but handing your phone or camera to a 4-year-old isn't always the best idea. With this interactive camera for kids, even the little ones can take pictures in a safe way that won't lead to breakages. It's also decorated with cute Sonic graphics and has extra features like educational games and an MP3 player.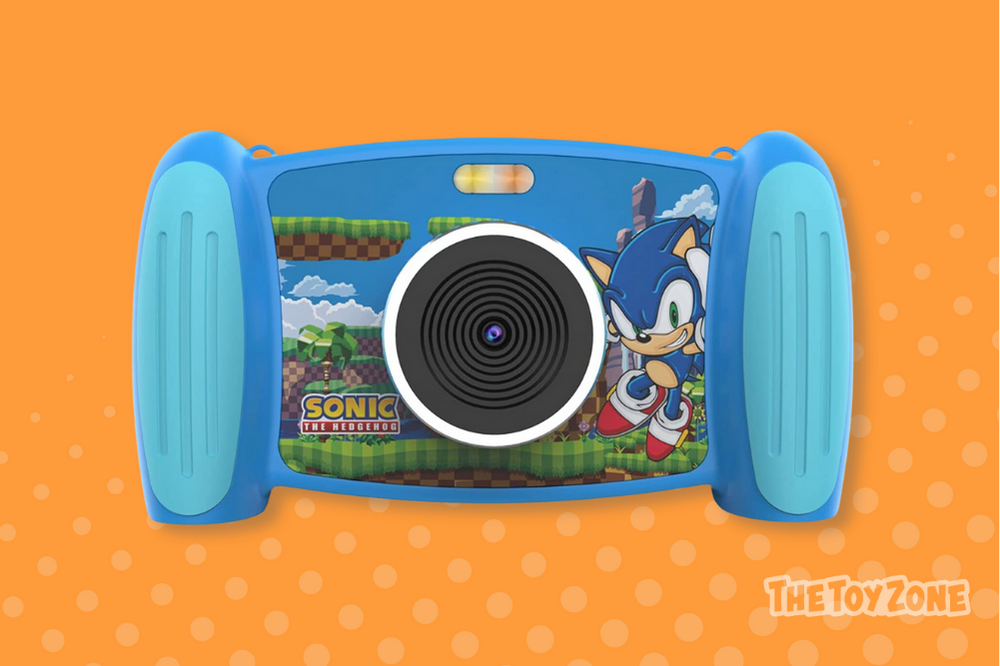 Recommended age: 3 years and above 
What We Love:
❤️ It's easy to use and durable enough for little kids, so it's a great way to introduce them to cameras
❤️ There are tons of fun extra features like games and an MP3 player
What We Don't Love:
💔 It would be nice if it had a color screen
💡 Tip: Can't find the right gift for them to play with on this list? Check out our list of the best Sonic toys which are perfect for younger Sonic fans.
---
Gifts They Can Wear
Let your little one inhabit the spirit of Sonic daily with this adorable hoodie. Featuring massive Sonic the Hedgehog graphics on the front and cute little ears on the hood, they'll never want to take it off. The 100% cotton fabric is also super soft and comfy and lasts hundreds of wear and wash cycles.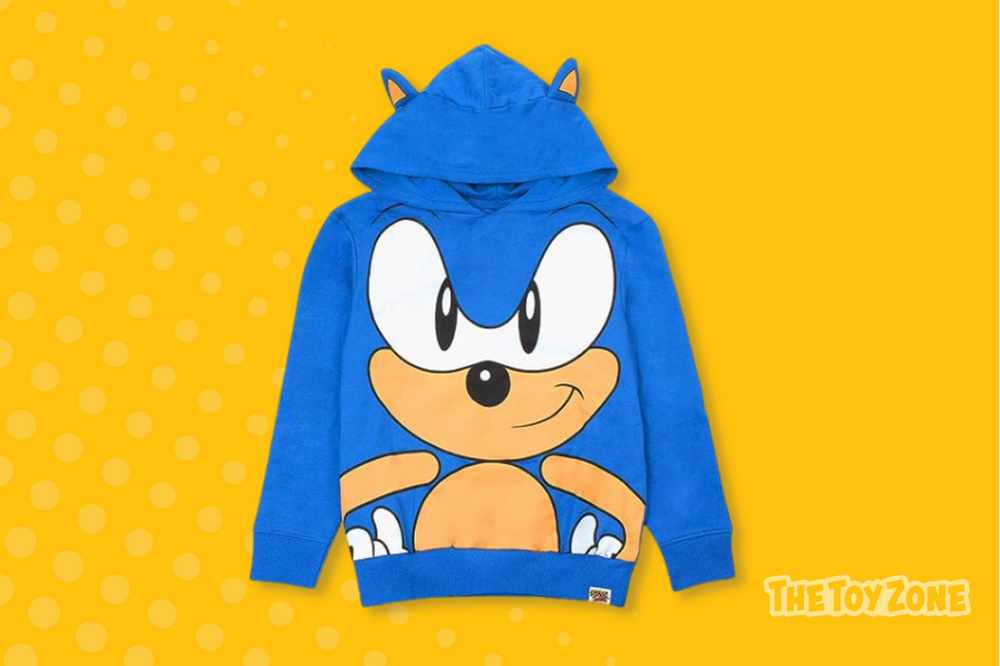 Recommended age: 4 to 12 years
What We Love:
❤️ It's made from high quality 100% cotton that doesn't deteriorate in the wash
❤️ The design is fantastic — Sonic-loving kids will want to live in it
What We Don't Love:
💔 The sizes run a little small so it's best to buy a size up
Take Sonic with you everywhere you go with this bright, multi-functional touchscreen watch. It offers many cool applications, like a selfie camera, video player, voice recorder, calculator, alarm clock, pedometer and various playable games. Plus, you can change the clock face to your favorite Sonic pose. But to keep it safe for kids, no WiFi, calling, or texting is available.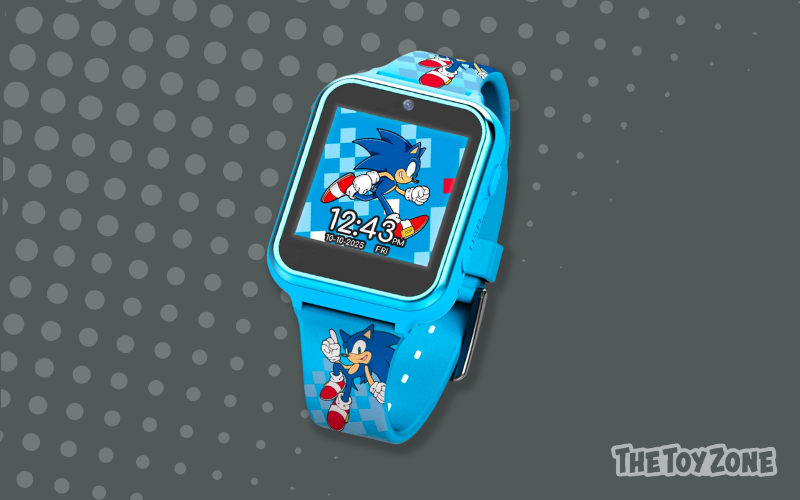 Recommended age: 4 years and above
What We Love:
❤️ There are no WiFi, calling or texting features for your kid's safety
❤️ There are loads of features for kids to have fun with, including a camera 
❤️ It has a USB rechargeable battery
What We Don't Love:
💔 The screen can crack when hit or bumped
Liked the hoodie but prefer a summertime gift? Then this 3-pack of T-shirts is the ideal option. Each T-shirt features a different iconic character (Sonic, Knuckles or Shadow), so kids can pick which one they feel like each day or form a matching team with their friends. There are two different design approaches, but both sets are bright, colorful and super cute.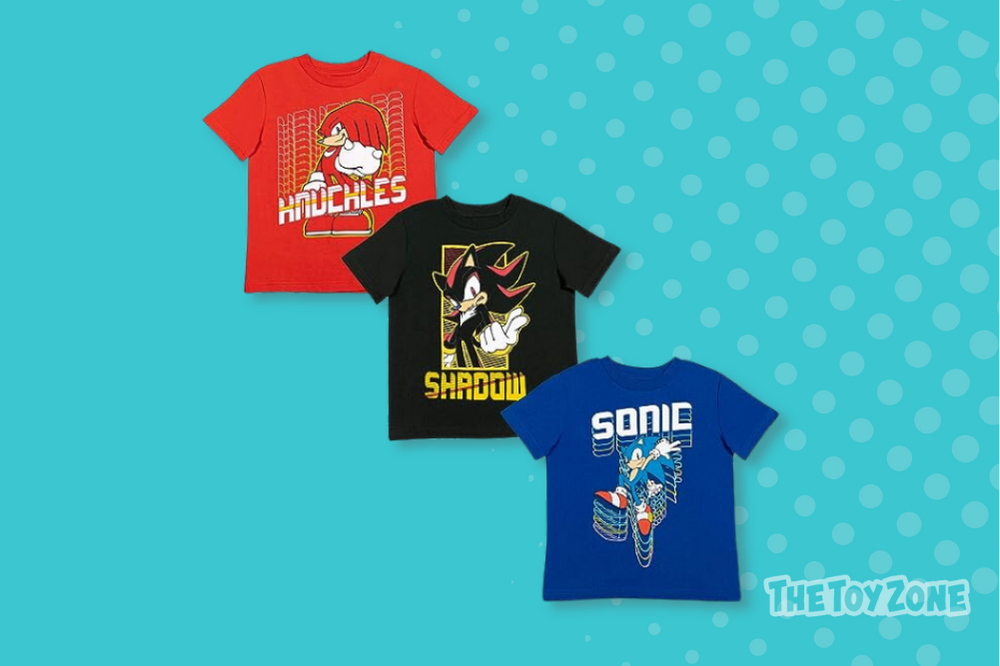 Recommended age: 2 to 16 years
What We Love:
❤️ There are a few designs to choose from and they're all super cute
❤️ The material is nice and soft and clearly high quality
What We Don't Love:
💔 The colors on the Shadow shirt are a little off
💡 Tip: Pair a T-shirt with some socks to create a complete look and the ultimate Sonic gift.
If the Sonic superfan you're shopping for is an older kid, this embroidered hat is sure to go down a treat. Featuring Sonic's head perfectly embroidered on the crown in nostalgic 8-bit style and "Don't Blink" lettering on the back, this is the best way to show off your love for the speedy hedgehog in style. Plus, the flat pleather bill gives it an extra touch of class and quality.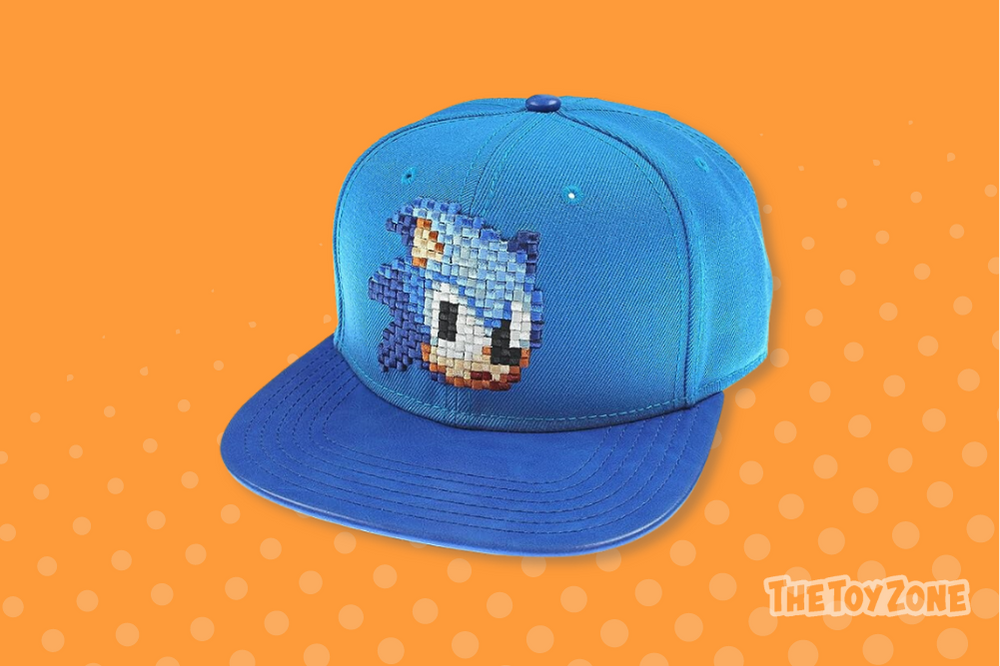 Recommended age: 14 years and above (but it can just about fit kids 8 and up with the adjustable snapback)
What We Love:
❤️ The stitching is impeccably done
❤️ It feels much more expensive than it is, especially with the faux leather brim
What We Don't Love:
💔 It's made for adults so it's too big for younger kids
💡 Tip: The only thing that could make that cap look cooler is by wearing it with these Sonic themed sunglasses for kids.
Crocs are fantastic summer shoes for kids, as they are comfortable, easy to clean, quick to slip on and off and not damaged by water. Plus, the little holes in them are the perfect opportunity to accessorize with cute charms. These bright red Sonic the Hedgehog crocs take advantage of that, as each shoe features four adorable Sonic-themed Jibbitz shoes.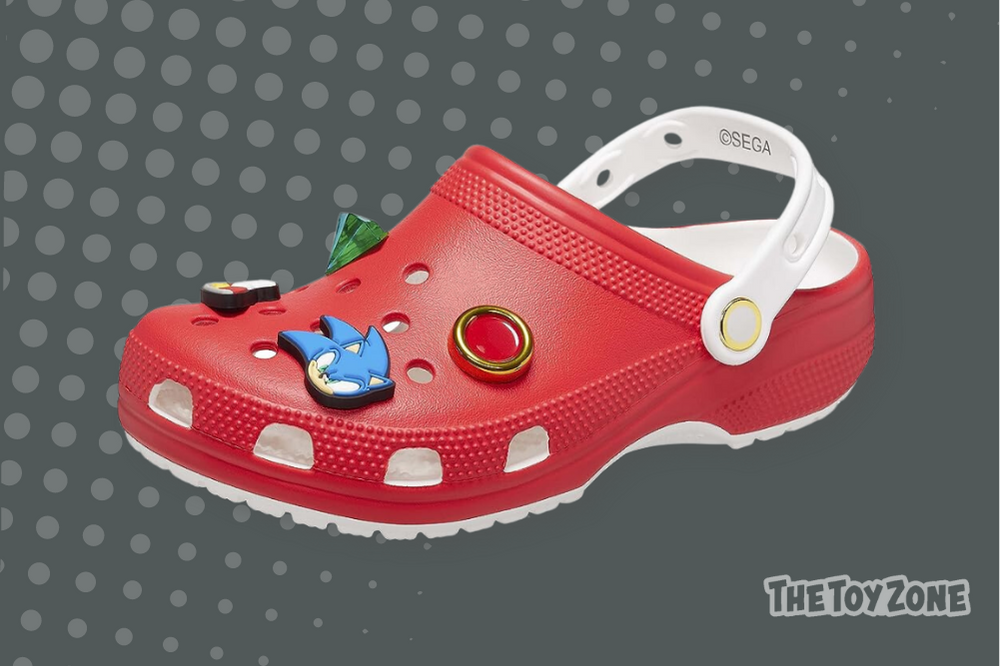 Recommended age: 1 to 10 years (depending on shoe size)
What We Love:
❤️ They're adorable Crocs covered in Sonic-themed charms 
❤️ Crocs are high quality and perfect for the summer, especially by the beach or pool
What We Don't Love:
💔 The sizing seems to run a bit small
---
Gifts for Their Room
No matter how old the Sonic fan in your life is, it'll be hard not to please with this 9-inch plush. Young kids love plushies as they can hug them, play with them and bring them wherever they go. And as this one can sit on its own and features a loop to hang it from, older kids can display it in their room in multiple ways.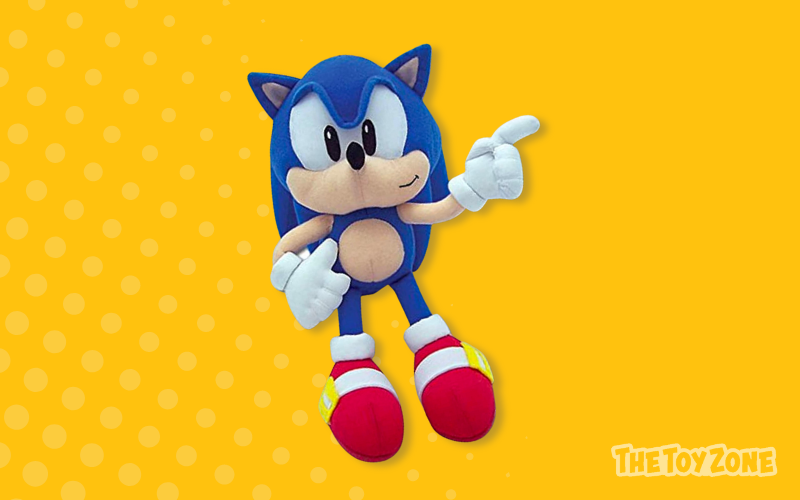 Recommended age: 3 years and above
What We Love:
❤️ He is accurate enough for collectors and tough enough to be a toy
❤️ He is well stuffed so he can stand or sit by himself
What We Don't Love:
💔 The stitching may start to come apart after a lot of rough play
If you want to turn your kid's room into a Sonic wonderland, this comforter and sheet set is the way to go. The vibrant colors and character graphics will appeal to young kids, and they'll love that you can flip the comforter and pillows over to reveal another design. Plus, the microfiber material is luxuriously soft and super easy to wash with no ironing required.
Recommended age: 3 years and above
What We Love:
❤️ The comforter is filled with microfiber, so it's fluffy, soft and lightweight
❤️ The design is vibrantly colorful and looks just like the picture
What We Don't Love:
💔 The microfiber material feels nice and soft but has a tendency to slide around
Another practical way to bring your kiddo's love of Sonic into their bedroom is with this super cute area rug. Featuring Sonic, Knuckles and Tails against a backdrop that makes it look like you're viewing the scene from above, this rug is perfect for sitting on and playing with your Sonic action figures. Parents will also love that it's non-slip and a breeze to clean.
Recommended age: 3 years and above
What We Love:
❤️ It's durable, easy to clean and dries quickly
❤️ It's wonderfully colorful and lovely and large too
What We Don't Love:
💔 It could be a little thicker
Night lights are an excellent way to comfort kids who are afraid of the dark and even if they aren't, this one makes a great addition to any Sonic fan's bedside table. The 3D visual effect looks fantastic in the dark and you can choose from seven different colors or even combinations. You can also adjust the brightness levels or set a timer so it turns off automatically.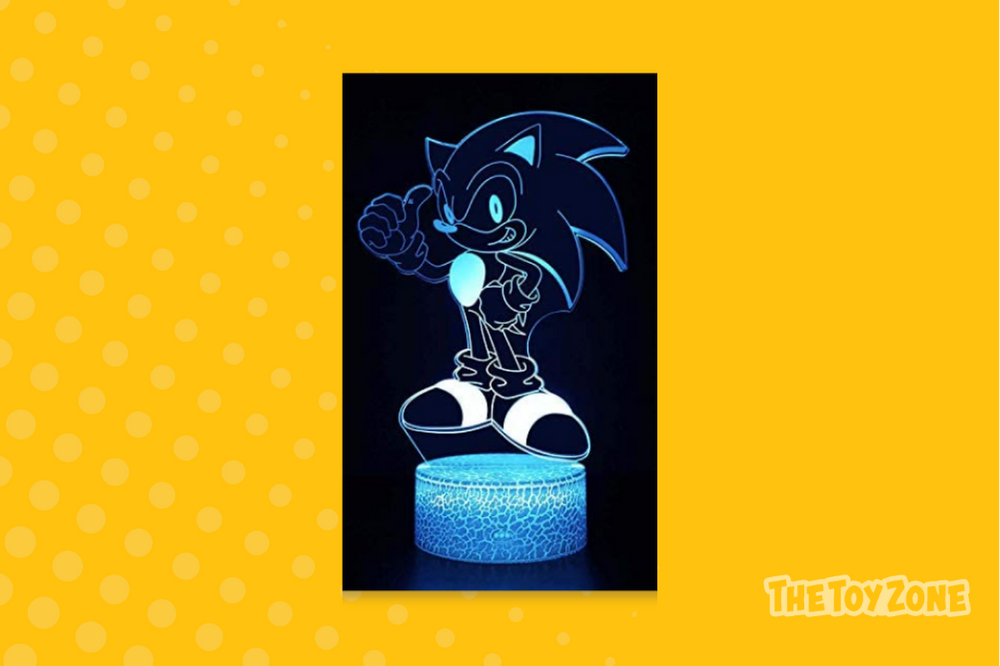 Recommended age: 3 years and above
What We Love:
❤️ You can dim the light, change the color and set a timer
❤️ It can be powered by a USB cable or disposable batteries
What We Don't Love:
💔 The remote is a little hard to master
Headphones aren't just for grown-ups. Kids also love listening to music or storybooks, and headphones allow them to do so without annoying everyone around them. These Sonic the Hedgehog ones look adorable and feature super plush and comfortable ear cushions. The sound quality is clear and balanced, and there's a volume limit built in, so they won't damage little ears.
Recommended age: 3 to 9 years
What We Love:
❤️ The sound quality is great and it won't go above a safe volume
❤️ They are super comfy for little ears
What We Don't Love:
💔 The cords are a bit thin which means they aren't as durable as they could be
---
Gifts They Can Take to School
Just when you thought you couldn't show off your infatuation with Sonic any further, these fun backpack hangers will take your dedication to the next level. With six characters to collect, including Shadow, Tails, Amy and Sonic (obviously), these 3-inch figures are perfect key chains, backpack hangers or portable toys. It's a blind bag, so you can't choose what figure you get – but that just adds to the excitement.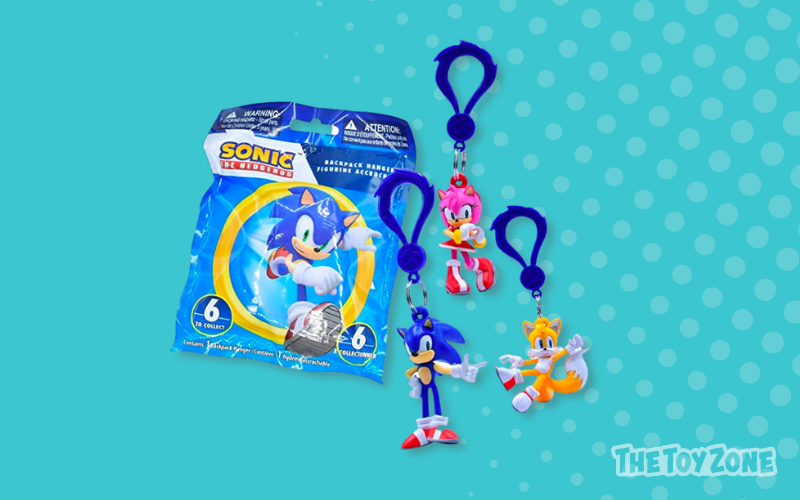 Recommended age: 3 years and above
What We Love:
❤️ Each character strikes a different pose, and they're all very detailed
❤️ They come in mystery bags which adds to the excitement
What We Don't Love:
💔 You can't choose which character you're gonna get
The inside of a lunch bag can say a lot about a person, but the outside can say even more. You'll show the world you're a hoghead when you rock up to lunch with the hog's head as a lunch bag. This bag has two separate compartments to store your food, plus a drink or ice pack, and it's insulated to keep it all cool.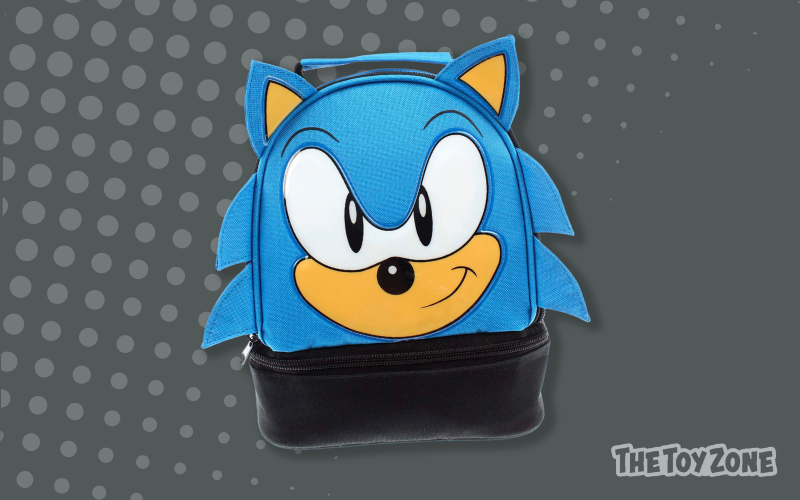 Recommended age: 3 years and above
What We Love:
❤️ The compartments are insulated to keep the food warm or cool
❤️ It has a carry handle and a compartment for an ice pack
What We Don't Love:
💔 It is a bit small, so it won't fit a lot of different food items
💡 Tip: If you're not a fan of that design or want something bigger, check out this Sonic Lunch Box Set as an alternative.
Whether for gym class, sports practice, or simply staying hydrated throughout the day, this Sonic water bottle will take care of your needs and make you look rad. The leak-proof bottle shows Sonic, Tails and Knuckles racing into action and includes a straw for easy drinking. It also comes in a pack of two, making it a very economical choice.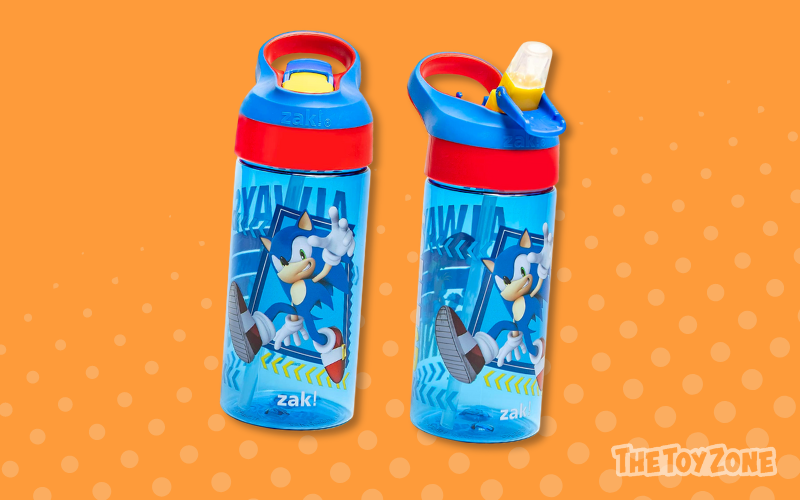 Recommended age: 3 years and above
What We Love:
❤️ It's nice and colorful and doesn't leak
❤️ Made from thick and durable plastic but still lightweight
What We Don't Love:
💔 The printed design wears off over time
When heading back to school, your little Blue Devil will need a durable backpack to survive the playground. This awesome 16-inch backpack, made from water-resistant nylon twill and sturdy foam mesh for long-lasting performance, fits the bill. Plus, your kiddo will love the 3D Sonic design, making them very easy to spot at the school gates.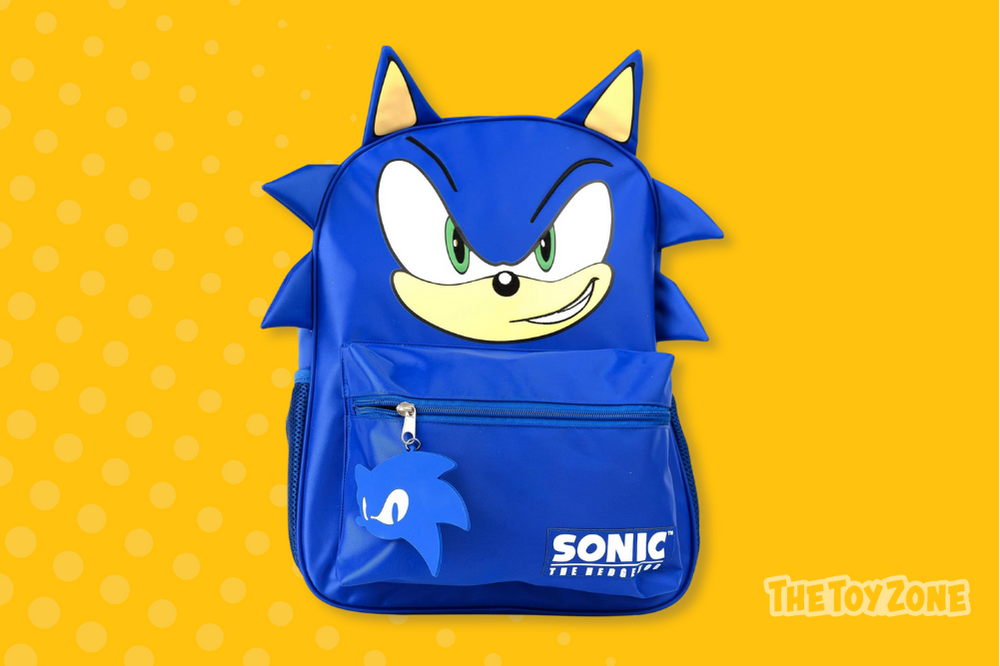 Recommended age: 3 years and above
What We Love:
❤️ It is sturdy enough to survive rough handling and very easy to clean
❤️ The design is adorable and makes kids easy to spot
What We Don't Love:
💔 The zipper isn't as durable as the rest of the backpack
---
Frequently Asked Questions About Sonic the Hedgehog
🙋 What are Sonic's personality traits?
Sonic is a friendly and easy-going hedgehog who is honest, loyal to friends and has a strong sense of justice. As well as being a speedy runner, he's also quick-witted. But this speediness does come back to bite him in some ways, as he has a short temper, is a little egotistical and always a daredevil.
Sonic isn't just a two-dimensional cartoon — he is a carefully thought-out character whose personality traits add to the entertainment and humor of the TV show and games. At the same time, he shows kids that it's okay to make mistakes if your heart is in the right place – but that there are consequences to not thinking before you act.
🙋 Is there a Sonic the Hedgehog TV series?
There are several Sonic the Hedgehog TV Series. The 1990s saw two of them: The Adventures of Sonic the Hedgehog, an animated series based on video games aimed at young kids, and Sonic the Hedgehog or SatAM, a darker take on the same characters and universe.
Then there's SonicX, a popular Japanese anime show aired between 2003 and 2005. More recent iterations include Sonic Boom, an American-French CGI animated series from 2014-2017, and Sonic Prime, a Netflix-produced series with the same CGI animation style released in 2022.
🙋 Is Sonic the Hedgehog OK for 5-year-old?
As you can see from the above, Sonic the Hedgehog appears in many iterations, so the answer may differ depending on which one you're referring to. However, overall, 5 seems to be a little too young to watch Sonic.
While the original Adventures of Sonic the Hedgehog may be okay for 5-year-olds, Sonic SatAM is a little darker and best for kids over 6 years old. Sonic Boom and Sonic Prime include slightly more realistic violence, as do the two feature films, which include somewhat more realistic violence, so they are best kept for kids aged 8 and above.
If you're referring to the games, the answer is again different for each option. However, there are more Sonic games suitable for 5-year-olds, such as Sonic Mania and Sonic Origins, as well as most older 2D platformers.
---
So… What Sonic Gift Should You Get?
Hopefully, with the help of this article, you won't find it challenging to pick a Sonic the Hedgehog gift for a Sonic superfan of any age.
Depending on your budget, their interests and what might be helpful to them right now, any of the above options could be stellar. For example, a backpack or lunch bag could be ideal if they're about to start the school year. Or, if their bedroom could use a freshen-up, one of the Sonic figures or a comforter set might be the way to go.
Picking just 23 Sonic gifts was hard, as there are so many great options. So please do let me know if you think I missed anything. And if you think your little daredevil would prefer a toy to a practical gift, we've also made a list of Sonic toys to play with.
---