My memories of being 5 are a little fuzzy around the edges. They're basically a jumble of twirling around in tutus, making mud pies, developing elaborate backstories for my plushies and being convinced I could avoid turning 6 if I refused to blow the candles on my birthday cake.
For 5-year olds, the world is a sometimes scary and sometimes wondrous place of new experiences and discoveries. All the while, their little minds are working hard to make sense of it all, and occasionally they'll come out with something that reveals there's a lot more going on in there than meets the eye.
Unlike some age groups, it's honestly not that hard to find gifts that 5-year-olds will love. Of course, they do have particular passions and interests, but they're also usually very curious and open to being introduced to new things. What can be difficult, however, is deciding between the myriad of options out there and knowing which ones are actually quality products that will stand the test of time (and some rough playtime).
But that's where I come in.
My list below is packed with items 5-year-olds will absolutely adore AND that will be played with for longer than a few hours. I have spent three full days researching and collecting different toys, games, playsets and gifts that will captivate the developing minds – and hands – of 5-year-olds based on my own experience as a mum of a soon-to-be 6-year-old (how time flies!)
Let's dive in!
Gifts for LEGO Builders
What 5-year-old doesn't love ice cream? Or trucks and LEGO for that matter? This colorful LEGO set combines three things kids love to make an adorable and engaging building toy with lots of fun accessories to play with. As well as all the ice creams on offer from inside the truck, there's also an ice cream seller and skateboarder minifigure, as well as a lovable doggie.
Something to be aware of, however, is that if your 5-year-old likes to play rough with cars, then you will find yourself re-building this LEGO ice cream van truck again and again and again.
Not all 5-year-olds are ready to follow complex instructions to build something accurately – they'd rather just play and see where their creativity takes them. This set is perfect for that because while there is some guidance, kids can build the monkeys however they want – potentially creating very strange creatures! The monkeys also feature jointed arms and gripping hands and tails, so they're lots of fun to play with.
This is another great affordable option and one that involves more creativity than lengthy instructions. Perfect for fans of The Little Mermaid, it's packed with features that bring the movie to life, including a revolving statue, a folding shell throne and bookcases with hiding spots for a book and map. And when you're done playing, it all folds up into a "book", so it's ideal for taking on vacation!
Disney princesses are beloved among 5-year-olds, and Cinderella, with her sparkly dress and magical story, is an all-time favorite. This set takes us right to the happy ending, where kids can play out Cinderella's perfect life with Prince Charming in their enchanting castle. The castle is full of feature-packed rooms, including a spinning dance floor, and all the animal minifigures prove that Cinderella never forgot her four-legged helpers!
---
Gifts for Kids Who Love Stuffed Animals
Plush toys are another winner for most 5-year-olds – especially because at this age, they're not just for snuggling but for playing with too. This set of 4 plushies is ideal for both purposes, as they make up the Heeler family from the Australian cartoon Bluey. As well as being wonderfully soft and cuddly, these plushies are a good size to bring with you so you can play and snuggle anywhere!
Is your little snuggle bunny more into Pokemon? If so, this Pikachu plush is sure to go down a treat. As it's officially licensed merchandise, you can rest assured that this Pika is super well made and just as bright and friendly looking as he is in the show. He's also luxuriously soft and huggable and can sit by himself, making him the perfect bedtime and daytime companion.
Most kids love unicorns, but with all their hooves and horns you might not expect them to be that snuggly. But this Mary Meyer plush is the softest and cuddliest unicorn you'll ever find, with creamy fluffy fur and a soft metallic horn. The soft and floppy design makes this a great bedtime plushie, and it's super easy to wash so there's no need to worry about getting grimy.
Calling all parents of little Super Mario Bros. players! This Yoshi plush is another great compact option for throwing in backpacks that is still big enough to play with and squishy enough for bedtime cuddles. This little Yoshi is super cute with his giant nose and tiny shell, and thousands of customers have attested to his quality and durability.
---
Gifts for Marvel Fans
Mr Potato Head is an absolutely iconic toy, and kids love mixing and matching his features to create hilarious characters. In this version, our favorite spud gets a Marvel makeover to turn him into Spiderman. He comes with lots of different features to swap in and out and even a handy carrying case so all the pieces don't get lost!
I've got a little trick to make sure my son's Mr Potato Head doesn't lose its bits and bobs: saving it inside a box right after he is done playing with it, and taking it out the box upon request. With a little 2-year-old in the house, that is the only way Spider-Spud will continue to have all its limbs and features.
What happens when you put Marvel, monster trucks and LEGO together? Amazing things, that's what! This awesome LEGO set requires just a little building to put together the Hulk's and Rhino's monster trucks, then it will be nonstop playing and imagination. Fire missiles from Spiderman's jetpack, let the monster trucks clash and battle and catch the box from the vault in Spidey's web!
This is for kids who like their roleplaying to involve running around outside, and preferably some galactic battles! With this Nerf blaster, kids get to embody the Star-Lord from Guardians of the Galaxy and save the day by engaging epic battles and saving the lives of those in danger. With its soft foam darts, this blaster is totally safe for kids, but playing with it is dangerously fun.
By 5, kids are finally old enough to start playing board games, and the highly tactile and visual Top Trumps Match is a great way to begin. Players take turns moving the cubes to make a line of the same Marvel character on their side of the wall. Sounds simple, but at any time your opponent might move one of your matches in order to make one of their own!
---
Gifts for Little Barbie Lovers
Color reveal Barbies have been a huge hit because kids love surprises, and Mermaid Barbie is the perfect kind to do it with because you get to discover what her beautiful tail looks like. Simply fill the tube with water and swirl her around to reveal her true colors! The color reveal can be repeated multiple times with cold or warm water to reveal different magical changes.
Barbie Cutie Reveal is another mystery Barbie series, perfect for kids who love fluffy animals. There are so many layers to reveal, from the star-spangled teddy bear suit hiding Barbie herself to the mystery bags to color changes that reveal animal face paint on Barbie and opening eyes on her furry friend! Be prepared for a crescendo of excitement as kids make more and more discoveries.
With her long luscious rainbow locks, you might think this Barbie's hair is fabulous enough – but wait till you comb it with the glitter comb and watch the sparkles appear! You can also get creative by adding pretty clips, braids, or any other hairstyle you want. When you're done, simply rinse out the glitter and Barbie will be ready for a new 'do as soon as her hair dries.
This Barbie dollhouse is perfect for kids who have a few Barbies but no home for her to live in. This cute dollhouse manages to include a kitchen, bedroom, bathroom and even an outdoor pool. There are lots of accessories for Barbie to use in her daily life, and it all folds up into a compact carry case that you can bring on vacation or to a friend's house!
---
Gifts for Little Gamers
Whether your little one has played Nintendo Switch games yet or not, Yoshi's Crafted World is a great option. Help Yoshi find his way through a world full of paper cutouts, cotton wool and crafted odds and ends, overcoming enemies and obstacles as he goes. The game is cute and colorful and simple enough for total beginners, but there's new things to discover each time you play!
If you'd rather keep your kiddo in a more tactile and less LCD-screen version of gaming, then check out the Tamagotchi Pix. Now although this does evoke the OG Tamagotchis, it has a whole lot more to offer, including 18 different games, the possibility to interact with your Tama and take it on playdates, and of course the ability to take pictures – with or without your Tama!
Yum Yum Cookstar is another great kid-friendly Switch game, and one that won't break the bank. As the name makes clear, this is a game for little chefs and foodies of all ages. With 4 difficulty modes, it's accessible to beginners while still providing room to improve, and it gives you ideas for dishes you can try out for real in the kitchen!
This Sonic the Hedgehog-themed smartwatch is packed with cool activities and features, including a camera, voice recorder, calculator, alarm clock and of course a pedometer. But probably the feature that will get kids the most excited is all the games they can play right on their wrist! But to keep kids safe, there's no calling, texting or Wi-Fi connection – just a lot of fun features to play with.
---
Gifts for Kids Who Love the Outdoors
This giant 4-to-score takes the beloved classic game of Connect-4 and gives it the jumbo treatment, turning it into a larger-than-life lawn game. It's super fun at parties and it's perfect for kids overflowing with energy as it doesn't require them to sit quietly. But they'll still be doing all the same problem solving and getting all the same cognitive benefits!
A trampoline is a total win-win in my book. It's endlessly fun, gets kids outdoors and active, and is a built-in activity whenever they have friends over. The only issue is that trampolines can cause painful pinches and bumps – but luckily this one won't do that as it is low to the ground, has a safety net all around it and its springs are covered with protective padding.
If you have another little one, then you can't go wrong with a trampoline. It is a fun activity best experienced with siblings and friends.
There's no 5-year-old out there that doesn't love jungle gyms and tree houses, but not everyone has the trees or yard space for a permanent one. This portable jungle gym is great because not only is it small enough for tight spaces, but you can move it around as necessary so it works for renters too. It's also got a platform and tent that makes a wonderful fort!
This one's for all those little nature explorers who love getting their hands dirty and searching for creepy-crawlies, weird rocks and pretty leaves. In fact, it's a great way to shift kids' attention away from screens and towards nature even if it's new to them. With a whopping 23 accessories included, kids will be able to observe things up close, collect objects, capture and store insects and more!
---
Gifts for Kids Who Love Tech & Gadgets
If you've introduced your 5-year-old to this amazing Pixar classic, they'll be over the moon to get a little WALL-E of their own. Featuring simple remote-controlled movement plus 20 lights and sounds, this toy really brings to life the lovable robot character. Kids will be utterly immersed by this lifelike toy that can even grip items in his hands!
If you're thinking of getting your kiddo their first tablet, the 7th Gen iPad is a great choice. Like all Apple products, the user interface is highly intuitive and easy to understand, and it's durable enough to last for years despite a few scrapes and falls. Most importantly, it offers robust parental controls so you can keep kids safe while they have fun on their iPad.
Walkie-talkies are always fun to play with, especially for role playing as detectives or cooking up heinous schemes to trick parents and siblings! These Mario and Luigi themed walkie-talkies are naturally ideal for fans of the Super Mario Bros., and I just love their brightly colored, 3D character designs. They're also guaranteed static-free and cover an impressively long range.
---
Gifts for Board Game Players
Trouble is an absolutely classic board game for young kids, as it's simple enough for them to pick up quickly while introducing them to key boardgaming concepts like dice and turn taking. And if your little one loves Bluey, they'll adore this edition as all the pegs depict members of the Heeler family. Of course, the iconic Pop-O-Matic die roller is still there to add a little pizzazz!
Another iconic kids' game, Operation is tagged for ages 6 and above, but it's fun for 5-year-olds too if they aren't too frustrated by finicky tasks. Either way, it's sure to improve their hand-eye coordination as they erupt in shocked giggles whenever the buzzer goes off. I'm not sure why this poor patient has so many strange things in his body, but he needs your help!
A tip from the mum of a slightly fearful 5-year-old: this board game might not be the best gift on this list. Scroll down for Yeti In My Spaghetti 👇
Is 5 too young to introduce kids to Monopoly? Not if it's this Super Mario edition! As a junior version, this game is a lot simpler and faster-paced than the original. Naturally, you collect gold coins rather than dollar bills, and the locations all exist within the Mushroom Kingdom. There's even the possibility of powering up and making the Super Mario coin sound with the giant coin!
Yeti In My Spaghetti is a little bit of pick-up-sticks, a little bit of Jenga, and a whole lot of bizarre! Players must take turns removing spaghetti noodles from the bowl (which the yeti is balancing on) without letting him fall. This game has everything 5-year-olds love – a hilariously nonsensical theme, simple gameplay that still requires some skill, and the inevitable laughter when it all goes awry.
---
Gifts for RC Drivers
Who says kids can't have sleek and stylish cars? They absolutely can – in remote control form of course. This Porsche Mission E is for preschoolers who appreciate the finer things in life. On top of looking awesome, this little sports car is easy to control thanks to the range of speed modes. Plus, it features working headlights, and comes with a "charging station" because it's an E-car!
We all know Hot Wheels, but did you know they made RC cars too? Think all the quality and craftsmanship that goes into the die-cast models, but in much larger, remote controlled form. This one is the exact model of Barbie's 1956 Corvette Stingray from the recent movie. Of course, you can put real Barbies inside and take them for a ride using the matching pink RC!
For any kid who enjoys Mario Kart, bringing it to life in their own living room will feel like a dream come true. And though playing with an RC Mario Kart sounds fun enough, this is exponentially increased by the augmented reality from the accompanying Switch game. Watch as in-game environments appear in your home and see the real-life kart react as you boost and drift on-screen!
---
Gifts for Music Lovers
You're never too young to be a DJ, which this KidiStar DJ Mixer proves. Music-loving kids will have a blast playing with the DJ turntable and experimenting with mixing tracks and sound effects. Of course, there's some things kids may need help with, but there's plenty to engage them on the surface level and I love that there's room to discover more as they grow!
Another way to let kids explore their musical sensibilities is with a musical instrument. While many instruments are an expensive commitment at age 5, a ukulele is a great option as it's not too pricey and it's small enough for 5-year-olds, but will still suit them as they grow. This option is beautifully crafted and features multi-colored strings that make it easy for kids to learn the notes.
Let your kiddo enter their own musical world with these wireless headphones designed for kids. These bad boys protect kids' hearing by never exceeding 85dB, and they're adjustable enough to fit toddlers all the way up to middle schoolers. Next time your kid wants to listen to music or stories in the car or play games whose sound effects you can't stand, here's the solution!
---
Gifts for Little Scientists
A terrarium is a great way for kids to see the magic of how plants grow up close. 5-year-olds will need a little help putting this together, but they'll love watching their creation come to life! What makes this terrarium even more special is that it comes with glow-in-the-dark sand, forest creature figures and star stickers to turn it into a beautiful glowing art creation.
A science kit is a classic STEM gift and a great way to educate, entertain and astonish kids all at the same time. This one from Doctor Jupiter contains more than 50 mind-blowing experiments, from water fireworks to stretchy slime to color-changing flowers and more. The experiments are all easy to follow, and will captivate kids while encouraging their curious and observing minds.
A lot has changed since I was a kid, so I'm glad to learn that the Viewfinder is still a popular toy! With this space edition, kids get to see lifelike 3D images of real photographs taken in outer space. It may not be VR, but it's a heck of a lot cheaper and definitely impressive enough to wow little astronauts and inspire lots of questions!
---
Gifts for Sporty Kids
Get ready for the Little League with this fantastic batting tee and stand set. It's a super fun way for kids to practice their batting skills and hand-eye coordination, and what's great about it is that the height is adjustable so they can continue using it as they grow! You can even remove the hanging attachment to turn it into a traditional tee as their skills improve.
If you haven't heard of soccer tennis, it's essentially tennis, except you play by kicking a soccer ball over a low net. What's great about Kickit is that it's super portable and requires very little space, so it's great for parties, beach days and vacations. And while your 5-year-old may be a little young to stick to the rules, they're not too young to have a blast!
This NERF foam ball set is the perfect way to introduce kids to sports. The balls are all miniature and made of foam, so they're super soft and won't cause any bumps or bruises. Kids can even throw these inside without too much danger of breakage! Included is a mini football, basketball and soccer ball, all of which are super cute and durable too.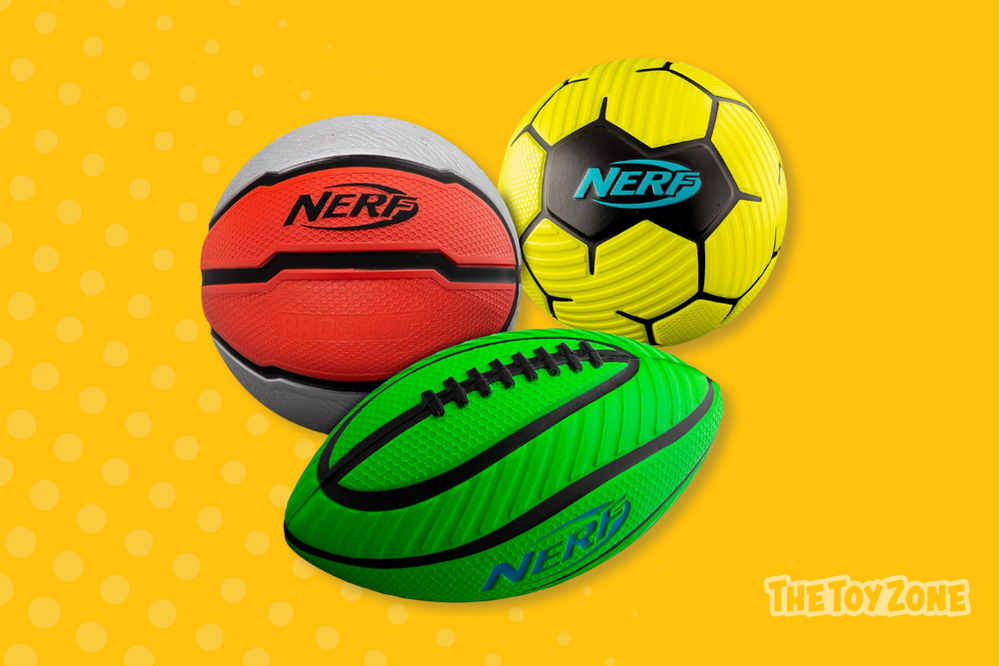 ---
Gifts for Book Lovers
The Gruffalo is a modern classic, but it's not the only enchantingly imaginative book by children's author Julia Donaldson. This 10-book collection gets you all of her best and most beloved books, including Cave Baby, Room on the Broom, Tyrannosaurus Drip and more. These combine humor, unique characters, captivating illustrations and great messages to make books that 5-year-olds simply devour!
The world is big and fascinating and at 5 years old there's a whole universe of things to discover. This encyclopedia is aimed at preschoolers and early elementary schoolers, so it presents everything in an accessible and entertaining way with loads of fun images. That said, the facts are all real and there's even an index at the back like any proper encyclopedia!
Another book they'll want to come back to over and over again, The Way Things Work is perfect for future engineers and all curious kids. This book is packed with information about everything from windmills to wi-fi, exploring the technology, past and present, that makes up our lives. It's definitely one for parents to read with kids, though the illustrations and writing style help make complex concepts understandable!
---
Gifts for Young Artists
This arts and crafts supply library from Kid Made Modern is your one-stop-shop for felt, pipe cleaners, pom-poms, beads, stickers, googly eyes, thread and more. With over 1000 pieces, it's all you'll ever need to create all kinds of arts and crafts! And though it's rated for ages 8 and above, there's plenty for 5-year-olds to have a blast with, especially with a little adult supervision.
If you're new to LEGO DOTS, it's a way to enjoy LEGO that's all about using creativity to embellish items and accessories, over and over again! This set comes with 5 adjustable and kid-safe bracelets to decorate with hundreds of multicolored tiles, as well as some special Disney-themed ones. Not only is this a fun activity, but the decorated bracelets are perfect for sharing with friends.
At age 5, kids love activities that let them experiment and get creative in different ways. They don't need anything too fancy – some rocks, some paints, some googly eyes and some sticky crafty bits can translate to a world of fun! What makes this rock painting kit extra special is that some of the paints are glow-in-the-dark, adding a touch of magic to kids' creations.
This is another activity that encourages creative experimentation, except you get a gorgeous headband (or 10) to wear at the end of it. This Fashion Headbands Kit comes with 10 plain headbands and an astonishing array of rhinestones, flowers, feathers, butterflies, yards of ribbon and more! I also love that it's easy enough for kids while improving their fine motor skills.
---
Gifts They Can Use in School
This backpack is unapologetically bright, sparkly and extra, and your unicorn-loving 5-year-old will love that! As well as being entirely covered in turquoise sequins, it naturally has a rainbow unicorn horn and ears plus lots more embellishments. But don't worry parents, it's practical too – it's durable, has a generous capacity and even comes with a matching lunch bag and pencil case.
A 5-year-old needs a generous pencil case to hold all their pencils, crayons and other bits and bobs. This one definitely fits the bill on the size front, and it's got to be the most adorable option! It's made to look just like a police car – even more so when it's packed full of stationery. And you'll be glad to know that it's also hard-wearing and easy to clean.
If your little whizz-kid is already learning to write letters and numbers, they'll be tickled to receive their very own notebook. This A5 lined notebook will make them feel grown up as they practice their writing, but its bright color and Mario graphic is also very appealing to kids. Plus, the notebook's sturdy design means it can handle whatever their 5-year-old hands subject it to!
---
Gifts for Their Room
Help your little one feel safe and comforted at nighttime with this adorable Super Mario Bros. Mushroom Light. For kids who enjoy Super Mario, this light is instantly recognizable. Simply press down on his mushroom head to turn him on, and you'll hear official sounds from the game as he begins to emit a warm red glow!
5-year-olds may be too young to watch The Mandalorian, but that certainly doesn't mean they're immune to the charms of baby Yoda. This area rug depicts the adorable Grogu peeking out of his spherical pram. The quality and craftsmanship of this rug is apparent as soon as you lay eyes and hands on it, and it will look great next to any little Star Wars fan's bed.
Little Minecraft fans will love getting to snuggle up and drift off to sleep under this super cool Minecraft quilt. The quilt is the perfect size to feel generously big on a twin bed, and it's wonderfully comfy and soft to the touch. It also comes with an unnervingly realistic pixelated sham, and parents will be glad to know that both are machine washable.
---
Gifts They Can Wear
These sock sneakers are not only super stylish, they're the spitting image of Sonic the Hedgehog's red and white shoes. This makes them a fun way to incorporate your kid's love of Sonic into their everyday life as well as the perfect shoes to wear when dressing up as the speedy hedgehog. They are also both flexible and anti-slip, so kids can zoom around without getting hurt!
There aren't many 5-year-old girls who don't love unicorns, frills, and fairy-style tutu dresses. This dress will make her feel like a unicorn princess, and it's perfect for summer parties and other special occasions. Thanks to the cotton lining, it's also super comfortable and durable enough to survive boisterous kids. But watch out, because she might just want to wear it all the time!
5-year-olds are strange creatures – they sometimes need to be convinced to put on a jacket that will keep them warm. But if it's this vibrant fall-weather Super Mario bomber jacket, it shouldn't take much convincing! With several iconic Super Mario graphics on the front and sleeves and one big striking design on the back, this jacket is sure to be a hit with little Mario fans.
With its giant bow, polka dots and cheerful yellow color, this backpack will appeal to lots of 5-year-olds. At the same time, it's "grown up" enough for them to still want to wear it a few years hence – and its quality means it will last that long! It also has a surprisingly generous capacity for a small backpack, and you can use it as a shoulder bag too.
---
Frequently Asked Questions About Gifts for 5-Year-Olds
🤔 What do 5-year-olds like nowadays?
In many ways, the things 5-year-olds like are the same as they always were. They love magical characters and stories that feed their imagination, they love playing outside, they love getting their hands dirty and they love pretending to be everything from superheroes to princesses.
As 5-year-olds' brains are developing in a multitude of ways, it's a good idea to get them something that can engage their minds and provide some sensory stimulation. It could be a craft activity that gets their hands busy, a picture book to read with mom or dad, a STEM toy they can build or experiment with, or a doll or a plushie to inspire imaginative play.
🤔 What do 5-year-olds play with?
5-year-olds are pretty much in play mode 24/7, so they play with a lot of things – from plushies to Barbie dolls to action figures to LEGO sets to RC cars to random shells they pick up on the beach! These days, many 5-year-olds also play in the virtual realm, whether it's via a Nintendo Switch, an iPad or even a smartwatch.
So you've got a wide array of options when it comes to picking a gift! If you're feeling overwhelmed with all the choices, we recommend asking their parents for some media titles and activities they enjoy, and then going through our list above to find something they'll love.
🤔 What is the social development of a 5-year-old?
At 5-years-old, most kids are going to some type of preschool or kindergarten and as such have friends they love to play with. They tend to want to be liked by their friends, but may also sometimes fight with them as they aren't yet experts at emotional regulation or balancing the wants of others with their own. At this age, lessons like "sharing is caring" and to be kind to others are important ones. However, by 5 most kids will follow rules most of the time, while beginning to show more independence. They are also better able to distinguish fantasy from reality, though they still love playing make-believe!
---
So… What Gift Should You Get?
You'll have to decide for yourself based on your budget and the needs and passions of the 5-year-old in your life. For example, kids are always growing out of things, so a jacket or a bedding set are great practical options that can still be exciting if you choose wisely. If you're on a budget, a book or a Barbie makes a great gift for curious and imaginative kids, and it's hard to go wrong with a LEGO set or a plushie as long as you know what characters they're into!
I tried my best to be as thorough as possible, but if you think I have missed out on the best gift for 5-year-olds ever, send me a message to let me know!