The Teenage Mutant Ninja Turtles is one of those story universes that seems to have hit on some kind of golden juice that keeps kids coming back.
Almost every few years, there's a new iteration to wow and entertain a new generation of kids, while the older ones retain a nostalgia that keeps the characters alive.
But whatever version of the Teenage Mutant Ninja Turtles is their favorite, if you've got a TMNT-obsessed kid on your hands, you are in the right place.
I spent HOURS carefully curating the best Ninja Turtles gifts for kids, covering everything from TMNT gifts they can display in their room to gifts they can take to school.
---
The Top 3 Ninja Turtles Gifts
---
This list has got everything from clothes to toys to bedroom decor and back-to-school supplies, so whatever your little ninja loves most or needs right now, I've got you covered! I've even got some great options for the older TMNT connoisseurs  and adult fans, like desk ornaments and nostalgic items that harken back to the original '80s and '90s cartoon.
TMNT Gifts for Their Desk
This 12-inch articulated figure of Raphael has something to please TMNT fans of all ages. He's authentically made to look just like the character from the original cartoon so that older fans will get a kick out of the nostalgia. He also makes a great desk ornament, though, for little fans, he'll mostly be in action in a range of imaginative play scenarios!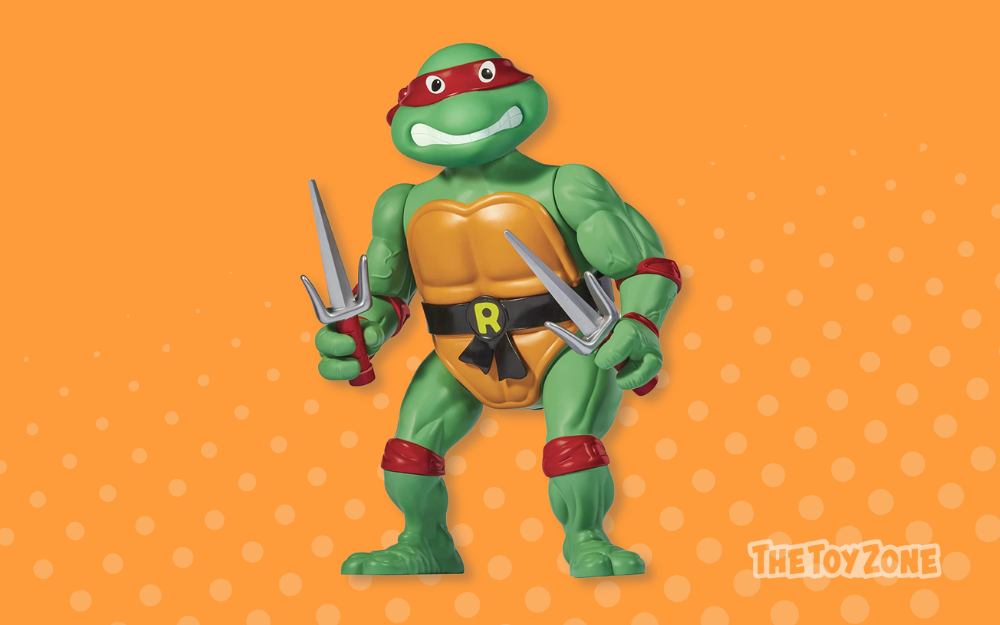 Recommended age: 4 years and above
💡 Tip: Want to create more elaborate role-plays with all the characters? This six-piece figure set is ideal, including all the turtles, Shredder and Splinter.
With their cute stylized features and oversized heads, Funko Pops are meant to be displayed and to appeal to older fans. They make fantastic desk ornaments due to their small size and this adorable Donatello Pop does not disappoint. That said, there's no reason why kids can't play with them like action figures, too, as they are safe and durably made!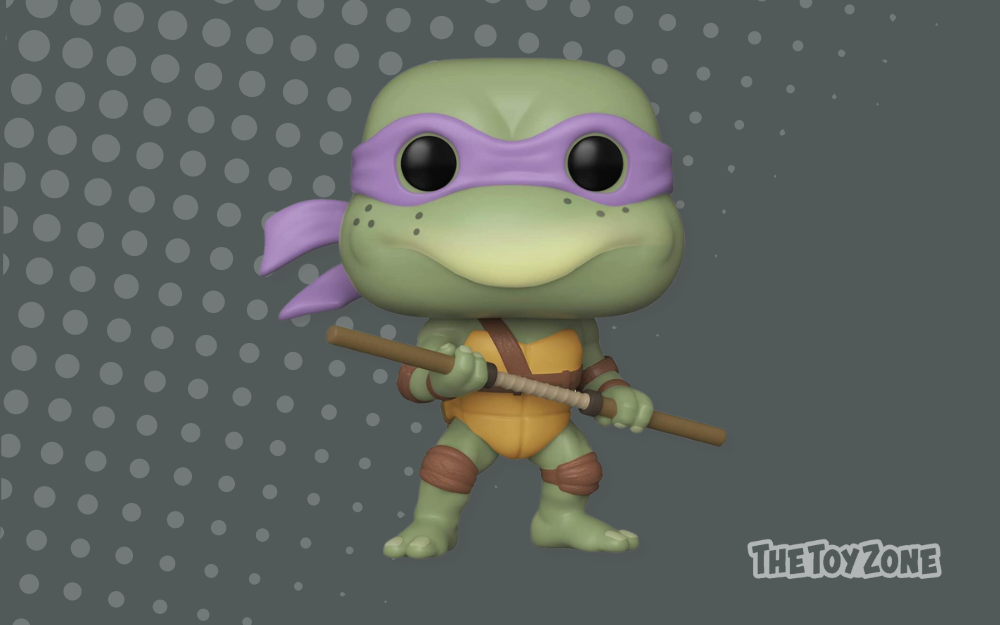 Recommended age: 3 years and above
Buying for someone who already has figures of all four turtles? If so, perhaps they're missing the crime-fighting journalist April O'Neil to round out the team. This incredible action figure features April's classic 1987 design and a whopping 31 points of articulation! The figure also comes with several accessories, plus a replacement head with a terrified expression for when things start to get dicey.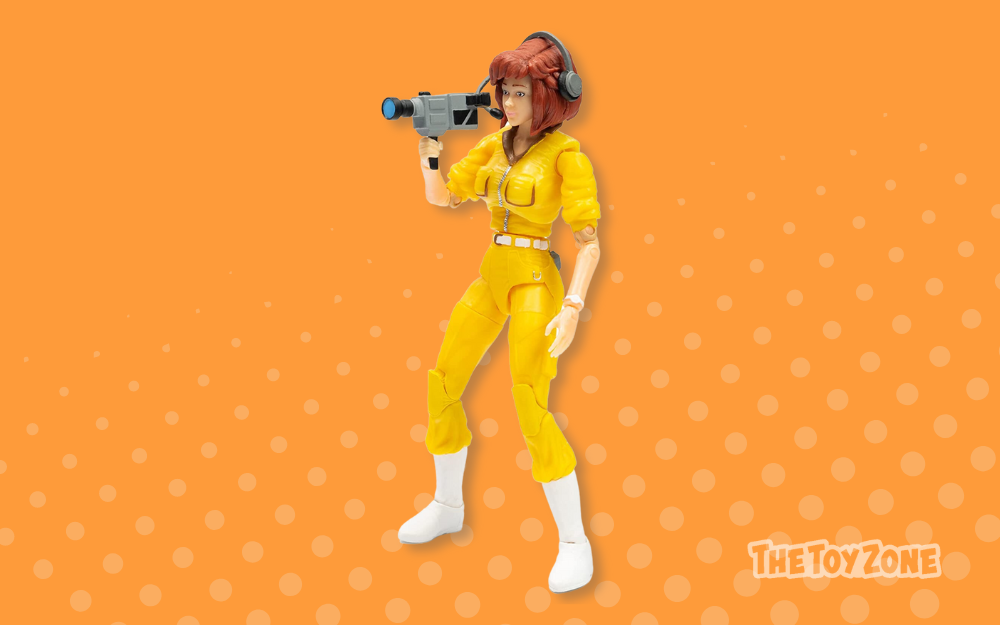 Recommended age: 8 years and above
Expand your TMNT Funko Pop collection with this adorably weird figure of Krang, one of the show's most iconic supervillains. The 6-inch figure is impressively detailed, featuring the tentacled brain that is Krang himself and his buff, well-armored and decked-out robot bodysuit. Place him in a faceoff with a Funko Pop Ninja Turtle and you'll have the perfect stylized TMNT display!
Recommended age: 3 years and above
💡 Tip: Love Krang but not into Funko Pops? Here's a Krang action figure that more closely mirrors how he looks on the show.
---
TMNT Gifts They Can Play With
Hot Wheels Monster Trucks is a fun addition to the brand for kids who love giant trucks. This set comes with two Monster Trucks taking the form of your favorite Turtles, Raphael and Leonardo. With their giant wheels and generous suspension system, these are everything you look for in a monster truck while still retaining the essence of the beloved turtles.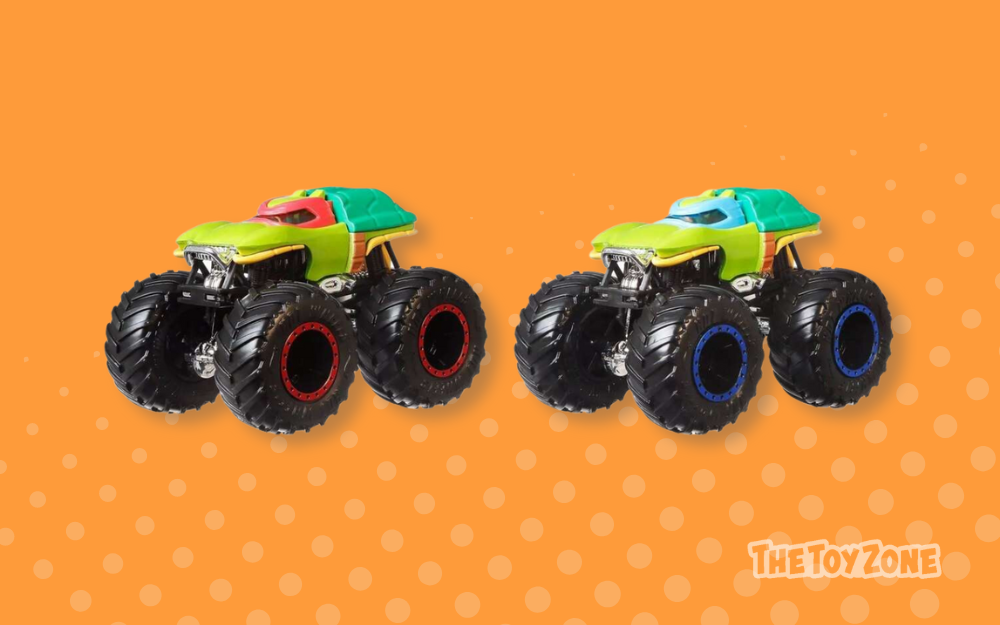 Recommended age: 4 years and above
This LEGO set is perfect for kids aged 6-12 as not only is it challenging enough to build, but it's packed with exciting action features. For example, the Turtle Van features a removable roof and missiles on the side and roof, plus a hook and a winch. There's also a barricade gate with a moveable arm and a blow-up function and, of course, lots of figures and interactive accessories!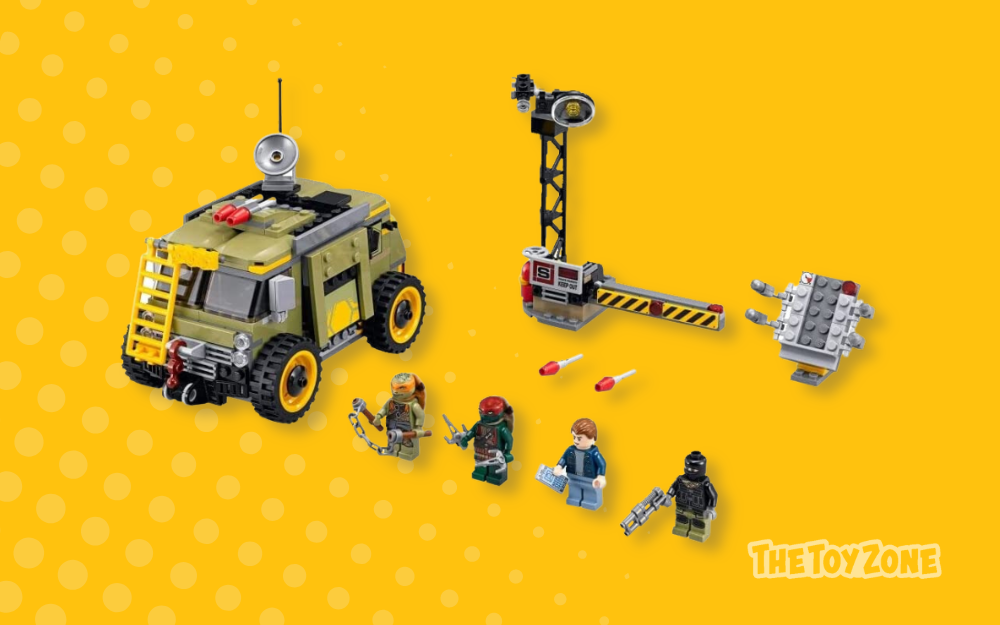 Recommended age: 6-12 years
For kids who love their Switch, there are many great Ninja Turtles games to try. This package is perfect for older kids and includes 13 classic Teenage Mutant Ninja Turtles games. These games genuinely recapture the nostalgia of the 1980s TMNT show and retro arcade games, but thanks to modern technology, the controls are much smoother, and some offer online play!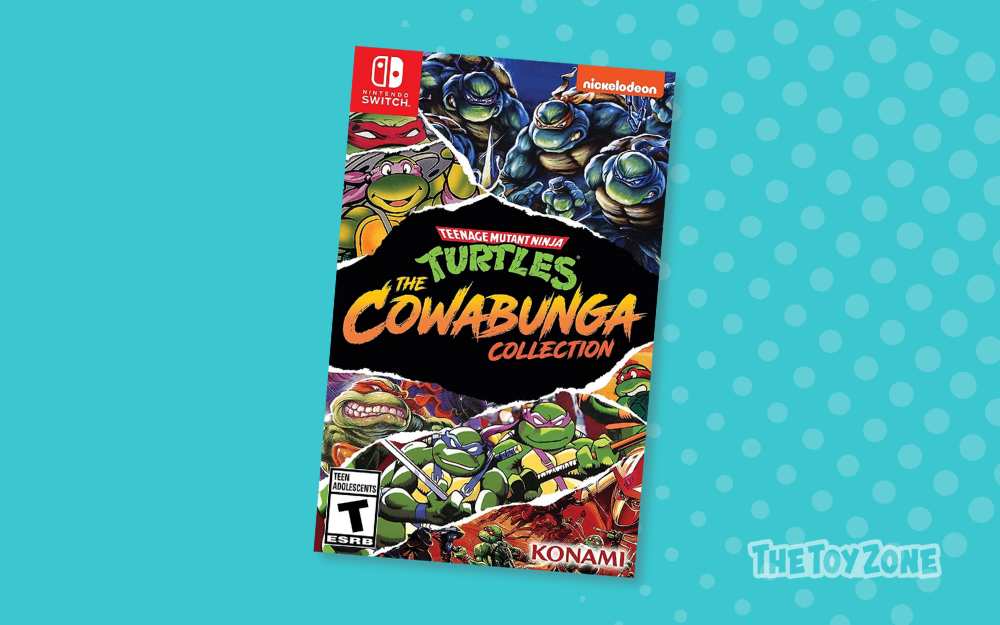 Recommended age: 13 years and up
---
TMNT Gifts for Their Room
One thing Ninja Turtles and human children have in common is that they love pizza. This fantastic gadget pays homage to the turtles' favorite snack with TMNT graphics and is a great way to make pizza quickly and easily without mess! It works with handmade pizza dough and frozen pizzas, so you can make your pie as gourmet or convenient as you like.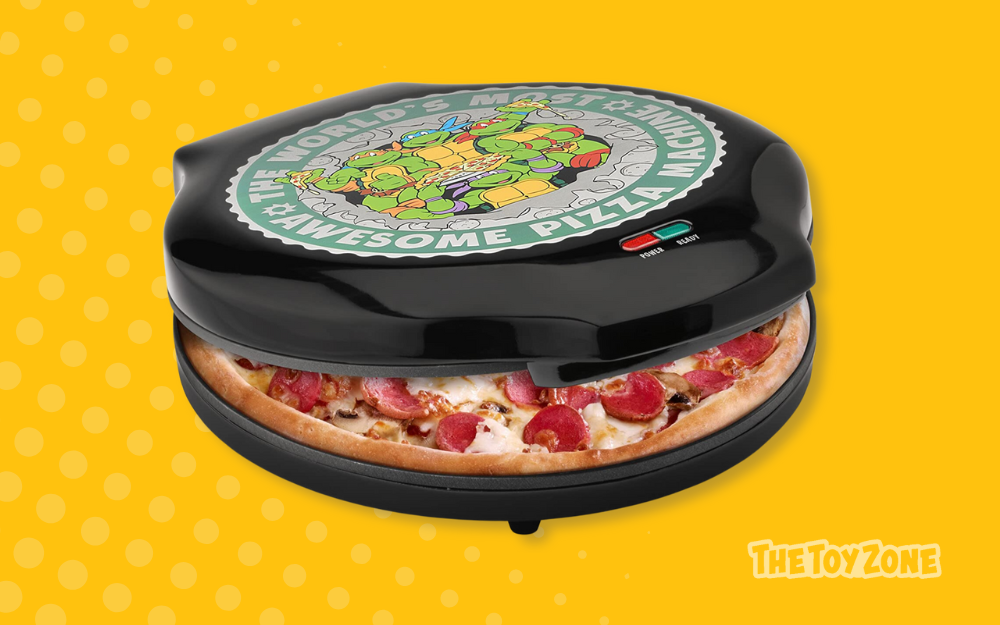 Recommended age: Adult supervision required
Everybody loves pinball, and it's even more fun when you can play it on a proper arcade machine. However, pinball machines are costly and very bulky. So what's the next best thing? A miniature TMNT-themed one that fits in the palm of your hand, of course! Despite being tiny, this fully functional pinball machine boasts two high-definition LCD screens with lights, sounds and multi-level play.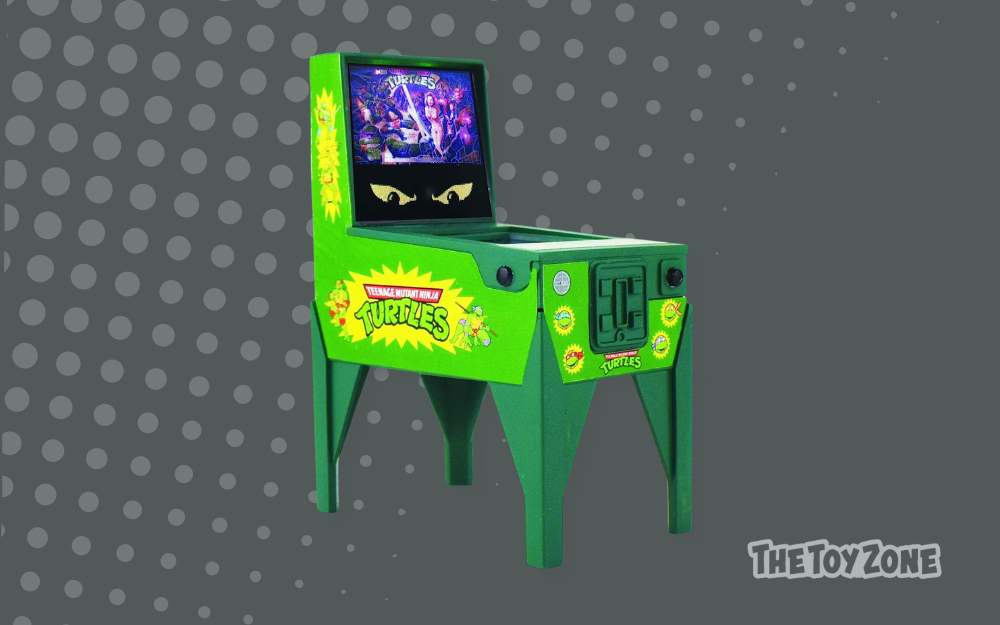 Recommended age: 8 years and up
This 16-inch stuffed version of Raphael is the cuddliest friend you could ever ask for. As he becomes flat when his velcro is undone and he's so soft and squishy, you can use him as a pillow for daytime naps or bedtime snuggles! He's a great companion on a road trip or airplane and, of course, great for simply hugging and playing with.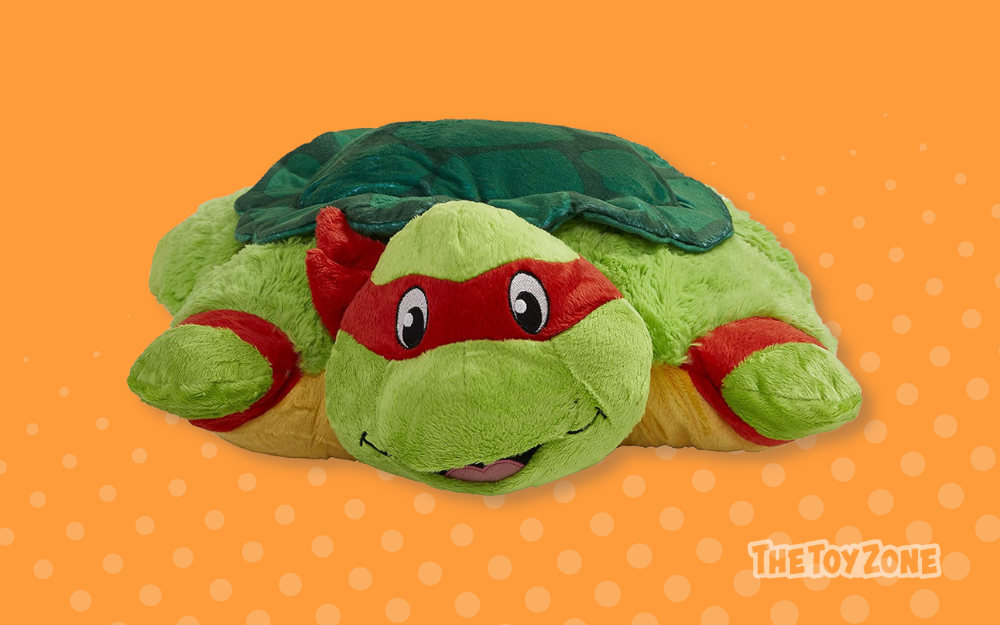 Recommended age: 3 years and above
💡 Tip: If you like the idea of a plushie but want something more authentic looking, this option might be ideal – he can even sit up by himself!
Cowabunga dudes. It's time to get righteously cozy with this TMNT-themed fleece throw blanket. This colorful blanket features all four Ninja Turtles in a classic pose, with their signature exclamation emblazoned above their heads. Its durable polyester construction makes it comfy and warm while still being light, making it the perfect blanket for laying atop a comforter or snuggling up under to watch TMNT!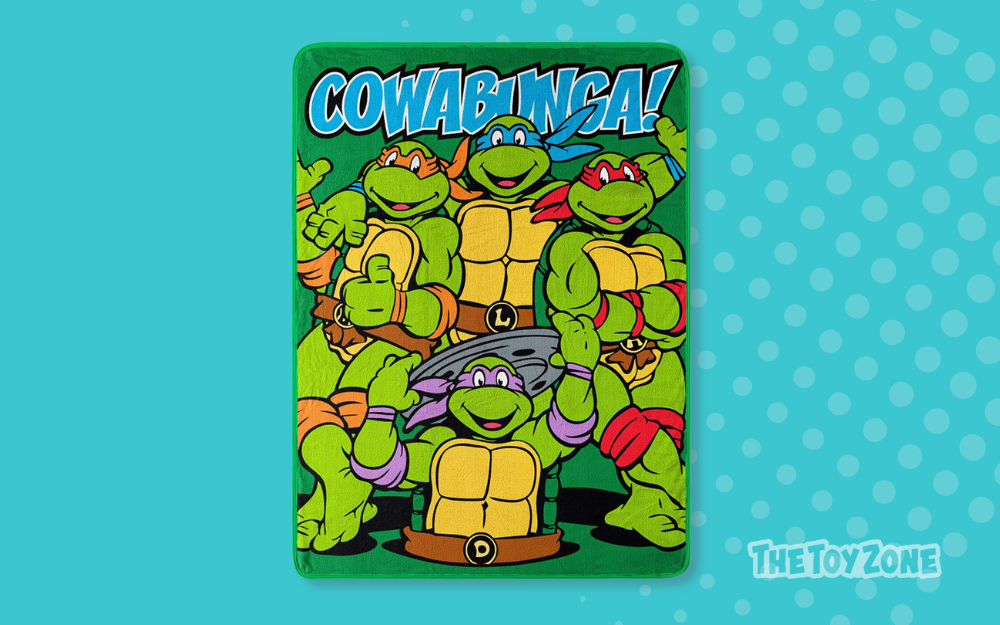 Recommended age: Everyone
Check out this excellent twin bed set if your little ninja needs all-new bedding. This comprehensive set includes a comforter, a fitted sheet, a flat sheet, a standard pillowcase and a 20×26-inch sham. All the pieces feature different TMNT graphics and complement one another perfectly. They also feel soft and keep your kiddo warm and cozy all night.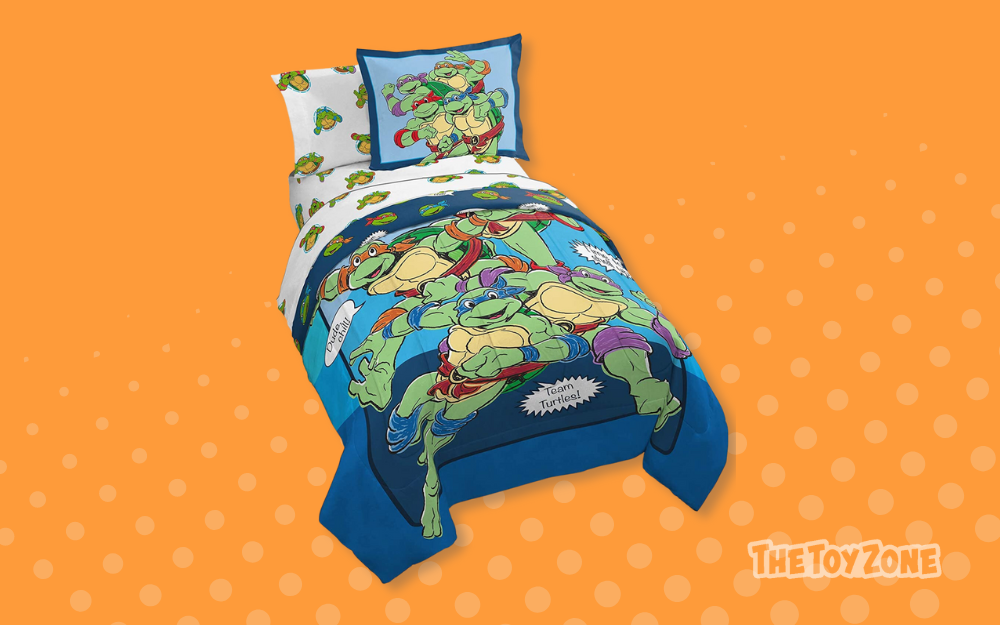 Recommended age: 3 years and above
💡 Tip: Complete the Ninja Turtles bedroom decor theme with this fun 4-piece curtain set.
---
TMNT Gifts They Can Wear
Having their very own watch is a great way to get kids more comfortable with the concept of time. This watch has a digital display, so it's easier to grasp, but it also includes minute markings to help kids learn how many minutes are in an hour. It has exciting features like flashing LED lights, an adjustable reptilian strap and a quality watch face with TMNT graphics.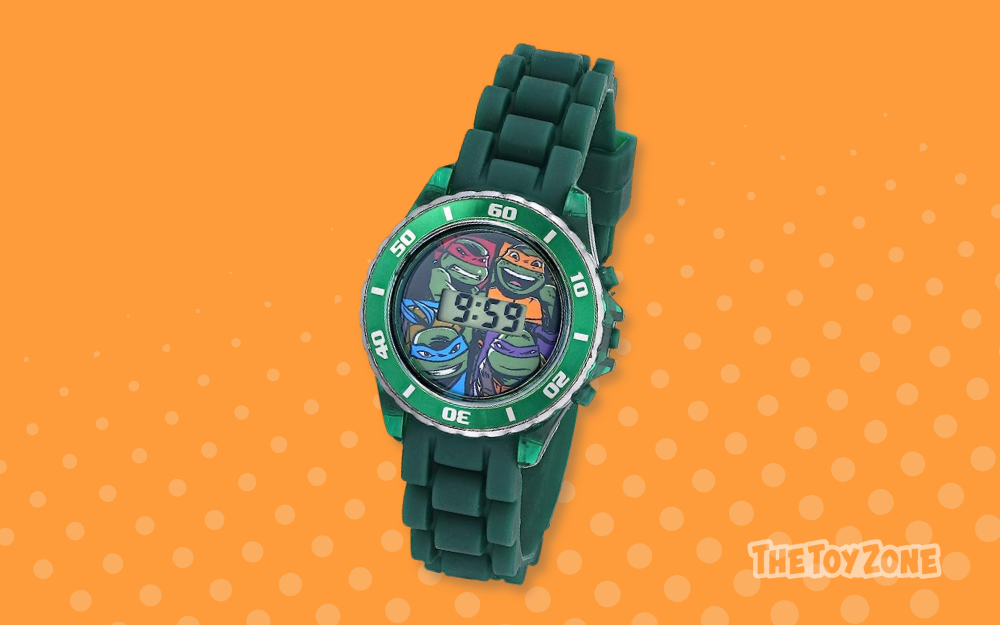 Recommended age: 3-10 years
Kids are continually growing and thus constantly need new clothes, so you can't go wrong with this 3-pack of graphic tees. Each one features a different Ninja Turtle design so kids can show off their love for their favorite TV show three days a week. The tees are all comfy and soft and come in a wide range of sizes to suit kids of all ages.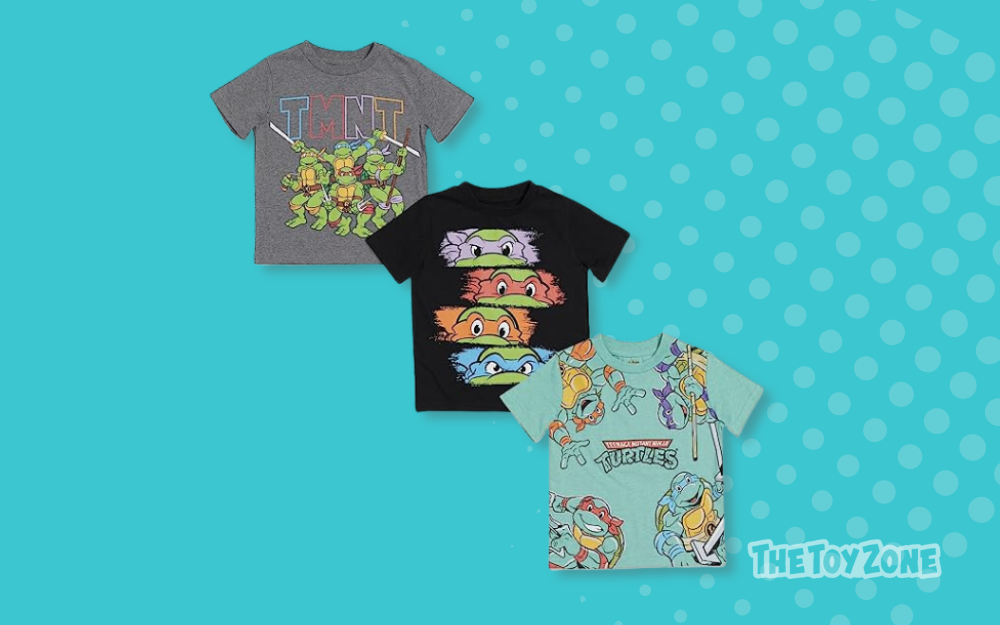 Recommended age: 2- 16 years
While the above shirts allow kids to show their love for the Ninja Turtles, this one lets them become one. The front of the shirt depicts the turtle's torso, while the back shows off its shell, so it works as part of a costume or just as a way to get some Ninja Turtle swag. Different tees are available for each turtle so you can pick your kiddo's favorite.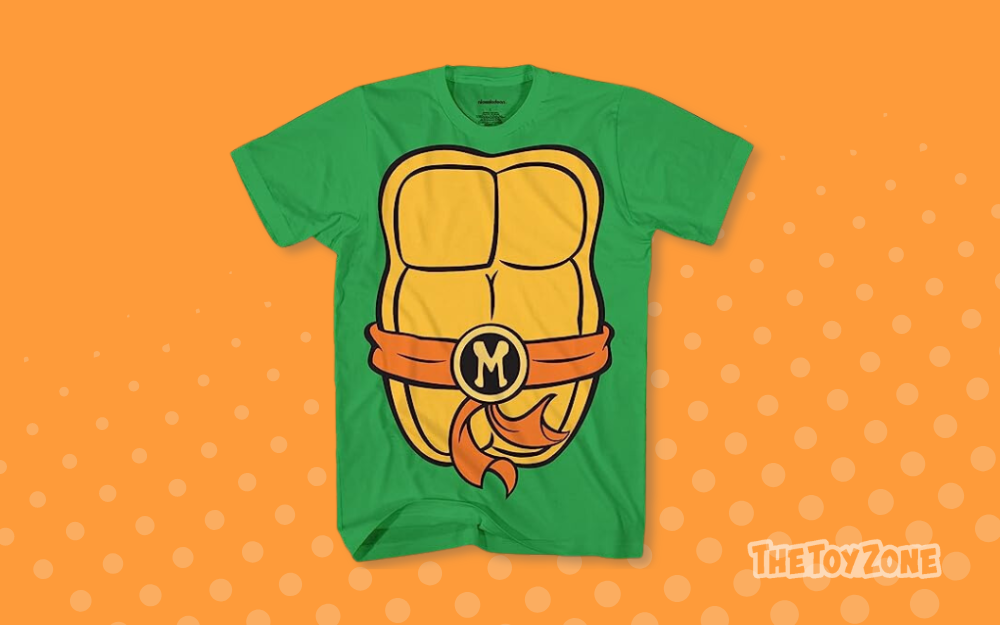 Recommended age: 5- 16 years
💡 Tip: If that's still not enough options, this pizza-themed TMNT graphic tee is another great alternative.
Belts are also beneficial clothing items for growing children and this one is super stylish. The striking design depicts the eyes of the turtles with their characteristic bandanna masks, so kids will love taking these ninjas with them wherever they go! Odd Sox is known for their high-quality novelty belts, and the pull-on closure is simple enough for even the little ones to operate.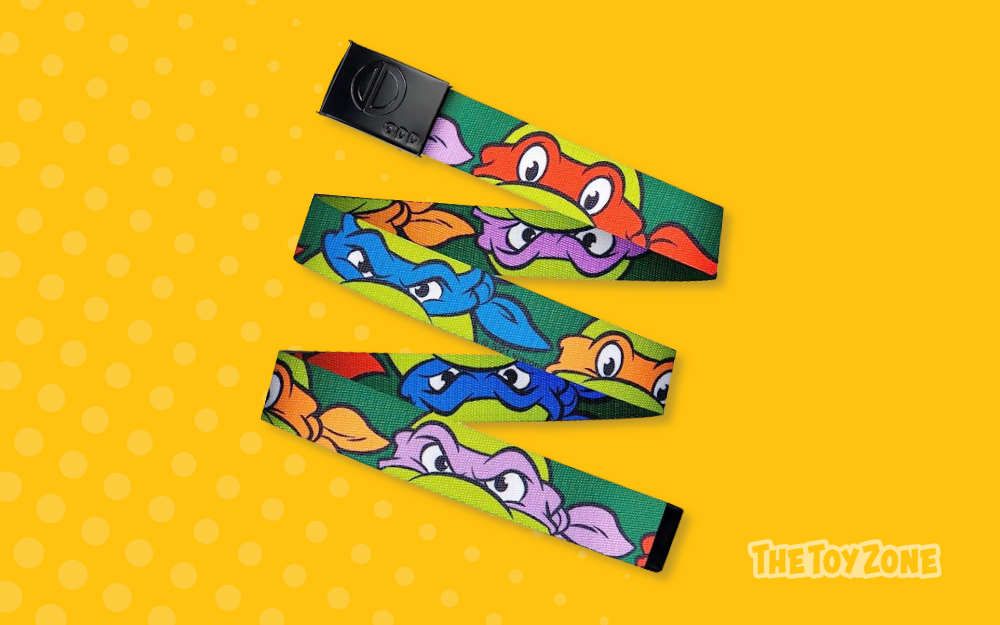 Recommended age: 4 years and up
Baseball caps are great for making statements and the message this one makes is that the Teenage Mutant Ninja Turtles are incredible. With its cool TMNT logo and character graphic, this cap will keep the sun off your kiddo's face in style. Made from durable and comfortable cotton, it will also last a long time and there should be no complaints about wearing it!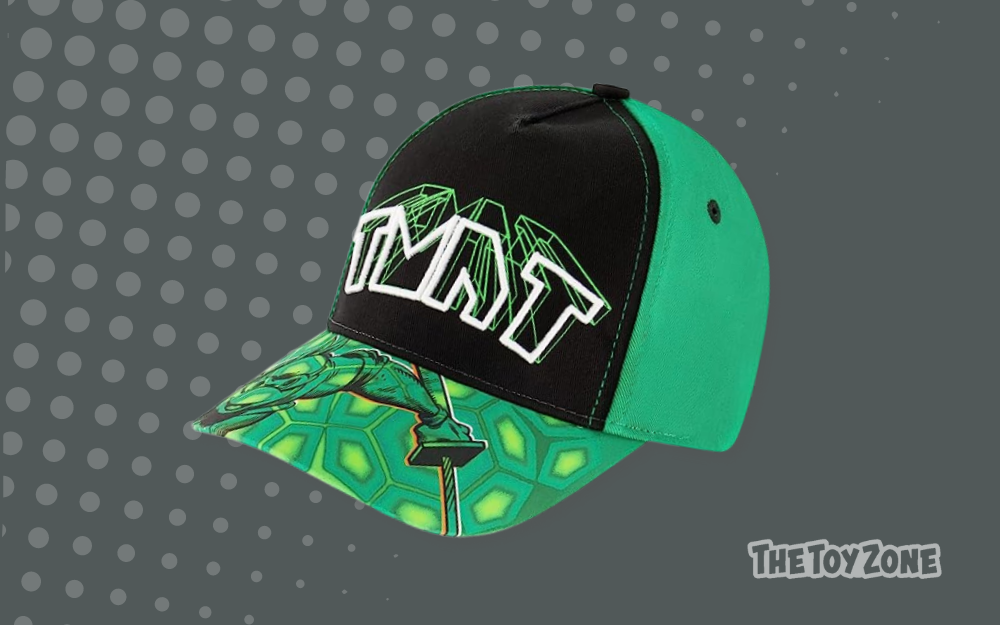 Recommended age: 4-7 years
This option is less of a roleplay toy for little kids and more of a movie prop replica that older kids and adult TMNT fans will appreciate. It's based on the 1990 Teenage Mutant Ninja Turtles film and looks just like Casey Jones' mask in the movie. This hand-painted replica is beautifully crafted and features adjustable straps for wearing or displaying it on the wall.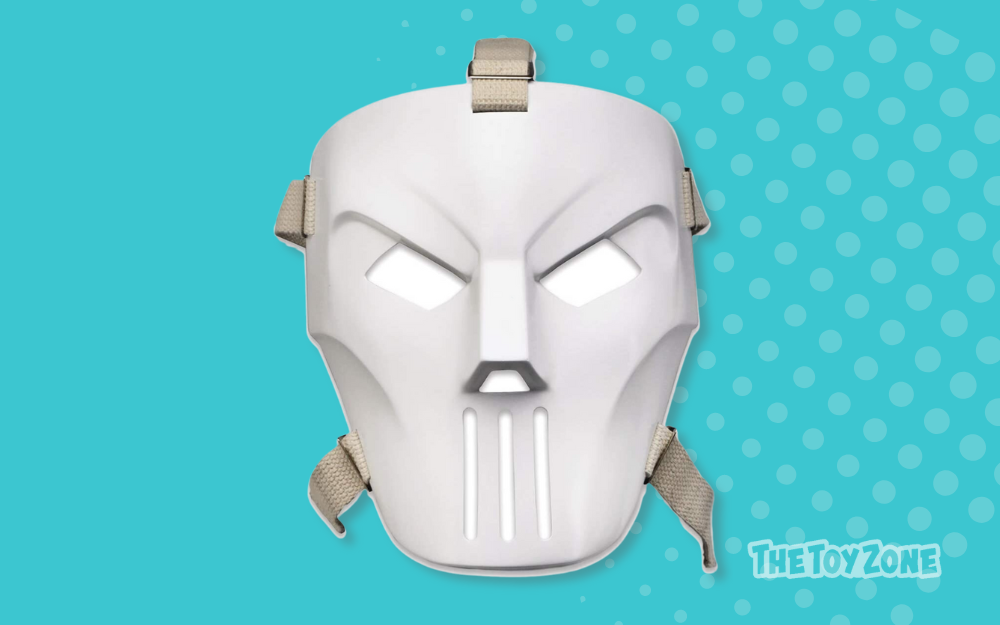 Recommended age: 14 years and above
---
TMNT Gifts They Can Take to School
Everyone needs to stay hydrated, but young kids are liable to forget to drink — unless they have a fun Ninja Turtles water bottle. With its colorful graphics, this 14oz water bottle will surely appeal to TMNT-loving kids. It's also insulated so their drink stays cold and features a leak-proof nozzle even toddlers can use. Plus, parents will love that it's BPA-free and dishwasher-safe!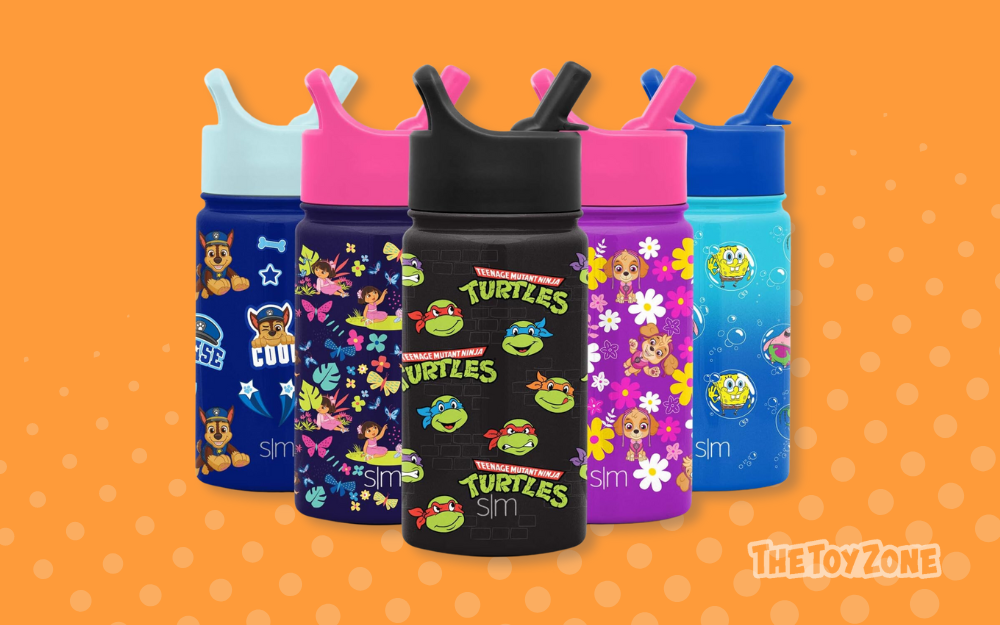 Recommended age: 2 years and above
This funky lunch box goes perfectly with the water bottle above. Naturally, kids who love the Ninja Turtles will love the design, and even toddlers will be able to operate the push-in snap lock. This lunch box is also a breeze to pack thanks to its five separate compartments to serve your kiddo a mess-free feast. Plus, it's BPA-free and comes with a lifetime limited warranty.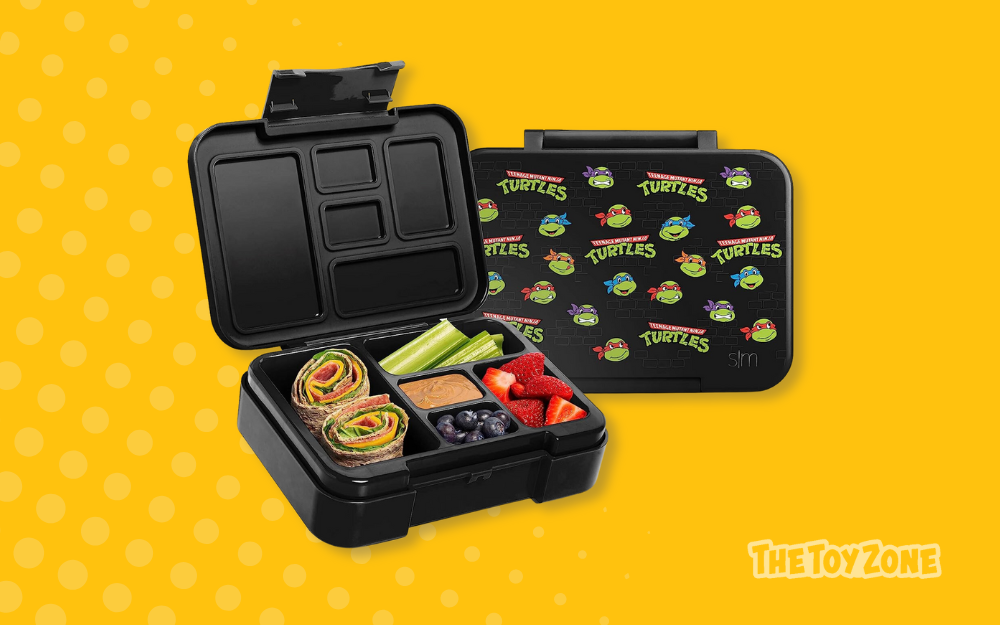 Recommended age: 2 years and above
💡 Tip: Supplement the lunch box with these handy reusable snack bags for when you just want to bring along a sandwich or a few crunchy snacks.
I could not publish this list without including a Ninja Turtles shell backpack and this is the best one available. It's adult size but would fit a middle schooler and it features a padded quilting design that provides the authentic turtle shell look. And there's even more to discover inside as it comes with an additional pizza box pouch plus four character eye masks!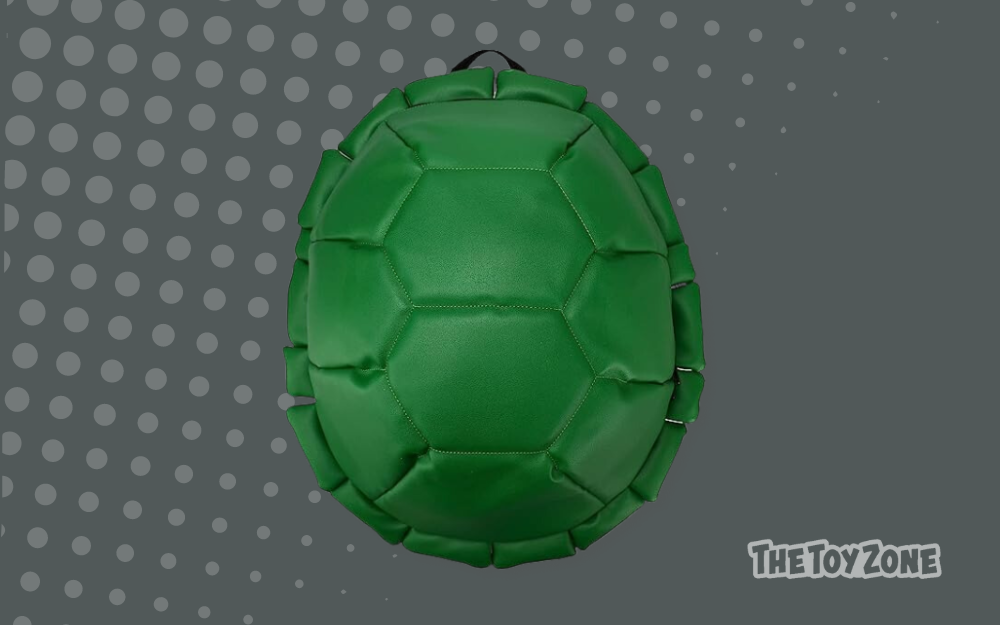 Recommended age: 12 years and above
---
TMNT Gifts for Young Artists
This is the ultimate affordable Ninja Turtles gift for crafty kids. There is so much to have fun with here, including a coloring book, coloring pen, 50 TMNT temporary tattoos and a Rex-Man door hanger. And while you may find it strange that there's only one coloring pen, this is no ordinary coloring book – you can use the same pen everywhere and watch a rainbow of colors emerge!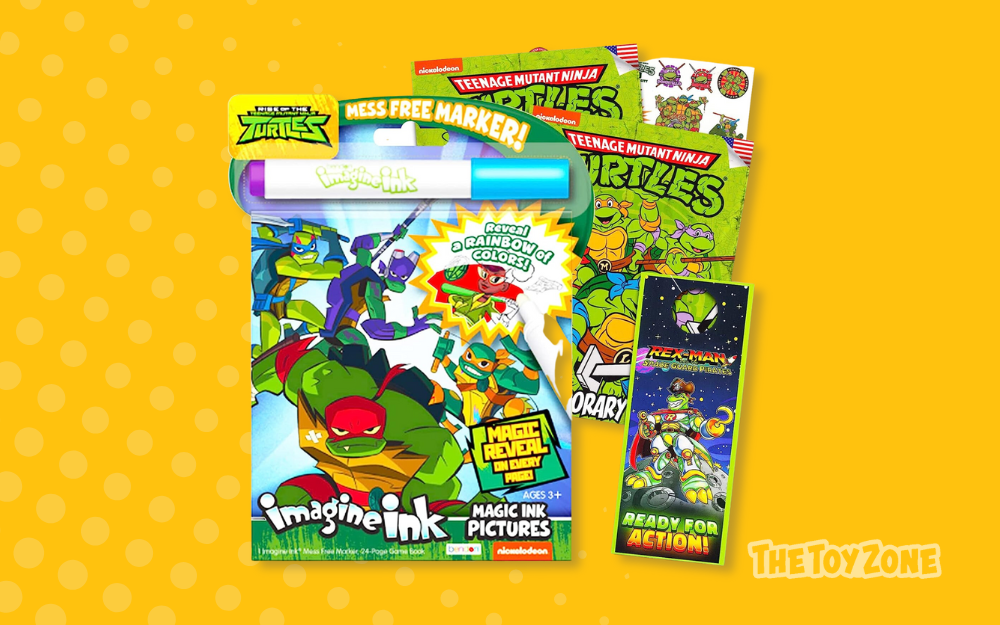 Recommended age: 3 years and up
This mega Ninja Turtles activity set is even more generous than the last one. With a sizeable spiral-bound coloring book, a puzzle and game book, a sticker book with over 1000 stickers, a name tag and more, this will keep kids occupied for weeks. Activity sets are a great way to entertain kids while traveling and this one even comes in a handy carrying case.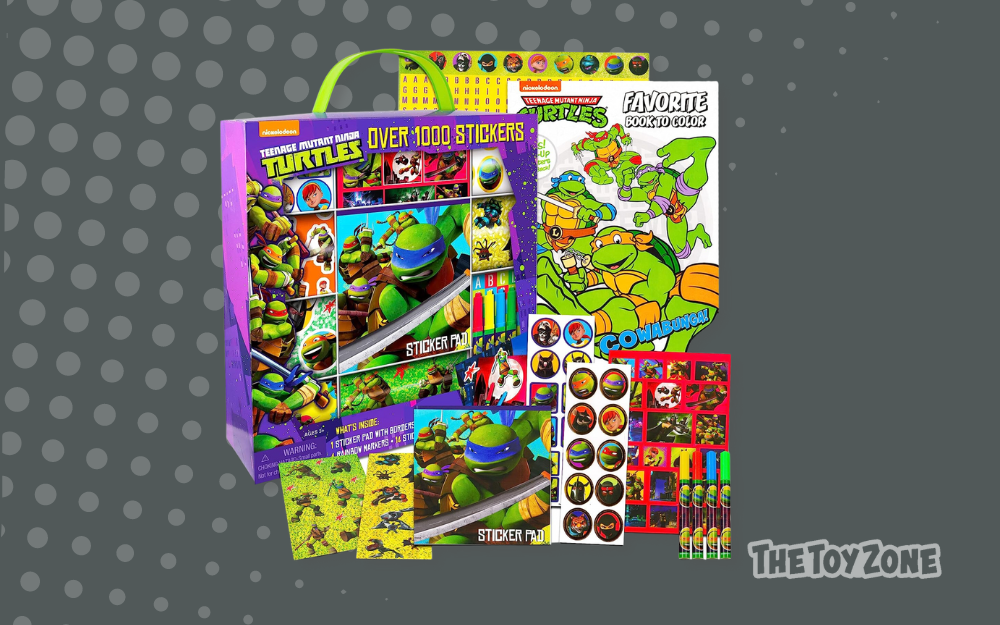 Recommended age: 4 years and up
Help your aspiring chef cook up the pizzas of their dreams with this Ninja Turtles Pizza Cookbook. This cheesy cookbook features 65 righteous recipes, from old-school classics like New York-style pepperoni to more experimental ones like dessert and breakfast pizzas. It even teaches you how to make the ultimate pizza dough and of course, each recipe is TMNT-themed and accompanied by fun graphics and quips.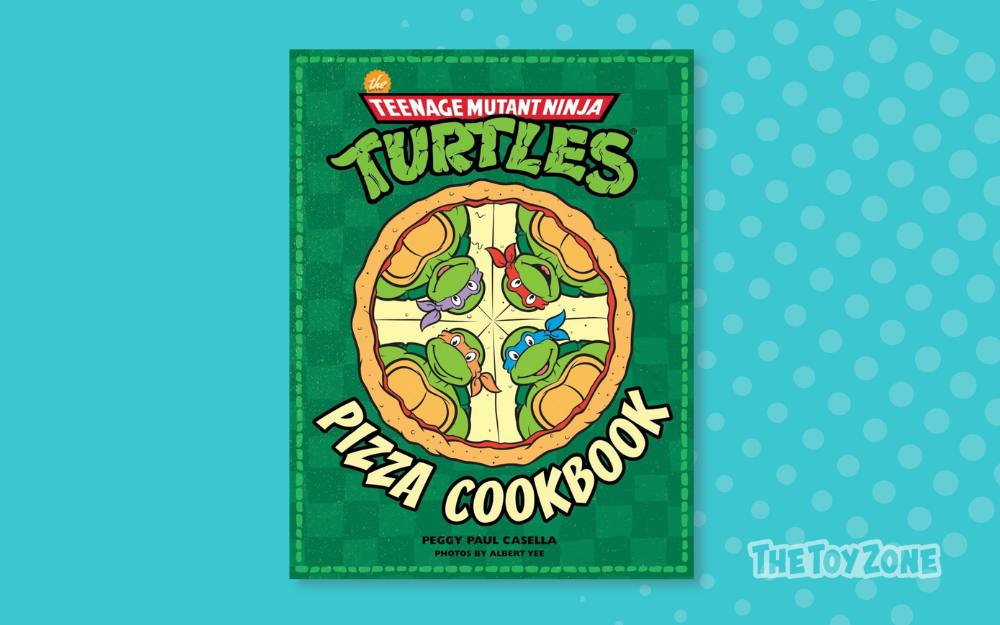 Recommended age: Adult supervision required
💡 Tip: Slice up those delicious pies in style with this pizza cutter made to look like Raph's signature sai.
---
Frequently Asked Questions About Ninja Turtles Gifts
🙋 What are the four Ninja Turtles called?
The four Ninja Turtles are Leonardo, Donatello, Raphael and Michelangelo, or Leo, Donnie, Raph and Mickey. If these names may sound familiar to you, it's probably because each Ninja Turtle is named after a different Italian painter from the Renaissance period. Why, you ask?
According to the creators of the original comic, the turtles were initially planned to have Japanese names to go with the Ninja theme. But they couldn't develop anything that sounded right and went with Renaissance artists because it was "just quirky enough to fit the concept".
🙋 What are the Ninja Turtles' favorite things?
Other than their penchant for fighting crime, the main thing the Ninja Turtles are known for is loving pizza. This makes them both true New Yorkers and relatable to almost any kid across the country. But what do they like besides pizza?
Well, like teenagers everywhere, they are also big fans of cereal and chocolate, and in the Nickelodeon show of the 2010s, they frequently feasted on worms and algae. However, pizza will always win out as the iconic Ninja Turtle food because not only does it go down a treat after a long day of fighting crime, but it's also the perfect shape for sliding through a sewer grate!
🙋 Is Ninja Turtles suitable for a 5-year-old?
That depends on which iteration of TMNT you're referring to. If it's the Nickelodeon show or the feature films of the 90s and 2010s, the answer is not.
However, if it's the original cartoon or the more recent Rise of the Teenage Mutant Ninja Turtles, there shouldn't be any issue. If you decide on the OG cartoon, some parents recommend skipping the first 5 episodes as the show is a little more violent before it was picked up for syndication.
To make things even more confusing, a new TMNT movie is coming out this year with a completely new cast and animation style! The 2023 movie is more kid-friendly, but probably best for ages 7 and up.
---
So… What TMNT Gift Should You Get?
Unfortunately, I can't answer that for you, as no one knows your little ninja better than you do. 
So don't skip reading through our list, as it's full of fun gifts that TMNT fans of all ages will love. For example, younger kids might enjoy playing with an action figure or snuggling like a pillow pet. Older kids may appreciate a collectable item like a Funko Pop or movie prop replica.
Also, consider whether they'd prefer a gift based on the 1980s cartoon series or recent editions such as Rise of the Teenage Mutant Ninja Turtles.
If you've got a cool gift you think should be on this list but isn't, send us a message to let us know!