There's no denying it, 13 can be an awkward age. As spots sprout, limbs lengthen, and even whiskers begin to wisp, many changes are afoot as your not-so-little lad enters teenhood.
These changes aren't just occurring on the outside, either. As they leave behind their childish innocence and start their journey to adolescence, they will become more aware of the world around them and face new challenges as school gets more complex, peers develop at different rates and the quest to be cool intensifies.
Finding a gift for a youngster navigating their first year as a teen can be tricky to get right. After all, as fashion, tech and popular culture change more than the weather, it's a tall order to predict what is at the top of your teenager's latest wishlist.
What Did We Look For When Picking Gifts For 12-Year-Old Boys?
To unearth what they are into, the best bet is to speak to them directly and learn more about their interests or what they might need in their daily lives. Armed with your newfound intel, you can best match a gift from our bumper guide that includes options for all sorts of teenagers.
From cool things to kit out their room to the latest tech, music merch or TikTok trend, there is something for everyone on this list. From football to Funko Pop, we've researched the latest and greatest gifts that will bring a smile to even the moodiest teenagers.
---
Gifts for Gamers
Over the last ten years, the way teens have interacted with games has undergone a seismic shift, with online play coming to the fore. You will undoubtedly be well aware, as you've heard them scream, shout and celebrate while playing with friends online. If this sounds familiar, then upgrading their setup to the Pacrate Headset with Microphone will make an ideal gift thanks to its excellent quality, unique design and budget-friendly price tag.
Compatible with all gaming consoles, laptops and even mobile devices, this headset will up the ante of their gaming experience. Their communication will be crystal clear with 40mm audio drivers, noise-canceling technology and a sensitive, anti-static microphone.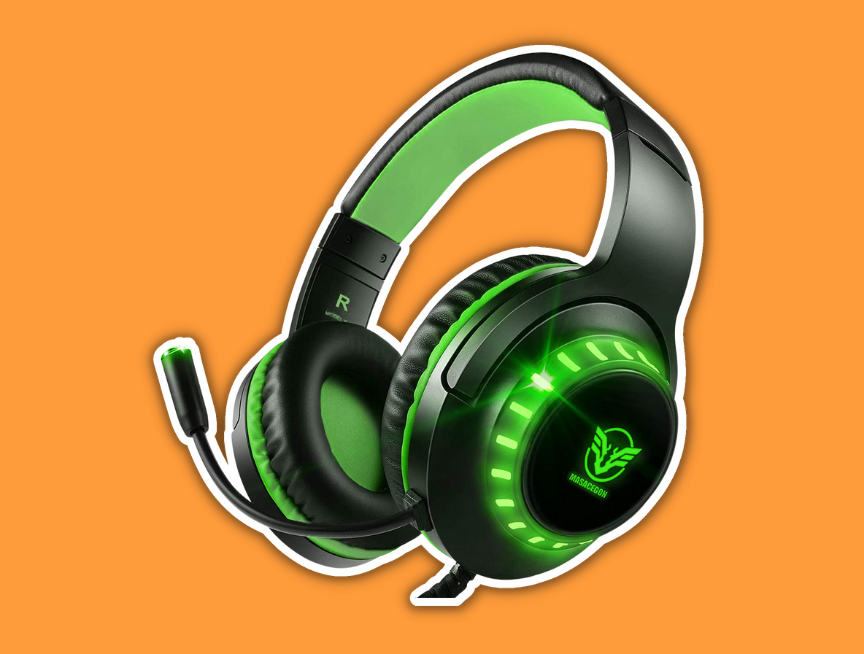 😍 Great gift for 13-year-old boys who love to narrate their online gaming.
The X Rocker Pro Gaming Chair will provide an immersive experience with integrated surround-sound speakers and vibration motors so they can feel every crash, explosion or bang as if they were in the game itself.
The chair is designed to the highest ergonomic standards to improve the gaming experience and provide ample support to the neck and back over hours-long gaming sessions. Compatible with all major gaming consoles, the chair also allows you to connect controllers and headsets and cycle through the on-screen settings through the advanced ports and controls in-built into the chair.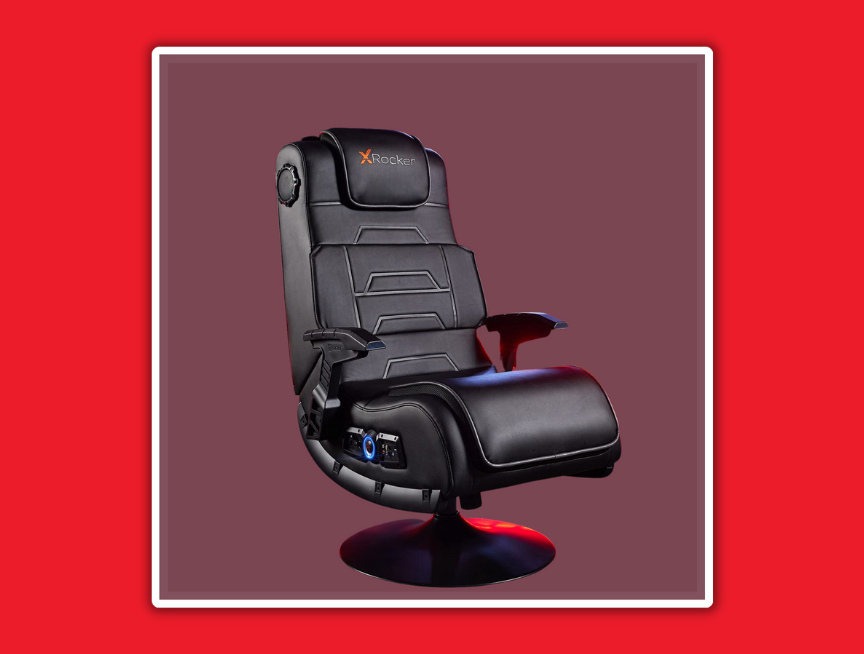 😍 Great gift for 13-year-old boys who spend hours slumped over their games console.
The two-in-one console allows the user to play wherever and whenever they like, as either a hand-held device or by connecting the Switch to a TV or monitor. This adaptability is perhaps what rocketed the Switch's sales figures, with the console becoming the 5th best-selling model in history (and rising), despite being one the latest generation devices to be released.
This truly innovative device features a 6.2-inch touchscreen display. It comes in the classic Neon Blue and Neon Red colorway, with the detachable controllers offering a unique two-player or motion-operated way to play.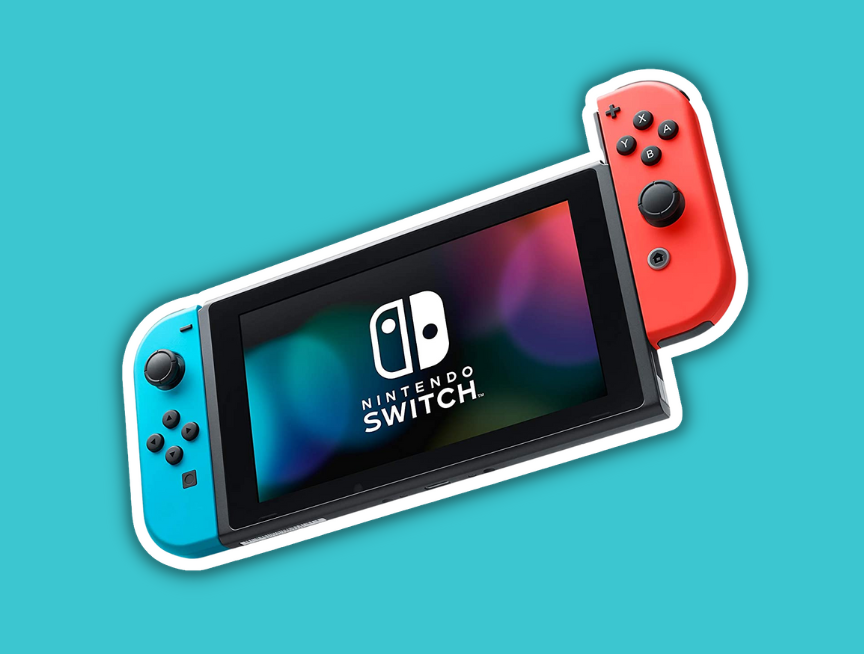 😍 Great gift for 13-year-old boys who love gaming on the go.
While we all need a case to protect our expensive smartphones, wouldn't it be great if it offered more than a simple silicone barrier? Well, this case is like no other, as it doubles into a playable game console with 36 retro arcade games in-built. Perfect for gamers on the go, they can simply pull out their phone and play whenever and wherever the mood strikes.
From Pacman to Donkey Kong, this phone case is a must for any teen who appreciates arcade games. With a range of sizes, there is an option compatible with all iPhone devices. It provides a snug fit to your phone and a slightly extended rim for protection.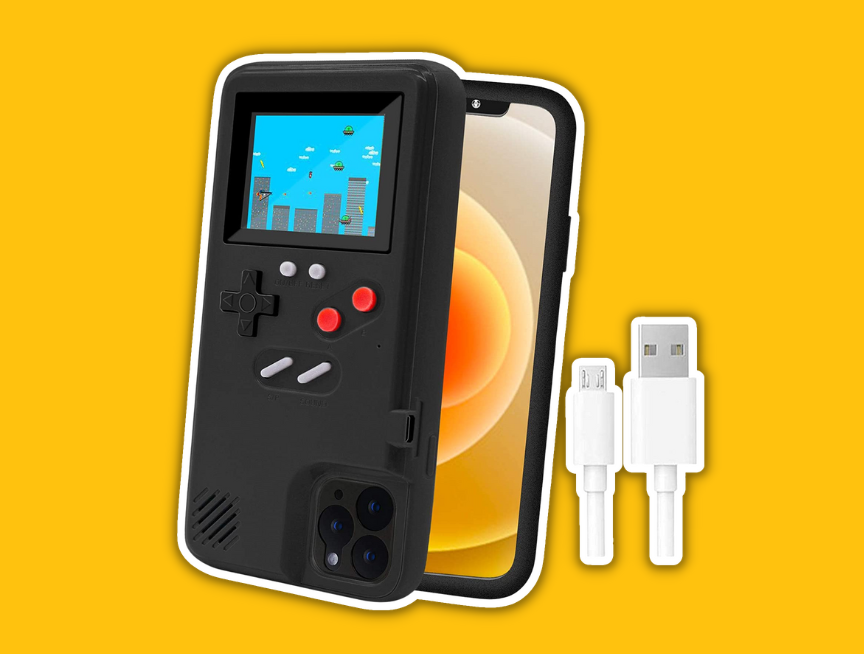 😍 Great gift for 13-year-old boys who love retro arcade games.
---
Gifts for Sports Fans
A failsafe present for all 13-year-old boys is a soccer ball. And what better option than the inimitable Al Rihla from Adidas, which is a replica of the ball that Messi, Ronaldo and co will use during this year's World Cup in Qatar.
This Al Rihla ball comes in an eye-catching holographic design to capture the imagination while out on the field. This option meets the official size five dimensions and features the lightweight design and quality stitching you would expect from Adidas.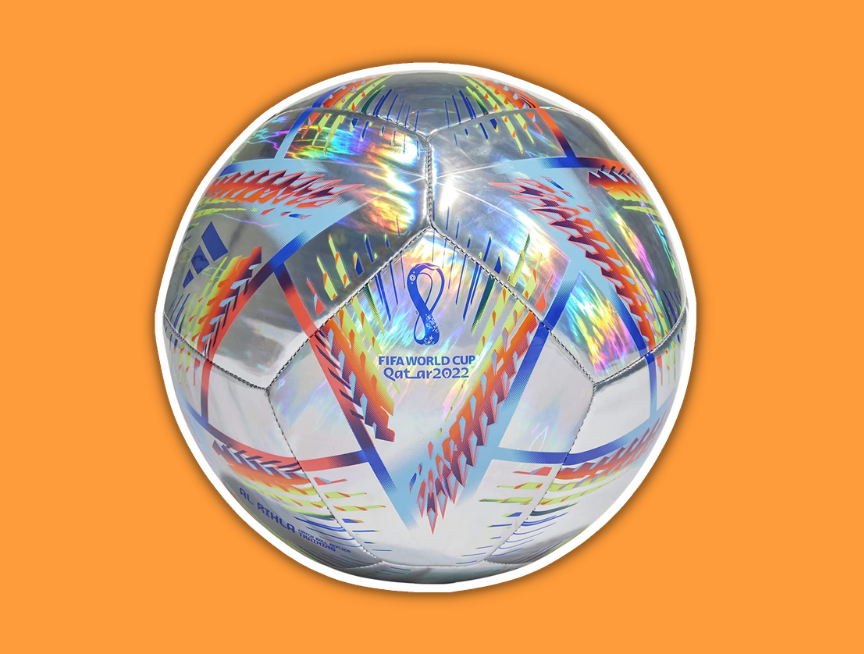 Without getting carried away, a new sport is on the horizon that will revolutionize how teens play. Namely, Spikeall. The latest and greatest high-octane sport to hit the scene that is easy to learn provides hours of fun, and is perfect for the backyard, park or even larger indoor spaces.
This introductory set features a larger ball and 45-inch net so they can control, pass and spike against one another as they learn this brilliant new game. The set also collapses down and comes with a handy travel bag for easy transportation and storage when not in use.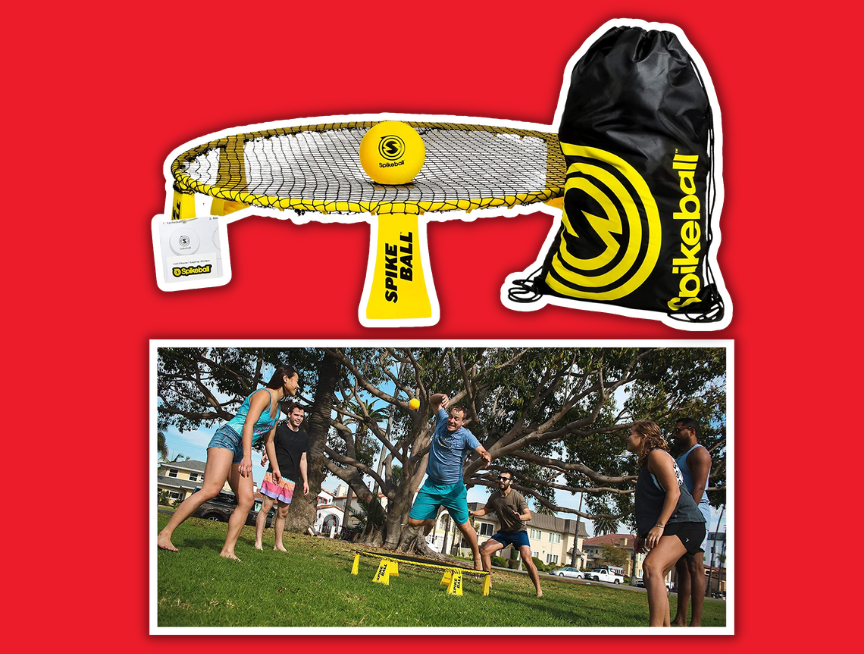 💡 If your teen has already played and loved Spikeball before, then opt for the standard set with smaller, more challenging balls and net.
For the teen basketball fan that won't quit playing after dark, this show-stopping ball that glows in the dark will bring the wow factor to any hoop-shooting session. The GlowCity ball looks, handles and bounces just like any other ball, yet thanks to its illuminating internal light, it glows like nothing you've ever seen.
As well as feeling like a regular ball, this is the same size as a standard basketball (size seven) and carries no additional weight that might affect its usability. It's super simple to set up as it turns on automatically when bounced while turning off again after laying dormant.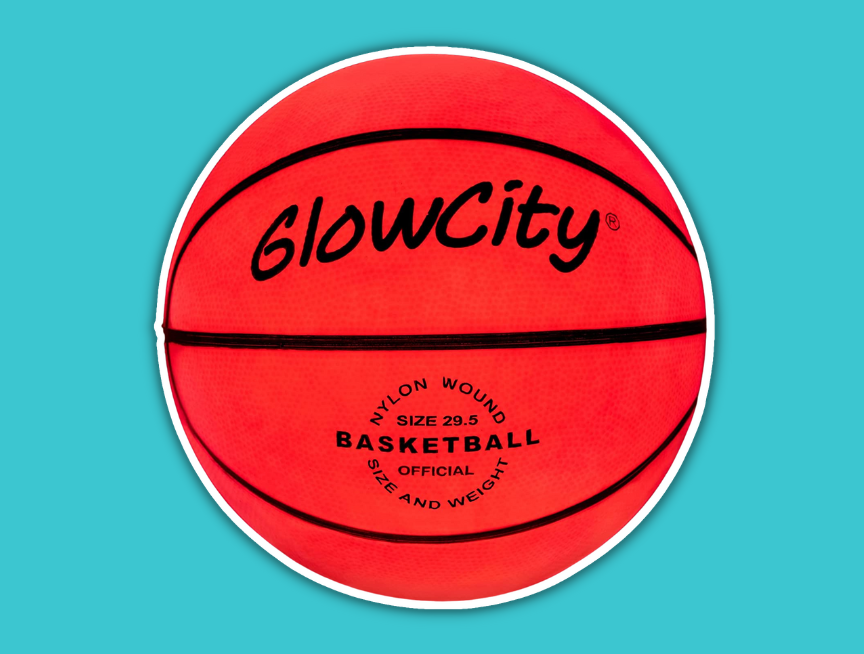 😍 Great gift for 13-year-old boys who love shooting hoops after the sun has gone down.
---
Gifts for Marvel Fans
Stop the press! We may just have found the ultimate gift. Combining two of any 13-year-old favorite pastimes, GAMING and MARVEL. Of course, we had to throw a video game into our top recommendations. What better option than donning the mantle of Star-Lord and traveling through the cosmos with the fan-favorite band of heroes, the Guardians of the Galaxy?
In the latest installment of the Marvel video game, the universe's weight is again resting on your shoulders as you battle through this 3rd-person action-adventure game over hours of extensive gameplay.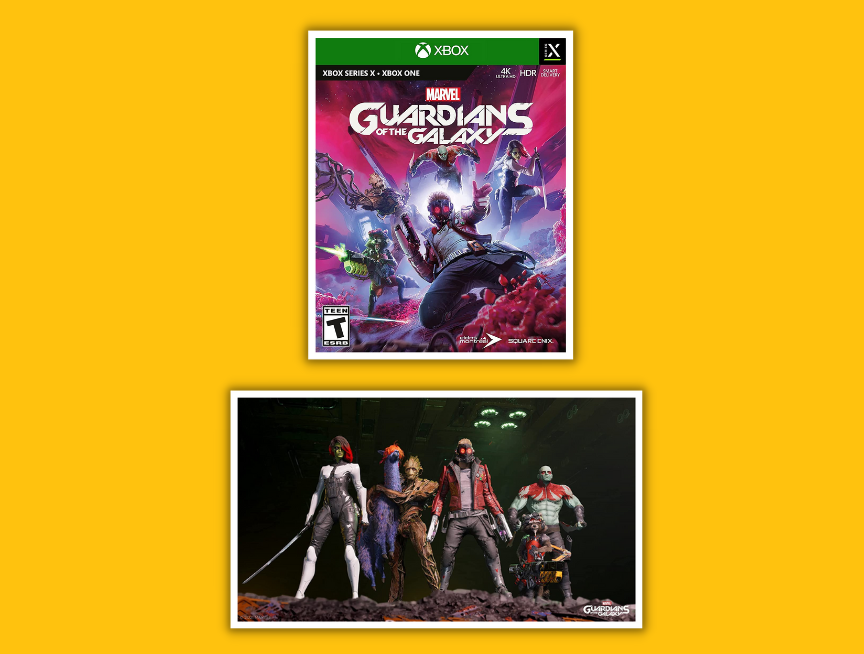 If you're tired of gifting video games, why not mix it up with this Marvel themed boardgame from Ravensburger instead? This devilishly strategic game sees players turn to the dark side, playing as one of five infamous Marvel villains. You pit your wits against the formidable Avengers to take control of the universe.
This beautifully crafted game takes a unique approach to the Marvel universe, with plenty of room for replayability. You can take on the role of a different villain and up the ante with increasing difficulty each time you play.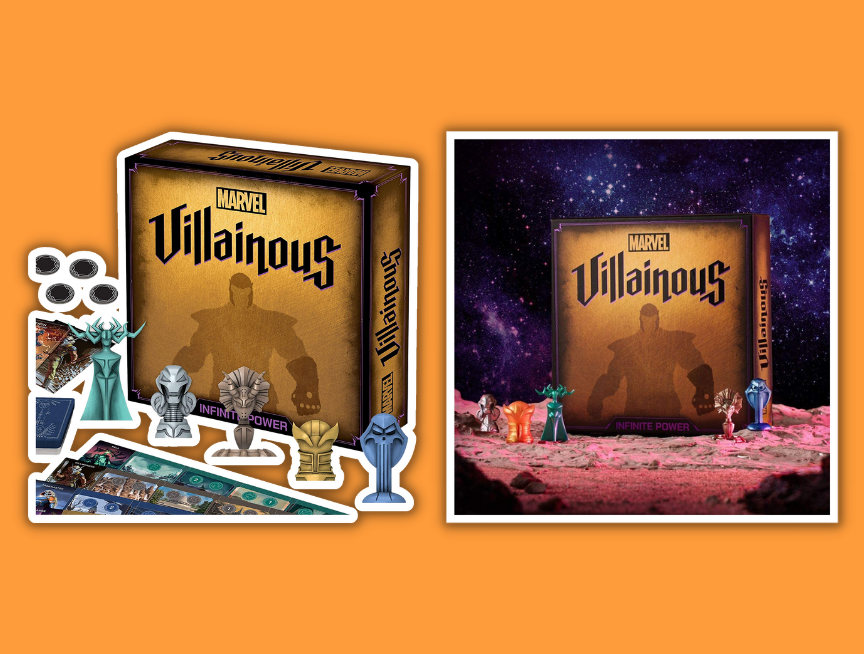 😍 Great gift for 13-year-old boys who love fresh takes on classic games.
Completing a hat-trick of gifts for any Marvel-mad teenager is this comprehensive encyclopedia. As you turn through the pages, you will dive deeper into the Marvel universe with essential facts, trivia and secret histories of all your favorite characters, including Iron Man, Loki and Captain America.
Spread over a colossal 447 pages, you will find unique, detailed, yet accessible information that covers everything, Marvel. This hardback copy includes amazing illustrations and designs on page after page. This latest edition includes an introduction from the legend himself: Stan Lee.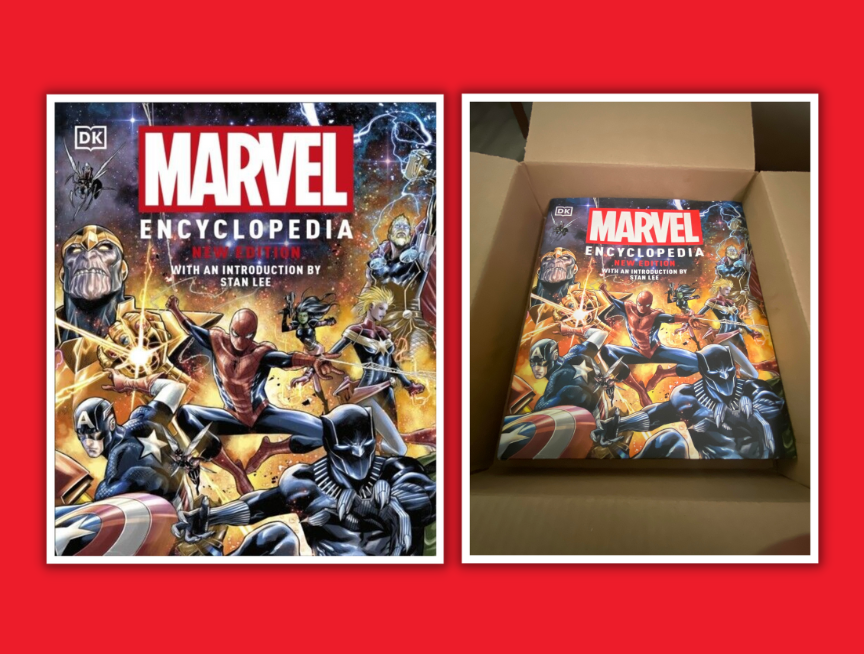 😍 Great gift for 13-year-old boys who are confessed Marvel geeks.
---
Gifts for LEGO Fans
When kids reach their teens, you may notice they stop playing with traditional toys how they used to. One 'toy' that defies recommended age ranges and remains popular well into adulthood, however, is LEGO. This hyper realisticDucati motorbike set from the LEGO Technic range is certainly no exception to that rule either.
Despite Ducati being known for their blistering speed, building this superbike model may keep them entertained for a long while, with 646 intricate pieces to figure out and construct. Once finished, this motorbike makes an excellent option for either play or display and is bound to be a hit amongst 13-year-old boys.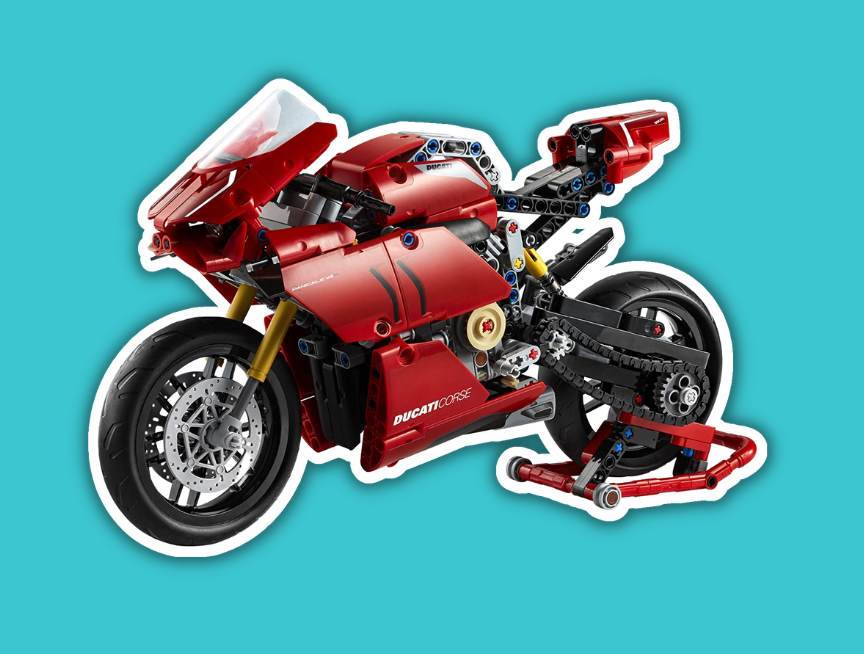 😍 Great gift for 13-year-old boys who embrace the need for speed.
LEGO is no stranger to a popular culture crossover, having recreated iconic sets, vehicles and characters from some of the biggest movie and TV franchises. Perhaps most famously would be the inimitable Star Wars range of builds. This particular set allows you to create a true fan favorite, YODA, in a figure that boasts incredible detail and awesome design.
It's fair to say this is a more challenging LEGO set, so they will have to draw on the force to complete this 1771-piece set successfully. Once finally built, however, they will proudly display an impressive 16" figure.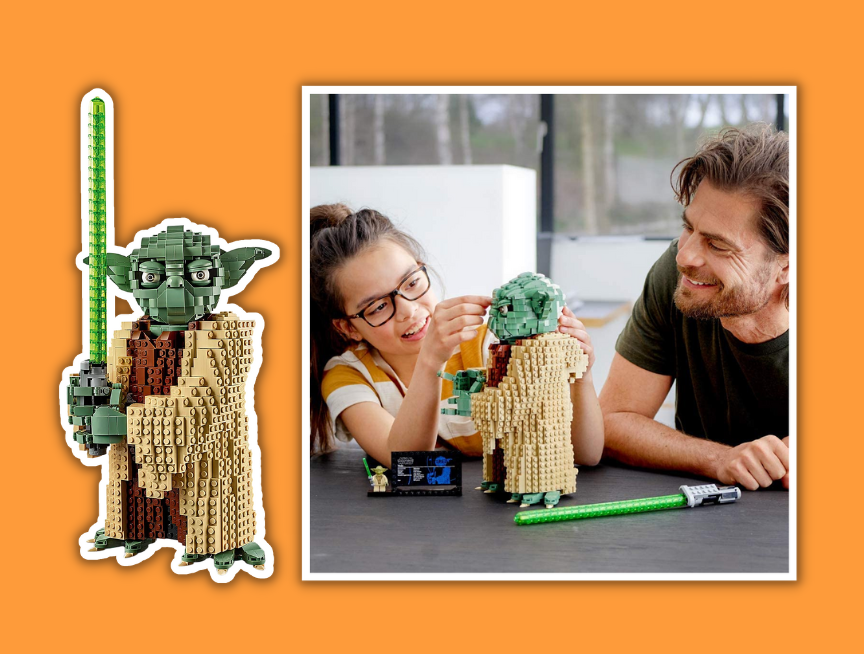 😍 Great gift for 13-year-old boys who love Star Wars.
For those who love the big city's draw, it doesn't get any more spectacular than the Big Apple. Home to the most iconic skyline in the world, New York City's array of cloudbusting skyscrapers has now been immortalized in LEGO, which teens will love to build at home.
From the Statue of Liberty, take a trip downtown past the Flatiron, Chrysler, Empire State and One World Trade Centre in this cityscape set from LEGO Architecture range. Along with all the pieces required to construct the set, you'll also receive a collectible booklet highlighting interesting information on the design, architectural style and history of each of the buildings.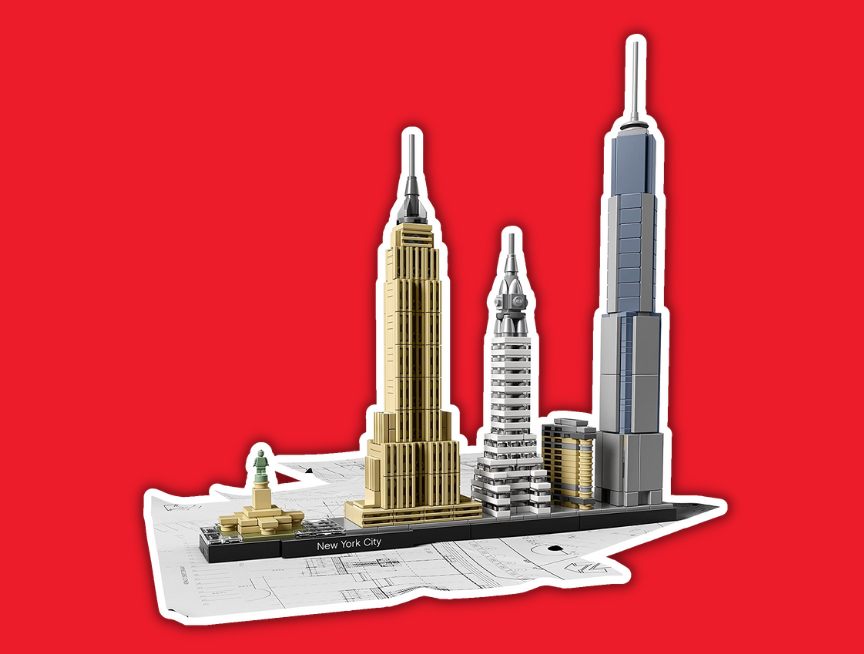 😍 Great gift for 13-year-old boys who love the draw of the big city.
---
Gifts for Boys Who Love Tech and Gadgets
Taking to the skies is a pretty nailed-on dream for all 13-year-old boys. With this ace drone from Altair, they can make it a reality. Four individual propellors lead to a super smooth flight within a 150-meter range. The Hornet also comes with a 720p camera to capture epic shots and will remain airborne for 15 minutes at a time, thanks to its efficient battery life.
Specially designed for beginner pilots, this drone offers fuss-free controls and boasts a range of advanced features such as altitude hold, one-button takeoff and landing and headless mode making controlled flight and seamless capture of video easier than ever.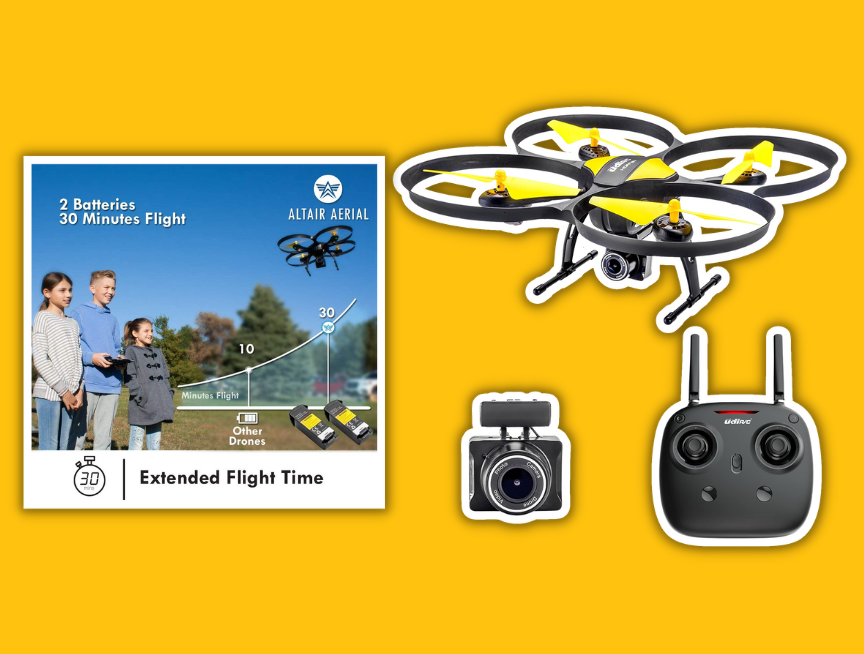 💡 If your teenager is desperate for a drone but you don't want to blow your budget, the ATTOP X-Pack 2 is a great miniature option suitable for beginners.
Perhaps the coolest gadget on the market right now has to be a handheld 3D printing pen. Bring your wildest creations to life as you draw, doodle and design, then watch them materialize in 3D polymer form. With three separate filament rolls, you can start creating immediately. Simply feed the plastic into the device, allow it to heat and begin to build.
Thanks to an updated design, this pen has a slimmer body allowing for a more natural drawing style. Plus, with an impressive OLED screen and intuitive controls, you can keep an eye on the settings and fine-tune them to perfect your unique creation.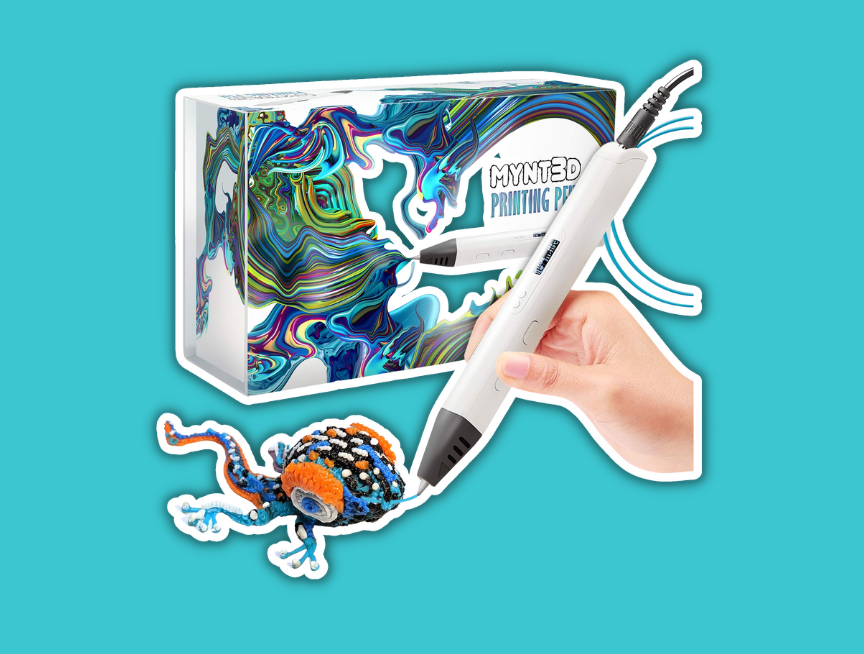 😍 Great gift for 13-year-old boys who love to use tech to create.
Ask any teen what they want for their birthday or Christmas; no doubt the vast majority would exclaim a tablet! While tablets can prove to be a costly outlay, there are options for under $100. Our top pick is the Amazon Fire HD 8 Tablet, a great option for teenagers who love tech.
With an 8-inch HD screen, the Amazon Fire is ideal for watching videos or reading through the Kindle software. The device comes with 32GB of internal memory, providing plenty of space to download your favorite apps, while thanks to its 2GB of RAM and a long-lasting battery of up to 12 hours, you can enjoy its fast-acting performance for longer.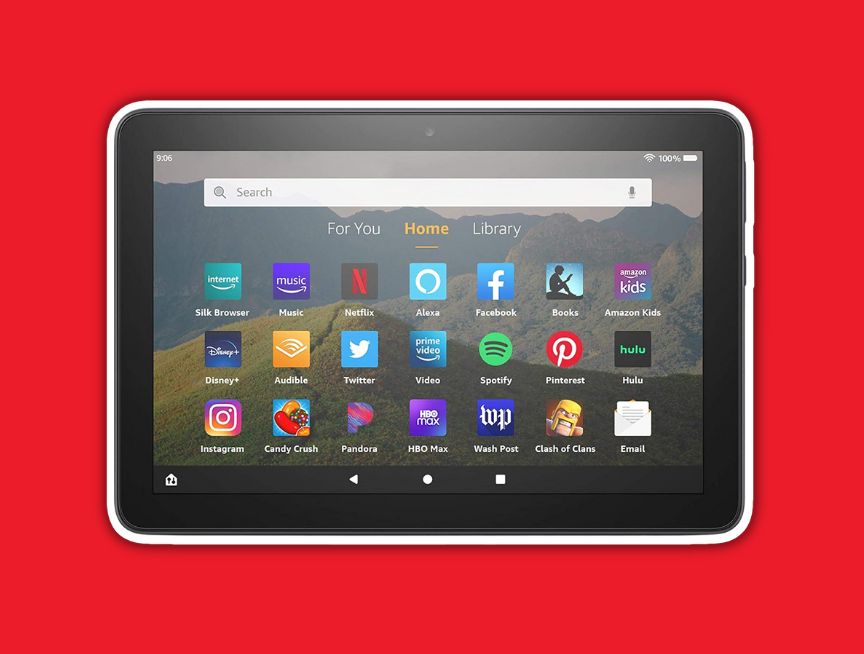 😍 Great gift for 13-year-old boys who love having the internet at their fingertips.
---
Gifts for Science Lovers
Sometimes classic gifts remain relevant for a reason. That's certainly the case with the Estes Bull Pup 12D Flying Rocket. This iconic model, although challenging, proves to be an engaging and educational build, creating a detailed version of the USAF AGM-12D Bull Pup air-to-ground missile.
The model set includes all the quality materials you will need to make the rocket, which will stand at over 15-inches once complete, with laser-cut fins and decals to ensure it looks the part too. Once finished, you can start the countdown to lift off, with this model capable of reaching up to 200 meters with the relevant charges and dock.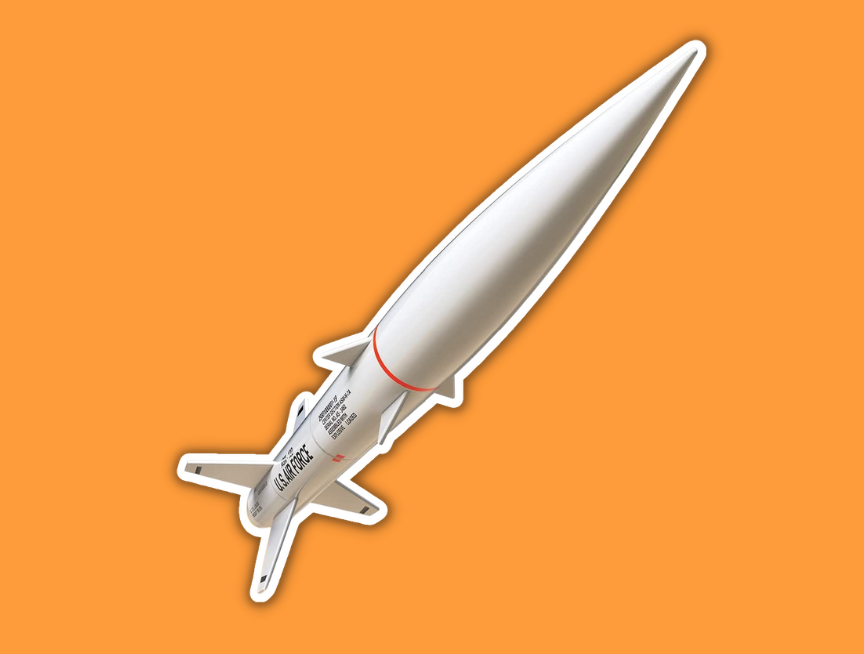 😍 Great gift for 13-year-old boys who love model building.
The ultimate tool for teenagers to develop coding, programming and computer engineering skills is undeniably Raspberry Pi. The modular electronic building kits teach youngsters through engaging and challenging projects to create their own computer, gaming device, robots and much more.
The Pi 4 is the latest in the series, with this set including everything you could need for your DIY invention. Boasting a powerful quad-core processor and 8GB of Ram for powerful builds, plus the casing, ports and cables to extend the possibilities they can create.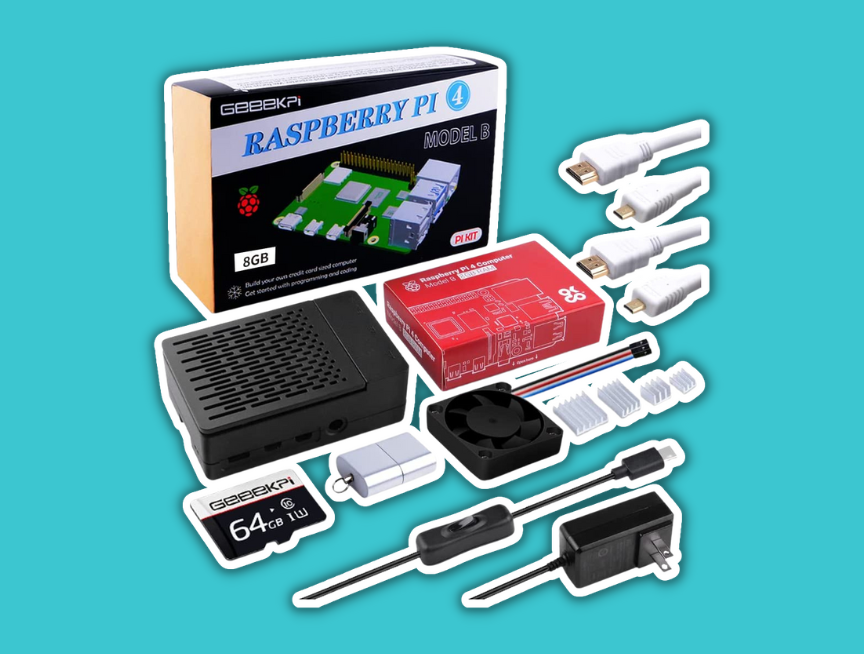 😍 Great gift for 13-year-old boys who love computer science and coding. We identified more STEM kits for teens that your boy will love in our recent study.
For any teen interested in astronomy, seeing is believing, making the Orion SpaceProve Telescope an excellent gift idea. Although investing in a telescope can be costly, this budget-friendly introductory option will surely firm up their interest as they see detailed images from around the galaxy.
With a 76mm appeteur reflector lens, you can expect to see incredible views of the moon, the rings of Saturn and even the moon orbiting Jupiter. Plus, thanks to its simple setup and lightweight design, you can stargaze whenever and wherever the mood takes you.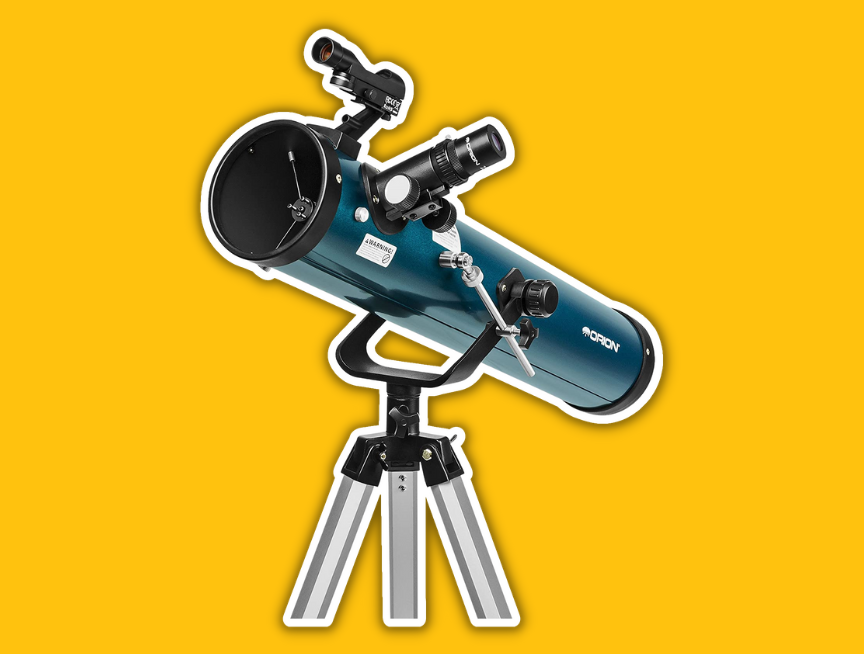 😍 Great gift for 13-year-old boys who love stargazing.
---
Gifts for Board Game Lovers
Although on the surface, this game appears to be merely a tiny cube, once unleashed, you'll find a puzzle unlike no other. This strikingly designed cube uses 36 separate earth magnets and a series of tear-proof tiles, allowing the cube to mind-blowingly transform into 70 different shapes.
This award-winning shape-shifting cube combines the complexity of a Rubik's cube with the satisfying nature of a fidget spinner, resulting in a challenging yet engaging puzzle that will keep teens entertained for hours.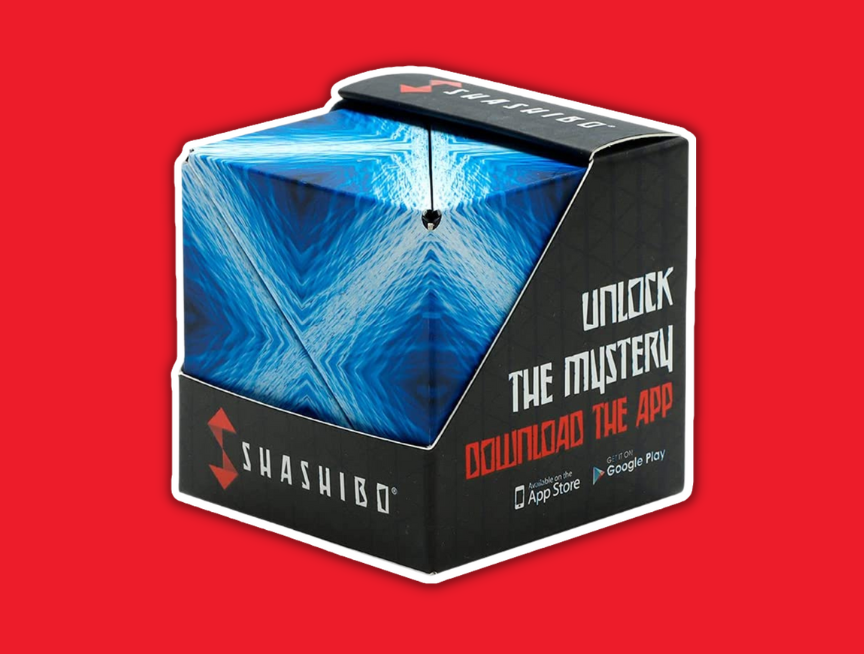 😍 Great gift for 13-year-old boys who love the challenge of a Rubik's cube.
If you're looking for a new board game that stands out, then Forbidden Island is a great option. Rather than pitting players against one another, in this tile-based board game, everyone must join forces and work together to collect treasures from the cursed island that sinks, tile by tile.
While teamwork is key to winning this game in time, players must devise ingenious strategies to overcome many obstacles in this award-winning Mensa Brainy Game. Regarded for its visually stunning components, including screen-printed tiles and beautifully illustrated cards, it is clear to see the attention to detail that has been invested in the game.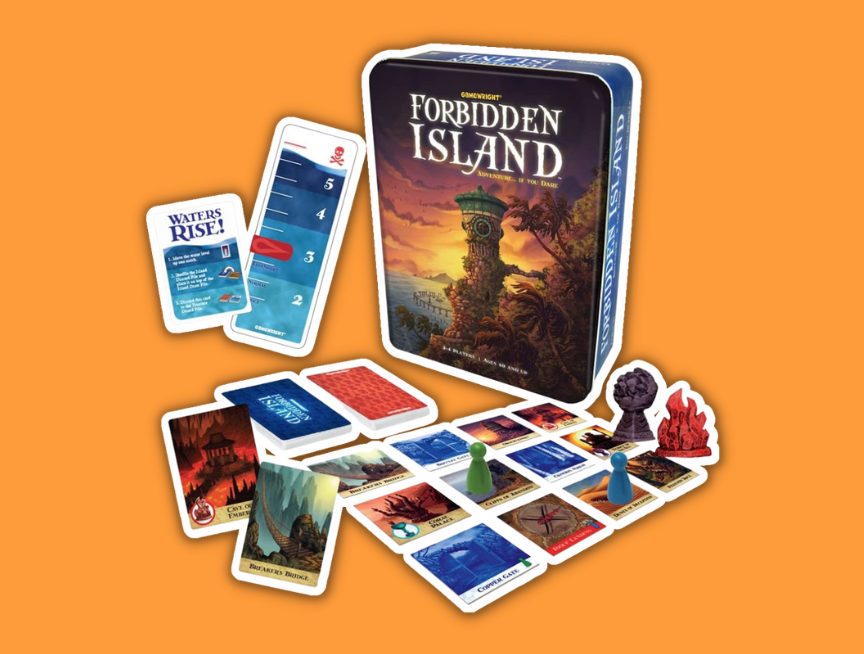 😍 Great gift for 13-year-old boys who love cooperative board games.
As a novel cross between an escape room and a board game, you have to solve the mystery of finding a missing team of top secret agents by working your way through 57 devilish riddles and puzzles to obtain clues.
To solve the mystery, you will need to think outside the box and get creative by drawing, folding and manipulating the pages; then, when you feel you have cracked the riddle, submit your answers through the QR code on each page. If you have successfully submitted a correct answer, you will obtain a clue for the next challenge and be permitted to progress before finally cracking the case.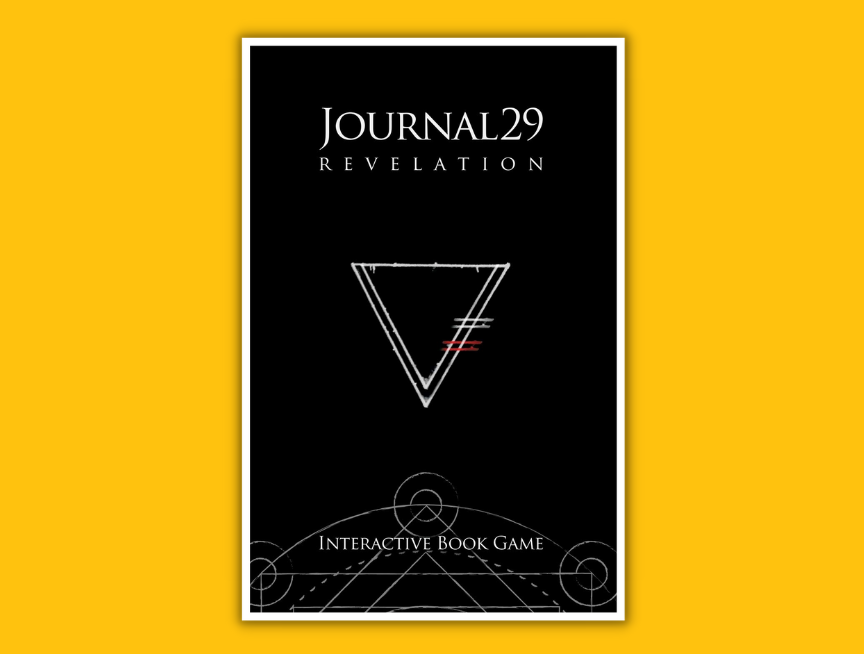 😍 Great gift for 13-year-old boys who love problem-solving challenges.
You may have encountered the card game Cards Against Humanity while researching teenage gifts. While that option may be a little too mature, Relative Insanity provides the perfect middle ground, allowing teens to create silly situations and jolting jokes without the explicit nature of its predecessor.
The party game includes two decks of cards, one pack consisting of cheeky setups and the other hilarious punchlines. It's up to those playing to try and construct the funniest combination, making a wild gaming night for friends and family alike.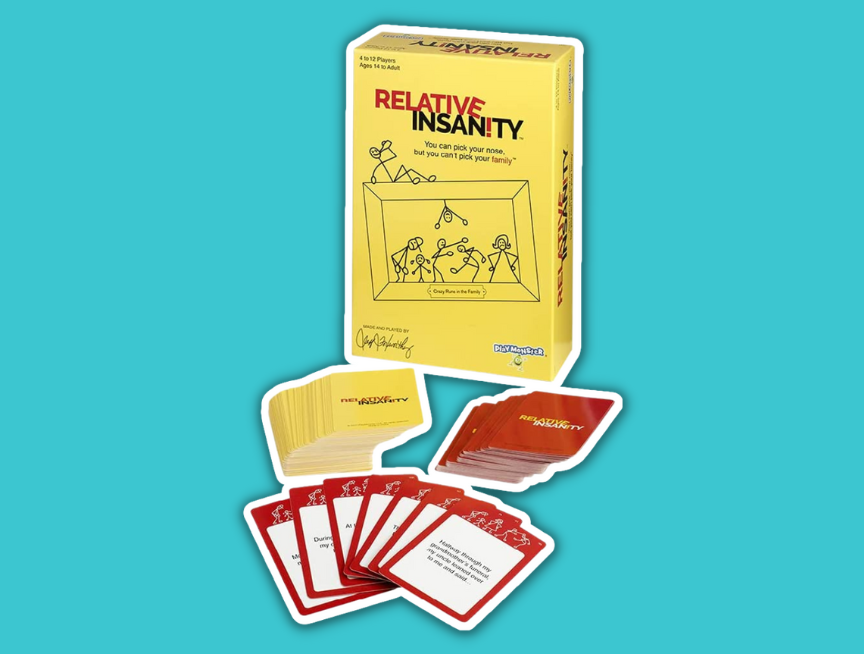 😍 Great gift for 13-year-old boys who love quick-witted games.
---
Gifts for Book Lovers
For teenagers just reading fiction, The Wolf Brother Collection provides a set of easy-to-read stories that will captivate them and boost their confidence. Award-winning author Michelle Paver wrote Wolf Brother as her first book aimed at younger readers, striking gold in the process as they proved to be a massive success amongst tween and teen boys.
With the complete collection now including six books, this finely printed set includes Wolf Brother, Spirit Walker, Soul Eater, Outcast, Oath Breaker & Ghost Hunter, providing plenty of fantasy adventures for your teen to get their teeth into, with plenty of twists and turns along the way.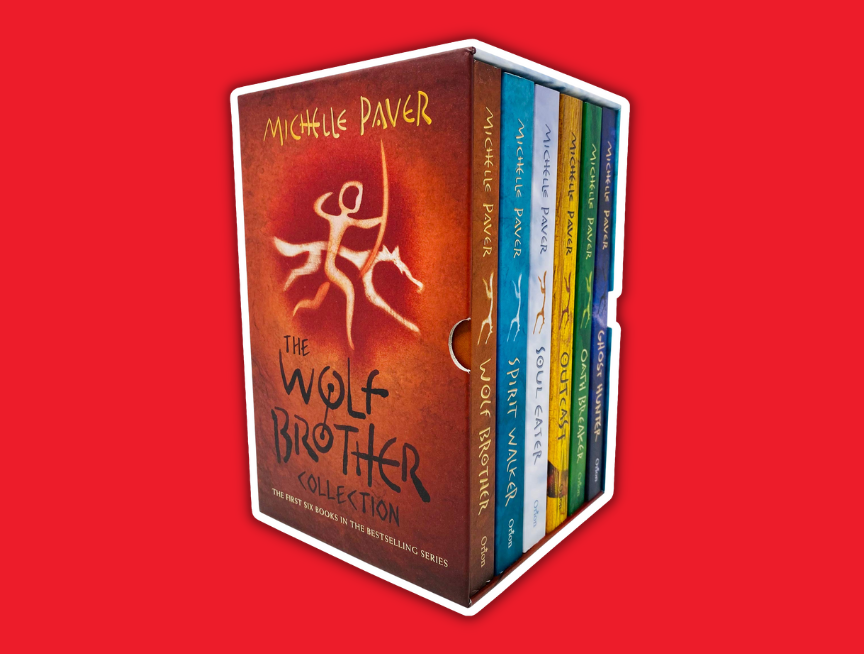 😍 Great gift for 13-year-old boys who love adventure stories.
For fans of non-fiction, this option will be sure to blow their minds! Jam-packed full of facts, trivia and wanderlust-inspiring photos, this book will provide your teenager with newfound knowledge on the world's many curious and unusual destinations.
Although they may still be too young to set off on solo adventures around the globe, this book will allow your 13-year-old to travel vicariously, seeing distant lands and the wonders that reside there. The book's 480 pages will instill a desire to explore and a mindset to wonder, question and discover.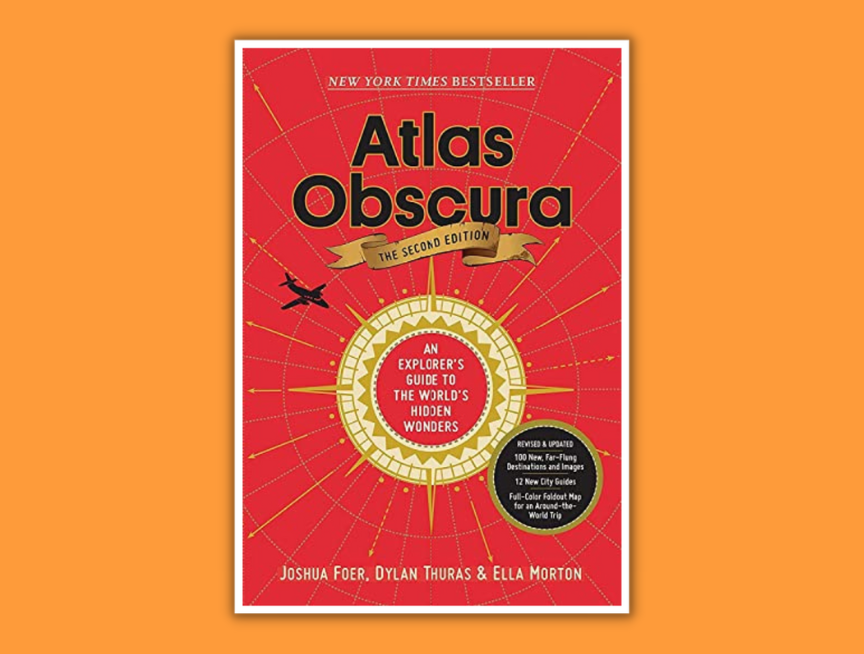 😍 Great gift for 13-year-old boys who love uncovering hidden wonders.
Get set to embark on a gripping murder mystery with the New York Times bestselling book from Karen M. McManus. As the title suggests, one of the story's key characters is lying, but who? As five kids walk into detention, but only four come out alive.
Coined as a crossover between Pretty Little Liars and The Breakfast Club, throughout the story, you'll unearth each of the characters' personalities, learn their secrets and find out what makes them tick. But in a book filled with twists and turns, will you be able to solve the case in time?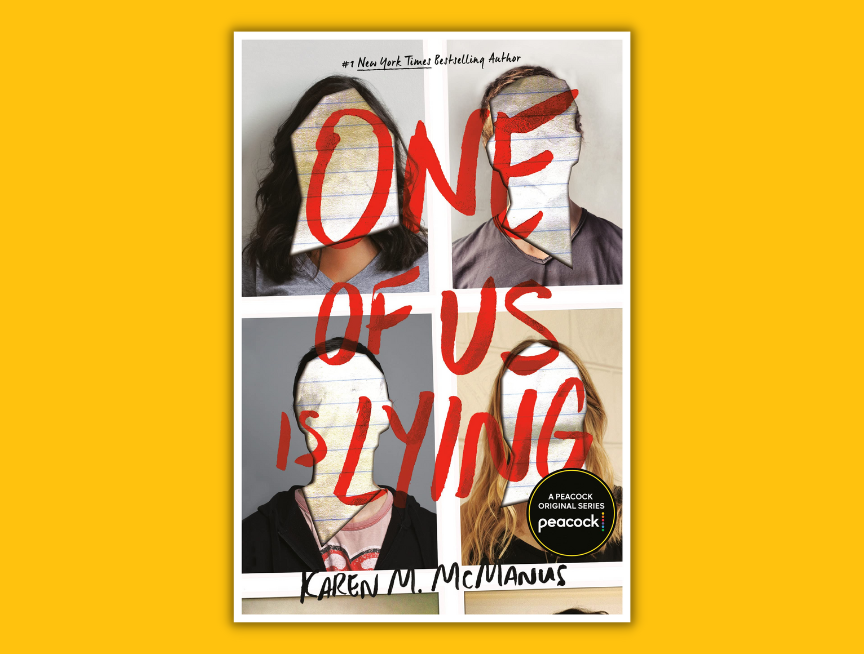 😍 Great gift for 13-year-old boys who love suspenseful stories.
For fans of comic books, this graphic novel will surely be a hit. As author Prudence Shen has created a true page-turner, following the lives of your not-so-average teenagers, with the captain of the Basketball team, Charlie and the robotics club president Nate.
This book hilariously challenges stereotypes, showcases excellent illustrations by New York Times bestselling author Faith Erin Hicks and provides belly laughs as mayhem ensues in this modern-day classic coming-of-age story.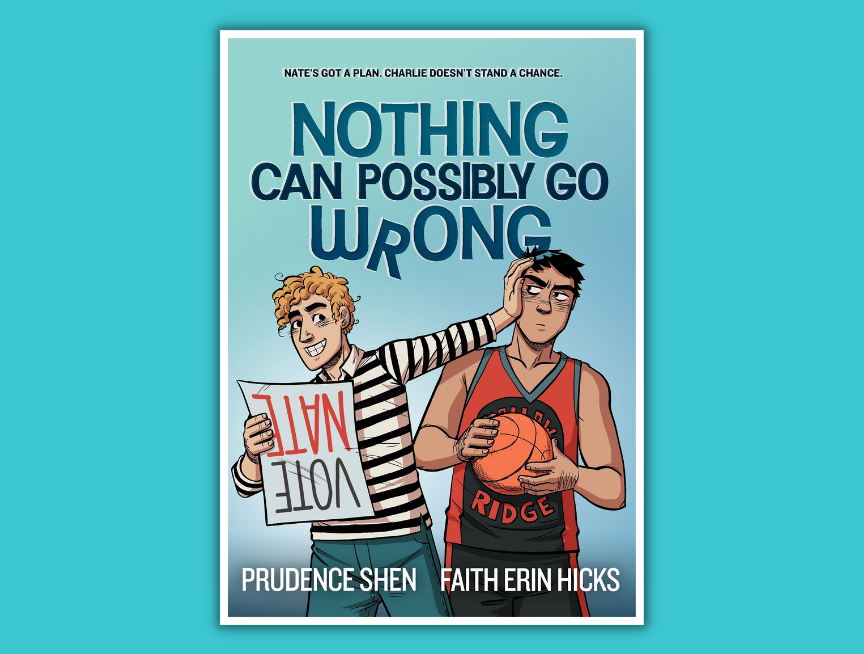 😍 Great gift for 13-year-old boys who love graphic novels.
---
Gifts for Young Artists
Broaden the creative horizons of your budding artist with this introductory stop-motion animation set. Complete with a 'green-screen' set, flexible HD USB camera for versatile and steady camera shots, editing software and a guidebook filled with tips and tricks on creating a fantastic stop-motion animated film.
From Pixar to DreamWorks to Studio Ghibli, we all know and love the fantastic animation we watch at the movies or on television. With this introductory stop-motion set, your teen will be well on their way to creating their masterpiece, with all the tools and guidance in the HUE Animation Studio to help them along the way.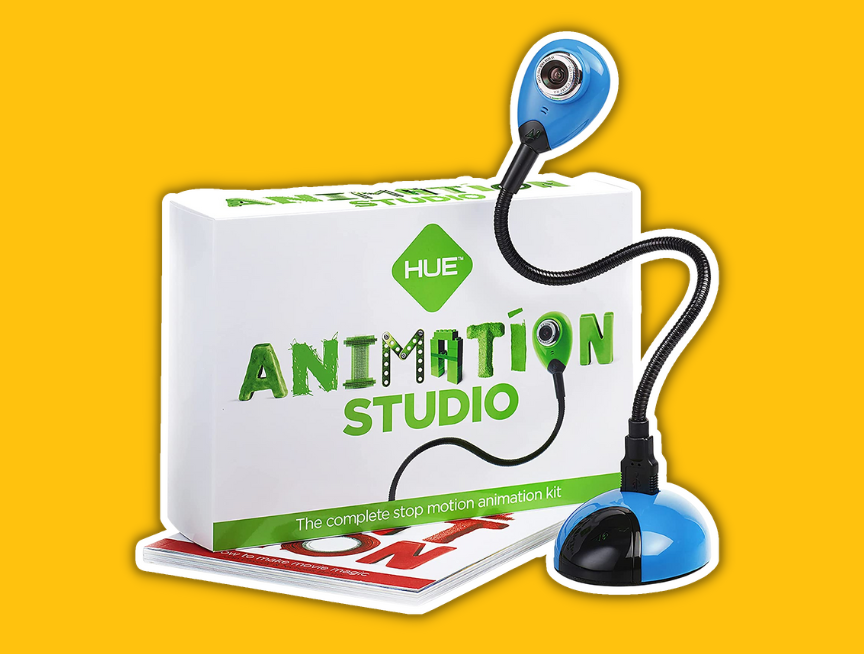 😍 Great gift for 13-year-old boys who love animation.
Hone your fine art and line drawing skills with this A3 tracing lightbox from LitEnergy. You can easily trace and copy distinctive styles by emitting light through the image, recreating hyper-realistic images and perfecting your craft.
Whether practicing stenciling, calligraphy, sketching or drawing, this lightbox will enable you to reach new levels of precision and accuracy thanks to its ultrabright LED backlight. The light box allows the user to adjust the brightness to the desired level, plus it comes with a specialized film to protect the eyes from soreness over prolonged use.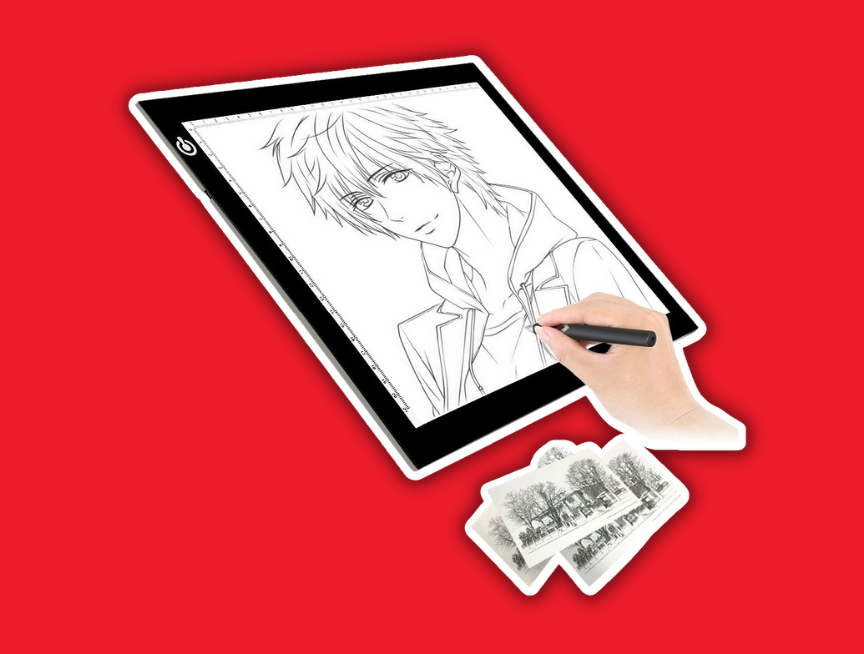 😍 Great gift for 13-year-old boys who love photo-realistic art or calligraphy.
Any young artist will welcome new additions to their art supplies. Boasting 86 different pieces in this bumper set, including paints, brushes, paint knives and even an easel and canvases, there is plenty to keep them busy and allow the creative juices to flow.
As your budding artist develops, they will require higher-quality materials and tools to hone their craft. This differentiates this set from the rest. Stacked with paints and tools made of high-quality materials, coming with the Meeden stamp of approval.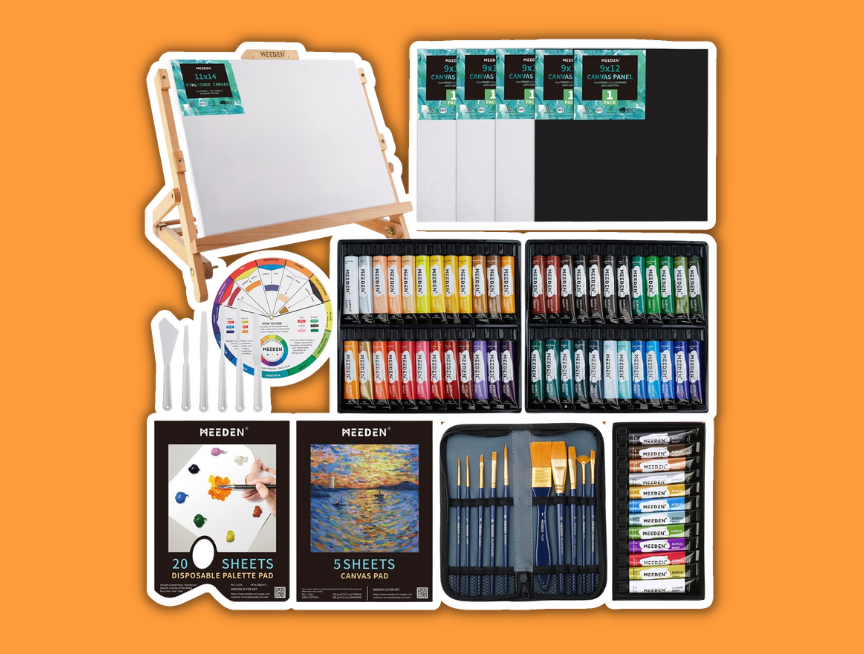 ---
Gifts for Boys Who Love the Outdoors
For those who love getting out into the world, these occer binoculars will enable you to see it with even more clarity. With an impressive 25mm lens and a far-reaching 12x magnification, you'll be blown away by the quality of these budget-friendly binoculars.
The binoculars come coated in armored rubber to protect the lens and offer a steadier grip while offering a waterproof coating, making them useful in all conditions. They weigh less than 300g and will easily fit into a jacket pocket or small bag, making them perfect for hiking, sightseeing or nature trails.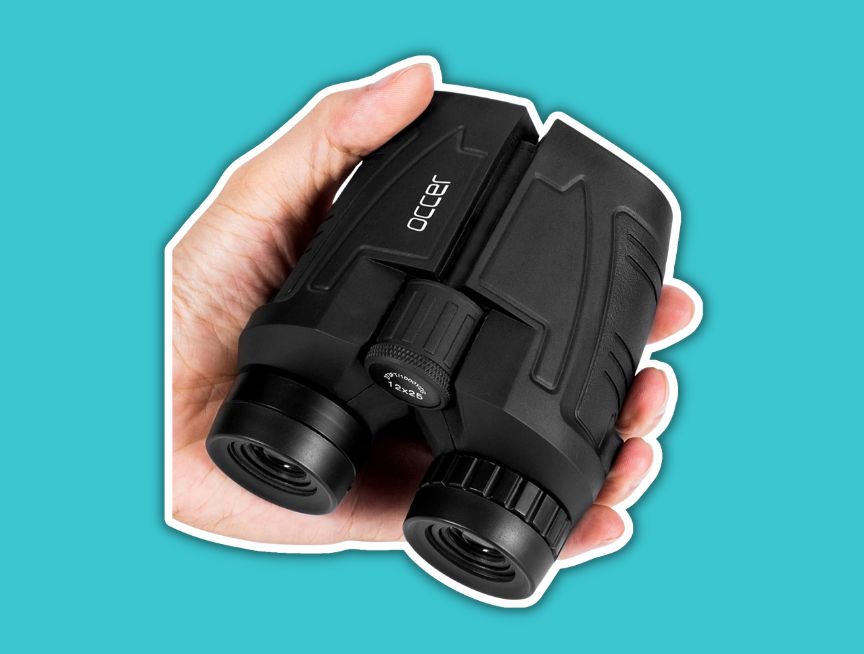 😍Great gift for 13-year-old boys who love getting out into nature.
For a real outdoor enthusiast, this inflatable kayak opens the door to new realms of adventure. Head out for fun-filled days on the water with your teen or safely send them out with a friend, as, thanks to its adjustable seats, this boat can fit both kids and adults alike.
Made for use on smaller bodies of water (such as lakes, slow rivers or canals), this is the ideal starter set to introduce your teen into kayaking. The kayak is made from heavy-duty, puncture-resistant vinyl, coating three separate air chambers for added buoyancy and stability on the water.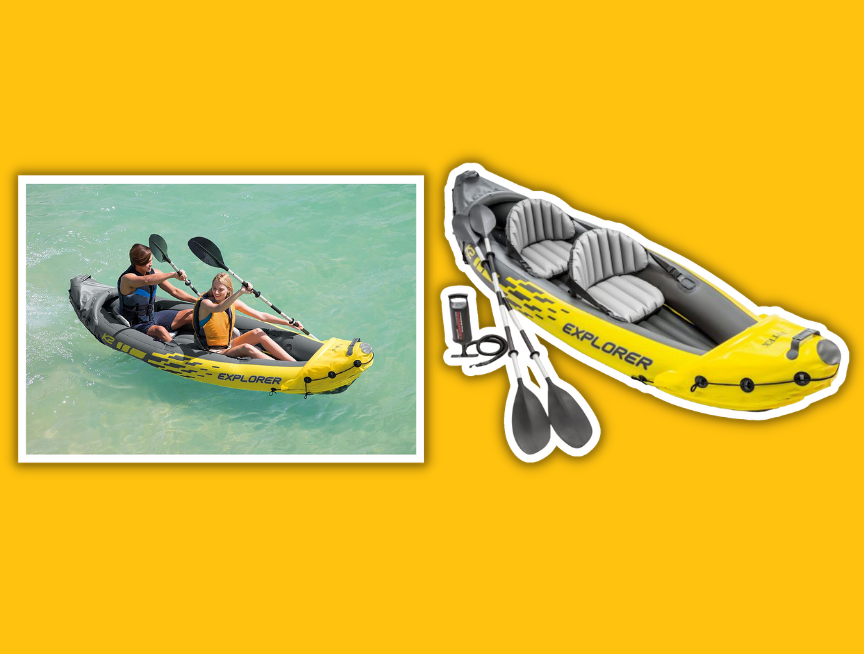 😍 Great gift for 13-year-old boys who love extreme adventures.
If your teen loves the outdoors, let them capture all their adventures in stunning 4K video or 20MP photos. The Brave 4 is waterproof up to 100m, boasts image stabilization and comes with a host of mounts and clips for versatile use, whether hiking, mountain biking, snowboarding or any other wild adventure they find themselves on.
Despite measuring up to under six cm long and weighing less than six pounds, this camera provides incredible quality, all while fitting effortlessly into a pocket or bag. With a 2-inch digital screen, they can watch back their footage in real-time or connect to the TV through its HDMI or USB port when at home.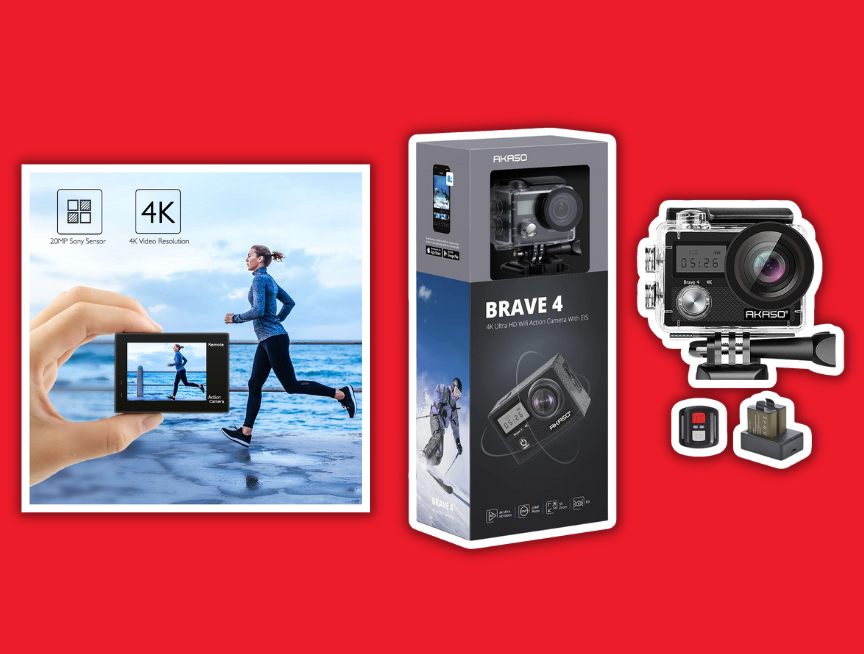 😍 Great gift for 13-year-old boys who love to capture their adventures.
---
Gifts for Animal Lovers
We now live at a time where we have never been as connected to nature and aware of the peril so many natural habitats currently face. This is partly down to the increased footage, coverage and incredible reporting on the natural world through TV shows, books and education at school — including this fantastic new book from National Geographic, following photographer Joel Sartore on his quest to document every animal on the globe.
Perhaps this could be considered the ultimate nature book, documenting all the weird and beautiful creatures to grace the planet, with a focus on the most endangered species. The hardcover edition details each endangered species, sharing their story and what we can do to help before it may be too late.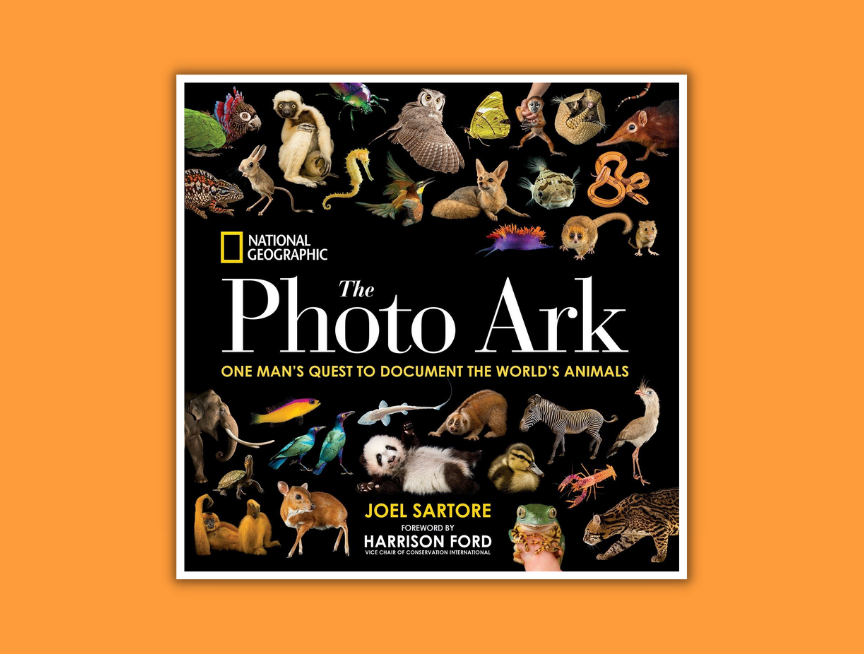 😍 Great gift for 13-year-old boys who love endangered animals.
If your teen loves to watch the array of birds and animals go by in your backyard, then this bird-box building set will enable them to get closer to nature than ever before. With all the building materials, hanging mechanisms and decorative paints, you could need to create a welcoming habitat for wildlife in your local area, all while honing their hands-on DIY and crafting skills.
This set comprises super-simple components that lead to a frustration-free construction by simply slotting together, secured by the included adhesive. Also included are four paints and a set of brushes so they can make a unique design on the bird box before installing in the wild.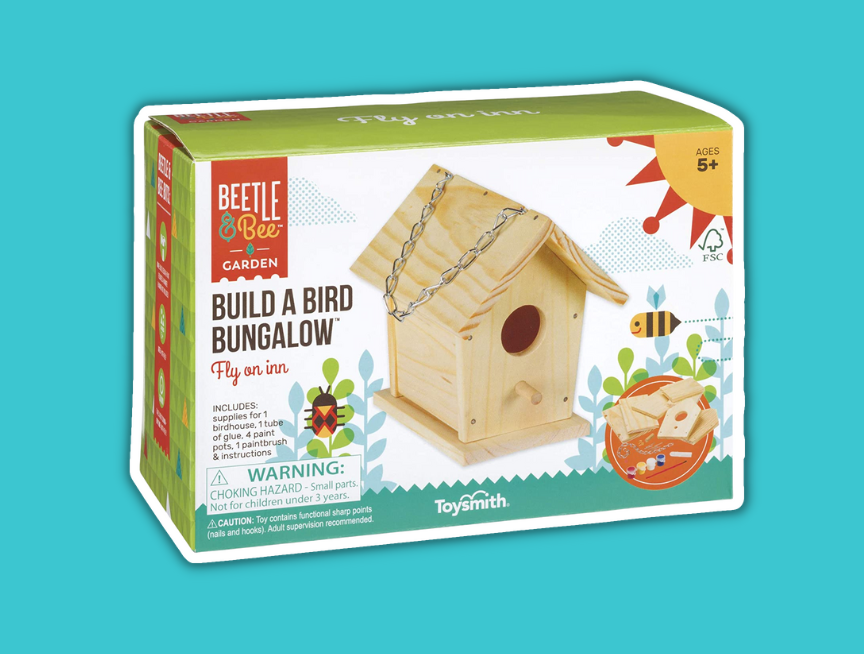 😍 Great gift for 13-year-old boys who love seeing nature in their backyard.
Perfect for rainy days when getting out into nature may not be all that practical, interacting with the natural world is not impossible thanks to the Broader View, Ocean Life Puzzle. This puzzle celebrates the plethora of awe-inspiring marine diversity, featuring magnificent creatures of the deep, from the underwater giants in whales, dolphins and sharks to the tiny mollusks, urchins and coral.
With 1000 pieces, plus a tricky circular design to figure out, this should offer a challenging and insightful activity centered on some of nature's finest animals. Once completed, the puzzle will measure up at an impressive 27 inches, giving a 360-degree perspective to life underwater.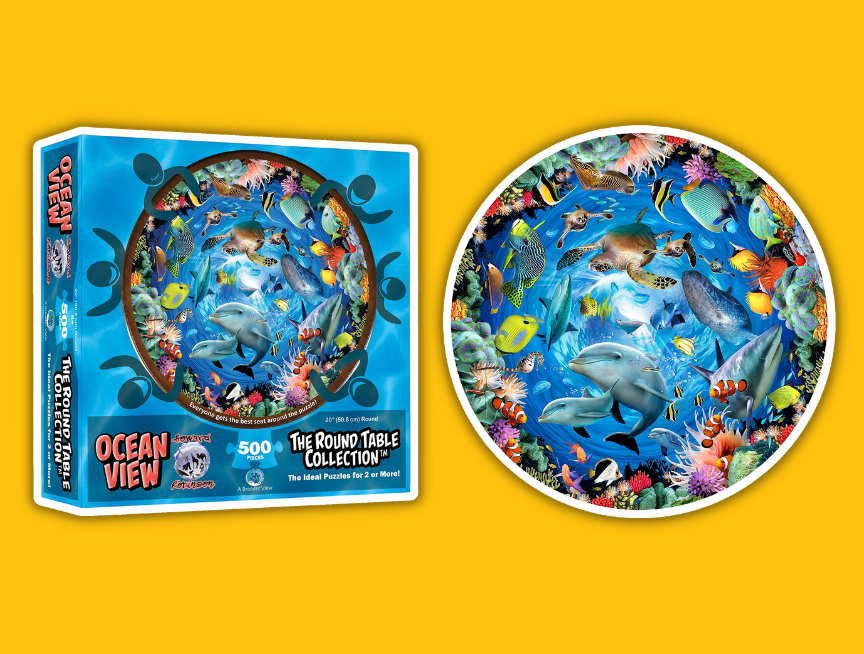 💡 If 1000 pieces sounds like too big of a commitment, grab the smaller edition here, with a more manageable 500 pieces to complete.
For animal lovers, nothing beats witnessing creatures in their environment. With the wildlife monitoring camera from Vikeri, this has never been easier. Simply set the camouflaged camera up in your yard or local nature reserve and allow it to capture the magic of wildlife uninterrupted by human interference.
The trail camera utilizes motion detectors to fire into action when an animal goes by, capturing ultra-high resolution footage, even throughout the night, thanks to its night vision lens. Built using high-grade IP66 materials, this camera is robust enough and waterproof to withstand the forces of nature. Plus, with its 2.4 LCD color screen, you can skim your footage before exporting your favorite wildlife clips.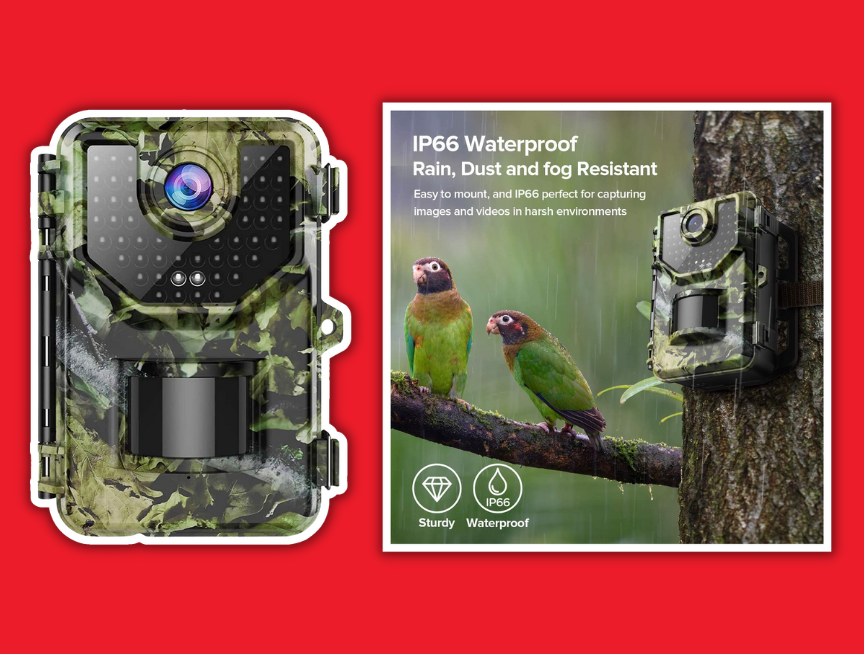 😍 Great gift for 13-year-old boys who love seeing animals in their natural habitat.
---
Gifts for Movie Lovers
If you're looking for a practical yet fun gift, you've come to the right place. For any Star Wars fan, Baby Yoda is a safe bet when buying merch. But this Yoda isn't just for decoration. This cute figure doubles up as a phone or gaming controller stand, with a charging cable included to top up its juice while held in place.
This gift also makes a great option for any movie-watching fanatic. The stand is the perfect accessory for watching films and videos on your phone, keeping your hands free and the device steady throughout the film.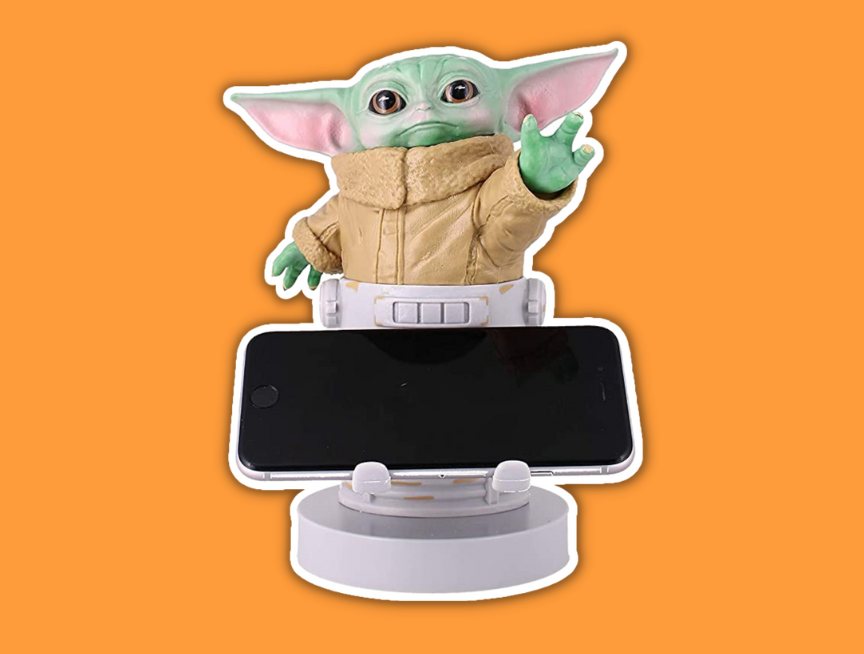 😍 Great gift for 13-year-old boys who love Baby Yoda.
Movie night just isn't the same without popcorn. And for a real movie enthusiast, what better gift could you get than their very own cinema-style popcorn maker? Producing high-quality, ultra-tasty popcorn in next-to-no time.
This statement-piece popcorn maker recreates the unrivaled quality of fresh popcorn that you can only find in the cinema. With the cabinet containing four quarts of popcorn, there will be plenty to go around for friends or family when sitting down to watch a movie.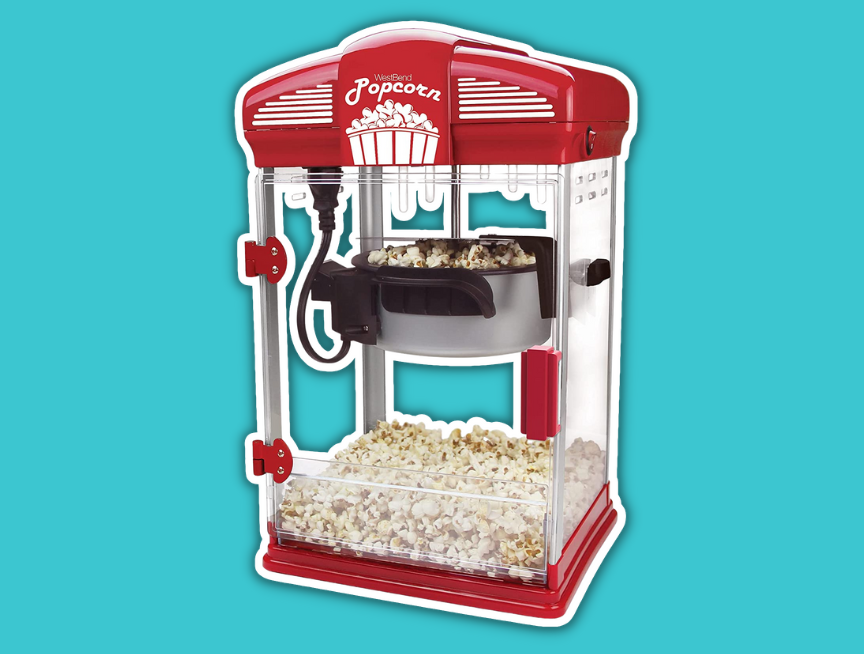 😍 Great gift for 13-year-old boys who love recreating the magic of the movies at home.
Join El, Mike, Dustin and the rest of the Stranger Things crew with the officially licensed Hellfire Club phone case. Joining perhaps the coolest Dungeons & Dragons club around. This case is made in the USA, using high-quality materials with various options to fit all Apple devices.
The case offers two-part protection from the inevitable mishaps we all have with our phones. A scratch-resistant polycarbonate shell and shock-absorbent TPU lining keeps your device in pristine condition.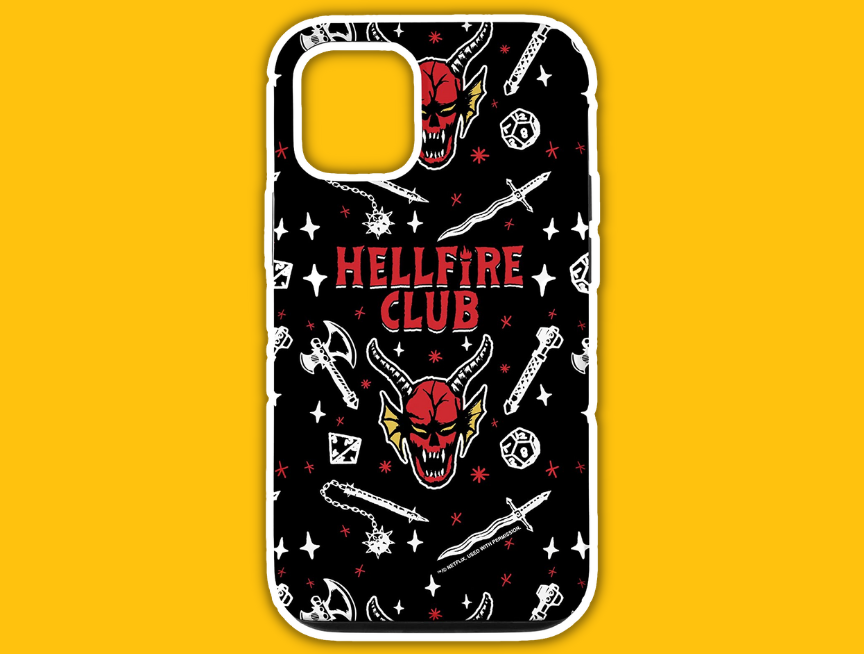 💡 If Stranger Things isn't their favorite show, we've got all bases covered with Cobra Kai and Umbrella Academy certified phone cases too.
---
Gifts for Boys Who Like To Write
It may sound boring to some, but few gifts are nicer than a quality notebook. Especially if the person you are buying for loves to write. This option from Paperage contains 160 pages of high-quality 100 GSM lined paper, providing ample space for your teen to jot, write, list and journal.
The book features a durable and water-resistant vegan leather cover in various colors. Other notes of quality include the expandable inner storage pocket, elastic closure band and ribbon bookmark. While it also comes with a set of stickers so your teen can personalize their notebook too.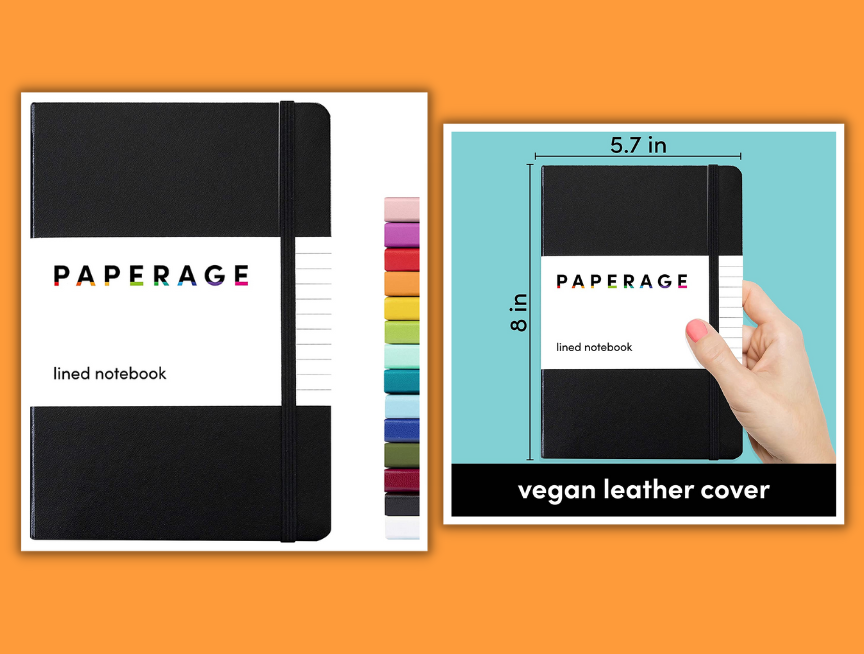 😍Great gift for 13-year-old boys who love to write.
For those who find sitting down to write more challenging, Wreck This Journal offers a different approach to notebooks, encouraging the user to cast aside any notions of traditional writing and simply have fun finding their voice and enjoy the creative process.
Inside the journal, you will find 224 pages of seemingly mad activities to stimulate and challenge the user. From drawing to destroying the page entirely, this international bestseller allows the user to de-stress, de-mystify the process and ultimately create!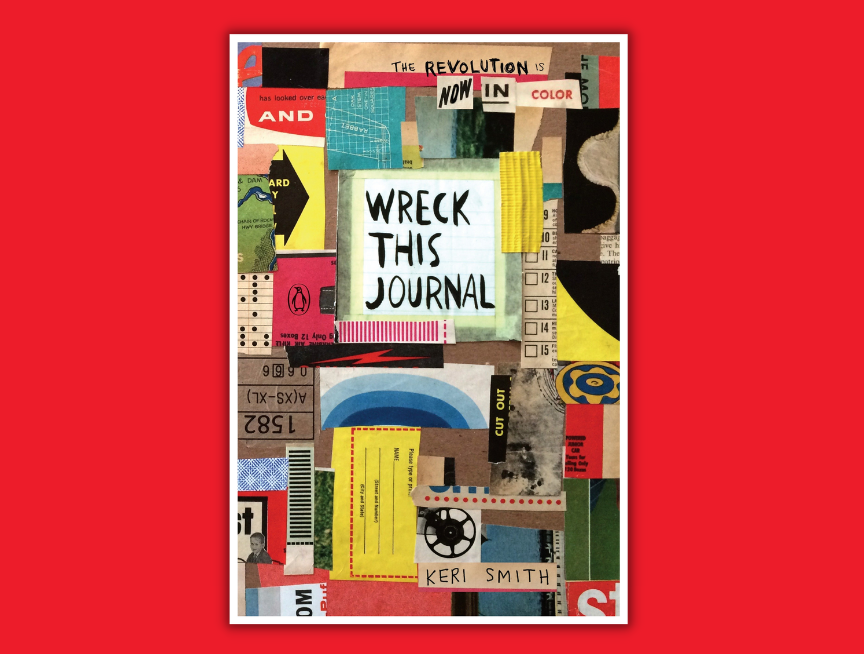 😍 Great gift for 13-year-old boys who love to break the norm.
Teenagers traditionally have difficulty expressing their feelings clearly. Well, with the help of Linda Hart's Thesaurus of the Senses, not for much longer. This alternative thesaurus allows the reader to tap into new ways and words to describe emotive detail, elevating their vocabulary and writing skills to new heights.
Ideal for any budding writer, poet or storyteller, this thesaurus will give your teen the spark they might be missing when searching for words. Covering all senses from touch to taste, this book contains almost 400 pages, each jampacked with new and exciting words that your teen can add to their arsenal.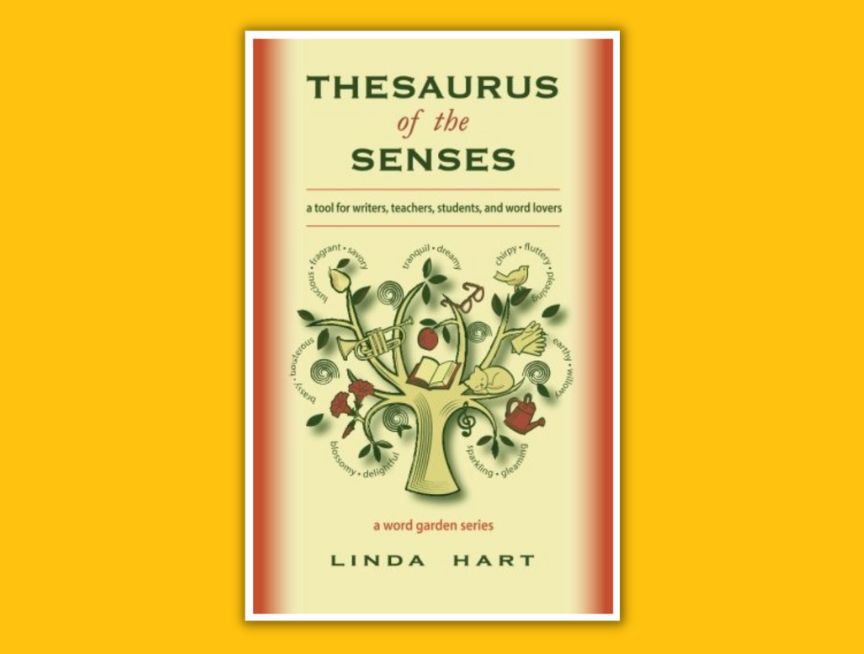 😍 Great gift for 13-year-old boys who love the beauty of words.
The holy grail for any wordsmith, is undeniably the typewriter. Nothing typifies the idyllic nature of writing more than someone tapping away at the ancient keys found on a typewriter. However, let's face it, they're far from convenient.
While they may not be practical, a young writer may appreciate a nod to the past with this excellent desktop typewriter pen pot. Not only does it store pens, pencils and accessories away neatly, but its beautifully crafted design and quality feel may even evoke some nostalgia-laden inspiration and get them writing (on a laptop no doubt) in no time.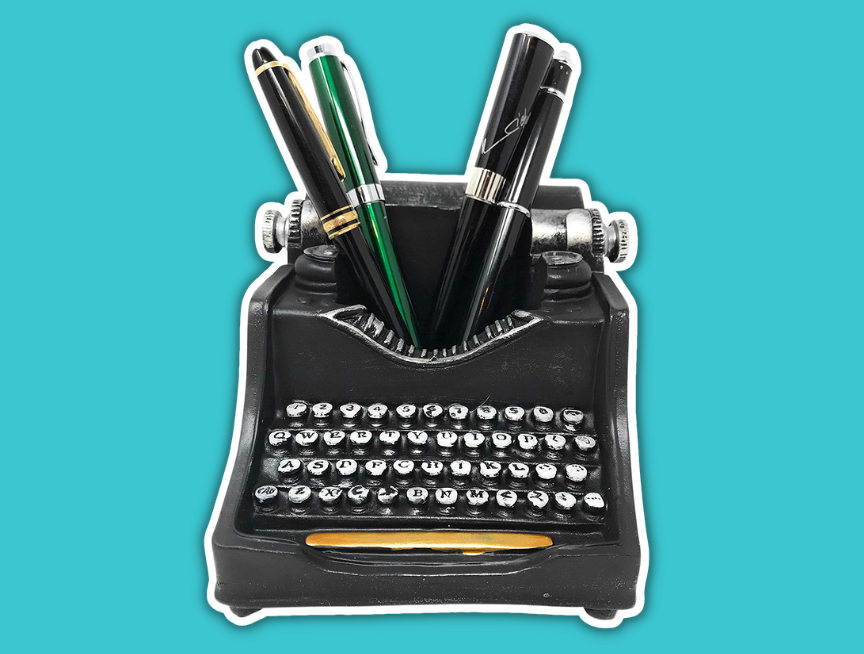 😍 Great gift for 13-year-old boys who love quality vintage trinkets.
---
Gifts for Music Fans
The ultimate listening experience is now well within the grasp of any teenager. This all-in-one record player allows users to play their favorite vinyl without needing an expensive or space-consuming hi-fi setup. Plus, with a built-in speaker and a lightweight design, you can take your music anywhere.
Another fantastic feature is the player's Bluetooth connectivity too, allowing you to either play music from a phone through the player's speaker or even connect out to a Bluetooth speaker for extra oomph.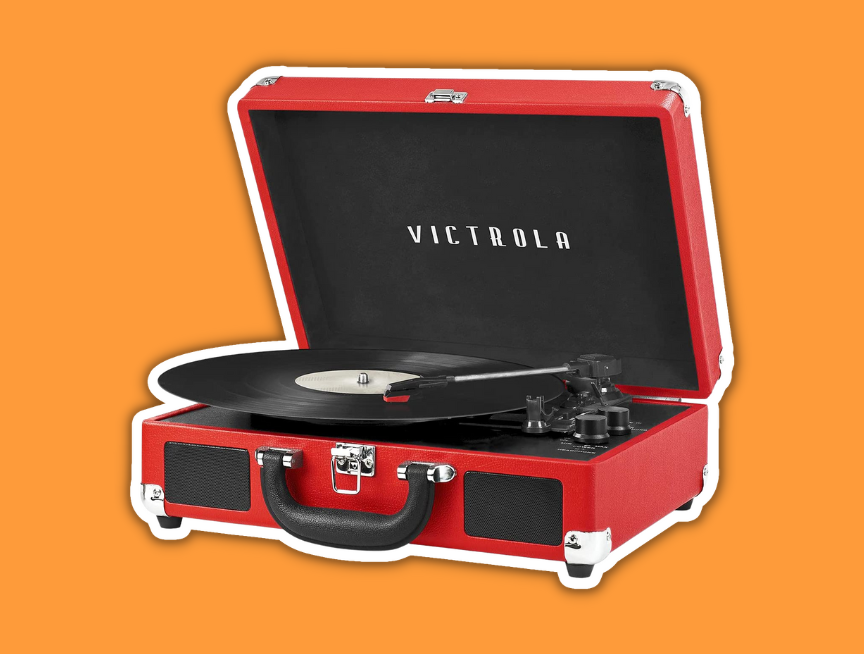 😍 Great gift for 13-year-old boys who are vinyl purists.
The ultimate music accessory for any teen is the AirPod. With their unmistakable stylish design, true wireless connectivity and boasting great sound quality to boot, these will prove to be a showstopper gift for any 13-year-old.
Perhaps one of the most innovative earbud options on the market, Airpods seamlessly connect to your device with a simple one-tap setup. They also come with in-ear detection, meaning they know when they are being taken out of the ear and will pause your music automatically.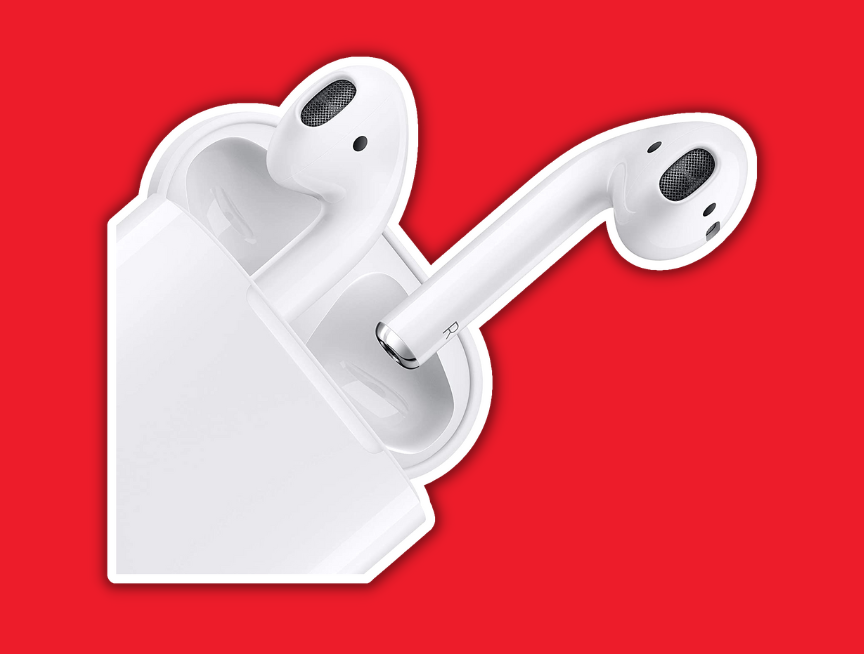 😍 Great gift for 13-year-old boys who love high-quality headphones.
When you need music 24/7, having a portable speaker can stand up to varied conditions is essential. And where better to listen to your favorite tunes than in the shower as you sing, dance and bathe all at once with this Bluetooth speaker from SoundBot.
The SoundBot Shower Speaker is designed to meet IPX4 water resistance standards, so you needn't worry about it getting splashed. It comes with a super-strong suction cup, so you can stick it to a tiled bathroom wall or window, as well as a rechargeable battery that offers six hours of playback, so it will keep the music playing for weeks worth of showering.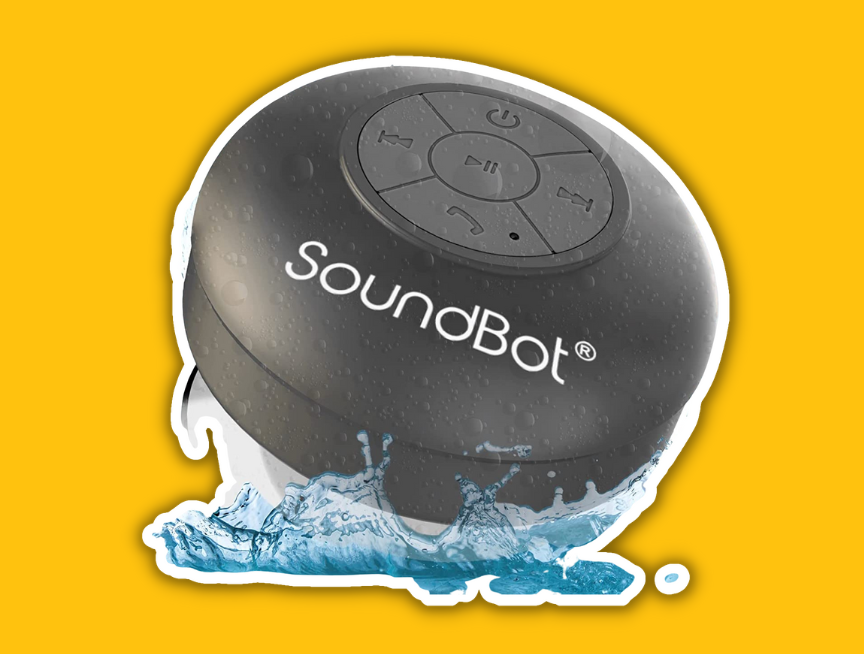 😍 Great gift for 13-year-old boys who love listening to music non-stop.
At 13, your teen will be itching to get out there and experience live music for themselves. So, what better gift can you give than providing them the experience of seeing their favorite acts in the flesh with a StubHub gift card? These gift cards offer access to hundreds of gigs through one of the world's largest ticket marketplaces.
Once purchased, the gift cards are ready to use in under half an hour, so they are perfect for a last-minute gift. While they don't expire for five years, so there's no pressure to spend them immediately if they want to wait for their favorite band to go on tour.
😍 Great gift for 13-year-old boys who love live music.
---
Gifts for Anime Fans
It's safe to say Naruto Shippuden is one of the most popular Anime series going. With 500 episodes to delve into, it's clear to see why this show has such a following. If your teen is one of the countless Naruto fans, this top is a great gift. Made from 100% high-quality cotton and available in various sizes from small to extra large.
The super soft long-sleeved T-shirt is an excellent option for everyday wear, with a truly unique design featuring a contrasting orange, white and black colorway, graphic print and authentic Japanese lettering, which will appeal to all Naruto and wider Anime fans.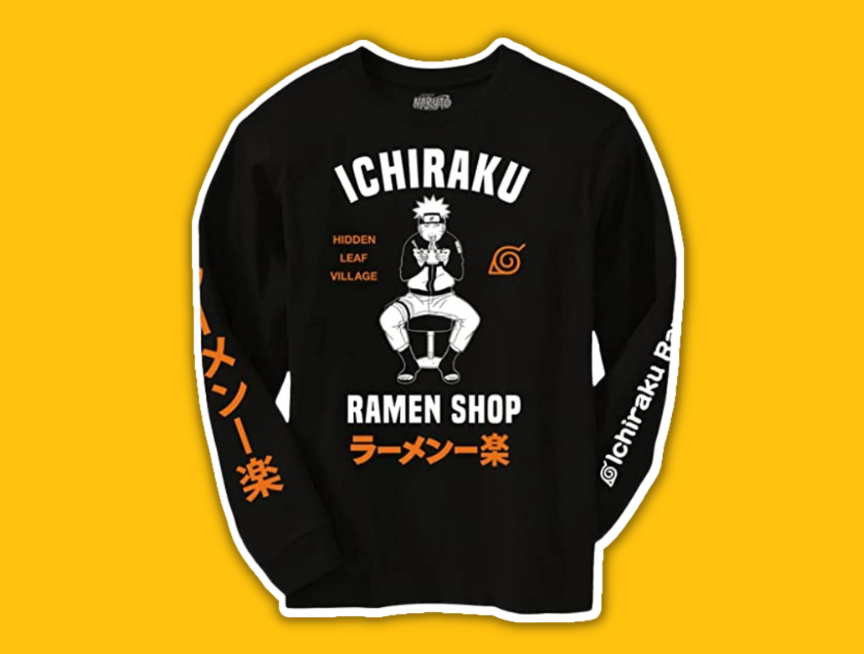 😍 Great gift for 13-year-old boys who love showing off their fandom in style.
For the uninitiated, Dragon Ball Z is perhaps the most iconic anime series in history. Appealing across all ages to people in every corner of the globe. So it may be no surprise that there is an array of affiliated merchandise on the market.
We've sifted through countless options to find the most epic merch you can buy, to discover this awesome 7-piece collectible 'crystal' ball set that replicates those synonymous with the show. With each star ball coming in heavyweight, super shiny acrylic that gives the appearance of glass, measuring 4.3 cm in diameter and displayed in its storage box, this gift is simply a must-have for any Anime fan.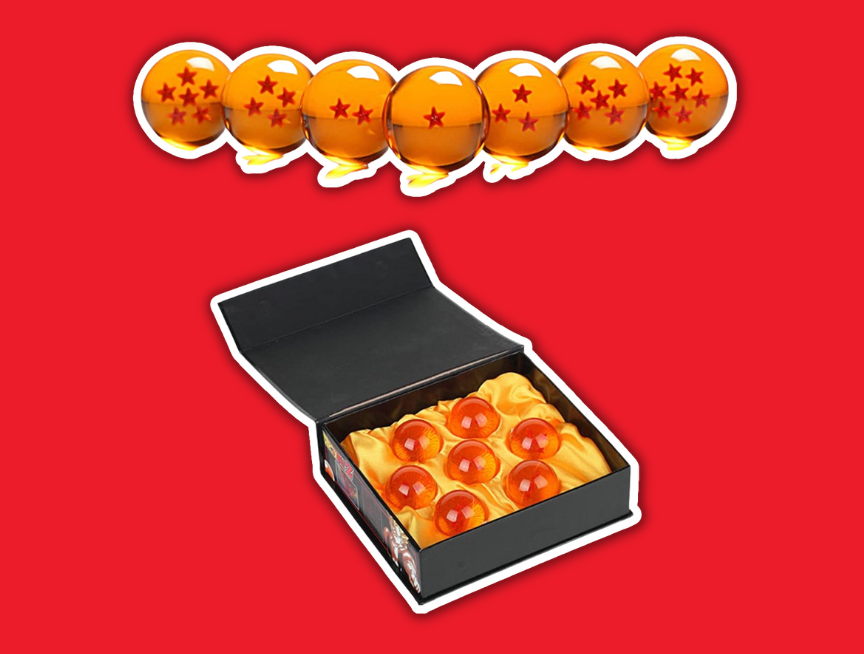 😍 Great gift for 13-year-old boys who love unique collectibles.
So your teen sees themselves as somewhat of a mega anime fan? Put their knowledge to the test and see how deep their fandom goes with this epic scratch-off poster. Featuring 100 of the biggest and best anime series, which they can tick off once they've seen.
Covering all genres of anime, from comedy to horror, the poster includes 100 of the top-rated anime releases in history. Not only is this an excellent way for them to show off their extensive knowledge, but it will act as a source of inspiration when looking for what to watch next, enabling them to claim more of the series they haven't yet seen.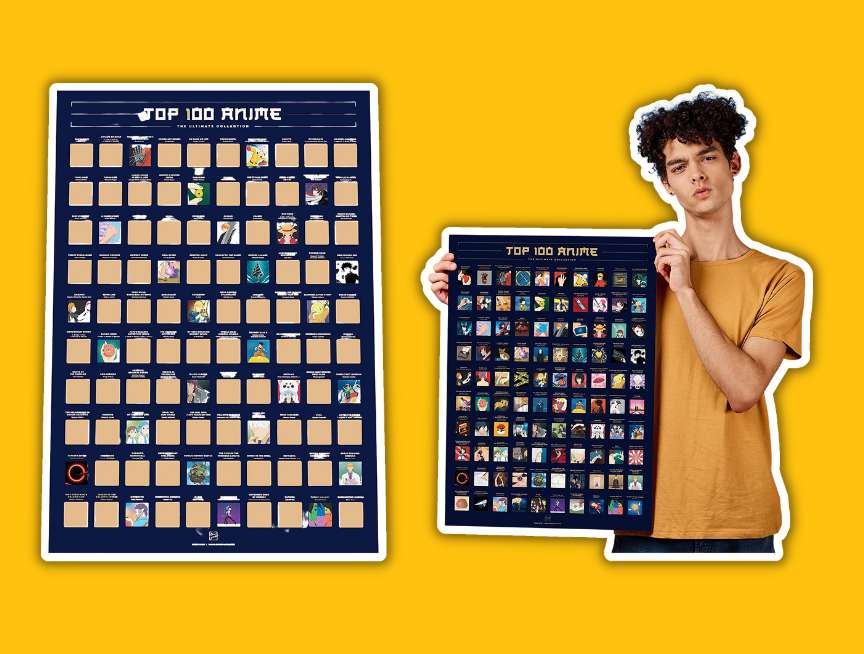 😍 Great gift for 13-year-old boys who love all things Anime.
---
Gifts They Can Use in School
In today's image-conscious world, a backpack is far more than a vessel to transport your belonging from A to B. It's fair to say they can now be considered an extension of the wearer's outfit, so they certainly need to look the part. That's where the understated yet timeless design of the Herschel Classic Backpack comes in. With a sleek silhouette, distinctive brand logo and versatile black color, this bag will be sure to make an impact.
This iconic backpack will still hold all your school books, kit and belongings. Providing plenty of storage with its 30L capacity and a front pouch for all your essential belongings. All while keeping the contents secure and ensuring the wearer feels comfortable and cool.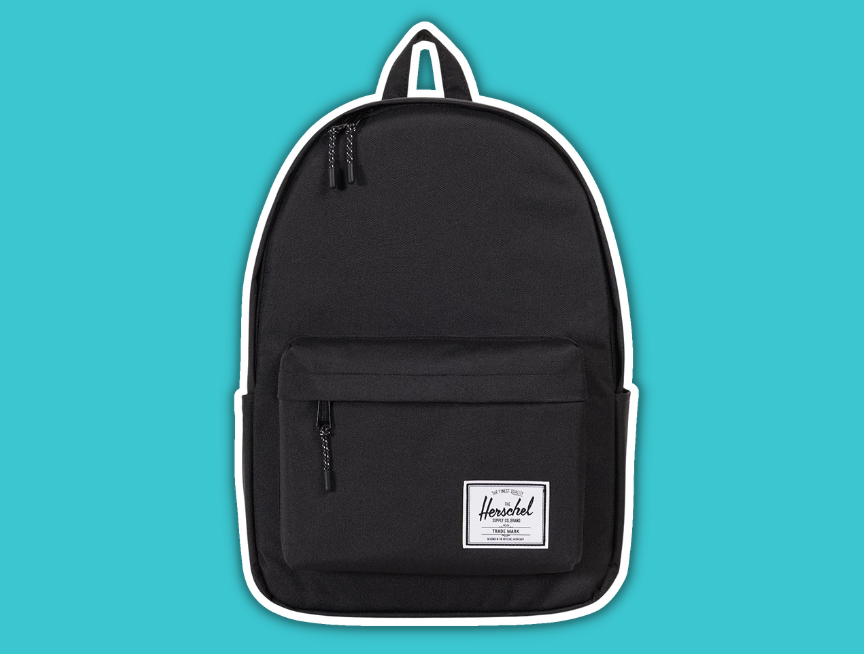 😍 Great gift for 13-year-old boys who love stylish form and quality function.
Send them off to school, sports games or their latest activity club in the knowledge they will stay well-hydrated throughout the day with the stainless steel HYDRO CELL water bottle. This 18oz bottle is vacuum sealed to keep hot and cold liquids at the right temperature, along with an airtight screw top lid and suction straw that is rigorously designed to remain leak free.
The bottle is made from 100% Food Grade Stainless Steel which is resistant to oxidation, rusting and corrosion. The double-walled insulation with copper plating lets the bottle keep hot drinks up to temperature for eight hours while keeping cold liquid cool for over 24. Plus, it has a fantastic color gradient design that your teen will love.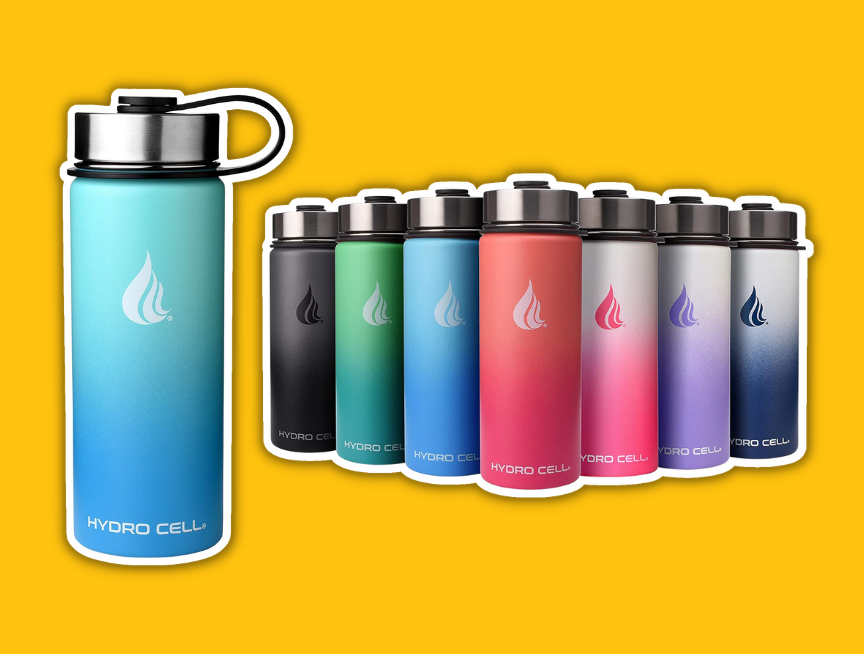 😍 Great gift for 13-year-old boys who love hydrating in style.
While gifting a nice pen may seem odd for a 13-year-old, we should clarify that this is no ordinary pen! Comprised of 30 magnetic components, this pen can be broken down and remade in various styles and forms, allowing your youngster to decompress, scratch that fidgets itch and gets creative between classes.
Of course, this pen still does business when writing in a journal or completing schoolwork, coming with three refills to ensure it can be used for a long time. Its appearance features an iridescent rainbow colorway that will also capture the eye and stimulate the imagination.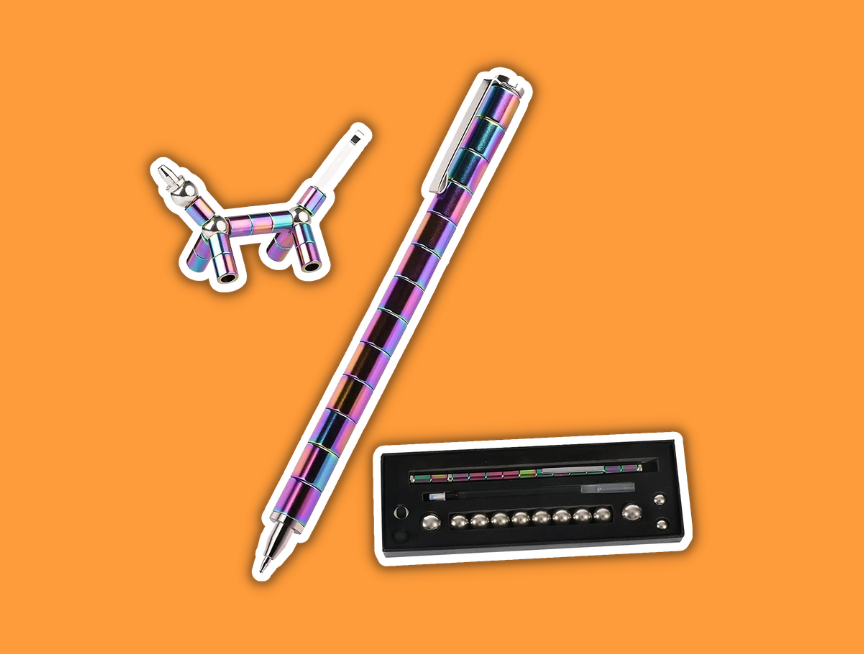 😍Great gift for 13-year-old boys who love to breakdown and rebuild everything.
---
Gifts for Their Room
At 13, most boys will be looking to put their stamp on their bedroom. Leaving behind the more childlike decor and creating a space they can call their own. What better way to supercharge their space than with these customizable strip lights that easily install thanks to their adhesive backing.
With over 16 million shades of color to choose from, the option to sync the lights to your favorite music or even select one of the 64 presets to change the vibe instantly, these lights will be sure to transform your teen's bedroom into a chilled out oasis or party-ready hangout for them and their friends.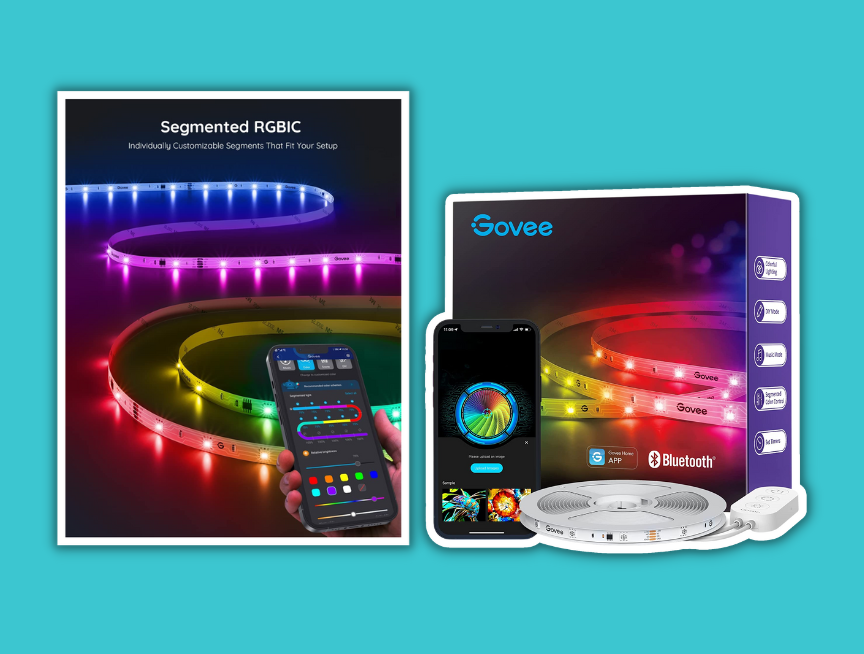 😍 Great gift for 13-year-old boys who love hanging out in their bedroom.
Although Banksy is now hailed as a maverick by governments and grandparents; he started his career as an out-and-out rebel. We all know teenage boys have a soft spot for rebellion, so any piece by the master of street art will strike a chord.
Allowing them to live vicariously through Banksy whilst showing their artistic yet subversive side. Banksy will be one of the first artists your child discovers and recognizes, so this is a safe bet for any budding art lover.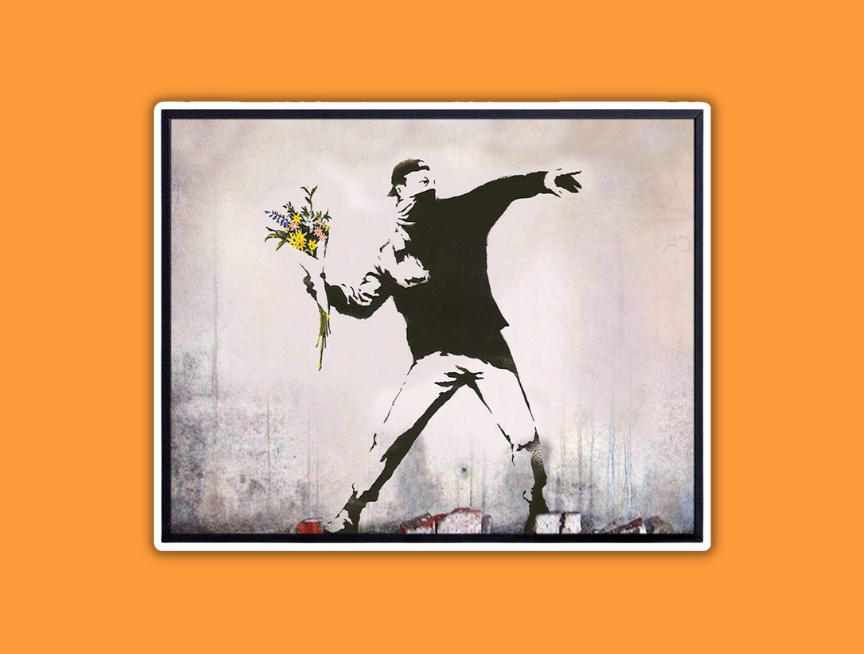 😍 Great gift for 13-year-old boys who love street art.
If your teen lives and breathes music; then they must have a great speaker to do their favorite bands or DJs justice. This Bluetooth, USB and SD card compatible speaker fits the bill perfectly, allowing them to quickly connect any device and pump the latest tunes through the 360-degree speaker. Not to mention, thanks to the in-built 2000mAh battery, they can take this portable speaker with them on the go.
More than just a speaker, this gift also doubles up as an adjustable soft-light lamp, which can set the mood as the colors transition in time with the music or even be set up as a bedside nightlight.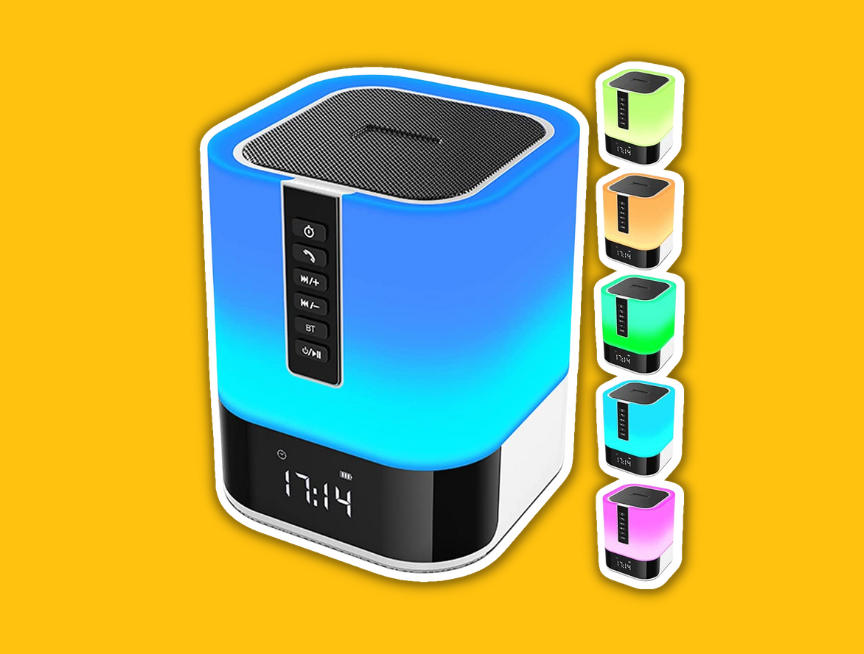 😍 Great gift for 13-year-old boys who love listening to music morning and night.
---
Gifts They Can Wear
This Carhartt Beanie features the same classic design as the full-size adult's version, which proves to be as popular with the fashion-savvy hipsters as it is with function-conscious workforces. Making it a stylish yet sensible option for cold-weather headwear.
Made in the USA from super soft acrylic, this stretchable rib knit beanie is comfy and synonymous with hardwearing workwear. We highlighted the neutral, speckled copper colorway that will appeal to most teen boys and go with almost every outfit. The hat also features the Carhartt label, giving it a quality stamp of approval.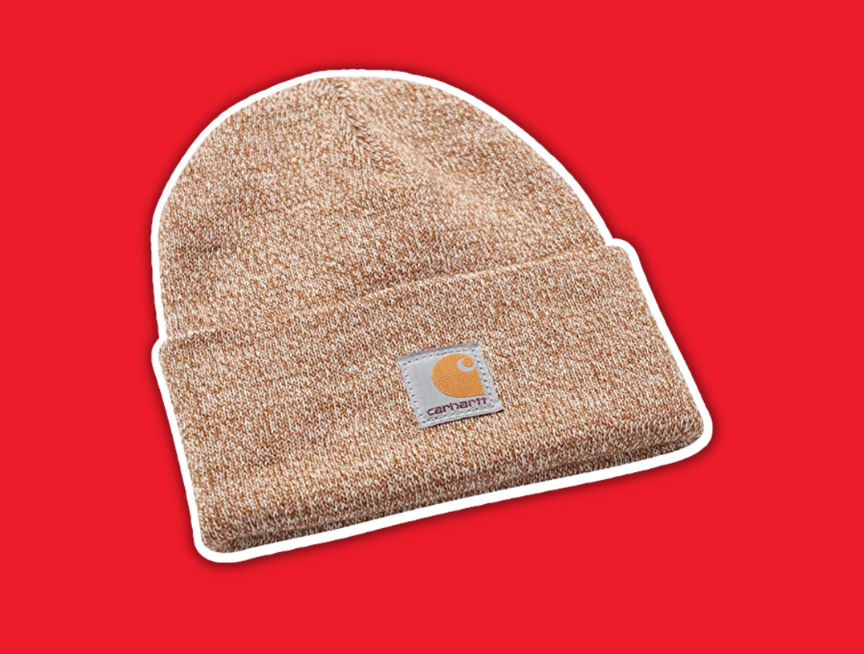 😍 Great gift for 13-year-old boys who love streetwear style.
Nothing beats a lazy day spent chilling out on the sofa wearing your comfiest clothes. So why not double down on the cozy factor with a wearable blanket they will soon seem to live in. For those unfamiliar with a wearable blanket, it's between a huge hoodie and a poncho, providing a relaxed oversized fit in a super-warm and snuggly material.
Thanks to the hood and zipper, this option gives the wearer more flexibility to get comfortable; plus, in the navy colorway, it gives off an understated swagger that is ideal for chilled nights in after-school or sofa sessions on the weekend.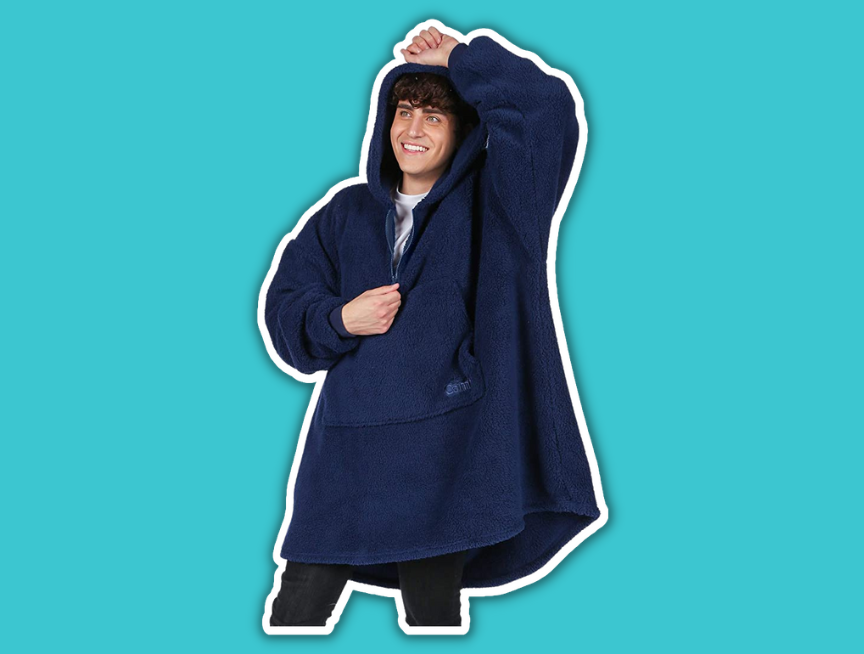 💡 Looking for a cozy gift they will love to wear? This super comfy Champion hoodie looks cool and won't break the bank.
Nowadays, opting for a tech gift is a surefire way to bring a smile to your teen's face. This smartwatch from SoundPEATS allows them to connect to their smartphone so they'll never miss an update again while also allowing the wearer to keep track of their fitness while playing sports or on the go. Oh and it also tells the time!
The watch features a generous 1.4-inch touchscreen display with five separate interfaces. From a single two-hour charge, this watch can run for up to 10 days making it super energy efficient. With a sleek design, you may think this watch isn't made for younger wearers, but thanks to its adjustable strap, it will fit the slender wrists of teens with no problem.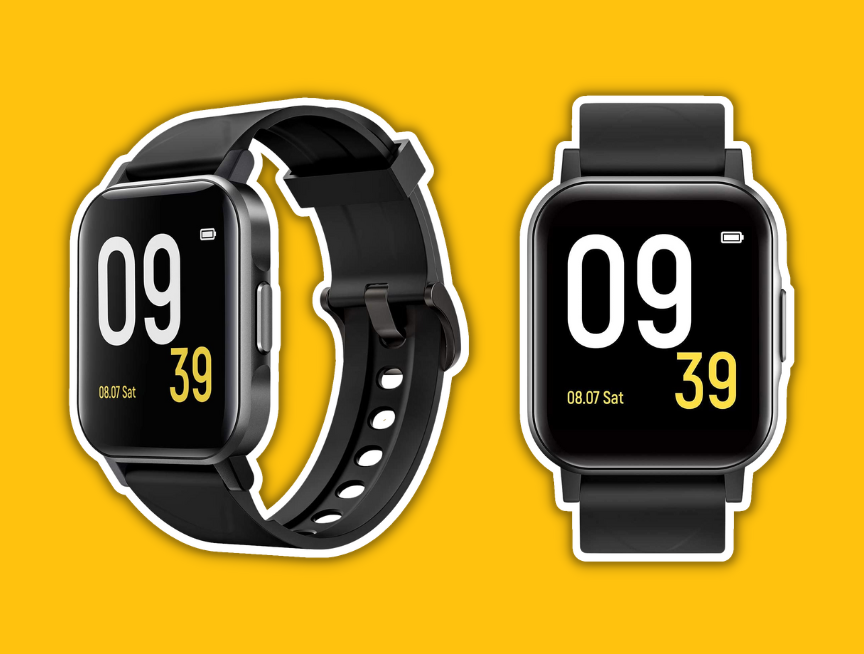 😍 Great gift for 13-year-old boys who love staying connected while on the go.
---
Frequently Asked Questions About Gifts for 13-Year-Old Boys
🙋‍♂️ What are the differences between Gen Z teenagers and teens in my day?
Whether you're a Boomer, Gen X or Millennial, your teenage experience will be dramatically different from today's teens.
Why? Well, we can boil it down to one main factor: technology.
The teens of Gen Z, have not known life without the readily available use of smartphones, social media or any other piece of tech that has slotted into our daily lives.
Technology has been responsible for a huge shift in how teens learn, communicate and spend their downtime. The average teen spends up to nine hours a day looking at a screen — whether gaming, streaming, messaging or scrolling. Where older generations might have been forced to find their fun, today's youngsters seemingly have everything they need at their fingertips.
That's not to say the teens of today have abandoned the pastimes of previous generations. They will still do many of the same hobbies and share many of the same interests. So if you're trying to understand what makes them tick, appreciate that while the world might have changed, you are still more alike than you'd imagine.
🙋‍♂️ What do 13-year-old boys really like?
Teenagers are notoriously picky when it comes to gifts. And unfortunately, there isn't a one-size-fits-all answer to what 13-year-old boys like, as, believe it or not; they are all individuals with different tastes — despite what their haircuts and gaming habits might look like.
The best way to find out is to simply ask them.
🙋‍♂️ What do teenagers worry about the most?
Becoming a teenager is a tumultuous time for most boys. Not only are they noticing changes in how they look, talk and feel, but they are also facing greater pressure from the world around them.
Whether it's self-consciousness about their body image, the state of the planet and its politics, an increased workload at school or simply the need to fit in and be seen as cool, it's fair to say teenagers face a myriad of anxiety-inducing experiences at a time when they are facing a lot of personal change.
Fortunately, we are starting to see a greater emphasis on mental health. This may make it easier for you to have an open discussion about how they feel and feel comfortable enough to open up and discuss any issues with you. Bear in mind this can't be forced, however, with trust, support and positivity being the keys to an open dialogue about what might be troubling them.
🙋‍♂️ How can I encourage my 13-year-old to take up a hobby?
Having a hobby as a teen is a great way to blow off steam and meet friends. By finding out what activities they enjoy and making them feel good about themselves, you can *gently* encourage them to partake or pursue this interest further.
Whether crafts, sports, gaming or music, there are an array of hobbies out there that can keep your teenager engaged and out of trouble. Start by asking about their interests and analyzing their personality. From there, you can brainstorm ideas and see what opportunities are available in your local area.
Remember, they don't have to have any real experience in this hobby whatsoever. Being a teenager is an excellent time to pursue different interests and see what sticks.
Once you've found a few options, it's important to be supportive and help to provide a framework for them to partake. Plus, it's ok if they try something and don't like it or lose interest over time. This is normal for a teenager and part of the process of forging their own identity.
So… What Gift for a 13-Year-Old Boy Should I Get?
13-year-old boys can be tricky to please. So you will have to think about their interests, hobbies and personalities to get this gift right.
To help you decide, we've included 60 wide-ranging gift ideas that cover all bases. From gifts for sporty kids to gaming whizzes. Whether they need something practical like a backpack or something that they would never have thought of for themselves, like an awesome popcorn maker. There is plenty of inspiration to take from our mega gift guide.
If you think we've missed something or given an awesome gift that went down a treat with a 13-year-old, then please let us know!