The name may take up a large proportion of your shopping list, but don't be fooled, this blaster is the latest advancement in NERF technology and well worth the time it takes to write the name.
Have you ever seen that movie Wanted? You know the one where Angelina Jolie can curve bullets around objects to kill her target. No? I'm not that surprised.
Anyways, NERF has only gone and built blasters to that very job with the Sideswipe XXI-1200 and the Flex XXI-100 and you don't even need special ops training to curve your shots to hit unsuspecting targets. 
Be sure to also check out our list of the best Nerf Rival Guns (as of 2021.)
NERF Rival Curve Shot Sideswipe XXI-1200 Blaster Fire Rounds to Curve Left, Right, Downward or Fire Straight 12 Rival Rounds
NERF Rival Curve Shot - Flex XXI-100 Blaster - Fire Rounds to Curve Left, Right, Downward or Fire Straight - 5 Rival Rounds
NERF Rival Curve Shot Sideswipe XXI-1200 Blaster Fire Rounds to Curve Left, Right, Downward or Fire Straight 12 Rival Rounds
NERF Rival Curve Shot - Flex XXI-100 Blaster - Fire Rounds to Curve Left, Right, Downward or Fire Straight - 5 Rival Rounds
Unboxing
As this is so important these days (thanks YouTube) I thought I'd talk about the packaging. It arrived in an open-faced box showing off the quirky-cool design of the blaster tightly tied in. Didn't take any real strength to open but you will need a cutting tool to remove it from the box.
In the box you get:
The blaster
The detached priming handle
12 balls
Instructions
The priming handle is extremely easy to attach. The good thing is that it's a screw in not a plastic snap-in design so you can remove it with ease. Another great feature is that you can attach the priming handle to either side of the blaster, making it usable for both left and right-handed warriors.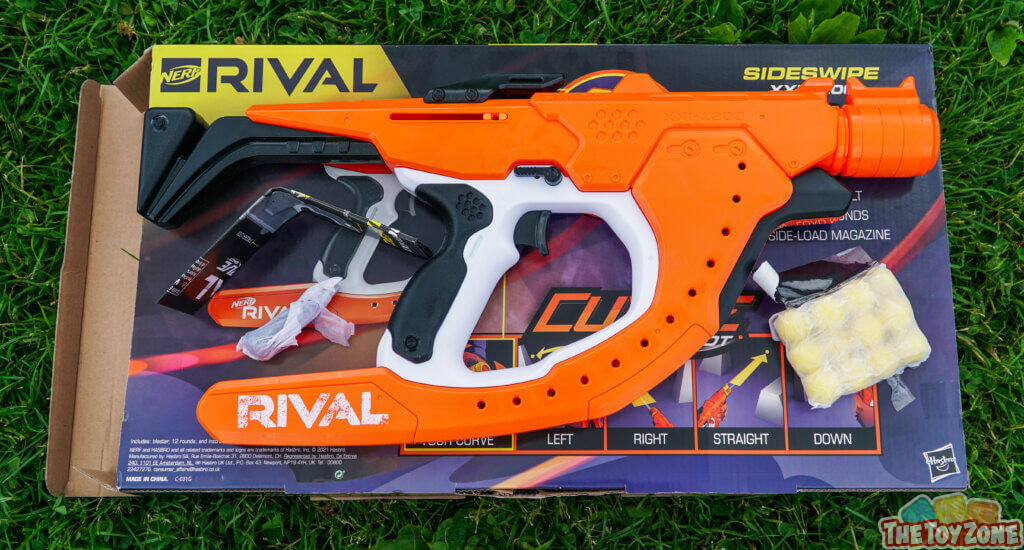 Design
At first glance, this blaster reminded me of the ZF1 from the movie The Fifth Element. The long, curved internal mag reaches all the way around past the handle and there's a resting stock that sticks out even if it's not far enough to use comfortably for me (an adult)(supposedly) but should be fine for a smaller being.
There's no way of being camouflage as 80 percent of the blaster is BRIGHT orange. If you're looking for stealth, I'd definitely recommend something a little less…orange.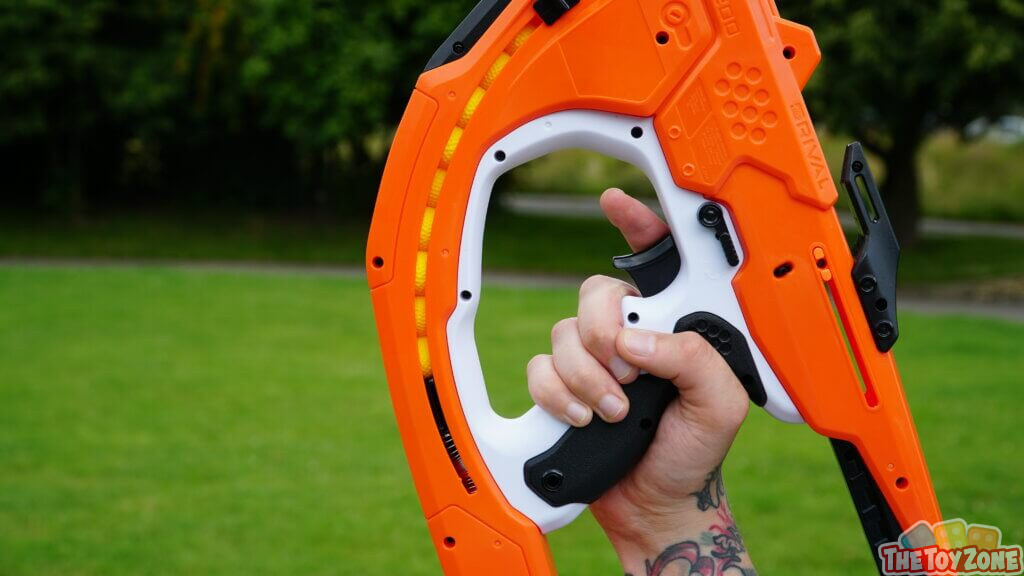 Loading
The Sideswipe has a built-in internal magazine. You simply pull the notch down and lock to prime the spring and load each ball in individually. Once you've unlocked the spring you're ready to go. The internal mag works really well at priming the next ball and I didn't experience any jamming.
My only issue with this is that you can't load additional mags into the blaster. This means once you've shot your 12, you have to spend some time re-loading. It would have been better if you could use extra mags when the heat is really on, but thankfully it doesn't take long to re-load.
Tip: If you're a multi-tasker, you could re-load one at a time after each shot.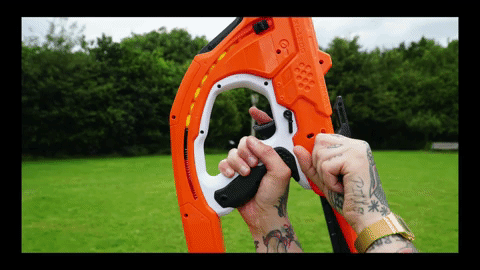 Shooting
Ok, you're all loaded up, time to get one in the chamber and venture onto the battlefield.
This is not a motorized blaster like the Halo MA40 we reviewed previously. You have to prime the blaster before each shot. All you need to do is pull back the priming handle until it clicks then push it back to its original position. There is a safety catch above the trigger to stop any misfires but make sure that's off before you try and shoot or you could be left with your tail between your legs (this happened to me, I was shot…in the head).
Underneath the priming handle, there's a handy unjamming button that releases the priming lock to clear out any jammed-up balls.
How does it curve?
The question on everybody's lips…can you do what Angelina does? (And I don't mean ruin a perfectly good video game franchise with movie adaptations, shots fired).
Here comes the "science".
At the front of the blaster is a 360-degree rotating muzzle that allows you to select which direction you want your ammo to curve. You have four choices, straight, down, left, or right. To select a direction you simply twist the muzzle until it clicks into place. The click indicates that you're ready to fire.
There goes the "science".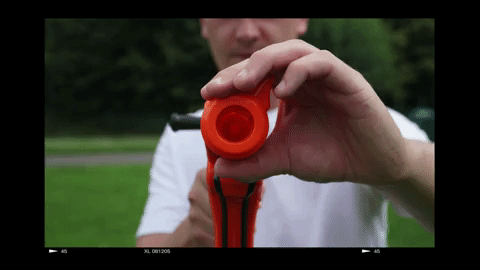 But Daniel, do the balls actually curve?
Yes, they do actually curve! These foam balls aren't going to bend around corners like some kind of Jedi mind trick but, with enough distance, they will curve in the direction you've set the barrel. I particularly enjoyed the downward, firing a ball into the air and watching it rapidly change direction onto my friend's head like some kind of death from above.
I would recommend using this blaster outdoors (out of the wind) to get to see the extent of their ability and you'll definitely get a kick out of watching your ammo glide off into a different direction. Shhhh…if you keep your new blaster's capabilities a secret, you'll be able to see the shock on your enemies' faces as they get targeted out of the blue.
What I loved ❤️
It's super comfortable to hold
Doesn't require any batteries
Makes you think about different trick shots to perform
It's a great spin for the Nerf francise
What I didn't like as much 💔
The priming bar is a little stiff at first
Some balls did get jammed, but was easy to sort
Sale
NERF Rival Curve Shot Sideswipe XXI-1200 Blaster Fire Rounds to Curve Left, Right, Downward or Fire Straight 12 Rival Rounds
SELECT YOUR CURVE: Select your curve mid-battle to fire around objects to give you the ultimate strategic competitive advantage with the Nerf Rival Curve Shot Sideswipe XXI-1200 blaster
ROTATING 360 DEGREE MUZZLE: The muzzle rotates 360 degrees so you can turn it to select your curve and blast rounds left, right, straight, or down to customize your aim for any situation
BOLT-ACTION BLASTER FIRES ROUNDS AT 90 FPS: The Sideswipe XXI-1200 blaster unleashes rounds at 90 feet per second, has an ambidextrous bolt to adjust for right- and left-hand players. Has trigger lock
INCLUDES 12 ROUNDS AND 12-ROUND INTERGRATED SIDE-LOADING MAGAZINE: Comes with 12 Official Nerf Rival rounds. Has an integrated, curved 12-round magazine that loads on the side of the blaster
TL;DR
This blaster really surprised me. It's comfortable to hold, lightweight, and looks pretty futuristic. Loading is straight forward but priming isn't as easy as other models in NERF's vast range. Even at close range, the balls don't hurt when you get hit so there won't be any unnecessary tears.
If you're looking for something different for your NERF armory or you fancy yourself a trickshot master, I would highly recommend giving this blaster a go. You can't not have fun with it.