As the world has slowed down to a snail's pace, parents have had to become more creative with playtime. Kids may enjoy sitting in front of a screen but they will soon enough want to expel their pent-up energy.
So open those doors and arm those little Rambo's with our favorite foam dart firearms, NERF. When kids step out onto the battlefield, they need to be armed with the best weapons to defeat the opposition and reign victorious.
Halo has been a heavy hitter in the gaming world since 2001 and we've been waiting for Nerf to finally engage in a collaboration to bring these momentous weapons to life. If they're anything like the Xbox versions, they are bound to be a big asset against your enemies.
We got our hands on the motorized version of the iconic Halo MA40 blaster to see if it could stand up to the challenge of NUW (Nerf Urban Warfare).
When this arrived on the doorstep I was impressed with the size. The gun itself comes as one unit but you will have to attach a side piece and the two-part faux ammo counter. It's too bad the attachments don't actually have any function but you can buy attachments that fit the tactical rail.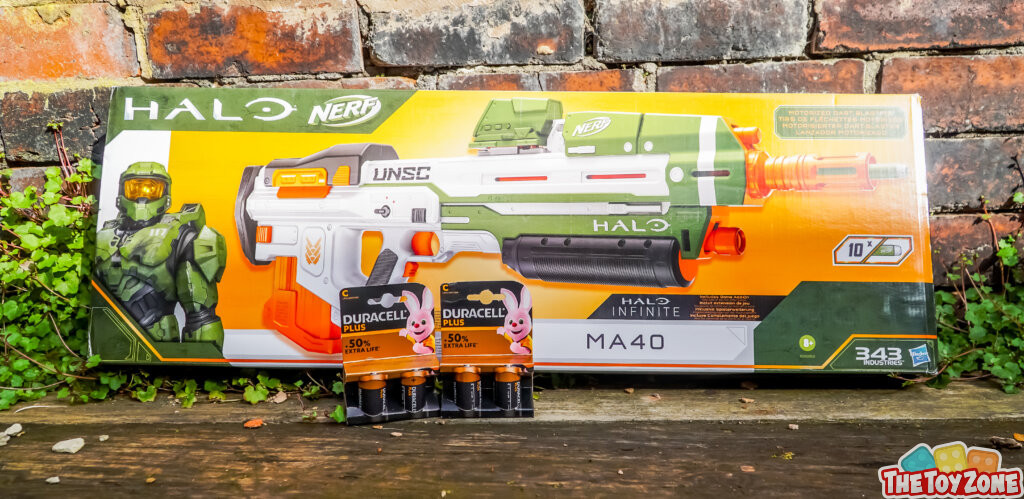 Before you can do anything, you'll have to install four of those huge, round C-type batteries to power the motor. These add a bit of weight to the barrel but it isn't overbearing.
The clip can fit 10 Nerf Elite foam darts which are easy to load with the spring-assisted mechanism. The clip fits smoothly into the butt of the blaster and makes a satisfying realistic click when loaded.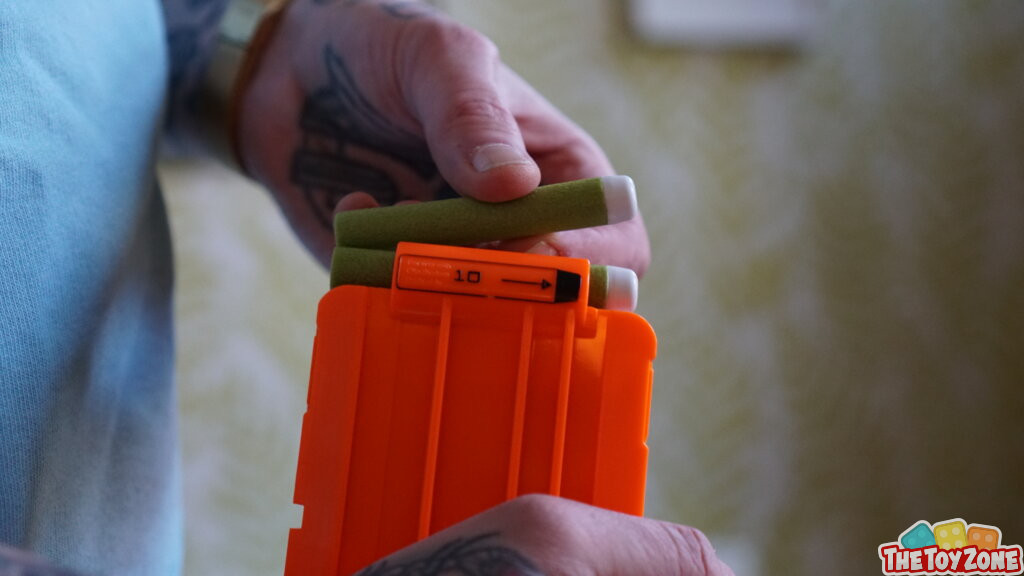 As an adult (which some claim I am), I found the grip and thumbhole a little small but it would fit smaller hands perfectly, especially when performing commando rolls, belly slides through mud, and leaps over shrubbery (which some claim they witnessed me do).
So you're locked, loaded, and ready to go, now the fun begins. Once you have a target in sight, you need to hold down the acceleration button which powers up the motor, with this held down you can fire the darts one by one at a rapid rate. The motor does make a noise so snipers beware, this could compromise your position.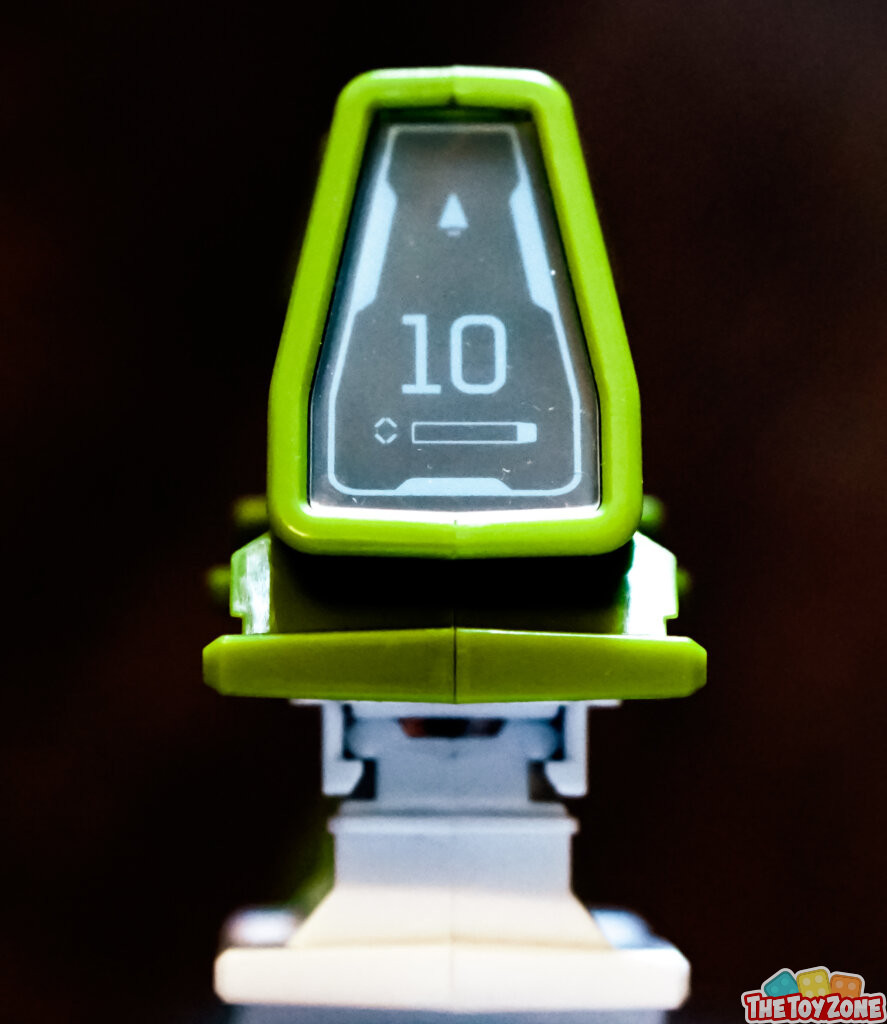 Once you've opened fire, this bad boy can let loose a hail of darts upon your opposition so be wise with your ammo. Remember there's only 10 in the clip which, if used frivolously, won't last long. Make every shot count as you don't want to spend your time in no man's land searching for precious projectiles. I did have a problem with the darts being green. If you're playing on grass, they can be easily camouflaged and lost. This reviewer was down to 8 within the first hour.
On the plus side, the MA40 uses standard Nerf Elite darts which come in different colors and straight clips from different Nerf blasters will fit. My advice would be to stock up extra darts and extra clips before venturing out onto the battlefield.
NERF Halo Blasters compared
Semi-auto blaster with a long range and killer accuracy
Pump-action blaster inspired by the one in Halo Infinite
6-dart blaster with a pull-back priming handle
Semi-auto blaster with a long range and killer accuracy
Pump-action blaster inspired by the one in Halo Infinite
6-dart blaster with a pull-back priming handle
What I loved:
Comfortable to hold when on the move.
Semi-automatic so no need to cock after each dart is fired.
Can be used as a cos-play replica.
Has a great aim, doesn't take long to master.
You look bada$$ holding it.
What I didn't like as much:
The batteries aren't included.
The green darts are easily lost in the grass.
Could cause damage if you get hit at close range.
Specifications
The MA40 may be made from plastic but it feels sturdy and has a good weight to it. You'll need both hands to hold it at all times so no double shooting.
The clip is released by pressing a button at the back of the blaster. You do have to pull the clip out once released which minimizes any John Woo type moves but isn't inconvenient by any means.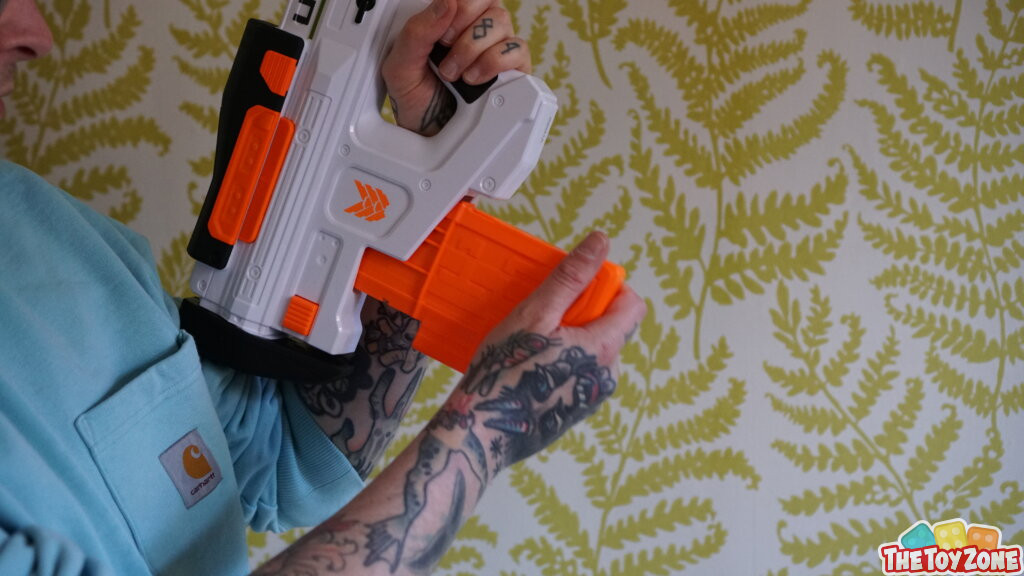 There's a handy hatch at the back in case any darts get jammed mid-firing but throughout my testing, I didn't experience any jams.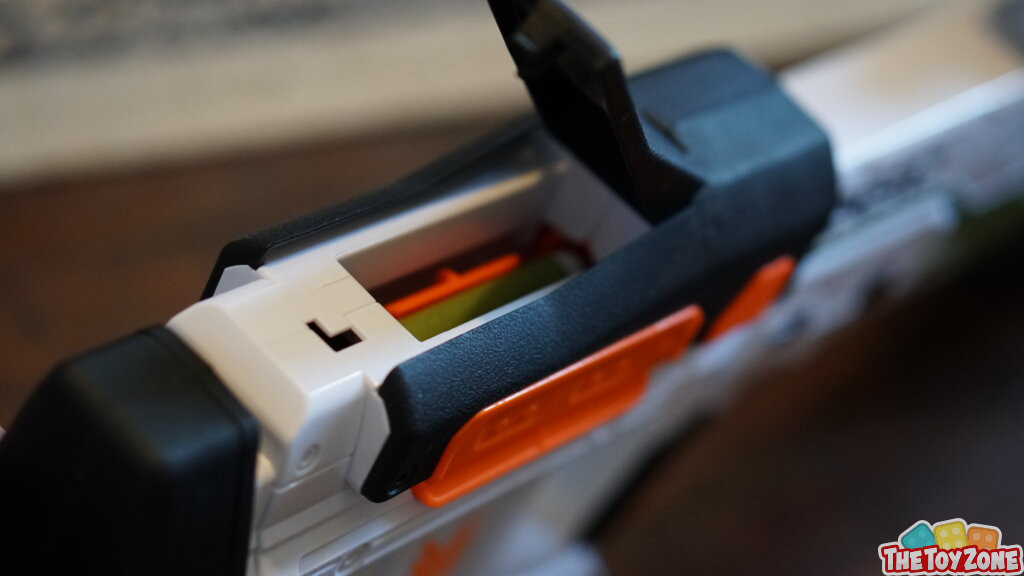 How does it shoot?
If you're out to bring all Halo upon your opponent then this is the weapon for you. With the motor fully warmed up, you can release around 4 darts per second but rapid-fire does compromise accuracy.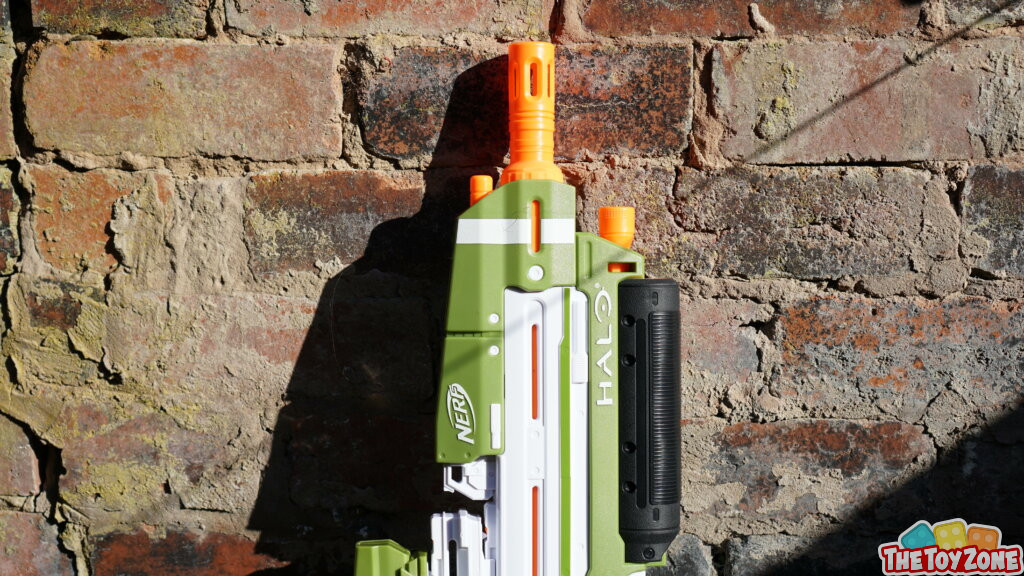 We clocked the MA40 at about 65 feet per second when taking time to aim on a fresh pair of batteries making it perfect for large yards but maybe a little dangerous for indoor play.
To Conclude
I had a blast with this blaster. It's easy to use, comfortable to hold, and my word does it shoot! With so many Nerf guns to choose from, this one both looks cool and, if you're a Halo fan, you can reenact all your favorite battles from the series.
Take a look at the MA40 in action, witness its power, awe over my aiming skills, then click the link and wait by the door until it arrives for you to bring carnage to the neighborhood.
NERF Halo MA40 Motorized Dart Blaster - Includes Removable 10-Dart Clip, 10 Official Elite Darts, and Attachable Rail Riser, White
DART-FIRING HALO BLASTER REPLICA: This MA40 blaster is inspired by the one in Halo Infinite, capturing the look of the blaster from the next chapter in this legendary video game franchise
MOTORIZED DART BLASTING: Scorch the battlefield with motorized dart blasting! Hold down the acceleration button to power up the motor, and press the trigger to fire
INCLUDES 10-DART CLIP AND 10 NERF DARTS: Includes a 10-dart clip and 10 Official Nerf Elite foam darts that are tested and approved for performance and quality
RAIL RISER FOR NERF GEAR AND ACCESSORIES: Attach the included rail riser to the blaster's tactical rail, to add customizing Nerf gear and accessories (not included)
GAME CARD WITH UNLOCK CODE: It includes a game card with a code to unlock a digital asset in the Halo game*