Trying to buy a gift for a teenager can feel like walking through a minefield. They love their interests passionately and dislike other things with equal force!
When I was 16, my love for my favorite music, movies and books was matched with equal intensity by the disdain I felt for those that weren't my cup of tea. Because of this, the fear of buying the wrong thing can lead many to resort to gifts of socks and underwear.
However, there's no need to go the boring route!
If you're buying for a close family member or friend, chances are you know some of their interests or, at the very least, can quickly snoop in their rooms or ask their parents. And even if you decide to play it safe, many fantastic gifts should satisfy any teen.
For example, everyone likes music and needs to stay hydrated, so you can't go wrong with a good set of headphones or a quality water bottle.
No matter how well you know your 16-year-old and what they're into, we've got a ton of great teen-approved gifts that will make you the coolest adult around. We've done our best to provide various options, so no matter whether your teen is an aspiring scientist, writer, chef or music star, there's something here they will love!
You can jump to the sections that sound like your teen and scroll past the options that won't interest them.
Now, we've got some ways to go, so let's dive in without further ado!
Gifts for Gamers
If your teen boy is a PC gamer, you probably know the cries of frustration from tangled wires or slow connections. Thankfully, this gaming bundle from Corsair comes with some of the best gaming accessories in the business. Their hyper-fast slipstream technology is fine, despite being wireless!
With a contoured gaming mouse and keyboard with detachable palm rest, this set means the end of painful hand cramps. Avid gamers will also love that the keyboard features six programmable macro keys and can be programmed to display the light pattern of your choice!
Remember the days of Wii Sports? Well, Nintendo has recently developed a contemporary version of Nintendo Switch Sports. Whether your teen enjoys tennis, soccer, bowling, or even competitive swordplay, he can now do so from the comfort of his own home. This is a great game to play with friends or family, but be warned — the competition can get fierce!
Like Wii sports, this game features motion controls and a leg strap for soccer games. It's a fantastic way to get the blood pumping without leaving the house!
If your teenager plays games online, they need a good gaming headset. It allows them to hear the game's sounds better and means the rest of the household doesn't have to! With this Aginaci headset, gamers can get lost in its immersive 3D surround sound. Now they can chat, strategize with friends and turn up the volume to the max without a worry!
This headset will work wonders if your teen plays on a PC or PS5, a Switch or a Smartphone. Plus, it's wireless and features an omnidirectional microphone that eliminates background sounds.
---
Gifts for LEGO Builders
As one of the most iconic structures in the world, this 17-inch LEGO Statue of Liberty will make an excellent addition to any teen's LEGO collection! This Lady Liberty features a flowing robe and an intricately detailed pedestal with columned balconies. The Lady herself is built with smooth blocks that provide a more minimalist take on the classic statue while still retaining its harmonious blend of sculpture and architecture.
Putting this set together is challenging without being frustrating, making it a highly satisfying building experience. And with its authentic color scheme, including a golden torch, it will look fantastic on display!
For fans of The Star-Lord and his gang of Galaxy Guardians, this Marvel set is sure to be a hit. With nearly 2000 pieces to build, it should keep them occupied for a while too. And at 14 inches long and 23 inches wide with a rotatable display stand, it will look truly spectacular when completed!
This impressive LEGO set features an opening cockpit and room for the five included mini-figures: Star-Lord, Groot, Rocket, Mantis, Thor and Chitauri Warrior. Other cool details include a weapon store, a computer and a snack station complete with a coffee mug and donut!
Does your teen love Formula 1 and figuring out how things work? This set is a great option for mini motorheads and technically-minded teenagers. With impressive attention to detail, such as the streamlined chassis and authentic racing decals, this McLaren Senna LEGO model is striking!
As a technic set, this isn't just a pretty face — it features genuine mechanical parts too. These include the V8 engine with moving pistons and dihedral doors that open like a real McLaren. This supercar will catch any visitors' eye when it's on display!
---
Gifts for 16-Year-Olds Who Love Tech & Gadgets
You only turn 16 once, so why not go all out on the gift this year? For a blockbuster present, the iPad is the perfect choice for creative, techy teens. This latest model has a liquid-retina 10.9-inch touch screen, perfect for watching videos and scrolling social media! It's also ideal for filming your own videos and face-timing friends, thanks to the 12MP camera.
This iPad model works with the Apple Pencil, so it's great for artistic teens who like to draw and design digitally. Musical kids can also create audio projects with built-in mics and landscape stereo speakers!
Does your teen love RC vehicles and filming videos? Then this user-friendly, high-quality drone could be the perfect gift. Capable of capturing 4K video from 1,640 feet away, teens can film everything from their entire town to action flying videos and the outcome will look professional! While it's not cheap, the quality of this drone means you're getting real bang for your buck.
With real-time video transmission and an adjustable 90° lens, this drone lets you get the perfect shot or enjoy the view! And with intelligent GPS flight, you can track exactly where you're going.
Teens that use their iPhones for many things need accessible charging. This option from Anker is ideal because it snaps to the back of your phone using super strong magnets to provide up to 5000mAh of juice no wires required. This means you can charge your phone anytime, anywhere and even keep using it while it's filling up!
Anker differs from other portable wireless chargers in its MiniCell technology, which allows for a more compact circuit design and, thus, a much smaller charger. It also folds out into a stand for hands-free video watching!
---
Gifts for RC Drivers
There are lots of remote-controlled cars out there, but few provide a truly unique take as this Bazader one does. Its caterpillar-like body car can drive usually or roll up into a ball to complete crazy stunts! Plus, with its in-built LED lights, you can put on an excellent show after dark.
This RC stunt car can flip, zoom at high speeds, rotate 360 degrees in a flash, and roll forward like a bowling ball! With all these possibilities, there is never a dull moment. And if it lands upside down, simply restore it with one click!
By age 16, an RC vehicle that can zoom around and turn might not be enough to excite teens. On the other hand, an RC car that closely matches the best supercars of today could be just the ticket. This Bugatti Divo fits the bill perfectly, with its licensed design and 1:12 scale ratio making it an exact replica!
The RC Bugatti Divo doesn't just look the part; it feels it too! This is thanks to the trigger remote that allows you to adjust the speed and proportional throttle and the proportional steering system that provides total control.
Perhaps your RC-driving teen is more into rugged off-road vehicles than sleek sports cars. If so, this remote-controlled truck is the perfect option. While many RC cars struggle on rough surfaces, this one can handle any terrain you throw at it. Mud, gravel, loose ground, you name it, the DEERC will easily glide over it!
As a 1:10 model of an off-roader, this is a giant RC car. It also boasts a mighty motor, allowing a top speed of 48km/h! It features front and rear suspension and a super durable shell to protect it at such speeds.
---
Gifts for Music Lovers
The JBL FLip 6 is widely considered one of the best Bluetooth speakers on the market, consistently delivering the sound quality music lovers need. It also comes with IPX7 waterproofing to blast those tunes by the pool! Plus, with 12 hours of playtime and the ability to connect to other speakers with JBL PartyBoost, this is perfect for a 16-birthday pool party.
Compact and easy to carry yet bringing a big sound, the JBL Flip 6 is where convenience meets quality. You can also choose various colors to find the one that suits your teen best!
If your music-loving teen doesn't have a good set of headphones yet, it's time to change that. We recommend opting for the Beats Solo 3 on-ear headphones, as they sound incredible and look stylish too! These wireless headphones have fine-tuned acoustics so you can listen in exceptional clarity, a 40-hour battery life and a handy fast charging feature.
These headphones boast cushioned ear cups, which you can adjust to sit comfortably on your ears. On top of that, the durable construction and foldable design mean teens can easily bring them to school, on vacation, or wherever they like!
If you've got an aspiring music producer, this pocket micro sampler and sequencer might just make him the happiest teen around. With its built-in microphone and sequencer, this fantastic little device allows teens to record, layer and sample their own sound effects, percussion and vocals to create the ultimate song.
With loads of features to play around with, this Pocket Operator allows teens to let their creativity run free. Best of all, it fits in your pocket so you can record sounds in the outside world and use them to take your tracks to the next level!
---
Gifts for STEM Students
Teenagers interested in programming and robotics will have a lot of fun with this robot-building kit from Henoda. With this fabulous kit, teens can create a remote-controlled, fully programmable robot that can be operated through their phone or even voice-activated. This little guy can move left, right, forward, backward and do a 360-degree rotating stunt!
This robot features glowing eyes, flexible rotating hand joints and a rotating head, giving him a lot of personality! With multiple different ways to tell your robot what to do, this set provides endless fun.
Is your teen fascinated by astronomy? If so, they will love this telescope, letting them see deep into space with impressive clarity. With a wide aperture to let in more light, plus a 3x Barlow Lens and a 24x and 60x eyepiece, you can see the moon magnified up to 180 times!
This telescope is designed for quality and convenience, with an adjustable tripod and a phone adaptor so you can take pics of everything you see. The carrying bag lets you quickly bring it to the best stargazing spots!
This set may look basic, but it holds a world of learning and fun! As teens build this AM/FM radio, they will complete an electronics training course appropriate for high school and university-level curricula. Through nine intuitively laid out lessons, teens will learn all about circuit boards, components and soldering to create a working FM/AM receiver.
This radio kit is perfect for kids who always take apart various electronics to understand their work. Future electrical engineers will relish the chance to develop their skills and broaden their knowledge of electronics!
---
Gifts for Sports & Fitness Fans
Whether your teen plays table tennis at the tournament level or simply enjoys whacking a few balls around with friends, the JOOLA Professional MDF Indoor Table Tennis Table is perfect. The set can fold away between uses and only takes 10 minutes to assemble, so it doesn't have to take up permanent space in your house. You can quickly convert it into single-player playback mode for solo practice!
This ping pong table's lockable wheels and casters make it a breeze to move around. And while you are playing, it is guaranteed to stay sturdy and in place!
Is your 16-year-old a B-ball addict who loves nothing more than shooting hoops in the backyard? If so, let him play like the pros with the NBA authentic basketball. With a pure-feel microfiber surface providing better grip and a construction that makes for a consistent bounce, this is a basketball fit for a champ. Any other balls he already has will soon be relegated to the bench!
This basketball is full-size and can be used indoors and outdoors. Its specialized bladder construction keeps the air in for longer and even comes pumped up and ready to go!
Perhaps your teenager is a fitness fanatic, always trying to finish that extra mile, lift that extra weight or improve his personal best in his chosen sport. If that's the case, he needs the Fitbit Charge 5. With real-time feedback and a workout optimization feature, it's never been easier to track your progress and health metrics!
The Fitbit Charge 5 also features a color touchscreen that's easy to see even in bright sunlight. Its Daily Readiness Score will help teens push themselves while being mindful of when to focus on recovery.
---
Gifts for Bookworms
For a captivating and thrilling read, look no further than The Maze Runner. This sci-fi bestseller tells the story of Thomas, who wakes up in a lift surrounded by strangers and can remember nothing other than his name. The only way out is through an endless, ever-changing maze – but nobody has ever made it out alive.
This award-winning saga will keep readers on the edge of their seats with pounding hearts from the first page to the last. If your teen enjoyed Hunger Games or Lord of the Rings, this nail-biting adventure should be right up his alley!
By 16 years old, many boys will begin to be intrigued by older literary texts, but some may still find them a challenge to get into. This version of To Kill a Mockingbird recreated as a graphic novel could be the perfect way to bridge that gap. Especially for boys who already enjoy graphic novels, this provides a fantastic doorway into a thought-provoking classic.
To Kill a Mockingbird is a timeless story that teaches essential lessons from the past and has many resonances with the present. This authentic yet creative reimagining is sure to captivate the readers of today!
Nothing More to Tell is a New York Times Bestseller and one of the top YA books of 2022. This gripping story follows the story of a murdered teacher whose case remains unsolved. Can Brynn, who has just returned to her hometown to start an internship at a true-crime show, crack the mystery four years later? Can you?
This is a real page-turner from the critically acclaimed author of One of Us Is Lying. There are secrets you'd never expect, twists and turns and everything you could want from a good whodunnit. Teens who enjoy mysteries are sure to be engrossed!
---
Gifts for Young Artists
At 16, your tastes can change drastically over a few months, while a tattoo is for life. Nevertheless, many 16-year-olds are begging their parents to let them get some ink to express themselves and forge their identities. Temporary tattoo markers are a great way to let them explore this without any long-term consequences!
The BodyMark Temporary Tattoo Markers from BIC is a great choice for artistic kids as they get to draw whatever they like on their skin. They are easy to remove but can last a few days, so they're perfect for festivals and sporting events!
Aspiring watercolor artists will love these awesome brush pens. With these, you can recreate the watercolor effect without separate paints and brushes that need constant cleaning and their own bag to be lugged around. Just choose a pen from the 20 vibrant colors, dip it in water and get painting!
The GenCrafts watercolor brush pens use premium ink so teens can create masterpieces without the mess. On top of that, the flexible nylon paint brush tips allow for broad and fine strokes, eliminating the need for multiple brushes. And when the ink runs out, you can simply refill them!
A graphics tablet makes a great gift for kids who prefer to channel their creativity through tech. With the XPPEN Deco, artists can sketch and draw to their hearts' content and even add shading! This tablet is also great for taking notes if you prefer writing with a pen but still saving your work digitally.
The XPPEN Deco boasts a large, 10 x 6.25-inch working area with 8192 pressure points that capture every brush stroke with excellent detail. Simply connect it to any PC or Mac, and you can draw, edit, save and send your work with total freedom!
---
Gifts for Boys Who Love The Outdoors
True outdoor lovers hate coming home after the sun's gone down. But with the TOSY 36 Flying Disc, they won't have to! This flying disk with neon LEDs takes frisbee to the next level. Whether you want to extend the beach party after dark or stay in the backyard till late, the Tosy 36 will surely put on a show.
This flying disc is a great way to keep kids active and outdoors for longer. It is fully waterproof and super easy to adjust brightness, with the max level 100x brighter than other light-up discs!
Whether your teenager is going off camping, hiking, to festivals or even fishing, with the LuminAID, they will be prepared for any eventuality. This 2-in-1 lantern and phone charger features a 2000mAh battery and a 150-lumen lamp. It will allow them to stay in contact and give them light if darkness comes unexpectedly. It also works excellent as a backyard lamp for nighttime chill sessions!
What really sets this option apart is its versatility. It folds flat so you can slip it in any bag, then inflates when needed. It even comes with a solar panel to recharge on the go!
This hammock is the ultimate gift for teens who love to lounge around yet want to be in the great outdoors. They can set it up in the backyard or the park or take it along on vacation! Either way, it provides the perfect personal chill spot for listening to music, reading, or watching the birds in the trees.
Made of highly durable cotton, this hammock can hold up to 450 lbs. It comes with sturdy carabiners and nylon straps for speedy installation and all packs away into a convenient carry bag to take on your adventures!
---
Gifts for Movie Lovers
Nothing beats the big screen experience for movie lovers, but the cinema can be pricey and doesn't always have the films you want. With a portable projector, teens can watch movies from home in an immersive cinema setting! This excellent home projector set is perfect for a movie night with family or friends or even a romantic date.
The Reyden projector is compatible with various devices, including gaming consoles, laptops and even phones! Plus, thanks to its display resolution of 1920×1080, you can expect a crystal clear, brightly colored image quality.
Help teens channel their inner film critic with this high-quality film journal. It's perfect for those who love to dissect the films, and Netflix shows they watch, pulling apart what made it epic (or a dud). The journal is structured to guide you in putting your thoughts on paper and even has a pocket in the back – ideal for collecting movie ticket stubs!
Moleskine is known for its top-quality notebooks and this one is no different. With a hardcover and thick, ivory paper pages, the journal simply exudes quality – you'll feel like you're on the next Oscars committee!
There's nothing like a big bowl of popcorn to take your movie nights to the next level. But if you've many cinephile friends, a bag or two of microwave popcorn just won't cut it! Luckily, this home popcorn maker is here to save the day, able to make six quarts at a time. Nobody will go hungry on the next movie night!
Simply add your kernels and a dash of oil to get perfect popcorn in 4 minutes. An in-built stirring rod ensures even popping, while the lid doubles as a container for easy sharing!
---
Gifts for 16-Year-Olds Who Like To Write
Even young writers know the frustration of writer's block and the feeling of hitting a wall. But with a copy of Jason Rekulak's book (shaped comically like a block), teens will always have a place to turn. Packed with inspiration, starting points, writing exercises and advice to kickstart your creativity, this book is a goldmine for aspiring novelists!
The Writer's Block includes activities pulled straight from the creative writing classes of writers like Ethan Canin, Toni Morrison, Kurt Vonnegut and more. It also has advice from literary agents to help teens learn how to get a foot in the door!
These days, most kids that write have ditched the pen and paper in favor of a laptop. If your teen also likes to do his writing in bed, this bamboo lap desk is the perfect gift. Whether in bed, on the couch or lounging on the floor, this will let young writers tap away in comfort. It also works for schoolwork or (dare we say it) watching series in bed!
This quality lap desk is adjustable for different heights and features a side table perfect for a notebook or mouse. Plus, both tables include a slot for a tablet or phone!
Even if they do most of their writing on the computer, every young writer needs a good notebook. But especially those who get a kick from the scratch of pen on paper will love this Moleskine Classic. With thick, luxurious pages, a hard-wearing cover and 192 pages to fill with every thought, this may be exactly what your teen needs to start taking himself seriously as a writer!
Whether your teen uses this to write poetry, short stories, or simply his daily thoughts and observations, Moleskine will serve him well. You can even pick from 12 different colors!
---
Gifts for The Environmentally Conscious
Using a reusable water bottle already saves plenty of plastic, but Que goes a step further. Their business model is ingrained with sustainability, using zero plastic across their product range and only using responsibly sourced materials. As well as being a great eco choice, this bottle has won awards for its design, as it collapses to half its 20 oz size for easy storage.
This collapsible water bottle is perfect for taking to school, the sports field, or wherever your teen goes. It will keep his water or coffee cold/hot and the spiral design looks stylish too!
Don't be fooled by this bag's paper construction. Combined with a polycotton, this vegan paper backpack is waterproof, durable and can be wiped clean instantly! It comes with all the pockets and compartments you would want from a backpack, all while having a unique, stylish and sustainable aesthetic. This is the ideal choice if your eco-conscious teen requires a school bag.
Supernatural Paper from responsibly managed forests is made from tree cellulose to make lightweight yet sturdy bags. It's perfect for your laptop, books and other essentials and suits almost any occasion!
As we face the consequences of rearing animals on a large scale, we will need to find more sustainable protein sources to feed the population. Edible bugs, therefore, make a novel (and novelty) eco-friendly gift, providing an alternative source to traditional food that still provides plenty of protein, nutrients and minerals!
These creepy crawlies are 100% safe and edible and with all the seasoning, they taste surprisingly delicious. And while they are an excellent eco-conscious gift, we can't ignore that they're also lots of fun for the shock factor and surprising your grandma with one on her dinner plate!
---
Gifts for Young Photographers
The Fujifilm Instax is all about memorable real-time moments; even novice photographers can enjoy it. But if your teen is a photography buff, you should get him the Instax Wide 300. This option has a much higher quality camera than a traditional Instax. A retractable 95mm lens plus two-range motor-driven focusing gives the user much greater control!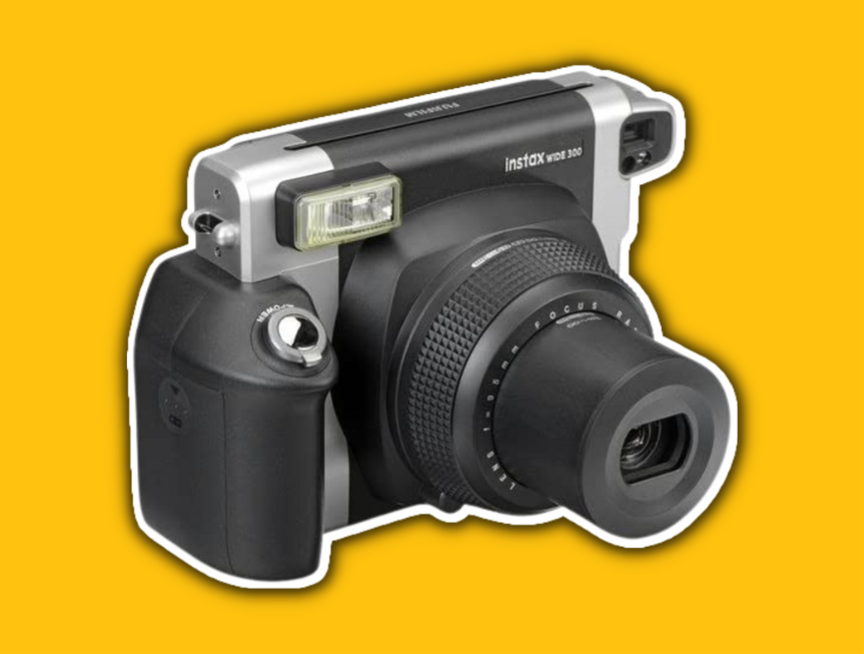 This set also comes with three packs of film, a carry case, a tripod, a cleaning kit and a selfie mirror. Now you can get all the fun of a regular Polaroid camera but much better photos!
Is your teen more of a smartphone photographer? Well, that doesn't mean their images must stay on the screen. With this convenient, portable Canon mini printer, you can send images from your device straight to the printer without the need for ink! It's the perfect gift for teens constantly snapping beautiful pics with their smartphones that deserve to be showcased in the real world.
This sleek, compact printer is easy to use, prints instantly and produces high-quality photos that are perfect for displaying. Plus, it comes with 20 sheets, so you can start immediately!
This bestselling book is packed full of advice for how to (you guessed it) take great photographs. Over 50 famous photographers share their secrets of composition, exposure, light, lenses and the art of seeing in an easy-to-digest and visually stimulating way. It's perfect for teens just getting into photography or wanting to take their photos to the next level!
This accessible book shows that you don't need to understand complex technical jargon to be a great photographer and nor do you need a fancy film camera – it focuses mainly on those using DSLR and compact digital cameras.
---
Gifts for Anime Lovers
For Switch owners, protecting your device is essential. So if your teen is a Switch player who loves Demon Slayer, this skin protector set is pure gold. It depicts dramatic, mid-action moments from the anime, and includes stickers for your Switch, controllers and dock, so everything is protected and has an excellent matching look!
These skin protectors are made from durable PVC, preventing scratches and absorbing inevitable falls and knocks. They are also designed to perfectly fit the controllers and dock of your device without bubbling, peeling or leaving any residue when you decide to remove them!
Designed and developed by the KELAKE GK animation studio, this hilarious figure depicts Son Goku fast asleep and drooling where he sits. It forms one of a series of Goku figures recreating iconic moments from the Dragon Ball Z series, making it an ideal collectible. You can let your teen decide if he wants to expand his collection or splurge and get them all for him!
Made from durable PCV, this figure will last a long time, even with the rough handling of younger brothers or sisters! And at such a low price, the value for money can't be beaten.
Is your 16-year-old a fan of the anime My Hero Academia who also enjoys complex strategy board games? If so, this is the perfect gift for him. Based on the hit anime series, you must try to earn the most Hero Points in this game to become top of the class. Prove you have what it takes to be a Pro Hero!
This is a highly tactical game that's all about creating strategic allyships and making the right choices at the right time. However, playing only takes about 30 minutes, so it's easy to fit in between anime episodes!
---
Gifts for Teenage Chefs
From dance crazes to Dalgona Whipped Coffees, TikTok is THE go-to source for info and inspo amongst teens. Its viral food content always encourages young chefs to try new recipes. The one problem? TikToks are fleeting, so it's not always easy to find that one recipe you saw the other day and are dying to try out. That's where this awesome cookbook comes in!
Filled with recipes from 40 of FoodTok's top content creators, As Cooked on TikTok has sorted the wheat from the social media chaff. The recipes here are inventive and delicious, from ramen lasagne to cloud eggs!
Sushi is a great challenge for young aspiring chefs, as it's hands-on, fun to make and a little technically challenging without (much) risk of burning down the kitchen! From nigiri to California rolls, this DIY sushi-making set makes sushi simple and fun. If your teen is a foodie passionate about Japan, it is a must-buy!
This sushi maker kit comes with a rolling mat, molds and even a sushi bazooka to make restaurant-worthy food at home! With all its fun gadgets, this is great for sushi-making parties or just hanging out with the fam.
For foodies with a sweet tooth, this Mini Belgian Waffle Maker by Cuisinart is the perfect gift. Everyone knows that waffles make every breakfast spread better and mini Belgian waffles are the classiest. With six temperature settings and 1-inch deep batter pockets, you'll get waffles that are crispy on the outside, soft on the inside and delicious all the way through!
This waffle maker also has a recipe book for many toppings you can prepare alongside your breakfast treat. Teens who enjoy cooking up a sugary storm will be excited and inspired!
---
Gifts They Can Use In School
If you're buying for a teen whose interests you aren't intimately familiar with, you can never go wrong with a quality pen set. With this Japanese set, 12 long-lasting colored gel pens with a 0.5mm fine point tip for precise and well-defined mark-making. Whether teens use them for design, illustration or note-taking, they can do it all with a smooth, effortless motion.
These pens feature a comfortable grip, so you can keep drawing or writing for hours without painful pressure on your fingers. Plus, the ink runs flawlessly on most paper materials, which makes these wonderfully versatile!
At 16, you can find yourself in need of a mountain of stationery, from highlighters to geometry instruments to calculators and more. You need a way to keep everything organized, which is where the Easthill pencil case comes in. This durable canvas case features individual compartments to store all your stationery and is easy to find for whatever class you have next!
This fantastic pencil case is expandable/collapsable to hold however much stationary you throw its way without taking up any more space than it needs to! It also has a simple, trendy design that teen boys will appreciate.
For ambitious teens with many assignments and projects to stay on top of, this planner is perfect. It's undated so that it can be bought and used anytime. Teens often have a lot going on but aren't the best at time management – so this planner is perfect for helping them keep track of projects, deadlines and homework and schedule their workload effectively.
This carefully designed planner features a sturdy cover and wire binding to help it stand up to daily use. It even has handy drilled holes to keep it in a ring binder!
---
Gifts for Their Room
For anyone easily overwhelmed and stressed, a weighted blanket can do wonders to settle the nerves. This microfiber option from Joybest is an excellent choice as it is wonderfully soft and cozy. Whether teens use it to calm themselves, get a great night's rest, or simply get cozy in front of the TV, this blanket is the ultimate gift!
This blanket is made from a super soft microfiber flannel that is breathable and hypoallergenic. The generous queen size is luxurious and the dark gray color offers a classy simplicity that complements most teen boys' bedrooms.
These RGBIC strip lights are the ultimate tool for creating atmospheric mood lighting. With these awesome lights, teens can pick any color combination and brightness to match their mood or the atmosphere they're going for. They can also set it to party mode, where the light syncs to the beat of the music – perfect for house parties and atmospheric hangouts!
The Govee RGBIC strip lights feature smart app control so you can adjust the lights with fantastic precision from your smartphone. Whether it's a vivid light show or a soft-colored glow, these lights turn any bedroom into a futuristic wonderland.
Darts make for an excellent indoor game to play solo or with friends, especially since it doesn't require much space and can even be played in a teen's bedroom. If you think your teen would enjoy his own dartboard, look no further than this high-quality option from Viper. With six darts and a robust board, this will provide many hours of fun!
This dartboard is easy to mount and has everything you need. It also has a detachable number ring which allows you to rotate the board so its fibers can heal, massively extending its lifespan!
---
Gifts They Can Wear
If they could, teenagers would live in their hoodies permanently, so this option from Champion makes perfect sense. It's made of a warm fleece blend for the ultimate comfort while remaining hardwearing and machine washable. It is also constructed for reduced shrinkage and pilling, so it will stay looking clean for longer!
A classic hoody is always an excellent addition to a teen's wardrobe, but it's especially sure to hit the spot for boys with a simple, sporty aesthetic. Plus, you can pick from a wide range of colors to find the one that suits your teen's unique style!
Is your teen's style a little more log cabin than city streets? If so, this Maplewood Hooded Shirt Jacket is perfect for kids in colder climates. The jacket is fast becoming a staple in a young man's wardrobe. With its iconic plaid print that comes in various colors, soft feel and quilted lining, this one simply screams Pacific Northwest!
With a double-lined hood and 130 gm of poly-fill insulation, this jacket is excellent for keeping teens warm in the great outdoors, whether camping, hiking or fishing. It also works just as well on chilly days in the city!
It's no secret that at 16 years old boys will be out to impress the ladies (or the lads), experimenting with an array of colognes and beauty products along the way. CK One is a more subtle fragrance with fresh citrus notes that won't assault the scenes too much – so there is no need to worry about them lathering it on with abandon!
The CK One cologne has a fresh scent that does an excellent job combatting some of that teenage funk. The fragrance lasts all day, so there is no need to lug the bottle around for reapplication!
---
Frequently Asked Questions About Gifts for 16-Year-Old Boys
🙋‍♂️ What do teenage boys like?
As anyone who knows a teenager is probably aware, adolescent boys like an impossibly wide array of things. Their interests can be highly niche and sometimes change from month to month!
That said, we can provide a few pointers. At 16, boys start reading books, watching movies and playing games with more adult themes. At the same time, they're still kids at heart and often delight in the absurd.
So if you can find something that balances those extremes, you'll have a winning gift! Also, teens are under much pressure, from schoolwork to college applications to after-school jobs. Something that can relieve that stress, like a weighted blanket, would be great.
🙋‍♂️ How are Gen Z teen boys different from boys of previous generations?
Teenage boys today live in a very different world than the one previous generations grew up in. Naturally, this has led to changes in the way they think and behave – both positive and negative. According to psychologist Jean Twenge, many teens today are negatively affected by social media, mainly because adolescents are susceptible to their social world.
Combined with the constant consumption of curated lives on social media, you have a recipe for low self-esteem and depression. On the positive side, teens today are more respectful and inclusive of diversity than previous generations were. They exhibit great care for others and tend to have strong family ties.
So… What Gift Should I Get?
As usual, that depends on the unique interests and personality of the 16-year-old you are buying for. Is he all about art? This drawing tablet could be ideal. More into sports and fitness? Make his day with the Fitbit Charge 5. And if he's a science or tech geek, one of the gadgets or STEM kits will surely go down a treat.
Did we miss any spectacular gifts that a 16-year-old boy would love? Drop us a line and tell us about it!