When I was 13, I went through my "emo" phase, listening to Good Charlotte CDs and painting my nails black. Today's teens are perfecting dance moves on TikTok, playing increasingly complex video games and trying to save the planet 🌎 At heart, though, 13-year-olds are no different from how they were then – on the brink of adolescence, trying to figure out who they are and learning about the big wide world. But despite all that, they are still kids and like to play and have fun!
During the first year of their teens, 13-year-old girls turn away from their childhood selves and enter the turbulent process of growing into their identities as young adults. They begin to value their relationships outside the family more than ever and are thirsty for new experiences and challenges. However, they have a long way to go before they shed all the trappings of childhood and they still find joy in all things playful and silly.
Nevertheless, finding gifts for this demographic can seem like a minefield. One teen girl's obsession may be another's anathema; they can go from interest to interest in a matter of weeks, and how could you, as an adult, possibly know what is cool? However, it doesn't have to be so painful.
What Did We Look For When Shortlisting Gift Ideas For 13-Year-Old Girls?
Some 13-year-olds still enjoy playing with LEGOs, science kits and games for kids, while others may find such things too childish. Whether you're buying for an unusually precocious teen or one still embracing childhood freedom, she will love the options in this list.
This is an extremely comprehensive list of gifts catering to all interests, budgets and personalities! I packed it with products 13-year-old girls like, so as long as you know a little about what makes her tick, you can find something that will make the teen girl in your life happy.
And if you still feel clueless, you can always go with something useful for school or some nifty gadgetry for her music or phone. Know that gifting her something from this list could turn you into the coolest adult she knows! Well, at least for a day or so… Right, let's dive in.
Gifts for Gamers
The Nintendo Switch is one of the most popular toys in the world, and this model is perfect for any gamer teen who likes to play on the go. The main thing that sets it apart from the classic Switch is the OLED screen, which creates extra vivid colors and crisp contrasts. If you're looking for a portable gaming console for your teen, you can't go wrong here!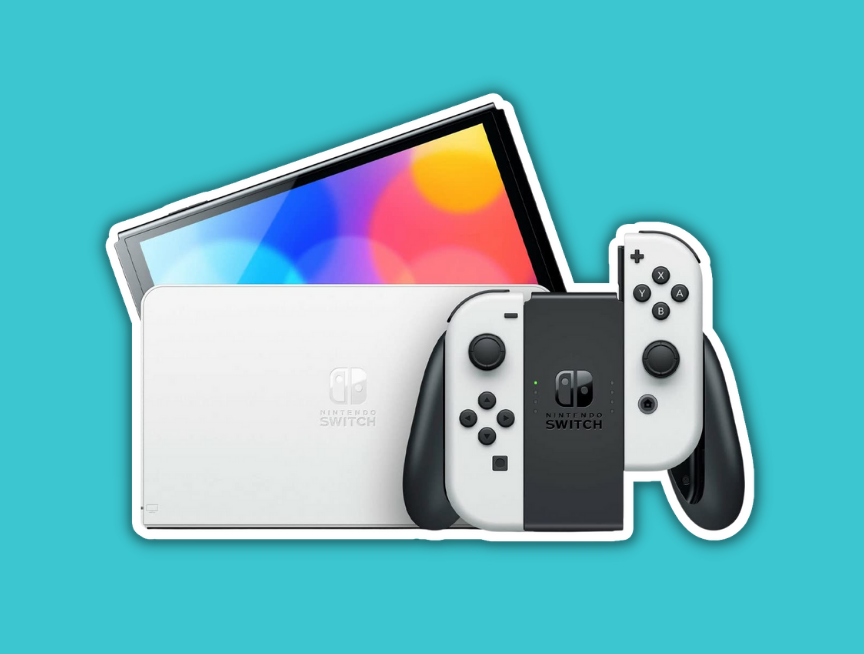 😍 Great gift for 13-year-old girls who love gaming on the go.
The Nintendo Switch OLED features a wired LAN port for playing in TV mode, and 64 GB internal storage for storing games. It also comes with a wide and freely adjustable stand that is super convenient for playing in tabletop mode.
This mushroom-shaped neon light is an adorable likeness of the mushroom NPC in Super Mario Bros. Daytime or nighttime, lights on or off, it still looks great as wall decor. Whether your teen sets this up by her desk or above her bed as a night light, this is the perfect gift for Super Mario fans!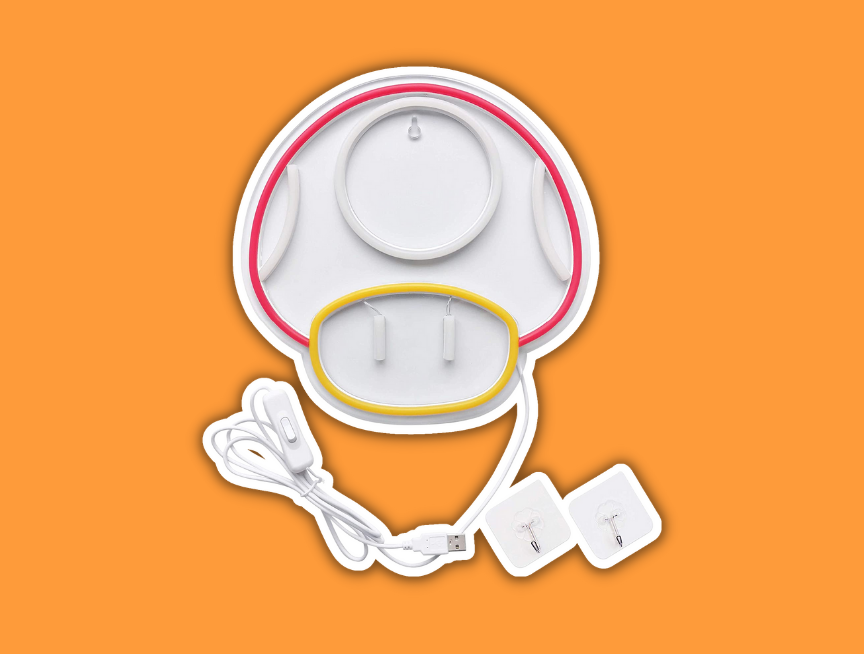 😍 Great gift for 13-year-old girls who love Super Mario Bros.
You can choose red or green for the mushroom head, but either option is bright enough to work as a bedside lamp. The light includes two adhesive hooks for easy wall mounting and a 59 inch USB cable to attach it to the wall or a computer.
If your teen is more into PC gaming, this headset from SteelSeries is an awesome choice. This way, she can enjoy perfect realism and clarity of sound and the rest of the family doesn't have to be bothered by noise! With the USB chat mix dial, she can also balance the volume between the game and chat audio so that she can focus on either one at any time.
😍 Great gift for 13-year-old girls who love PC gaming with others.
The premium high-res speakers in this headset reproduce an impressive frequency range from 10 to 40,000 hertz. Thanks to the X v2.0 surround sound, these headphones provide complete 360-degree immersion and background noise cancellation.
---
Gifts for Sports & Fitness Fans
If you want to impress a 13-year-old athlete, get her the Fitbit Inspire 3. This gift is perfect for girls who play sports competitively or simply like to keep fit. As well as over 20 exercise modes, this Fitbit also has all-day activity tracking, 24/7 heart rate tracking and reminders to move, so it is great for both health and tech enthusiasts.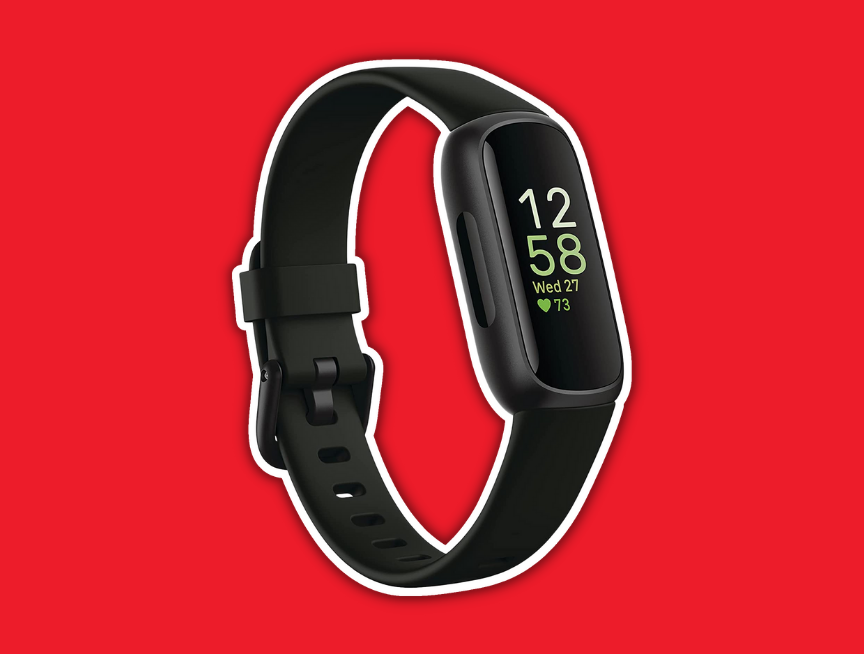 😍 Great gift for 13-year-old girls who love sports and fitness.
The Fitbit Inspire 3 includes wellness tracking and mindfulness sessions, which is great for teens dealing with all the stress that comes with adolescence. It connects to your smartphone to get calls and app notifications. It's also water resistant up to 50 meters!
Hydration is crucial while playing sports and having a cute water bottle can help remind girls to stay hydrated. This Hydro Flask Wide Mouth Bottle is perfect for both hot and cold drinks. It is leakproof, so teens can throw it in their school bag or sports tote without worrying. Its stylish matt design and color options will please any discerning athlete.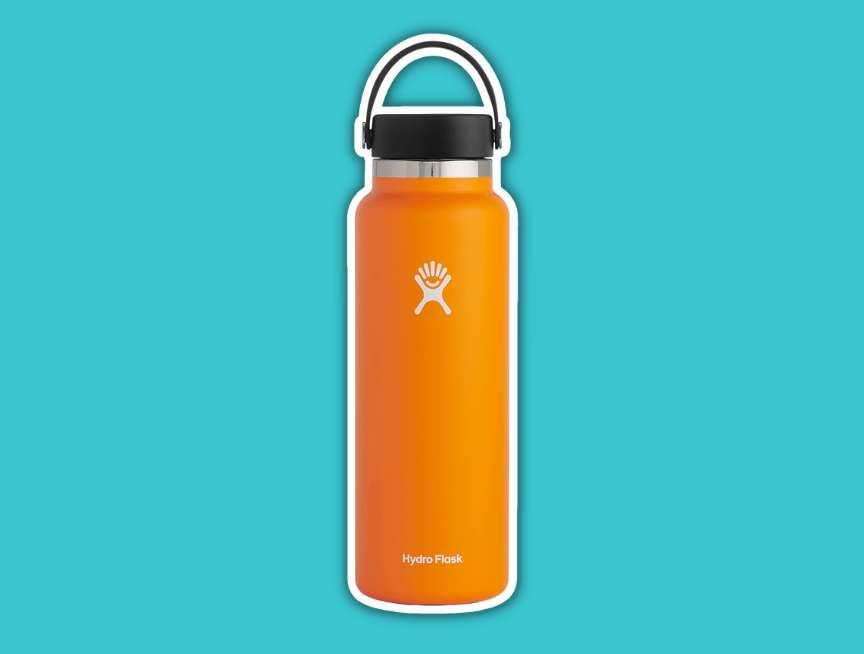 😍 Great gift for 13-year-old girls who love exercising in style.
This water bottle is made with pro-grade stainless steel, which is dishwasher safe and ensures durability and no flavor transfer. The Flex Strap makes it easy to carry, and the Honeycomb Insulated cap enhances temperature retention to the max.
Whether your teen is a seasoned skater girl who needs a new board or an adrenaline junky who wants to try skating, this Stoked Ride Maple Wood Skateboard is perfect. It comes fully assembled right out of the box so that she can spin it immediately. This is a high-quality, classic skateboard and even comes with an adjustment tool and free stickers!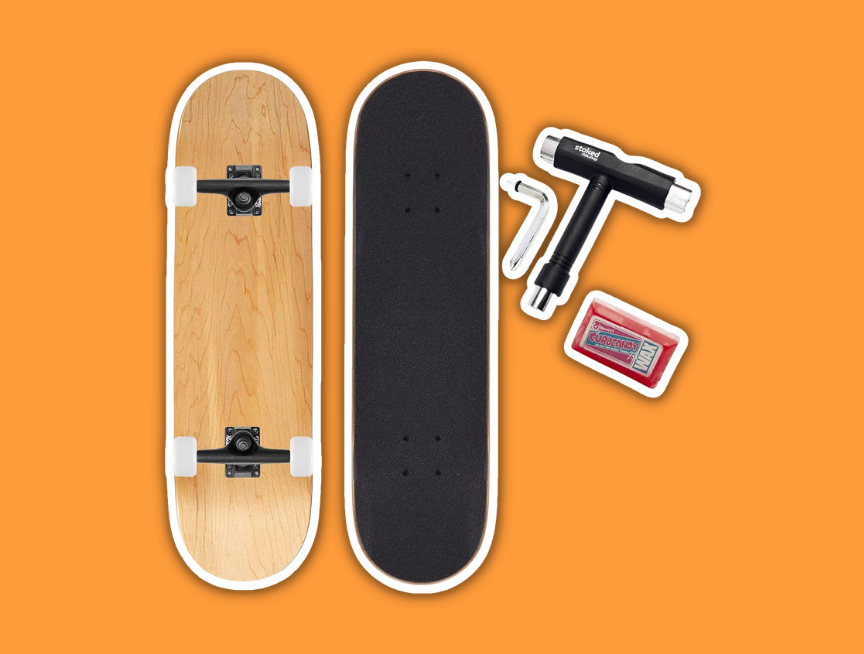 This skateboard from trusted brand Stoked Ride is made from the highest quality parts: professional grade Canadian 7 ply maple wood and stainless steel hardware. Regarding the deck, you can choose between natural wood or four other awesome colors.
---
Gifts for Science Lovers
This serotonin molecule necklace is perfect for any chemistry or biology lover who likes to look elegant. 13-year-olds are often beginning to come into their style and classy yet fun jewelry like this can help them feel grown up while still showcasing their individuality. This necklace is made from sterling silver, but you can choose gold, rose gold and silver coloring depending on your teen's style.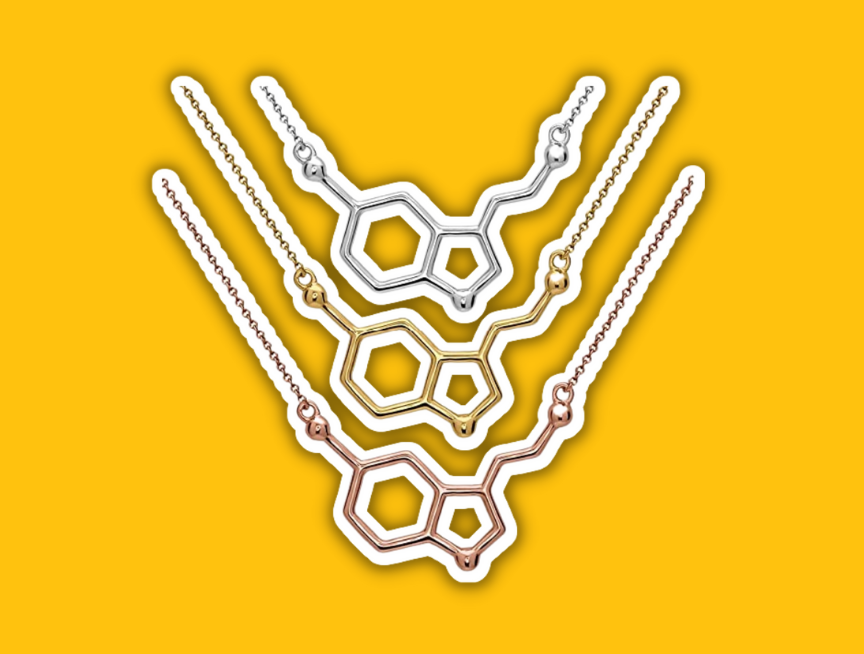 😍 Great gift for 13-year-old girls who love chemistry or biology.
This necklace is finished with rhodium, preventing scratches and tarnish and keeping it shiny. The serotonin molecule shape connects on either side to an 18-inch chain with a 3- inch extender to turn it into a longer necklace if desired.
This science magic kit from National Geographic includes a whopping 20 experiments, from bending metal with water to making a test tube disappear to making a coin float! This is a fantastic gift for teens who still enjoy getting their hands dirty with weird and wonderful science experiments. Plus, kids can enjoy learning the science behind the spectacle at this age instead of seeing it as magic.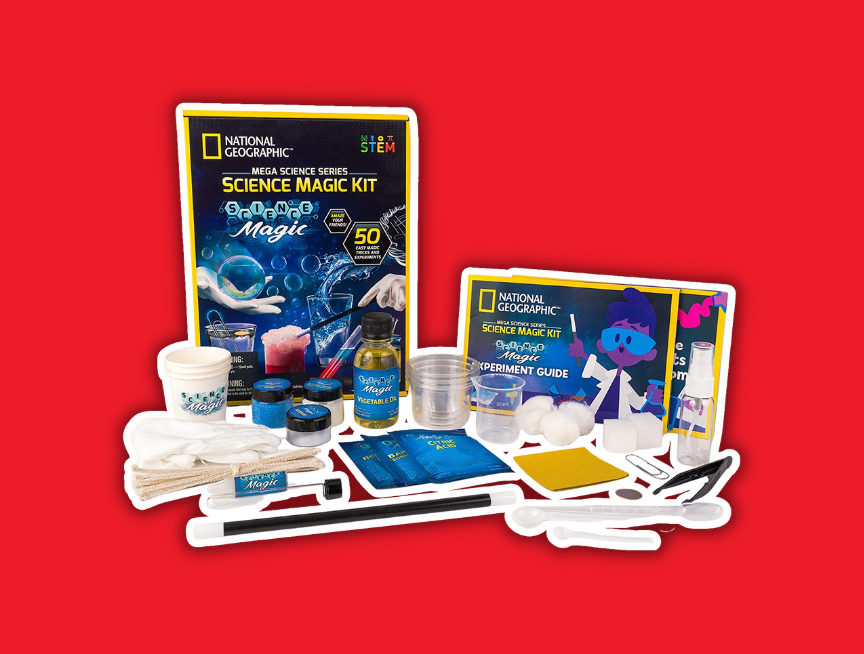 😍 Great gift for 13-year-old girls who love hands-on chemistry.
The 20 included experiments have everything you need to perform them. The kit also includes a bonus experiment guide with 30 more experiments that can be done with common household items!
Does your teen love science, art and nature? Then this is, without a doubt, the perfect gift for her. With this sunprint kit, she can make beautiful and unique prints out of leaves, flowers and whatever else her creativity leads her too. Simply place the objects between the photosensitive paper and acrylic overlay sheet and leave them in the sun, then watch the magic happen.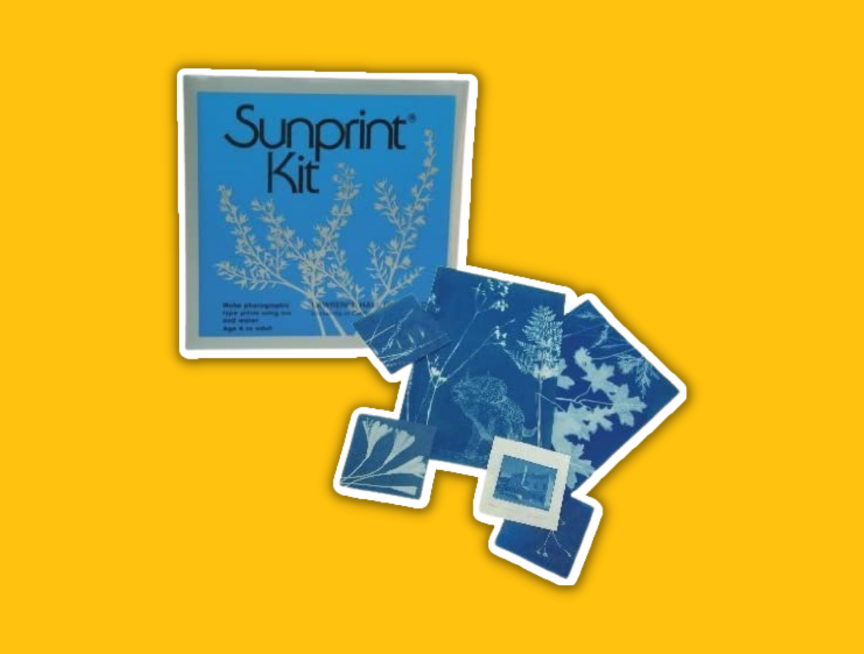 😍 Great gift for 13-year-old girls who love science AND art.
This sunprint kit includes everything you need to make beautiful prints that can be used for scrapbooking, note cards, notebook covers or as standalone artwork. It also opens a window to learning about the science of photography and the sun!
---
Gifts for Girls Who Love Tech & Gadgets
The Apple MagSafe Charger is the perfect gift for any techy teen with an iPhone. It is designed to work with iPhones 12 and 13 (classic and pro), but as it is also compatible with Qi charging, it can be used to wirelessly charge anything from an iPhone 8 onwards, as well as AirPods that have a wireless charging case.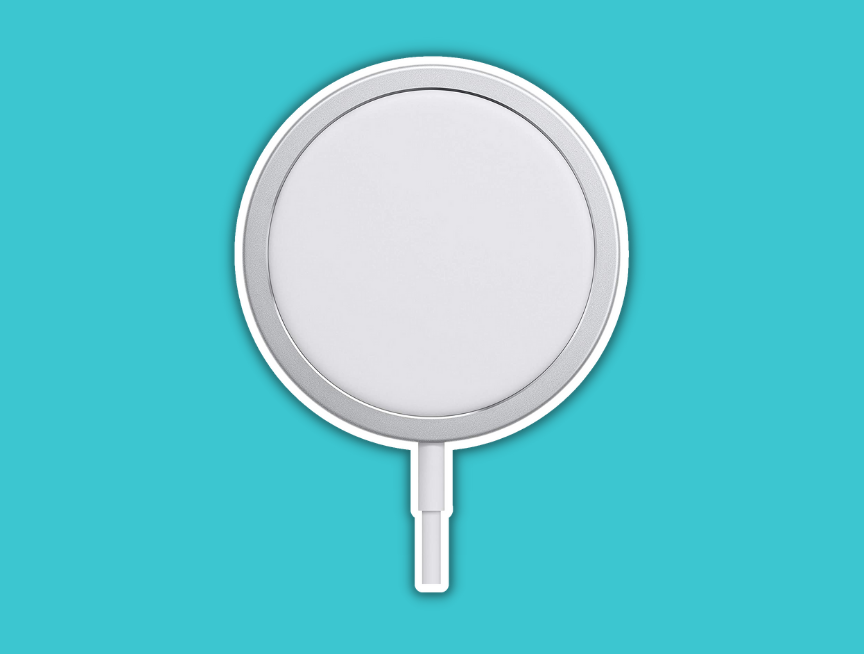 😍 Great gift for 13-year-old girls who love their iPhone.
This snap-on charger makes charging your iPhone a breeze – no fiddling with USB slots or being unable to use your phone while it's charging. Even if your teen already has a charger, it is always convenient to have extras. Plus, this one charges so quickly!
The Popsocket is a phone wallet that allows you to easily use your phone one-handed, prop it up anywhere for hands-free video viewing and slot in up to three cards. This is the perfect gift for teen girls who like to take selfies and watch videos on their phones, and it's also great for teens who find it difficult to keep track of their wallet AND phone.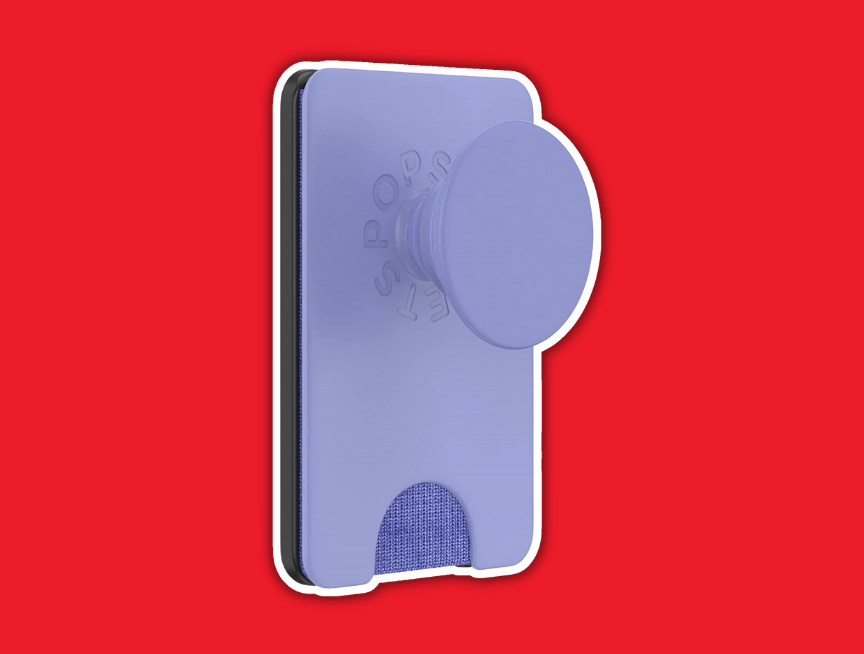 The Popsocket comes in several designs, from classic black to a quirky smiley face to a gorgeous mermaid pink, so there is sure to be something to suit your teen's style. Plus, there's no need to worry about the magnet damaging any cards, as the wallet shields them.
The Razer Kiyo Streaming Webcam is designed for video game streamers and vloggers to stream videos of themselves in real time, whether playing games or just chatting. It is a great gift for aspiring YouTubers and works wonderfully for video chatting with distant friends or classmates. Ensure you have proper controls on your teen's computer and that she is educated on staying safe online.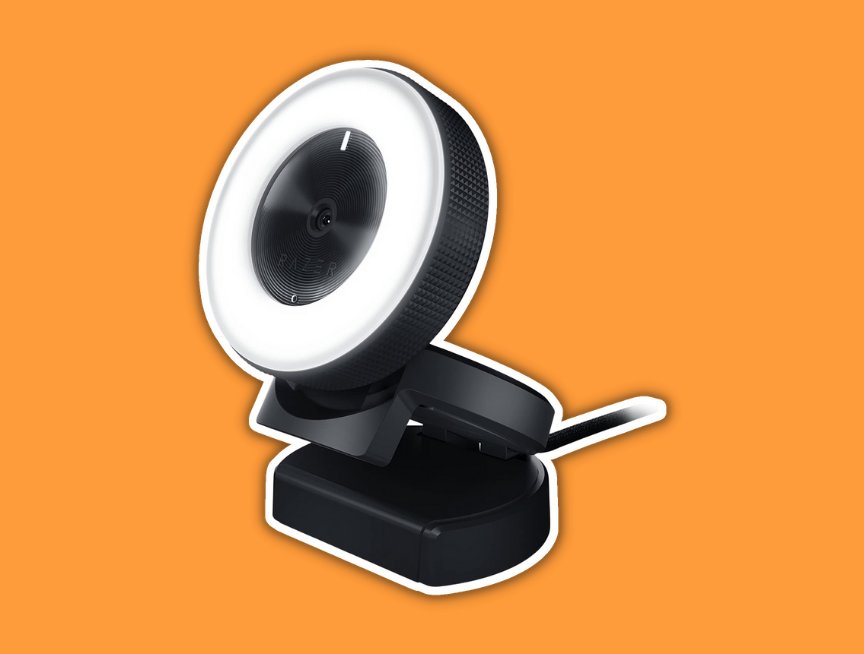 😍 Great gift for 13-year-old girls who love making vlogs.
The Razer Kiyo features a 5600K daylight-balanced adjustable ring light around the camera, providing even lighting. The video and audio recordings are crisp and detailed, and the compact, folding design makes it easy to take anywhere!
---
Gifts for Marvel Fans
Funko Pops make great gifts and this one of the Scarlet Witch from Doctor Strange is a great option for Marvel fans. This gift is ideal for 13-year-olds who like to display their fandom with cute character goods. You should probably check if she likes this character before you buy it though!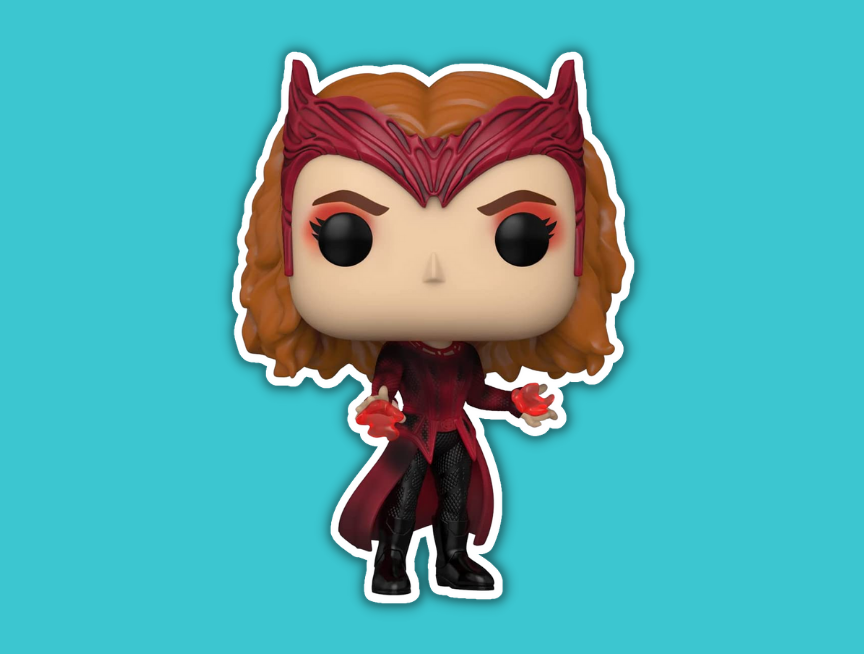 😍 Great gift for 13-year-old girls who love Doctor Strange.
This Funko Pop is made from high-quality vinyl material so that the detailed graphics won't fade anytime soon. It also comes in window display box packaging, so your teen can opt to display it in the box if she wants to preserve it for as long as possible.
This gift option is a no-brainer for teen girls who love Marvel (particularly the Infinity Saga) and LEGO. Do not be mistaken – this isn't a kiddies' LEGO set. It includes 590 pieces that make up an intricately detailed and accurate Infinity Gauntlet to display. Marvel fans who enjoy building models and like a challenge will love this!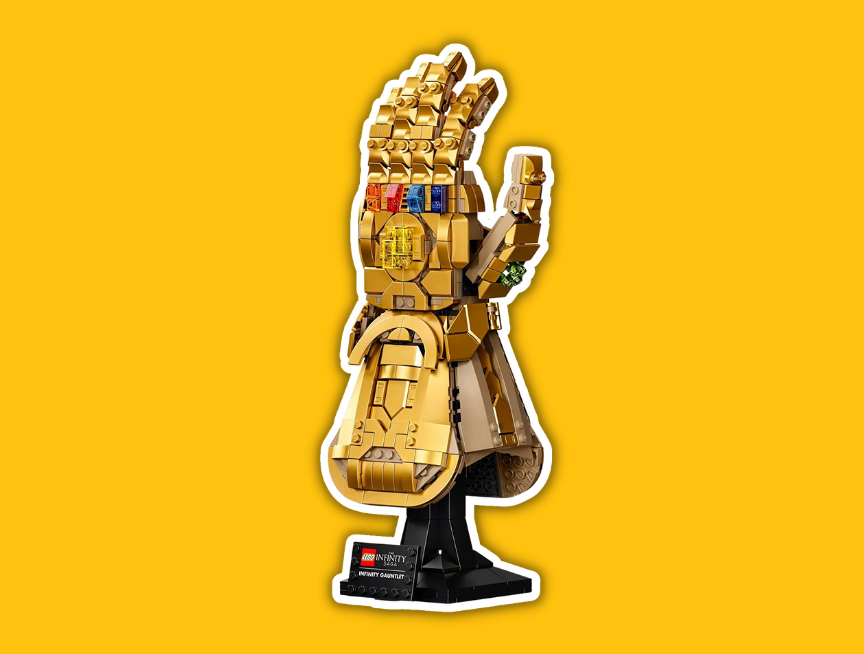 😍 Great gift for 13-year-old girls who love Marvel and model building.
Once constructed, the Gauntlet measures over 12.5 inches high, 5 inches wide and 4 inches deep and features original golden LEGO bricks. While it is challenging to assemble, the instructions are easy to follow. Best of all, the Gauntlet's fingers are movable!
If your 13-year-old is a Marvel fan and also becoming interested in makeup, this eyeshadow palette makes an awesome gift. This limited edition collection features 15 shades infused with metallic gold, pearl and colorful shimmers inspired by Marvel Studios' Eternals. These bold, beautiful, and blendable shadows are sure to inspire teens to put together all kinds of creative looks.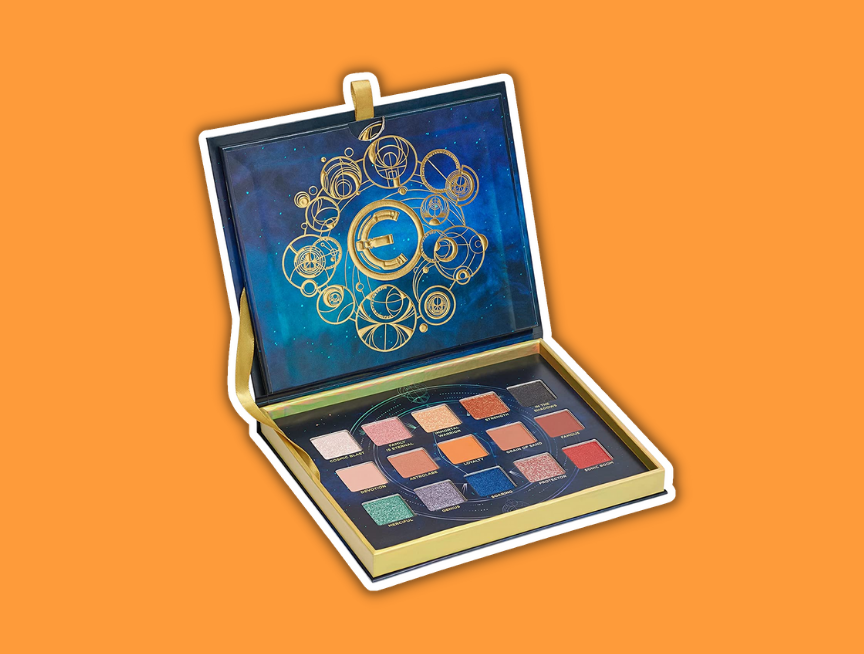 😍 Great gift for 13-year-old girls who love Marvel and makeup.
Urban Decay is known to be a high-quality makeup brand and these super-pigmented shadows do not disappoint. I also love the box, with its beautiful, on-theme gold and blue design.
---
Gifts for Board Game Lovers
For the board game-obsessed teen in your life, Codenames is a great gift option. In this team game, two spymasters must contact their undercover spies without contacting rivals or, even worse, the assassin. While the game has a spy theme, at its core, it is all about making smart and strategic word associations. It's an ideal gift for 13-year-olds who enjoy playing word games.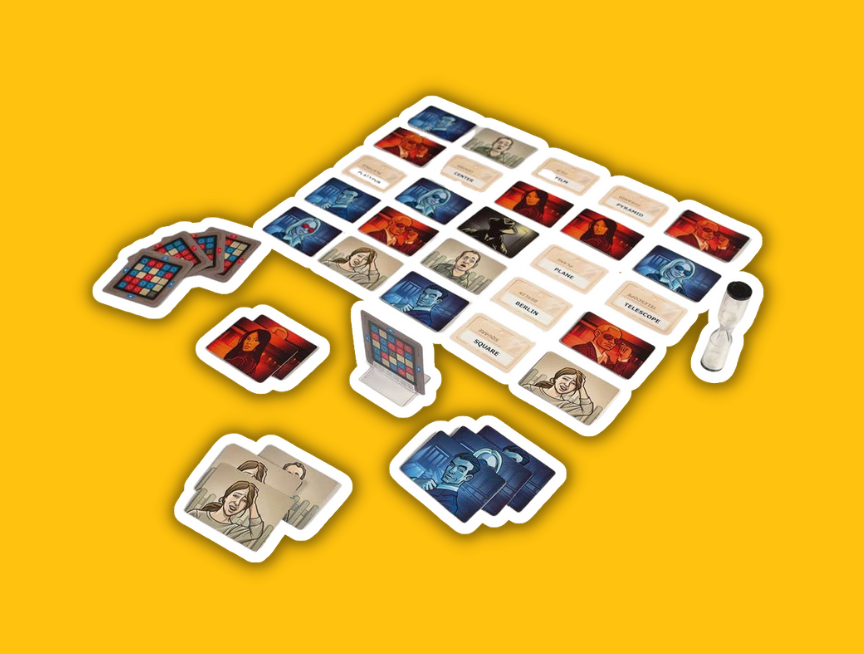 😍 Great gift for 13-year-old girls who love word games.
Codenames can be played between two – eight players, though it plays best with at least six players, making it ideal for slumber parties. Hundreds of reviews attest to this being an addictive game, though it can be challenging for non-wordy folks.
If your teen enjoys abstract strategy games but would also get a kick out of beautiful tiles, Azul is the game for her. Choose tiles from a central market and earn points for placing particular tile patterns in a colorful mosaic. As it involves strategic thinking and spatial reasoning, Azul is a great brain exercise. At the same time, the rules are easy to learn.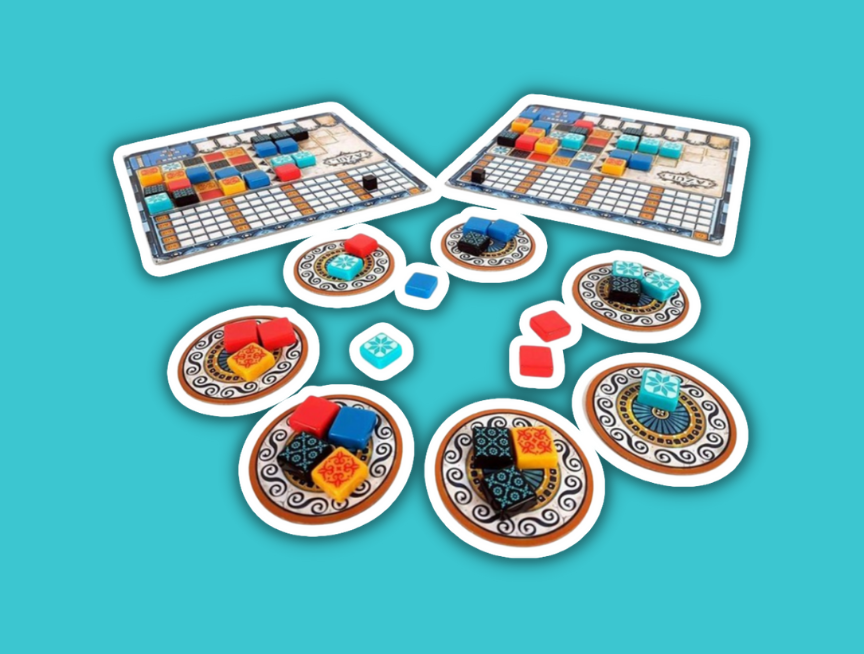 😍 Great gift for 13-year-old girls who love abstract strategy games.
Azul is extra interesting to play because every tile you claim affects what your rivals can take next. Plus, thanks to its randomized setup, Azul is infinitely replayable. You need two-four players, so it is perfect for playing with the family or a couple of friends.
This card game from the creator of the Oatmeal comic strip is quickly becoming iconic. With cards like the taco-cat, Abra-crab Lincoln and the magical meat bikini, most middle-schoolers will get a kick out of the game's quirky humor. If those sound like they would make your teen laugh, chances are she will enjoy this simple yet hilarious game.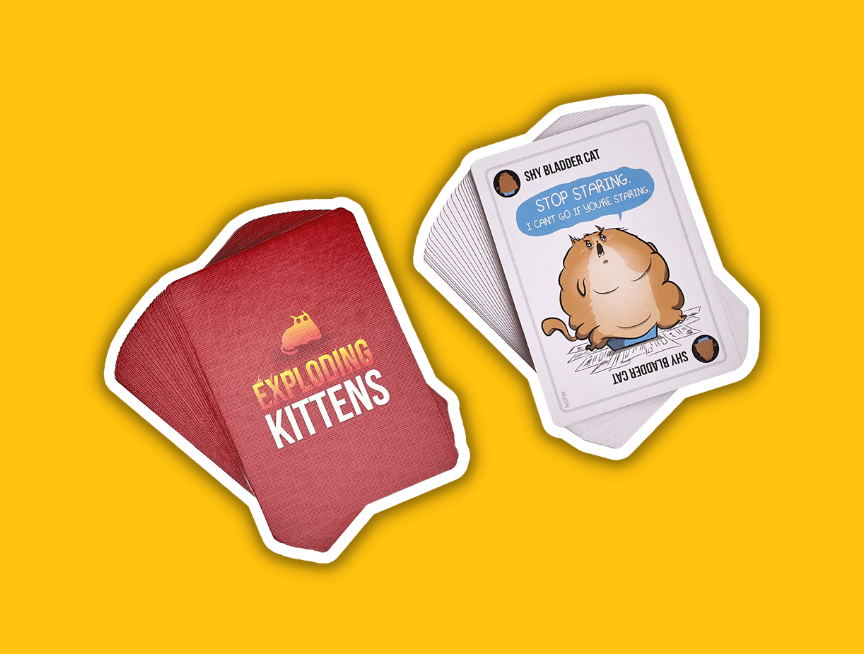 😍 Great gift for 13-year-old girls who love card games and quirky humor.
This Game of the Year award winner is essentially a game of Russian Roulette. However, there is also an element of strategy as you have to decide what cards to play and when. It's silly, and fun and produces escalating tension as the chances of the next card being the kitten increase!
---
Gifts for Young Artists
This set of watercolors is affordable yet full of vibrant shades and is perfect for the beginner or seasoned watercolorist. With the 24 included colors, your 13-year-old can let her imagination run free and paint anything under the sun! These are particularly good if your teen enjoys painting from nature, as there are many great natural-looking shades.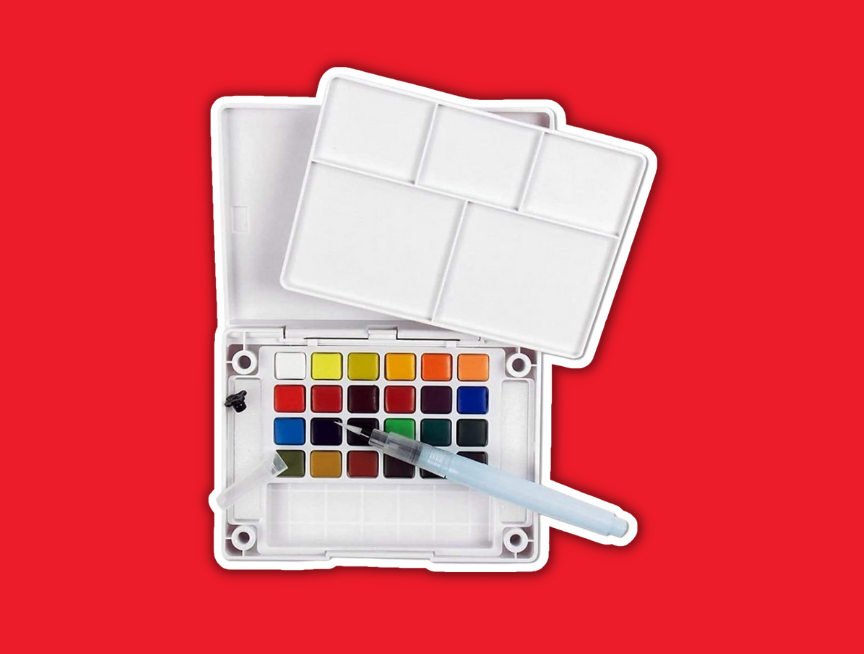 😍 Great gift for 13-year-old girls who love painting.
The lid of this watercolor set is made up of several compartments you can use as your paint palette. The included water brush also means you don't need a water jar, so teens can paint on the go and not worry about spilling water!
Every aspiring artist needs an artist's mannequin! This articulated wooden mannequin will help your artistic teen reach her full potential as it shows the proportions of the human body in different positions. It also helps aspiring artists to grasp the details of light and shade in drawing, showing your teen that you take her seriously as an artist.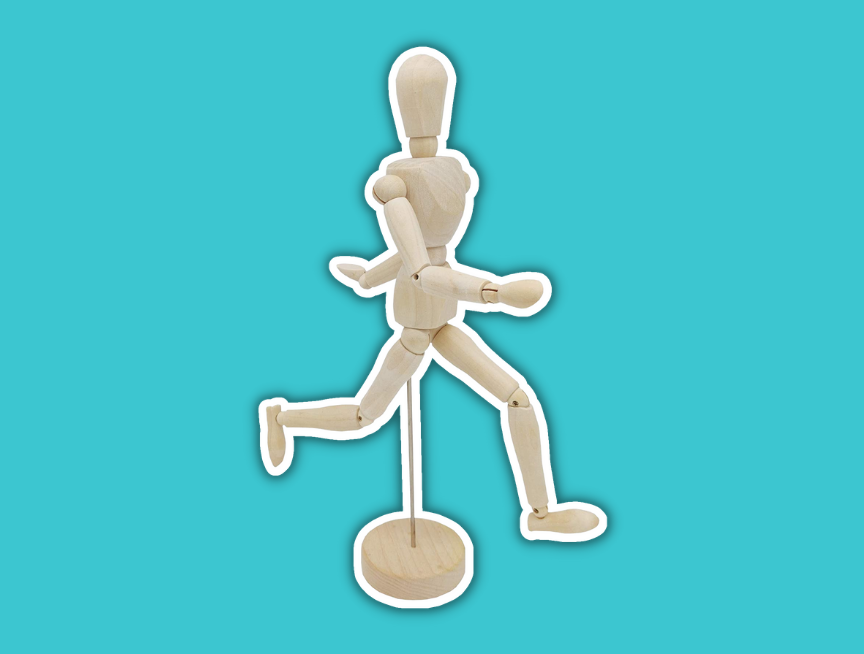 😍 Great gift for 13-year-old girls who love drawing and sketching.
This mannequin is made from high-quality corrosion and water-resistant wood and has a perfectly smooth and uniform surface. The joints are made from electroplated bolts and springs that maintain elasticity to remain flexible and adjustable for many years.
This polymer clay starter kit is perfect for kids interested in sculpting but who perhaps haven't started yet. It's a great stepping stone between playdough and real clay and the different colors allow you to make all kinds of cute ornaments and scenes. The kit also has useful sculpting tools and an accessory pack to make jewelry!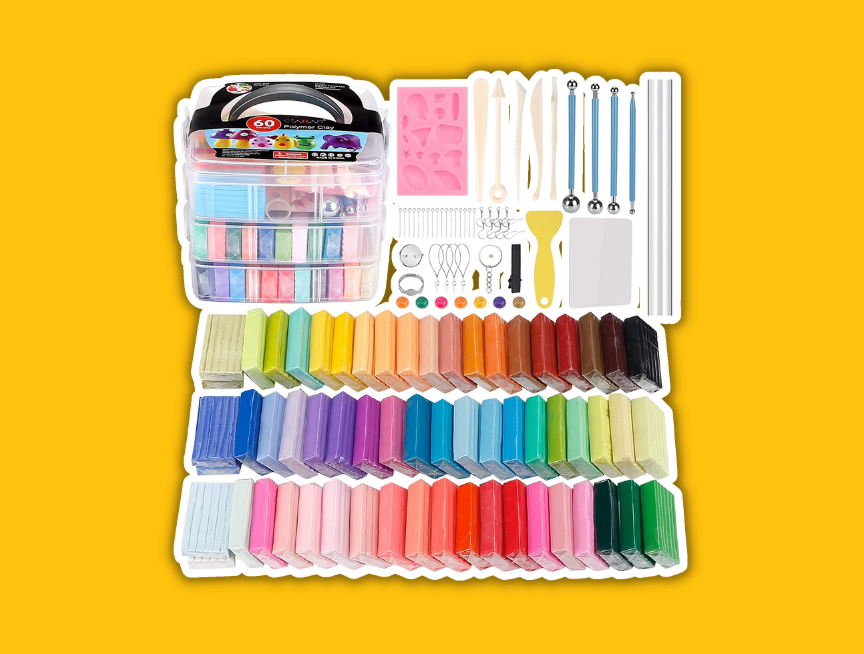 😍 Great gift for 13-year-old girls who love making cute things.
This polymer clay is entirely non-toxic and eco-friendly. It includes a whopping 60 colors, all stored in a double-layer transparent storage box for convenience. To set your creations, simply bake them in the oven, boil them or heat them with a hairdryer.
---
Gifts for Girls Who Love the Outdoors
If the 13-year-old you are buying a gift for often goes camping or vacationing outdoors with family, this hammock will allow her to have a space to relax on such trips. It can also be set up at home, space permitting. Hammocks are both fun and relaxing, and this one from Foxelli is stylish, too, as you can choose from several awesome fabric designs.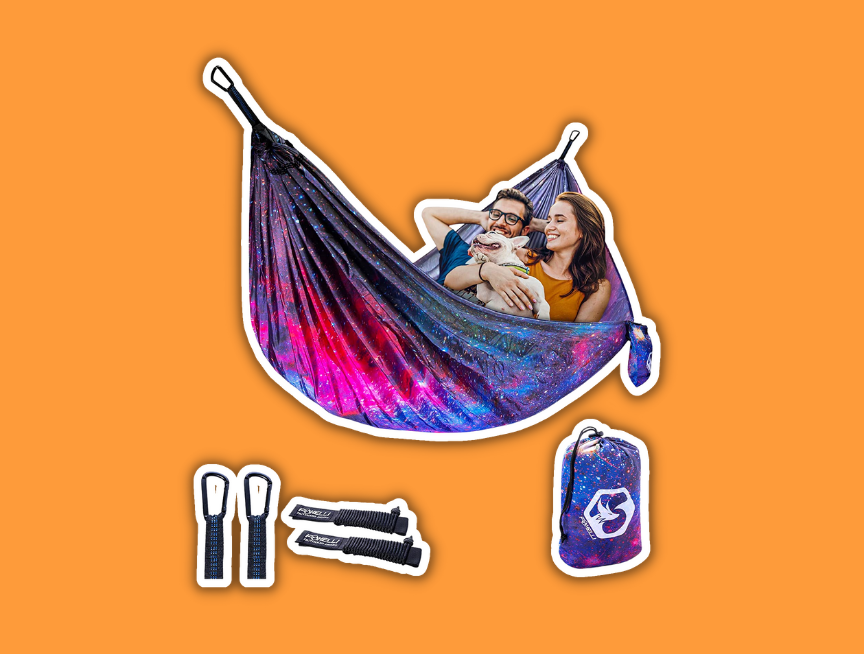 😍 Great gift for 13-year-old girls who love relaxing outdoors.
This hammock fits two people, so your teen can share it with a friend or sibling. It is made from military-grade nylon for comfort and durability and is super easy to set up. It is compact and lightweight enough to bring on any outdoor adventure!
This inflatable kayak is a great gift for outdoorsy, adventurous girls. It is perfect for teens who often go camping or on vacation with family by the lake. This one-person kayak would allow her to get some alone time on family vacations and there is plenty of storage space so she can bring everything she needs for a few hours on the water!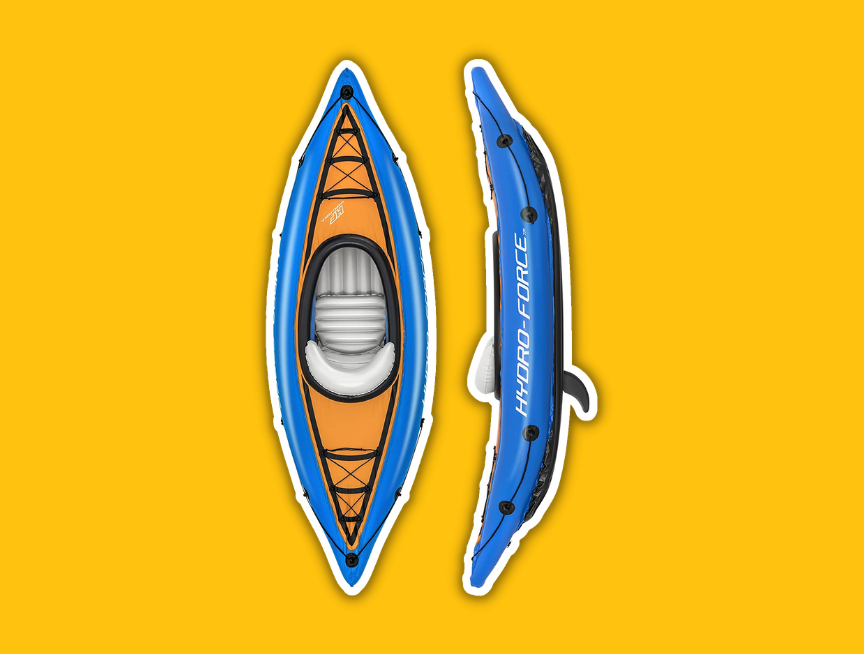 😍 Great gift for 13-year-old girls who love watersports.
This kayak is very easy to transport because it is inflatable. It has a hand pump for easy inflation and a separate inflatable seat and backrest. It also inflates into multiple compartments, so you don't have to worry about sinking even if there is a puncture.
If your teen gets excited about spotting birds and animals, she needs a good pair of binoculars! These are marketed to kids because of their fun colors and soft rubber that is gentle around the eyes. However, they are genuine binoculars with 8x magnification! With these in hand, your teen can see birds, animals and anything else from over 122 feet away.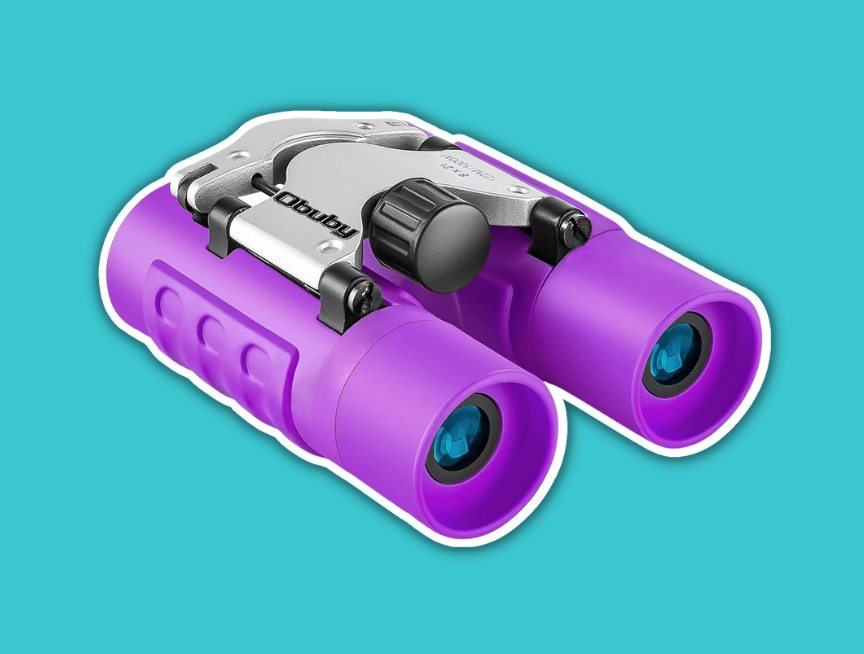 😍 Great gift for 13-year-old girls who love animals and birds.
These compact binoculars fit easily into kids' backpacks and feature an ergonomic non-slip grip. The multi-layered prism controls the optical reflection to create crisp, vivid images, and the soft rubber coating protects the binoculars from falls.
---
Gifts for Book Lovers
The Series of Unfortunate Events by the mysterious Lemony Snicket follows a trio of orphaned children who keep finding themselves in unfortunate situations and uncovering secrets about their parents' past. Although a 13-book series can seem intimidating, the books are easy to read. If your teen enjoys wordplay, dark humor and quirky stories, she is sure to race through the series!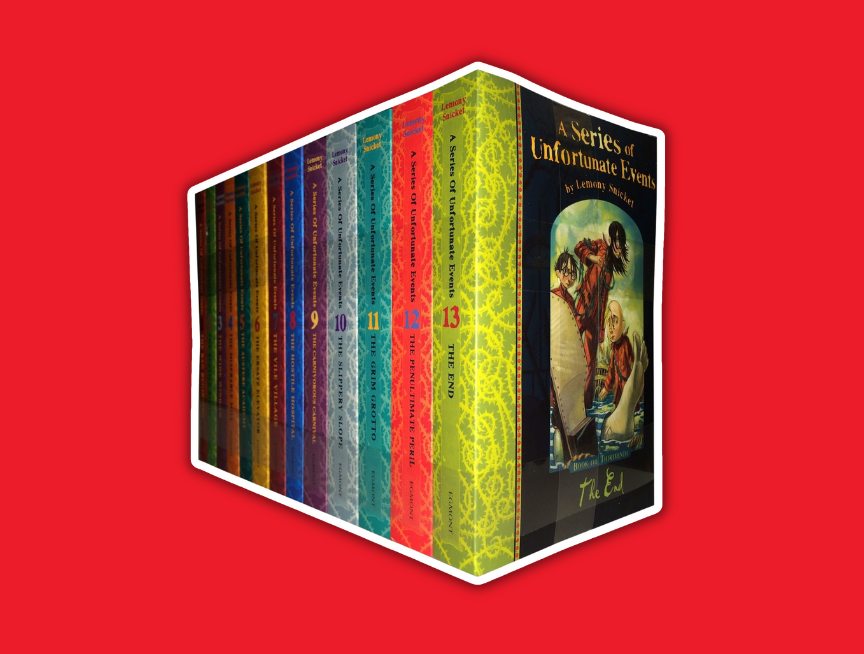 😍 Great gift for 13-year-old girls who love dark humor and quirky stories.
The Bad Beginning, the first book in the series, has won multiple awards, including the Nevada Young Readers Award, Colorado Children's Book Award and the Nene Award. For their wit, uniqueness and sheer readability, these books are loved by children and adults around the world.
Life of Pi by Yann Martel is not strictly a children's book, but it is widely considered a great transitional book for older kids and teens growing out of the kiddie section. This book has become a modern classic, full of thoughtful insights. If your teen enjoys philosophical thoughts or stories about survival, she will love Life of Pi.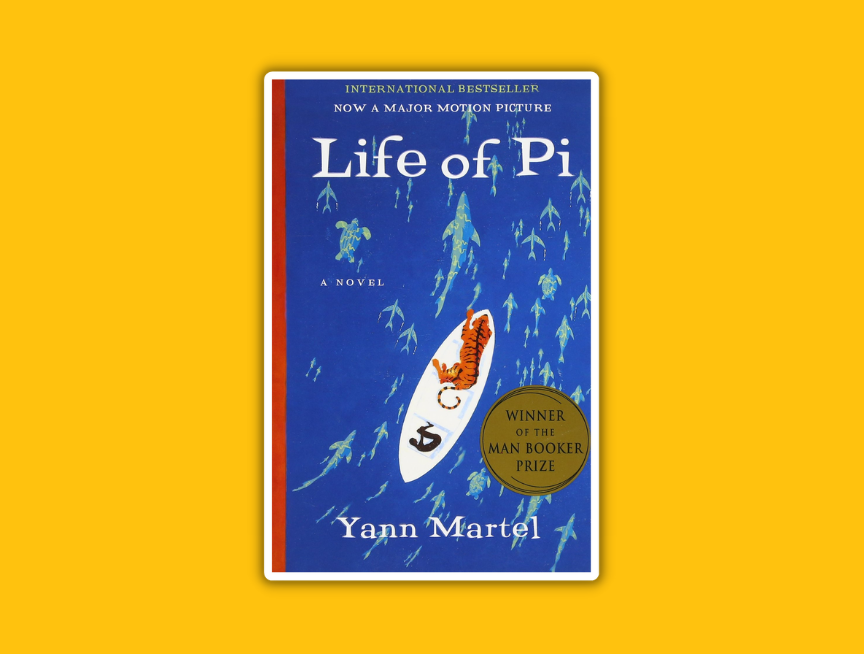 😍 Great gift for 13-year-old girls who love thinking deep thoughts.
Winner of the Man Booker Prize, Life of Pi is fascinating, though it is a little harrowing in parts. A teenage boy becomes stranded on a lifeboat with a hyena, a wounded zebra, an orangutan—and a 450 lb Bengal tiger!
Published in 2012, Wonder by R.J. Palacio has taken the world by storm over the last decade. It has led to a major motion picture, a critically acclaimed graphic novel and the "Choose Kind" movement. This movement is premised on the book's key point: always choose being kind over right. This book is a great read for any 13-year-old and carries an important message.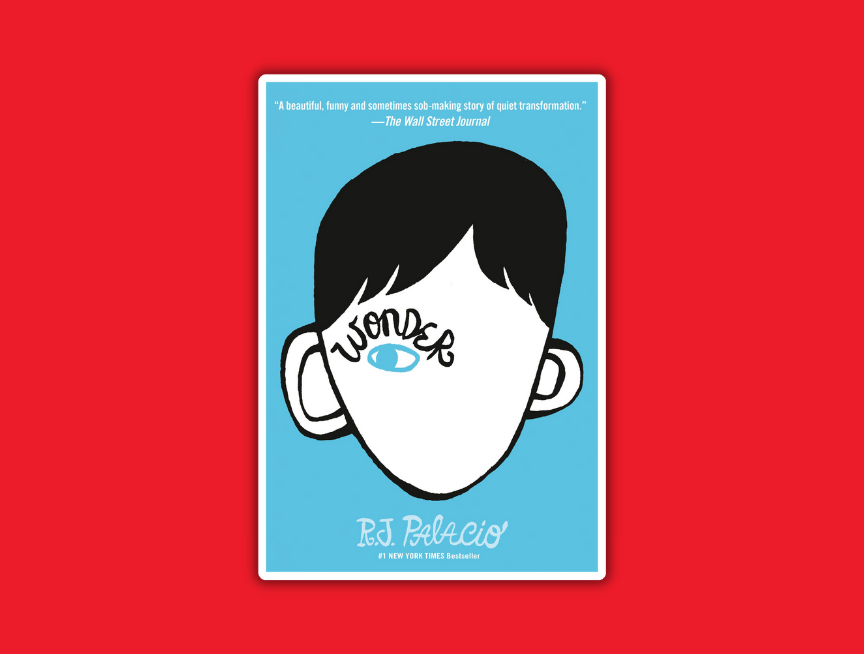 😍 Great gift for 13-year-old girls who love inspiring stories.
This New York Times bestseller was inspired by a moment when Palacio's son started to cry after noticing a girl with a severe facial deformity. This is a great book to choose if you're looking for a way to teach your teen about kindness and accepting differences.
---
Gifts for Girls Who Like To Write
Whether your teen writes poetry, song lyrics or journal entries, this notebook will make her writing sessions feel much more special. The beautiful embossed cover design reproduces a gold-tooled book binding created by London's Henry T. Wood bindery in 1933. Childhood diaries are always a treasure to look back on and this one looks like a treasure too!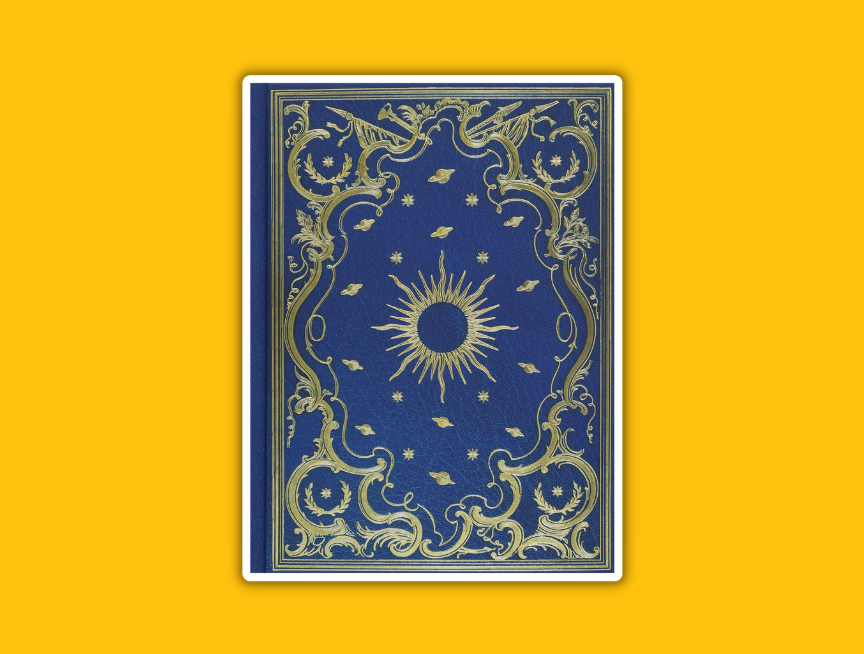 😍 Great gift for 13-year-old girls who love journaling.
This celestial journal features gilded page edging and a ribbon bookmark to keep your place. It has 160 lightly-lined writing pages on good-quality paper that beautifully takes pen and pencil ink.
This luxury rosewood ballpoint pen is a perfect gift for teens who are discerning writers. It is a high-quality classic ballpoint that provides a smooth writing experience and is plated with a metallic finish for a touch of elegance. With this pen, everything she writes will feel important! If you have the budget for two gifts, this makes a great companion to the notebook above.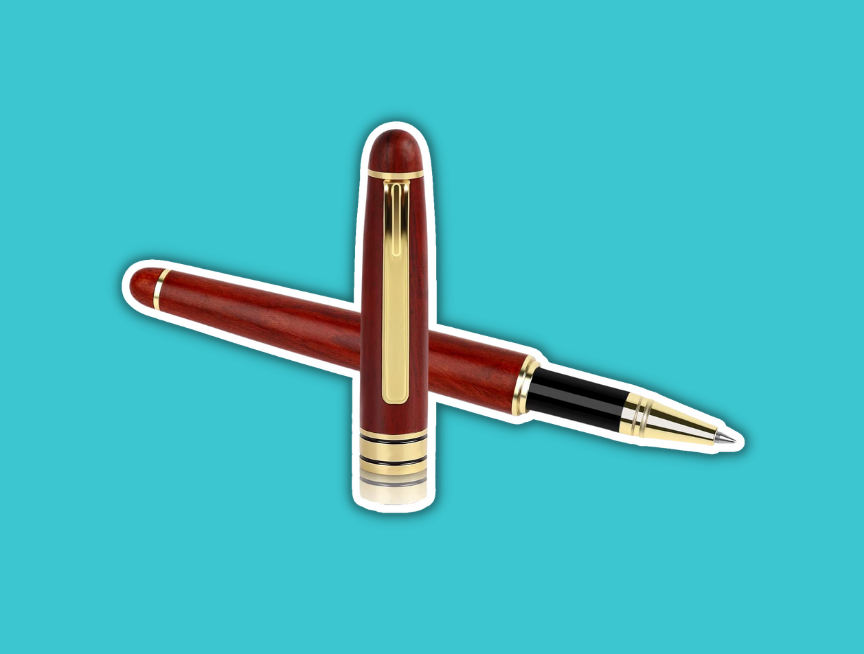 😍 Great gift for 13-year-old girls who love writing by hand.
This BEILUNER pen is hand-crafted, corrosion-resistant and provides a comfortable grip. Its extra-fine point tip allows for super precise, detailed writing. In addition to the pen, the set includes a gift box and an extra stainless steel black ink refill.
This book may be a bit advanced for some 13-year-olds, but if your teen is precocious and serious about being a writer, it makes a wonderful gift. It is also a great book to return to over the years as she grows her writing practice. It is full of writing inspiration and beneficial advice, written by Anne Lamott simply and hilariously.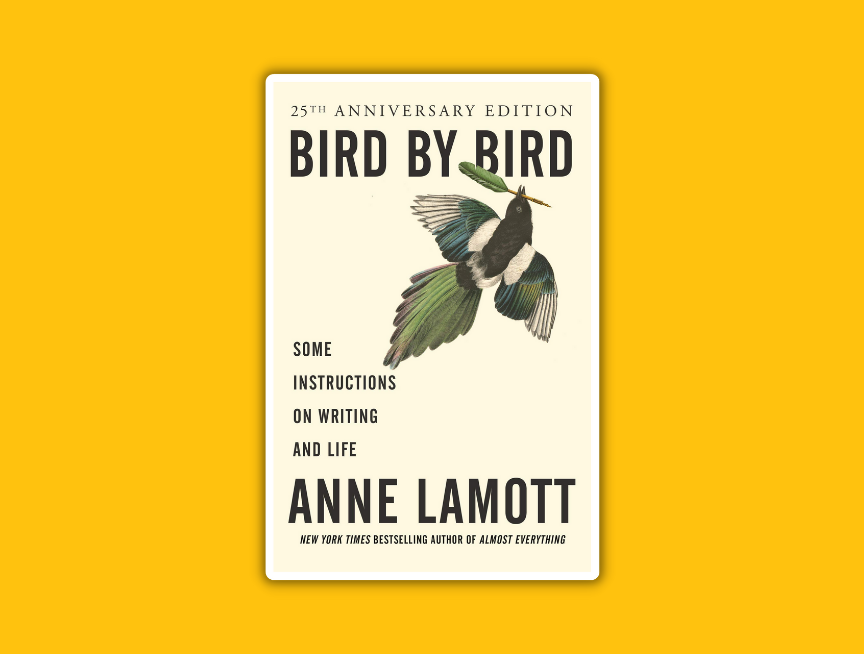 😍 Great gift for 13-year-old girls who love creative writing.
This book is primarily aimed at creative writers but can also help writing school reports, speeches and anything else you can think of. Written in 1995, this book is a classic among young and old writers and is a New York Times bestseller.
---
Gifts for Movie Lovers
This 18 x 24-inch poster of Wes Anderson's Grand Budapest Hotel makes a fantastic gift for teen movie buffs. If your 13-year-old is a fan of Wes Anderson's quirky and visually iconic films, this poster will surely go down a treat. Due to the pink color of the hotel, it is especially perfect if she already has pink decor in her bedroom.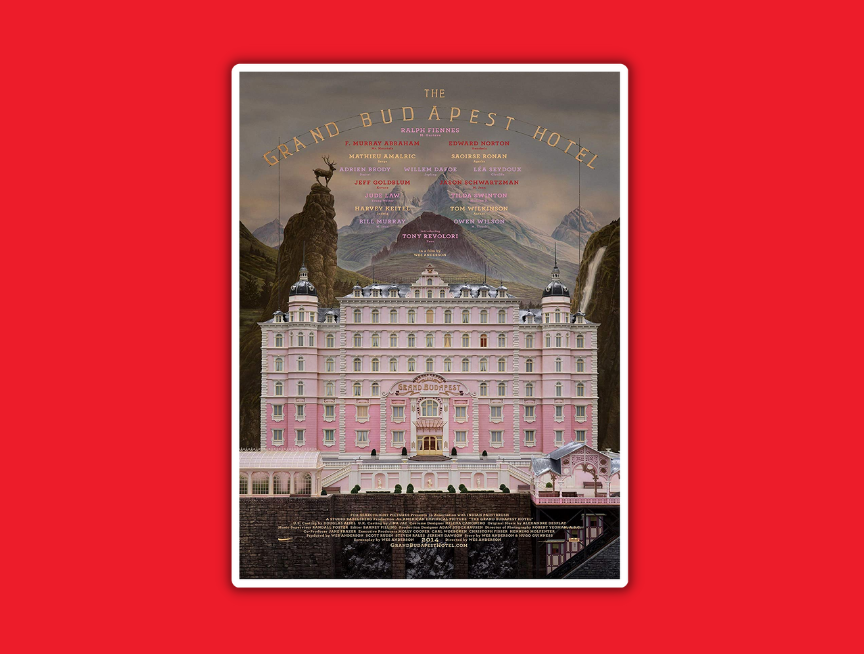 😍 Great gift for 13-year-old girls who love Wes Anderson.
This poster is made of thick canvas, making it extremely durable and classy. It may arrive creased, but these are easy to remove by laying it flat under some heavy books. Get the poster framed to take the gift to the next level.
If you have a true cinephile on your hands, let her test her knowledge with this card game! Of course, young teens can't be expected to have a wealth of film knowledge yet, which is why it's great that this game contains multiple ways to play at several difficulty levels. As she grows older and watches more movies, she can level up!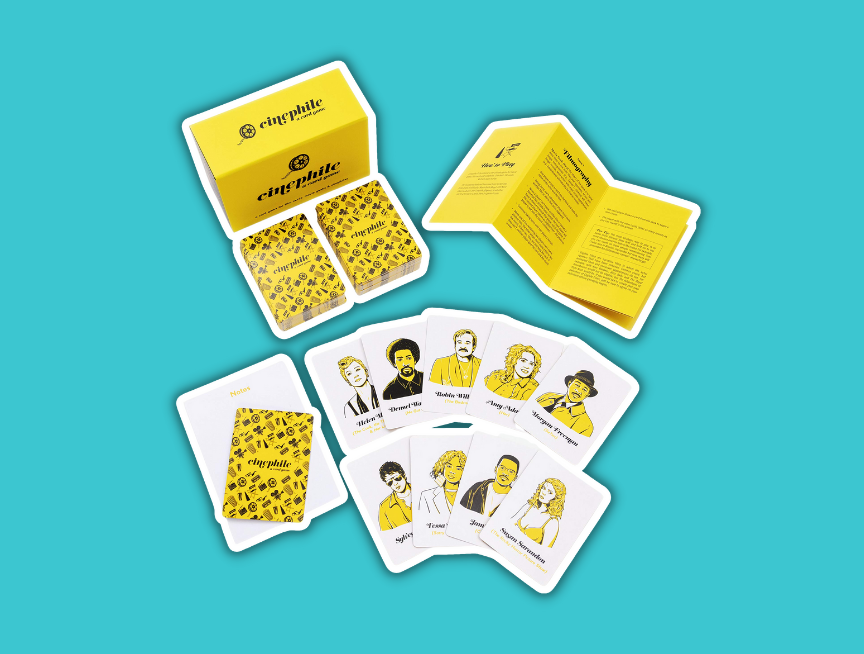 💡 If you're buying a gift for a Tim Burton fan, then you can't go wrong with this tarot cards set.
This card game is a great addition to any movie-themed slumber party or family game night. Its cards are durable and have a sleek retro design and the single pack is compact and easy to take on vacation or even to school.
This poster is another great gift for film buffs. If your teen has graduated from kids' movies to classic films, this is an awesome gift. The poster consists of scratch-off images of the top 100 films to see before you die. Chances are she will only have seen a few so far, but each time she watches a new one, she can scratch and reveal its image!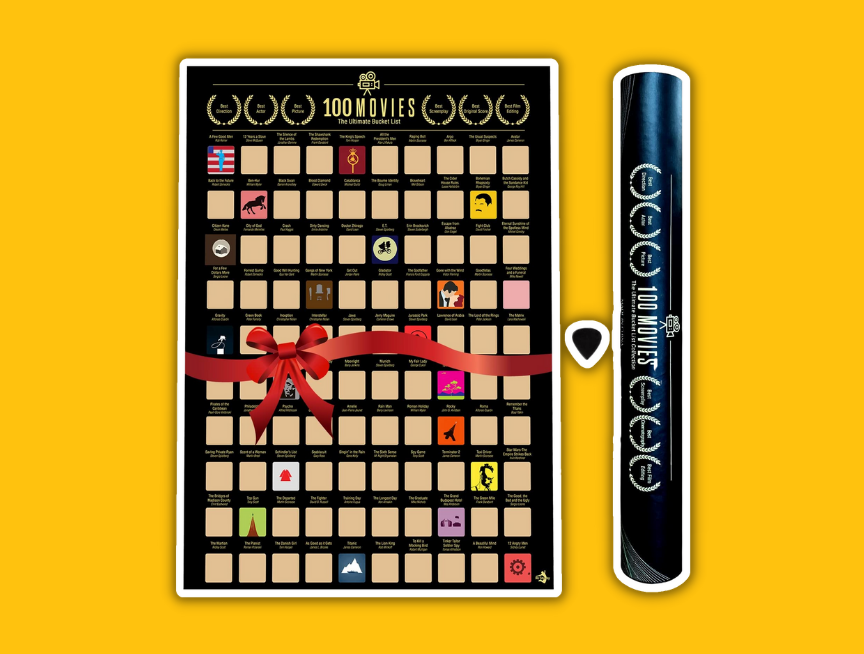 Made from acid-free archival paper, this poster features premium gold foil that won't come off unless scratched. It also includes a handy scratching tool to make the foil easier to remove. This could be a gift your teen keeps for life!
---
Gifts for the Environmentally-Conscious
If your teen is environmentally conscious, fashion-conscious and crafty, why not surprise her with her sewing machine? With this, she'll be able to patch or mend any clothes that tear and even learn to make her unique pieces. So often, we throw away clothing just because it doesn't fit perfectly or becomes torn, but with this easy-to-use sewing machine, there is no need to!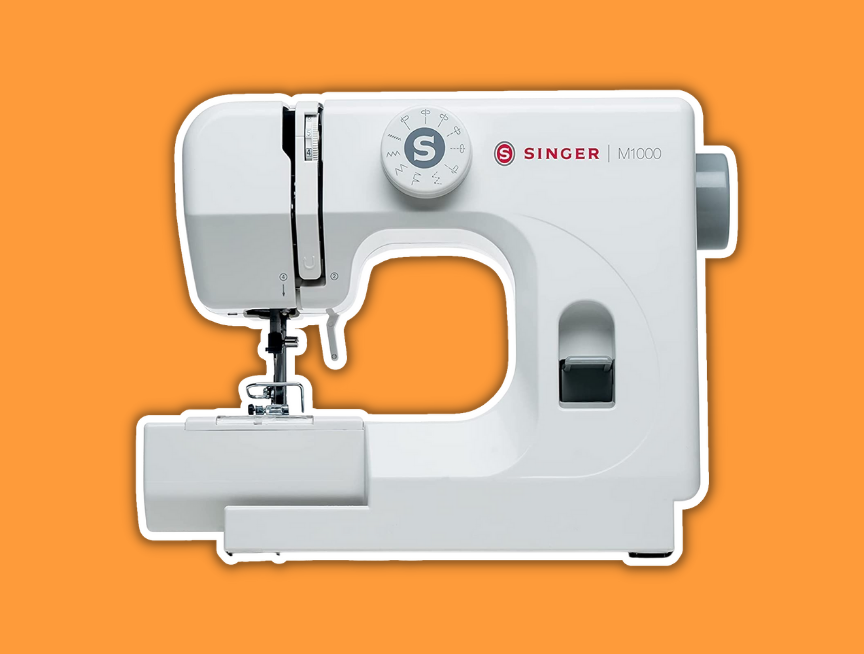 😍 Great gift for 13-year-old girls who love sustainable fashion.
Singer is one of the most trusted sewing machine brands and this model is lightweight, portable and user-friendly – perfect for a 13-year-old! With easy stitch selection, quick and easy threading and finger guard safety, even beginners can learn to use it in no time.
If you're looking for a more affordable gift for an eco-conscious teen who loves makeup, these reusable makeup remover pads are ideal. Makeup removal is important for taking care of your skin, but makeup remover pads and wipes create huge amounts of unnecessary waste. With these reusable pads, your 13-year-old can keep her skin fresh after wearing makeup while still taking care of the planet.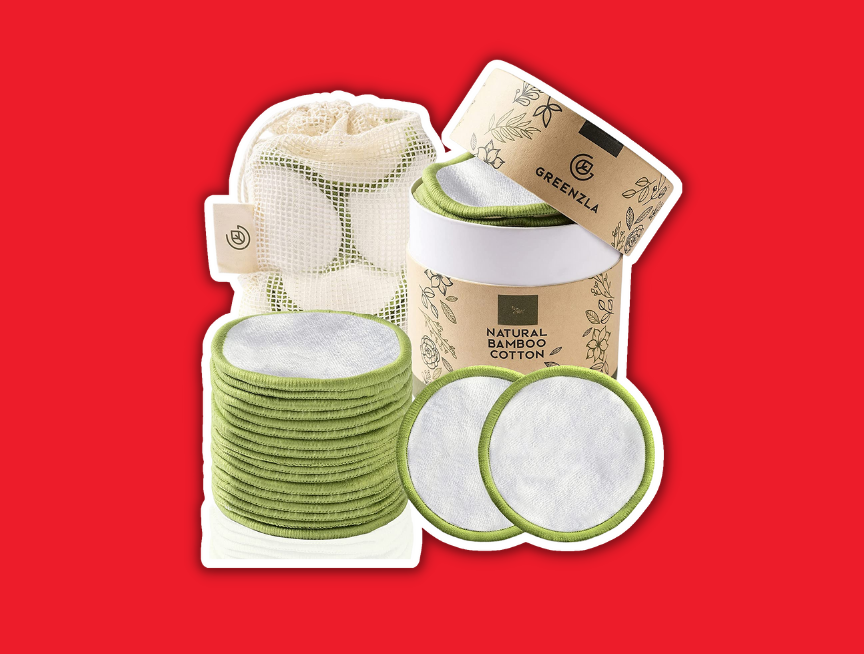 😍 Great gift for 13-year-old girls who love sustainability and makeup.
These climate pledge-friendly pads are designed to last for years, and they come with a cotton laundry bag that makes washing them easy. The multi-layer natural bamboo and organic cotton pads are gentle enough to use on all skin types.
If your teen is passionate about the planet, this zero waste kit will show her that you care too. It is also ideal for teens who love snacking and sipping on soda! It includes several premium zip-locking bags for snacking on nuts and chips, stainless steel straws for drinks, beeswax wraps to use instead of saran wrap and reusable produce bags.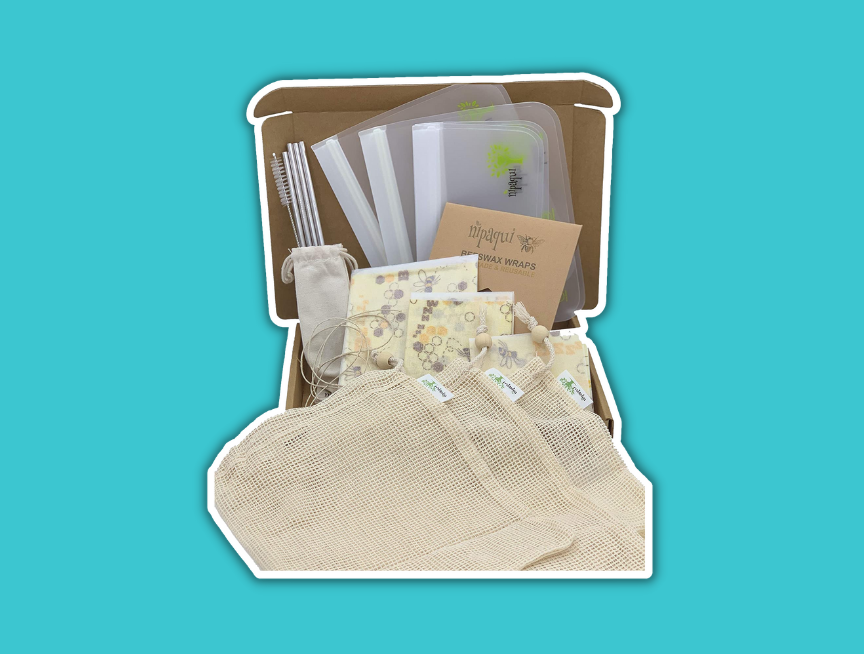 😍 Great gift for 13-year-old girls who love caring for the planet (with snacks).
All the items in this kit are durable and non-toxic, and the straws are rust-resistant and dishwasher-safe. The kit also includes a brush to clean the straws easily. Best of all, a portion of the profits goes towards organizations fighting climate change, like the Coalition for Rainforest Nations.
---
Gifts for Animal Lovers
For the bird-obsessed teen girl in your life, this bird call whistle is the perfect stocking filler. Its sounds attract a wide variety of songbirds, so it is great for use on vacation or in the backyard. Instead of waiting patiently for the birds, she can make them come to her with this whistle! It isn't a magic wand, so don't expect birds to appear every time.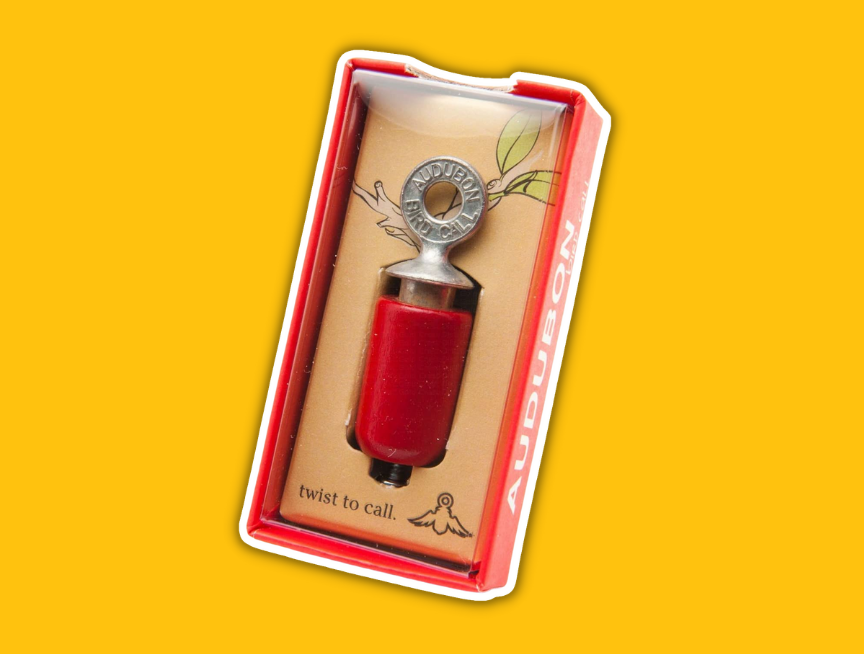 😍 Great gift for 13-year-old girls who love birds.
This Roger Eddy whistle works with a simple twist and sounds a lot like real birds! It is hand-made from birch wood and cast red zinc. As it has remained a classic for over 60 years, its quality is assured.
This is a great gift for kids who love learning facts about animals of all kinds. The concept is similar to 20 questions, except the items are all animals and you must guess the animal in 10 questions to win! If your teen loves learning about animals, she will enjoy thinking of smart questions to help her guess the animal fast.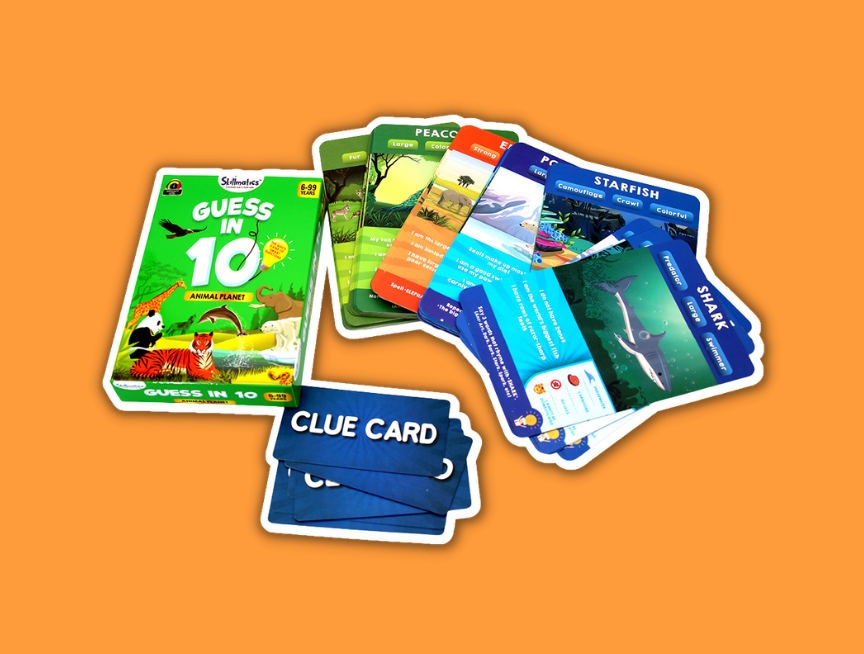 This game is suitable for ages six-99, so it is a great game to play on family game night. It is also the winner of the 2022 National Parenting Product Awards and the Parents' Picks Awards, so you know it will be a blast!
If your 13-year-old plays Nintendo Switch and loves animals but doesn't have Animal Crossing yet, it's time to rectify that! This game exploded during the COVID-19 pandemic, as people of all ages built their dream island communities populated with cute and distinctive animals. It is still a popular way for kids and adults alike to relax, hang out with friends and make their own personal paradise.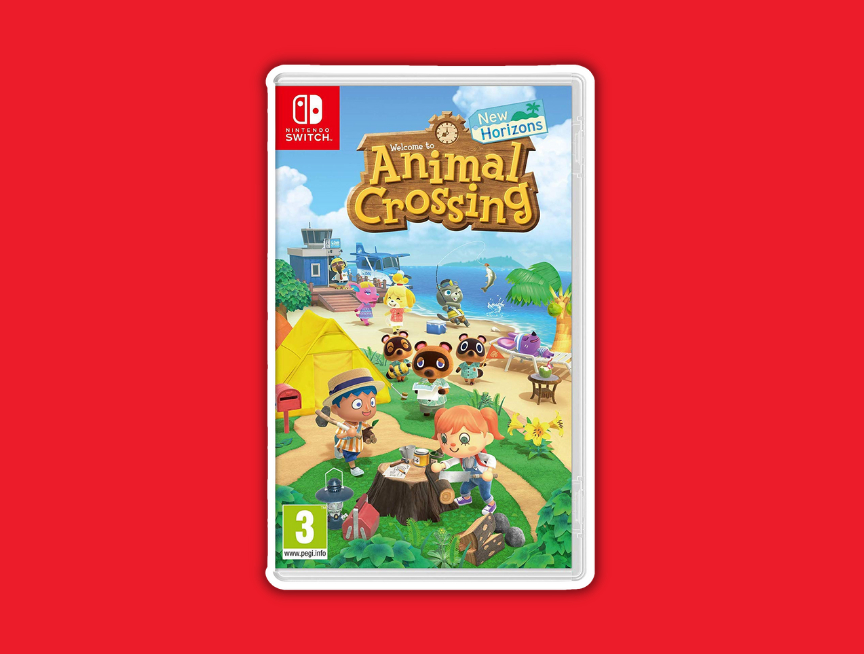 😍 Great gift for 13-year-old girls who love social simulation video games.
In Animal Crossing, while you play as a human, all the other residents on your island are animals. Just as much of the game is about building your town and home, much of it is also about getting to know these unique anthropomorphic creatures.
---
Gifts for Music Fans
If you've got the budget to splurge on a gift for a music-loving teen, Apple AirPods are a great choice. These Bluetooth AirPods will allow her to listen to music anywhere she goes without having to deal with wires that tangle and get in the way. Plus, the personalized spatial audio system makes the sound seem to come from all around!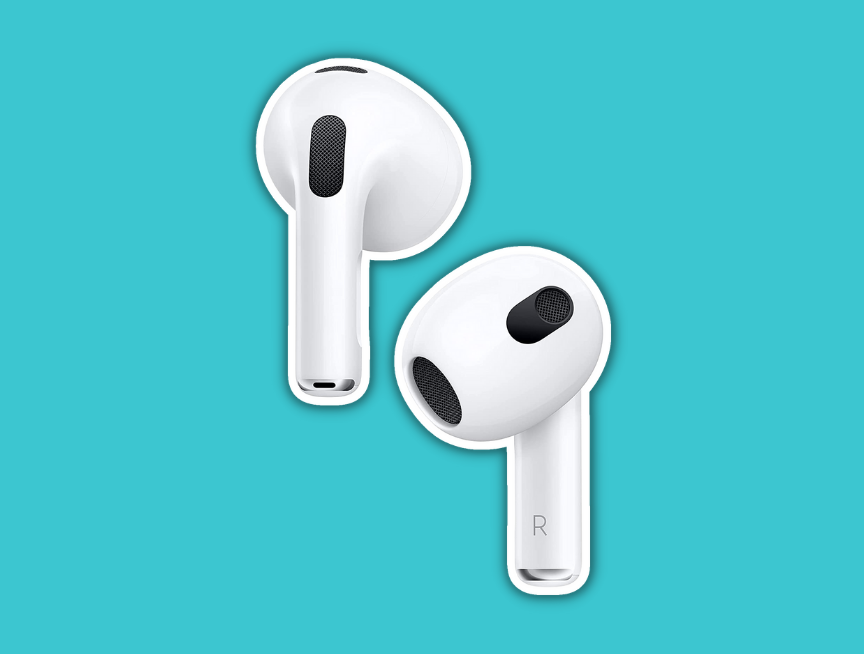 These state-of-the-art AirPods feature a force sensor to control your entertainment and answer calls. Their adaptive EQ tunes music to your ears for the optimal listening experience. Plus, they are sweat and water-resistant, so you can use them while exercising!
Game That Song is the perfect game for a music-loving 13-year-old or person of any age! The premise is simple – each card asks you to pick a song with specific properties, such as a song to listen to while the sun sets or a song that talks about "time." Each player then chooses a song, plays it to the group and everyone votes on which song is best.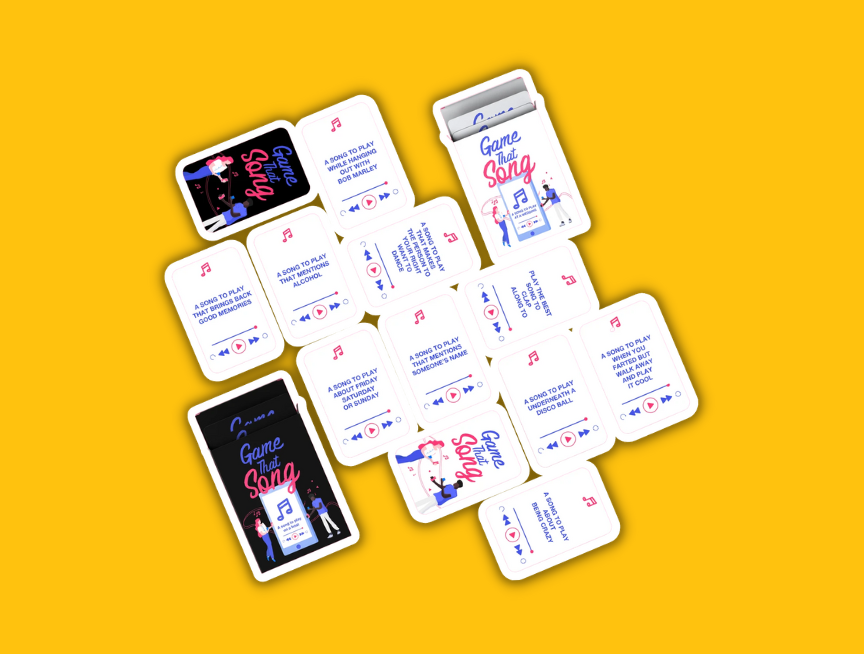 😍 Great gift for 13-year-old girls who have eclectic music tastes.
This is a fantastic game for musical families to play, that your teen can also play with her music-obsessed friends. Not only is it fun and competitive, but it is also a great way to find new music!
Around the age of 13, many kids start attending their first concerts. This Ticket Stub Diary allows them to keep the tickets for the shows they see in a fun and classy way. Teens with band obsessions will love this and appreciate it as they get older and can look back at all the concerts they went to at different ages!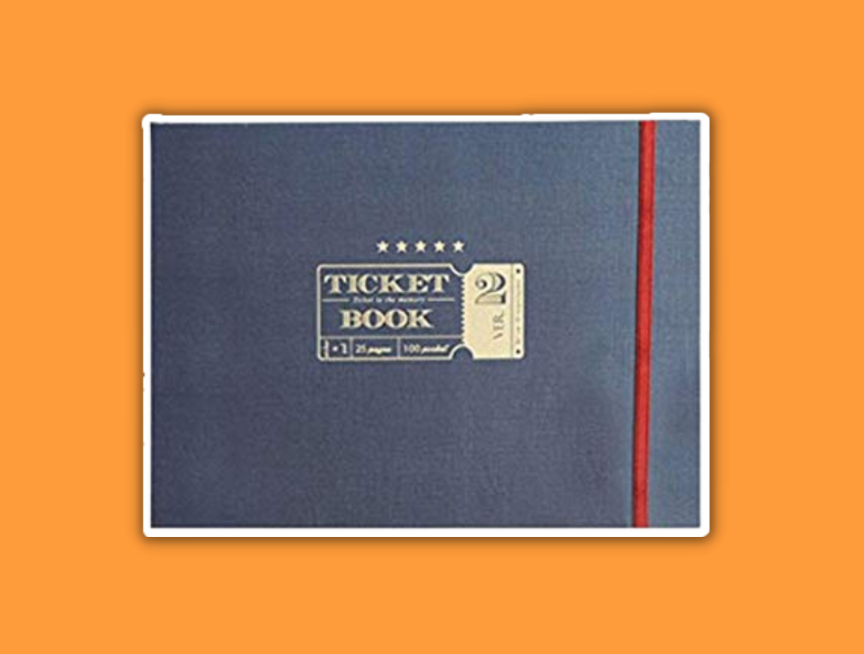 💡 Like the idea of a ticket stub diary, but not sure about the price? Just the Ticket might be a better choice for you.
This elegant hardcover book is embellished with gold foil stamping and is bound with wire rings so you can easily flip the pages. The clear pockets can hold hundreds of tickets, and there is room to slot in notes about the events as well.
---
Gifts for Anime Lovers
Does your 13-year-old love Studio Ghibli movies? Does she take her own lunch to school? If the answer to both those questions is "yes", then you have to buy her this My Neighbor Totoro Bento Lunch Box. This adorable lunch box is perfect for creating bentos full of cute Japanese-inspired food!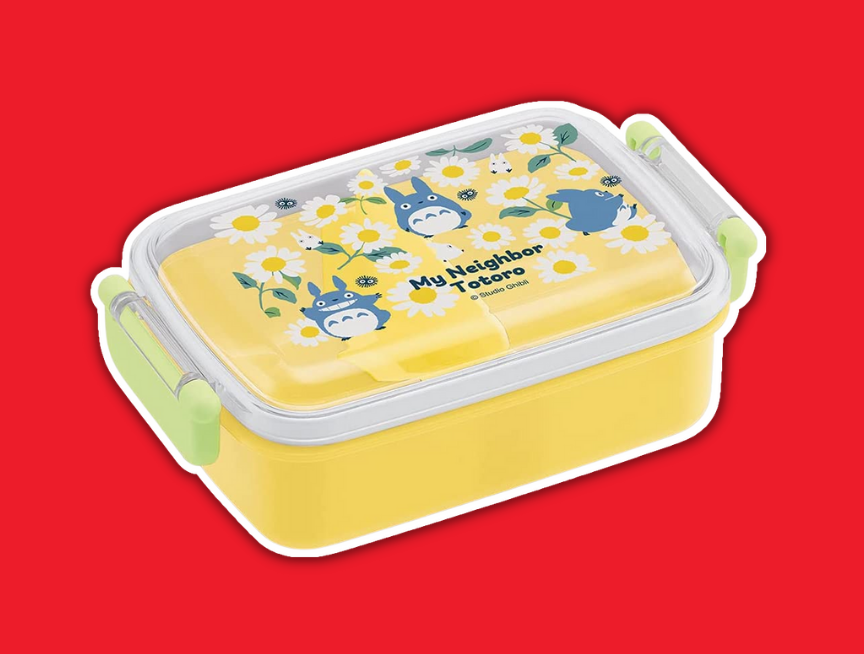 This is also an extremely functional lunch box with a 450ml capacity and two separate sections. It has a two-point locking lid to prevent leakage and is BPA-free and microwave safe. If your teen loves everything cute and Japanese, this bento box is an ideal gift.
These Ponyo Studio Ghibli playing cards will make any card-playing Ghibli lover very happy. Playing cards is a great way to while away the time on vacation or rainy days without looking at screens. If your 13-year-old loves the movie Ponyo, having these cards might make her want to play more often!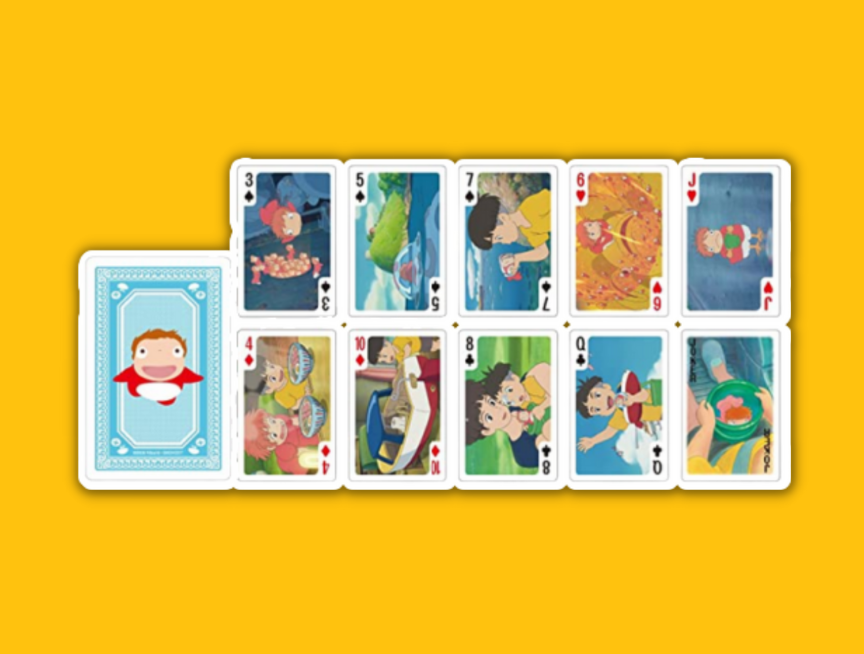 😍 Great gift for 13-year-old girls who love Studio Ghibli and card games.
Each card in this pack features a beautiful still from the film so that when laid in order, the pack tells the movie's entire story. Plus, the cards are nice and solid and feel good to the touch, and Studio Ghibli approves them.
Scrunchies have come back in the last few years, so chances are any 13-year-old girl already owns a few. But does she have any that feature the iconic colors and patterns of her favorite anime? If that favorite anime is Demon Slayer, this set of four scrunchies is sure to be very well received.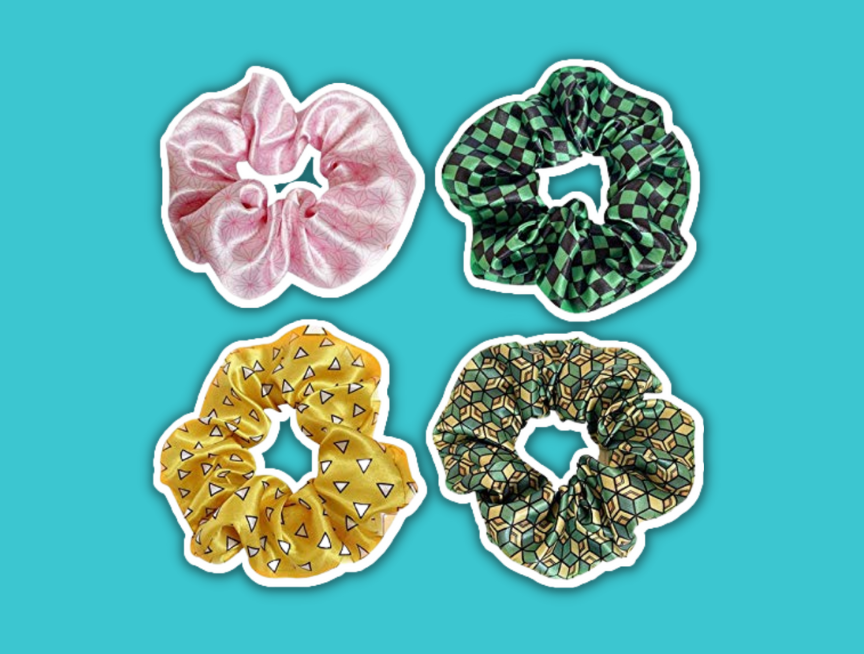 💡 Buying this gift for a short-haired 16-year-old? Then perhaps these Demon Slayer earrings might be a better option.
This set of satin scrunchies makes a great stocking filler and provides excellent value for money. The fabric is lovely and silky, and all the different color options ensure she will always have one to suit any outfit.
---
Gifts They Can Use in School
If you're looking for back-to-school gifts, this set of floral notebooks is an awesome choice. These notebooks are useful for school notes, to-do lists, or creative writing. The vibrant floral designs on the covers will brighten up any class or homework session! The 160-page A5 notebooks offer much writing space but are still a good size for slipping into a school bag.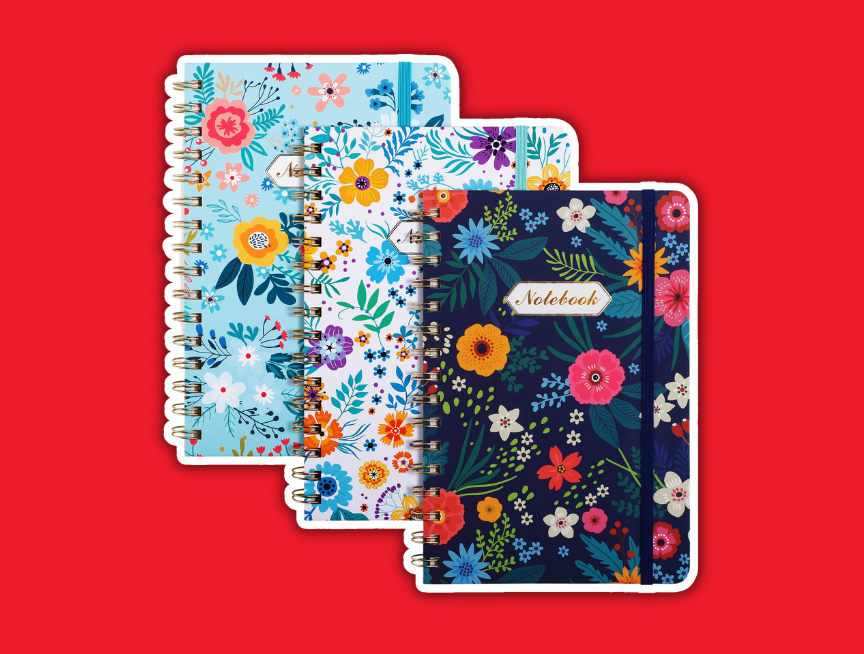 These notebooks feature 100 gsm paper which is the perfect thickness for a functional notebook. The spiral binding enhances longevity and is a great place to store a pen. A nice touch is the pocket at the back that you can use for notes or receipts.
If your teen goes wild for cute stationery, you must get her these animal-themed erasable pens. This set comes with four pens in pig, bear, panda and cat designs. The pen's lid features cute characters and the bottom is fitted with a pen eraser which is super handy whenever you make a mistake.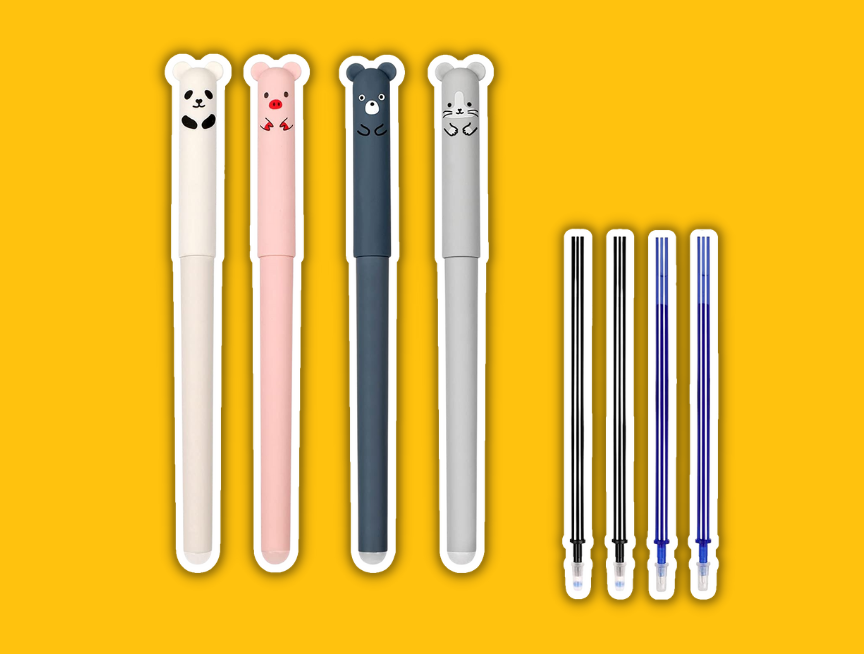 These pens make great stocking fillers as they are so affordable. Two of the pens have blue ink, and two have black, and the set includes refills. The friction pens are durable and easy to hold, and the ink leaves no residue or damage to the paper when erased.
This Coolzon expandable pencil case would be useful for any 13-year-old girl, so it is an excellent option if you are shopping for a teen you don't know that well. Middle schoolers often need a lot of stationary but don't have much room in their school bag. This pencil case fits the bill because it fits a massive volume of items in a compact space.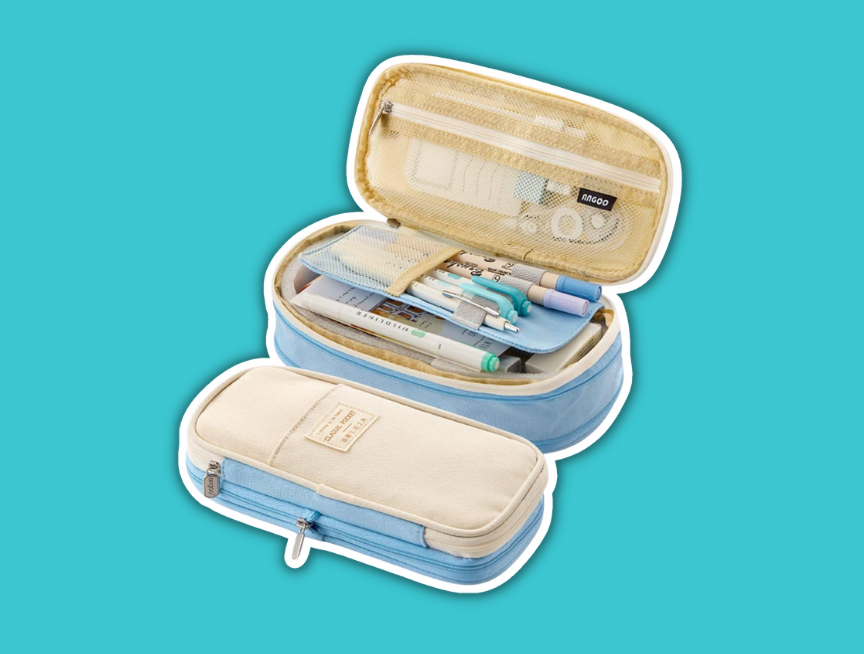 😍 Great gift for 13-year-old girls with many pens and pencils.
This pencil case provides an organized space for all your stationery, including a mesh zippered pocket, several loop compartments and a front pocket for your phone or calculator. Made from waterproof Oxford fabric, this pencil case is resistant to dirt and wear and tear AND easy to clean!
---
Gifts for Their Room
If you like the idea of a gift that kills two birds with one stone, this light Bluetooth speaker would go down a treat with most 13-year-old girls. It's a great night light, and a fantastic way to listen to music with friends and the Light and Music setting will turn her bedroom into a mini disco!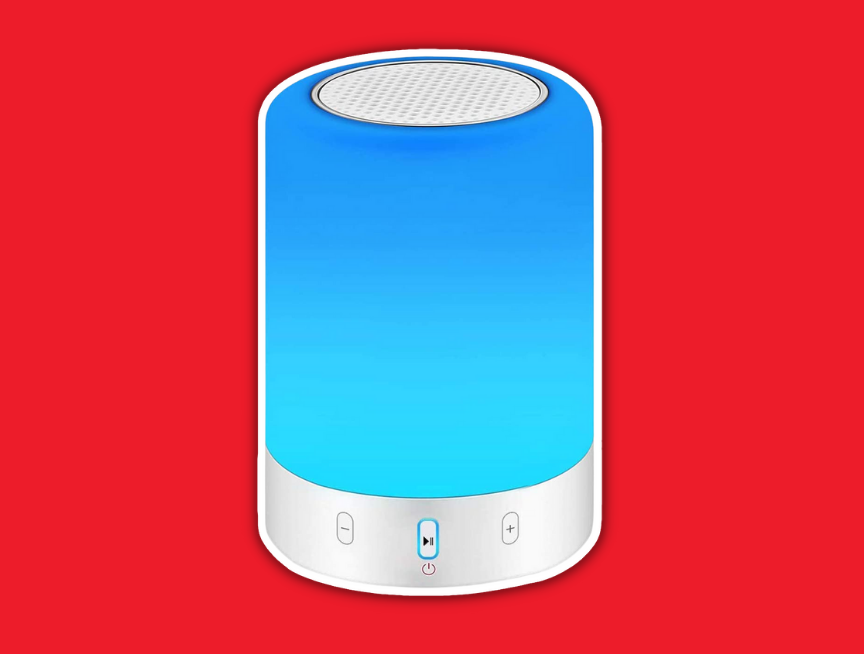 This night light has multiple color and brightness settings which can be changed with a tap to the top of the lamp. The speaker has multiple modes, including Bluetooth, TF card and FM radio. It also has a timer which is great for bedtime listening.
This wall collage kit is a great gift for teens looking to change up their bedroom decor. However, 13-year-olds are particular about their style, so it is best to be confident before buying! This kit includes 50 unique pictures as well as a bonus sticker pack. Some are desert-themed photos, while others display inspirational quotes featuring a peach and teal color combination.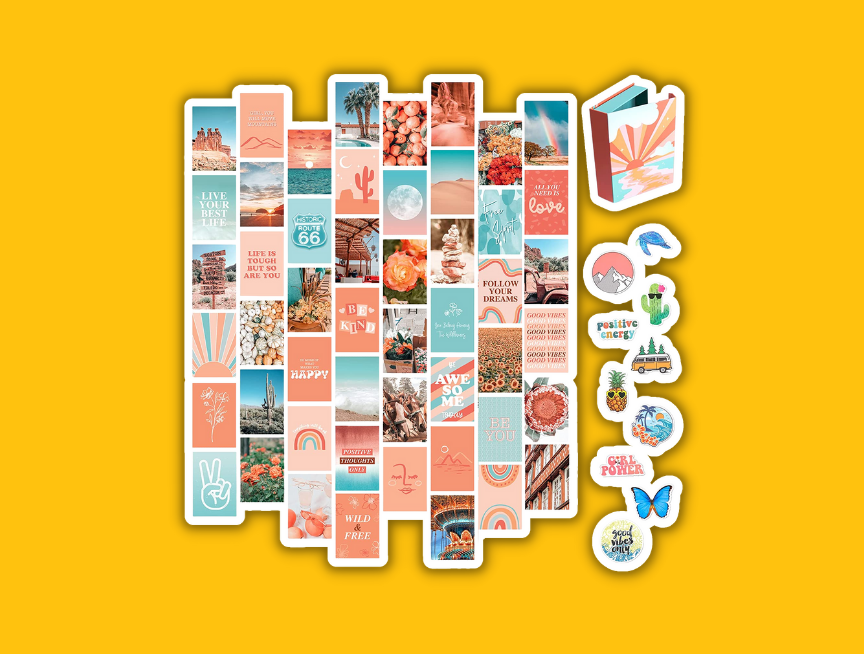 The pictures in this wall collage kit are printed on thick, matte cardstock. When put edge to edge, they cover 3' x 3' of wall space, though teens can let their creativity run free and use them however they like.
These 66-foot copper string lights are not your ordinary cheap fairy lights. The 200 tiny LEDs emit a warm white light and create a magical starry atmosphere. The copper wire looks pretty, and means you can mold the string into any shape you like. This is the perfect gift for girls who love starry nights and want to turn their bedroom into a magical space!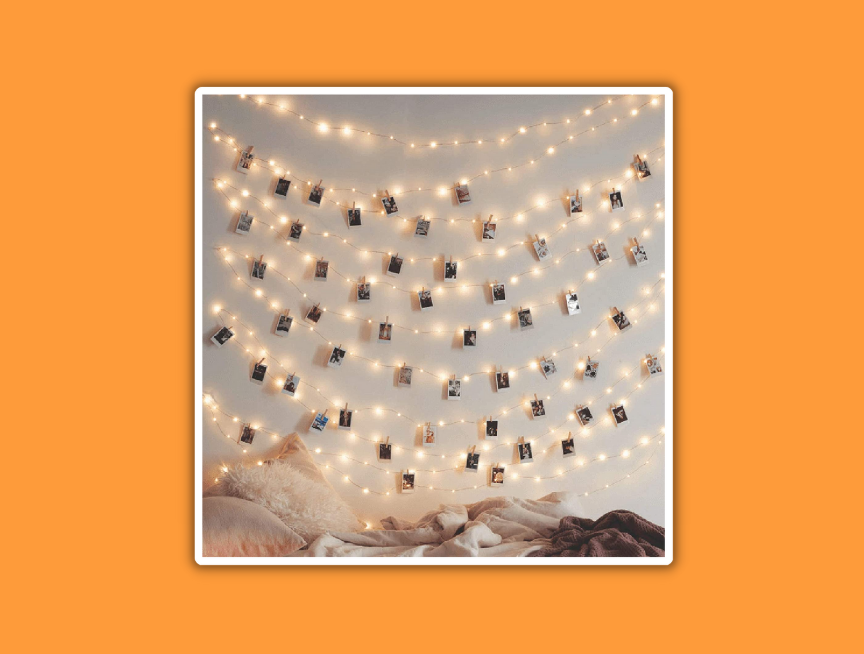 😍 Great gift for 13-year-old girls who love stars and sparkles.
These string lights come with eight modes, which you can control using the handy remote control or via USB. They are also fully waterproof and submersible. And because they are low voltage, they won't overheat even after many hours of usage.
---
Gifts They Can Wear
These happy face slippers are a great gift for when it is approaching winter or any time of year if your teen likes cute and cozy things! This is a fun gift for teens who pepper their texts with emojis. But I like that these slippers use the retro smiley face design to make a change from the mass of emoji-themed products.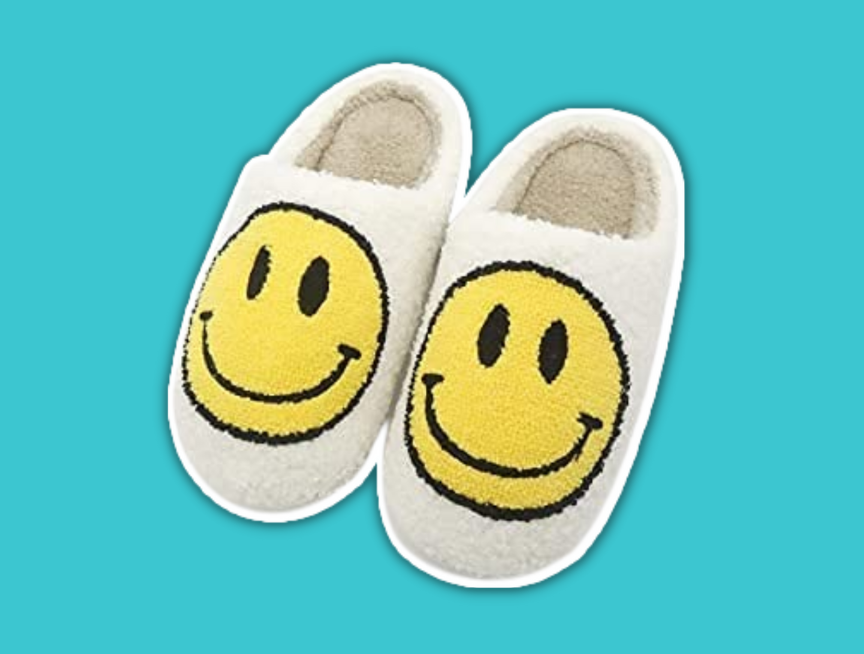 💡 If fluffy and cozy is not their style, you can't go wrong with a pair of Crocs.
These slippers are made from breathable material to prevent sweaty feet and are machine washable. The plush lining will keep your teen's feet cozy and warm, and the anti-slip sole will keep her safe. Multiple reviewers have noted how comfy and high-quality these are for the price!
It is a truth universally acknowledged that teenagers love sneakers! And if you want an iconic, eternally trendy sneaker, you can't go wrong with Nike Air Force Ones. Plus, you can choose between dozens of designs from classic white to flashy gold to suit your teen's unique style. They don't come cheap, but if you're willing to splurge for a pair of quality sneakers, these are a great choice.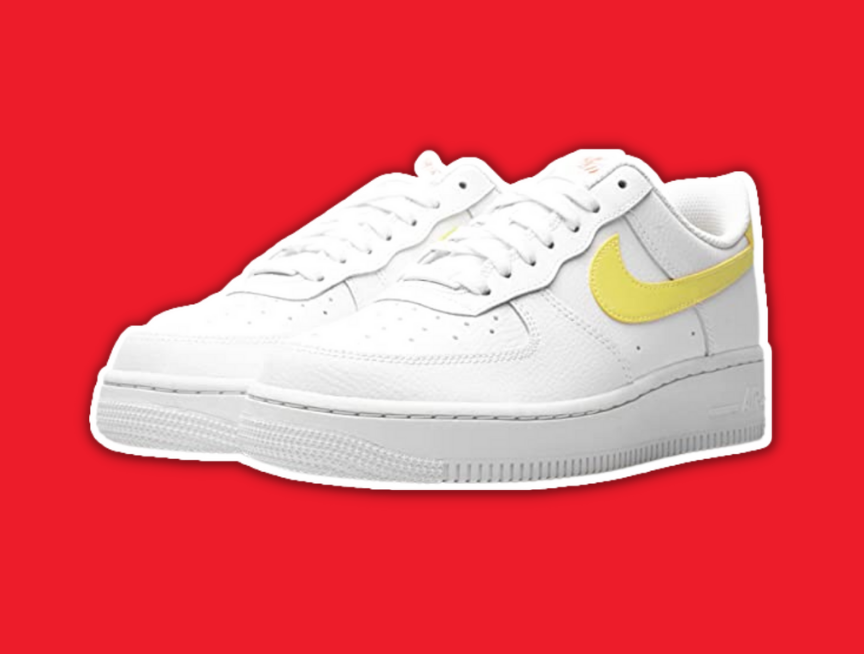 😍 Great gift for 13-year-old girls who love a sporty style.
Hundreds of reviewers attest to the extremely comfortable fit of these basketball shoes. Made from 100% leather and with a supportive sole, these shoes will last for many years and take her wherever she wants to go.
Every teen needs a good jacket, particularly if she lives in a cold climate. This puffer-down jacket with a fashionable cropped design and boxy silhouette will keep her warm and on-trend simultaneously! Choose from 12 different colors, from brights to neutrals to cute pastels. This is a great gift for fashion-conscious teens when winter is coming.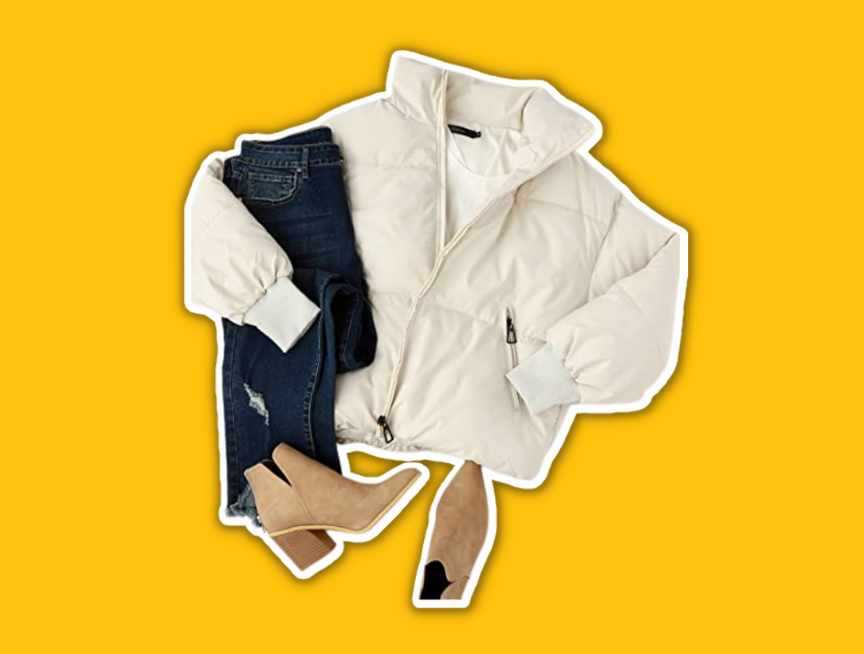 😍 Great gift for 13-year-old girls who love staying warm and on-trend.
This ZESICA puffer jacket features an adjustable drawstring hem design for a perfect fit, a stand collar and elasticized cuffs. Plus, the inside has a fluffy soft texture for added coziness!
---
Frequently Asked Questions About Gifts For 13-Year-Old Girls
🙋‍♂️ What do teenage girls like?
Teenage girls are at the age where they are coming into their own unique identities. So, they like all kinds of things depending on their interests, tastes and hobbies. Some teenage girls love gaming, others love sports, some are music-obsessed and others love to curl up with a book.
At the same time, teens these days are exposed to a much higher mass of information than generations before them and can feel the weight of the world on their shoulders. For that reason, it might be a good idea to choose gifts that help them destress or remember to laugh and have fun.
🙋‍♂️ Do 13-year-old girls still like toys?
13-year-old girls still like toys, but the key question is which kind of toys and what items you define as toys. If toys include gaming consoles and gadgets, many adults still like toys! 13-year-olds will probably not be playing with dolls and toy cars anymore, but they may love many more advanced toys. For example, advanced LEGO sets and fun outdoor games can go down a treat. Teenagers who love anime and superhero films may also appreciate figures of their favorite characters that aren't for playing with anymore but rather to display.
🙋‍♂️ How are Gen Z 13-year-old girls different from 13-year-old boys?
13-year-old girls differ from their male counterparts in a few ways, mostly relating to how they think about the future and the pressures they face. For example, teen girls are more likely to be worried about getting into a good college and face much more pressure to look good. However, overall, teen girls and boys are remarkably similar. Both face pressure to get good grades and want to have a job they enjoy when they grow up. Both teen girls and teen boys also spend a lot of time online, which affects their emotional health. However, today's generation of teens is much more inclusive than previous generations.
So… What Gift Should I Get For A 13-Year-Old Girl?
We tried to be as comprehensive as possible in this list and provide options for teens with all interests. The camping Hammock or Inflatable Kayak are great choices if your teen loves the outdoors. The Watercolors Field Sketch Set or a Polymer Clay Starter Kit could be perfect if she is more artistic. But there's something above to suit all passions. Good luck!
If you bought a gift for a 13-year-old girl that wasn't on this list, but you think it should be, let us know!