McDonald's launched the Happy Meal across the US in 1979, and it will forever feel very '80s. (Especially if you grew up in the 1980s.) Like so many '80s icons, the Happy Meal's combination of tasty concept and slick packaging make it a design classic.
And the pop culture tie-ins keep the Happy Meal forever fresh. Since the first one – the 1979 Star Trek Happy Meal – the themed toy-and-box set has been a newsworthy event.
The Muppet Babies, Garfield, and Fraggle Rock all got the 'little toy that never quite loses the scent of fries' treatment in the 1980s. But TheToyZone reckons McDonald's missed several essential '80s icons.
From our Disney Villain Polly Pockets to the Netflix Originals we recreated with LEGO, nobody makes a pop culture sandwich quite like TheToyZone. This time, we worked with CGI artist Jan Koudela to cook up imaginary Happy Meal toys and boxes in the style of our favorite and most iconic '80s screen heroes.
Top Gun
Sometimes serving your country and quietly believing yourself to be "the best of the best" is not enough. Sometimes you want a trophy that says TOP GUN on it, too. When you're casting that kind of arrogance, only one man will do: The Cruiser!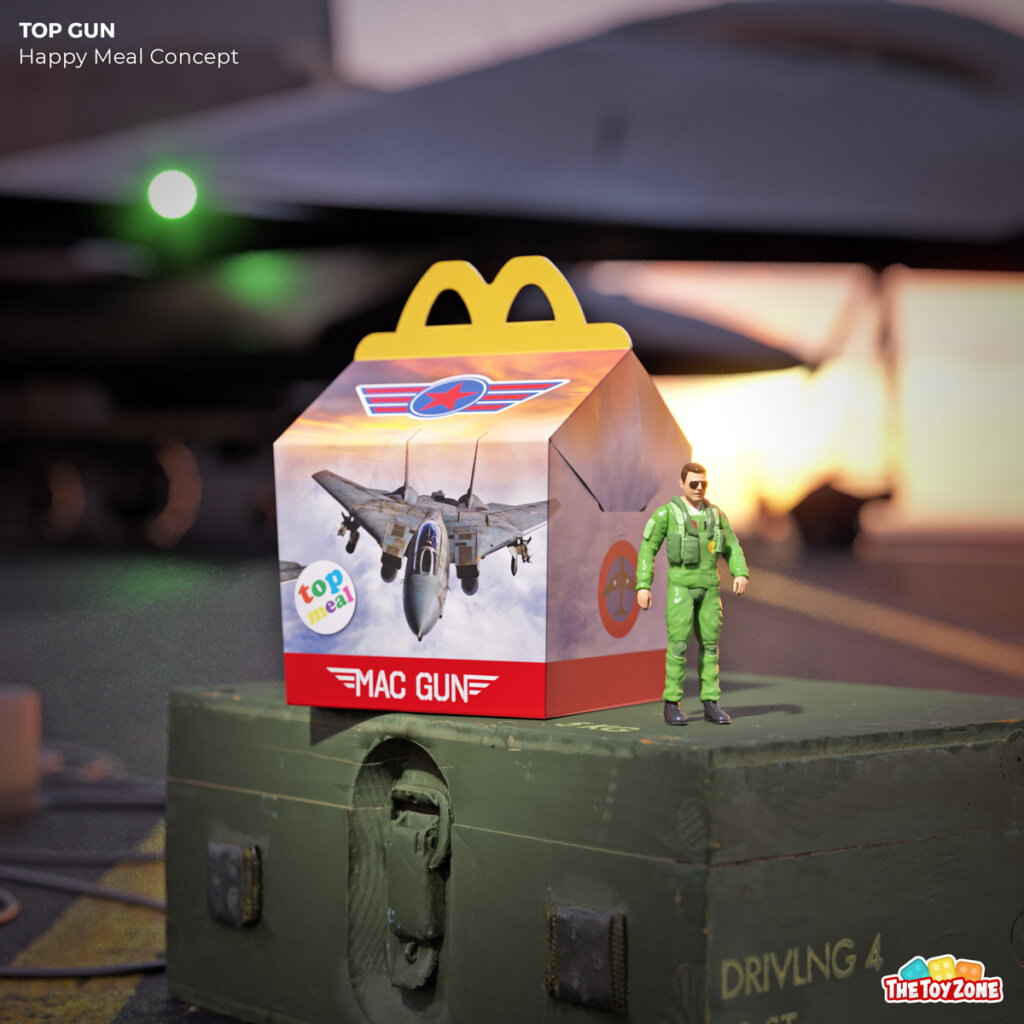 And just in case audiences don't get the point, Tom Cruise's fighter pilot is called Maverick. (In real life, he would've been called something like SMAT – Small Man Always Talking.) So here's Maverick, SMAT, The Cruiser, smaller than ever, standing unpredictably beside the limited-edition Mac Gun Happy Meal we just invented.
Ferris Bueller's Day Off
Matthew Broderick wasn't a bad boy. Okay, so he nearly triggered global thermonuclear war in WarGames. And he became the poster boy for playing truant as Ferris Bueller. But these against-type roles worked just because he looks kind of smart and reasonable: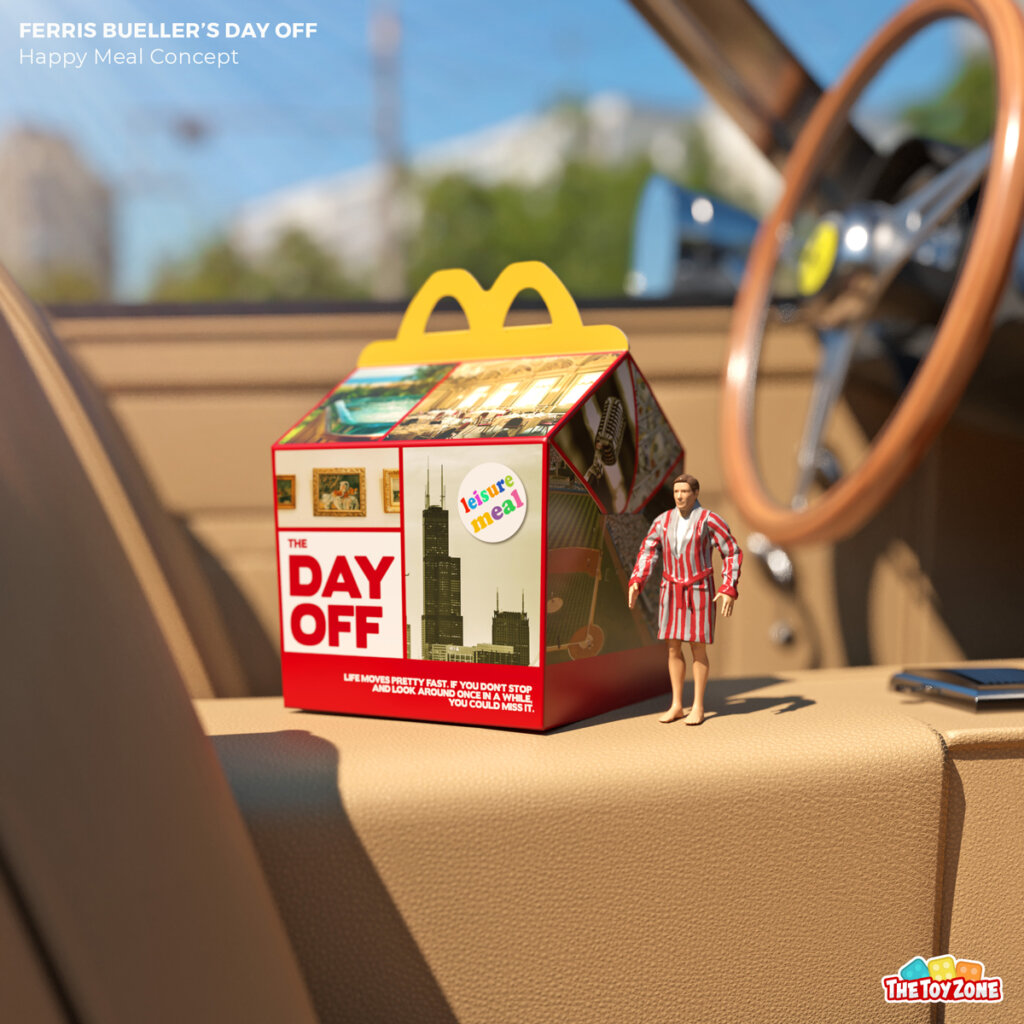 "Certain guys would have played Ferris, and you would have thought, 'Where's my wallet?'" director John Hughes once recalled. "I had to have that look. That charm had to come through. Jimmy Stewart could have played Ferris at fifteen…I needed Matthew."
The Shining
Do you remember the Batman Returns Happy Meal? Millions of traumatized '90s kids can't forget it. As it turned out, Batman Returns wasn't a kids film, nor very 'happy.' "I think I upset McDonald's," recalls director Tim Burton. "[They asked] 'What's that black stuff coming out of the Penguin's mouth. We can't sell Happy Meals with that!'"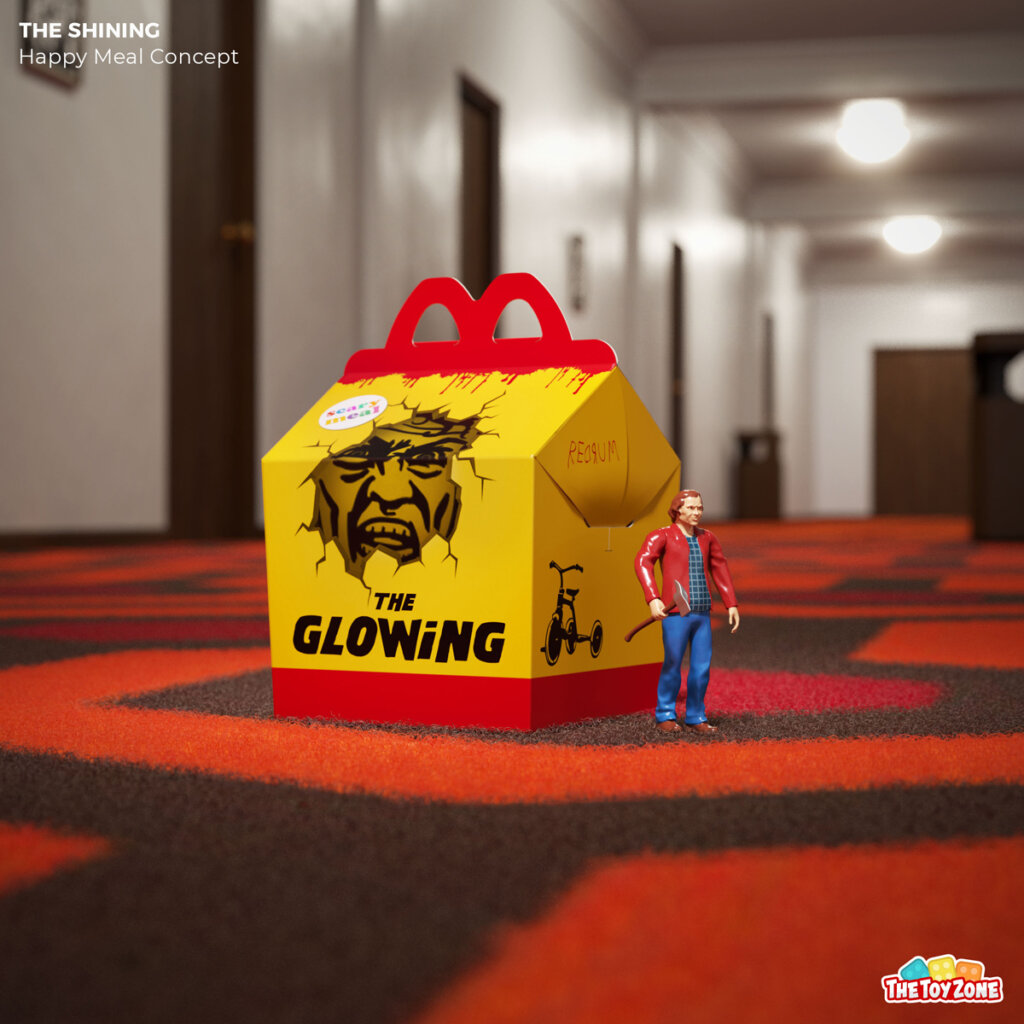 Sadly, a Stephen King Happy Meal would probably suffer the same fate. A shame, cos Dads in McDonald's across the States would have loved tearing a tiny, ax-wielding Jack Nicholson out of the Happy Meal box and yelling, "Here's… Ronny! McDonny!" at their confused offspring.
The A-Team
Our A-Team project posed a unique problem for our design team: which member of the "crack commando unit sent to prison by a military court for a crime they didn't commit" would be in the box? Leader 'Hannibal' Smith might have been our choice in the '80s. But, since his most iconic feature is his thinking cigar, we decided that wouldn't cut it in a kid's toy for the '20s.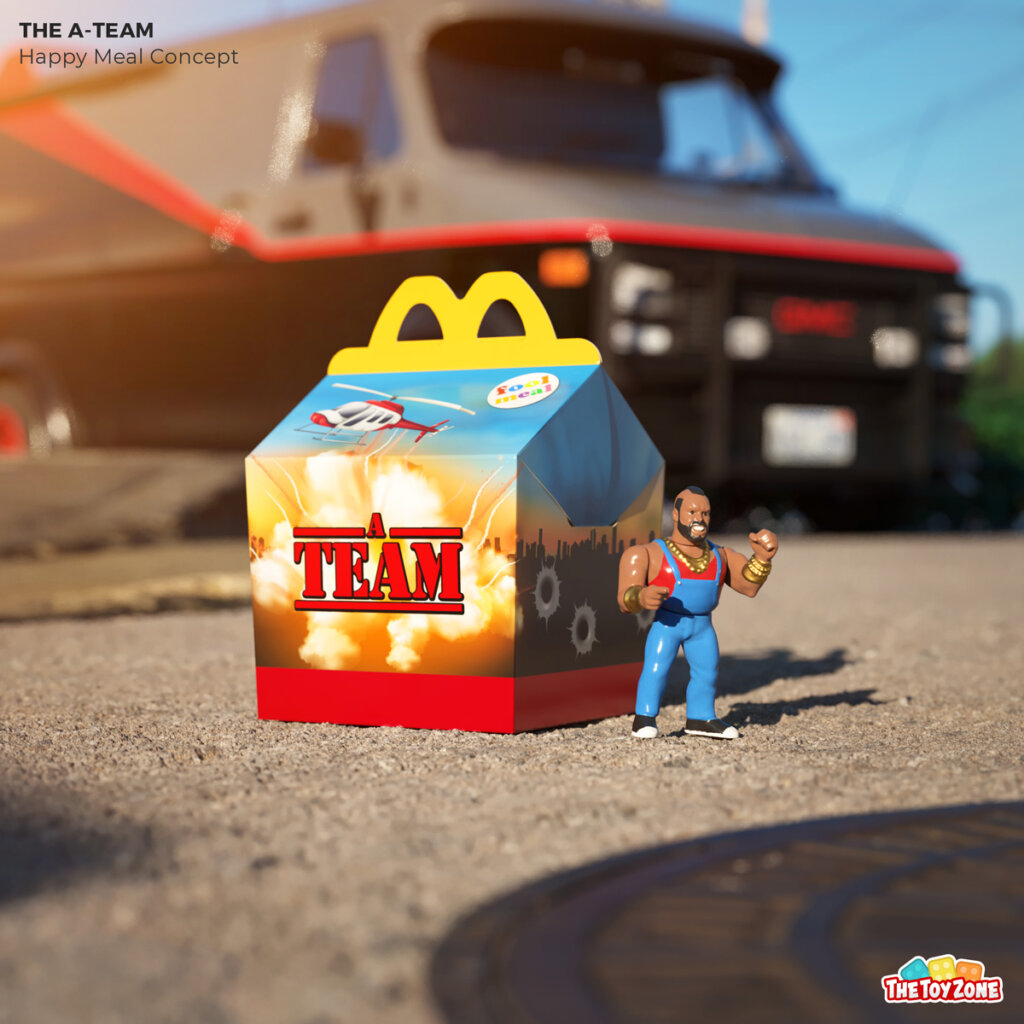 With B.A.'s gold chains, muscles, and mohawk, it had to be Sergeant Bosco Baracus, instead. After all, "Bad Attitude" famously prefers milk to less unwholesome drinks and was tricked onto a plane when Murdoch pulled the ol' switcheroo on his burger. Drink your milkshake, sucka!
The Breakfast Club
There's a whole other piece to be done about "X Molly Ringwald Princesses." But in the meantime, we've chosen her Breakfast Club character for our Happy Meal take on John Hughes' Brat Pack-defining high school movie. After all, she was affectionately labeled a 'princess' by Brian (the Brain), played by fellow Brat Packer Anthony Michael Hall.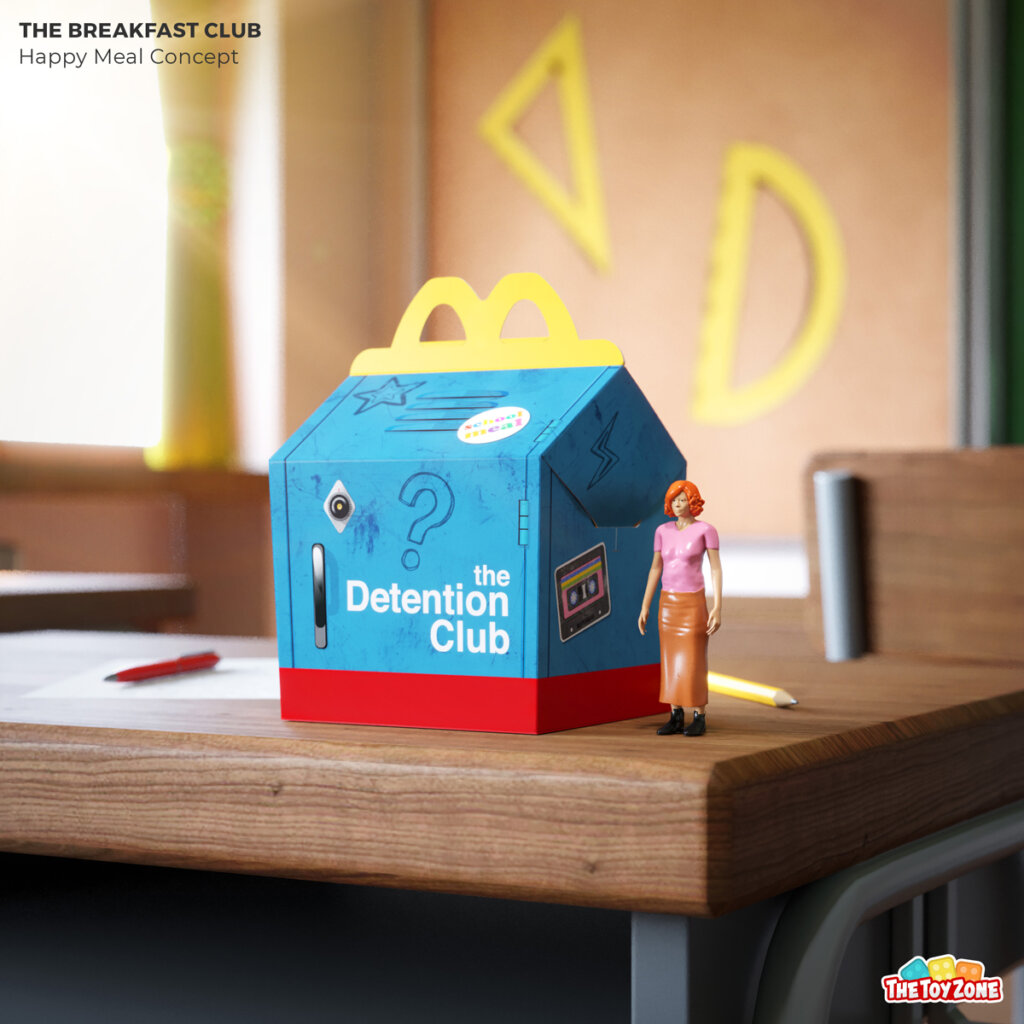 The Princess and the Brain are put in detention with three other high school archetypes (The Criminal, The Athlete, and The Goth 'Basket Case'). The Princess's only crime? Skipping school to go shopping. Guess she was too old to pick up the My Little Pony bookmark that was in Happy Meals at the time (1985), though.
Knight Rider
The 'tough guy with iconic vehicle' franchise was hot stuff in the 1980s. But while Street Hawk had awesome graphics and Airwolf had that theme tune, Knight Rider had a not-so-secret weapon: The 'Hoff.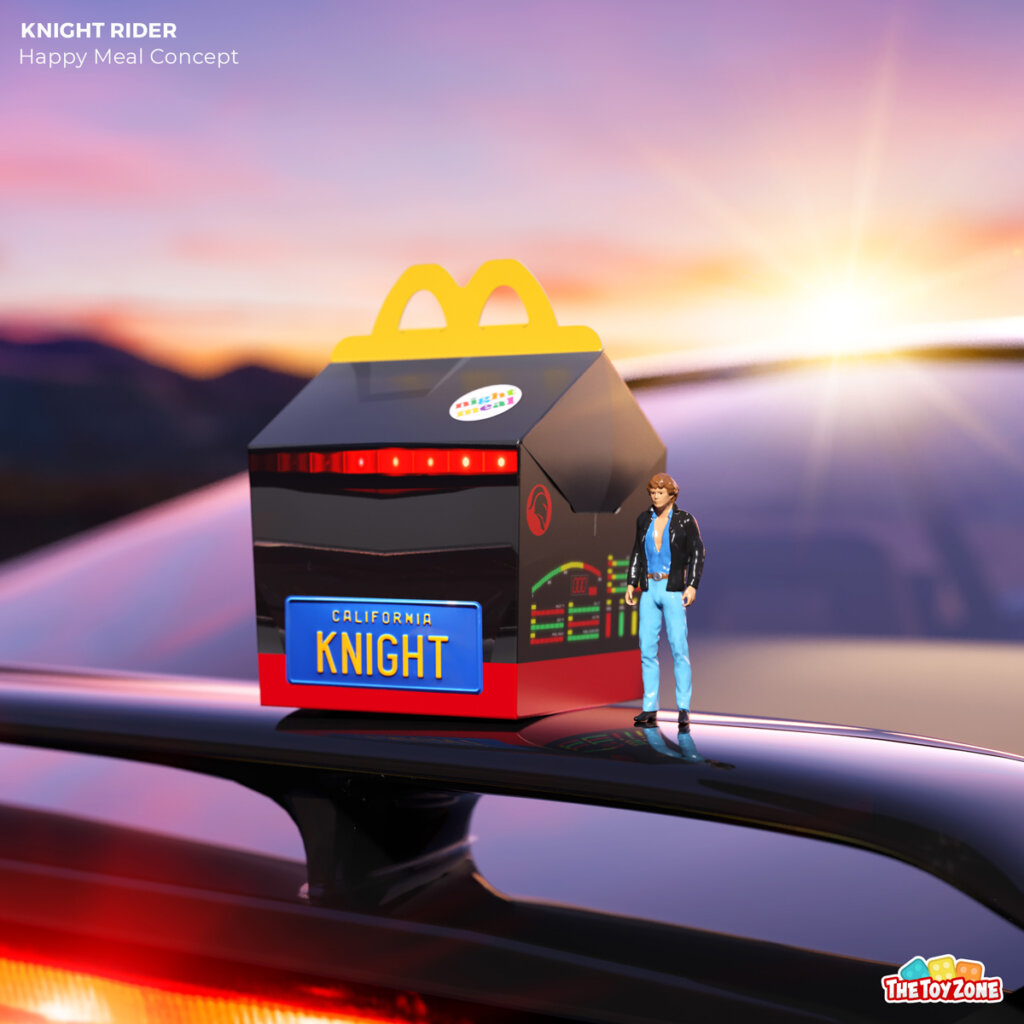 David Hasselhoff played Michael Knight, an undercover FLAG agent with a talking Pontiac Firebird called KITT. (Acronyms were also big in the 1980s.) This was the show that made Hasselhoff a household name. And his perpetual low-buttoned shirt gave a preview of Hasselhoff's next iconic role in lifeguard soap opera Baywatch.
My Neighbor Totoro
Disney and McDonald's have been partnering up for as long as children have been eating processed food, but we really wanted to see them get onboard with Studio Ghibli. Disney and Studio Ghibli have a history of quibbling, but whatever side of the fence you fall, this collab is fire. Now, if there's one thing the world's not short of, it's Totoro merchandise. But McDonald's is short of intercultural toys. Sure, McDonald's Japan has its own range of locally-inspired 'Happy Set' toys such as Cinnamoroll and Sumikko Gurashi. (You can even swap your toy for a book if your kids are more literarily inclined.) But what does an American have to do to get a slice of kawaii with their burger?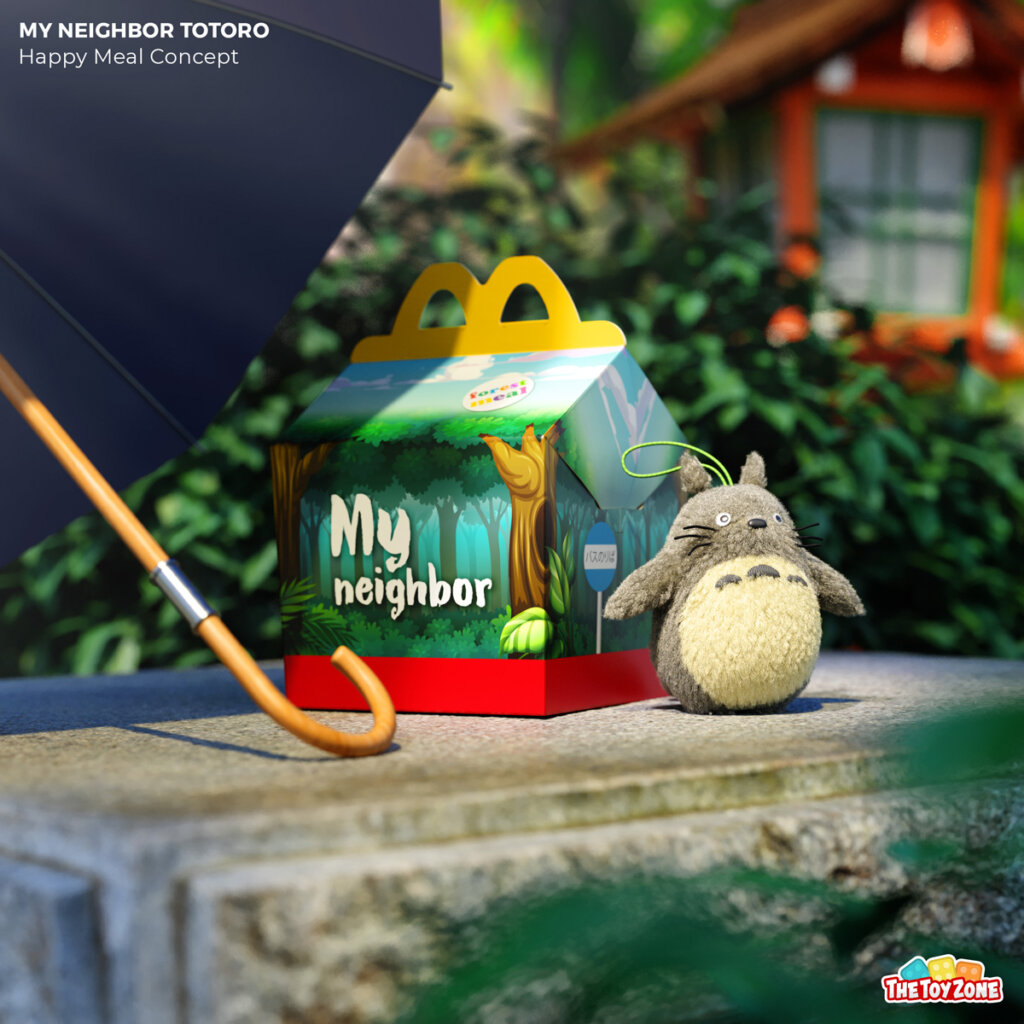 For the uninitiated, Totoro is a mysterious forest spirit that can only be seen by children. He was the star of a 1988 Studio Ghibli anime. His main feature is being adorable. In lieu of a real Totoro Happy Meal, may we suggest you use this movie as your six-year-old's introduction to the pleasures of Japanese cinema? (Just put aside some cash for all that Totoro swag they'll want afterward).
Blade Runner
McDonald's wasn't the first fast food joint to issue a movie tie-in kid's meal. Burger Chef released a Star Wars Funmeal in 1978 when there was still only one Star Wars movie! But imagine if McDonald's continued the science-fiction streak that began with the 1979 Star Trek Happy Meal tie-in by putting a grizzled Harrison Ford/Rick Deckard in lunchboxes…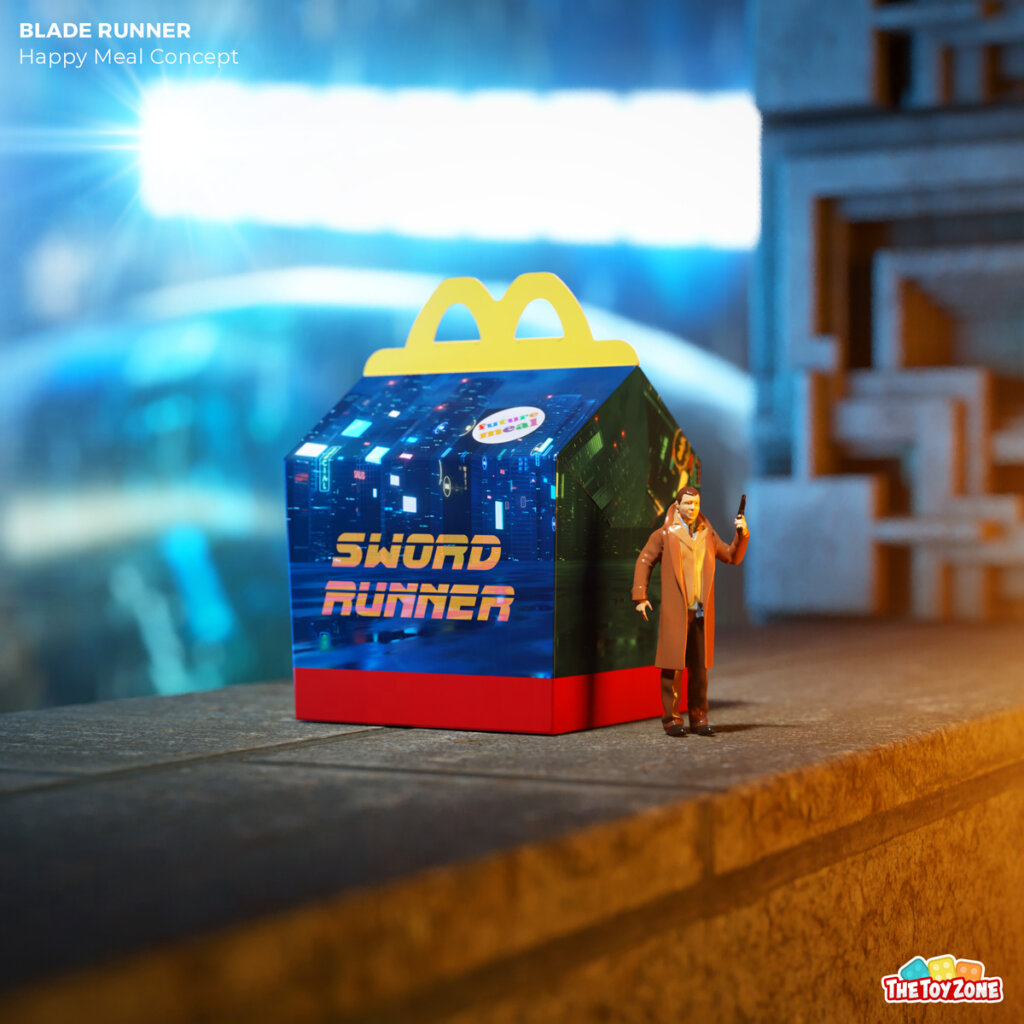 The original Blade Runner came out three years after Star Trek. The Philip K. Dick adaptation achieved only moderate box office success at the time, and it took years to develop first a cult and then a mainstream following. For this reason, TheToyZone reckons the Blade Runner Happy Meal toy would be super-valuable and hard to find these days – a bit like those pesky replicants.
Labyrinth
You can tell a lot about a person by asking them to name one iconic movie from the '80s. If they say Labyrinth, they're probably a bit of a dreamer, a bit of a dancer, and a lot of a David Bowie fan.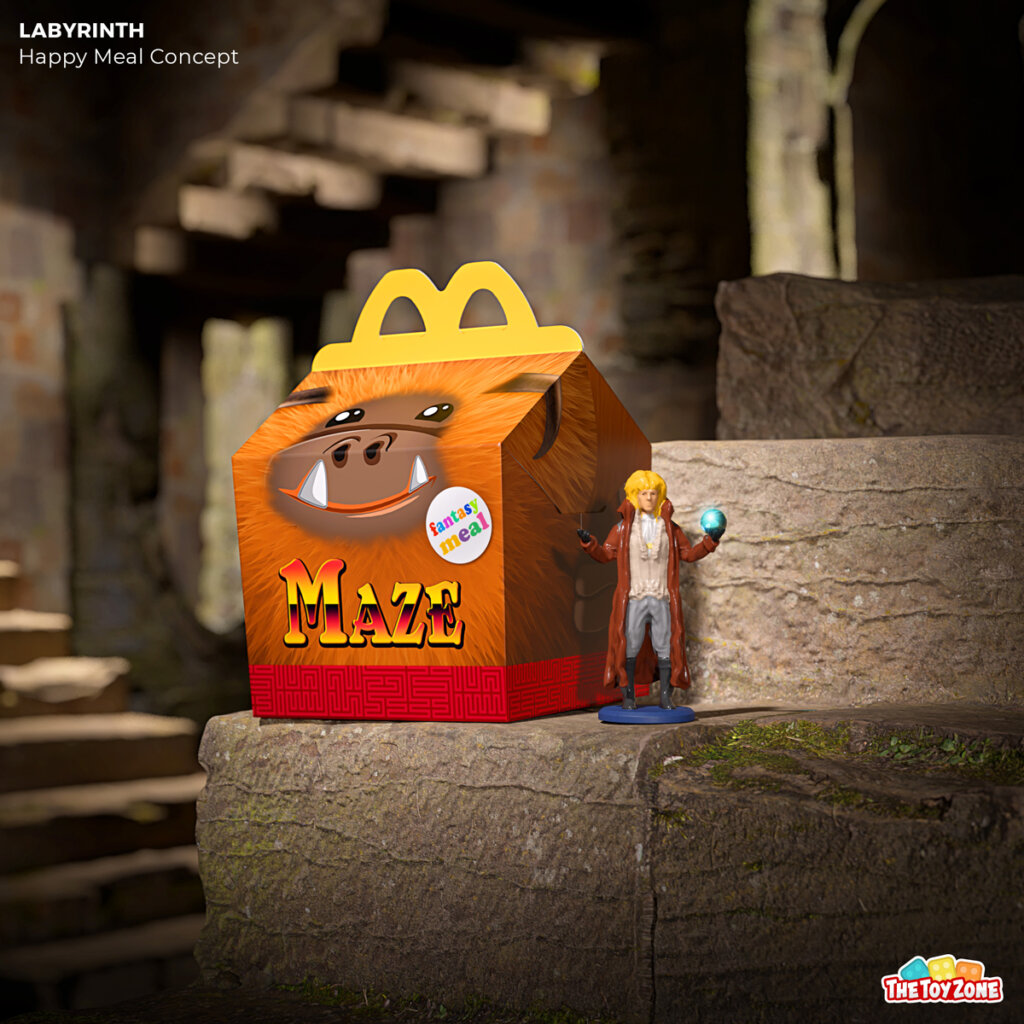 Bowie wasn't the world's greatest actor, but he wore a wig and bizarro-costume like nobody else. That's why Labyrinth is his most memorable screen role. And that's why he gets the Happy Meal treatment despite the appeal of making a Hoggle, Ludo, or Sir Didymus to wrap your salty fingers around.
An Appetite for Fun
There remains a big appetite for these '80s icons who defined genres we didn't yet know existed. And with the new Pokémon Happy Meal making the headlines, there's still a big appetite for collectible miniatures soaked in burger grease. Why not peruse our menu of imaginary Happy Meals toys below and figure out which vintage show you'd like to binge with your next McDonald's?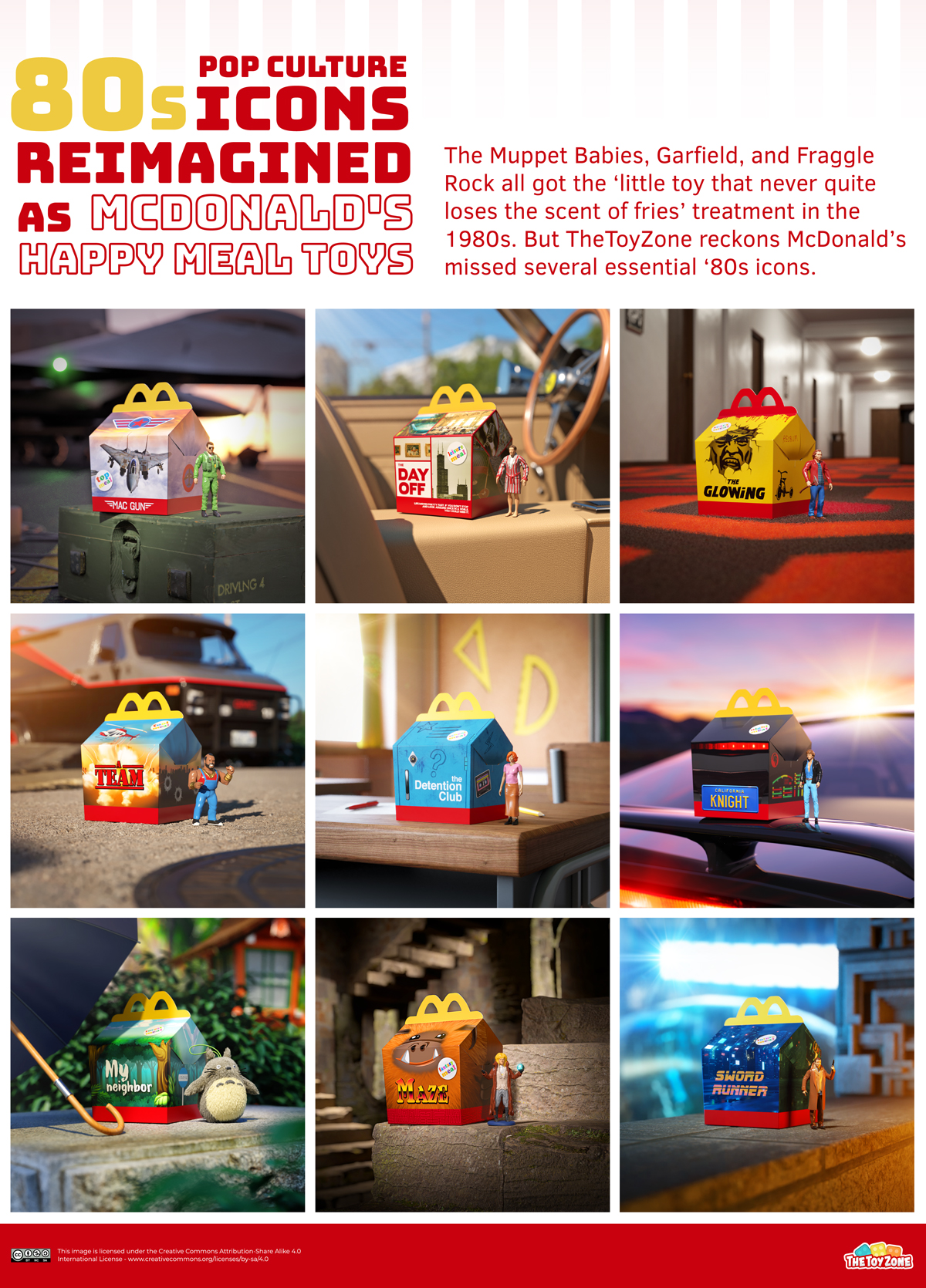 SOURCES
IMDb. (2021). Blade Runner (1982). imdb.com
IMDb. (2021). Ferris Bueller's Day Off (1986). imdb.com
IMDb. (2021). Knight Rider. imdb.com
IMDb. (2021). Labyrinth (1986). imdb.com
IMDb. (2021). My Neighbour Totoro (1988). imdb.com
IMDb. (2021). The A-Team. imdb.com
IMDb. (2021). The Breakfast Club (1985). imdb.com
IMDb. (2021). The Shining (1980). imdb.com
IMDb. (2021). Top Gun (1986). imdb.com
Fair Use Statement
Did you fall in love with our imaginary Happy Meal toys and boxes and want to republish them? We would be ecstatic if you do! We only ask that you please credit TheToyZone by linking back to this page. That would guarantee our team gets recognized for all the hard work they put into this project, whilst giving your readers a chance to see all the other cool toys we created based on pop culture icons.