Villains have more fun. So do the big kids who create them.
When Disney's designers dream up their baddie's lairs, they don't worry about being 'pleasant.' They enjoy making their hideouts dark, stylish, tricky, and mysterious. For our latest set of Polly Pockets, TheToyZone wanted in on the fun.
Perhaps you saw the fictional TV and movie homes we transformed into Polly Pockets a while back? We're obsessed with hacking Mattel's matchbox dollhouses to make tiny homes for our favorite fictional characters. So we've worked with CGI artist Jan Koudela to make some more. And this time we dared to go where we dared not go before: into the lairs of six terrifying Disney villains.
After all, tiny is mighty. Mighty naughty. Scroll on for the villainous Polly Pocket worlds we imagineered for Captain Hook, Sleepy Pete, Maleficent, and more – don't forget to click the images for a close-up look.
1. Maleficent from Sleeping Beauty
Maleficent: evil fairy godmother, "Mistress of All Evil," dragon, horned witch with a hint of vampire bat. And seductive, too – in a style Sleeping Beauty's original 1950s audience recognized from the femme fatales of films noir.But the only Prince suited to Maleficent is the pop star who had a purple party mansion of his own (Disney villains love purple).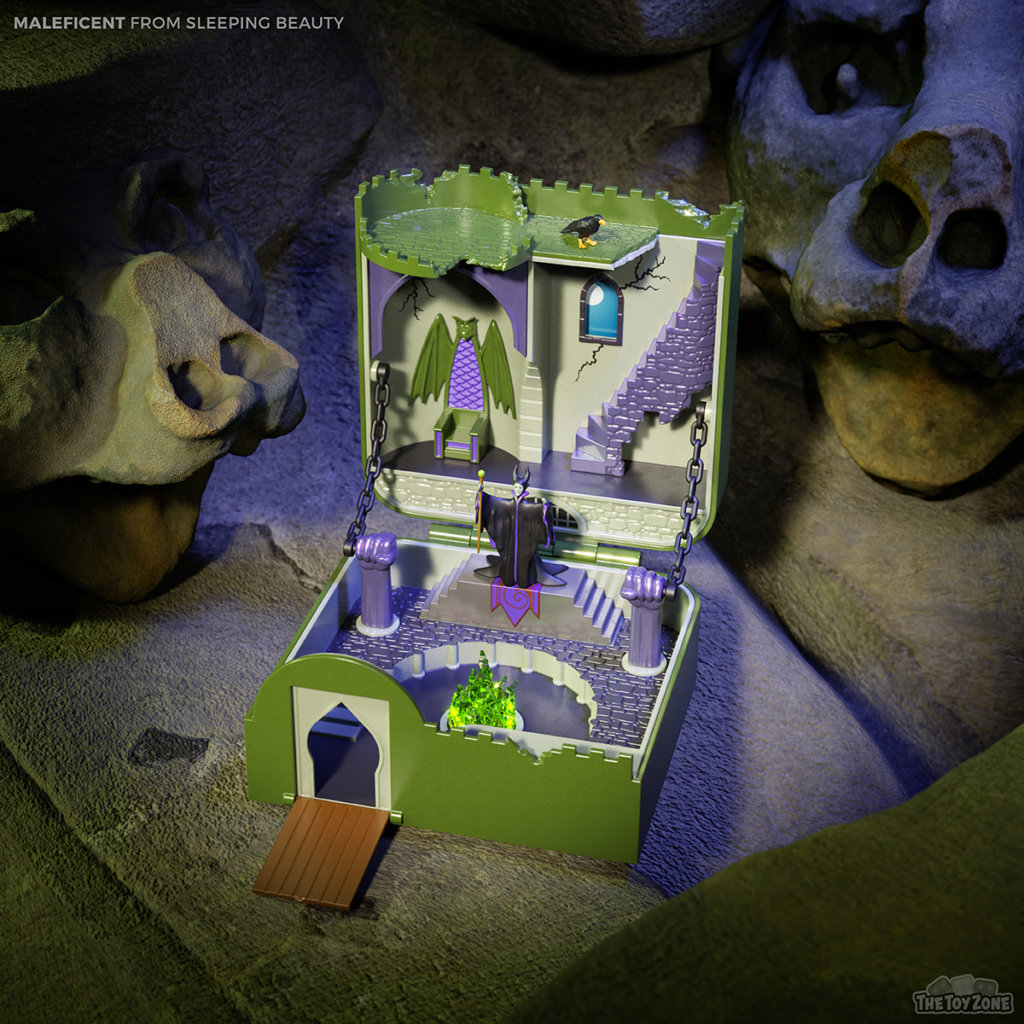 Enter Maleficent's Polly Pocket home through the drawbridge gate to reach a roaring green fire. You'll recognize those fists from the castle in Sleeping Beauty. They may look tiny here, but to a Polly Pocket-size Sleeping Beauty, they'd resemble Oslo's infamous Fist and Rose.
2. Stinky Pete from Toy Story 2
This Polly Pocket would be worth a fortune still "mint in the box," but unfortunately, Stinky Pete appears to have gone out prospectin'. We reckon he uses that box for a bed when he gets home. And that VHS tape really shows his vintage!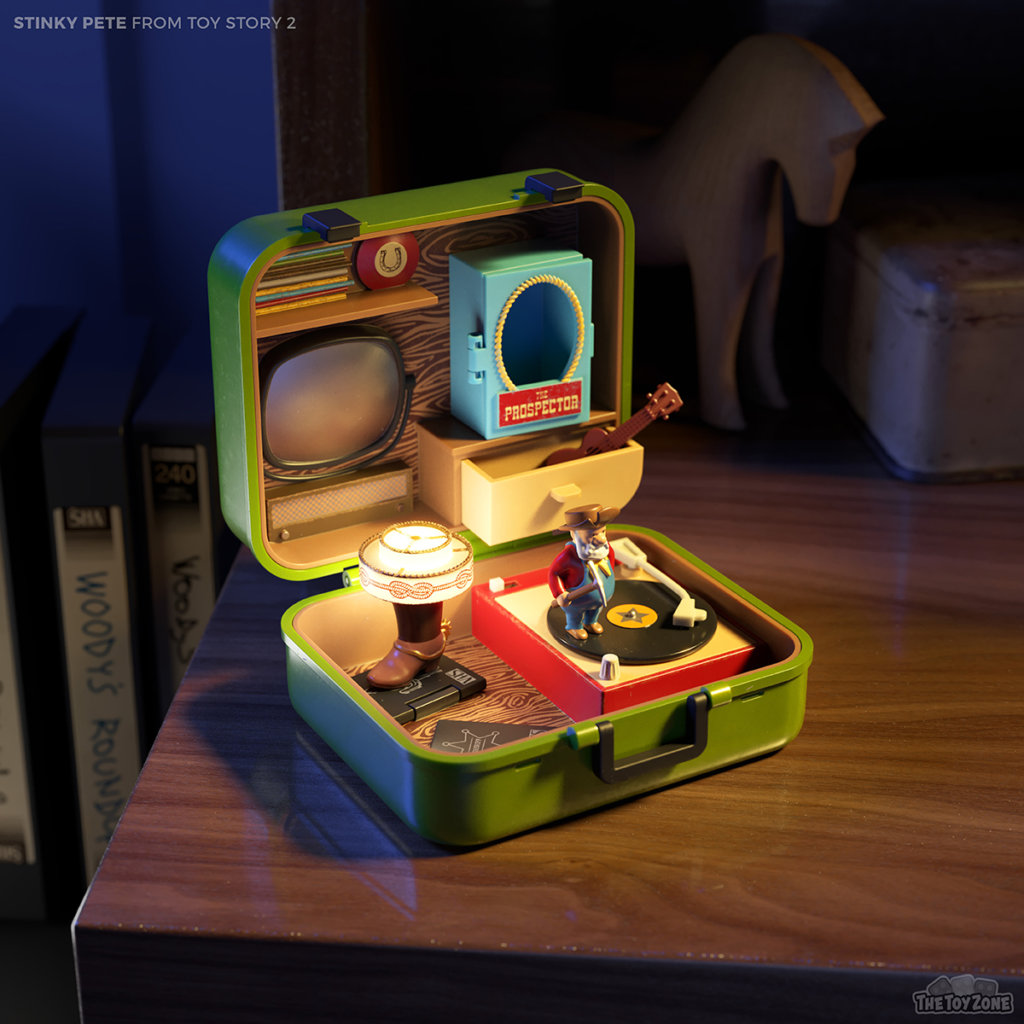 Stinky Pete's other shrink-wrapped fixtures and fittings are inspired by the already pint-sized world of Toy Story 2. And maybe you spotted that green suitcase at the airport. Just don't open it too quickly – you might be in for a surprise!
3. Cruella De Vil from 101 Dalmatians
Well, if you call your family home Hell Hall, people are going to talk. Also known as De Vil Manor, Cruella's home was as derelict as her soul and as angular as her cheekbones. But those puppies aren't going to rescue themselves, so somebody has to go in there!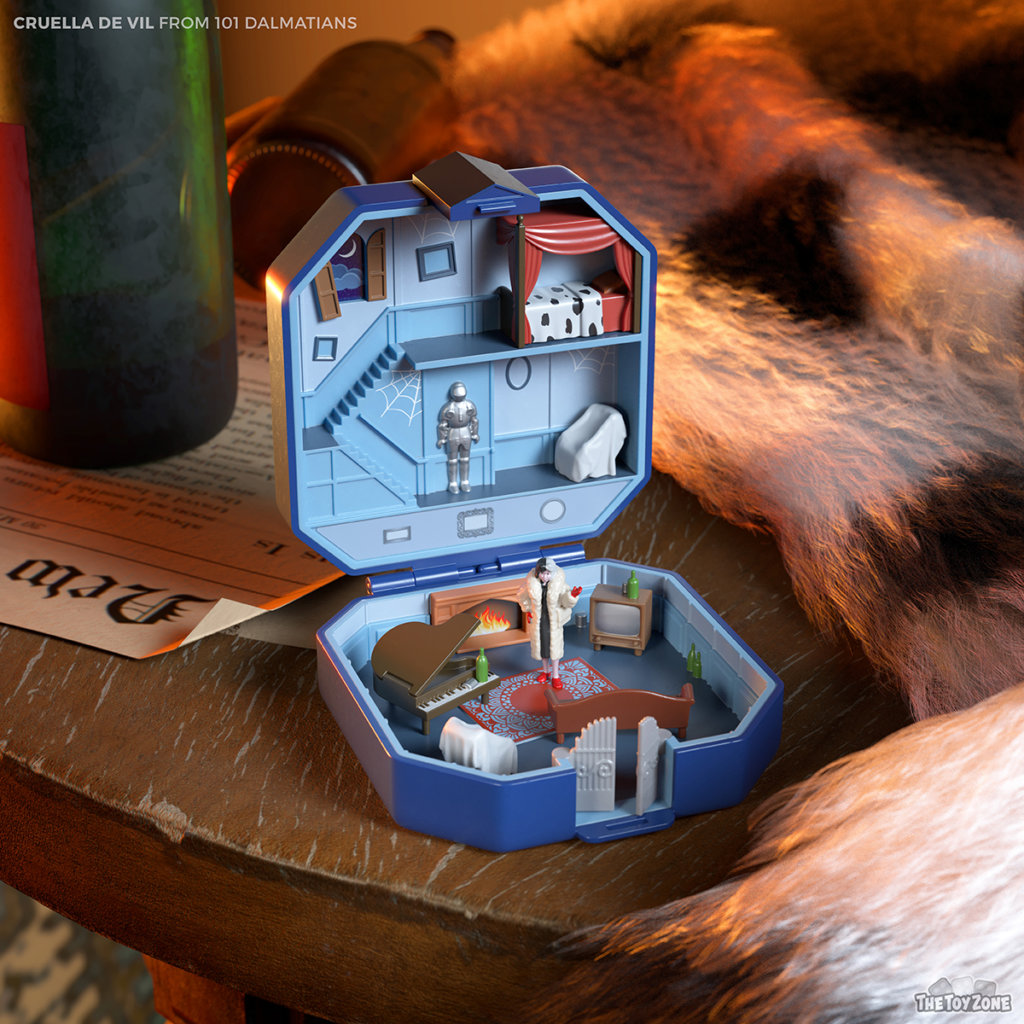 Observe a piano never played, a suit of armor that could well still be occupied, and the fireplace that gives off that tell-tale smoke. The furniture may be covered for storage, but there's villainy afoot. Or a-paw. Oh, wretched world!
4. Ursula from Little Mermaid
The first Polly Pocket prototype was built in a powder compact in 1983, and the toy's original manufacturers soon realized a home in an oyster shell would be just as cool. Rarely has the Polly Pocket seashell been as right as it is for the sea witch Ursula.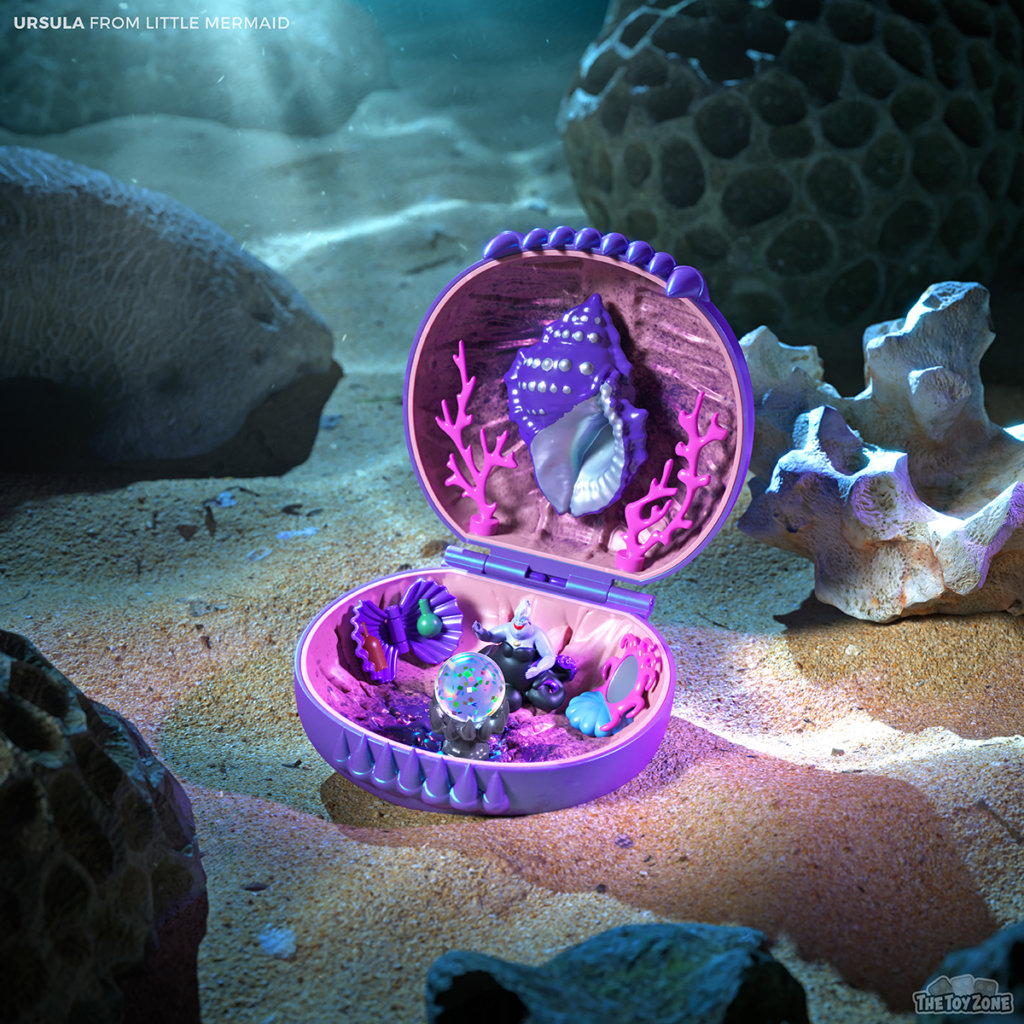 Sure, the 'real' Ursula lives in a Leviathan carcass, but there's no room for a Leviathan in our game. However, there is room for the enchanted nautilus shell, vanity mirror, and crystal ball. There's even room for Ursula, just about. But if you see her start to grow, better shut that shell up quick!
5. The Evil Queen from Snow White and the Seven Dwarfs
The Evil Queen, aka Queen Grimhilde, may be the only villain in our project with an interior design detail that's more famous than the villain themselves. The Magic Mirror on Grimhilde's wall may not be diplomatic (seriously, if someone asks you who's the fairest of all, they're obvs fishing for compliments), but it sure looks pretty glimmering in the Polly Pocket universe.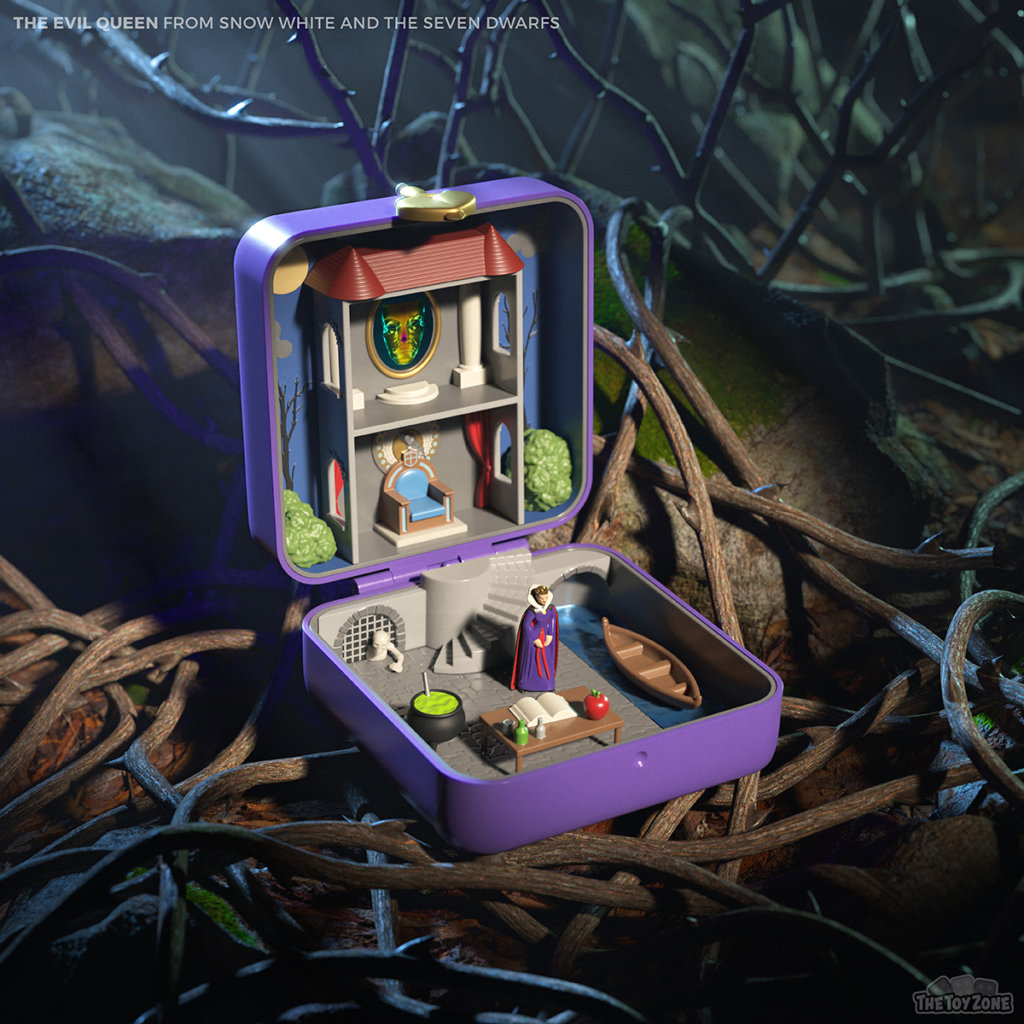 Snow White was Disney's first animated feature and is based on an 1812 story from The Brothers Grimm. So it's only right the Evil Queen's residence should have some vintage features – that skeleton reaching up from the dungeon can't be new! Still, the apple looks fresh if anyone wants a bite.
6. Captain Hook from Peter Pan
All aboard the Jolly Roger for our tiny tribute to Captain Hook, scourge of Neverland. There's no crocodile in sight, but you're advised to listen carefully for tick-tick-ticking while you play with your Peter Pan/Polly Pocket set. This one snaps shut!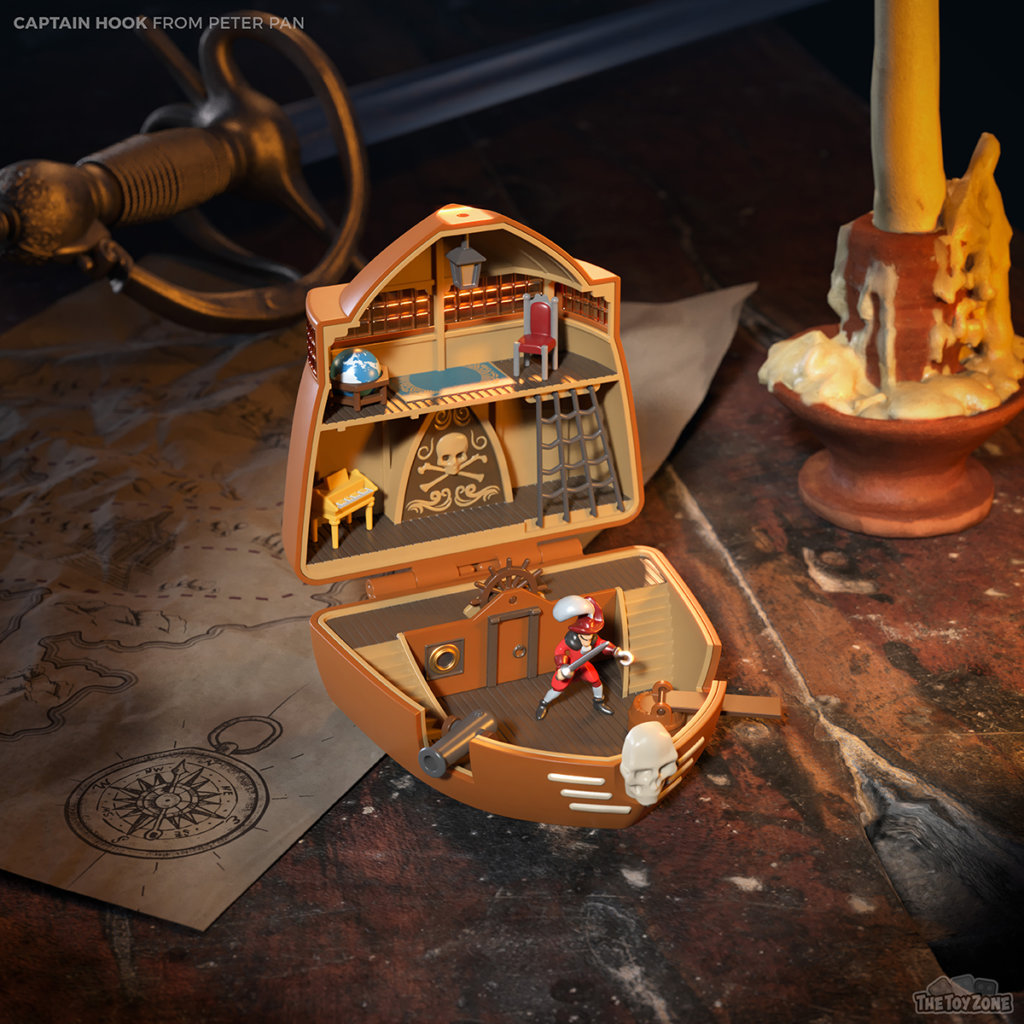 Captain James Hook is the quintessential cartoon pirate, and we managed to cram all you'd hope to find into his Polly Pocket home: cannon, plank, rope ladder, and even the skeleton figurehead. Now all we need is some pixie dust to make this Jolly Roger fly…
Tiny Baddies
Everybody knows Disney villains get the best outfits, the best gadgets, and the best lairs. Who says crime doesn't pay? Now they get the best toys, too – even if these Polly Pockets exist only in our imagination.
Wondering how we made these Polly Pockets?
We worked with CGI artist Jan Koudela for our first Polly Pocket project and were thrilled he returned to make our villain worlds. Our art director Povilas collaborated with Jan on a moodboard of memorable images from each villain's appearance in the movies we chose. Jan next sketched the toys and then 3D-modelled the final Polly Pockets using Cinema4D. Jan and Povilas were very careful to capture the essence of real Polly Pocket toys rather than forcing the Disney aesthetic into each box. We think they did a cracking job!
Fair Use Statement
Do you want to republish our Disney Villain Polly Pocket concepts? That would be awesome! When sharing these on your site, please make sure to source them back to TheToyZone by linking to this page so our team gets properly credited for their work. That way your readers can learn about what we do here at TheToyZone and explore other projects we worked on.