Nothing quite beats soaring through the air on a zipline. With the wind in your hair and the hit of adrenaline rushing through your body, it's no wonder kids can spend hours whizzing and zipping through the backyard.
Whether the kids will be playing as Tarzan and taking flight through the trees, creating awesome obstacle courses, or simply getting their kicks racing through the air, zipline kits offer an amazing sense of outdoor adventure. They encourage children to challenge themselves, get active outdoors, and become more engaged with nature.
While ziplines are usually found in only the best parks or play centers, you can now recreate this hair-raising playtime for your family at home, with a range of safe, versatile, and budget-friendly options on the market.
Finding the perfect zipline to suit your space and children can be a headache to get right. With safety being a paramount concern for most of us when looking into outdoor activities, we've searched through the options, looking into the quality of each set and the safety features it has, to bring you the 6 best zipline sets that are bound to put a big smile on your kid's face. Be sure to also look at what we think are the best playsets for older kids.
The Top 3 Backyard Zipline Kits
As no two gardens or families are the same, we've included a range of products to suit different needs. By narrowing our favorite ziplines down to 6 awesome options, you can rest assured each of our recommended ziplines will provide family fun for years to come.
This budget-friendly zipline offers real bang for your buck as a simple-to-use and versatile set for under $100. Specially designed for kids as young as 3, it will provide an excellent introduction to ziplining and a great opportunity to try new challenges and embark on outdoor adventures.
💡 Tip: Although the 50 ft zipline is on the smaller side compared to our other recommendations, it is an excellent option for those with a smaller space or those looking for their first home zipline.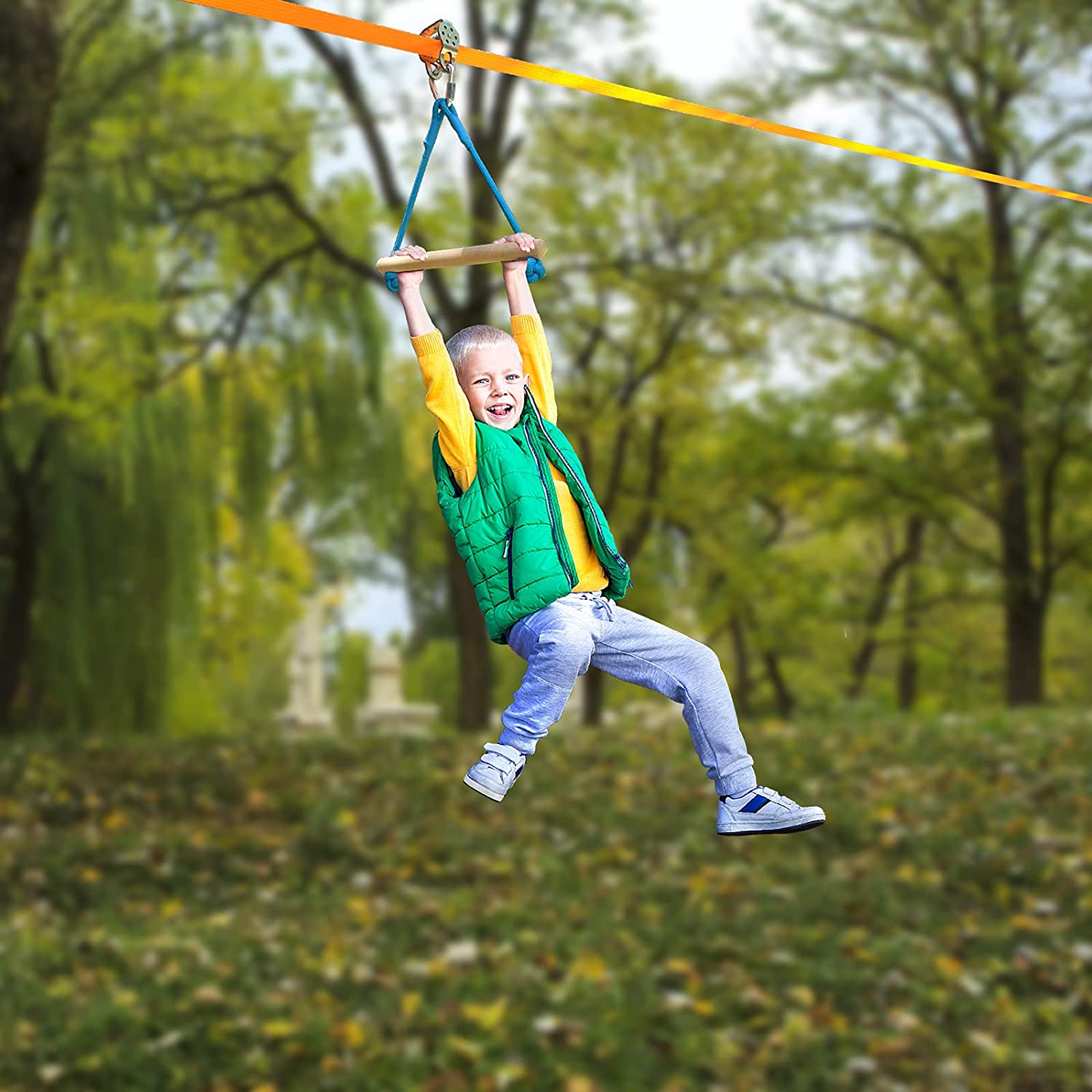 Recommended age: 3 years and above
The set comes with a 50ft slackline and easy-to-use ratchet, which make for a super simple setup. You can install your zipline wherever and whenever the mood takes you, along with a monkey bar handle, a pair of tree protectors and a travel bag. Its hard-wearing, stainless-steel pulley can hold up to a whopping 6000lb while being rust-resistant and able to withstand exposure to the elements, so you can be confident in this set's durability.
What We Love:
❤️ Suitable for younger kids too
❤️ Set comes in a handy travel bag for zipline adventures away from home
❤️ Tree protectors included
What We Don't Love:
💔 Fabric zipline is less hardwearing than stainless steel alternatives
SPECS & FEATURES
| | |
| --- | --- |
| Maximum load (in lbs / in kg): | 250 lbs / 113 kg |
| Zipline length (in ft / in m): | 50 ft / 15.25 m |
| Item weight (in lbs / in kg): | 7.6 lbs / 3.5 kg |
This kit is perhaps the most comprehensive and durable option on the market. Its high-quality stainless-steel cables, robust seat, and super fun monkey tree climbing holds make it a great all-round package.
💡 Tip: The Hyponix set is an excellent option for the whole family, where little and big kids can play together. Thanks to the generous 350lb maximum load this set can handle, even parents and grandparents no longer have to look on with envy and can join in on the fun.
Recommended age: 5 years and above
From the monkey tree climber holds to the advanced safety features, this set oozes quality and is certain to offer endless fun as you safely and securely race down the 115 ft zipline. What's more, there's a 160 ft zipline option for those looking for more of a white-knuckle ride.
What We Love:
❤️ 10-year warranty on parts
❤️ Generous maximum load makes the kit suitable for adults and children alike
❤️ Safety features such as a backup turnbuckle, spring brake, and seat belt included
What We Don't Love:
💔 Instructions gloss over important steps
SPECS & FEATURES
| | |
| --- | --- |
| Maximum load (in lbs / in kg): | 350 lbs / 158 kg |
| Zipline length (in ft / in m): | 115 ft / 35 m |
| Item weight (in lbs / in kg): | 23 lbs / 10 kg |
With 90ft of zipline to zoom down, this kit will keep your kids entertained for hours. The Slackers zipline is ideal for building confidence and encouraging outdoor play in a safe and secure environment.
Designed and made by Colorado-based company, Slackers, this zipline is made with a 'Safety First' approach, meeting the highest US standards for durability and safety features.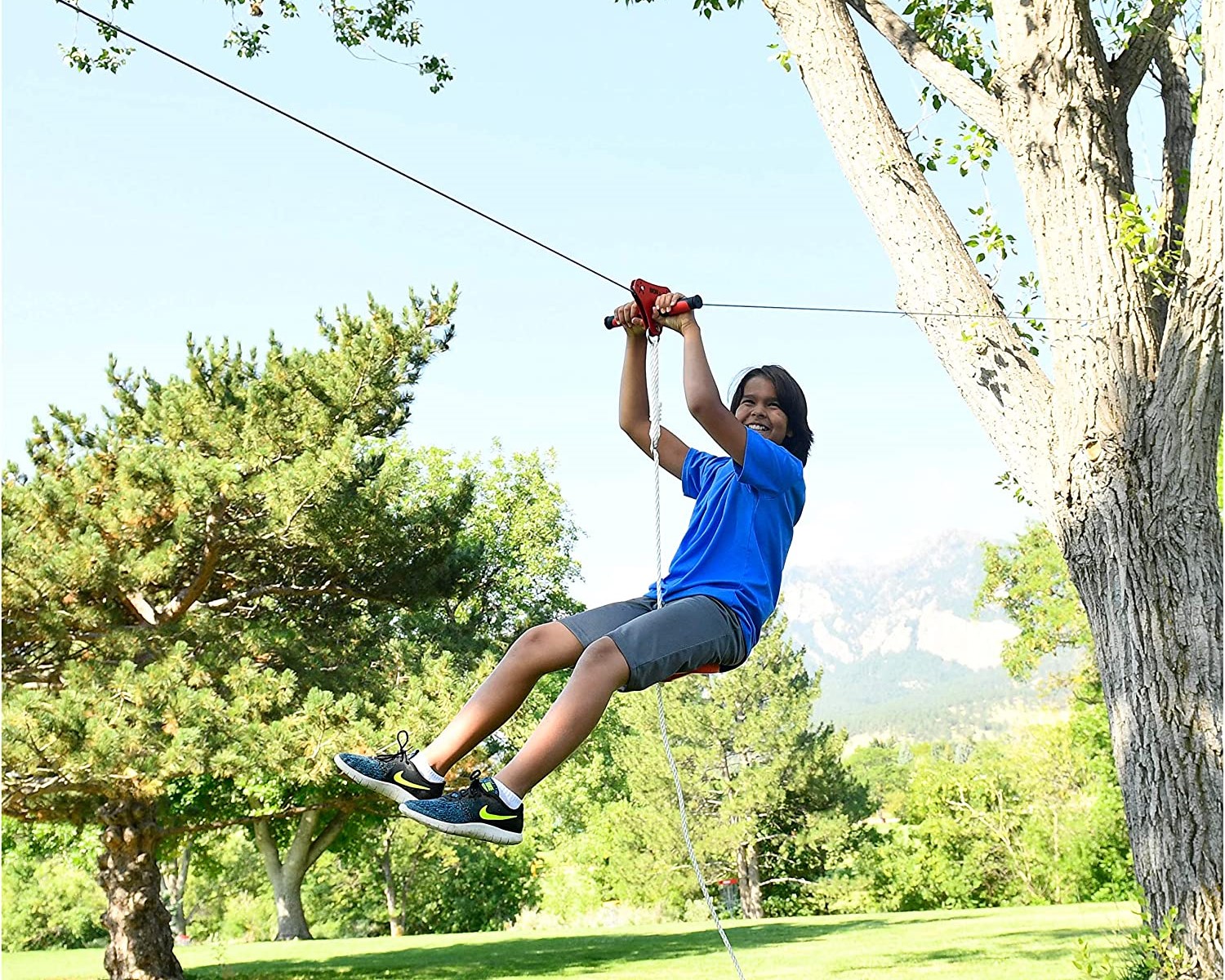 Recommended age: 7 years and above
Its signature Zipspring brake system ensures the user meets a cushioned stop well before colliding with the adjoining tree or other structure. The set also comes with a hard-wearing seat and handlebar providing extra security to the rider, and peace of mind to onlooking parents.
What We Love:
❤️ Built with safety in mind
❤️ Quality components provide dependable performance
What We Don't Love:
💔 Instructions are unclear
💔 Tightening the zipline cable is difficult
SPECS & FEATURES
| | |
| --- | --- |
| Maximum load (in lbs / in kg): | 250 lbs / 113 kg |
| Zipline length (in ft / in m): | 90 ft / 27.5 m |
| Item weight (in lbs / in kg): | 17 lbs / 7.5 kg |
Whether your kids are fully-fledged adrenaline junkies or perhaps looking for a new outdoor challenge, the CTSC zipline is certain to provide a real sense of adventure and make lasting memories of outdoor play.
💡 Tip: Coming with a 10-year guarantee and countless glowing reviews, CTSC seems to have developed a stellar kit that you can rely on. On top of that, they also offer a customization service to create the exact-sized zipline to fit your backyard.
Recommended age: 8 years and above
With a sturdy steel handle wrapped with non-slip rubber grips and an adjustable seat, you know your child will be supported as long as they hold on tight! Boasting a 5.9 ft spring brake too, there's plenty of clearance between the end of the line and the supporting tree, ensuring no nasty collisions. 
What We Love:
❤️ 10-year guarantee
❤️ Customized ziplines to get the perfect length for your space
What We Don't Love:
💔 Some customers found the attachment slings damaged the tree over time
SPECS & FEATURES
| | |
| --- | --- |
| Maximum load (in lbs / in kg): | 250 lbs / 113 kg |
| Zipline length (in ft / in m): | 95 ft / 29 m |
| Item weight (in lbs / in kg): | 15.25 lbs / 7 kg |
With the Fofana Ninja zipline, your garden will soon become the neighborhood hotspot as your child's friends won't be able to stay away. This kit comes with a unique, adjustable swing seat to bring a different experience to the regular zipline adventure, allowing the rider to fly, swing and glide through the air.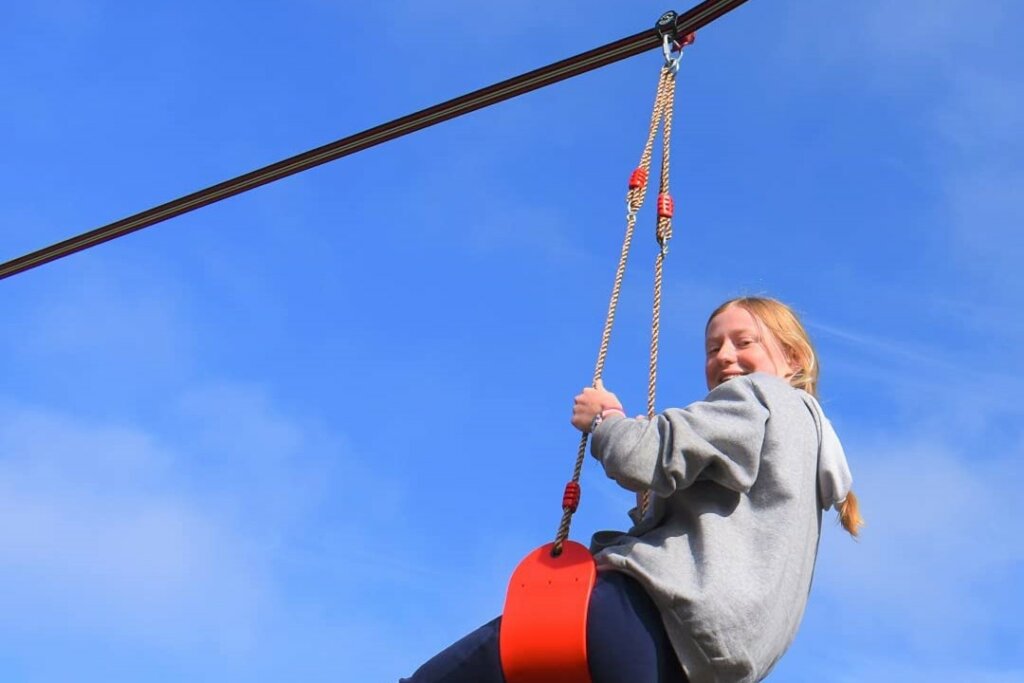 Recommended age: 8 years and above
Created by a family-run, California-based company, Fofana takes pride in creating fun and engaging activities to get kids active outdoors. The set consists of easy-to-use, quality pieces such as the heavy-duty slackline, innovative smooth running pulley, and tree protectors, resulting in smiling faces all around.  
What We Love:
❤️ Swing seat allows the rider different styles and uses
❤️ Easy to set up and tighten the slackline with the included ratchet
❤️ Expandable sets to include lots of varied accessories
What We Don't Love:
💔 No braking system provided
💔 Customers found slackline loosens with use
SPECS & FEATURES
| | |
| --- | --- |
| Maximum load (in lbs / in kg): | 250 lbs / 113 kg |
| Zipline length (in ft / in m): | 65 ft / 20 m |
| Item weight (in lbs / in kg): | 9 lbs / 4 kg |
The Zipeak accessory set comes with everything you need to complete your zipline experience, especially if you're struggling to find a set with the perfect cable length. The set arrives with high-quality components and safety equipment to help build strength, coordination, and confidence among your children.
💡 Tip: If you've read about how tricky most ziplines are to install, then this kit offers an excellent solution. With a specialized tension kit, ratchet strap, and all the tools you could need to set up your zipline included, you'll be up and running in no time without even breaking a sweat.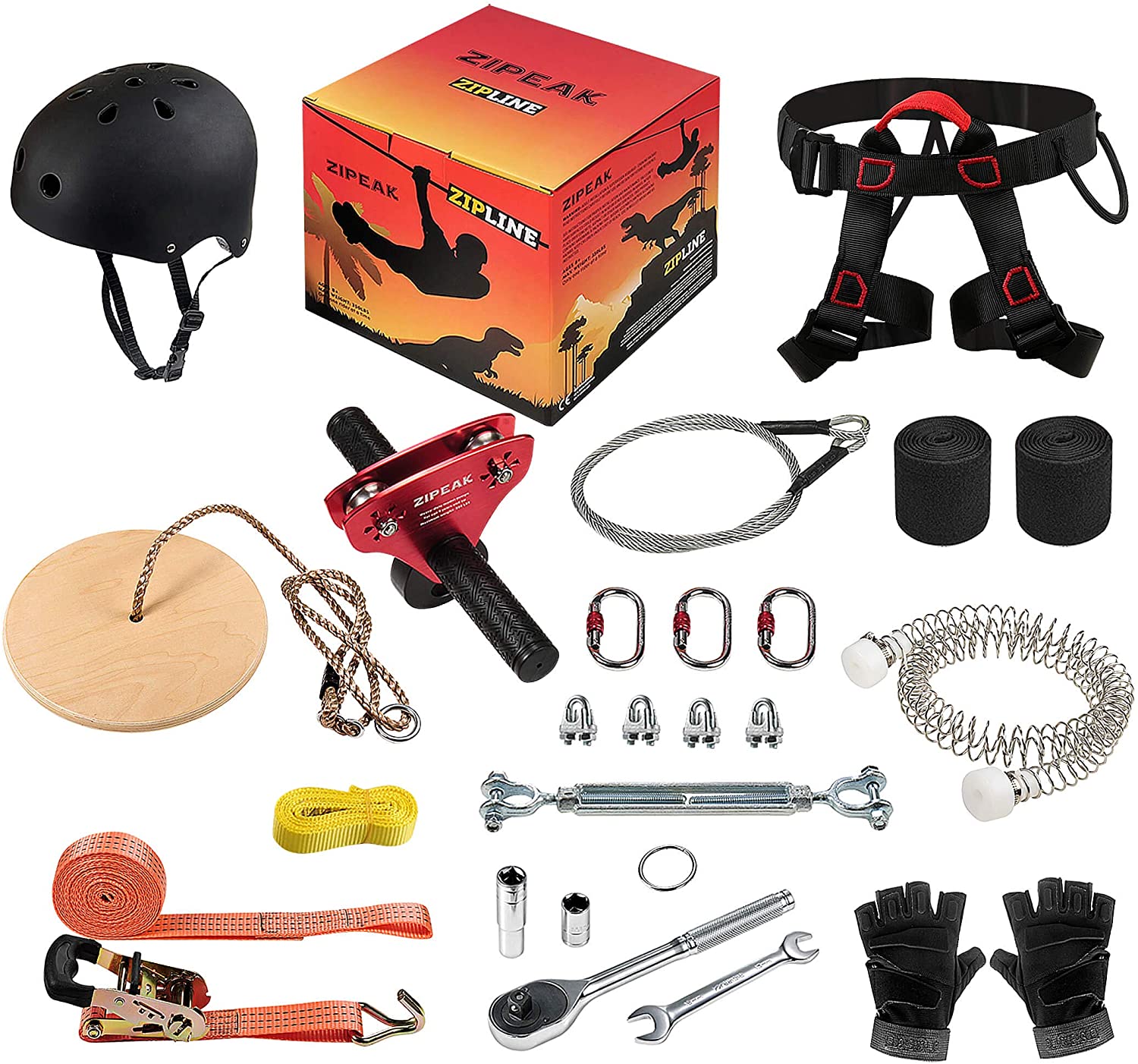 Recommended age: 8 years and above
This zipline kit has opted for quality at every stage with a robust pulley, natural wood and rope seat, and thick webbed tree protectors. Not to mention the safety equipment, including a helmet, harness, and gloves, that will keep your kids out of harm's way. All of which have been rigorously tested to meet strict CE and RoHS quality and safety certifications.
What We Love:
❤️ Top quality components, guaranteed for 10 years
❤️ Extensive safety precautions to provide peace of mind
❤️ Specialist tools included
What We Don't Love:
💔 On the expensive side, especially considering it comes without a cable or slackline
💔 The set could include some more playful accessories
SPECS & FEATURES
| | |
| --- | --- |
| Maximum load (in lbs / in kg): | 350 lbs / 158 kg |
| Zipline length (in ft / in m): | Up to 200 ft / 60 m available |
| Item weight (in lbs / in kg): | 19 lbs / 8.6 kg |
---
What You Need to Know Before Installing a Zipline In Your Backyard
🤔 Is a backyard zipline safe?
As with any outdoor activity set, there is always a need to take precautions when setting up and playing on a zipline. Ensure the lines are securely attached to structures capable of withstanding the force applied to them. Setting the correct tension and angle will determine how fast the rider will move down the line so experiment with the height and slack before letting the kids loose. Remember to always adhere to the weight and age guidelines.
Once everything is set up correctly, be cautious when playing with the zipline. If there is no spring brake system with your set, ensure that there are safe means of stopping to prevent a collision. It's advisable to wear a helmet and supervise children when playing.
By taking these precautions, you will create a safe and enjoyable environment for the family. There is nothing to suggest a backyard zipline is any more dangerous than other outdoor activity sets, so practice caution but enjoy the ride!  
🤔 Can you have a zipline without trees?
Naturally, we don't all have trees (or even the right-sized trees) in our backyard to affix a zipline to. This doesn't mean ziplines are off the table, though! Installing sturdy posts can be an alternative, given that they can hold the pulling force created when someone is using a zipline.
This will require some hefty wooden or metal poles around 12 inches in diameter, similar to a repurposed telephone pole. Next, they must be secured into the ground, sunk at least 4 feet deep with a concrete base. Securing the post with a guy-wire and anchoring the cable in the ground will add extra stability. Remember to consult an expert before building your own setup. 
🤔 Can I attach a zipline to the house?
When installing a zipline, never underestimate the tension created when someone is bobbing around on the line. This force is far greater than merely the weight of the person, so you need first to consider the structural engineering of the home, and assess who will be using the line and what force will be generated.
As building structures are designed to withstand vertical force, but not lateral, having this force pulling on the side of your home could cause serious damage. Unless you can connect the zipline to the structural beams of the building, or can install external support, attaching a zipline to your home is not advisable.