Nothing beats flying further than ever on the swing. As your tummy tingles and hair flails in the wind, the rush of adrenaline this age-old playset provides is second to none.
Yet getting kids to play outdoors in this day in age can be tricky. With the allure of games consoles, phones and computers to keep them entertained indoors, you may feel like you're fighting an uphill battle.
Studies have shown playing outside on swings and playsets will boost physical and mental health, help reduce stress, connect kids with nature and even encourage better sleep patterns. So you may need an ace to cash in on all these benefits for your children and get them playing outdoors.
Luckily, plenty of exciting outdoor playsets are available for kids of all ages to enjoy in their backyards. From simple climbing sets to full-blown assault courses, rope swings to wavy slides and even your very own jungle gym, we've set out to find the latest and greatest playsets that are bound to captivate your kid's attention.
Of course, safety is critical for outdoor play equipment, whether it be for younger kids or more adventurous bigger kids. So we've researched to find a range of high-quality playsets with different options for different kids to keep those mini Mowglis' entertained, exercised and active.
Top 3 Outdoor Playsets for Older Kids
Preview
Pros
Ideal budget option for those who have a stable set up to house a simple swing.
Fantastic set to burn energy or get kids active outdoors.
Awesome options to bounce, flip and even shoot hoops on this mega 15-foot trampoline.
Cons
Requires a sturdy structure, such as a tree or jungle gym, to install safely.
May require re-inflation between uses.
Requires a large, clear backyard.
Best Budget Option
Preview
Pros
Ideal budget option for those who have a stable set up to house a simple swing.
Cons
Requires a sturdy structure, such as a tree or jungle gym, to install safely.
Best for Younger Kids
Preview
Pros
Fantastic set to burn energy or get kids active outdoors.
Cons
May require re-inflation between uses.
Best for Older Kids
Preview
Pros
Awesome options to bounce, flip and even shoot hoops on this mega 15-foot trampoline.
Cons
Requires a large, clear backyard.
To provide a fantastic option for all, we've collated 14 epic playsets that will elevate your backyard and have the kids outdoors in no time. We made sure to include various styles of playsets, from the classic swing set to epic inflatable bounce houses, while offering toy sets across multiple budgets. So be sure to check out the complete list below. 
Best Climbing Frames
This climbing frame may look simple at first glance, but once your kids start playing, swinging and clambering over it, you'll soon see that there is more than meets the eye as their imaginations run wild. This option comes in a classic red and blue colorway and spans 10 feet wide and five feet high, providing ample space for bigger kids to play.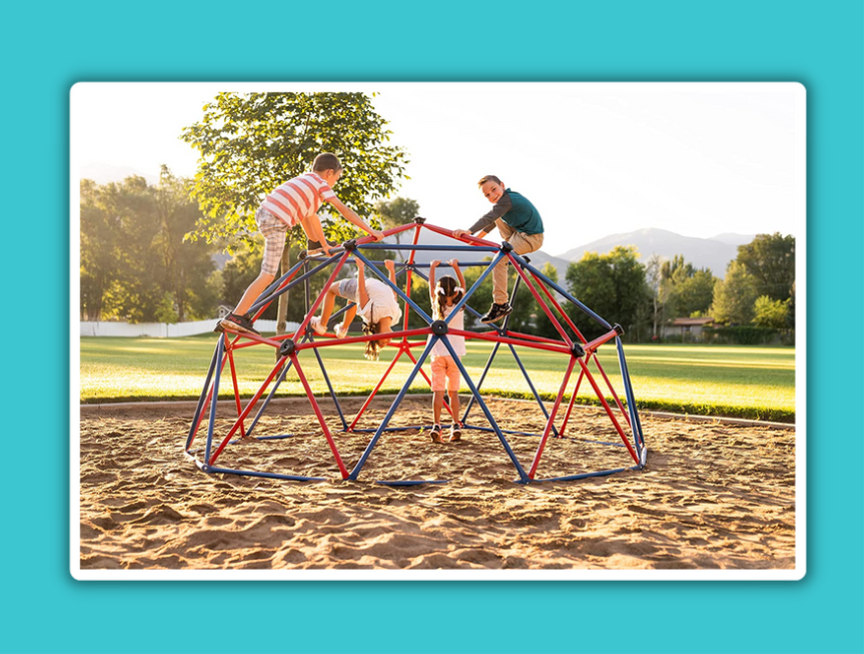 Recommended age: 3 years and above
Made from heavy-duty steel, this climbing frame can stand up to the rigors of play and boasts weather and rust-resistant powder-coating to protect it from the elements. With a total weight capacity of 600 lb., you'll be bound to get the whole family playing on this epic climbing frame.
What We Love:
❤️ Freestanding frame, without the need to be anchored
❤️ Rock climbing hand grips, make it easier and safer for kids to play on
❤️ Super sturdy build for parent's peace of mind
What We Don't Love:
💔 Comes in a 5.5-foot version, however, it is often out of stock
💔 Can be fairly time-consuming to assemble
💡 TIP: If you're kids love building dens, this option comes with an attachable canopy 
To complete this epic assault course, your kids need to channel their inner ninjas as they tackle the daring ten obstacles in the set. From completing the climbing ladders to overcoming the monkey bars, this active outdoor playset will get them engaged, fighting fit and ready for any challenge.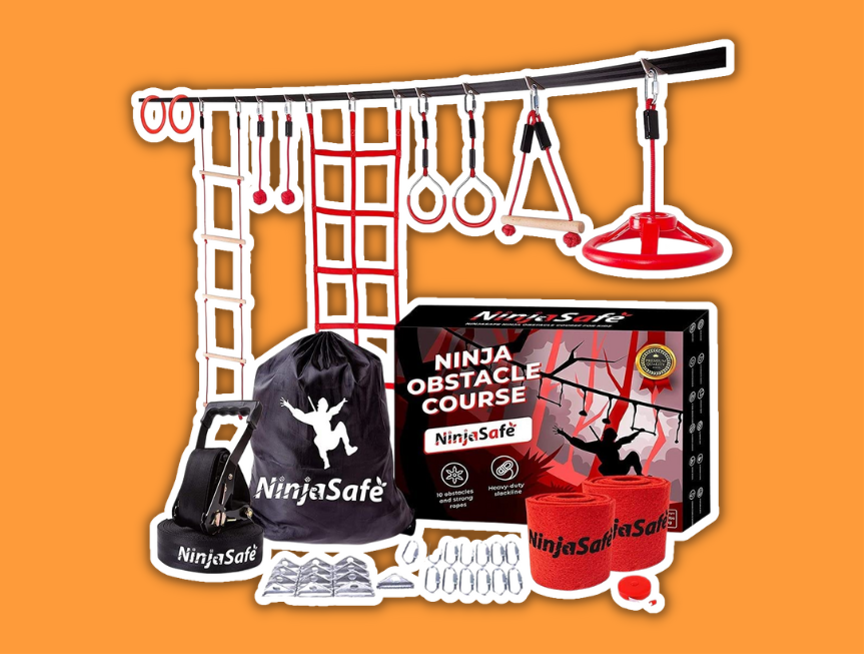 Recommended age: 5 years and above
Getting this obstacle course up and running is practically painless for parents. Simply attach the slackline to two trees, tighten using the handy ratchet and clip on the obstacles. Each component included in the set has been tested to the highest standards, so it is durable enough to keep your kids safe and uphold its quality despite regular use.
What We Love:
❤️ Comes with a carry bag to take this set with you to the park
❤️ Slackline can be adjusted to between 20 and 45 feet in length
❤️ The included tree protectors prevent any damage to the set or tree trunk
What We Don't Love:
💔 Would be cool if they had an extension pack with different obstacles and new challenges
💔 Require two solid and mature trees to install
This three-in-one backyard playset goes above and beyond what you may find in some playgrounds or parks. With three sturdy swings, a 9-foot wavy slide and a challenging monkey bar and fireman's pole obstacle to overcome, there is plenty to get the adrenaline racing and heart pumping in this awesome backyard playset.
Recommended age: 3 years and above
While this set is sure to bring countless smiles to your youngster's faces, it has been designed, from start to finish, with safety in mind. From the rubber grips that cover the chain to prevent pinching any little fingers to the rounded corners to avoid painful collisions. Plus, thanks to its galvanized steel material and UV, rust and weather-resistant paintwork, it will last a lifetime without needing regular maintenance.
What We Love:
❤️ Hard-wearing materials that are strong enough for teens to play on
❤️ Plenty of activities for varied play, keeping multiple kids entertained at the same time
❤️ Comes with two anchors for extra support, yet doesn't need to be set in concrete
What We Don't Love:
💔 Requires a large area
💔 Not the most complex to build, but may require two people and a few spare hours
💡 For those with a smaller garden or tighter budget, the Kiriner Swing Set makes a great alternative
Gain a fantastic vantage point with this climbing set, jungle gym, and tent fort all rolled into one. Not only will your kids love clambering to the top, but with this multifaceted playset, they also have their secret hideaway in the tented platform to hang out in.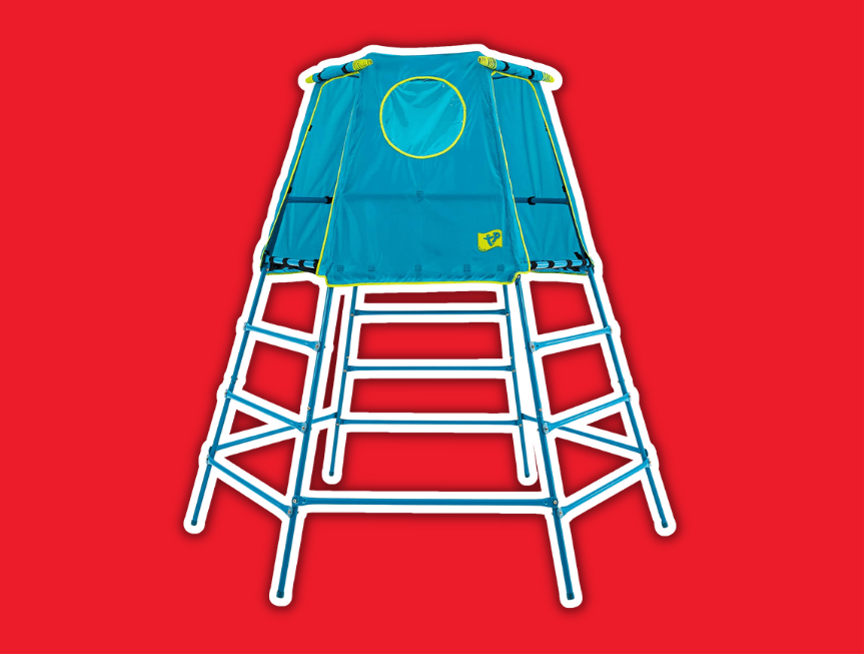 Recommended age: 3 years and above
Reaching almost seven feet tall, this mighty jungle gym and den will spark hours of imaginative play. Constructed from galvanized steel, it will stand the test of time while supporting up to 220 lbs. The tent is made from robust vinyl mesh and polyester canopy, keeping kids secure while they spend the day playing at the highest level.
What We Love:
❤️ Evenly matched height-to-width ratio for exceptional stability.
❤️ Rounded corners, ground stakes and strong materials make this a super safe option
❤️ Can even be setup indoors if you're short on outdoor space
What We Don't Love:
💔 Doesn't offer as many activities as other play sets
💔 Not the largest tent, so would struggle to get more than two older kids inside
---
Best Forts
If your kids are desperate to have a treehouse of their own, this easy-to-install and super sturdy option can grant their wish without needing building skills or extensive materials. The set includes a robust steel frame, double-wall nylon shell and three ratchets to secure the treehouse firmly into position, providing the ultimate tree-top hideout.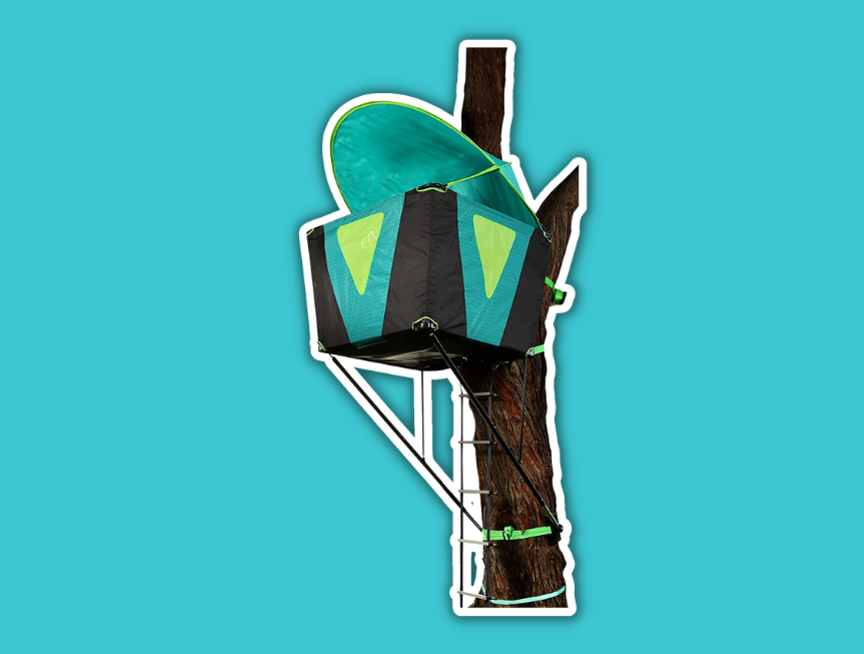 Recommended age: 3 years and above
Once installed, the platform will be attached eight feet high, offering a great vantage point for the kids without being too dangerous of a drop. The Treehouse itself is made of double-walled, UV and water-resistant, tear-proof nylon, which features 33-inch walls and an ingenious pop-up roof so they can spy on intruders. Thanks to the eight-foot adventure ladder, they can easily access their lair.
What We Love:
❤️ Solid steel platform can handle bigger kids using it, with a weight limit of 500 lbs.
❤️ The pop-up roof is a brilliant feature
❤️ Simple to build and install
What We Don't Love:
💔 The included strap only allows for a tree diameter of up to 24 inches
💔 The treehouse tent isn't the largest
This high-quality swing and slide set from Sportspower will be sure to get your kids playing outside for hours on end. As one of the larger sets on our recommendations, you'll find plenty of different elements that can entertain up to 10 kids at a time. From the two sling swings, two-seater saucer swing, an eight-foot wavey slide and even a wooden playhouse deck.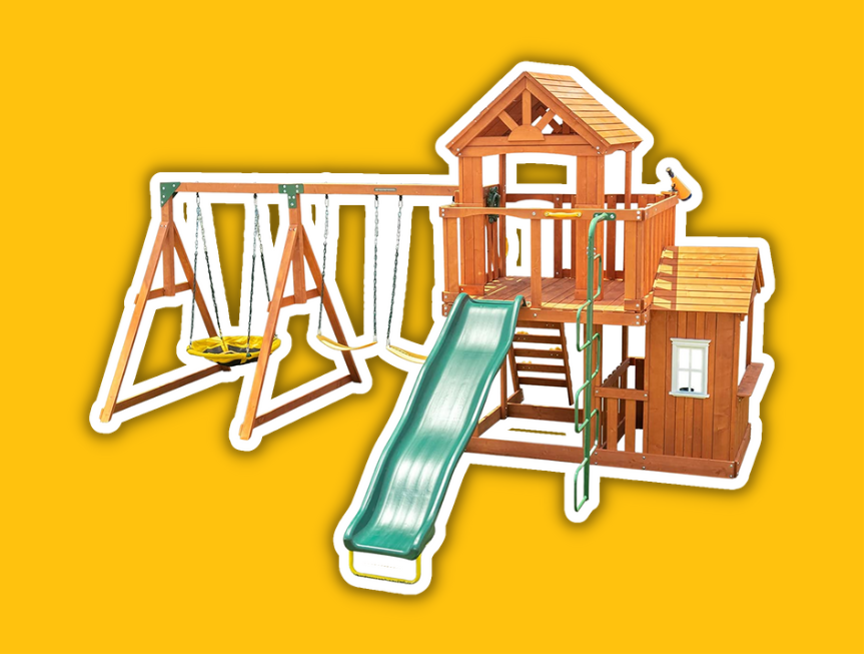 Recommended age: 3 years and above
Made from sustainably sourced, heavy-duty Finland spruce wood, this set will stand up to the elements for years to come. Not only is this option hardwearing, but it has also been designed with safety in mind, with features such as reinforced netting and vinyl chain covers that will keep the smiles on your kids faces.
What We Love:
❤️ Provides plenty of space to play for up to 10 kids at once
❤️ Stong build quality that will stand the test of time
❤️ Offers different elements to keep kids entertained, with the possibility to expand the set even further
What We Don't Love:
💔 Quite a complex build, with varying aspects of self-assembly required
💔 Requires a large backyard
---
Best Swings & Slides
This budget-friendly swing set is ideal if you already have a sturdy structure, such as a jungle gym, porch or trusty tree. It is an excellent option if you simply need replacement swings for your existing set. Thanks to its pre-assembled construction, you can quickly fix these swings in a matter of minutes before watching your kids enjoy hours soaring to new heights in your backyard.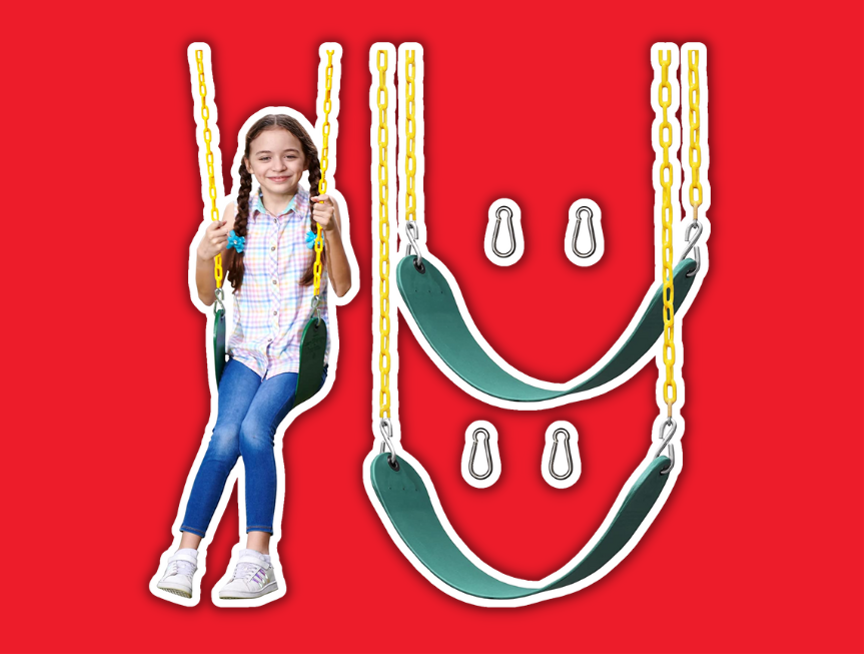 Recommended age: 3 years and above
The set includes two swing seats, robust plastic-coated chains and carabiner attachments, providing everything you need for a quick and painless installation. The chains measure up to 66 inches in length; however, thanks to the adjustable snap-hook fittings, you can tailor the distance to the perfect measurements for your yard.
What We Love:
❤️ Can hold up to 300 lbs, so fun for kids and adults alike
❤️ Available in a range of eye-catching colors
❤️ Super simple setup
What We Don't Love:
💔 Requires an existing setup already in place that is strong enough to hold the weight
💔 Seat can get a bit hot to touch in the summer months
💡 TIP: For a new take on the classic swing, this double-seater option from Swing-N-Slide will provide a new element of fun to your backyard
As kids age, they will be looking to experience new ways to get their kicks. Perhaps the most exhilarating of backyard playsets comes in the form of a zipline. This Eagle Series option from Slackers will undoubtedly provide the adrenaline they are looking for as they soar through the air across your backyard for up to 90 feet.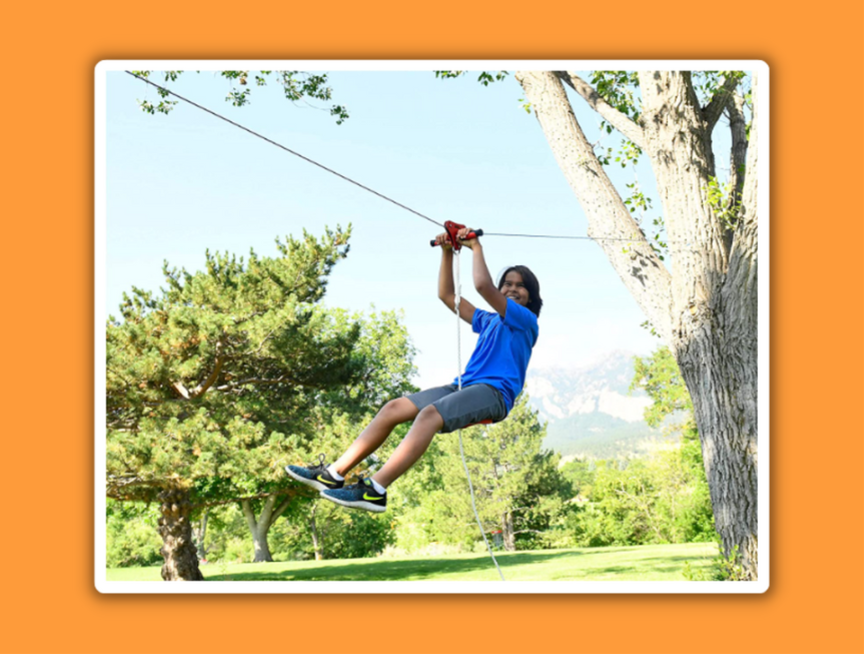 Recommended age: 8 years and above
Designed to the highest safety standards at the Slackers headquarters in Colorado, this option features an innovative spring brake and high-quality components for added security to keep your child safe as they play. The set includes everything to get the zipline up and running, with a robust steel trolley handle and a full double seat and rope attachment.
What We Love:
❤️ Extra long zipline offers a more exhilarating ride
❤️ Quality parts that can be trusted
❤️ Offers great fun for old and young kids alike
What We Don't Love:
💔 Requires a bit of elbow grease to make the line taut
💔 Would be great if it included a helmet for extra protection
Perfect for swinging from the tree tops or even lounging around lazily, this more giant diameter saucer swing is sure to capture the imagination and get your kids playing outdoors. With a 40-inch diameter and heavy-duty mesh seat, this swing will stand up to rigorous play, even with more than one child using it at a time.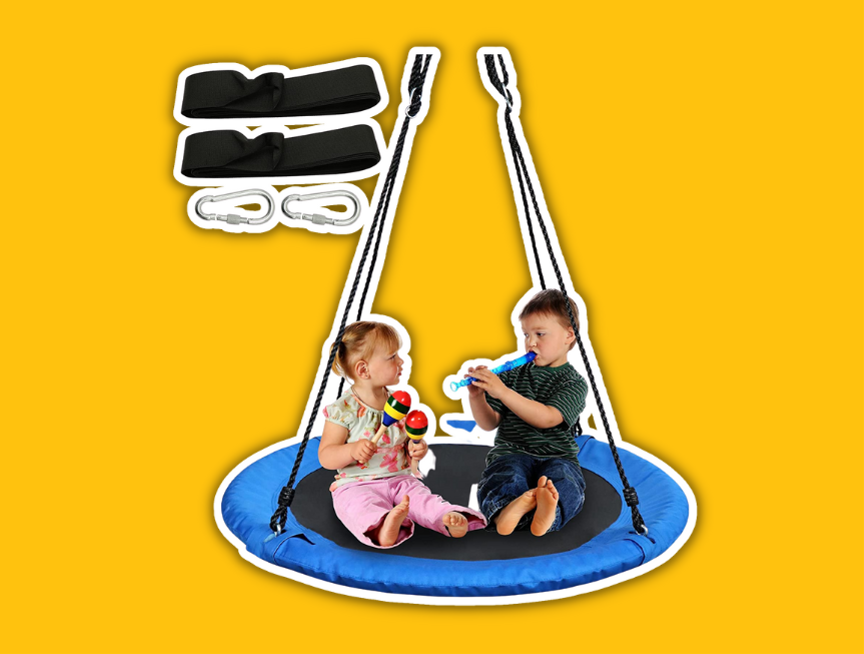 Recommended age: 3 years and above
The tree swing is extremely easy to set up, with all the necessary clips, straps and wrenches included, allowing you to get it up and running in next to no time. The unique swing consists of four stabilizing edges that are strong enough to support up to 300 lbs. The mesh inner provides a comfortable, hard-wearing and weather-resistant seat that even the biggest of kids can enjoy.
What We Love:
❤️ Offers a new and exciting take on the swing set
❤️ Cost effective with only quality materials being used
❤️ Can fit more than one person on it at a time
What We Don't Love:
💔 Requires a suitable frame or tree to hang from
💔 Would be cool if there was a choice of different colors
---
Best Inflatables
Bounce, rock, or enter battle on this giant inflatable dome that will set the scene for epic playtime, either solo or with friends. Made from super hard-wearing PVC and eight feet wide and four feet tall, this novel outdoor toy will challenge your kids through active play and let their imaginations run wild.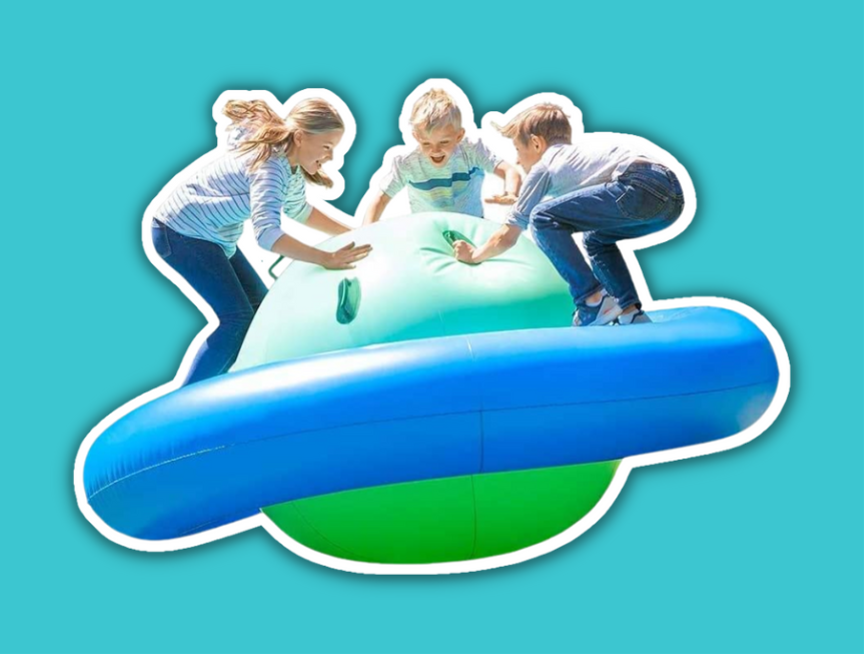 Recommended age: 5 years and above
This giant dome can fit three kids at once, with a generous weight capacity of 250 lbs. There are six sturdy handles for them to grab and hold as they bounce and grapple with the dome. Although on the larger side, this option is guaranteed to be a hit at parties and will keep the kids playing outdoors all year round.
What We Love:
❤️ Fantastic set to burn energy or get kids active outdoors
❤️ Fun for up to three kids at a time
❤️ Robust materials used for long-lasting lifespan
What We Don't Love:
💔 Will require re-inflation between uses
💔 Requires a large, clear area before use
If it's one thing kids love, it's bouncing wildly on a trampoline. From mega flips to shooting hoops, this two-in-one set offers twice as much fun, all in a super safe environment. The six-foot secure netting encasing the trampoline and its innovative no-gap design prevents limbs from getting trapped or pinched in the springs.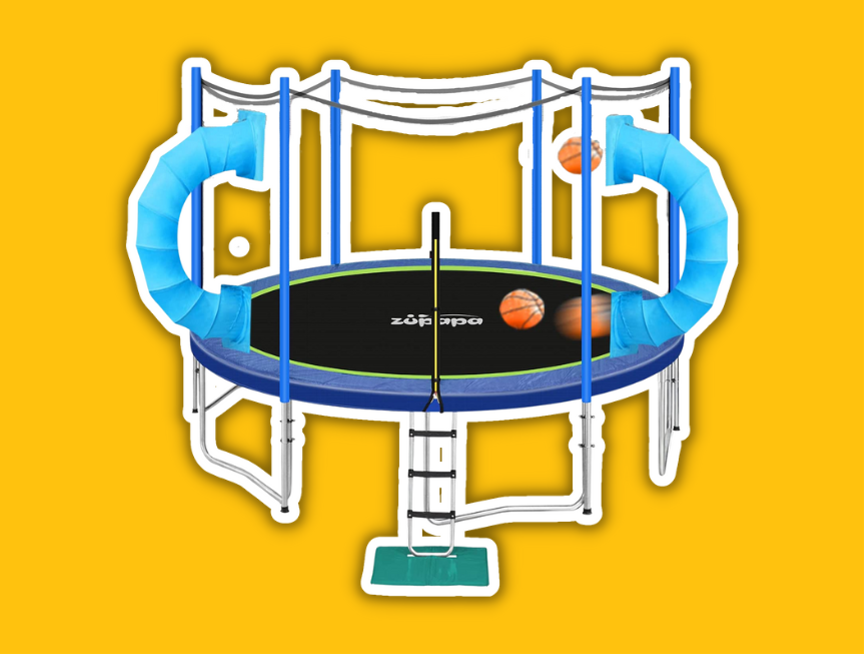 Recommended age: 10 years and above
This trampoline measures up to 15 feet wide, providing plenty of space for kids to bounce safely. It also features two ingenious basketball tunnels to practice dunking in a fun and playful way. With a maximum weight limit of 425 lbs, the trampoline's impressive build quality will keep multiple kids and adults bouncing all year round.
What We Love:
❤️ Smart safety features allow kids to bounce without worries
❤️ Basketball tunnels offer a new element of play to keep kids engaged for longer
❤️ Comes in a range of sizes and with or without basketball hoops
What We Don't Love:
💔 Requires a large space to set up
💔 Comes in three separate packages and can be tricky to assemble
💡 TIP: Short on space but want a safe and exciting trampoline for your backyard? This 8ft Giantex alternative is the perfect solution
Bring the magic of the best birthday parties, fairs or waterparks straight to your backyard with this awesome bounce house and water slide combo, which stands at over 12 feet tall and spans 21 feet in length. Made from highly durable PVC vinyl material, this will support up to 200 lbs of weight as the kids bounce and slide all day long.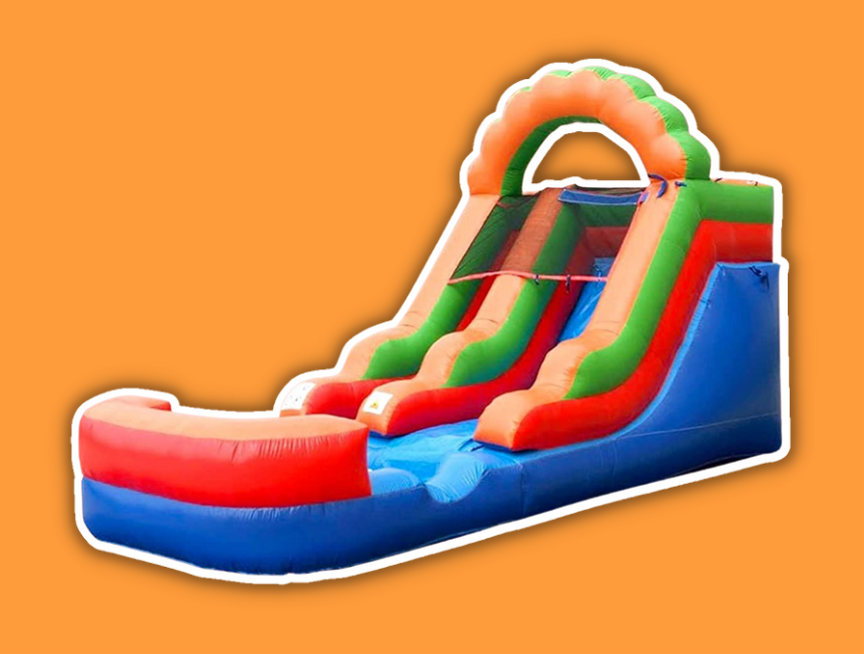 Recommended age: 5 years and above
Despite its gigantic size, the whole bounce house will be inflated and ready for action in minutes, thanks to the industrial blower in the set. As well as an eye-catching design, you'll also find a range of safety features that make this show-stopping bounce house a safe bet.
What We Love:
❤️ Material is a commercial grade, making it five times stronger than regular inflatables
❤️ Comes in a range of colors, with rainbow, tropical and pink options to choose from
❤️ Set includes everything to get the kids bouncing, including a carry case, inflating pump and water system.
What We Don't Love:
💔 On the expensive side
💔 If water gets inside the inflatable, drying it out can be a pain
💡 TIP: Looking for more inflatables for your backyard? Check out this dodge and drench set from H20 GO 
Ideal for big kids and adults alike, this bumper ball will bring a smile to everyone's face. Simply slide on the five-foot wide sphere, grab hold of the internal handles and crash, bang and wallop your way around the backyard for a hilarious playtime without worrying about injury.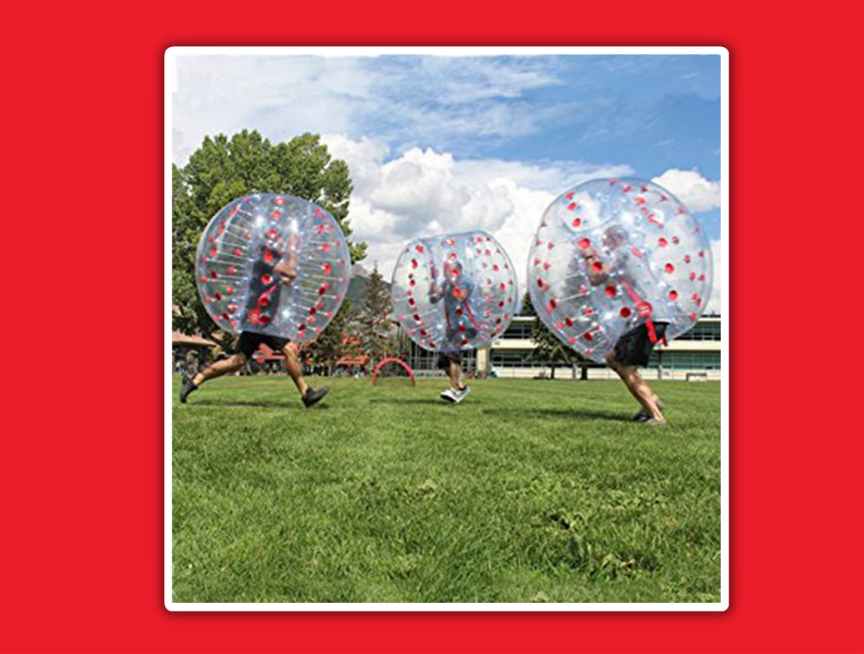 Recommended age: 8 years and above
This option uses high-quality TPU material that offers a super strong build for longer-lasting playtime. This non-toxic material is even resistant to acid and alkaline while being water-fast too. This set comes in two different sizes, with the five-foot option being ideal for tweens and teens between 4'9" and 6'2" tall and the four-foot option catering to more minor children.
What We Love:
❤️ Completely inflates in just two minutes
❤️ High-quality materials will keep this playset going for years to come
❤️ Perfect size for older kids and even adults too
What We Don't Love:
💔 Only includes one zorb ball, so you'll need to buy two for epic games and battles against friends
💔 Would be great if a pump was included too
Test your skills as two epic sports roll into one with this epic inflatable soccer darts board. At over six feet tall, this gigantic dart board provides the perfect target, allowing you to take aim and shoot your shot to rack up the highest score. With four balls, an electric pump and a reusable scorecard also included, this set is ready to go and is sure to supercharge your backyard.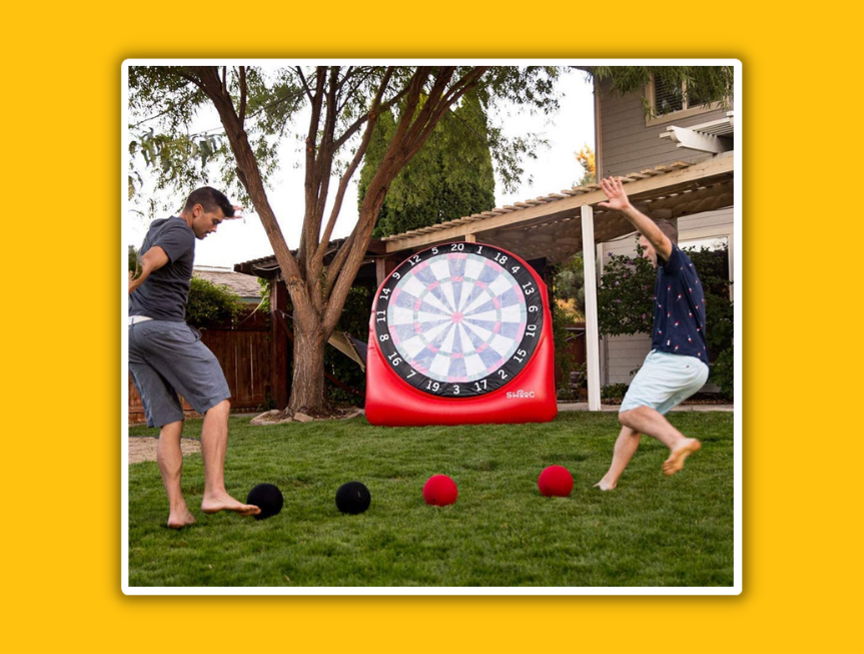 Recommended age: 5 years and above
Despite its huge size, the target will be inflated in less than 10 minutes. It also has stabilizing features, such as four ground stakes, a water tank and the base for excellent safety and enhanced operation. Plus, just when you think they might get bored, it comes with an ingenious game set offering 15 new and exciting ways to play.
What We Love:
❤️ Easy to install and simple to play
❤️ Super sticky target and adhesive balls make for endless games
❤️ High-quality materials mean this will stand the test of time
What We Don't Love:
💔 Sticky adhesive will wear down over time if left outdoors
💔 On the bulkier side so needs ample room to inflate
---
Important Things to Consider When Buying an Outdoor Playset for Older Kids
Age appropriateness: Ensure it suits older kids without being too challenging or risky.
Size and space: Ensure it fits comfortably in your designated area. We tried to include a range of playsets that work with smaller yards.
Safety features: Look for rounded edges, sturdy construction, and safety certifications.
Durability and quality: Opt for high-quality materials and check customer reviews.
Versatility and activities: Choose a playset with fun features – a place to hide, compete with others or just plain exhilarating.
Customizability: Look for options to add or remove features as needed.
Maintenance requirements: Consider the ease of cleaning and weather protection.
Budget: Determine your financial limitations beforehand – some outdoor playsets can cost over $1000.
Installation: Check if professional installation is required and the associated costs.
Reviews and recommendations: Seek feedback from other parents to inform your decision.
By considering these factors, you can choose a safe and enjoyable playset for older kids.
---
Frequently Asked Questions About Outdoor Playsets
🙋‍♂️ What skills does an older kid learn from playing on a playset
As kids get older, you may start to notice they want to spend more time indoors, especially as they discover social media or get caught up in online gaming. Although there's nothing wrong with this, achieving a balance between indoor and outdoor play is hugely beneficial. A backyard playset is a fantastic catalyst for them to divide their time more evenly.
Whether spending time on the swings, combatting an assault course or building a fort, providing them with an engaging space is a great way to get them outdoors and, importantly, play in a physically active manner. Outdoor play is a great way to get the heart racing and muscles pumping, so you can expect to see their coordination, spatial awareness, and strength improve.
Playgrounds and playsets also offer untold benefits for your child's social skills. Many of these sets will encourage and foster play with other children, which is a great opportunity for them to make friends and forge closer bonds as they learn, communicate and play together. You may notice they develop new team working and problem-solving skills while boosting their creative thinking as they come up with new and exciting ways to play.
🙋‍♂️ Until what age can my kids play on a swing set?
Swing sets and outdoor play needn't be restricted by age barriers. As all kids are different, it's impossible to say when a child might decide that they've outgrown their swing set. However, it's common for kids to continue to play, test the limits or simply hang out with friends on their playset well into their teens.
Of course, you must ensure the set you choose is suitable for larger kids or heavier weights so your child can continue using it as they age. But many of the sets on our top lists range between 150 – 300 lbs, making them hard-wearing enough to last a lifetime and provide a worthwhile return on your investment.
🙋‍♂️ Are swing sets safe for kids?
Swing sets have been keeping kids entertained for decades. But that's not to say they offer certifiably risk-free fun. If not used properly, or if the wrong equipment is used, it can harm your child's safety. In some cases leading to nasty bumps, falls or even a broken bone.
To create a safe environment for your youngsters to play in, ensure you follow these top-tip guidelines:
Pay close attention to the manufacturer's recommended age range and weight limits – Outdoor playsets designed for older or younger kids, won't be able to handle their size.
Look for the appropriate safety certifications – With lots of toys and playsets now imported, it's vital to check that they have passed the rigorous testing by bodies such as the American Society for Testing and Materials, which assures consumers it meets safety standards.
Consider where is best to place the set and ensure it is assembled correctly – Look for level areas that offer a soft landing wherever possible and follow the building instructions to the letter to guarantee long-lasting and safe performance.
Provide appropriate supervision – Younger children shouldn't be left alone on outdoor playsets. At the same time, it's advisable to make sure older children know what they are doing and understand the boundaries of safe play.
---
So… What Outdoor Playset Should You Get?
With a wide range of outdoor playsets on the market, knowing which one is best suited to your child can be tricky to get right. Think carefully about which activities they've enjoyed at the local playground and consider their personality and what they like to spend their time on at home.
For all-out action kids with tons of energy, why not opt for the Ninja Obstacle Course for Kids Backyard. While kids who like to create their adventures and will enjoy a place to hang out in, then the B4 Adventure Slackers Adventure Tree House Kit could be the perfect set for you. For larger families or if your backyard plays host to the neighborhood kids, then why not look into a larger playset such as the Sportspower Sandalwood Wood Swing Set with 3 Swings and Slide, which can offer hours of fun for up to ten children at a time.
If you've come across an epic outdoor playset, we missed, please let us know so we can share it with other readers of TheToyZone!