This summer, Barbie is the word on everybody's lips because of the record-breaking blockbuster movie directed by Greta Gerwig that's in theaters as I write this. While the movie is more geared towards adults who once played with Barbies than kids who still do, there's no doubt that it has generated renewed interest in the iconic dolls — not that it ever wanted.
Over the years, Barbie has inhabited every impressive role you can think of, but one thing that never changes is her sense of style. Barbie has access to a vast range of glamorous, fun and funky outfits for her and her friends — including Ken. Kids love to play dress-up, and doing so with stylish dolls expands the imaginative possibilities to infinity, which explains Barbie's staying power over more than 60 years.
This list is chock-a-block with outfit sets that help Barbie become anything you want her to be. Whether strutting the streets of Tokyo, hanging out at the beach or walking the red carpet, she always looks fresh and fabulous.
The Top 3 Best Barbie Doll Clothes
Those are our top three picks, but they are just the beginning. We all know that Barbie can be anything, from a fashionista to a gymnast to a surgeon and so much more, so your Barbie closet should reflect that diversity.
Take a gander through our complete list below and you're sure to find something perfect for the Barbie fan in your life, or perhaps something that fills a gap in her wardrobe that you didn't realize you were missing — until now.
My First Barbie dolls are larger, 13.5-inch dolls that are easy for little hands to hold and play with. They're aimed at preschoolers, so all the clothes feature simple closures, and there are no tiny pieces that can become choking hazards. At the same time, as they play and put on and take off clothes, they'll be building dexterity.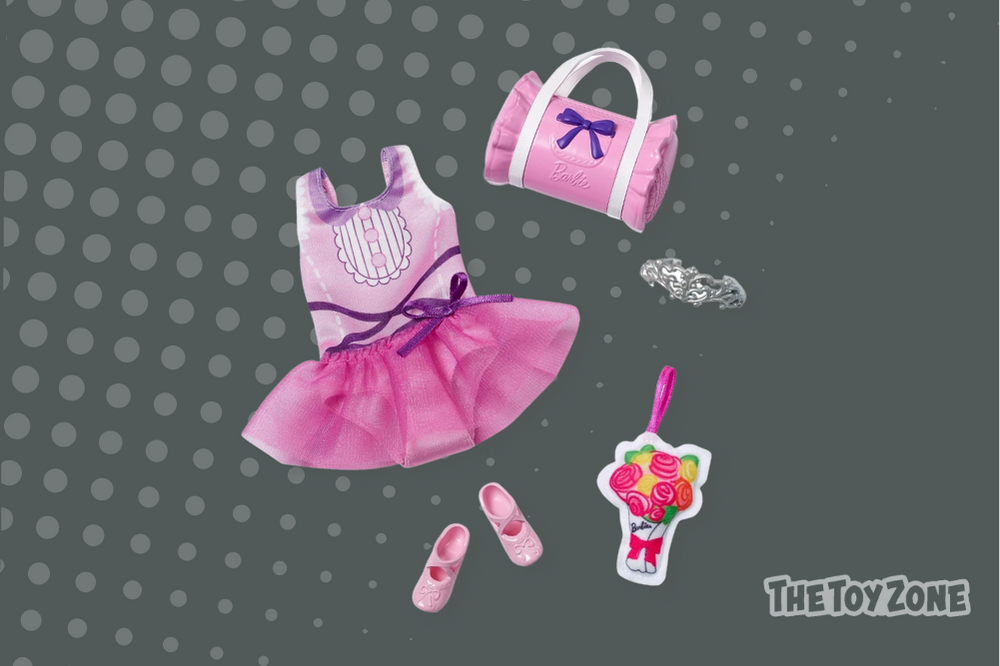 This ballerina outfit, featuring a tutu leotard with ballet shoes, will appeal to pink-loving preschoolers. The set also comes with great accessories, including a tiara headband, a duffle bag and a rose bouquet with a loop attached so Barbie can hold it. 
What We Love:
❤️ Very cute outfit for the 13.5-inch My First Barbie Dolls, which are harder to find clothes for
❤️ The shoes stay on well, and the donut can be removed from the plate 
What We Don't Love:
💔 The tiny plastic tabs used to hold the swimsuit in may poke holes in the fabric
There are a few closets on this list, but if you want to go all out, this is the one to choose. This Barbie Dream Closet reveals a huge play space with over 15 storage areas, a pop-up hanging area, a hamper chute, a full-length mirror and even a desk space. It's big enough to fit all of Barbie's clothes and accessories so they never get lost.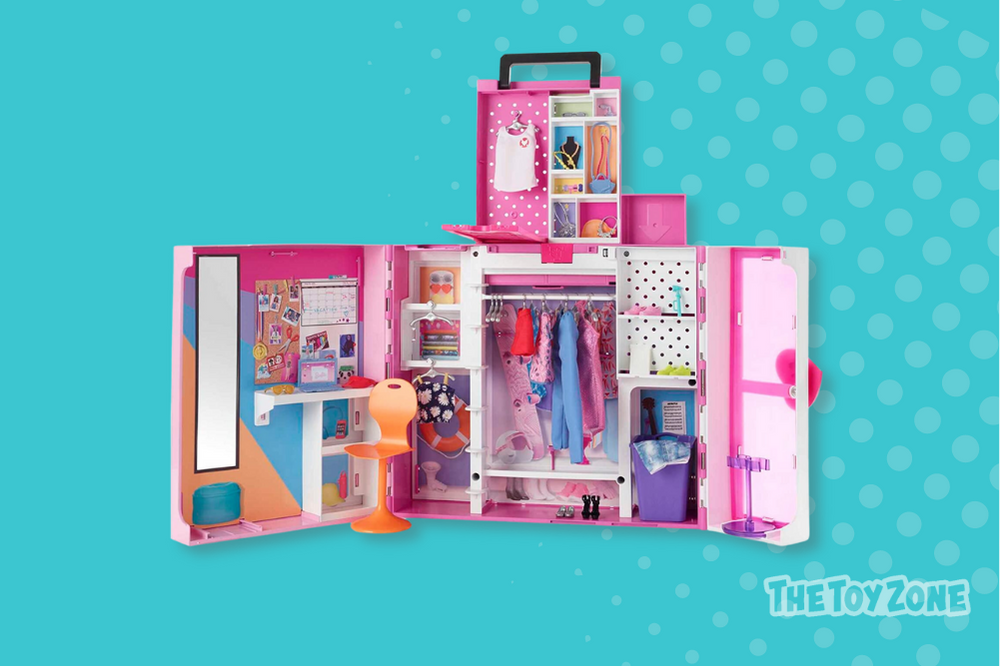 Inside the closet, you'll find five cute outfits for mixing and matching, loads of shoes and other accessories, plus ten hangers. There's even a lifeguard outfit and scrubs so Barbie can try out different careers.
What We Love:
❤️ It's large enough to store all your Barbie clothes and accessories which quickly get lost
❤️ Features various moving parts, racks, drawers and shelves to keep things organized
❤️ Comes with plenty of cute accessories and clothes to mix and match
What We Don't Love:
💔 It could include a few more clothing items at this price
Barbies and dinosaurs are both beloved by children, so statistically speaking, there must be many kids out there who love both. If that's your little one, this Jurassic World-inspired set is a must-buy. This outfit is a dinosaur dream: featuring a dino-printed skirt, a T-shirt with a "veggiesaurus" graphic and an adorable round triceratops handbag.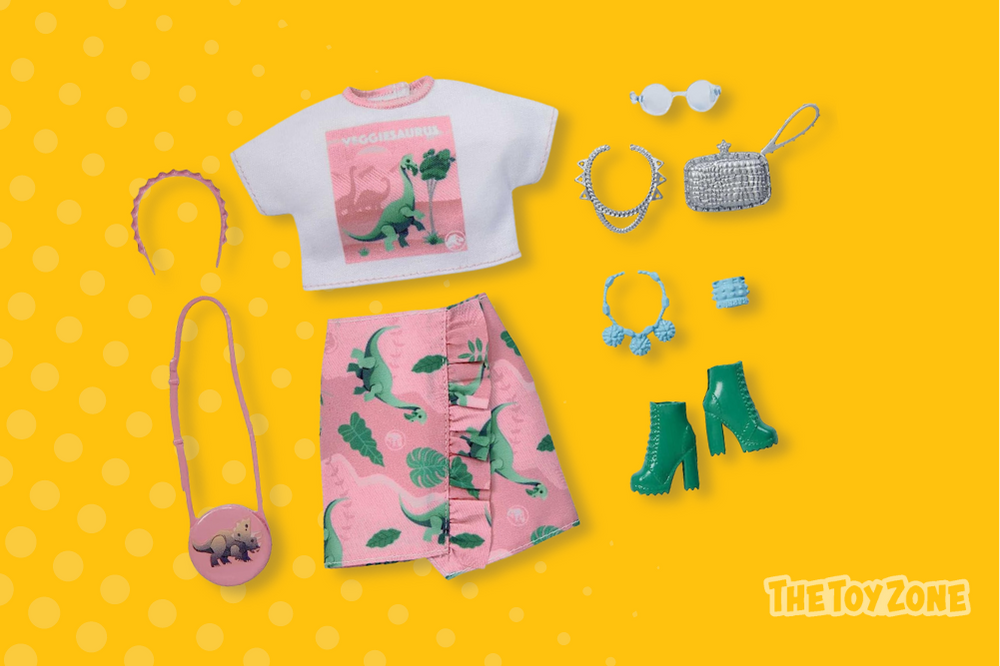 This cute set also comes with cool green high-heel boots, a silver purse reminiscent of reptile skin and loads more accessories. The whole effect is very fashion-forward, mainly due to the trendy green and pink color scheme.
What We Love:
❤️ Perfect for kids who love fashion and dinosaurs.
❤️ The outfit works on curvy Barbie and regular Barbie
❤️ It's a super cute outfit in a very trendy color scheme
What We Don't Love:
💔 The outfit is slightly loose on regular (non-curvy) dolls
💡 Tip: Can't get enough of the dino-inspired outfits? Here's another super cute and trendy option.
Is your Barbie ready for a career in design? This outfit pack includes an excellent artist's smock with pockets for her sketch pens and brushes. It fits over a multi-colored dress with a pattern of beautifully positioned triangles. The set also comes with a paintbrush and an artist's palette with dabs of paint in all the rainbow colors.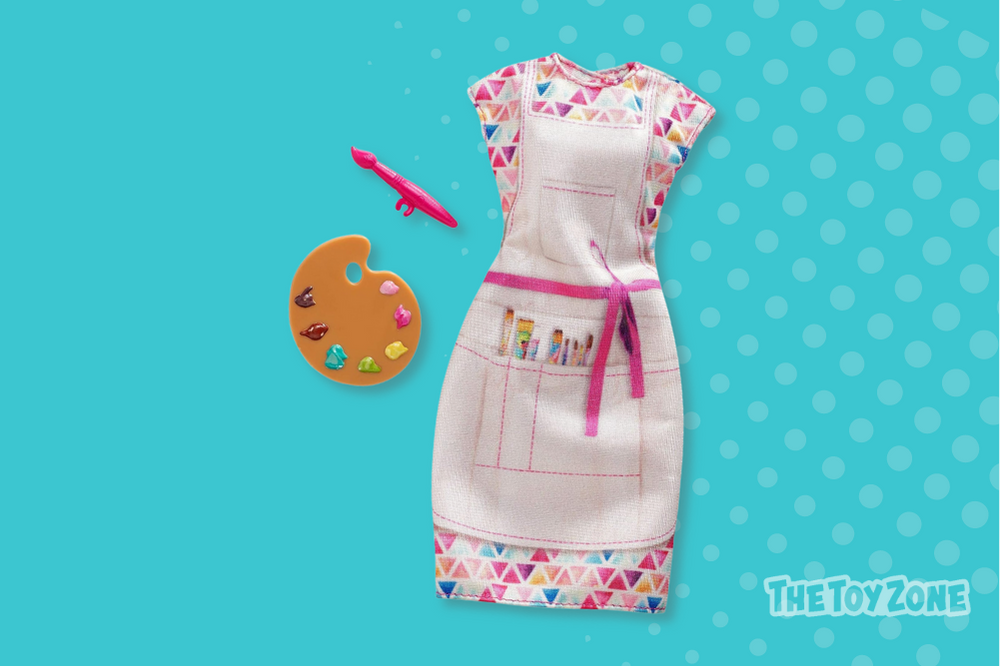 This is the perfect Barbie outfit for kids who love painting and crafting. They can make any Barbie into an artist and then compare their beautiful paintings with Barbie's. What will she paint next, I wonder?
What we love:
❤️ It's not only great for artistic Barbie but also art-teacher Barbie|
❤️ Very cute outfit that's also well made
We don't like this as much:
💔 The hips could be a bit wider so it would fit a curvy Barbie
This kit will inspire the fashion designer in anyone. It contains a whopping 150 pieces, including five different styles of beautifully designed dresses and a vast selection of decorative bows, sequins, flower ribbons, glitter glue and stickers to jazz them up. There's even a dress model dummy so kids can feel like real designers.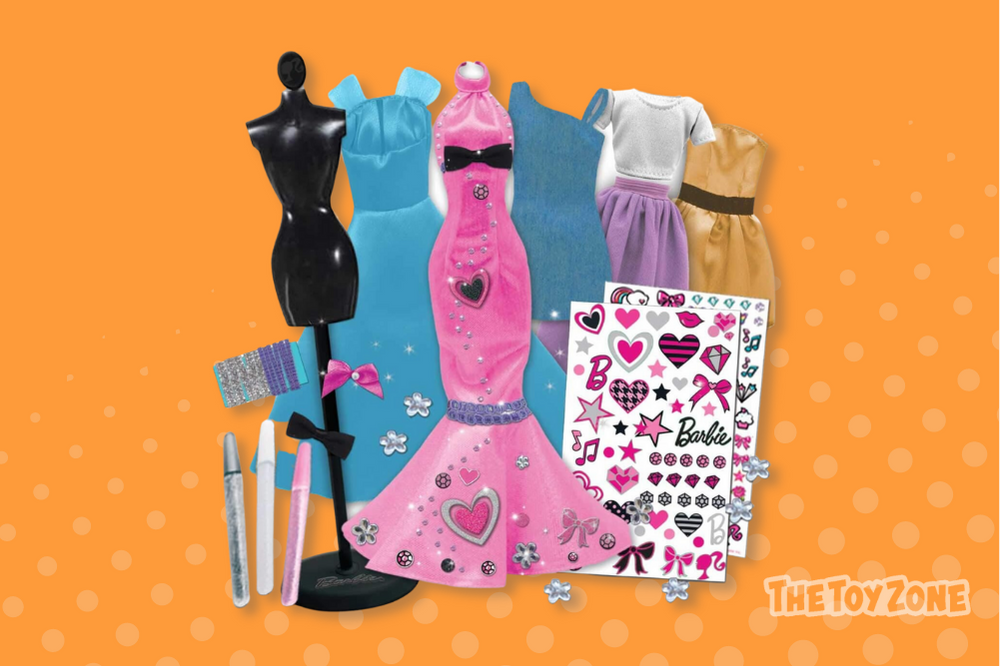 The dresses in the set come in plain, solid colors, ready to be personalized with your decorations. Most of the accessories can be easily removed, so you can start again with a brand-new design.
What We Love:
❤️ Offers hours of constructive entertainment for anyone who loves fashion
❤️ The kit promotes imaginative thinking and creativity
❤️ It's great value considering all that you get and you can use it on other Barbie clothes too
What We Don't Love:
💔 We'd love to see more stickers come with the pack
💔 The glue is child-safe but not very strong, so glued items may fall off after a while
This stylish set of jogging clothes for Ken includes a pair of sunglasses for sunny days. It also comes with a sleeveless top and gray sweatpants, perfect for working out or relaxing around the house. The silver detail and frayed edges on the top give the outfit a trendy vibe, which also works for casual hangouts.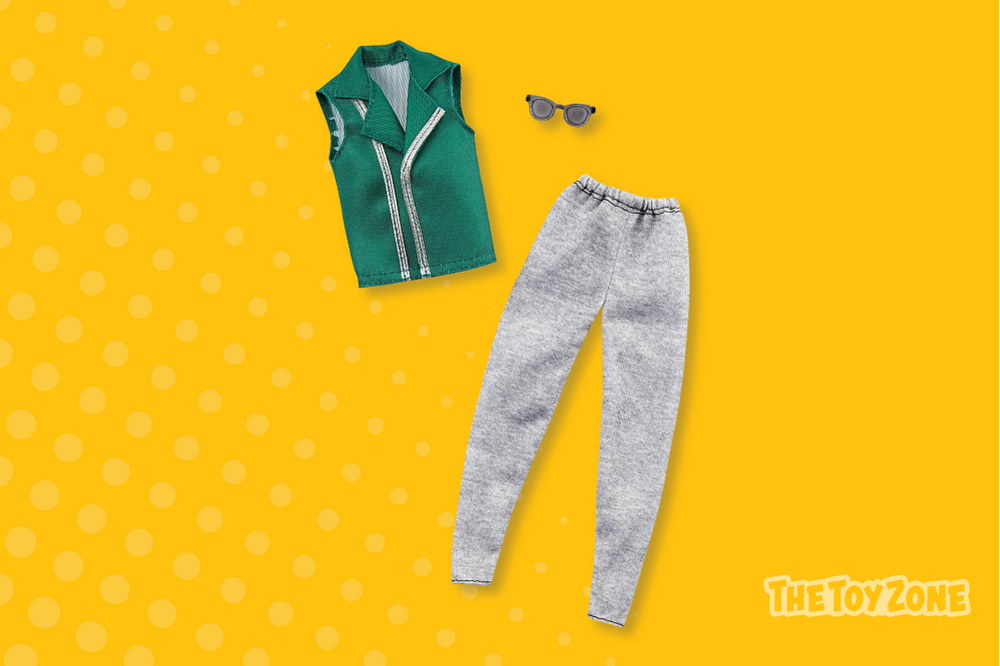 This set is great for mixing and matching with other items in Ken's wardrobe. The pants are a good comfy staple, and the top can be dressed up or down. Many people focus on Barbie's clothes so much they forget Ken, but he needs a stylish wardrobe too.
What We Love:
❤️ The included sunglasses are a big hit and make Ken look like a pop star
❤️ The sleeveless top shows off Ken's biceps for an athletic appearance
What We Don't Love:
💔 The pants are a bit tight, so require a little patience to put on and take off
This is the perfect summer set for Barbie's trip to the farm, the park, or into the countryside for a picnic. This 10-piece pack includes two dresses, a skirt and blouse, denim shorts, a vest, boots, a straw hat and a cute little rustic purse. Mix and match the items to make countless adorable outfits.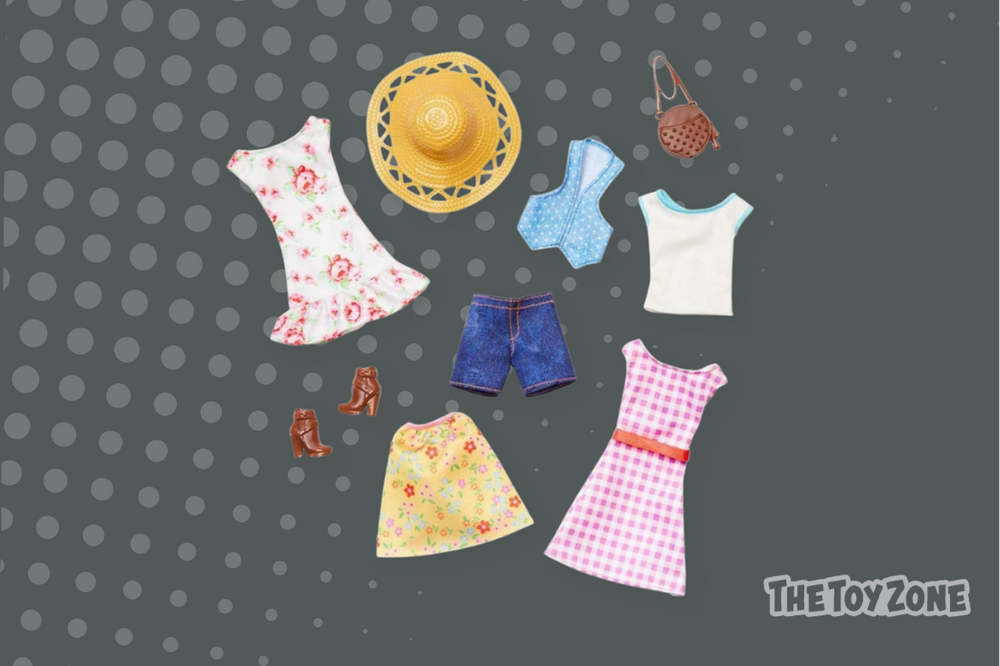 This set is great for collectors and Barbie-obsessed kids. The dresses have country-style floral and checked prints, and the wide-brimmed straw hat is gorgeous. The whole set has a breezy, feminine feel, perfect for summertime fun.
What We Love:
❤️ This cute summery set is a welcome change from Barbie's usual glamorous clothing 
❤️ This pack comes in a box that is great for collectors
What We Don't Love:
💔 A bit of Velcro on the back would help these clothes fit any size Barbie
This perfect little clothes closet contains all Barbie needs to look her best. It comes with 15 pieces, including two stylish dresses, three pairs of shoes, two purses, two necklaces, and six clothes hangers. Barbie can use the rest of the hangers and drawer space to store her other clothes and have a complete closet.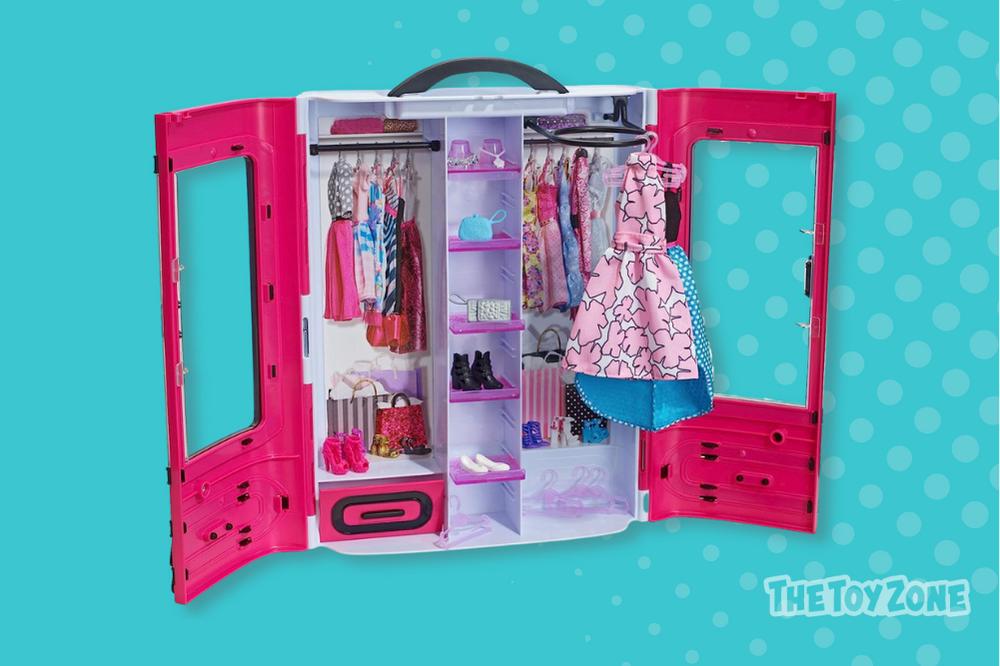 While this set has some great clothing pieces, the closet is the real highlight. Featuring working drawers and cabinets to store accessories and racks to hang all Barbie's clothing, it's the perfect addition to any Barbie playset. It even has a handle for easy transportation.
What We Love:
❤️ The closet works like a carrying case with a convenient handle
❤️ The bright pink color with black trim adds glamor outside to match the glamor inside
❤️ There is lots of space for clothes and storage space to keep shoes and accessories organized too
What We Don't Love:
💔 It would help the dresses stay on the hangers if they had little hooks
💔 The items on the shelves don't stay there if the closet is picked up and moved around
💡 Tip: If you want a Barbie along with her closet, you can get one that includes a doll here.
This set is for Barbie's little sister Chelsea and it contains six items, including a pair of roller skates, a rainbow skirt, a cute top, a helmet with kitten ears, heart-shaped sunglasses and a juice box. Chelsea often doesn't have as many cute clothing options as Barbie, so if your kiddo has a Chelsea doll, they'll be over the moon with this stylish set.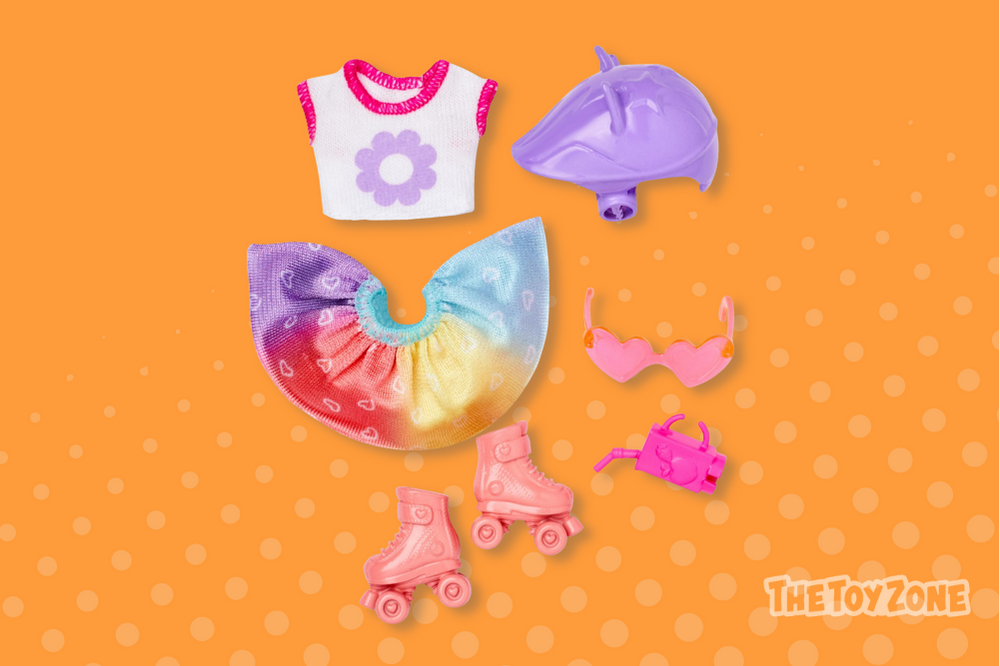 This is a rare item, which makes it a good choice for collectors. It's also a great outfit for inspiring imaginative play — as Chelsea whizzes by on her roller skates, everyone will wonder where she's off to.
What We Love:
❤️ It's nice to find a stylish outfit that fits Chelsea, especially one that includes a top
❤️ The cat ears on the helmet are a fantastic touch
What We Don't Love:
💔 It would have been amazing if the wheels on the roller skates worked
Hello Kitty lovers take note — this set brings two icons of cute style together by providing Barbie with the ultimate Hello Kitty outfit. The set includes a pink headband and a daisy bracelet just like the one Hello Kitty wears, plus a cute knotted top decorated with a large image of Hello Kitty. Lastly, the full pink skirt is printed with colorful Hello Kitty letters.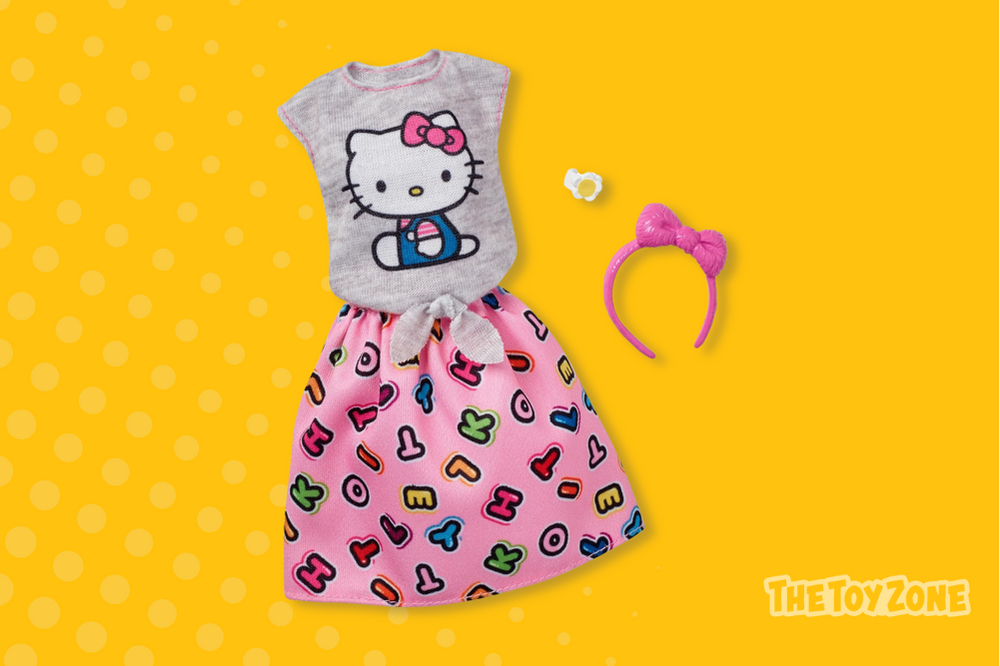 This outfit is Hello Kitty to the T — the headband is adorned with a pink bow. At the same time, the items can be easily mixed and matched with other Barbie outfits in your collection.
What We Love:
❤️ The clothes in this set are designed to provide a universal fit for most Barbie dolls
❤️ The headband is a great touch and fits perfectly
What We Don't Love:
💔 The top is very cute, but it would be great if the back could close with Velcro to prevent stretching
Here comes the bride – she's beautiful; she's Barbie. This gorgeous five-piece bridal pack features a poofy white princess dress with wedding-appropriate lace detailing and a black belt with a huge bow. The set also includes a sparkling tiara with a flowing veil, pink high-heel shoes, a silvery bracelet and necklace and a pink-flower bouquet.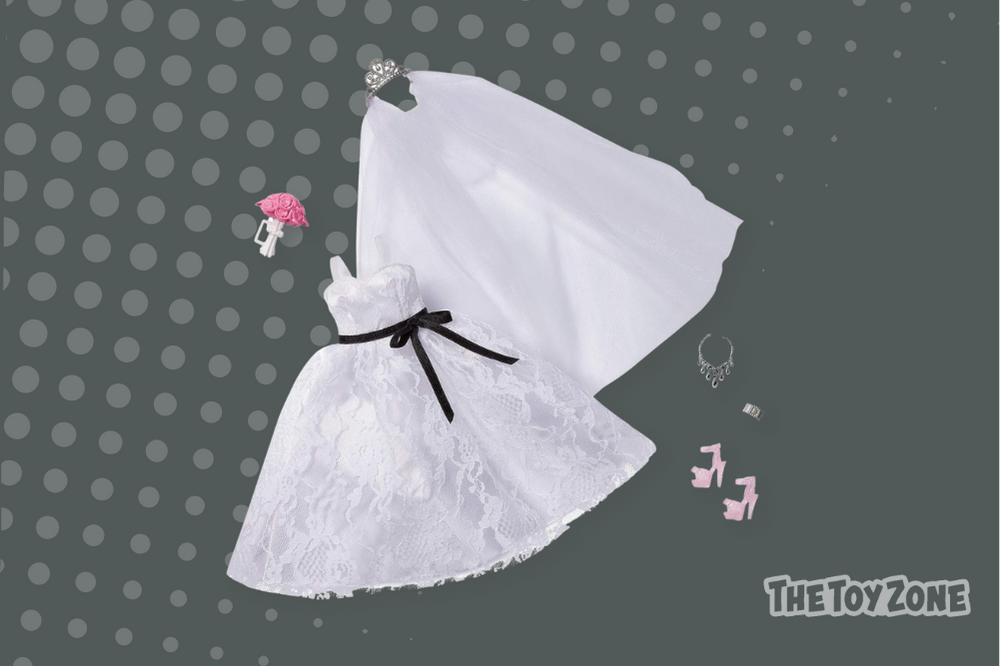 This set is perfect for kids who enjoy reenacting special moments and dreaming of their future wedding day. Finding Ken a suit might be a good idea so Barbie doesn't outshine him when it's time to tie the knot.
What We Love:
❤️ The bouquet has a handle, so Barbie can hold it while she walks down the aisle
❤️ The dress poofs out just like a really magnificent wedding dress
What We Don't Love:
💔 This dress fits curvy Barbie, which means it is a bit big for regular Barbie dolls
💡 Tip: If Barbie's tying the knot with Ken, you'll need to get him a wedding outfit too – this one comes complete with a ring box and wedding cake.
This fashion pack is perfect for glamorous beach parties or evenings by the pool. It includes two different looks, but both give Barbie the look of a mermaid who recently got her legs. One outfit consists of an iridescent coral skirt and a pink graphic tank top, while the other is a stylish starfish-print purple dress with ruffles on the sleeves and shoulders.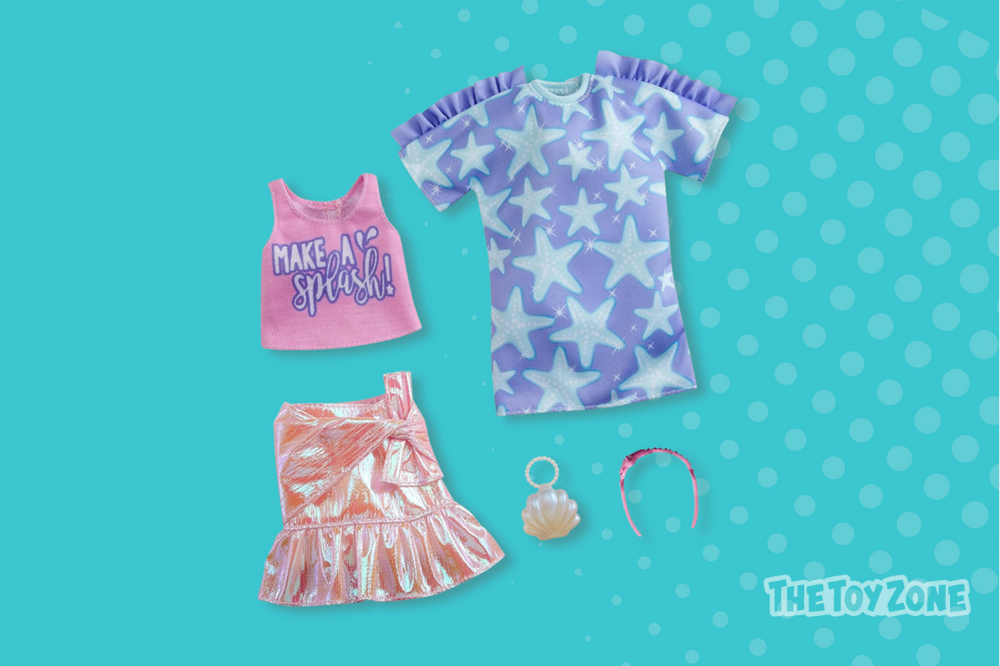 This is a great set for kids who love the beach and pretty sparkly things. It also has a starfish headband and an adorable opalescent seashell purse to match the dress.
What We Love:
❤️ It's another well-made set that's excellent set mixing and matching with other outfits
❤️ This set has some great pieces with varied textures, colors and different types of shimmer
What We Don't Love:
💔 It would be nice if the blue dress had a pearly belt or a waist ribbon to provide a different style
A fantastic addition to the Barbie career fashion line, this set lets Barbie become a world-class gymnast. With a gorgeous sparkly pink leotard and silver hula hoop, it's perfect for Barbie's gymnastics or dance classes. It also comes with a water bottle, so Barbie can keep hydrated while she works out and remind her little one to drink water too.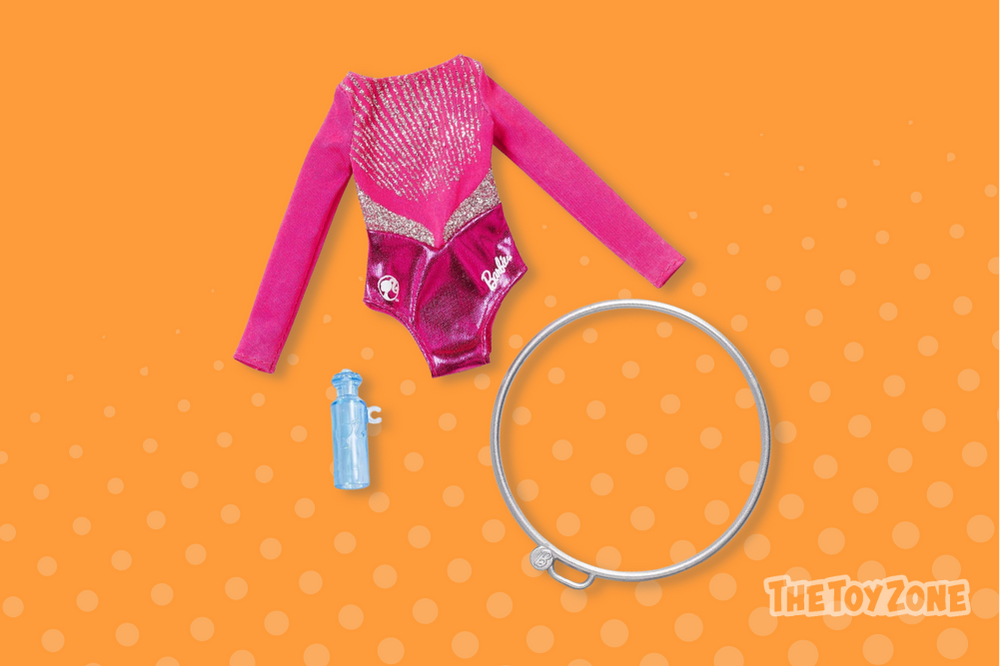 This gymnast set is clearly play-oriented. The hula hoop includes a little hook so you can put it on Barbie's arm and make her dance and the water bottle has a handle that fits on her hand so that she can hold it.
What We Love:
❤️ Kids will love this unique outfit, especially if they do gymnastics
❤️ The material is stretchy and will work well with a Made-to-Move Barbie
What We Don't Love:
💔 Be prepared for the glitter to show up where you are least expecting it
Everyone loves birthdays and this set is perfect for Chelsea's big day. It contains one darling pink and yellow dress with frilly sleeves and an adorable llama print design. It also includes a headband, pink shoes, a gift and two cupcakes on tiny plates. Parties are one of the most popular activities for children with dolls and stuffed animals, so why not equip them properly for the occasion?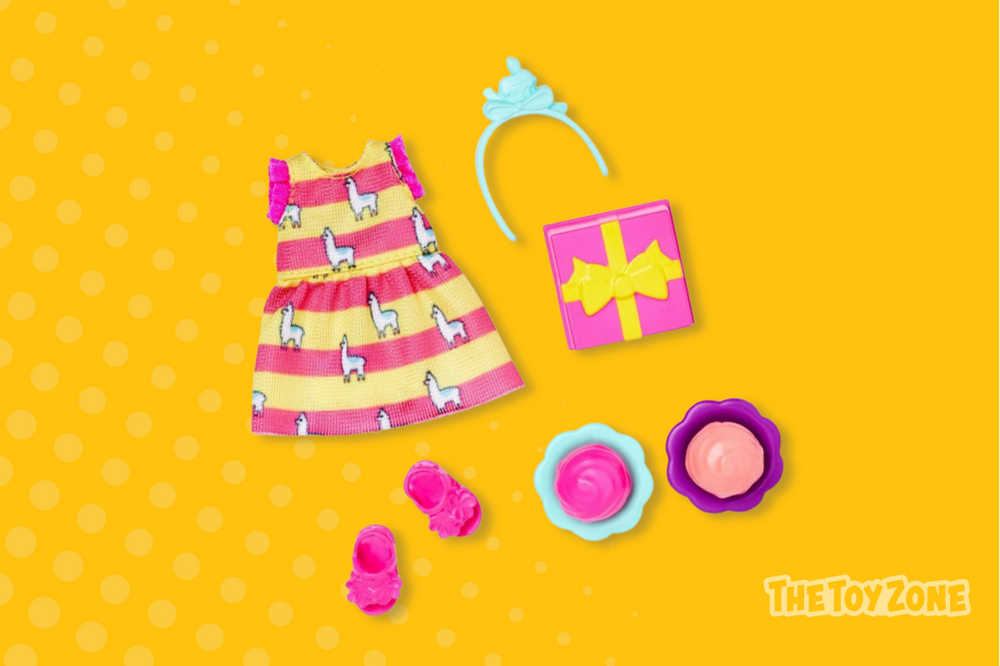 What We Love:
❤️ This is a great set for children who love to conduct tea parties and gatherings
❤️ Chelsea clothes are often hard to find in stores, so this is a real treat
What We Don't Love:
💔 These clothes are a little on the smaller side so require some patience to put on
💡 Tip: Need more options for your Chelsea doll? With this set she'll be all ready for the beach or pool.
Another great set for little sister Chelsea; this one has everything she needs when it's time to go to bed. The set contains a  toothbrush and toothpaste tube, a nightgown, slippers, a sleeping mask, a blanket that could also be a towel and a teddy bear. Kids can play with big sister Barbie putting Chelsea to bed before their own bedtime comes.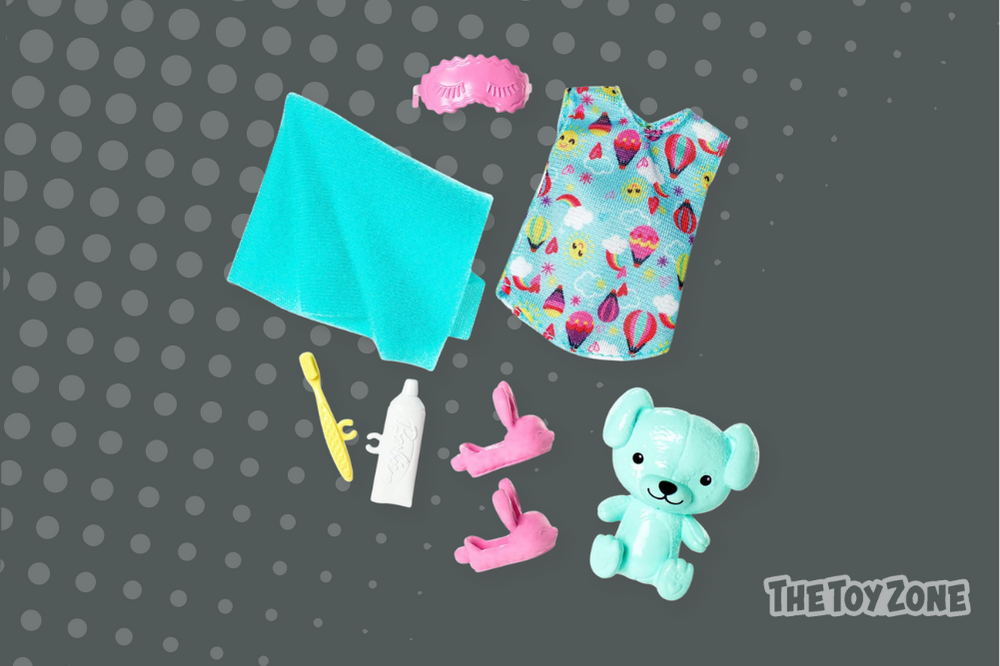 This is a good set to encourage storytelling and imagination in young children. The towel works well with the Chelsea Barbie Camper and the teddy bear and toothbrush are great additions to your Barbie accessories.
What We Love:
❤️ The bunny slippers are so cute that kids may want a pair
❤️ It's a great set for kids who never want to go to bed – they can put Chelsea to bed first as encouragement
What We Don't Love:
💔 We would love to see the teddy bear made out of a soft material rather than plastic
It's only natural that Barbie gets most of the focus, but if Ken is to look appropriate on her arm, he needs some stylish clothes too. This trendy summer set includes denim shorts, a red and black snakeskin T-shirt and a pair of fashionable sunglasses. It's a nice versatile set as the shorts will match several other shirts, and the T-shirt will go well with most of Ken's pants too.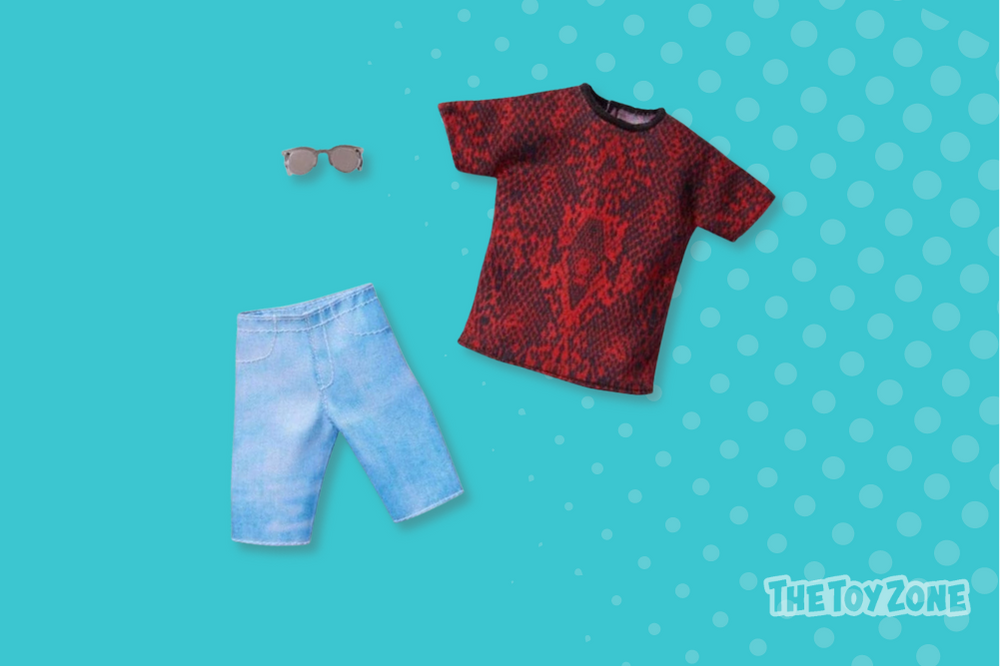 This set has a lot of attention to detail, and the items have a stylish, modern look. The sunglasses even come attached to a thin rubber band to keep them secure.
What We Love:
❤️ We love to see a complete outfit that is stylish and beautifully detailed
❤️ The design on the shirt covers the back as well as the front, which often isn't the case
What We Don't Love:
💔 It would be easier to put on and remove the clothes if they included openings in the back
This Harajuku-inspired outfit comes with many accessories, including a phone, a camera, high heel shoes, a small pink purse, a trendy handbag and a gold necklace. The T-shirt dress and handbag feature Sanrio characters, including Hello Kitty. So if your kiddie loves Sanrio or Japanese characters, this set is a great choice.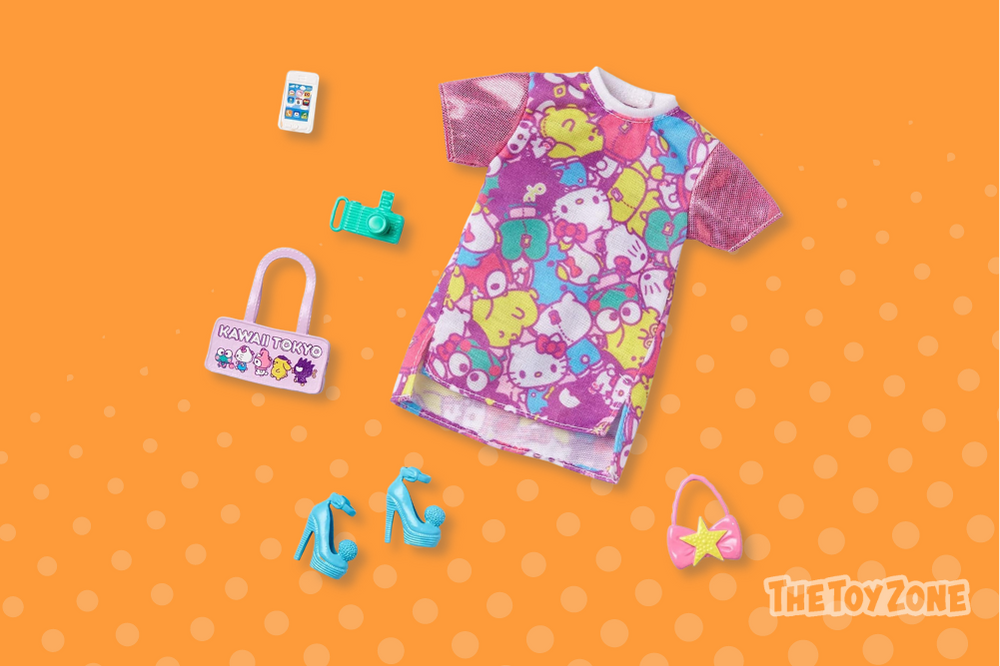 This pack is a great collector's item because the included accessories are all beautifully detailed and stylishly designed. With this outfit, Barbie will be more than ready to stomp the streets of Tokyo.
What We Love:
❤️ The phone, camera and purse can be used with just about any other outfit
❤️ This is one of the best color-coordinated outfits on this list, and the Sanrio design is trendy and cute
❤️ Great quality with a lovely soft fabric dress
What We Don't Love:
💔 The set would be improved if it included shorts or pants as the dress is very short
💔 It's a little baggy on regular sized Barbie
💡 Tip: Can't get enough of the Kawaii cuteness? Here's another great Hello Kitty-inspired option.
This elegant pink and turquoise floral print gown is perfect for Barbie's next ball, banquet, or awards ceremony. The colors shimmer together, creating a soft lavender appearance and turning Barbie into the glamorous princess she is. The dress also features a pink ribbon sash and an asymmetrical hem, giving it a trendy air. 
Barbie can walk the red carpet in style with the purple textured clutch purse and gorgeous drop-diamond necklace. You will need a pair of suitable high heels to complete the look, but it's the perfect set for kids who love glitz and glamor.
What We Love:
❤️ This is a beautifully stitched gown, especially the ruching on the bodice
❤️ The decorative clutch bag is stunning
What We Don't Love:
💔 This dress is designed for curvy Barbie and may appear a bit large on regular Barbie
If you like the idea of a closet but want something more modest, this is a great choice. It's a simpler closet, making it easier for younger kids to handle and there's plenty of space inside to hang Barbie clothes and store shoes and accessories on the shelves. It also has a carry handle and lockable doors, so it's perfect for bringing along on vacation or to a friend's house.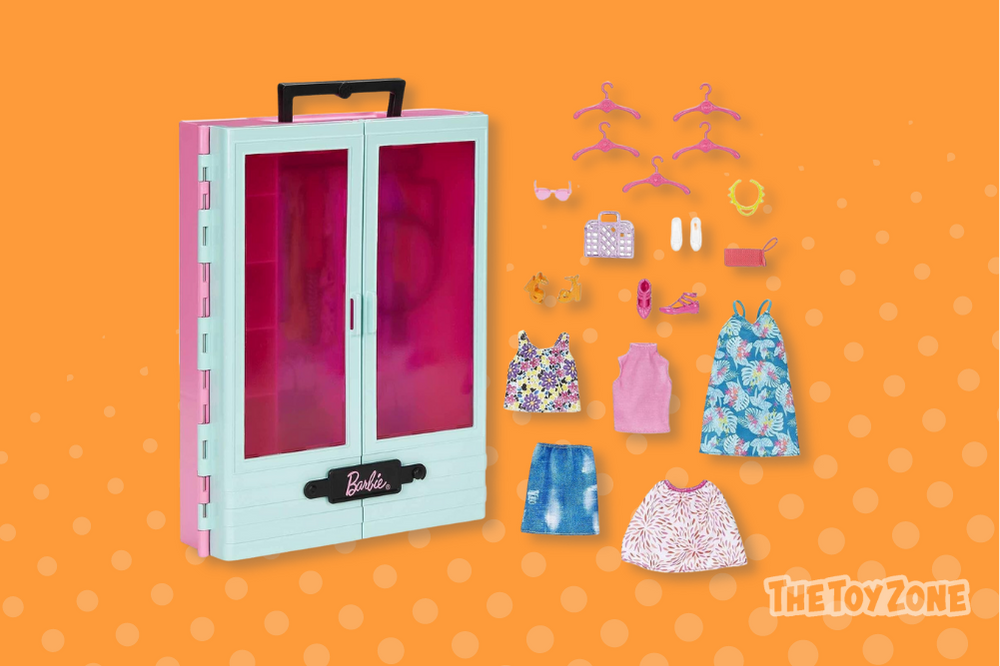 This closet comes with three cute outfits, an excellent selection of accessories and 5 hangers. Plus, because this is a smaller closet, it's a good choice for pairing with a dollhouse or Barbie Dreamhouse.
What We Love:
❤️ Great for traveling with Barbie as it's compact but still has enough space for plenty of clothes and shoes
❤️ The closet has lockable doors and a convenient carry handle
What We Don't Love:
💔 It's a little flimsier than the other closets on this list
Its summertime in the country and Barbie's headed off to a picnic. Of course, she needs a cute sundress, fashionable sandals and a picnic basket for tasty treats. This clothing pack is a great stocking stuffer or affordable gift, as the dresses are a great addition to any Barbie wardrobe, and the shoes are adorable.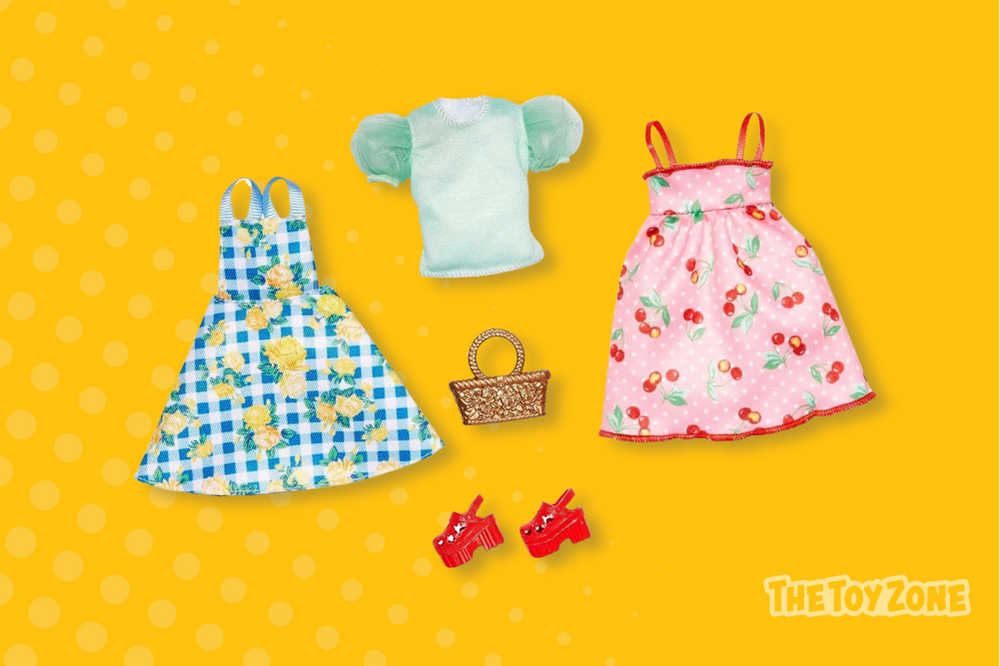 With their blue gingham and cherry prints, these dresses scream summertime and picnics. They're a good choice if your kiddo has curvy and regular Barbies, as the cherry dress fits best on a curvy Barbie while the gingham is best on the classic Barbie shape.
What We Love:
❤️ The red dress fits curvy Barbie well while the blue one fits best on regular Barbie 
❤️ All the clothes are cute, but the green shirt and the shoes are beautiful
What We Don't Love:
💔 The style of the cherry dress can make Barbie look a bit pregnant
💡 Tip: If your kid loves the pretty pastels, this is another cute outfit set they'll love.
Got a tiny fashionista on your hands? In that case, this tie-dye joggers and sweatshirt fashion pack might be the one for you. The jogger set is super cute and on-trend — with its tie-dye design and crop top, it looks like something a fashionable teen of today might wear. The set also comes with a trendy checkered dress, pink sneakers and a baseball cap.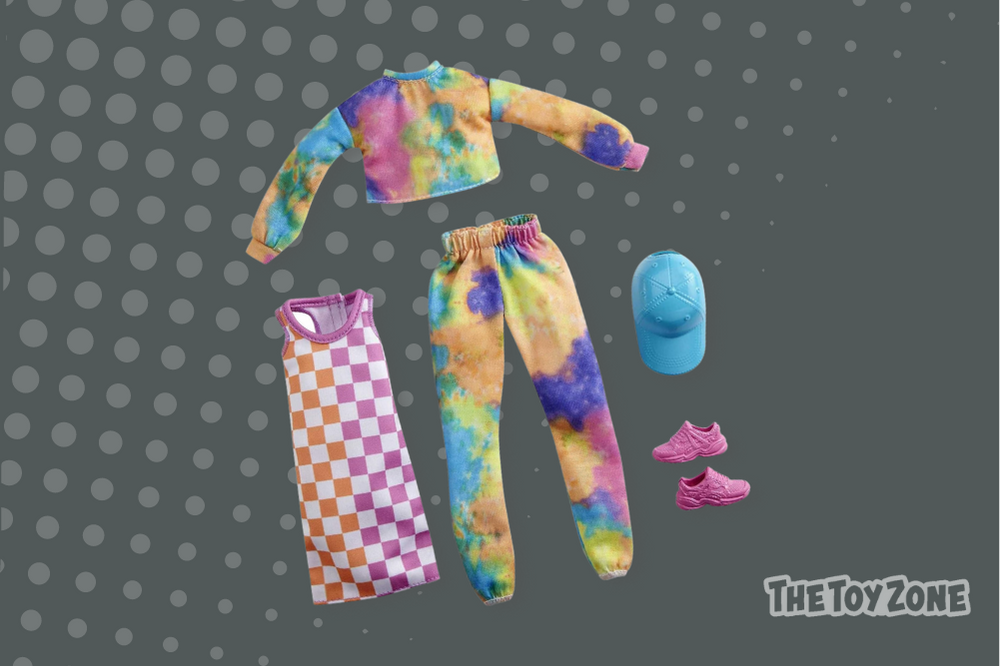 These clothing items are loose fit, so they work on all the different Barbie body types. The clothes are also all clearly well-made, and the joggers, in particular, are dreamily soft and comfy.
What We Love:
❤️ The sweatshirt and dress have velcro openings at the back, so they're super easy to put on
❤️ The tie-dye outfit set is very trendy and a nice change from princess-style Barbie clothes
❤️ The clothes work well on various Barbie body types
What We Don't Love:
💔 The sneakers are a little big for Barbie's feet
💔 It's pricey for Barbie clothes but you are paying for quality
With this vibrant, colorful 2-pack, Barbie and Ken have never been more ready for the beach. The clothes in this set are really fun — Ken has a tropical shirt decorated with pineapples and coconuts as well as sunset orange ombre shorts, and Barbie has a floral sarong and stripy swimsuit in all the colors, plus a hot pink visor.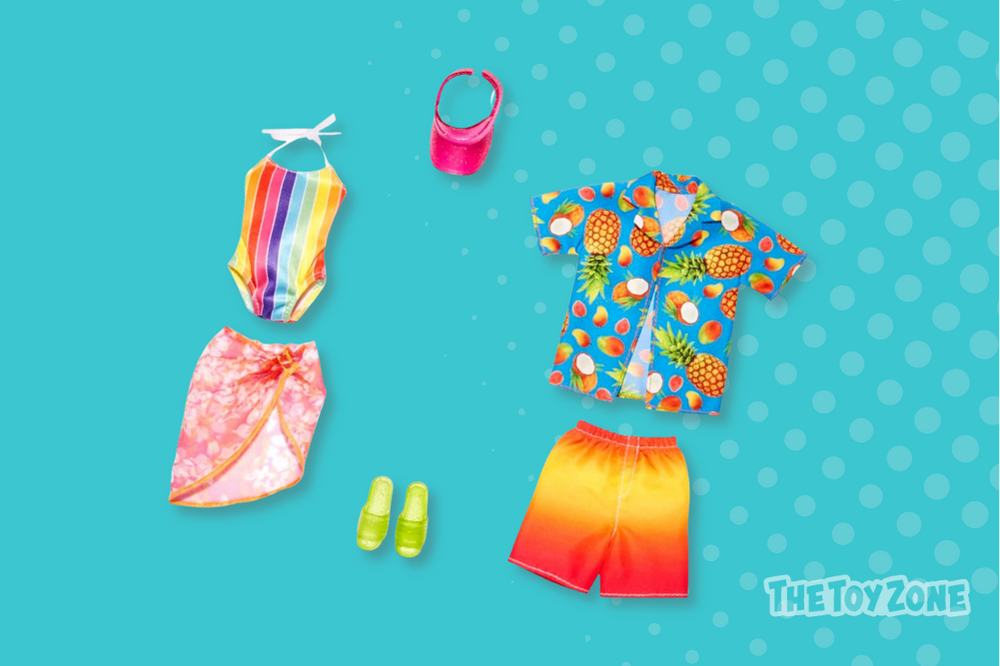 With these clothes, kids will be begging to take Barbie and Ken to the beach or the pool. The bright colors appeal to kids and collectors alike and I also love that the clothes are made from recycled plastic.
What We Love:
❤️ Fun, brightly colored outfits that younger kids will especially love
❤️ The swimsuit fits both curvy and traditional Barbie, and Ken's outfit can be worn by Barbie too
❤️ These clothes are made from recycled plastic, so they're environmentally friendly
What We Don't Love:
💔 The over-skirt doesn't seem to fit any Barbie perfectly, though most kids won't notice
Another beach day? It seems like the summertime fun never ends in Barbieland. This set is inspired by the Roxy brand, so it's perfect for surfer girl Barbies who love breezy summer fashion. You'll notice the signature hibiscus print on the top and pants and the Roxy logo on the cute rustic purse. There's also no shortage of other accessories to make the outfit pop.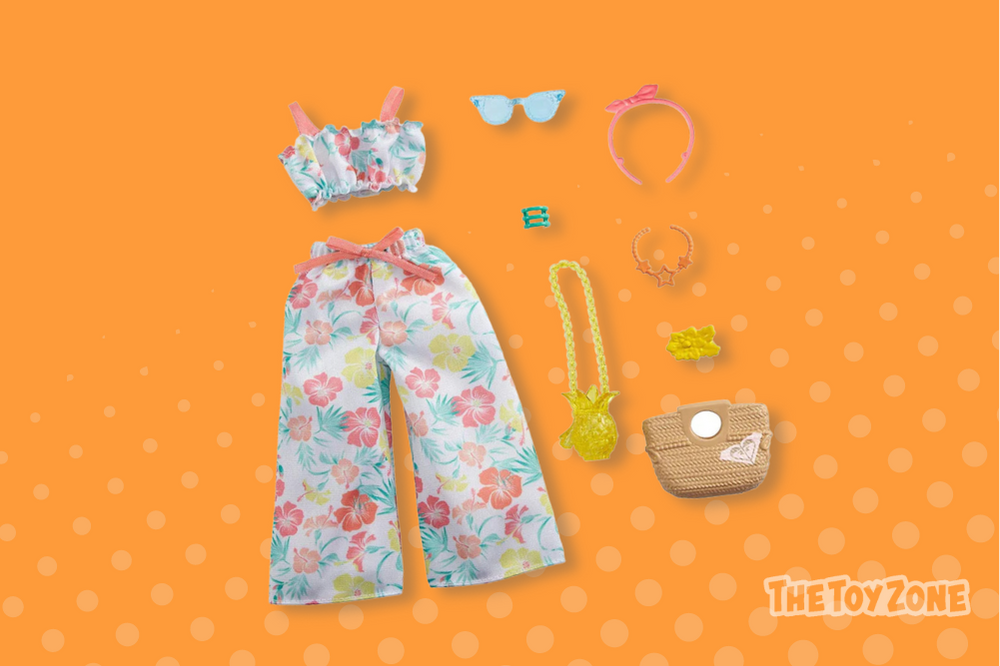 The floral two-piece in this set is very fashion-forward and it comes along with some darling accessories, including a tiny pineapple purse. It's a great set to add to your collection for endless mixing and matching.
What We Love:
❤️ This is a super cute and stylish set that's perfect for the beach
❤️ The accessories here are unbelievably cute – there's even a tiny pineapple purse
❤️ The outfit fits most different Barbie shapes
What We Don't Love:
💔 The set doesn't include shoes
💔 Some customers thought the clothes looked more like pajamas than an outfit to wear outdoors
This is another fun and colorful set that will appeal to younger and older kids alike. It's full of fun colors, patterns and shapes, like a stripy waterfall dress, polka-dotted T-shirt and jumper. The pink and purple color palette is Barbie to a T, but the sausage dog handbag is a hilarious modern twist that kids will love.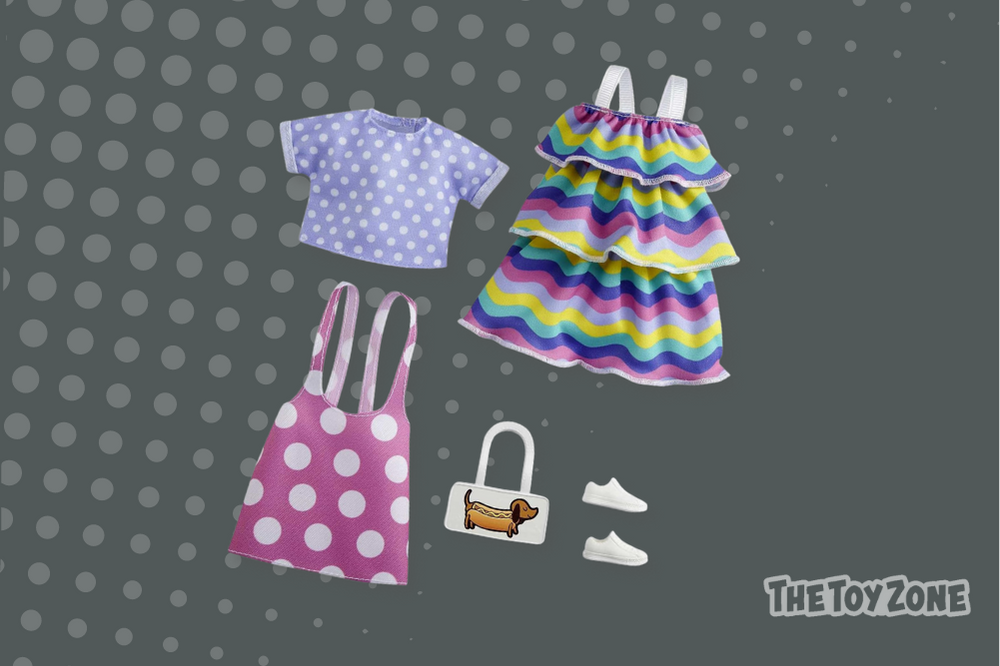 Along with the clothes and handbag, this set comes with a pair of white tennis shoes. Especially if you have one of the Barbies who can wear athletic shoes, this is a great affordable set to add variety to your Barbie wardrobe.
What We Love:
❤️ Comes with tennis shoes and a cute sausage dog bag
❤️ These are fun clothing items in great colors and patterns
What We Don't Love:
💔 The shoes are flat, so you'll need one of the newer Barbies with flat feet
Another trend-forward set, this 2-pack is perfect for Barbies who prefer a sporty street style. The oversized leopard print hoodie is the highlight of the set and on top of being super cool, it's also versatile as it works as a dress or a hoodie and even suits Ken. You could even buy two sets so Barbie and Ken can match.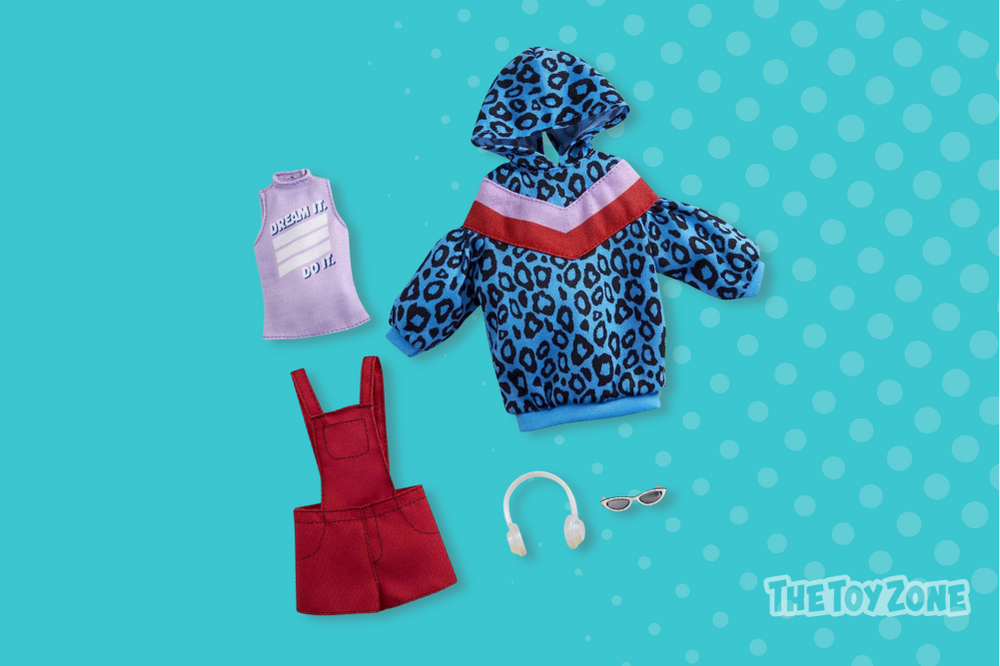 The red overalls and purple tee that make up the second outfit are also very cute and the set comes with some stylish sunglasses and a tiny pair of headphones. These are a great addition to your imaginative Barbie universe.
What We Love:
❤️ The hoodie is versatile as a dress or oversized hoodie. Even Ken can wear it
❤️ The headphones are a great touch that can add to imaginative play
❤️ Both outfits can work on regular or curvy Barbie
What We Don't Love:
💔 It would be great if the set included some shoes as well
This easy breezy, beachy set is another one inspired by the surf clothing brand Roxy. With its pastel graphic sweatshirt and peach shorts, it's wonderfully retro and modern at the same time. It's a great option for kids whose Barbies don't have enough casual clothes because sometimes you just want a laid-back day at the beach.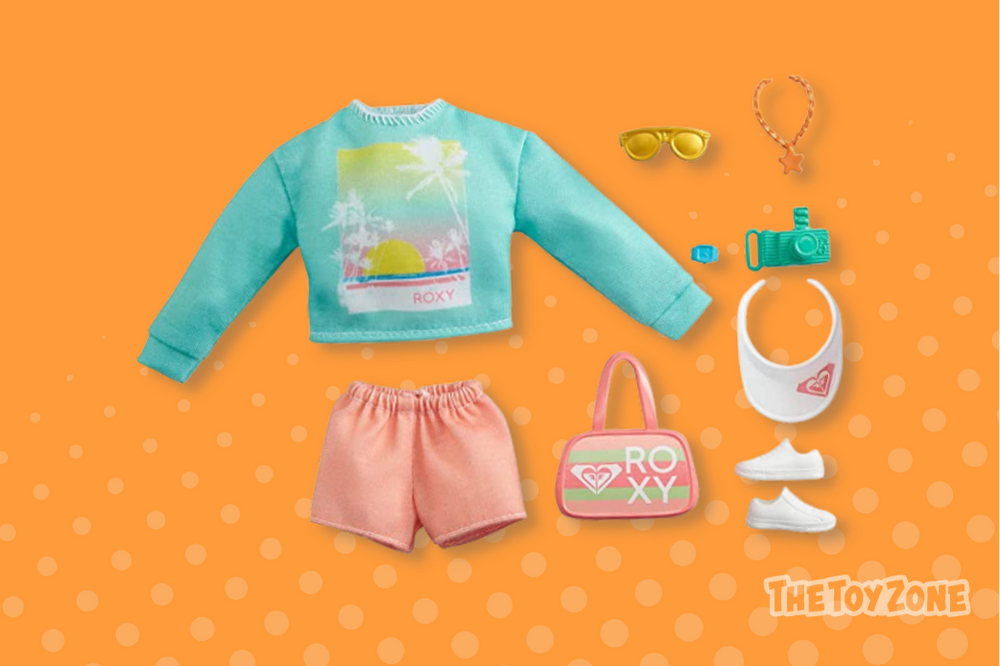 Although it's a casual set, Barbie's always gotta look good, so, of course, it comes with multiple cute accessories. All of these feature remarkable attention to detail, but my favorites are the Roxy branded beach bag and the tiny smartwatch.
What We Love:
❤️ A fun and laidback set in a unique pastel color palette 
❤️ The items are all well made and portray excellent attention to detail
What We Don't Love:
💔 The sweatshirt is a little on the thin side
💡 Tip: For a more dedicated beach look inspired by Roxy, check out this alternative.
---
Frequently Asked Questions About Barbie Doll Clothes
🙋Do all Barbie clothes fit all Barbies?
Back in the day, all Barbies were the same size, so no matter what clothes you got her, they were guaranteed to fit. However, Barbie has had a major revamp in recent years, with dolls of different sizes being released that reflect a more diverse range of body types. Now there's curvy Barbie, tall Barbie and petite Barbie in addition to the classic slim Barbie and with different body types comes the need for different clothing.
As such, not all Barbie clothes fit all Barbies. However, many Barbie clothes are more versatile and can fit different-sized Barbies. Whatever size Barbies you have, we recommend reading the product description and some customer reviews to ensure the clothes you buy will fit your dolls.
🙋 What did the first Barbie wear?
Today, having different clothes to style Barbie in is a big part of the doll's appeal, but the very first Barbie wore just one thing – a stylish black-and-white zebra-striped swimsuit. She had a signature ponytail with ruffled bangs and was available as either a blonde or brunette. This original Barbie was created by American businesswomen Ruth Handler and launched by Mattel in 1959.
In truth, Barbie was all about clothes from the beginning, as she was advertised as a "Teen-age Fashion Model." Soon, a wealth of clothes were made available to add to your Barbie's wardrobe and over the years, both Barbie and her fashion sense continued to evolve.
🙋 Are Barbie dolls good for kids?
Barbie is a massive cultural phenomenon, and as such, this isn't a simple question to answer. Barbie has had her fair share of negative press over the years, mostly revolving around the idea that she projects harmful body image expectations on girls. And although a much more diverse range of Barbies is available, Barbie still skews very slim.
On the other hand, it is undeniable that playing with Barbie dolls has many benefits for children as well. Imaginative play with dolls helps kids develop empathy and other important social skills. And although Barbie may portray an idealized standard of beauty, she's also ambitious – all the different careers that Barbie has tackled encourages girls to aim high.
---
So… What Barbie Doll Clothes Should You Get?
Whether you're buying a beach outfit for Barbie, a beautiful gown for Barbie, a big closet for Barbie, or trying not to forget about Ken, there's something here for everyone. It's all about giving kids a wide assortment of cool clothes for whatever stories and adventures they want to create with their dolls.
But why should it just be the dolls that get to dress up in beautiful clothes? If you're buying for a real-life princess, why not also give her an outfit to make her feel like one, like the Ecparty Princess Costumes Dress, which is as glam as anything you'd find in Barbie's walk-in wardrobe.
Of course, there's more to Barbie than just clothes, so for some more gift inspiration, have a look at our gift guide for Barbie fans to help her make popcorn and give the dog a bath…