They say the best way to predict the future is to invent it – and today, much of that invention is in the realm of code.
Coding is the process of writing instructions to make apps, software, and machines do the seemingly magical things they do. Programmers and developers use a range of programming languages to create complex sequences of code so that regular users can interact with soft- and hardware with minimal fuss.
Today's kids are hungry to invent the next generation of digital tools – and new jobs doing this are generated at a more lucrative rate than in any other industry. Coding is fun, challenging, and creative.
Learning to code helps kids learn other mental skills, such as logistical reasoning, critical thinking, and attention to detail. And it develops young personalities, boosting communication skills, confidence, and focus.
Their parents get this: 90% want their kids to do computer science at school. However, there is a shortage of teachers who code, and just 51% of schools deliver the subject right now.
That leaves parents eager to find simple, fun ways to help their kids try coding. So, today TheToyZone is publishing the world's first book you can change with code as you read it – no prior coding knowledge required!
Coding involves some of the same techniques as storytelling – and housebuilding, as the book implies. Simplicity, structure, and planning are key principles. But so is 'just getting stuck in.' We hope our easy-to-use book – Java and the Friendly Python – removes the intimidation factor by showing young coders some satisfying results using a few simple commands.
What might you see? Well, readers can change the color of certain illustrations in the book, choose the number of other elements, and help to animate one of the pages. You can even name one of the main characters (not Java – the other one) and see your chosen name appear throughout the book.
Now, click Get Started to begin your coding journey – or scroll on to see how the results might look and find ideas of what to do next.
The Fruits of Your Digital Labor
Coding is a life skill regardless of whether the learner ends up in a coding-based job. But among jobs where coding is prominent, computer programmers make just shy of $90k on average, web developers around $77k, and software developers around $100k.
But perhaps the best thing about coding is that it applies to so many interests and industries. Programming jobs are available in just about any flavor a young coder desires. And professional coders can specialize and weave a personal route, imagining, designing, and building art and tools that we can't yet imagine. Like any act of construction, the feeling of fulfillment on a job well done can be immense.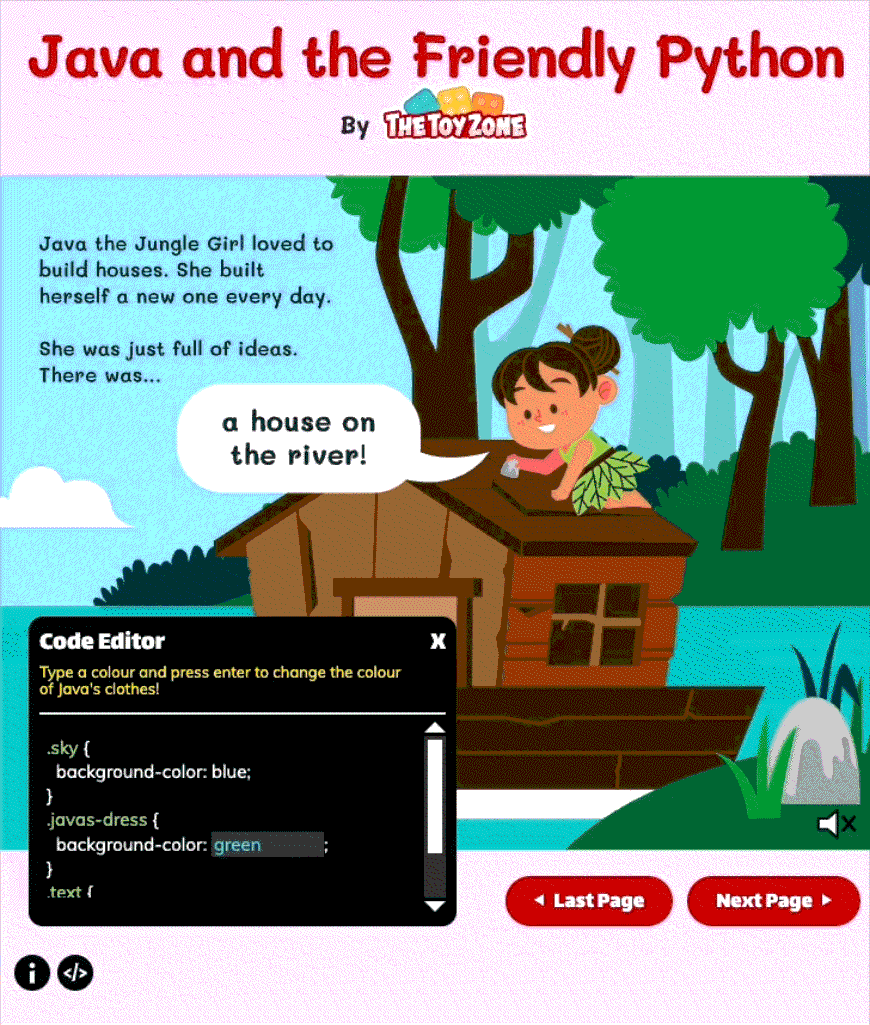 If our codable children's book helped you catch the coding bug (pun not intended), read on to find out our favorite coding toys for 2022.
The 10 Best Coding Toys for Children
Some kids love LEGO, some are obsessed with Star Wars —but all little ones could benefit from learning some coding skill. So, if you're looking for a gift that will get kids started on their coding journey while they play, read on, because we've selected ten of the best for different kids' passions.
1. For Kids Who Love Music: Code Piano
If the kid in your life is obsessed with music AND coding, look no further. Girls and boys can modify the piano's sound and learn the basics of coding. It was designed by parents, teachers, and engineers to help kids take their first steps in the world of code, all while they fine-tune their musical skills.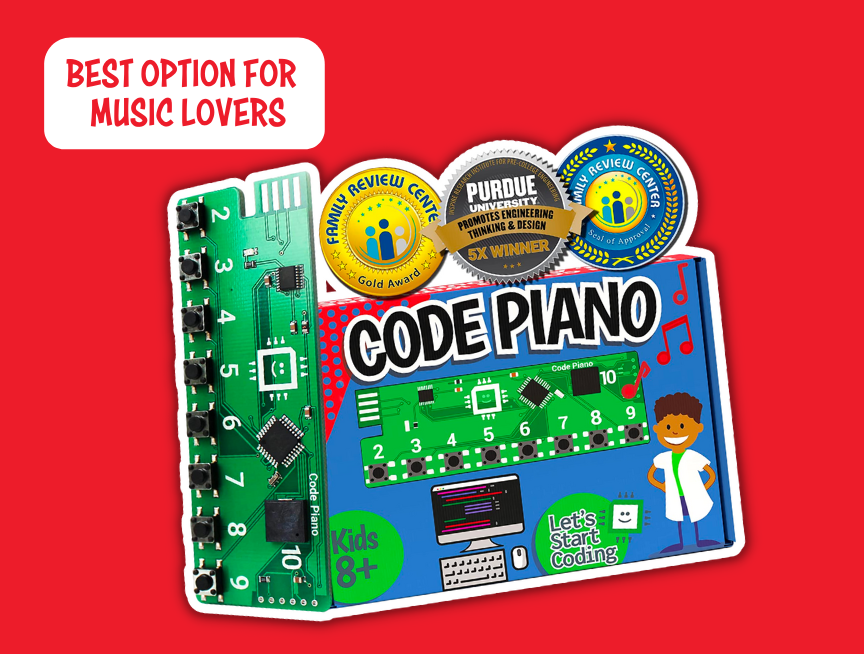 Recommended age: 8 years and above
Why This Is an Awesome Coding Toy:
❤️ Video guides on the website make it easy to get going for the young coders
One Thing We Would Love To Change:
💔 The piano itself is very small, so we'd love to make it bigger
This one-of-a-kind mechanical coding robot is designed to teach youngsters about mechanical engineering principles and the basics of coding, all without sitting in front of a screen. After assembling Mech-5, your little engineer can see the result of their work and watch the robot throw, lift, kick or draw its way around your living room.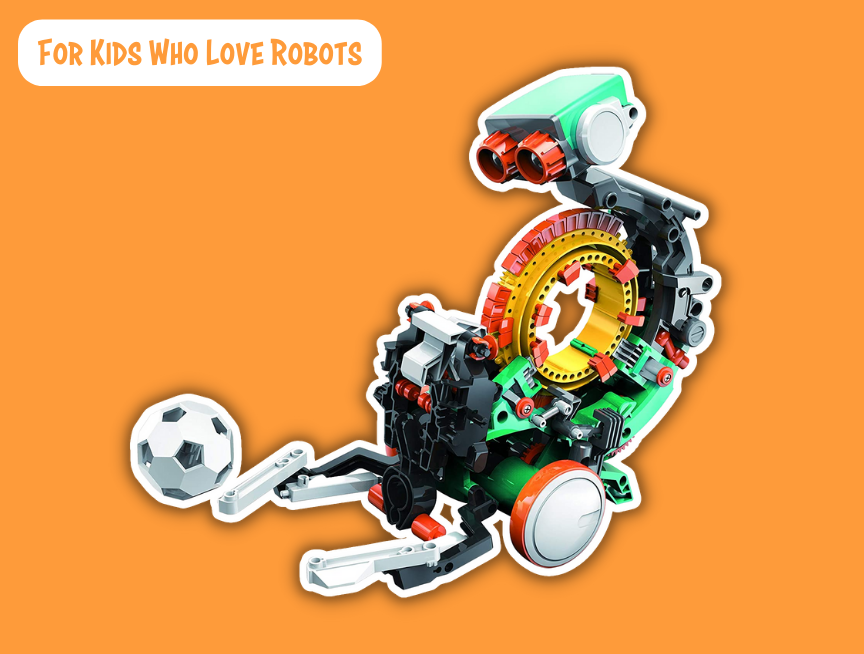 Recommended age: 10 years and above
Why This Is an Awesome Coding Toy:
❤️You don't need a computer or an iPad to play with it
One Thing We Would Love To Change:
💔 There are lots of tiny pieces which are easy to drop and lose, especially for very young kids
For the train-obsessed, this award-winning smart train system is the perfect gift. Powered by robotic tech, kids can learn the basics of block-based programming using Scratch and interactive programming in Python, all by playing with trains. While they build multi-level smart rails and cities, they'll be developing essential skills.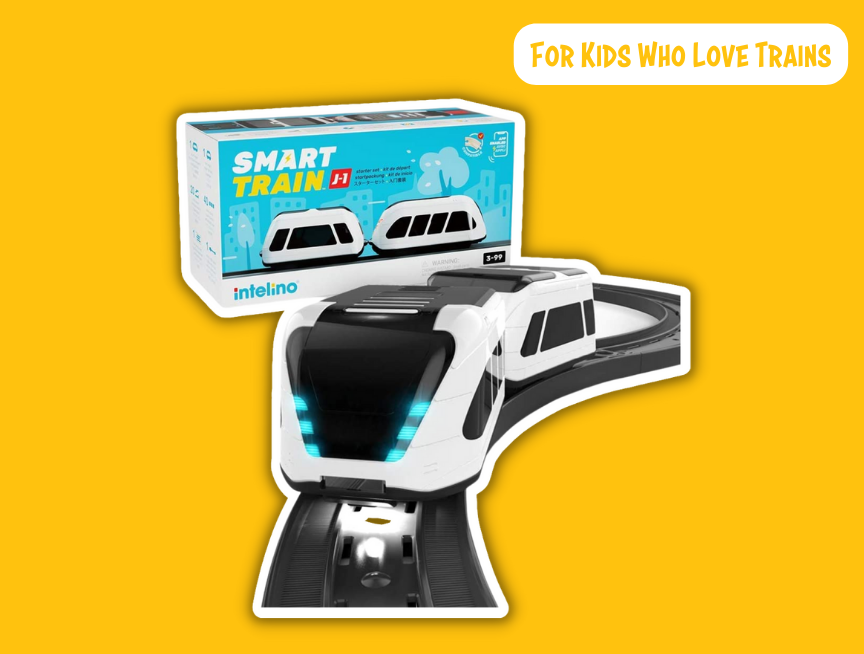 Recommended age: 3 years and above
Why This Is an Awesome Coding Toy:
❤️ It's compatible with most traditional wooden train systems including BRIO, IKEA and Thomas & Friends
One Thing We Would Love To Change:
💔 Kids have to operate at slow speeds or derailments are inevitable, so we'd love to make it more secure at high speeds
For the kid who has more of a medieval imagination, Blazer the Dragon and his screen-free coding spellbook is perfect. They can learn to cast 12 coding spells that make Blazer light up, dance, chase his ball, and more. As they code their way through the storybook adventures, they'll learn basic coding, spatial concepts and sequential logic.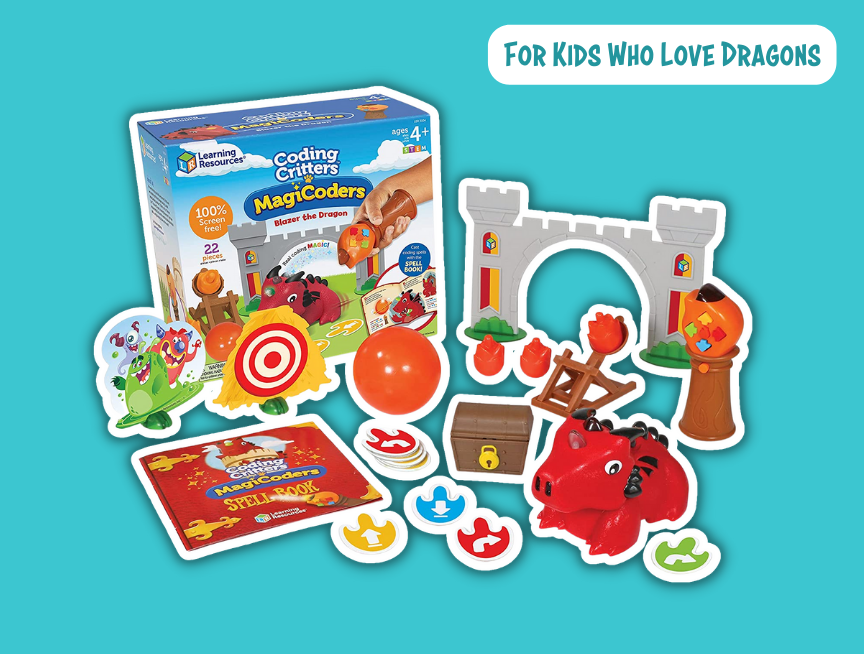 Recommended age: 4 years and above
Why This Is an Awesome Coding Toy:
❤️The magic wand remote adds to the fantasy coding fun
One Thing We Would Love To Change:
💔 It can be difficult to use without parental guidance, so we'd love it if it was more suitable for independent play.
This screen-free storybook sets up a coding adventure where kids can play hide and seek and solve endless coding challenges, oh and they'll also be required to take care of interactive pets. This is a great gift for young kids to learn basic coding concepts — kids can program the toy by pressing the buttons and using the commands to make Bopper move around the room.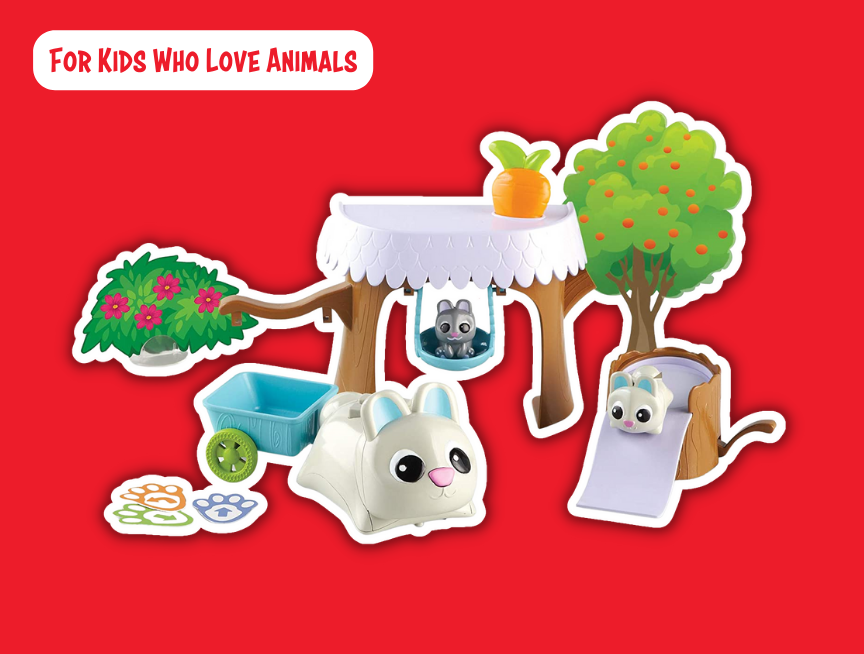 Recommended age: 4 years and above
Why This Is an Awesome Coding Toy:
❤️ Very young kids can play with this without even knowing what coding is
One Thing We Would Love To Change:
💔 Batteries are not included — we'd love it if it was useable out of the box
For kids who just want to use their iPad all the time, this toy lets them interact with hand held pieces alongside their touchscreen. Using physical blocks and coding commands, they'll learn key skills like logic, teamwork, listening, critical thinking, observation, creative problem-solving, and pattern recognition.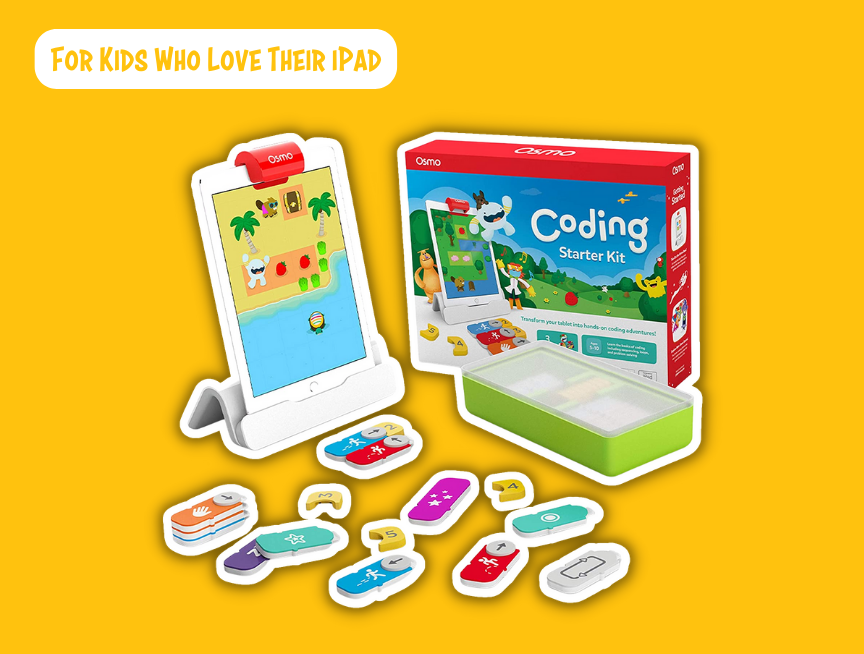 Recommended age: 5 years and above
Why This Is an Awesome Coding Toy:
❤️Real-time audio and visual feedback lets children learn through fun experimentation
One Thing We Would Love To Change:
💔 You 100% need an iPad — it would be great if kids could use this without one if they want to
This toy lets kids learn the basics of robotics by building multi-functional motorized robots out of LEGO with coding blocks on a tablet. Watch your little future engineer build, code and complete over 60 fun activities. The best thing about this toy? We think it's the 847 LEGO pieces that come included!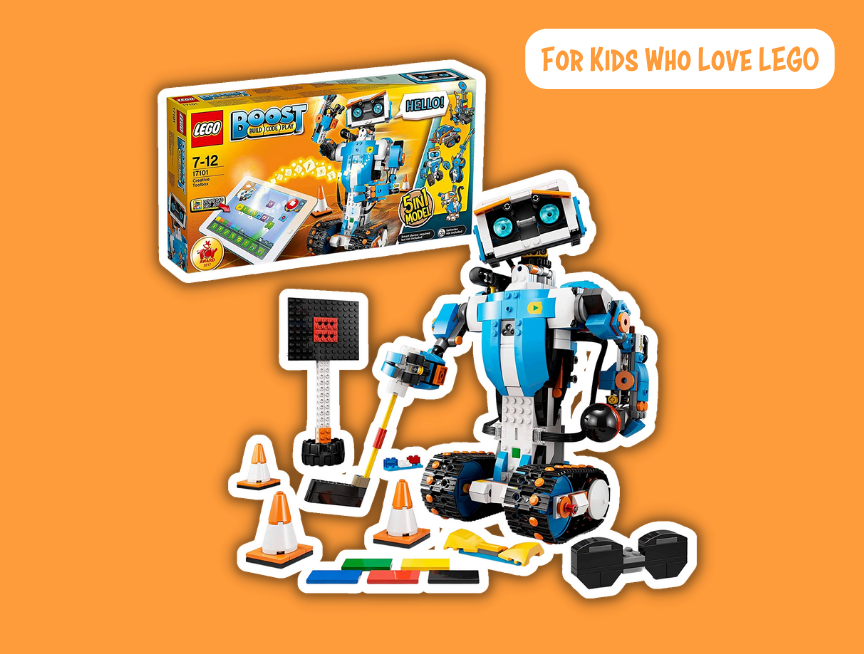 Recommended age: 7 years and above
Why This Is an Awesome Coding Toy:
❤️ Other than the LEGO pieces, the toy Includes LEGO Move Hub with Bluetooth so the fun is never-ending
One Thing We Would Love To Change:
💔 It's expensive — we wish it was more accessible for parents on lower incomes
Trick young soccer fans into learning the basics of block-based coding with this robotic ball. The Sphero Edu app contains over 100 computer science lessons for a variety of skill levels. As well as controlling the ball's movement through programming, kids can use the app to move the ball around.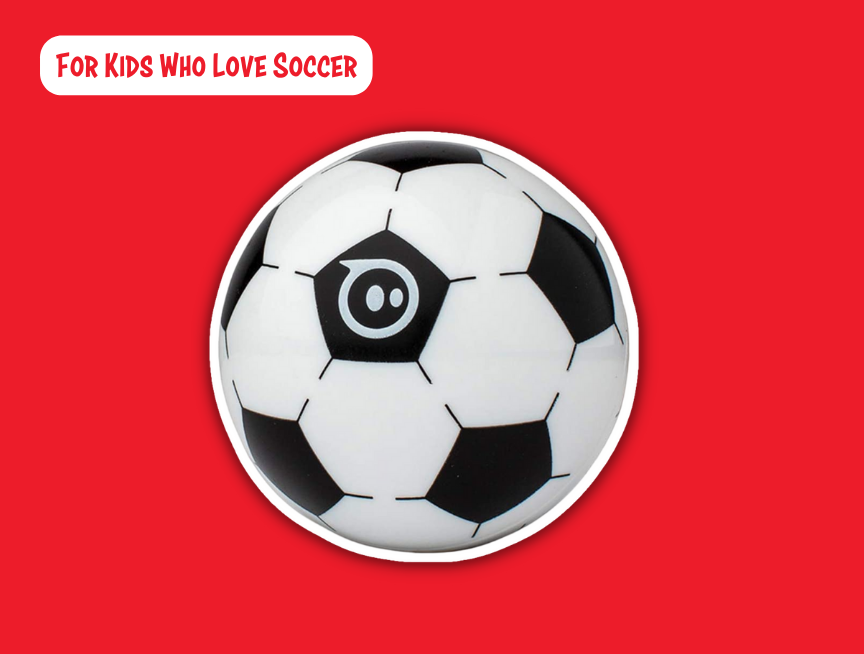 Recommended age: 8 years and above
Why This Is an Awesome Coding Toy:
❤️The battery holds almost an hour of charge, which kids will definitely need to master the arcade-style games
One Thing We Would Love To Change:
💔 It takes a long time to charge, which can be frustrating for impatient little ones
Watch your little padawan experiment with the Force to swing light sabers or pilot X-wings, all while they learn coding basics. This is a Kano toy — the innovative system has won the red dot design award, German design award, innovation by design award, and the Cannes Gold Lion. Kickstart your kid's coding journey from padawan to Jedi master.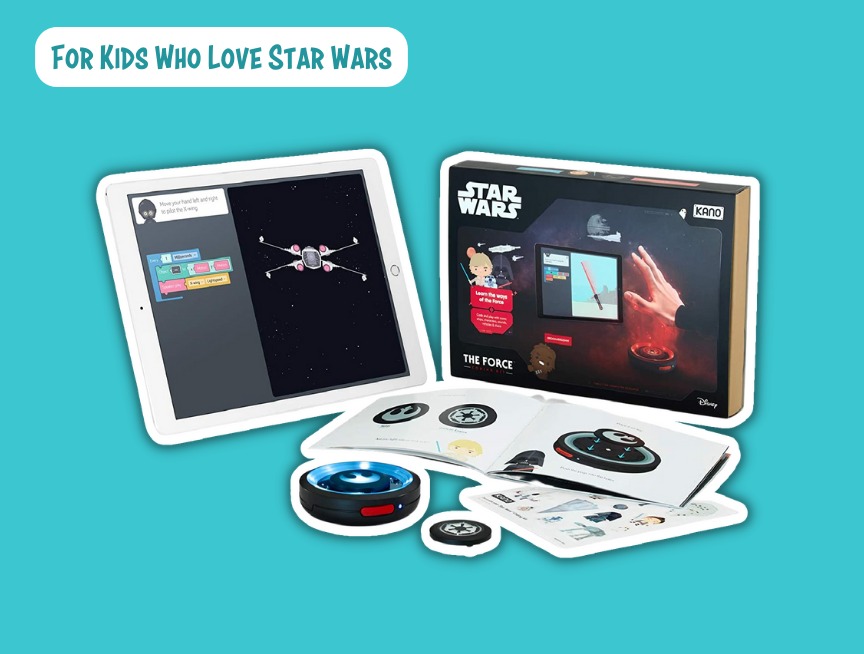 Recommended age: 6 years and above
Why This Is an Awesome Coding Toy:
❤️The step-by-step challenges keep little ones on track
One Thing We Would Love To Change:
💔 It would be great if this was an add-on for the Kano computer instead of a stand-alone toy.You do need a tablet or a computer to use it
This Robot Car Kit is the perfect gift for kids who love RC cars and are also showing an interest in programming, robotics, electronics, or mechanical design. By learning how to build and program a fully-functional robotic car, kids can improve their logical thinking skills and master the basics of mechanics.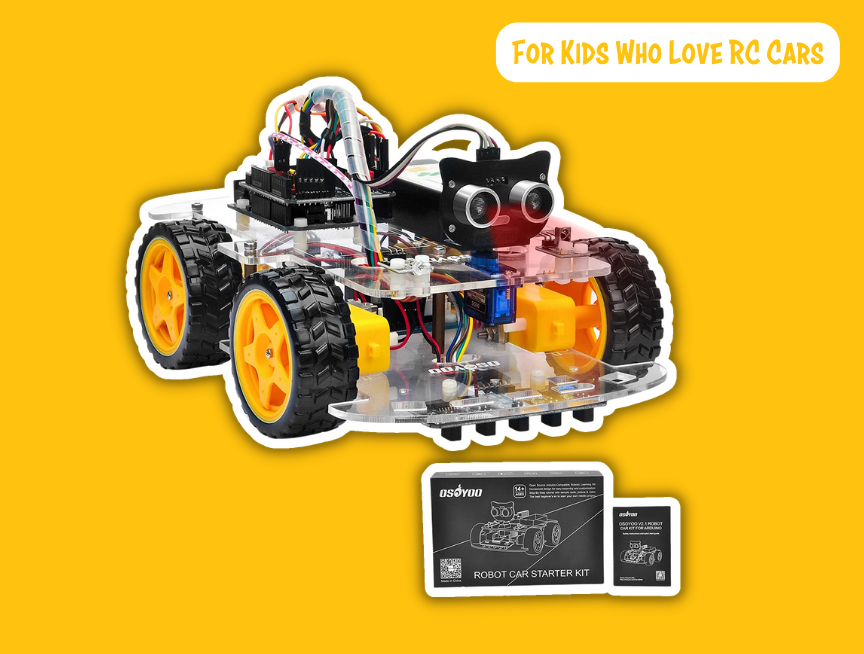 Recommended age: 10 years and above
Why This Is an Awesome Coding Toy:
❤️Helps kids to learn about circuits, sensors, actuators, and the Internet of Things (IoT), all while they get hands-on programming, coding, electronics and robotics experience.
One Thing We Would Love To Change:
💔 Some have found the instructions and online video hard to follow.
---
So… Which Coding Toy Should You Get?
And once you've found the perfect toy, there's still plenty more to do and invent to keep their passion flowing.
Why not let them try:
Whether future folks find themselves deep in the metaverse or browsing their phone on a self-driving bus, their environment will be built with code. Clearly, it's a future that is very much here today – from the networked world around us to the young minds who will take coding to the next level.
With a sense of fun and creativity, it could be a very bright future indeed.