I remember being six years old and surrounded by friends collecting Pokémon cards, religiously watching the animated show and having heated debates about which Pokémon was best (you can learn what the world thinks by checking out our map of the most popular Pokemon in each country). 
Then, the other day, I visited a friend whose son is just as obsessed with Pokémon cards and all the rest as we were more than 20 years ago. The power of Pokémon to capture the hearts of kids is phenomenal — and still going strong.
Such a popular and enduring show is guaranteed to spawn a boatload of merchandise – and it has. You can buy Pokémon toys, board games, themed clothes and a waffle press. But figuring out what's good can be tricky amidst all that. So to help you out, we've compiled a list of the best Pokémon gifts available today. Our selection is well-researched, and we've got options for all ages. 
So whether the Pokémon trainer in your life is into building things, drawing things, playing games or turning their room into a shrine to all their favorite media franchises, there's something here that they will love. You may not be able to catch them all, but you'll want to see at least one of the gifts on this list.
The Top 3 Pokémon Gifts
Those are my top three picks, but honestly, there are so many fantastic options that those ones only won by a hair. Plus, the best choice depends on your budget and the age and interests of the person you're buying for.
So check out the complete list below for more awesome Pokémon gifts.
Best Gifts for Their Desk
An adorable Pokémon mixed with the classic big-headed Funko Pop aesthetic? It's a match made in heaven. A slightly more grown-up gift than a toy action figure, this square-headed Charmander is the perfect adornment for any Pokémon fan's bedroom. This one will surely be a hit with collectors, as it is part of the Diamond Collection — a unique limited edition range.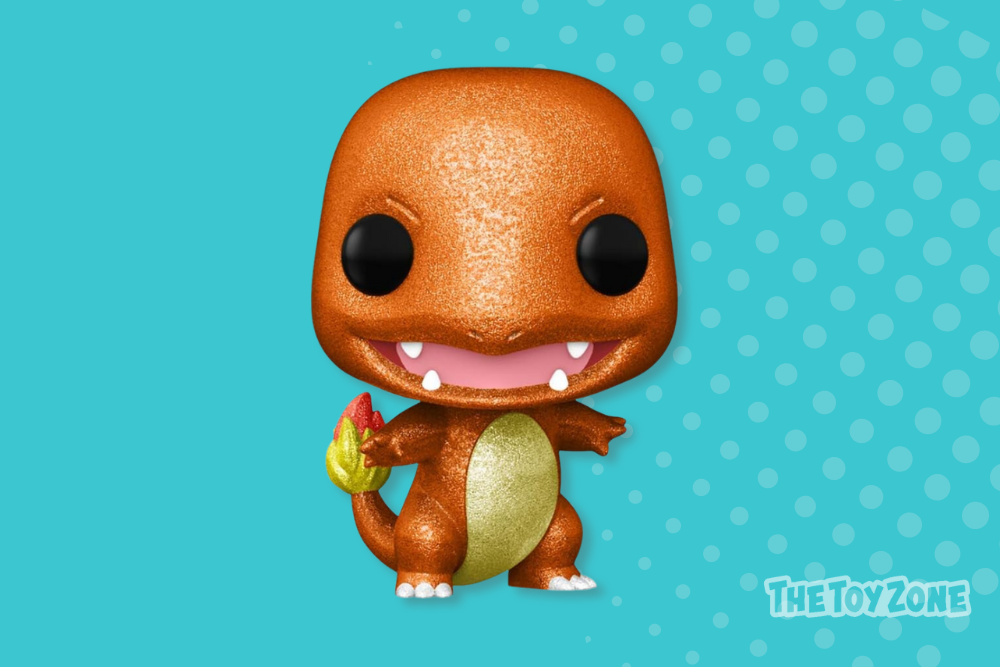 Recommended age: 4 years and above
Like all Diamond Collection Funko Pops, our orange friend is covered in sparkles, which makes him feel even more special. And like all Funko Pops, he is super cute and of the highest quality.
What We Love:
❤️ Adorable, sparkly depiction of Charmander that older fans will love
❤️ Funko Pops' quality is always top-notch and this is no different
What We Don't Love:
💔 Not everyone will like that Charmander is sparkly
Known as a slightly cheaper alternative to LEGO, MEGA has been releasing some impressive and unique sets lately, and this Pikachu set is one of them. Made from 1095 pieces, it's no walk in the park, but it's a gratifying challenge for teens and kids with some adult help.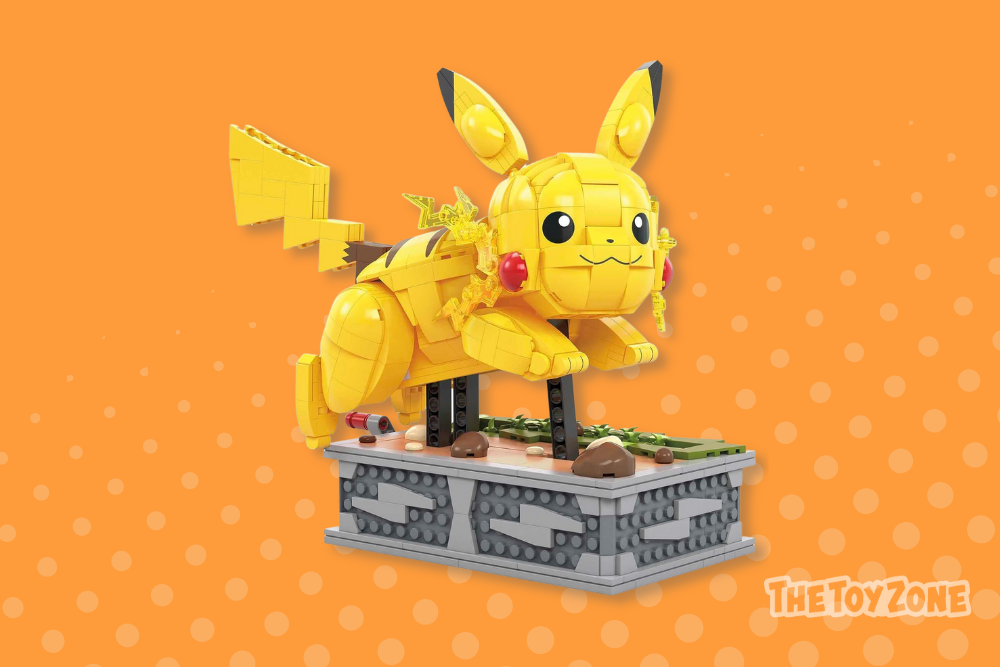 Recommended age: 12 years and above
The completed construction isn't just an adorable and detailed model of Pikachu mid-run — you can make him move using a mechanical crank. Just turn the handle and watch this yellow legend bound over the ground, which also transfers to give the impression of even more speed.
What We Love:
❤️ Runs and moves his ears and tail when you turn the crank
❤️ It's a fun challenge and looks beautiful when assembled
What We Don't Love:
💔 The pieces are a bit harder than LEGOs to stick together
What if you could make your own comic books containing your favorite characters but with your stories guiding them through adventures? Being artistic and creative is fun and great practice to develop as early as possible. Sometimes you need a jump start.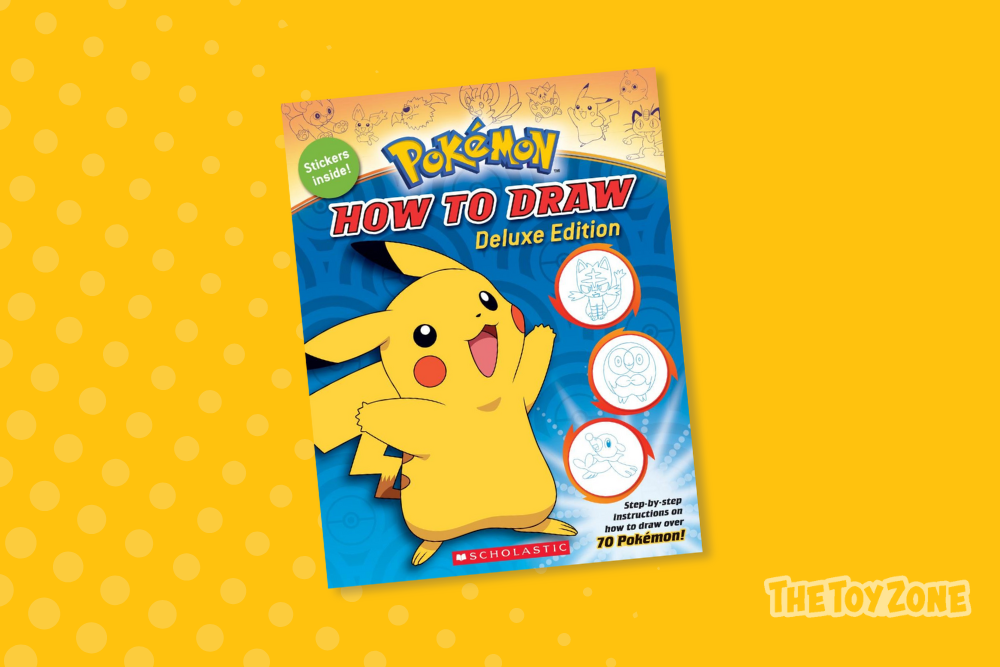 Recommended age: 6 years and above
That's where How to Draw Pokémon Deluxe Edition shows kids exactly how to construct their favorite characters on paper. Each page gives a step-by-step guide on how to draw over 65 different Pokémon from the first pen stroke to the last. Once they've learned the techniques, they can start creating Pokémon masterpieces.
What We Love:
❤️ Kids will love watching their skills improve
❤️ The instructions are easy to follow, and it suits all skill levels
What We Don't Love:
💔 Doesn't come with a space to draw
Pokémon has been running for decades, so Pokémon fans come in all ages, and this gift option is for the older ones. This electronic Poke Ball is not a toy but an exquisite die-cast metal replica that wouldn't look out of place in a Wall Street office. If you give this to a die-hard Pokémon fan, they will love you forever.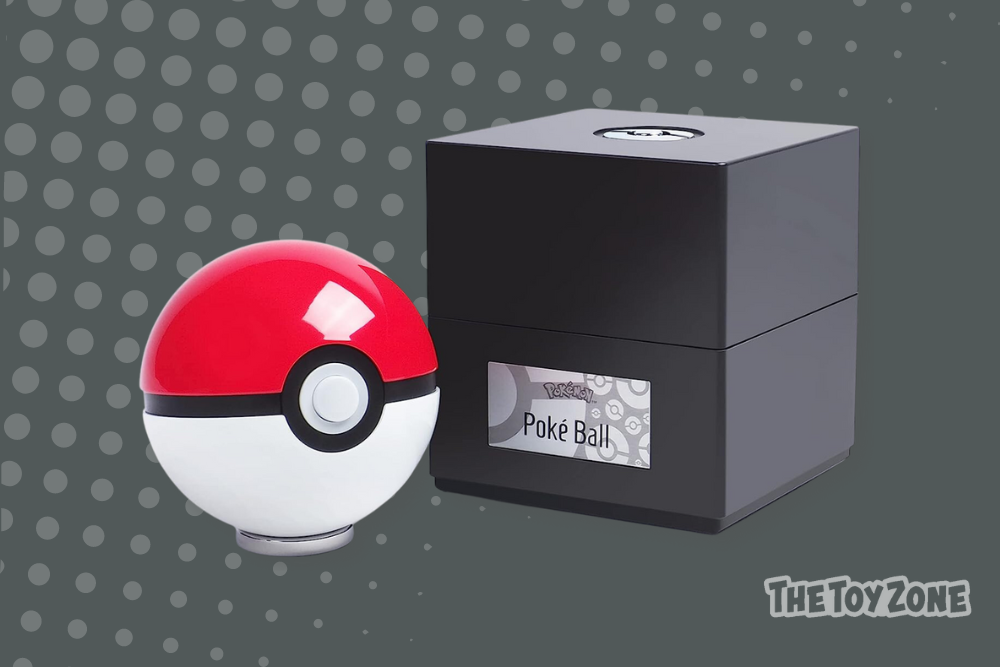 Recommended age: Teens and adults
On top of its impeccable design, this Poke Ball also has several features that give it a touch of realism. For example, it has proximity and touch sensing, so it will light up and make sounds when you reach out.
What We Love:
❤️ It has a solid and weighty feel thanks to the die-cast construction
❤️ The attention to detail, lights and sounds provide an immersive experience
What We Don't Love:
💔 It isn't a toy, so it's not for young kids
💡 Tip: For something that feels even more special and exclusive, you could go with the Ultra Ball instead.
---
Best Gifts They Can Play With
Pokémon is about catching and training mysterious creatures to win battles against others. If you want to win, you have to be the best. There's no better way to do this than playing with this Elite trainer box from the official Pokémon store.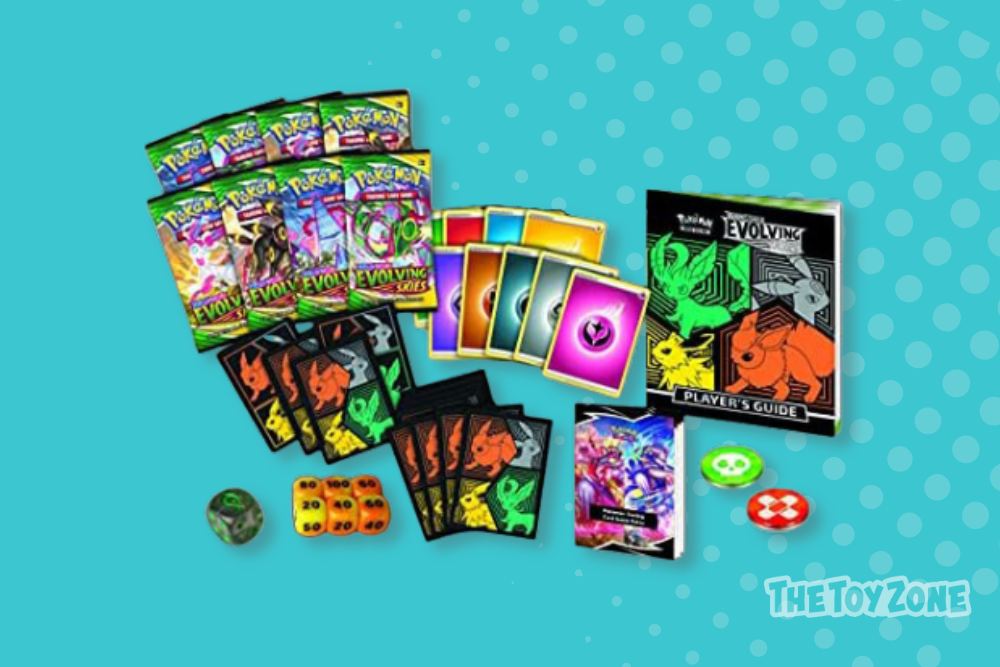 Recommended age: 6 years and above
Containing 80 cards, including Rayquaza VMAX, Duraludon VMAX, Dragonite V and Noivern V, the Pokémon TCG: Sword & Shield Evolving Skies Elite Trainer Box will take your collection to a new level. Train hard by rolling the six specialty damage counter dice and one competition legal coin flip die to advance and outsmart your opponents.
What We Love:
❤️ Has detailed players guide
❤️ Contains everything you need for hours of fun
What We Don't Love:
💔 You can't choose which cards you receive
💡 Tip: If those Pokémon aren't your cup of tea, there are alternatives to be found, such as this Elite Trainer Box from Sword and Shield: Lost Origin.
Oh Monopoly, how I love thee. This game has entertained families for over 87 years, constantly releasing new additions. Choose your character and navigate the board by rolling the dice and landing on different squares. Spend your money wisely to become victorious over your loved ones.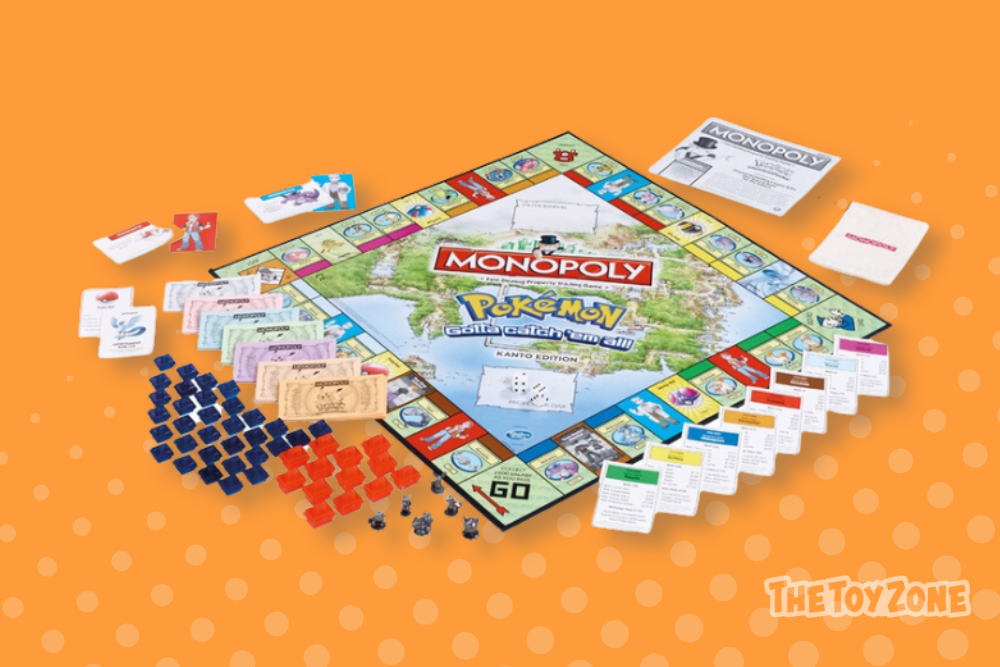 Recommended age: 8 years and above
Obviously, MONOPOLY: Pokémon Kanto Edition is no ordinary board. Each square contains different Pokémon to catch, Poke Balls to throw, and human characters to interact with. But besides that, the rules are essentially the same as regular Monopoly, so you don't have to worry about learning new ones.
What We Love:
❤️ You can choose from six characters to play as, including Pikachu, Bulbasaur, Charmander, Squirtle, Eevee and Jigglypuff
❤️ Instead of houses and hotels, you build Poké Marts and Pokémon Centers
What We Don't Love:
💔 It's expensive for a board game
Being a Pokémon trainer is a serious business — it takes all your knowledge and concentration to become the best. What better way to improve your trivia than with an electronic guessing game? With Pokémon Trainer Guess, trainers can put their knowledge to the test and use the included field guide to study.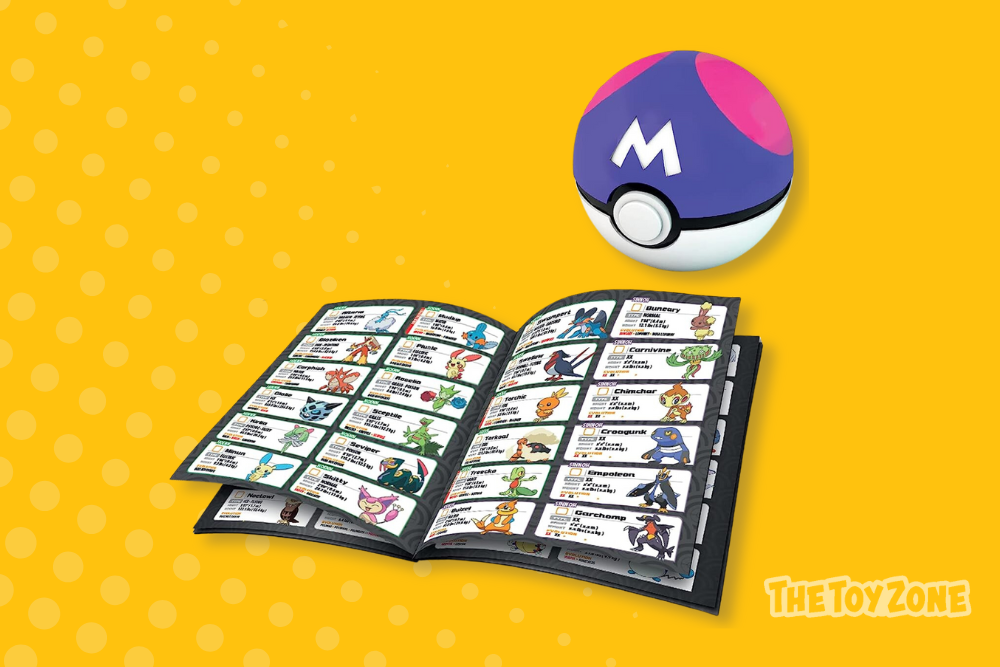 Recommended age: 6 years and above
This electronic game challenges you to answer questions correctly so the electronic Poke Ball can guess which Pokémon you're considering. You can answer the questions out loud as the Poké ball listens and understands you with its voice recognition technology.
What We Love:
❤️ It comes with a trainer field guide to help you along
❤️ There are 151 Pokémons to collect
What We Don't Love:
💔 The volume is quite loud
If you're shopping for a slightly older Pokémon enthusiast, this 1000-piece jigsaw puzzle is a great option. Puzzles are the perfect activity for rainy Sundays and family holidays and this one features a plethora of Pokémon in a fun, colorful design. And as everyone knows, Ravensburger is the gold standard for quality puzzles.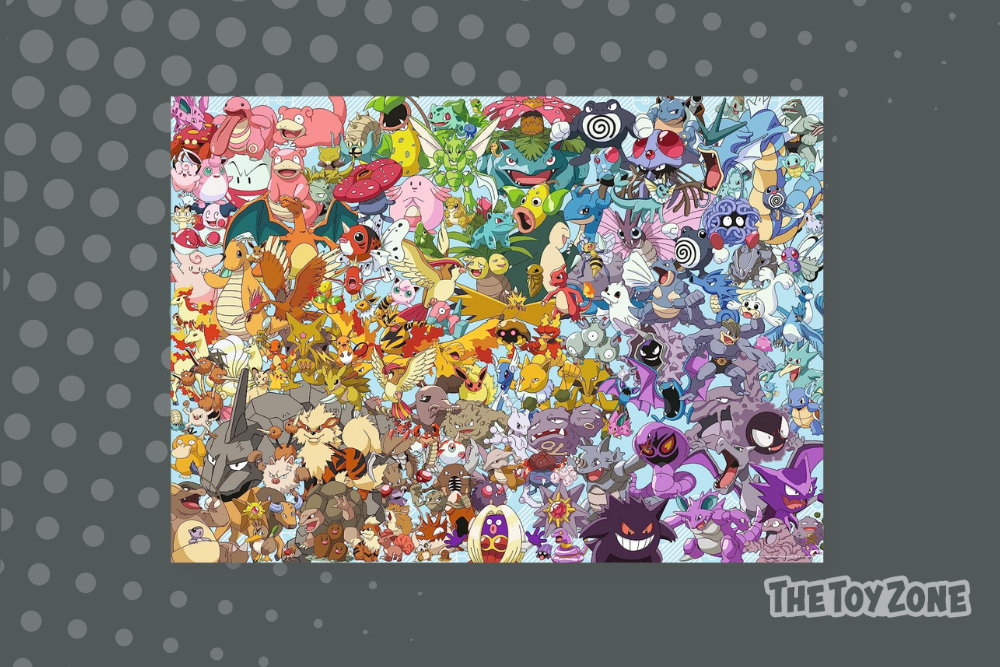 Recommended age: 12 years and above
Everyone loves the idea of completing a challenging 1000-piece puzzle, but sometimes the reality is more frustrating than you bargained for. Luckily, this puzzle groups the Pokémon by color, so it's easy to sort out the pieces and identify what goes where.
What We Love:
❤️ Ravensburger puzzle quality is unmatched
❤️ It is not overly challenging, as you can immediately identify which Pokémon you're building
What We Don't Love:
💔 A few customers found that pieces were missing
There are many ways to show the world how much you love Pokémon (as you've probably noticed from our list), so what better way to compliment your Nintendo Switch than by pimping it out with the official Hori Nintendo Switch Split Pad Pro? Adorned with graphics from Pokémon Legends: Arceus, this is the ultimate Switch for Pokemon fans.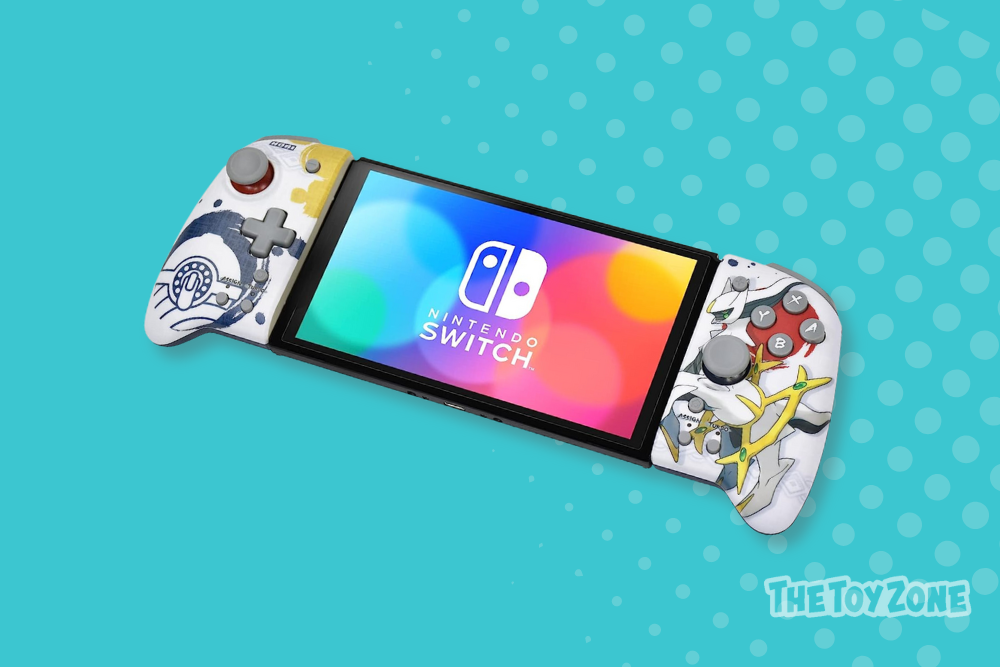 Recommended age: 4 years and above
With a wider grip and extra buttons, your experience playing Pokémon Legends: Arceus or any other game is amplified. Each pad is removable, so you can play multiplayer games and Pokémon games can be enjoyed to the max with its added trigger buttons.
What We Love:
❤️ It has graphics from the Arceus game
❤️ The triggers can be assigned to different game functionality
What We Don't Love:
💔 Quite expensive for a Joy-Con controller
---
Best Gifts They Can Wear
So you have all the figures, played all the games and caught them all — how else can you show your love for Pokémon? How about wearing it? Show everyone you're an expert trainer, and you mean business with this stylish Pokémon Mono Eeveeloutions Eevee T-shirt.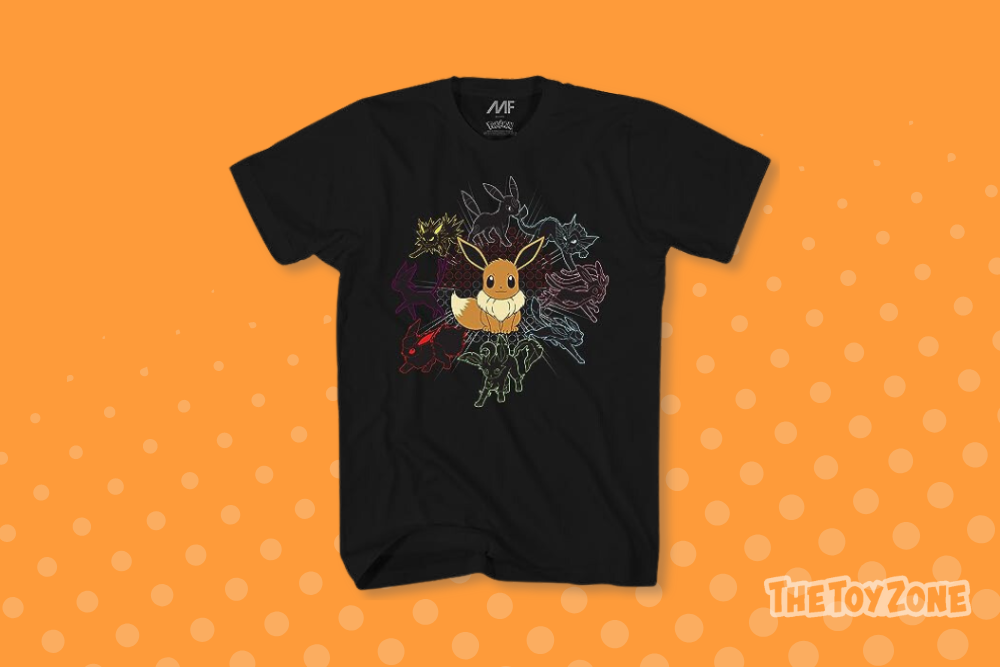 Recommended age: Sizes X-Small – 3X-Large
This T-shirt comes in adult sizes, so bear that in mind if you're shopping for a kid. It's an excellent gift for a pre-teen or teen that still loves Pokémon, as its design is super stylish. Plus, it comes in a range of colors to choose from and long-sleeved options too.
What We Love:
❤️ Comes in various sizes to fit everyone
❤️ Made from high-quality materials
What We Don't Love:
💔 You can't try it on before buying
💡 Tip: It also comes in a long sleeve if you live in a cooler climate.
There are thousands of headphones out there you can buy and put over your ears to listen to your favorite tunes, but none are quite as unique as these Poképhones (is that a word? It is now). The Pokémon Kids Bluetooth Headphones let kids dance down the street, letting everyone know they're a Pokémon fan.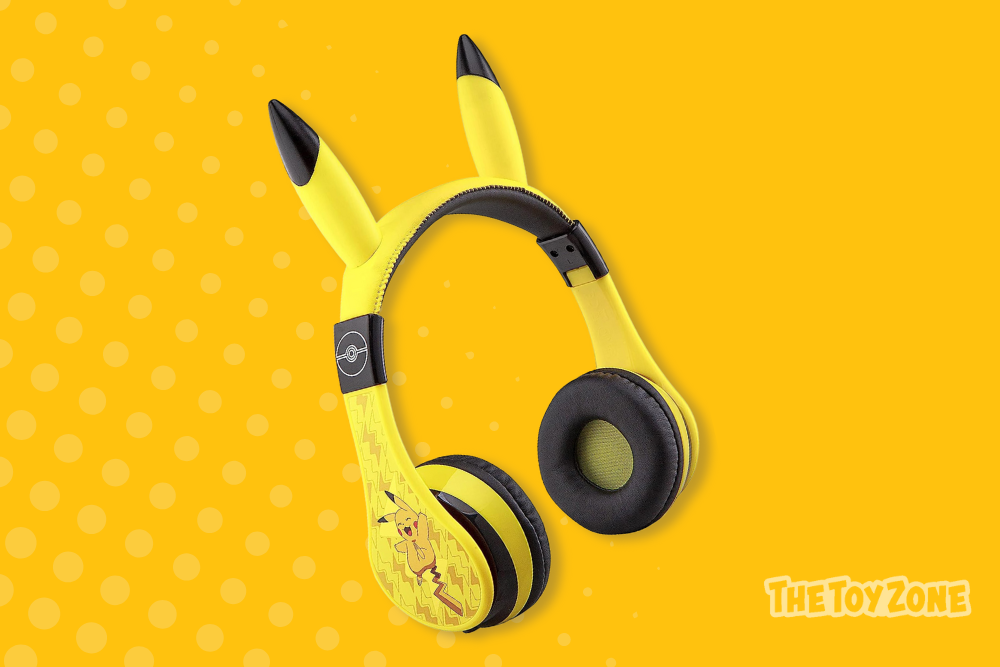 Recommended age: 5 years and above
These super durable headphones can connect to almost any device with Bluetooth technology, but if your device isn't compatible, you can use the cable provided. The ear cushions and adjustable sides provide comfort; you can fold them away when you're done. Plus, they sound fantastic.
What We Love:
❤️ Comes with built-in rechargeable batteries and a charging cord
❤️ The Pikachu ears on top are so cute
What We Don't Love:
💔 The charge could last longer
💡 Tip: If you think the Pikachu ears are a little too much, try these headphones as an alternative.
Got a kid that never wants to stop playing when it's time to bathe and get ready for bed? Maybe they'll be less reluctant if they have these awesome Pikachu slippers to slip their feet into. These adorable slippers range from a kids' size 10.5 to an adult size 3.5, so they'll suit a wide range of ages.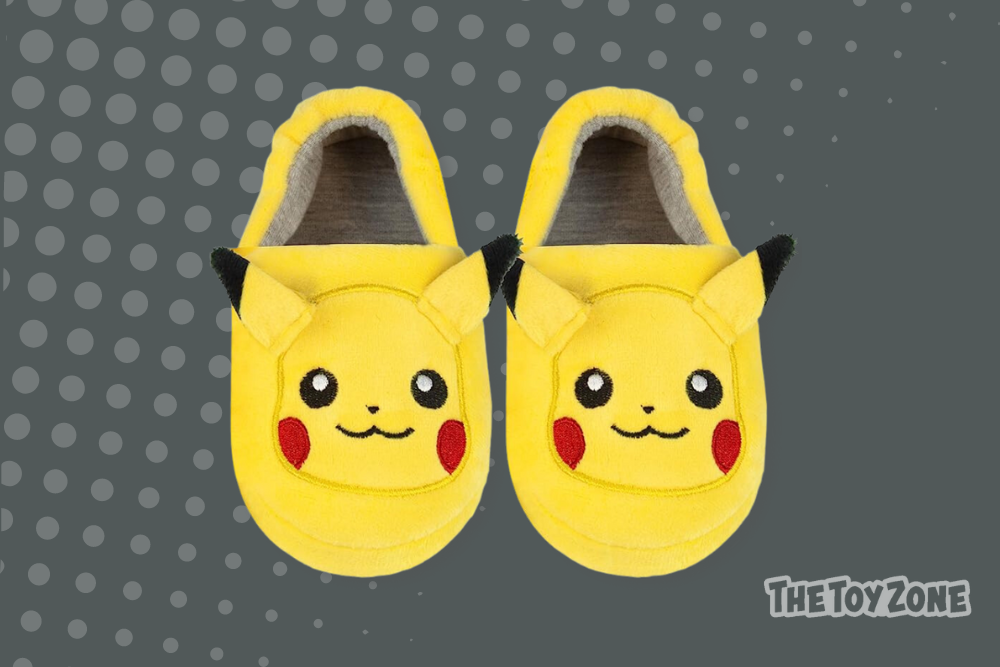 Recommended age: 4-9 years, depending on shoe size
Kids will love looking down at Pikachu's smiling face and 3D ears when wearing these warm, comfy slippers. And parents will love that they have elasticated backs to keep them from falling off.
What We Love:
❤️ Very soft and comfy slippers
❤️ Adorable Pikachu design – kids won't want to take it off
What We Don't Love:
💔 The sizes run a bit small
Has your little one just started learning to tell the time? Then this Pikachu watch from accutime is a double win. Featuring an analog clock face so kids can practice their time reading skills and a Poke Ball cover slash fidget spinner to keep them busy, this adorable watch is kid-friendly but will make them feel grown up.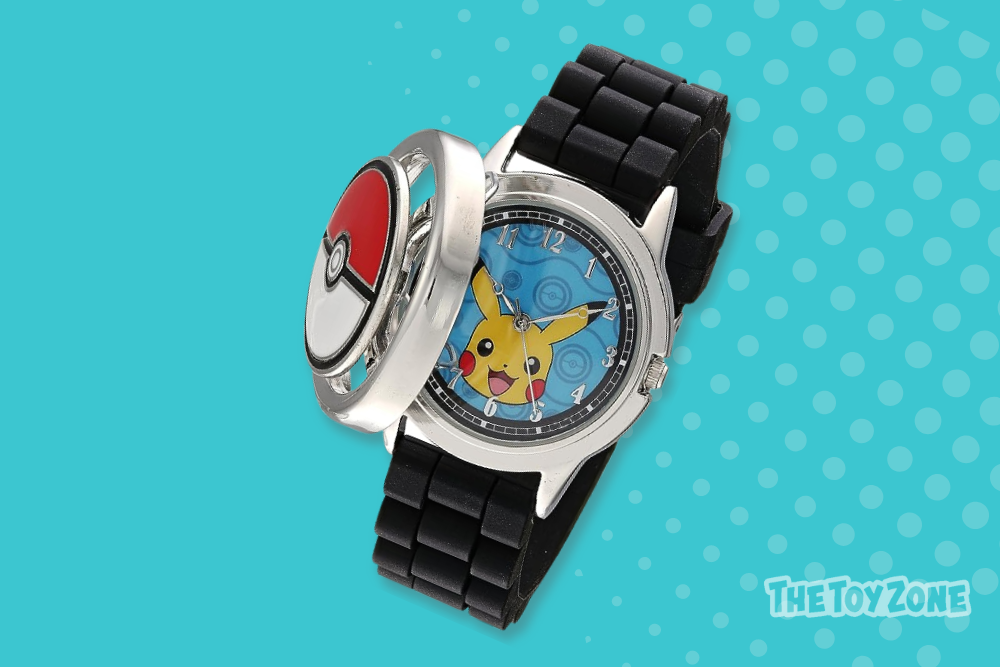 Recommended age: 3 years and above
Thanks to its adjustable silicone buckle, this watch suits kids of all ages. It also has easy-to-read numbers and a high-quality glass and metal face. Don't blame me when your kiddo tells you what time it is every five minutes.
What We Love:
❤️ Makes kids excited to learn to tell the time
❤️ Features a Poke Ball cover and fidget spinner function
What We Don't Love:
💔 A few customers noted that the cover fell off – but the watch underneath still worked
💡 Tip: If you'd rather go for a digital watch, this colorful option also has a Poke Ball cover and there are several different designs to choose from.
---
Best Gifts for Their Room
Saving money is hard, even for adults who don't blow it on candy and comics (well…some of us do), but teaching kids how to save money is an important lesson. A time-tested way is by giving them a piggy bank to store those precious coins until they've saved enough. However, traditional "piggy" banks are a little boring…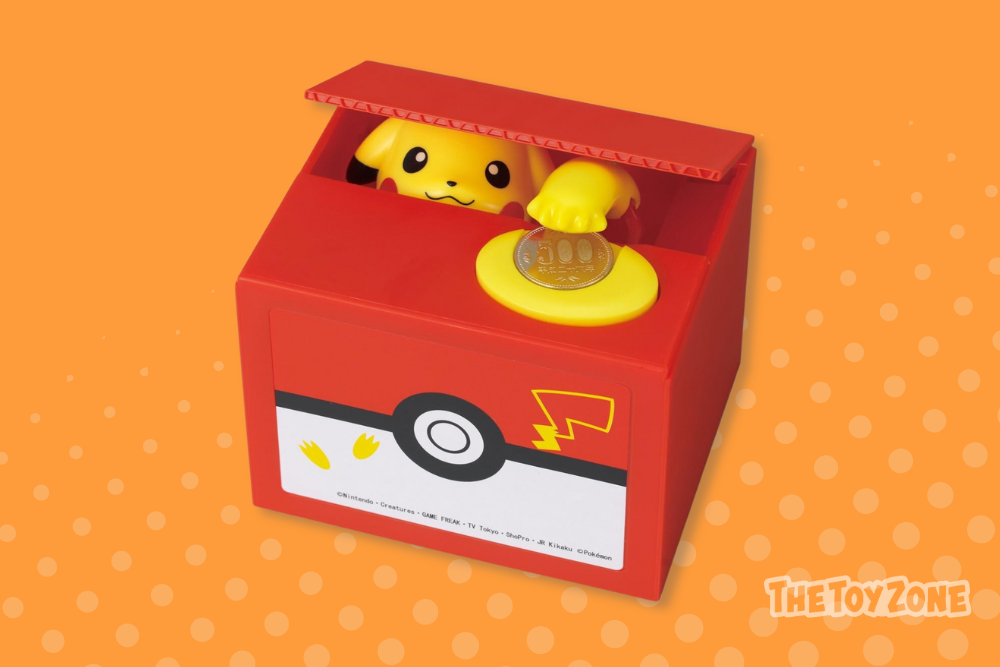 Recommended age: 3 years and above
Put some excitement into saving with this cute Pokémon-Go inspired Electronic Coin Piggy Bank. Kids will marvel as they place a coin onto the yellow pad, and Pikachu pops up and swipes it away. This will make them want to keep putting money in.
What We Love:
❤️ Pikachu makes pika pika sounds when taking money
❤️ Kids learn a valuable lesson about saving
What We Don't Love:
💔 You can't insert coins larger than a quarter
Once kids start getting into Pokémon, knowing the names of all the different ones becomes crucial. It's the only way to win the most cards, after all. With this sweet wall poster, studying your Pokémon trainer knowledge will be a breeze. It depicts no less than 144 Pokémon from the Kanto region, so you'll be an expert in no time.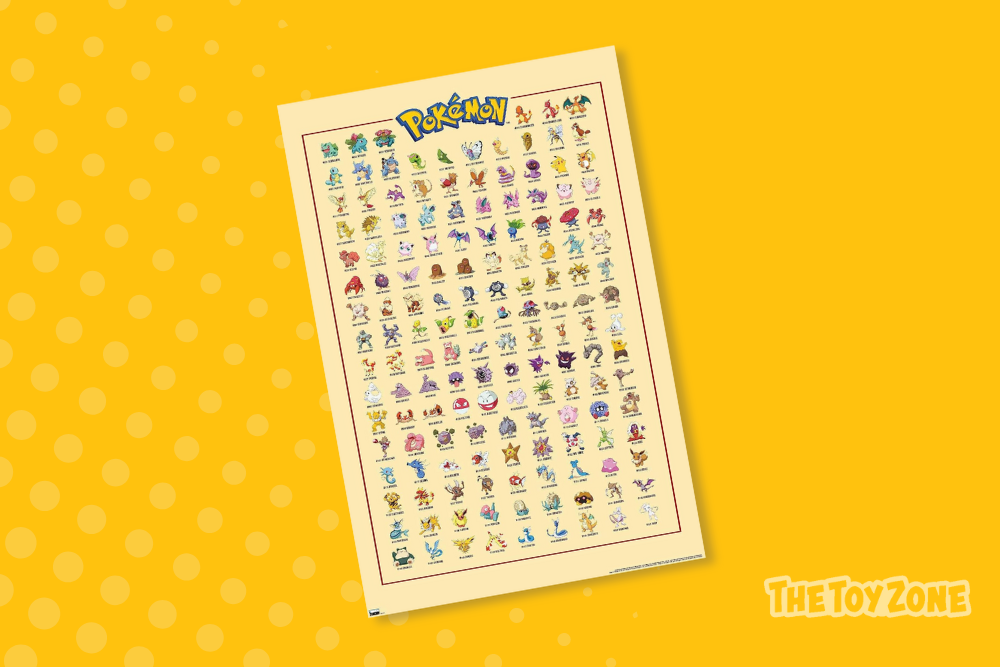 Recommended age: 5 years and above
Printed on high-quality paper, this wall poster makes for excellent bedroom wall decor for Pokémon fans of all ages. You can choose between several framing options or stick it to the wall with poster mounts.
What We Love:
❤️ Great for kids who want to study up on their Pokémon
❤️ Excellent quality print in a nice large size
What We Don't Love:
💔 The included frame is not the best quality
Why stop at a poster – why not make your entire bed a shrine to your love of Pokémon? With this 7-piece Pokémon bedding set, you can do just that. This comprehensive set comes with all the sheets you need, a reversible comforter featuring two colorful Pokémon designs, plus two pillowcases and two shams that complete the look.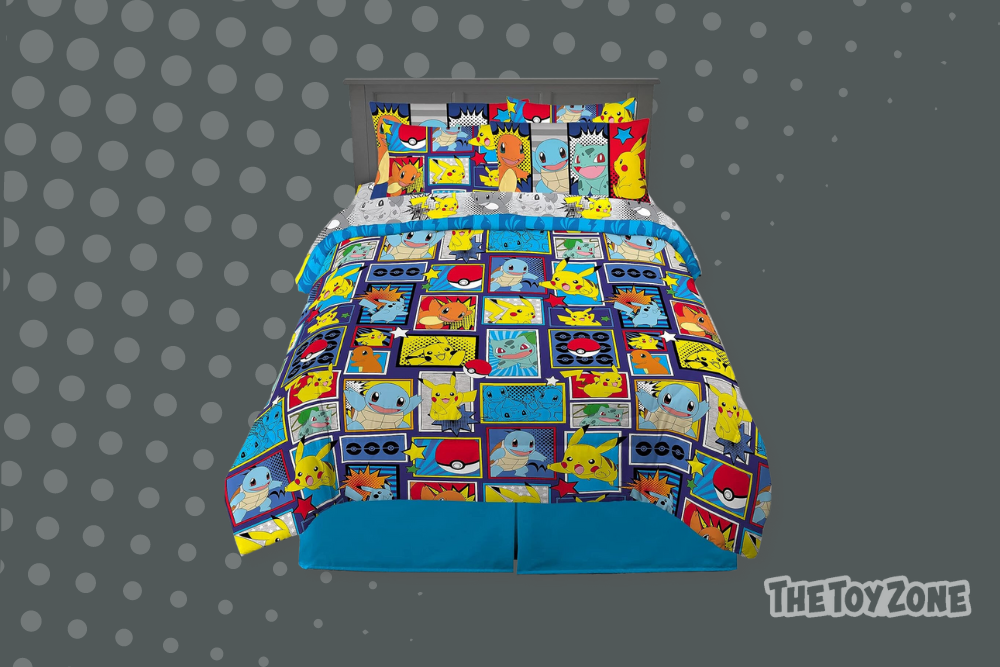 Recommended age: 3 years and above
This set comes in two size options (twin and double) and two fun patterns — Pokémon comics and "Alola region." Either way, it will keep your little Pokémon trainer warm and well-rested for all the adventuring that tomorrow brings.
What We Love:
❤️ Two adorable designs on one comforter
❤️ Good quality material that doesn't fade in the wash
What We Don't Love:
💔 The comforter isn't very thick so it's best suited to warm climates
Are they breakfast? A dessert? Or a midnight snack? Who cares? Waffles are delicious at any time of day. And if they come in the shape of a Poke Ball, they will taste even better. Now, with this Pokémon waffle maker from Uncanny Brands.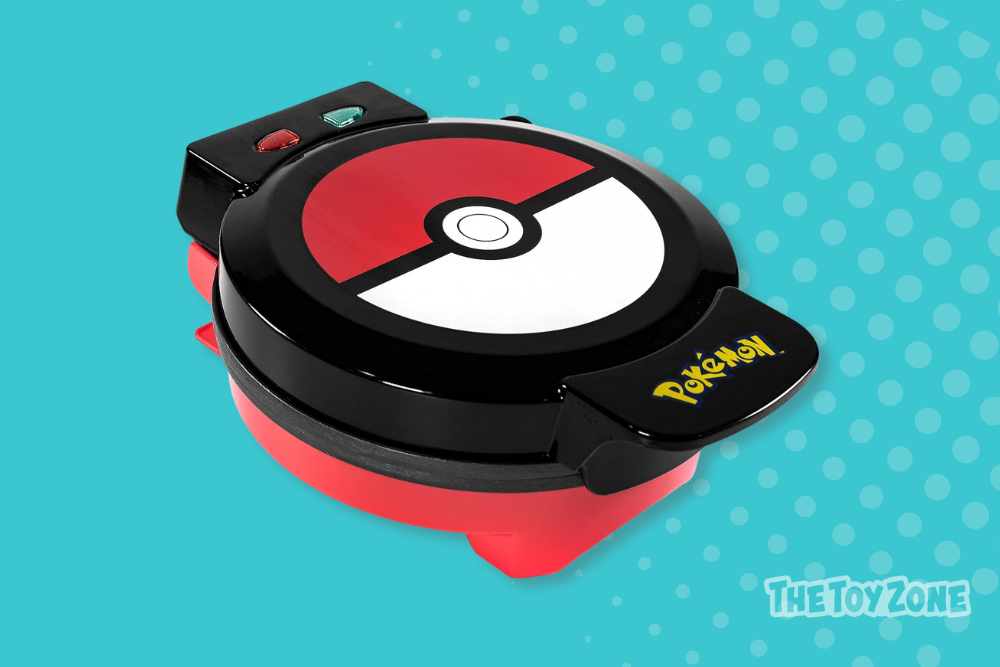 Recommended age: All ages with adult supervision
It's a no-brainer that Pokémon-loving kids will be excited to eat and hopefully help make waffles that look like Poke Balls. And any adults involved will be happy that this nifty gadget makes perfect waffles, is non-stick and simply wipes clean.
What We Love:
❤️ Makes adorable Poke Ball waffles
❤️ It functions well and is easy to clean
What We Don't Love:
💔 There's no control switch as you simply plug it in to turn it on, so kids mustn't use it by themselves
---
Gifts They Can Take to School
Back-to-school season, though often a relief for parents, can be difficult for kids as it means the end of vacation. And if it's their first year in grade school, it can be pretty intimidating. But if they have an excellent notebook like this bright red one designed to look like a Pokedex, the transition might be a little easier.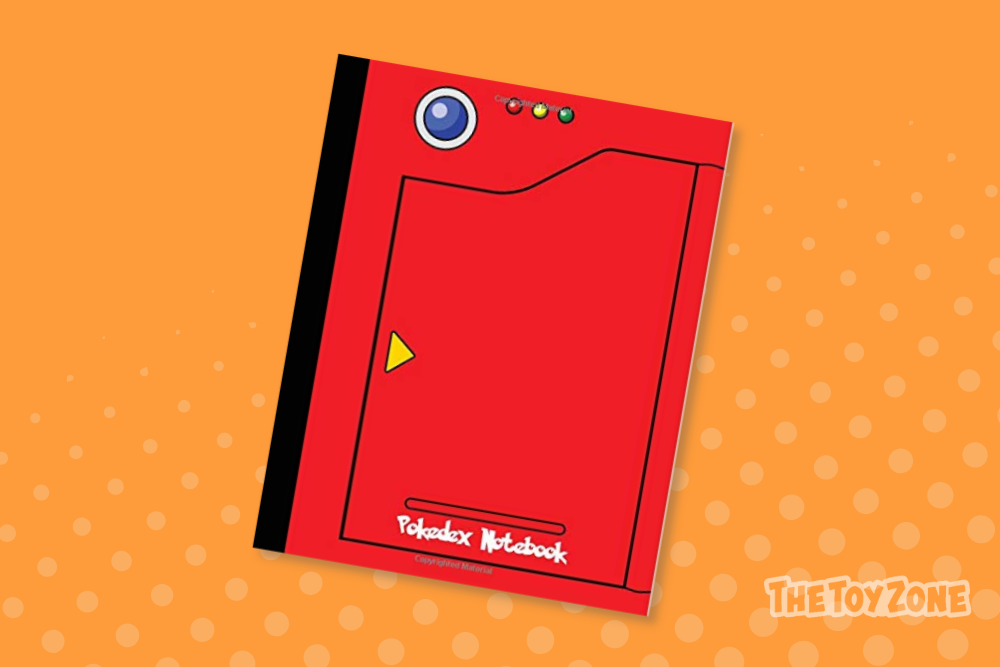 Recommended age: 6 years and above
This excellent notebook features a robust design and 100 sheets of quality, wide-ruled paper – perfect for practicing spelling and math. And with such an excellent notebook, they'll be much less reluctant to do their homework.
What We Love:
❤️ Great way to ease the back-to-school process
❤️ Good quality notebook with a cute, colorful design
What We Don't Love:
💔 It has a soft cover which makes it slightly less robust
Another way to make heading back to school a little more exciting is with a cool backpack and this one fits the bill. Covered in all the classic Pokémon and with the show's iconic catchphrase emblazoned across the front, this one will make any little Pokémon fans eager to get to class. Its Poke Ball zipper tags are a nice touch too.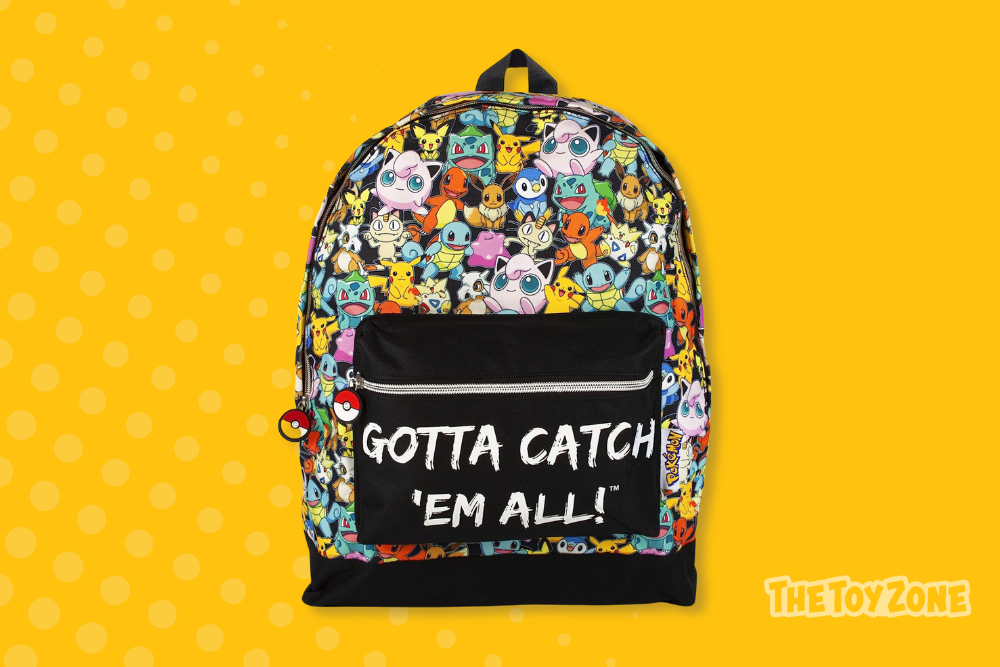 Recommended age: 3 years and above
This stylish backpack features Pokémon graphics on a black background, which keeps it looking clean for a lot longer. It's also made from thick and sturdy polyester, so it can handle being pulled, jostled and tossed across the playground.
What We Love:
❤️ Adorable design and the dark color keep it looking new
❤️ Sturdy construction that holds up to playground rough and tumbles
What We Don't Love:
💔 The zipper isn't as durable as the rest of the backpack
So you've got the backpack, but how will you protect the lunch in it? With this awesome Pokémon lunch bag, of course. Thermos is known for its quality temperature-regulating products, so you know this lunch bag will last a long time. It features a soft outer layer, foam insulation and firm PEVA lining to keep your kiddo's lunch warm or cool.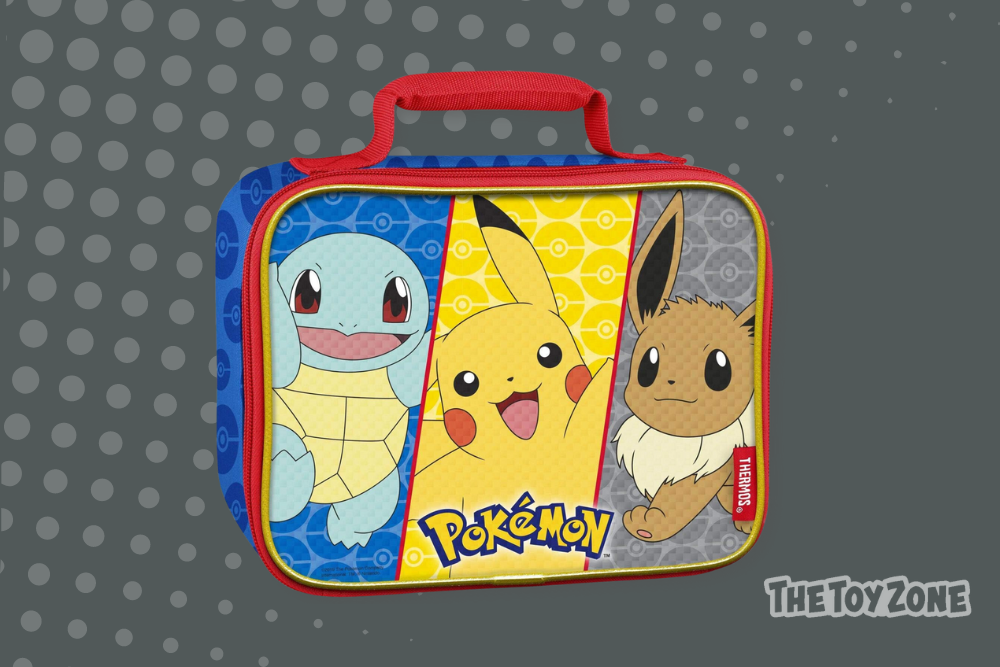 Recommended age: 3 years and above
This fun and colorful lunch bag is the perfect size for a kid's lunch and it's super easy to clean too. Slip it into their backpack or let them carry it like a briefcase with a comfy handle.
What We Love:
❤️ Very sturdy and easy to clean
❤️ Kids will love the Pokémon design and that it keeps their lunch intact
What We Don't Love:
💔 The zipper can sometimes get stuck on the interior lining
💡 Tip: That's lunch taken care of, but what about hydration? Pair the lunch bag with this adorable Pokémon insulated bottle for a complete gift.
If you want to be a master Pokémon player, you'll need a lot of cards and you'll need somewhere to put those cards. That's where this carrying case comes in. Designed to look like a Poke Ball and with enough space for over 400 cards plus extra goodies like dice and damage counters, it's the perfect way to keep your cards safe while carrying them around.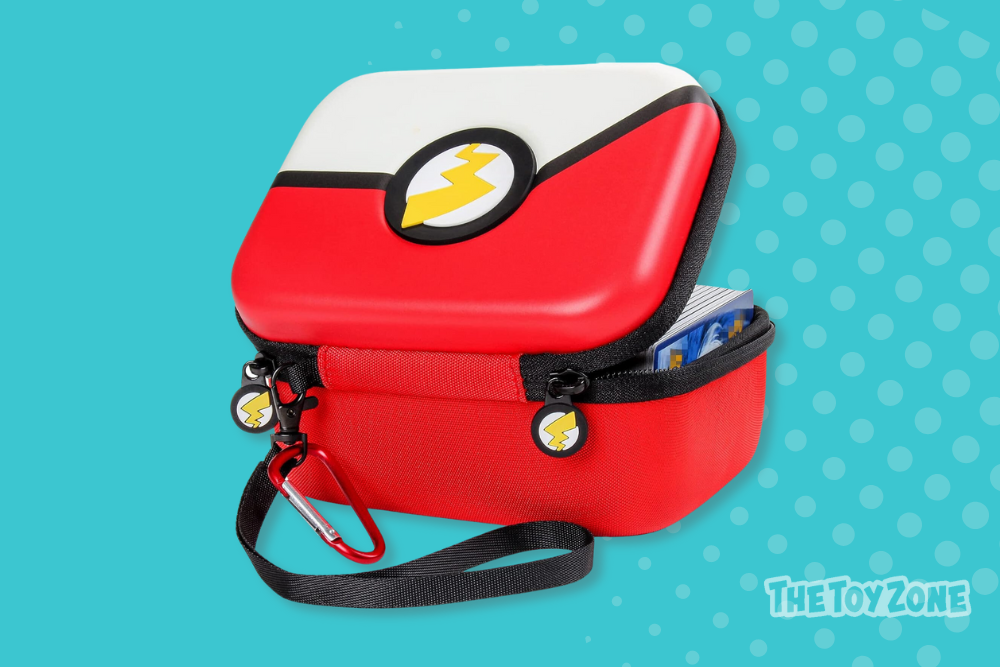 Recommended age: 4 years and above
This carrying case is made of top-grade EVA, which will protect your Pokémon cards from getting damaged. Whip this out at your next card trading session; everyone will know you're an expert trainer.
What We Love:
❤️ Fits a lot of Pokémon cards with extra space for dice and damage counters
❤️ It's nice and sturdy, and the bright color makes it harder to lose
What We Don't Love:
💔 The cards have to be stored laying flat so you can't flick through them like a Pokedex
---
Frequently Asked Questions About Pokémon Gifts
 🙋 What to gift Pokémon fans?
Pokémon is an extremely popular show (and card game, and video game and smartphone games and…) That means Pokémon merch is all over the place, from toys to board games to backpacks to building sets and more, so it's thankfully pretty easy to find gifts for Pokémon fans. On the other hand, this wealth of choice can be pretty overwhelming and not all of it is the greatest quality.
However, if you read our carefully curated list of Pokémon gifts above, you'll find lots of options Pokémon fans will love. All the gifts on our list are guaranteed to be good quality, and as long as you know some basic information about them (like their age and hobbies) you'll soon find them the perfect gift.
 🙋 Why is Pokémon so popular?
The first Pokémon video game was launched for the Nintendo Game Boy Pocket in 1996 and the trading card game followed soon after. The anime series debuted the following year, and the rest is history. 
There are a few things that can explain Pokémon's massive rise in popularity and impressive endurance. One of those is that it was a multimedia franchise right from the beginning, involving fans in several interactive ways. It also didn't talk down to kids but made them feel like they had a comprehension of complex systems – that their parents didn't understand.
In addition, despite the sheer number of Pokémon and stats to remember, the basic concept is simple, and appeals to humans' innate desire to collect. Plus, the combat system based on rock-paper-scissors is one that kids immediately understand.
 🙋 Is Pokémon good for kids?
This kinda depends on what you mean by Pokémon, as there are a range of video games, card games and a TV series within the franchise. However, on the whole, Pokémon is great for kids – provided they aren't spending too much time staring at screens.
The Pokémon card game is a great screen-free activity that helps kids develop their memorization and strategic thinking skills and also incorporates math and reading practice. Many people also note that Pokémon taught them to see animals as friends, and inspired a love of the natural world. The show is also full of positive lessons, such as the power of friendship, teamwork and persistence.
---
So… What Pokémon Gift Should You Get?
At the end of the day, only you can make this decision. Hopefully, we have helped you along by giving you a range of tried and tested Pokémon gifts to choose from. Now it's up to you to consider the Pokémon trainer in your life and what they would like best.
For example, if they enjoy building things, this Motion Pikachu set from MEGA is a great option. If they're more into board games, this Pokémon themed Monopoly is sure to please. If you're shopping for a younger Pokémon fan, a back-to-school gift or something to make their room a shrine to Pokémon could be the ideal choice.
I've done my best to provide a wide range of options to suit all ages and budgets, but if there's a piece of Pokémon merch you believe deserves to be on this list, drop a comment below.