A children's book is a world in itself – and a country's literature is a whole universe. What an adventure it would be to dip a toe in each of the 196 literary universes that neighbor your own!
Sadly, young readers who venture boldly into exotic literature are treading in largely uncharted territory. Despite the multiverse of words and ideas, only 2-4% of books published in English are translations. How can you learn about other cultures if your own culture mostly celebrates itself?
Enter the rocketship 'TheToyZone'! We've mapped the most popular books for kids written by a local writer in every country (that is, the highest-rated among the 20 books with the most user ratings.) And we've even pictured the book covers. Because illustrations are always a bonus, right?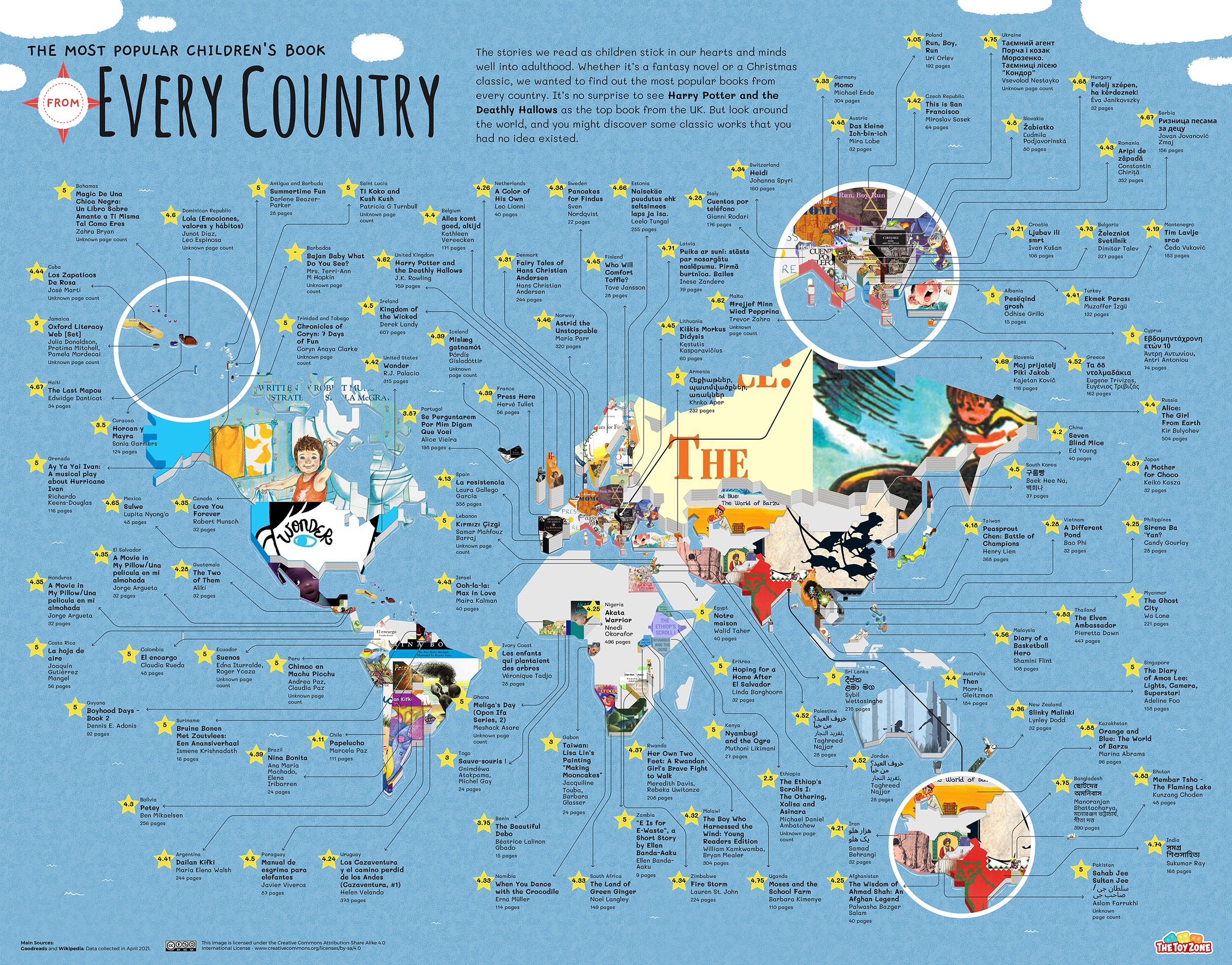 North America
Most of North America's most popular kid's books are from this century. But we found a vintage classic in Costa Rica. Joaquín Gutiérrez's La Hoja de Aire (The Sheet Made of Air, 1968) is a short, melancholic novel about an actor who returns to Costa Rica to search for the woman he loves. It has been translated into English, Portuguese, Russian, Ukrainian, Polish and Bulgarian.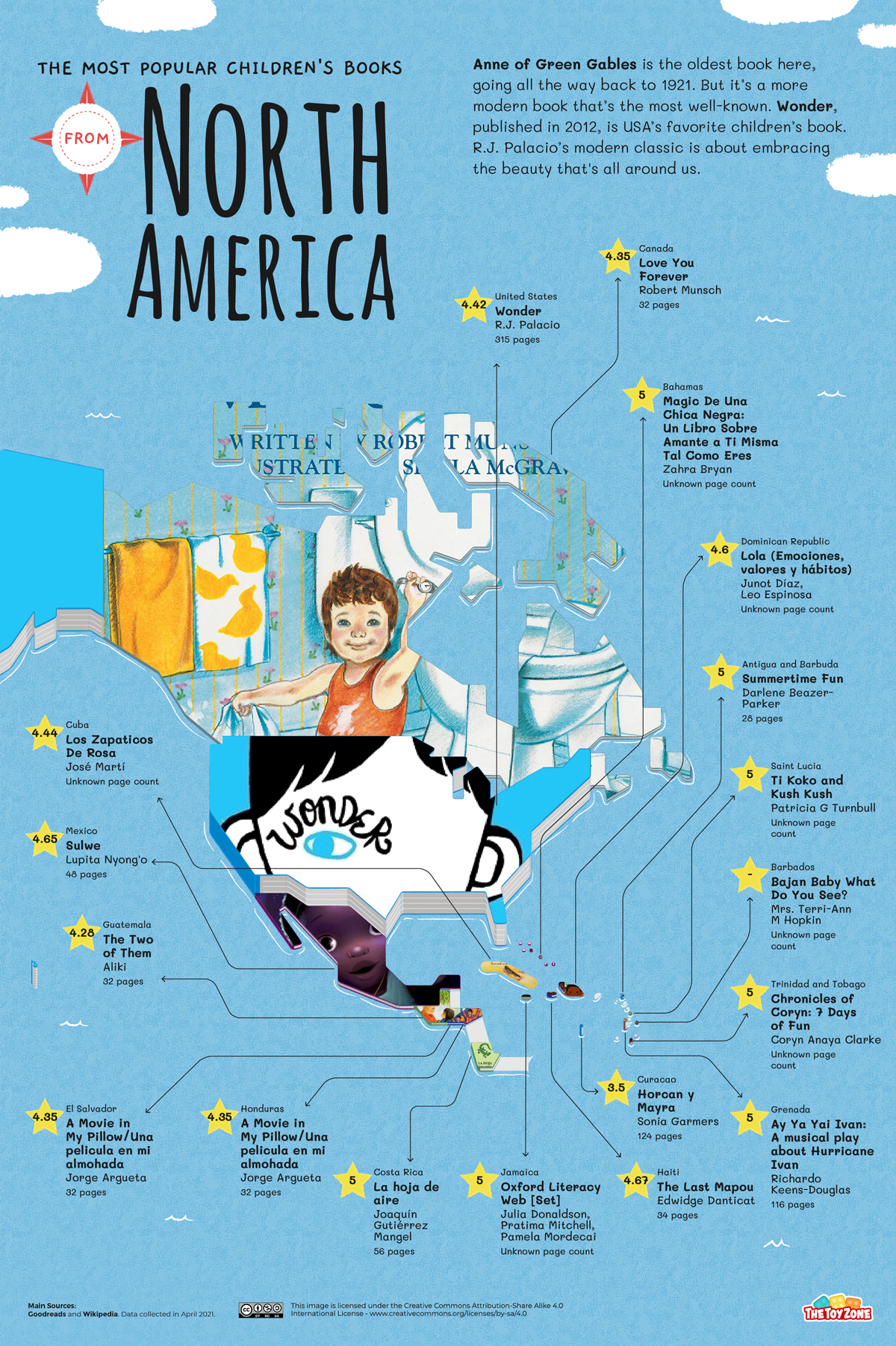 "Growing up, I was uncomfortable in my dark skin," says Kenyan-Mexican movie star Lupita Nyong'o. "I rarely saw anyone who looked like me in the aspirational pages of books and magazines, or even on TV. It was a long journey for me to arrive at self-love." Nyong'o is the writer of Mexico's top local book, Sulwe, which is illustrated by Vashti Harrison. The story is about a five-year-old with the darkest skin in her community.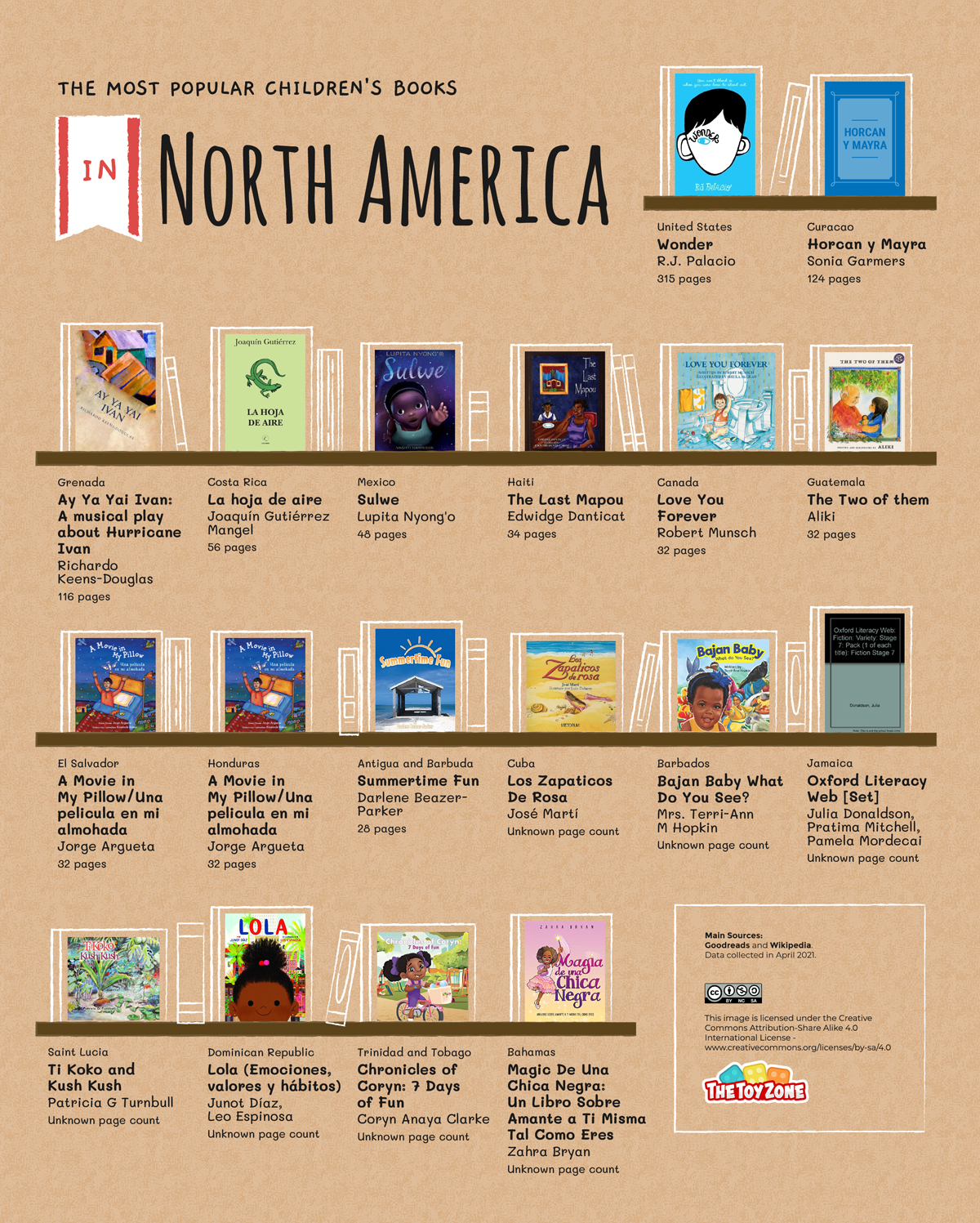 South America
Ana Maria Machado is one of Brazil's most-loved children's authors, with over 100 books to her name. Her Nina Bonita has a Goodreads rating of 4.39 from 307 ratings, making it Brazil's favorite children's book. The story is about a white rabbit who wants to be Black like a beautiful girl he meets.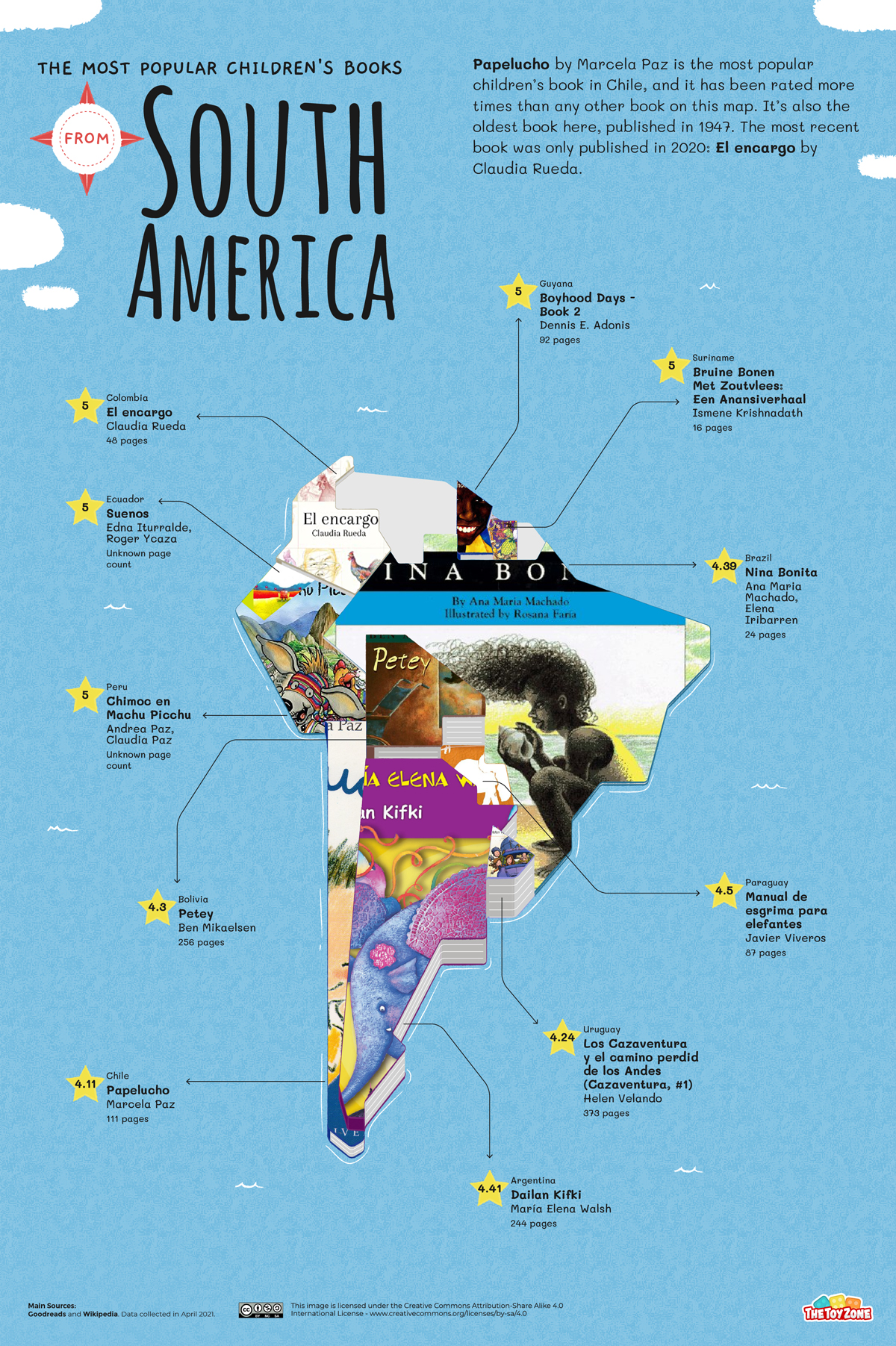 A girl returns from taking her geranium for a walk (!) to find an elephant on her doorstep who wishes to be adopted. Yes, please! With 4.41 from 550 ratings, Dailan Kifki is Argentina's favorite local kid's book. This 1966 classic by María Elena Walsh has been translated into English as An Elephantasy.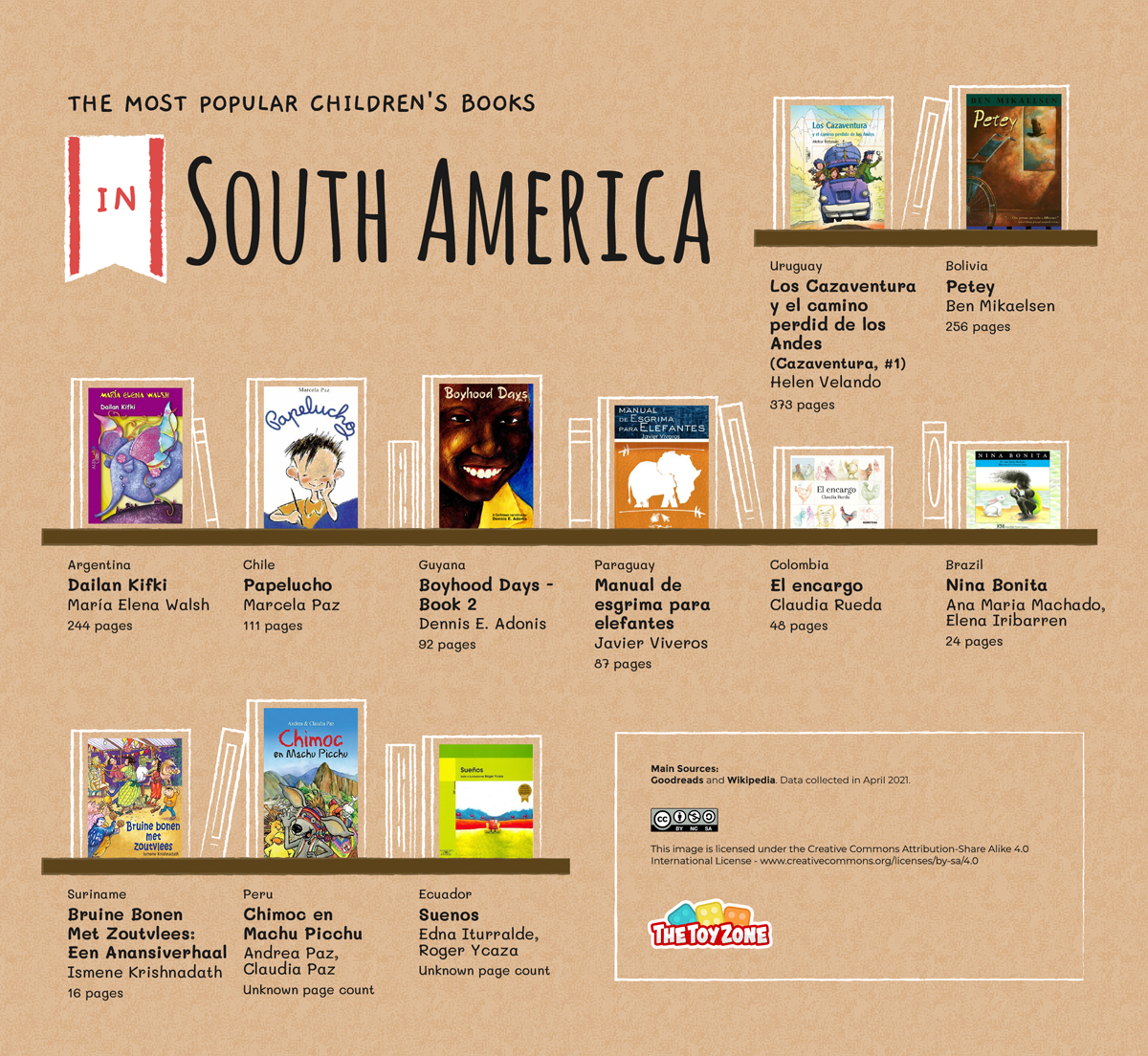 Europe
Harry Potter is a child wizard, and… oh, you've already heard of the UK's favorite children's book? Then, how about Таємний агент Порча і козак Морозенко. Таємниці лісею "Кондор," a 1966 kid's classic from Ukraine? Neatly translated as Unusual Adventures in the Forest School, it's a fun story about a bunny, a hedgehog, and their classmates. Author Vsevolod Nestayko was Ukraine's national treasure of kid's lit, and even has his own Google Doodle.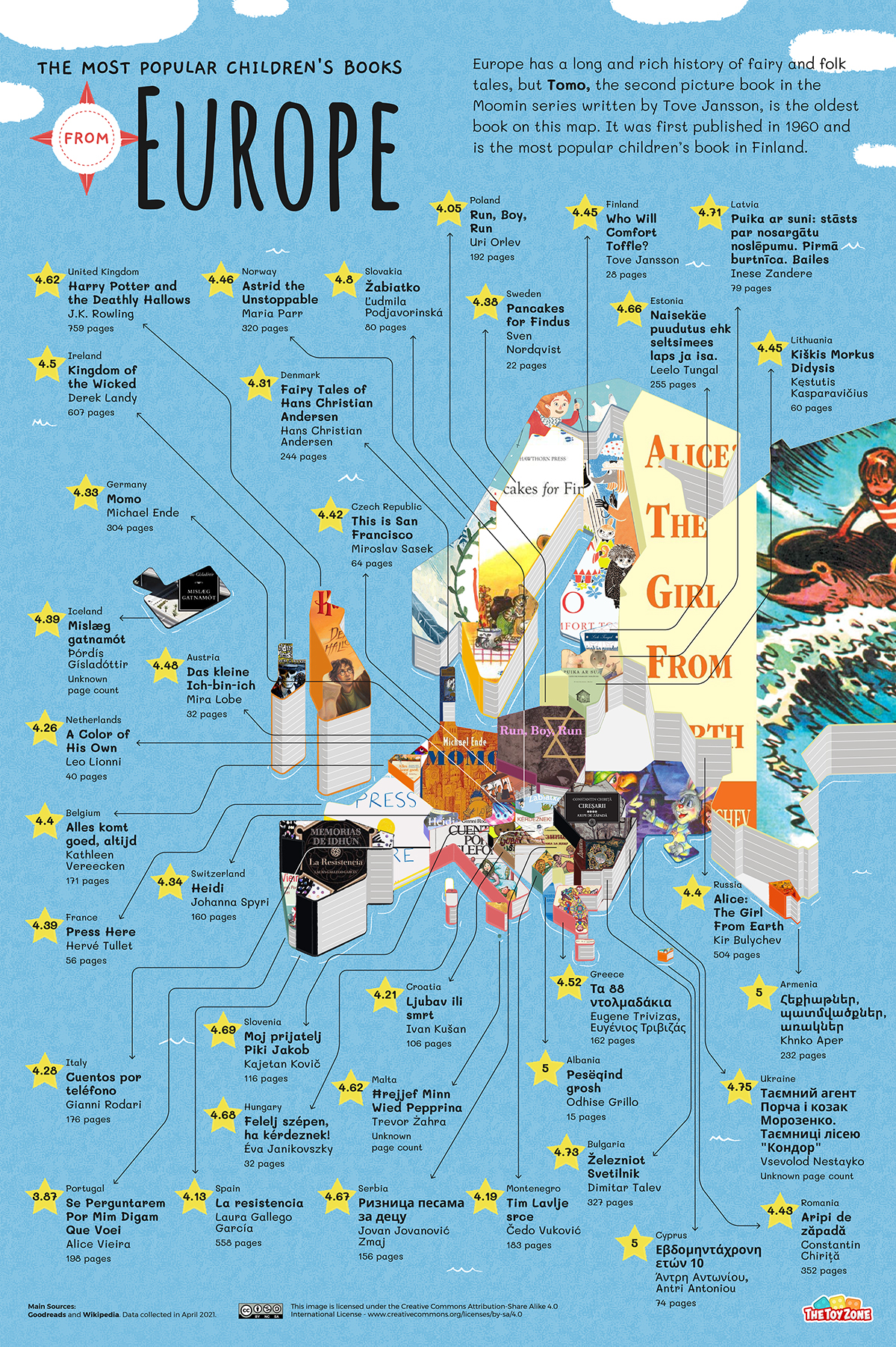 Poland's favorite is Run, Boy, Run by Uri Orlev, and it is also set in a forest. But it is a darker survival story (aimed at age 10-13) about an orphan on the run from the Nazis in World War II.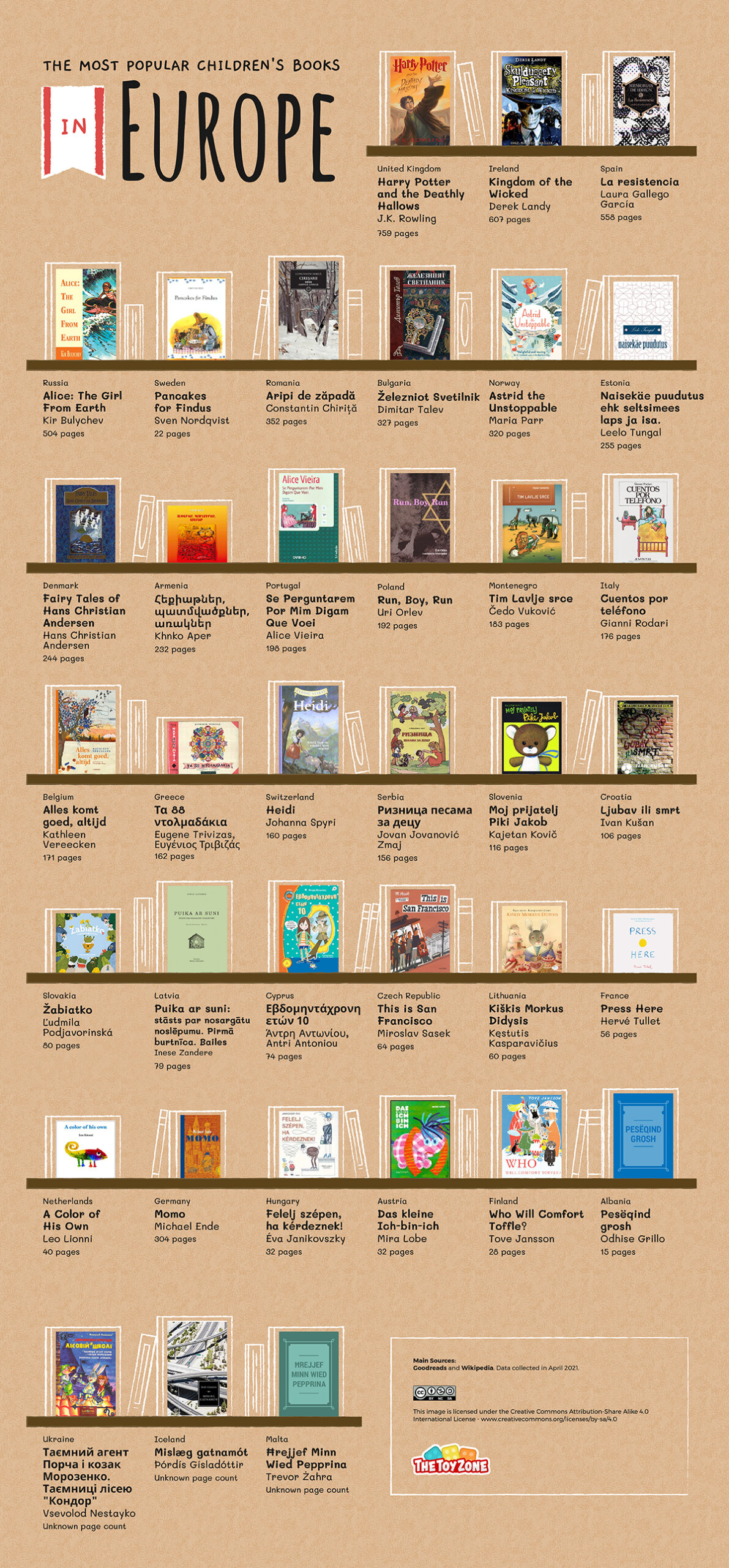 Middle East & Central Asia
The most-rated book from Iran is یک هلو هزار هلو (The Plentiful Peach, 1969) by Samad Behrangi. In this magical realist tale for teenagers, two boys tend a barren peach tree that will grow fruit only for them. You can find some of Behrangi's stories in English online.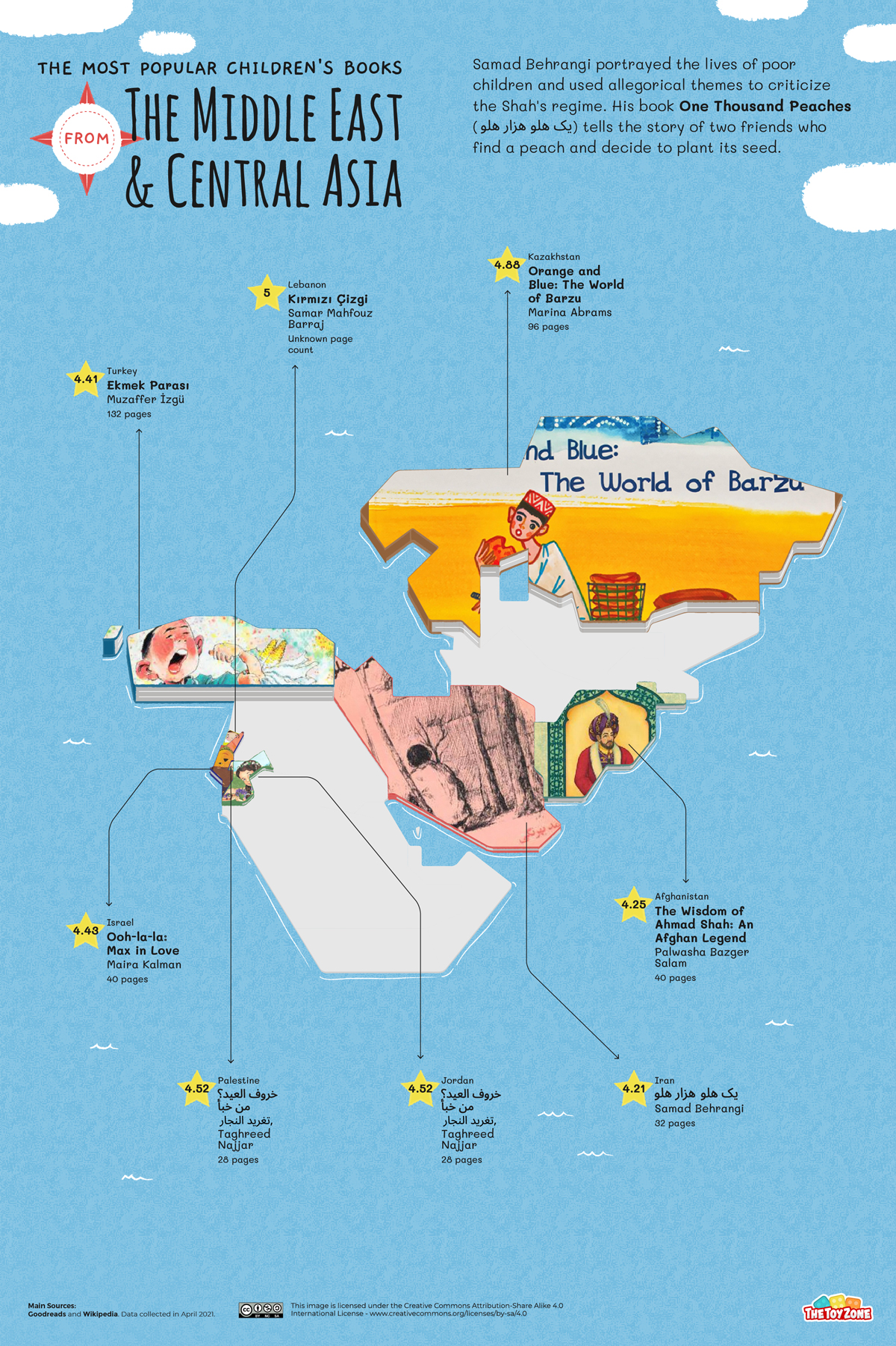 But the region's highest-rated book is by Kazakhstan-born Marina Abrams (illustrated by Tajik artist Farrukh Negmatzade). The book's "folkloric narrative" embeds stories about a Tajik mountain boy in an ancient Central Asian culture. It is available in Russian and English and suitable for 3-12 year-olds.
Rest of Asia & Oceania
Sukumar Ray (1887-1923) is "the most famous Indian practitioner of literary nonsense," and often compared to Lewis Carroll. The oldest top book from this region is a 1977 collection of his poems and stories curated by his son, the famous filmmaker Satyajit Ray: সমগ্র শিশুসাহিত্য (The Complete Children's Literature). Goodreads reviewer calls it the "Bible for Bengali Childhood."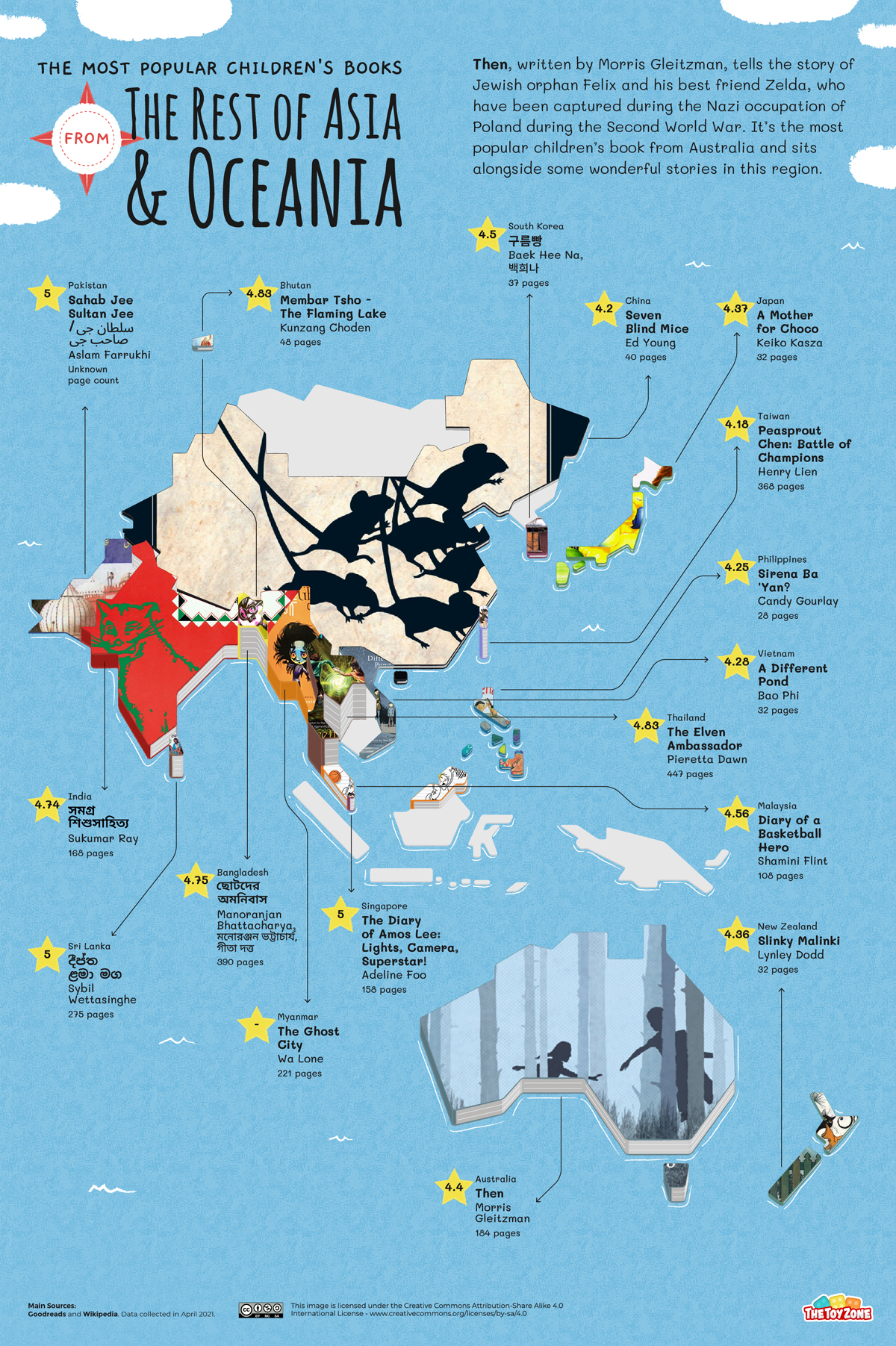 Are you a young teenager looking for "Hermione Granger meets Crouching Tiger, Hidden Dragon meets the Ice Capades meets Mean Girls"? Let TheToyZone direct you to Taiwan, where the second volume of Henry Lien's Peasprout Chen series is the most popular children's book. In her second year at Pearl Famous Academy of Skate and Sword, Peasprout wants to be the champion of martial arts figure skating – but is thwarted by a transfer student who claims to be a refugee but might just be a spy.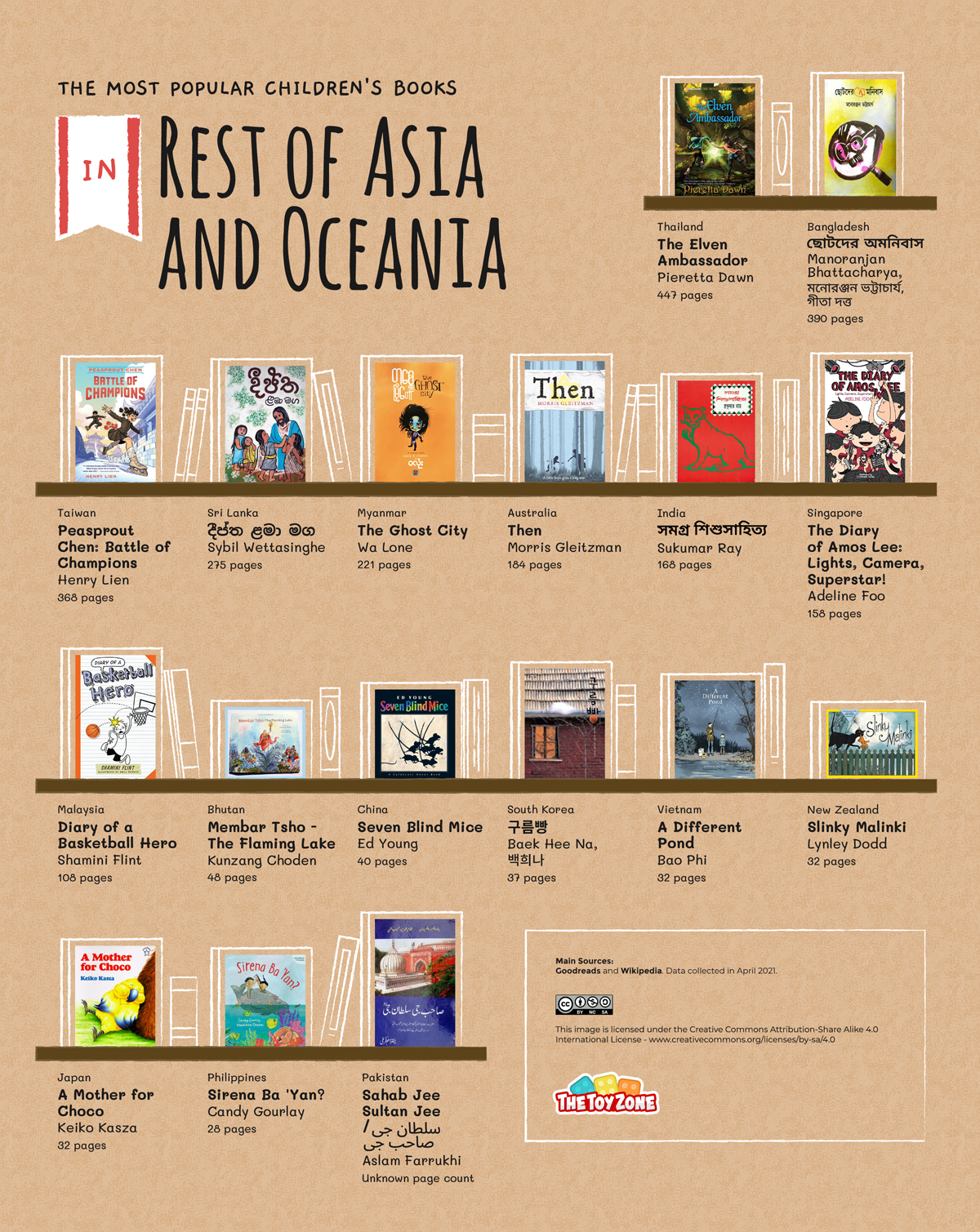 Africa
Several African countries have a top book with a perfect rating of 5. But the highest-rated book with a significant number of reviews is Her Own Two Feet, co-written by Meredith Davis and the real-life title character, Rebeka Uwitonze, a Rwandan girl born with clubfeet. "I was so happy because I knew my life will not be forgotten," says Rebeka. "I would be able to share it with everybody and they would be encouraged about my story."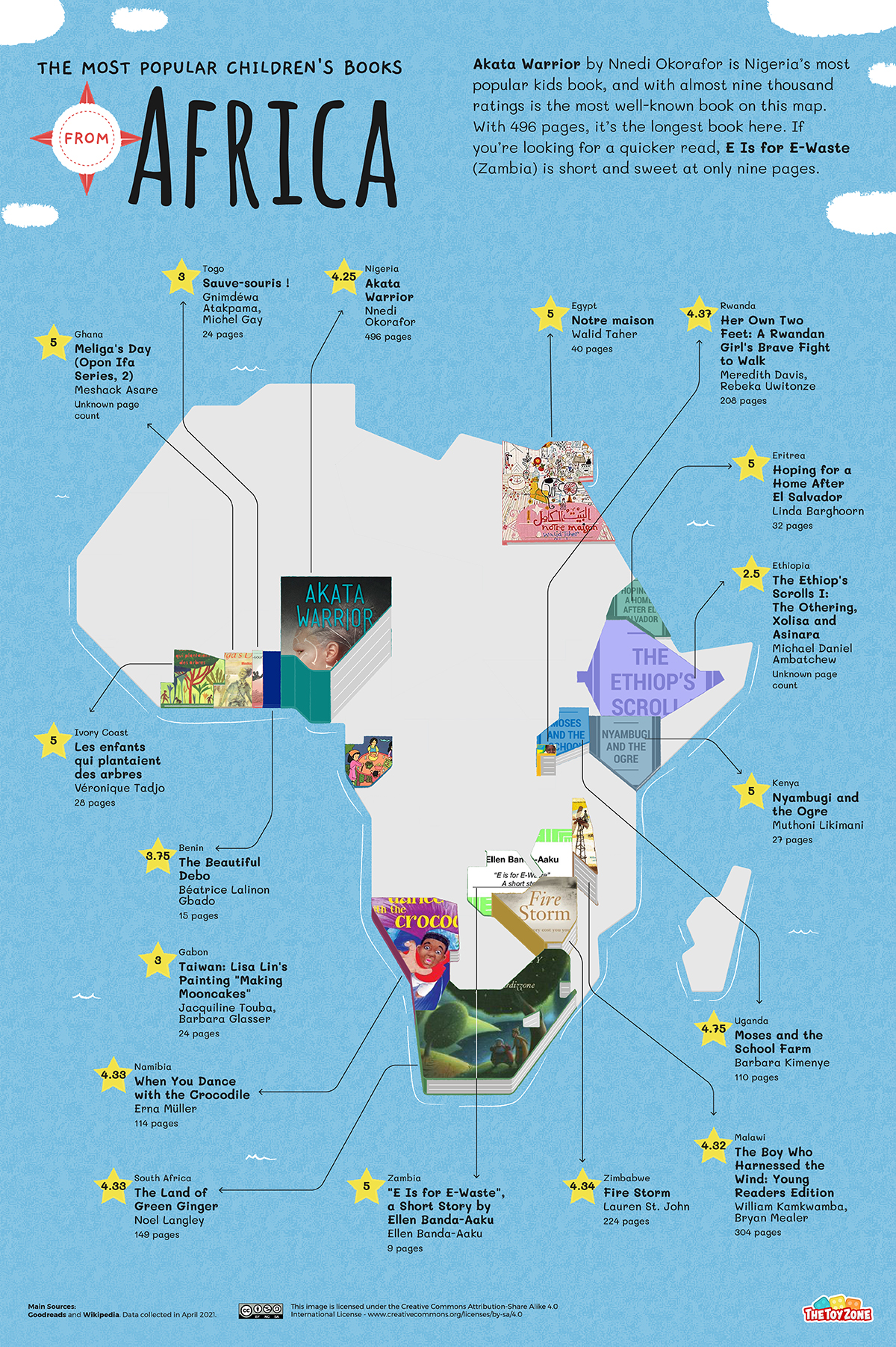 Finally, a teen witch series from one of Black Panther's writers. The big hit on the African list is Akata Warrior by Nnedi Okorafor, a Nigerian-American author specializing in Africanfuturism and Africanjujuism. Akata Warrior has a rating of 4.25 from 8,709 users. Akati Warrior is the second in a series about a Black albino Nigerian girl who discovers she has magical abilities – but Goodread's users recommend you start with the first highly acclaimed novel in the series.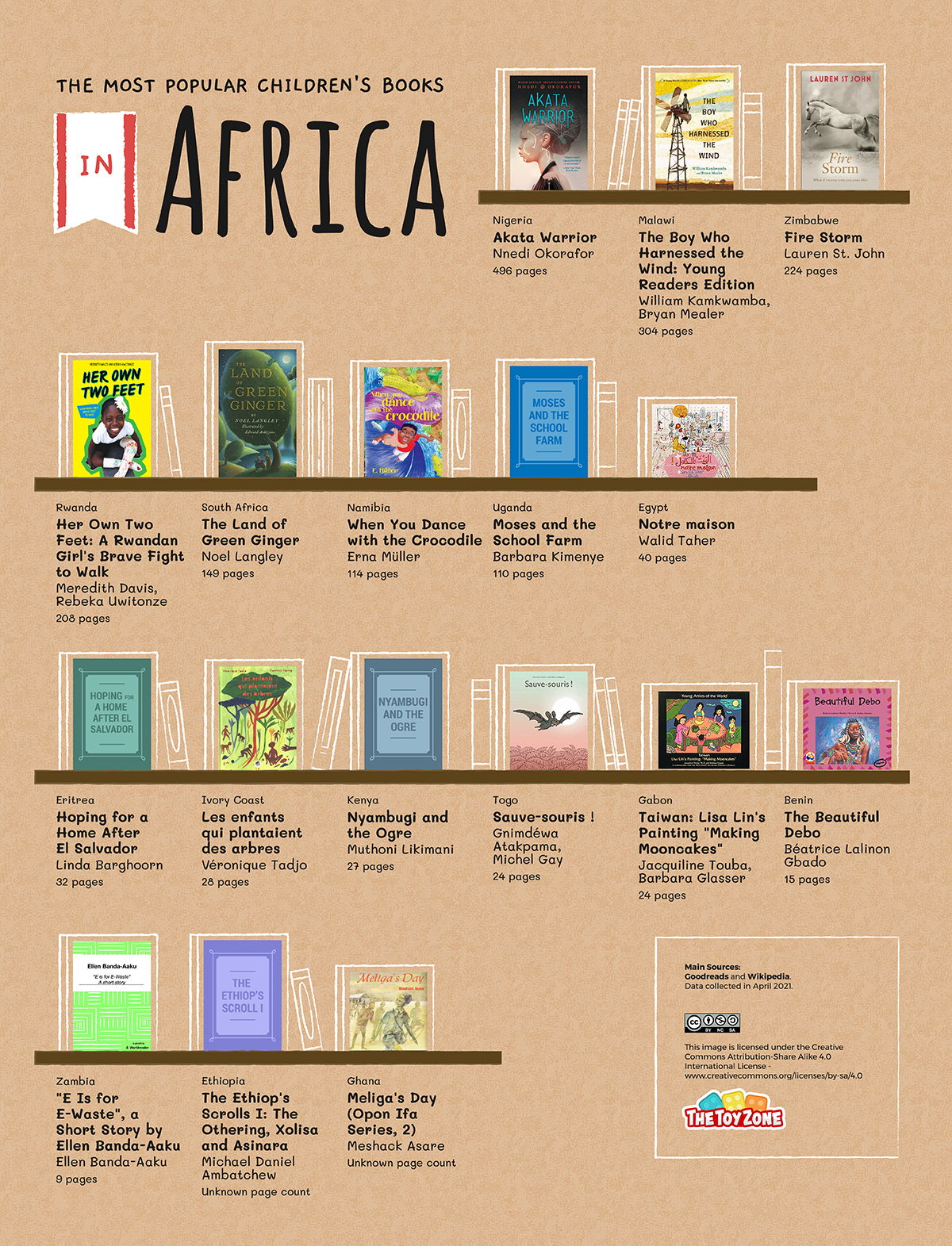 Read Your Way Around the World
Diverse characters aren't essential just to minority-group readers. As Phoebe Yeh (Chinese American VP of Crown Books for Young Readers) says: "It has to be everyone."
And reading children's books from countries around the world doesn't just benefit diversity for diversity's sake. It enriches your kid's reading experience, cultural awareness, and imagination. Where will you take them today?
Methodology
We compiled a list of children's writers from every country using Wikipedia and pulled data on every single one of their books from Goodreads, including rating, number of ratings and number of reviews. For each country, we defined the most popular as the highest-rated among the 20 books with the most user ratings.
Fair Use Statement
Did you fall in love with these maps as much as we did? That's awesome! If you decide to share the maps themselves or just results of our study in part or whole, we ask you that you please credit TheToyZone by linking back to this page. That way your readers can learn more about the books that came on top in different countries, whiles you're recognizing our team for their hard work.