It is hard to believe that The Little Mermaid will be 186 years old in 2023! This month we have the latest film, and it will create as much interest in the character as every other Disney movie.
Based on the Orignal from 1837 by the Dutch author Hans Christian Andersen – it's a story that captivates kids and adults alike.
Film and TV versions of her tale (no pun intended) keep showing up worldwide. The most famous version was the Walt Disney Company's cheerful, tuneful animated blockbuster, released in 1989. This movie gave our mermaid heroine a new name: Ariel.
"The Little Mermaid" won two Oscars and spawned a lasting franchise. Fans bought the direct-to-video sequel and tuned into the Saturday morning TV show. They were thrilled with the lavish Broadway musical. And at Disney World and Disneyland, they can visit Ariel's aquatic home while riding giant pink seashells.
In May 2023, Disney returned to the sea. The studio put out an epic live-action version of Ariel's adventures. The catchy songs from the original are back, and new showstoppers have joined their ranks. Once again, Ariel captivates moviegoers, young and old.
Thus, now is an excellent time for mermaid activities with your children. These 17 high-quality Little Mermaid coloring pages, dedicated to the one-and-only Ariel, will surely spark their imaginations. And, after coloring a few pages, your whole family might want to hit the beach and dive right into the ocean.
1. Ariel Takes a Break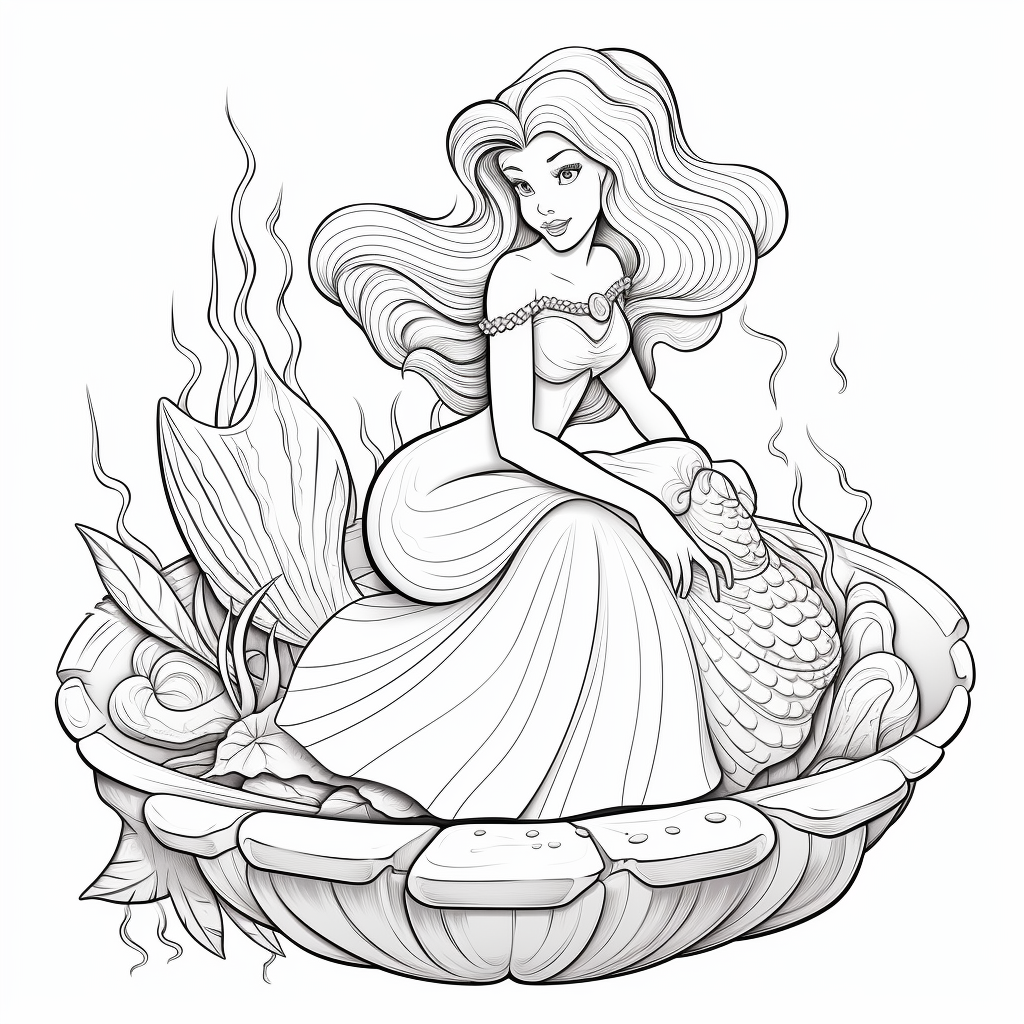 Whenever Ariel needs a little rest and relaxation, she can sit in her comfy seat inside a gigantic seashell. Ocean furniture looks a little different from human furniture, doesn't it?
2. Ariel Makes a Friend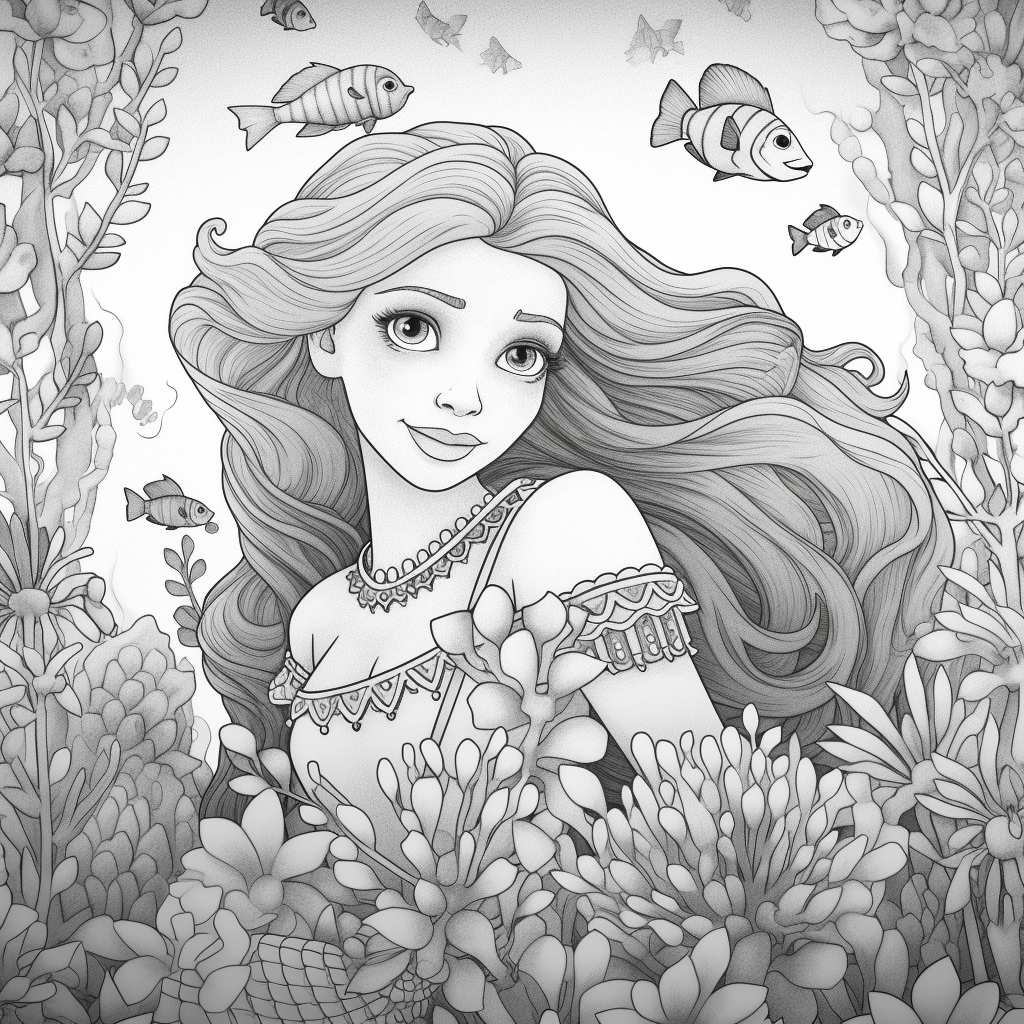 We all know that bright yellow Flounder is Ariel's bestie. But, in this picture, we see Ariel playing with new fishy friends. What colors will you choose for these adorable little swimmers?
3. Snack Time for a Prince and a Princess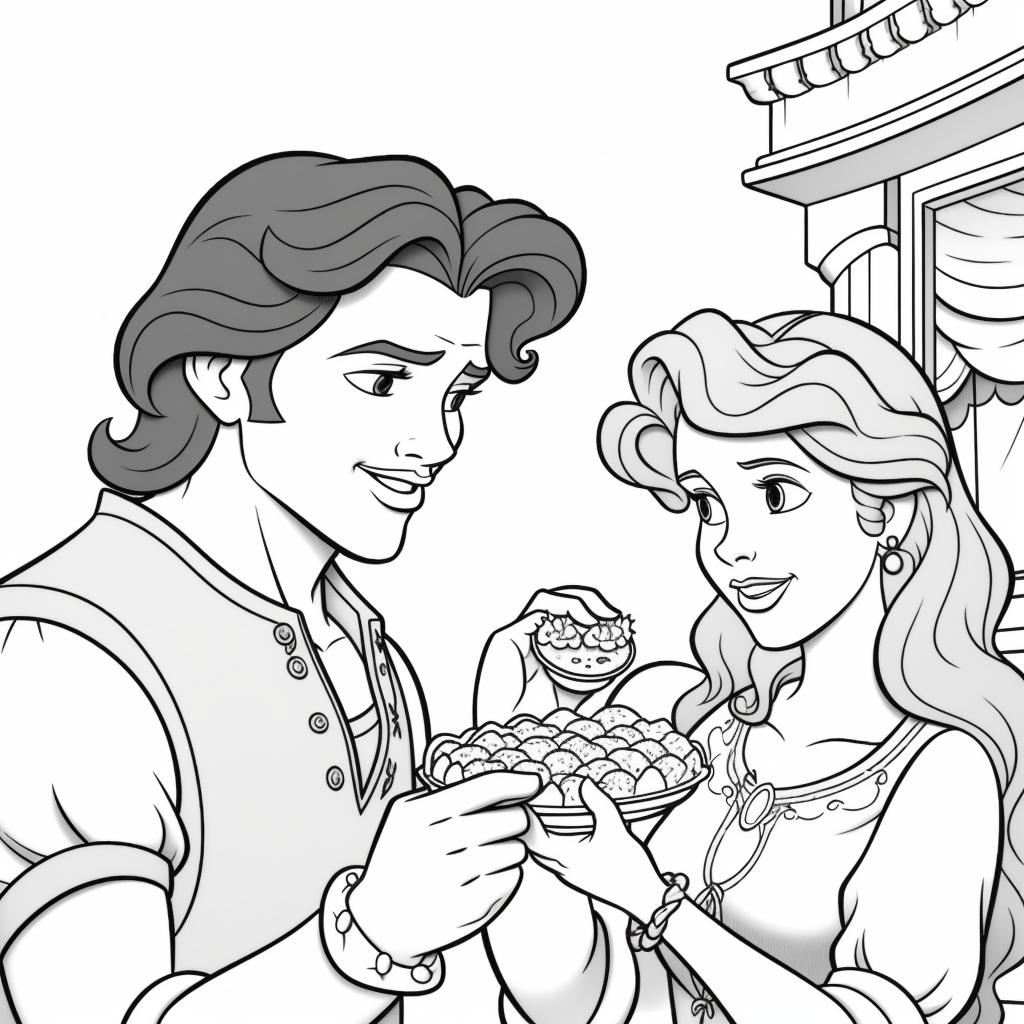 Ariel enjoys everything about the human world. But her favorite moment above water is when it's time to share delicious meals and snacks daily with Prince Eric. (No seafood allowed!)
4. Ariel Poses for Her Portrait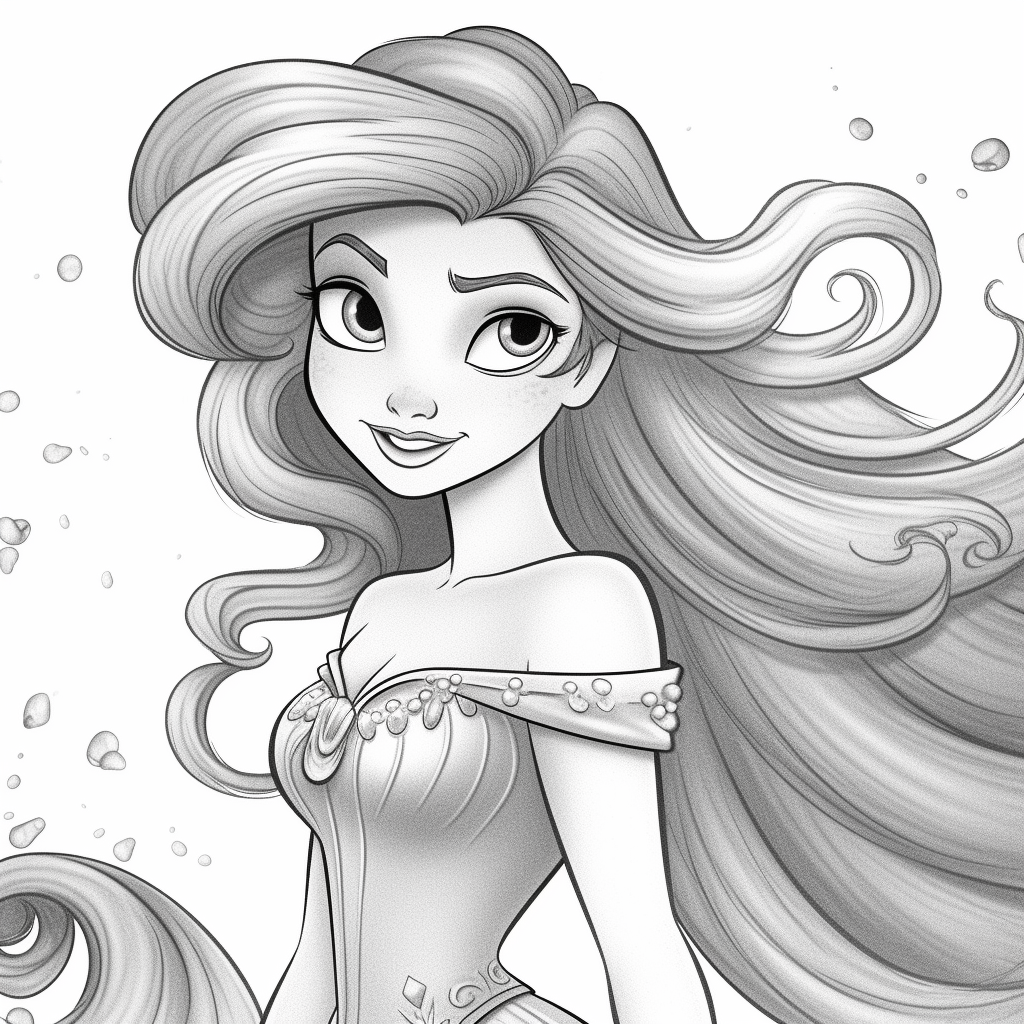 It's Picture Day in King Triton's underwater kingdom. Ariel is all dressed up and ready to get her portrait painted — and, of course, the artist must be using waterproof paints!
5. Ariel Goes Surfing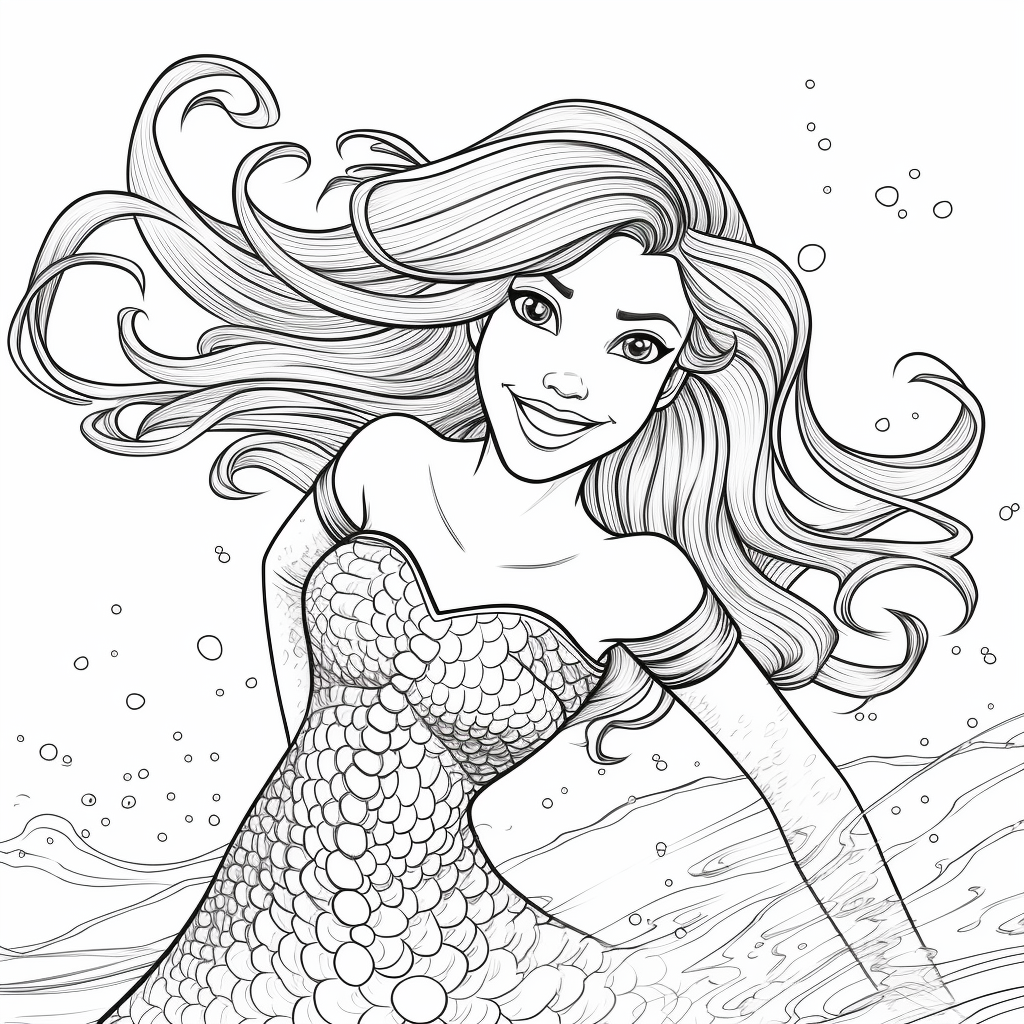 In this illustration, Ariel is in her favorite place: above the ocean's surface, breathing in that fresh sea air. And it's good that she can swim so well because those waves look tall and fierce!
6. Ariel Finds Some Treasure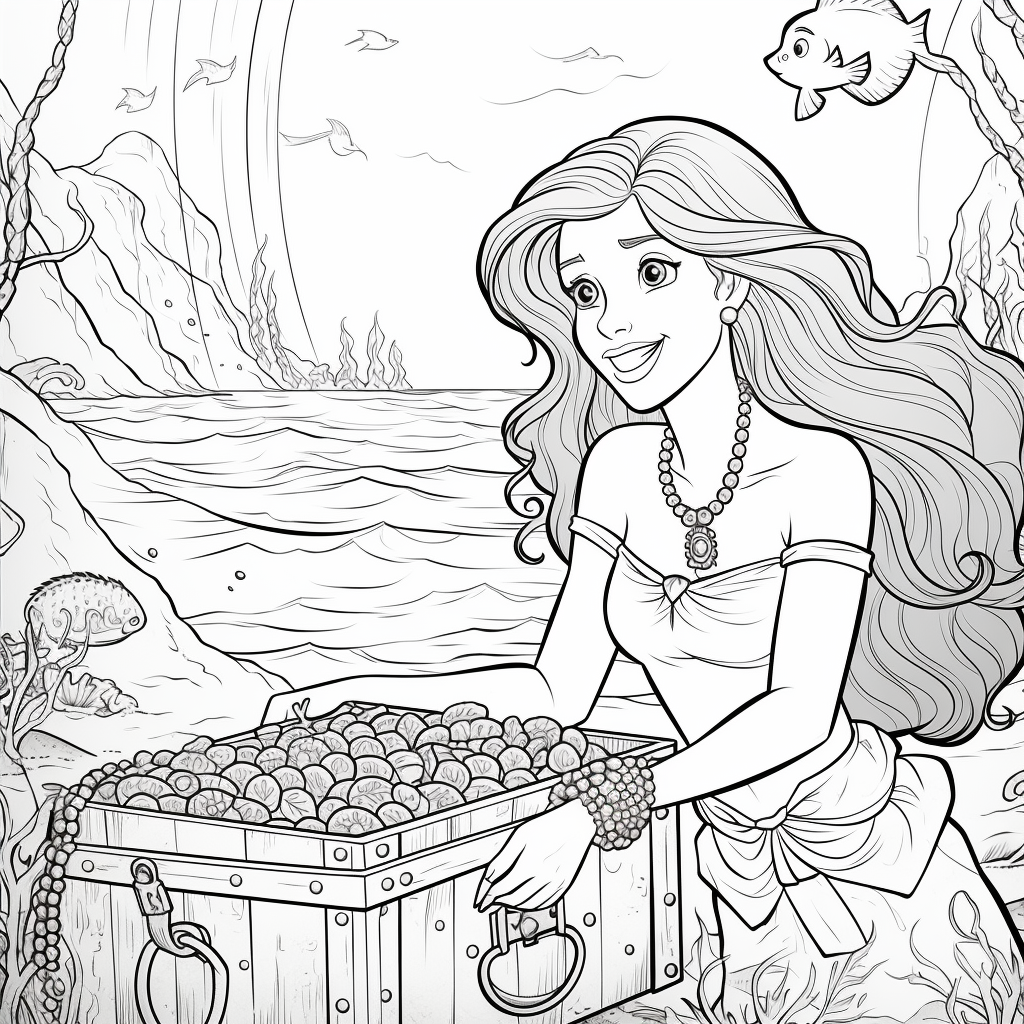 Ariel loves to collect objects from the human world, things as large as a statue or as small as a thimble. And, in this picture, she's found one of her greatest discoveries yet: a chest stuffed with treasure.
7. Ariel Beaming on Her Wedding Day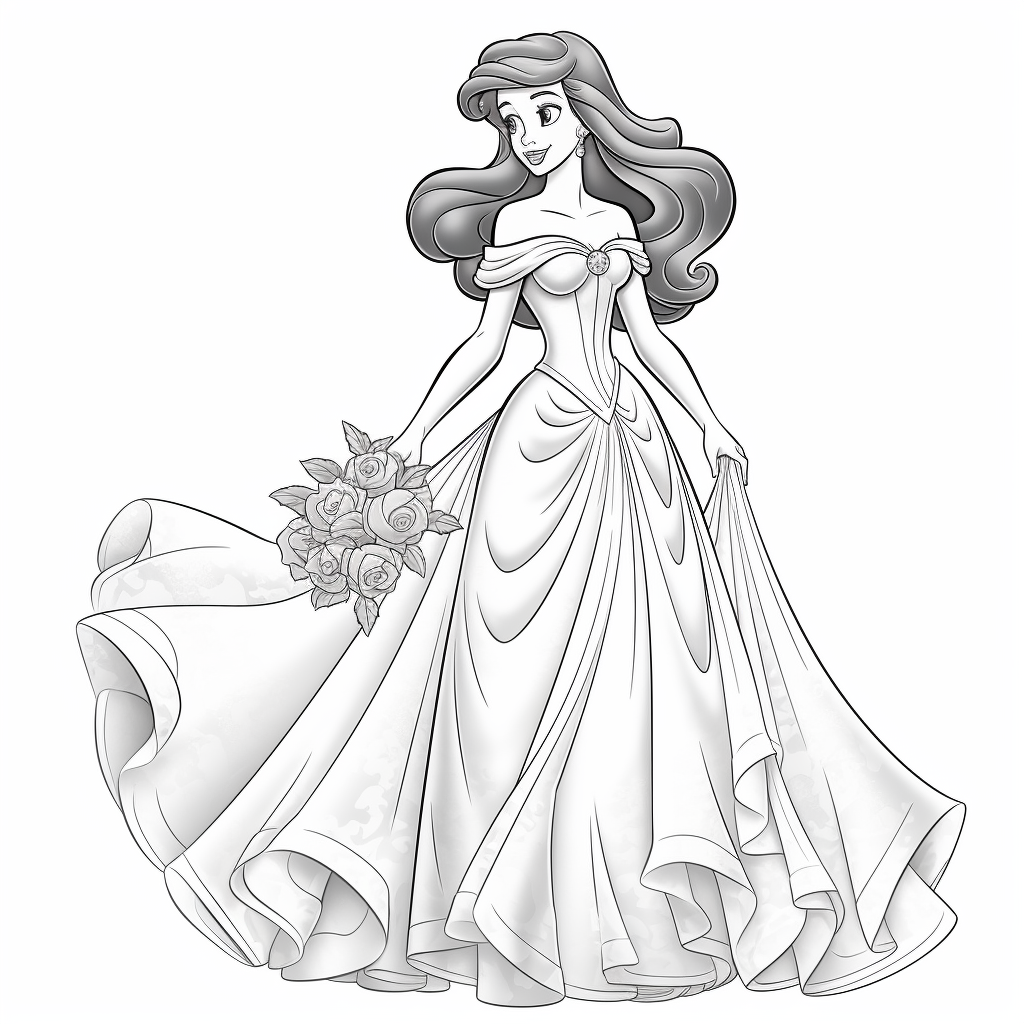 Ariel is ready for her wedding after her sisters help with her hair and makeup. What colors will you give her wedding dress and her lovely bouquet of flowers?
8. "I Now Pronounce You…"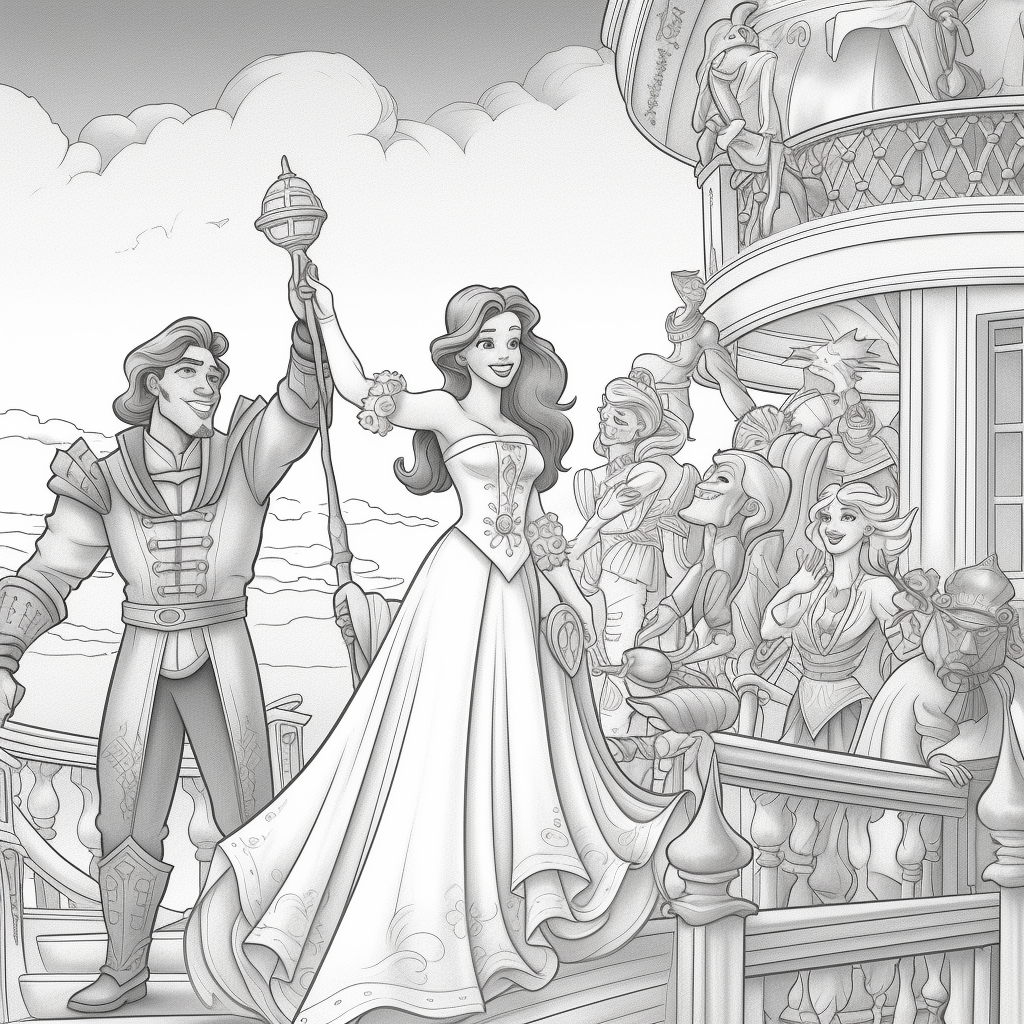 Ariel and Eric are united forever at their wedding aboard a mighty ship. As their guests — human and merpeople alike — rejoice, the happy couple imagines a future of smooth seas and sunny skies.
9. Once a Mermaid, Always a Swimmer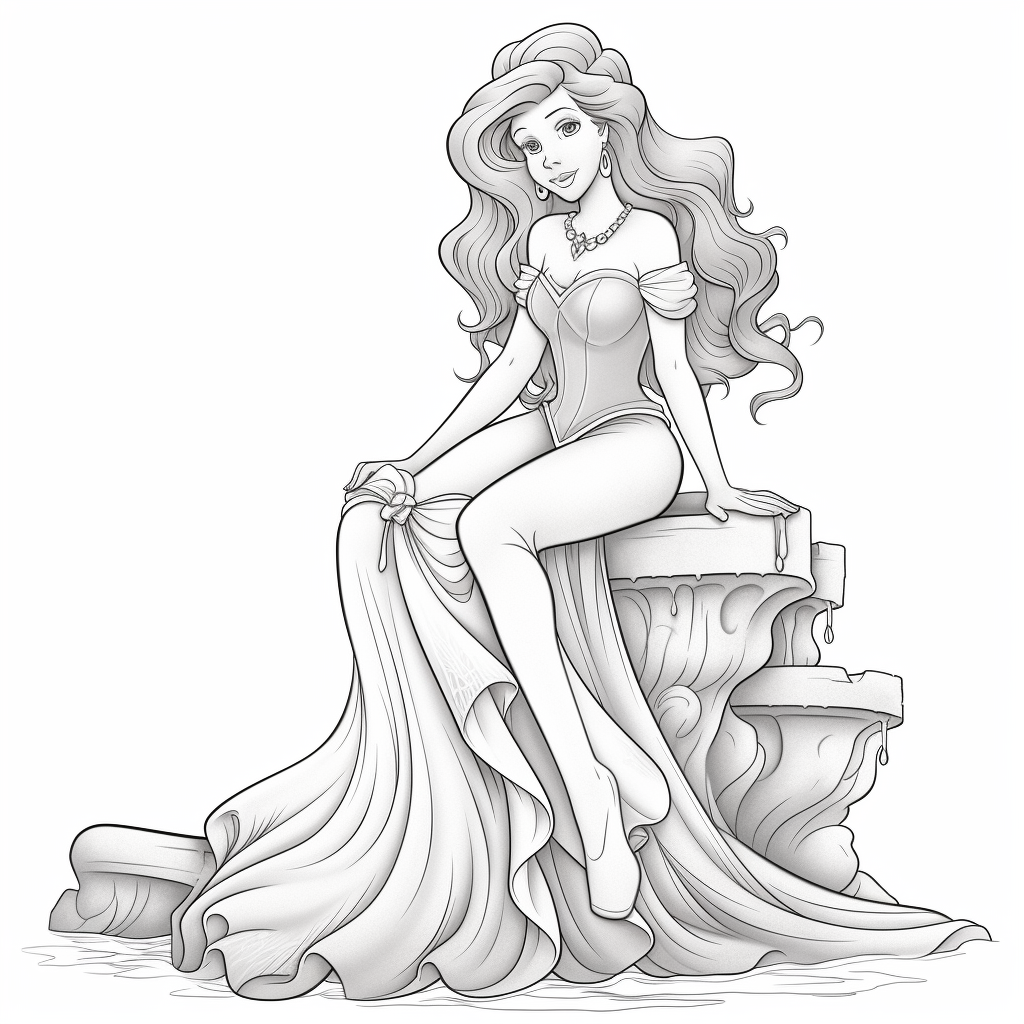 Although she's a human now, Ariel still loves spending as much time as possible in the ocean. Here you see her getting ready to dive off a cliff and take a refreshing dip. Maybe she'll run into Sebastian, the crab!
10. Sisterly Love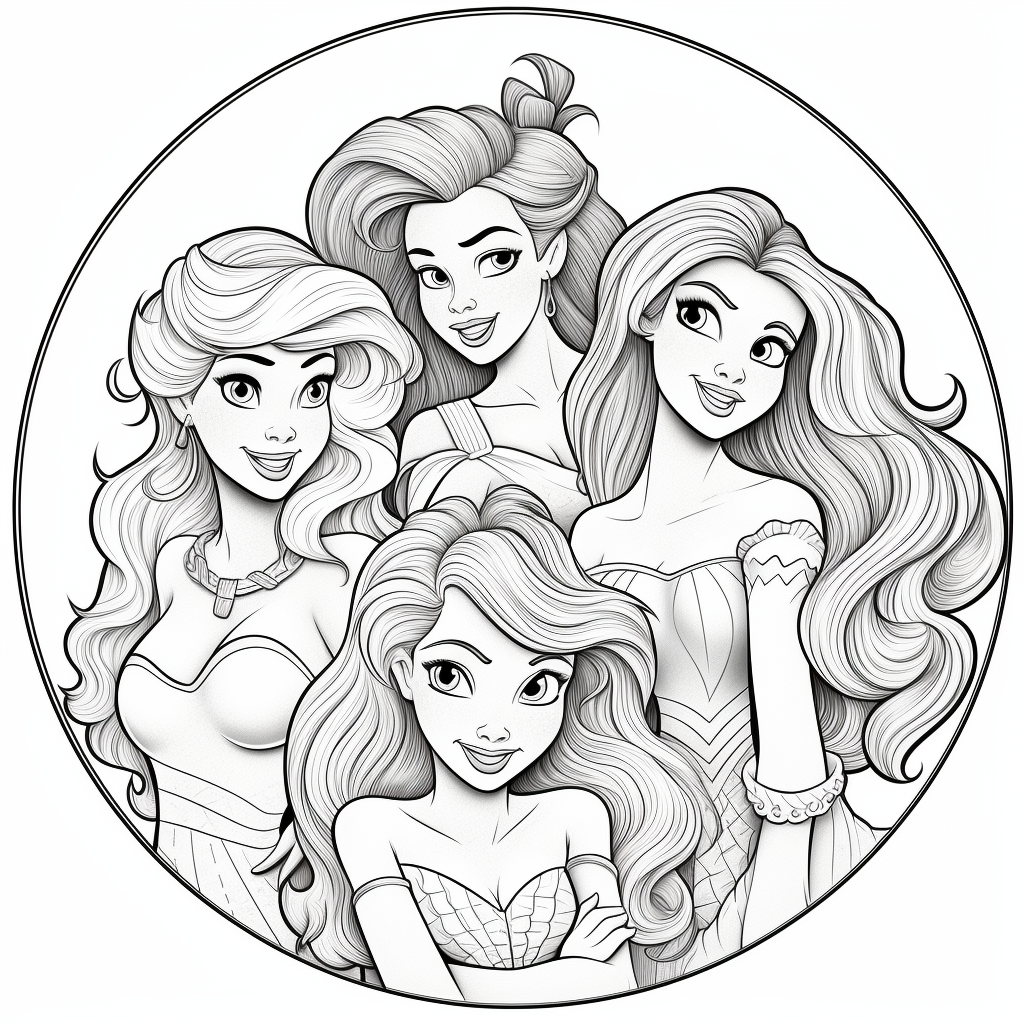 Today, Ariel is having a blast hanging out with three of her six older sisters. As a song in the 1989 movie told us, the sisters' names are Aquata, Andrina, Arista, Attina, Adella, and Alana.
11. Is It a Fork, or Is It a Dinglehopper?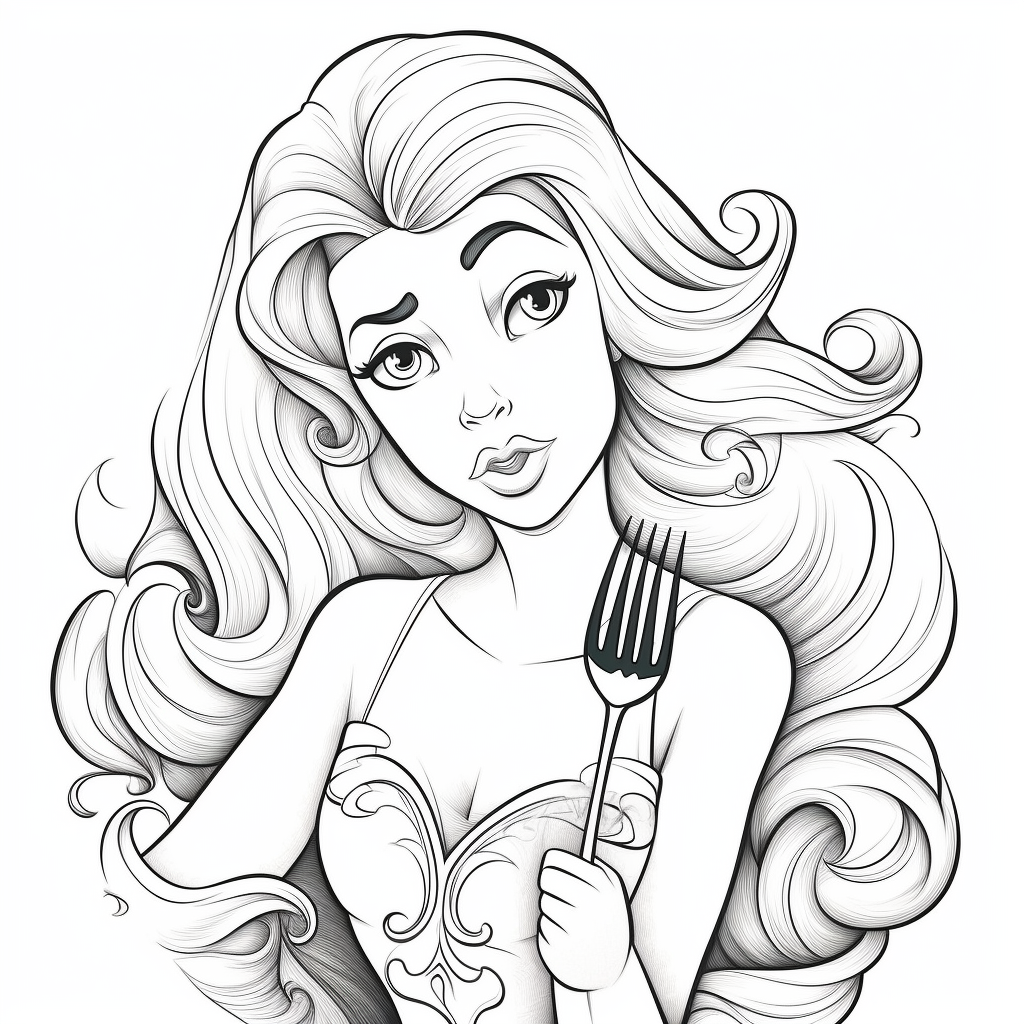 Ariel found many items during her trips to the human world, but she only sometimes knew what they were. For example, when she came upon a fork, her seagull friend Scuttle told her it was a "dinglehopper," an object for combing hair. How confusing!
12. Ariel Soaks in the Setting Sun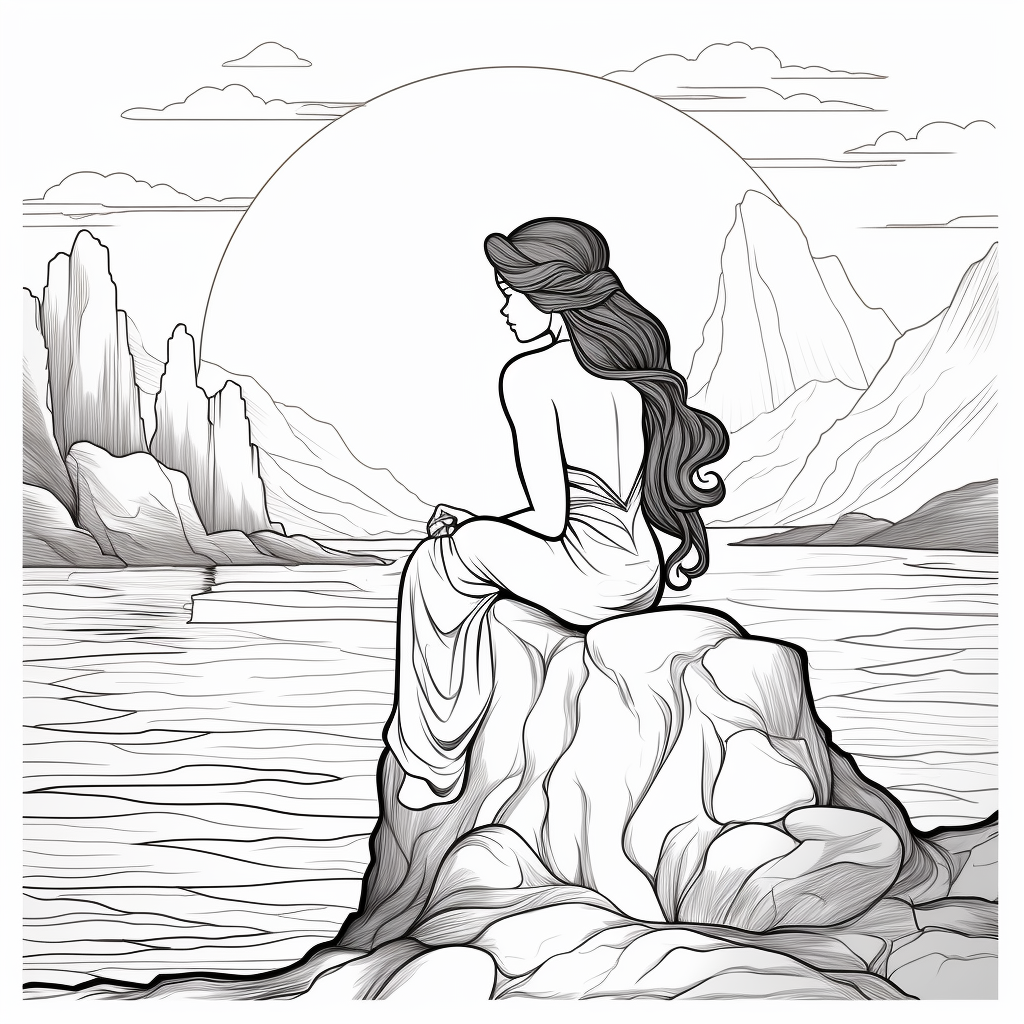 When Ariel lived in the ocean, she enjoyed beautiful sights like coral reefs and underwater gardens. But she couldn't see the sun! Now, as a human being, she cherishes every sunset she can.
13. Ariel's Loving Gaze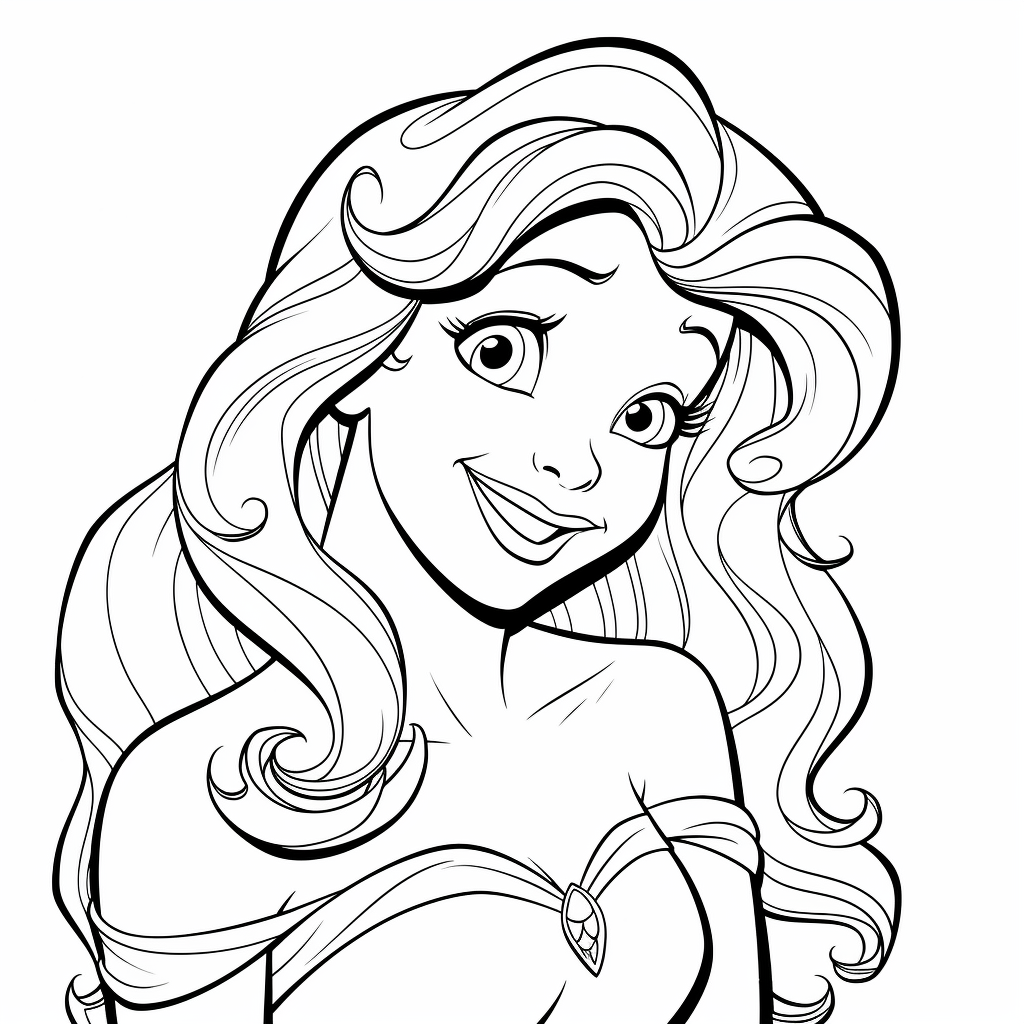 Here's a present Ariel gave to Prince Eric: a painting of her face. She's full of love in this picture, and she's excited about all the experiences and opportunities she'll have on land.
14. A Little Mermaid Loves a Good Book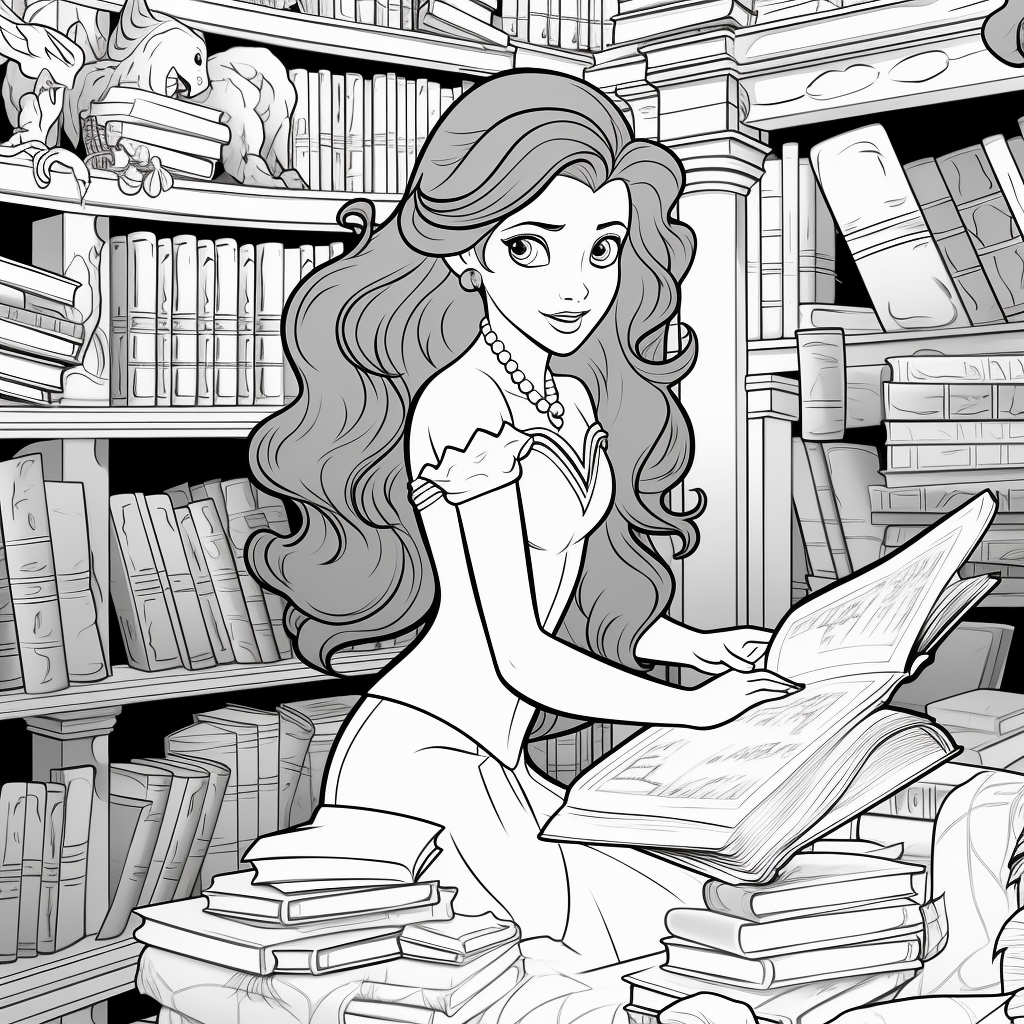 Ariel enjoys reading, and she especially enjoys learning about human life. Unsurprisingly, she sneaks off to the library whenever possible — even if it means missing Sebastian's concert rehearsals!
15. Ariel Gets Crafty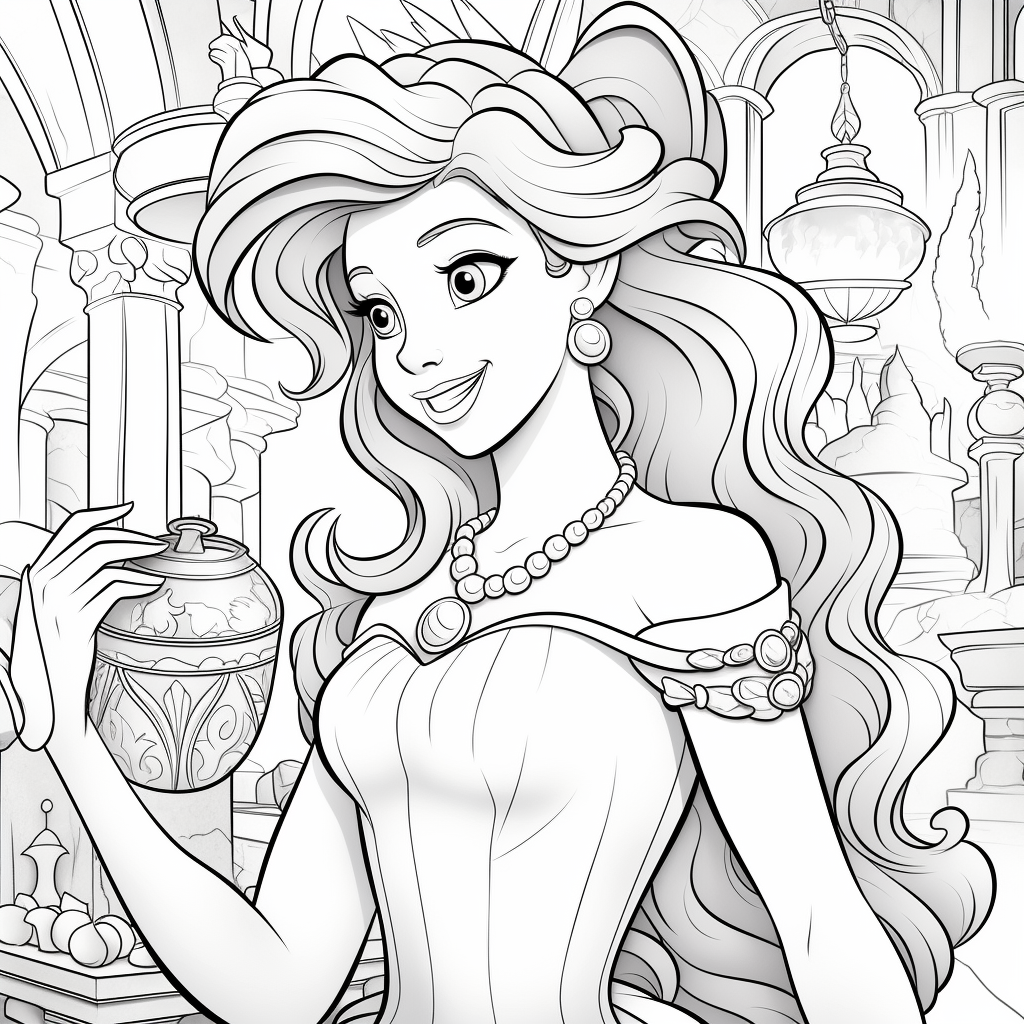 Ariel doesn't just collect objects that she finds; she happens to love making crafts as well. And the pearl necklace she's wearing here shows us how talented and artistic she is.
16. What Is the Sea King Thinking?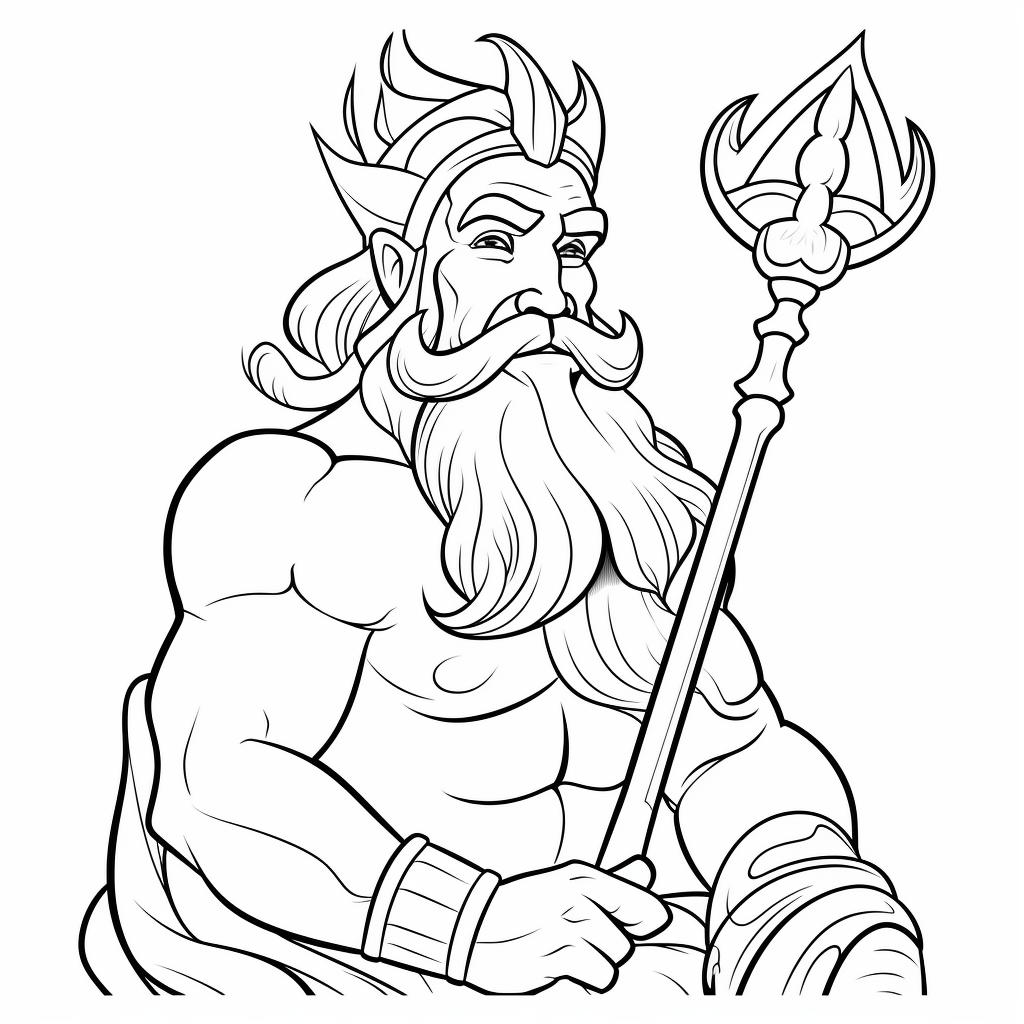 King Triton often seems like a stern merman, forbidding his daughter Ariel from going to the ocean's surface. Underneath, though, he's a loving father who only wants to keep his daughters safe from harm.
17. A Princess and Her Mirror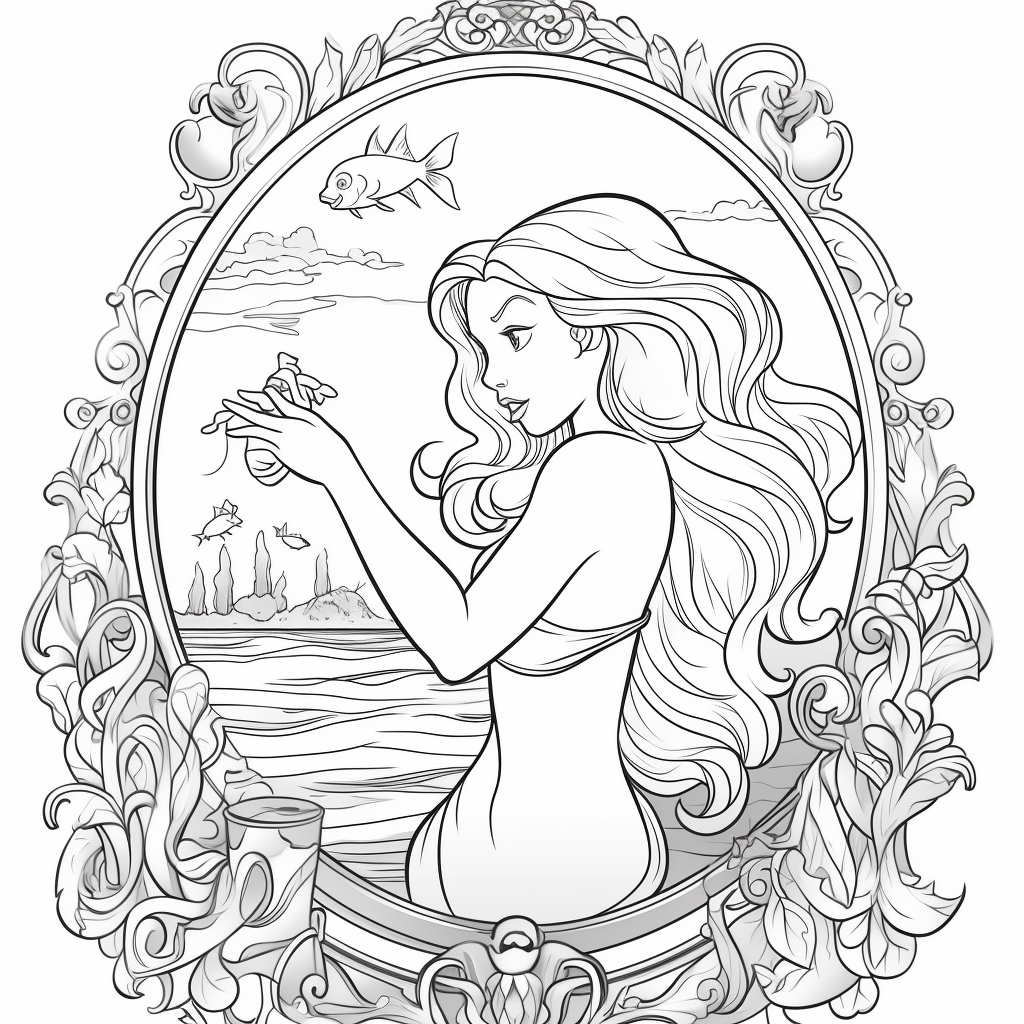 Ariel's looking into a mirror inside her undersea palace. What do you think she's getting ready for a party with her sisters, one of Sebastian's shows, or maybe a trip to the shore to catch a glimpse of Prince Eric?
Did We Miss Any Iconic Little Mermaid Scenes?
Ultimately, Ariel's journey from the sea to the land can teach children about courage, determination, and friendship. And all these coloring pages will bring her adventures to life in a new way.
Do let me know if you have any ideas for other hobbies and scenes you think Ariel would enjoy taking part in, so I can update this page with new coloring pages.
Also, please show us your kids' colorful creations when finished. Until then, may all of your family's activities go swimmingly!