Ever wanted to see your favorite video game scenes in real life, without logging on? Well now you can! These diorama artists recreated 25 classic scenes from various retro games from 'duck hunt' to "Donkey Kong" into detailed paper crafted form.
1. Tomb Raider
This diorama presents one of the most prominent images of Tomb Raider and is taken from the second game, released in 1997. It manages to incorporate so many of the aspects that made the game such a hit, showing how sheer speed and force won't solve it, but quick thinking and skillful gaming will get you home safely.
Source: Paperkraft
2. Duck Hunt
Released back in 1984, Duck Hunt was perhaps the first game to make effective use of the light gun and ensure its future popularity. The diorama captures the basic scene we all recognise as fans of the game, encapsulating the iconic layout and the '80s charm.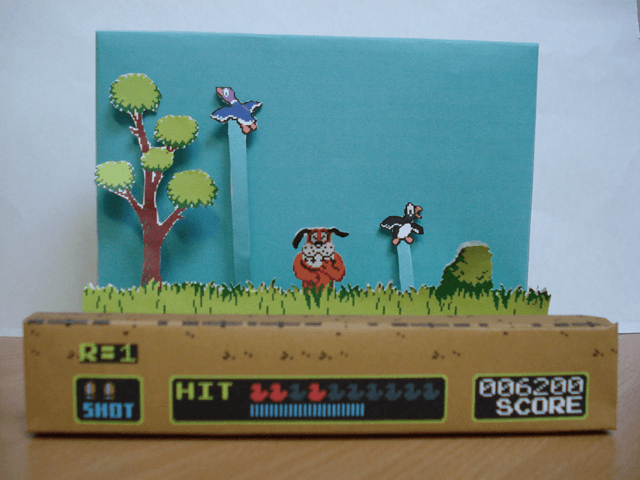 Source: Kuroisenshi/Papercraft
3. Mario
Always a classic, the iconic Super Mario Bros. 3 scene with Racoon Mario, red and green Koopa Troopers, a flying Goomba and a 1UP mushroom all featured in this diorama. It explores the third edition in the series which experienced its initial 1988 release in Japan before reaching the U.S market in 1990 and finally Europe in 1991.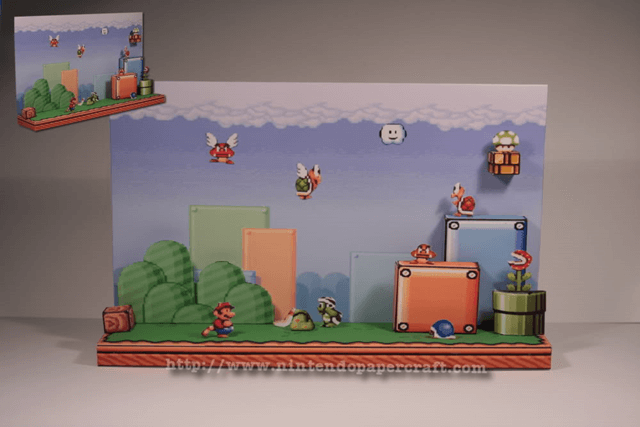 Source: Drummyralf/Deviantart
4. Sonic the Hedgehog
The diorama presents a delicately crafted scene from Sonic The Hedgehog mimicking the Green Hill Zone with grassy surface, signature palm trees, a springboard, coins, a checkpoint and deadly choppers. Nearly 20–years down the line, it still continues to have a huge following. Be sure to also have a look at what we think is the best Sonic toy.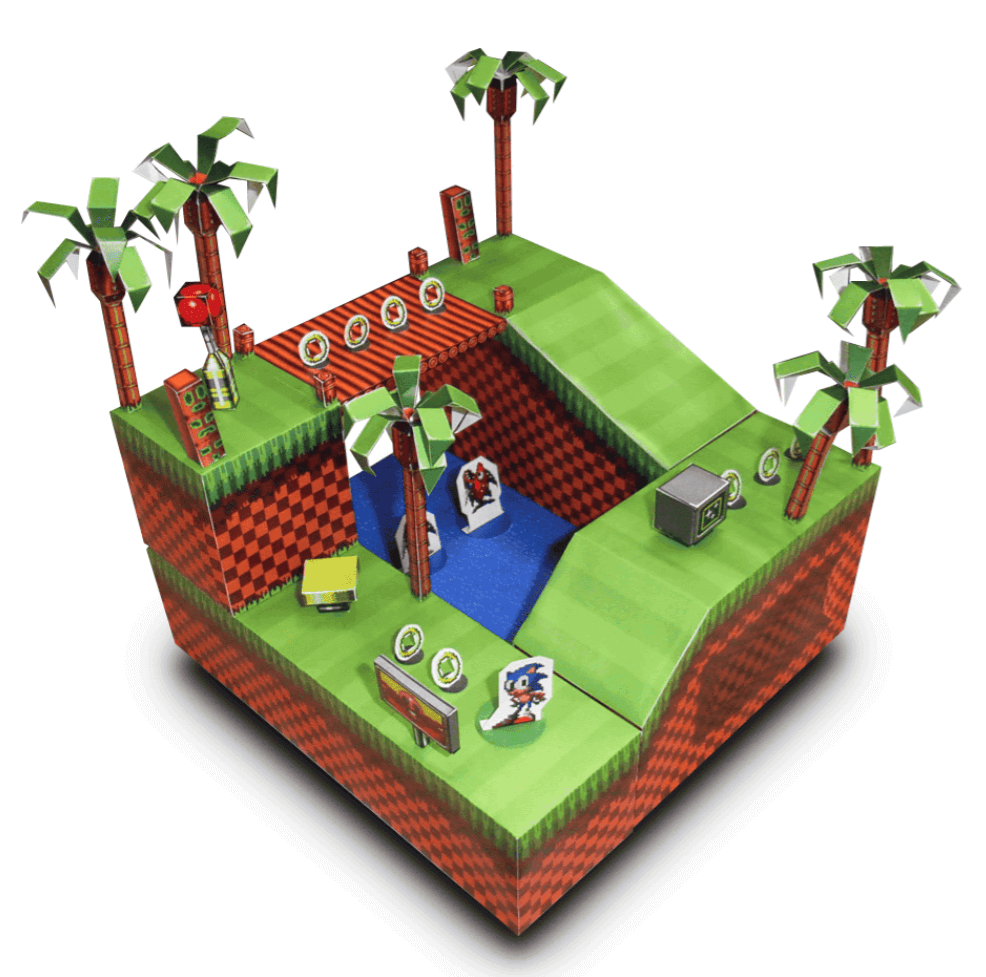 Source: Sonic
5. Tetris
With classic colors, various tetrino blocks, scoreboard and even the home screen graphics at the bottom, it's a view that every game player will recognise. Tetris is considered by many to be among the top few video games ever released. With such huge success stemming back to the original 1984 release, even now every piece of technology capable of gaming has included one version or another of Tetris.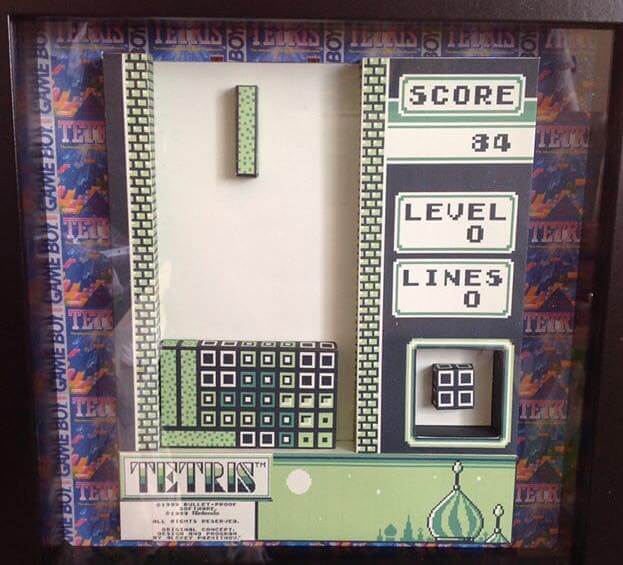 Source: MarksMemoryBytes/DeviantArt
6. Donkey Kong
Reminiscent of the earliest breakthroughs in the production of highly addictive video games, this portrayal of the 1981 Donkey Kong appears somewhat basic and is symbolic of the simplistic, early programming used to devise the game. With it's platform style layout with ladders to climb and barrels to dodge, it was the first video game to use the damsel in distress plot. Donkey Kong provided a template which has been reproduced countless times since.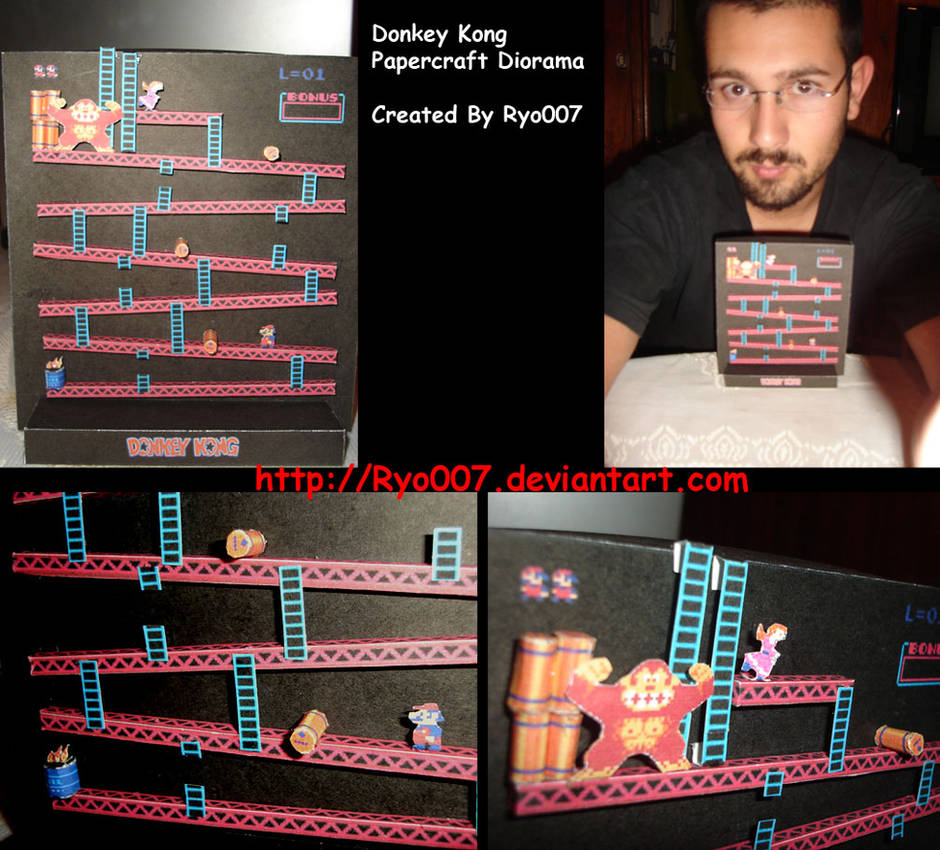 Source: ryo007/DeviantArt
7. Mario Bros
Remember how you used to know you'd reached the end of a level? Many games in the past employed similar icons that let you know when the end of the level had been reached, the flag featured here being one of them. You always knew where you were with the likes of Sonic Mario, a touch that seems somewhat forgotten in the modern gaming world.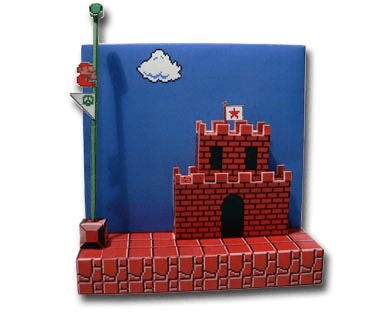 8. And More Mario
Showing many of the typical features of the Mario Bros this recreates the scene from Super Mario World 7 -3. A huge commercial success, selling over 20 million copies worldwide this is the most popular of all the series and has been modified for various consoles and re-released 3 times. With the ever testing Kooper Troopers and Cheep-Cheep flying fish set out to disrupt Marios' mission.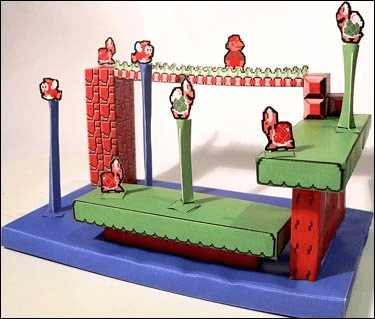 9. Megaman
Showing the original Mega Man on the NES from back in 1987 we can see him engaged in battle with Cut Man. One of the simpler dioramas on display here but it still manages to conjure up some of the old magic of the game.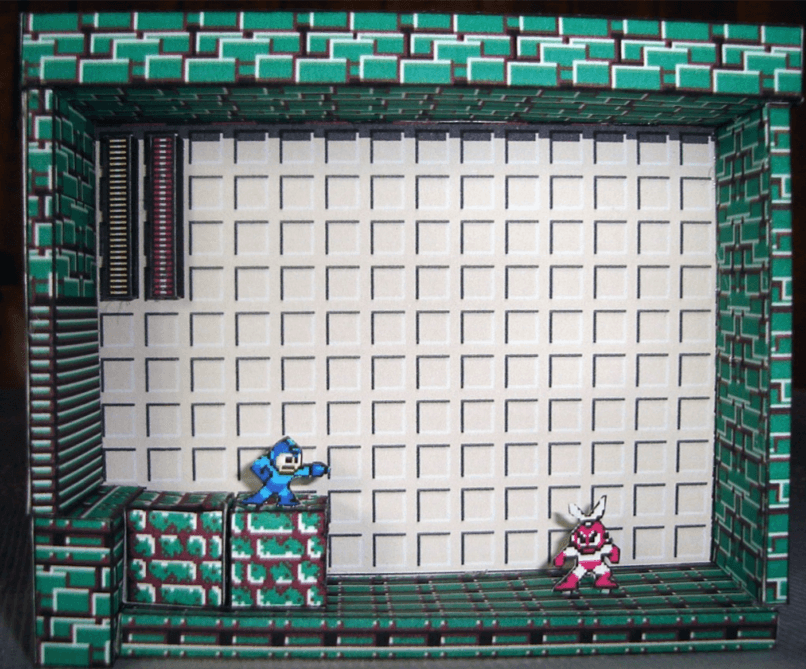 Source: ryo007/DeviantArt
10. Contra
Originally released as an arcade game Contra in 1987 Contra made its way to the NES a year later. It's still going strong to date with numerous sequels, including a release of 'Contra Rebirth' on the Wii this year.
Source: Venturebeat
11. Metroid: Zero Mission
Displayed here is Metroid: Zero Mission from the Game Boy Advance release in 2004. Samus is locked in battle with Mua the acid worm. Taking influence from both Mario and Zelda, Metroid combined some of the best elements from platform, shooter and adventure games to produce an extremely successful franchise.
Source: Nintendo Papercraft
12. Final Fantasy Adventure
Many hours have been lost to this RPG series, Final Fantasy Adventure (AKA Mystic Quest in Europe) on the Game Boy from 1991. Here, the game's hero meets a knight at a waterfall. The creator explains that he struggled with this piece, due to the Game Boys' graphics which made the concept hard to realize effectively. Nevertheless it still manages to capture the moment well.
Source: Kapsh/twopointzero
13. Megaman 2
Another paper craft take on the Mega Man series, this time taken from 'Mega Man Battle Network' on the Game Boy Advance back in 2001. Here he is depicted poised to engage in battle with some Mets.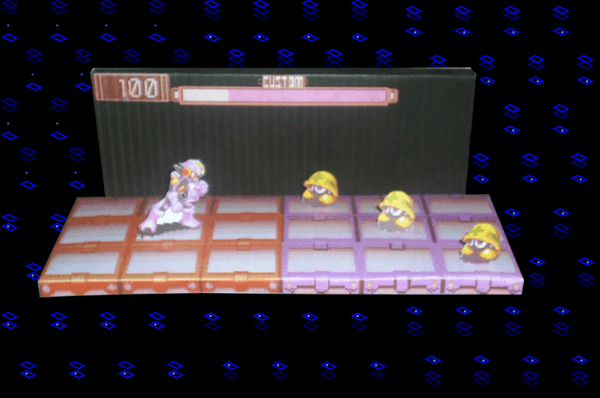 Source: Sgonzales22/DeviantArt
14. Bionic Commando
This beautifully crafted scene from the 1988 release of Bionic Commando shows the games hero, Radd Spencer, swinging between platforms with the use of a grappling gun attached to his bionic arm. This is one of the few games that did not allow the player to jump, a source of frustration for many a gamer.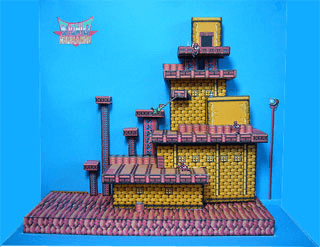 Source: The Paper City
15. Pokémon
Bark Elm Town, from the Pokémon series, is where the generation 2 Pokémon's reside. Small and scenic, there are only 10 characters spread between the four houses.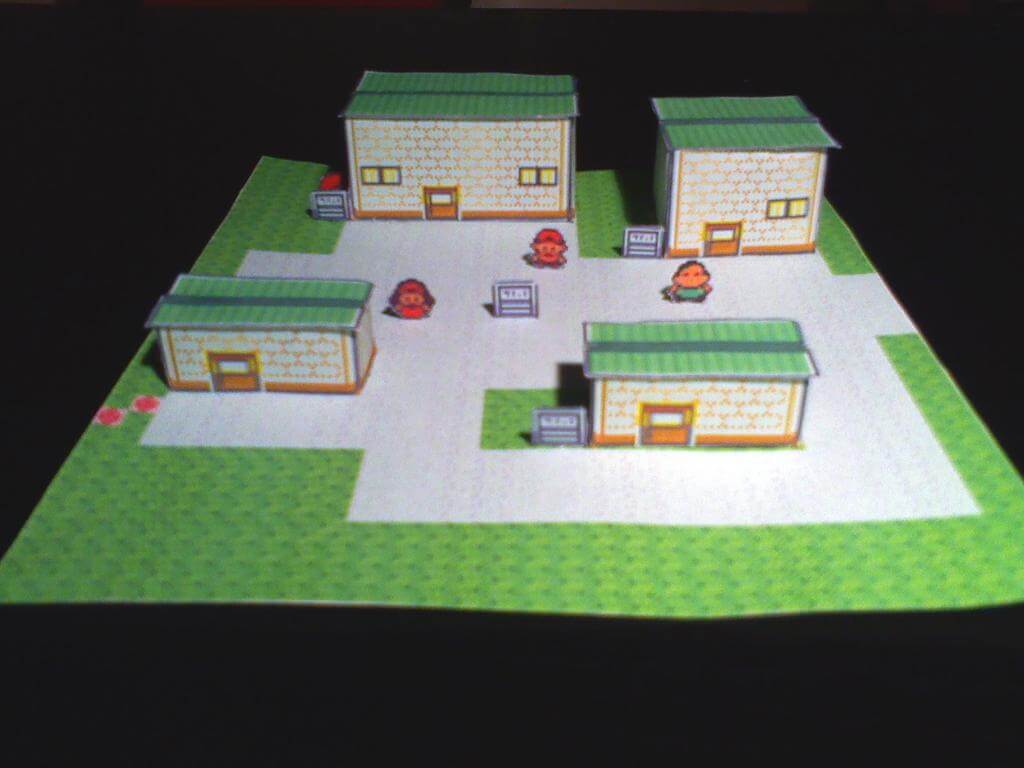 Source: gardevoir7/DeviantArt
16. Kidd Icarus
1986 saw the first release of Kidd Icarus on the Nintendo FDS. Although a popular game, the planned sequel on the SNES was never released, waiting an extra 2 decades before finally seeing the light of day again when it was released on the Wii in 1997. Mixing elements of Zelda, Mario and Metroid made for a fun and highly playable game.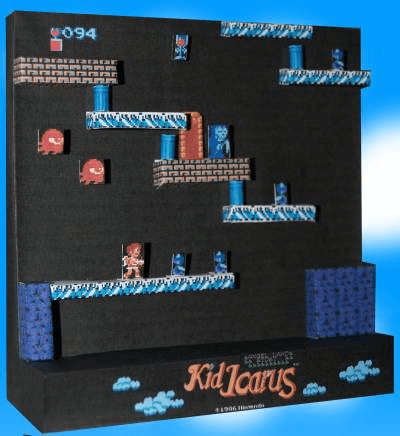 Source: Kid Icarus Papercraft
17. Pokémon RPG
From the first in the Pokémon RPG series, on this diorama we can see a battle taking place on the Game Boy with great attention to detail. Just look at those emerging subtitles! Even the battery light indicator has been modeled.
Source: Rebel Gamer
18. Paper-Mario
Another Mario Diorama, this time taken from 'Paper Mario'. Set in the Mushroom Kingdom, Mario must rescue Princess Peach from Bowser. Here Mario and Koopa get ready to do battle with Jr.Troopa.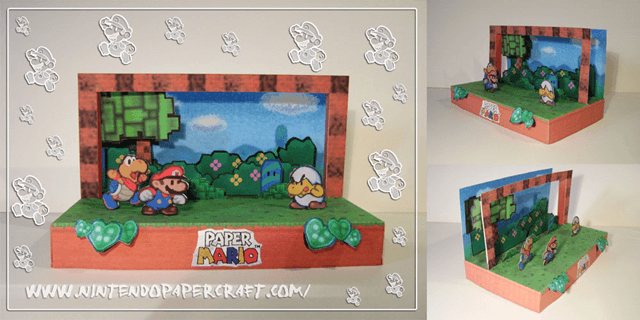 Source: Nintendo Papercraft
19. Mario: Yoshi's House
Remember how much quicker and easier things were riding on Yoshi's back, well here's a nicely detailed diorama of his house, also known as Yoshi's Fruit Tree. If you look closely you can see his name on the letterbox.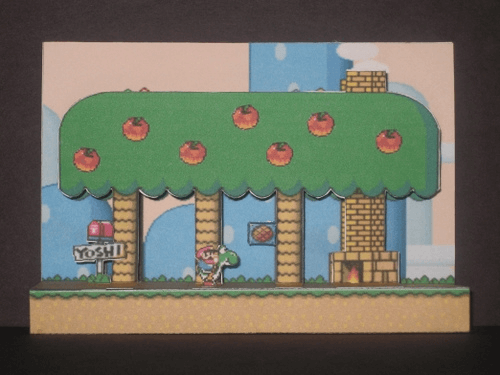 Image source: Nintendo Papercraft
20. Mario: Goomba attack
Designed to scale, this diorama is from world 1-1 of Super Mario Brothers. Released for NES in 1895, the now infamous plumber gets his first outing in the Mushroom Kingdom, his mission, to save Princess Toadstool from the evil King Bowser. This colorful diorama shows off some of the classic elements from the game; a Goomba on the attack, a super mushroom to collect and four boxes to hit.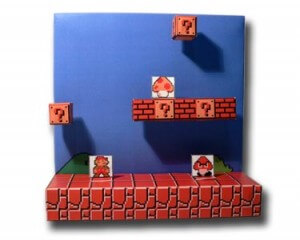 Source: Reverend Timothy
21. Game Boy
This awesome diorama was constructed by gutting a broken Game Boy and scaling down the first stage diorama above. Released as Super Mario Land on the Game Boy in 1989, the 12 levels of the Mario saga provided entertainment on the move.
Source: Josh Burker
22. Ninja Gaiden
Noted for its difficulty, Ninja Gaiden was first released in 1989. Another intricately crafted diorama this includes some great detail. Here, the game's main protagonist Ryu fights off 4 enemies in the original platform format. Notice the attention to detail in the pixelated brickwork and Cola sign.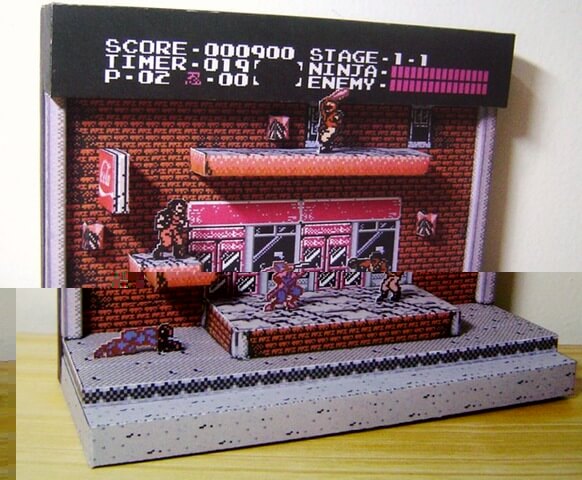 Source: Cool Things
23. Marios Head
This diorama is inspired by the mini-game in Super Mario 64, where you got to manipulate Mario's features and make him as horribly deformed as you please. Although not enabling this special original feature it is nonetheless some top quality papercrafting. The 3D idol shows great detail with his moustache, hair, shape of the hat and the colors match perfectly to 1996 Mario.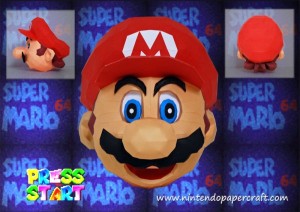 Image source: Nintendo Papercraft
24. Lord of the Rings
This diorama was constructed before a game of Lord of the Rings was even made. It was originally designed just as a hobby project which led to the intriguing question: "How cool would it be to actually play out the scene in a game?" So the designer went ahead and programmed it. You can see the wizard portrayed battling with the dragon in his tower. What an achievement!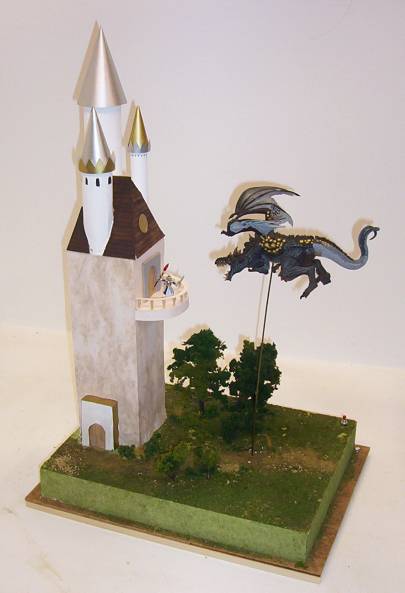 Image source: Storm the Castle
25. Street Fighter 2
This cubic diorama captures the iconic characters of the infamous Street Fighter 2: The World Warrior. It became the best selling title of it's time, played be 25 million people in the US at home and at arcades.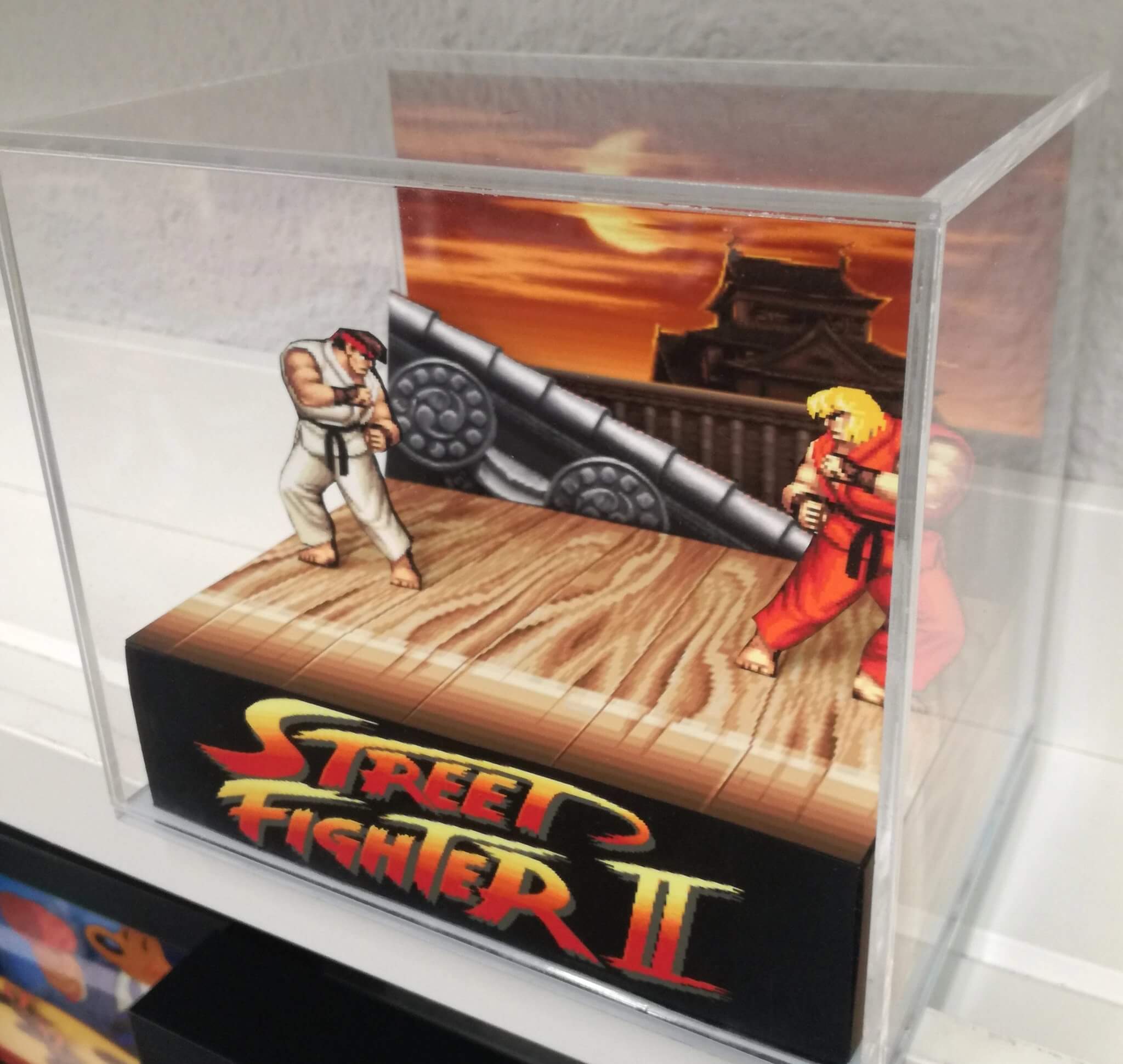 Source: Arts-MD
For those of us that hold these classic games dear to our heart, these extremely artistic dioramas look both fun to make and have immense detailing. They manage to capture the essence of joy brought by the ever evolving world of computer games. These iconic scenes live on in real life. Which game would you like to see recreated as a diorama?