It's no secret how curious toddlers can be. They love getting their hands on stuff from the grown-up world — remote controls, keys, kitchen utensils, or even makeup (I was guilty of that!).
Tools and hardware are no exception, but the thing is, real hardware isn't remotely child-friendly.
That's where toy workbenches come in. These mini-workshops are perfect for little builders to explore and unleash their imaginations while playing with toy tools. Whether they're "fixing" things around the house or joining you in the garage, tinkering with tools and gear, these workbenches provide a safe and engaging space for hours of fun.
Plus, it's not just playtime; it's an opportunity for them to develop essential skills like hand-eye coordination and fine motor skills. It's hands-on learning through play.
You might be wondering which one to pick — plastic or wooden workbench. Straightforward or packed with features? It can be a tough decision since workbenches are usually a bit of an investment. That's why we have gathered the 13 best workbenches for toddlers, carefully reviewed and parent-approved for you to find the perfect one.
The Top 3 Workbenches for Toddlers
| | 💰 FOR TIGHT BUDGETS | 🧒🏻 FOR YOUNGER KIDS | 🧒🏼 FOR OLDER KIDS |
| --- | --- | --- | --- |
| | | | |
| ✅ BEST AGE | 3 years and up | 18 months and up | 3 years and up |
| ❤️ PROS | Well-crafted screws, gears, wooden nails and nuts | It's an educational play experience | With enough room for multiple kids to play together |
| 💔 CONS | More bolts and nuts would be nice | Some users found it smaller than expected | It requires ample space for setup |
| 💵 PRICE | $36.99 | $22.99 | $22.99 |
Now that you've seen our top three picks, let's dive into our favorite workbenches and explore their unique features. We'll walk you through what we loved and what didn't quite hit the mark for each one. Our list covers various options, catering to the interests and ages of younger and older toddlers.
Let the playtime begin!
Best Wooden Workbenches
The Master Workbench by Hape, offers young builders a world of construction possibilities. The 35 pieces set features various accessories like screws, bolts, nuts and gears for hands-on play. It also has five realistic tools: a hammer, saw, vice, angle, screwdriver and wrench. Unlike many other sets, the hammer in this workbench can pound nails in, while its back can be used as a nail extractor.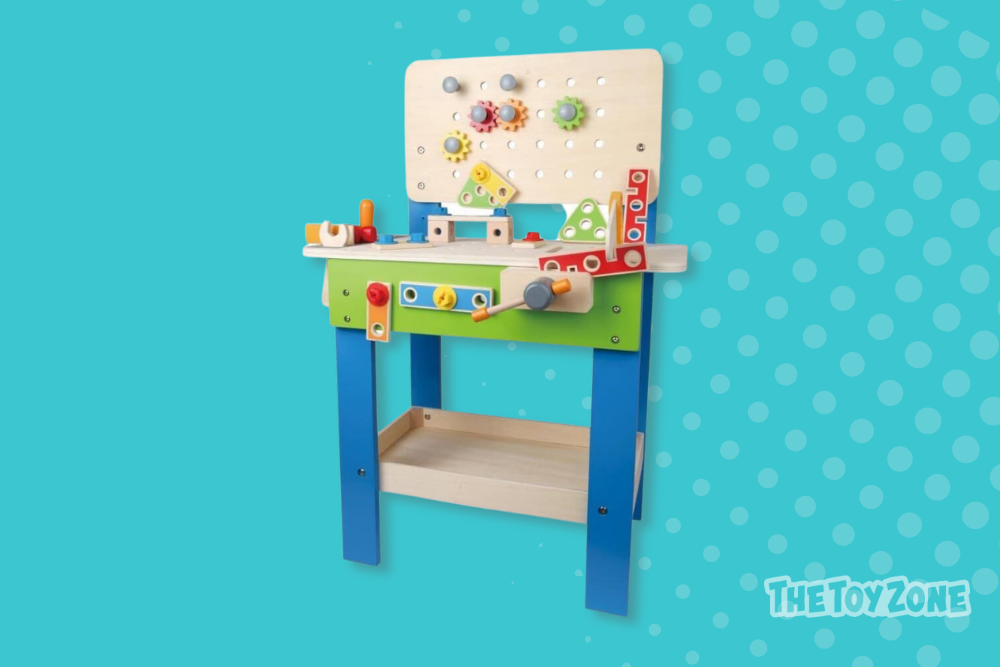 Recommended age: 3 years and above
Winner of the Gold Star Award by Toy Stores of Canada, the Master Workbench is durable and sturdy. It is designed to adapt to your child's height and ensures a comfortable experience as they grow. Additionally, the workbench provides ample storage space for all the tools and supplies. Each tool has its designated slot, keeping things organized and easily accessible.
What We Love:
❤️ Non-toxic wood and paint
❤️ Space-efficient design
❤️ Excellent customer service from Hape
What We Don't Love:
💔 Mainly constructed with wood, but screws and accessories are made of plastic
💔 Instructions can be confusing, and assembly holes may be misaligned
Robud's workbench combines industrial elements with a soft, muted pastel palette, creating a visually appealing option for toddlers. This workbench features a functional vise, a table saw and a wooden tool set complete with a hammer, screwdriver and wrench. The set comes with bolts and wooden pieces to build various interactive models.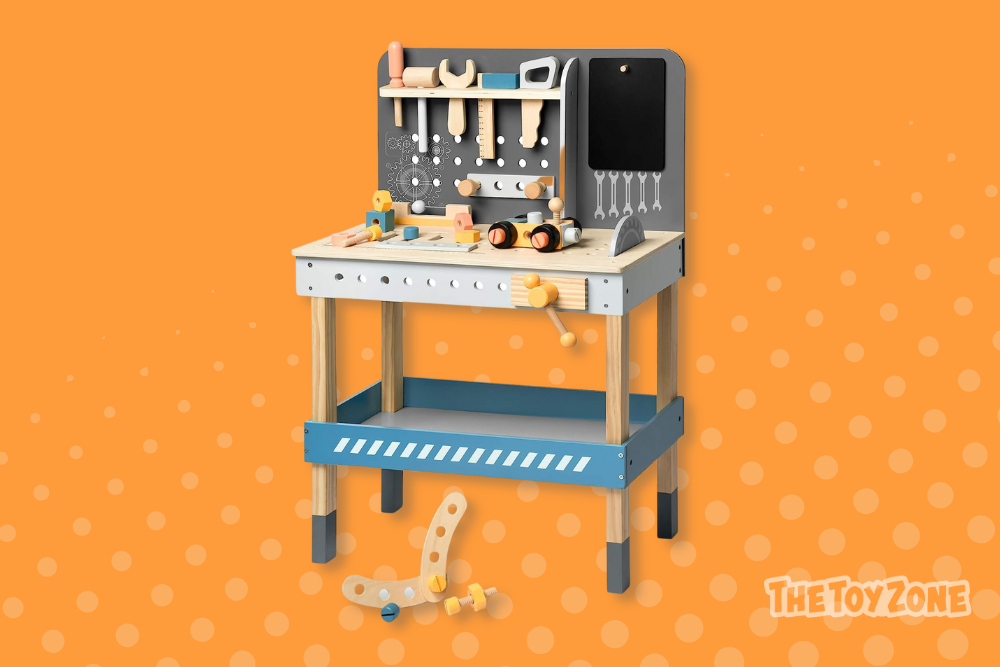 Recommended age: 3 years and above
The workbench offers a convenient bottom storage shelf to keep all the small pieces organized, while the hanging rack provides a designated spot for each tool, ensuring they are always within reach. Safety is also prioritized with a smooth wooden surface and rounded edges in the corners.
What We Love:
❤️ The tools wall also features a small blackboard for doodling or taking notes
❤️ It's easy to assemble and interactive
❤️ Painted with non-toxic water-based paint
What We Don't Love:
💔 Toy screws don't always fasten tightly into holes
💔 The legs can be a bit weak
💡Tip: If you love Robud's workbenches, but this one is a tad too big, check out their budget-friendly mini version.
With a little over two feet tall and wide, this wooden workbench comes with realistic toy tools, over 50 construction pieces and an instruction booklet with lots of fun toy-making ideas. Young builders can make many models with wooden screws, nails, nuts and blocks, either following the instructions or letting their creativity run wild and dive into more unstructured play.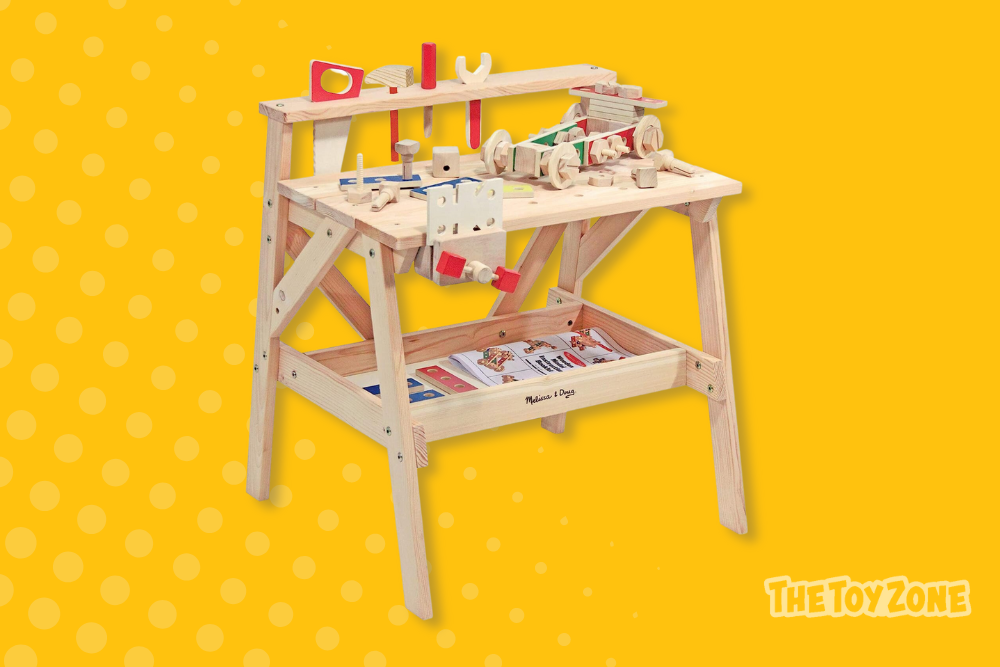 Recommended age: 3 years and above
Instead of a typical pegboard, Melissa & Doug Wooden Project Workbench features handy slots to store the tools at the back. The table itself has purpose-built holes to fit the wooden bolts perfectly. Plus, there is a storage shelf beneath the workbench for the booklet and any extra tools or pieces.
What We Love:
❤️ Assembling instructions are straightforward to follow
❤️ The bench can be used as a desk for other projects and activities
❤️ Made of durable, high-quality wood
What We Don't Love:
💔 Some pieces may not fit well
💔 Building plans can be too complex for younger kids
💡Tip: If you would rather go for a tool kit without the workbench, the Kidwill set with cute, silly faces and high-quality wood will make an excellent choice.
Little builders will love exploring shapes, sizes and the world of construction with this compact yet comprehensive set. Crafted with high-quality wood, the workbench has a vibrant color scheme that makes each component unique and visually appealing. The table features many holes, providing plenty of hands-on practice and play opportunities with the wooden screws and nails.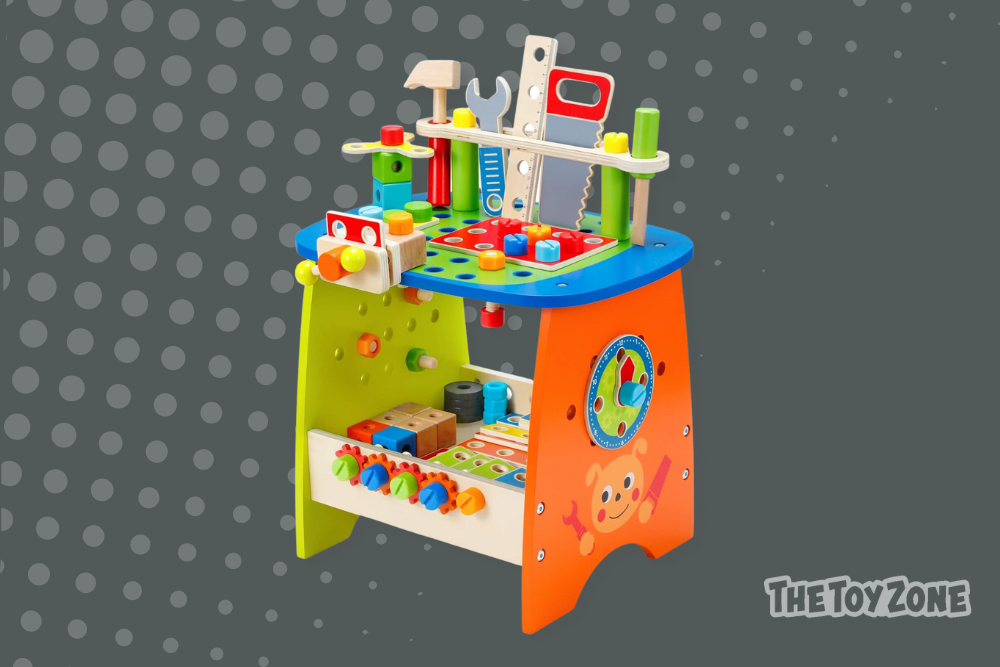 Recommended age: 3 years and above
The set includes over 80 wooden accessories. From hammers, screwdrivers and wrenches to a vise, ruler, screws, nuts, bolts and gears for tons of creative building. With so many pieces, Ohuhu's workbench is perfect for collaborative play and engaging in imaginative building projects.
What We Love:
❤️ Space-efficient design easily fits in small areas.
❤️ Very sturdy, it stands stable and strong
❤️ Easy to assemble
What We Don't Love:
💔 Due to its popularity, it is usually out of stock
💔 It doesn't include any project ideas or recommendations
Little ones can dive into imaginative play as they turn cogs, twist bolts, and create models with this set's multiple tools and accessories. The workbench features soft wood tones and a muted palette that add a stimulating touch to the experience. The sturdy pieces can be used to build and get creative; even the gears at the front can become a building item to make cars or other models.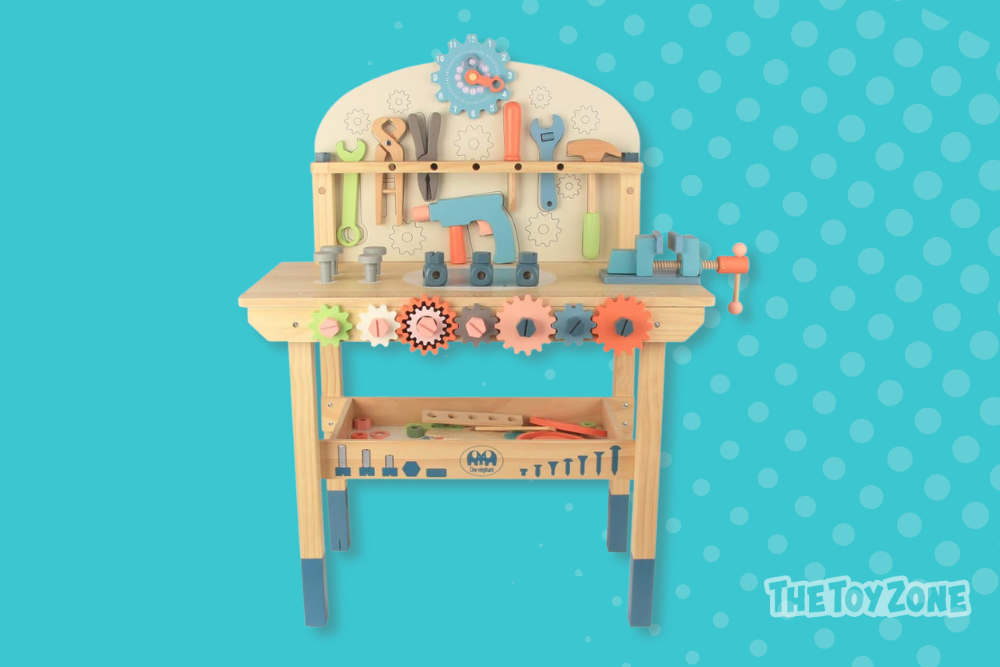 Recommended age: 3 years and above
Meticulously designed, the wooden tools attach to the tool wall in their slots using a magnet, while the gear-themed clock at the top adds an educational feature to introduce kids to the concept of time. The set's smooth edges ensure a safe and enjoyable play experience.
What We Love:
❤️ Easy assembly with clear instructions
❤️ Sturdy and solid build
❤️ Comes with a nice variety of play pieces
What We Don't Love:
💔 It would be nice to have more accessories, such as added nuts and bolts, to play with.
💔 The magnets on the tools could be stronger
Assembling this tool bench can be a project for parents and toddlers to enjoy together. It's a breeze to build with just six easy-to-follow steps. Once the bench is ready, little ones can have a blast building models, screwing and hammering pieces into the table's holes for hands-on, creative playtime.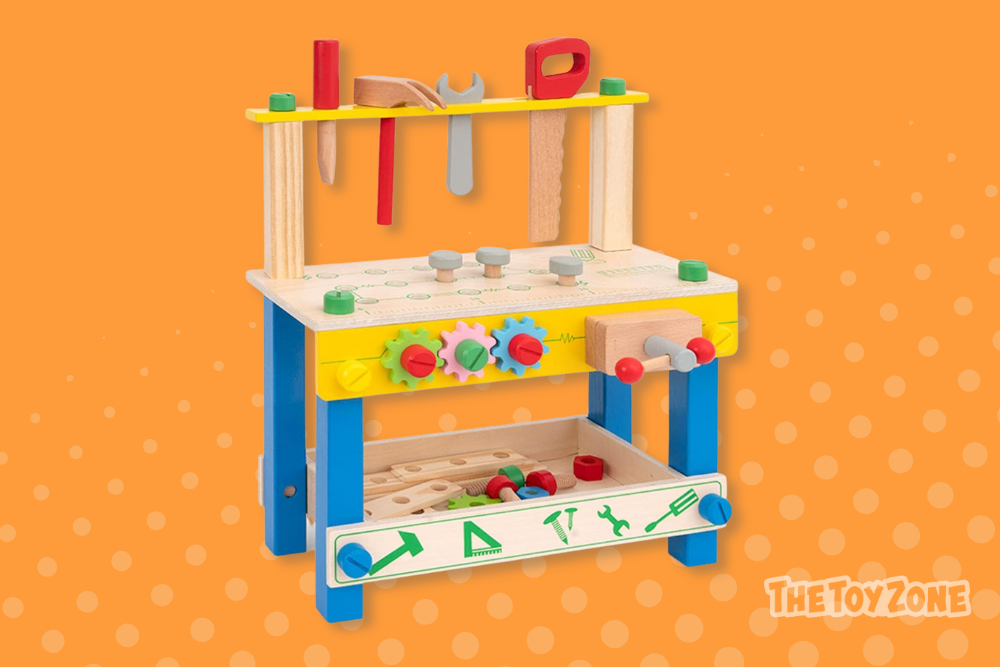 Recommended age: 3 years and above
This tool bench is designed with smaller kids in mind and is perfect for playing comfortably on the floor. Despite its compact size, it offers ample space to store toys and workshop essentials when not in use. Plus, it doesn't take up too much space.
What We Love:
❤️ Well-crafted screws, gears, wooden nails and nuts
❤️ Excellent customer service
❤️ Available in two colors: orange and blue
What We Don't Love:
💔 Smaller size compared to other options
💔 More bolts and nuts for playtime would be nice
Best Plastic Workbenches
The Black+Decker 75-piece workbench comes with all the essentials and more, featuring their signature color combination and authentic hardware feel. The set features replica specialist tools not found on other workbenches — like the miter saw, which light up and make realistic noises. With ample tool hooks and storage trays, it's easy to keep track of all the smaller pieces.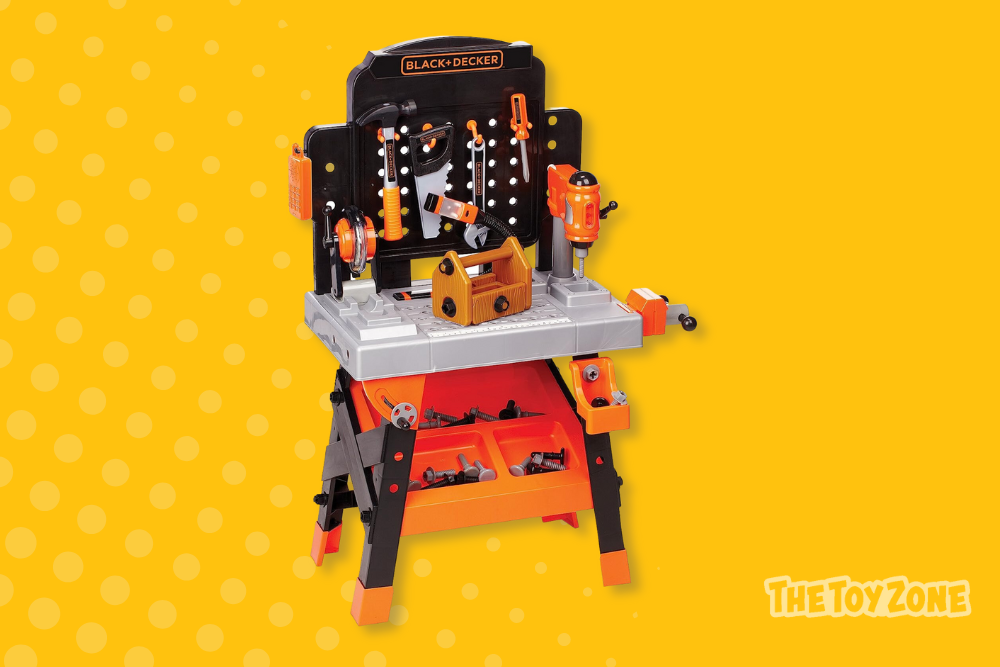 Recommended age: 3 years and above
The workbench measures slightly over three feet tall, yet it fits in any space as it's smaller than other options. Even with its compact design, two toddlers or preschoolers can easily work together on each side of the table, as it's equipped with tools on either side.
What We Love:
❤️ It also includes a flexible flashlight
❤️ Has plenty of storage room
❤️ Comes with faux wood for kids to build their own toolbox
What We Don't Love:
💔 Only one project, the toolbox, can be assembled with faux wood
💔 It requires AA and AAA batteries, which are not included
The Toy Choi 82-piece option offers a complete building project straight out of the box, as the workbench is to be put together using the tools, bolts and screws included in the set. Once assembled, kids will have their own workbench with plenty of bolts, nails and holes to tap away at. When playtime is over, the bench transforms into a storage case.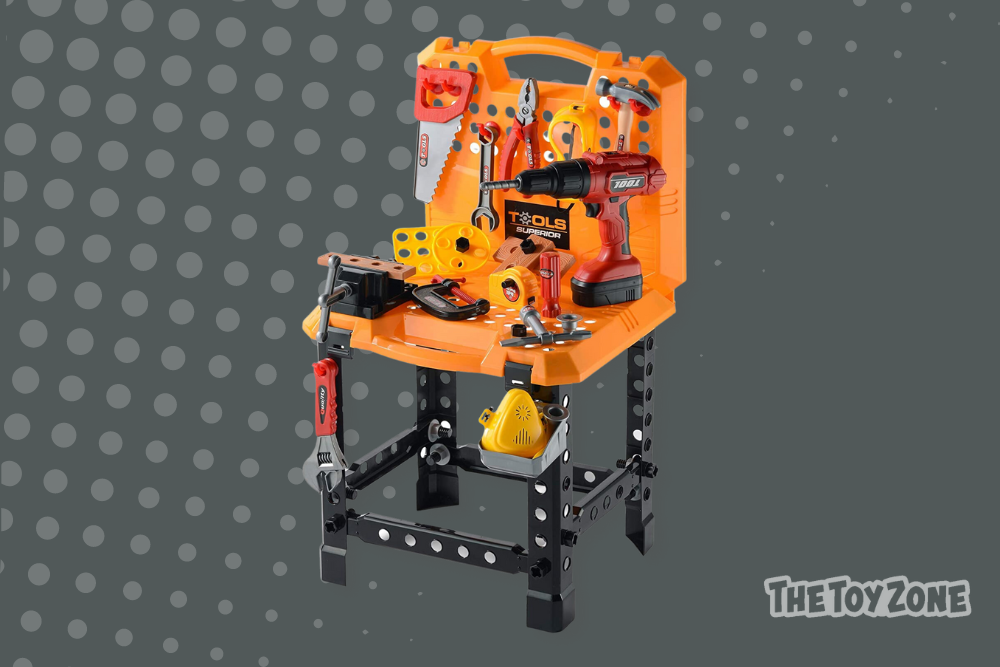 Recommended age: 3 years and above
The set is completed with well-designed and realistic-looking tools, featuring standard ones such as a hammer, wrench and screwdriver and a battery-operated drill that activates a light when you pull the trigger. It even includes six different pieces to drill together, adding to the interactive play experience. Safety is a priority, as the set also includes essential safety equipment like a mask and goggles.
What We Love:
❤️ Easy to assemble
❤️ There are lots of different, realistic tools
❤️ It includes three drill bits inserts
What We Don't Love:
💔 Less stable than some other options
💔 Limited storage for bolts, nuts, nails and tools
The Step2 Deluxe Kids Workbench is the perfect playset for young carpentry enthusiasts, providing all the tools they need to build many wooden masterpieces. The set includes 17 dura foam wood-like pieces and four project instructions to get them started. They'll feel like real carpenters in action with tools like a hammer, screwdriver, wrench, saw and electric drill. There is also a shop vacuum, perfect for pretend play.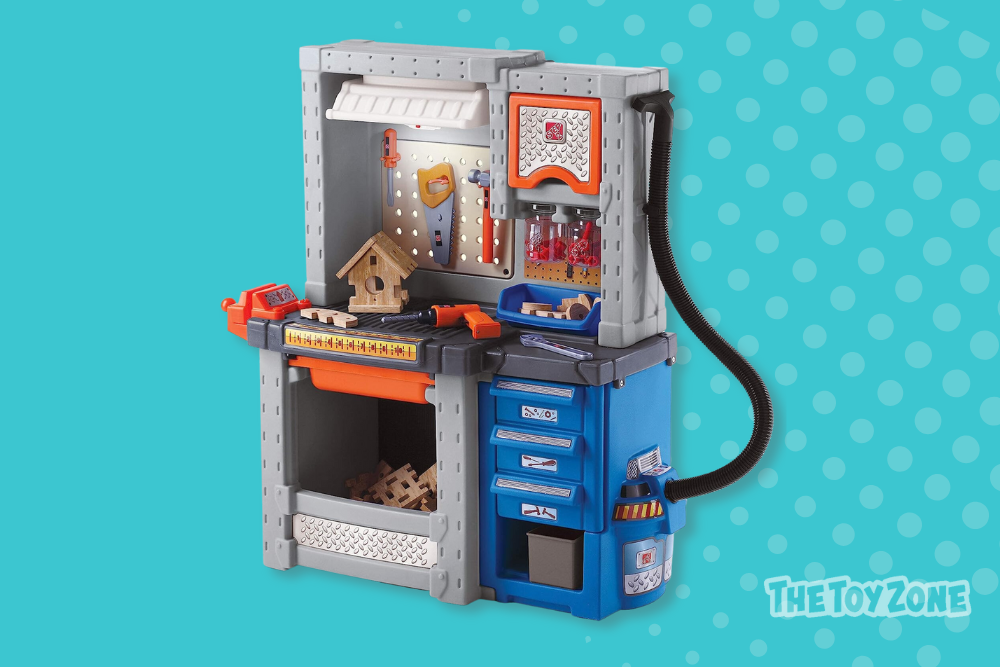 Recommended age: 3 years and above
Everything has its place in this workbench, from the sliding drawer under the main tabletop to the cabinets and grooves where the plastic jars for nuts and bolts fit neatly. Little ones can also hang their tools on the pegs attached to the back wall. The working light above the workbench and the included stickers add to the authentic feel of a real workbench.
What We Love:
❤️ The drill comes with two interchangeable bits
❤️ The foam building blocks look like real wood and are very soft to the touch, yet sturdy
❤️ The saw's teeth move back and forth
What We Don't Love:
💔 The pretend vacuum doesn't make a vacuum-like sound
💔 The drawers are actually a cabinet. It does open though
This toy workshop is a big, sturdy play set with plenty of activities for kids. In addition to a wide variety of tools, it includes a birdhouse set for little builders to put together and paint using the paint bucket, tray, brushes and rollers. The birdhouse changes color when painted with plain water.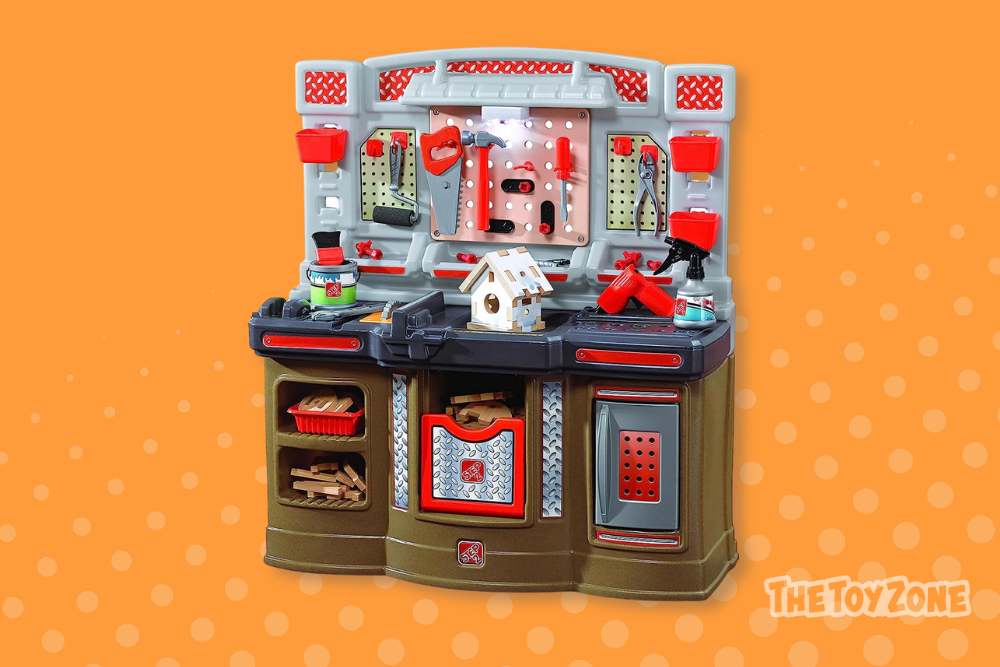 Recommended age: 3 years and above
The 45-piece accessory set ensures everything stays neat and organized, with plenty of storage space for tools, hardware and faux wood pieces. The extensive tool set features a table saw, an adjustable wrench and a battery-operated drill with drill and flat-head screwdriver tips, perfect for working on the included bolts in both forward and reverse. Plus, there's the usual hammer, screwdriver, bolts and screws for many hours of pretend play.
What We Love:
❤️ With enough room for multiple children to play together, it's ideal for playdates or siblings' playtime.
❤️ Strong and durable design with long-lasting stickers for an authentic look.
❤️ Includes a working overhead LED light
What We Don't Love:
💔 The only project included is the birdhouse set
💔 It requires ample space for setup and play.
💡Tip: If your little ones are into building and exploring woodworking, the Step2 Pro Play Kids Workshop with Utility Bench comes with many wood-looking pieces to work on their creations.
The Woby Workbench is an excellent choice for introducing younger kids to tools while providing an educational and engaging play experience. It is a compact bench, smaller than other options, but full of features, including a shape-sorting area, a ruler that speaks out the numbers and five different songs. One significant aspect of this set is how the screws and bolts are fixed to the table, providing a safe way for little toddlers to screw and hammer without losing any pieces.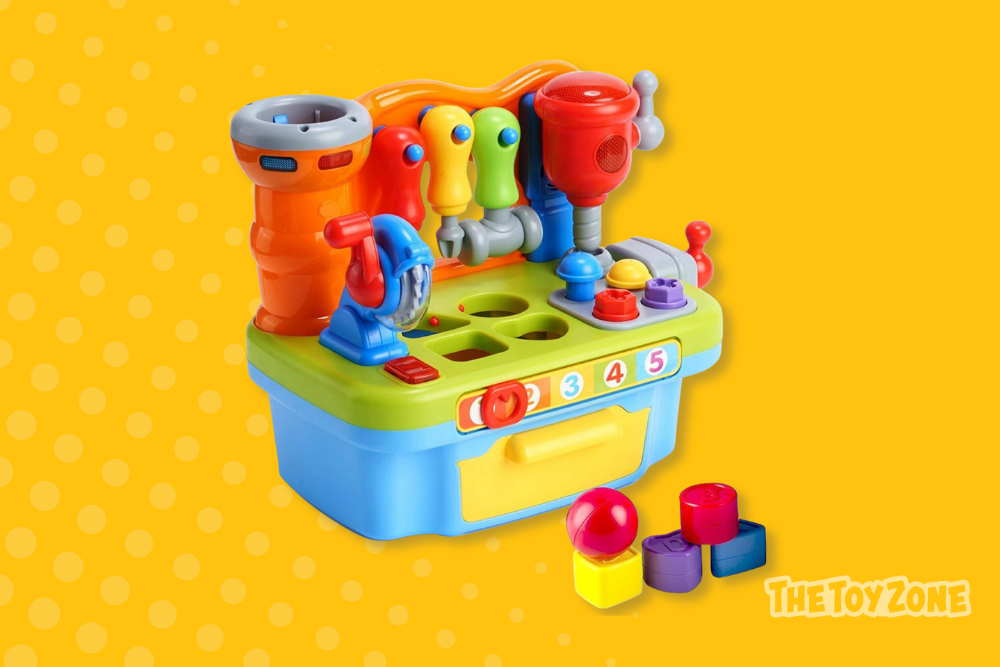 Recommended age: 18 months and above
Little ones can hammer the shapes through the matching holes and conveniently collect them in a pull-out drawer, which can be removed during playtime. You get a hammer, screwdriver and wrench, an electric drill, chainsaw and bench clamp that make sounds and light up. The Woby workbench is portable and space-efficient, making it a versatile playset that easily fits anywhere.
What We Love:
❤️ Comes with volume control
❤️ Sturdy yet lightweight for easy handling by little ones
❤️ It's an educational play experience
What We Don't Love:
💔 Requires two AA batteries that are not included
💔 Some users found it smaller than expected
This fully licensed workbench offers a highly realistic DIY experience. Perfect for little ones eager to fix and build, this workbench features an authentic-looking Bosch toolset. The battery-operated drill, complete with four interchangeable bits, resembles the grown-up version and is ideal for assembling the wood and metal pieces with the bolts and screws. The bench also features a vice on one edge and a sound-making belt sander on the opposite side.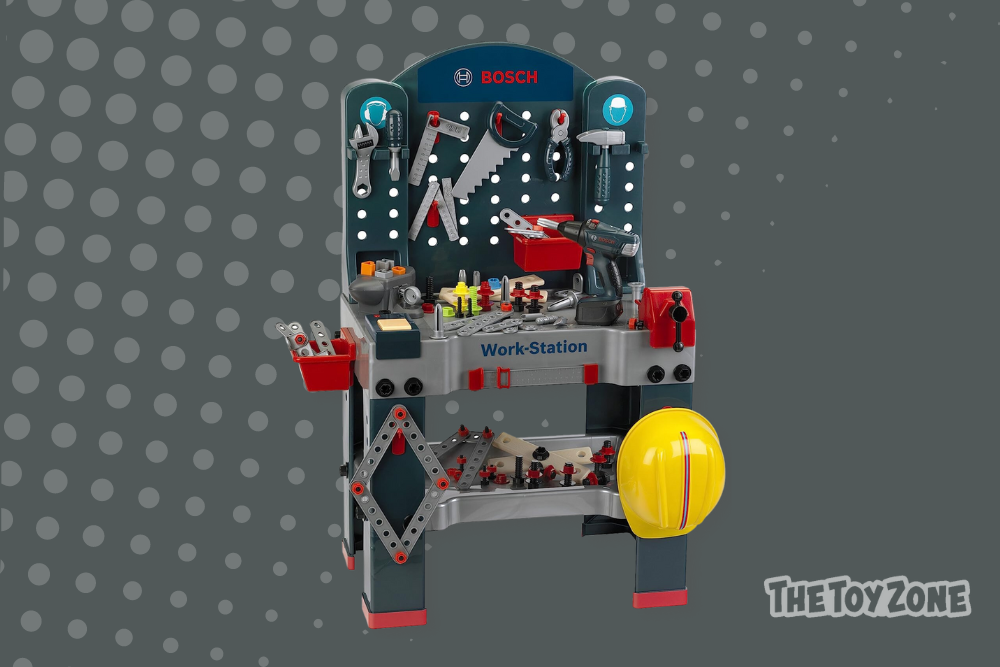 Recommended age: 3 years and above
With over 100 pieces, this set offers considerable variety, making it perfect for cooperative play sessions. The bench is thoughtfully organized with hooks, open boxes for tools and little pieces and a bottom shelf for larger tools and hardware. It even includes a yellow hard hat for little builder's protection.
What We Love:
❤️ The drill comes with speed control, and it can be adjusted like a real one
❤️ Includes authentic sound effects, like a workshop background.
❤️ Comes with cool stickers featuring the Bosch logo
What We Don't Love:
💔 The assembly instructions could be clearer
💔 With 138 pieces, tidying up after playtime might get a bit messy
💡Tip: Use Stanley over Bosch? Then this STANLEY Jr. Pretend Play Workbench & Power Drill & Toolset will be perfect for you and your toddler.
Little Tikes is renowned for making toys that stand the test of time and this workbench is no exception. Designed with little hands in mind, the set comes with perfectly-sized tools, such as a hammer, wrench and screwdriver, along with big nails and screws that inspire imaginative play. The set also features a table saw, accompanied by two pieces of wood connected with magnets. As little ones pass the wood through the saw, it "cuts" into two smaller pieces.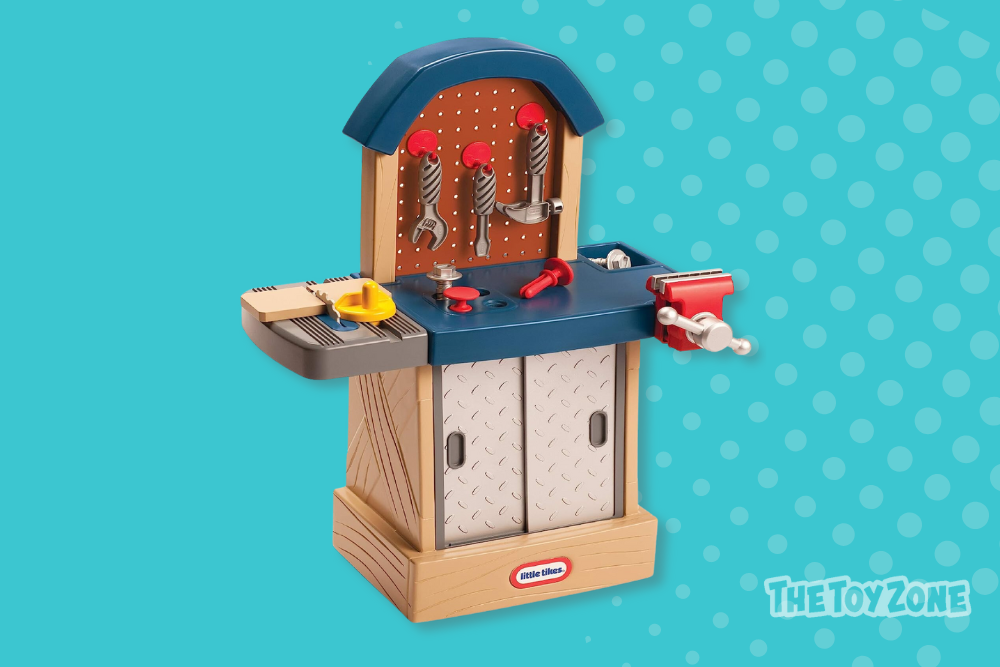 Recommended age: 2 years and above
Despite being on the low-budget side, the workbench provides ample storage options, with a pegboard featuring hooks to neatly hang the tools and sliding cabinet doors at the bottom, keeping the workspace tidy and organized efficiently.
What We Love:
❤️ The large storage cabinet provides plenty of space, even for storing other toys
❤️ Sturdy and easy to put together
❤️ For toddlers ages two and older
What We Don't Love:
💔 The nails and screw holes on the table could be spaced out better
💔 Could include more accessories beyond the more common tools
---
Frequently Asked Questions About Toy Workbenches
🙋 Are toy workbenches safe for kids?
They are, but there are a few things to consider. First, always ensure the workbench is age-appropriate and meets safety standards. Check the age recommendations from the manufacturer to ensure it's a perfect fit for your child's age and abilities.
For the youngest builders, like children under three, pay extra attention to those smaller parts that could pose a choking hazard. Look for workbenches with bigger, kid-friendly pieces for worry-free playtime.
In addition, check the materials. Opt for non-toxic plastic, wood and paint to keep things safe and sound. As long as you choose a workbench that ticks all these safety boxes, your little one will have a blast exploring their tinkering skills without any worries.
🙋 What are some of the benefits of playing with a toy workbench?
Toy workbenches offer many developmental benefits for toddlers and ignite their creativity through imaginative play. As they explore the various tools and immerse themselves in different play scenarios, their critical thinking and problem-solving skills get a healthy workout. Meanwhile, manipulating the tools fosters improvements in fine motor skills, hand-eye coordination and agility, setting a solid foundation for future activities that demand precision and control.
Beyond individual growth, workbenches also nurture social skills in little ones. With a diverse array of accessories available, children can easily team up with friends, siblings, or parents, engaging in cooperative play that teaches them the value of taking turns, sharing and developing empathy and effective communication. Not to mention this interactive type of play also provides screen-free entertainment.
🙋 Are wooden or plastic toy workbenches best?
When it comes to choosing between wooden and plastic workbenches, it's all about finding the right fit for your needs. Both materials have their pros and cons. Wooden workbenches are the way to go if you're after durability and longevity. They're solid and sturdy, less prone to breaking and can even be refinished or repainted if they show signs of wear. Generally speaking, they are more sustainable and environmentally friendly than plastic toys.
On the other hand, plastic workbenches often come with exciting features like sounds and lights, making them more stimulating. They're lightweight and usually more affordable than wooden options. However, remember that battery-powered plastic tools might be a bit less durable than their wooden counterparts.
Ultimately, as long as the workbench is made of non-toxic materials and has smooth edges, wooden and plastic-based workbenches can provide endless hours of fun and learning for your little builder.
---
So… What Workbench Should You Get?
Not one toddler is like the other. They have their preferences and needs, and so do you. Before you decide, consider key factors that could steer you in the right direction. First, think about the space you have available — workbenches can be pretty roomy, so finding a compact one might be ideal for a limited area. On the other hand, if your little builder craves an immersive experience, a larger, more realistic workbench could be a big hit.
Does your mini construction enthusiast loves lights and sounds, or do they prefer to let their imagination take the lead? Understanding their preferences will guide you toward the perfect match. As toddlers discover their personalities, they'll give you little hints about what they love and what sparks their curiosity.
We made this list to help with your search, but if you happen to stumble upon a fantastic workbench we missed, let us know! We're always excited to include your suggestions and ensure our list keeps growing to meet every little builder's needs!