There's an old saying in gaming: never trust a game critic! But is there truth in the adage? Or is this just gamer talk?
Video game reviews can be notoriously deceptive. Reviewers may spend just a few hours with a game before writing it up. On the other hand, who is better qualified to review video games than someone who has spent years critically evaluating them?
Here at TheToyZone we decided to crunch the numbers and figure out whether critics are really deceiving us – or if it's just gaming beef.
We gathered critic and player ratings from Metacritic, the one place where reviews are available for all gaming platforms. And now we can reveal the titles that critics and gamers most disagree on – and which platforms and franchises have the most divisive games.
Key Findings
The most divisive video game of all time is FIFA 20. Critics gave it a score of 79, while users rated it as a 11.
Nintendo 64 is the platform whose games least divide critics and users. Perfect Dark is the most divisive game, but there are just 8 points between the critic and user ratings.
The Final Fantasy franchise is overwhelmingly better loved by users than critics. The most divisive sequel is Final Fantasy XV, rated 28 points higher by users.
Super Mario is the least divisive franchise in our study, with an average discrepancy of 8.9 points between critic and user reviews of the ten most divisive games.
The 20 Video Games That Critics and Gamers Most Disagree On
User reviews for FIFA 20 average out at just 11/100, a full 68 points fewer than the critics. Critics continued to be wowed by the gameplay, but gamers with a deeper relationship to the game were hurt by what they perceive as the continued decline of the series. Sore points include the increasing weight put on in-game spending, and a Career Mode so flawed it got its own Twitter hashtag.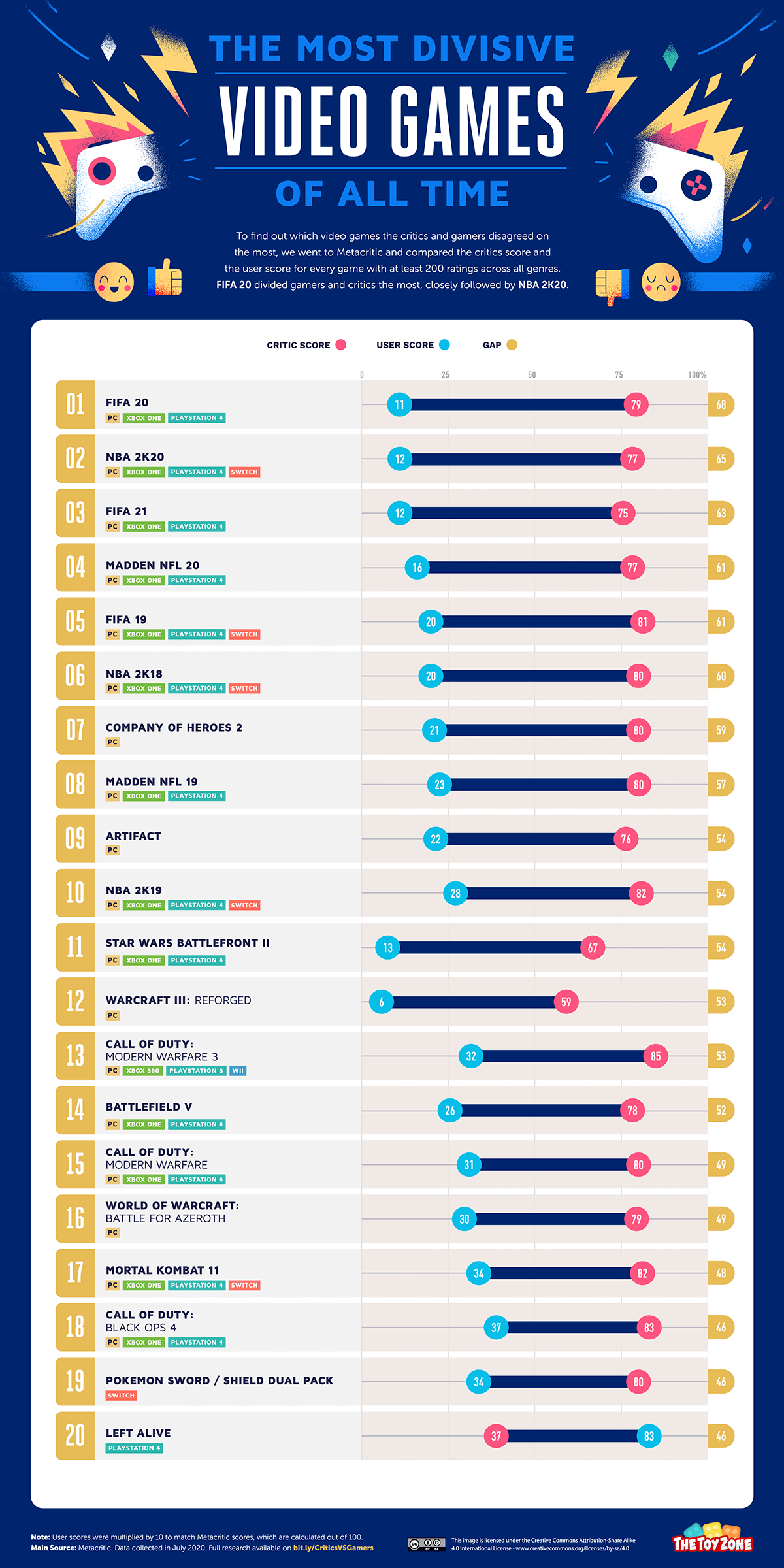 In fact, all of the top 20 most divisive games were better loved by critics than users. Perhaps it's easier to fall in love with a game when you're caught up in the hype of a big release. On the other hand, when a user doesn't like a game they've shelled out money for, that bitter taste can be overwhelming.
Top 10 Video Games Players Loved and Critics Hated
What impresses a critic that doesn't impress a gamer? Whatever it is, it's absent from the games in this chart, which are highly-rated by gamers but got mostly mediocre reviews from the professionals. Left Alive is the most divisive game preferred by gamers. They enjoyed the trashy fun and found the gameplay satisfying. Critics found it too rough around the edges and lacking in the graphics department. So what? Maybe gamers don't care about realistic graphics!
| | | | |
| --- | --- | --- | --- |
| TITLE | CRITIC SCORE | USER SCORE | DIFFERENCE |
| Left Alive | 37.0 | 83.0 | 46.0 |
| Pokemon Mystery Dungeon: Explorers of Sky | 54.0 | 89.0 | 35.0 |
| Postal 2 | 50.0 | 81.0 | 31.0 |
| Final Fantasy XV: Episode Gladiolus | 59.0 | 87.0 | 28.0 |
| Crystar | 67.0 | 94.0 | 27.0 |
| Terminator: Resistance | 51.8 | 78.6 | 26.8 |
| Knock-knock | 55.8 | 81.0 | 25.2 |
| Sonic Adventure | 48.7 | 73.5 | 24.8 |
| POSTAL 2: Share The Pain | 59.0 | 83.0 | 24.0 |
| Devil's Third | 43.0 | 67.0 | 24.0 |
Top 10 Video Games Critics Loved and Players Hated
The passions of gamers and critics are strange. Who would think that critics could be so united in their views, yet so different from regular gamers? The table above shows the most divisive games for which critics gave high scores. The table is notably dominated by sequels. Regular gamers have high expectations when developers bring out a new edition. It hurts when they get it wrong.
| | | | |
| --- | --- | --- | --- |
| TITLE | CRITIC SCORE | USER SCORE | DIFFERENCE |
| FIFA 20 | 78.5 | 11.1 | 67.4 |
| NBA 2K20 | 77.4 | 11.9 | 65.5 |
| FIFA 21 | 75.0 | 12.0 | 63.0 |
| Madden NFL 20 | 76.8 | 15.7 | 60.8 |
| FIFA 19 | 80.5 | 20.1 | 60.4 |
| NBA 2K18 | 80.3 | 20.2 | 60.1 |
| Company of Heroes 2 | 80.0 | 21.0 | 59.0 |
| Madden NFL 19 | 80.3 | 23.2 | 57.1 |
| Artifact | 76.0 | 22.0 | 54.0 |
| NBA 2K19 | 81.7 | 27.8 | 53.9 |
What Are the Most Divisive Games Across Each Platform?
PlayStation, Nintendo, and PC users tend to be very different kinds of folks. As it turns out, some user bases are far more likely to disagree with game critics than others. Scroll through the galleries for the gaming platforms below to find the most divisive games on your console or device of choice!
PlayStation
Use the arrows to explore the most divisive video games for PS1, PS2, PS3, PS4, PSP & PS Vita
The most divisive game across the history of PlayStation is FIFA 20 – the most divisive game in our study. "I feel like the gameplay is slow and clunky and I sometimes can't believe I spent £60 for it," says one disappointed gamer. But second-placed NBA 2K20 is almost as divisive. As with FIFA 20, gamers resent that the gameplay has come to reflect the money-oriented dynamics of real world sports.
But it is possible PlayStation's gamers are getting old and grumpy. The games for each generation of PlayStation console are more divisive than the last, except for Persona 2: Eternal Punishment on the first PlayStation machine.
Nintendo
Use the arrows to explore the most divisive video games for the Switch, Wii, 3DS, GameCube, GBA, Nintendo DS & Nintendo 64
The Nintendo 64 seems to unite critics. There are 8 points or fewer between the critic and user scores for the most divisive games on the '64. The Game Boy Advance is similarly non-divisive, although users rated Pokemon Emerald Version 13 points higher than critics.
Switch games are more contentious. Pokemon Sword / Shield Dual Pack rates 80 from critics but just 34 from users. And the Shin Megami Tensei set dominates the most divisive titles on the 3DS. Professional reviewers are impressed, but regular users rate the JRPG a clear "meh."
Xbox
Use the arrows to explore the most divisive video games for the Xbox One, Xbox 360 and Xbox
The Xbox proper is not too divisive: reviewers mostly disagree over Forza Motorsport. Pro critics love it unconditionally (92), while users can't fault the gameplay but find the overall presentation a little soulless (76).
The Xbox One is where things start to get hairy. Critics love dodgy big-name releases like NBA 2K20, recent FIFA installments, and Mortal Kombat 11. And try scrolling through the gallery to the Xbox 360 chart to see which Call Of Duty games critics lauded, to the outcry of gamers everywhere!
PC
Who would have thought the vanilla PC could be so contentious? PC gamers detest some of the highest-profile games that pro critics love. There is a gap of over 50% between critic and gamer ratings for all of the PC games in our top five.
Company of Heroes 2 shows the most profound divide on the platform. PC Gamer called it "the USSR of real-time strategy games: huge, powerful and just a little bit broken" while user reviewer sscoodd labeled it an "insult the memory of those who died fighting the fascism."
Sega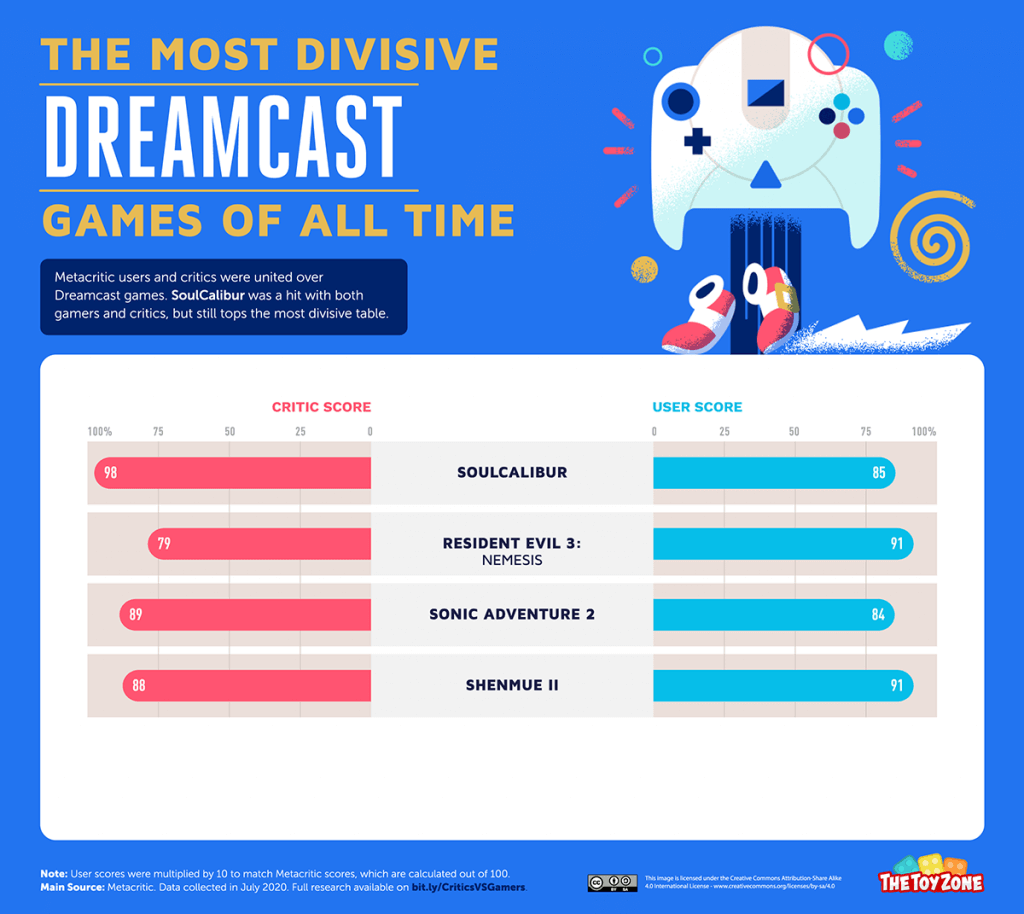 Dreamcast players and critics are mostly united on the quality of the games available. The main disparity in the most divisive games is deciding just how perfect a title like SoulCalibur (98 vs. 85) or Sonic Adventure 2 (89 vs. 84) is.
Resident Evil 3: Nemesis is the most contentious game. Sure, SoulCalibur has a bigger ratings discrepancy, but both critics and users thought it was great. On the other hand, critics gave Nemesis 79, suggesting they were slightly let-down after the PlayStation version. But Dreamcast gamers, who may not have experienced Capcom's original, gave this "must-own game for the Dreamcast" a zombie-whopping 91.
iOS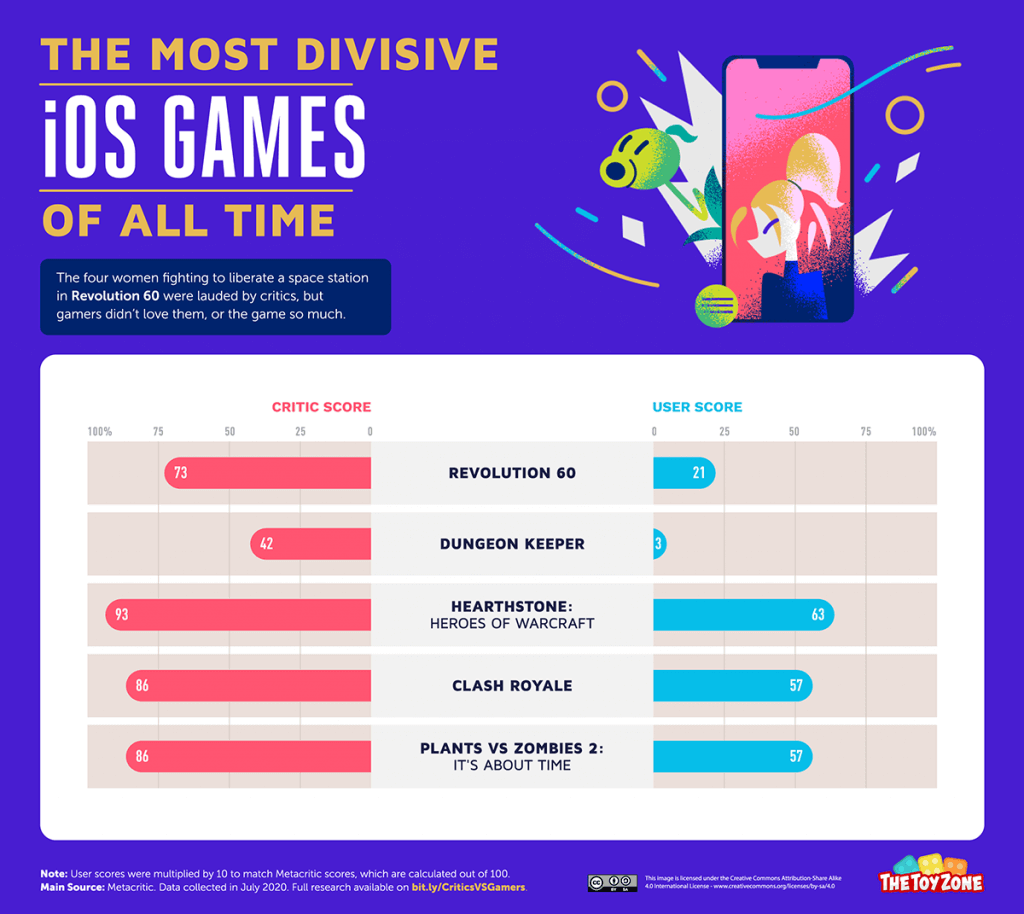 If you're sick of "reading books" and "doing work," you've probably downloaded a game or two for your iPhone or iPad. There is a good chance you were disappointed. Critics regularly laud iOS games that players despise.
Even Dungeon Keeper, which earned just 3 points from users, got a mid-range 42 from critics. Both sides were disappointed by this unfaithful mobile reboot of the much-loved desktop strategy game. The difference seems to be that regular gamers resented the near-mandatory in-game purchases. "I felt myself turning round saying, 'What? This is ridiculous. I just want to make a dungeon,'" said one player – the original game's designer, Peter Molyneux!
What Are the Most Divisive Games in the Top Franchises?
Our final gallery has the potential to raise a few eyebrows. Which installments of series like GTA, Final Fantasy, and Civilization most divided the critics from regular gamers? Click the arrow to scroll through the franchises.
Once more, FIFA 20 is the headline game: the most divisive franchise title in our study, with 68 points between critics (79) and users (11). Hot off the press, FIFA 21 us nearly as bad. Released on October 6, 2020, the '21 edition quickly gathered a critic-gamer disparity of 63 points. "How do you make the same game every single year, and still manage to make every single installment worse than the last?" as one FIFA 19 reviewer puts it..
No other franchise is quite as divisive as FIFA. Most franchises get more love from the pro reviewers than from users. One anomaly is that Final Fantasy games tend to be more appreciated by fans than by critics. Our data also shows that Super Mario is the Hayao Miyazaki of video game franchises: hardly any discrepancy between user and critic reviews, because everyone loves Mario.
Gamers Gonna Game
For gamers, the second-best pastime after gaming is 'arguing about games.' When this passion drives the industry to develop better and more imaginative experiences, it can only be a good thing. It is fascinating to get an expert critic's take on the latest big video game title, but let's face it: you're probably gonna buy the games you're probably gonna buy anyway!
Looking for more ammunition for the ongoing debate about divisive video games? Check out the full stats from our study in the chart below. Just click on the columns to reorder the data.
*User scores on Metacritic are out of 10, whereas Critic scores are out of 100. To allow easier comparison we multiplied user scores by 10.
Methodology
We started by collecting review data for over 24,000 video games from Metacritic. We dropped the games with less than 200 user ratings and calculated the difference between players' score and critics score (Metascore) for the remaining titles. We multiplied players' scores by ten because while the Metacritic score range is 0-100, users' score range is 0-10. We then sorted the data into platforms and game franchises.
The data we collected to make these charts is available upon request. Just get in touch through our contact page and we'll get back to you right away.
Fair Use Statement
We kindly ask that if you choose to share the above project in part or whole, that you credit TheToyZone by linking back to this page. That way the creators of this study can be recognized for their work and your readers can explore the project in full.