You can't imagine modern pop culture without the iconic jedi swords and spaceships! Regardless of whether you are a devoted Star Wars fan who has never ever missed a premiere or just a happy owner of a Baby Yoda plush "because it's cute," most of us have distant (or not so distant) memories connected to this media universe.
​​Star Wars is an American epic space opera multimedia franchise created by George Lucas, which began with the eponymous 1977 film and not only has become an instant hit, but also hasn't left its orbit of popularity for the last 4 decades. Though just like all the massively successful projects, it was a great risk at its time and got turned down several times by the Hollywood giants.
Sci-fi was not a new thing in the 1970s, yet it mostly was represented by dystopian and dark plots. George Lucas has, on the other hand, created a fun "film for a generation growing up without fairy tales" aimed at 14-15 year olds, but enjoyed by every age category.
"I want them [the kids] to get beyond the basic stupidities of the moment and think about colonizing Venus and Mars. And the only way it's going to happen is to have some dumb kid fantasize about it — to get his ray gun, jump in his ship and run off with this wookie into outer space. It's our only hope in a way." – George Lucas in an interview.
Just the recent month a new project was launched onto the screens: "Ashoka" (2023). Set five years after Return of the Jedi, it finally gives a character who debuted 15 years ago her deserved solo series, as well as it explores the new threats to the vulnerable galaxy.
Therefore it is the perfect time to make some more Star Wars memories. These coloring pages will be an exciting activity for the young franchise fans, as well as for the nostalgic adults. Who knows, maybe after coloring these pages you will want to rewatch the entire series!
1. The Millennium Falcon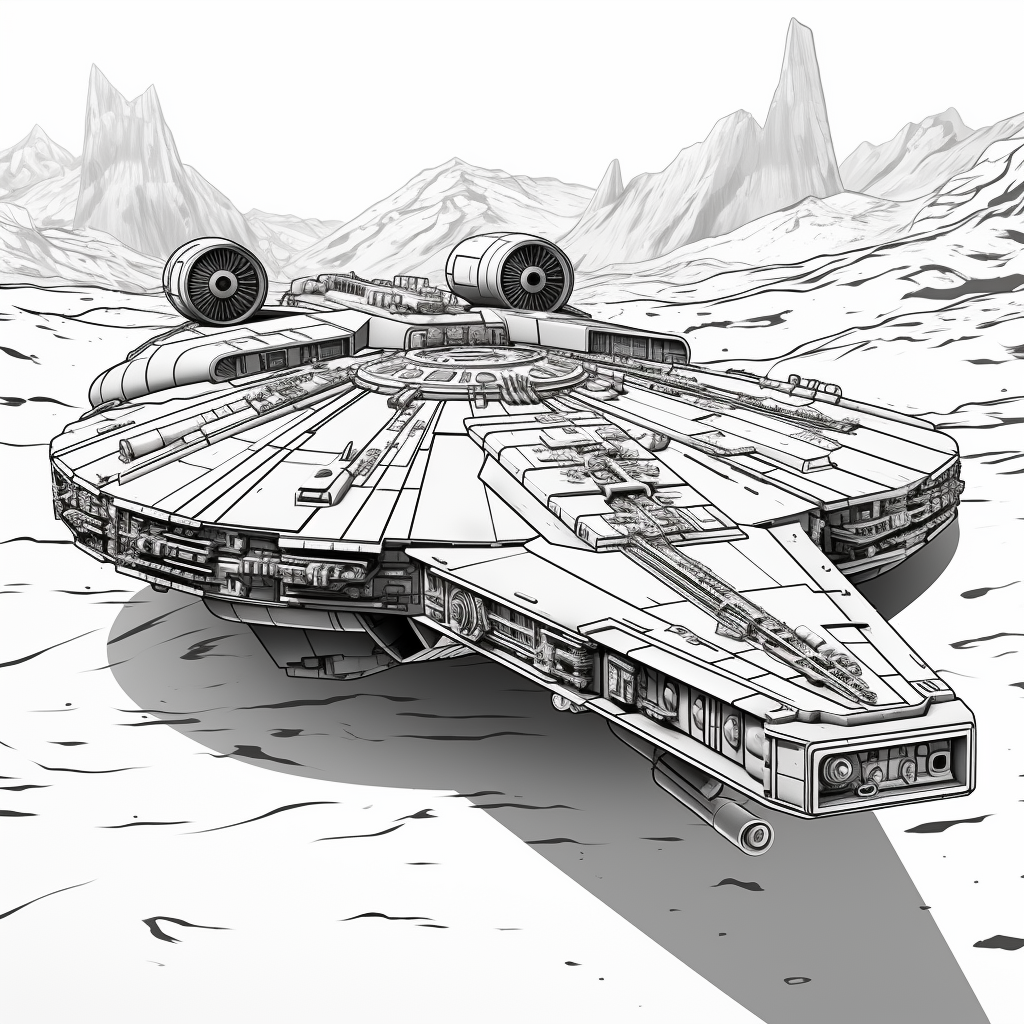 "Fast ship? You've never heard of the Millennium Falcon?" – Han Solo. Well, probably, you have heard of it,, yet now you also have the chance to color the legendary "fastest hunk of junk in the galaxy".
2. Anakin and his Podracer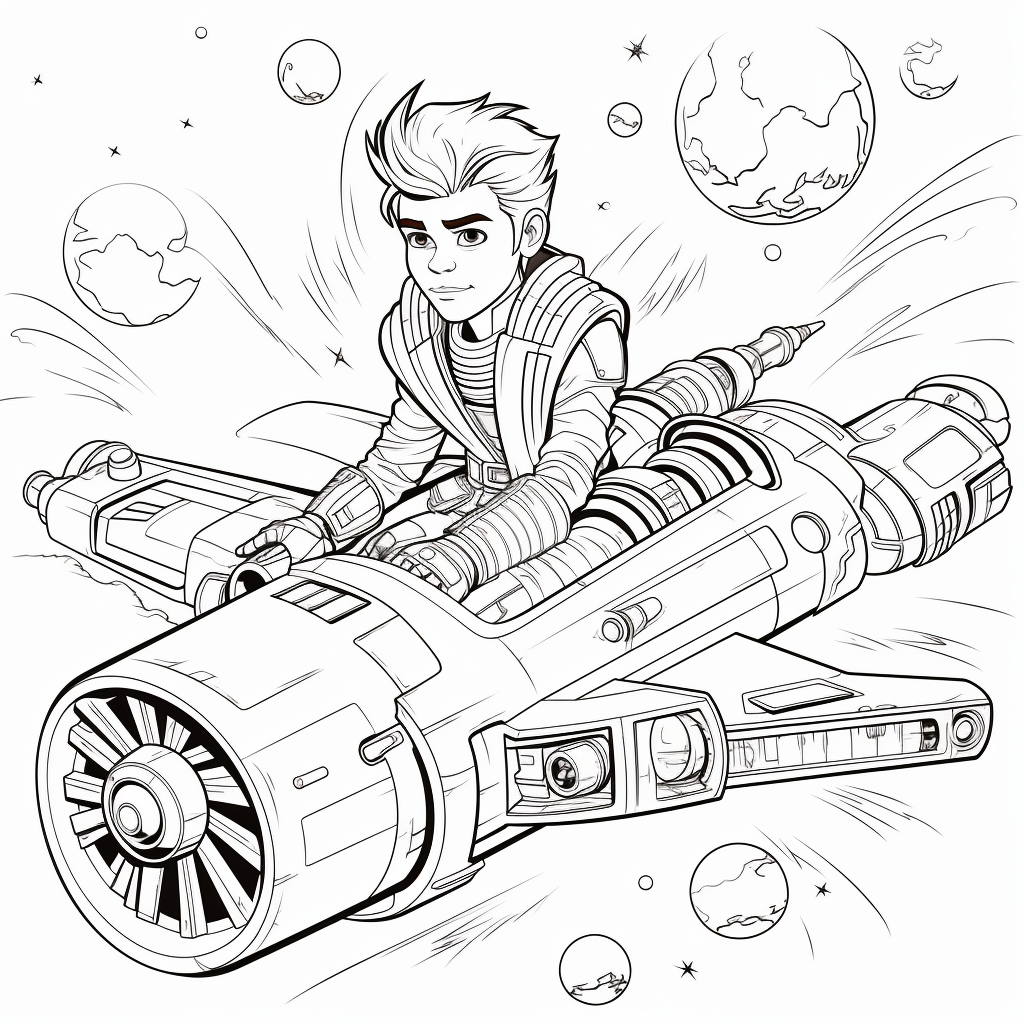 Star Wars fans are often amazed by how young Anakin has constructed his first own podracer at the age of nine! The illustration shows him blasting through space, straight towards his victory in the race. Rumor has it, colors on the illustration add speed to the racers!

3. Darth Vader Portrait
This picture is just a firm and simple portrait of Darth Vader. The one that you would color and hang on the wall, if you were on the dark side of the force. Or on the light side of the force alike – as it is better to know your enemies!
4. Yoda Reading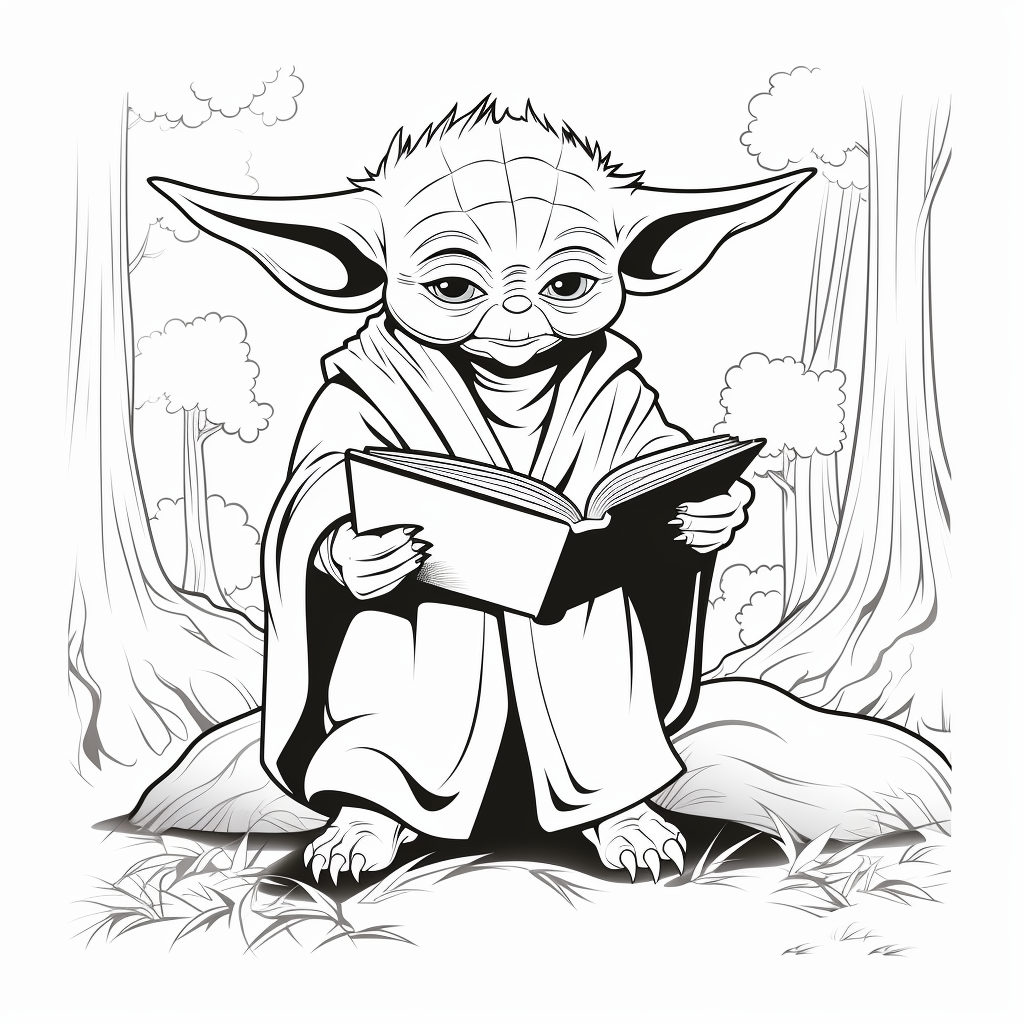 Jedi Grand Masters don't gain all their wisdom without reading a book or two (coloring books included). This scene joins Yoda on the quest for knowledge deep in the heart of the forest. But remember, patience you must have if you take on this epic coloring challenge.
5. The Mandalorian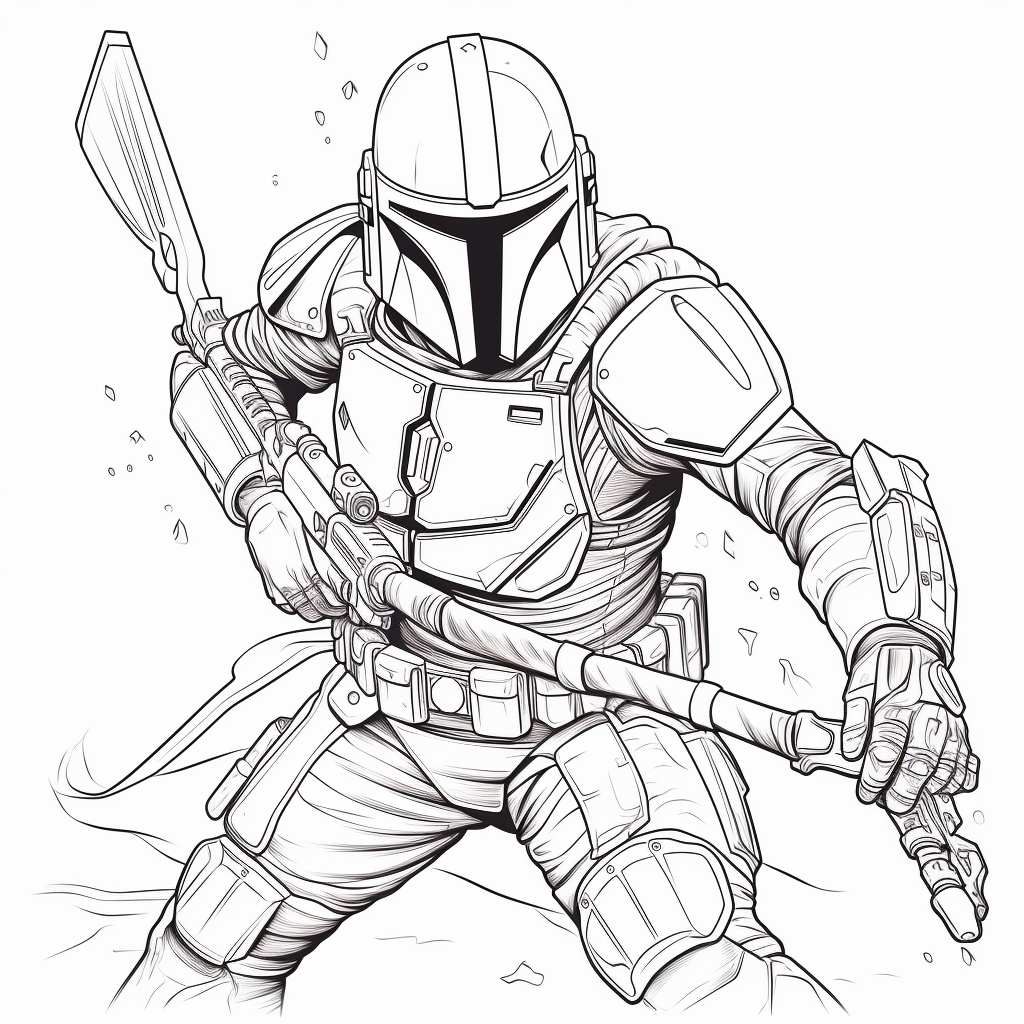 Everyone loves a bad-boy-bounty hunter turned good. No more so than Baby Yoda's protector, the Mandalorian. Here he is, helmet intact, exploring the outer reaches of the galaxy, kickin' but and taking names.
6. Stormtrooper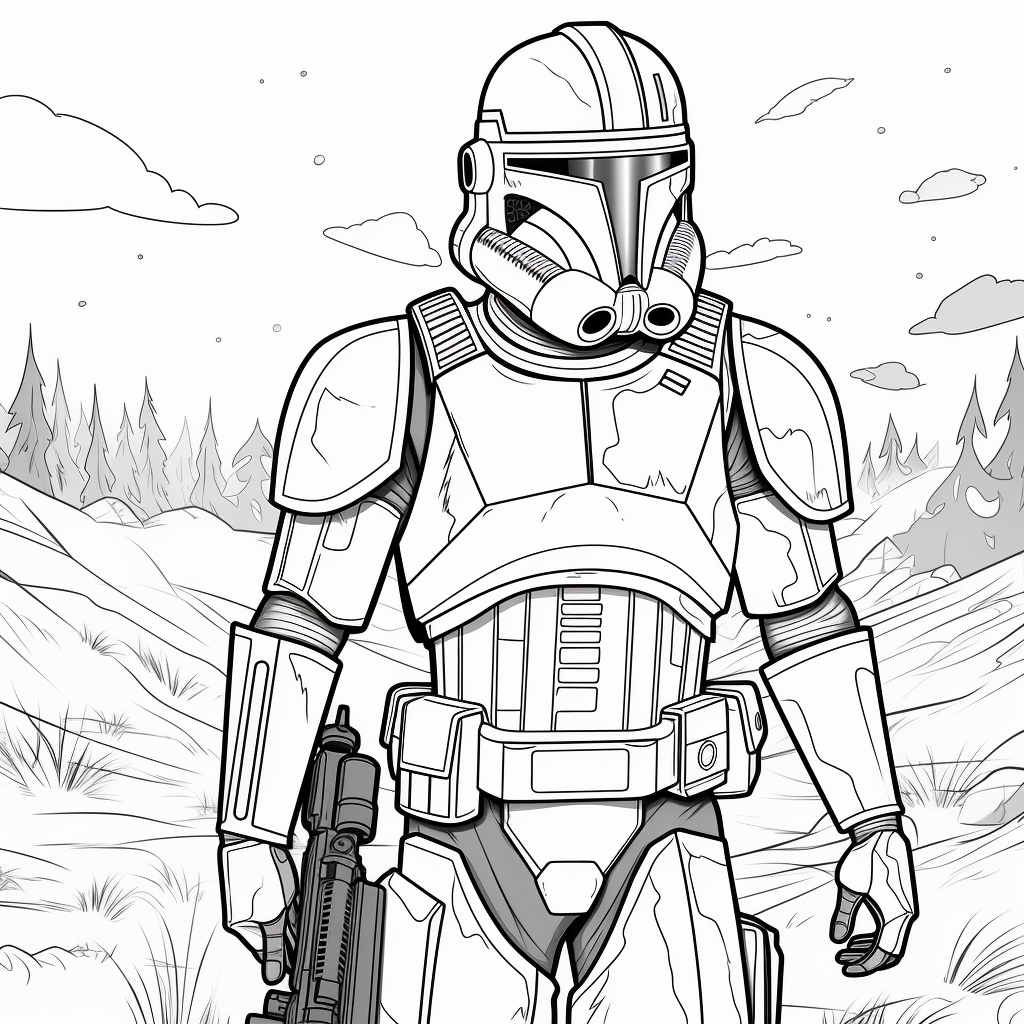 Here's an easy one for you. Traditionally clad in white, this Stormtrooper is arguably half-finished already. Simply bring the scenery to life or get creative and give this fearsome Galactic baddie a groovy makeover instead.
7. The Star Destroyer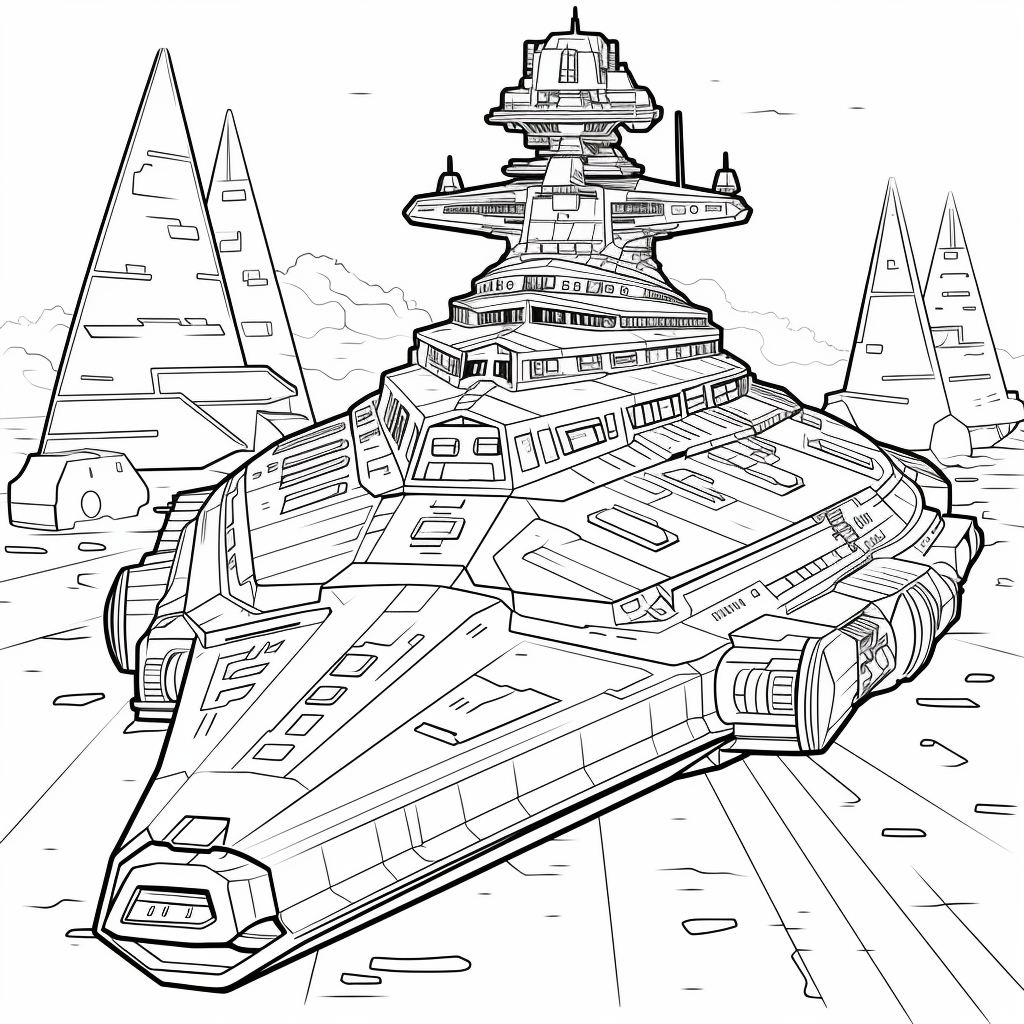 The Tie Fighters are powerful, but they can be even more powerful if loaded in big quantities on board of a Star Destroyer. No wonder these massive imperial machines are the Capital Ships of the Star Wars Universe!
8. Han Solo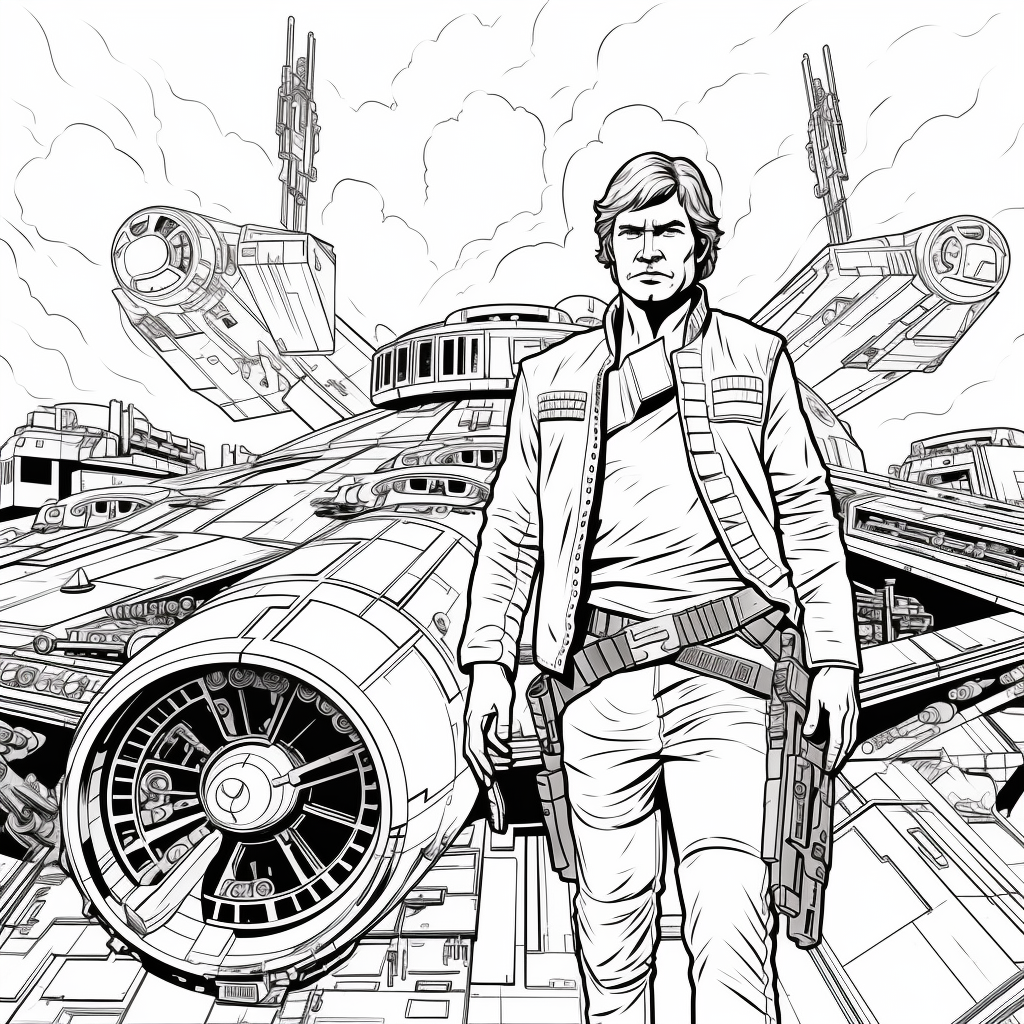 Once won by Han Solo in a card game, the Millenium Falcon has gained legendary status and recognisability under his and Chewbacca's ownership. Han Solo proudly stands in front of his iconic starship in this illustration.
9. The Epic X-wing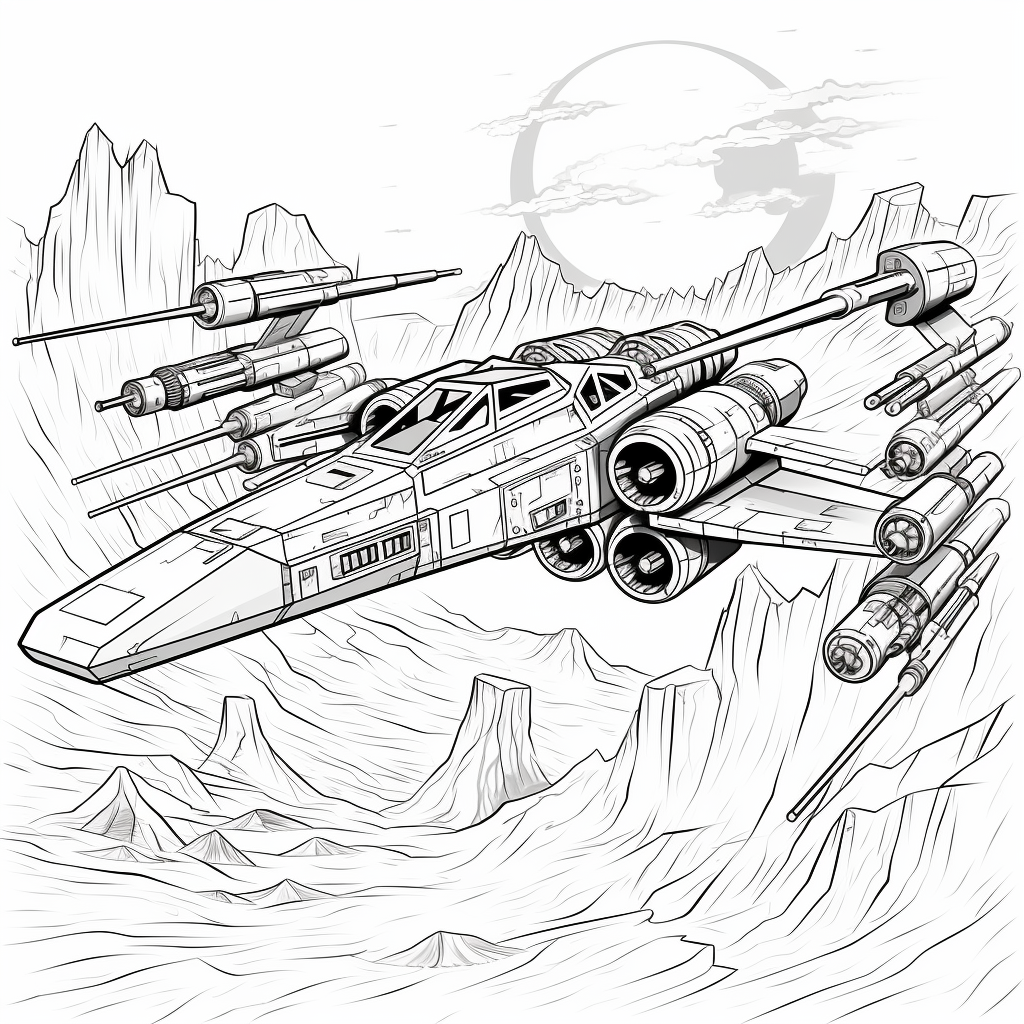 The Star Wars universe wouldn't have been the same without the high-tech innovation machines floating all across space. For example, the X-wing – the iconic starfighter, the shape of which looks like a high galactic character 'X'. This one looks equipped, loaded, and ready to be dispatched on a mission.
10. Princess Leia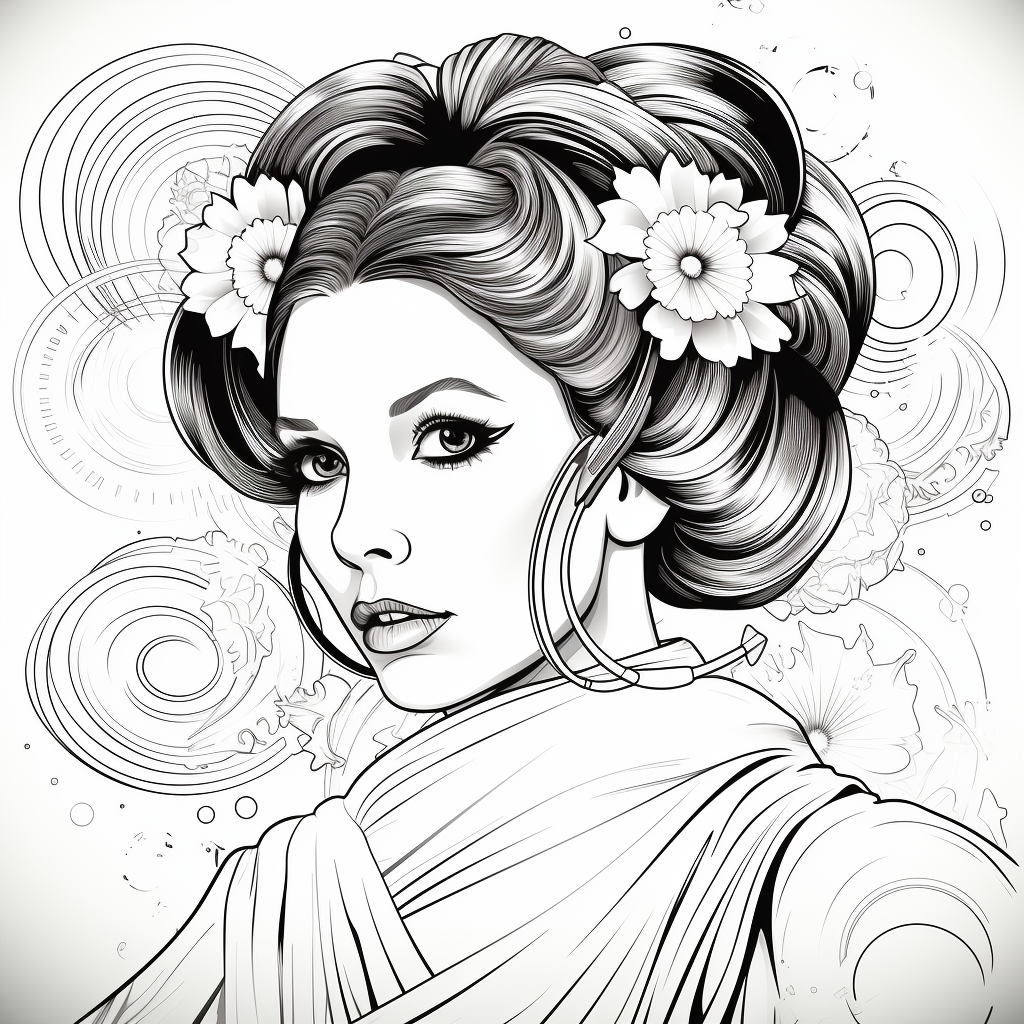 Sometimes a spy, sometimes a diplomat, always a badass. Princess Leia is a firm fan favorite who took the franchise by storm. See if you can transform this boring black-and-white page into a regal riot of color.
11. AT-AT Walker (All Terrain Armored Transport)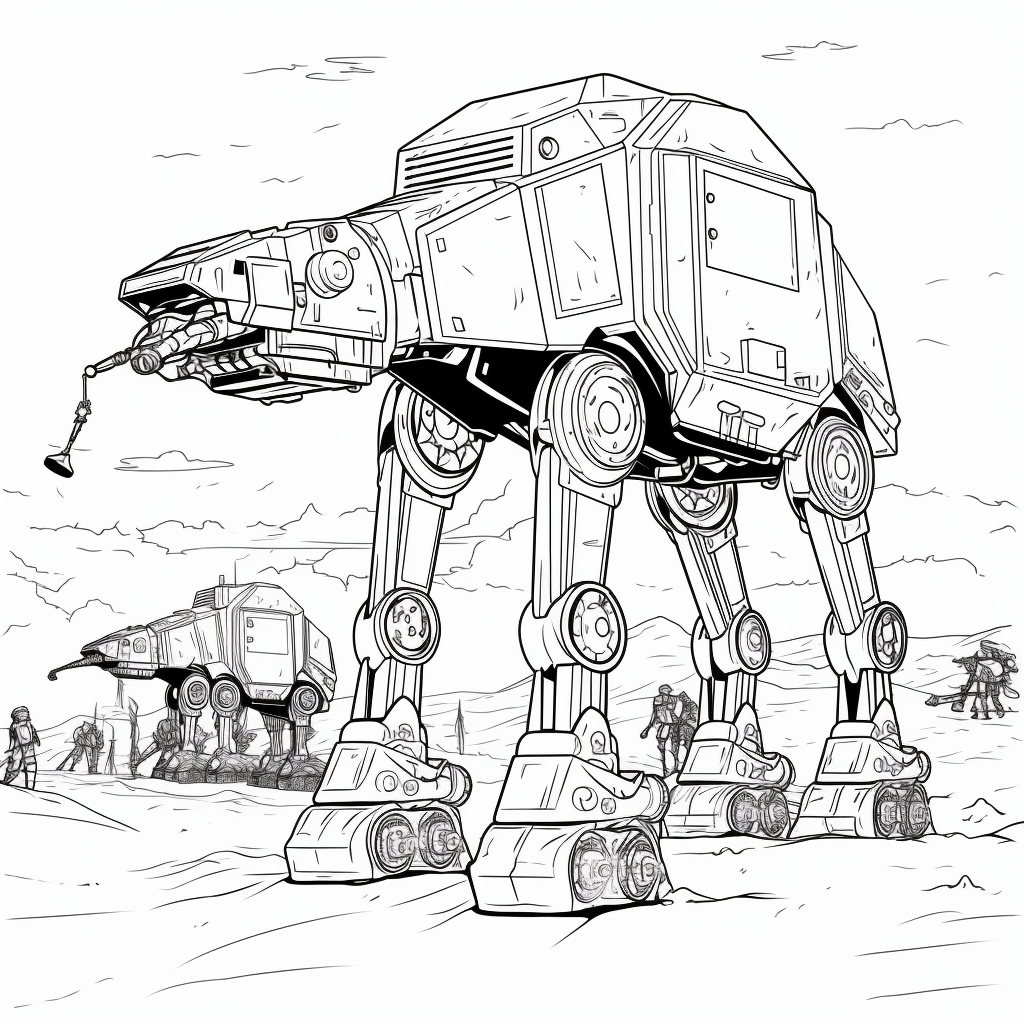 Standing at over 20 meters tall, built from blast-proof armor and designed to transport a gazillion Galactic Stormtroopers, the four-legged AT-AT would be a fearsome sight for any Rebel Alliance fighter on the battlefield. See if you can capture its deadly detail and don't forget to highlight its tyrannical Turbolasers.
12. Darth Maul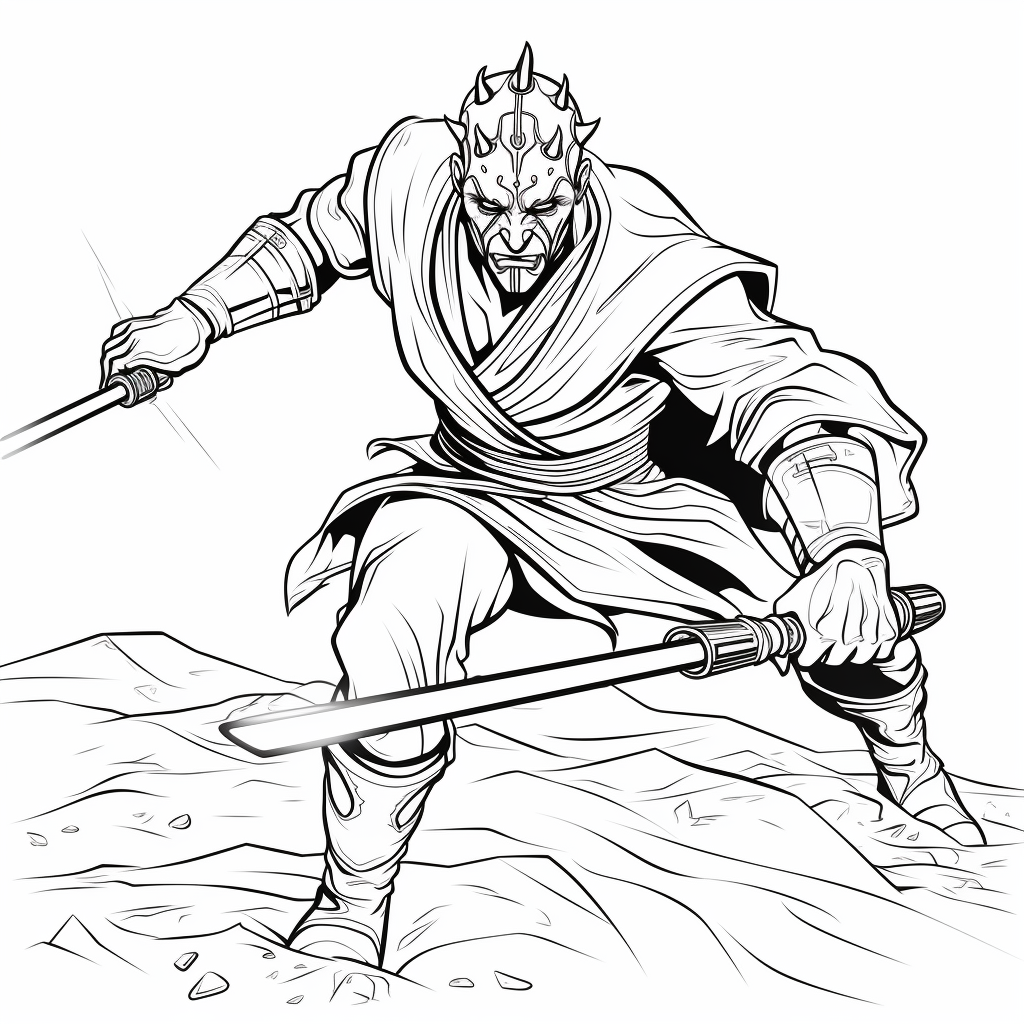 Known for his double-bladed lightsaber, Darth Maul is twice as treacherous as the average Galatic henchman. Thanks to his unique (albeit terrifying appearance), you'll have tonnes of fun bringing this Sith Lord to life.
13. The TIE/LN Starfighter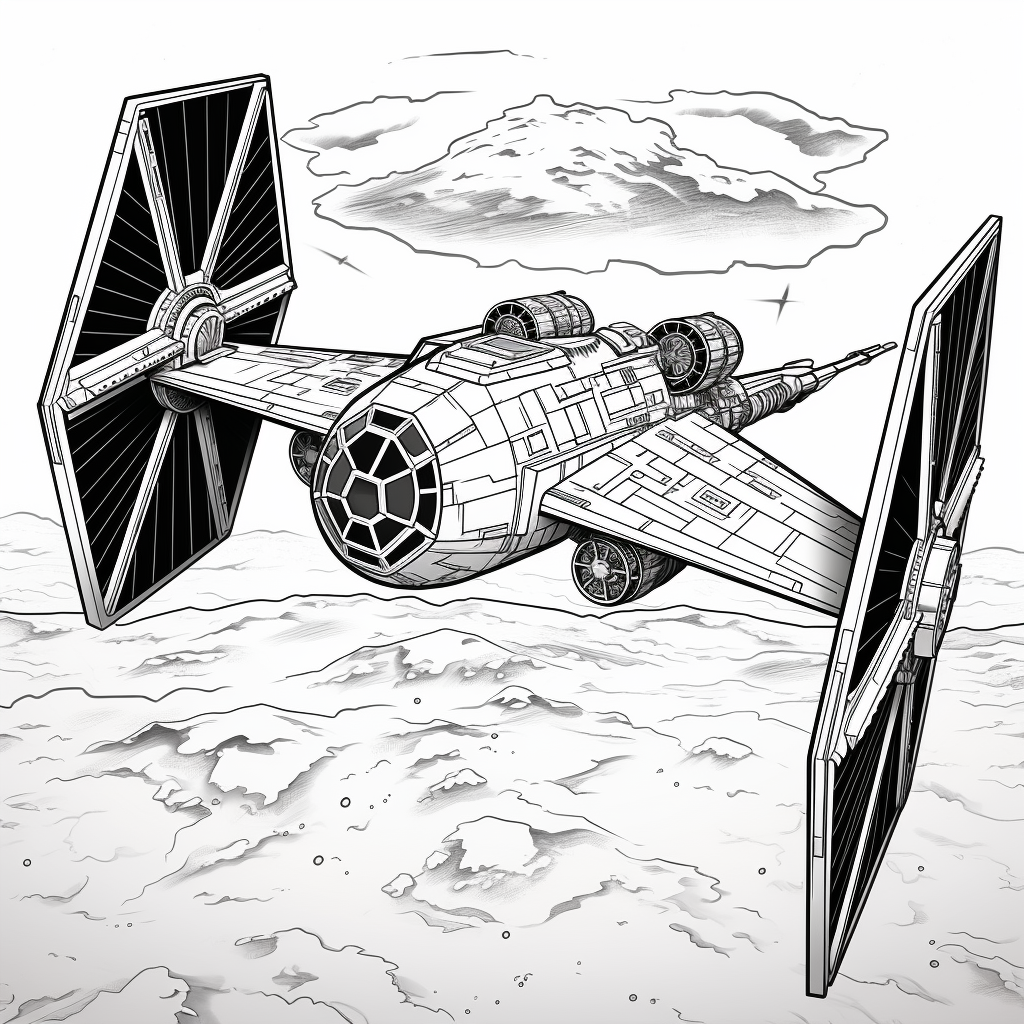 Another iconic machine you can not imagine the Star Wars universe without is the TIE/line starfighter – or the 'eyeball' as it was referred to sometimes, due to its shape. In fact, Corran Horn described the machine as 'a commodity which, after hydrogen and stupidity, was the most plentiful in the galaxy…'
14. Boba Fett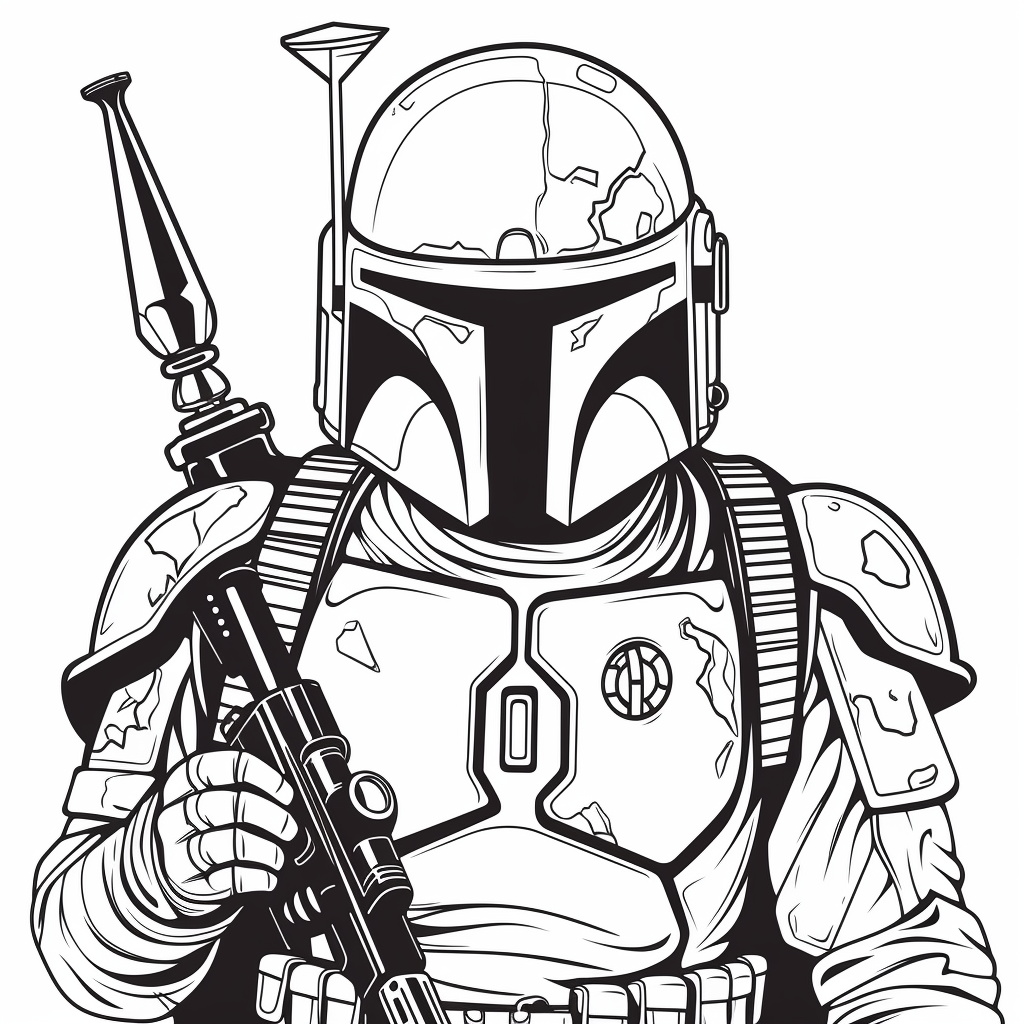 Another fearsome warrior from planet Mandalore, Boba Fett, was a pivotal figure for both the Dark Side and the intergalactic criminal underworld. Here's the slick yet savage bounty hunter wearing his iconic Mandalorian Armour, customized in orange and green.
15. Rey Skywalker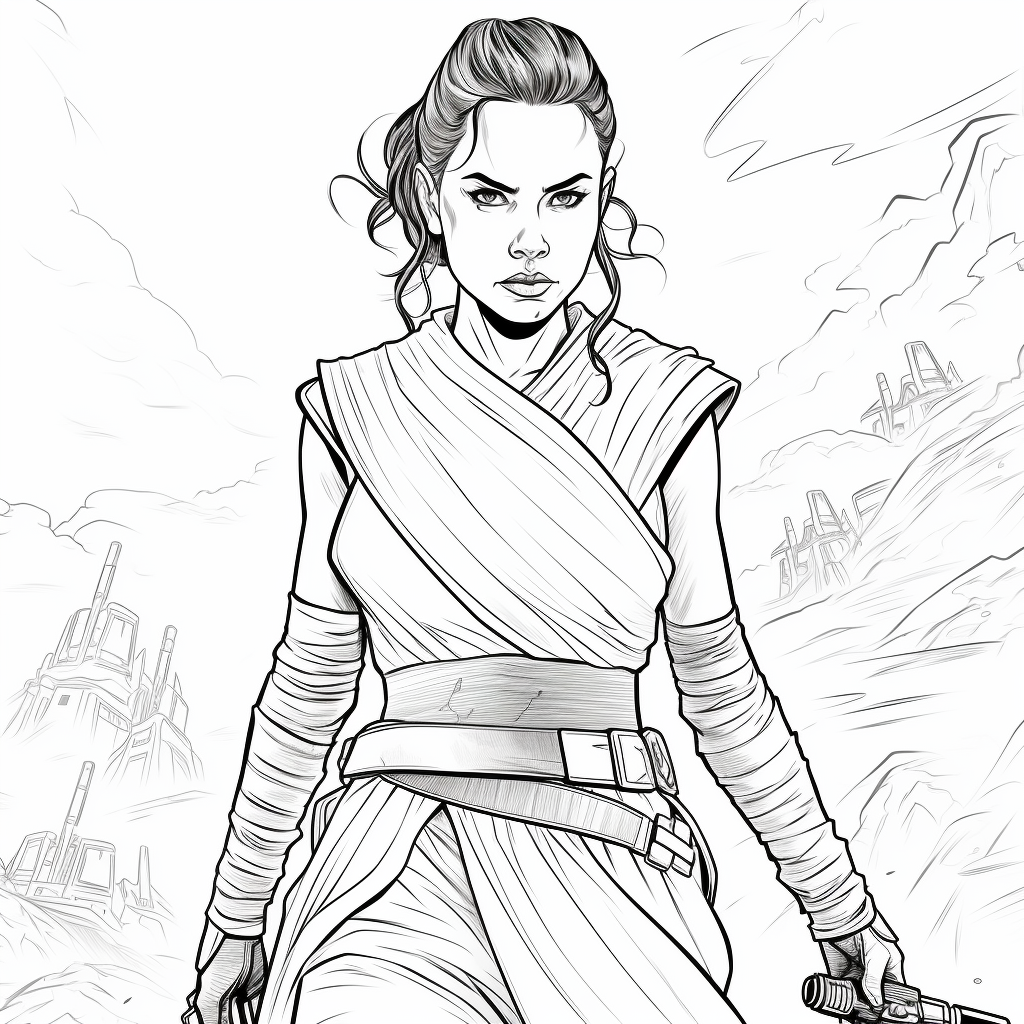 Whether you picture Rey on her desolate desert home planet Jukku or amongst the grassy greenery of Takodana, this page offers endless opportunities to transform the scrappy scavenger-turned-honorary Skywalker into a concoction of color.
16. Chewbacca Ready to Fly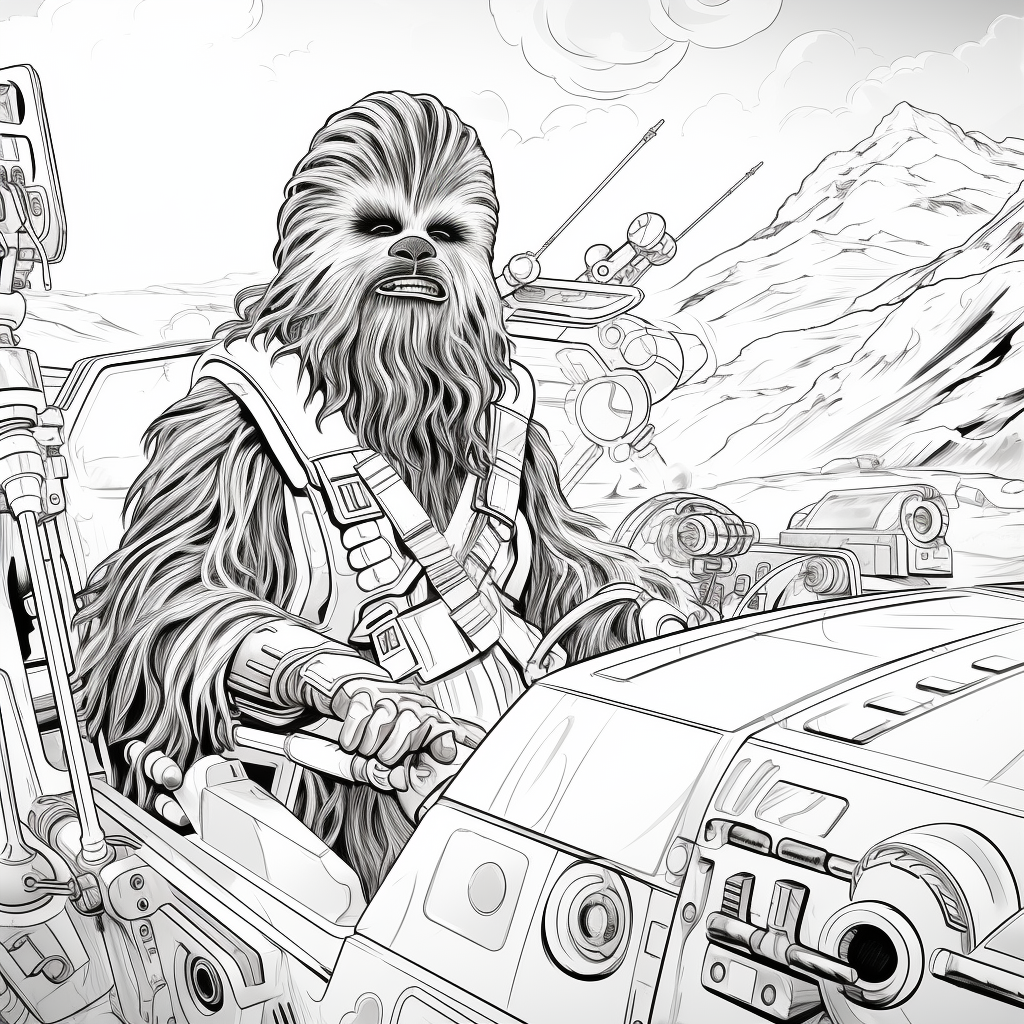 We couldn't put this page together without a coloring page dedicated to Chewy! When he's not co-piloting the Millennium Falcon next to his BFF Han Solo, this legendary Wookiee warrior is fighting to restore freedom to the galaxy. 5, 4, 3, 2, 1… Blast off!
17. Darth Vader's Lightsaber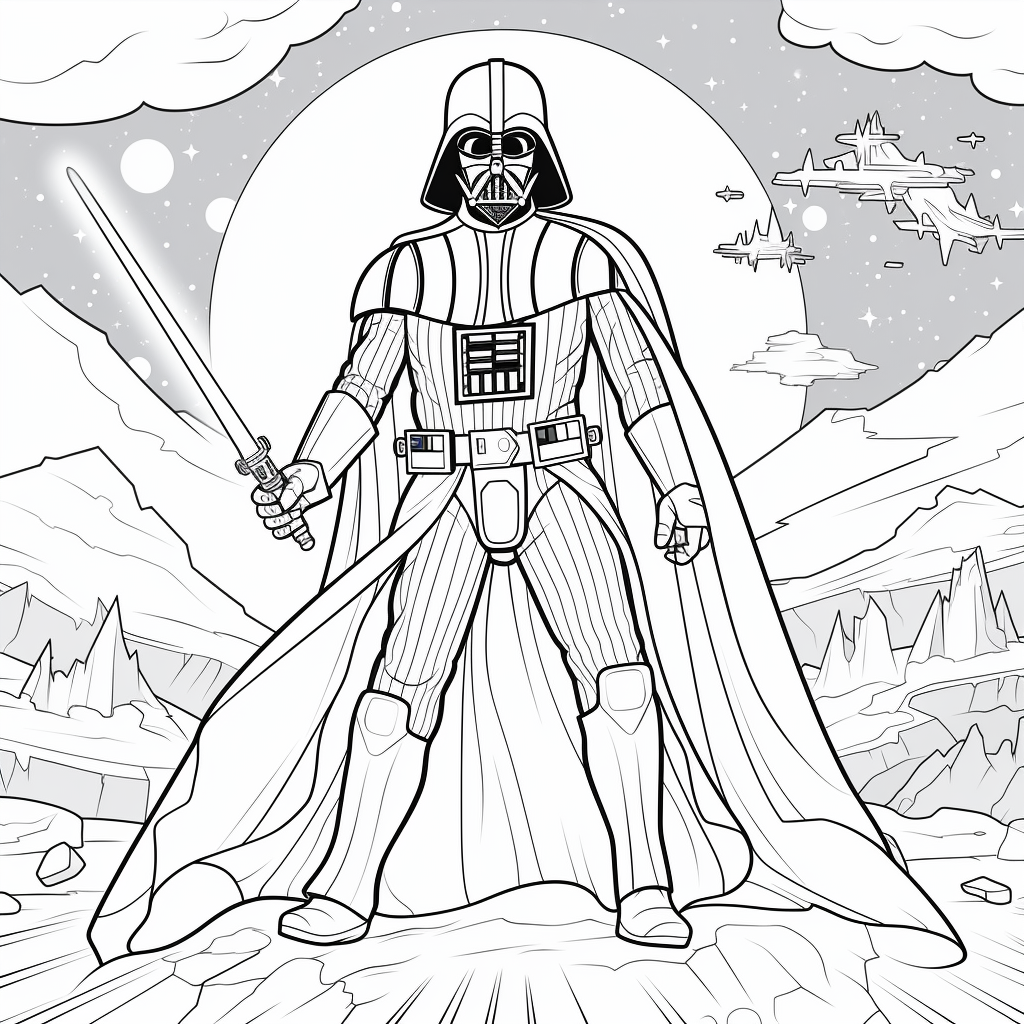 Prepare your pencils and poise your pens, Darth Vader is the boss level of all coloring pages. Going toe to toe with the Empires Sith Lord himself, you'll need to feel the force if you are to stay within the lines on this one.
Did We Miss Any Iconic Star Wars Characters, Ships or Scenes?
We tried to include as many options as possible but there is a chance that we have missed your favorite character or starships. If you have ideas for other Star Wars coloring pages, please message us to let us know.