It may not be Halloween, but that doesn't mean the fun should stop. You might be looking to have some scary fun with a remote control realistic spider with creepy movements or want the challenge of a S.T.E.M. project to introduce kids to the wonderful world of robotics and engineering. Either way, there's a spider for everyone!
That's why we've assembled our choices of the eight best remote control spiders in 2023.
We hunted down these realistic-looking RC spiders by taking recommendations from people who have seen them in action and squashed any fake online reviews so you can pick the perfect gift. Let the fun begin.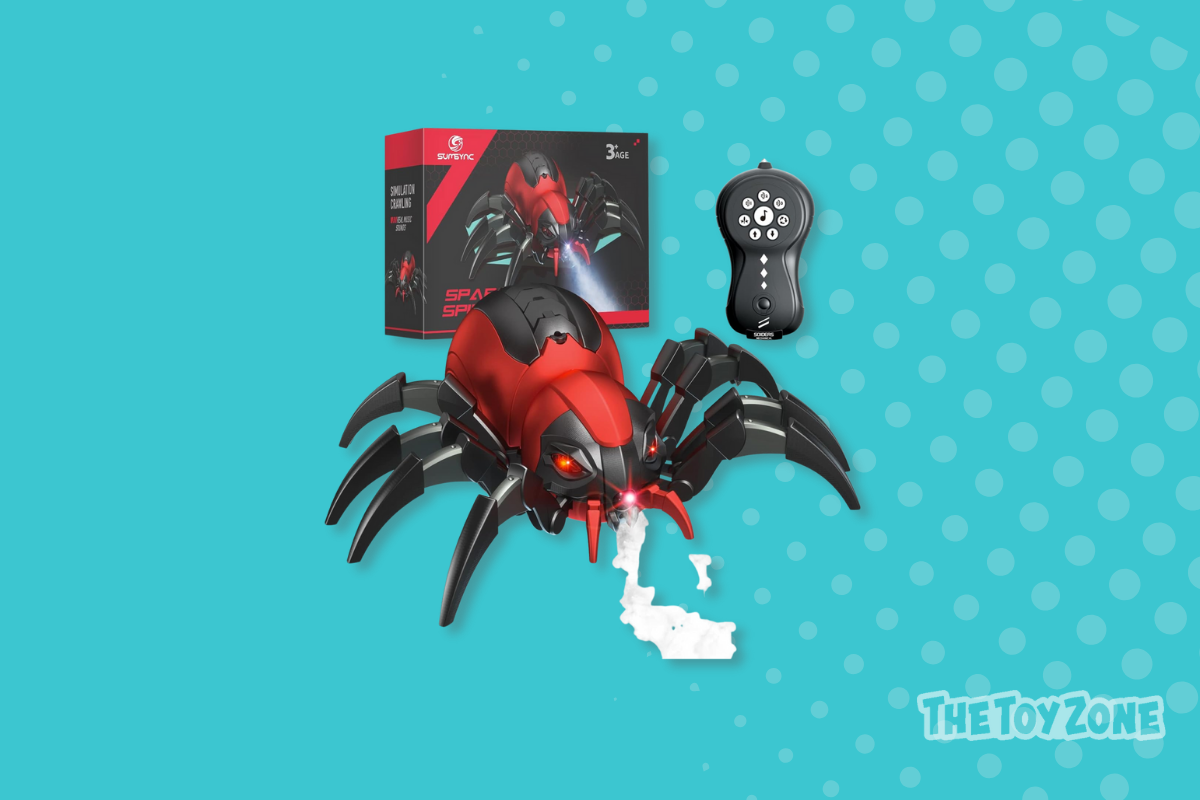 Introducing the Real Spray Mist remote control spider toy! It has a realistic design with a high-tech shell and fast-swinging spider legs. Fool your friends with its lifelike appearance. Press the spray button to unleash real mist and enjoy the magical red and blue effects in the dark. The spider has 2 crawl and 3 spray modes, offering versatility and cool visuals. It features LED lighting effects and plays 6 music tracks, adding to the fun for kids and adults. This spider toy makes a unique gift for various occasions. Please note that it works best on hard floors and requires batteries.
What We Love:
❤️ The spray steam effect is super realistic when combined with the LED
❤️ Excellent customer service that gets back to you if there are any issues
What We Don't Love:
💔 Controls could be more accurate – easy to go forward and back but trickier to do anything more complex than that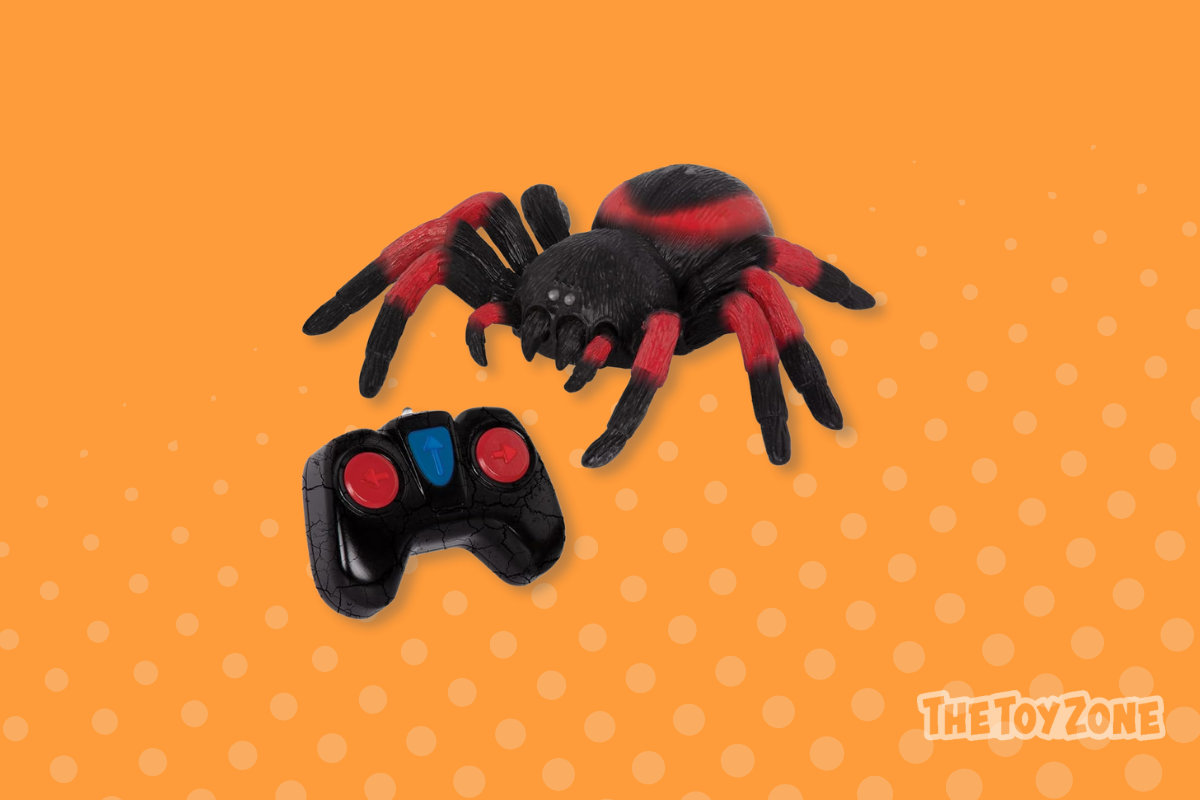 One of the eight best remote control spiders that's affordable and fun, the Terra by Battat is designed with realistic-looking fur as well as LED lights to frighten people in the dark. It can move in three directions and even performs a cool 360° spin.
What We Love:
❤️ Fun realistic leg movements
❤️ Easy for kids to use the remote control
What We Don't Love:
💔 It only moves well on hard surfaces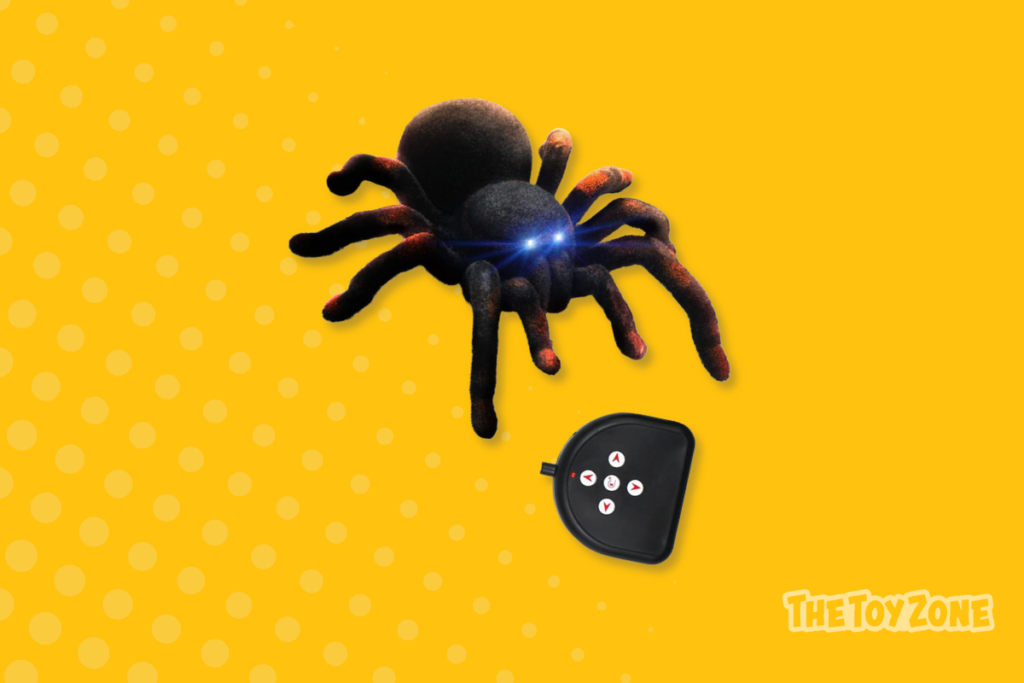 This one major Giant Realistic Tarantula remote control spider! With a bionic appearance, furry body, and LED light-up eyes, it's bigger than a real spider. The included remote control allows easy operation, making it move forward, backward, and turn. Perfect for educational purposes, games, and pranks, this spider toy is fun for everyone. It stimulates interest in natural science, reduces screen time, and improves social skills. Just a gentle pat can reduce hair shedding. Get this thrilling and educational spider toy now!
What We Love:
❤️ Super realist skin that looks a lot like a real spider
❤️ Simple RC controls – even young kids will understand how to use
What We Don't Love:
💔 It would be good to see batteries included they were tricky to remove, so will need adult supervision for this part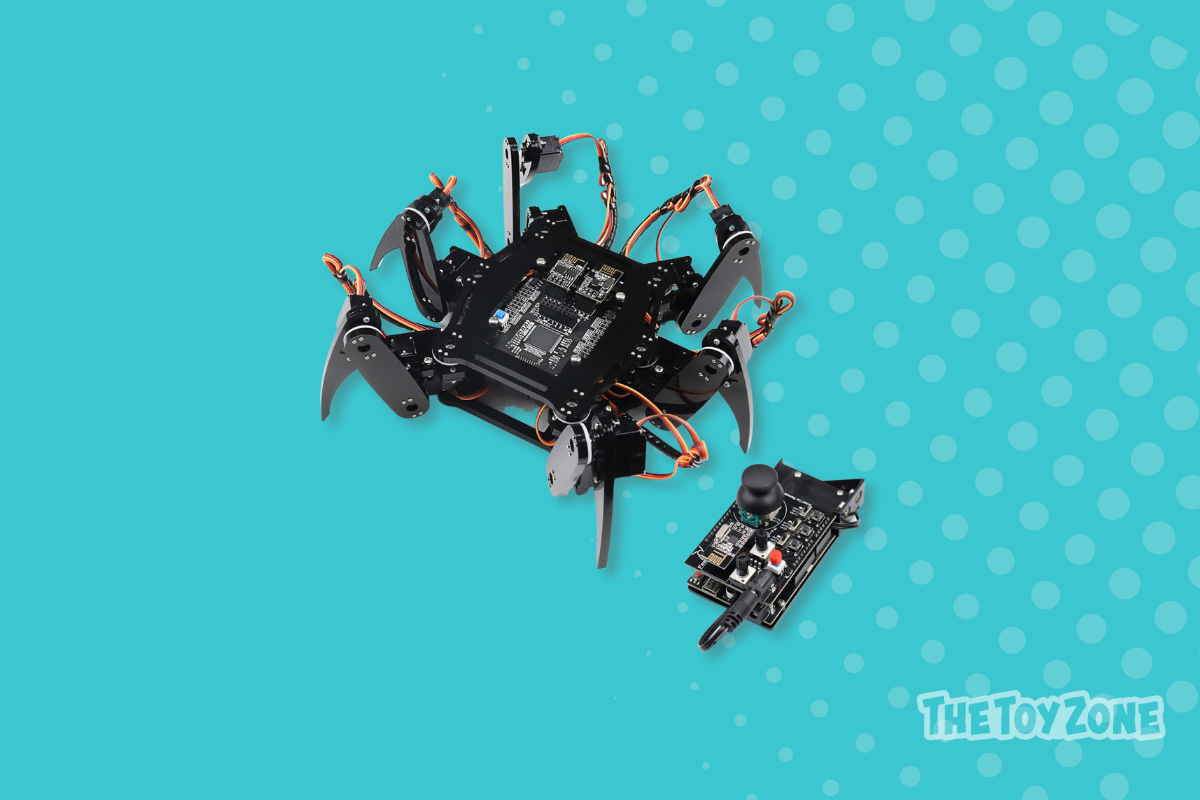 The Hexapod Robot Kit is one of the best remote-control spiders that's high-end yet ideal for beginners and experts alike. This robot features several movements and the ability to twist its body almost as though it was dancing. This is controlled via a remote, smartphone, tablet, or computer.
What We Love:
❤️ Great starter kit for understanding robotics
❤️ Multiple ways to control the robot
What We Don't Love:
💔 Replacement batteries can be hard to find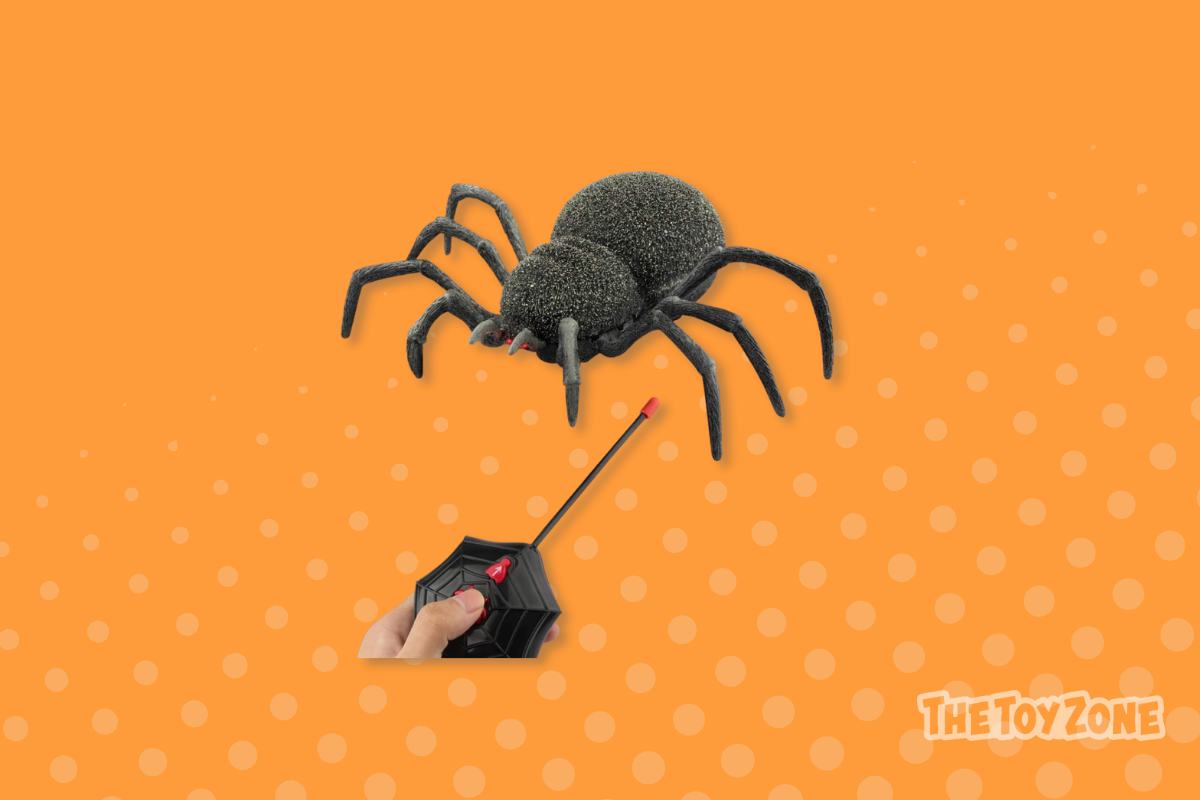 The Baztoy Remote Control Spider is straightforward to operate and once it's turned on, all eight of its legs creepily move up and down. To ensure no one suspects it isn't real, a hidden wheel at the bottom allows it to glide effortlessly across the floor.
What We Love:
❤️ Simple two-button remote operation
❤️ Designed with a cool glow-in-the-dark feature
What We Don't Love:
💔 May not go forward in a completely straight line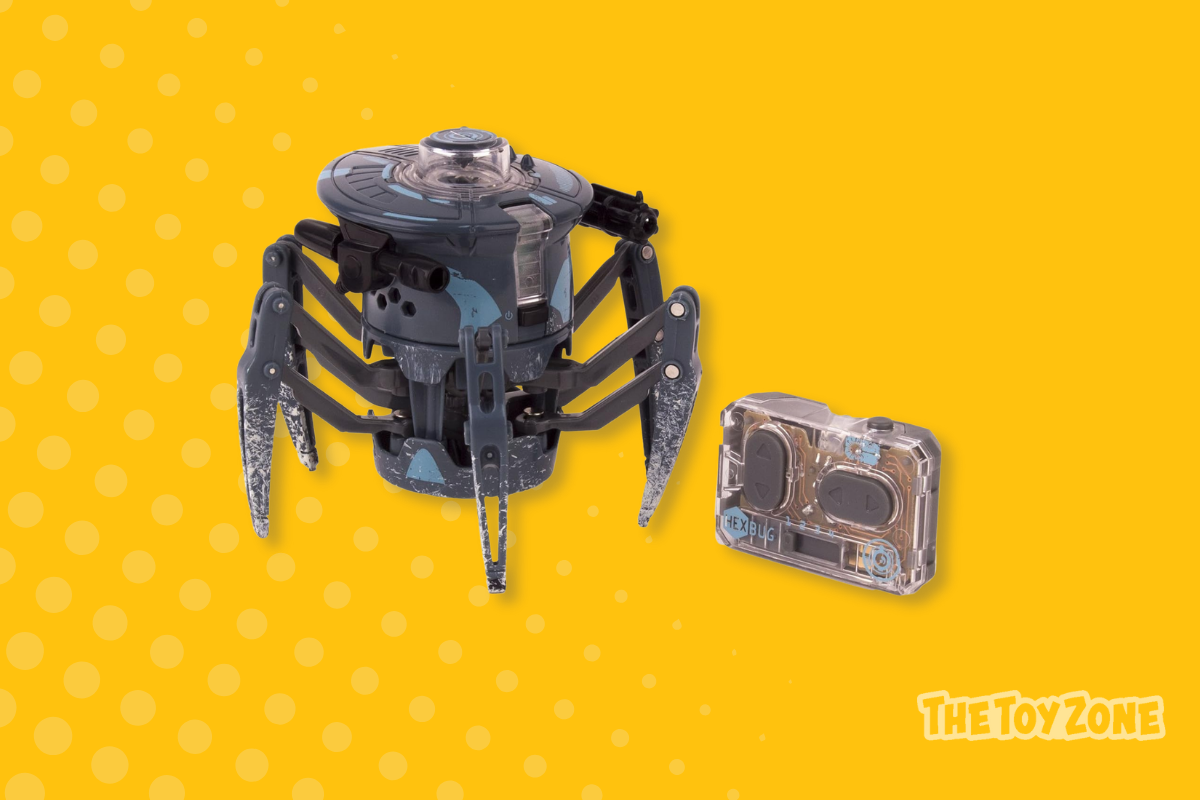 The Battle Spider 2.0 Single is built and ready for multiplayer face-offs. With six legs, this combat bot can rotate its head 360° and has a LED forward eye. It lets users maneuver it with ease around obstacles and opponents. The Battle Spider has a four-channel remote control so players can operate several spiders independently.
What We Love:
❤️ Quality rotating feature
❤️ Able to control more than one at a time with a single remote
What We Don't Love:
💔 Batteries seem to run down fast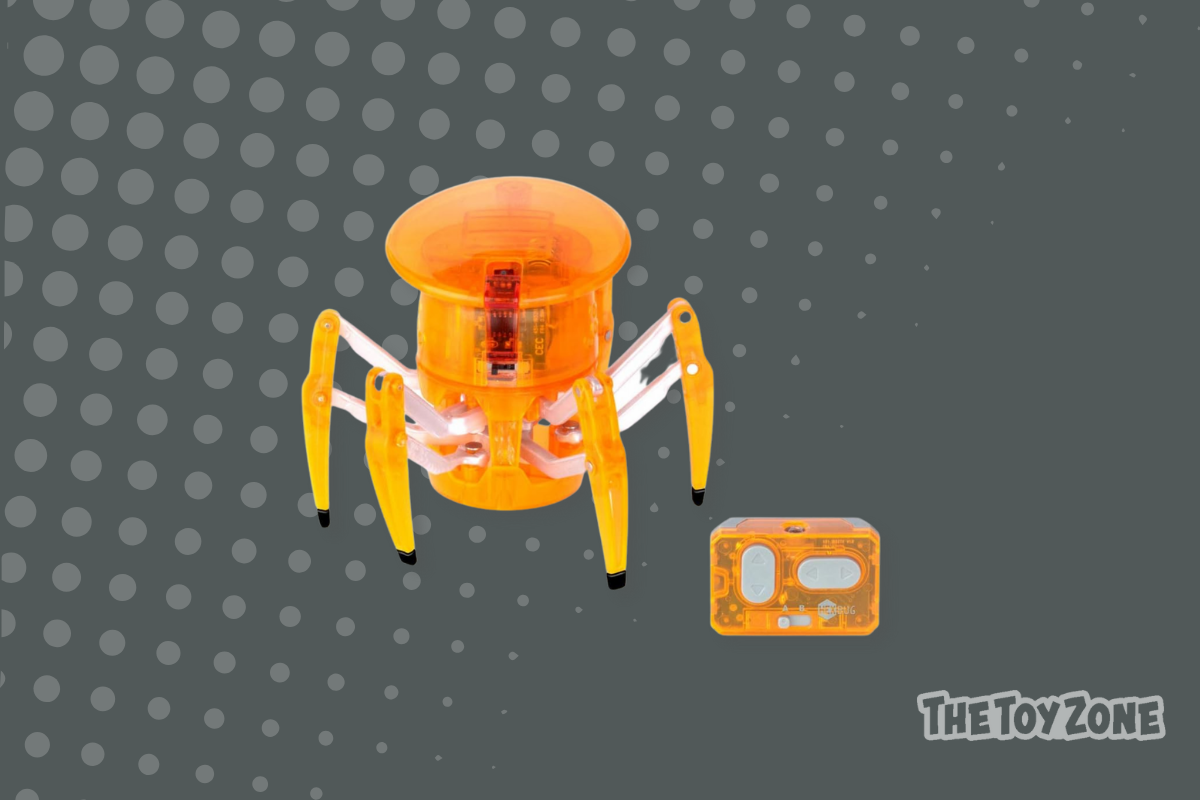 The HEXBUG Spider is one of the eight best remote control spiders that feature a near-see-through design so kids can better understand the workings of the robotic creature. It's designed with a LED forward eye and 360° steering. Thanks to the two-channel remote control, users can move two different robots independently or simultaneously.
What We Love:
❤️ Walks smoothly across flat surfaces well
❤️ Compact enough to easily travel with
What We Don't Love:
💔 Can move quite slowly
---
What to look for in an RC spider?
Here are some detailed considerations when buying a remote-control spider:
Size and Design: Think about the size of the spider and its design. Decide if you prefer a small or large spider, and whether you want a realistic-looking one or a more playful and colorful design.
Controls and Range: Look for a spider with easy-to-use controls. Consider whether you want simple directional controls or more advanced options like programmable movements. Also, check the range of the remote control to ensure it can operate effectively within your desired distance.
Mobility and Agility: Assess the spider's mobility features. Look for multi-directional movement, the ability to crawl on various surfaces, or even climb walls. A spider with smooth and agile maneuverability will make it more enjoyable to control.
Battery Life and Charging: Consider the battery life of the spider. Longer battery life means more playtime before needing to recharge. Additionally, check how long it takes to charge the spider fully. Quick charging times are convenient, allowing you to get back to playing sooner.
Durability and Build Quality: Examine the overall build quality of the spider. Ensure it is made from durable materials that can withstand accidental drops or collisions. A sturdy spider will last longer and provide better value for your money.
Additional Features: Some remote control spiders offer extra features to enhance the experience. These can include LED lights for an excellent visual effect, sound effects to add realism or even special tricks like flipping or spinning. Consider which additional features would make the spider more exciting for you.
Safety Considerations: If purchasing for a child, safety is essential. Look for remote-control spiders made from non-toxic materials and designed with child-friendly features. Check for age recommendations and ensure no small parts could pose a choking hazard.