Ever since the Legoland Town range debuted in 1978, LEGO Sets depicting scenes from everyday life have been a staple of the brand. When the official LEGO City theme was launched in 2012, kids were immediately captivated by its sleek depictions of a modern and vibrant city.
While the range has expanded to locales outside of a typical city (including the moon.), the sets still portray scenes of human activity and often imagine a more inclusive and greener way of living. LEGO City is a great place to live whether you're in town, at the farm or under the sea.
While all this variation is fun and exciting, the number of options can also be overwhelming. So to help you decide which LEGO City set to buy for your little citizen, we've put together a list of our favorite ones. We've trawled through all the sets from over the years that are still available and made careful selections based on hundreds of genuine reviews from parents and kids.
So whether you're into train trips, undersea adventures or farmyard fun, you'll find an option on this list that stands up to LEGO's best in its design, buildability and fun factor. Your little city planner deserves only the best for their next construction project.
As our top three sets show, LEGO City sets come in all kinds of themes, difficulty levels and price points. In fact, the range has expanded in recent years to include settings not usually considered part of a city, such as natural environments, undersea locales and even the moon.
The LEGO City is large and diverse, so let's walk through its streets to find the best option for your little city builder.
Best Lego City Train Sets
A high-speed railway is the true sign of a modern mega city. This set allows you to construct a functioning bullet train to transport your LEGO citizens. It runs smoothly and works via a handy remote control that offers varying speed settings. It's so modern; the train even has dimmable headlights and wheelchair access.
Like any good train set, this comes with tracks for your train to run along and a station to stop at. Kids will love watching this locomotive go before stopping for a creative play with the mini-figures inside one of the coaches.
What We Love:
❤️ Runs smoothly with great speed control
❤️ Comes with a platform and several fun accessories
❤️ Features working lights and lots of realistic details
What We Don't Love:
💔 It would be nice if it included more parts to make a longer track
💔 Not ideal for kids who enjoy challenging builds
Supercharge your LEGO train set with this excellent City Station. Complete with a ticket office, coffee shop, control room and platform with an access ramp, this station is a comfortable place to wait for the train. Or you could hop on the bus instead, which has an accessible interior and can pass through the booms at the train crossing.
Once your train has gone around the tracks a few times, perhaps it's time for some maintenance from the rail truck. Kids will love this set's little details and accessories, especially the port-a-potty on the rail truck for the maintenance workers.
What We Love:
❤️ It's a very versatile and playable set
❤️ Amazing attention to detail down to the contents of the port-a-potty.
❤️ Super clear and easy-to-follow instructions
What We Don't Love:
💔 The train station itself is a bit small
💔 You need to buy the train set separately
Best Lego City Cars, Vans and Trucks
This nifty electric sports car is powered by the sun for clean and efficient racing. With unique features like a rear spoiler, a removable roof and a bright neon yellow design, this set will appeal to younger and older racing car fans alike. Of course, it also comes with a driver mini-figure ready to hop into the tinted cockpit.
This is an excellent set if you're looking for something simple and budget-friendly. Despite being made up of less than 100 pieces, it still looks amazing and includes a handy charging point with solar panels.
What We Love:
❤️ Simple build that withstands rough play
❤️ Looks fantastic for a simple set and comes with a charging stand
❤️ Features removable windows for accessible play
What We Don't Love:
💔 Quite pricey for the number of pieces
💔 There isn't a clear charging port on the car – it simply fits onto any of the studs
This set is perfect for kids that love adventure, as its focal point is an all-terrain vehicle that knows no bounds. With super flexible functioning suspension, mega wheels and a rugged appearance, this 4×4 is sure to impress. It even has a flatbed for transporting toy mountain bikes to further adventures. 
While the 4×4 is fantastic, this is more than one vehicle — a whole off-the-beaten-track adventure set. Kids can have action-packed fun with the ATV and mountain bikes, then settle down at camp to cook food on the fire and take pictures of the nearby wildlife.
What We Love:
❤️ Awesome truck with mega suspension
❤️ Comes with loads of fun camping accessories
❤️ A simple build with impressive detail
What We Don't Love:
💔 Some kids will find the build too simple
💔 The tent is a bit basic
If your kiddo is more interested in their gaming console than the great outdoors, this might be the set for them. This epic truck will keep them entertained with off-screen fun by playing right into their interests. The truck opens up to host a gaming tournament, complete with player stations, giant 'screens' and even an adjustable progress bar.
This unique set has many awesome gaming accessories and plenty of mini-figures to compete in the tournament. Plus, thanks to its black and neon color palette and giant console on top of the truck, it also looks incredible on display.
What We Love:
❤️ Perfect for video game and e-sports fans
❤️ A relatively simple but fun and exciting build
❤️ Super cool looking set with unique colors 
What We Don't Love:
💔 The theme is quite niche, so it won't appeal to all kids
💔 It could do with a few more gaming accessories
Just the sound of the unmistakable Ice Cream Van jingle makes kids go wild. Now they can reenact their favorite occurrence at home with this super detailed LEGO set. This set screams carefree summer fun, featuring mini soft serve cones, other icy treats, iconic ice cream van decals, and giant ice cream atop the van.
Along with the truck, kids will also get two mini-figures, a dog figure and a skateboard, among other accessories. They'll love driving the truck, choosing between all the different ice creams to serve and doing cool tricks with the skateboard.
What We Love:
❤️ Super cute set that appeals to something all kids love
❤️ The build will challenge kids just the right amount
❤️ Lots of interactive features and cool accessories
What We Don't Love:
💔 Kids may need adult help as there are lots of small parts that are easy to lose
💔 Some of the pieces have a tendency to come off
Best Lego City Real-Life Heroes
LEGO city wouldn't be the utopia it is without emergency services that are on the ball. So ensure your police force is well equipped with this high-speed, ultra-cool police car. Most kids love playing with cars and this is an affordable option that still looks awesome with its wide rims, flared fenders and cool headlights.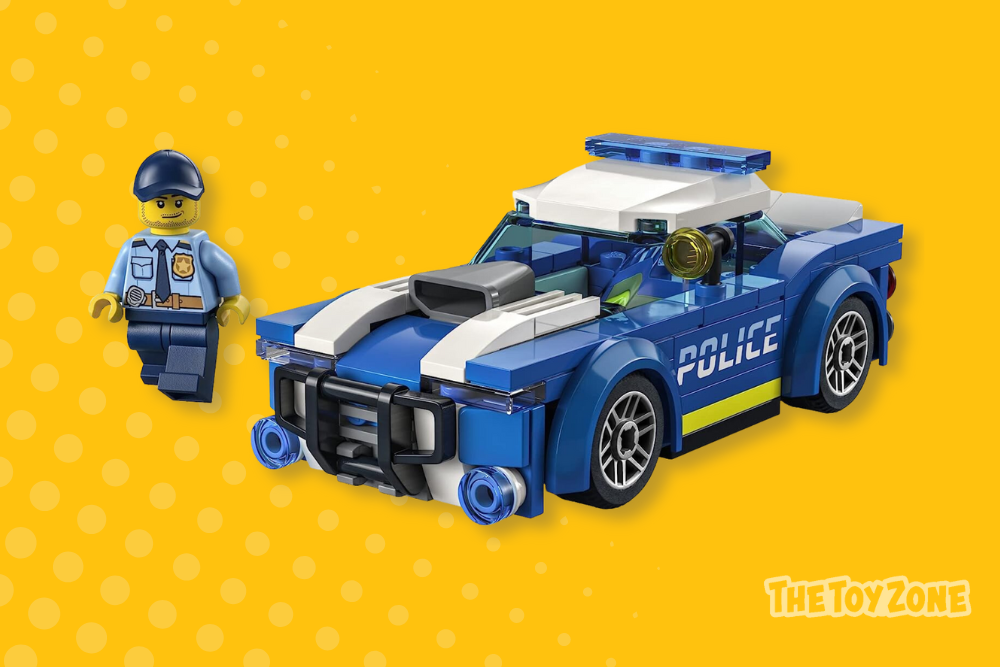 This 94-piece set makes for a great stocking stuffer or travel-friendly toy. It's an excellent addition to any LEGO City, but it's also fun to play with by itself. And, of course, it comes with a police officer mini-figure who fits behind the wheel.
What We Love:
❤️ The car looks very cool as does the minifig
❤️ Compact affordable toy that kids can carry around with them 
❤️ Simple enough for kids to mostly build by themselves
What We Don't Love:
💔 Some customers found the car smaller than expected
💔 It isn't the sturdiest construction
For kids that love saving the day, this set has it all. A one-stop-shop for any emergency, this two-story HQ includes a fire rescue helicopter, an ambulance and an SUV police car with a built-in jail. The set also comes with five mini-figures, several accessories and excellent interactive features like a water launcher and helipad.
This versatile set allows kids to roleplay a range of emergency scenarios. Whether they want to help put out a fire caused by an out-of-control BBQ, stop a thief on a motorbike or get an injured patient on a stretcher, there are so many stories to tell.
What We Love:
❤️ Versatile set that works alongside lots of other sets
❤️ Lots of different playable elements, including three buildable vehicles
❤️ Packed with details and accessories to inspire kids' imaginations
What We Don't Love:
💔 The HQ building isn't that interactive
💔 There isn't much to hold it together as a complete set 
The Police Training Academy set is a great way to challenge kids' building skills and see if they have what it takes to construct all 800+ pieces. It's not a complex set, but it will require patience and perseverance. If they succeed, they will be rewarded with a highly engaging play set featuring climbing walls, zip lines, assault courses and even a horse riding facility.
Once built, this modular set is very play friendly. It's fully open, so multiple kids can access it at once and has interactive features. It also comes with six mini-figures and a quad bike.
What We Love:
❤️ Packed with excellent interactive features
❤️ Building and playing with this will keep kids occupied for hours
❤️ Comes with lots of accessories and six mini-figures
What We Don't Love:
💔 There are lots of loose pieces that can get lost
💔 Some kids may prefer traditional police stations to play with
Disaster has struck at the Sardine Factory, with each of the three storeys and even the cargo container ablaze. Luckily LEGO City's fearless fire brigade is on hand to tackle the flames. They are ready for anything with a fire truck equipped with projectile firing capability, a high-speed motorbike, and a speedy car for the fire chief.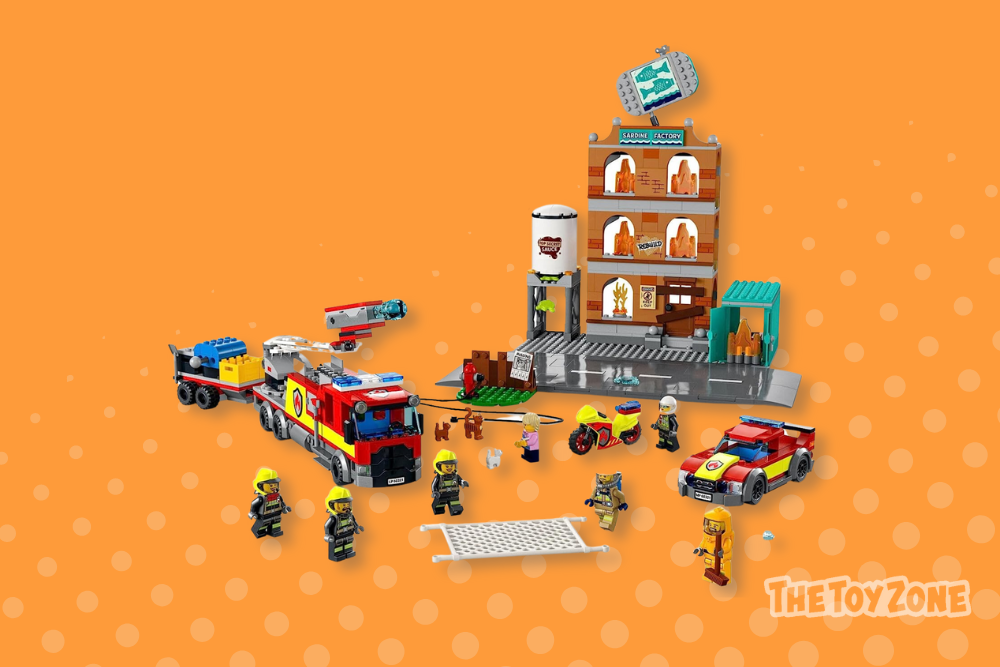 In this set, kids will find many accessories to let their imaginations run wild, plus 5 mini-figures and three little kittens to save from the fire. They'll also love all the play features like the water launchers and vat that spills secret sauce.
What We Love:
❤️ Packed with cool action features
❤️ Versatile set as it includes multiple vehicles, structures and figures
❤️ Lots of fun to build and play with 
What We Don't Love:
💔 The firetruck is a little fragile compared to the rest of the set
💔 There are quite a few loose pieces that can get lost
Look no further if you're looking for a set that will jumpstart creative play. This option sets the scene for a bank heist, with the crafty villains using a transforming cherry-picker heist truck to raid the vaults. On hand to save the day is a police chopper and truck, plus a high-tech drone to chase them down.
This whopper of a set comes with plenty of accessories, from bank notes to handcuffs and loads of little details to inspire a range of roleplay scenarios. It also includes some road plates to connect it to other sets in the City range.
What We Love:
❤️ Comes with three vehicles, including a helicopter with a net launcher 
❤️ Extremely detailed and realistic set
❤️ Lots of movable pieces and fun interactive features
What We Don't Love:
💔 You have to apply a lot of stickers
💔 The bank itself is quite small
Best Lego City Professions and Occupations
For car lovers and aspiring mechanics, this set paints a great picture of garage life. The workshop is full of lifelike tools and equipment needed to get cars back on the road, including ramps, engine lifts and a configuration wall. The set also comes with an excellent mini-figure selection, one of which has fabulous pink hair and a wheelchair.
While the workshop is excellent, the real highlight of this set is the two snazzy cars. Kids can customize these with different bumpers, spoilers and headlights, then have fun tinkering with them and eventually test them out on the road (read: the hallway).
What We Love:
❤️ Kids get to customize the cars to their own liking
❤️ A unique set with a fun color palette an interactive elements
❤️ The instructions are obvious
What We Don't Love:
💔 It would be nice if there were more than 2 cars
💔 It's not the most striking set for display
This set is a winner for environmentally conscious kids, who can collect and put the city's recycling to good use. To keep the streets clean, the truck includes cool features like a tipping platform and a raisable flatbed that make it feel like the real deal. The set also comes with three sorting bins which make for a great learning opportunity about different kinds of waste.
To help kids collect the recycling, this set comes with three mini-figures and plenty of accessories. The truck, with all its functions, is the highlight, but there's also lots to set the scene.
What We Love:
❤️ Wonderfully detailed truck with lots of interactive features
❤️ Practical design that stands up well to rough play
❤️ Teaches kids about recycling
What We Don't Love:
💔 Kids who like a challenge might find the build too easy
💔 It doesn't come with any road plates
This mobile crane set is a future classic thanks to its robust design and versatile play possibilities. With unique features, including a working winch and a swinging boom, this crane is exactly what kids need to complete other construction jobs in their LEGO City. It even comes with a LEGO City Road Plate to help them construct their city streets.
This ingenious crane set also comes with two mini-figures and is designed to be functional, sturdy and full of realistic details. It's really the ultimate LEGO City set, as it can help kids build all their future City constructions.
What We Love:
❤️ Packed with realistic details and working mechanical features 
❤️ Fantastic replayability as kids can play at building the rest of their LEGO city with this set
❤️ Withstands rough play and can hold surprisingly heavy objects
What We Don't Love:
💔 The cord is a little tricky to attach
💔 Quite pricey for the number of pieces
Best Lego City Stuntz Sets
Get set for motorbike mayhem with this 3-in-1 Stuntz set. From tackling the ring of fire to hurtling through the loop to climbing the 'alien tower', there are plenty of challenges to up the ante in this jam-packed set. To complete their stunts, kids will receive two flywheel-powered motorbikes and four mini-figures. Just make sure the alien atop the tower doesn't sabotage your attempt.
Like all Stuntz sets, this one features unique colors and an eye-catching design. But what sets it apart is the number of fun stunts it includes and the fact that they can be combined in multiple ways.
What We Love:
❤️ Includes three stunt challenges that can be combined in different ways
❤️ The flywheel-powered bikes are super fun
❤️ An eye-catching set that will grab any kid's attention
What We Don't Love:
💔 Doesn't include a lot of traditional LEGO bricks
💔 It would be nice if it came with a few more spectator figures
Rev your engines and prepare your flywheel motorbike to complete the impossible. Tackling not only a 360 loop but also the smashing fists of a crazed chimp, builders that take on this set are destined for a wild ride. While the challenge is too much for some kids, others will love trying repeatedly until they succeed.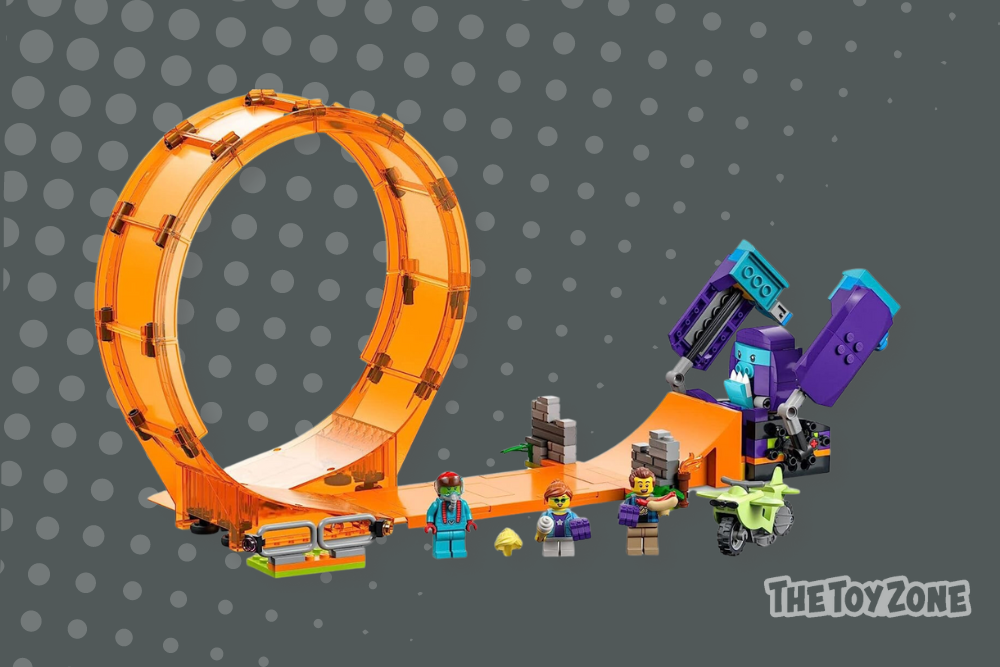 Like all Stuntz sets, this one features unique colors and an eye-catching design. But what sets it apart is the number of fun stunts it includes and the fact that they can be combined in multiple ways.
What We Love:
❤️ Includes three stunt challenges that can be combined in different ways
❤️ The flywheel-powered bikes are super fun
❤️ An eye-catching set that will grab any kid's attention
What We Don't Love:
💔 Doesn't include a lot of traditional LEGO bricks
💔 It would be nice if it came with a few more spectator figures
Best Lego City Missions sets
Missions on Mars beckon with this epic outer-space exploration set. The experience of building a Missions set is unlike any other because instead of instructions, you get assignments in the form of an on-screen story that allows kids to get creative as they build. The app even periodically encourages kids to stop and play with the rocket (complete more missions) throughout the building process.
This LEGO set is genius in combining the possibilities of modern technology with what many miss about older LEGO sets, i.e., being able to experiment and come up with your own creative builds.
What We Love:
❤️ A unique building experience that allows for creativity and problem-solving
❤️ Fantastic combination of video game and tactile play
❤️ Lots of extra pieces so kids can make the ship their own, plus several cool accessories
What We Don't Love:
💔 Not ideal if you are looking for screen-free toys
💔 It would be nice if it came with paper instructions for those who don't want to use the app
This time, the mission is solving the mystery and catching the crooks. To crack the case, you'll need to send your best detectives and fastest police boat onto the water. Like the above set, the series of on-screen narrative missions takes kids through the building process and encourages imagination and creativity as they go.
This set comes with many extra pieces, along with the awesome mini-figures and accessories to jumpstart imaginative roleplay. Not only can kids add their own creative touches to the build, but they can use the components for whole new constructions.
What We Love:
❤️ The app takes you on an adventure as you build the set
❤️ Encourages creativity and allows kids to think for themselves 
❤️ Comes with loads of extra pieces and accessories to inspire imaginative play
What We Don't Love:
💔 It's not a screen-free activity
💔 Some kids might find the open-ended instructions confusing
Best Lego City Animals and Farm Sets
There are LEGO sets out there for kids of all ages, but those for younger children are often very small. This set, aimed at ages four and up, is substantial at 230 pieces. The farmyard build is simple enough for young kids but still an engaging challenge. It's also a great choice if you have children of multiple ages, as they'll all enjoy playing with it.
With an array of cute farmyard critters, this set has enormous appeal for animal-loving kids. It's also packed with enchanting details, including a sheep that can be "sheared" and pig poop to shovel.
What We Love:
❤️ Very cute set that appeals to a wide age range
❤️ Lots of different role-play elements including a greenhouse and farm vehicles
❤️ Packed with fun little details like removable wool on the sheep
What We Don't Love:
💔 It's a pricey set considering the size
💔 Lots of small pieces that young kids may lose
Once you've finished working on the farm, you can earn a pretty penny by sending your produce to the city's farmers market. This interactive set makes a great companion for the barnyard set above, but it also works great by itself as it includes a veggie patch with an excellent carrot growing function and a water pump. 
This set is perfect for role-playing kids, and it's also a favorite of collectors due to including many unique pieces. The carrot-topped van is incredibly cool, and all the vegetable pieces and the bunny will become LEGO play favorites.
What We Love:
❤️ Great playability, especially together with other farm sets
❤️ Adorable, colorful set with obvious instructions
❤️ Appeals to younger and older kids alike due to its unique pieces
What We Don't Love:
💔 The truck is a little fragile when subjected to rough play 
💔 The build might be too simple for older kids
Horse-loving kids will relish this equestrian adventure. Despite being a smaller and more budget-friendly set, there are tons to keep kids busy here. They can have fun getting the horse to jump over the height-adjustable fence, giving him a brush, feeding him carrots, and later taking him home in the horse trailer.
This construction also includes a detailed SUV to pull the horse trailer. Besides the stunning horse figure with bendable legs, kids will find two mini-figures and a trusty canine companion. The set is perfect for a day in the countryside, practicing for the horse show.
What We Love:
❤️ Great design with lots of authentic details 
❤️ The horse has bendable legs like it is jumping
❤️ Excellent value for money as it has several different elements
What We Don't Love:
💔 It's geared at younger kids, so it might be too simple for some
💔 The rods of the jump rail do not click into place but simply rest atop the supports
Best Lego City Vacation and Hobbies
From pulling grinds to scaling the quarter-pipe, there is lots to keep little skater boys and girls entertained in this super cool skate park LEGO set. The skate park is populated with a skateboarder, a BMX rider and a wheelchair athlete, who show that all kinds of people can pull off sick stunts. And when the athletes feel parched, they can buy an energy drink from the Vita-Rush car.
With various skating ramps and a seesaw, this action-packed set has loads to keep kids engaged. Plus, LEGO City collectors will be stoked that it also comes with a road plate.
What We Love:
❤️ Simple enough for little ones but with a theme that can appeal to older kids too
❤️ It's super fun to play with all the different wheels
❤️ Comes with a road plate to connect it to other City sets
What We Don't Love:
💔 Not all 5-year-olds will relate to the theme
💔 The completed set is quite small
Load up the whole family and set off on the open road to find the perfect camping location in this iconic camper van set. With accessories like a camping stove, picnic chairs and a camera, this set sets the scene for a DIY family camping holiday. The van is cleverly designed and packed with authentic details inside and out.
This set has the feel of a LEGO classic, with a robust design and many playable features that won't go out of style. The mini-figure selection is charming, including a mom, dad and tiny baby figure.
What We Love:
❤️ Very cute set that even has a LEGO baby
❤️ Packed with fun accessories and little details that are all to scale
❤️ The build is robust and very playable as the roof comes off
What We Don't Love:
💔 The van is a little small so it's a bit awkward to get all the figures inside
💔 Applying all the stickers can be a bit annoying
This impressively detailed 90-piece LEGO set transports you into the great outdoors with its all-terrain vehicle and enchanting otter habitat. Wildlife is undoubtedly at the heart of this set with cute frog, bird and fish pieces, plus unique natural scenery for them to play around in. But, of course, the adorable otters are the stars of the show.
This is a highly versatile set, as kids can play patrolling the nature reserve as the park ranger and frolicking with the otters in the water, or they can combine the habitat or the ATV with other sets for expanded role-play fun.
What We Love:
❤️ A very unique set with adorable otters
❤️ Versatile set as the otter habitat and ATV can be used with other sets
❤️ Great if you want a simple set or an affordable gift
What We Don't Love:
💔 It has less than 100 pieces so the build is very quick
💔 It's not clear how the ATV connects to the habitat as a complete set
Nothing screams vacation fun like a trip to the beach. This option sets the scene perfectly for creative summertime play, with palm trees, sea life creatures and the all-important lifeguard watchtower. So come on down to the lifeguard station, where you can pick up a kayak for some fun on the water, slurp up an ice cream cone or head off across the dunes on the beach buggy.
There's a boatload of stuff to keep kids entertained in this set, whether they want to roleplay the beachgoers having fun, the lifeguards keeping everyone safe, or even the turtle protecting its eggs.
What We Love:
❤️ Great mini-figure selection plus some cute sea animals
❤️ Fantastic set for playing and displaying
❤️ Lots of adorable details and fun accessories
What We Don't Love:
💔 It's quite pricey for the size
💔 There aren't that many interactive features
Best Lego City Oceans and Boats Sets
When danger strikes on the high seas, this fire rescue set is ready to respond, with its super-speedy boat, heroic firefighters and high-tech extinguishing equipment. What makes this set beyond cool is that the boats actually float in water, allowing kids to take them to the tub to play out their creative emergency scenarios. 
This is a firefighting team unlike you've ever seen. From the jetpack that fires water missiles to the speedboat that has unexpectedly caught on fire, it will set kids' imaginations ablaze. It's also simple enough for young kids to build but appeals to a wide age range.
What We Love:
❤️ Cool looking set that's simple enough for young kids
❤️ The boats float on water, so it's perfect for bathtime fun
❤️ The water launching functions are super fun
What We Don't Love:
💔 It's a straightforward build which isn't ideal for everyone
💔 You need to make sure the boats are adequately drained after playing with them in water
This scuba-inspired set is excellent for kids that love the ocean and everything in it. In 148 pieces, they can create a fancy yacht to transport divers to the deep alongside cool accessories, including diver mini-figures, a video camera and oxygen masks. What will you discover on your next trip below the waves? Perhaps a giant swordfish and some buried treasure.
The buildable yacht in this set is well equipped for high-tech diving roleplay, with a turning searchlight, a removable roof and even space to sleep. Moreover, it floats on water so you can turn your bath into the sea.
What We Love:
❤️ The boat floats on water and has a removable roof
❤️ Comes with adorable diver mini-figures and a swordfish
❤️ A fun build with lots of great little details
What We Don't Love:
💔 The $ to brick ratio is pretty high as the hull is in one large piece
💔 The boat is a little front heavy so tends to tip
Want to explore the ocean in a more extensive, in-depth (pardon the pun) way? This underwater exploration center features living quarters, research labs and even a detachable submarine to unearth creatures of the deep. It's perfect for letting kids' imaginations run free as they picture a life spent exploring the ocean depths.
Along with the pieces to build the exploration base, you'll also find many unique accessories that bring this ocean set to life. Kids can roleplay as five mini-figures, get close and personal with a stingray and hammerhead shark and discover hidden treasure with the underwater drone.
What We Love:
❤️ Features detachable modules for expanded play possibilities
❤️ Looks great on display and has lots of details to discover
❤️ Excellent mini-figure selection
What We Don't Love:
💔 The base isn't very well attached, so it's challenging to move
💔 It would be nice if it came with more undersea scenery
Best Lego City Buildings Sets
After exploring the ocean depths, there's no place better than home sweet home. This family home set consists of almost 400 pieces, making it a great option for younger and older kids alike. With over 3 levels to live in plus a garden area and hockey court, this is the perfect set for when kids want to roleplay more homely scenarios.
This eco-conscious home features solar panels and an electric vehicle, so it's a great way to get kids familiar with ideas of sustainable living. It's also packed with accessories for roleplaying everyday adventures, plus 4 mini-figures and an adorable labrador.
What We Love:
❤️ Amazing attention to detail throughout the set
❤️ Features a solar panel, EV and charging station
❤️ Plenty of figures and household accessories for imaginative play
What We Don't Love:
💔 Some customers found it to be smaller than expected
💔 The van only fits one mini-figure
No city would be complete without the neighborhood grocery store. This set makes for an ideal option for kids that love roleplaying familiar scenarios, as they can carry out the weekly shop or ring up all the items on the till with the collection of mini-figure characters. After hours, the EV forklift will come in handy when it's time to restock.
With adorable features like a mini-figure in a pea suit and a giant carrot above the door, this set looks unbelievably cute on display. It also has a fantastic array of food accessories and solar panels for sustainable power.
What We Love:
❤️ A super cute and colorful modern supermarket that looks great on display
❤️ Also comes with an EV truck and forklift vehicle
❤️ Loads of details to inspire imaginative play inside and out
What We Don't Love:
💔 Lots of small produce pieces that are easily lost
💔 The supermarket doesn't have a roof
For an all-encompassing set that will kick-start any City collection, the Capital set is unbeatable. The set boasts a whole high street's worth of infrastructure and buildings, from two-story hotels to modernist museums. There's also lots to do on the street, from hitting up the skatepark to indulging in some street food to seeing the sights on the tour bus.
With a whopping 1211 pieces, including 13 mini-figures, this set promises endless building hours and roleplaying fun. Kids can play with the different parts of the set separately or put everything together to create their ideal city.
What We Love:
❤️ Includes 4 separate buildings, several vehicles, 13 figures and much more
❤️ Each element of the set is brimming with realistic details
❤️ Very versatile as the different areas can serve as backdrop for countless play scenarios
What We Don't Love:
💔 Not ideal if you're looking for a cohesive set as it's more like several sets in one
💔 It's definitely a pricey option
Best Lego City Space Sets
One small step for man, one giant LEGO City set for kids. With 786 pieces to construct, this Lunar Research Base is ideal for kids who love to get stuck into a LEGO build and immerse themselves in a world of imaginative play. The highly-detailed set is full of authentic NASA-inspired details and is sure to get little minds whirring with both imagination and questions about space.
This set is brimming with unique features that add to the wow factor, including a science lab, airlock and varied exploration vehicles. The grappling hook is a highlight, as is the lunar lander.
What We Love:
❤️ The rocket ship and grappling hook are super cool
❤️ Super detailed set with lots of accessories and play space inside the hangar
❤️ There is so much here to spark the imagination and an interest in science
What We Don't Love:
💔 The hangar has a couple of parts that don't hold together very well
💔 With so many unique pieces it's not ideal for kids that like to dismantle and reuse sets for their own creations
For a more budget-friendly trip to the moon, this Lunar Roving Vehicle is the perfect choice. Based on NASA's real moon buggy, this impressive and detailed spacecraft features 12 omnidirectional wheels, opening doors, two exploratory probes and even a meteor impact setting. It may be more affordable, but it certainly brings much of its wow-factor.
This stellar set comes with three astronaut figures to do the exploring. Many authentic tools to help them with their lunar investigations include a saw, a shovel, a planet-surface scanner and a customizable utility backpack.
What We Love:
❤️ Perfect for space enthusiasts as it is full of authentic NASA-inspired details
❤️ Kids will love the double doors for easy access and the customizable utility backpacks
❤️ Fantastic play set that also looks great on display
What We Don't Love:
💔 It's quite small once put together
💔 Not ideal for kids who enjoy spending time on the construction
Inspired by NASA's Artemis mission, this set will surely blow young space fans' minds. At over 1000 pieces, this is a whopper of a group that challenges LEGO builders in the best way. It's definitely worth it because once they've finished building, they'll be all set for take-off, with the launch tower, control room and the 42cm tall rocket.
As well as being breathtaking to look at, this set is full of features to turbo-charge creative play. It's got a working elevator in the launch tower, a service vehicle, a boarding gangway, several mini-figures and, of course, the detachable rocket.
What We Love:
❤️ Great for kids who enjoy longer builds
❤️ Super detailed rocket that looks fantastic on display 
❤️ The observatory and launch station add to the playability
What We Don't Love:
💔 It's a large set, so it requires plenty of patience when building
💔 Would be nice if it came with a shuttle too
Best Lego City Planes and Helicopters Sets
Younger kids will love carrying out rescue missions with this bright yellow helicopter. Complete with spinning rotor blades and a side hatch door; the chopper makes for a realistic yet fun build. The construction also includes a large red truck with a flatbed trailer for transporting the helicopter between missions — or for that matter, anything else that fits.
This set has the makings of a LEGO classic – durable build, authentic design and functional play features that can be used in a range of imaginative scenarios. Parents also love that the instructions are clear enough for kids to follow by themselves.
What We Love:
❤️ Has some great functional elements and realistic details
❤️ Both vehicles look great and inspire a lot of rescue play scenarios
❤️ The instructions are super clear, which makes this a great first LEGO set
What We Don't Love:
💔 It doesn't have that many interactive features
💔 Would be nice if it came with some accessories
Get ready to put on a show with this double set consisting of both an airshow jet and a truck transporter. These two unique vehicles combine for unlimited roleplay possibilities in the sky or on land. The jet features adjustable wings and a tinted cockpit, while the truck works great for hauling the jet or other LEGO vehicles too.
Both these vehicles will surely become a staple of creative playtime, as kids can play with them together or with other LEGO sets and toys. The set also includes two mini-figures that fit easily inside the vehicle cockpits.
What We Love:
❤️ The truck is very functional and works for hauling all kinds of LEGO vehicles
❤️ The jet looks awesome and has adjustable tail fins
❤️ A robust set that withstands rough play 
What We Don't Love:
💔 It doesn't include that many accessories 
💔 The truck could have more interactive features
---
Frequently Asked Questions About LEGO City Sets
🙋 Is LEGO City still going?
Unfortunately, there is no definitive answer to this. In 2021, LEGO announced that the City range would continue at least until 2023. However, as the 2023 range has already been released, it's possible that it was the final one. On the other hand, it's just as likely that we'll see more City sets next year as it is still one of LEGO's most popular themes.
This popular range traces its roots all the way back to 1978 in a range titled "Legoland Town". However, the contemporary LEGO City theme was launched in 2012. It was so popular that it spawned a Nickelodeon show, LEGO City Adventures, which premiered in 2019.
🙋 How many sets of LEGO City are there?
In total, there are 1392 LEGO City sets. This includes all the sets in the LEGO City range as well as the LEGO World City, LEGO System and Legoland Town ranges that preceded it. However, when it comes to official LEGO City sets from the range launched in 2012, there are currently close to 340.
Although the first LEGO City sets depicted buildings and scenes typically found in a city, the range has expanded its reach to depict countryside scenes and even milieus like the Arctic and outer space. Nevertheless, these still have the high-tech modern look and sleek design that characterizes LEGO City.
🙋 Is LEGO good for 3 year old?
3 years old is probably just a little too young for LEGO. As LEGO sets come with many small parts, they are dangerous for toddlers who like to put things in their mouths. At three, some kids have grown out of this and can handle LEGO sets rated 4+. However, many 3-year-olds still haven't gotten over this phase and should be carefully supervised when playing with LEGOs.
To be safe, a more toddler-friendly alternative to LEGO is DUPLO. DUPLO sets are under the LEGO umbrella and offer the same quality assurance. However, they are made up of much larger pieces that can't be swallowed.
---
So… What LEGO City Set Should You Get?
Unfortunately, there's no single right answer to this – it all depends on the interests and experience with LEGO that your little builder has. For example, if it's their first LEGO City set, you might want to consider a building like a house or grocery store to start them off. If on the other hand their LEGO City has already grown pretty large, something more unique like a boat or a space set could be ideal.
If you didn't find your favorite LEGO City set on the list, drop us a message to tell us why you think it deserves to be there.