Remember when you had to wait until your late teens to get your first mobile phone?
Well, times have changed. Nowadays, everybody has — or wants — one of their own, and it seems even toddlers are catching on. Kiddos see their parents glued to their cell phones all the time, so naturally, they want one too. It's part of how they learn about life by imitating the grown-ups around them.
The thing is, real phones can be risky for little ones. That's where toy phones come as a handy alternative. They have exploded in popularity lately, and for a good reason. Toy phones are fun for toddlers and open up countless pretend play opportunities.
Toy phones come in all shapes and colors. Some make cool sounds or have incredible textures; some light up with a playful glow and some have games to challenge their little minds. The options are endless.
So, the question is: how do you choose the perfect one for your kid? We've curated a handpicked list of the best toy phones. They will keep your little one entertained and make them forget all about trying to steal your own phone.
The Top 3 Toy Phones for Toddlers
Now that you've seen some of the best phone options, take a look at the complete list below to discover some more fantastic toys. Our selection includes various retro-looking phones, mobile phones and smartphones. We'll provide detailed insights into the pros and cons of each toy, helping you find the perfect fit for your toddler.
Get ready for some delightful chatty times together!
Best Pretend Mobile Phones
​​Peppa Pig fans are in for a treat with the adorable Peppa Pig Flip-Up Phone! The interactive phone brings their favorite TV character to life on the other side of the line. Kids will enjoy listening to Peppa and her friends' voices, including Rebecca Rabbit, Suzy Sheep and Candy Cat, as they pretend-play with pre-recorded messages. As toddlers press the multicolored buttons, they'll engage in Peppa's fun quizzes, learning to recognize colors and numbers.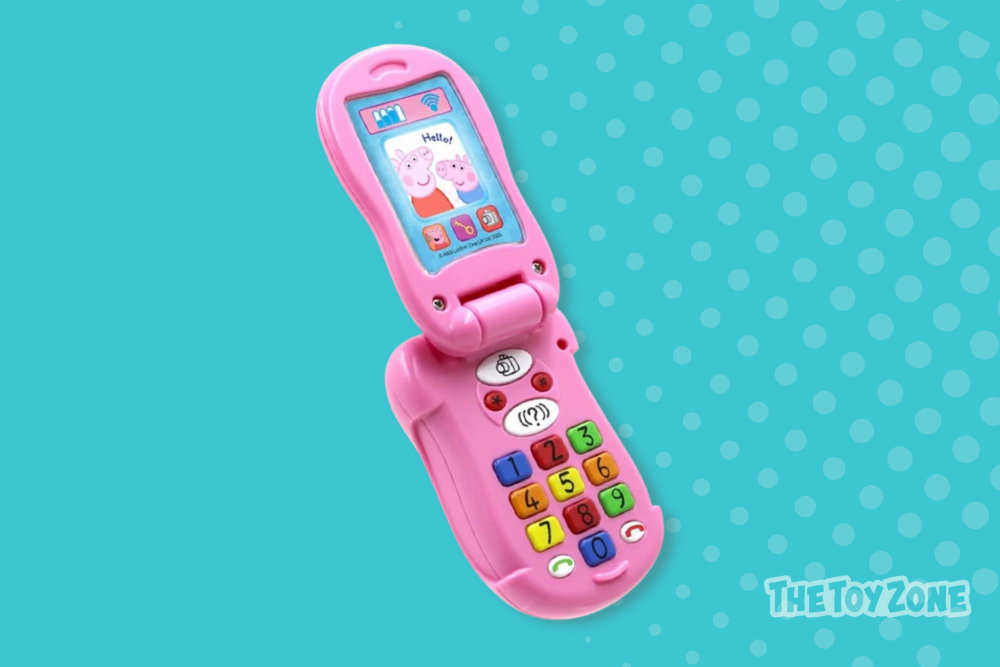 Recommended age: 8 years and above
Designed with little hands in mind, this classic chunky flip-up phone is perfect for easy handling. The screen showcasing Peppa and George lights up, adding a fun touch. Plus, the phone includes a camera button and kids can let their imagination take flight, pretending to take photos and capturing special moments with an authentic camera sound.
What We Love:
❤️ As an official Peppa Pig branded toy, the voices are faithful to the TV show
❤️ It is sturdy and can withstand inevitable throws and drops
❤️ The ringtone sounds like an actual phone
What We Don't Love:
💔 Doesn't come with an off switch
💔 The buttons can sometimes get stuck
Mushie's phone toy adds a delightful twist to the world of Pop It toys. This battery-free, interactive phone offers endless sensory experiences that keep little hands busy, and minds engaged. With delicate attention to detail, it features soft-touch buttons, soothing sounds and beautiful textures that ignite your toddler's imagination.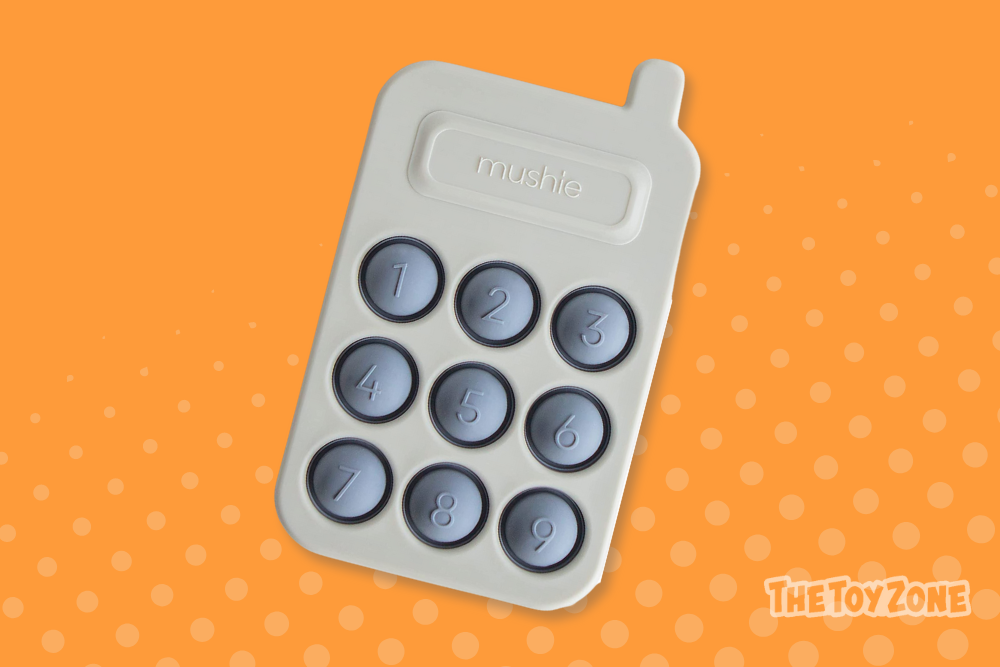 Recommended age: 10 months and above
The phone press toy is not just cute; it's also crafted with safety in mind. Made from food-grade silicone and BPA-free plastic, it ensures worry-free playtime. Its compact and portable design makes it ideal for home and on-the-go play, and it comes in three beautiful color combinations.
What We Love:
❤️ Buttons are much bigger than other Pop It toys
❤️ Encourages the development of fine motor skills
What We Don't Love:
💔 Dirt can get stuck in the buttons
💔 It doesn't have a zero button
This is an excellent choice for kids who prefer a gentler, more imaginative playtime than flashy screens. With its captivating screen mirror, little ones can have fun playing peek-a-boo with their own reflection. And here's a cool feature: it's bilingual! Including three phrases in English and Spanish, like friendly greetings and simple questions, toddlers can explore language skills while engaging in make-believe conversations with their imaginary friends.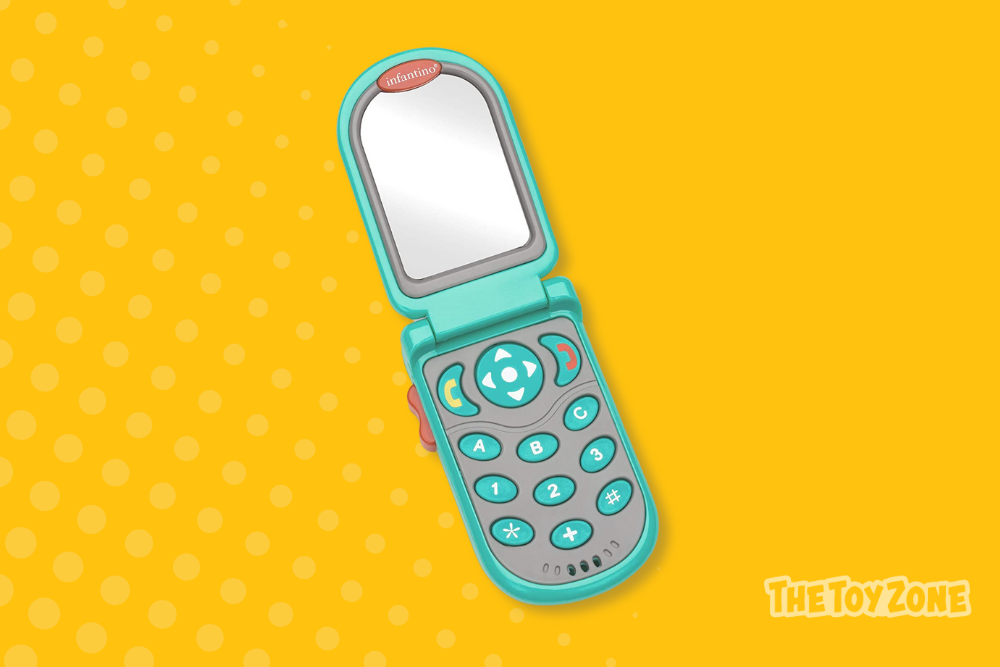 Recommended age: 3 months and above
The phone is available in charming teal and peach colors, complementing its playful flip design that kids love to open and close. It's compact and the child-friendly build ensures that even the tiniest hands can easily hold and operate it. Additionally, it is made from safe, BPA-free materials, providing parents with peace of mind.
What We Love:
❤️ Batteries last a long time
❤️ Pleasant sound levels, not too loud
❤️ Comes with three different sounds and phrases
What We Don't Love:
💔 It doesn't light up
💔 Requires LR44 batteries
This phone and car keys set is perfect for little ones who love to imitate Mom and Dad's daily routines. It's a perfect invitation for role-playing and pretending to be grown-ups, with a cellphone for making pretend calls and car keys for playful exploration. The set features realistic sounds, including five melodies, authentic dialing tones and interactive car-related noises.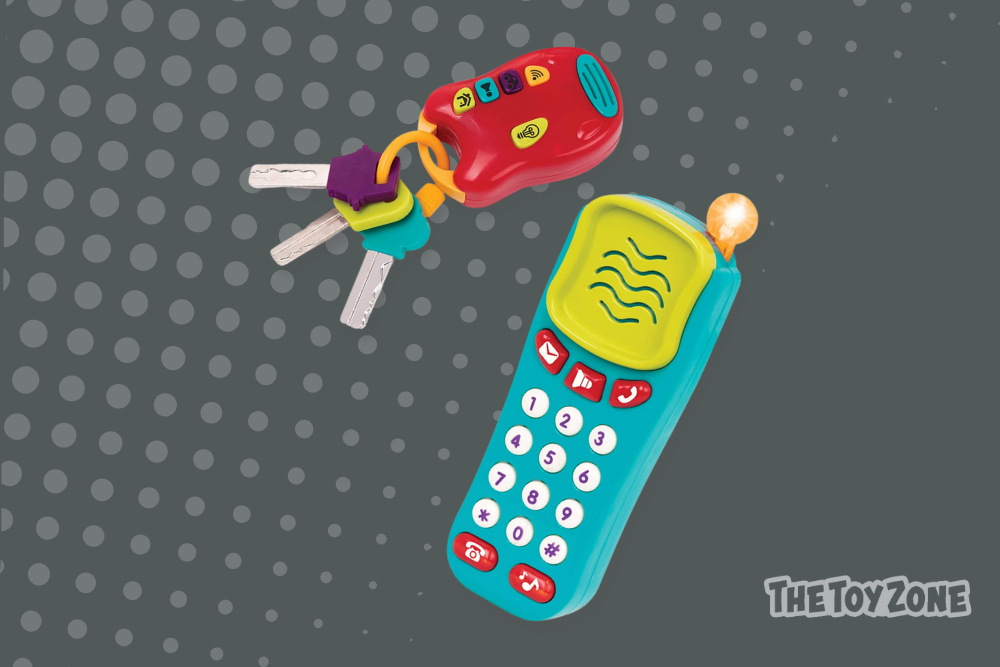 Recommended age: 10 months and above
While this toy doesn't offer specific educational features, it is excellent to engage children's imaginations during playtime. The phone invites toddlers to leave voice messages and participate in imaginative scenarios.
What We Love:
❤️ Phone and keys light up
❤️ Great for pretend play
❤️ The packaging is made from recycled materials
What We Don't Love:
💔 Doesn't come with an off switch
💔 Keys are made of metal
This charming seashell-inspired phone is an invitation to dive into the wonders of the sea. With its vibrant lights, sounds and interactive buttons, toddlers will immerse in an enjoyable sensory experience. The phone's compact size and lightweight design make it easy for little hands to hold and operate. Kids will love flipping the phone, engaging in pretend conversations and gazing at their reflections in the mirror.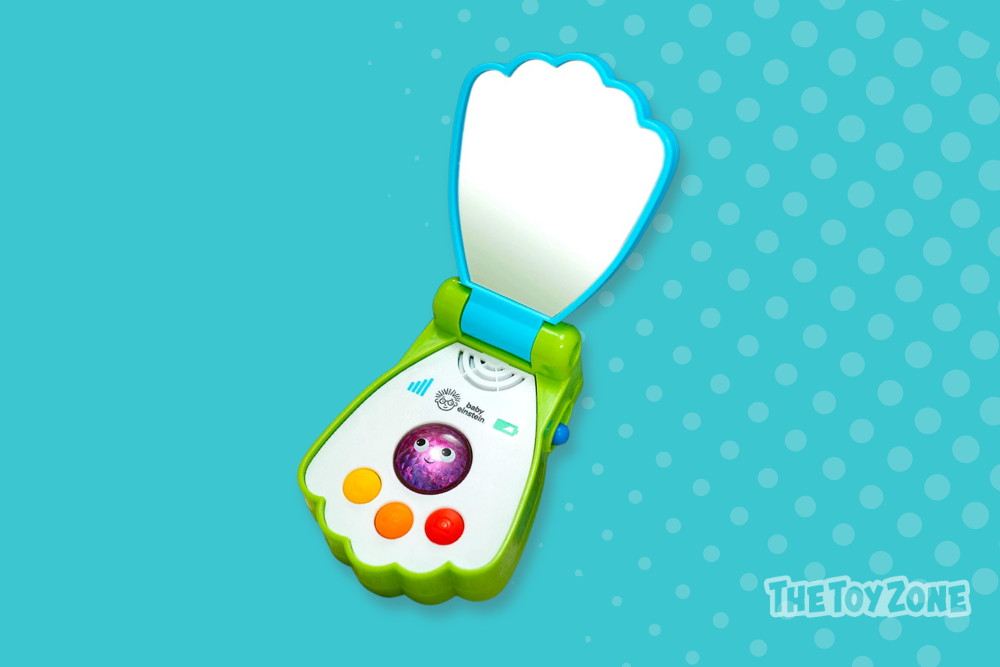 Recommended age: 6 months and above
With catchy melodies, realistic phone sounds, and greetings in English, French and Spanish, this phone introduces language early on. Compact and lightweight, it's perfect for on-the-go play and travel adventures. Plus, it's easy to wipe clean, ensuring hassle-free maintenance.
What We Love:
❤️ Adorably seashell shaped
❤️ Features a high-quality baby-safe mirror
❤️ Comes in bright, vivid colors
What We Don't Love:
💔 Requires 3 LR44 batteries
💔 Doesn't have a number pad
Best Pretend Telephones
This timeless classic rotary phone has stood the test of time, fostering the development of many generations since its debut in 1961. Its spinning dial that introduces numbers 0 to 9 offers a fun and engaging way for toddlers to learn and explore while strengthening their gross motor skills. As they pull the phone along, they'll walk the talk and immerse themselves in early role-play.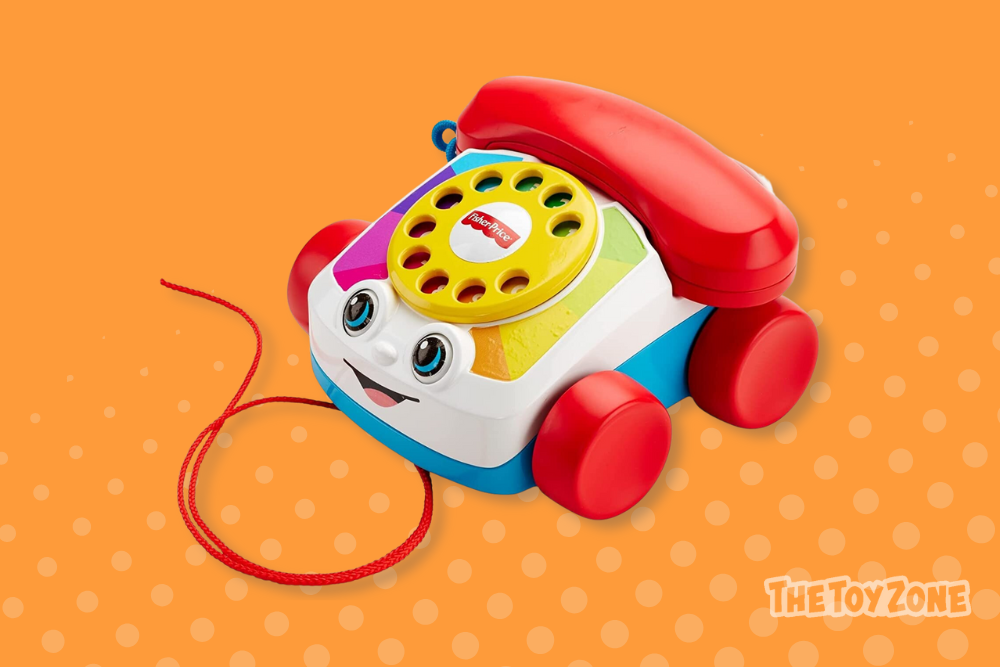 Recommended age: 12 months and above
While its design has been adapted to suit today's tastes, it still proudly features the signature moving eyes and vibrant colors that have become its trademark. The friendly-faced Fisher-Price phone is sure to intrigue and entertain little ones, captivating their attention and sparking their imaginations.
What We Love:
❤️ Study, durable build
❤️ The dial rings like an old rotary phone
❤️ Battery-free, hands-on toy
What We Don't Love:
💔 The phone cord is a bit short
💔 Less sturdy than the retro version
Step into Minnie Mouse's enchanting world with this pink rotary phone. This vintage-style phone is designed with the imaginative child in mind and has adorable details that will capture young hearts. At the center, Minnie's iconic bow adds an extra touch of charm. As young ones smoothly spin the dial, the phone makes realistic sounds and illuminates beautifully, inviting Minnie lovers to immerse themselves in a make-believe world.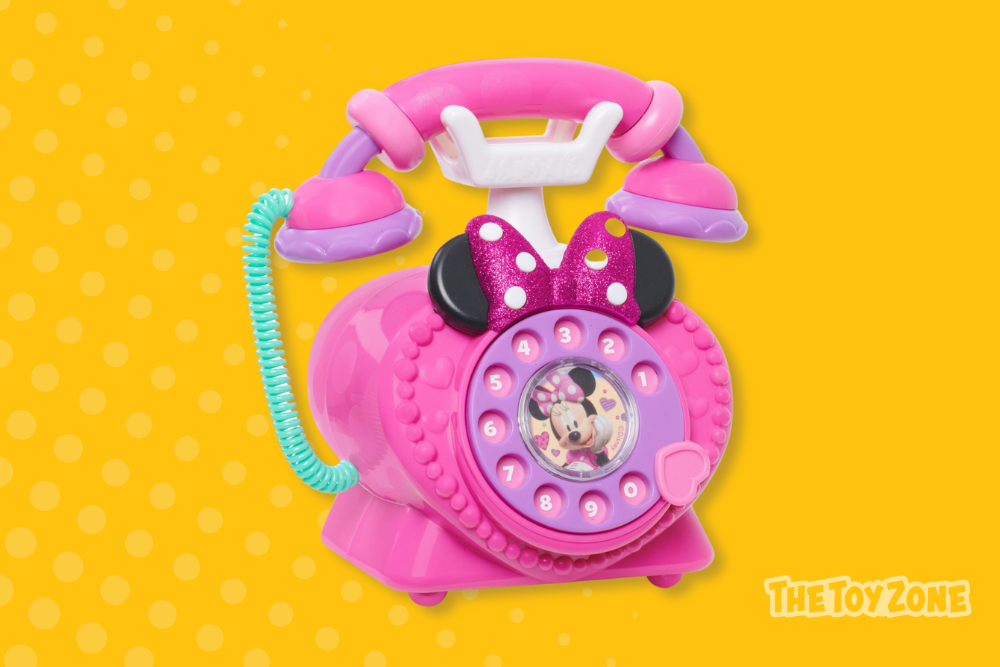 Recommended age: 3 years and above
It's perfect for tea parties, house play and endless pretend adventures at Minnie's side. Plus, it features Minnie's iconic phrases, easily recognizable by any devoted Minnie fan. Mirroring the phone Minnie uses on her Disney show, Minnie's Bow-Toons, it transports children into their favorite stories.
What We Love:
❤️ Hands-on, small and easy to carry around
❤️ Great for imaginary play
What We Don't Love:
💔 Comes with only two Minnie Mouse phrases
💔 The cord could be longer
Smartphones made us forget all about memorizing phone numbers, haven't they? But our children still need to know how to call us, which is the idea behind the Learning Resources Teaching Telephone. This award-winning toy helps toddlers memorize important phone numbers in a fun way. It lets you program any number and record a message. When kids dial the number correctly, they hear your personalized message and rejoice at the sound of a familiar voice.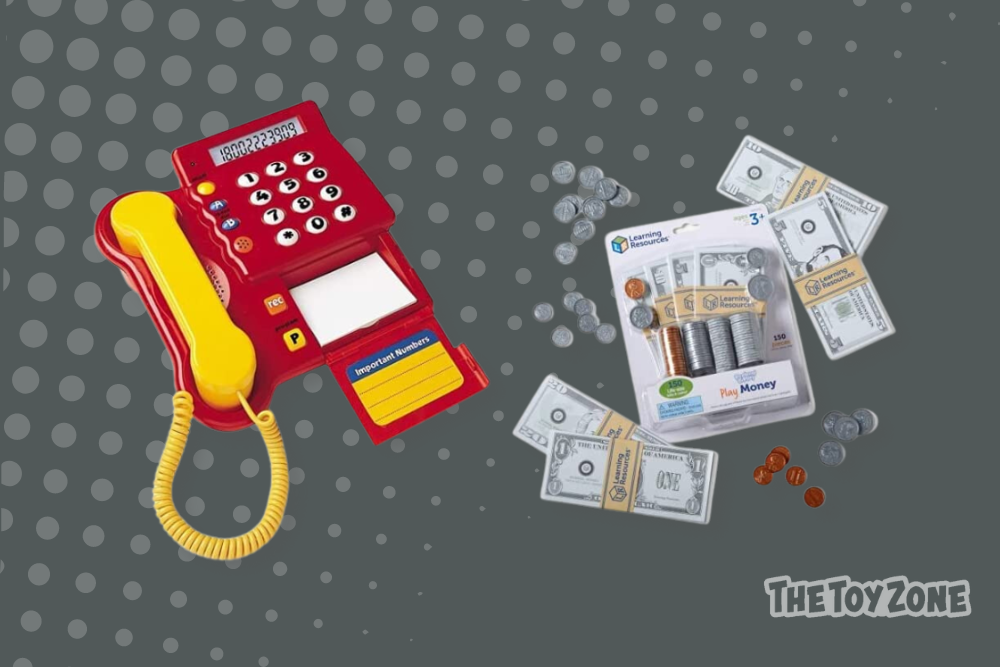 Recommended age: 3 years and above
The phone also teaches kids how to call Emergency Services. With pre-recorded messages activated when 911 is dialed, they learn the proper protocol and can rehearse the necessary steps if they ever need to make a real emergency call. Plus, quality-wise, the phone is durable and sturdy for many years of imaginary play.
What We Love:
❤️ The display shows the dialed numbers
❤️ Features real-life sounds and large buttons
❤️ Comes with a refillable note holder
What We Don't Love:
💔 Can program only one phone number at a time
💔 The speaker is on the unit instead of the receiver
Best Pretend Smartphones
The JJ First Learning Phone, is a fantastic choice for young CoComelon enthusiasts, offering a world of interactive learning and imaginative play. Packed with over 50 captivating sounds, songs and phrases, toddlers will dive into an interactive world of learning and fun. The buttons on the phone light up, showcasing recognizable characters from the show like YoYo, TomTom, Mom, Dad and a gang of friends!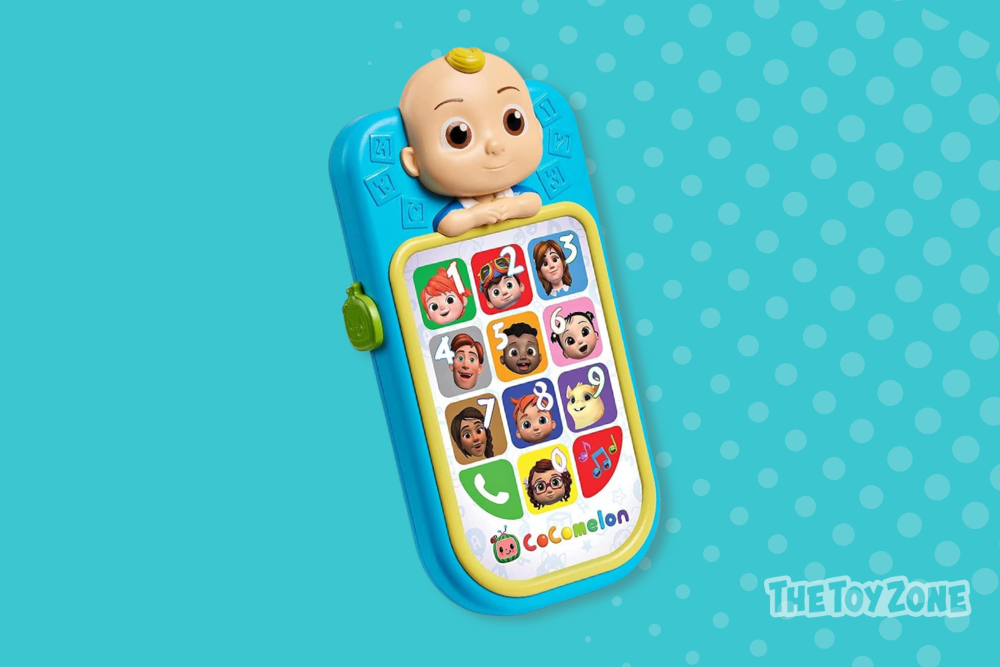 Recommended age: 3 years and above
To take playtime up a notch, this phone features two popular songs, "The Wheels on the Bus" and "BINGO," for kids to sing and dance along with their favorite CoComelon tunes. Plus, a simple press of the phone button triggers realistic phone sounds for imaginative playtime alongside JJ and his friends. It's the perfect companion to engage and entertain little learners.
What We Love:
❤️ Very educational
❤️ Tons of imaginative play
❤️ JJ's adorable oversized figure at the top
What We Don't Love:
💔 Sound is a bit low, and there is no volume control
💔 It's hard to clearly hear what's being said
The magic of Sesame Street comes alive with the vibrant red pretend smartphone, explicitly designed for today's Elmo lovers. Featuring beloved Sesame Street characters, each button press unlocks a world of over 50 captivating learning phrases, teaching numbers, colors, shapes and more. Watch as toddlers giggle at Ernie's jokes, learn Spanish alongside Rosita and discover the importance of recycling with Oscar.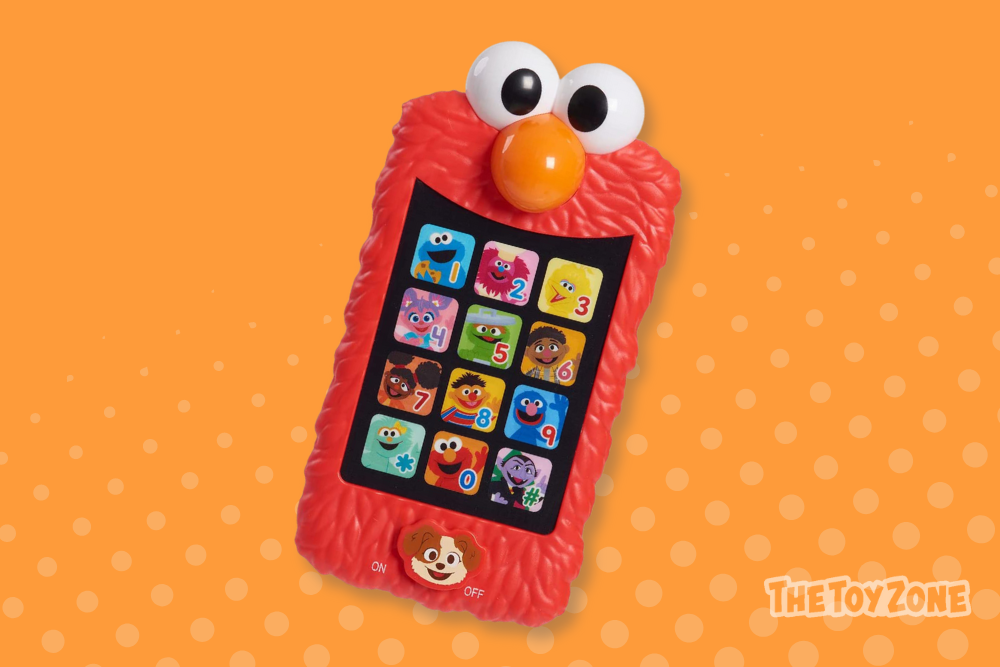 Recommended age: 2 years and above
This phone covers 11 learning topics, providing a well-rounded educational experience for little ones. And that's not all. With the iconic "Wheels on the Bus" song included, kids can join Elmo in sing-alongs. The compact 6-inch size is designed with little hands in mind, ensuring easy grasping and portability for preschoolers on the move.
What We Love:
❤️ Comes with an adorable Tango On-Off switch
❤️ Built to last, enduring drops and all kinds of energetic play
❤️ Buttons are easy to press
What We Don't Love:
💔 No volume control
💔 The audio is a bit muffled
Little tech enthusiasts will love the VTech Touch and Swipe Baby Phone. This phone's excellent animated LCD screen looks like the real deal and is super sensitive to tiny fingers. The built-in games are a fun way of learning the alphabet, numbers and first words through catchy sing-alongs. Plus, it comes with 12 pretend apps that look just like the ones on an actual phone, including weather, clock and calendar.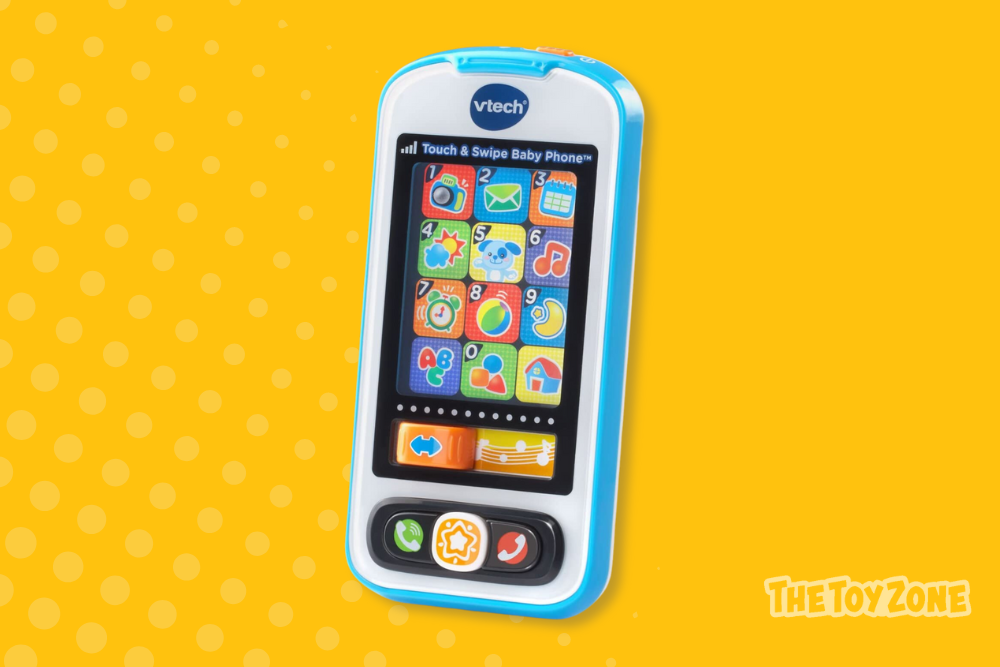 Recommended age: 6 months and above
Whether it's pressing the button on the screen or choosing the right image, little ones will be developing their hand-eye coordination. And for all the music lovers, there is a second screen full of tunes and instrumental sounds that they'll love to dance to. You can also program your phone number with the Home button for them to learn how to call home and engage in some role-playing fun.
What We Love:
❤️ Comes in three different colors
❤️ Has a swipe switch for changing screens
❤️ The capacitive screen is bright and lively
What We Don't Love:
💔 Has a short battery life
💔 Sensitive to liquids
The LeapFrog Chat and Count Emoji Phone is packed with exciting and interactive fun. Not only does it provide endless opportunities for pretend phone calls, but it also has a voicemail feature to teach toddlers about phone etiquette. The animated pup on the screen — Violet for the violet version or Scout for the green one— guides kids in learning counting, numbers and phone-themed songs.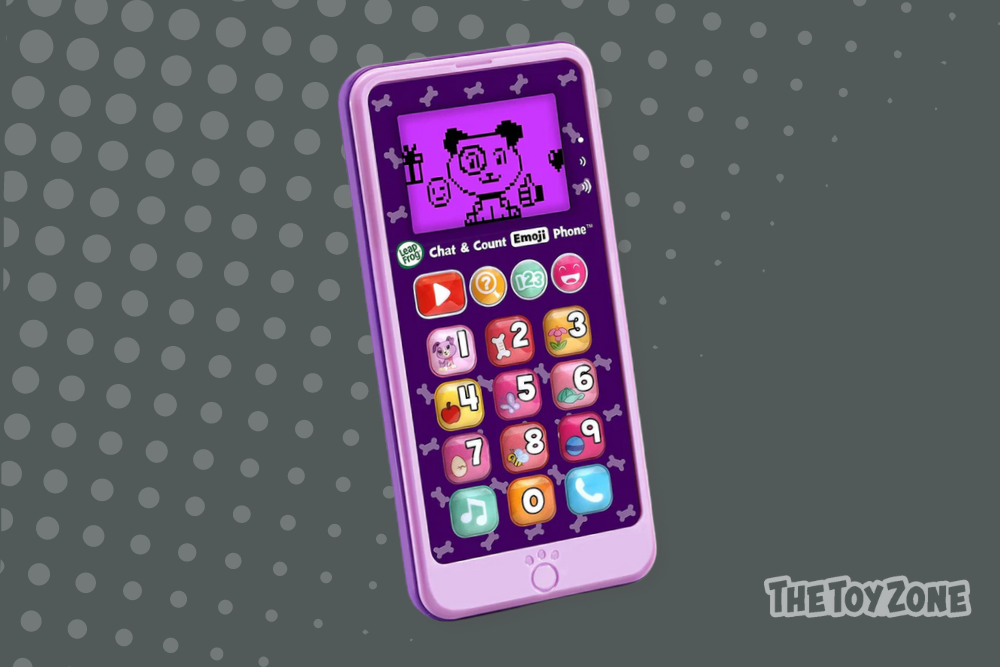 Recommended age: 18 months and above
Additionally, interactive games promote problem-solving skills, such as guessing the object Scout or Violet needs and pressing the correct numbers. Strongly resembling mom and dad's phones, it is larger in size and light weighted, making it perfect for holding toddlers' tiny hands and enjoying immersive pretend play. Crafted from sturdy and durable plastic, this LeapFrog phone is built to withstand the rigors of playtime and provide lasting enjoyment for your little one.
What We Love:
❤️ Comes with an emoji button to react with random emoji on the screen
❤️ Buttons are large and easy to press
❤️ Goes into sleep mode after a short time to save battery life
What We Don't Love:
💔 The volume control is not so easy to find
💔 Has a monochromatic screen
With its simple, grayscale graphics and catchy music with basic tones, this phone is a true treat for Bluey's fans. Toddlers can watch animations of their favorite characters and listen to popular phrases from the show, all while enjoying interactive games inspired by Bluey's adventures. With the voice-activated chat-and-reply feature, kids can have conversations and hours of pretend play with Bluey and Bingo themselves!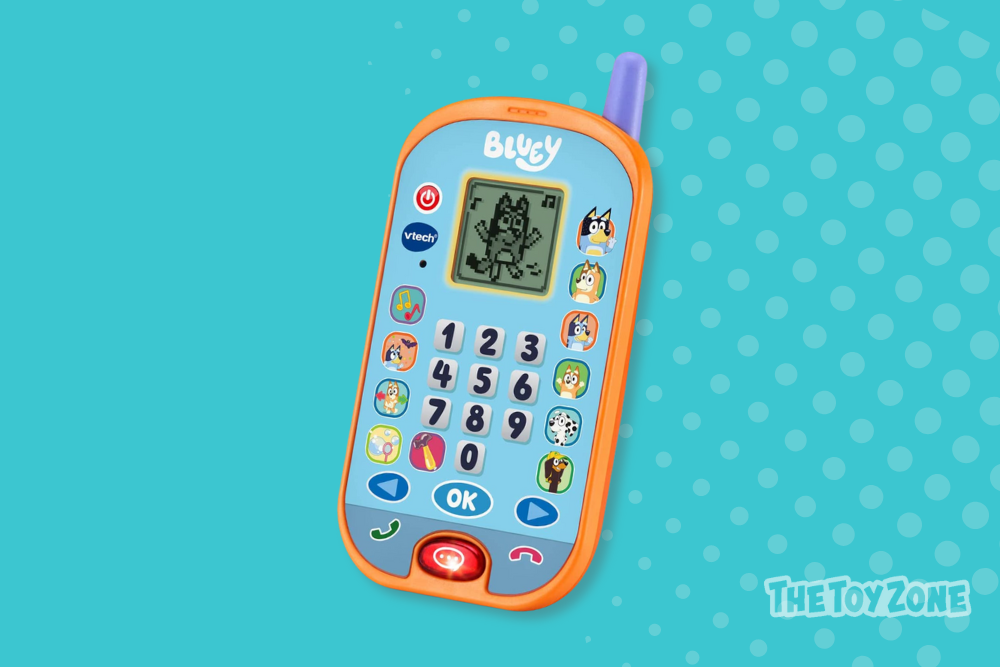 Recommended age: 3 years and above
But that's not all. With the dancing mode, each number will play a different song from the show, accompanied by one of the characters' animations on the screen. It's the perfect size for little hands, and the multiple features provide learning, creativity and imaginative play opportunities.
What We Love:
❤️ The voices sound just like the cartoons
❤️ Comes with several ringtones and background music to personalize the experience
❤️ Has an automatic shut-off
What We Don't Love:
💔 The screen could be bigger
💔 The max volume is a little low
This flashy and chic phone set has everything your little one needs to play grown-up and embark on new adventures. The keyfob features three incredibly realistic car sounds and even makes the phone ring for hours of imaginary play. Meanwhile, the phone itself is packed with features to mimic real smartphones. It rings like one and the interactive screen includes 12 pretend apps that make related sounds or phrases. Camera, calendar, weather apps — you name it.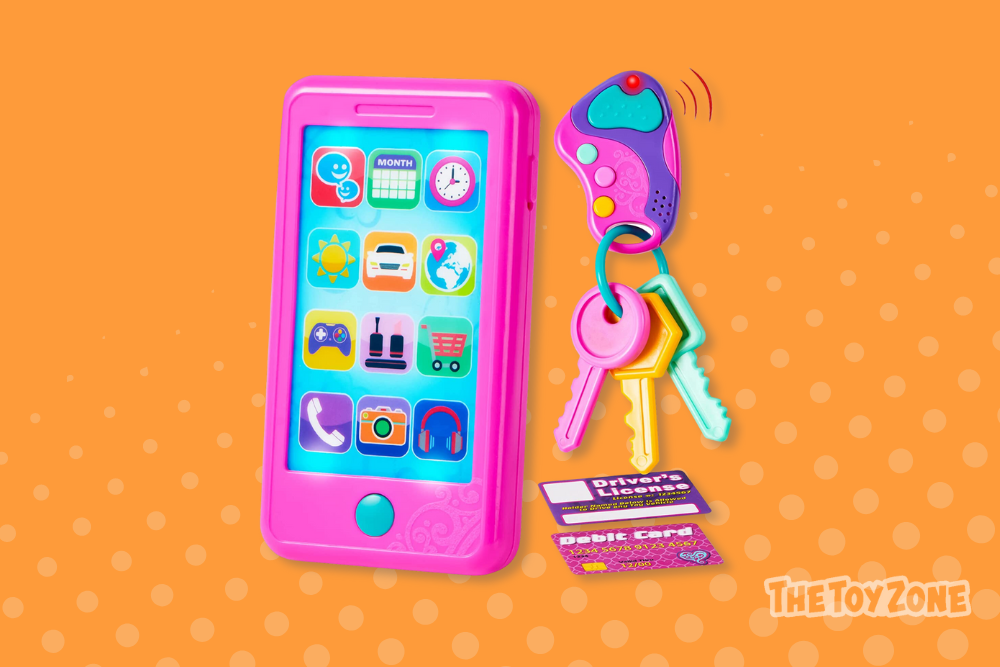 Recommended age: 3 years and above
Complete with a credit card and driver's license meticulously designed, this set is excellent for fostering imaginative play and pretending it is the real deal. So don't be surprised when your toddler starts taking important work calls in your living room or on the go. Plus, it is well-built and lightweight.
What We Love:
❤️ The screen lights up
❤️ The driver's license has space for a personalized photo
❤️ Made of non-toxic plastic
What We Don't Love:
💔 Requires three L44 batteries for the keyfob and three AA for the phone
💔 Buttons can be hard to press
This adorable and versatile bunny-like toy is many things in one. With 12 different modes, it sparks imagination and fosters pretend to play, offering a range of sounds, including phone ringtones, animals, weather, piano melodies and counting numbers. The silicone bunny ears antenna is made of non-toxic plastic and designed with teething in mind.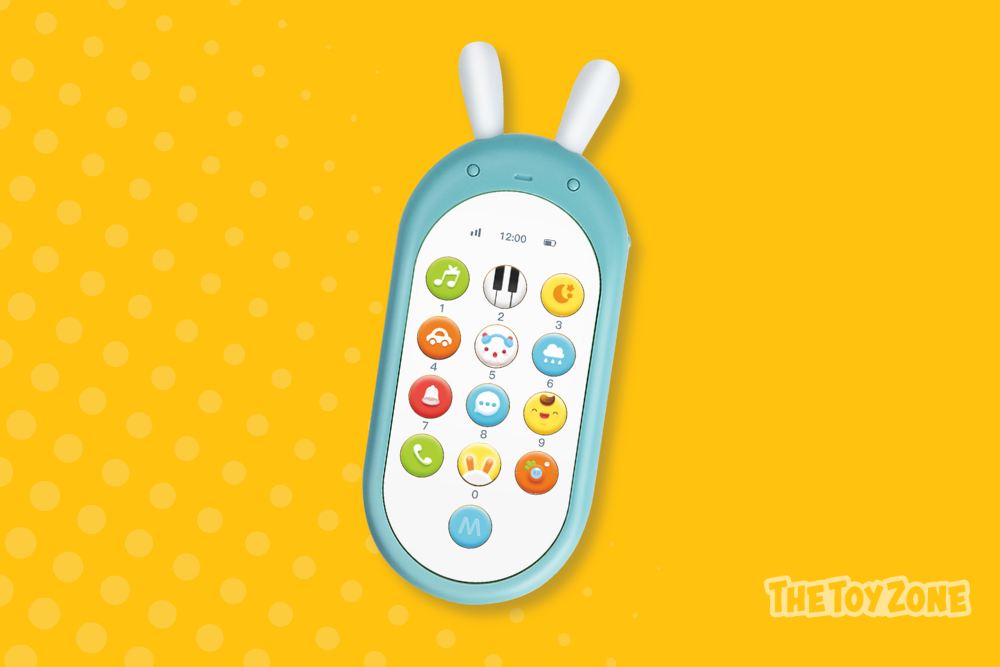 Recommended age: 1 year and above
The Richgv toy phone features lullaby melodies and soft color-changing lights, creating a soothing environment for 15 minutes. It's perfect for helping little ones relax and quickly drift off to sleep. Available in soft pink and light blue, this toy is designed to be just the right size for little hands to enjoy.
What We Love:
❤️ Automatically enters power-saving mode to save battery life
❤️ In lullaby mode, it won't enter into sleep mode for 15 minutes
❤️ Volume is gentle and safe, even in the highest setting
What We Don't Love:
💔 Doesn't come with batteries
💔 Only the antenna is made of food-grade silicone
The Fisher-Price Laugh & Learn Leave a Message Smartphone is not your ordinary toy phone. It goes beyond simple pretend play by allowing your child to record and play back messages — just like sending a real voice message. Imagine the giggles as little ones hear their voices from the phone! Besides, with its over 29 buttons, kids can explore numbers, days of the week, shapes and colors, all through interactive play.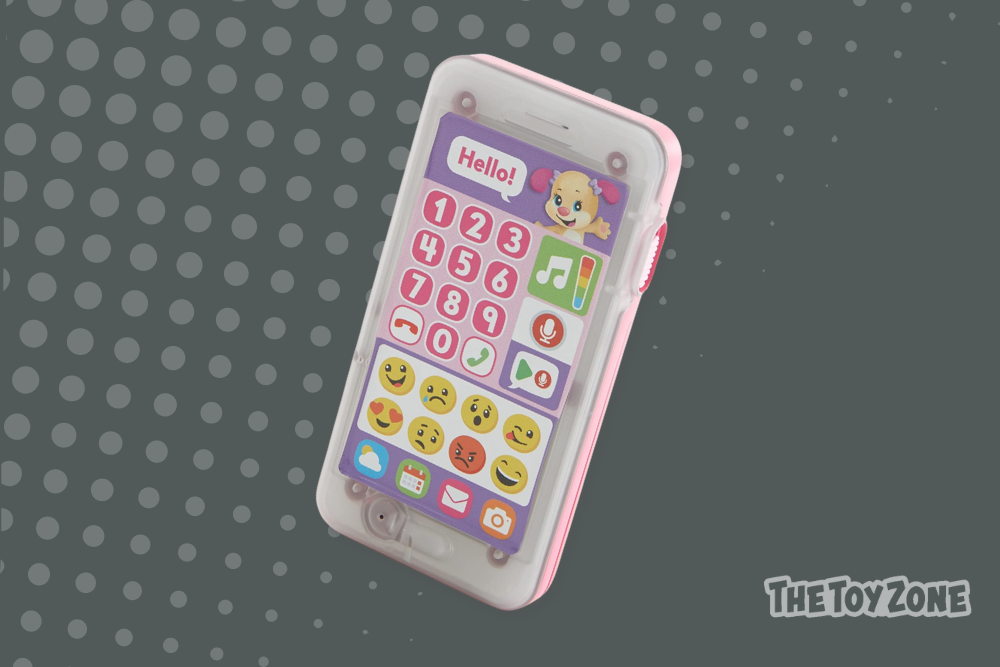 Recommended age: 18 months and above
The 75 featured songs also teach about conversations, greetings and feelings. The eight emoji buttons allow children to explore and understand emotions, fostering emotional intelligence and empathy. With their very own smartphone, toddlers will feel a sense of independence and empowerment. They can imitate grown-ups, engage in imaginative play and develop communication skills.
What We Love:
❤️ The whole phone lights up
❤️ It's available in pink and blue
❤️ Parents can also record a message for their toddlers to hear
What We Don't Love:
💔 Doesn't have a screen
💔 It can be a bit too big for little hands
The Fisher-Price Laugh & Learn toy phone combines music, interactive play, and easy handling for babies. While it may be bulkier than a real smartphone, it's the perfect substitute for little ones. The buttons are pretty big for baby hands, each resembling an app icon with its unique sound. With those twelve pretend apps to explore, toddlers can learn about numbers, counting and even phone etiquette.
Recommended age: 6 months and above
The slider on the bottom of the phone will reveal another screen with more engaging sounds and sing-alongs. Moving the slider back and forth will help develop toddlers' motor skills and hand-eye coordination. This toy is designed to be held against a child's ears and mimic a real phone experience; the volume is intentionally kept low to ensure a safe and enjoyable playtime.
What We Love:
❤️ The phone lights dance to songs and phrases
❤️ It is very lightweight
❤️ Durable and drool-proof
What We Don't Love:
💔 The display is not so sensitive
💔 There is no volume control
---
Frequently Asked Questions About Toy Phones
🙋 Why do Toddlers like phones?
Babies are naturally drawn to exploring and playing with their parents' belongings; this fascination extends to phones. Imitation plays a significant role, as babies learn by observing and imitating their parents.
However, let's not forget smartphones offer an irresistible sensory experience for babies and adults alike. The vibrant colors, captivating sounds and interactive features create an exciting environment. The touch screens provide a sense of power and control as babies discover that their actions can make things happen on the screen.
But there's more to it. Babies have an inherent curiosity and enjoy exploring objects that are off-limits to them. Since parents often restrict phones, the allure of grabbing a phone and breaking the rules adds an extra element of excitement to their playtime. It's a mix of adventure and forbidden exploration that adds to the appeal and captivates their interest.
🙋 Why is pretend play important?
Pretend play or make-believe is a powerful tool that enriches children's development across multiple areas. Whether pretending to be a superhero or reenacting a favorite story, pretend play is the backbone of early learning. It allows children to recreate scenes they've observed and imagine new experiences.
Through this type of play, they can enhance their physical, cognitive, communication, and social/emotional skills. It's like a playful workout for their minds, where they can practice and refine various abilities. And the best part? They thoroughly enjoy themselves through and through.
So… What Toy Phone Should I Get?
Toy phones aren't just an excellent way to protect your iPhone from tiny hands. They're actually super fun and educational too!
Picking the right one for your kid depends on a few things. How old is your little one? Do they go wild for flashy lights and loud noises? Or is soothing entertainment better for them? Maybe theft would love a phone that looks and feels like the real deal. But if you want something that sparks their imagination, an old-school telephone might be just the ticket.
We've rounded up the best toy phones out there, but if you've got a favorite we missed, give us a shout and let us know. We're all ears!