As kids get older and start to mature, their imaginations can start to fade. Outdoor play can easily be replaced with video games, smartphones, tablets, and YouTube. While all these activities are great fun and educational, here at TheToyZone we believe in a fine balance between outdoor and indoor play.
Exercising their mind, body, and social skills is so important for kids over the age of 10, and what better way to do this than on a swing set.
With a variety of playground swing sets on the market, there's more choice than ever for kids to have the chance to expand their imaginations and make lots of memories along the way. You can't put a price on that.
To help you find the perfect outdoor adventure for pre-teens, we've compiled a list of the 10 best Swing Sets for Older Kids.
To ensure we give you the best options on the market, we start by looking at recommendations from real people who have had the pleasure and experience of owning the products to help with our decision-making. Lastly, we then choose from a variety of budgets, shapes, sizes, and materials to give kids the best possible experience.
Preview
Best Budget
Preview
Best Wooden
Preview
Best Metal
Preview
[toys_list]
What to look for when choosing a swing set for older kids?
You've probably noticed that kids grow up fast, sometimes too fast, and they have no intention of stopping anytime soon. This means the toys they play with need to be adaptable to grow with them, both physically and mentally. Unlike swings for younger kids/toddlers, there are different criteria to look for when buying swing sets to cater to older kids.
Firstly, it needs to be strong. 10+-year-olds can get up to some crazy things on swing sets as we know. They like to push the boundaries, reach new heights, play rough, and you can never tell if there's gonna be 1 or 100 of them wanting to play together. When you're buying online, you can't test products out, but a picture can tell you a lot, so here are some questions to ask yourself:
What material is the frame made from? If it's wood, what wood is it? If it's metal, what metal? Is the material weather protected? The manufacturer will often give these answers in the description. If they don't, avoid them.
How is the frame put together? If there's an option, zoom into the picture and see how the joints are connected. Wooden frames are strongest if they have brackets. The picture will show how good the welding is on metal frames.
How will it stay planted? Look at the sets' feet to see if you can peg them into the ground or if they're wide enough to stay grounded.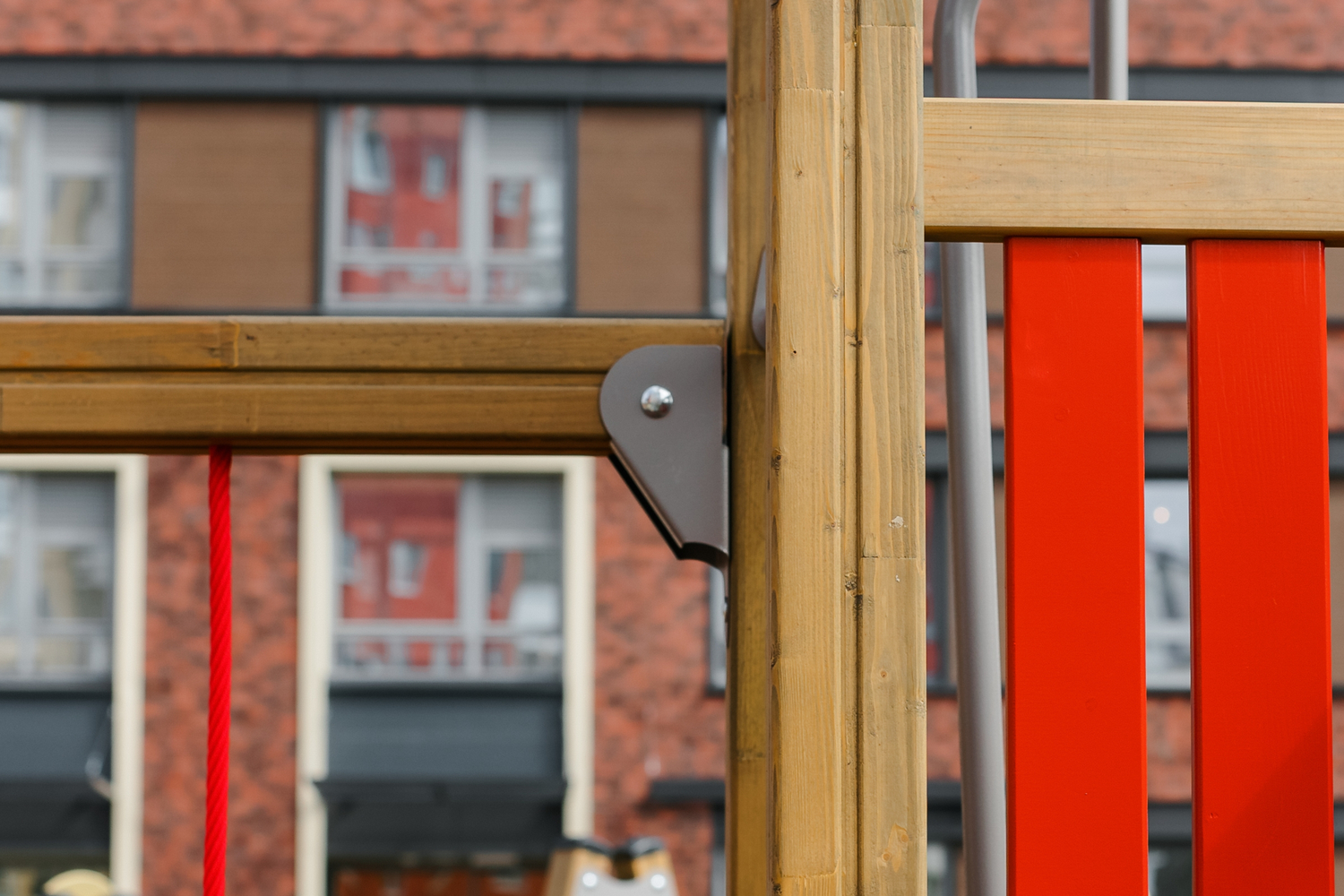 When looking for swing sets, bigger means better. These kids ain't getting any smaller. If they don't have the room to play, they'll swiftly move on. This doesn't mean you need to have a huge yard in order to get a swing set, we're talking mostly about height. Look for sets where the features can be adjusted to accommodate growth.
Make sure older kids have enough space to get the swing they need and if it has a clubhouse, make sure they won't be banging their heads on the way in/out. Just imagine trying to swing on monkey bars where your feet are touching the ground…no fun.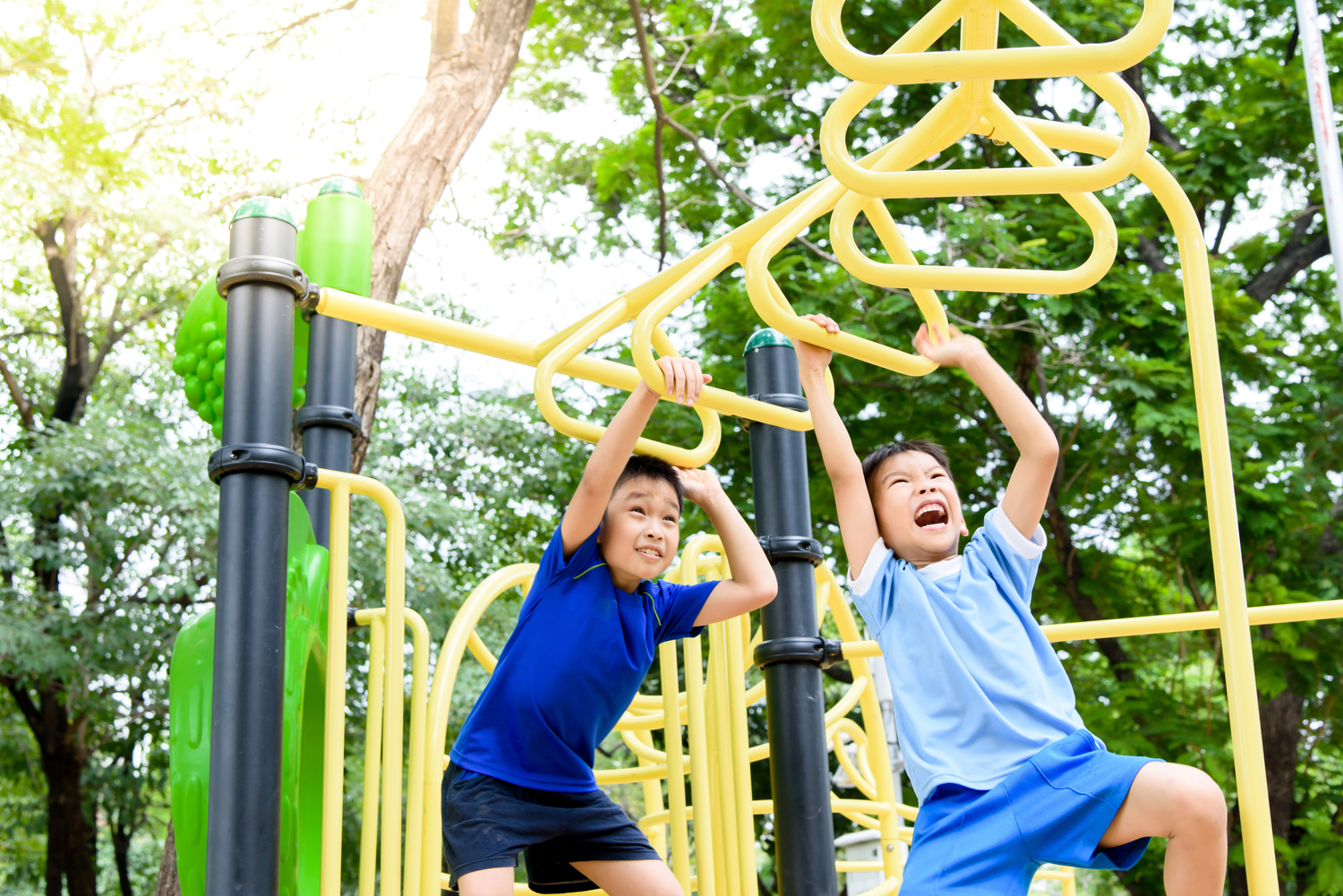 Lastly, and maybe most importantly, it's got to be interesting. Older kids will probably not spend much time on a teeter-totter as rock walls, ropes, poles, and monkey bars are much more appealing. By this age, kids know exactly what they like and want out of a swing set. Ask them, they'll tell you.
Even better is finding a swing set that allows you to change the features in favor of different accessories. Swap the swing for a disc, change the climbing holds, add new extensions. A simple change can reinvigorate a set and stop it from being neglected over time.
Keep in mind, when you've selected a swing set, how are you going to put it together? Do you even have the right tools? Will you need another set of hands?
Main brands to look out for:
Creative Playthings – Operating for over 70 years, this manufacturer has been making high-quality swing sets all made right here in the US.
Lifetime – Starting as a garage project in Riverdale, Utah, Lifetime has been dedicated to building durable lasting products since 1986.
Gorilla Playsets – Since 1993, Gorilla have been making ready-to-assemble swing sets from high quality, durable, hand-selected wood from certified forests.
Backyard Discovery – For the last 30 years, their expert craftsmen have been manufacturing high-quality wooden swing sets for yards up and down the US.
Are wood or metal swing sets better?
Quite often this answer depends on a few key factors. Safety, maintenance, durability, and style. Usually, most metallic swing sets are used in commercial playgrounds with durability in mind. Wooden swing sets however are great for your home backyard, focus more on safety, and tend to blend in with nature a bit better. Unless metallic swing sets are chipped or scratched they do not require too much maintenance, while wooden swing sets require regular staining in order to maintain appearance.
"That branch would make a great swing"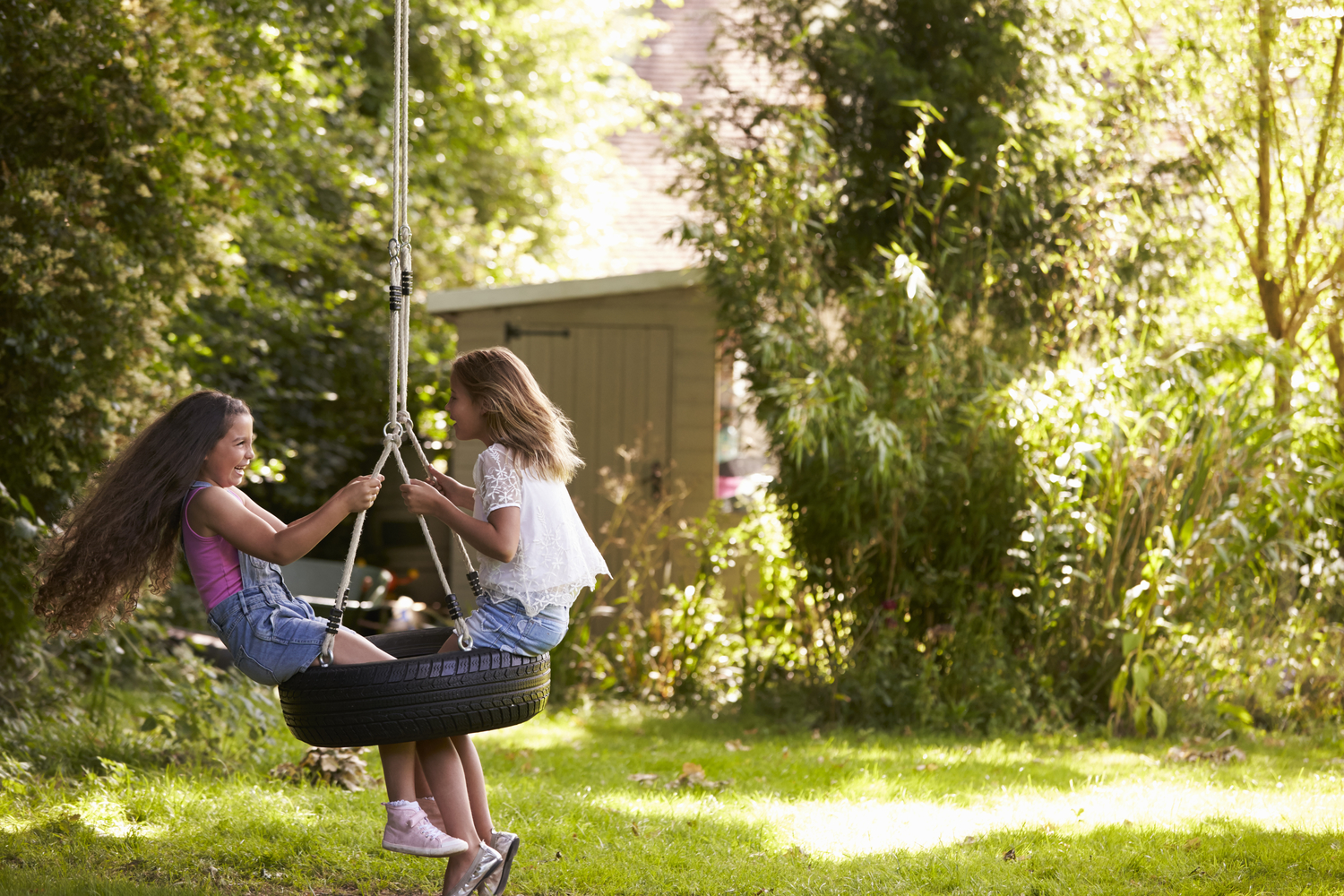 Well, it probably could. Making your own swing is a lot securer than rope and a tire these days. At a fraction of the cost of a full swing set, you can now buy accessories to make your homemade safe and sturdy swing for kids to enjoy, and you don't need to worry about the space a wooden/metal will take up.
All you need is a few bits and a can-do attitude.
Note: In the interest of safety, make sure the branch is strong, alive, and will hold your weight before attaching anything to it without damaging your lovely tree.
Royal Oak Easy Hang Tree Swing Strap
Attaching swing straps to a branch couldn't be easier and it's extremely affordable.
There's no need for drilling, screwing, or any tools whatsoever with the Royal Oak Easy Hang Tree Swing Strap. All you need to do is follow the instructional video and hoop the strap around the branch. These heavy-duty, reinforced straps are UV-resistant, length adjustable, and can hold up to 220 lbs at one time and they won't damage the tree in the process. The carabiner provided is made from industrial strength stainless steel ensuring endless fun and safety.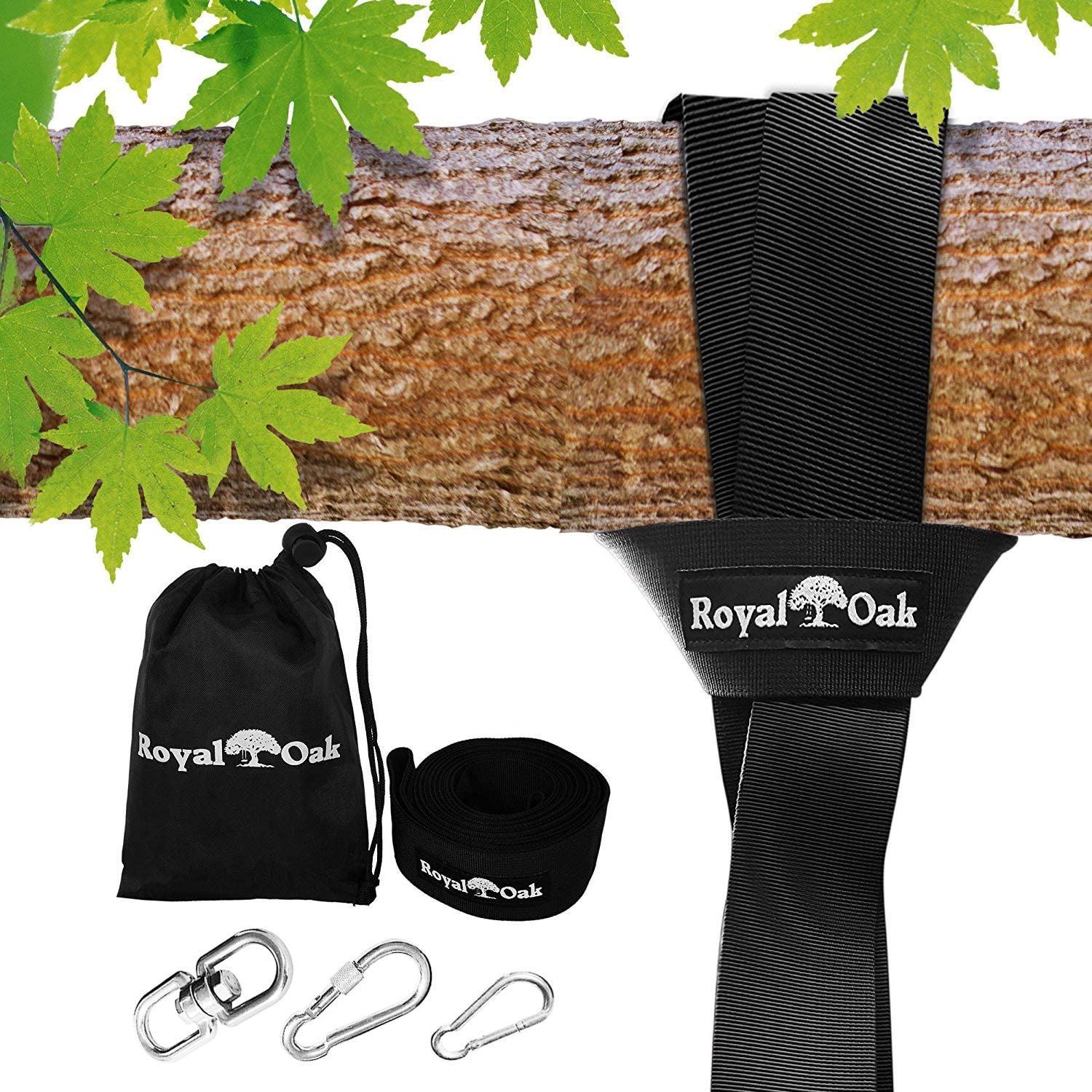 LAEGENDARY Tree Swing
If a traditional seat swing isn't your bag, try out the LAEGENDARY disk swing and climbing rope.
This easy to hang 2-in-1 tree swing not only lets older kids swing in any direction they please, but also has multi-colored climbing platforms placed up the rope so they can reach new heights without having to scale the tree trunk. Holding up 120 lbs and measuring 6.6 ft in length, the rubber disc seat can be easily adjusted to grow with maturing kids. Not only are they having a swinging good time, but they're also building strength and determination through climbing.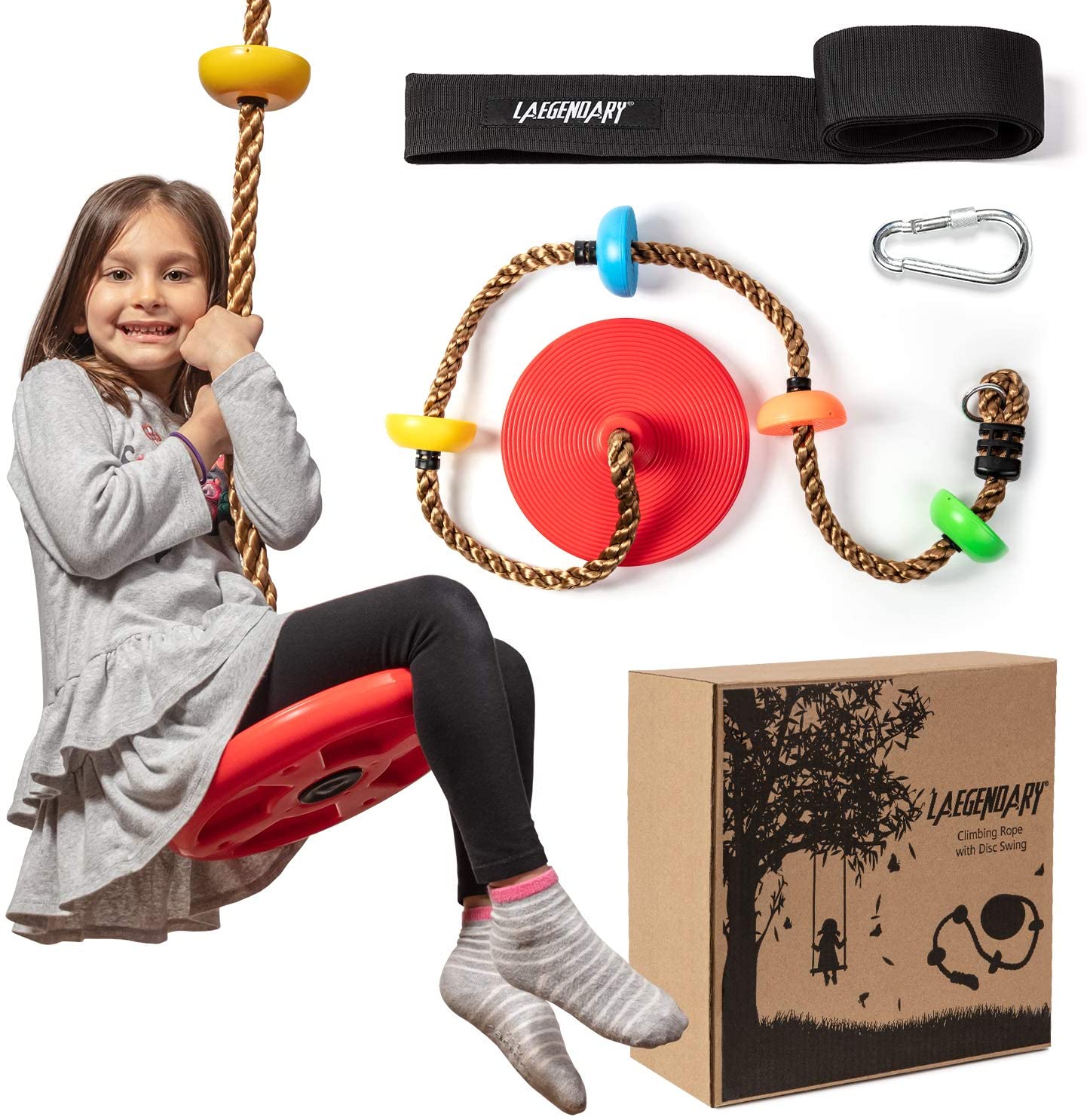 PANGAEA Tree Swing Hanging Straps
For those looking for options to attach various types of swing to their tree, there's the PANGAEA hanging straps. This heavy-duty kit contains 2 double-box stitched straps and 2 stainless steel carabiners which can hold multiple kids at once up to 2200 lbs. Made from eco-friendly materials, it's easy to move this kit from branch to branch in your own yard, or, take it with you on vacation. Simply attach any swing seat, disc, or tire for instant fun. And when the kids are asleep…time to attach a hammock and RELAX.
I Don't Have Any Decent Trees In My Yard That Could Hold A Swing. What Should I Do?
If there are hardly any trees in your backyard or there are and can't handle the weight required for a swing set there are a few options you could choose from. Building a traditional A-frame, the teepee-style stand is a very common choice for parents wanting to give their kids a great playset experience. The weight of your materials will be a key factor in building the right playset for you so be sure to find out exactly what you'd need in order to build a strong structure.
How will I know if my tree is safe to attach a swing to?
Usually, ancient trees appear the sturdiest of all the trees, but it's not guaranteed. A tree trunk with at least 8 to 10 inches in diameter will withstand the weight that is necessary for a swing for up to 3 people.
You can use a measuring tape to measure the diameter of the tree by wrapping it around the trunk at the tree's diameter breast height. (DBH) Once you get the measurement, you divide it with pi or 3.1416.
Some trees may also appear sturdy on the outside, but inside they could be hollow. The following signs that trees in your backyard are not suitable for a swing:
The tree has decayed spots
The tree is dead
Big roots in the ground (the ground has to be level)
Cracks and splits are all over the tree
Is it cheaper to build a swing set?
With all of the work that goes into building your own swing set, you might be ready to pitch in the towel before your project even begins. Don't give in, a little inspiration and some basic knowledge can go a long way.
Building your own swing set is generally cheaper than purchasing a comparably sized pre-built swing set, though the costs on each can vary. You can build a luxury model swing set for less than $1,000 compared to a similar pre-built one that can sell for up to $4,000.
It all comes down to the size, the number of features, and the materials you use.
How much does it cost to build your own swing set?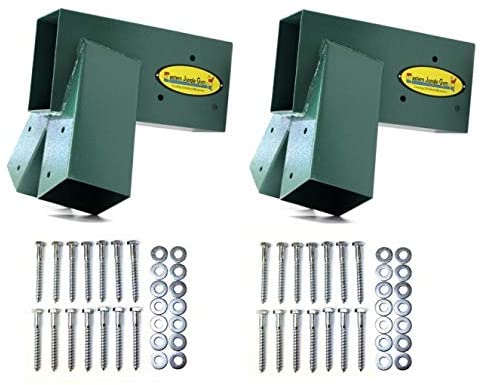 Lumber costs will more than often depend on the design of your swing set. Pressure-treated lumber can cost anywhere from $2 to $5 per square foot, cedar on the other hand will cost between $2.50 and $7 per square foot.
Here are a few basic supplies you may need, along with some average costs:
36-inch nail stakes (10-pack): $60
Spud bar: $40
Circular saw: $70
Eye protection: $3
Protective earmuffs: $3
Power drill: $60
Post hole digger: $60
Wheelbarrow: $50
Sledgehammer: $40
Tape measure: $5
Vice grip: $35
Total: $426
Once you've built your frame, you're gonna need a swing to hang from it.
PACEARTH Swing Seat
The PACEARTH Swing Seat gives you everything you need to turn that boring yard into a fun adventure safe for older kids to sway to their heart's content.
Is a 4×4 strong enough for a swing set?
Yes. 4×4 will work, a 4×4 that is 12′ long will support around 4,000 Ibs (depending on the lumber and its quality and assuring the metal bracings are strong enough) The species and grade of wood are important as cheaper materials will lead to a shorter lifespan. The wrong type of wood for a homemade swing-set can lead to rot, splits, and cracks.
What is the best material to put under a swing set?
Rubber mulch is a very popular material to place under swing sets with its super safe squishy texture it gives kids the freedom to roam and any tips or falls mean they are less likely to hurt themselves. Plus it looks great in the backyard. Unlike other materials, Rubber mulch comes in a variety of colors, is eco-friendly, and can take years to break down. Mostly being made from recycled tires Rubber mulch also prevents any bug infestations so you won't need to trouble yourself worrying about bugs in the play area.
The desire to swing has been in our DNA since we were primates in the wild. Some 65 million years later and swings are a staple of playgrounds the world over. Bringing that enjoyment into your own yard will provide kids with exercise, improved social skills, and countless hours of delight.
It doesn't matter if you have a large backyard, a small patch of grass, or a tree to hang from, swing sets are a timeless activity that will get older kids off YouTube and into the outdoors.
Sources
A-frame swing set max length of 4×4 beams. (2019) Home Improvement. iy.stackexchange.com
What is the Best Material to Put Under a Swing Set? (2020) Adventure World Playsets. adventureworldplaysets.com
Are Wooden Or Metal Swing Sets Better? (2019) Ownplayground. ownplayground.com
How to make a tire swing without a tree. (2021) Big Yard Fun. bigyardfun.com
How To Hang A Swing Between Two Trees? (2021) Our Garden Works. ourgardenworks.com