As far as toys go, one that lets you take to the open water and tackle the biggest waves is up there with the best and is guaranteed to put a smile on any boy or girl's face.
With epic top speeds and streamlined designs, RC boats give kids a real sense of adrenaline-raising adventure, whether they're being raced around the lake, beach or even just in the tub. Plus, they are great toys for cognitive development as kids figure out how to control and steer the boat while getting them to spend more time outdoors and away from screens.
But, as you may have already found out, finding the right RC boat for your kiddo isn't easy. With countless options available, each stacked with stats and jargon not often found in toy listings, it can be tricky to get your head around which is best.
After all, the last thing you want is your new RC boat to lose power, capsize or sink when out on the water. So to help you on your voyage, we've debunked the terminology and read through countless product reviews to discover the top 10 RC boats on the market today.
The Top 3 Radio Control Boats
Preview
Pros
Despite its bargain pricetag, this boat can still hit over 20 MPH while being easy to control and safe to use
Super fun design, with a unique passenger tug boat that makes getting to grips with driving the RC boat even easier
Supersize design that will catch the eye, along with blistering speeds to match the excitement
Cons
Can't be used in salt water
Remote controller requires 4 x AA batteries
Only comes with one battery included
Best Budget Option
Preview
Pros
Despite its bargain pricetag, this boat can still hit over 20 MPH while being easy to control and safe to use
Cons
Can't be used in salt water
Best for Younger Kids
Preview
Pros
Super fun design, with a unique passenger tug boat that makes getting to grips with driving the RC boat even easier
Cons
Remote controller requires 4 x AA batteries
Best for Older Kids
Preview
Pros
Supersize design that will catch the eye, along with blistering speeds to match the excitement
Cons
Only comes with one battery included
There isn't a one size fits all option when it comes to RC Boats, so to help you find the right toy for your little one, we've collated ten epic options, with half aimed at older kids and the other more suitable for younger, budding captains. We made sure to include a range of styles across varying budgets, too, so be sure to check out our full list below.
Best for Older Kids
If there's one thing that kids will want from their RC boat, it's speed. Well, this boat has just that, reaching up to lightning speeds of 30 MPH. However, what sets this boat apart from the rest is its size. Measuring up to 25 inches long, this option will turn heads when taking it out for a day on the water.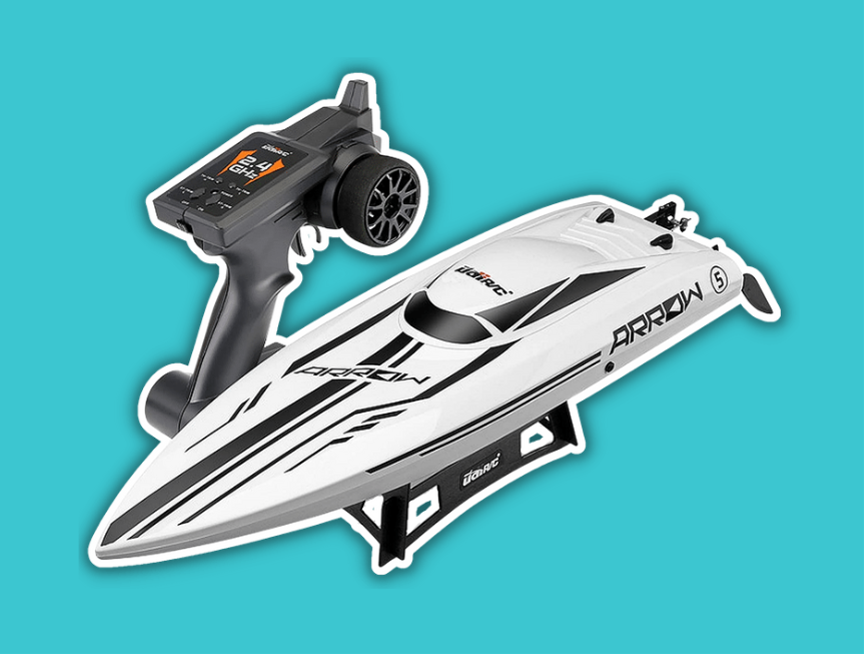 Recommended age: 14 years and above
For those new to the RC boating world, Cheerwing has integrated some excellent safety features to protect your new, prized RC boat. With a self-cooling motor to prevent overheating, the self-righting design keeps it from capsizing and even a poor signal alarm to let you know when it's time to turn around.
What We Love:
❤️ Beast of a boat, as the largest on our list.
❤️ High-quality build to prevent breakages or leaks
❤️ Utilizes 2.4Ghz marine radio control, so you don't have to worry about interference from other users
What We Don't Love:
💔 Battery life could be better
💔 On the pricier side
If you're looking for a quality RC boat with plenty of extra features, look no further than the AlphaRev R308. Boasting a 400ft signal range, top speeds of up to 20 MPH, LED lights for nighttime use and even an autopilot mode, this option is well worth the price tag.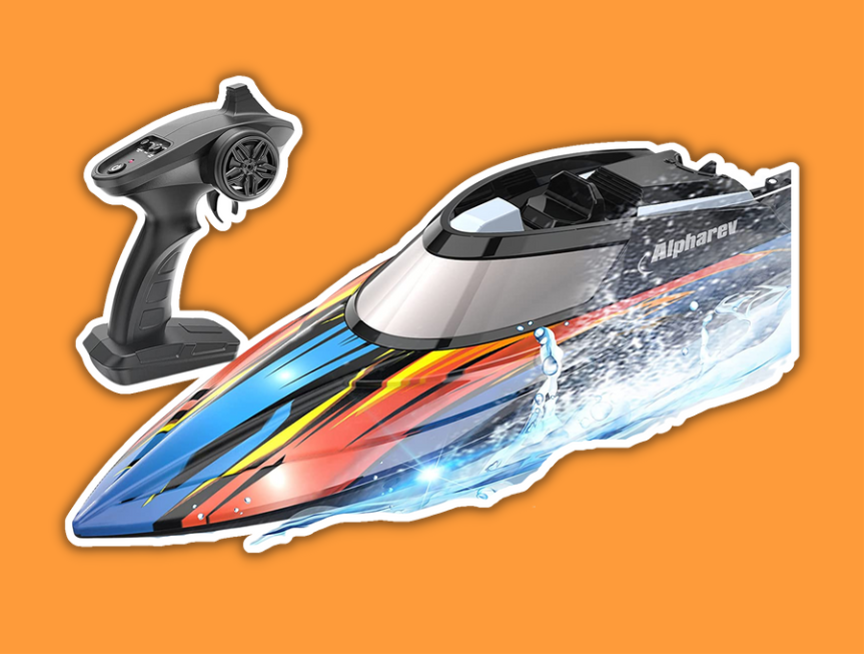 Recommended age: 14 years and above
If you're still not convinced that this is a quality investment, then all we have to do is highlight the thought and care that has gone into designing this set. Along with the boat, you'll also find a sturdy carry case for protective storage in-between uses and two rechargeable batteries that keep you playing for longer. This option comes with a generous warranty and exemplary customer care to help if any issues arise.
What We Love:
❤️ Two fast-charging batteries mean you won't have to wait long between uses
❤️ Classy touches such as a carry case and LED lights
❤️ Autopilot features make it exciting for younger kids too
What We Don't Love:
💔 Not as fast as other premium priced boats
💔 Battery doesn't last too long, so good job it comes with two
With a name like Force1 Velocity, you'd expect this boat to be fast out of the traps. And it's safe to say you won't be disappointed, with top speeds of over 20 mph well within grasp. Despite being lightning quick, this boat is easy to handle, thanks to its more traditional remote controller that uses an intuitive steering setup and has a LED screen for real-time updates on the boat's performance.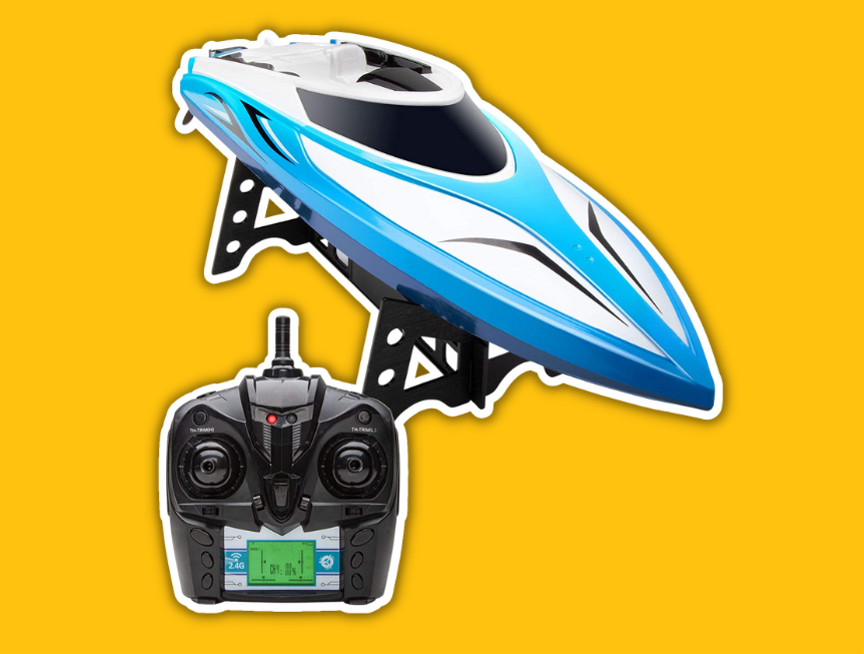 Recommended age: 14 years and above
Measuring up at just under 12 inches long, this slightly smaller boat isn't limited by a shorter range, as it can fly across the water for up to 120 meters with 4-channel radio control, allowing it to drive unimpeded by nearby users. You'll also find numerous safety features on the H102, such as capsize recovery, a low battery alarm and the ability to perform an emergency stop. This makes this a fun but safe option for kids to operate.
What We Love:
❤️ Boasts impressive safety features to protect the boat and others around you
❤️ Comes with a larger 1100mAh Lithium Ion battery
❤️ Comes in a range of four different colors
What We Don't Love:
💔 Slow charging batteries
💔 Can't be used in salt-water
Syma has created a simple-to-drive, well-balanced RC boat that boasts an unrivaled battery life of up to 40 minutes. While this boat won't be setting any world records for speed, it offers an excellent option for those new to the world of remote control vehicles.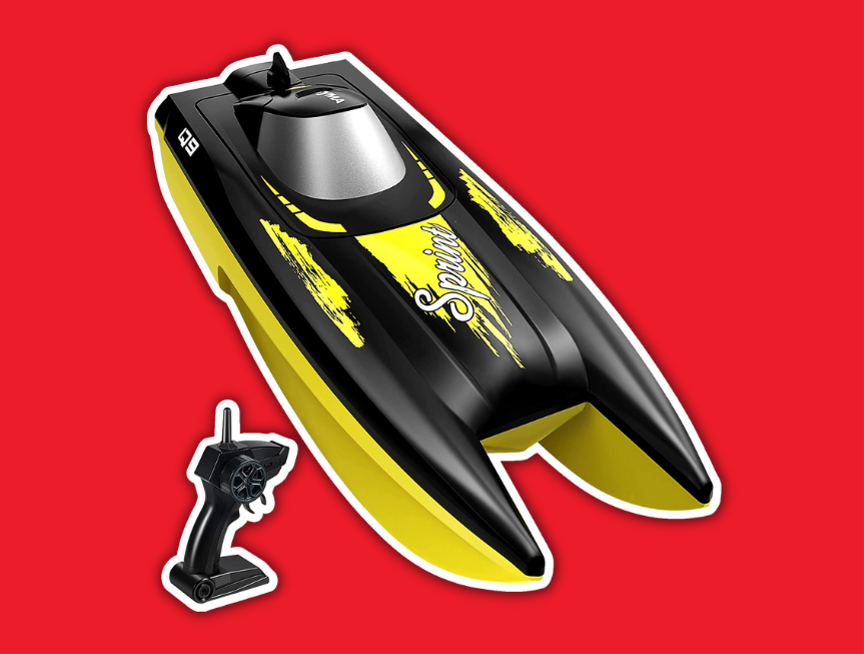 Recommended age: 14 years and above
This is thanks to SYMA's unique dual-hull design, which enhances buoyancy and creates a smoother steering experience, all while adding extra protection from the changeable elements at the same time. Another excellent safety feature worth mentioning is the built-in water sensor, which only allows the motor to power up when submerged underwater, preventing accidents before you've even started.
What We Love:
❤️ Comes with two quality batteries that offer 40 minutes of playtime
❤️ Quality build to keep the mechanics of the boat protected
❤️ Super easy to learn, making it a great option for beginners
What We Don't Love:
💔 Switching the batteries can be a bit fiddly
💔 Would be great to have two-speed settings for when the user is more confident
At 14 inches long, this is an excellent option for a mid-sized RC boat that will capture the imagination in its red or blue colorway. The boat has been cleverly designed to feature a double-hatch waterproof body and an innovative capsize recovery feature to allow the boat to return the right way up in a matter of seconds if it flips over.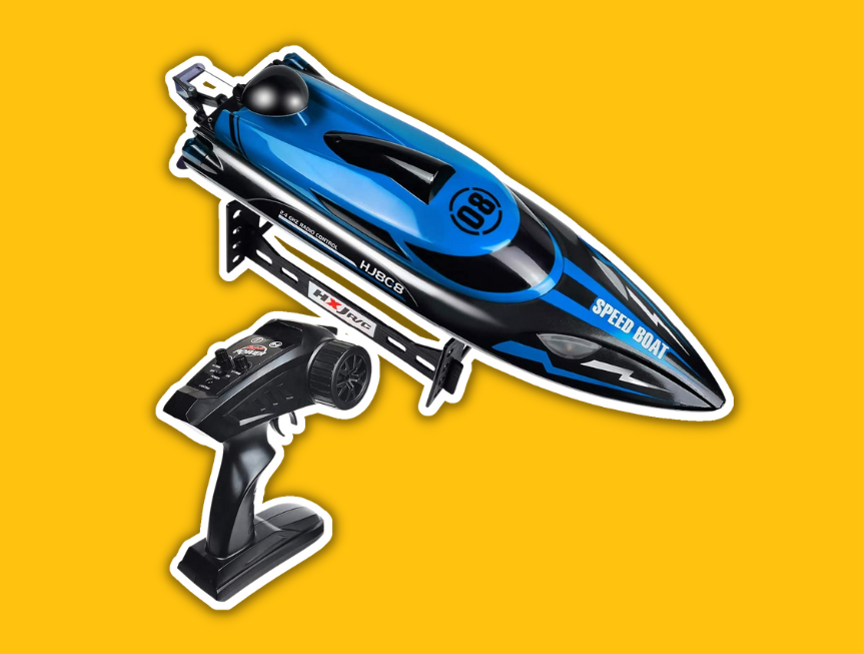 Recommended age: 14 years and above
The HONGXUNJIE also allows varied play, thanks to its 2.4GHz radio control frequency, which allows you to race multiple boats simultaneously. With bright LED lighting integrated into the boat, you don't have to call it a day when the sun goes down either, as it illuminates the lake, river or pond to provide an impressive display.
What We Love:
❤️ Comes with an impressive 500-foot range
❤️ Two batteries will keep you out on the water for longer
❤️ LED lights add a unique and awesome aspect of play
What We Don't Love:
💔 Might not quite reach its advertised speeds but will still hit around 15 mph
💔 Propellor is very sensitive so care must be taken when handling the boat
---
Best for Younger Kids
Another excellent option from the trusted brand ALPHAREV, this fast racing boat is aimed more toward younger users of ages 8 and up. Despite being designed for younger kids, that doesn't necessarily mean that exhilarating speeds are off-limits, with this zippy little boat being able to reach speeds of up to 30 KPH.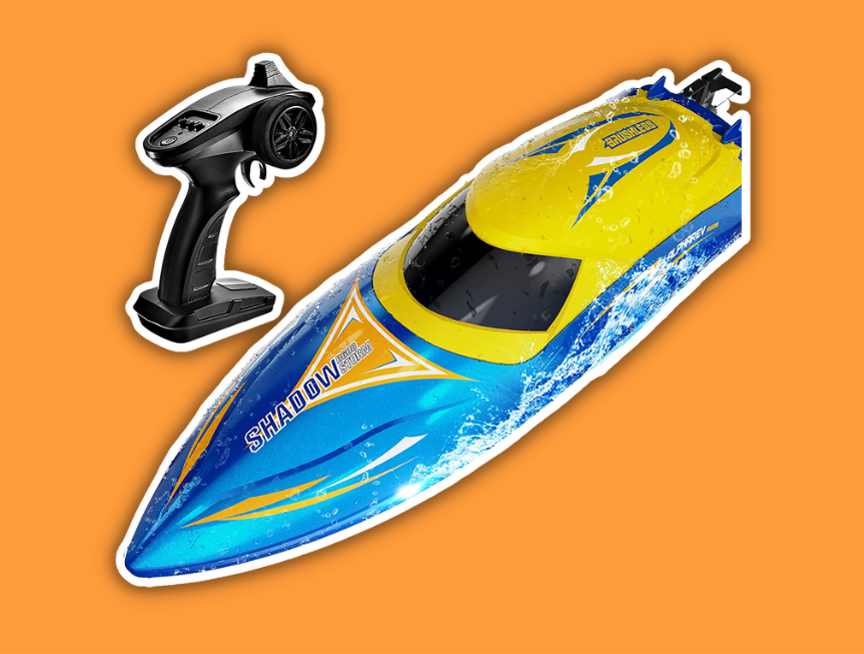 Recommended age: 8 years and above
To help keep kids keep this boat on course, it features a self-righting function to enhance stability and prevent the toy from capsizing. You'll also find that this boat comes with LED lights to help them identify it in the water and even has an autopilot function for when they want to sit back and enjoy the ride without the pressure of steering.
What We Love:
❤️ Comes with a water-cooling motor to prevent overheating
❤️ Can be used in salt and fresh water alike
❤️ Utilizes a 2000 mAh Li-ion Battery for extended play
What We Don't Love:
💔 Takes 6 hours to fully charge the battery
💔 More expensive than other options
This super-streamlined and kid-friendly remote-controlled boat will provide hours of water-based fun. Its cartoonish design, which comes in a choice of red or blue colors, makes it appeal to younger kids, with the novel design feature of towing a passenger behind the boat in a rubber ring as you race only adding to the excitement.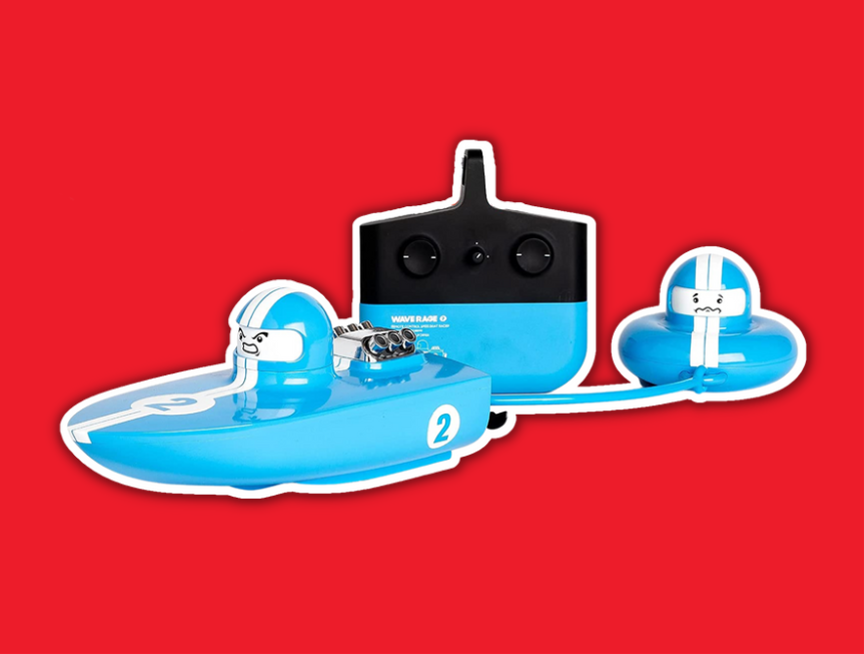 Recommended age: 8 years and above
Just because this option is aimed at younger kids doesn't mean it skimps on performance, however. This option boasts easy-to-learn controls and omnidirectional steering for enhanced drivability. Plus, it has enough horsepower under the hood to offer high-speed racing. You'll also find a generous 1300mAH rechargeable battery for longer days out playing.
What We Love:
❤️ Totally unique design, with a range of colors to choose from
❤️ Towing the passenger help control speeds for novice drivers
❤️ Controls are super easy to use
What We Don't Love:
💔 The controller requires 4 x AA batteries
💔 The propellor clips on and off, so be sure it is tightly secured if using in open water
💡 For kids who can't handle remote controls yet but want to get in on the RC boat experience, these self -steering Micro Boats will go down a treat.
This unique take on the remote control boat is bound to install sheer excitement and terror in equal measure, whether set loose at the pool, lake or even at bathtime. What truly sets this option apart from the rest is that the shark's body has a flexible, mechanized tail for life-like motion and a functioning blow hole for added playful effect.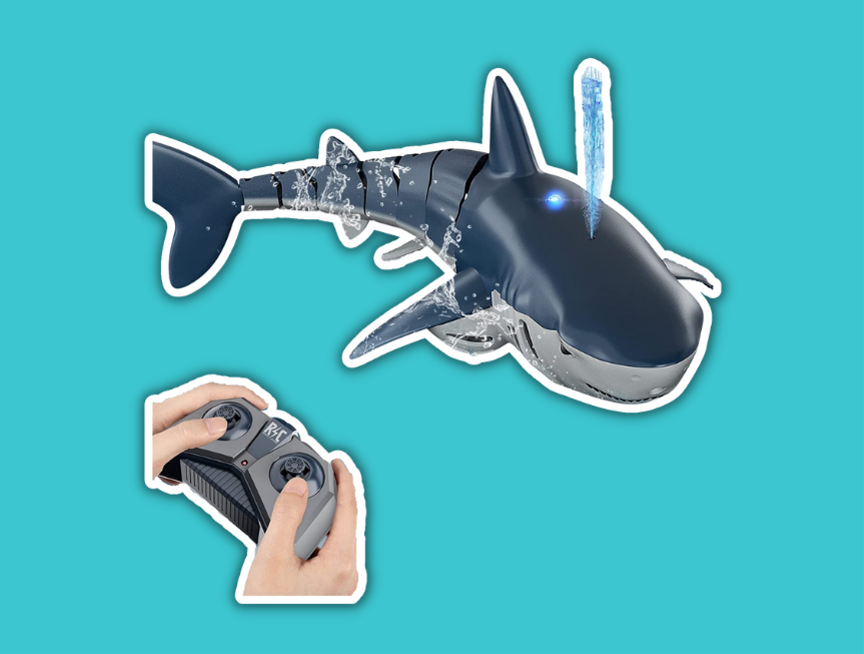 Recommended age: 6 years and above
Powered by two separate motors, this RC shark can move between three speeds to show its deadly agility. Despite having moveable features, you'll find each joint completely sealed using extra-strength rubber to prevent water from getting inside the unit.
What We Love:
❤️ Has the WOW factor kids will love to play with and show off to their friends
❤️ Highly articulated movement adds to the uniqueness of this option
❤️ Easy to use controller will have this shark swimming in no time
What We Don't Love:
💔 Not technically a boat and therefore doesn't steer like one, with more natural shark-like movement
💔 Doesn't have the largest range, but 100 foot should still be plenty
Supercharge playtime with three different ways to speed around, whether in flight mode, water mode or ground mode. This epic boat can hover in the sky and on water, plus it works amazingly on any smooth surface, like hardwood or tiled floors, allowing you to switch up the driving style without needing multiple RC toys.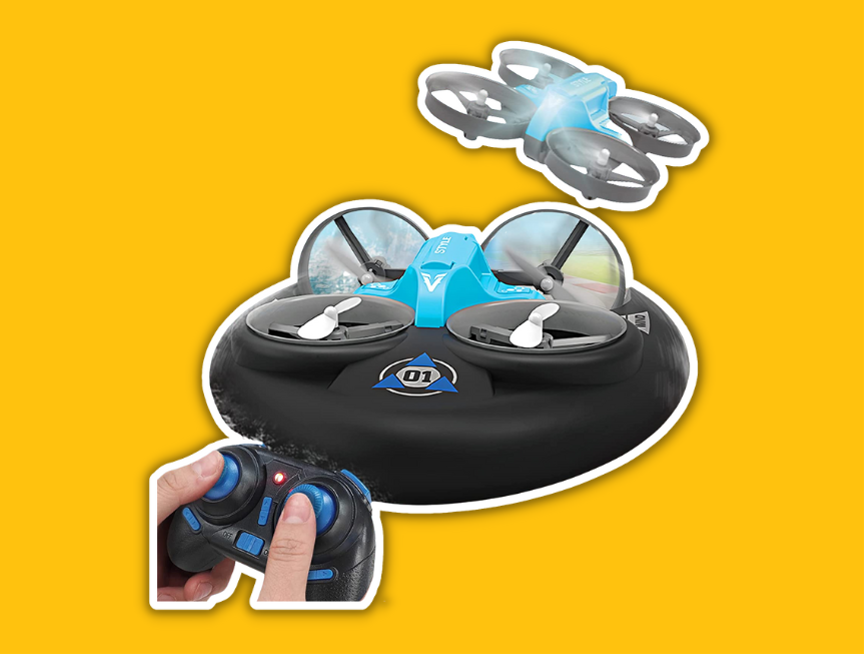 Recommended age: 8 years and above
You'll find advanced controls that allow for a range of motion through the 2.4G anti-interference remote control. Allowing you to battle, race and dodge head-to-head with friends without worrying about scrambled controls. You'll also find two 500 mAh batteries in the box to keep playtime going once the first power pack's juice runs out.
What We Love:
❤️ Three ways to play mean you don't always have to be near water to utilize
❤️ Flys, glides and sails without dropping in quality between modes
❤️ Comes with easy-to-use, anti-interference controls
What We Don't Love:
💔 Range isn't as expansive as other options
💔 Can be frustrating to switch between boat and drone mode without adult supervision
No terrain is off limits for this RC vehicle; from racing on land to riding waves, this 2-in-1 amphibious car will transform effortlessly and be sure to bring a smile to your little one's face. But the fun doesn't stop there, as this RC car is made to withstand epic stunts with an integrated 360-degree flip feature and roll cage to help it withstand any trick you attempt.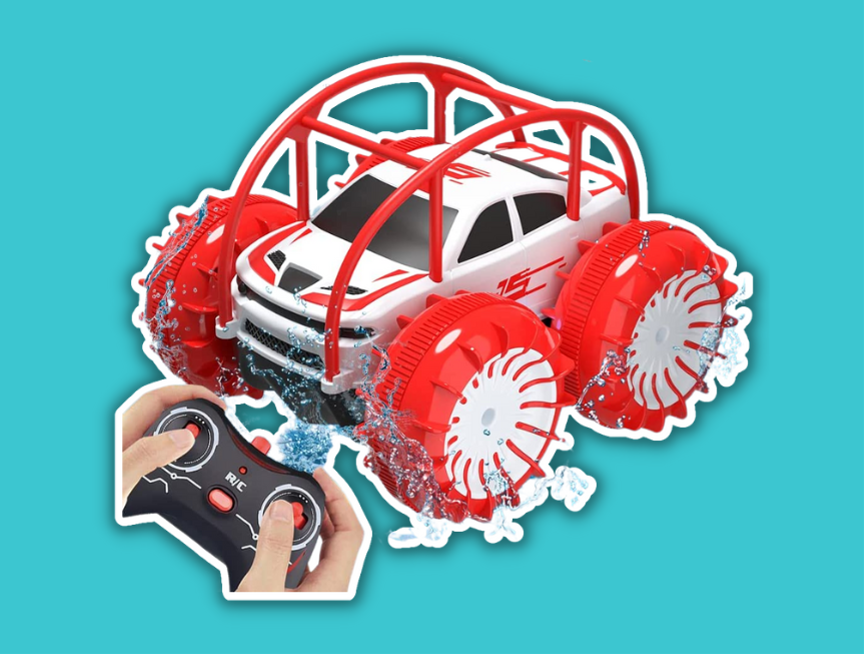 Recommended age: 36 months and above
Available in either racing red or a lemon and lime colorway, this option will catch the eye before you can impress your audience with your hair-raising driving skills. Thanks to this car's mega wheels, you can reach up to 15 KMH even on looser ground such as sand or grass. While its IP68 fully waterproof seals mean you won't have to slam the brakes on when you reach the water.
What We Love:
❤️ Works on a range of grounds and just as well in water too
❤️ Can be used for as long as an hour with two rechargeable batteries
❤️ LED lights and flipping function adds to the excitement
What We Don't Love:
💔 Fairly slow when in water
💔 Wheels require inflation
---
Frequently Asked Questions About Radio Control Boats
🙋 How old do kids need to be to use a motorized boat??
Age suitability will vary between whichever RC boat that you opt for. This will often determine the difficulty level between each option, as some boats can be complex to steer, control and even set up.
The eagle-eyed researchers will have noticed that half of our list is aimed at older kids of 14 years and above, who should have no problem taking the boat out and pushing it to the limits. While the other half of this list is more suited for younger boat enthusiasts, with even an option for kids as young as three. These RC boats are much easier to control and won't hit the same top speeds as the more advanced options, but they still will provide hours of hair-raising fun.
🙋 Can you use an RC boat anywhere?
When it's time to unleash your new vessel on the open water, it's essential to be mindful of where you would like to go and test out the RC boat.
You can head to most public lakes, ponds and pools without any issue, but be sure to read local rules and double-check any signage that may say otherwise. Don't forget to be considerate of other people using the water for swimming or fishing too.
You may also have a spot in mind on private land, this can be a great quiet place to set the boat loose and master your driving skills, but you must ask the landowner's permission before you start.
Setting sail at the ocean is always a great option, but you need to be wary of sea conditions on the day, as these small, lightweight boats may capsize and get washed away. Double-check whether the boat you choose can be used in salt water too, as this isn't possible with all options.
So… What Radio Control Boat Should I Get?
Pinpointing which RC boat is perfect for your kiddo isn't always straightforward. There's a wide range of options to suit different interests and levels of RC driving experience. To help you in your search, we've included a range of options with something for everyone included.
Whether they are speed demons looking to electrify the local lake with the ALPHAREV R608, or after a more leisurely boat trip while they learn the ropes with the SYMA Q9, we have all abilities covered. The AlphaRev R308 will fit the bill nicely for those looking for a high-class option, while those looking to set themselves apart from the crowd will love the TEMI Remote Control Shark.
If you've come across an epic RC boat that we haven't covered in this list, get in touch and let us know so we can share it with our other readers.