A long time ago, in a galaxy far far away…a saga was born that would change the world forever (for us nerds anyway).
Over 40 years later, Star Wars is still very much in popular culture, with its Disney takeover telling fresh intergalactic tales for new generations. And what always happens to franchises when they're THIS iconic? They get made into LEGO, of course.
LEGO Star Wars has become one of the most popular series made in brick form, with some fans forming massive collections. But with so many LEGO Star Wars sets out there, it can be hard to find the right one. So we thought we'd make this guide to show you our favorites.
Because we know everyone has different tastes, needs and wants, our list includes a variety of sets for various age ranges and budgets. Whether you're a Jedi or a Sith Lord, a beginner builder or an experienced brick head, we have a toy for you.
So sit back, grab your lightsaber, warm up the Falcon and give Chewy a scratch behind the ears as you discover the best LEGO Star Wars sets on the market.
The Top 3 LEGO Star Wars Sets
That's our top three sets from the guide, now check out the rest to find the perfect gift for any LEGO Star Wars fan (or for you, we don't judge).
As a big fan of The Mandalorian series myself, this set lives on my desk in my office. Featuring our tenacious hero Mando and his asset-turned-companion Grogu (aka The Child) as they prepare for another adventure to right the wrongs in the Outer Rim.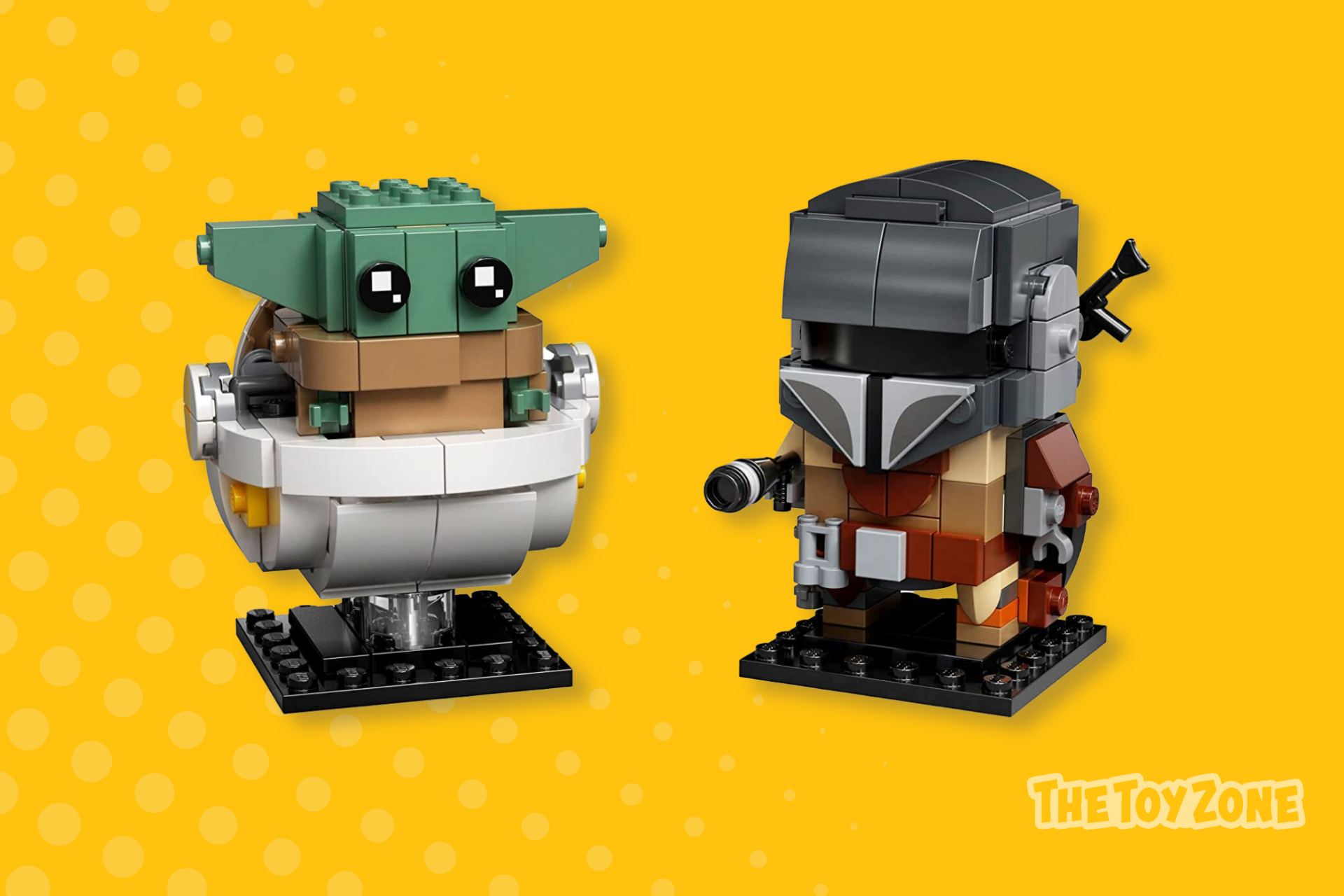 Recommended age: 10 years and above
Each figure has its own stand, so you can display it proudly or remove them to take them on your own adventures. Mando has two of his signature weapons to battle, and Grogu comes in the floating pod that protects him when trouble rears. With 295 pieces to construct, this is the ideal set for fans on a budget.
What We Love:
❤️ The Brick Headz range is an excellent caricature of our heroes
❤️ You get two characters to build
What We Don't Love:
💔 There are no moving parts
You don't have to be an experienced bricklayer to enjoy LEGO Star Wars; there are also sets for the younger builders. Our favorite set for the Padowans is from the popular Disney+ animated series The Clone Wars.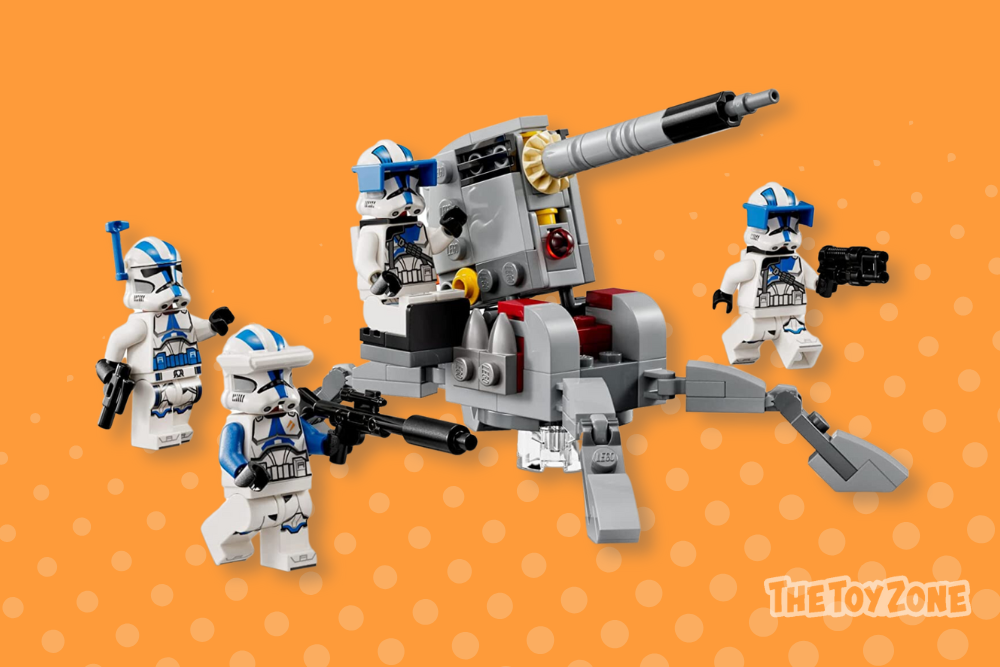 Recommended age: 6 years and above
This awesome set includes four members of the Clone Squadron sent into battle with their AV-7 anti-vehicle cannon. The AV-7 can articulate up and down to fire at enemy ships and ground vehicles on the attack. With just 119 pieces to build, this set is perfect for beginner LEGO Star Wars fans.
What We Love:
❤️ Has adjustable legs ready for any attack
❤️ The cannon is spring-loaded to fire missiles
What We Don't Love:
💔 Two of the mini-figures are the same
Yep, I'm one of those stupid nerds to get a Star Wars tattoo and yup, it's R2-D2. No Star Wars guide would be complete without including my favorite character. The most loyal droid in the LEGO treatment in this genuinely spectacular display piece.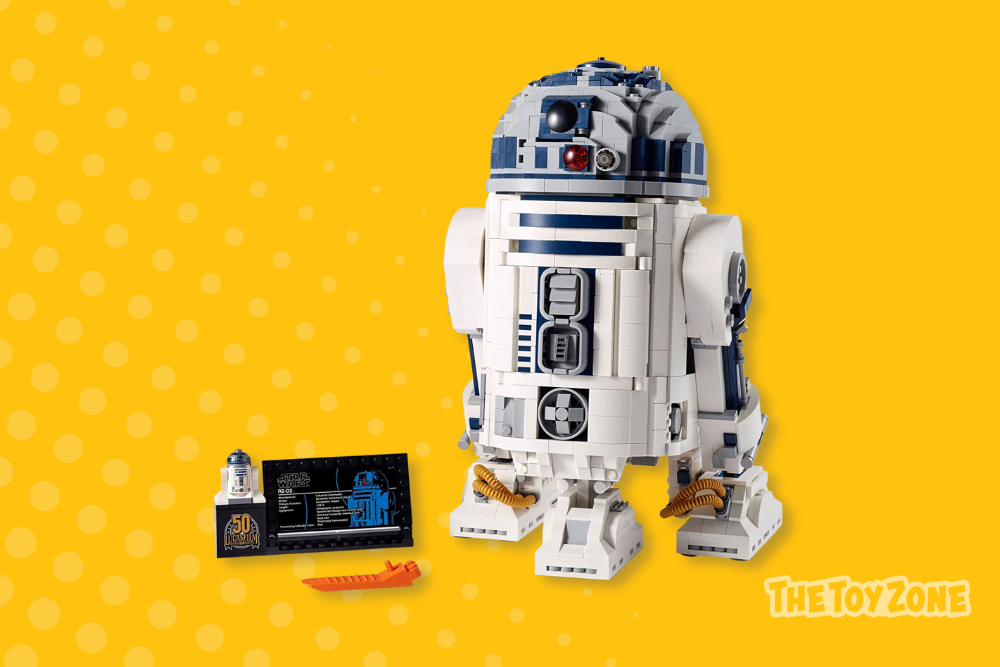 Recommended age: 18 years and above
LEGO has added so many cool details into this model, from the antenna that comes out of R2's head to the tubing on his "feet" that makes it so authentic. The Swiss army knife of the droid world, this set also features a scomp link that R2 uses to hack computer systems and the electro-shock prod he uses to free Leia from Jabba the Hut.
What a hero!
What We Love:
❤️ Includes a Lucasfilm 50th anniversary LEGO brick
❤️ His middle "leg" is retractable just like in the movies
What We Don't Love:
💔 With 2314 pieces, it's a long build
Best Star Wars Scenes
LEGO allows us to expand our imaginations to the farthest corners of the galaxy, but to get those juices flowing; they also provide us with scenes straight from the Outer Rim. This set, taken from The Mandalorian, see's Mando and Grogu meet a Tusken Raider on Tatooine.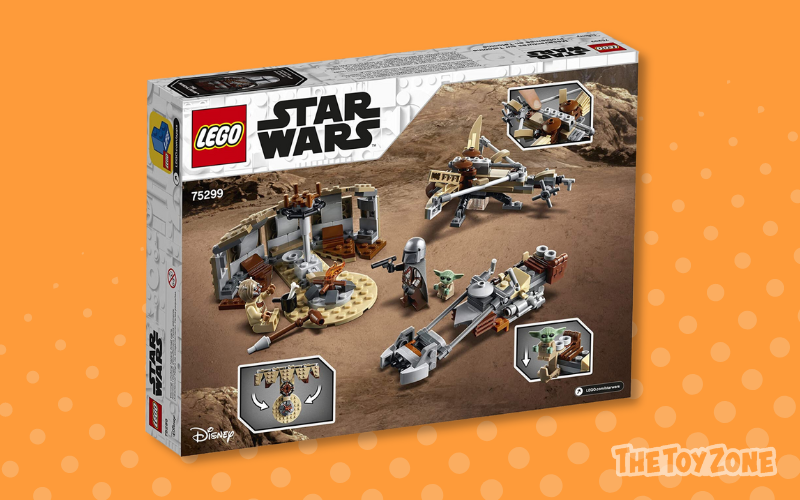 Recommended age: 7 years and above
This 276-piece set includes three mini-figures, Mando's speeder bike, a Tusken hut hideout and a ballista with a spring-loaded missile-launching bowcaster for when trouble hits. The Tusken hut has a fire burning for those cold desert nights and Mando's speeder has a pouch on the bag where Grogu can sit safely.
What We Love:
❤️ Each character has their own vehicle
❤️ The hut can be folded in
What We Don't Love:
💔 There are a lot of the same colored bricks
Our next set sees the ultimate battle of good vs. evil as the iconic hero, Luke Skywalker, must fight off a team of Dark Troopers whose mission it is to stop the Jedi master in his tracks by any means necessary.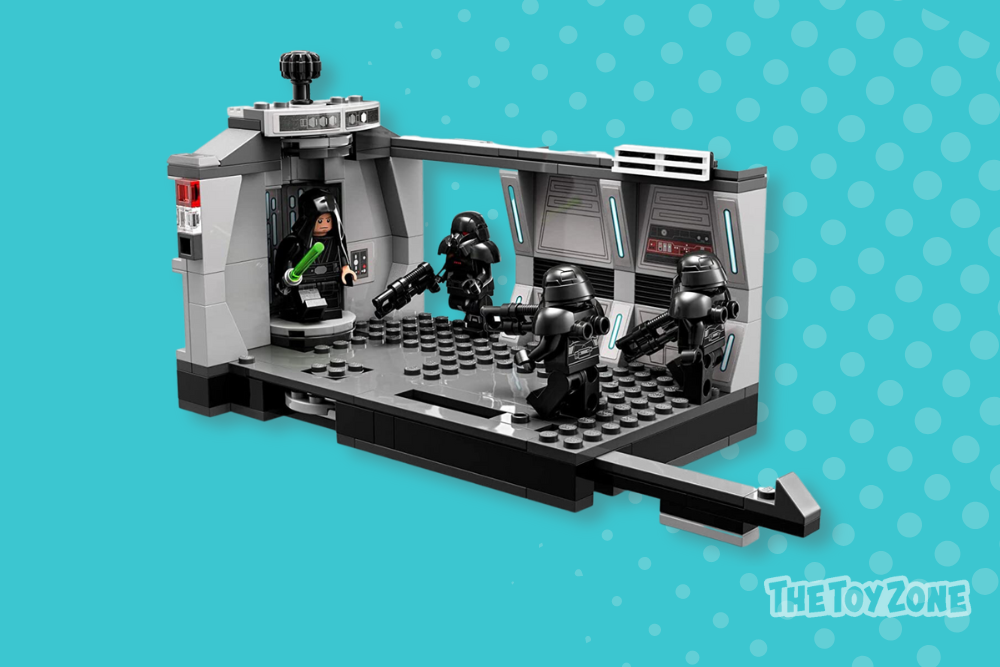 Recommended age: 8 years and above
Luke is dressed in his black hooded cloak, wielding his famous green lightsaber as he uses all of his Jedi know-how to take out the three soldiers he faces, who are all armed with blasters. This scene occurs inside the Imperial Light Cruiser from season two of The Mandalorian. This set will transport straight into the action with moving platforms and a rotating elevator.
What We Love:
❤️ Has easy-to-follow digital instructions
❤️ Luke can use the force to move the platforms
What We Don't Love:
💔 I wish it was a little bigger
If you know anything about the most evil person in the galaxy, Darth Vader, then you'll know his castle is no small place. This large LEGO set encapsulates the dark side of the force with its flowing lava, red glass windows and jet-black bricks.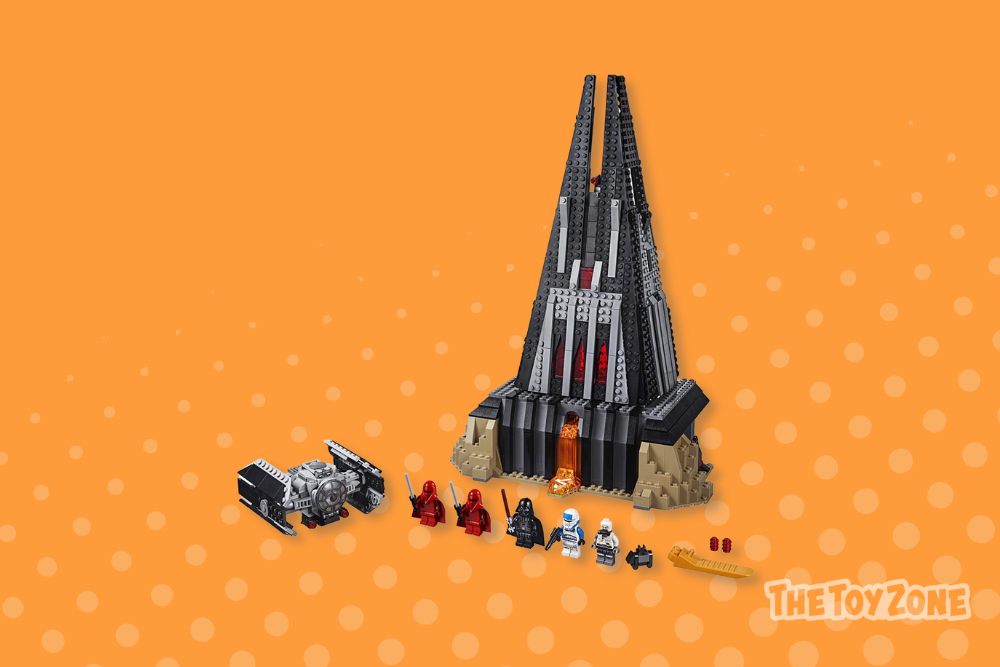 Recommended age: 9 years and above
This scary scene provides the perfect backdrop to make plans to take over the galaxy as you spin the castle around to reveal the interior. The four levels of this fortress house Darth's rejuvenating Bacta Tank, concealed chambers for Sith artifacts and a platform with a missile launcher to warn off the good guys.
What We Love:
❤️ Comes with five mini-figures, including Darth Vader in his iconic black helmet, Bacta Tank Darth, two Royal Guards and an Imperial transport pilot
❤️ Includes a TIE fighter that Darth can pilot
What We Don't Love:
💔 It's an expensive set
When master and student meet to battle, you know it will be a good fight. You choose who you want to reign victorious as Jedi Knight Obi-Wan Kenobi meets his Padowan, Darth Vader, to duel to the death with lightsabers in hand.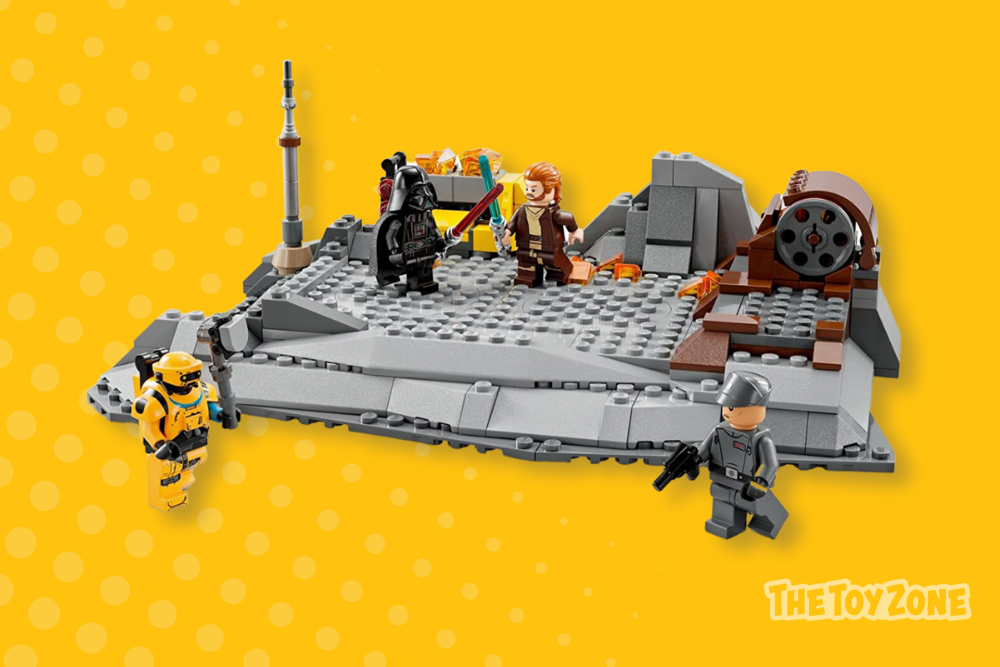 Recommended age: 8 years and above
First, you have to build your scene from the 408 pieces that include a platform, a mining cart and a hot orange fire that will burn our hero/villain if they get too close. The excitement never stops with rotating platforms, a barrier of fire, a flipping mine cart and a translucent stand that makes Obi-Wan appear to levitate over the fiery pit below.
What We Love:
❤️ Includes four mini-figures Obi-Wan Kenobi, Darth Vader, Tala Durith and droid NED-B
❤️ There are multiple weapons to choose from
What We Don't Love:
💔 Lots of small parts to lose
The prequels may not have been well received at the box office, but they still have a place in the hearts of true Star Wars fans. The most exciting scene from Episode III: Revenge of The Sith has to be the lightsaber fight between Master Obi-wan Kenobi and Anakin Skywalker.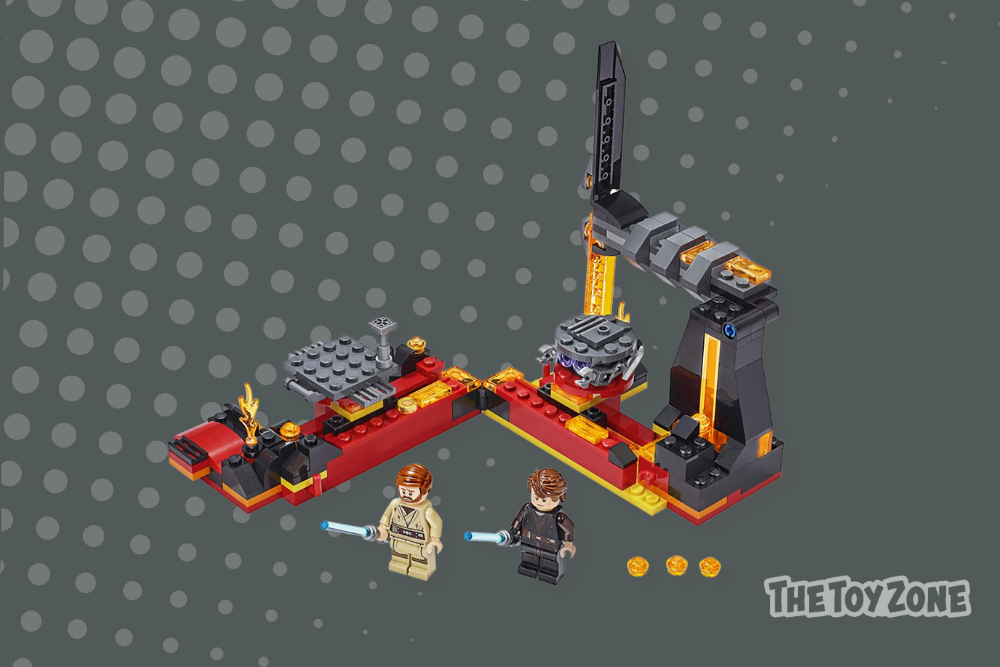 Recommended age: 7 years and above
Set in the molten lava underground of the planet Mustafar, these two Jedi Knights must battle on top of exploding lava, balancing on small, revolving platforms and dodging the parts of the mine collapsing around them. Who will win this iconic bout? Because when you build the scene, only you can decide the outcome.
What We Love:
❤️ Set can be folded for easy storage
❤️ Brightly colored
What We Don't Love:
💔 It's not very big
Best Star Wars Vehicles
When launching an attack on the ground with an army of clone troopers and battle droids, the only sensible method of transport is an AT-TE Walker. This beast can enter any assault and drop off your battalion safely with its armor-plating and heavy blaster cannon.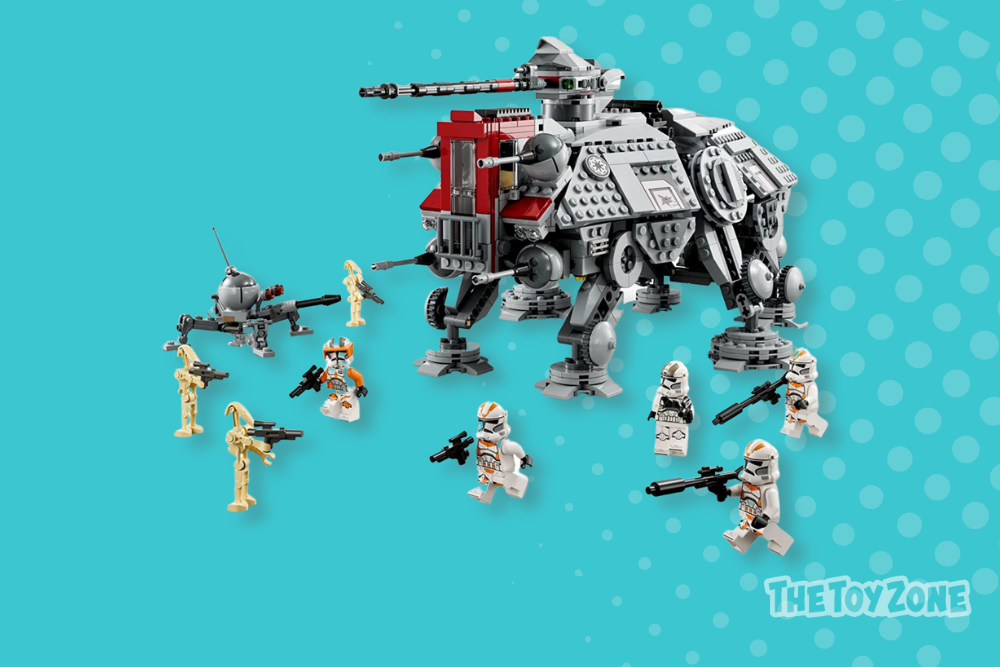 Recommended age: 9 years and above
This big Federation vehicle has six moving legs to walk onto the battlefield carrying the included five clone troopers and three battle droids. The blaster cannon can be elevated and rotated to fire studs and thermal detonators at the rebel alliance. There's room in the cockpit and cabins for all your crew and a handle to move your walker to another location.
What We Love:
❤️ Has a whopping 1082 pieces to build
❤️ You can recreate the Battle of Utapau
What We Don't Love:
💔 The battle droids are a little flimsy
It wouldn't be Star Wars without the most recognizable ship in all the galaxy. Now you can fly The Millenium Falcon on the Kessel Run and beat Han Solo's record. So get a sturdy crew of rogues together, make sure the hyperdrive is functioning and fire up the Dejarik table because this will be a flight to remember.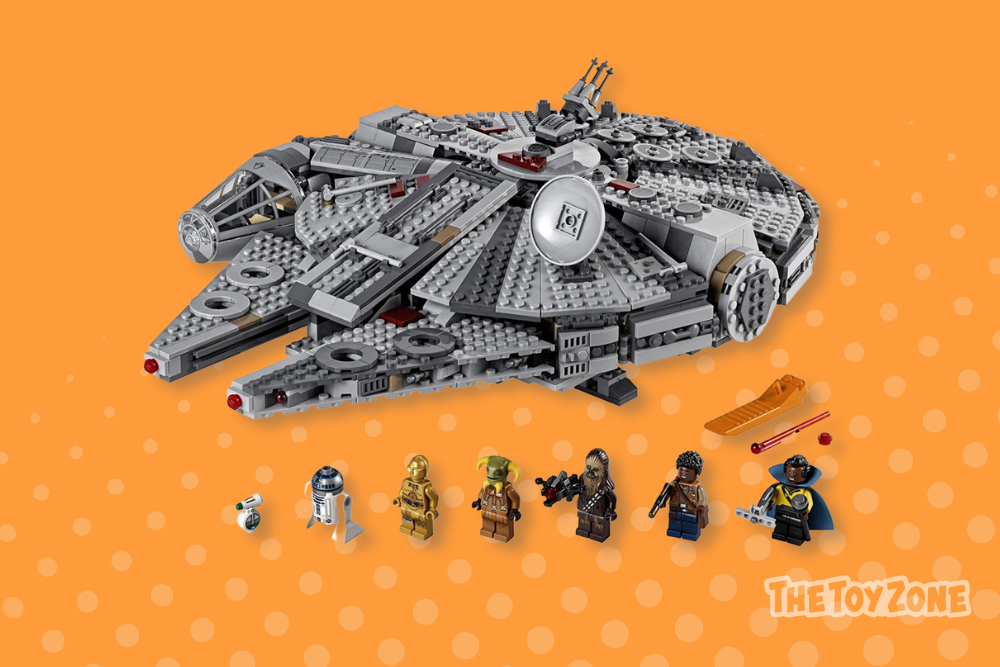 Recommended age: 9 years and above
The Falcon is no small vessel with its large interior, small cockpit and rotating gun turret that you can man with two of your crew. The cockpit opens up to fit your captain and navigator to fly you safely through any asteroid fields while the rest of the crew sits in the back to fix whatever goes wrong with the engine. With 1351 pieces to build, this starship will keep you occupied for longer than 12 parsecs.
What We Love:
❤️ The top opens up to reveal the interior
❤️ Comes with a mini-figure crew of seven
What We Don't Love:
💔 There are A LOT of grey bricks
When you think of an Imperial Walker, the first thing that always comes to mind is the formidable AT-AT. These massive cat-like machines are famous for making their way through the snowy lands of Hoth to defeat the rebel alliance.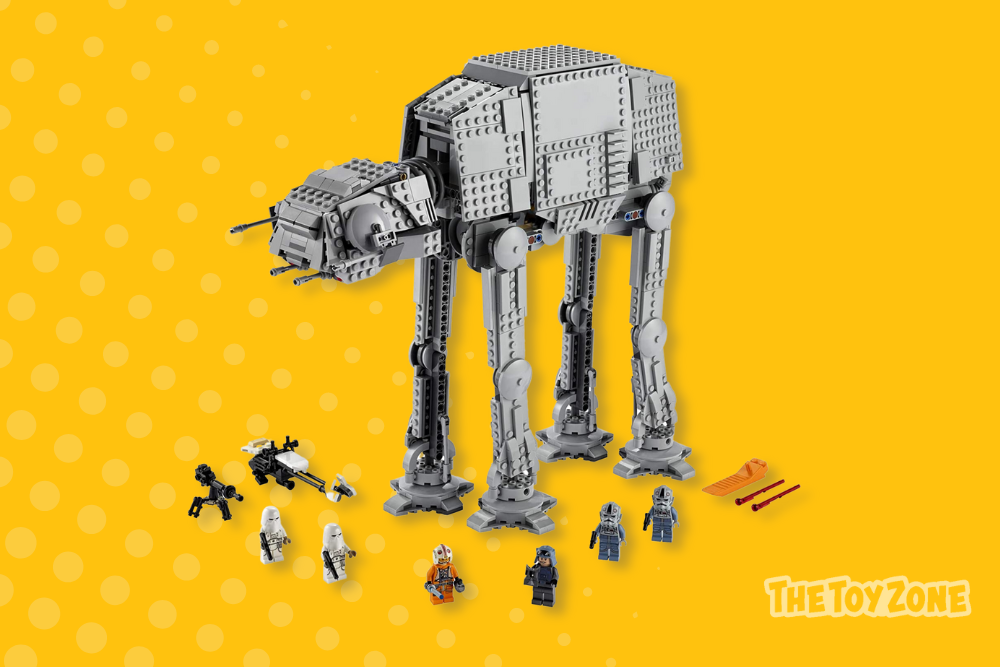 Recommended age: 10 years and above
This iconic vehicle is great fun to build with 1267 pieces to construct and comes with some cool features. The sides and the back open up to reveal seats for the crew of Snowtroopers and a snow speeder. The moving cockpit can seat two drivers, with General Veers there to oversee the operation. It also comes with spring-loaded missile launchers and a cannon for ground assault.
What We Love:
❤️ There's a bottom hatch where Luke can throw his thermal detonator
❤️ Comes with six mini-figures
What We Don't Love:
💔 It's fragile, so no rough play
Give me your best TIE fighter impression…I know you have one. That noise they make when they're on the attack is the sound in every rebel's nightmare. These battleships are the go-to for the Empire in any star fight, so we couldn't leave it out of this guide.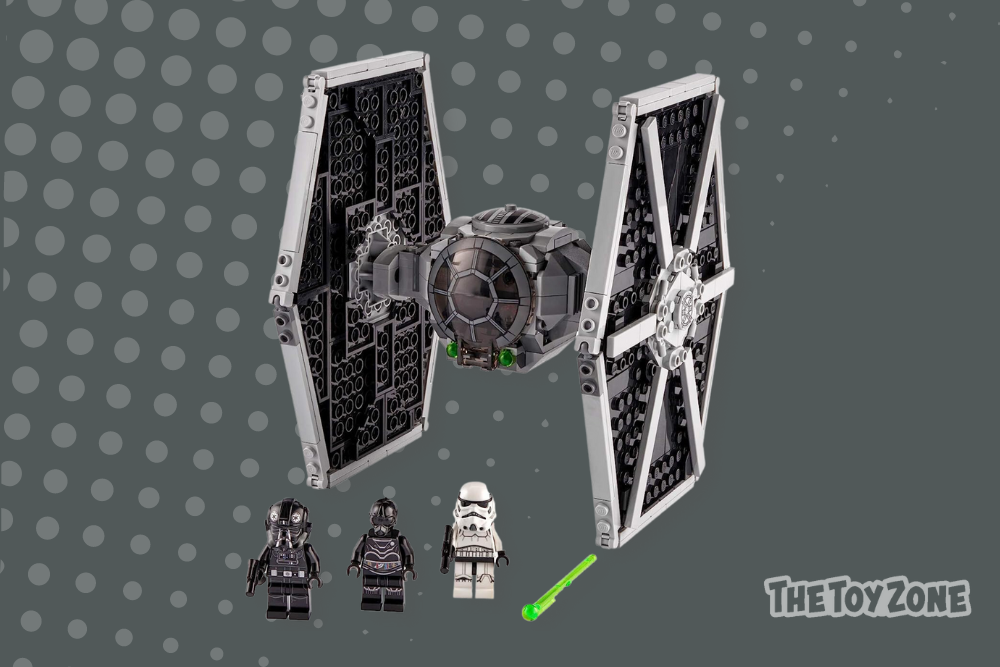 Recommended age: 8 years and above
This fantastic starship is made up of 432 pieces to create its cockpit that can hold a pilot and its iconic wings that allow you to fly into battle with the speed and maneuverability that only TIE fighters have. The set includes three Imperial mini-figures, a TIE Fighter Pilot, Stormtrooper and Protocol Droid to help you on your quest to regain control over the galaxy.
What We Love:
❤️ Has two spring-loaded shooters
❤️ The cockpit opens up
What We Don't Love:
💔 The wings are easily detachable
Whether you look back at the prequels with fondness or hate, you can't deny that Obi-Wan's Jedi Starfighter was badass as he chases Jango Fett through that asteroid field in Episode II: Attack of The Clones. This fighter can move with quick maneuvers and lightning reactions when needed.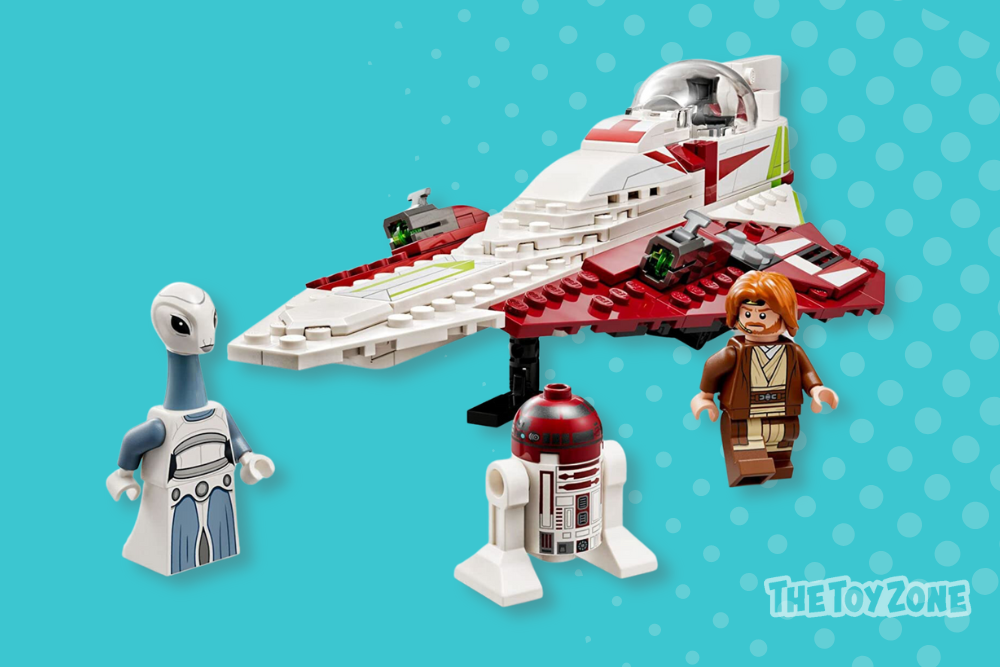 Recommended age: 7 years and above
This set is damn near a replica of the ship Obi-Wan pilots in that spectacular chase with its red wings, including blasters, Jedi decals and even comes with R4 to ride shotgun. The cockpit opens up so Obi-Wan can sit inside to take the controls, and it also features Taun We, who's in charge of creating the Clone Army.
What We Love:
❤️ Comes with digital instructions
❤️ Obi-Wan has a lightsaber for when he lands
What We Don't Love:
💔 The stickers are pretty fiddly to add
The Clone Wars were tumultuous, to say the least and this Armored Assault Tank didn't make it any easier for the Jedi forces. Operated by battle droids, the AAT can float into any conflict and blast anything/anyone that gets in its way.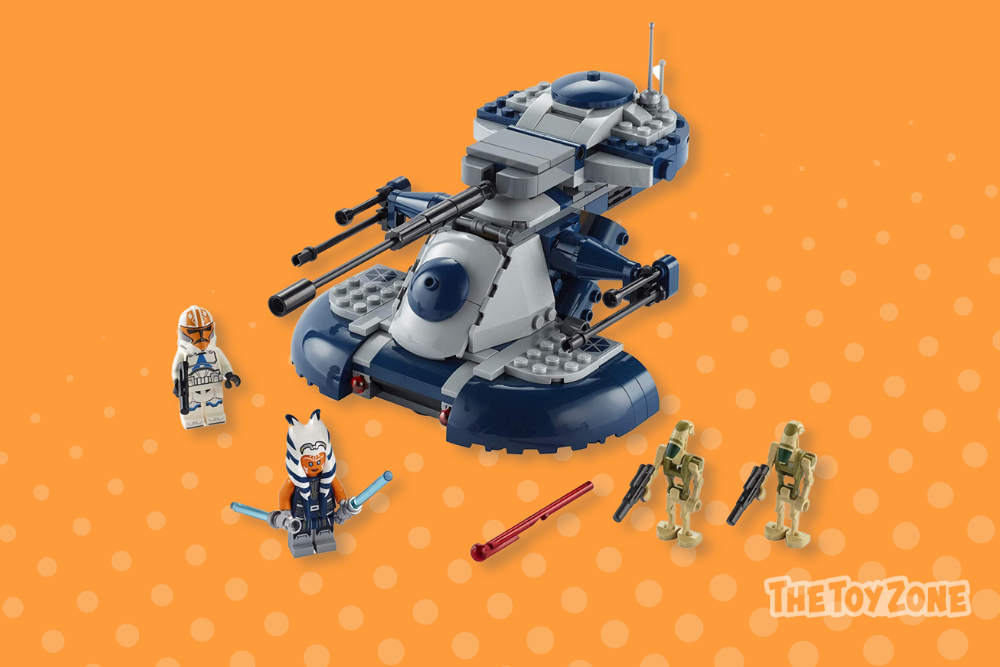 Recommended age: 7 years and above
Now you can recreate the infamous fight between the battle droids vs. 501st Legion from the popular animated series The Clone Wars. Or imagine your own campaign as you take over territory for the Federation with spring-loaded missiles, a rotating cannon turret and two droids that fit inside this reinforced tank.
What We Love:
❤️ Also includes Ashoka Tano and a Clone Trooper
❤️ Looks cool with its glossy bricks
What We Don't Love:
💔 Wish it was a little bigger
So, you lean towards the dark side of the force, do you? If you're a representative of the Empire, you'll know this next vehicle inside and out. This Imperial Shuttle transports the Empire's royalty throughout the galaxy, including Darth Vader and the Emperor.
Recommended age: 9 years and above
The 660-piece set makes up this ship from the classic trilogy and just like the movies, the wings fold up when the ship is preparing to land. Inside the shuttle is the Sith Lord Darth Vader and (spoiler alert) his estranged son Luke Skywalker. The cockpit also opens up so an Imperial Officer can climb in to fly it.
What We Love:
❤️ Vader and Skywalker are holding their signature lightsabers
❤️ It fires missiles
What We Don't Love:
💔 The cabin is a bit cramped
💡 You'll never be a true Sith Lord without the proper gear. Don't worry; we got you covered with this Darth Vader Mask
Best Star Wars Characters
Star Wars has everything you want from a sci-fi adventure movie; action, peril and space battles, but what makes it what it is, is the characters. When it comes to the new Disney generation of the saga, the most popular character is this guy. Whether you know him as Grogu, Baby Yoda or The Child, he's captured the hearts of millions.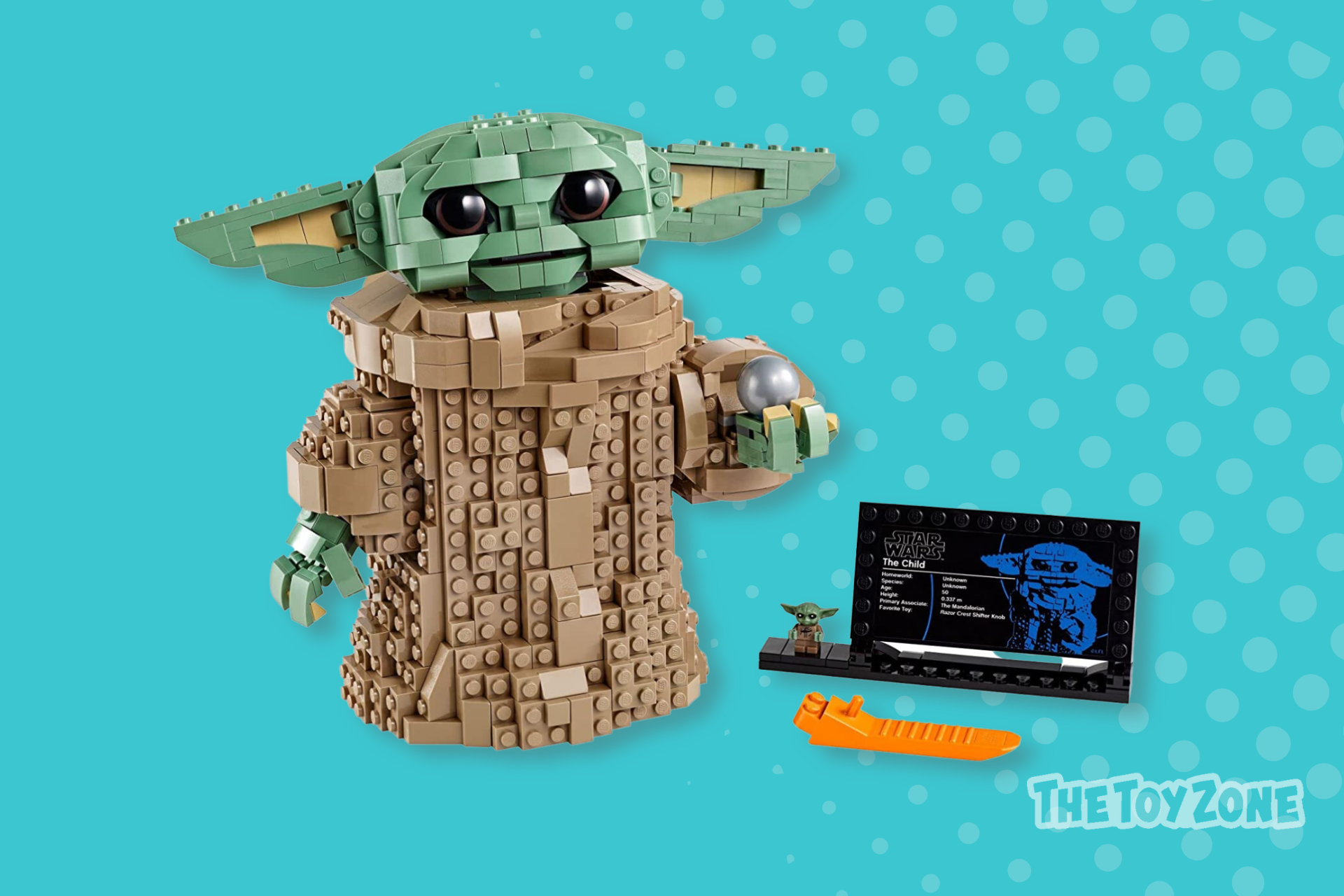 Recommended age: 10 years and above
You can show your love for this adorable character with this highly detailed LEGO version. Not only does the model look just like Grogu, but his head can turn and his ears move up and down as he does in The Mandalorian series. The best part for me is that Grogu is holding the gearshift knob he loves dearly (if you've seen the show, you'll get it).
What We Love:
❤️ Comes with an info plate
❤️ Includes a Grogu mini-figure
What We Don't Love:
💔 I wish he was wearing his Mythosaur pendant
BD-1 may not be the most recognizable droid to the casual galactic viewer. However, this little unit should be familiar to those who've played Star Wars Jedi: Fallen Order. Accompanying Jedi Master Eno Cordova, BD-1 beeps and boops its way through different adventures.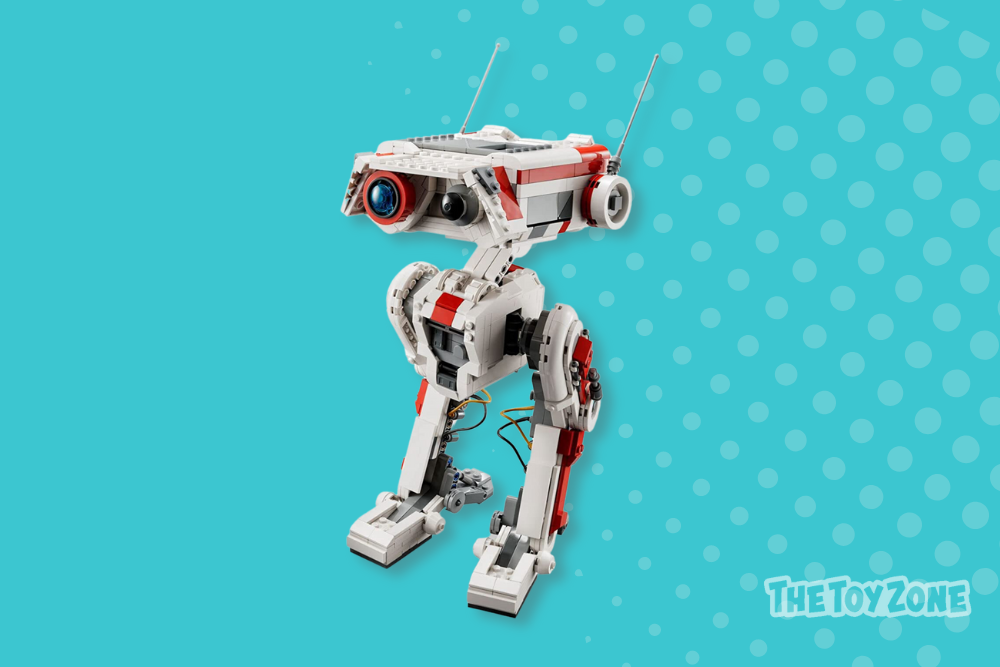 Recommended age: 14 years and above
Standing over 12.5 inches tall, LEGO has packed so much detail into this 1062-piece build with BD-1's antenna, the tubes on its legs and translucent elements on the back of the head that show the droids mood. It also comes with an information plate and a BD-1 mini-figure.
What We Love:
❤️ You can tilt its head
❤️ Comes with digital instructions
What We Don't Love:
💔 Designed for display, not play
Best Helmets
This new wave of LEGO sets is for the, shall we say… older crowd.
Because all of the helmets in this collection are similar, I didn't want to waste your time reading long paragraphs about each of them when a nice photo with my pros and cons would give you plenty of info.
Each helmet is designed for the more experienced builder hence the age LEGO has assigned them (18+). But don't let that put you off; these are immensely fun to build, and the end products are super detailed, making them ideal for displaying for all to see. If you put the hard work and the patience in, you will be able to admire the details that LEGO has put into each of these helmets once they are built.
We have chosen The Mandalorian as our favorite helmet of our selection here. Straight out of the Disney+ series, this set features the bounty hunter's prized possession. This is not an easy build and it takes time and patience to construct the 584 pieces, so make sure you're up to the challenge.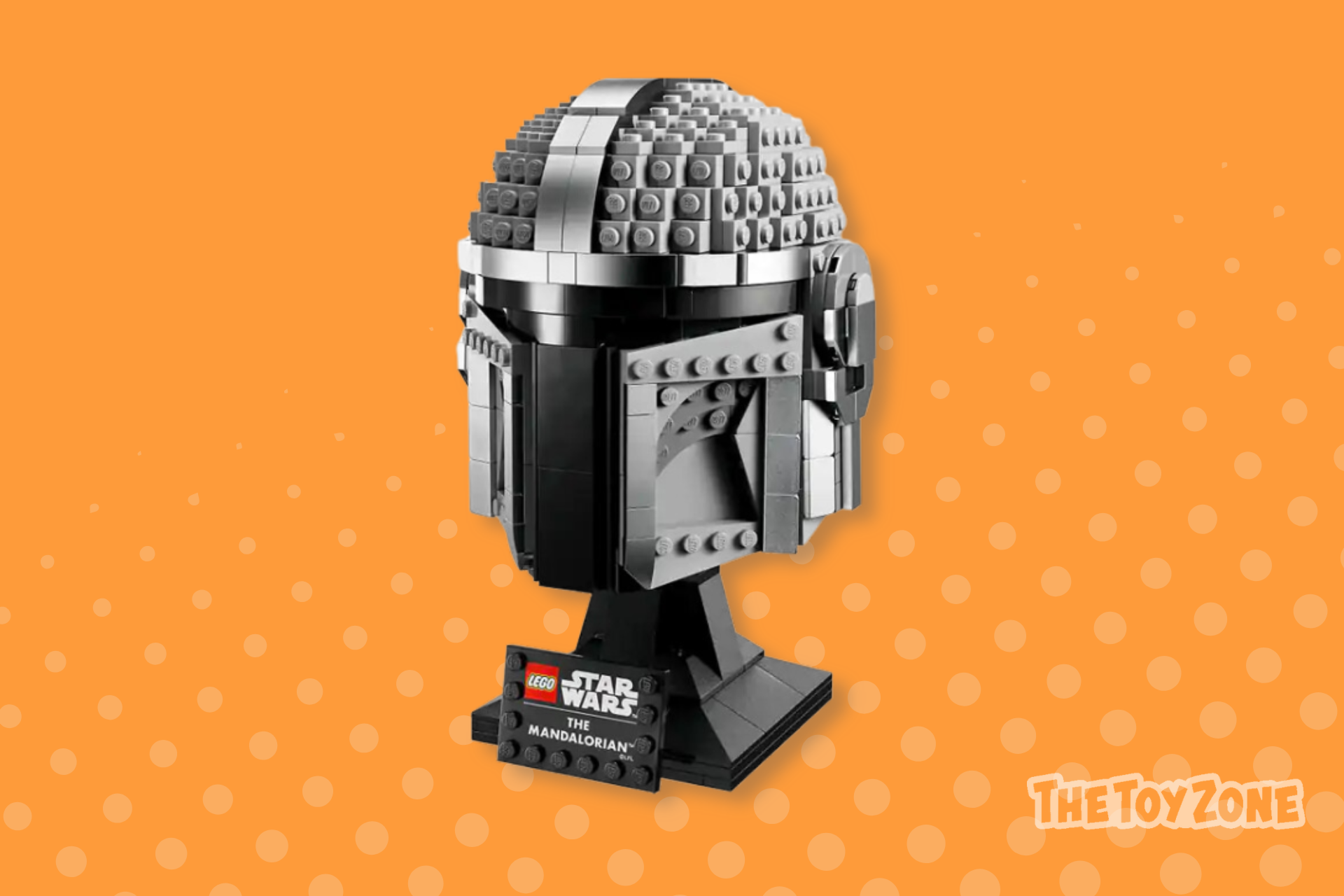 Recommended age: 18 years and above
What We Love:
❤️ Great for collectors
❤️ The bricks are drum-lacquered for a metallic look
What We Don't Love:
💔 Similar colored bricks make it harder to build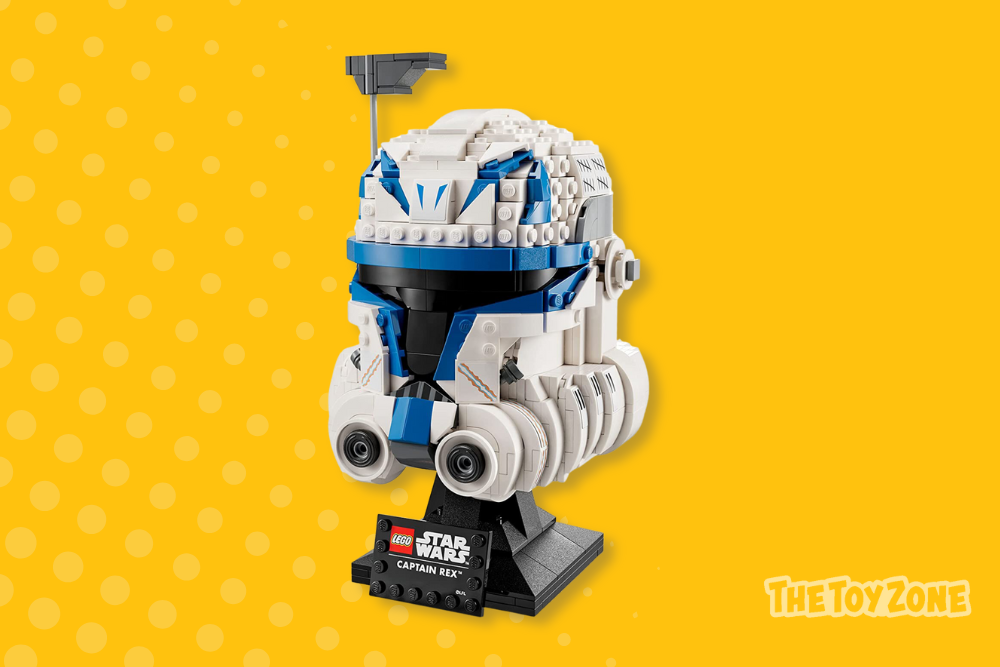 Recommended age: 18 years and above
What We Love:
❤️ Has the notches on the side just like in The Clone Wars
❤️ Measures over eight inches tall on the stand
What We Don't Love:
💔 Fixing the antenna is a bit fiddly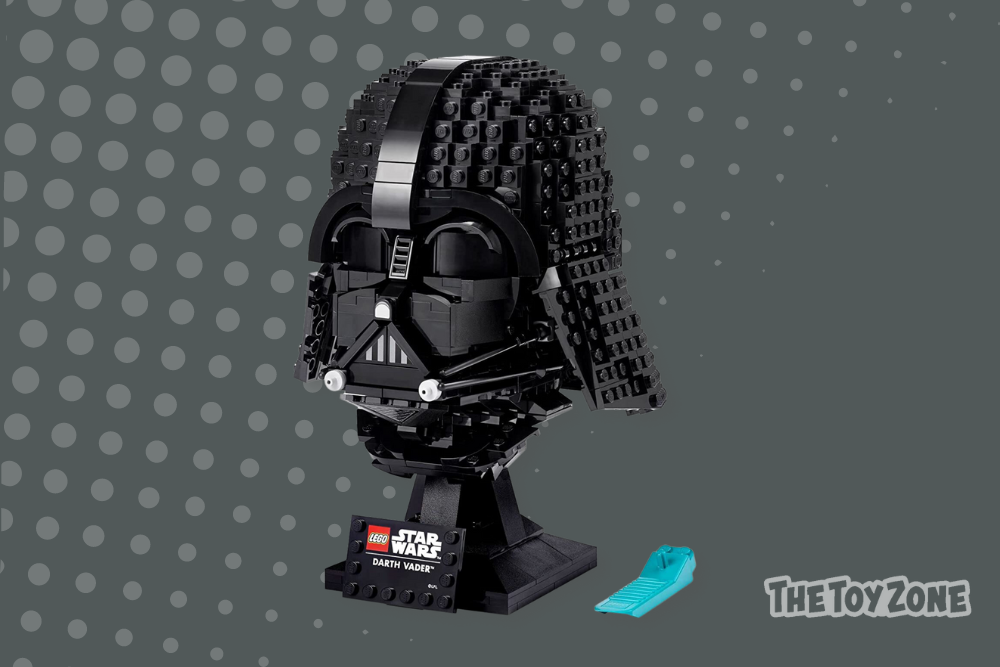 Recommended age: 18 years and above
What We Love:
❤️ Awesome detail in the face
❤️ A different challenge to the usual LEGO build
What We Don't Love:
💔 That's a lot of black bricks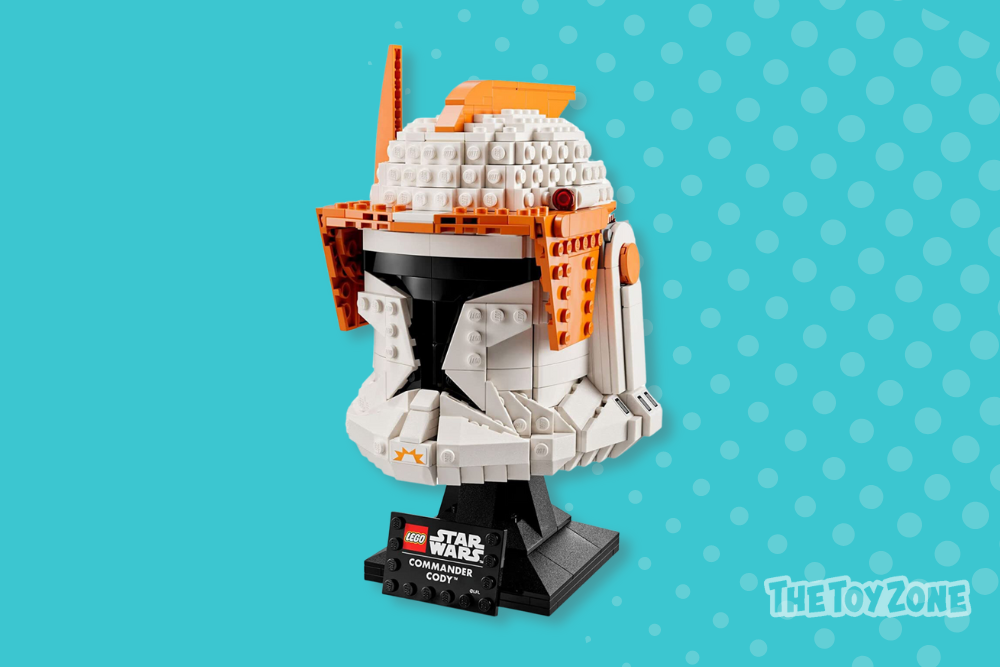 Recommended age: 18 years and above
What We Love:
❤️ The orange details are very cool
❤️ Has a clone sticker on the front of the helmet
What We Don't Love:
💔 Not the most recognizable character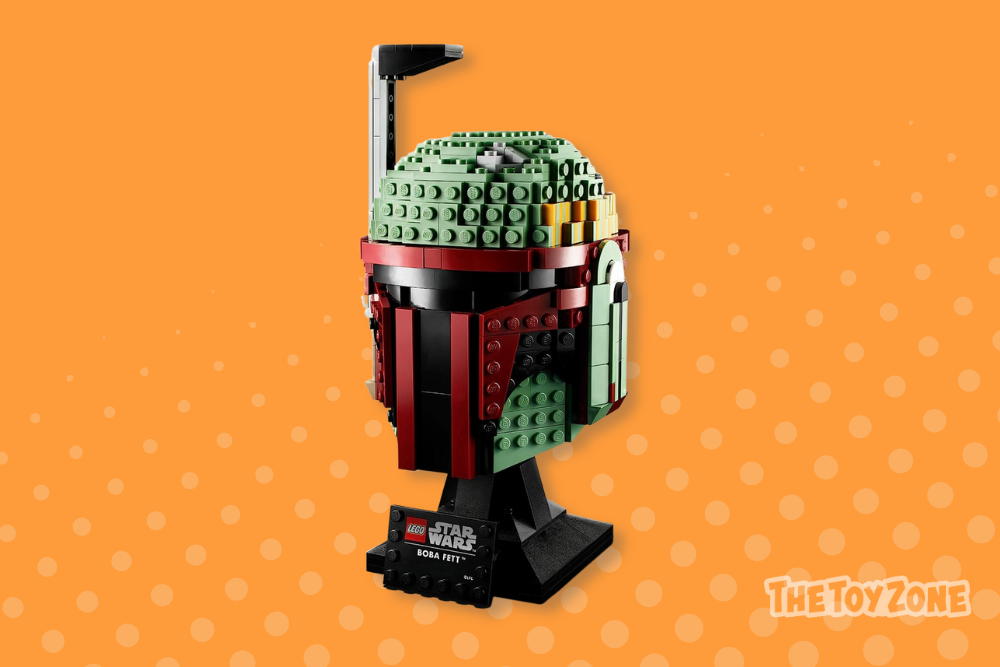 Recommended age: 18 years and above
What We Love:
❤️ Boba Fett is the best, no arguments
❤️ The colors are true to the movies
What We Don't Love:
💔 Not as many pieces as some of the other helmets
---
Frequently Asked Questions About LEGO Star Wars Sets
🙋 Who are The Mandalorian?
The Mandalorian is a clan with members from multiple species bound by a common creed, language and code they live by. Each Mandalorian is taught how to fight from a very young age which makes them highly effective mercenaries and bounty hunters.
The most famous Mandalorians are the formidable bounty hunter Boba Fett and Din Djarin, who also starts his journey capturing assets that have a bounty on their heads. But all that changes when he meets Grigu (Baby Yoda). Now he must right the wrongs of the Outer Rim and do his best to reform the disbanded Mandalorian people so they can once again be a prominent force in the galaxy.
🙋 Is LEGO a good gift for kids?
Easy answer. YES! Unless you're standing on them, LEGO provides hours of fun and can promote key developmental skills for children. According to Johns Hopkins University, "When kids are building with blocks and LEGOs, they're using spatial reasoning skills," "These skills not only have a relationship to academics but to the fields you might gravitate to and where you're going to excel."
As well as promoting creativity and imaginative play, kids learn to follow instructions, develop fine motor skills and master working in a team. The great thing about LEGO is that you can build, deconstruct, and then build again, with endless possibilities.
---
So… What LEGO Star Wars Set Should You Get?
If you're buying a LEGO Star Wars set as a gift, asking a few preliminary questions is the best way to discover the best for them.
🧱 Which is their favorite movie or series?
🧱 Who is their favorite character?
🧱 How old are they?
If they love The Mandalorian, you can't go wrong with LEGO BrickHeadz Star Wars The Mandalorian & The Child 75317.
If they're fans of the animated series The Clone Wars, they will enjoy building the LEGO Star Wars AT-TE Walker 75337. And if (like me) they know that the originals are the best, I urge you to look at the excellent LEGO Star Wars R2-D2 75308.
💡 Tip: If you didn't find your favorite LEGO Star Wars set on our list! Tell us why it should have been cut, and we'll consider including it when we update our guide.