If there's one thing we know for sure, it's that kids love trucks. Big trucks, little trucks, or super long lorries are simply the kings of the road. This comes as no surprise either, as we've covered tons of them on TheToyZone, from remote controlled to ride-on, toy trucks always prove to be a big hit for kids of all ages.
But there may well be one truck to rule them all. They are huge, painted bright red, and whiz by with flashing lights and wailing sirens. Of course, the fire truck is bound to capture the imagination of almost all youngsters.
Toy fire trucks provide heaps of fun, help kids develop hand-eye coordination, and may even teach them how to be a hero. But as there are so many different types of fire trucks out there to choose from, finding the right one can be tricky to get right.
When searching for a new toy fire truck, you'll want to make sure the option you choose is well suited to your child's age and developmental stage, whilst having interactive features such as sound effects, movable components, or additional accessories, so they can lose themselves in uninhibited play.
The Top 3 Fire Truck Toys
Preview
Pros
25 separate pieces to play with including one mega truck and 12 die-cast mini vehicles
Awesome ride-on fire truck that allows your little one to race to emergencies
Modeled on genuine Mercedes-Benz fire trucks, plus it comes officially licensed by Mercedes
Cons
The large truck isn't the most exciting
The truck can only drive forward
The rechargeable battery is fiddly to access
Best Budget Option
Preview
Pros
25 separate pieces to play with including one mega truck and 12 die-cast mini vehicles
Cons
The large truck isn't the most exciting
Best for Younger Kids
Preview
Pros
Awesome ride-on fire truck that allows your little one to race to emergencies
Cons
The truck can only drive forward
Best for Older Kids
Preview
Pros
Modeled on genuine Mercedes-Benz fire trucks, plus it comes officially licensed by Mercedes
Cons
The rechargeable battery is fiddly to access
As no two kids are the same, we've pulled together a wide range of fire truck toys, making sure to include options for different types of play and covering all budgets, so you're bound to find a great toy for your little one.
We've also divided our top 15 choices by age suitability, so whether you're purchasing for a toddler or teen, we've got you covered. Check out the complete list down below.
The Best Fire Truck Toys for Younger Kids
Our first recommendation comes from household toy brand, Fisher-Price. This super-cute truck is a great option for younger kids, with its personalized design and interactive features. As this fire truck whizzes around the home, you enjoy watching your child get wrapped up in the fun as this toy fosters imaginative role play thanks to its sound effects, flashing lights, and phrases that encourage helping others.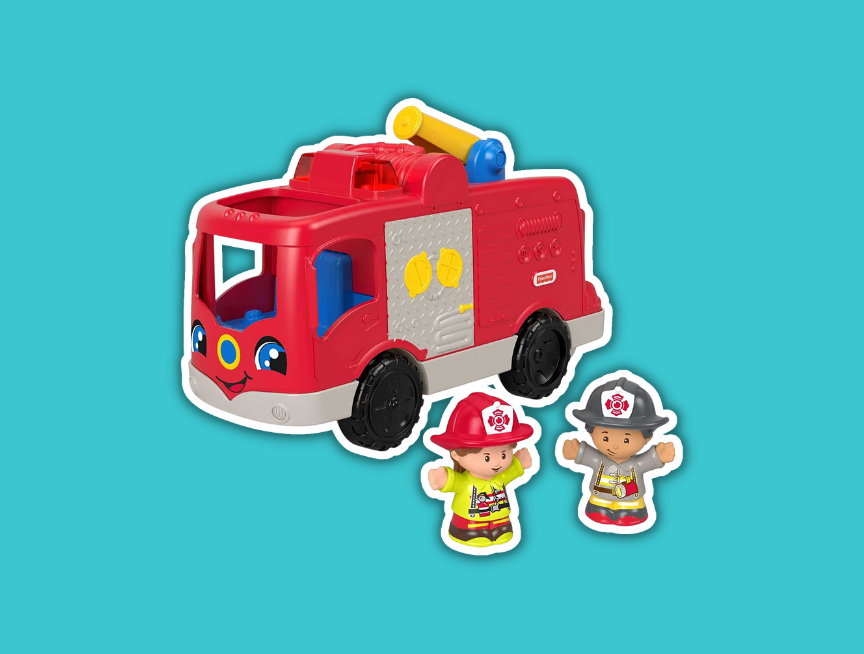 Recommended age: 12 months and above
At just under 30 cm long, this is the ideal size for littler kids to grasp and play with. Its bright red color fits the fire truck bill perfectly, along with the yellow and blue detailing that will really catch their eye. In addition to the truck, you find two fire-fighting figures, Erika and Karson, who will help your youngster tackle any blaze as well as develop social skills through play.
What We Love:
❤️ Cute design makes it ideal for younger children.
❤️ Durable and safe design without any sharp corners or choking hazards.
❤️ Sound effects keep kids entertained for longer.
What We Don't Love:
💔 There isn't an on/off switch or volume control for the sound effects.
💔 Doesn't come with a ladder or detachable hose features.
This bold, bright fire truck from Green Toys is another excellent option for encouraging imaginative play. Wherever the emergency takes place, this truck will be able to answer the call thanks to its large, all-terrain wheels and 360-degree spinning roof ladder. Plus, its chunky size makes it ideal for tots to hone their fine motor skills and pincer grip through play.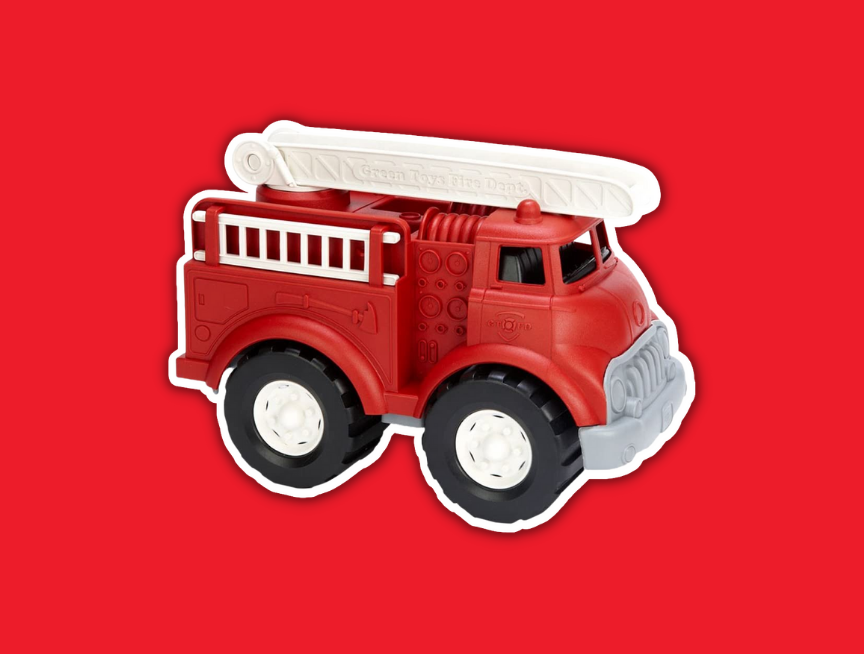 Recommended age: 12 months and above
Made entirely from recycled milk bottles, this is the most environmentally friendly and safe toy on our list, containing no harmful toxins such as PVC, phthalates, or BPA. Its single molded form means there are no loose pieces whatsoever, without skimping on the finer details that make a fire truck unique. All while being designed and manufactured to the highest safety standards set in California.
What We Love:
❤️ Simple yet satisfying for younger kids as they play, throw, and chew on their fire truck. 
❤️ Environmentally friendly, using only recycled materials.
❤️ Made to the highest safety standards here in the U.S.
What We Don't Love:
💔 Fairly simple features that lack interactive elements.
💔 Wheels can slip on wooden surfaces.
Everyone's favorite mouse is out on another adventure, this time helping your little one fight fires around the home. With Mickey and Pluto at their side, your little one will face emergencies head-on as their imaginations run wild. Along with the two Disney 3" figures, the truck boasts flashing lights, a siren, and a spinning rooftop ladder, bringing their play to life with realistic features.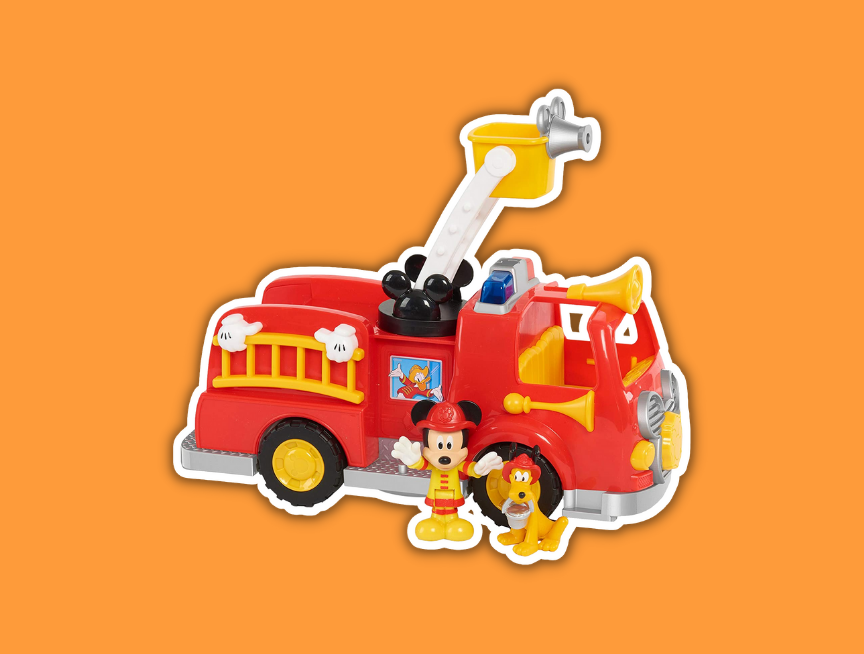 Recommended age: 36 months and above
This option has a solid plastic build and sturdy wheels, allowing it to glide over any surface and withstand even the roughest of playtimes. The attention to detail is clear to see, with embossed features along the side of the truck, which along with its eye-catching red, yellow, and white colorway, gives it a distinctive appearance.
What We Love:
❤️ Disney's well-known and well-loved characters give it a broad appeal.
❤️ Movable ladder with a passenger basket adds to the fun.
❤️ Sound effects and Mickey phrases are a real bonus.
What We Don't Love:
💔 Figures are top-heavy, so they can fall over from time to time.
💔 It's not the most interactive set on our list.
If your child loves hands-on, tactile play, then the Duplo Fire Station will be a big hit. This 117-piece set transforms into an all-action fire station, with its own push-and-go fire engine and helicopter. This toy is perfect for developing motor skills and problem-solving abilities through imaginative play as they create an emergency narrative and save the day.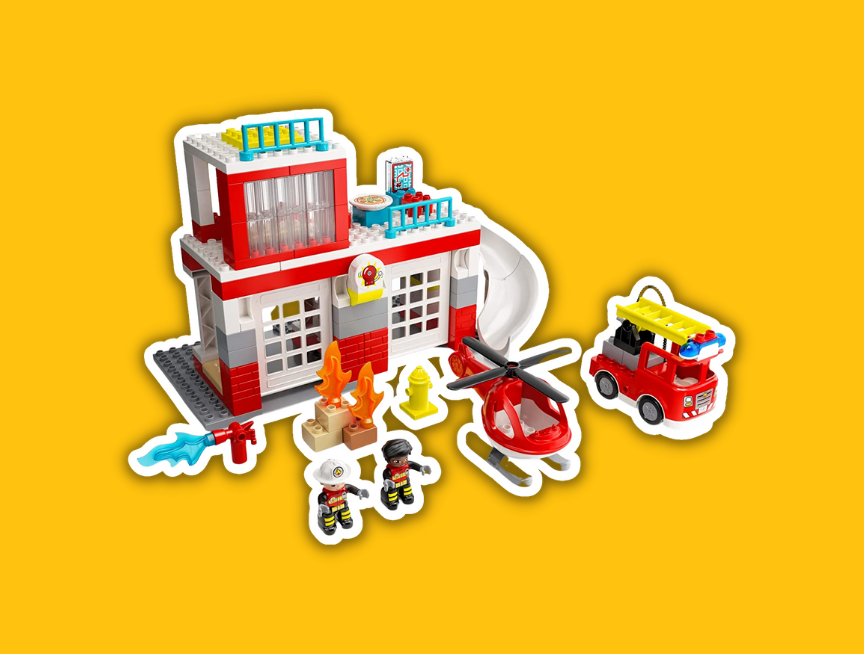 Recommended age: 24 months and above
As with all Duplo products, you can rest assured that you'll be purchasing a quality set that will last a lifetime. Once built, this station has some amazing features that will elevate playtime, including a rapid response slide, functioning sliding garage door, and two fire-fighting figures to embark on adventures with your youngster.
What We Love:
❤️ The fire truck is push-and-go to propel itself to emergencies faster.
❤️ Includes unique DUPLO pieces such as fire extinguishing tools and flames.
❤️ Compatible with other DUPLO sets to expand the fun. 
What We Don't Love:
💔 A tad smaller than some customers expected.
💔 One of the more expensive options on our list.
Bringing the PAW Patrol movie to life, this truck offers your youngster the chance to get their hands on the same fire engine as seen on the big screen. While this truck looks mega at first glance, it only gets better the more you play. From whizzing to emergencies in its original form to transforming into the ultimate fire-fighting vehicle, as you lift the truck bed to double the length of the ladder and unleash the water cannon, capable of firing projectiles to tackle the blaze.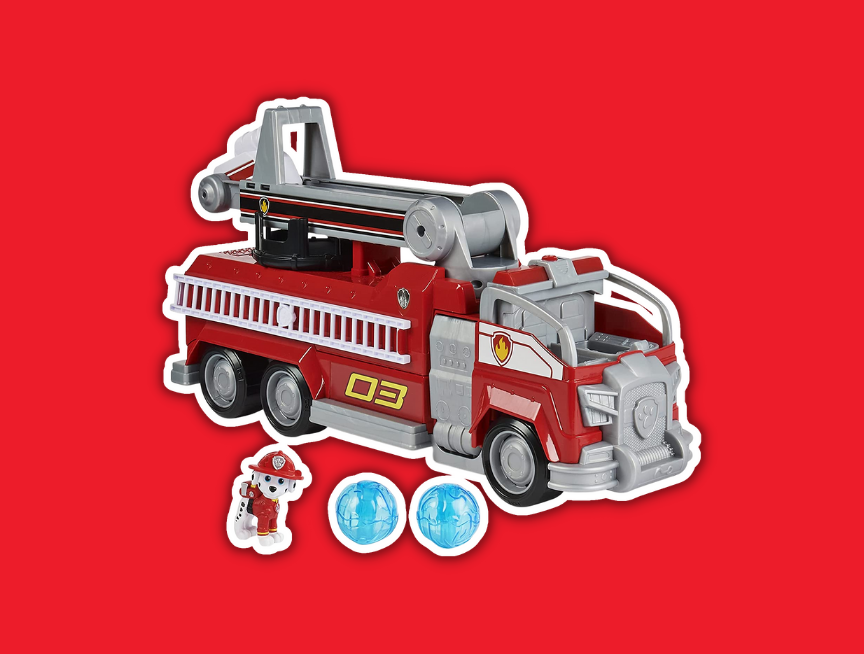 Recommended age: 36 months and above
Despite its many movable aspects, this truck has a quality feel that will withstand hours of play. As well as the truck, you'll also receive a Marshal figure, two projectiles, a rescue net trampoline, and two removable ladders to keep them entertained for longer. Whether they are a PAW Patrol fan or not, this fire truck has plenty to captivate your kids' playtime.
What We Love:
❤️ As seen in the PAW Patrol movie! 
❤️ Fireable 'water jet' projectiles will be a big hit.
❤️ Transforming truck adds the wow factor.
What We Don't Love:
💔 Doesn't have a motorized or friction-based movement feature.
💔 Transforming the truck requires a little assistance at first.
TIP 💡 If your little one can't get enough of Marshall and the PAW Patrol crew, double up the fun with an additional fire truck.
Kids will love this all-action, wooden fire station playset, filled with unique features and quality pieces. When the alarm sounds, figures can descend the fireman's pole, rush to the fire engine down the slide, or head up to the helipad for takeoff, making this a great set with endless possibilities for imaginative play.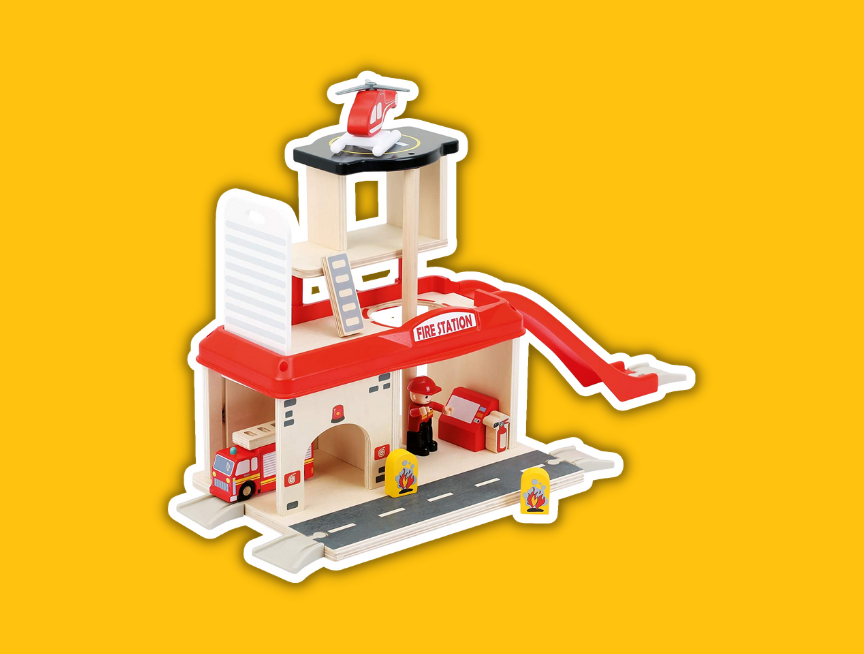 Recommended age: 3 years and above
The station and figures are made of FSC 100%-certified wood, making it an ethical and environmentally friendly option. Each of the edges has been rounded and sanded to create a safer surface for your little ones to play with. Whilst the paints used to bring this set to life are non-toxic and water-based, making this a safe choice, built with quality materials.
What We Love:
❤️ Fire station set allows for versatile and imaginative play.
❤️ Quality wooden feel to the set.
❤️ Pieces fit together smoothly, for a nice final build.
What We Don't Love:
💔 There is some plastic included in the set, which seems unnecessary for such a quality wooden set.
💔 Requires self-assembly.
When one fire truck just won't do, turn to TEMI's 5-in-1 emergency response set that can tackle any blaze. The key to this set is a mega transporter truck, complete with flashing lights and a siren, that brings in the cavalry for epic missions. Aboard the transporter, you'll find two fire engines, a helicopter, and a jet for aerial support. Each of which are push-and-go vehicles that can whiz around the room.
Recommended age: 3 years and above
The large transporter truck measures up at just under 17 inches long, while the mini vehicles aboard are smaller, making it easier for little hands to operate the self-propelling mechanism. Each of the toys is made from hard-wearing plastic and designed to the highest standards without the use of toxic plastics, paints, or chemicals.
What We Love:
❤️ Large truck that captivates the imagination.
❤️ The smaller vehicles are push-and-go, so are great for racing to emergencies.
❤️ Great design catches the eye and keeps kids interested for longer.
What We Don't Love:
💔 The trailer on the large truck becomes detached easily.
💔 The set is smaller than some had anticipated.
What better way for your kids to live out their fire service dreams than by hopping aboard their very own ride-on fire truck? As they ride, the truck's motor will help them get to each new emergency, with working lights along with encouraging phrases and songs that play as they travel. On arrival, they can wield the hose and tackle any blaze, all from their very own fire truck.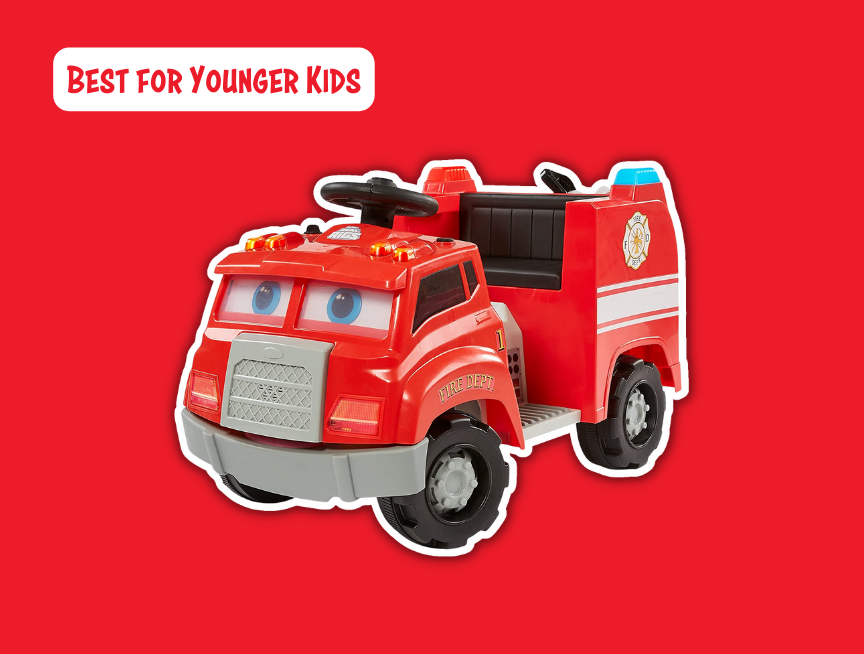 Recommended age: 18 months and above
This motorized ride-on toy is perfect for the garden or sidewalk, as they whiz around to handle the next emergency on the power trax rubber traction tires. The truck is powered by a 6-volt rechargeable battery, capable of getting them up to a lightning speed of 1.5 mph. With a one button operation, this truck is super simple to drive and will work wonders at developing their spatial reasoning and problem-solving skills.
What We Love:
❤️ Driving function is super exciting for kids.
❤️ Easy to set up and assemble.
❤️ Rechargeable batteries allow for endless use. 
What We Don't Love:
💔 The truck only drives forward, without a reverse function.
💔 Would be cool if the hose sprayed water.
The Best Fire Truck Toys for Older Kids
Perhaps one of the most realistic fire trucks on our list, this great toy from VEBO will bring countless smiles to your little ones' faces. This option boasts bags of cool unique features, including motorized wheels for self-propelled driving, a 360-degree rotating ladder, and a working water pump to tackle all of their make-believe blazes.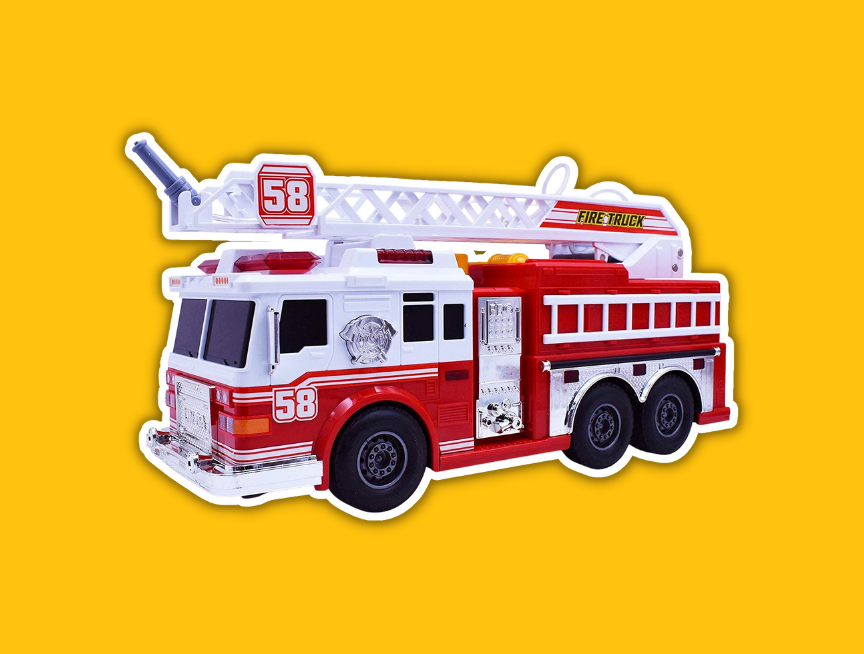 Recommended age: 3 years and above
This option is made from strong plastic, making it an ideal option for indoor or outdoor play alike. At 15" long, it has the chunky feel that you want for an impressive fire truck. While the sound effects, sirens, and phrases make this truck super interactive and will keep them coming back for more when playtime rolls around.
What We Love:
❤️ Firing water cannon makes for exciting play.
❤️ The motor allows this truck to get to emergencies in rapid time.
❤️ The truck is the perfect size, with impressive design aspects.
What We Don't Love:
💔 Not remote-controlled to steer the truck when in motion.
💔 The sound effects aren't the best.
Making their second appearance on the list is everyone's favorite dalmatian fire-fighter, Marshall! This option is the ultimate fire truck, with a super extending ladder that reaches heights of two feet, enabling your kids to tackle any blaze. The truck also features a mini fire cart for action on the ground, a water jet launcher, and four projectiles that fire into the flames, really giving this set extra oomph.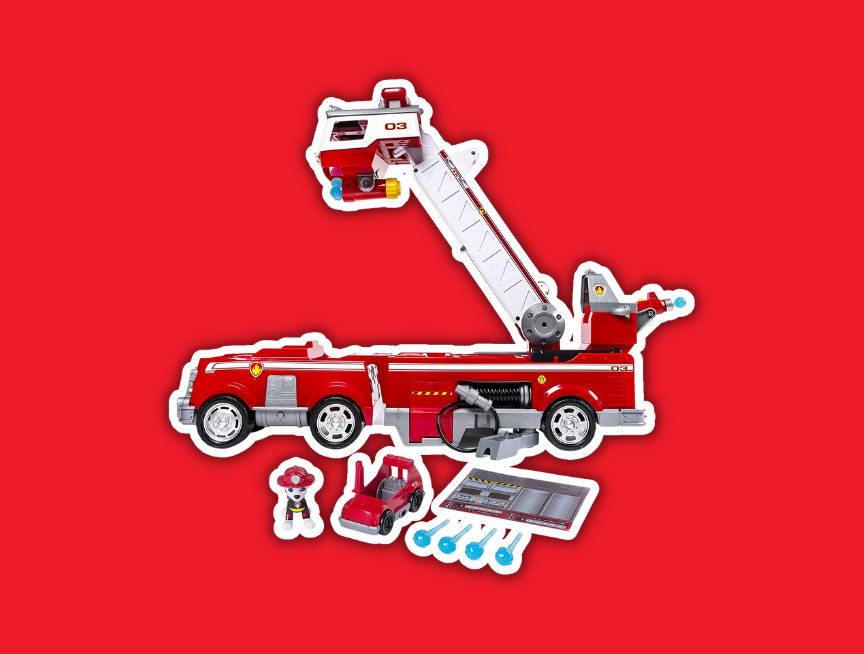 Recommended age: 3 years and above
With its bright red design, flashing lights, and working siren, this toy truck is just like the real thing. It's made of durable plastic, so it won't break any time soon, no matter the extreme emergency scenarios it finds itself in. You'll also get your very own Marshall figure to help fight fires and a set of stickers to get the truck ready for action.
What We Love:
❤️ Huge size will grab your kids' attention.
❤️ Cool features such as water missiles and a super extending ladder make this toy unique. 
❤️ Has a robust feel that won't break easily.
What We Don't Love:
💔 It may be too large for smaller kids to really take advantage of.
💔 Only comes with one PAW Patrol figure.
For kids that love to create, the LEGO City Fire Station is high on action and adventure whilst stimulating imaginative play and problem-solving skills. This 509-piece set constructs a realistic fire station, with a three-story watch tower and a mega garage. There are three emergency vehicles covering emergencies over land, air, and water, along with four minifigures so your little ones can play out all their different rescue scenarios.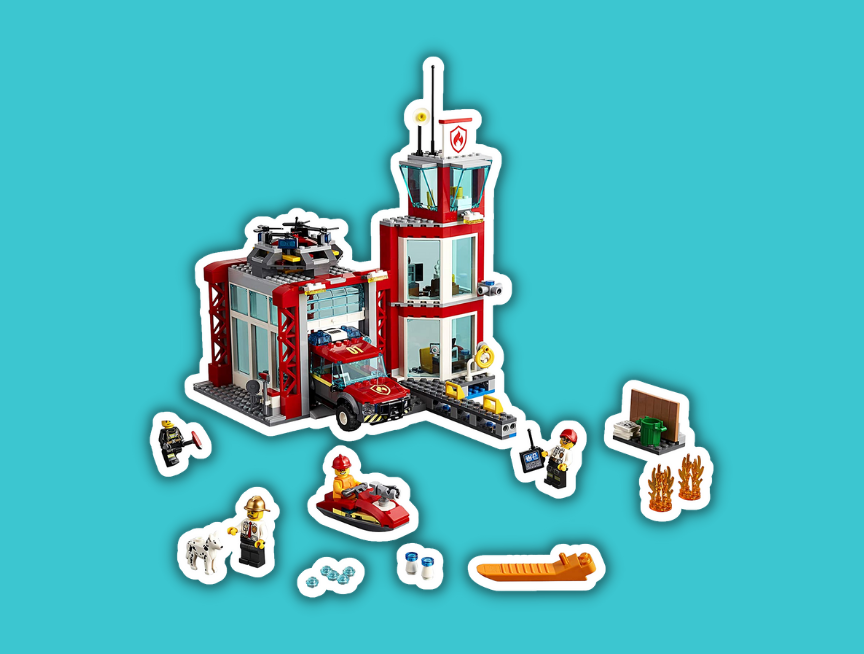 Recommended age: 5 years and above
What makes this set the real deal are its functioning parts. LEGO really knows how to make play come to life, as the new flashing lights and sound pieces light up the truck, the drone can take to the skies thanks to its spinning rotors, and even the garage door opens and closes realistically, leading to a speedy getaway of any emergency truck. For big LEGO fans, you can even combine this set with other pieces from the range to create your own LEGO City!
What We Love:
❤️ Great design for a super cool fire station. 
❤️ Various vehicles and figures allow for imaginative play.
❤️ Compatible with all other LEGO sets to get creative.
What We Don't Love:
💔 The set is on the smaller side.
💔 Remember to keep instructions as elements can come apart easily.
If you're looking for a realistic fire truck that is built to last, then look no further than the Double E Fire Truck. Modeled on the actual Mercedes-Benz fire truck and licensed by the German car manufacturer, this toy is as close as it gets to the real thing. Your kids will love playing with this remote-controlled truck as they steer and glide it to countless emergency callouts.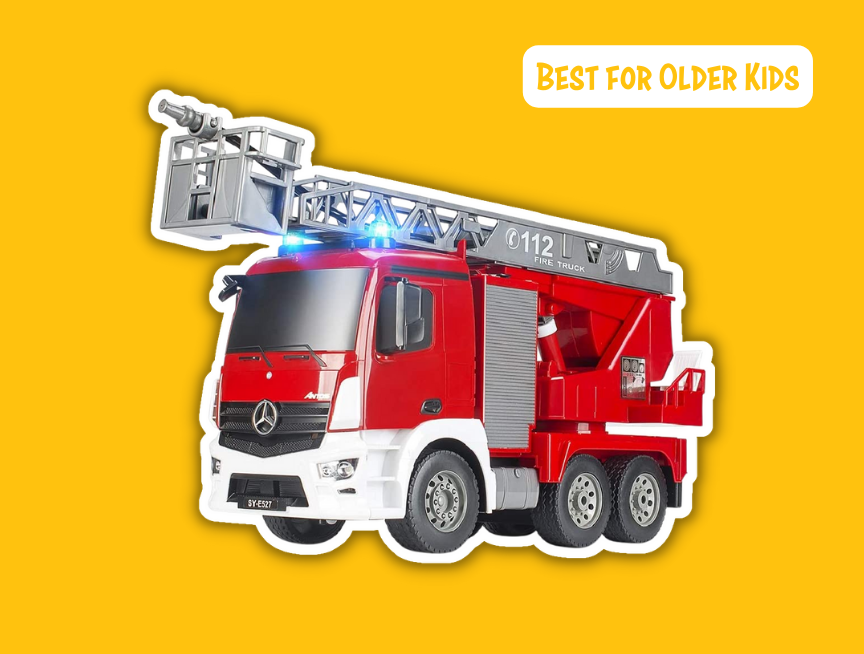 Recommended age: 6 years and above
As well as maneuvering this truck remotely, you can operate its 360-degree spinning and extending ladder, hit the emergency flashing lights and siren, and also extinguish fires using its functioning hose. The truck is made of sturdy materials and features all-terrain wheels, making it more than capable of overcoming different terrains in either the home or garden.
What We Love:
❤️ Amazing features and functions, with an operating water cannon, an extending ladder, and motorized drive.
❤️ Easy to use, remote control operation.
❤️ Genuine Mercedes-Benz licensed product gives a quality stamp of approval.
What We Don't Love:
💔 Rechargeable battery is under the screw panel, making it fiddly to access on a regular basis.
💔 Sound effects are fairly noisy.
TIP 💡 Looking for a slightly simpler remote control fire truck? Younger kids will love this option from Paw Patrol.
This fire truck set from iPlay, iLearn is a great choice if your children enjoy playing out their fantasies. There is plenty to pique their creative side with five different fire trucks included, including a water-spraying fire engine, an extendable ladder truck, and even an armored fire-fighting vehicle for the most extreme of fire-fighting scenarios.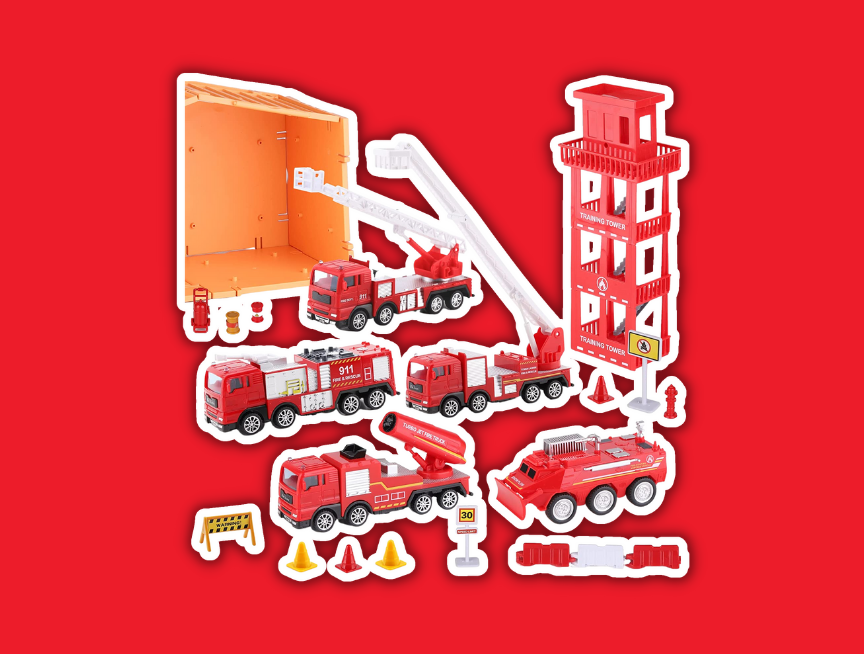 Recommended age: 3 years and above
You'll also find this set includes a range of accessories to help set the scene for their playtime. With extinguishers, pumps, and even a fire tower, the options are endless as they play and learn about the fire service. Each of the pieces is made from durable plastic, so you can expect them to withstand rough play. Plus, it all packs neatly away into its own adaptable box, creating hassle-free clean-up once play has ended.
What We Love:
❤️ 5x fire trucks for 5x the fun.
❤️ Storage box doubles up as a playmat set for enhanced world building. 
❤️ The trucks are around 6" long, so a great size for the set.
What We Don't Love:
💔 Some of the smaller accessories aren't as well-made as the toy trucks.
💔 The storage crate can be frustrating to figure out at first.
With the Hess Fire Truck & Ladder Rescue Toy, your child can re-create the action and excitement of big emergencies. The set contains two separate trucks, including a flat-bed all-terrain vehicle and a friction-activated, push-and-go rescue truck with a 4-tier, telescopic extension ladder that boasts 360-degree rotation.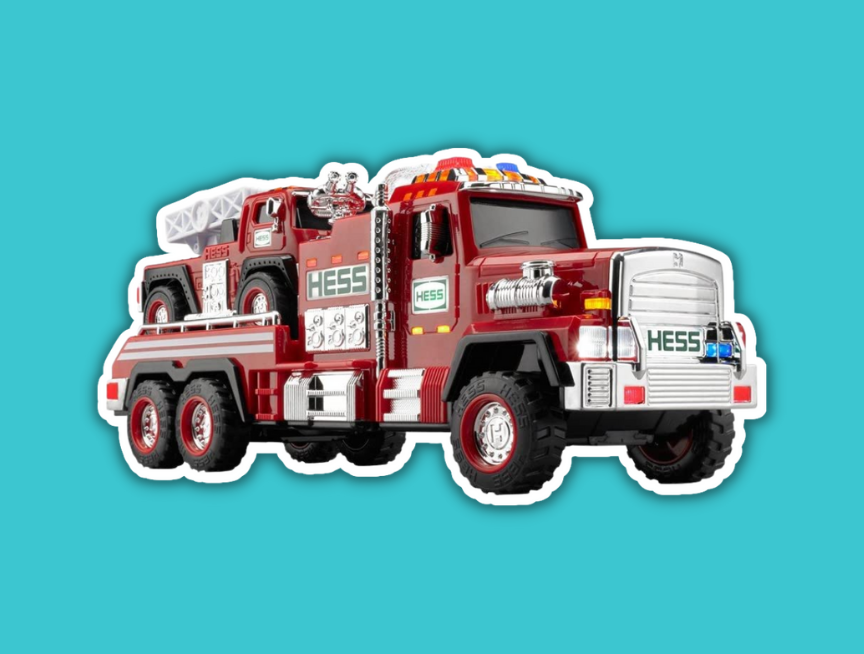 Recommended age: 3 years and above
These brightly colored vehicles have all the tools to battle blazes and a siren that wails just like a real emergency vehicle. Renowned for their quality toys, this fire truck option is extremely well-made, using superior materials and applying the finest attention to detail. Plus, as with many other Hess toys, this may well go on to become a valuable collectible in the future.
What We Love:
❤️ Exceptional quality from a brand you can trust.
❤️ Super fun interactive lights and sounds, with amazing attention to detail.
❤️ Hess toys are collectibles, meaning they may hold their value in the long-run.
What We Don't Love:
💔 On the pricier side of our recommended products.
💔 It would be cool if the larger truck had more features, such as a ladder or hose.
This JOYIN 25-in-1 Fire Truck Vehicle Toy Set is a wonderful gift that is bound to supercharge any child's toy box. This set will offer hours of imaginative play with 12 die-cast mini fire trucks and support vehicles, with a range of styles including a helicopter, boat, armored tank, and, of course, a traditional fire engine or two. Plus, you'll also find 12 fire-fighting figures to help combat any blaze, along with a mega truck that conveniently stores away all the individual pieces.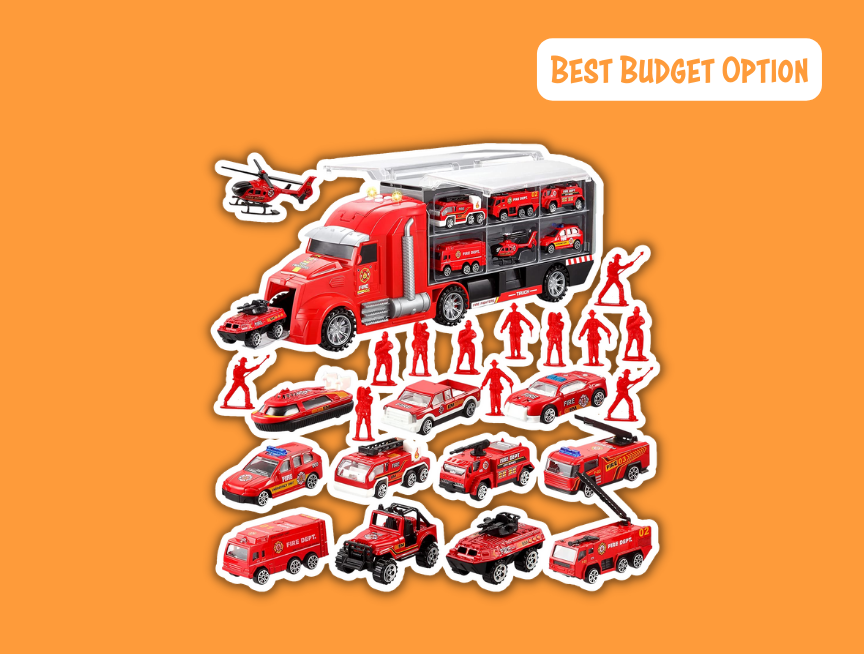 Recommended age: 3 years and above
With so many toys included in this bumper value set, you may be wondering where's the catch. Yet we are genuinely struggling to find a downside to these toys, with each being made from toxin-free materials to the highest U.S. safety standards. While they also incorporate a range of interactive features such as push-and-go cars, sound effects, and moveable components to bring play to life.
What We Love:
❤️ The mini vehicles are all die-cast metal, which adds a real feel of quality.
❤️ Lots of individual pieces to prolong playtime and create expansive games.
❤️ Each toy fits neatly into the mega truck, which has its own interactive sounds and lights.
What We Don't Love:
💔 The mini vehicles don't have many unique features.
💔 The plastic fire-fighters aren't as great quality as the rest of the set.
---
Frequently Asked Questions About Fire Truck Toys for Kids
🙋‍♂️ Is a fire truck a good toy for a kid?
Fire trucks are great toys for youngsters as they cover many bases that your kids will love, whilst helping them in their development. With some great options on the market today, they will spend hours playing, creating new scenarios, and honing their motor skills along the way.
Fire engine toys or station playsets also encourage role-playing, where kids can act out action-packed emergencies and help save the day. Not only is this great for stimulating their creativity and imagination, but also instills great respect for the fire service from a young age.
🙋‍♂️ Why do kids love to play with fire trucks?
From Fireman Sam to PAW Patrol's Marshall, fire-fighters have been a mainstay in kids' television shows since the 1980s. This will be a big reason that kids are drawn to fire trucks in the first place. But their fascination will only grow as they see the real-life big red trucks whizzing by and as they gain a greater understanding of the real-life heroes that ride in them.
These heroes are out there fighting fires and keeping us all safe, so it's natural that they are held in high esteem by little boys and girls. During playtime with a fire truck, kids can act out all their action adventures and emulate their newfound heroes in the process.
🙋‍♂️ What factors are important when choosing a fire truck toy?
Things to look out for when purchasing a toy fire truck are its design, special features, and age suitability.
When it comes to design, you'll want to look for one that closely matches the real thing. After all, how can they be part of the crew if they haven't got the right ride?! Be sure to look for bright red colors, and it should be on the larger side for a toy truck so it makes an impact.
Special features are all important too. Whether it has flashing lights, spinning ladders, or comes with firefighting accessories, it's best to opt for a toy that can provide the wow factor.
Don't forget to gauge the age suitability of each option too. We've divided our recommendations into toys that are best suited to youngsters and those aimed at older children to give you a good idea of what is most suitable.  
---
So… What Toy Fire Truck Toy Should I Get?
While there's 'no one truck fits all' answer to this question, we've tried to offer a wide range of fire truck toys that will appeal to different ages and personalities. After all, no two kids are the same, so it makes sense that they won't all be drawn to the same toy.
Whether the youngster you're buying for is into remote-controlled trucks, a set of ride-on wheels, or perhaps it's their very first fire truck toy, there is something for everyone in our top 15 recommendations. If you've found a hidden gem we happened to miss, do let us know so we can share it on our list too.