Did you ever dream of combing the Sahara desert for treasure? Or searching the Amazon rainforest for undiscovered animals? The world is an enormous place (especially when you're three ft tall), and we want to explore every inch. Well, now you can, so grab your backpack, let's go! 
Join Dora and Boots as they learn about different parts of the world. Dora Toys will take kids, their friends and their monkeys for adventures without traveling to these exotic locations.
From backpacks to plush toys to jigsaws and video games, there's everything a young Explorer could need here. And because Explorers need to do their research, we've done ours to leave out the fake reviews and only recommend toys that have the seal of approval of real kids and their families.
1. Dora the Explorer: Let's Explore! Dora's Greatest Adventures (Best Budget Option)
Dora the Explorer is a popular kid's television show that allows kids to join the main character, Dora, on her extraordinary adventures. This DVD is one of the best Dora the Explorer gifts for kids that enjoy the show because it allows them to go on their adventures repeatedly. This isn't a long movie that kids have to sit through. The DVD is split into some of Dora the Explorer's most popular episodes, like Star Mountain and Swiper the Explorer.
With this DVD, kids will never have to worry about missing their time with Dora and all of her extraordinary companions. Although entertaining, these episodes are also educational and designed to help teach kids things and improve their knowledge of different subjects.
What We Love:
It is dubbed in French
This DVD lasts for approximately three hours
We Don't Like This as Much:
The picture quality could be better.
2. Nickelodeon Dora the Explorer Purple Backpack with Insulated Lunch Kit (Best Quality Option)
This set is one of the best Dora the Explorer toys available on the market because they are designed to allow kids to take Dora along with them on their adventures. This kit includes a 16″ backpack they can take to school. As a bonus, it also includes an insulated Dora lunch kit allowing them to pack a lunch to take with them on their adventures.
It is made in the United States, and the lunch kit comes with an adjustable shoulder strap to make it easier to travel. Plus, the inside of the lunch kit is made from durable material that can be cleaned by merely wiping it down. Finally, it has a mesh pocket that will allow them to keep things separated as needed.
What We Love:
The backpack has mesh side pockets
The backpack has a full-size inner compartment
We Don't Like This as Much:
The lunch kit could be deeper.
3. Dora Goes to the Doctor/Dora Goes to the Dentist (Best Eco-Friendly Option)
For many kids, reading is a chore. But, with this pair of books, kids can enjoy reading and following one of their favorite television characters on her adventures to the doctor and the dentist. These two books are bound together, and it uses a nice font that is easy for newer readers to follow and understand.
Plus, both books have beautiful illustrations that follow along with the words to help engage the kids in their reading experience. Finally, these books are designed to make trips to the doctor and dentist fun and exciting, which can help calm any fears they might have.
What We Love:
It can be purchased in library binding or paperback format
It has a total of 32 pages
We Don't Like This as Much:
You have to flip the book upside down to read the second book.
4. Dora Backpack, Purple Dora Explorer Soft Plush Backpack
This Dora the Explorer backpack is made from high-quality velvet material that is soft to the touch, and the interior of the backpack is made from nylon, which helps to provide the back with stability on the inside. The front of the backpack has an adorable face, just like Dora's backpack; pieces of the face are sewn into the backpack, so they will not fall off.
This backpack can easily be wiped down to keep it clean. It is soft and lightweight, so it will not add extra stress to kids' shoulders. It has a convenient handle on the top of the backpack, and the back straps are adjustable. Finally, this backpack has elastic pockets on both sides of the bags and a spacious inner compartment to carry everything they need.
What We Love:
It has an adorable face on the front of the backpack
It uses Velcro to hold the backpack closed
We Don't Like This as Much:
It wasn't designed for carrying anything heavy.
5. Dora the Explorer Collector Figure Set
With this collector set, kids can enjoy collecting all of the famous dolls and friends from Dora the Explorer and set the figures up on display to help go with any Dora-themed room. This playset comes with five different figures from the Dora and Diego universe: Dora, Diego, Swiper, Isa and Boots. Each of the figures can be played with separately.
To assist with imaginative play, the Dora and Diego characters are possible with moving legs and arms, allowing kids to have creative and realistic scenarios that they go through with these two figures. They are all made from high-quality materials, making them durable for kids to collect and play with.
What We Love:
Each figure is three inches tall
The figures are designed with bright and cheerful colors
We Don't Like This as Much:
The friend figures don't have moveable parts.
6. Dora the Explorer DOLL 14″ Plush Backpack Doll
No products found.
This toy combines several concepts to make the ultimate Dora the Explorer toy. It looks like Dora the Explorer and can be carried around like a backpack. The backpack space is not designed to be big enough to carry around school materials, but it will make it an excellent backpack for kids to carry some of their favorite toys and small things on the go.
Unlike many other backpacks and plush dolls, this one has facial features sewn into the face, so kids don't have to worry about falling off or getting messed up with prolonged use. The backpack is approximately 14″ tall, and although it has straps, it can also be played with as a basic Dora doll, and it can even be cuddled and slept with.
What We Love:
The backpack doll has string hair
The straps are capable of being adjusted
We Don't Like This as Much:
The material can be a little scratchy.
7. Dora the Explorer 100-Piece Jigsaw Puzzle
Putting together puzzles is an excellent way for kids to develop their critical thinking and problem-solving skills. This jigsaw puzzle was specifically designed for kids that love Dora the Explorer. It provides a beautiful image of Dora and her friends when it is completed.
This puzzle was designed for kids at least five years old and up and is made from high-quality material. Although it is a fun activity, it can also be used as a decoration for a kid's room, which is excellent for going on their wall or resting on their desk.
What We Love:
This jigsaw puzzle has a total of 100 pieces
Kids can enjoy putting this puzzle together over and over again
We Don't Like This as Much:
The pieces are pretty thick.
8. Dora the Explorer: Dora Saves the Snow Princess – Nintendo Wii
In this action-packed video game, kids can play as Dora. She and Boots go through the winter world to help save the Snow Princess. It has several different winter activities that they can do, and it presents kids with various problem-solving tasks that will help to develop their skills outside of the game. Unlike some other video games, this one has clear on-screen directions that make it easier for kids to progress through the game.
This game has different vehicles that Dora can use to get through various levels in the game, and it was kid-tested and stamped with their approval and their parents' approval for being fun and a quality video game. It has a solo mode allowing kids to play the game independently. Still, there is also a parental multiplayer platform that will allow kids and parents to play together for more advanced and exciting levels.
What We Love:
This game was designed to play on the Nintendo Wii
It can provide hours of gameplay
We Don't Like This as Much:
Some of the unique Wii motion controls can be difficult to manage.
9. Nickelodeon Dora the Explorer Board Books
These board books were designed for beginner readers interested in Dora the Explorer. The words are written in a medium-sized font that is easy to follow, making reading the storyline easier. This set comes with four different books, each full of beautiful illustrations that help to add to the story. These books are made with thinner boards than others, but they are still durable.
Each book will take kids on a different adventure with Dora; this set also comes with a bonus sticker book that has 300 different stickers that range from characters, words and other things that kids can enjoy. Finally, each book has a different theme that will be fun and educational for kids to read.
What We Love:
Each book has a total of 10 pages
They are all made from high-quality board
We Don't Like This as Much:
The four books that come in the set are random. 
10. Fisher-Price Dora the Explorer: Sizzling Surprises Kitchen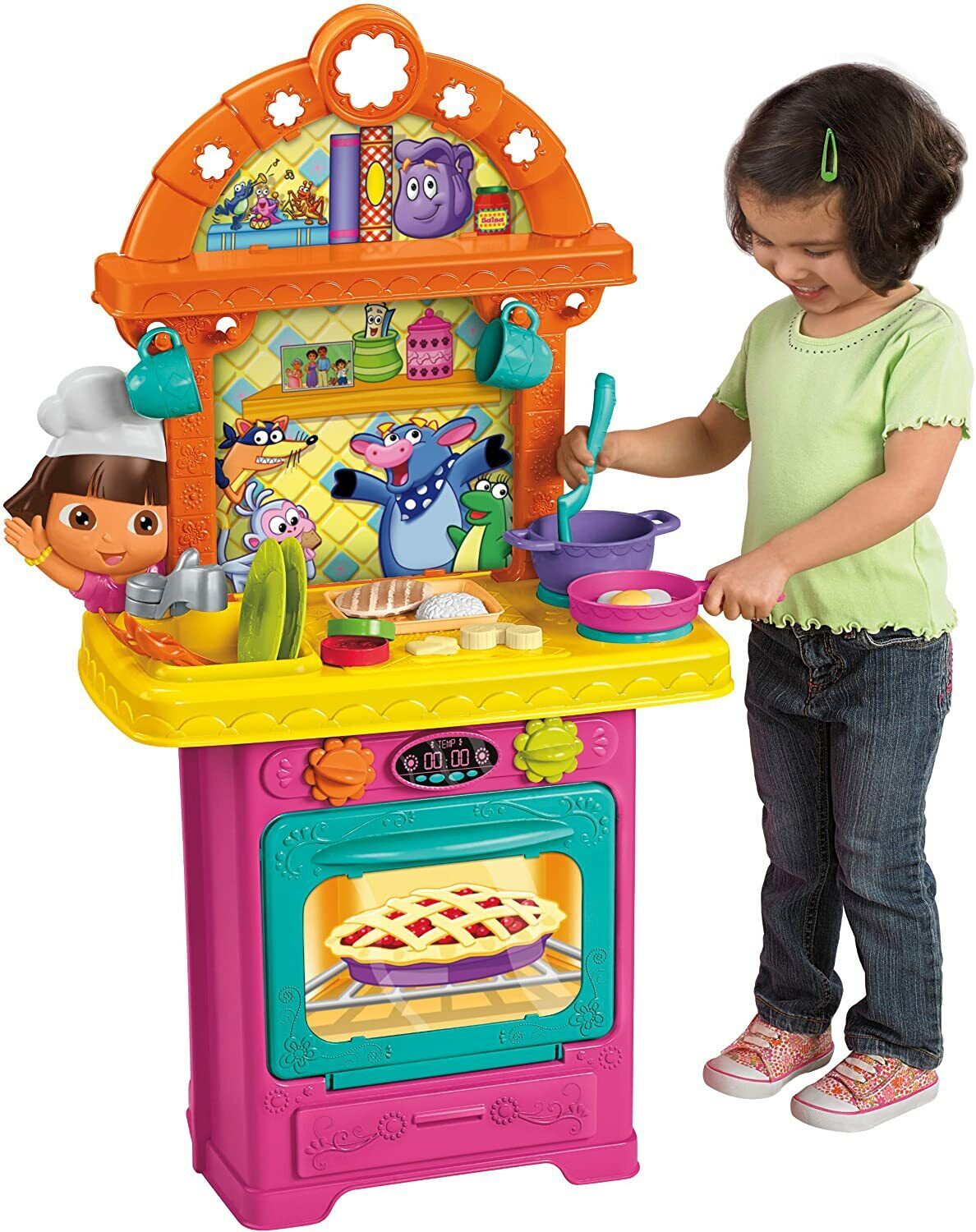 Fisher-Price is known for making high-quality interactive toys, and this kitchen will allow kids to play with their favorite character, Dora the Explorer. The back panel of the kitchen set has a beautifully illustrated scene with all of Dora's best friends, like Boots and Isa. This toy was designed to provide a real kitchen feel because it comes with over 50 interactive phrases and sounds in English and Spanish as they play with the kitchen.
To help with the interactive play of this set, this toy also comes with a 20 pieces playset that includes various types of pots, pans and other kitchen utensils. Finally, this kitchen set can be played solo or with friends adding a whole new level of creative play that different sets cannot provide.
What We Love:
The kitchen set is made from quality and durable hard plastic material.
It will allow kids to do different kitchen activities with Dora
We Don't Like This as Much:
The set could use some storage area.
11. Fisher-Price Dora the Explorer Tunes Guitar
With this guitar, kids can take Dora on the road as they create excellent music. Unlike other pretend guitars, kids can strum the strings on this toy to add different rifts or change the different tunes from the Dora the Explorer television show. While kids are playing on this guitar, lights will light up behind the Dora figure and flash different light patterns to match the music's beat.
This guitar also comes with the special Fiesta Trio guitar pick, which provides realism to the play. It also includes over 20 songs that will provide endless fun for kids using the guitar. Finally, they can hear various fun phrases from all of their Dora the Explorer favorite characters.
What We Love:
It is designed to look like a real guitar
Kids can play it without any extensive musical education.
We Don't Like This as Much:
The guitar doesn't have any volume control.
12. Dora the Explorer Plush
Kids that enjoy Dora the Explorer can watch their favorite show while cuddled up with these two beautifully-made plushies. This set includes a version of Dora and her best friend, Boots. They are separate and can be played together or alone. The Dora plushie is approximately 11.5″ tall, and the Boots plushie is around 9″ tall. These plushies are soft and cuddly, making them the perfect toys for kids at nighttime or naptime.
Each toy has a small looped string on the back of their necks that is big enough for most kids' hands to slip into, which means they can run around with them and play without worrying about dropping or losing them. Finally, these plushies were designed for any child that enjoyed watching Dora the Explorer on Nickelodeon and gave them a permanent companion to take around with them anywhere.
What We Love:
These plush toys are made from high-quality material
The facial features of the plushies are sewed on instead of glued on
We Don't Like This as Much:
The backpack Dora is wearing is not removable
What to look for in Dora the Explorer toy:
When selecting a Dora the Explorer toy, consider the following:
Age appropriateness: Ensure the toy suits the child's developmental stage.
Safety: Choose non-toxic toys that have undergone safety testing, avoiding small parts.
Educational value: Look for toys that promote problem-solving, language skills, and creativity.
Interactivity: Seek toys with lights, sounds, music, and show phrases for an engaging experience.
Durability: Assess the toy's quality and sturdiness to withstand rough play.
Play options: Choose from dolls, playsets, puzzles, and board games based on the child's preferences.
Compatibility: Check if the toy works with existing Dora items for more play versatility.
Reviews: Read customer reviews and seek recommendations for insights into quality and satisfaction.
Considering these factors helps you find a suitable Dora the Explorer toy, providing enjoyable and educational play.