As soon as a child starts to move they will want to climb. Anything around the home will look like a fantastic climbing opportunity in the eyes of a toddler. It usually starts with a bed or a sofa but it quickly moves to the shaky chairs or potentially dangerous stairs. I've been there with my two kids, and it can be stressful!

I love climbing, it's one of my hobbies and something I have done with my father since I was a young boy. So I have tried to encourage my kids to continue to climb as much as they want with the help of climbing toys.
The best way to avoid injuries is to find good climbing toys designed to help toddlers and young kids develop their climbing skills at such an important age.
How To Help Your Kid Develop Key Climbing Skills
Research from the Delft University of Technology highlighted these important developmental milestones when it comes to climbing skills and the type of platform that works best for each:
| Climbing Skills Developed Between Ages 1-3 | Best Platform to Improve This Skill |
| --- | --- |
| Successive platforms | Stairs of a small slide |
| High platforms | Chair, table |
| Fences | Baby crib |
| Irregular shaped objects | Pillows, boulders, module blocks |
| Angles plane with little support points | Sliding side of a small slide |
When putting together this list of what we think are the best climbing toys for toddlers, we avoided any toys aimed at older kids as they could lead to injuries. Toddlers will climb anything you put in front of them so you need to make sure you choose the right toy.
That is why I spent some time researching children's climbing skills and testing what I've learned with my boys Liam (4) and Dylan (2). I also used data analysis to uncover which climbing toys are the most popular with parents online to ensure I wasn't missing any highly rated toys.
Our Favorite Climbing Toys for Toddlers
Best for Younger Toddlers
Recommended Age
18 months - 6 years of age
Pros
Climbing fun for less than $30
Very durable and used for young and older kids
Big enough for lost of kids to play with
Cons
Too small for bigger kids to sue (aged 6+)
High initial cost no getting beyond that
Tricky to build without an extra adult to help
Best Budget Option
Recommended Age
18 months - 6 years of age
Pros
Climbing fun for less than $30
Cons
Too small for bigger kids to sue (aged 6+)
Best for Younger Toddlers
Pros
Very durable and used for young and older kids
Cons
High initial cost no getting beyond that
Best for Older Toddlers
Pros
Big enough for lost of kids to play with
Cons
Tricky to build without an extra adult to help
Right, enough with the intro. Read on to find out what are the best climbing toys for toddlers available right now.
This is not a cheap toy but it is, hand on heart, the best climbing toy out there and I've recommended it to many parents IRL before I wrote this article. These soft play climbing cushions saved us during the COVID-19 pandemic lockdown of 2020 as it allowed us to recreate the 'soft play experience' in our own home.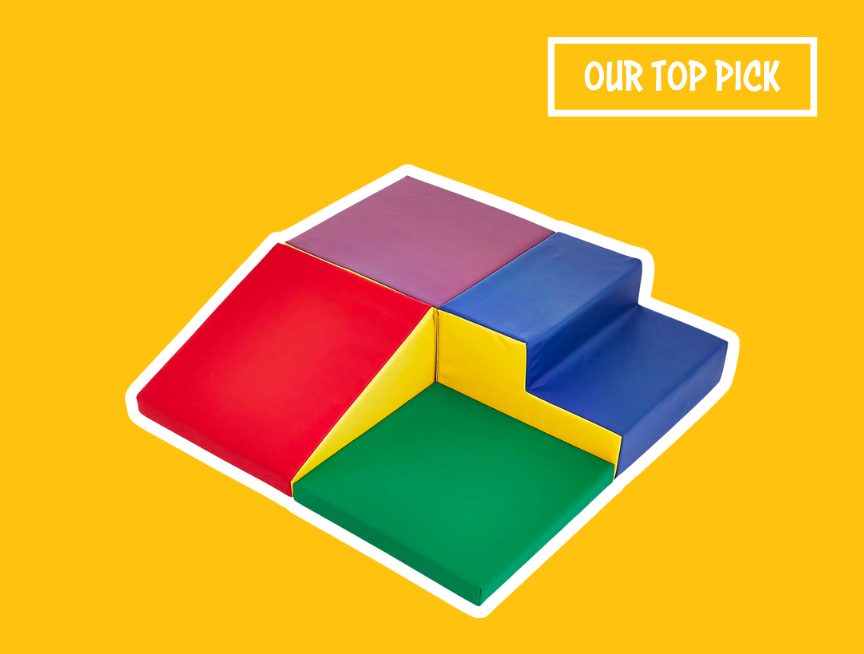 Recommended age: 12 months and above
It is a 4-piece indoor climbing toy that both young toddlers and older children in the house can enjoy. You can use the interlocking hook-and-loop strips to help you secure the pieces together, and there's even a hook-and-loop strip at the bottom to make sure it stays in place on the carpet or floor. The pieces are quite large, measuring 40 by 40 by 10 inches (LxWxH) and they come in bright colors.
What We Love:
❤️ It's made of CertiPUR-US certified PU foam with PU leather fabric that wipes easily
❤️ It helps kids improve their coordination and gross motor skills
❤️ Can be used indoors and outdoors so multiple ways to bring it into existing play areas
What We Don't Love:
💔 They are not cheap
💔 They need to be aired out when you get them out of the box to get rid of the plastic/chemical smell
TIP 💡 We recommend the Amazon Basics option because it usually comes at the lowest cost and offers high-quality materials.
Once your toddler hits 18 months, they will be ready for Little Tikes' First Slide. This is the perfect choice for kids who are obsessed with the slide every time you take them to your local playground. Place this little slide inside any room and enjoy watching your toddler climb up the stairs, slide down the slide, and try to climb up the slide for hours on end.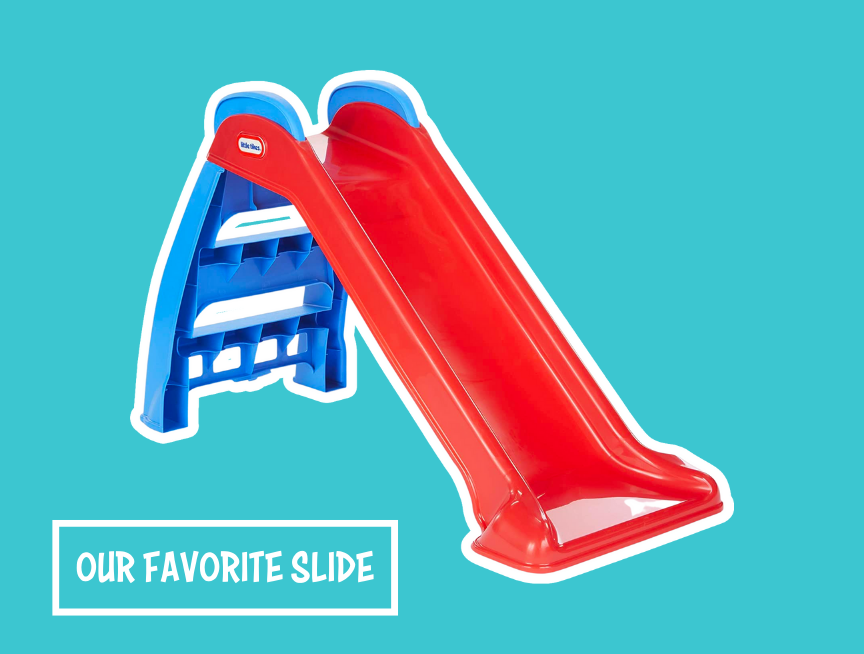 Recommended age: 18 months and above
It is fairly small at 3ft high and 5ft long, making it the perfect slide for beginners as it's 100% safe for younger kids (18 months+). It is easy to assemble as long as you follow the instructions, but keep pushing pieces into place until you can hear a "snap" to make sure it's built correctly. The slice can be used both indoors and outdoors.
What We Love:
❤️ It is easy to put away after a play session as it folds down
❤️ Can be used in combination with a ball pit inside or even a paddling pool outside
❤️ A fair price for a toy that will provide hours of fun
What We Don't Love:
💔 Some manufacturing issues need to be fixed to avoid rough edges that might need a few minutes of sanding
💔 Older kids (6+) will be too big to use it
This bright, vehicle-styled climber allows young explorers to climb, crawl, slide and drive all day long. The climber features a ladder with handles that leads to a large two-tiered platform, an extra wide slide, a steering wheel and a dashboard. Younger kids will have a lot of fun climbing in and out of the nook, and playing peekaboo through openings.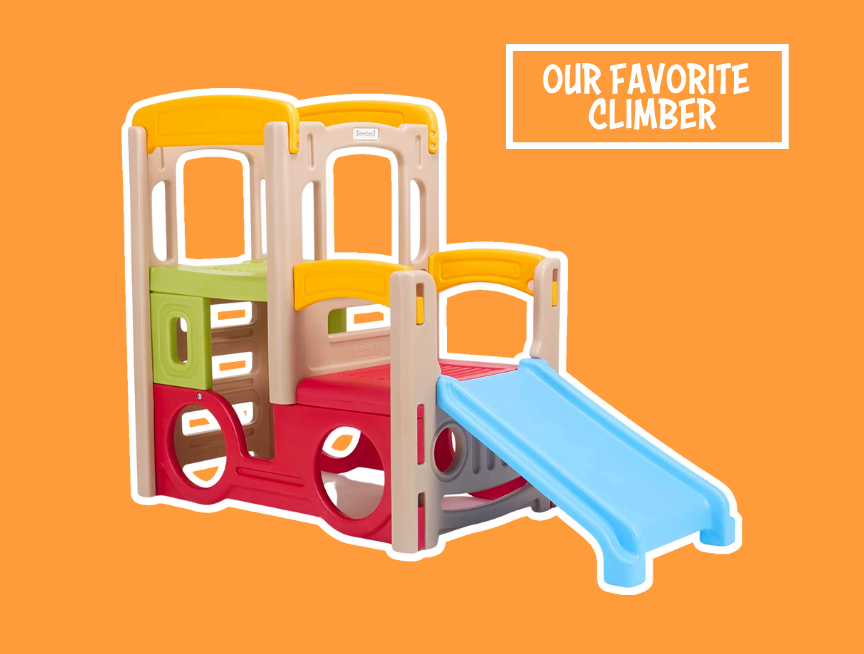 Recommended age: 18 months and above
This is a compact enough (70.12 x 49.5 x 28.5 inches) all-in-one climber for developing climbing skills and gross-motor activity. It can be played both indoors and outdoors by more than one child. It takes around half an hour to assemble if you follow the instructions but you might need to use some additional tools.
What We Love:
❤️ It is sturdy enough to handle the playtime but light enough to be carried by one or two adults
❤️ High-quality materials and components
❤️ All edges are smooth and safe
❤️ The toy fits through the doors so you can bring it inside or take it outside with ease
What We Don't Love:
💔Open platform at the top does not prevent a child from slipping down
💔To assemble you might need a drill, a screwdriver or a small hammer, some customers have complained that the structure was missing holes
If you are searching for an all-in-one climber with a creative design, this is what you want. This tiny fortress comes with a ladder, a plank, two platforms and a slide to encourage both climbing skills and imagination. Up the plank and down the slide! Up the ladder and down again! Get your toddler to try out his first adventure!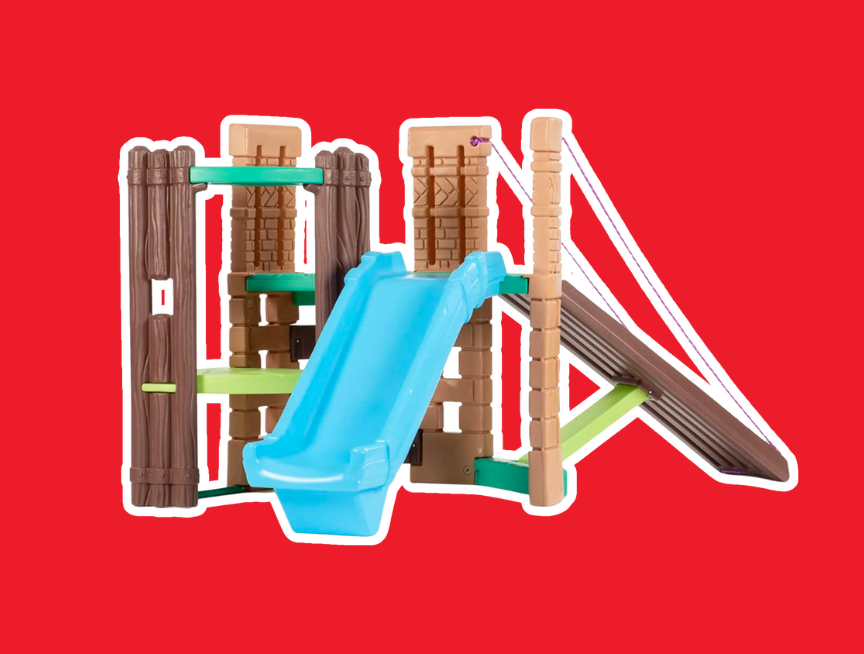 Recommended age: 24 months and above
The climber is made out of plastic and comes with ropes near the plank. It can be used for both indoors and outdoors adventure by a group of kids, encouraging social, active and imaginative playing at the same time. The toy is huge, as a castle should be, measuring 92 by 68.6 by 48.5 inches (LxWxH). Perfect for two-year-olds and above.
What We Love:
❤️ Fort-themed design to encourage imaginative playing
❤️ Very sturdy construction
❤️ Bright colors with minimal fading, therefore rather endurable
What We Don't Love:
💔 May be tough to assemble without help
💔 The slide stops way too abruptly so you may need a pillow to prevent a child from hitting the floor
A great climbing toy for toddlers who enjoy playing with balls. This sports-themed activity set combines traditional climbing and sliding with basketball and soccer. The best option for your young sportsman to shoot his first hoops and soccer goals. It also has clickable knops under the basket to fix the score.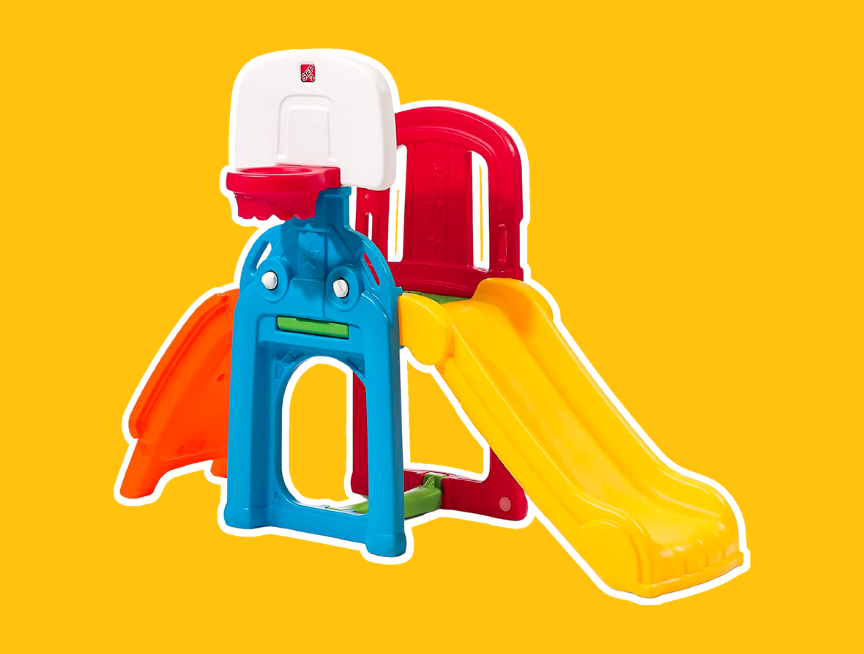 Recommended age: 24 months and above
It is a bright-colored climber with a spacious design made out of quality plastic. Although it gives various opportunities to play, it is fairly compact, only 30.51 x 61.89 x 42.52 inches (LxWxH). Suitable for indoor as well as for outdoor playing.
What We Love:
❤️ There are no sharp edges and it's not high enough that falling from it would seriously injure a little one
❤️ The platform allows the child to position themselves safely before siding down
❤️ The climber is very light, therefore easy to move from one room to another
❤️ The toy is really easy to assemble
What We Don't Love:
💔The toy tends to slide around, so keep it on a surface like carpet or grass or some kind of rubber mat to keep it from sliding too much
💔Not very useful long term as it can be too small for kids over three years old
A visit to a soft play center is a great experience for a toddler. But having a small soft play center at home is even greater! This open-ended playset is designed to let a child crawl, climb and slide on a collection of five foam pieces. . A great choice for kids who are learning shapes and colors as it includes colorful shapes of cushions with square, rectangle, wedge, round, and a half-moon shape. Your child can evolve critical thinking by memorizing the shapes and colors, develop such gross-motor skills as lifting, stacking, and carrying or just have fun with you or his friends.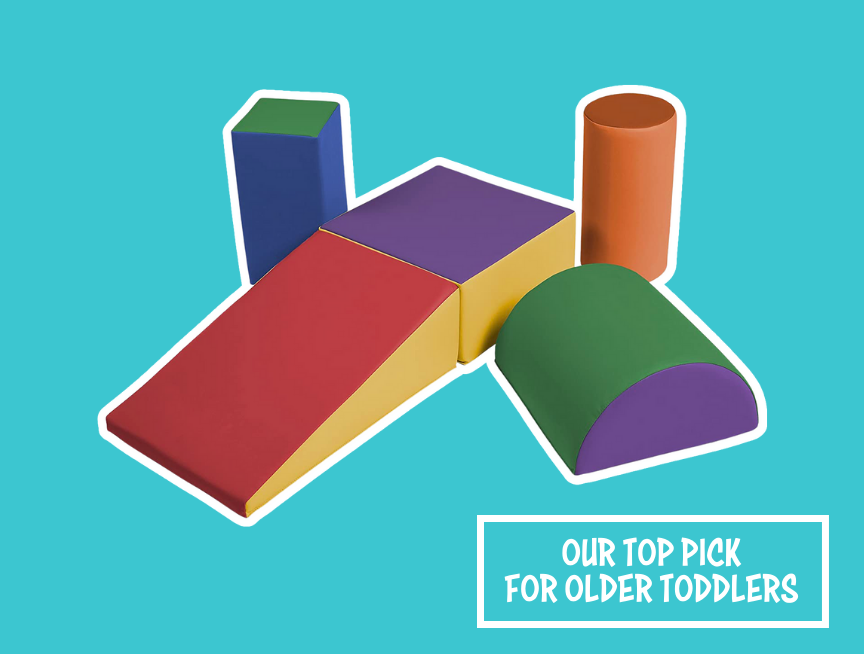 Recommended age: 24 months and above
The playset is constructed with CertiPUR-US Certified foams that are safe for your little ones. The toy is covered in soft vegan leather and features a non-slip base for added stability.t is easy to clean with a mild soap-and-water solution or your favorite bleach-free cleaning wipe. The pieces are suitable for a toddler to play with, overly measuring 24 L × 16 W × 8 H. The playset is a great addition to any indoor space.
What We Love:
❤️ The foam is strong enough for an adult to sit on it without deforming excessively and it springs back in a short time
❤️ The cost per play hour is spread across a number of years as this is a durable toy that older kids will have fun with too
❤️ Rated GREENGUARD [GOLD] for low VOCs, CPSIA lead and phthalate compliant, meets ASTM F963 Toy Safety Standards, and adheres to CA-117 requirements for fire retardancy
What We Don't Love:
💔 It May appear too lightweight and slide around easily
💔Not the cheapest option when it comes to foam blocks
A simple, friendly-colored activity set for younger toddlers (18 to 24-month-olds) who love to climb, crawl, slide and drive. The climber features a ramp with easy grip for little hands and feet, a climbing wall, tunnels, a slide, and a steering wheel. A great mix of activities for little ones to help them build gross-motor skills, improve coordination and exercise their imagination – it can also encourage social skills because it is the perfect climbing toy for playdates!
Recommended age: 18 months and above
The activity climber is made out of the weather and UV-resistant plastic which is easy to clean and sanitize for years of fun ahead. The toy measures 49 x 32 x 29 inches (LxWxH), making it easy to return indoors when the playtime outside is over.
What We Love:
❤️ Can be later joined with other larger parts from Simplay3 Young Explorers
❤️ Easily fits through the standard doorway
❤️ The construction is rather sturdy, and the toy is 100% safe thanks to child-friendly edges
What We Don't Love:
💔You might need a drill, a screwdriver or a small hammer because it might lack some holes
💔It is a really small platform so many kids playing together could pose an issue as they could easily run out of space and fall off the side
Children love hiding games. That is why I couldn't omit this charming caterpillar, as it can provide hours of fun hide and seek games. In addition to that, toddlers can crawl through the tunnel, climb to the top of the toy and walk on it as if on a balance beam. Young explorers can learn the colors while counting its colorful boot-shaped legs.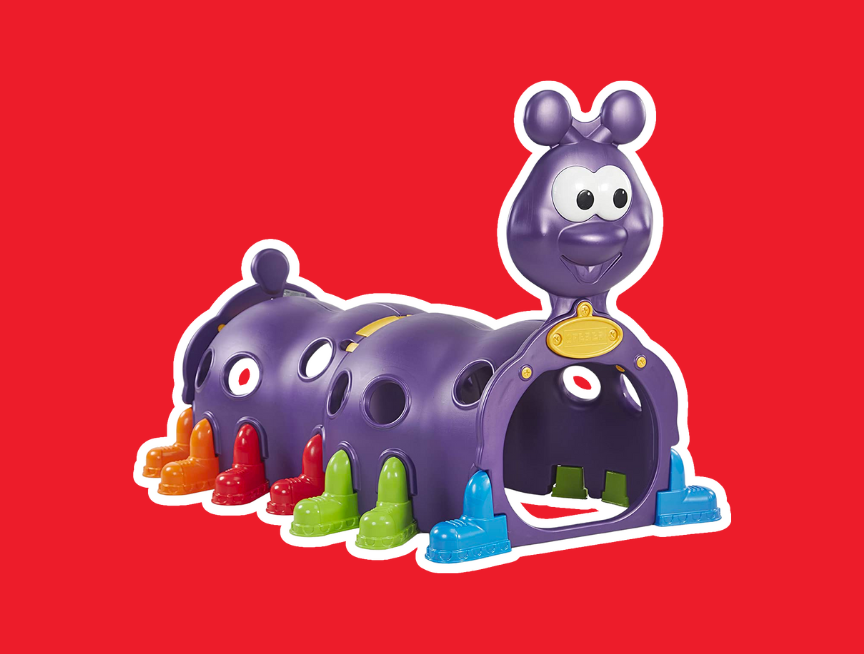 Recommended age: 36 months and above
This unusual caterpillar climber will definitely give your yard or playing room a vivid pop! The toy measures 56.25″ x 37″ x 48″ (LxWxH) with a 18″ tunnel opening. It weighs 40 pounds or 18 kg. The bright colors attract the little ones' attention, so the toy won't be left behind by the children!
What We Love:
❤️ Is very easy to take apart and set up again if needed
❤️ Suitable for kids of different ages, therefore is durable and provides years of fun as little ones grow up
❤️ It is made out of fade and weather-resistant plastic
What We Don't Love:
💔 Smaller kids might need to be supervised as the back of the caterpillar might be easy to slip on
💔 The legs tend to fall off when the toy is lifted
💔 The head isn't very sturdy
---
Frequently Asked Questions About Toddlers and Climbing
🙋🏻 Is it normal for toddlers to climb?
Yes, it is. It is just one of the phases most toddlers go through as they start to gain certain control over their bodies and grow more curious about their surroundings. Unfortunately, it includes climbing potentially dangerous places, such as bookshelves, high chairs, edges of the window, etc. Climbing toys are a great option to minimize the potential dangers any parent of an active toddler worries about. These safe alternatives will allow you to redirect your toddler's energy and interest in climbing, helping them develop their gross-motor skills, critical thinking, coordination, and ability to socialize.
🙋🏻 How does climbing help a child's development?
Climbing for a toddler might be a certain risk, though it also is a valuable experience that contributes to their development in multiple ways:
Refined speed
Coordination
Agility
Increased muscle tone and strength
Improved gross-motor movements
Learning to make decisions
Solving low-risk problems
Visualizing solutions to an issue
There are also some social advantages such as gaining confidence, learning to rely on themselves, and coping with stress and fear. Imaginative games on a climber play a vital role as a toddler gets to know how to express emotions, learns to listen to his peers' perceptions, and communicates in verbal or nonverbal ways. Finally, the toddler gains sensory awareness by coordinating the movements without falling or determining the force needed for different tasks.
So… What Climbing Toy Should I Get?
There is no clear answer to this question as no toddlers are identical. If your little ones love sliding as much as climbing, take a closer look at climbers with a slide. Is your baby asking for a game of hide and seek each play session? Then be sure not to miss some climbers with secret hideaways.
Please share your experience if you happen to know more options of climbing toys for toddlers, so I can keep the list updated!