Friendly fictional dogs are a mainstay of the world of kids' entertainment, which comes as no surprise given the role of real dogs in our lives. My favorite was always Snoopy, but perhaps you were a Blue's Clues fan growing up, just like your little one! Blue's Clues may have undergone a revamp since then, but Blue is still the same bouncy, lovable pup she always was.
Fans of Blue's Clues and You! range from toddler to preschool age, so the kinds of toys you might choose for your Blue enthusiast will differ according to age. Either way, toys for young children must be both safe and durable. That means no sharp edges, small pieces toddlers might choke on or toxic materials. And in terms of durability, you want to know that the toy you're considering can withstand the rough play of a preschooler before you buy it!
The best toys for toddlers and young children inspire imaginative play or involve sensory or cognitive stimulation. Interactive toys are great as they engage kids for longer and keep their minds active as they play. On the other hand, simple toys like plushies and figures provide a canvas for all kinds of imaginative games.
All the toys below fit the bill and will indeed have your little Blue fan jumping for joy!
The Top 3 Blue's Clues Toys
Preview
Pros
Just enough of a challenge for toddlers. Durable, colorful and cute
Lots to engage the hands and mind
Extremely durable Great for teaching letters, shapes, counting, drawing etc.
Cons
A bit too easy for older kids
The roof comes off quite easily
The screen is hard to see in low light
Best Budget Option
Preview
Pros
Just enough of a challenge for toddlers. Durable, colorful and cute
Cons
A bit too easy for older kids
Best for Younger Kids
Preview
Pros
Lots to engage the hands and mind
Cons
The roof comes off quite easily
Best for Older Kids
Preview
Pros
Extremely durable Great for teaching letters, shapes, counting, drawing etc.
Cons
The screen is hard to see in low light
Whether you are looking for a toy to occupy your little one on car journeys, a plushy to cuddle at night or a toy that can engage their hands and minds during daily playtime, there is something for you here.
We have also included a range of toys for different ages and budgets, so no one is left out. It's time to dive in to find the best Blue's Clues toy for You!
This interactive Blue check-up set is perfect for kids who love make-believe play. Pretend to be the doctor and do a complete check-up on patient Blue! Along with the plush, you get lots of accessories to help you perform the check-up. Simply press Blue's paw to get started – Josh's voice will tell you what to do as Blue's body parts light up to show you where to perform checks.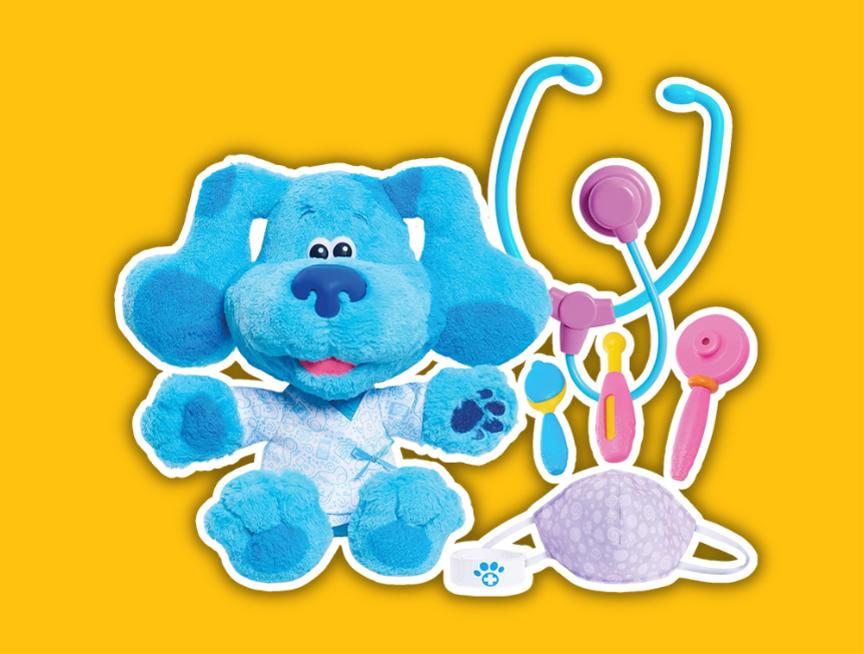 Recommended age: 3 years and above
Blue is well made from quality materials, and wears a hospital gown to complete the look. If your kiddo hates doctor's visits, this toy can make things much less scary!
What We Love:
❤️ Excellent quality, soft plush
❤️ The interactive elements are fun
❤️ Great way to get kids less scared for doctor's visits
What We Don't Love:
💔 Some customers reported that the plush kept repeating the same phrases
💔 The accessories do not match the quality of the plush
Coloring is a great way to encourage kids' creativity and fine motor skills. This excellent Blue's Clues activity pad lets kids express their inner artist via their favorite blue pup and other characters from the show. Best of all, it comes with three No Mess Markers that only work on the special paper, leaving your home and child's skin marker free!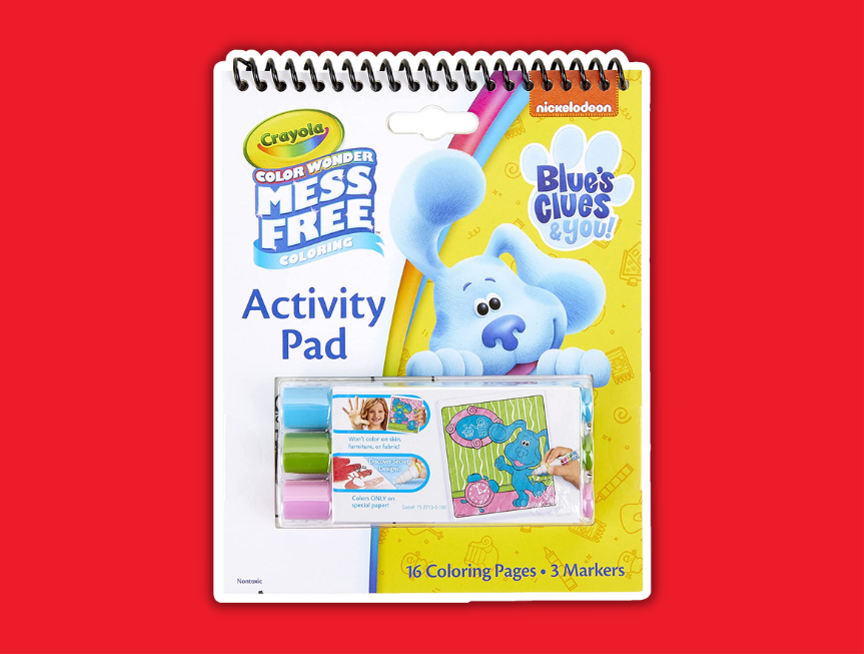 Recommended age: 3 years and above
The ring-bound activity pad is travel-size, making it perfect for vacation, especially as it has designated storage for the markers. The markers are non-toxic and work on other Crayola Wonder Paper sets too.
What We Love:
❤️ Markers won't make a mess on clothing, furniture or walls
❤️ Cute pictures to color in
❤️ Great for car and plane trips
What We Don't Love:
💔 Only includes 16 pages
💔 The small pages are a bit difficult for toddlers to color
💡 For kids that can't get enough Blue's Clues arts and crafts this cool sticker book makes a great addition.
Kids love watching Josh and Blue in their house and now they can go there themselves! This play tent is the perfect base for imaginative adventures – kids can pretend to be Blue and her friends or branch off anywhere their imagination brings them. The bright colors and graphics set the scene, and the tent features a roll-up front door and mailbox slot for the included postcard!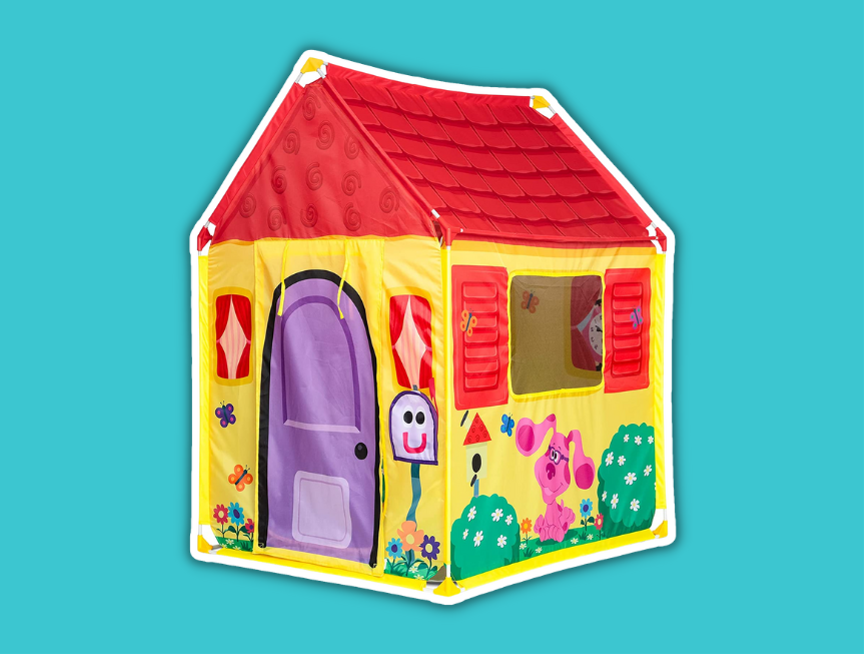 Recommended age: 3 years and above
This tent is made from durable material suitable for indoor or outdoor use. The mesh windows provide ventilation, and it comes with a handy storage tote for when it's time to tidy up.
What We Love:
❤️ Sturdy tent with ventilated windows
❤️ Includes a mailbox slot
❤️ You can use it indoors or outdoors
What We Don't Love:
💔 It takes time to set up and pack away every time
💔 The walls are not as durable as the floor
This play set is great for encouraging imaginative play and comes with everything you need for a delicious picnic. What I love about it is that it is truly designed for interactive play. Blue is a hand puppet whose mouth can open and close and the food pieces include sandwich ingredients to be put together and watermelon pieces connected by velcro that kids can "slice"!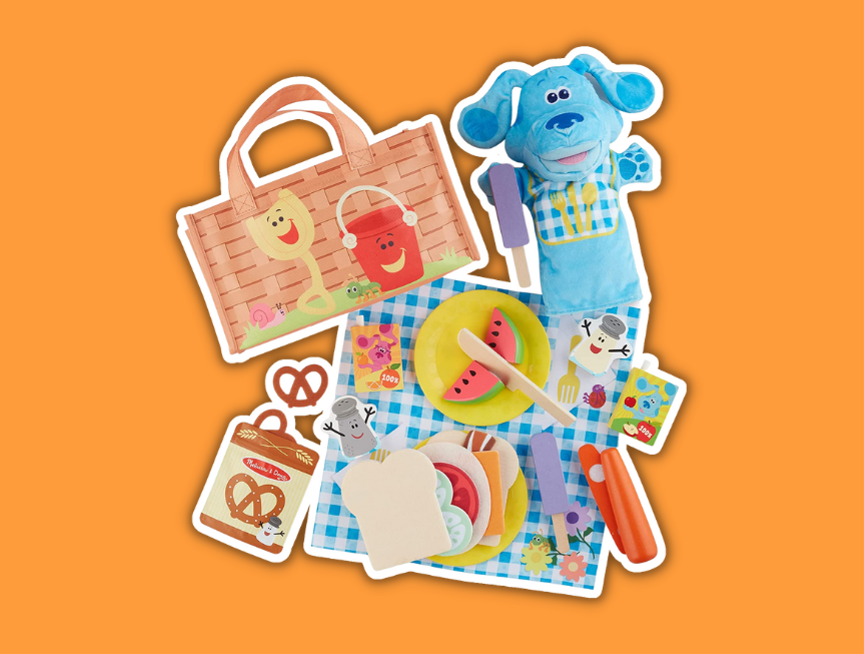 Recommended age: 3 years and above
In a world where plastic toys abound, parents love that all the pieces are made from high-quality wood, cloth or felt. They also love that everything packs up easily into the picnic basket tote!
What We Love:
❤️ So many ways to play
❤️ Includes some fun learning activity cards
❤️ Excellent quality pieces with great details
What We Don't Love:
💔 The picnic blanket is a bit small
💔 Quite pricey
This adorable dancing Blue is great for getting kids up and moving. This sturdy plush comes with a cute guitar remote control kids can use to get Blue to move in various ways or dance to the show's theme tune. As she wiggles and moves, kids can sing and dance along too!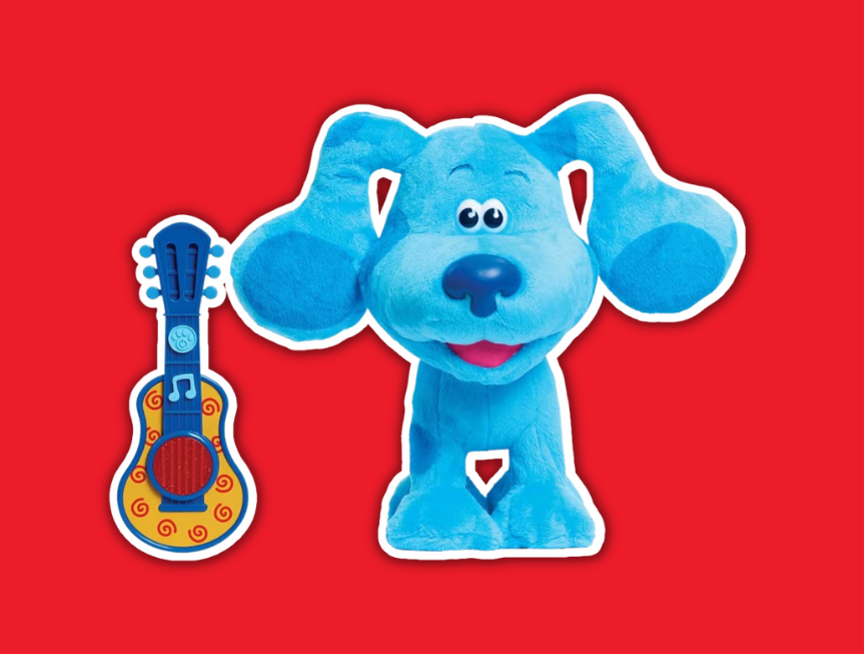 Recommended age: 3 years and above
This dancing Blue can make a wide range of movements that are fun to watch or dance along with. She also has all the necessary batteries so kids can dance straight away!
What We Love:
❤️ Kids get a kick out of Blue dancing and singing
❤️ Sturdy and decently sized
❤️ Gets kids up and moving
What We Don't Love:
💔 Would be great if Blue talked too
💔 Requires a lot of batteries
If Mailbox is your kiddo's favorite character from the show, they will go wild for this wooden play set. This set includes a range of mailing equipment, like wooden envelopes, stamps, shipping parcels and reusable stickers, offering many opportunities for interactive, imaginative play. Kids can personalize their mail and put it in their Mailbox to take care of!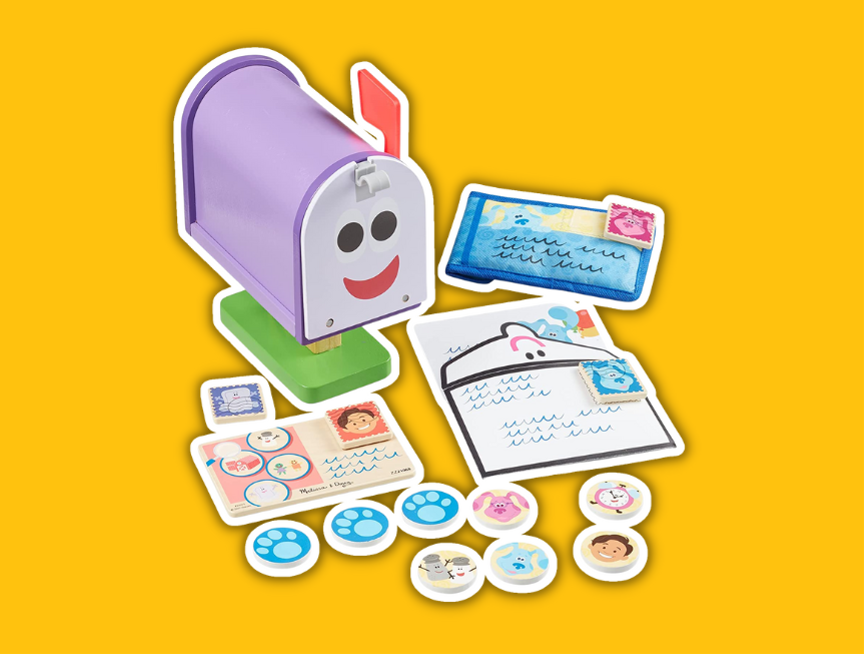 Recommended age: 4 years and above
In addition to all the mailing items, this play set also includes a 10-piece memory game which is great for cognitive development.
What We Love:
❤️ Melissa & Doug toys are better for the environment
❤️ Pieces are sturdy and durable
❤️ Easy to store inside the mailbox
What We Don't Love:
💔 Mailbox is hard for toddlers to open
💔 The return addresses are squiggly lines rather than real writing
This interactive Skidoo Into ABCs Book featuring Blue, Magenta and Josh is a great way to introduce toddlers and preschoolers to letters for the first time. The light-up buttons introduce kids to letter names and sounds, and words beginning with each letter in various places that Blue visits. There is also a simple Find It game so kids can test their knowledge!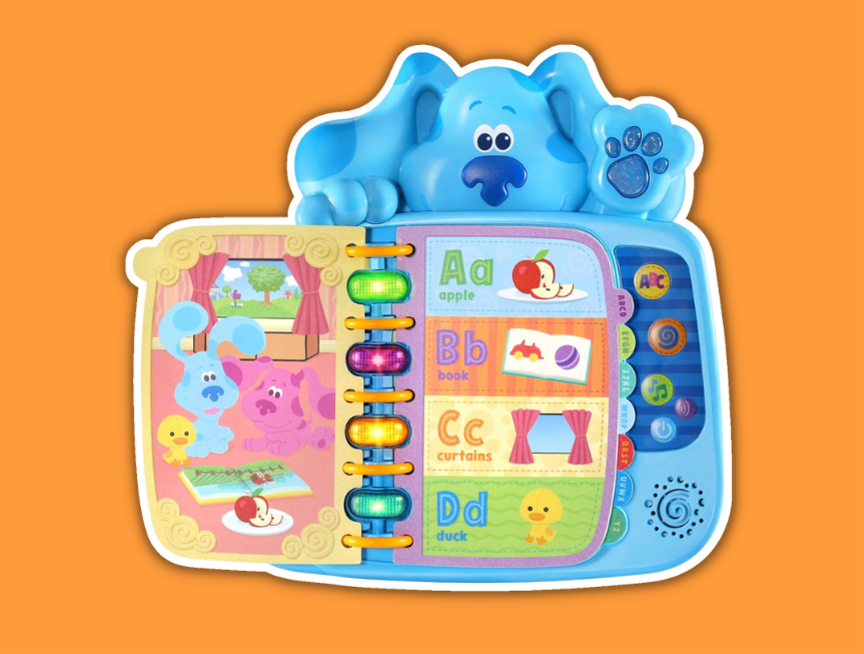 Recommended age: 2 years and above
This book is simple enough for toddlers to operate and helps them learn letters in a fun way so they can be more than ready when they start school. Plus, pressing the buttons also helps develop fine motor skills!
What We Love:
❤️ Kids won't want to put it down
❤️ Great toy for learning letters early
❤️ Improves fine motor skills
What We Don't Love:
💔 A few customers experienced glitching with the sound
💔 The voice can become annoying for adults
With this 14-piece figure set, Blue's Clues fans will be all set to play out all their favorite scenes from the show and make up their own. The set includes Blue, Magenta, Josh, Tickety Tock, Slippery Soap, Thinking Chair, Sidetable Drawer, Mailbox, Mr. Salt & Mrs. Pepper, Paprika, Cinnamon, Ginger and Sage – i.e., the entire gang! Even better, many of them have movable or removable interactive parts.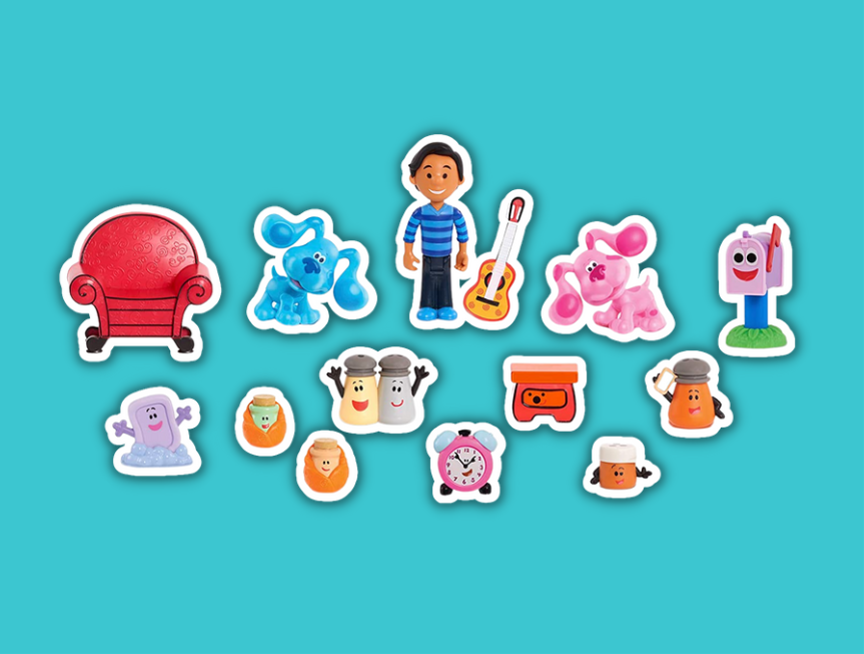 Recommended age: 3 years and above
At around three inches tall, these figures combine well with other figures and play sets. Although they are plastic, they are well made and will last a long time — even if used outdoors!
What We Love:
❤️ Many of the figures have movable parts
❤️ Durable and easy to clean
❤️ Figures are brightly colored and true to the show
What We Don't Love:
💔 Small pieces could be choking hazards for toddlers
💔 Figures are pretty small
This music maker board is perfect for the musical Blue's Clues lover, whether they want to follow along with the provided music cards or make their own wacky and wonderful tunes. It is an all-in-one percussion set, including a drum, chimes, xylophone and cymbal, all built into the wooden board!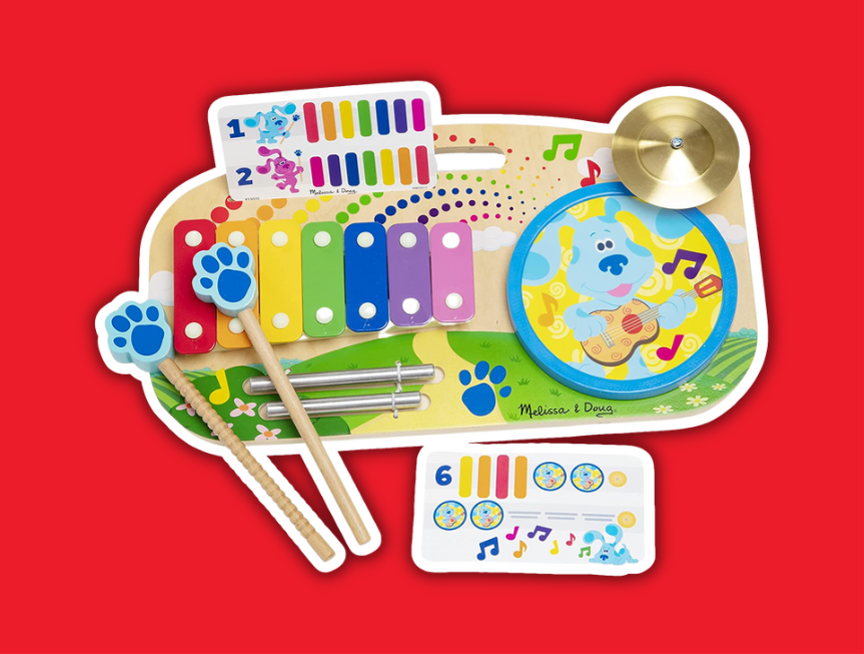 Recommended age: 2 years and above
This music board is very travel-friendly thanks to its handle, and everything is stored on the board, including the adorable paw drumsticks! The music cards use pictures to show each sequence, so they are simple enough for toddlers to follow while encouraging cognitive development.
What We Love:
❤️ Makes a pleasant sound that isn't too loud
❤️ Different levels of music cards to use as kids grow their abilities
❤️ Comes with cute paw drumsticks
What We Don't Love:
💔 The xylophone is quite muted
💔 One or two customers did not receive the drumsticks
If you're looking for a more affordable plush without all the bells and whistles, this two-pack plush Blue and Magenta is perfect for you. These squishy, huggable pups are perfect for cuddling, playing with or taking to bed. Kids will love that they get Magenta and Blue for double the fun!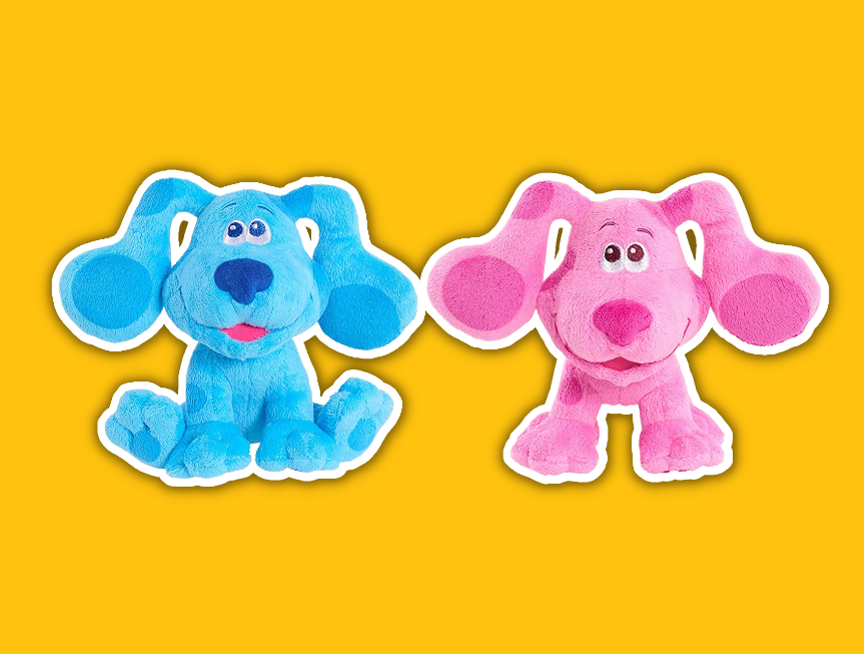 Recommended age: 3 years and above
These plushies make great vacation companions as they are small at seven inches. The fabric used to make them is wonderfully soft and vibrant in color. These are also great for toddlers as no hard parts can come off and become choking hazards.
What We Love:
❤️ Very soft and cuddly
❤️ Great value for money
❤️ Vibrant colors, machine washable
What We Don't Love:
💔 No interactive features
💔 They are quite small
This may look like an ordinary plastic Blue toy at first, but if you squeeze the handle, her mouth will open to reveal a flashlight and a barking noise! This Glow & Go Blue Flashlight is perfect for hunting clues with the best sidekick to light your way. The handle is perfect for little hands, so kids can bring Blue wherever the clues take them.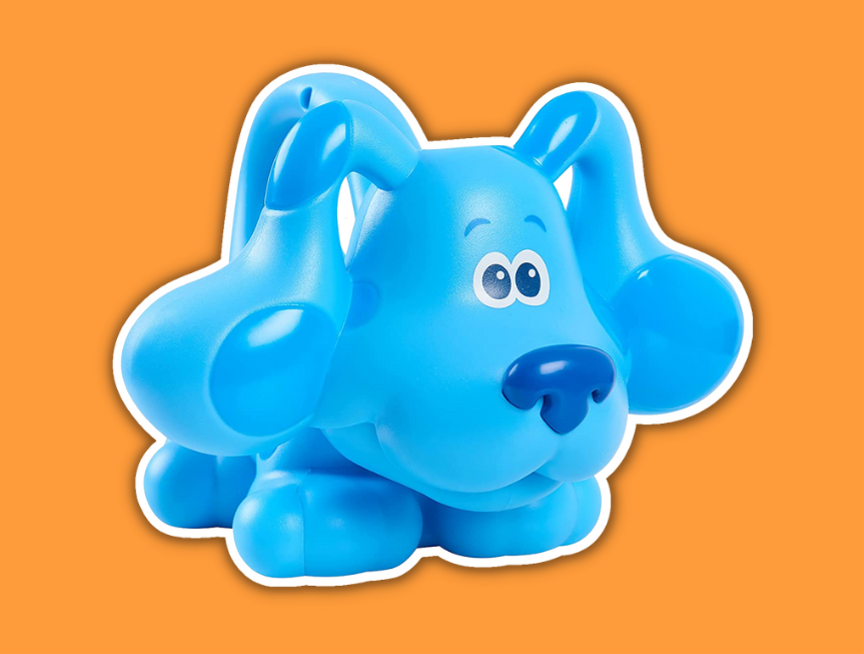 Recommended age: 3 years and above
This Blue flashlight is made of durable plastic and the barking sound is clear, authentic sounding and has a good volume. At the same time, it is lightweight and easy for little ones to carry.
What We Love:
❤️ The handle fits into little hands
❤️ The barking sound is clear and realistic
❤️ Lightweight but durable
What We Don't Love:
💔 Light only stays on while you hold the button down
💔 The flashlight is not very bright
LeapBuilders building blocks are a great way for toddlers and preschoolers to develop their problem-solving and spatial awareness skills. This set is perfect for Blue fans as it's about building a school for Blue, Magenta and Josh! Younger kids can use the blocks and figures for more open-ended play, and as they grow older, they will enjoy following the instructions to build the school.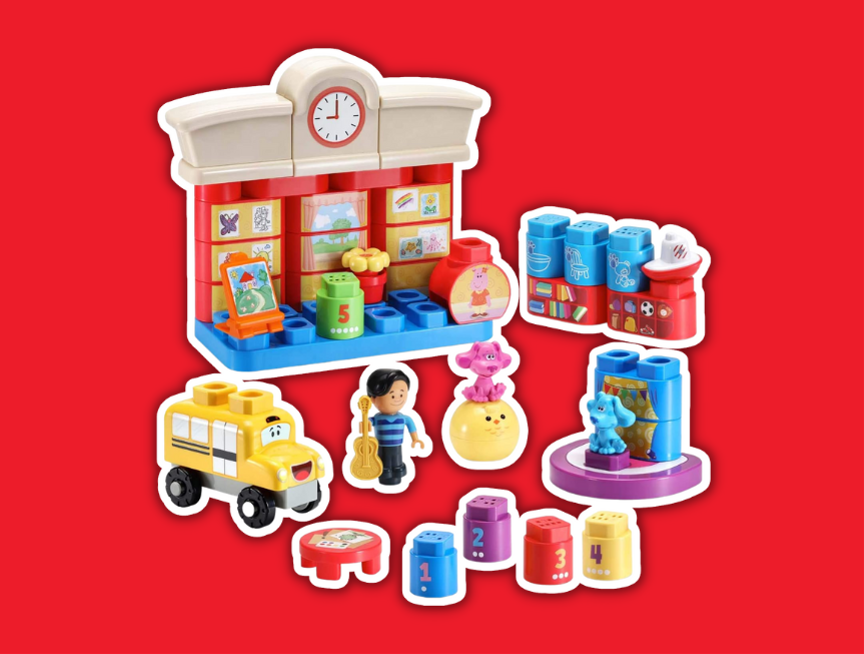 Recommended age: 2 years and above
This set is packed with special themed blocks that match things found at Blue's school in the show. The pieces are compatible with the Smart Star interactive cubes, though these are sold separately.
What We Love:
❤️ Blocks are easy for toddlers to handle
❤️ Pieces are cute and durable
❤️ Great for both problem solving and imaginative play
What We Don't Love:
💔 Interactive learning cubes sold separately
💔 Toddlers may need adult help
💡 Expand their building and learning horizons with this 81-block expansion pack.
Melissa & Doug are at it again with their beautiful wooden toys, this time with a count-and-match food puzzle! Under each piece depicting a certain number of food items are a corresponding picture and numeral so kids can match by counting or recognizing the food. The food puzzle items are nice and chunky, so they are also suitable for imaginative play.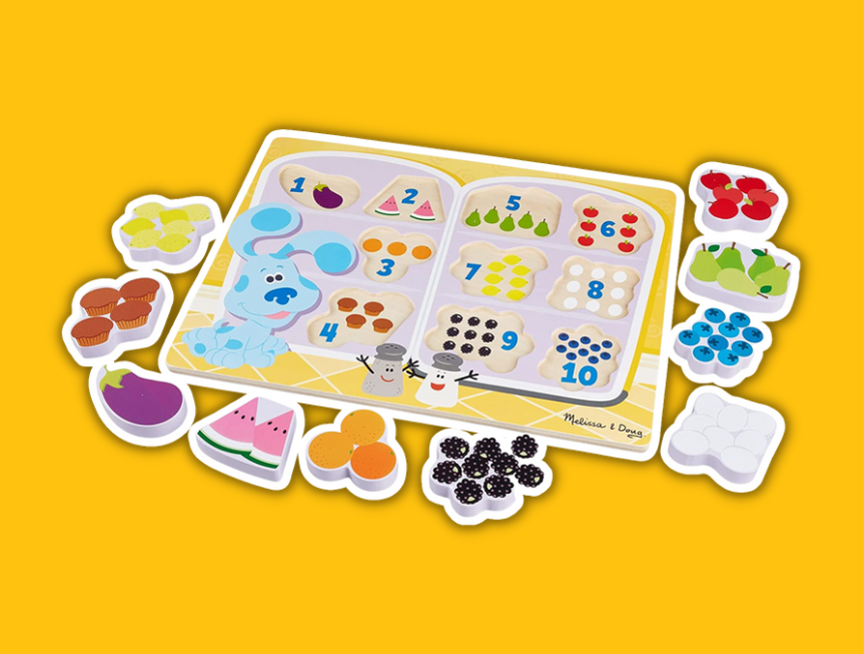 Recommended age: 3 years and above
The large pieces are easy for small hands to hold and maneuver and can also stand up on their own. However, the puzzle still challenges their brains and hand-eye coordination just enough!
What We Love:
❤️ Easy for little hands to grasp and play with
❤️ Just enough of a challenge for toddlers
❤️ Durable, colorful and cute
What We Don't Love:
💔 A bit too easy for older kids
💔 Quite large and heavy
If your Blue's Clues enthusiast needs a little convincing at bathtime, this toy set will coax them into the tub! The set consists of three water-squirting toys: Blue, Magenta and Slippery Soap. All three are a perfect size for 3-year-olds to grip and squeeze, so they are ideal for making bathtime playtime!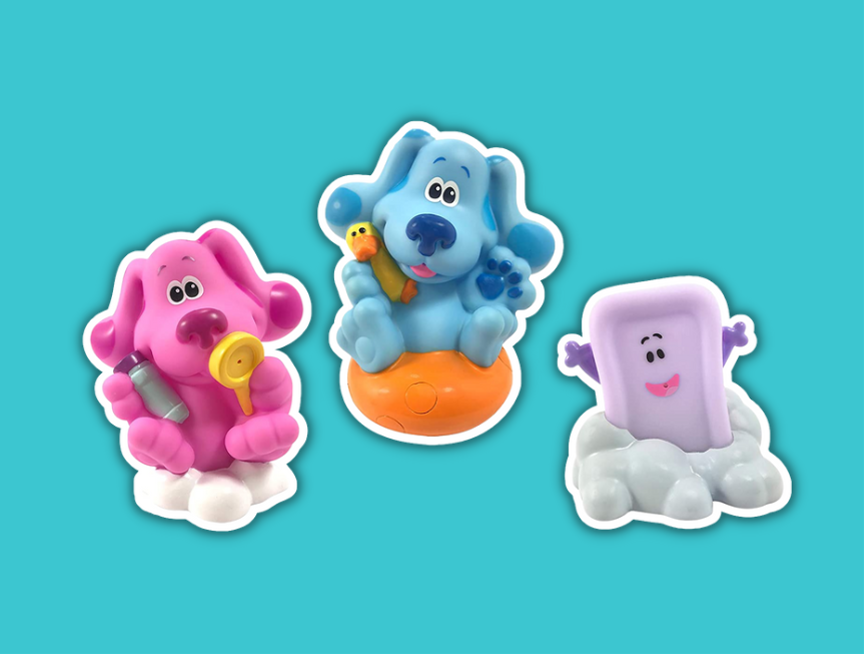 Recommended age: 3 years and above
These bath toys can be used in the pool, too, for extra summer fun! The plastic is durable and easy to clean and Blue and Magenta are wonderfully brightly colored – just like in the TV show.
What We Love:
❤️ Made from thick, durable plastic
❤️ Lots of fun at bathtime
❤️ Decently sized and brightly colored
What We Don't Love:
💔 If water stays inside for a long time they can get moldy
💔 A bit hard for toddlers to squeeze
💡 Double up the fun at bathtime with this super cute Blue soft bath toy!
Matching games are great for kids' cognitive development. This one is perfect for fans of Blue! The game comprises 36 colorful tile pairs, each featuring a character or image from the show. An excellent choice for quiet playtime, as kids play, they will improve their focus, memory and matching skills.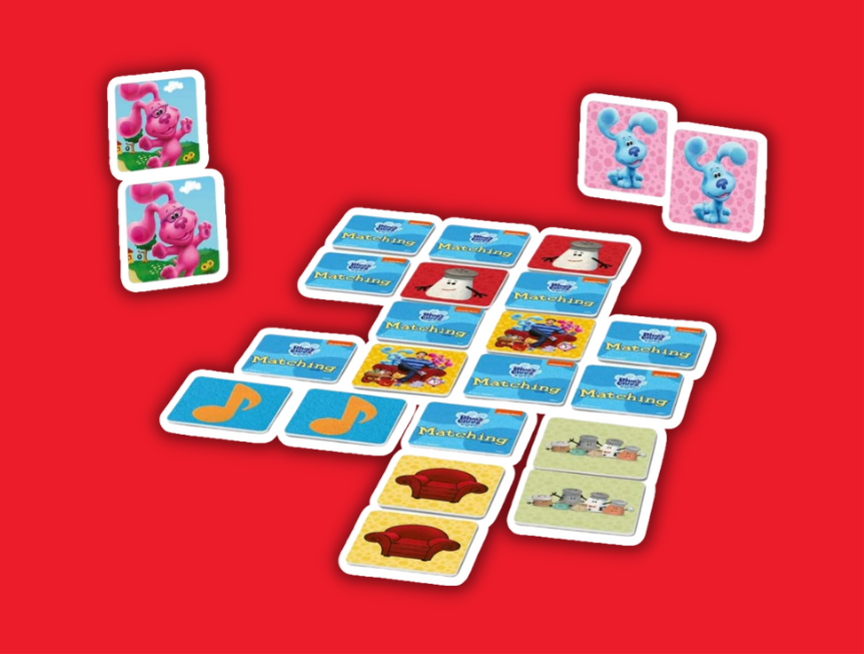 Recommended age: 3 years and above
The game comes with concise instructions printed on the box that parents will understand quickly and be able to explain to their little ones. Kids can play alone, with parents or friends and it only takes about 15 minutes to play.
What We Love:
❤️ Great for improving focus and memory
❤️ Sturdy, durable cards
❤️ Fun for group, pair or solo play
What We Don't Love:
💔 May be too challenging for younger kids
💔 The cards are quite small
As you might expect from Melissa & Doug, this wooden playhouse and shape sorter activity is both fun and educational. Toddlers will love playing with Blue in her house and will hone their shape recognition and fine motor skills as they play. Plus, on one side is a flip puzzle for even more educational fun! And, of course, the Blue and Magenta pieces fit right through the front door.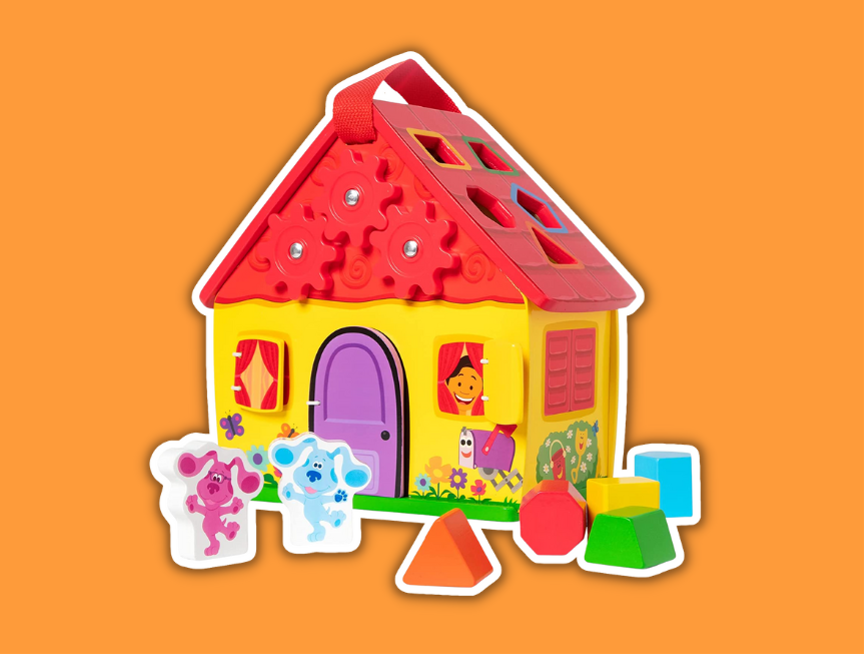 Recommended age: 18 months and above
This durable playhouse features a handle for portability and a roof that opens so kids can easily access the pieces inside. It also has three spinning gears on the roof for more sensory stimulation.
What We Love:
❤️ Lots to engage the hands and mind
❤️ Durable and a good size
❤️ Vibrant colors with cute character figures
What We Don't Love:
💔 The roof comes off quite easily
💔 Quite pricey
This electronic notebook from LeapFrog is a great educational tool to introduce preschoolers to a wide range of concepts, from phonics to counting, shapes and music. Kids can learn to write numbers and letters using the stylus and get immediate feedback. And true to the Blue's Clues theme, there is also a game where you must help Josh draw three clues!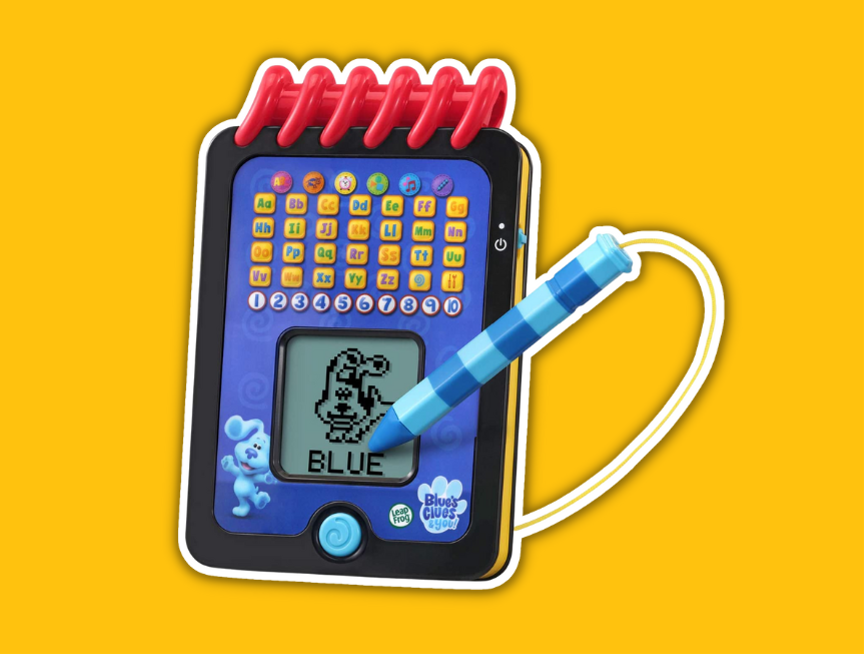 Recommended age: 3 years and above
When kids feel creative, there is a free draw mode, or they can make music using percussion, guitar and piano sound effects. This notebook toy is perfect for traveling as it is durable, compact and highly engaging.
What We Love:
❤️ Perfect for long car rides
❤️ Extremely durable
❤️ Great for teaching letters, shapes, counting, drawing etc.
What We Don't Love:
💔 The screen is hard to see in low light
💔 There is no volume control
Keep your little one's feet warm and cozy this winter with these Blue's Clues plush slippers. At the end of each slipper is a plush 3D Blue head complete with floppy ears. And if your kiddo's favorite pup is Magenta, she is available too! If your child never wants to go to bed, these friendly slippers can add a bit of fun to bedtime.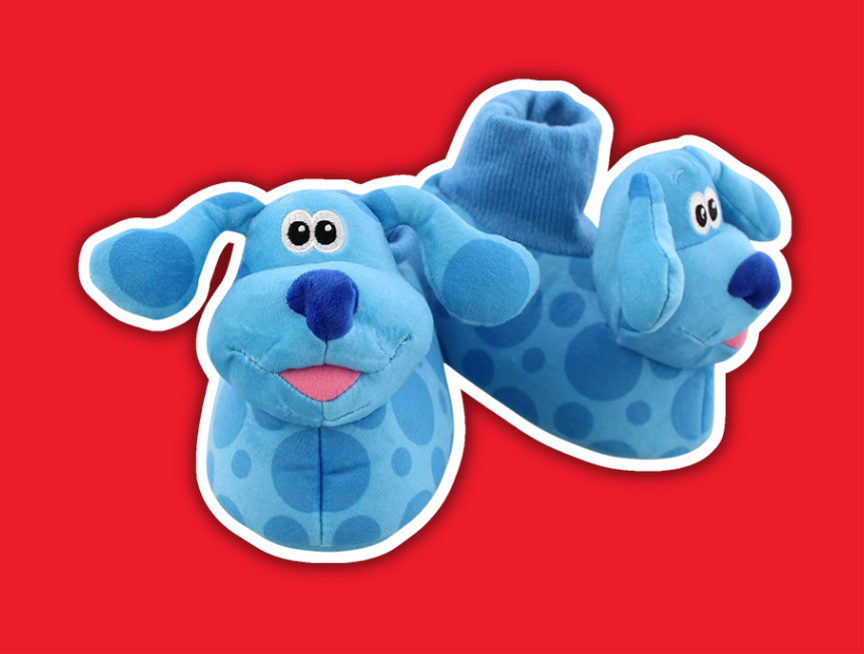 Recommended age: 1 – 5 years
The top of these plush slippers are sock shaped to keep them on toddlers' feet easily and have a cushioned footbed for warmth and comfort. They also feature a textured sole to prevent slips.
What We Love:
❤️ They stay on toddlers' feet without being too tight
❤️ Textured sole prevents kids from slipping
❤️ They are very plush and warm
What We Don't Love:
💔 They are not machine washable
💔 They seem to run a bit small, so consider buying a size up
This epic Blue's Clues kids bike makes learning to ride a bike easy and incredibly fun. With an adorable Mailbox storage compartment, a large Blue handlebar plate and Blue's Clues graphics all over the frame, this bike celebrates Blue through and through! Kids can learn to ride with style and ease thanks to the removable training wheels.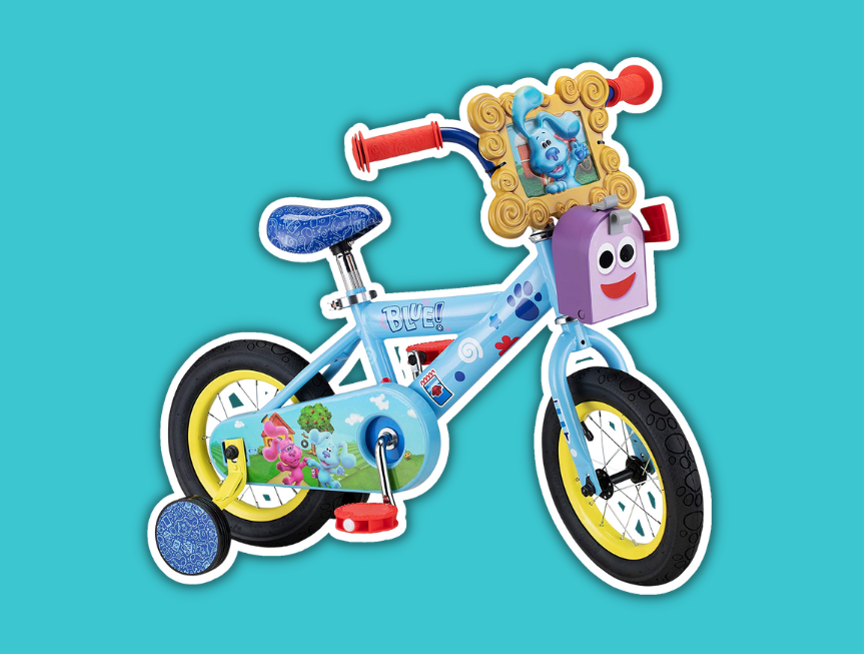 Recommended age: 2 – 4 years
This is designed to be a child's first bike, including a rear coaster brake for intuitive stopping and a single-speed drivetrain that is easy to use. Plus, assembly is simple enough for mom or dad to do alone!
What We Love:
❤️ Fun, colorful design
❤️ Sturdy and stable
❤️ Safe and intuitive to use
What We Don't Love:
💔 It requires assembly
💔 Blue handlebar plate is quite flimsy
💡 If your little one is under two but wants to get in on the pedaling fun, this Blue's Clues tricycle offers a great budget option.
---
Frequently Asked Questions About Blue's Clues
🙋What age group is Blues Clues aimed at?
Blue's Clues is aimed at toddlers through to preschoolers. What makes this show so attractive for young children is that it treats them as active participants and makes them an integral part of every episode. Josh asks kids questions directly, giving them time to answer and the show engages their minds by asking them to find clues to help solve the mystery.
This is a significant improvement from most shows that kids simply watch passively! The commitment to interactivity is evident in the animation and live action, allowing kids to imagine themselves helping Josh and Blue in the show.
🙋Is Blues Clues most popular with girls or boys?
Both girls and boys equally love Blues Clues. While some kids' shows are more geared to boys or girls, Blue's Clues and You! is aimed at all children. Although Blue is a girl, she isn't designed with all the trappings kids associate with girliness.
Many people first assume she is a boy because she is Blue! In this way, the show challenges stereotypes about boys and girls. From its interactivity and silly humor to its fun games, upbeat songs and friendly characters, this show is one that all young children can enjoy.
So… What Blue's Clues Toy Should I Get?
The best Blue's Clues for your little one depends on the toy you're looking for. The Crayola Blues Clues Color Wonder Activity Pad or the LeapFrog Handy Dandy Notebook are fantastic choices if you want a toy to keep kids occupied while traveling.
If your kiddo requires a bedtime companion, one of the plushies could be perfect. And if you want something to get their imaginations flowing and their brain cogs turning, one of the playsets is ideal.
If you've found a Blue's Clues toy you love that wasn't included in this list, give me a shout!