Office workers will know, we spend a whole lot of our lives sitting behind a desk. With these 20 awesome computer desks make work more fun? We guarantee these are no IKEA build yourself workstations.
1. V1 Desk – Flagship Edition
The V1 – flagship edition gives you integrated 5.1 surround sound and 10 different places to put your mug of coffee. There's three monitors to work from, a footrest and it looks like you could take off into space at any moment.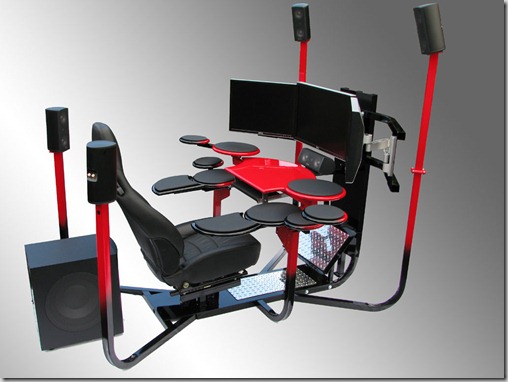 Image source: The Awesomer
2. Mini Desk
This desk may cost about the same as the original mini, but you can't put a price on style. Repurposed from the actual vehicle chassis, there are options for working headlights, indicators and if you need to grab someone's attention, a horn!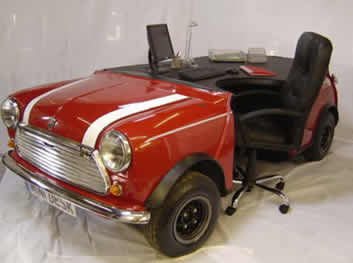 Image source: MiniMania
3. Han Solo Carbonite Desk
For the geeks, here's the ultimate desk for a scruffy looking nerf herder. Complete your plans for a new Death Star safe in the knowledge that the galaxy's best pilot is hibernating in carbonite underneath your laptop.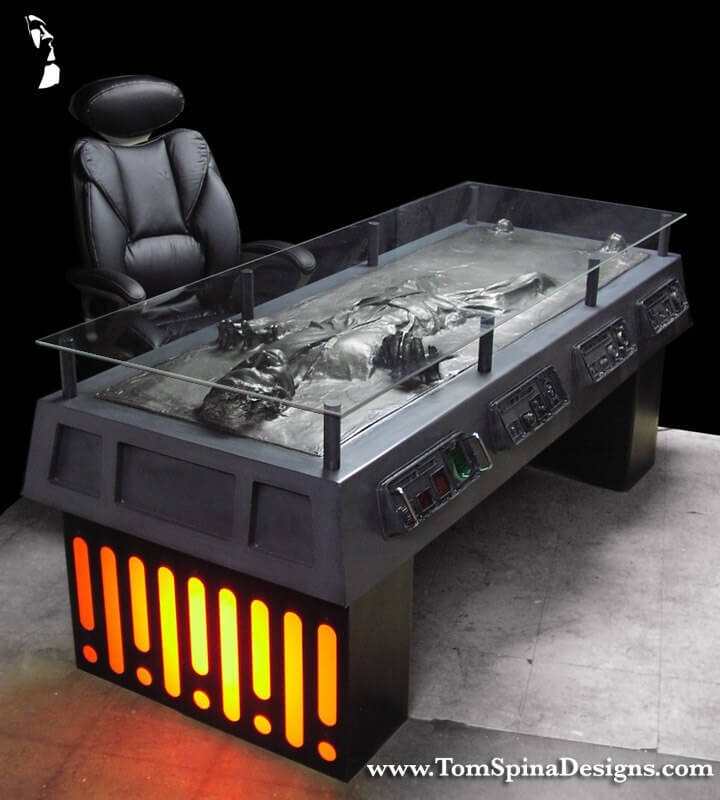 Image source: Tom Spina Designs
4. B25 Wing Desk
A slice of WW2 aviation history in a desk. The see through surface exposes the elevators and rudders that would have been used to guide the bomber to it's enemy targets in battle.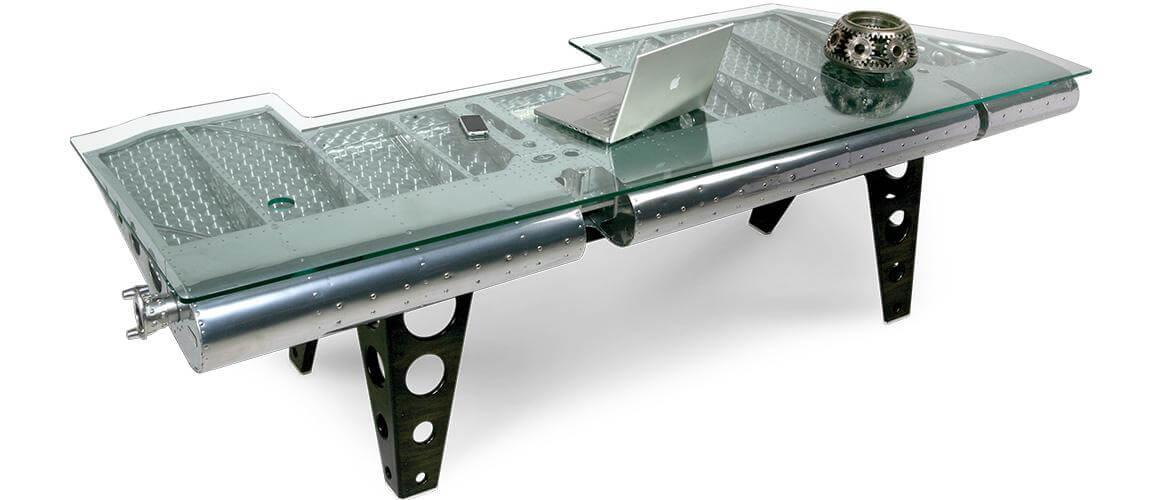 Image source: Moto Art
5. Fish in your Desk
Aquariums are proven to reduce stress in the workplace, but is this going a little too far? This sea life station will make you feel at ease and if boredom strikes, you could always play Finding Memo.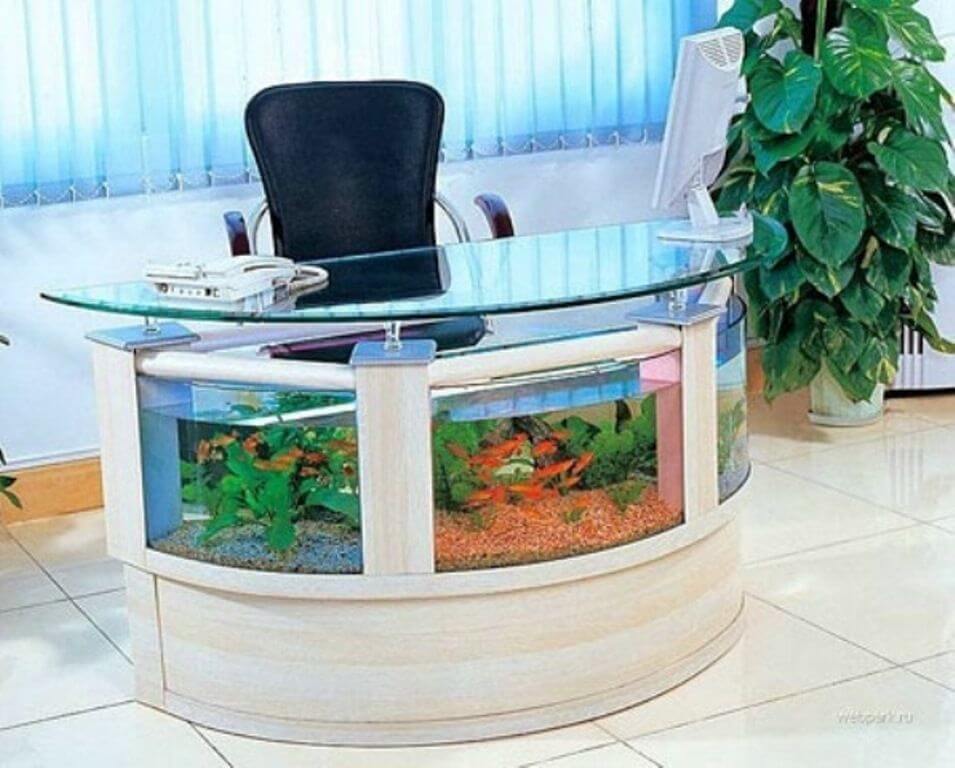 Image source: livinator
6. Exercise Desk
The days of being a desk potato are over. This one has a treadmill attached to the bottom so you can exercise whilst you type. It hits a max speed of 2mph so you don't need to worry about sweating all over your paperwork.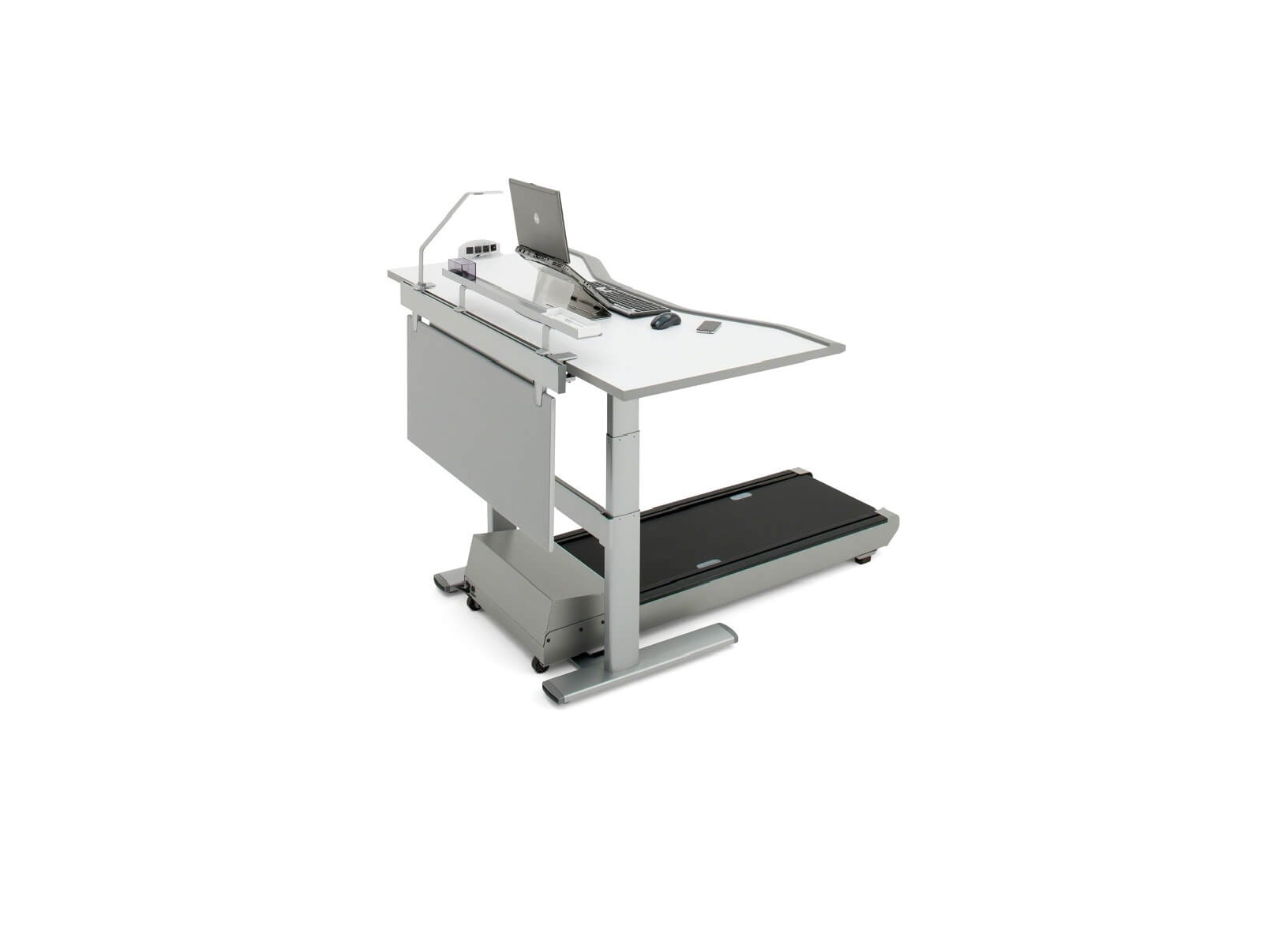 Image source: Steelcase
7. Plane Desk
This upturned Douglas DC-6 cowling was originally used to house the plane's engine, now it can be used to hide from your boss. The polished mirror back might look stylish and futuristic but the plane itself was around in the 1940s.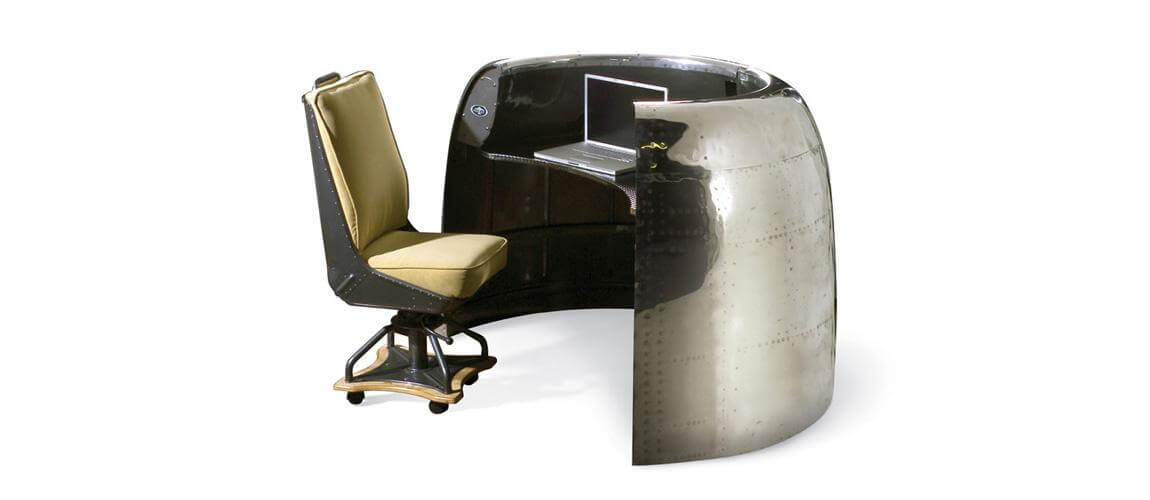 Image source: Moto Art
8. The Quad-Core, 1-kW, Liquid-Cooled Desk
Don't let your water cooled tower take up precious desk space. Now you can integrate your super cooled pc with this awesome desk. With half a gallon of glycol running through it, just make sure you don't slam your coffee mug down too hard.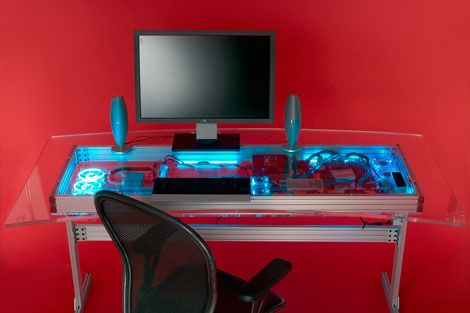 Image source: Popular Mechanics
9. TRON Desk
This futuristic number was inspired by the TRON movies. The film is set inside a computer, here, the computer is set inside the desk hidden away. Ultimate sci-fi geeks will also notice the frame is a Recognizer Vehicle from the classic movie.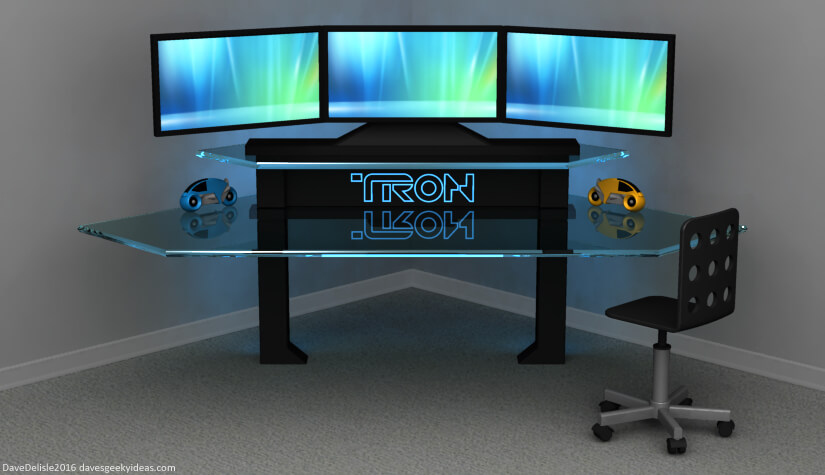 Image source: Dave's Geeky Ideas
10. Steve Jobs Style Desk
Have constant inspiration from the world's most notorious CEO, Steve Jobs. His face is plastered all over this workstation. The walls, the desk, the chair, even the floor has prints covering it.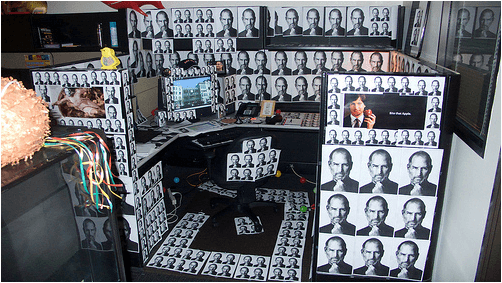 Image source: GoGeeks
11. Concerto desk
Bring a little music into your work with this amazing desk made out of an upright piano. The strings have been removed and replaced with monitors and the keys are now used to hold the keyboard. Hitting chords and deadlines all in one.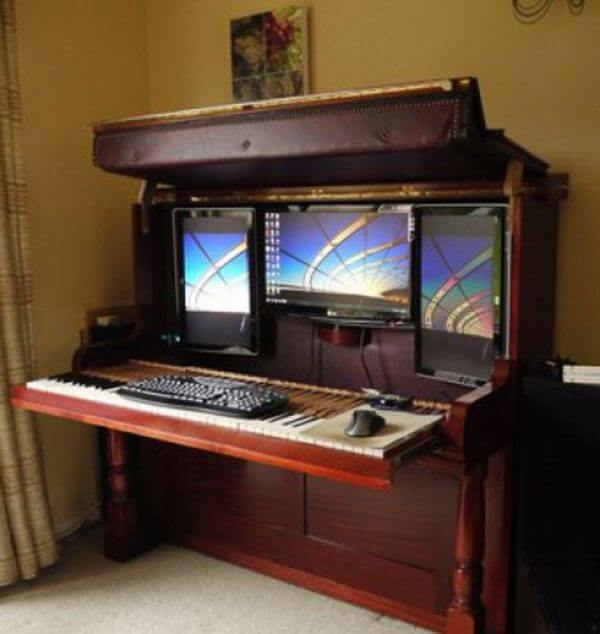 Image source: AcidCow
12. Cracked Desk
This crazy design looks like an earthquake has just hit the office. The cracks are meant to reflect the imperfections of wood. If this abstract style is for your taste, just try not to lose your MacBook Air down those 'imperfections'.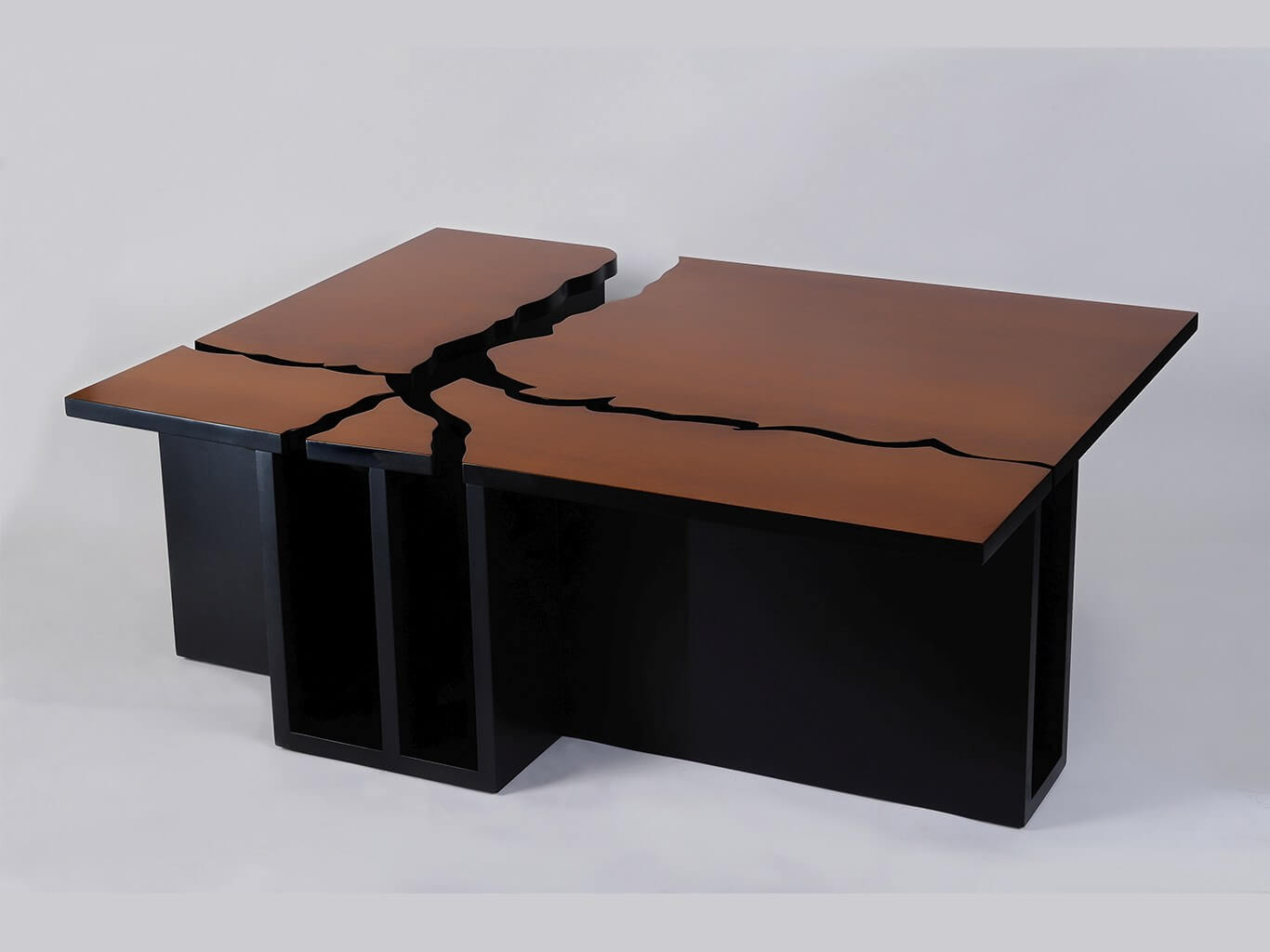 Image source: Home Hub
13. Star Trek Desk
If you're working in office cubicle 9 instead of deep space 9, you should have a desk that lets you believe you're exploring the galaxy. It has draws for your star charts, a pull out keyboard shelf and a dedicated dock for an Ipad.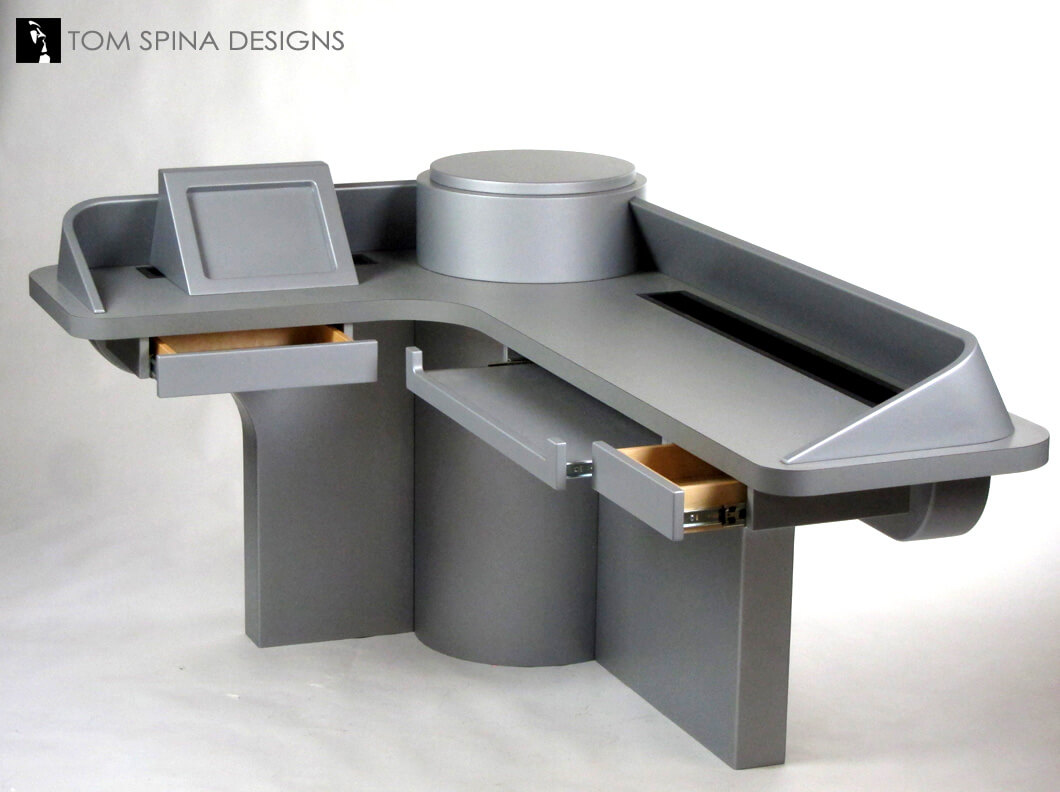 Image source: Tom Spina Designs
14. Nethrone Desk
The perfect cockpit for any gamer. It has three monitors and adjustable keyboard stand, by far the coolest feature is that the whole unit can rotate backwards. With its inbuilt massage function, you'll never find a more comfortable desk.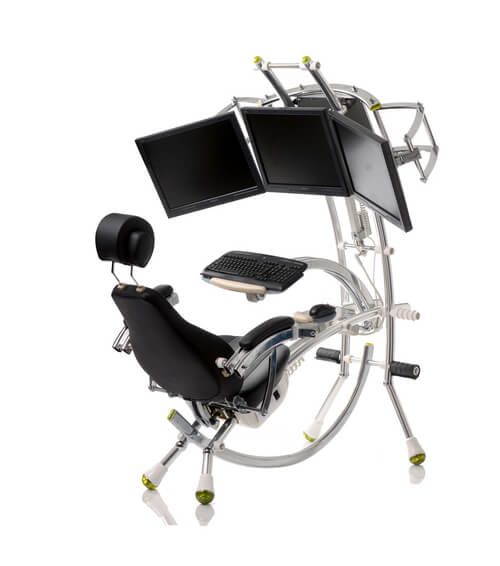 Image source: Great Office Chair
15. ClockWork Desk
This clockwork style desk is a steampunk's dream. Built by artist Dale Mathis, the desk has huge coggs sitting under glass, built into the wooden frame. The legs are also attached with pistons for that extra mechanical aesthetic.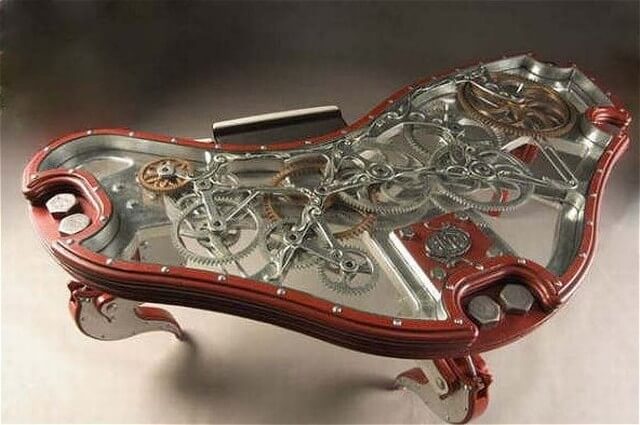 Image source: Signature Gallery Group
16. Touch Screen Desk
No need for a mouse or keyboard with what could (should) be the future of desks. The curved surface is a multi touch screen display. You can interact with documents on any part of the acrylic desk with worry about knocking any papers on the floor.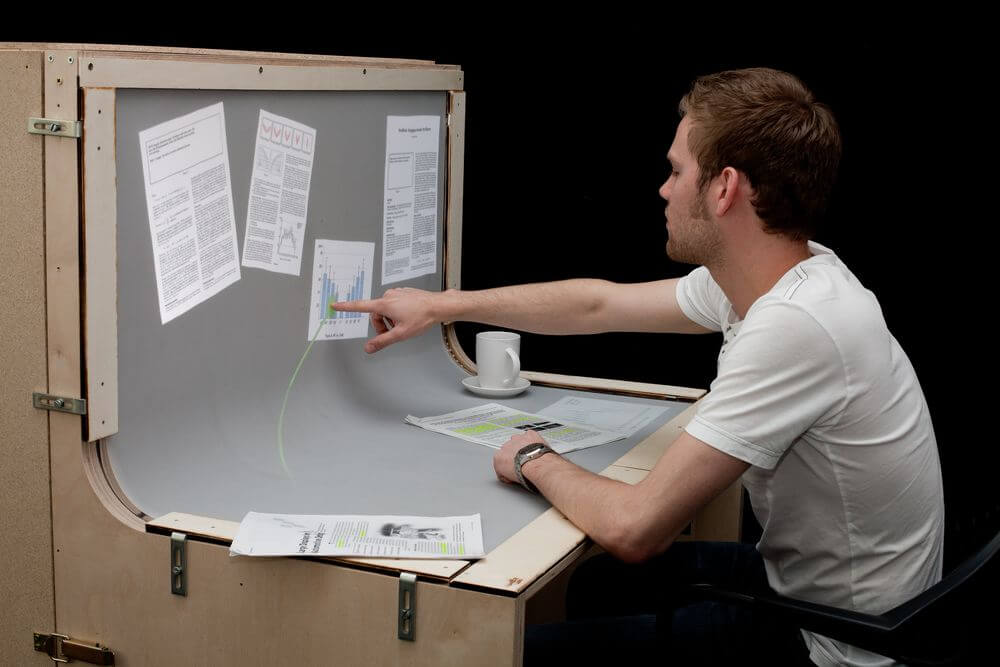 Image source: PYHS.ORG
17. LEGO Desk
Every big kid's dream, a desk made entirely of LEGO. This is actually made of MDF but it looks like it was carefully constructed brick by brick. The Swedish designers wanted people to remember their childish side whilst they work.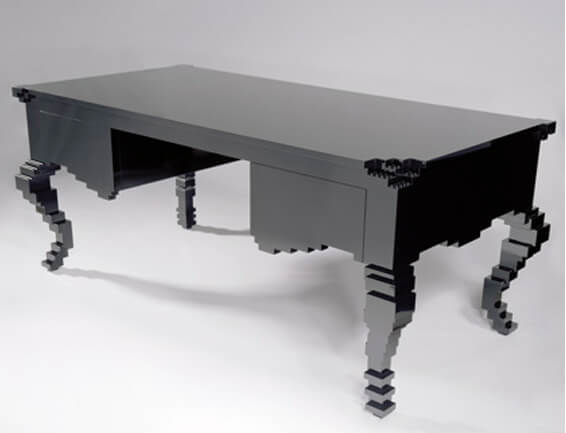 Image source: inhabitat
18. Stefans Desk
This may be overkill for the average net surfer, but for Stefan Didak, everything has its place. With 5 monitors, a few towers, a couple of keyboards, it's all lit up by multi color LED neon strips. Extra.
Image source: Stefan Didak
19. Black Tactical Desk
Now you can make status changes to Facebook from the front line with this tactical desk and drawers. The whole thing can be easily packed away and moved at a moment's notice. It even has its own power supply.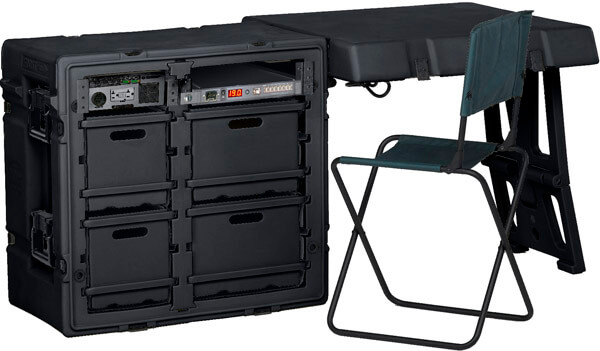 Image source: TacticalPower
20. Ferrari Desk
One for the gear heads, this desk will have you feeling like your racing through Le Mans from the comfort of your office. Designed as a concept, the front mimics the grill from a Ferrari sports car. Let's hope the speed of your work reflects the speed of the car .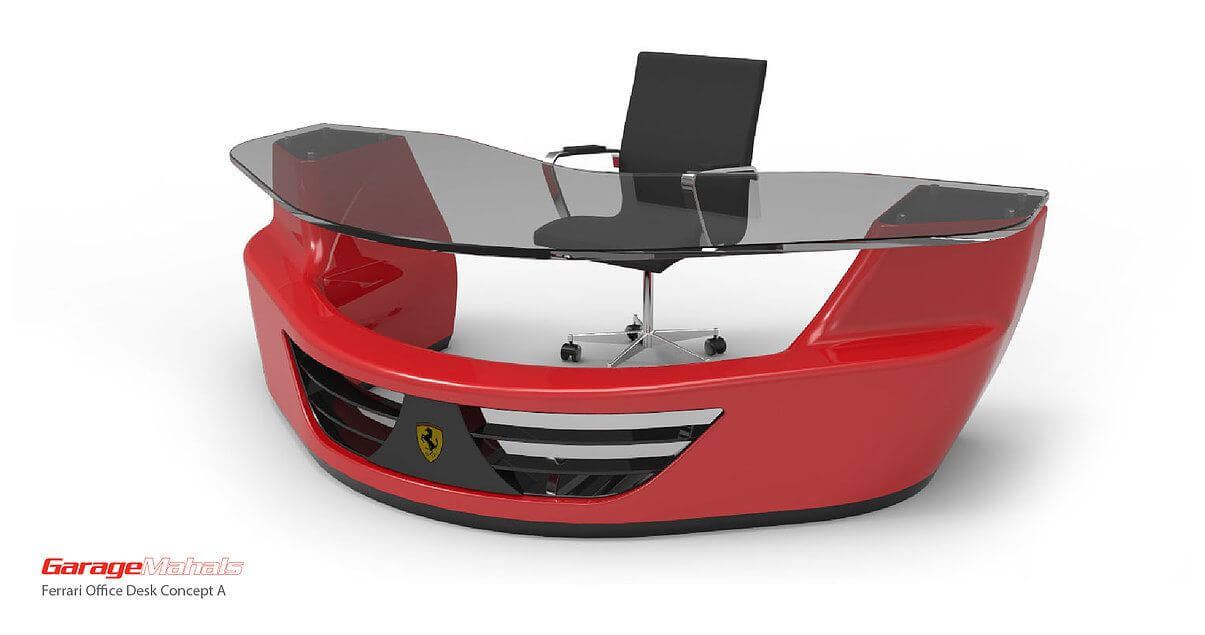 Image source: Static Wixstatic
No longer will you dread going to work or be bored on your computer at home. Each of these desks serves a different interest and beats normality hands down. Which one of our selection will you be moving into your office?