Take some simple wooden matchsticks and add some glue and you can create the most awesome pieces of art. With dedicated time and precision these matchstick models will take your breath away.
1. Mclaren F1
This full scale replica McLaren 4/14 F1 car took enthusiast Michael Arndt six years to build. Using a jaw dropping 956,000 matchsticks and 1686 tubes of clue, it cost around 6000 euros to build.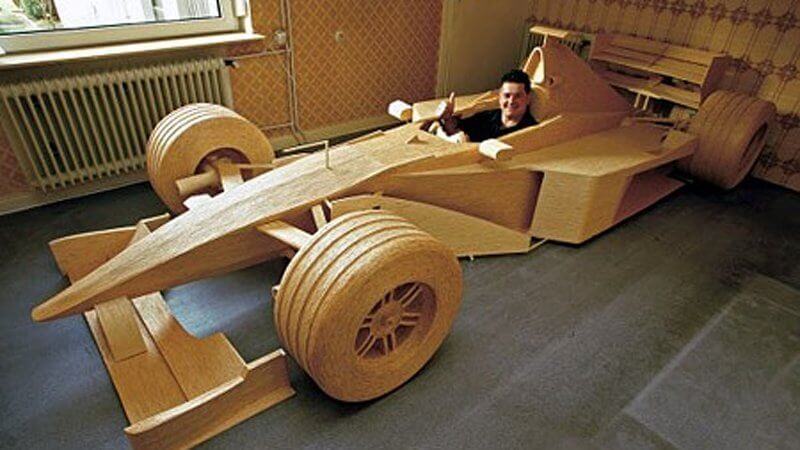 Source: Jalopnik
2. Minis Tirith – LOTR
This incredible wooden version of J.R.R Tolkiens' City of Kings used 420,000 matchsticks to construct with an additional 24,000 small wooden blocks for the mountain it stands in front of. Construction started in 2007, taking 3 years to build, it was completed in 2010.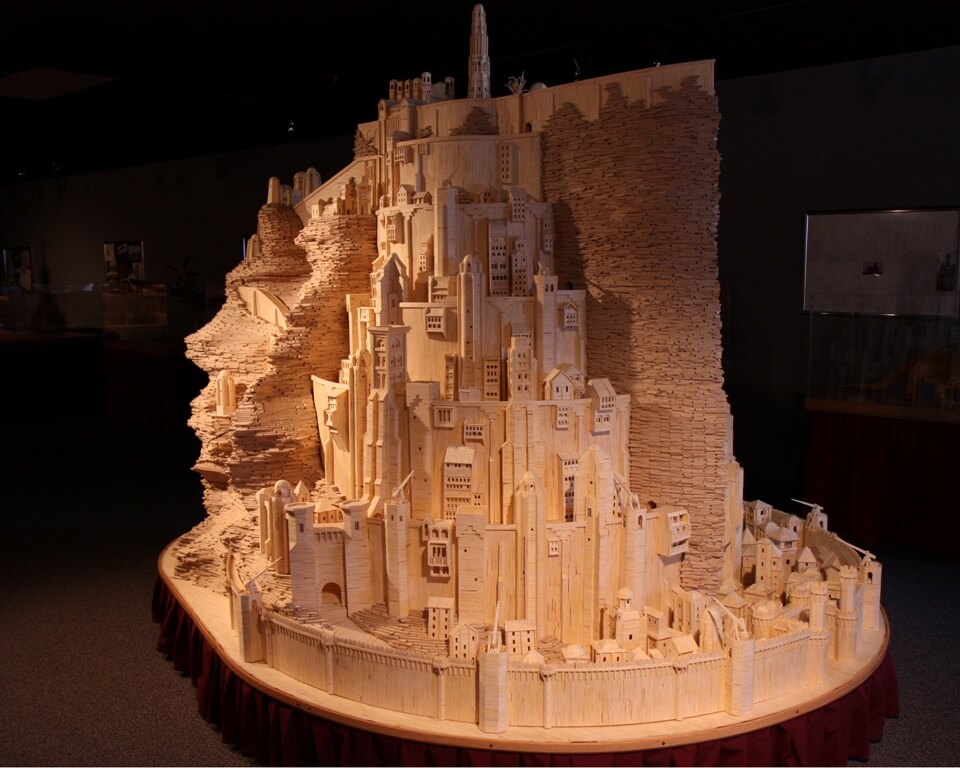 Source: Matchstick Marvels
3. Oil Rig
The Guinness world record holding structure is made up of 4.075 million matchsticks! Depicting a North Sea oil rig, the colossal model took over 15 years to build and still holds the record to this day.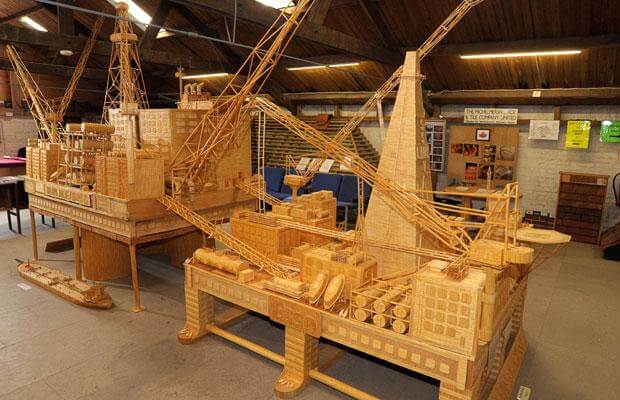 Source: Guinness
4. Harry Potter Hogwarts
This enchanted school of wooden wizardry took nearly 3 years to construct. Artist Patrick Acton used 602,000 matchsticks and 24 gallons of wood glue to complete the famous building from the Harry Potter series.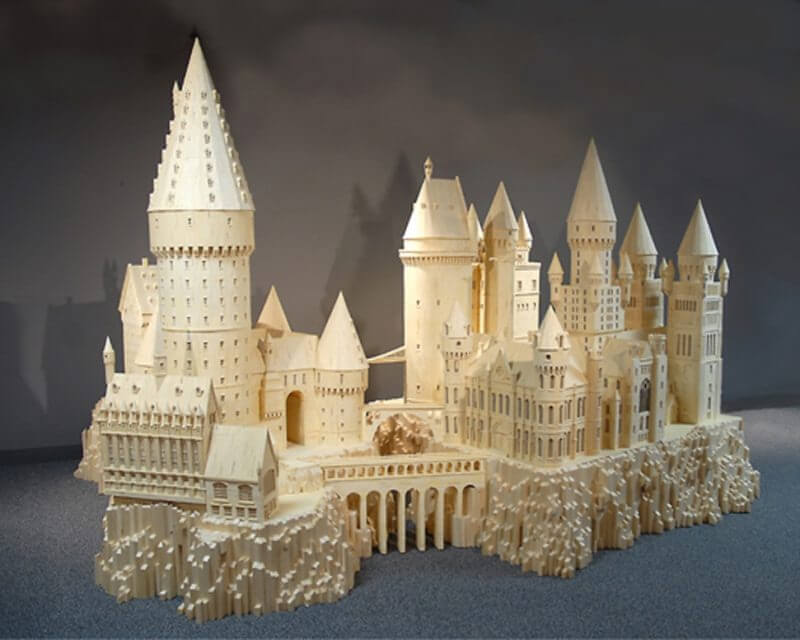 Source: Matchstick Marvels
5. Gorilla
The first of amazing artist David Machs' sculptures in the list, this 15 inch gorilla took 30,000 matchsticks to make its ferocious features. He starts by making a mould first, then sticking the matchsticks on using wood glue.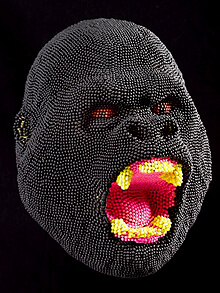 Source: David Mach
6. Titanic
Taking 15 years in total to build, the 1:115 scale model of the ship uses 147,000 matchsticks in its construction. With 1,600 portholes, the ship even has a 5mm name plate just in case you didn't know what it was.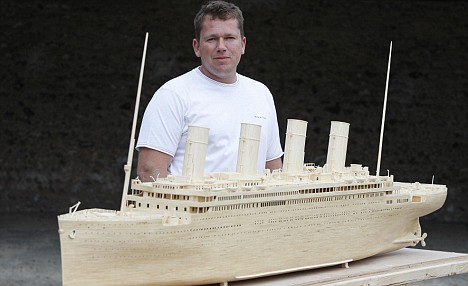 Source: Daily Mail
7. New world Trade Center
Between 2012 – 2013, this magnificent tribute to the New World Trade Centre took 2100 hours to construct. Made of 460,000 matchsticks and 17 gallons of glue, the WTC model was made for Ripley's Believe It or Not Museum in Houston.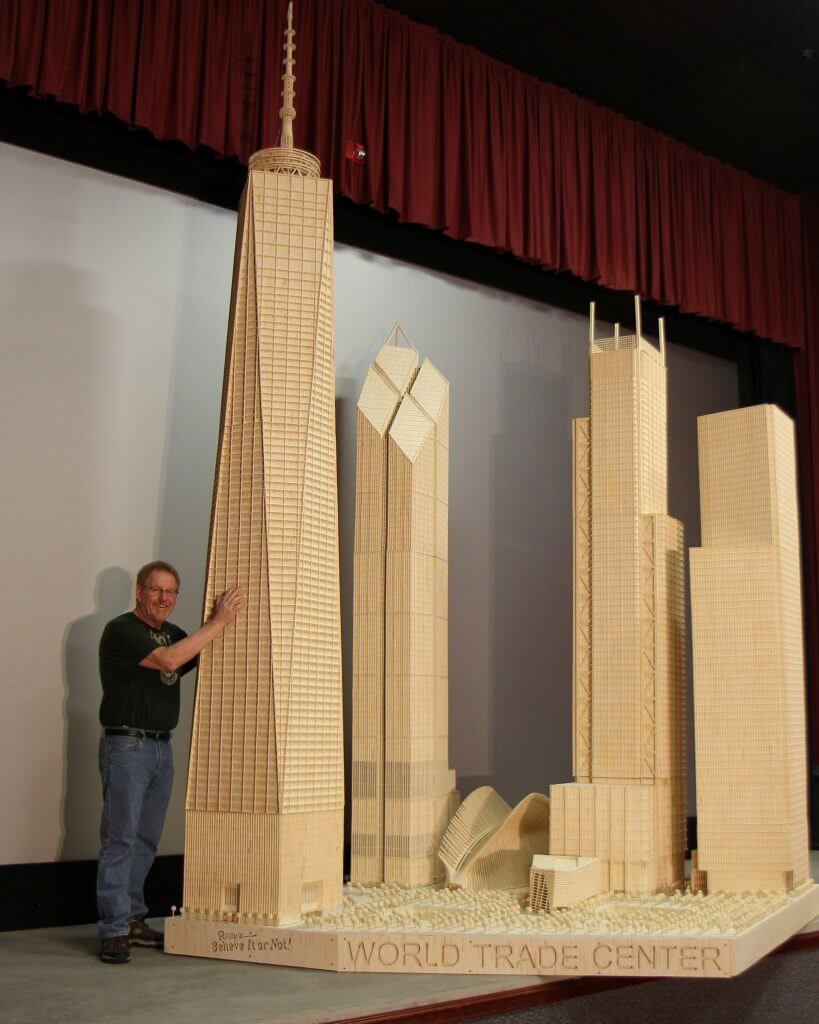 Source: Matchstick Marvel
8. Ukulele
This fully working instrument was lovingly made in 1984 from 10,000 matchsticks and 2lbs of glue. Constructed in 1984, it took Jack "The Matchstick Man" Hall 400 hours to complete. He even made a case using the leftover matchboxes.
Source: Matchstick Man

9. Tower Bridge
10 years in the making and using 1.6million matchsticks, this gigantic model of Tower Bridge measures 6ft in length and has 156 working lights built in, taking 2 years longer to build then the real thing.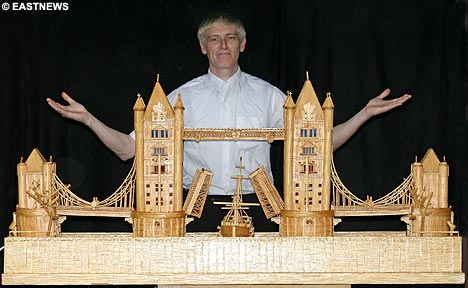 Source: Daily Mail
10. Millennium Falcon
This intergalactic model took 2500 hours to construct, containing 910,000 matchsticks and 26 gallons of glue. It imitates the starship with engine thruster lights, laser guns, rotating dish and illuminated cockpit.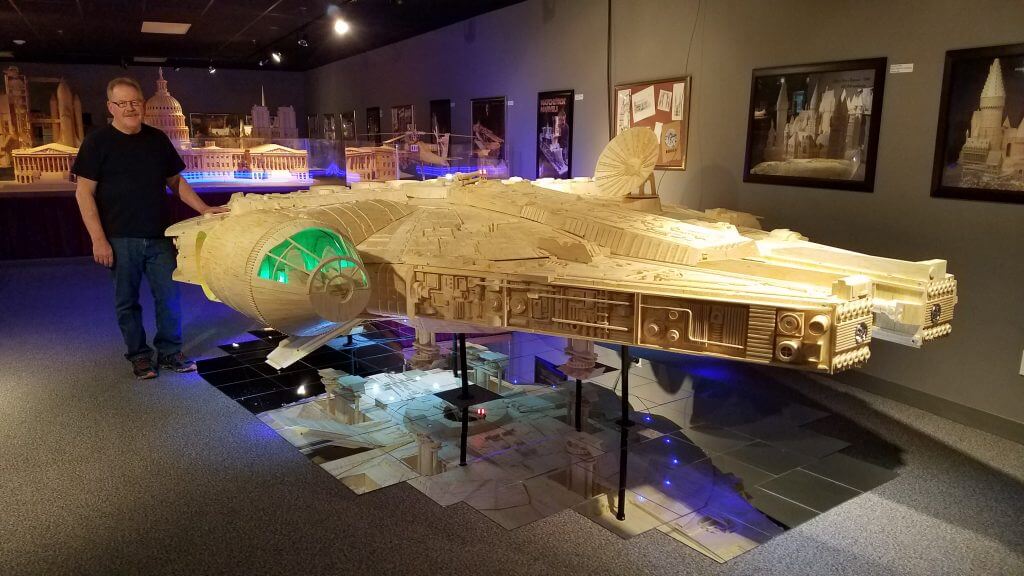 Source: Matchstick Marvels
11. Digger
Artist John Hurley took over a year to construct this digger using 250,000 matches. The 77 year old had been making matchstick models since age 11. With moving shovel, the diggers doors also work.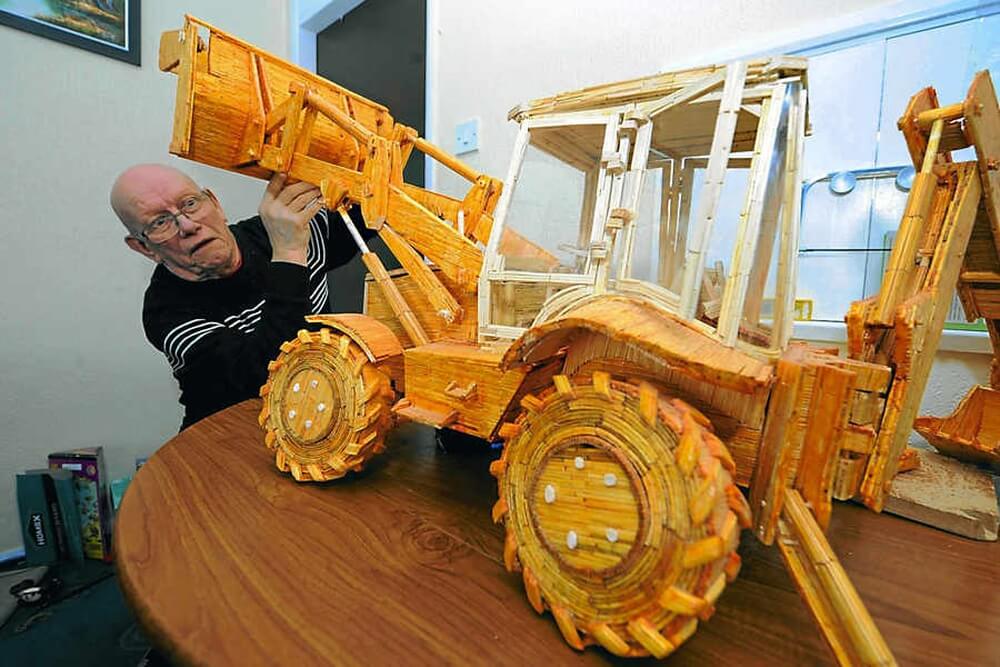 Source: Express & Star
12. Apache Helicopter
This American attack helicopter has been scaled down to 1/10 and is made up of 26,000 matchsticks. Taking almost 200 hours to build the extremely detailed structure shows the vehicles gun barrels and cockpit.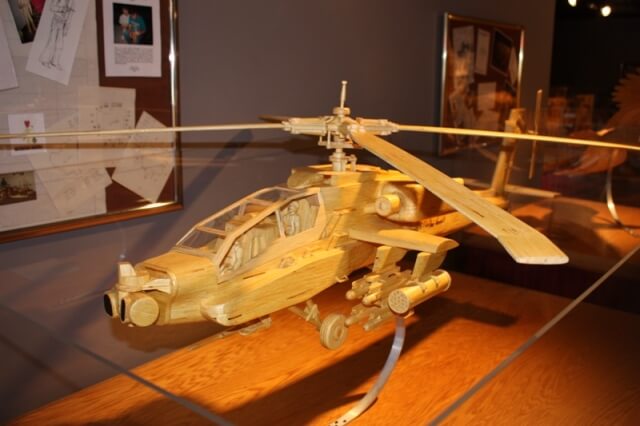 Source: David Selvey

13. Capitol Building
This model of the historical building took over 2000 hours to construct using 478,000 matchsticks and 10 gallons of glue to stick it all together. The artist drew up plans by obtaining all the information from the internet.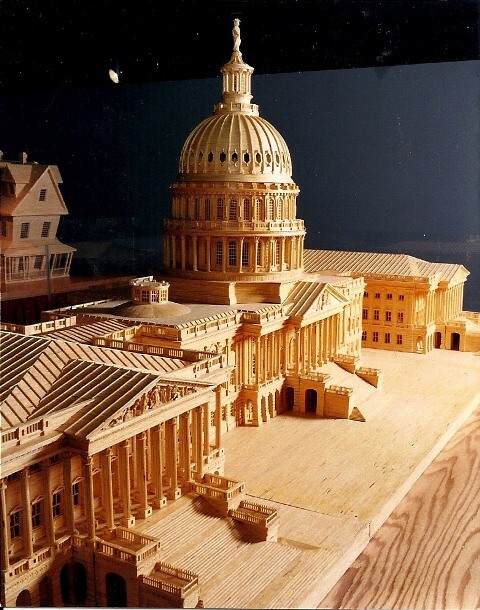 Source: David Selvey
14. Elvis
Another from artist David Mach, it's the King of Rock'n'Roll. Made from 50,000 matchsticks, this 2ft sculpture took more than 500 hours to complete, gluing every single match to a glass fibre mould.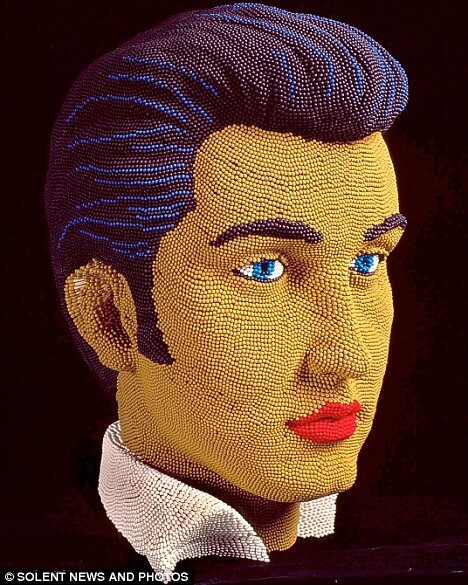 Source: David Mach
15. Challenger Shuttle
Constructed with over 200,000 matchsticks, this model took 200,000 hours to complete. Using a small plastic replica as reference, the artist also used photographs to make it as close to the real shuttle as possible.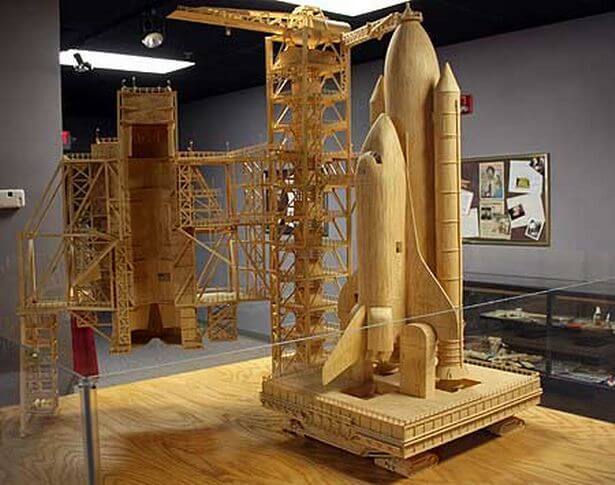 Source: David Selvey
A few boring matchsticks have made these incredible structures. Nobody can deny the amount of artistry, time, patience and glue that go into each one of these models which include record breakers and hobbyists. Make sure you keep them well away from any fire!